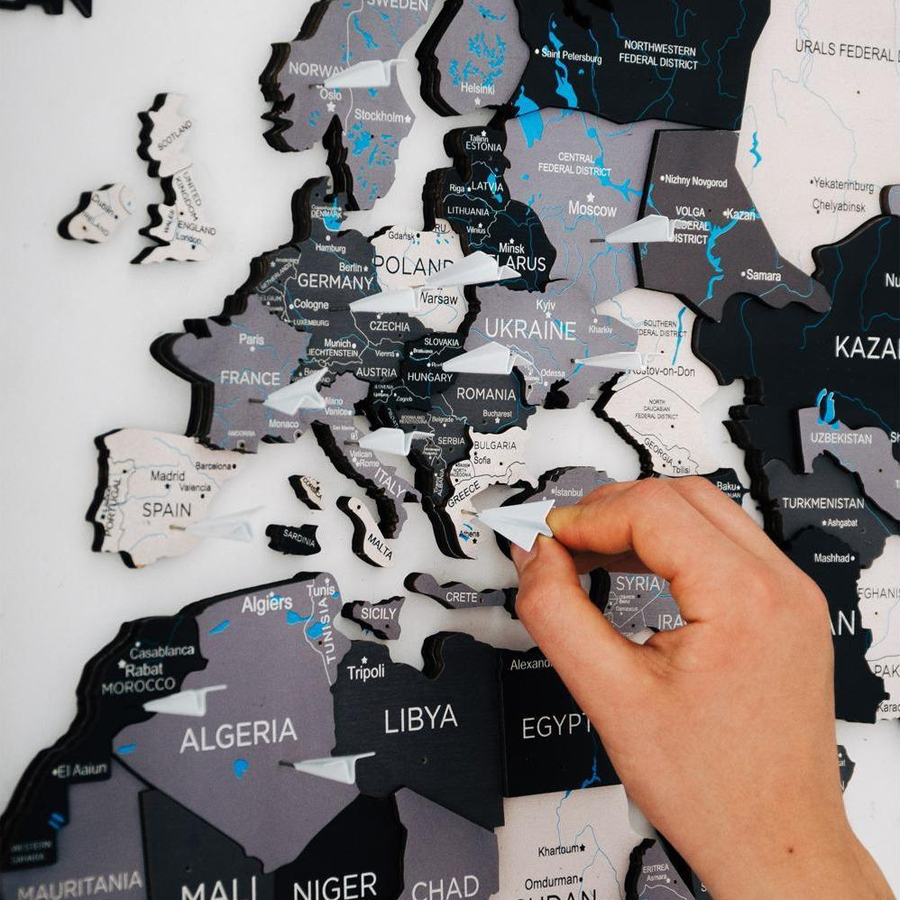 Give a hodophile (someone who loves to travel) a dog-earned Atlas and watch them get lost in the narrow streets and alleyways of their favorite destinations. Whether it is a trip from the days gone by or a journey that is yet to begin, a map can be a lovely reminder and a perfect planner.
But Google Maps and Apple Maps have thrown physical maps into the metaphorical glove box of the vehicle of our lives. We seldom open an Atlas. We don't have time to trace our fingers through the fine lines of a map and get lost in a different world.
Now that doesn't mean our lives don't have places for maps. There is ample space on your living room wall, in the office, behind your headboard in your bedroom, and even on the kitchen, office, and hallway walls. Grace the space with 3D wooden maps from Enjoy The Wood. They'd act as the constant reminder for avid travel lovers about the journeys they had and the adventures that await them.
Whether you are looking for a gift idea for digital nomads, globetrotters, or road trip lovers or you just want to decorate your home with something as wanderlusty as your spirit, 3D wooden maps are the best pick. They light up the space, come in varying dimensions to meet your size requirements, and, of course, they bring in good vibes.
You can mark the trips you took yesterday and make it a memory board. Or you can outline the journeys you plan on taking tomorrow to make the map double as a travel planner.
If neither of that excites you and you prefer staying put in your place, let the 3D wooden world map on the wall take you on adventure rides to farther ends of the world in your pajamas.
These state-of-the-art creations from a Ukrainian family-owned business that handcrafts wooden accessories will surely inspire you to travel, learn, and explore.
Here are 5 awe-inspiring and bestselling options for your considerations:
3D Wooden World Map Cappuccino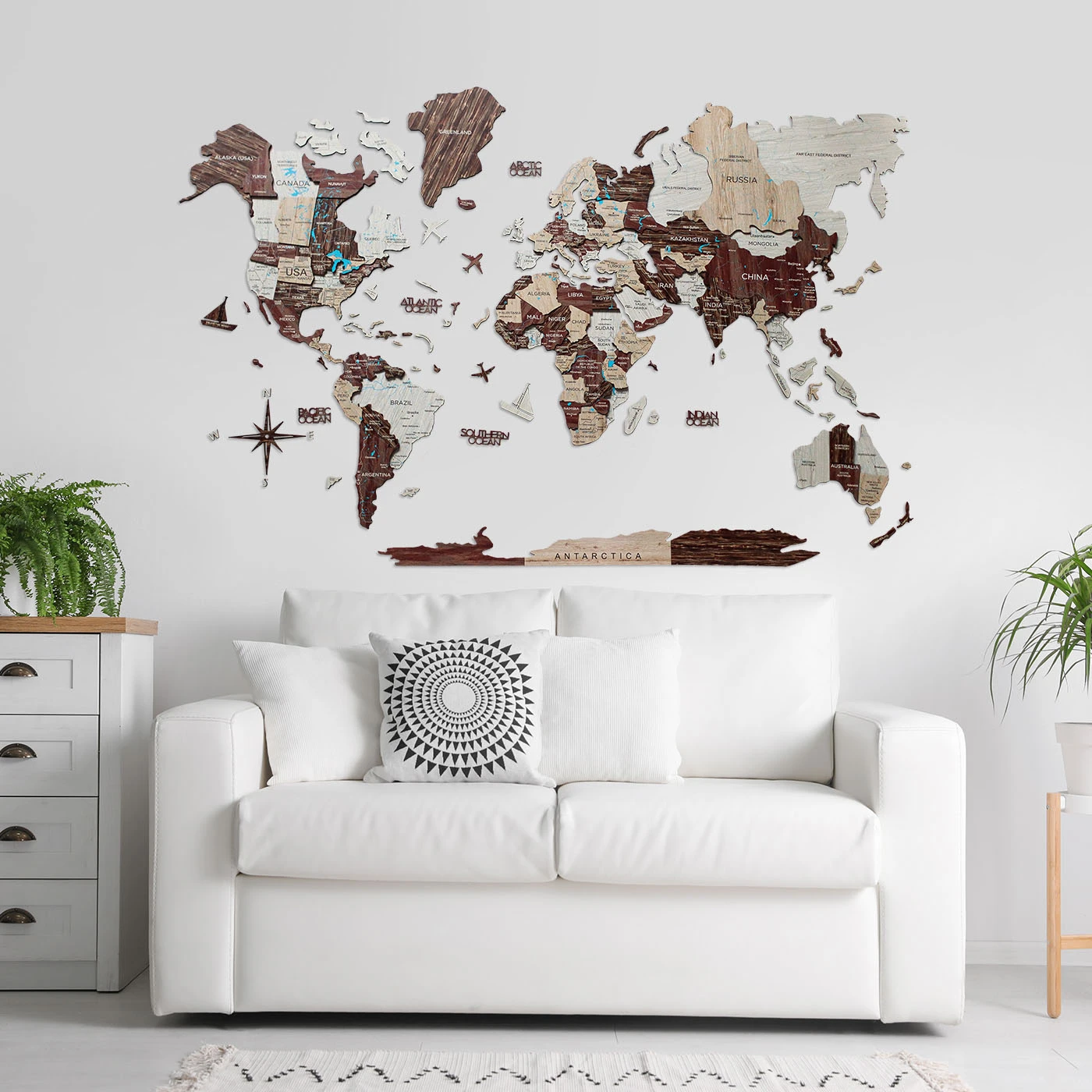 When someone walks into a room that houses the Cappuccino 3D Wooden World Map, their eyes will immediately find their way to this beautiful work of art. Characterized by its unexpected combination of color splashes, the map makes for a wonderful centerpiece. Made with fibreboard, the piece has varying thicknesses of 6 – 12 mm at different points. Plus, all geographical names, rivers, and lakes are printed.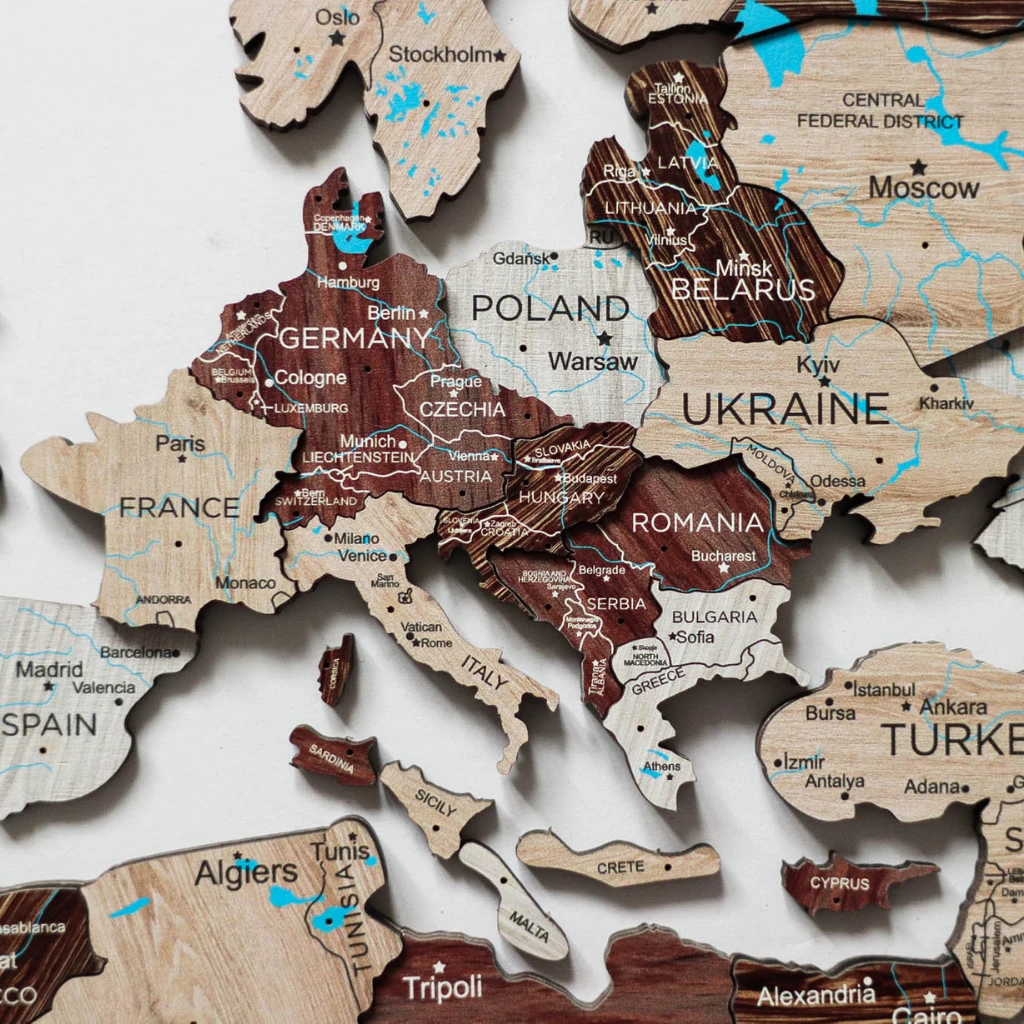 What makes Cappuccino different from any other 3D wooden map is the fact that it is bright and bold. It dares you to set sail again. It makes you relive the pleasures of past travels and it transports you to those times no matter when you look at it. Bring it home at a discounted price of $66.00, spend some time assembling it on your wall, and then lose count of the hours you spend gawking at its glory and enjoying travel memories and future planning.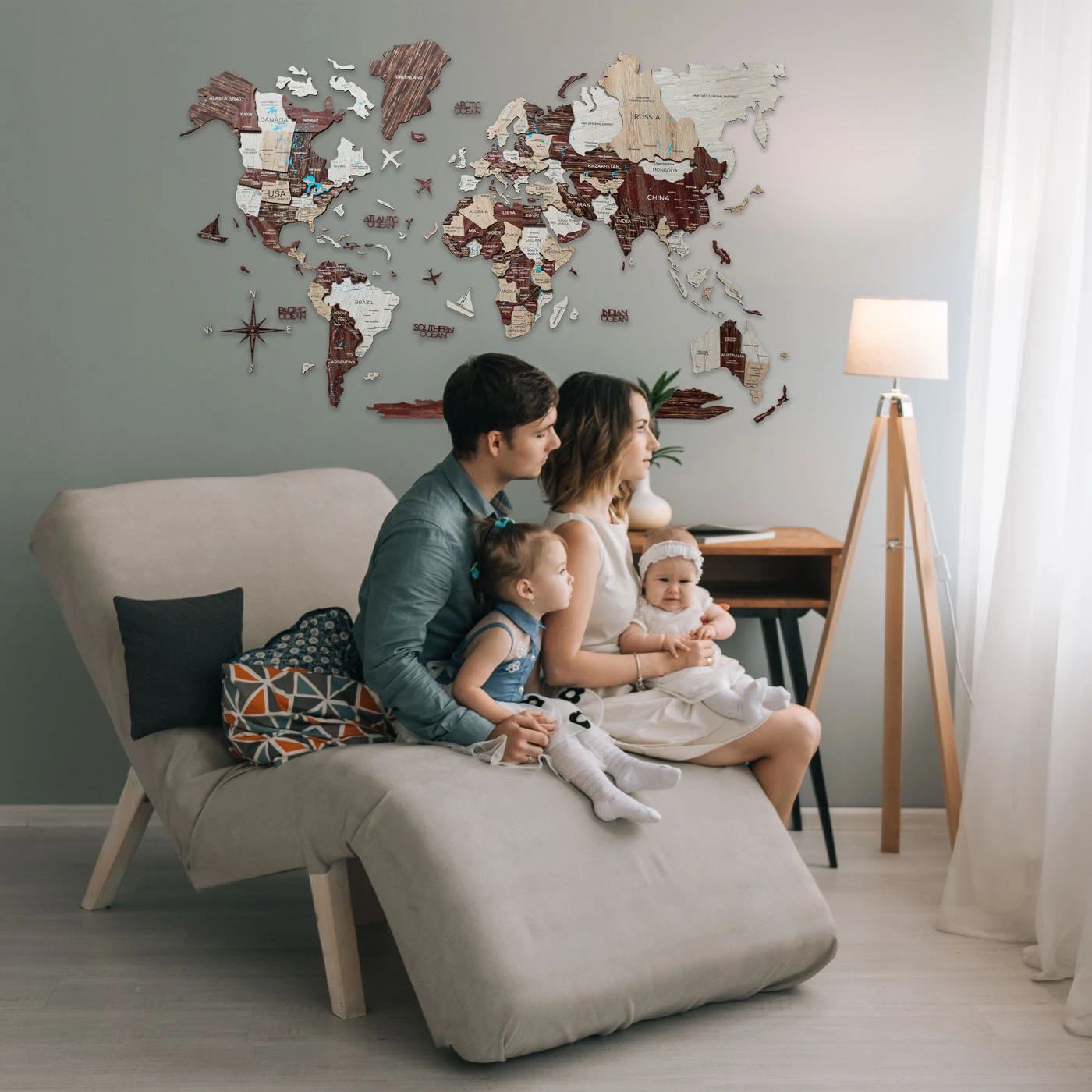 For those with kids, you can spend hours putting in flag pins on the map and having the most enjoyable geography and world politics lessons possible.

3D Wooden World Map Azure
The Azure 3D Wooden World Map is a gift that is second to none. Whether you are gifting it to someone else or bringing it to your own home, the classic piece with various shades of blue is sure to spark up wanderlust.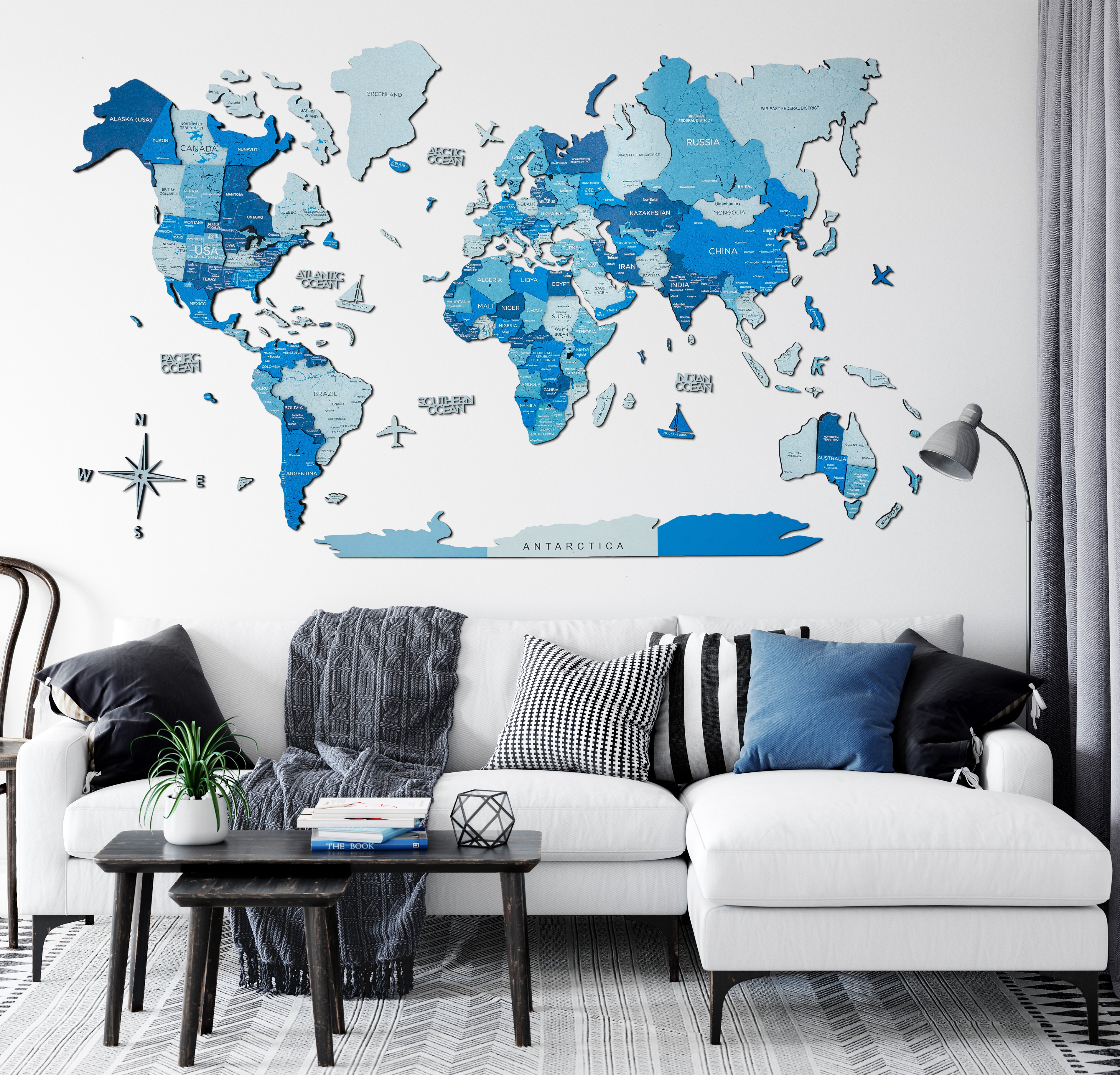 Blue has always been a color that evokes the emotions of flow and progress. So with this Azure art piece let your memories and thoughts both run wild. Go relive the time you spent on the beach vacation you took earlier when you find the same shade of blue as the ocean water on the map. And don't be afraid to dare and dream about the blue skies of the land that you long to visit.
Concerned if the colors look good only the picture and the actual product wouldn't be as eye-catching? Leave your concerns at bay. Handcrafted in Ukraine, Azure meets the standards that its image sets. Nicely cut out and engraved and painted with quality colors, it will make plain walls come to life.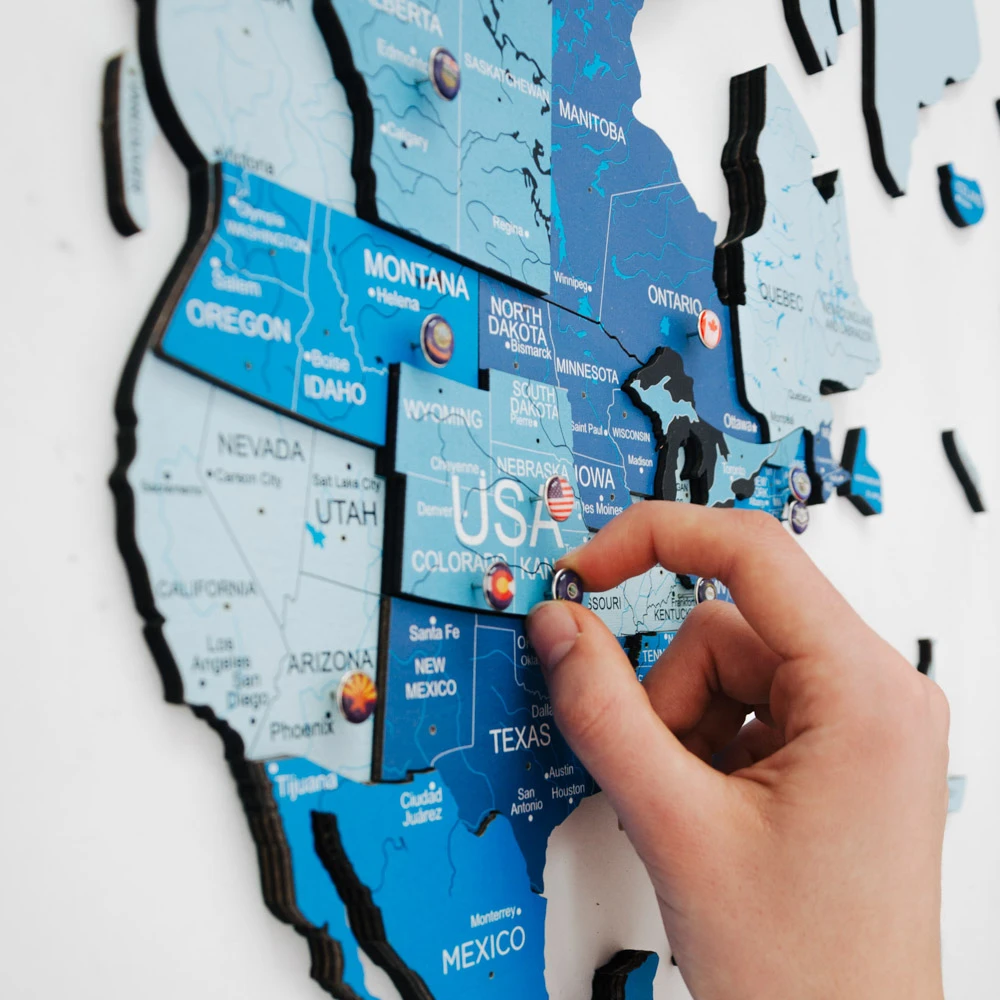 The wooden planes, boats, ocean names, and the compass are included in the $66 you pay for the map. So, don't be shy anymore. Relive the past, rejoice in the memories, and rev up your engine for an upcoming journey. The Azure 3D Wooden World Map would fuel your spirits.

3D Wooden World Map Multicolor
Those who have dared to venture away from their homes and those who dream to do that someday know that the world is a canvas. Painted in bright, vibrant hues that characterize each place's vibe.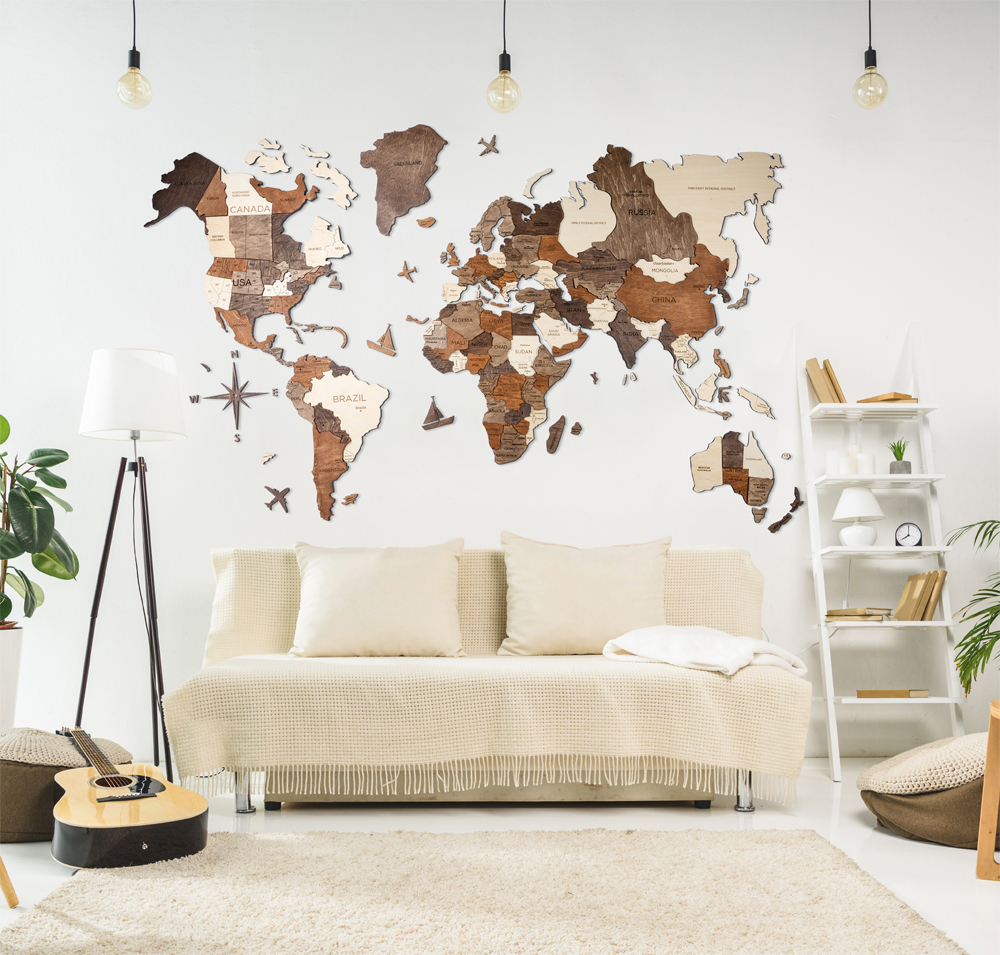 The Multicolor 3D Wooden World Map wonderfully captures that essence. Different locations dyed in different colors won't just evoke vivid memories from that trip you took as a child or the journey that made you who you are today. It will also give you sneak peeks into what lays ahead of you. Imagine glimpses of the vacation you are planning soon or enjoy thinking about a road trip that would be the highlight of your life.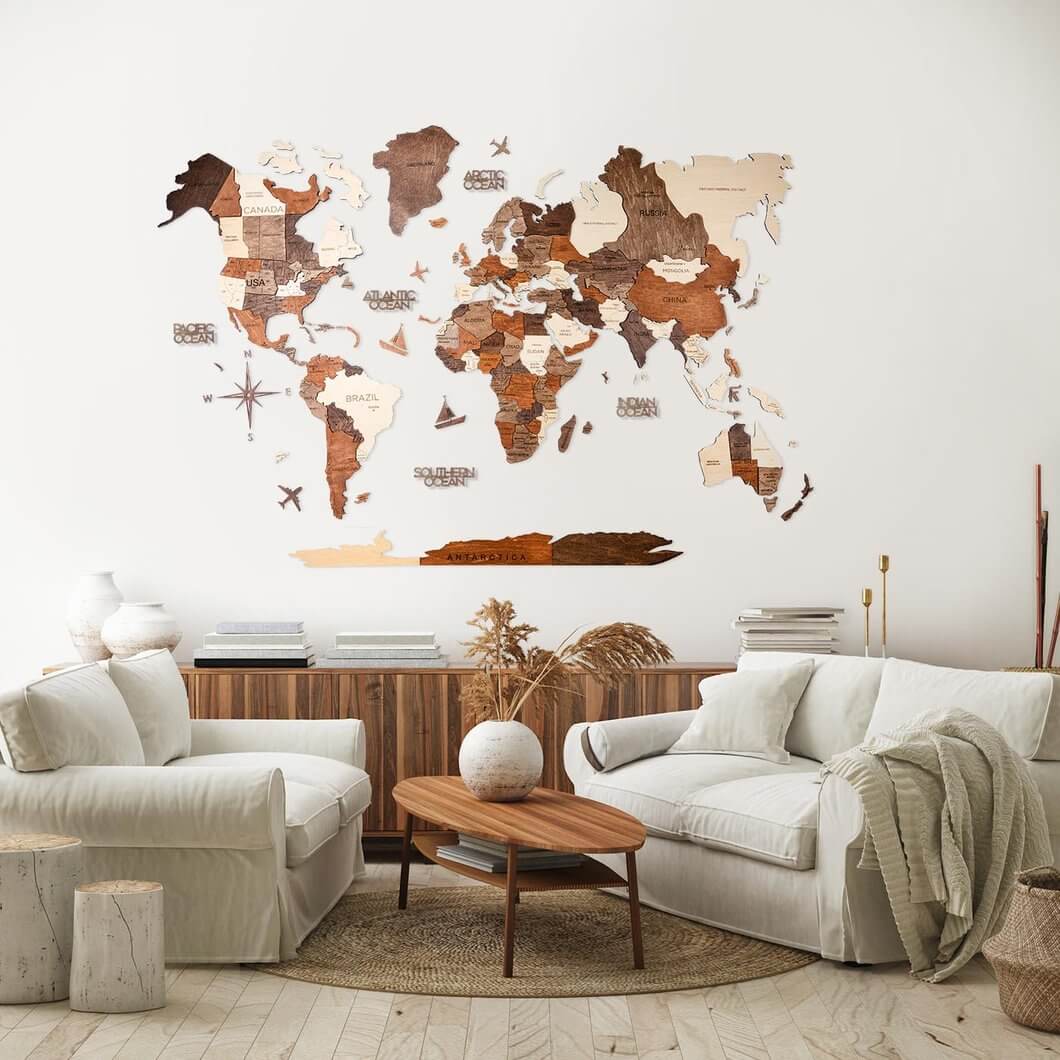 Inanimate objects can evoke emotions too and the Multicolor 3D Wooden World Map does it best.

3D Wooden World Map Nordik
Picture this. The world is laid out in front of you. In multiple hues of black and grey. Punctuated with blue spaces to show the lakes, rivers, and oceans of the world. That sure makes you want to catch that flight, book the cruise, and take that road trip, isn't it?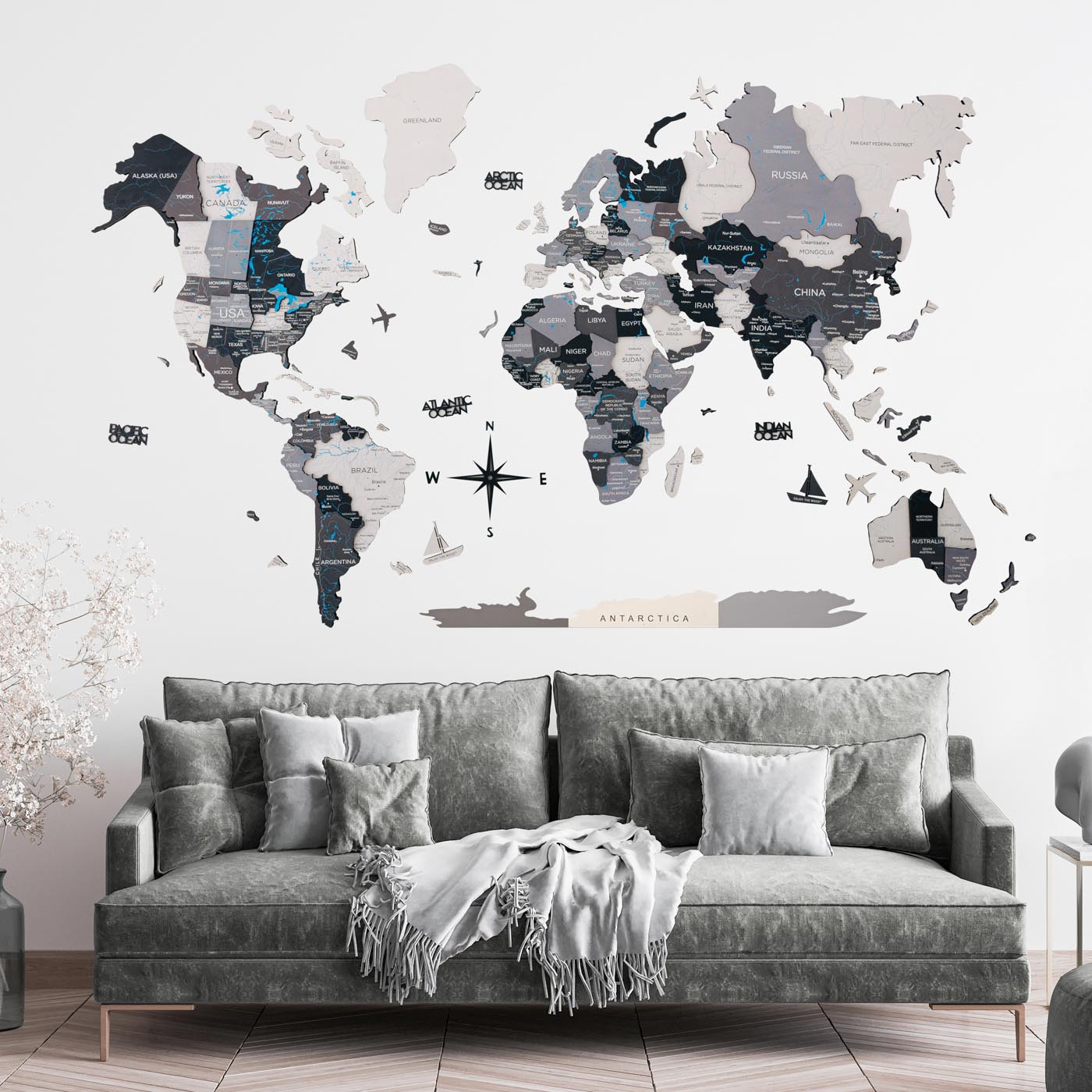 For those who need a constant reminder of the pleasures of travel, the Nordik 3D Wooden World Map is the perfect gift. What's even more special is that it is eco-friendly. For those who make conscious efforts to leave no carbon footprints while globetrotting, the Nordik map becomes an extension of their nature-loving ideals.
Wondering it must be expensive, right? Not at all. Available at a discounted price of only $66, the handcrafted 3D wooden world map is a great deal, to say the least. More so, when you know that it comes with a lifetime warranty. Just like your love for wandering is timeless and forever, so will your cherished Nordic world map be.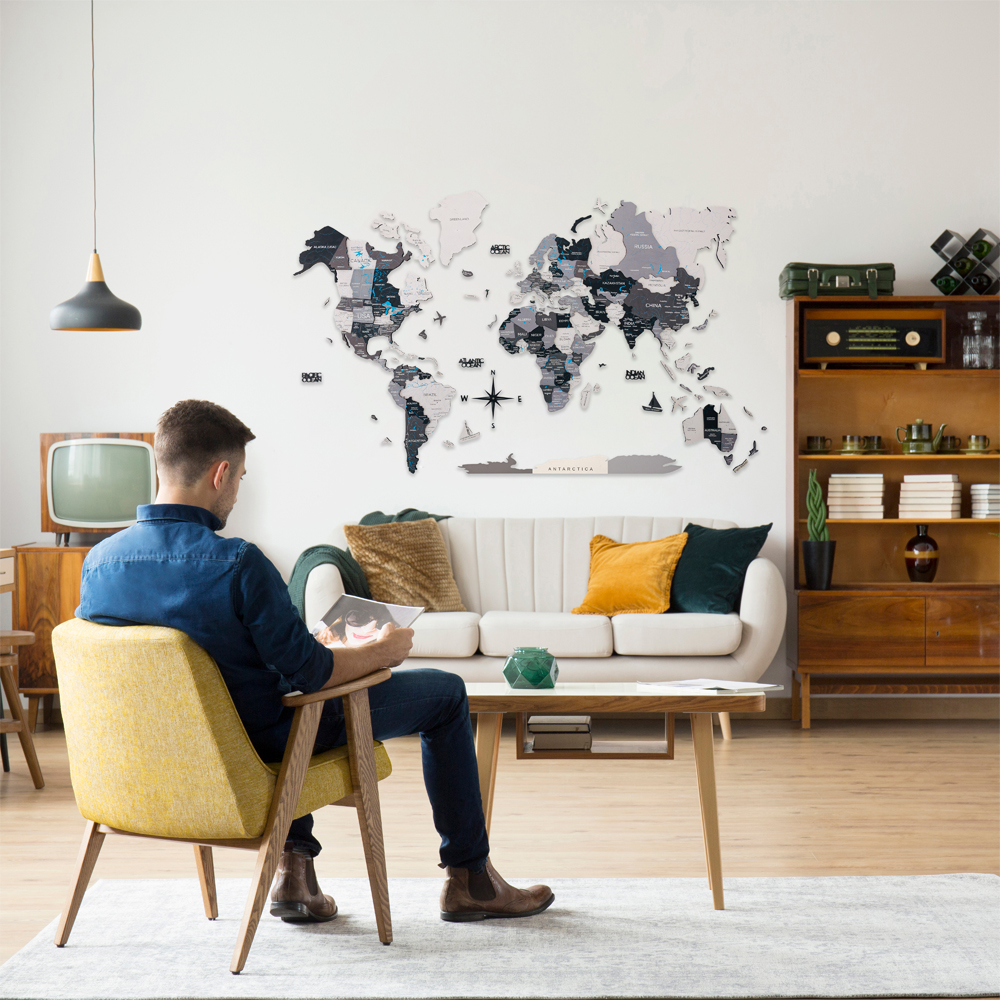 3D Wooden World Map Terra
When you aren't hitting the road and exploring the nooks and corners of nondescript towns and villages that still live in ancient times, you can gawk at the Terra Wooden World Map perched on the walls of your home.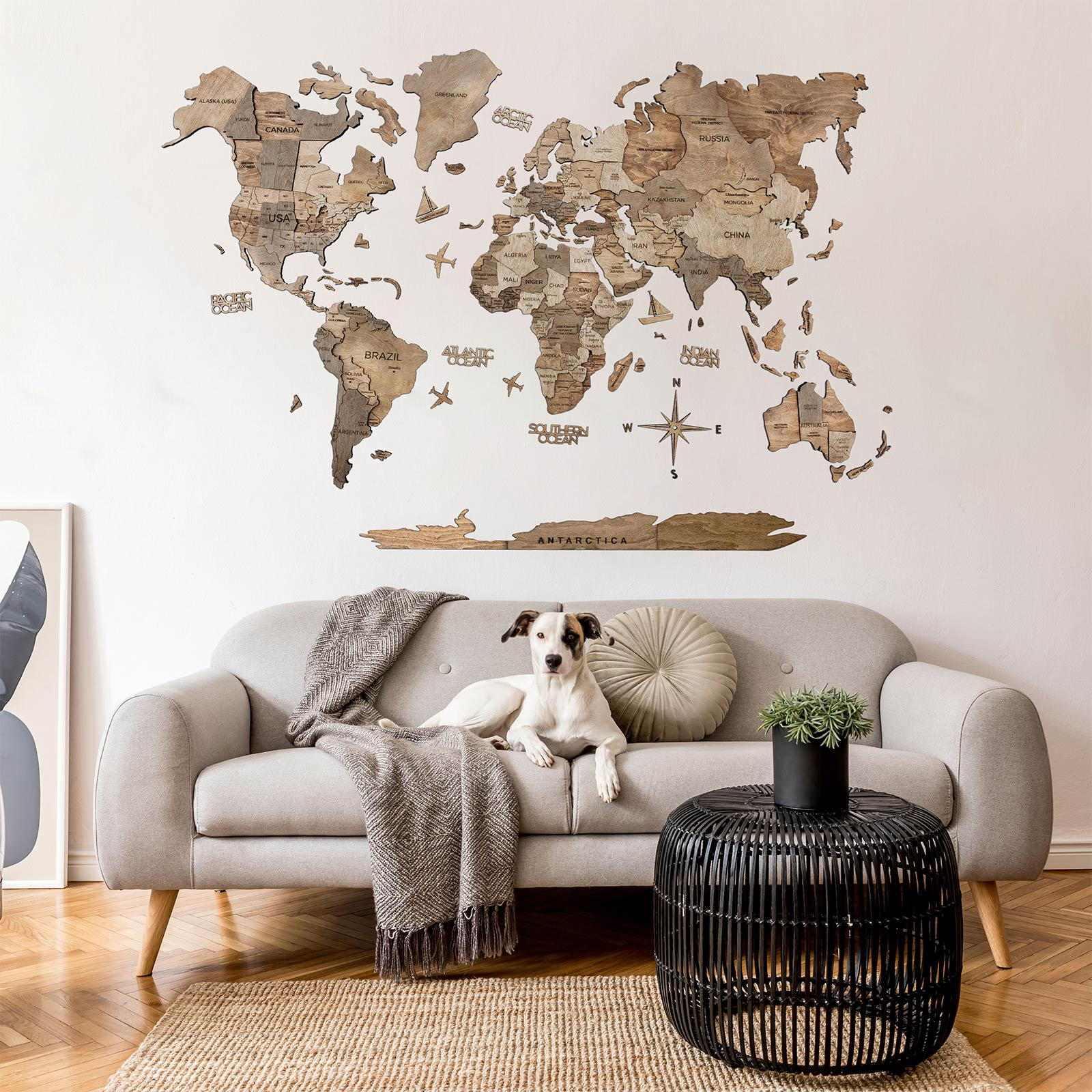 While nothing can replace the feeling of wind in your hair and unexplored lands below your feet, the stunningly handcrafted 3D world map does replicate the feeling of liberation and exploration.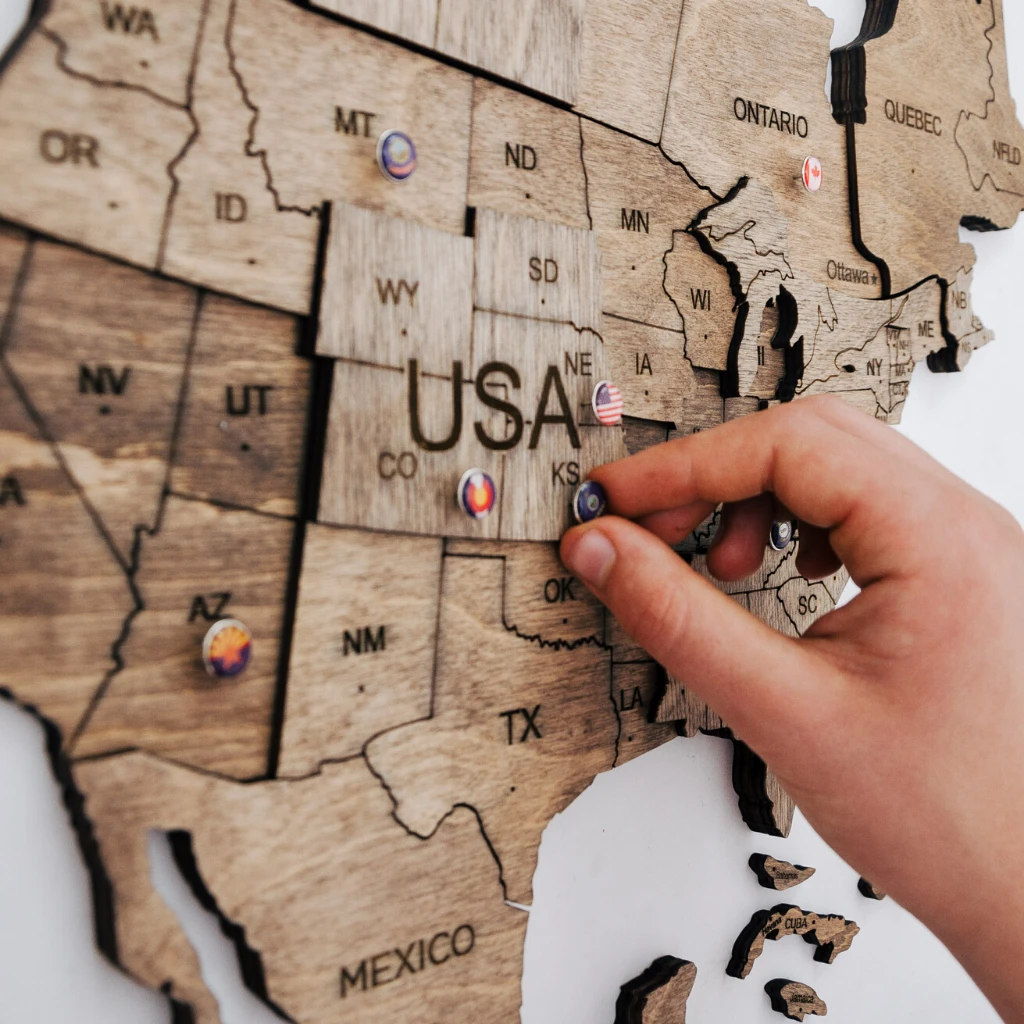 Made of birch plywood, the 3D Map comes in at $66 (discounted price for travel lovers!). And it is fun and easy to install. Whether you are gifting it to someone or eyeing the beauty to decorate your own living room, be sure that it comes with more than just its wooden parts. It comes with a fun installation time where the entire family can bond and remember the past travels or make elaborate plans for future journeys.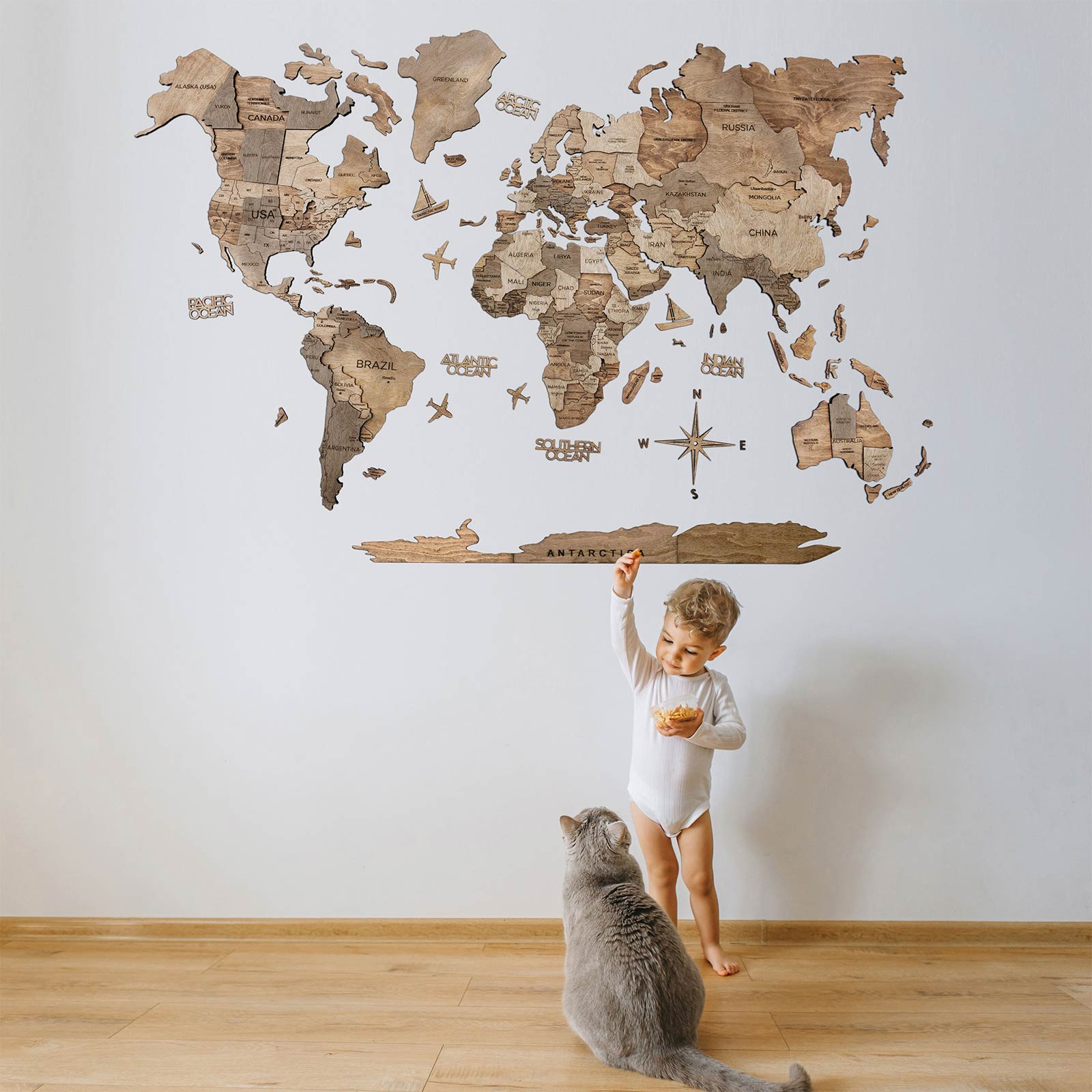 And the double-sided sticky tape, instruction manual, tiny wooden planes and ships, the names of the oceans, and the compass along with a lifetime warranty it a wholesome package.