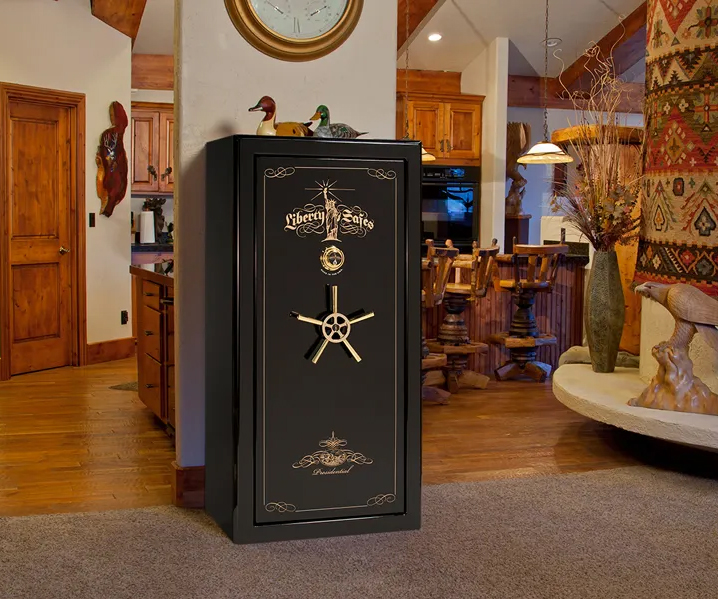 If you've just moved homes, are about to move, or are simply a new gun owner, aside from owning the actual gun itself, another just as important aspect should be a must-have acquisition for your home. That is the addition of a gun safe and a high-quality one at that. As the name suggests, a gun safe is essentially a secure storage space for your firearms. This will not only prevent them from being misused by anyone but will also help to ensure that you and your family are kept safe when your guns are not in use and that they are stored safely and securely at all times.
Part of being a gun owner is ensuring that you recognize the responsibility of taking care of how your firearms are stored, and a gun safe is a great way to ensure that this is carried out correctly. But choosing which gun safes to buy can be complicated and confusing because of the sheer number of choices available. We've narrowed down our list to the top 5 safe manufacturers for you to have a look at, so keep reading below!
Liberty Safe
Founded in 1988, Liberty Safe is our top brand when it comes to choosing a gun safe. Launched by the same person who previously co-founded Fort Knox, you can be assured that the experts in the company genuinely do have all the knowledge and know-how to produce the best firearm safes in the world.
One of the reasons it is our #1 brand is thanks to the fact that there is consistent growth within the company. The continued investment in the latest technology means that the high-quality manufacturing they pride themselves on remains consistent year after year. The industry-leading fire protection and military-level locking bar technology alone is more than enough proof of that. Although bolt technology has been around for a while, getting it to work at the same level and efficiency as the military is undoubtedly impressive.
The best gun safe by Liberty Safe – Presidential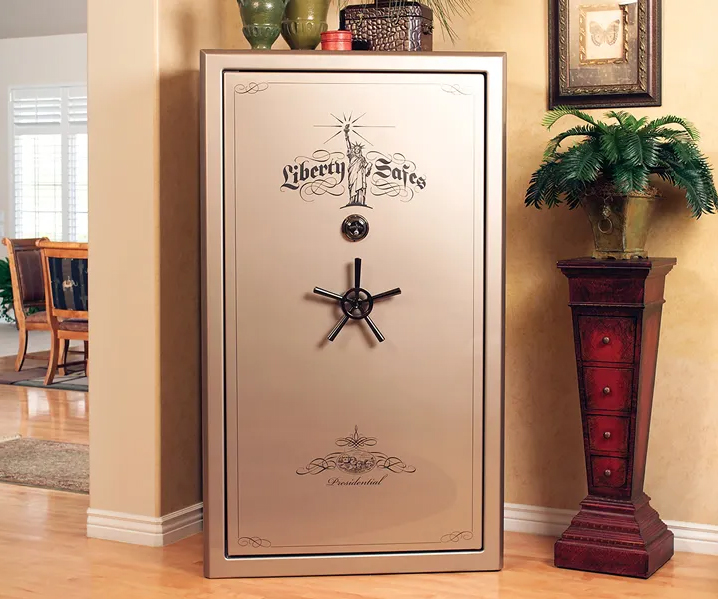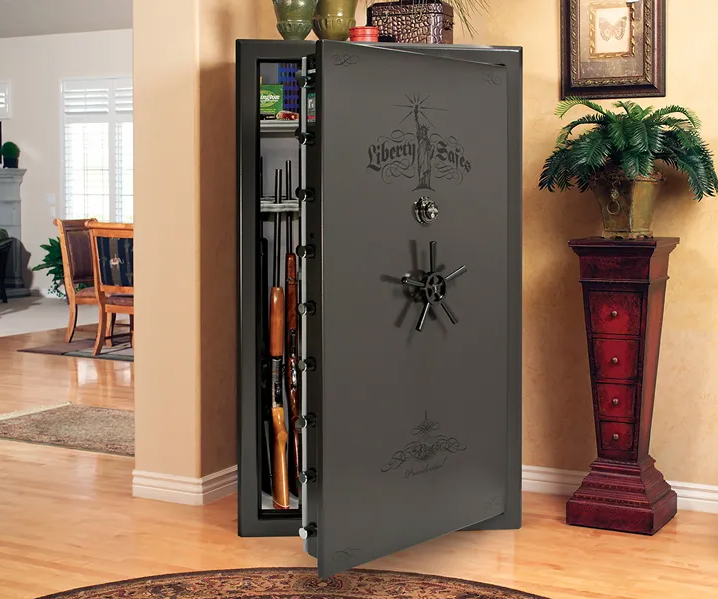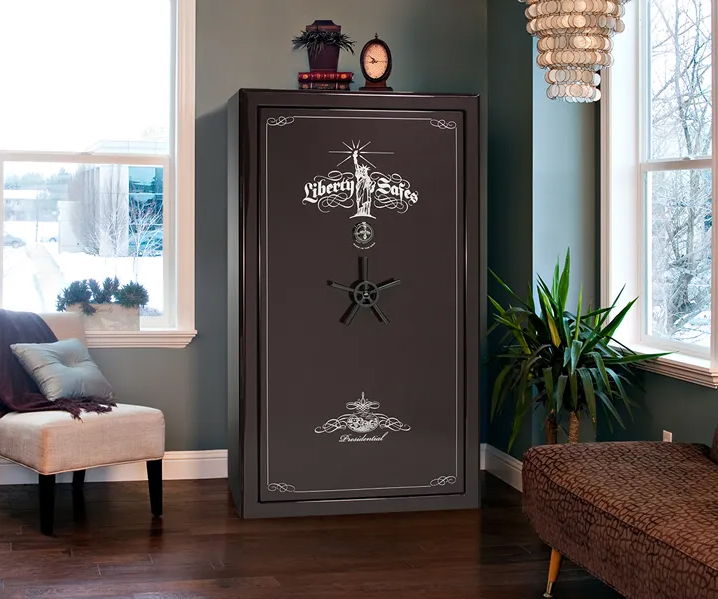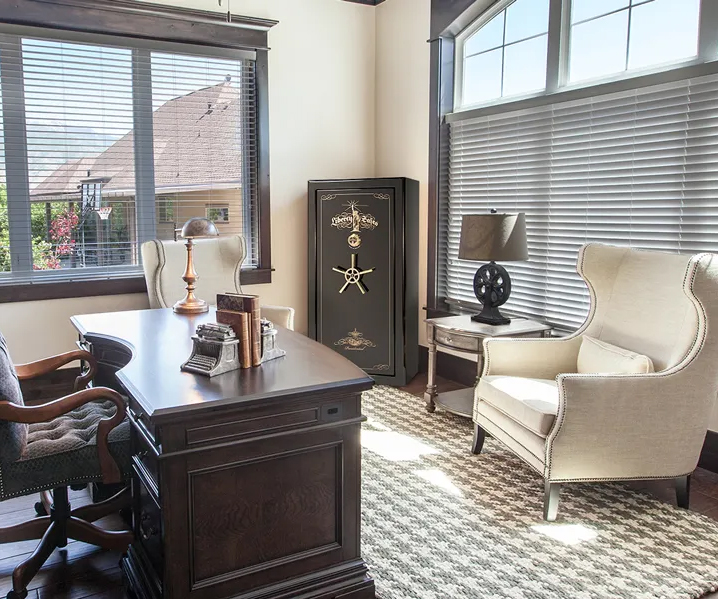 Source: www.libertysafe.com
Safewell
At number 2, we have Safewell, a company with 18 factories across the world. Safewell has no problem keeping up with the demand for firearm safes that come in, and quality control is maintained with the same consistency across the board.
Taking care of the small yet significant factors, Safewell makes sure to focus on ensuring that there is 100% accuracy when it comes to the cutting and measurements of the metal sheet parts when assembling a gun safe. Although a relatively simple thing to overlook, it reduces the rate of error early on during production and, as a result, means that gun safes can be made more efficiently, and manufactured faster with very little material wasted in the process. There has been a big push toward steel recycling in recent years.
The best Safewell gun safe – Safewell GSF0100M Series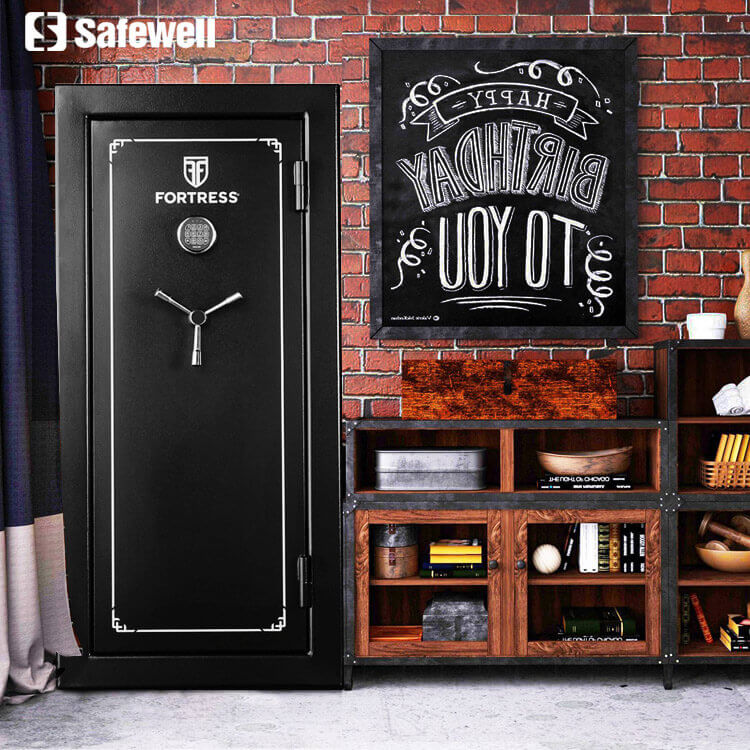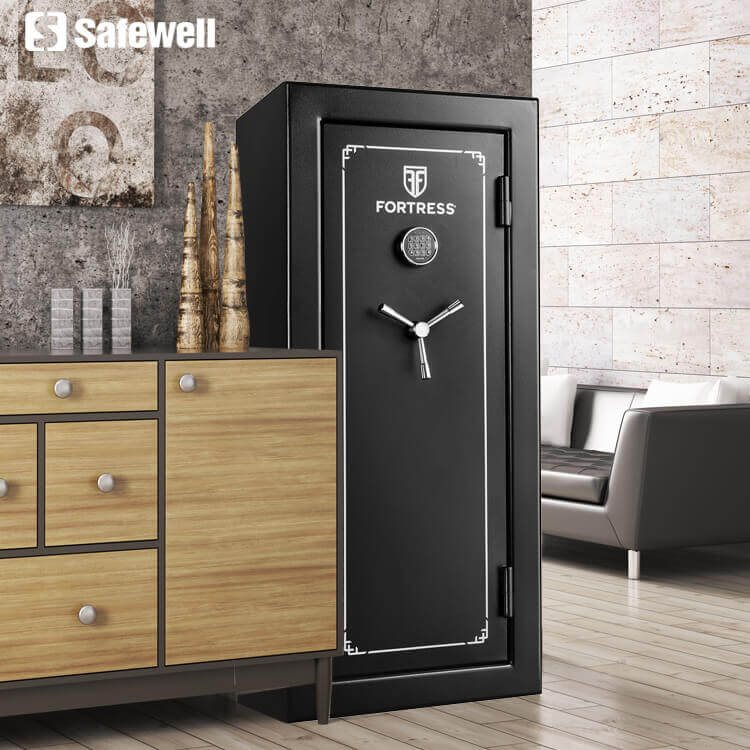 Source: www.safesworld.com
Rhino Metals
When looking at a gun safe, aside from practicality, you might be someone looking to invest in a gun safe that looks good from the outside as well. Remember that distressed finish that you've come to know and are a fan of? Rhino Metals is responsible for that, paving the way for other brands to follow. If aesthetics is a factor that is important to you, then Rhino Metals is the brand to turn to.
The vintage-style look is definitely a brand staple, but that doesn't mean they compromise on quality. The ironwork design has come to be an iconic look for the brand as a whole, and the convenience that the swing-out storage system brings only makes the system all the more user-friendly and practical.
One of the best Rhino gun safe – Ironworks Thunderbolt IWT7242X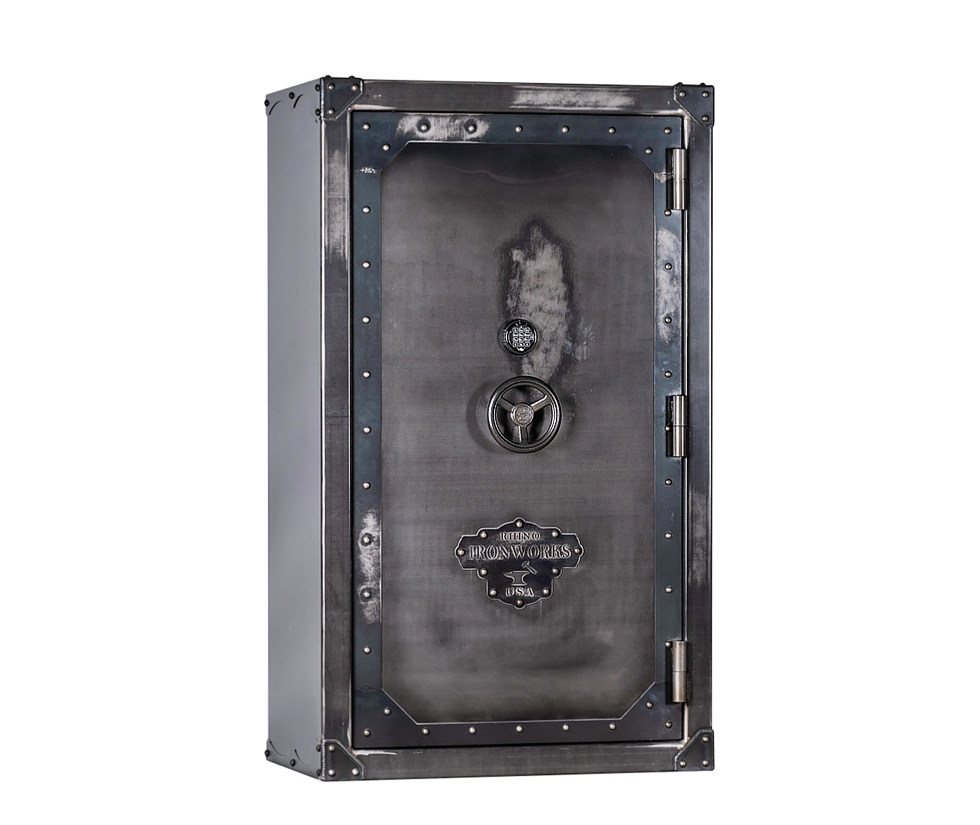 Source: rhinosafe.com
Fort Knox
Another top contender is Fort Knox. As mentioned before, the same person who founded Liberty Safe was involved in Fort Knox prior to that, so the quality gun safes produced by them will undoubtedly be of high quality whilst taking into account any additional tweaks you may wish to make to your safe.
Fort Knox is primarily known for its customization aspects and just how much you are able to customize. No requirement is ever too specific for Fort Knox, and everything from how many layers of steel you wish to have to even the style of the hinge is something that can be arranged for you.
One of the best Fort Knox gun safe – Legend Vault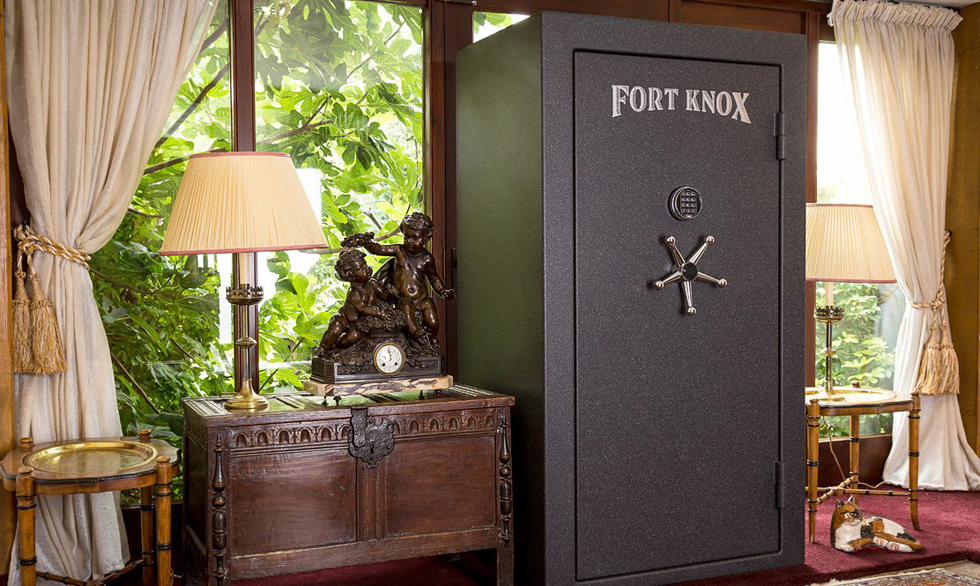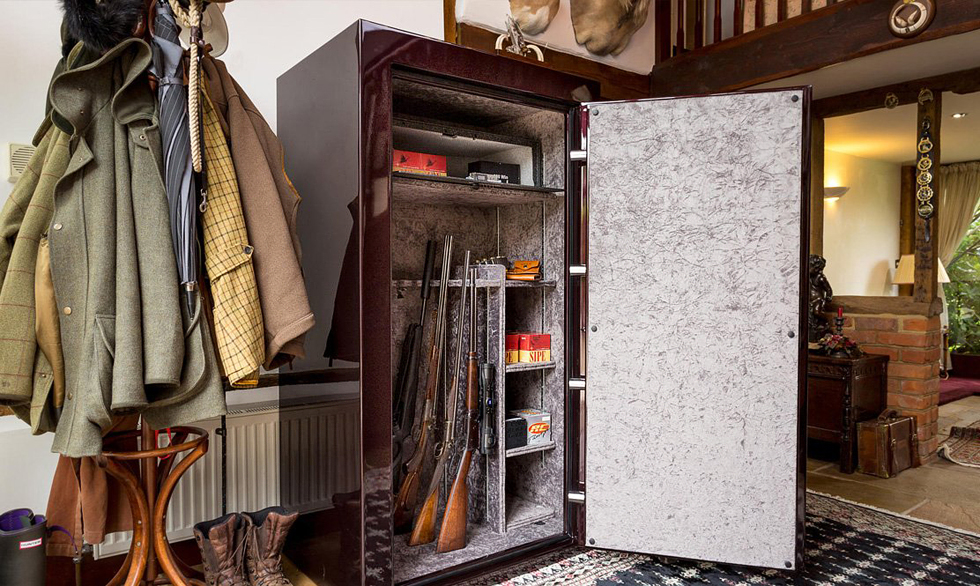 Source: www.ftknox.com
Browning Pro-Steel
Last on our list is Browning Pro-Steel, a company that leads the way in firearms with its sister company Pro-Steel making high-quality gun safes alongside it. Their unique design means you can actually store long guns within the door, while other brands often offer that storage option just for handgun firearms.
If you want to have a better idea of what exactly your gun safe will look like and the sorts of features it is able to carry, the safe builder on their website allows you to do just that. You can either go through their core and pro series or make your safe entirely yours and go the totally custom route. The choice is yours!
Two the Best Browning ProSteel Gun Safes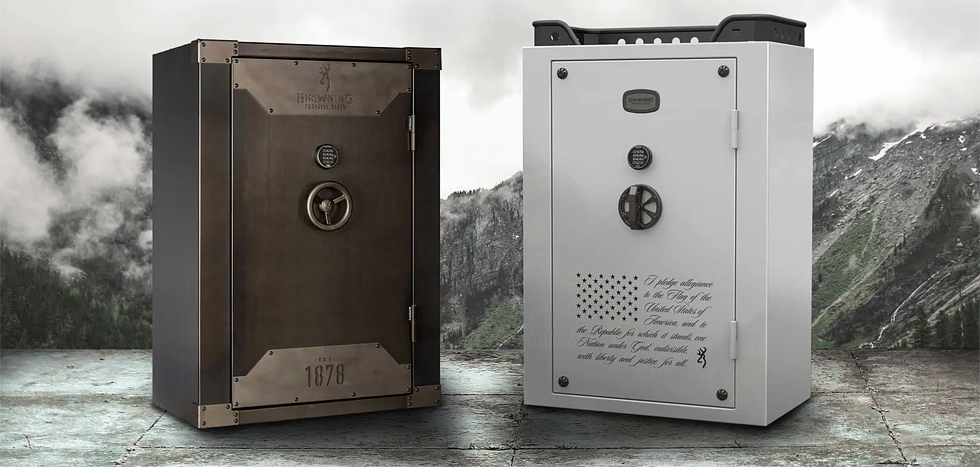 1878 and Stars & Stripes series. Source: www.browning.com