So, you decided to simplify your life and buy a mopping floor robot. Now there is only one small problem – how to choose the best robot mop and then not regret your choice? To do this, read our review of 7 Best Mopping Floor Robots where we've collected the most popular models of 2023. For each robot mop, we've specified the characteristics, pros and cons. So now you can make a more weighted choice.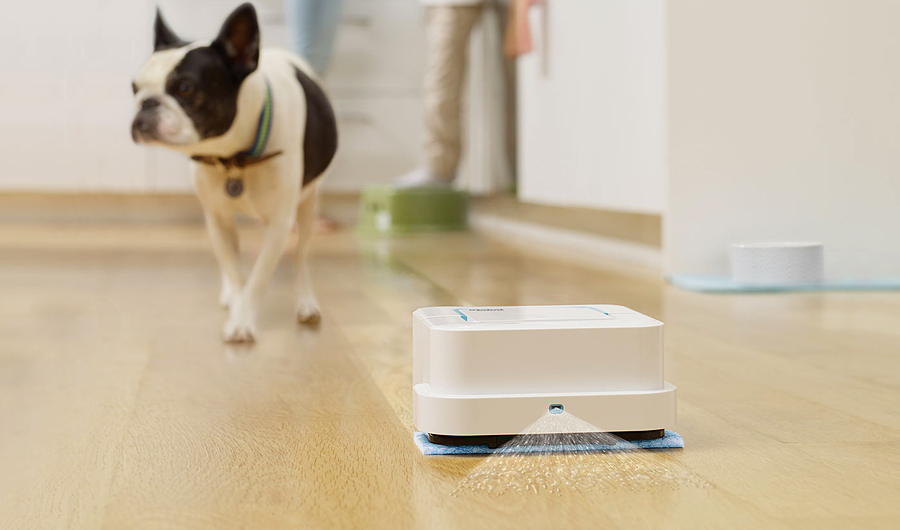 Is daily mopping making you grumpy and irritable? Now, you can have clean floors without even lifting a finger. The market is flooded with high-quality floor mops. So, you can now choose the robot map specific to your needs, and get rid of any grime, dirt and debris that may make your floor dirty. With the help of a robot mop, your floor will be swept clean while you attend to other home chores.
Floor Mopping Robot Comparing
Manufacturers of household robots provide a choice of a large number of different mopping floor robots. And the buyer faces a difficult question – how to choose a mopping floor robot? Best robot vacuums are produced by the following 5 brands: iRobot, ILIFE, bObsweep, Rollibot, ECOVACS. Let's compare their characteristics and find out which one is better?
7 Best Robot Mops Reviews
Since the parameters for our comparative table are the data declared by manufacturers, it would be reasonable to consider each robot individually and find out all the pros and cons. Let's start with the market leader:
iRobot Braava 380t Robot Mop [ buy it here ]
The iRobot 380t floor mop robot is excellent at cleaning large rooms, due to its intelligent BraavaNorthstar navigation system. Due to this technology, it can easily clean a variety of surfaces, picking up dirt, dust, hair and grime.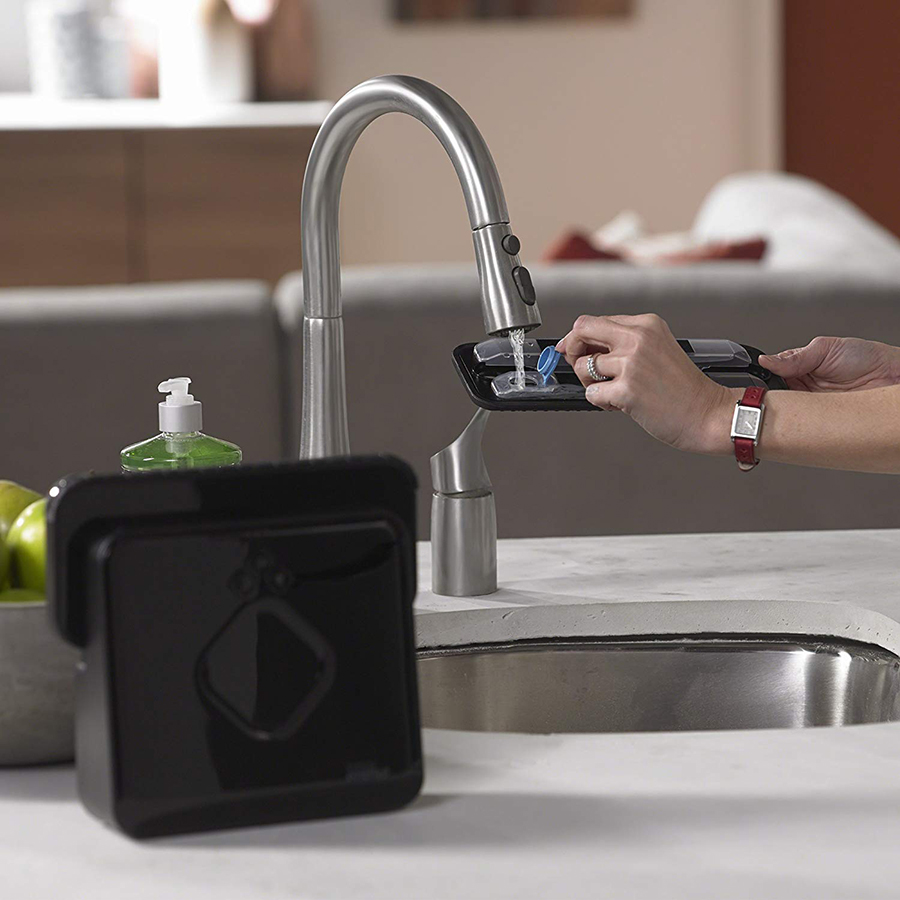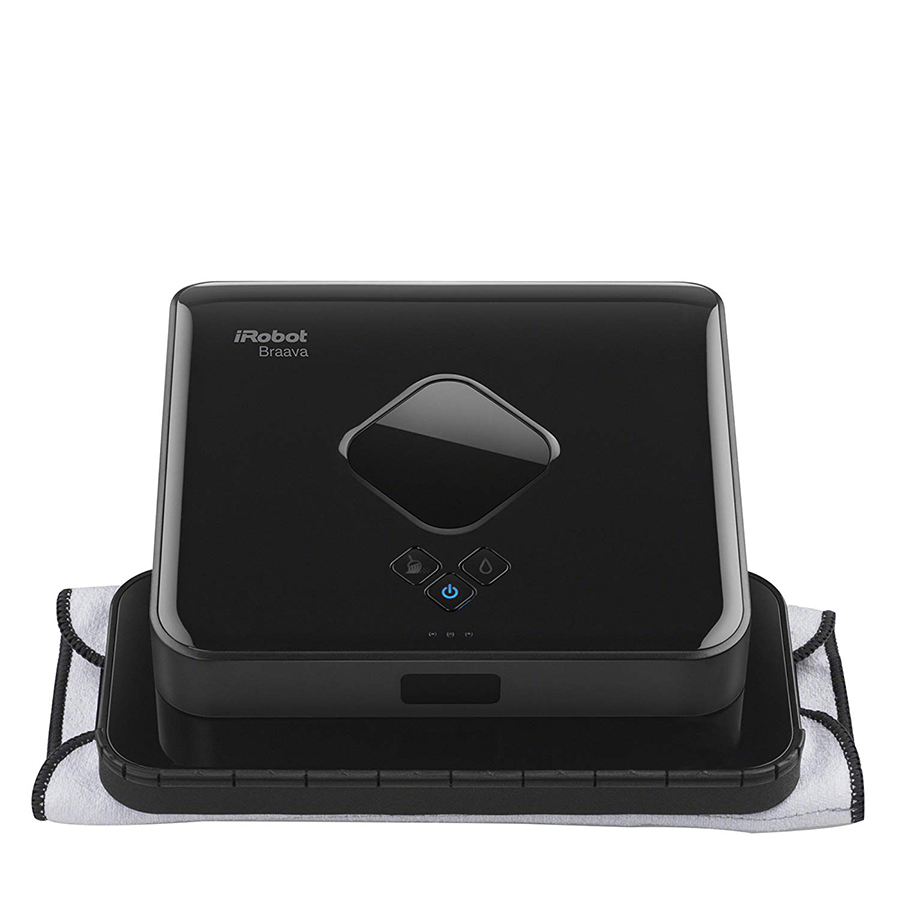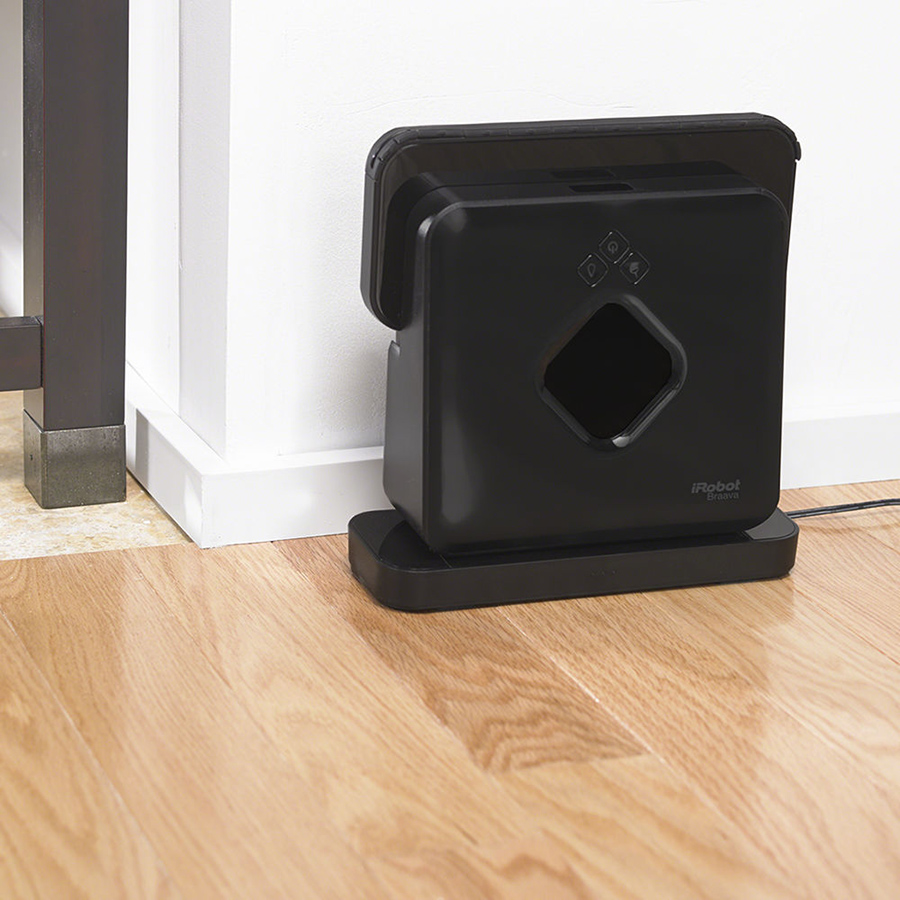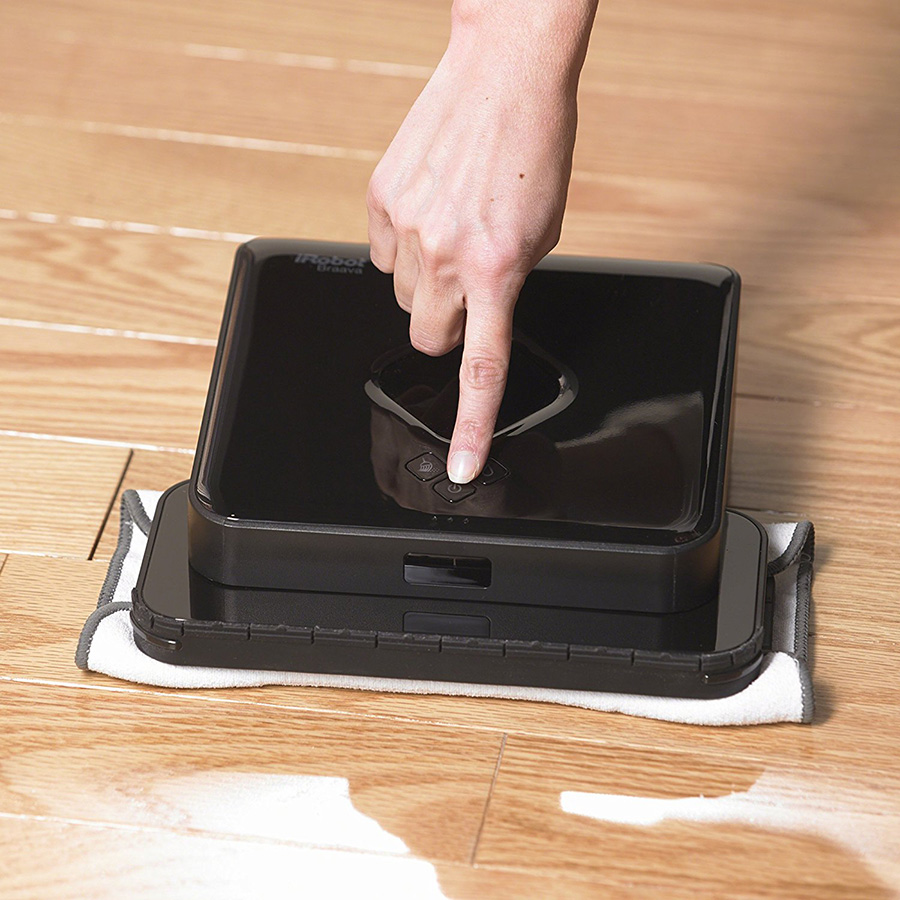 Ease of use: It works very simply – just add on a cloth, set the device down, press a button and it starts. The cradle can turbocharge the mop in less than two hours.
Technology used: It works with ultramodern robotic technology, and has a tracking system that tells it where to go, called The NorthStar Navigation System 2. The NorthStar Navigation Cube emits a signal that Braava uses to find its location.
Cleaning features: It has two cleaning modes: Sweep and Mop. The former sweeps the floor with a dry cloth in straight lines, while the latter mops in a back and forth motion, lifting off dirt as it moves. Braava uses disposable cleaning cloths for regular cleaning or reusable microfiber cloths for dirt, dust and hair removal. The Braava 380t has a built-in Pro-Clean System which includes a Reservoir Cleaning Pad that gives out cleaning liquid all through the cleaning cycle so that the cloth is wet. They are detachable using Braava's magnetic multi-purpose cleaning pad.
Versatile: It is versatile enough to clean surfaces like tile, laminate, vinyl, hardwood and others.
Pros:
Good design
Versatile with several cleaning modes
Low noise
Very good navigation system
Cons:
Heavier than competitors
Gets stuck while cleaning
Lack of scrubbing action renders it useless for dirty floors

ILIFE V5s Pro Robot Vacuum Mop Cleaner [ buy it here ]
This gem of a mop cleaner is built in with a vacuum cleaner to clean all kinds of flooring, such as tile, wood, laminate and marble.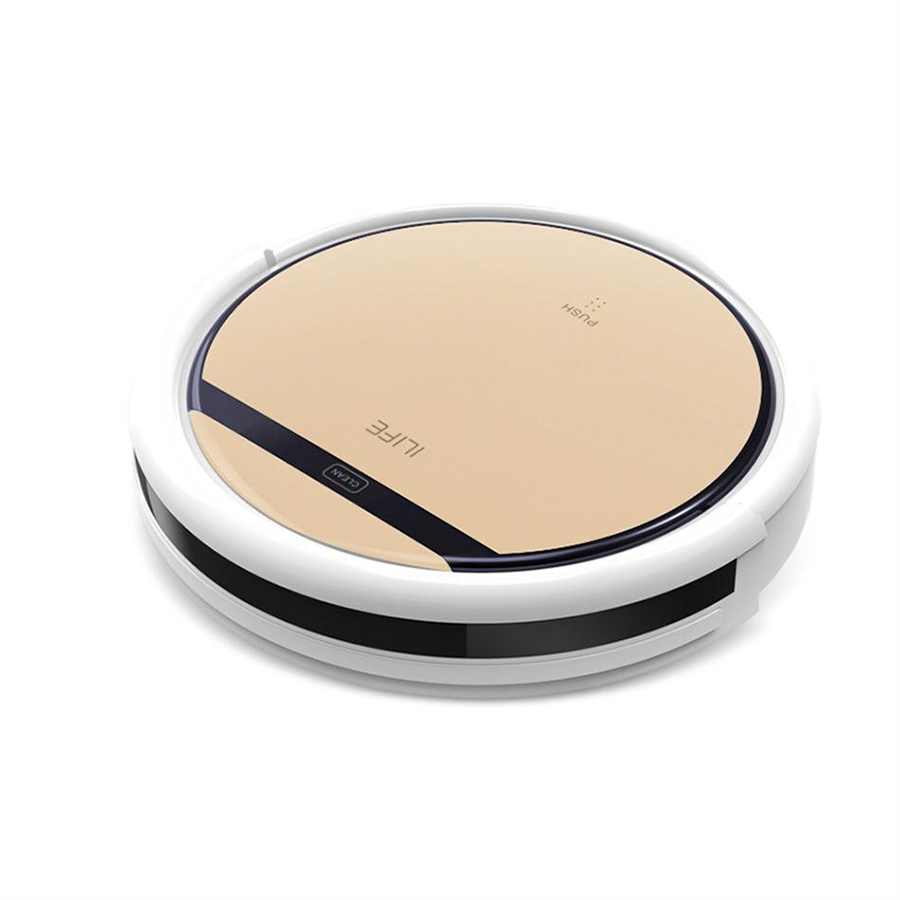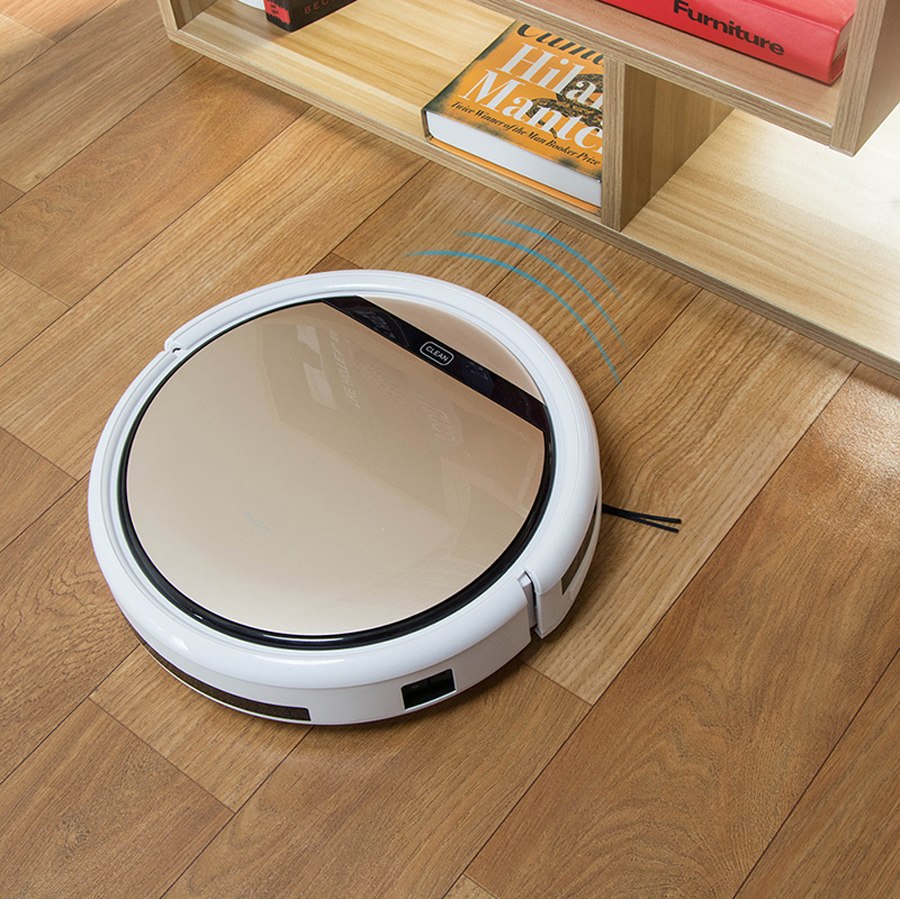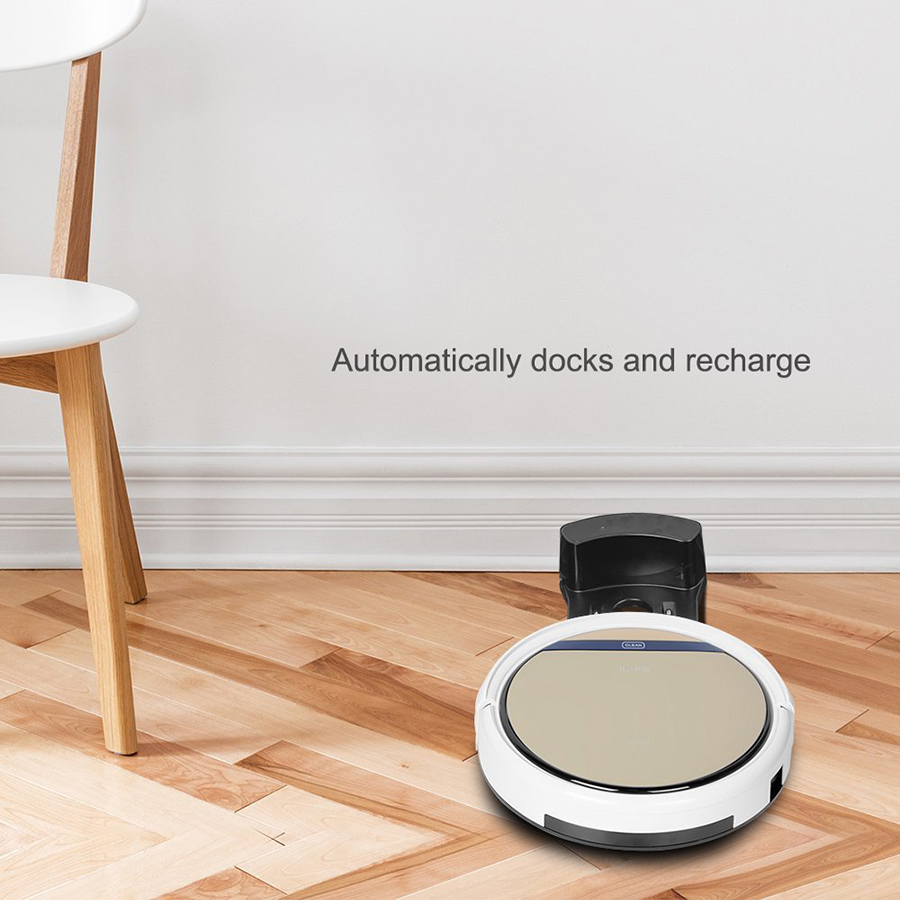 Ease of use: Designed to clean hard wood, it is built-in with a water tank that helps pull dirt and grime easier than its counterparts and maintain them on a daily basis.
Technology used: It uses modern i-dropping technology that makes for more efficient mopping. It also comes with larger roadrover wheels and self-rescue technology that freely passes over uneven flooring. Lastly, it has an extended battery pack that increases the device's running time to a maximum of 140 minutes.
Cleaning features: It has an automatic damp mopping spa that lifts off tough stains from the floor and leaves it glistening. It is also engineered to have a modern BLDC motor brings which gives the motor 40% more suction power and 20% longer life.
Its four cleaning modes are:
Auto clean or clean automatically but randomly
Spot clean or deep clean an extremely dirty spot
Edge clean or clean along the sides of walls
Schedule clean or pre-set the device for a particular starting time and it will complete the job without supervision
Versatile: It is designed to be more maneuverable, in terms of its size and function. It can therefore also be used to clean in tight corners, below cabinets and stand-alone sofas.It can also move around obstacles and objects.
Pros:
The design in low profile.
Good for all floor types
Automatic dock and charge
Cons:
It does not have any intelligent mapping system.
Maintenance is time-intensive.
Though it is also a vacuum cleaner, it does not vacuum clean carpets.

Mint Automatic Hard Floor Cleaner [ buy it here ]
This cleaner is meant for sweeping and mopping hard surface flooring. It picks up dust, pet dander and dirt efficiently from the floor using dry and wet cleaning cloths.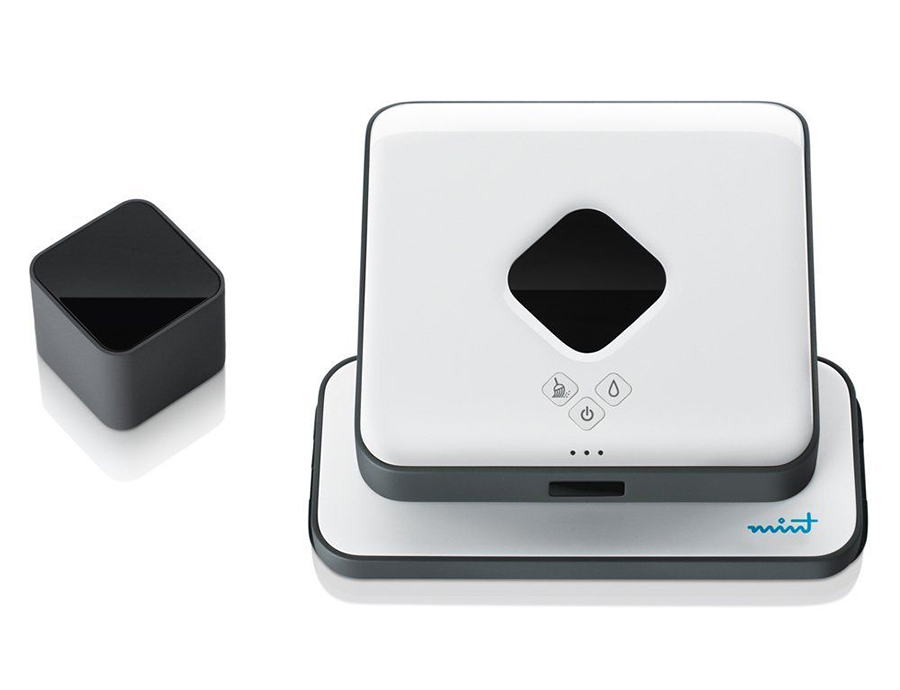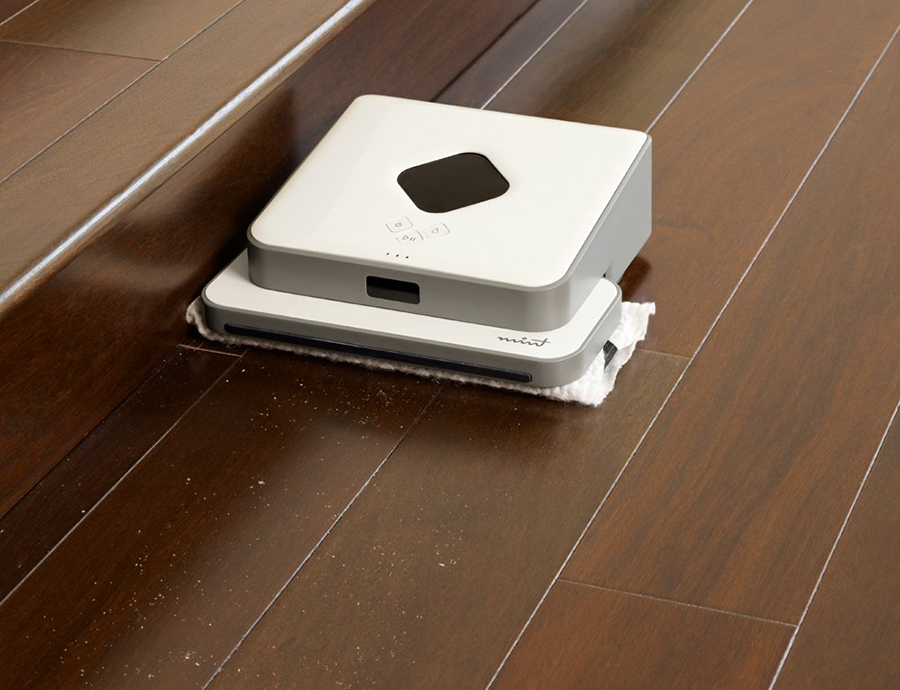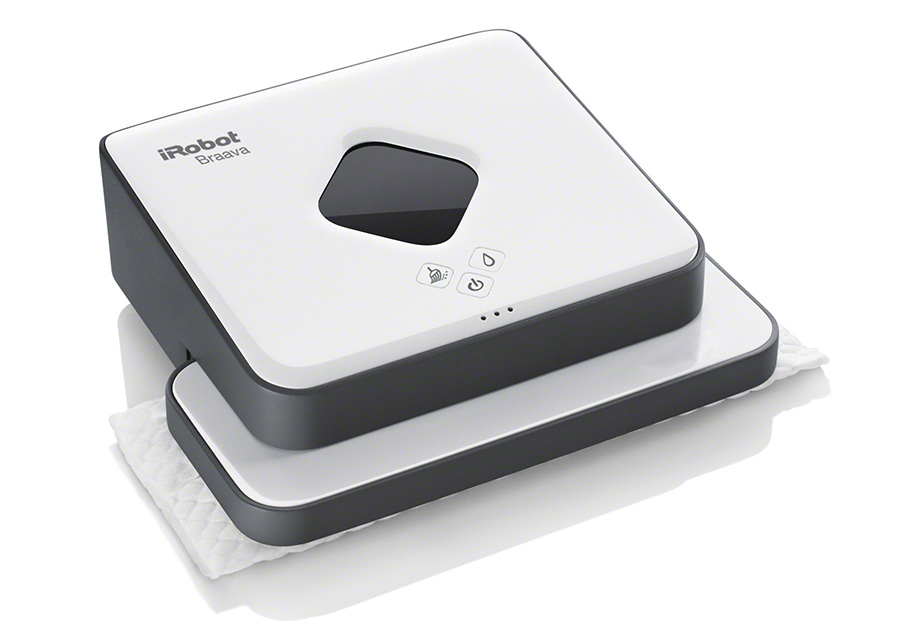 Ease of use: By using the NorthStar Navigation System cube, Mint can track where it has to clean so that it doesn't miss out any spot. It works easily: just attach your cleaning cloth to the device and choose what you want it to do – sweep or mop and Mint will do it.
Technology used: This device is guided by the NorthStar Navigation System which works like a GPS system, tracking its movements and where it needs to go. The NorthStar Cube sends out a signal for the device to find its location. As it cleans, it draws a map of the area, including objects, walls and drop-offs. Once it finishes, it does an edge clean-up on the walls and returns to its starting point.
Cleaning features: Mint works in dual modes, cleaning your hard surface floors. In Sweep mode, it uses a dry cloth to get rid of pet hair and dust from the floor. In Mop mode, it uses a wettened cloth and with a back and forth motion, it picks up dust and dirt from the floor. When switching modes, the cleaning cloth must be replaced.
It works well with wet and dry disposable and reusable microfiber cloths. For sweeping, flat white microfiber cloths are best since they can pick up dirt and dust. For mopping, textured grey cloths work well to loosen the grime and grab more of it.
Mint can map and clean a maximum of 800 square feet of large open space or by mapping adjacent rooms.
Pros:
Its mapping and navigation system is excellent.
Very quiet and easy to set up
Cleans well in difficult areas
Cons:
Deep cleaning is not possible here
Gets stuck in certain areas and wanders around
Short battery life and long time to recharge

iRobot Braava jet 240 Robot Mop [ buy it here ]
In the shape of a square box, this robot mop is intelligent enough to carry on its cleaning duties while you turn your attention to other matters. It is small, quiet and efficient and is the perfect addition to your busy schedule.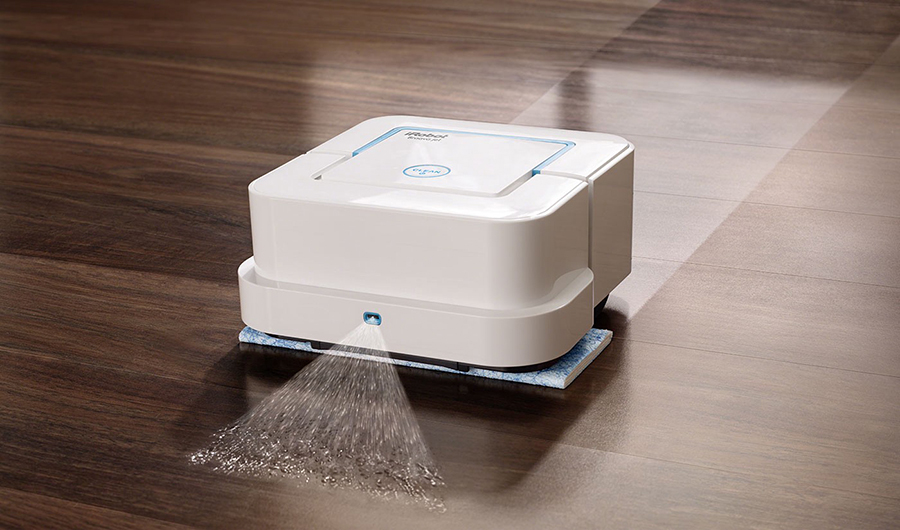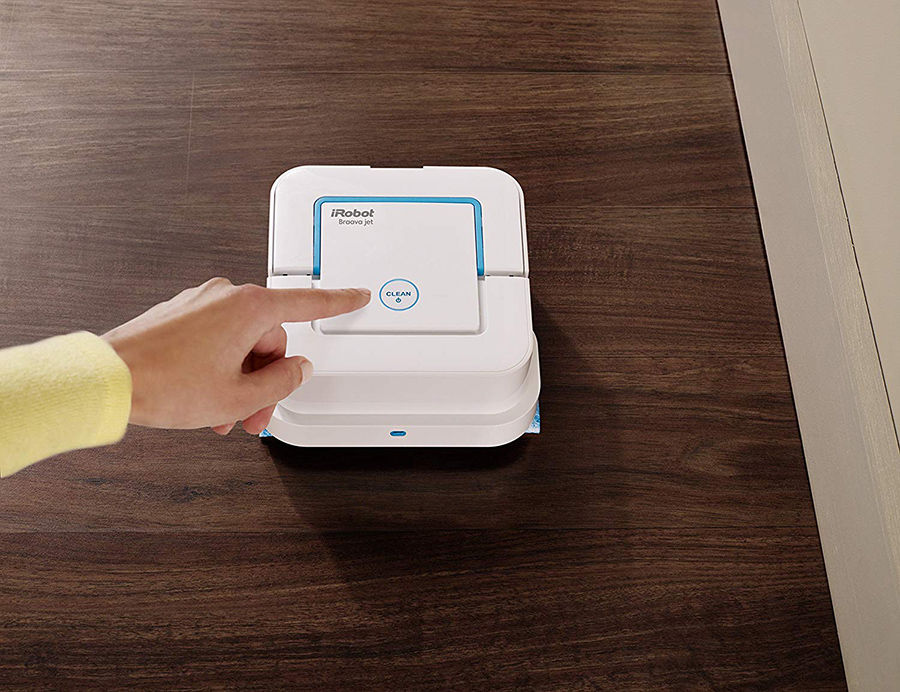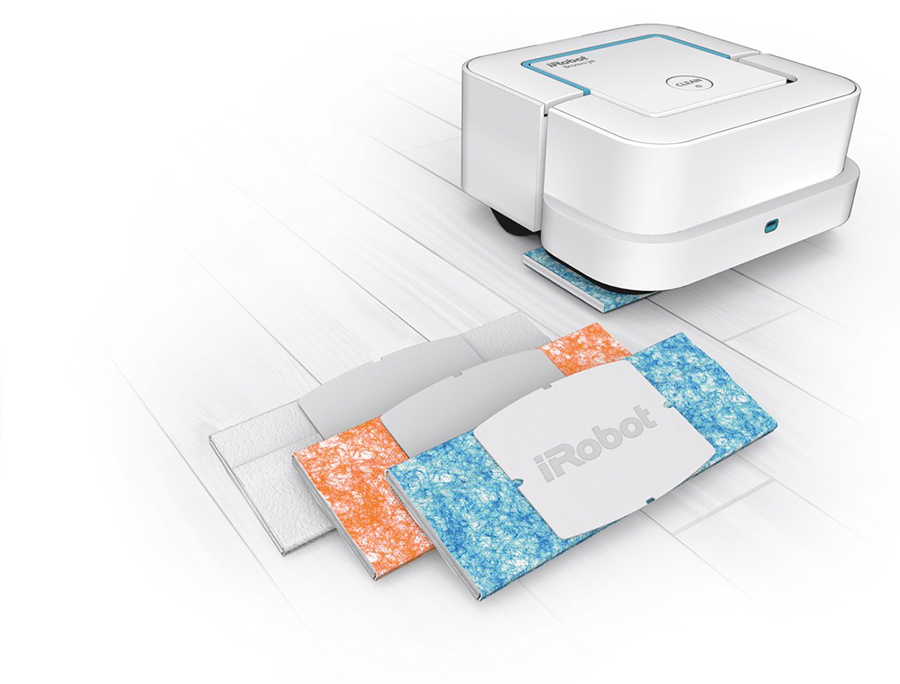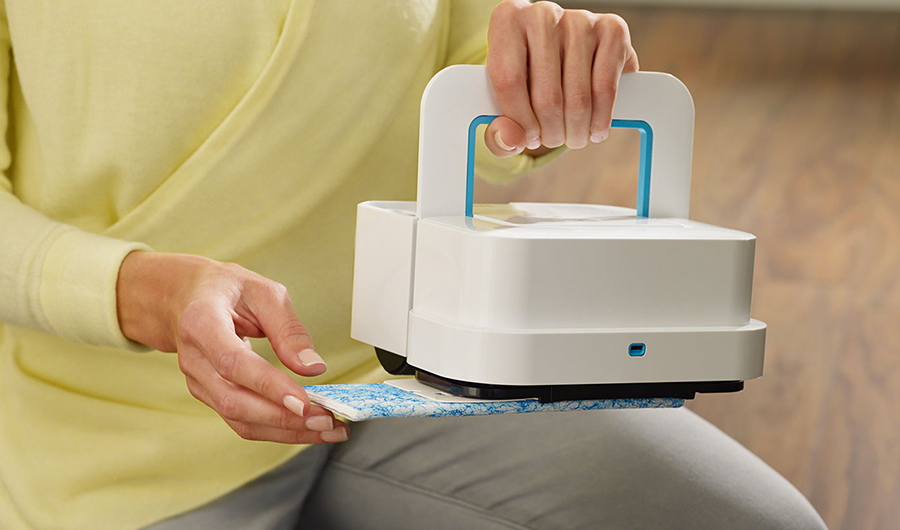 Ease of use: The iRobot Braava is very easy to use. All you need to do is to attach a cleaning pad to the device and the robot will automatically select dry or damp sweeping or wet mopping. It is engineered to clean all kinds of hard flooring, such as tile, hardwood and stone. Whether you live in a small apartment or a large house, it can be very useful to you.
Technology used: The iRobot Braava's interface is controlled by Bluetooth, but it can also work independently without a smartphone. It sweeps and mops on easy ground and difficult-to-access areas using iAdapt 2.0 Navigation System.
It is a basic device, encased in plastic and resembles an electric car with two wheels. It also has an inherent water tank and a mop in front. It is powered by a 1950m A battery, and can be successfully used in small spaces upto 200 sq. ft.
Cleaning features: It works in dry sweeping, damp sweeping and wet mopping modes. Depending on the pad type you place in the device, it will automatically choose the appropriate cleaning mode. By using the Precision Jet Spray feature, the device loosens dirt, grime and stains.
The floor mop first searches for likely obstacles in its path using in-built edge and stair detection features, so that it protects your walls, rugs and furniture. Then, it sprays the area to remove dirt. Its strong vibrating cleaning head removes dirt better than its rivals.
Pros:
Its mopping features are superlative.
It has a short recharge time.
It works with smart sensors.
Cons:
Short battery life
Can only be used on hard floors

bObsweep PetHair Robotic Cleaner [ buy it here ]
If you're a pet lover and love to keep a clean home, the bObsweep can help you achieve this.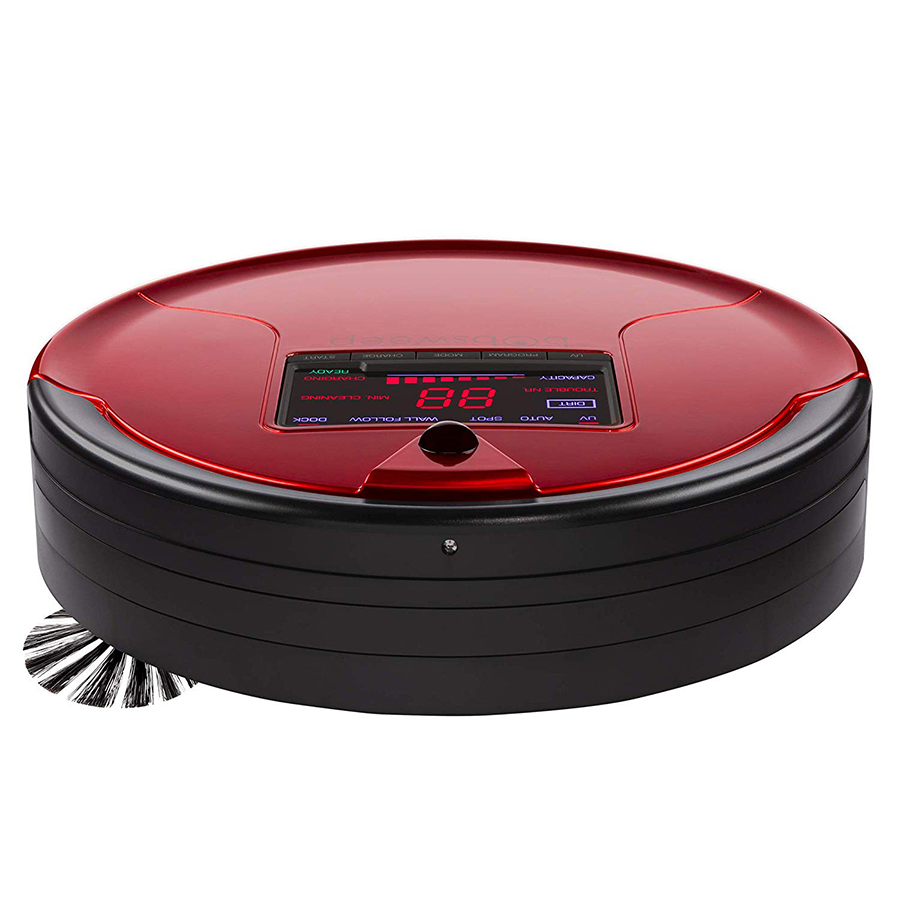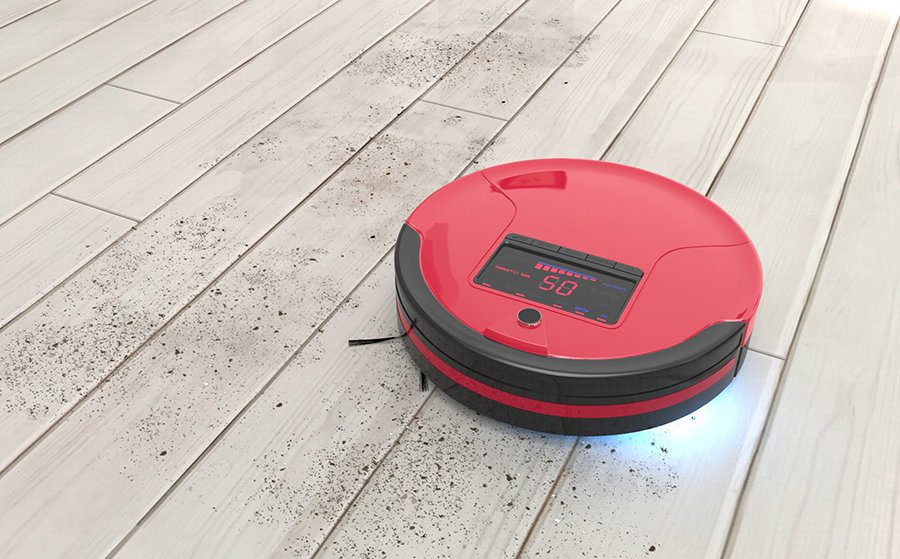 Ease of use: Its sleek design and superb engineering make it very easy to use. As the device works, an ultra-violet lamp will shine on the floor while a filter works to remove microscopic particles from the ambient air.
Technology used: It uses three different technologies to clean homes – Waffle Track, Wall Track, and Spiral Track technologies.
Cleaning features: Its cleaning features comprise:
Robot/Auto Pilot: It automatically works on all surfaces, cleaning it as it goes along. When the battery falls to below 15%, it docks to the charging station.
Quick Clean: It cleans efficiently and quickly in a medium-sized area, and enters standby mode after 30 minutes of cleaning.
Touch Up: Works on all surfaces for a quick touchup, and gets into standby mode after 15 minutes.
Its other features include:
An enhanced algorithm and 80 sensors to prevent any mishaps.
TurboLift™ suction and 1100 mL dustbin which scoop up pet dander and hair
7500 RPM TurboLift Motor extracts debris, hair, dust and grime from the heart of carpets
Rotating brush and squeegee type dust sweeper to clear the floor of hair and dust
For mopping, by attaching microfiber cloth to the device, it will sweep and polish floors together
UV rays sterilize the air
Washable dirt bin, HEPA filtration
Pros:
This device has better navigation algorithm based on tests conducted
It has a one-liter dustbin and HEPA filtration.
It works on infrared and edge sensors.
It works on three cleaning modes – Robot, Quick Clean and Touch Up.
Cons:
It cannot navigate itself.
Its tiny wheels cannot take the burden of the dustbin, which makes it work slowly and less efficiently.
It needs regular maintenance.

Rollibot BL618 – Quiet Robotic Vacuum Cleaner [ buy it here ]
This device does it all – sweeps, vacuums, mops and sterilizes the floor, making it indispensable to any home.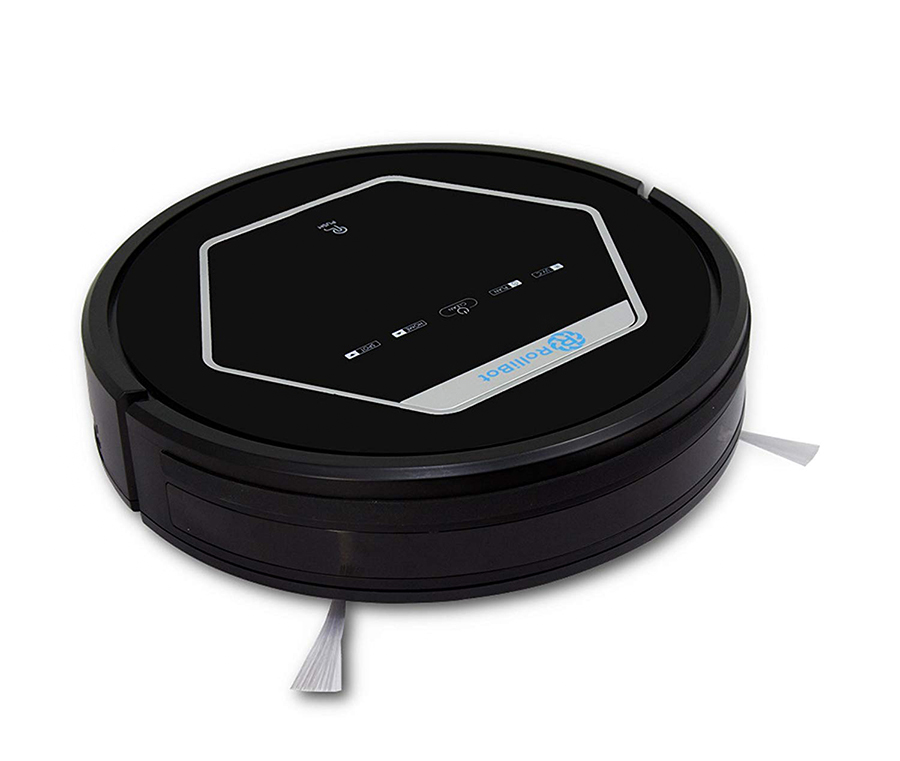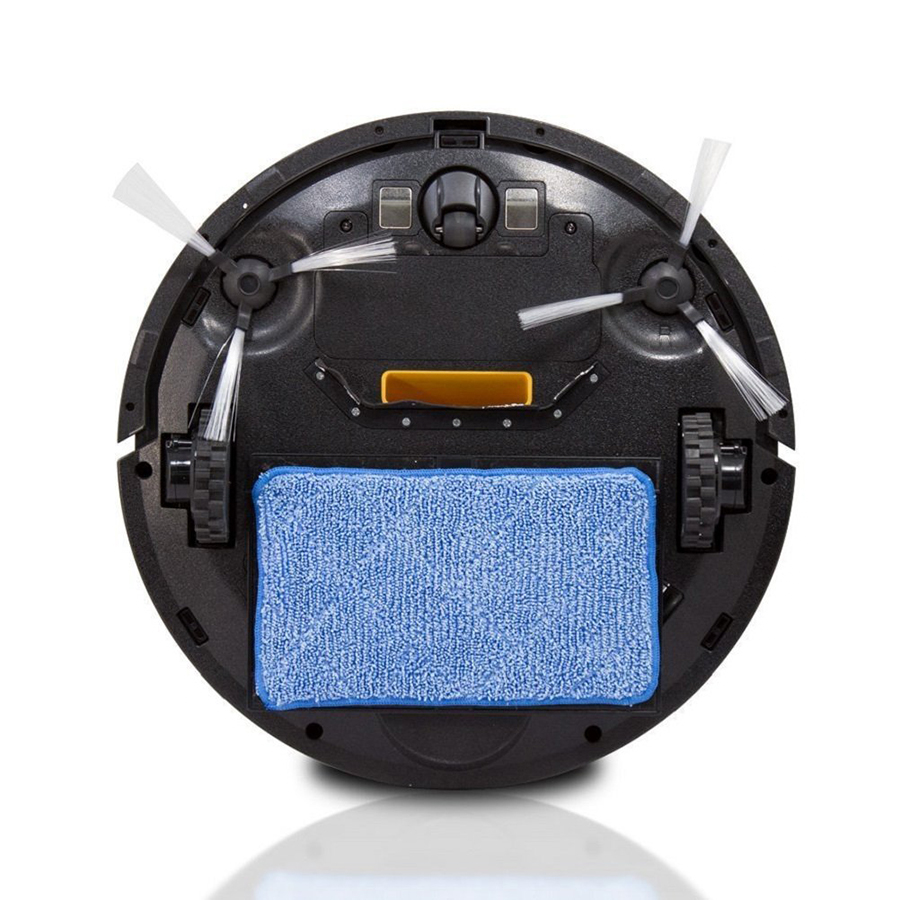 Ease of use: The Rollibot's dual rotating sweeper collects pollen, debris, dirt, grime and dander. It can move from one-floor surface to another very easily, such as tile, wood and linoleum. Its detachable bristles, high-quality suction engine to vacuum and microfiber cloth to pick up spills make this device easy to use.
Technology used: It uses 10 sensors and four ultramodern cleaning modes to locate any mess on the floor and avoid obstacles in its path. Using wireless, you can schedule cleaning and stop and start, and switch modes. This device can remove any allergies due to pet dander, pollen, dust particles or pet hair using a built-in Hepa air filter for cleaner breathing.
Cleaning features:
It has a wide-caliber vacuum that keeps debris from getting tangled.
It has four cleaning modes:

Auto Cleaning Mode: Automatically adjusts its cleaning pattern to suit the room
Spot Cleaning Mode: Does intensive cleaning in a spiral shape when it sees a dirty spot
Edge Cleaning Mode: Cleans along walls, furniture and objects
Zig-Zag Mode: Cleans in zig-zag shape for mopping and in open areas

Its dustbin comes with double filtration: while the micro-filter traps large dust particles, the HEPA air filter traps air particles, releasing clean air.
Pros:
It can be programmed to clean in certain areas.
A UV germicidal lamp to sterilize your floor from bacteria is thoughtful.
Its rubberized covers protect wood flooring.
It returns to the charging dock whenever required.
Cons:
Its charge time is not predictable

ECOVACS DEEBOT M80 Pro Robot Vacuum Cleaner [ buy it here ]
This product aims to make cleaning your home as direct and easy as possible.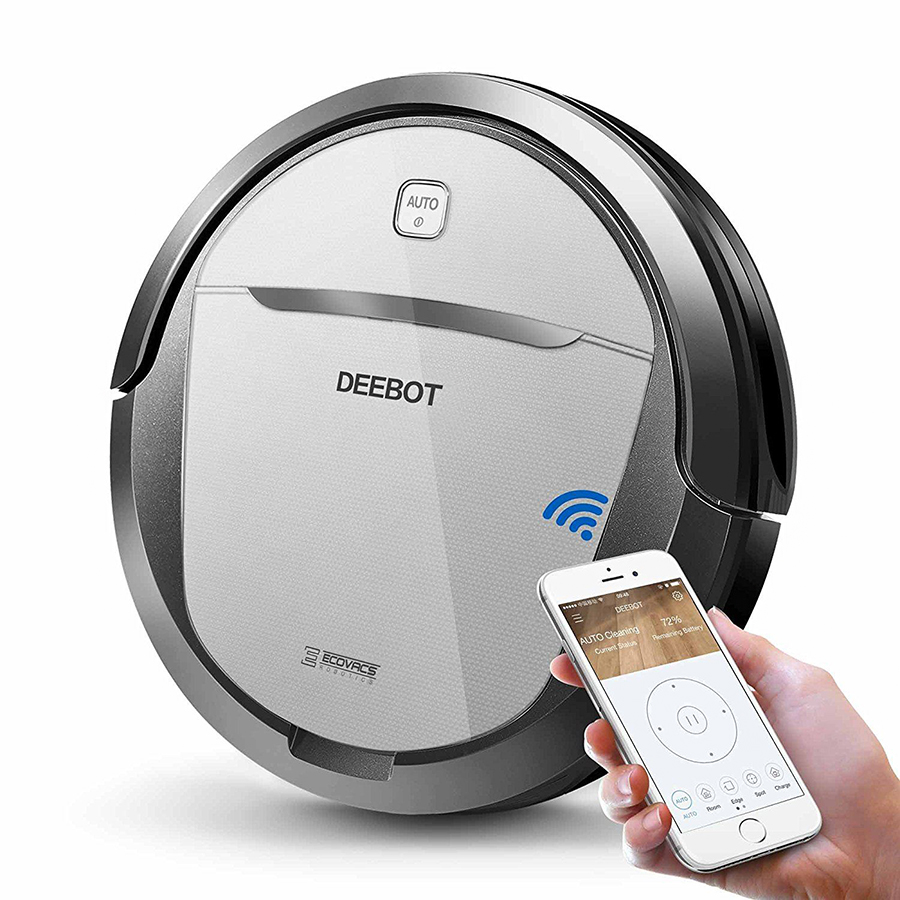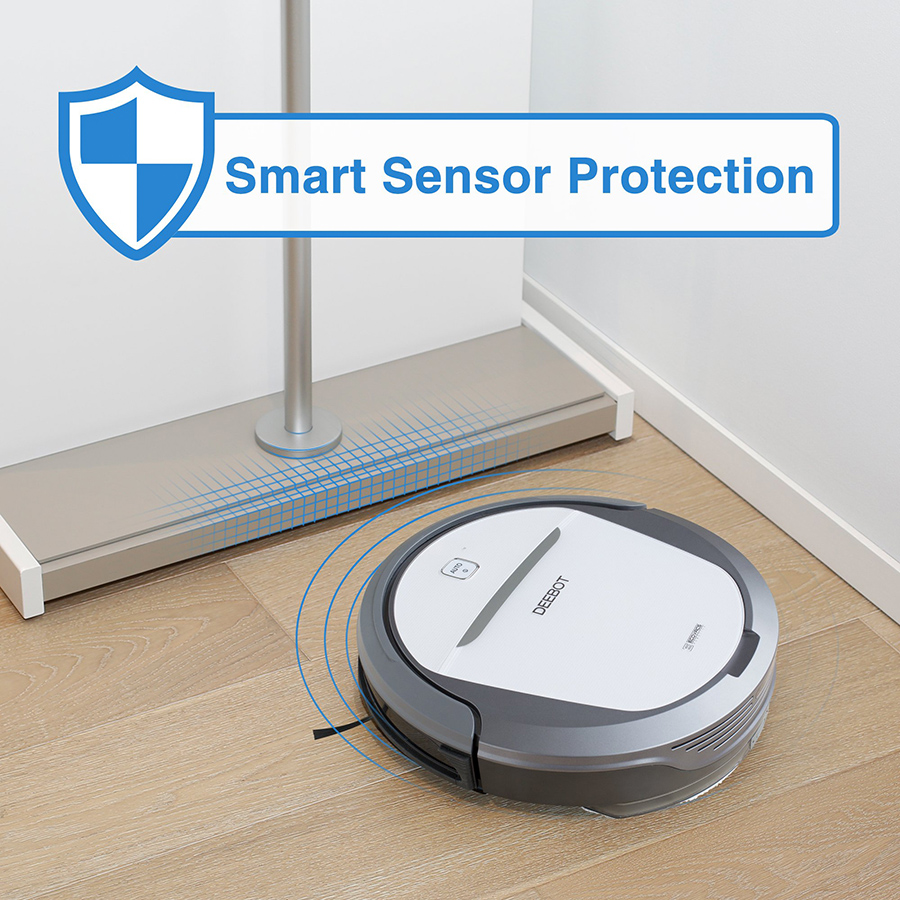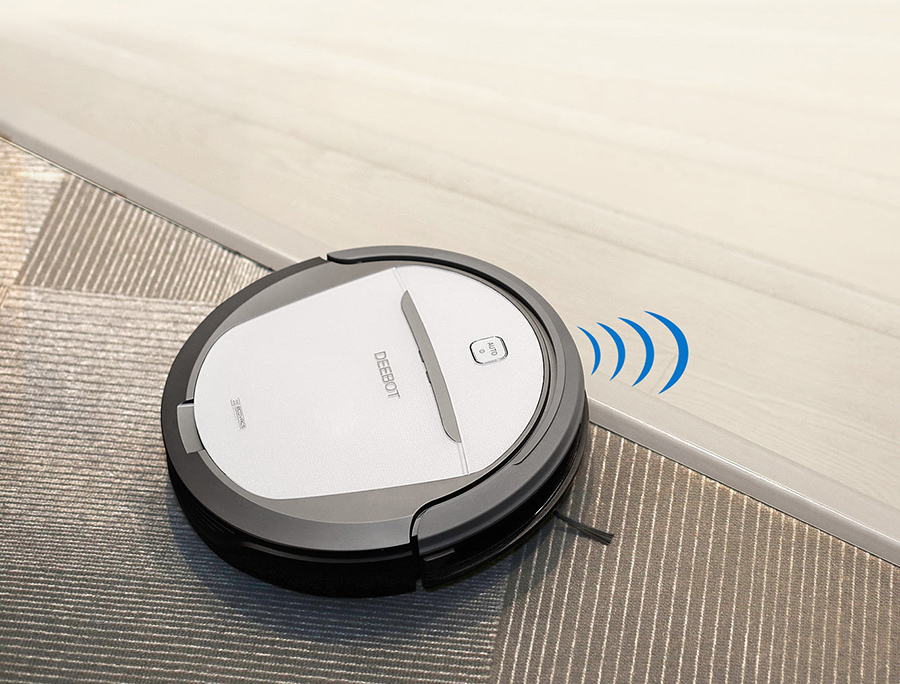 Ease of use: The fact that it mops and sweeps at the same time make it not just easy to use but also time-saving.
Technology used: This product works with:
Smart Motion Navigation, which includes sensors for anti-fall and anti-collision
It is compatible with Amazon Alexa, so you can give it start and stop commands.
You can also use an app to program your schedules for cleaning, choose the cleaning mode, etc.
This product also uses Smart Motion navigation technology to navigate all over your home seamlessly as it cleans.
Cleaning features:
It works well over an area of 1292 sq. ft. or small homes.
It works well in multiple cleaning modes:

Intense: Increases suction speed and rotating power
Spot: Cleans a small area, giving it all focus and attention
Edge: Handles difficult spots

It works through a five-tier cleaning system – sweeps, lifts, vacuums, mops and dries.
Wide-reach nylon fiber brush helps sweep away dust and dirt.
The dustbin is designed to prevent any accidental spillage.
It has a 0.5L water reservoir and an anti-spill dust tray, making it ideal for extended cleaning sessions. The battery time is two hours, after which the device must be recharged in the dock.
Pros:
It supports Wi-Fi, so you can control the device with your Smartphone.
It is compatible with Amazon Alexa.
It cleans corners well.
Cons:
It does not have a mapping feature.
It does not have virtual walls.
It is noisy.

How to choose the best robot mop?
To choose the best robot mop, first find out your needs, your floor type, room size and budget. If you have a pet, you might have to factor that in. Use the list of robot mops here to find out whether their features are what you're looking for in a robot mop.Pay special attention to the height of the robot mop – it must be such that your robot can clean the floor under the furniture. Pre-measure the height of the legs of your sofa, cabinet, etc. The second important parameter is Battery Life. The more your robot can work non-stop, the more rooms it can clean. Perhaps now 90 minutes is enough for you – but over time, the robot battery will not be as good as immediately after purchase. Think about it as well.