How to make your own free logo? Use for this the best free logo makers – special online logo generators that will allow you to create cool logos for free without any hassle. And it's absolutely free. This way you can create your youtube logo, or instagram logo or just a logo for a website. We've made an independent review of 10 best free logo creators, found out what are their advantages and disadvantages and also made a comparative table.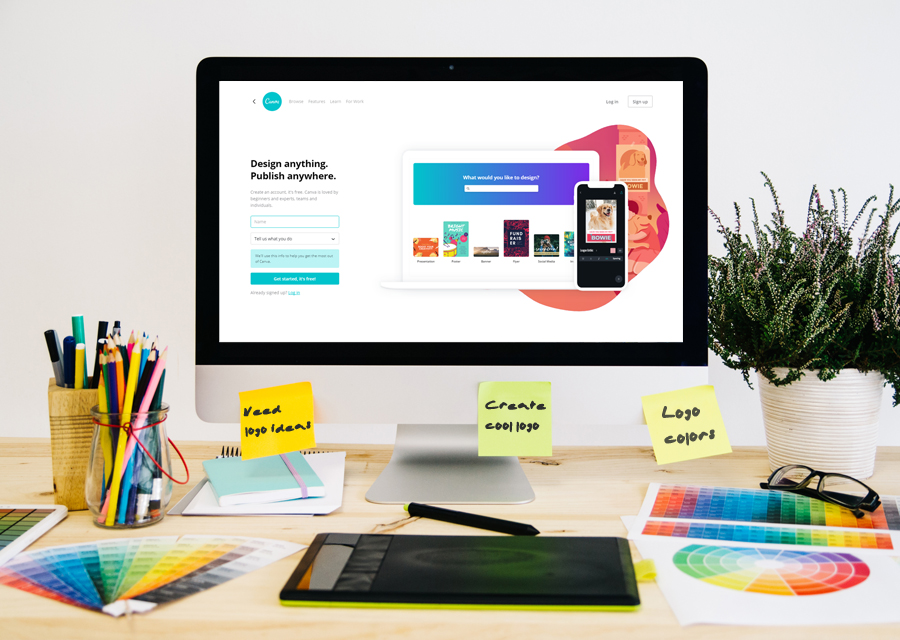 We've already shown you a list of the best free website builders which will allow you to create a website for your business absolutely for free. But any business starts with a … logo! Think about it: as soon as someone comes up with the business idea, they usually go straight to the title and logo. The latter today is more than just a small image or a so-called "face" of your brand – it represents both the company's mission and vision. The logo is something to visually association your business with, and herewith it's so crucial to treat the process of logo creation as seriously as you do when writing your business plan.
Creating a logo is a responsible and complex process, especially when it comes to a self-design. But hopefully, today we are open to so many online tools so that you can successfully handle this task on your own.
Just google some logo generators and you'll find multiple services allowing you to craft your own unique logo in a matter of several minutes. Moreover, such tools will save you precious time on getting familiarized with it since they are super user-friendly and simple in use.
Logo generators will be your perfect solution if:
Your budget is tight and you can't afford a professional logos creator;
You have no time to search for a freelance designer, post the order, communicate with the different designers, and then wait for their job to be done;
You have no graphics editing skills in software like Adobe Illustrator and Adobe Photoshop;
You do not necessarily require an absolutely unique logo but rather a nicely-made and professionally-looking logo image;
You lack decent ideas and you want to be guided.
So as a matter of fact, the most common reasons to use logo maker software is when you don't know how your future company logo should look like, you're bad at drawing and using software, and budget is very limited.
The only question left is which one is the best design software for logos. Not only did we search for the overall features of these 10 most popular free services but also figured out their main pros and cons.
Free Logo Creators Comparison
| | | | | | |
| --- | --- | --- | --- | --- | --- |
| Maker | Formats | Usability | Animation | Other Options | Prices |
| Namecheap Logo Maker | png, svg | very good | no | logo | free |
| Turbologo | png, svg, pdf | very good | no | logo, branding merchandise | $16 |
| Ucraft Logo Maker | png, svg | good | no | logo | free |
| Looka Logo Maker | png | very good | no | logo | $20 |
| Wix Logo Maker | png, jpg, pdf, gif, svg | very good | no | logo | $11 |
| Zyro Logo Maker | png | very good | no | logo | free |
| IONOS Logo Maker | png, svg | very good | no | logo | free |
| Free Logo Design | png, jpg, svg | average | no | logo | free |
| Logomakr | svg, pdf, png, jpg | good | no | logo | free |
| Online Logo Maker | jpg, png, eps, svg | good | no | logo | free |
| Designmantic | jpg, png, pdf | average | no | logo | $37 |
| Free Logo Creator | jpg, png, pdf | good | no | logo, branding merchandise | free |
10+ Free Online Logo Makers (2023)
1. NAMECHEAP LOGO MAKER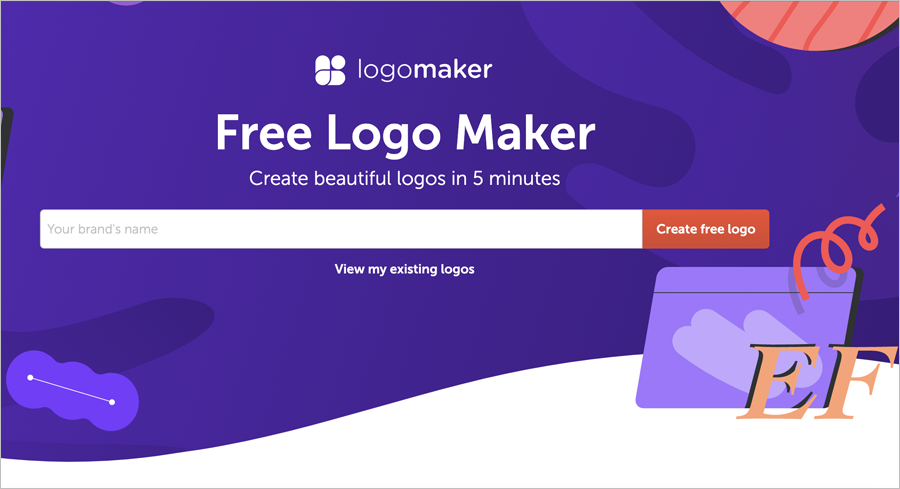 Namecheap's free logo maker is a versatile tool that goes beyond the traditional scope of its offerings. Renowned primarily for its domain services, Namecheap surprises with an equally impressive logo creation service. Getting started is a breeze, with seamless authorization through Google or Facebook accounts expediting the initial setup.
Upon entry, you're prompted to provide your company name, an optional description, and select from a range of categories that best define your business. The innovation lies in the subsequent step, where you're asked to pick words that encapsulate your company's essence. These words, like "dynamic," "fun," or "creative," serve as the foundation for design exploration. What follows is a presentation of five distinct styles – not finalized logos, but rather design directions to gauge your preferences. By indicating your likes and dislikes, you guide the system toward your design sensibilities.
Here's where the magic happens. Namecheap's logo maker crafts an entire assortment of logo options influenced by your feedback. Your role shifts from creator to curator as you peruse this collection, ultimately selecting the logo that resonates most with your brand. Customization remains at your fingertips, enabling you to refine and tailor your chosen logo. With Namecheap's free logo maker, an array of design possibilities materializes, granting you the power to manifest your brand's visual identity seamlessly.
Namecheap Logo Maker Examples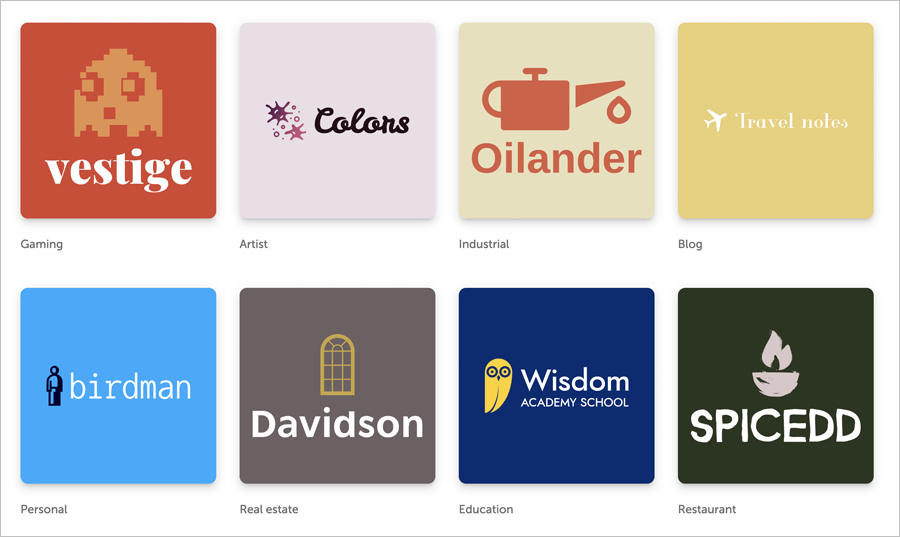 Price:
High resolution image in PNG and SVG format comes for free

2. TURBOLOGO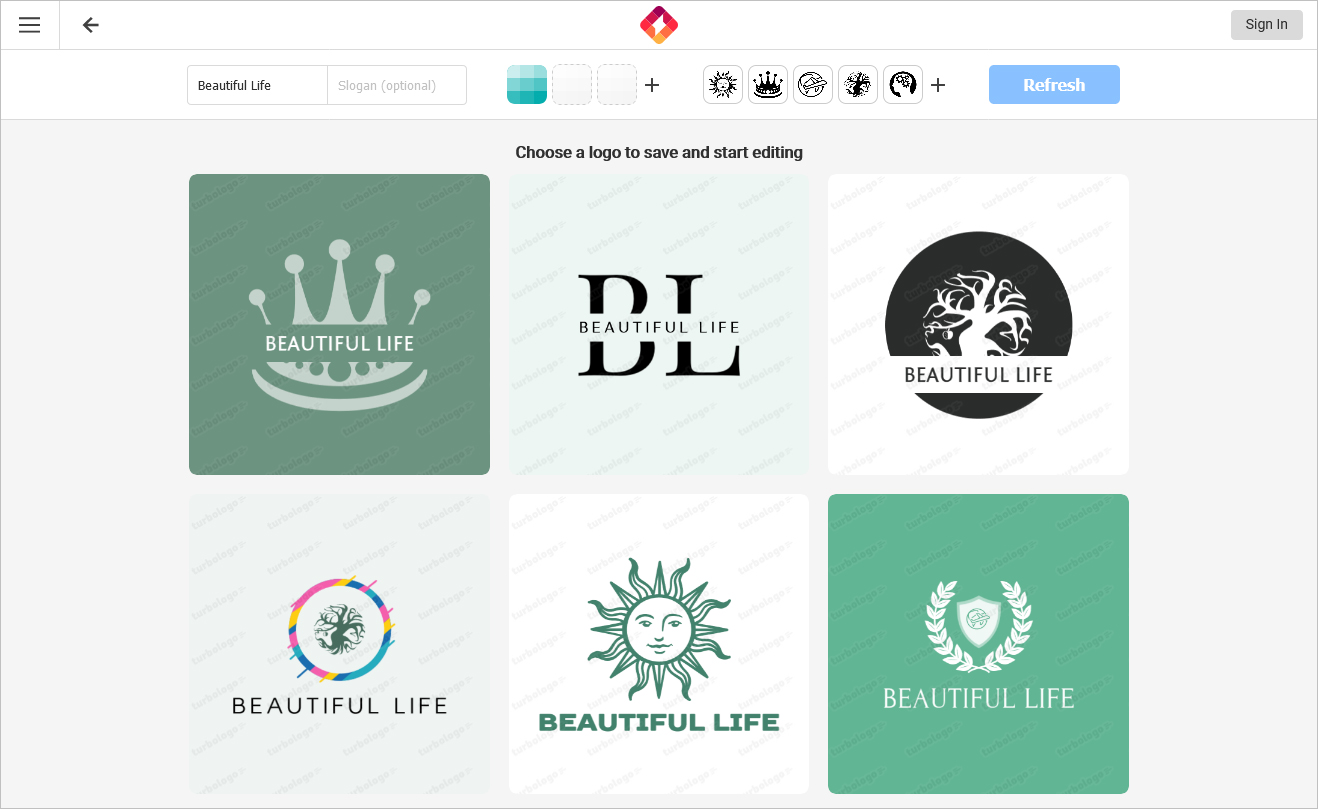 Getting a logo designed by a graphic designer is time taking and expensive. Enter Turbologo – Free Logo Maker. It is a simple-to-use, online tool that helps you create a stunning logo in under 10 minutes. For absolutely free. The process is much like how you'd expect with a designer. You tell the tool your business name, a slogan (optional), and what industry you operate in. Then you select a template and some symbols that you like. Taking these inputs as inspiration the smart tool generates a customized logo for you. Plus, you can also make edits to the output. And you don't need to pay extra for any changes, this designer does it all for free!
Moreover, you don't even have to sit down in front of your desktop or laptop to get your custom logo created. The Turbologo platform works seamlessly on mobiles and tablets too, so you can get your logo ready while on the go. No app download is required either.
Another advantage of the Turbologo logo maker is that you can also use it to design your social media kit, favicons, and business cards. You also get suggestions for font sizes and colors to include in your brand guidelines.
For digital and print purposes, you get the vector SVG background and PDF for free. You can download it either with a transparent or colored background. For high-resolution JPEG or PNG files, however, you will have to purchase the Standard or Business plan. Either way, you remain the owner of the logo and the related copyrights.
So now, with Turbologo, laying down the foundation of your business branding has become easy and free. You get to take control of the design, choose from a variety of templates, and get the logo of your choice in a digital or print version, all for free.
Turbologo Logo Design Examples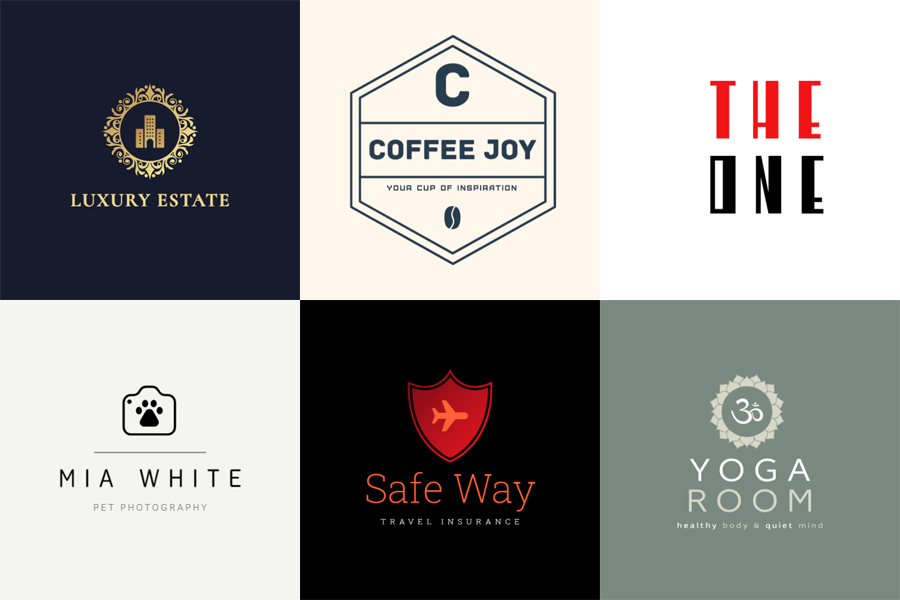 Price:
LITE – $16 for one no tranparent file;
STANDARD – $32 for resizable vector SVG files, the ability to make unlimited changes and create new versions of logo;
BUSINESS – $64 for everything included in STANDARD plan plus brand identity, business cards and letterheads, social covers, favicon, enevelops, watermarks and wallpapers.

3. UCRAFT LOGO MAKER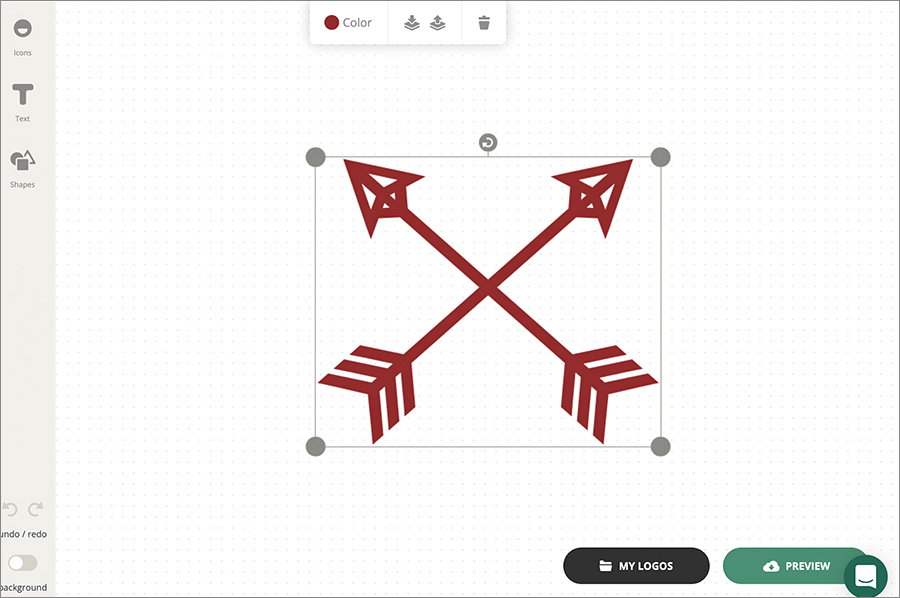 Just like Wix, Ucraft is an online website building platform for creating websites, landing pages, and online stores. Apart from one, Ucraft offers a free logo maker. To access it, click on "Tools" -> "Free Logo Maker" in the menu section and then "Create a Free Logo".
Now you'll see an empty canvas where you can start customizing a logo. You cannot use a ready-made template; instead, you can use the icons, and text or geometric shapes available on the left side of the screen. The builder provides a simple graphical editor that lets you add multiple icons and geometric shapes. The service allows you to change the size, color, location and the angle of each element, as well as set any font and text style.
When finished, click on Preview. You'll be able to see how your logo will look like on the business card, website and as a printed image on the T-shirt. To download the logo, you'll need to sign in.
Price:
A low-resolution image(600 pixels) in PNG format comes for free;
A high-resolution image in SVG (vector graphics) will cost you $12
OR you can create a website in Ucraft using this logo.

4. LOOKA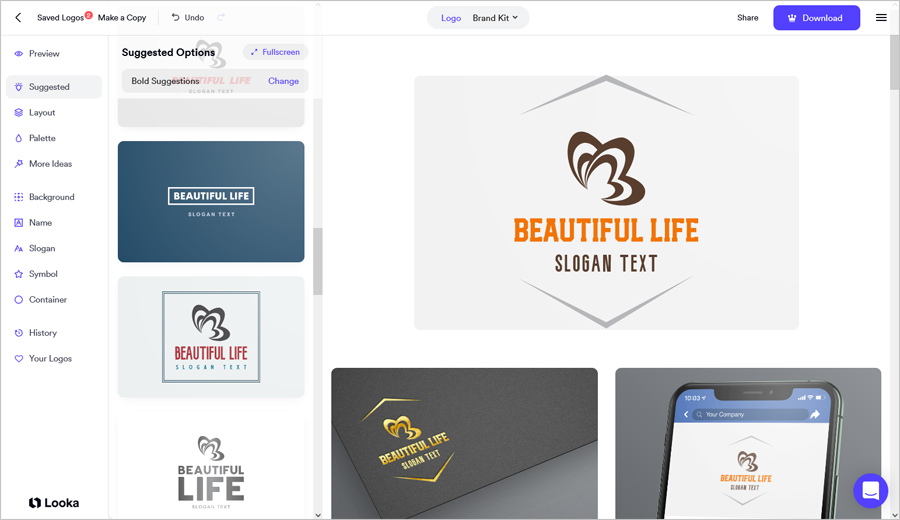 Looka logo maker helps you to create a custom logo with Artificial Intelligence (AI). Enter your industry and company name. Choose the logo color, style, and symbol you like. The AI will generate custom logos based on your preference.
Browse and choose the one you like. You can tweak the color, font, symbols, and layouts. See a preview and download high-resolution PNG files and vector logo files. However, you must pay before you download your files. The price ranges between $20 to $65. You pay up to $192 if you buy the Brand Kit subscription.
Create posts, stories, and covers for social media sites including Instagram, Facebook, and YouTube. Furthermore, you can choose from 20 business card templates and customize the designs.
Looka helps you to build email signatures and blog banners as well. Furthermore, create digital ads, newsletters, posters, brochures, and flyers for promoting your business.
Over 5 million entrepreneurs use Looka. Furthermore, the logo maker boasts 4.5/5 ratings based on over 10,000 reviews.
Looka Logo Maker Examples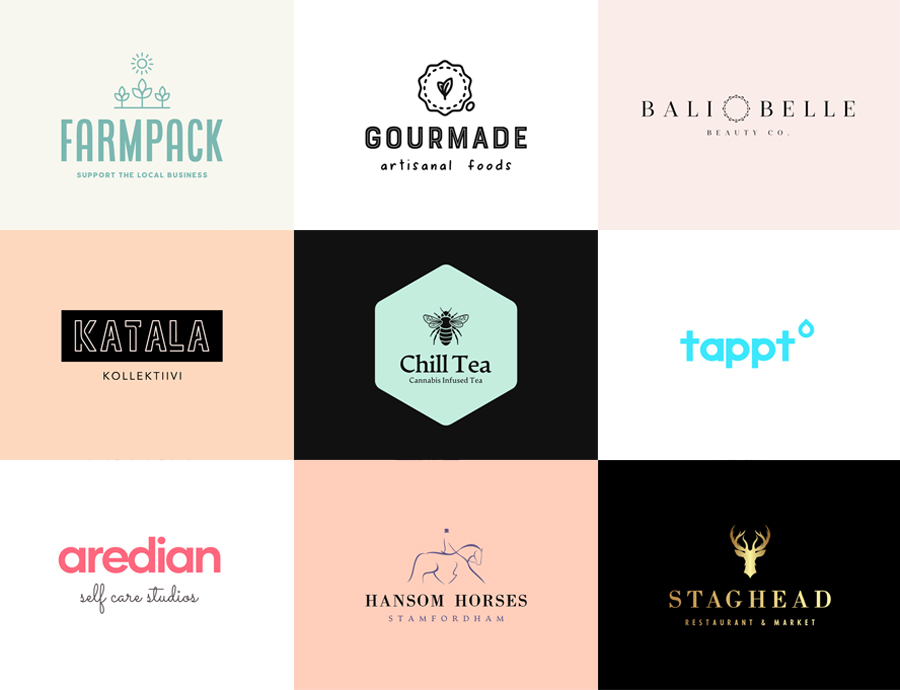 Price:
One low-resolution file — $20
Multiple high-resolution files (PNG, SVG, PDF, and EPS) — $65
Brand Kit subscription — $96/ year
Brand Kit subscription and AI-generated website — $192/ year
With its free to create logo maker, website builder, and business card design features, Looka is a great choice if you are tight on budget.

5. WIX LOGO MAKER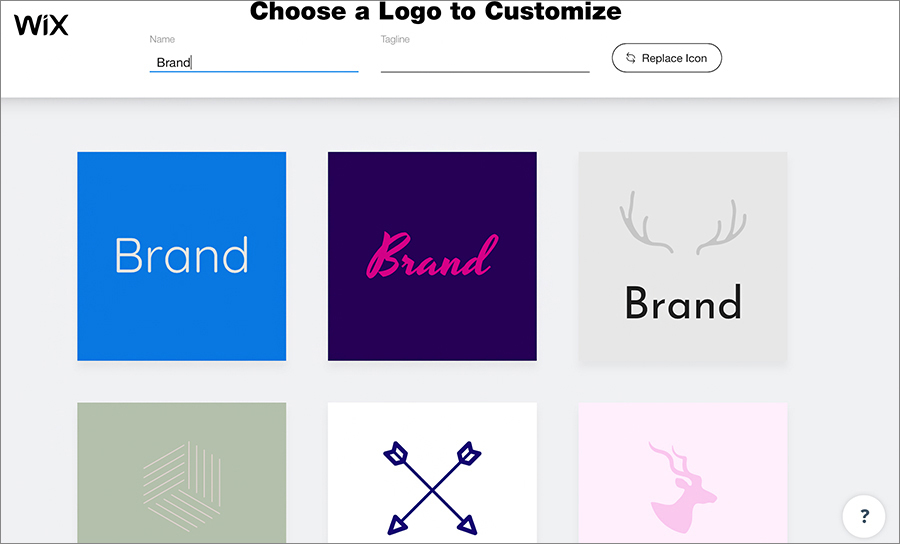 Initially, Wix is well-known as an online builder, but one offers several more services to go for, and one of them is a logo creation service. The system requires authorization right from the beginning, but you can always use your Google or Facebook account to fasten the process.
Now, you need to enter the company name, a description (optional), and choose the necessary category from the list. Next, you'll need to select the words that best describe your company. The offered options describe companies by its nature, whether dynamic, fun, or maybe creative. After you select one or several words, the system will offer you a choice of 5 styles. This is not yet a finished logo, but rather some possible design styles that you're supposed to "like" or "dislike". This short survey will allow the system to create an approximate logo to your taste. Wix creates an entire collection of logos, so the only thing to do left is to choose your favorite and make final edits.
Wix Logo Maker Examples

Price:
Demo file with a logo for free;
BASIC – $20 as one payment for full commercial usage rights, and standard logo files;
ADVANCED – $50 as one payment for everything from Basic + resizable logo files, and social media logo files.

6. ZYRO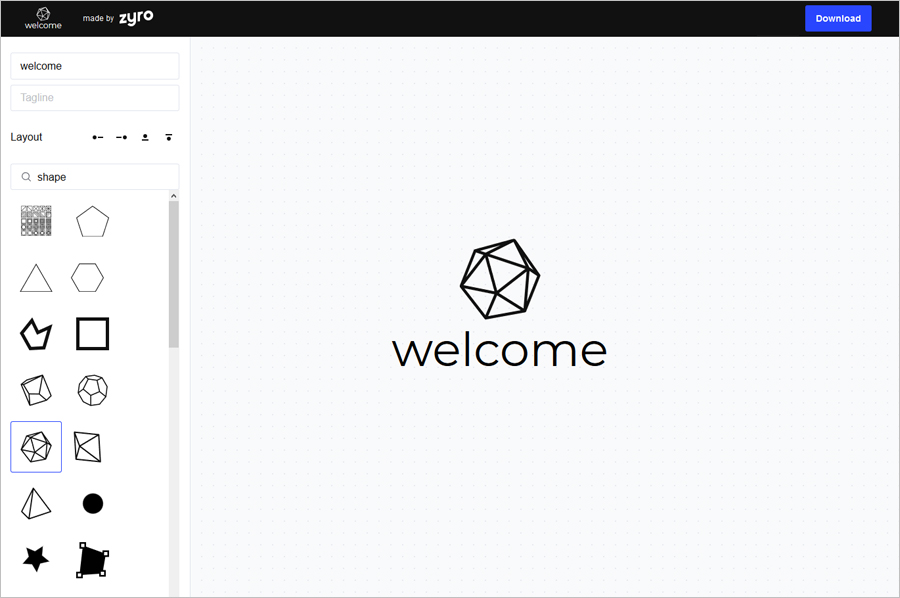 What's in a logo? Everything. Or nothing. It's up to you which one you want your logo to be. A logo combines your company name with a visual image. A unique logo with a strong visual impression is one of the best tools for building a brand image. Zyro's Logo Maker allows you to design your own logo. Free!
Put your creative ideas to test with Zyro's templates. There are thousands to choose from. Customize everything. Font, size, color – you can modify them all to suit your business vision. Zyro's uses sophisticated technology to make every logo unique. You won't see a replica of your logo on another company website. Once you're happy with the logo you've created – simply download it and use it on your company website, your products, and wherever else you want.
There are no hidden charges. You will not be asked to "buy" once you've spent time customizing your logo. You can create several logos as well. Just in case you want to decide later which one to use. Or if you have several brands running.
Price:
Small-resolution image in PNG format comes for free

7. IONOS Logo Maker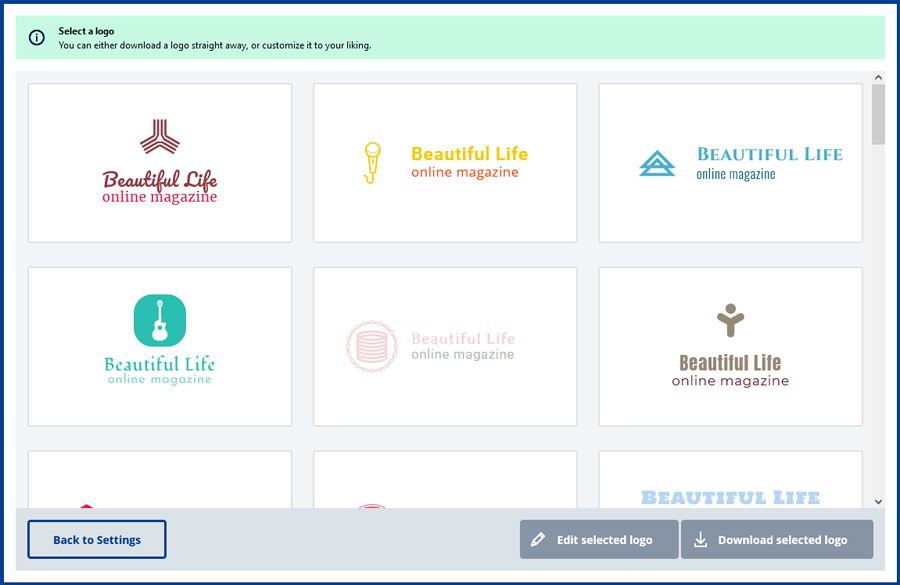 IONOS is a reliable hosting provider that also offers online store building services, domain names and SSL certificates, cloud computing facilities, and a logo maker, among other business services. Building a business might take you hours of planning, days of dedication, and even weeks or months of effort, but designing a logo for that business with the IONOS logo maker won't take you more than 120 seconds.
Yes, in under 2 minutes you can get multiple pre-designed, editable options for your logo. Start by going to the logo maker tool by visiting this link. Then enter the name of your business, a slogan (20 characters max.), and the business category. The latter two are optional. Wait for around 15 seconds while the tool fetches 40+ logo options for you. If you like something from the available options, select it and just click on the 'Download the Selected Logo' option. For customizing the logo, click on the "Edit the Selected Logo' button. You can edit the font style, size, and color, the icon used in the logo, and even the background and the layout. Once satisfied click on the 'Download Logo' button.
For downloading the logo, you'll have to fill a quick sign-up form. Not much of an ask, given the tool, is completely free. Want to share what you've created with other stakeholders? The Share Logo button on the bottom right of the logo maker tool gives you a shareable link to your logo. And that's how in just a few minutes you can create a stunning logo for your business. While you do get the option to customize the logo as per liking, many might not even need that. The predesigned options are plenty and pretty diverse. Something is sure to fit your needs.
The IONOS logo maker tool is not a one-of-a-kind offering, but definitely one of the best in the market. The only point of improvement could have been a longer character limit for the slogan.
Price:
Image in SVG format comes for free

8. FREE LOGO DESIGN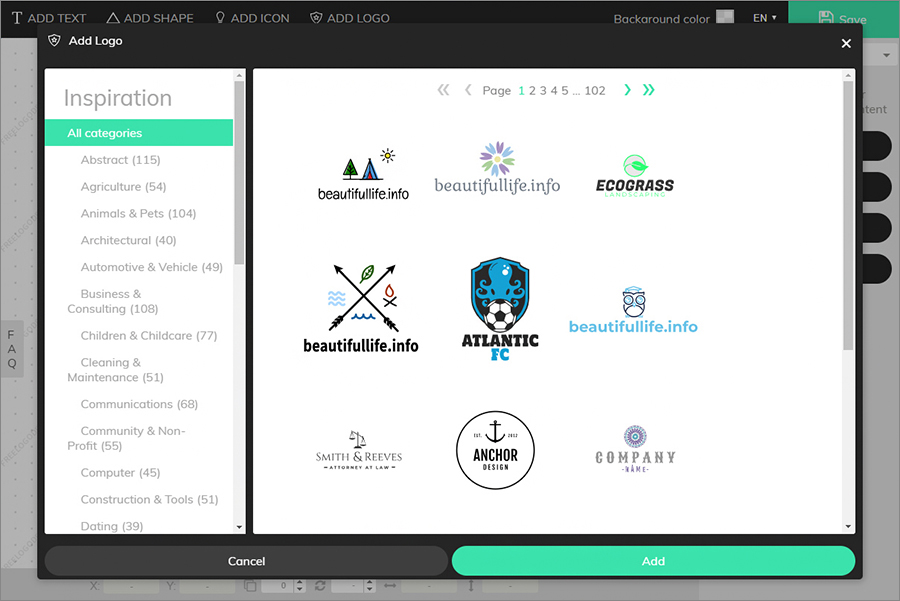 Free Logo Design is another logo creations software with a number of similar tools a the ones mentioned earlier. At the same time, this service features a blog with interesting articles about the history of some famous logos and branding, as well as guidelines with handy tips how to develop your own logo design.
Simply enter your company name and select an industry and then the tool will come up with various possible logo templates. When you register on the website, you must specify the email where a finished logo will be sent to. The other option is to develop your own custom design from scratch together with professional designers. To do this, simply click on "Custom logo design" located at the bottom of the website.
Note down that the custom logo design service is not free. It will cost you $199. The only free option is downloading a small-resolution logo image as a PNG file.
Free Logo Design Examples

Price:
LOW-RESOLUTION – a small-resolution (200 x 200 pixels) image for free;
HIGH-RESOLUTION – $49 for PNG and JPG files, resizable vector SVG files, the ability to make changes and re-download social media kit, and the black & white versions;
LOGO + WEBSITE – $129 for everything in High-resolution + online store, personalized domain name, website email account, and personalized technical support.

9. LOGOMAKR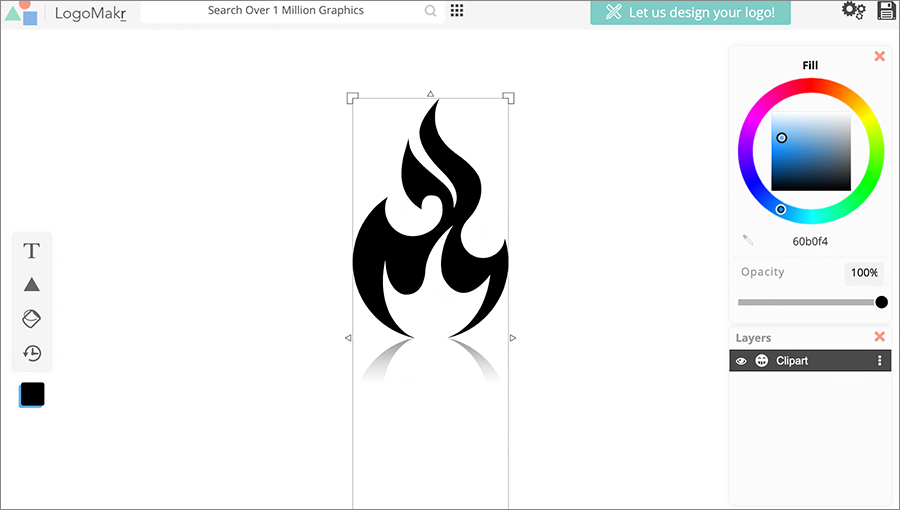 Logomakr is a free logo generating tool with a drag-and-drop interface and basic functionality. It can boast of a nice set of fonts and cliparts from Flaticon.
From the other side, Logomakr interface looks very inconvenient. Toolbars are scattered across the editing field and you have to actively move the mouse around from one action to another. Herewith, the service offers a limited set of customizing tools. It resembles a primitive vector editor where the only thing you can do is to move and twist objects, fill them with a color, and change the text font.
The other significant drawback is the lack of a grid. However, it may work quite well for creating logo sketches that one can give to a logo designer for its further development.
Logomakr Logo Examples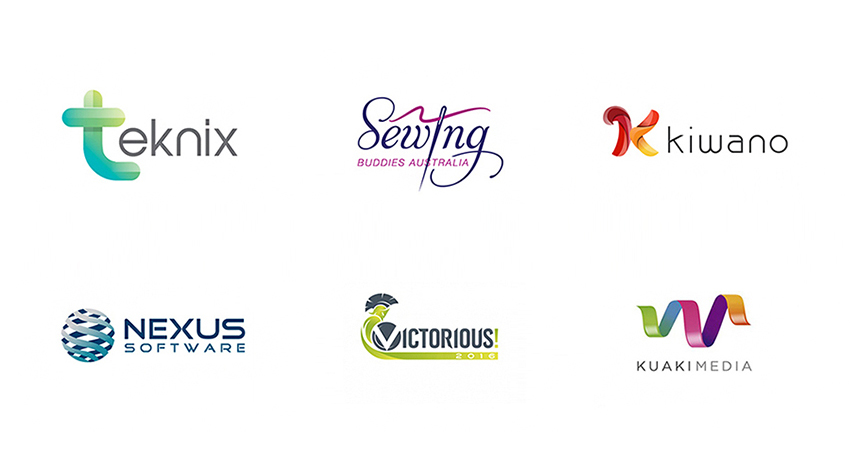 Price:
Free for the low-resolution file;
$19 for the high-resolution file.

10. ONLINE LOGO MAKER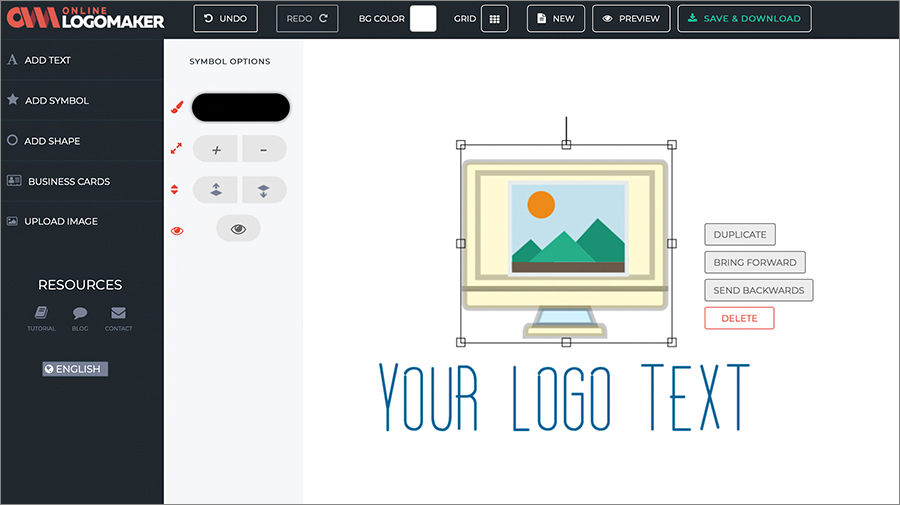 Online Logo Maker is a good choice for generating abstract, typography, and combined logos. If you want to create one using free software for design logo, you should click on "Start Logo Maker" and then use different menu tabs to add text, symbol, and shape. The offered symbols are categorized in thematic blocks, which makes it easier for a user to find the needed icon.
The service has a HUGE benefit compared to its competitors: it offers to upload your own images. Herewith, you can easily customize the color scheme, font, and the size of each graphical element.
Online Logo Makers allows downloading the finished logo at no cost and without any registration. You will only need to leave your email address provided you chose to download the low-resolution logo in the png. format. Such an image will work as a logo for your business website, business card, flyers, and letterheads. The vector high-resolution image format comes with an extra fee.
Online Logo Maker Examples

Price:
FREE – the low-resolution ( 500px size) image;
PREMIUM – $49 ($29 on sale) for the high-resolution (2000x2000px) logo in JPG, PNG, EPS & SVG formats + unlimited edits of your logo, fully copyrights, license for commercial use, and dedicated customer support.

11. DESIGNMANTIC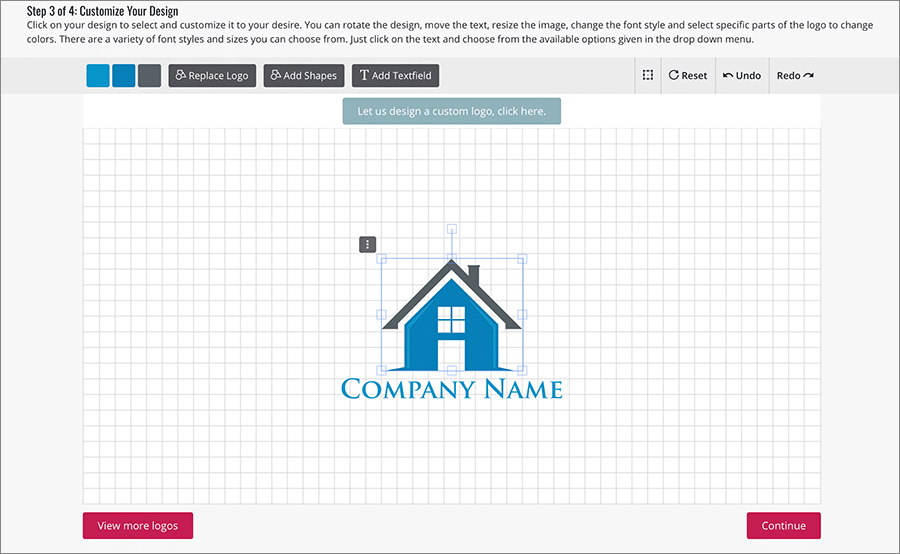 As pretty much every above-mentioned logo making service, Designmantic offers users to enter the company name and choose the business field. Alongside, one can add the company motto.
The next step is when you choose the appropriate logo option. By clicking on one of the liked logo icons, you'll move to the final editing stage.
The number of fonts is about the same as in GraphicSprings. In general, you'll see a lot of repeating fonts from one service to another. The customization capacity at Designmantic is decent. You can change the color, adjust the inclination angle, change the font and its size, as well as the front and back background of the logo. You can even insert clipart, if necessary, by clicking "Add Shapes'.
As soon as the editing is over, the service will offer you to continue with customizing a business card. If you want to skip this step, you'll need to register and then purchase the created logo. If you buy it eventually, you'll have a chance to edit the logo after saving.
Designmantic Logo Examples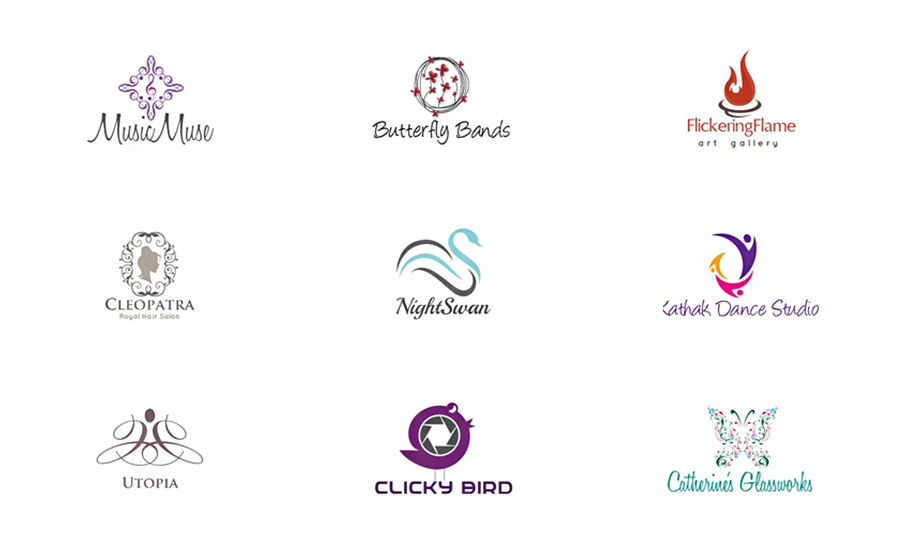 Price:
BASIC – $37 for logo design, high-resolution files (JPG, PNG), and a vector file (PDF);
STANDARD – $57 for the logo and business card designs, high-resolution files (JPG, PNG), and a vector file (PDF);
PRO – $97 for a logo, matching business card, letterhead, envelope and Facebook cover designs, high-resolution files (JPG, PNG), and a vector file (PDF);
PLATINUM – $197 for a logo, matching business card, letterhead, envelope designs; Facebook and Twitter cover designs; T-Shirt design; Email signature; flyer design; FREE matching website design with 1-year FREE hosting; high-resolution files (JPG, PNG), and a vector file (PDF).

12. Free Logo Creator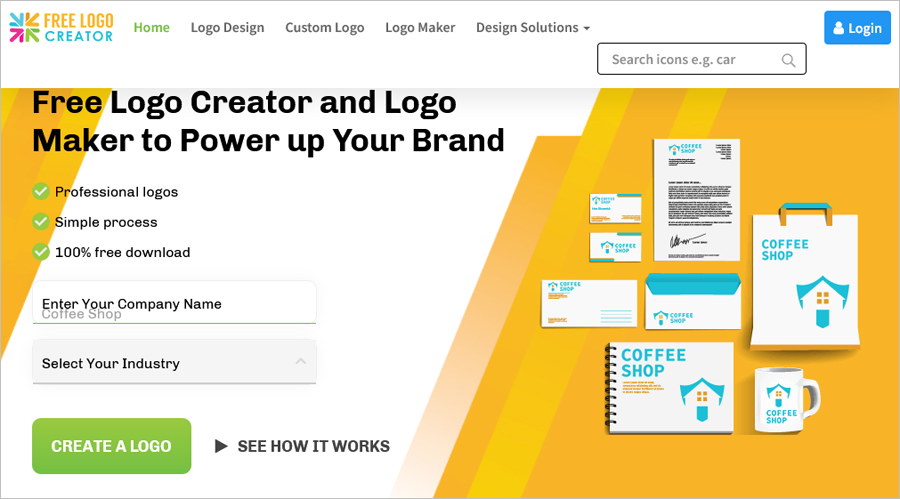 So, this is one of those things that will make you rethink the whole 'no good thing is free' debate. Because Free Logo Creator is good – and it's free. You can download professionally made original designs, vector-based logo templates at absolutely no cost. No taxes, VATs, or hidden fees.
The process is as easy as 1-2-3. Just open the website – FreeLogoCreator.com – add your company name, choose your industry, and click on Create a Logo. You'll be taken to the logo design gallery where you can browse through hundreds of unique designs of all kinds. Typography-based logos, combination logos, shape-based logos, and more.
You can shortlist as many templates as you want and star the customization process. This is the most fun. You get to change icons, shapes, colors, fonts, layouts, and so much more. You can checkout 3D logos to give your identity design a whole new level of depth + elevation. Like all other logo design makers, FreeLogoCreator also allows you to add a slogan and do all these design maneuverings without complicated graphic design techniques.
In addition to logo designs, you can also get the rest of branding merchandise here. It includes business cards, letterheads, envelopes, social headers, email signatures, and more. By using one service for all your branding, you ensure consistency of design and quality both.
Free Logo Creator Examples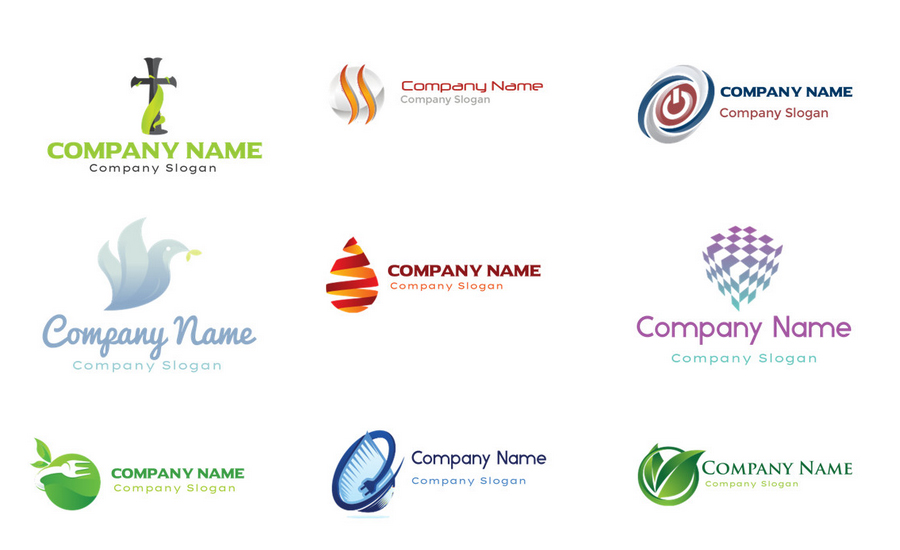 Price:
FREE for the low-resolution file (JPG and PNG );
$37 for the high-resolution file (PDF).

Best Premium Logo Makers
But you're not limited with free online logo makers. Sometimes it would be better to use premium logo design services to get the exact what you want without wasting time and efforts on useless attempts to create a logo by yourself.
Tailor Brands
Tailor Brands is the world's first online logo maker and branding platform. Unlike other platforms that use templates, Tailor Brands is based on AI, so you can create a unique logo that's tailored specifically to your design preferences. Just enter your business name and some information about your brand, select font styles that you like, browse through a selection of logos, and choose the design you love! You can always tweak your logo to your liking, and instantly start using it everywhere. The whole process takes just 5 minutes and requires no design experience.
Tailor Brands Logo Examples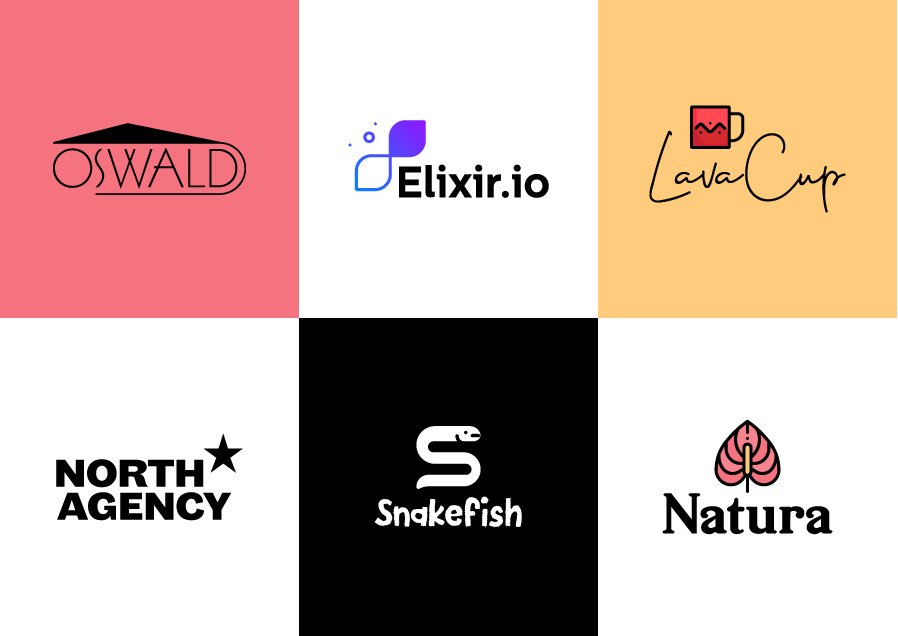 In addition to receiving high-quality logo files, you'll also get access to a full set of branding tools, including business card templates, domain registration, a website builder, an online print store, and top-notch designs for social media – everything you need to build your brand identity from the ground up.
Here are prices for custom logo designs:
Basic: $3.99/month annually, including high-res logo files, your logo in every size, logo resize tool, and limited access to your design studio
Standard: $5.99/month annually, including everything in Basic + a website builder, domain name, business card templates, online print store, and complete access to design studio
Premium: $12.99/month annually, including everything in Standard + social media tools".

8 Steps to Design a Successful Logo
In 2012, guys from Design Buddy released the results of studies aimed to analyze logos of the world's top companies. The key statements were:
95% of them use only 1 or 2 colors;
41% of brands use a stylized initial letter as their logo;
93% of logos are easily recognizable in reduced sizes.
So whether you use a freeware logo maker or hire a professional designer service, do not forget to analyze your future logo from the perspective of these important stats. It's especially vital when all the choices are on you and there is no chance to get feedback from a professional.
If this relates to you, make sure you follow these 8 tips to help you design a killing logo:
1. Examine the Audience
Who is your target audience? How old is your average client? What does he like and what does he want? Knowing this information helps you manipulate his perception and, accordingly, consciousness.
For example, bright and juicy logos will certainly attract children; dynamic, sharp, and contrast images will catch the eye of the progressive youth; meanwhile, gold and refined elements refer to something exclusive and luxury.
2. Just Be Simple
Who on Earth does NOT know how an Apple or Nike logo looks like? It's not only because both companies are brand leaders in their industry – in fact, their logo signs are kinda easy to remember. No ornateness, circles, lines and other "creative elements" – just an apple and ummm… a swoosh.
The easier the logo – the faster it's imprinted on the customer's mind. Nobody will remember incomprehensible monograms. In case you want a logo to reflect the essence of your business, choose something that causes associations with your brand instead of the direct references.
3. Use ONE Font
You can use more but just ONE most readable with no extra elements will make it perfect. Do not make difficult words or terms (if there are any) incomprehensible because of the complex font.
4. Use Relevant Colors
It's typically that one color that defines the entire brand. Colors and their combinations cause different emotions, that's why choose it wisely. There are plenty of interesting studies on how different colors cause certain associations, so get down to research right now!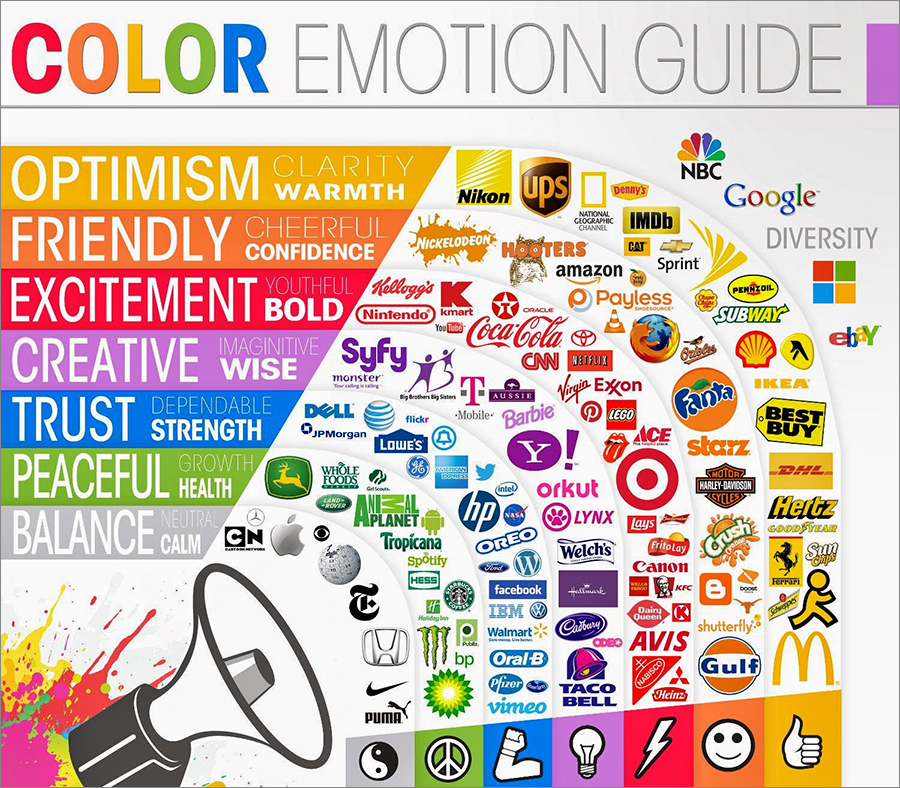 5. Adjust the Size
The logo should be equally perfect on different screens (PC, tablet, smartphone). Test it on these devices to make sure the selected resolution is sufficient.
6. Be Unique!
I know what you think: "How could I be unique if I use free logo makers software? Thousands of people may have utilized the same characters, images, fonts, and other elements…" At the same time, by using just 1 logo maker, we can come up with a million options of how your logo sign can look like. The worst thing is when you deliberately use some very common visuals or fonts, which can't really be identified by users as something unique.
Keep working on your logo originality – the result will be way more positive.
7. Examine Successful Competitors
Researching your market competitors is not about copying. It's about examining their options and figuring out how successfully they worked on their logo sign. A thorough analysis of leading competitors' logos will help you understand exactly what your target audience should be hooked on.
8. The Future is Close
Following trends is important, but don't mix it up with fast fashion. After all, the logo you're about to create is going to represent your brand for at least several years from now, so it has to stay relevant. Hence, choose the company logo in a way that will give you a chance to redesign it without compromising its popularity.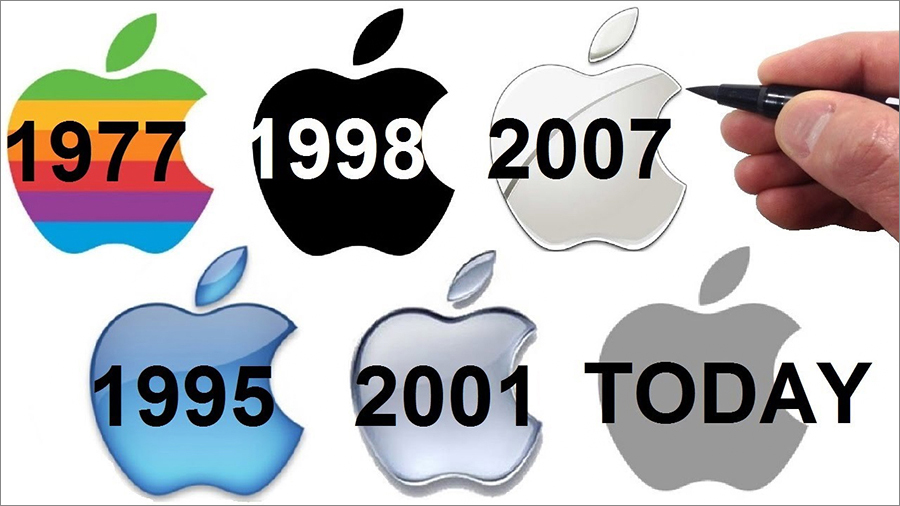 5 Things to AVOID while creating a logo:
Following Fleet Trends
Trends have a property to lose their relevance after a really short time. Don't focus that much on web design trends if you want your brand to have an appealing logo for the next years and even decades.
Extra Complexity
By putting too many meanings and concepts in just one logo sign, you risk overloading it with unnecessary elements, reflectively it becomes difficult to perceive. All legendary companies have simple logos – it's a fact!
Being "Too Literal"
At the same time, "being simple" doesn't mean going too literal and choosing primitive meaningless logos. You can experiment with an abstract representation of your company ideas.
Plagiarism
Getting inspired by other company logos is wonderful as long as it doesn't grow into an obvious plagiarism. That is what you should avoid at all costs. The possible outcome for plagiarising your competitor's logo is unpredictable: from loosing the customers' loyalty and ultimately losing much in sales to multi-million lawsuits filed by the "victim".
Lack of Overall Composition and Style
A very common problem among young small brands is lacking an overall composition and style of their logo as if it was created by two different artists. It happens because an amateur logo designer combines elements (icon, fonts) from separate parts he may have taken from different resources. This means you better be more selective and watch whether those elements look organically with each other.
Conclusion
Of course, a high-quality and well-thought-out logo design does NOT determine the company's success. At the end of the day, if Apple Inc. had another type of a logo, would it make one less successful? Hardly.
What matters is how and where you use it. Successful organizations use the logo at all points of contact with customers, so they would have a continuous association of the company with its products and the experience that they get.
Profitable successful business / high-quality expensive design – Excellent!
Profitable successful business / poorly designed logo – Bad!
Unstable low-profitable business / high-quality expensive logo – No sense!
Unstable non-profit business / poorly designed logo – Bad!
Young business / average logo – Fine!
The scheme above is how it works. Unless you've built a successful reliable brand that helps you earn millions each year, there is no need to search for an individual graphic designer.
An average logo from one of these 10 free logo designer softwares is just enough for a starting business if that's your case. All of them have a decent functionality to create a nice-looking logo design that you will never be ashamed to show to business partners.