What are the best Shopify apps? Shopify stores owners often ask themselves this question and in this review we will give an answer to it. We analyzed Shopify app store and selected 10 best apps for Shopify and found out their advantages. Our review includes such popular apps as Oberlo, Spocket, Omnisend, Sumo, Yotpo and others.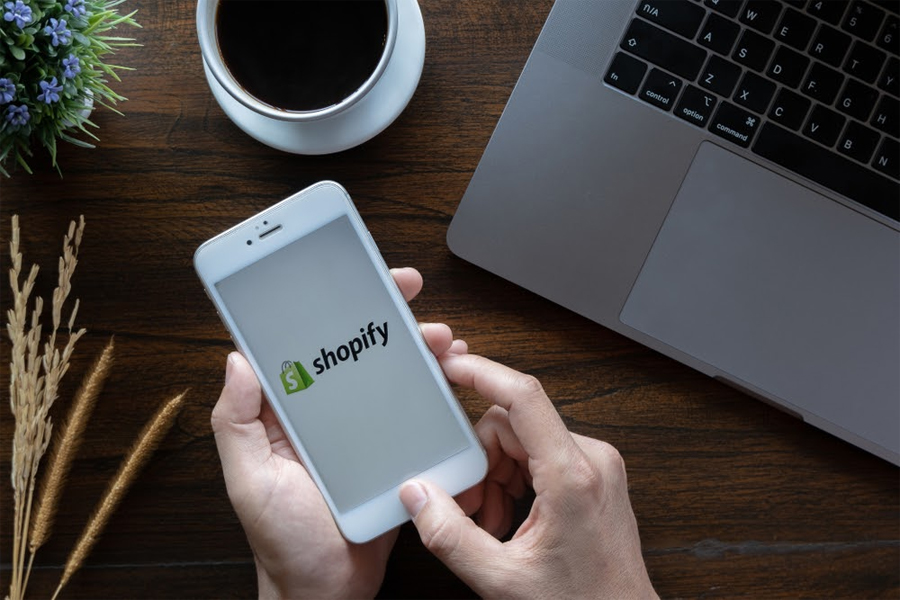 Today, it's easy to open an online business as many think it starts with building up an eCommerce website. It's true. But It's indeed not that simple. Besides having an online store, as a business owner, there are several works to keep an eye on, such as order management, accounting, marketing, and more. To relieve the workforce and lighten the burdens when running an eCommerce store, many entrepreneurs choose Shopify – one of the best ecommerce website builders out there to start with.
You might be hearing a bunch of compliments on this well-known platform here and there. But have you wondered what exactly makes Shopify reach its peak with over 1 million live websites using it? It can take a lot more within an article to clear things up. So, in this article, I'll summarize one of the best reasons that make people increasingly fall in love with Shopify: It's an app-rich platform.
Shopify is filled with an ocean of best applications. Users can get their work done smoothly across every aspect of their online business without having to outsource or invest too much time and effort into it. If you do some research, you can see a long list of apps on the Shopify app store or any search engine. The more popular Shopify is the more apps created to meet the demand of Shopify users. In case, you just get to know this amazing ecommerce CMS and look for some apps for your online store, take a look at a list of top-notch Shopify apps that can, along with you, scale up your business:
Best finding products apps for Shopify
Shopify is well-known for its capabilities for dropshipping. Many functions are developed specifically to streamline dropshipping activities. Noticeably, if you don't know what you're going to sell, there are tons of apps that help you to do it right away.
Oberlo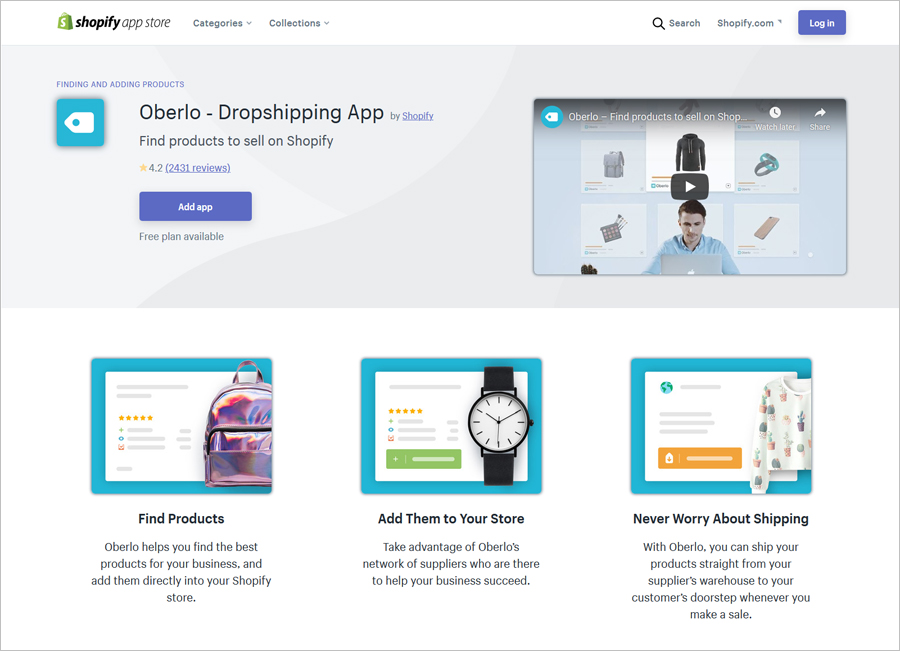 Oberlo holds the highest position among dropshipping apps that work perfectly on Shopify. The app enables you to research the best products for your dropshipping business, add them directly to your Shopify store and dropship them right away to your customers. You have a million options when it comes to finding what to sell via Oberlo. However, it doesn't mean you'll be overwhelmed easily and find it difficult to find what you want. Oberlo's in-depth product statistics will assist you in sorting out potential products and make the best decisions.
Besides, you can also select products from AliExpress – the most prominent retail market or Oberlo marketplace with multiple trending and best-selling items.
Spocket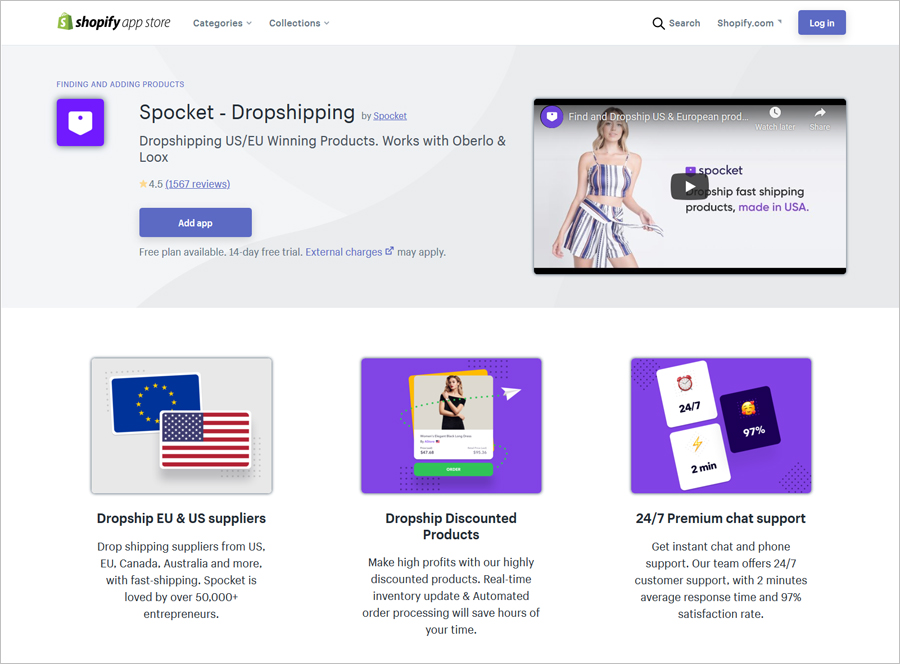 Spocket is an easy-to-use, speedy, and up-to-date dropshipping marketplace. Spocket makes dropshipping easier by introducing to you many products to sell and suitable suppliers to partner with. You can take a tour through various product categories provided by different prestigious suppliers around the world.
With Spocket, you don't need to pick up a product or supplier straight away. You can fully decide on your product after already testing out its samples right from the Pocket dashboard.
Best marketing and promotion apps for Shopify
Want to leverage marketing for your store? Shopify has advanced tools to help you do that. Here's some of them:
Omnisend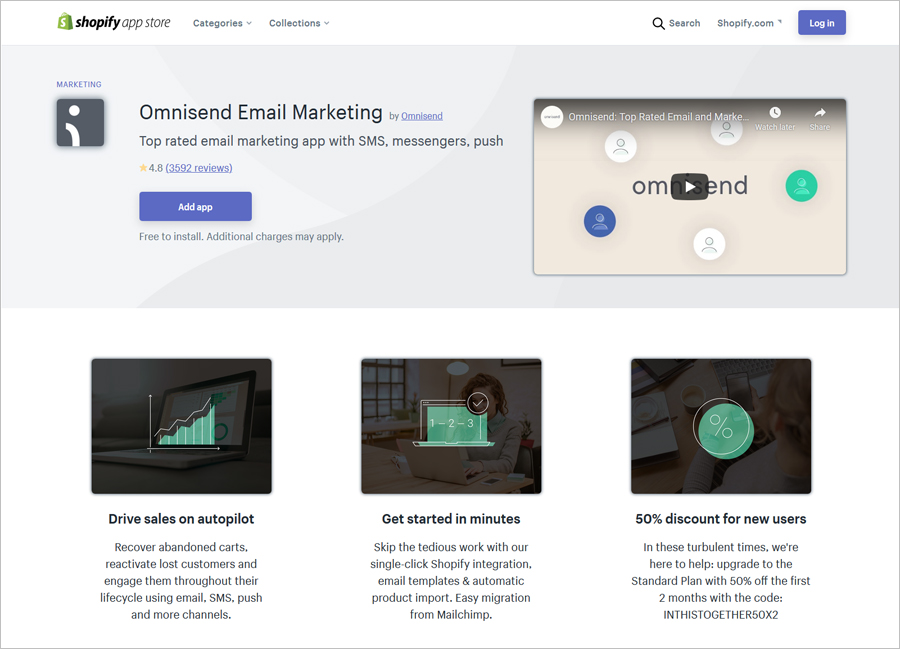 Omnisend is a popular Shopify app for email marketing, but it can go further than you think with a bundle of powerful features. Through Omnisend's email marketing, you can reach out to many potential customers and connect your business with them. What more? Omnisend marketing automation enables you to build and maintain a relationship with both prospects and existing customers through more different channels like SMS, Facebook, Google, and others. With a single click, you can integrate Omnisend email marketing into our Shopify store and get everything on board.
Sumo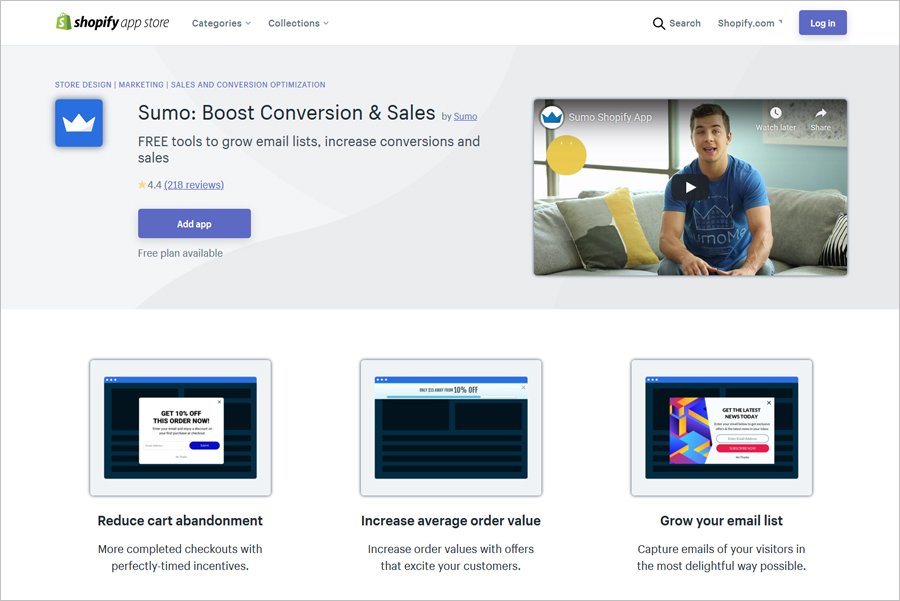 Sumo is one of the leading marketing and conversion tools for Shopify stores. It focuses on delivering solutions to grow an email list, reduce cart abandonment, increase average order value, and more.
Sumo shortcuts make it easier for new Shopify store owners to deal with multiple tasks from scratch. When you don't know how and whom to market your new business, Sumo's Grow Email List Shortcut is the right solution. It enables you to gather your visitors' email addresses with high-converting opt-in forms so that you can follow up with them and quickly turn them into your customers.
Best customer service apps for Shopify
Yotpo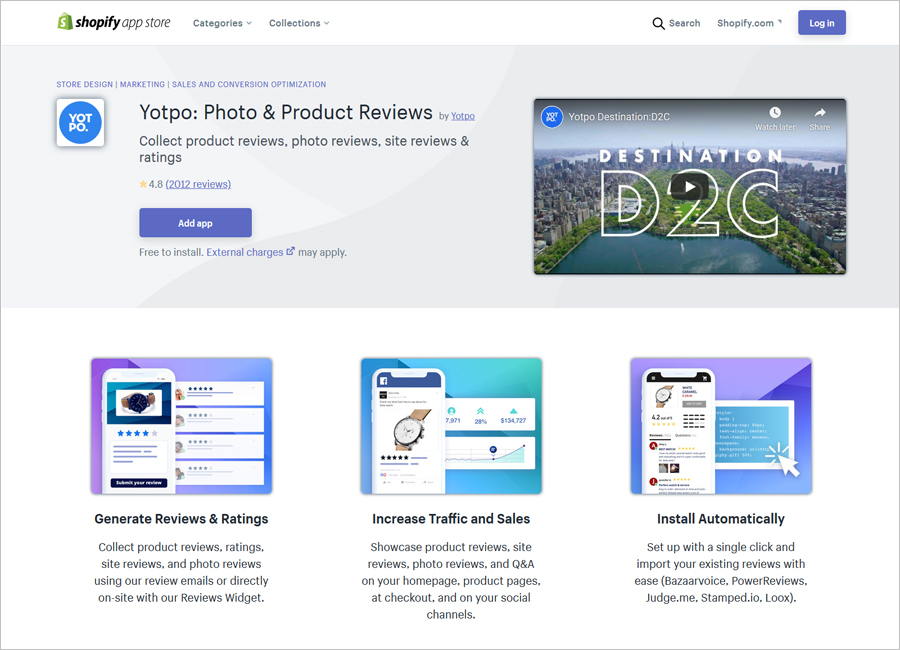 Customers' trust is one of the most critical factors that every business, especially new online stores, craves for. If you want to increase your store's credibility, show social proof. But where social proof comes from and how to get them? Of course, it's your customers' words on you and Yotpo is a useful tool for this task. The app allows you to collect customers' reviews on products or websites via review emails or directly via an on-site review widget.
Also, it's simple to import and display existing product reviews, site reviews, or photo reviews on any pages of your site. Letting customers easily raise their voice about what they've experienced from your website is a way more effective to appreciate your customers and increase their satisfaction.
HelpCenter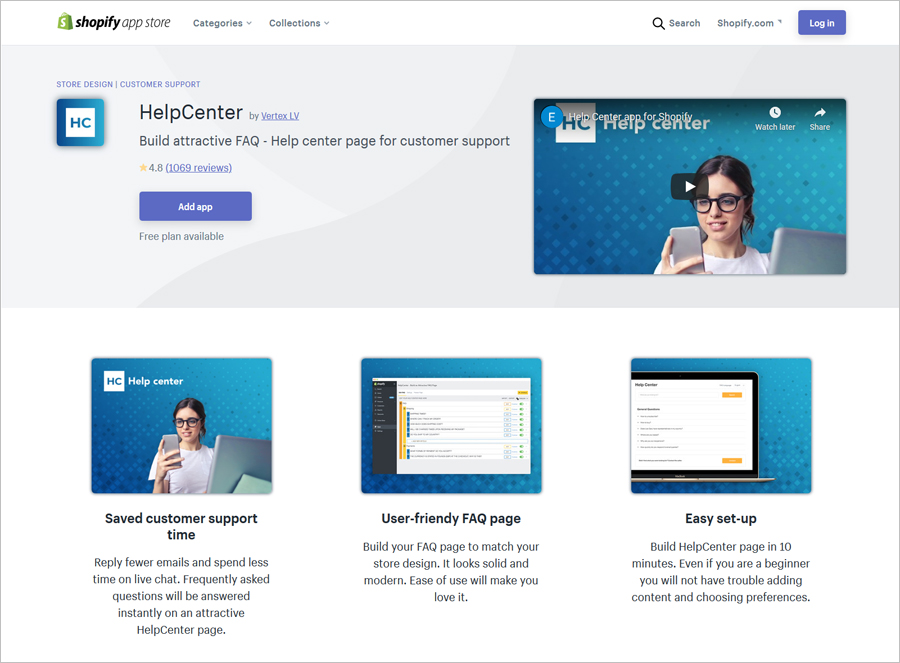 Customer support is the key to eCommerce success, and HelpCenter will help you to make it count. Instead of overwhelming your customer service team with thousands of questions in the chat box, email, or leading visitors to lack-of-information, you can build a content-rich and professional FAQ page in which visitors can find essential information even before they come to your inbox.
The FAQ page is customizable, multilingual, and easy-to-use. Also, in case your customers can't find the answers, they can submit their questions via the contact form or leave a message to be addressed quickly.
Best Shopify apps for sales
ReCharge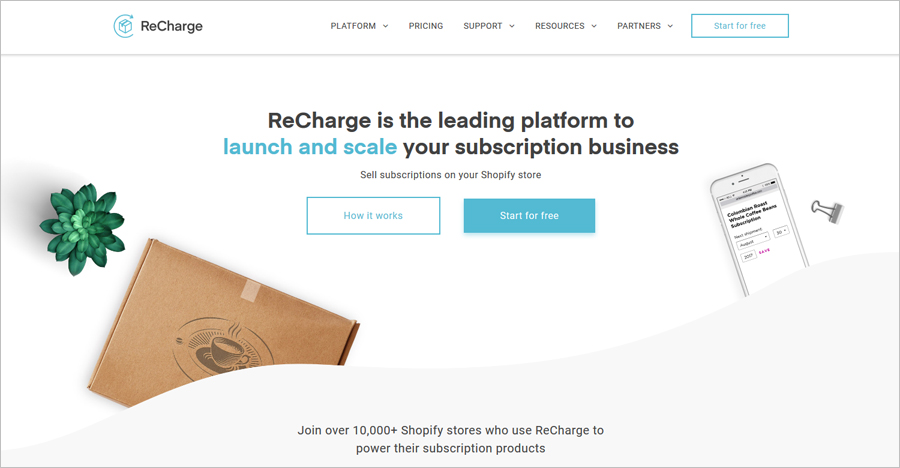 If you're running a subscription business on Shopify, it must be tiring to remember to process customers' billing every time. Luckily, ReCharge will solve this problem right away by recurring billing for you automatically.
You can scale up your subscription business, expand subscribes for free, and only pay until your processed transactions exceed $100,000. The app is integrated seamlessly with Shopify's checkout, customer accounts, and third-party apps. Besides, you can turn your existing one-time payment products into monthly subscriptions easily, which relieves a significant financial burden for your subscribers.
Smile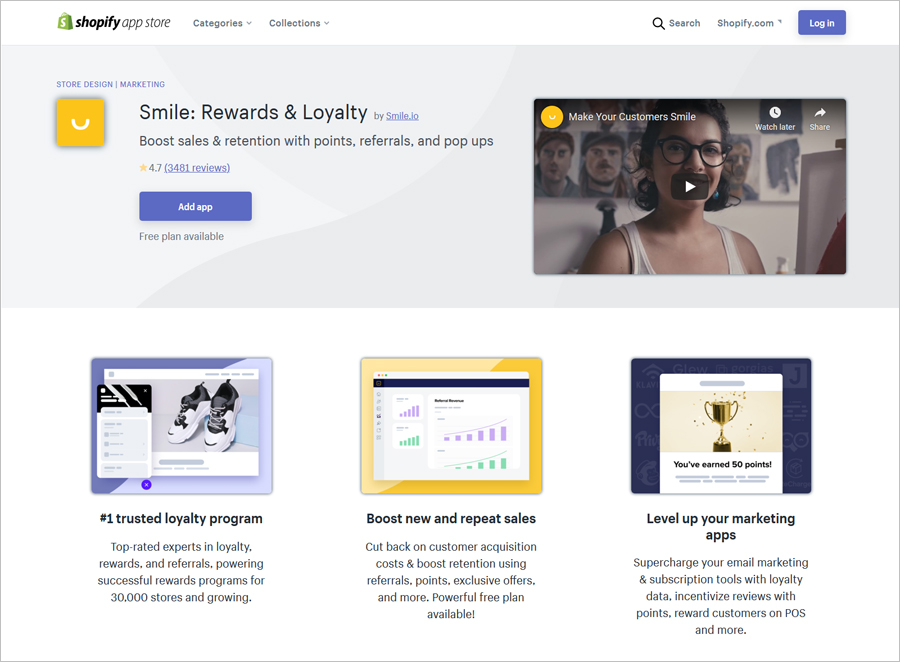 Smile is an effective solution to boost sales and increase customers' retention with loyalty rewards, referrals, and pop-ups. With Smile, you can build a tempting loyalty program with appealing discounts and exclusive offers given to specific customers. This creates a way more interesting and enjoyable for your customers whenever they engage with your store. Customers will earn points after performing a particular action, such as creating an account or leaving reviews and then redeem points for coupon codes or free gifts.
Besides, you can make a referral program that encourages customers to introduce you with their friends – a good way to market your business and reach out to more potential customers.
Best administration and management apps
Printful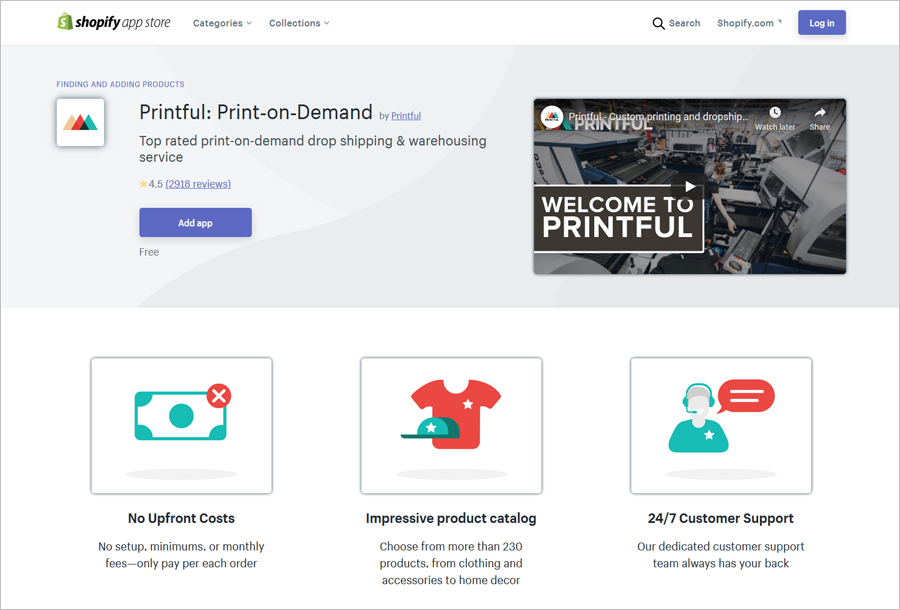 Printful will streamline your dropshipping business on Shopify without you having to worry about product sourcing, merchandising, and shipping. You can choose and order various types of custom printed and embroidered products from the Printful product catalog to sell under your own brand. Printful provides a wide range of products from clothing, accessories, to home decor. With Printful, you can make sales with no hassle.
Pre-Order Manager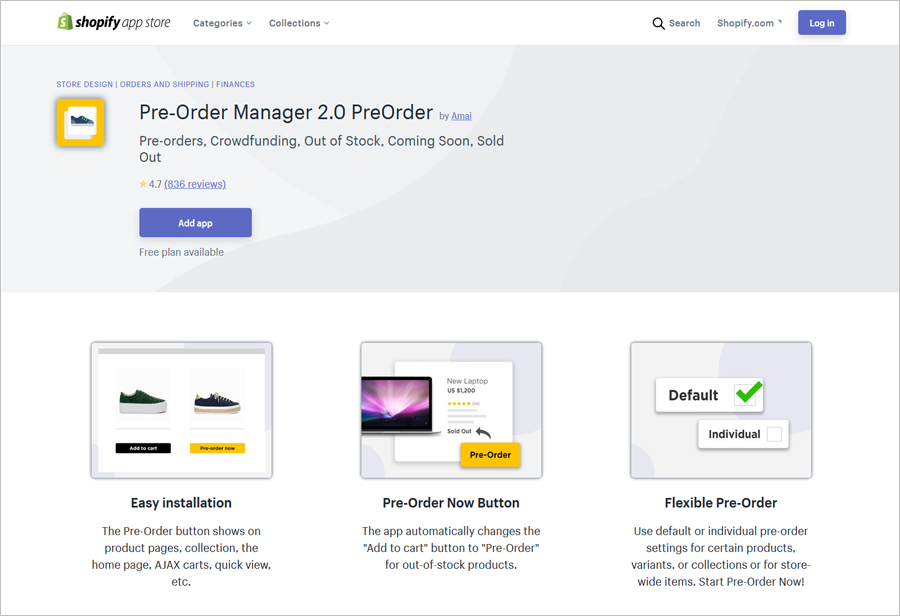 You use pre-order not only for out-of-stock products but also for marketing purposes when you want to create excitement for customers to test out if a product is going to succeed. If you want to use this technique efficiently, Pre-Order Manager for Shopify will never go wrong.
You can add a pre-order button under out-of-stock or unreleased products so that customers can get the items in advance if they like. It's also easy for you to edit the message of the button and limit the number of available pre-orders for a specific product.
So, how to choose the right app for you?
These are some top Shopify apps that you can use to streamline your business operation, performance, and skyrocket sales for your Shopify store. Now, it's time to test out each app and figure out what is the most suitable and necessary for your business. Some apps are free, and it's absolutely risk-free to use them. However, for paid apps, you should take their pricing offers into account before installing and activating.
Most importantly, bear in mind that the apps you're going to use must be in line with what you demand. It would be best if the apps can solve a particular problem of your business. That's all! If you have any questions or want to share an idea, I can't wait to hear from you. Also don't forget to check 25 best free online stores website templates.