Did you know that many impressive portfolio sites are not created by web design agencies, but by portfolio website builders? There are dedicated website builders specialized in launching portfolio sites for models, photographers and artists. Which ones? Find out in this review.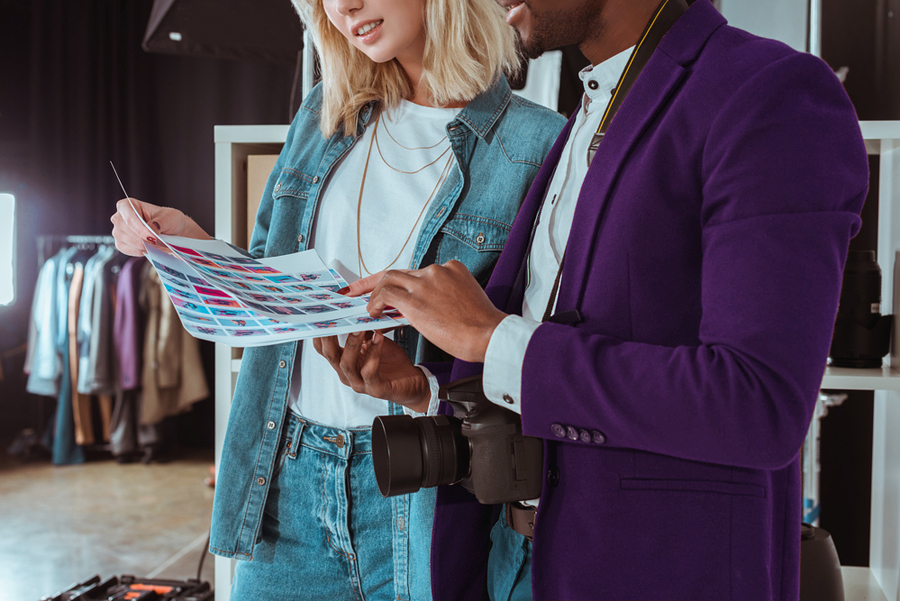 If you're a photographer, model, designer or artist, then you definitely understand the importance of having an online portfolio. You can have hundreds of perfect art works and photographs, but what's the point if nobody knows about them?
Of course, the easiest way to get online portfolio is to use Adobe Portfolio or Behance, but these and also other similar portfolio-communities have got many restrictions and won't allow you to have an individual portfolio website. In fact, you'll just download your art works to community among thousands of the same people.
It's much more convenient and presentable to have your own portfolio website, based on your own domain and belonging to you only. Moreover, you'll be able not only to upload your photos and arts, but also sell them directly through the website.
You can have a more detailed About me page, blog or news feed where you'll publish the announcements of forthcoming exhibitions and similar events.
In general, your own full-featured portfolio website is a real popularity booster for any artist, photographer or art director.
How to launch your portfolio website?
Well, everything is more or less clear with the importance of having your own portfolio website and its advantages. What to do next? Should you order the website from a web design agency?
In fact, that isn't necessary. Nowadays a contemporary portfolio website can be developed through portfolio website builders. It's online-based software made in the form of SaaS service that allows developing portfolio websites even for people far from web development and programming. For example, models. By the way, I personally do not know a single model or artist who, in parallel with a modeling business, would have web development as a hobby.
But jokes aside, how do models who need a modeling portfolio do it? That's right – they appeal to a design agency or a familiar freelancer. And end up with spending a lot of money and having no control over their portfolio site. Because they didn't create it themselves and have no idea how it works.
With modern portfolio website builders, the situation is exactly the opposite. You will have to spend 2-3 of your evenings to build your own portfolio website, where you will take into account everything that is important for you to see in your website. But don't worry if you miss something – you can always edit your website in the future. And all this is possible without the involvement of freelancers, agencies, studios, etc. Accordingly, you will spend much less money.
But you are probably worried – can you handle it? Undoubtedly. Because it's very easy to do. The best portfolio website builders have got advanced visual editors, or how they are also called, drag and drop editors. With their help even a beginner will be able to create his own website effortlessly. Of course, it's not from scratch. To be precise, it isn't necessary to create it from scratch, but there is usually such a possibility.
For this portfolio creators have got ready-made templates. You just choose the most appropriate one and edit it the way you need.
It actually looks even simpler than it sounds. Through dragging website design elements, for example content blocks, you can change website page structure. You can also limit yourselves to only changing the color scheme or even leave it as it is, if you're completely satisfied with portfolio template. In this case, you just replace the images and text by your own – and your portfolio website is already ready to start.
What factors are important when choosing a portfolio builder?
Portfolio websites are very different from other types of websites, such as blogs or business websites. What things I recommend to pay attention to first when choosing a portfolio website builder?
Portfolio templates – If a website builder has got beautiful and well-considered templates namely for portfolio websites, then it's a big plus. No, not so – it's a huge plus! The more such templates a portfolio creator has for choosing – the better, since it will be easier to you to find that very template you'll be completely satisfied with.
Adaptability – A good portfolio website creator is likely to have not just beautiful portfolio templates. They must necessarily be responsive. This means that your future portfolio website will be displayed equally well on both common PC screens and mobile phones. It's a very important thing.
Galleries – What makes a cool portfolio website different from a mediocre one? Right – that's having a well-considered and user-friendly gallery that allows watching images with comfort, including large size, if it's important to you. Galleries may also have a slideshow view mode, flipping through the images in a full screen mode, signing the images, possibility to leave comments, and many other things.
The weight of downloadable images – It's an important factor that is usually lost sight of. You should definitely take interest in the following thing – what maximum weight can images downloaded to website have? Some website builders have strict limits and you just won't be able to upload the photos of the size you need to the gallery.
Blog availability – This doesn't necessarily have to be a blog in the conventional sense. It can be a newsfeed where you'll be telling about your forthcoming photo shoots or exhibitions. Or about any other creative events in your life, about which you would like to tell to your creativity fans.
Online store – Learn about whether you can sell art works on your portfolio website. Even if you aren't planning to do this at the moment, then it can be more important to you in the future. Be sure to find out – if there a transaction fee and if yes – then how much? Will it be fine by you or is it better to find the alternative without transaction fee?
Top 10 Website Builders for Portfolio
Having a great experience in testing website builders (check my previous post List of Website Builders 2023: 10 Best Free Online Website Builders), I've collected the list of about ten best (in my opinion) website builders for creating portfolio.
Of course, there are many more portfolio website builders, but in my view, these ones are the leaders when we are talking namely about launching portfolio websites.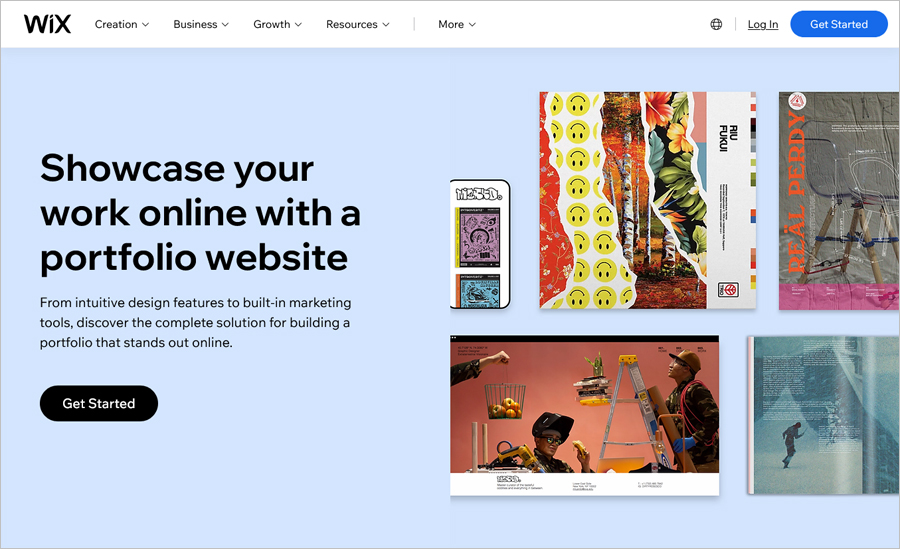 Building a portfolio website has never been easier since Wix was launched. The main advantage of Wix is the ease of use that it offers to users who have a nil understanding of coding. The versatile platform, reputed as one of the best website builders for portfolio, has a drag and drop functionality. Choose elements such as text, images and drag them from the sidebar into the page design. Edit and fill them with the content of your choice, apply a suitable theme, and your website is ready for launch in a few short days.
Wix offers over 500 templates, out of which at least 20 are aimed squarely at those who want to host a portfolio site. Take a look at these few great portfolio themes from Wix. All of them are clickable (the link will open in a new tab):
Wix offers you an excellent degree of flexibility, and you can set up your site in precisely the way that you want. The technology used by the website builder produces sharply rendered websites across all types of devices. Is there any disadvantage to Wix? Yes, but it is present in more or less all builders. You cannot change the template you have chosen. If you do, then you have to build the site again. Also, an enormous amount of choice can be slightly overwhelming.
Another great add-on for your portfolio website is a blog where you share your creative ideas. Although Wix offers blogging functionality, you can integrate a fully-functional blog with an additional tool such as DropinBlog for Wix.

Note: additionally, you can use the Wix Portfolio app from the Wix App Market. This app is completely free and makes it easy to create a portfolio website in a very short time. Wix Portfolio allows you to choose from dozens of templates and customize as you need. You will be able to upload both photos, art and videos to your portfolio. Another nice thing is that Wix Portfolio is localized into dozens of different languages.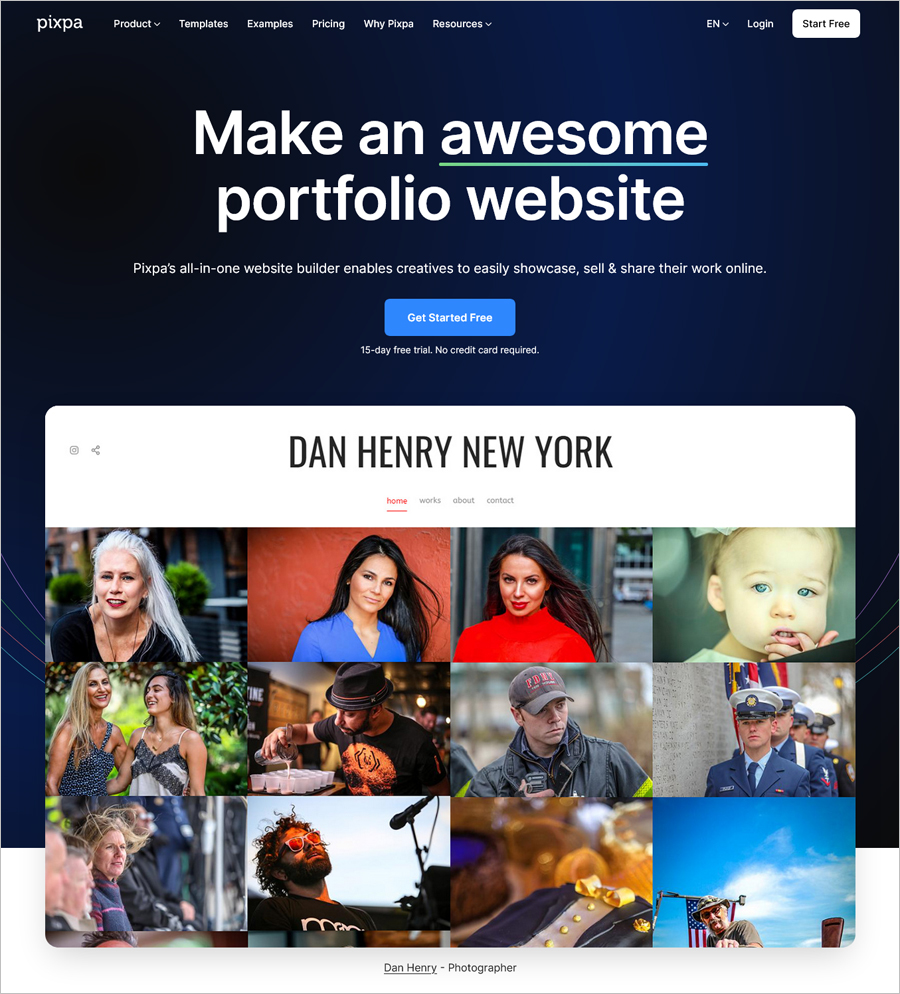 Pixpa is one of the best website builders for building an online portfolio. The thing is, Pixpa was originally created as a portfolio website builder. Therefore, all the functional options and templates of Pixpa are designed specifically for websites of photographers, designers, illustrators and people of other creative professions. Pixpa offers about 40 different templates for designing a portfolio website. The templates have a simple and clean design with an emphasis on galleries. All Pixpa templates are responsive, which means that websites will be displayed well on any device – be it a PC, tablet or smartphone. Unfortunately, Pixpa doesn't have a built-in drag and drop editor, which somewhat limits the ability to edit templates. But the quantity and quality of templates – eliminates this shortcoming to the fullest.
In addition to displaying photos and graphic images, Pixpa allows you to sell them. Thus, you get not just a portfolio website, but also an online store. But unlike competitors like Squarespace, Pixpa doesn't charge any sales commissions. If you add advanced SEO settings, ease of use, excellent technical support (including by phone) and affordable prices for premium plans – Pixpa looks very attractive. There aren't many website builders out there that allow you to get a professional portfolio website for $5 / month with your own domain and free SSL certificate.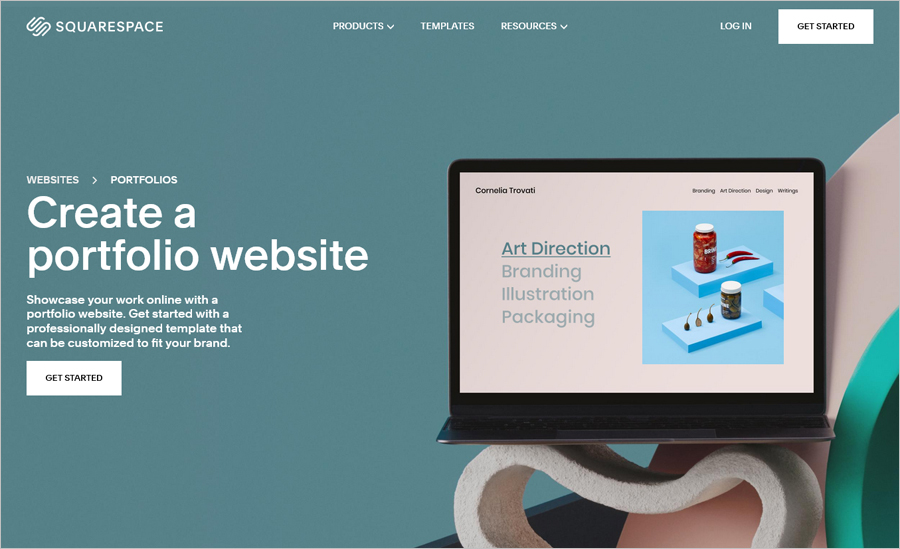 Squarespace is the builder of choice for those who want to showcase their creative work. The platform is sophisticated, and you can tell at a glance that the template designs are the product of hundreds of man-hours of work. If you want your photography portfolio or stylist portfolio website to have looks that can kill, go for Squarespace without any hesitation. The drawback is that there is a price for this exclusivity. Unlike the other builders, there is no freemium model.
You can choose from about 120 highly responsive templates that are optimized for every type of screen. If you want a captivating blog to be one of the main attractions of your site Squarespace is perfect for your needs. But the top feature has to be that you can switch between templates at will without fear of losing any of the content. This lets you change the looks of your website in a few hours and relaunch it with a new charisma. Does it have any cons? Only one that we could discover. The menu is only one layer deep. Thus you have to put quite a lot of hard work into the website hierarchy design to get it to look and behave the way you want.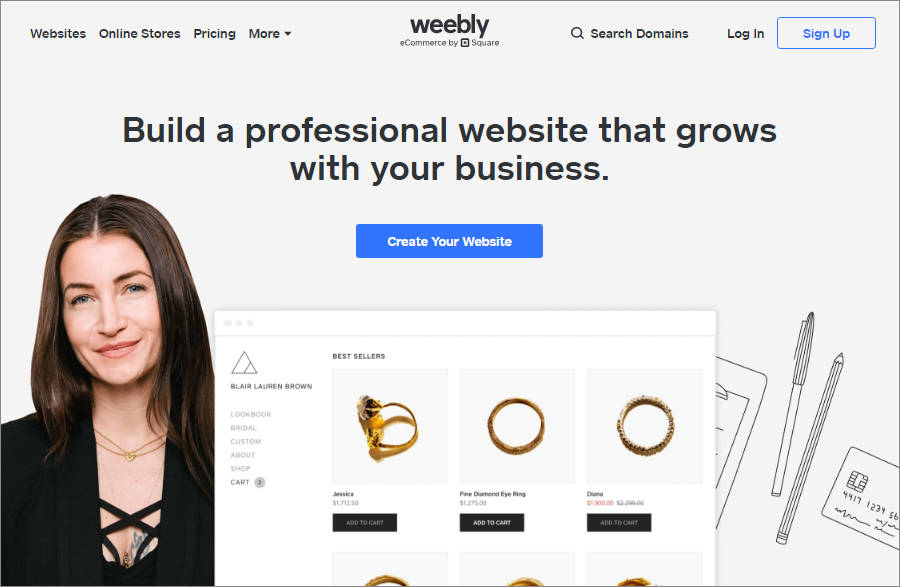 Weebly is quite like Wix in its drag and drop functionality. But Weebly is slightly simpler to set up and does not have so many choices. However, make no mistake about its functionality, as it is an extremely robust platform capable of creating the best portfolio websites. If you are wondering how to build a portfolio with no coding experience, Weebly is ideal for you.
What is in Weebly's favor is that it is highly affordable with premium plans starting from no more than $5. Even on the least expensive plans, you get a whole host of features such as SSL certification as well as a unique email address.
In 2019 Weebly boasts of a new set of alluring templates for those who want website builder for photography portfolio. They are not as polished as Squarespace but they do score high in aesthetics. The biggest advantage that Weebly has over Wix is that you can change the template to add to the appeal of your site. Feature-rich and affordable, if you are looking for a clean and functional builder for your website, go with Weebly.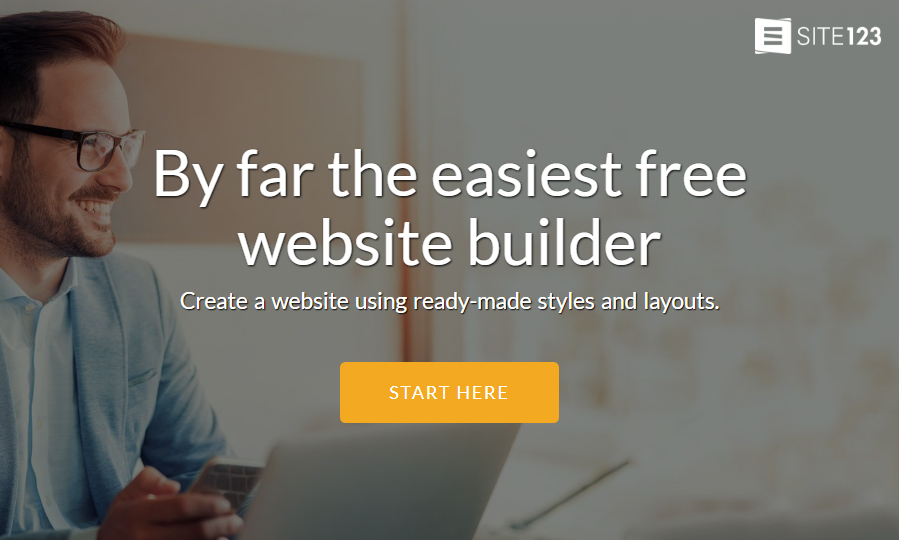 SITE123 is a fantastic stripped-down free website builder for portfolio. The best thing about it is that the set up is completely hassle-free. If you compare SITE123 to Wix, Weebly, and Squarespace, it takes a little bit from each of them but keeps it simple. Be it a modeling portfolio or portfolio for graphic design, SITE123 offers something to everyone.
The site uses an artificial intelligence based approach to figure out the type of site design you prefer and sets it up. The templates are classified by categories such as photography, art, etc. that make it easy for you to pick the one you want without much confusion. The websites created using SITE123 are really responsive to mobile phones and are a pleasure to see on a screen of any resolution. However, simplicity also means that there is not much creative control over what you can achieve. Also, it is not scalable and hence suited for those who merely wish to have a presence online but are not looking at turning it into a major revenue stream.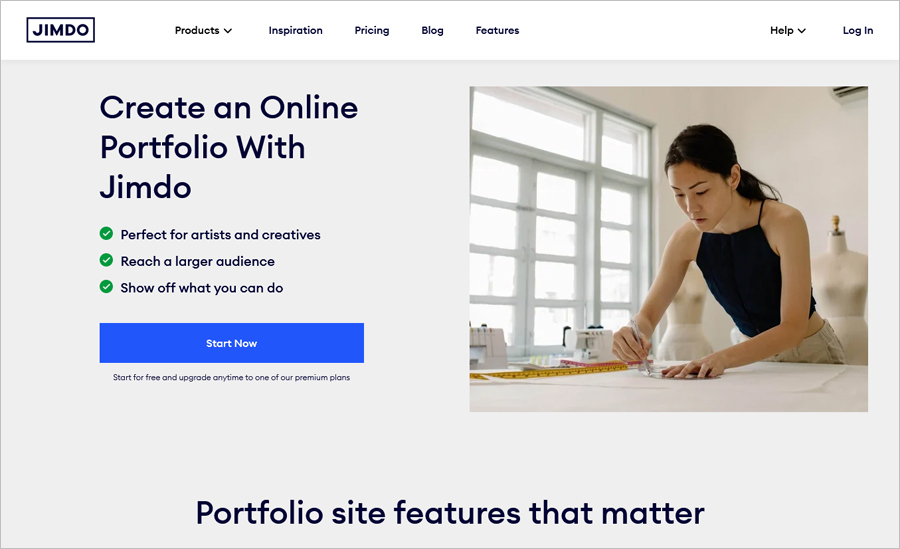 Jimdo is simple to set up website builder that is not perfectly tuned for use by those who want a portfolio site. If you want to test the waters, then Jimdo is perfect for you. Creative people are not very technologically adept and might wish to try out their presence on the internet for a year. Jimdo is perfect for that purpose. If you want to make a splash and go places with the site that you build using Jimdo, you would not be very happy with the result. It is far too elementary for anything more than a simple perch on the internet.
However, since Jimdo has been built keeping the needs of both creatives and e-commerce in mind, it does help if you want to have a small online niche store selling your work. There are not too many easy to use e-commerce site builders out there, and Jimdo is a rare example that really works well in this regard.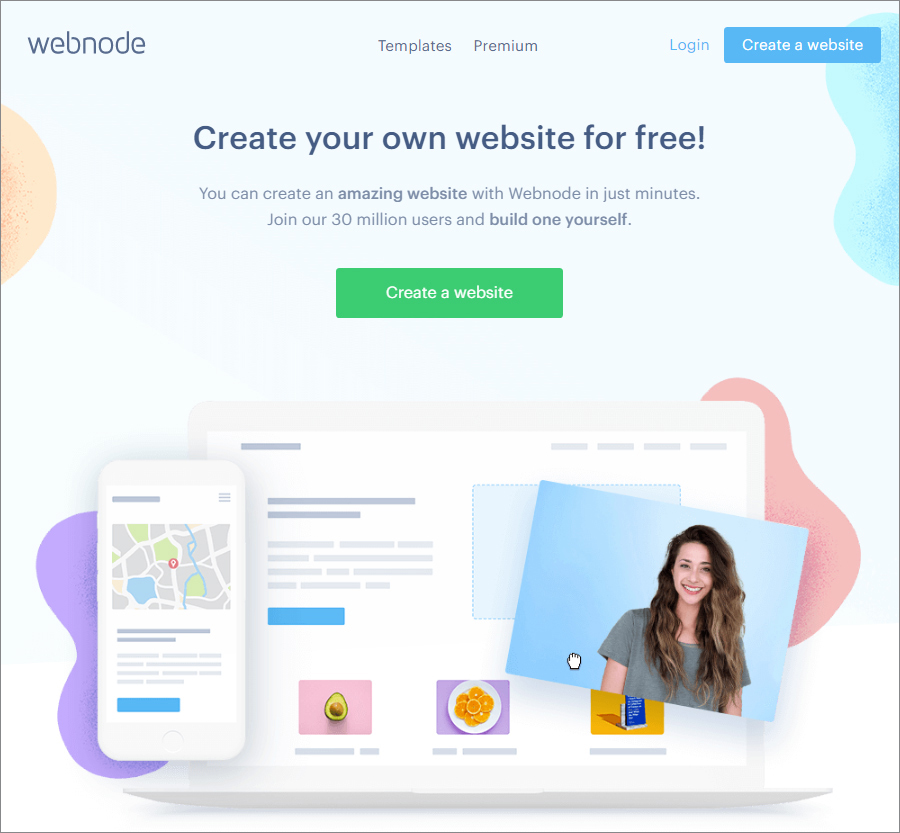 Webnode has over 25 million active users, so they have to be doing something right. The core strength of the site is that it supports several languages, 20 to be precise. If you want a multilingual website, there is no better way to do it. It is attractive due to the easily affordable plans and the drag and drop function that makes it possible to launch a simple website in a matter of hours. The collection of themes is slightly limited, but you can host an unlimited number of pages. There is free backup and restore, and customer care is responsive to queries by chat. Like most website builders, it offers a freemium model, and the paid version starts at about $4 per month. The number of native apps and widgets is quite restricted, but with the help of HTML editor, you can impose a great many applications. Sadly this means many who do not know about web designing would need to hire a professional.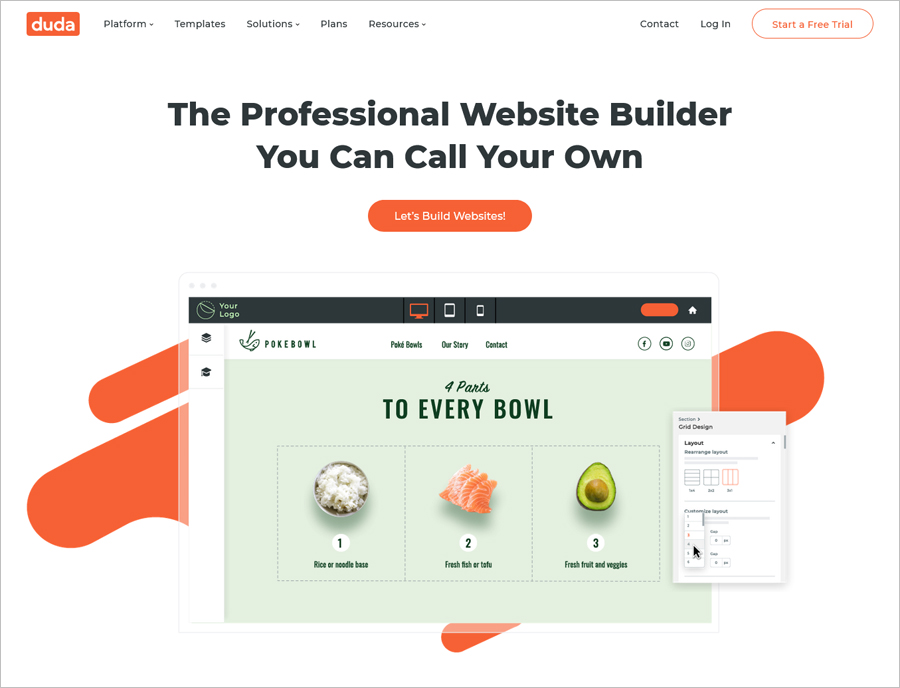 Duda is a stylish website builder for portfolio, no questions about it. If you want a beautiful portfolio website, then Duda can get the job done with aplomb. Well, it is a little expensive, but that means you have access to almost 100 exquisite templates. If you want an elegant site, Duda is the way forward, but you have to put in a little thought beforehand about the theme you would like to choose. Though exceptional, the themes are not terribly adaptive and don't allow you to have much control over the position of the various page elements.
What else do you get:
It is available with support for over 40 languages
It is fully capable of e-commerce
There is a blog feature
Excellent display on mobile screens
Besides, Duda has plenty of widgets that can be used for adding contact forms, surveys, allow pop-ups. You can even design your own widgets and plug them in. Though clutter-free and easy to use, it is quite expensive, with the basic plan priced at $14 per month.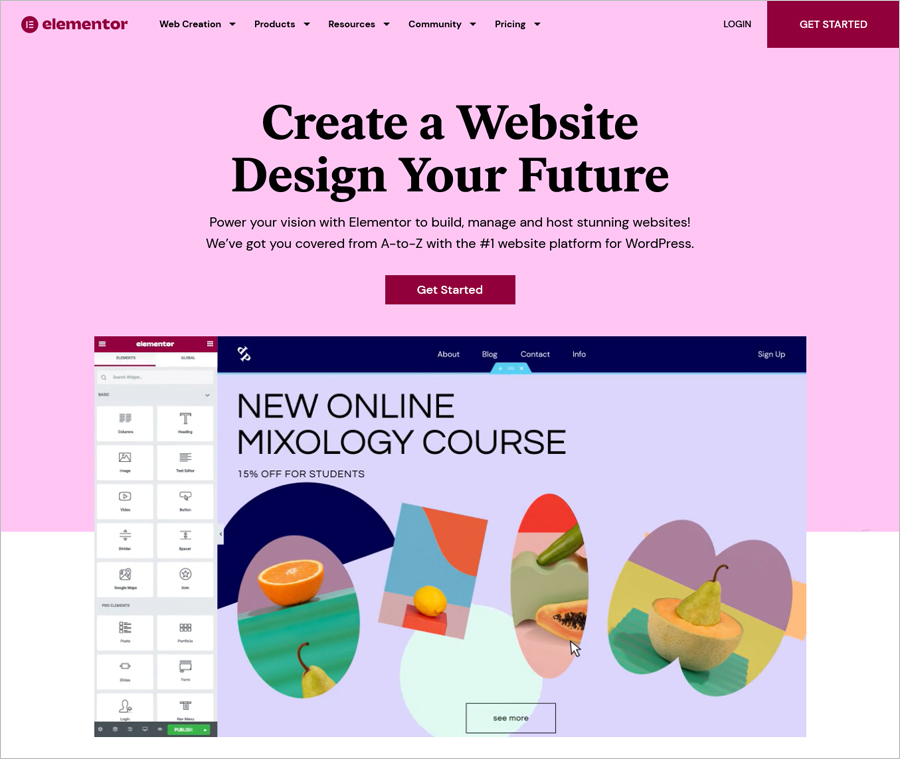 Elementor is a not a website builder per se but a WordPress plugin that is a page builder. So it is best to think of it as something that sits atop a WordPress site. What is a page builder plugin? It is a tool so that those who are not used to HTML can quickly build a site using WP. With close to a million downloads, this is a versatile and state of the art drag and drop editor. It allows you to modify the pages with little effort minutely and works with over 300 WP page templates. Elementor also has a huge collection of apps from image carousels to buttons and contact forms.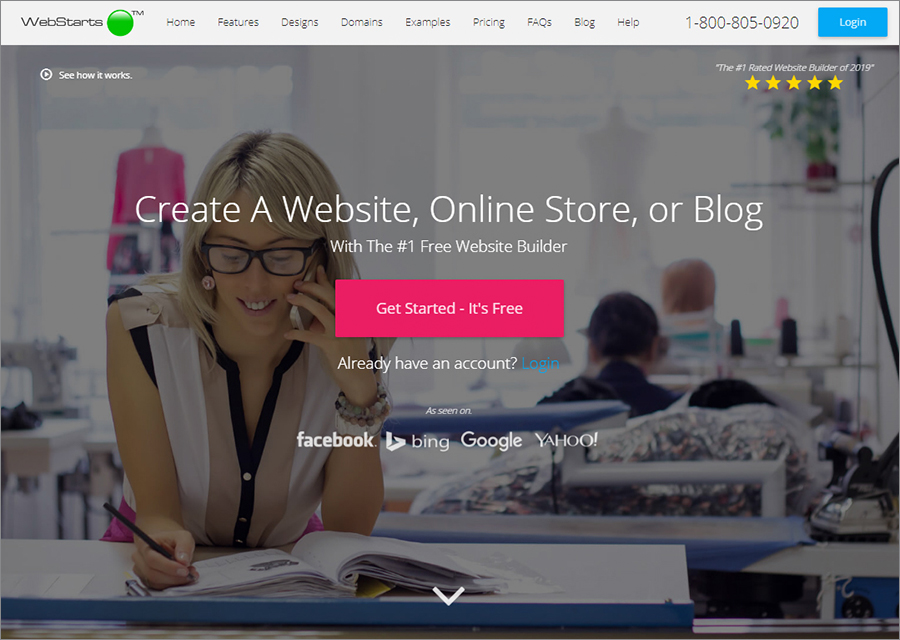 It is an easy to use website builder that can be easily customized to create the most excellent website that you can imagine. The platform has hundreds of fantastic templates to get you started. You can tweak them if you know HTML. You have to configure the basic home page structure and then add content. There are plenty of new innovations that include a native app for analysis of metrics. Other premium features include lead generation tools and mobile optimization.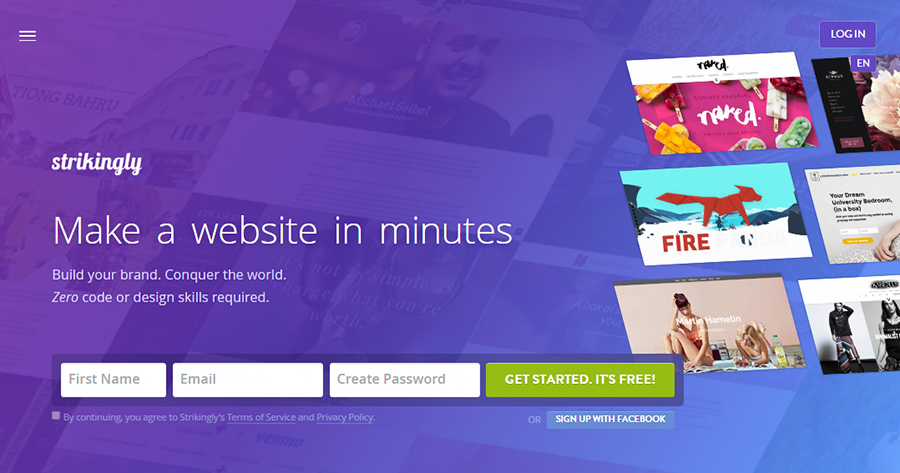 Strikingly has a simple approach to portfolio websites. It offers a one-page layout that can be easily set up in an hour or two. If you want advanced features such as email marketing and cart management, then Strikingly can't provide it. What it can deliver is a lightweight and competent website that displays your work effortlessly. If you are phobic about technology, then Strikingly is ideal for you.
Best Online Portfolio Websites
You could also take the simpler route of using existing portfolio website that act as aggregators.
Behance
Behance is probably the most well-known portfolio website. It attracts thousands of creatives and artists who use it as a platform to show their work. You can sign up for free and upload your work. It specializes in the display of UX/UI designs, and you can invite others to collaborate on your project. Behance is a great source for finding new clients.
Adobe Portfolio
Adobe only builds top-notch products. Adobe Portfolio is no exception and using it, you get to create a free portfolio website in a matter of hours. It can be used to make a gallery for any of the different creative fields – photography, UI design, architecture, artwork, etc. You can sync photos from your Adobe Lightroom software at the click of a mouse. The drawback is you cannot integrate e-commerce into it.
Dribbble
Dribbble is almost identical to Behance. Just create a profile and share your best work in the field of UX design. There are numerous members, and you could carry out a conversation in virtual meeting rooms with several at a time. There is also a very active blog community where you can share your ideas and be up to date with new developments.
Coroflot
Coroflot is gradually emerging as a third alternative to Dribbble and Behance. Though not as well known as its more famous siblings, it has attracted very talented people. It is fascinating as it wants to become the place where most recruitment happens in the field of UI/UX design and is positioning itself as a type of job portal.
Portfoliobox
Portfoliobox is an online portfolio tool that allows a free or premium account for your graphic design portfolio. The free account will enable you to showcase 10 projects and up to 30 images for free. It also allows you to browse superb templates that you can purchase and apply to your account.
What Will Be The Best Solution For Building Your Portfolio
There will be a unanimous agreement that Squarespace is the best possible builder for a portfolio website. The sole reason is that it has been designed, keeping in mind the specific need for creatives. It lays great emphasis on visual appeal. In one word, it is beautiful and efficient at what it does.
Our next choice is Wix. Wix is the next best alternative to WordPress and is continually improving. It is also priced very reasonably and offers a free site under the Wix domain. You could migrate this to a paid plan with all the bells and whistles like backup, 24×7 chat, tech support with a monthly plan that is priced as low as $8.