Montblanc, well known for their high-end pens, is dabbling in the motorcycle world with their luxury helmet. Montblanc has created a couple of cool black helmets for motorcyclists who like to ride in style. The Urban Spirit Helmets have been inspired by the simplicity of the racing helmets from the 1970s, these helmets have a sleek and contemporary feel. One of the helmets is a full-face model that provides a protective black visor, while the other one is an open face helmet with a mirrored visor. The design fuses tactile Urban Spirit plain with the perforated leather of racing gloves. The helmets are molded on a shell with a refracting coating. These helmets combine safety and comfort with sophisticated style. They are suitable for both day and night use as the reflective coating on the shell of the helmets are designed to refract light through the perforated leather, creating a contemporary underlay for the safety function of these special pieces. The detailing, finishing and leather stitching are all testaments to the high standards of craftsmanship that have been upheld in the creation of these objects.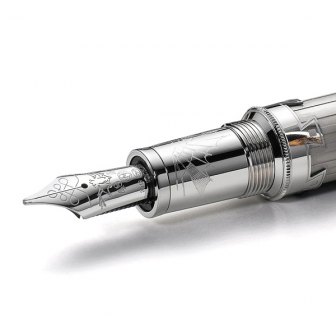 Montblanc's latest Great Character edition pays homage to the genius Leonardo da Vinci. The writing instrument is inspired by his extraordinary inventions and his fascination with the study of flying. Every detail of the design directly reflects the original sketches of flying machines and the mechanical constructions created by Leonardo da Vinci. The wedge shapes are reminiscent of his method to connect mechanical parts to one another. The design of a wing engraved on the section and the bat on the nib pay homage to his study on the characteristics of flying animals, while the mirror on top of the cap, which reveals the Montblanc emblem, is a reference to his research in the field of optics. This edition, which honors one of the greatest pioneers of science, will be available in November at a MSRP of €2830.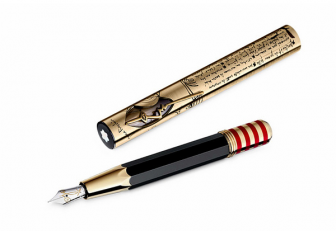 Montblanc has announced its latest pen in the Artisan series of fine writing instruments. Essentially a tribute to Pablo Picasso the pen forms the shape of a pencil with the cap sporting a design inspired by the artists drawing "Portrait de jeune fille." Worked from Mont Blanc' signature precious resin and 18 carat gold, the nib features engraving inspired by the artist's iconic drawing Ojo.
Every year since 1992, Montblanc pays tribute to great writers whose works have become part of world literature, with the creation of a new Limited Writers Edition. The Writers Edition 2012 is dedicated to British-Irish writer Jonathan Swift: writer, poet and essayist, and creator of the satiric masterpiece: "Gulliver's Travels" The overall design of the pen draws inspiration from "Gulliver's Travels", and in particular the Lilliput episode, Gulliver's first voyage.