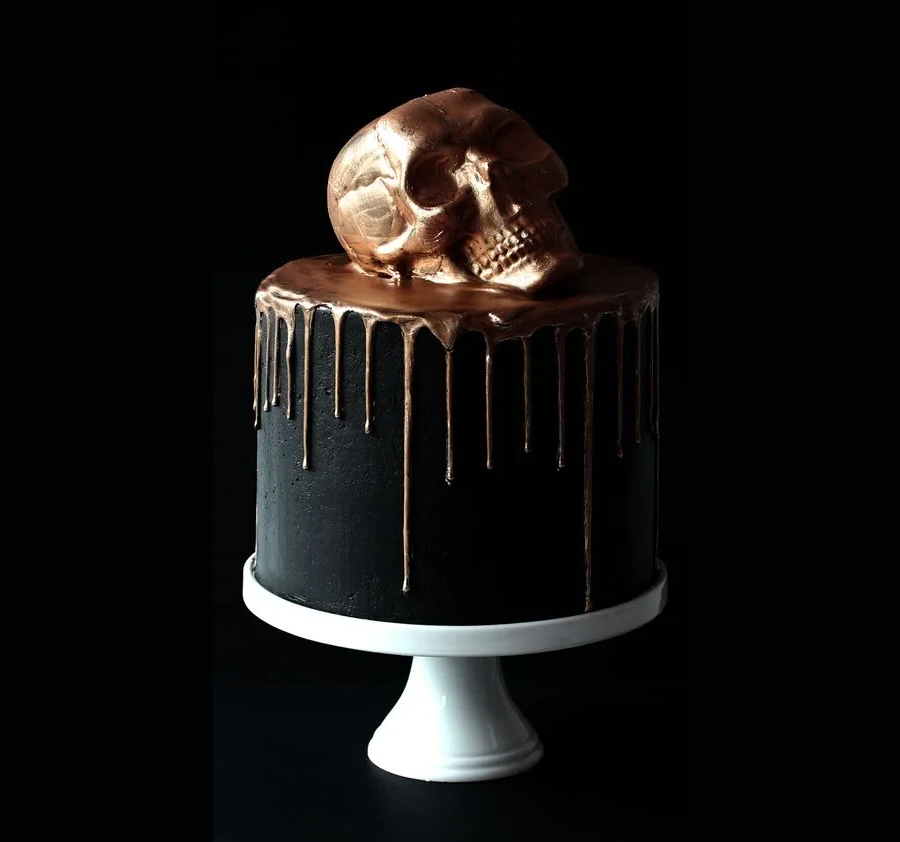 As the ghostly whispers of Halloween approach, the time comes to embrace the eerie and the whimsical in every aspect of celebration, especially when it comes to sweet indulgences. Cakes, with their vast canvas, offer a perfect medium to unleash one's creative spirits. This Halloween, let's venture beyond the traditional pumpkin pies and candy corn, and wander into a world where the spooky and the scrumptious dance in a ghostly ball.
Here we present 20 creepy, spooky, and downright scary Halloween cakes that promise to be the ghastly centerpiece of your spooky soirée. From whimsical witch hats to morbid mummies, these cakes not only tantalize the taste buds but also bewitch the eyes. They narrate tales of whimsy, of eerie nights where the veil between the realms thin, inviting one to a culinary journey through the mysteries of Halloween. Each cake listed comes with a link to a website featuring the recipe, allowing you to recreate these spooky masterpieces in your own kitchen. So grab your cauldron, stir in a dash of spook, a sprinkle of sweet, and let's traverse through this hauntingly delicious gallery of Halloween cakes. Each creation is a spell cast to enchant, spook, and satiate, making this Halloween a deliciously eerie adventure.
Ghost Meringues Cake
These spectral delights are an epitome of Halloween spirit. With a delicate, crisp exterior and a slightly chewy center, each ghost seems to carry a whimsical expression, making them a delightful yet eerie addition to any Halloween celebration. Their simplistic elegance, coupled with a touch of spookiness, can add both charm and chills to your Halloween dessert table.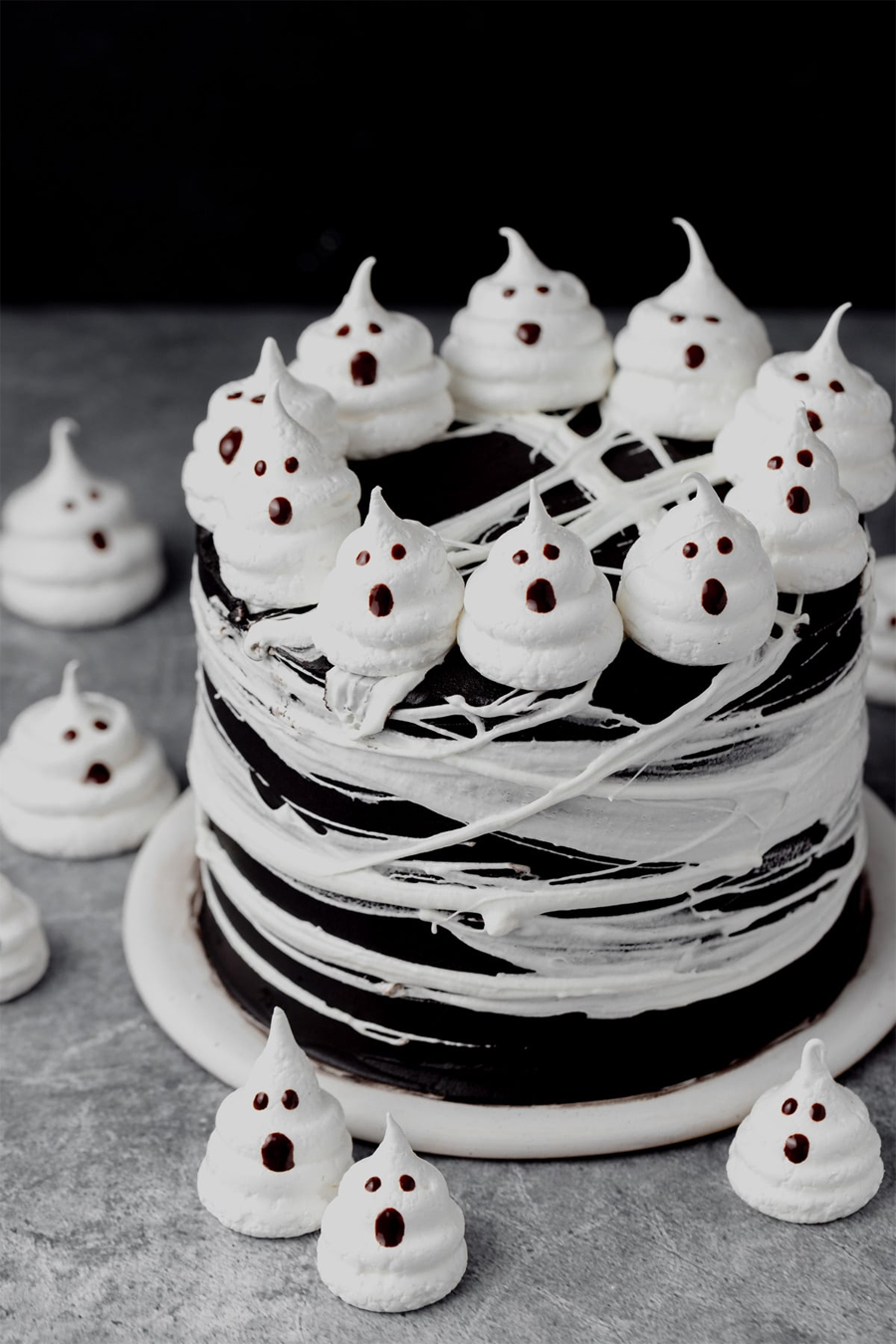 Get the recipe at Barley and Sage
Halloween Pumpkin Oreo Cake
This Halloween Pumpkin Oreo Cake is a feast for both the eyes and the palate. The dark chocolate layers are interspersed with luscious pumpkin frosting, creating a visually stunning contrast. Adorned with spooky Oreo bats and a sprinkle of candy corn, this cake is a playful nod to the eerie festivities of Halloween. The fusion of rich chocolate and creamy pumpkin not only encapsulates the essence of autumn but also brings a delectable complexity to every bite. It's a delightful concoction of flavors and visuals that beckon the Halloween spirit.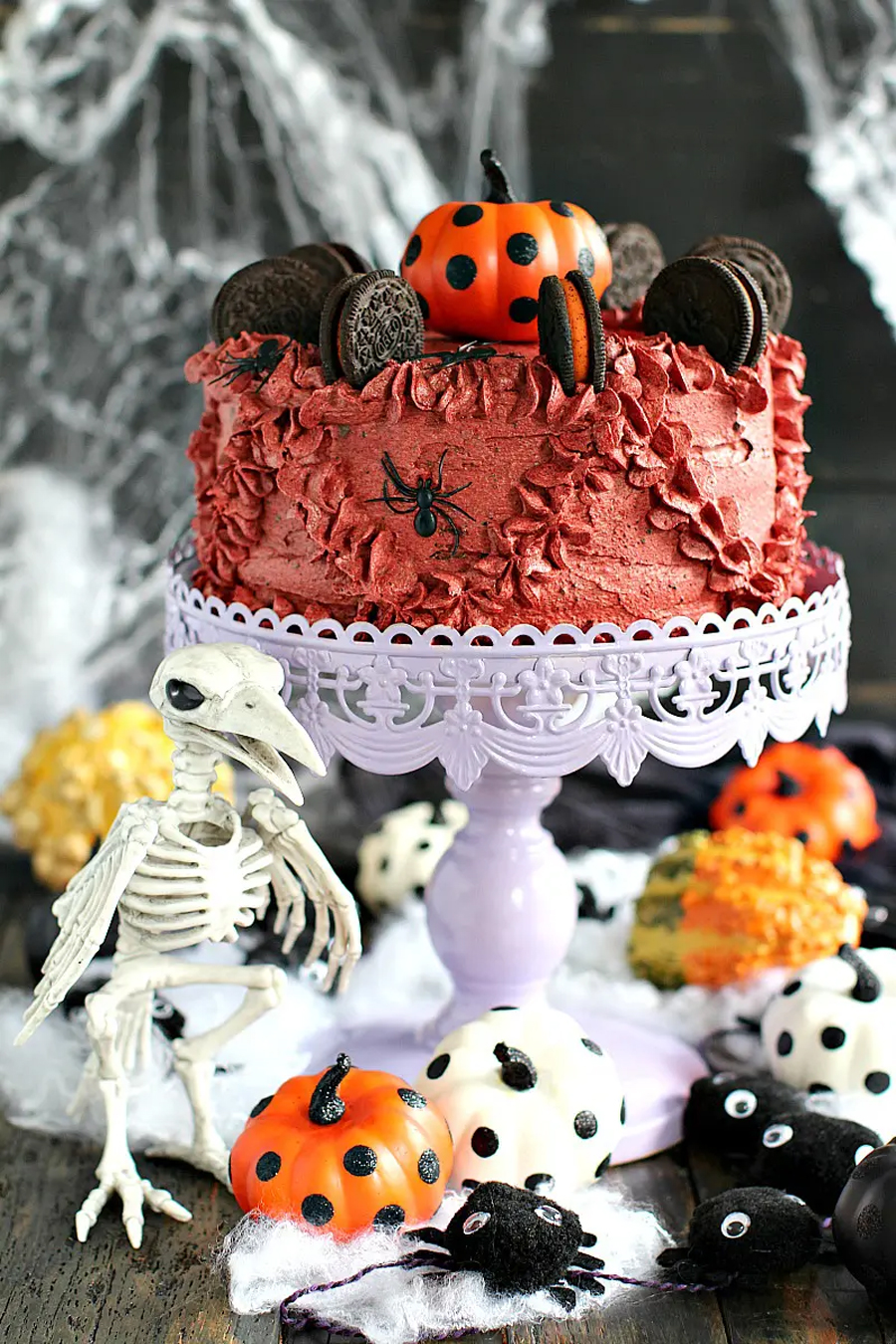 Get the recipe at Sweet and Savory Meals
Evil Eyes Halloween Cake
The Evil Eyes Halloween Cake is a beguiling blend of eerie and elegant. Its smooth black fondant exterior provides a stark backdrop to the chilling, realistic eyes that seem to follow you around the room. These haunting eyes, crafted with careful attention to detail, pierce through the darkness, creating an ominous yet captivating aura. This cake is not just a treat to the taste buds, but a testament to the artistry that can be unleashed in Halloween baking. A slice of this eerie elegance is sure to send shivers down the spines, making it a thrilling centerpiece for any Halloween gathering.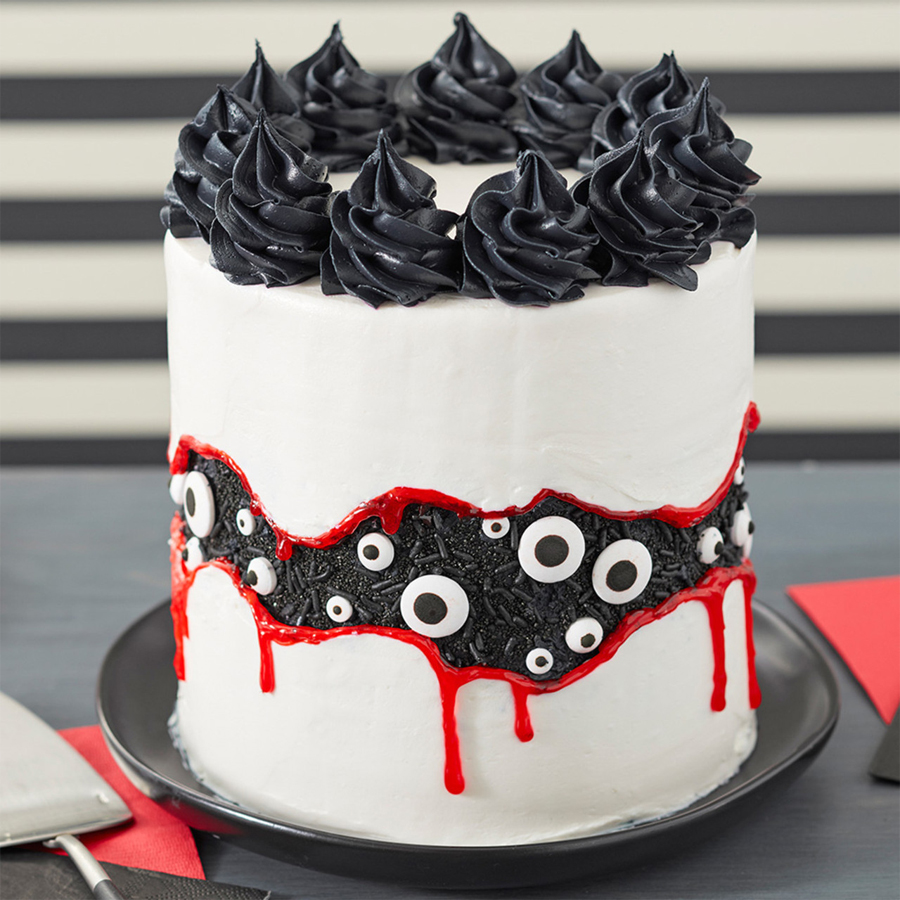 Get the recipe at Wilton
Spooky Black Buttercream Frosted Red Velvet Cake
This cake is a sinister yet sophisticated addition to your Halloween dessert spread. The black buttercream frosting swathes the rich red velvet layers in a dark, mysterious cloak, offering a visual allure that's hard to resist. Accented with creepy crawly spiders meticulously crafted from dark chocolate, this cake exudes a creepy charm. As you slice through the dark exterior, the vibrant red velvet layers make a bold appearance, creating a stunning visual contrast that's both appetizing and eerie. It's a delicious spectacle that embraces the spooky spirit of Halloween with a touch of elegance.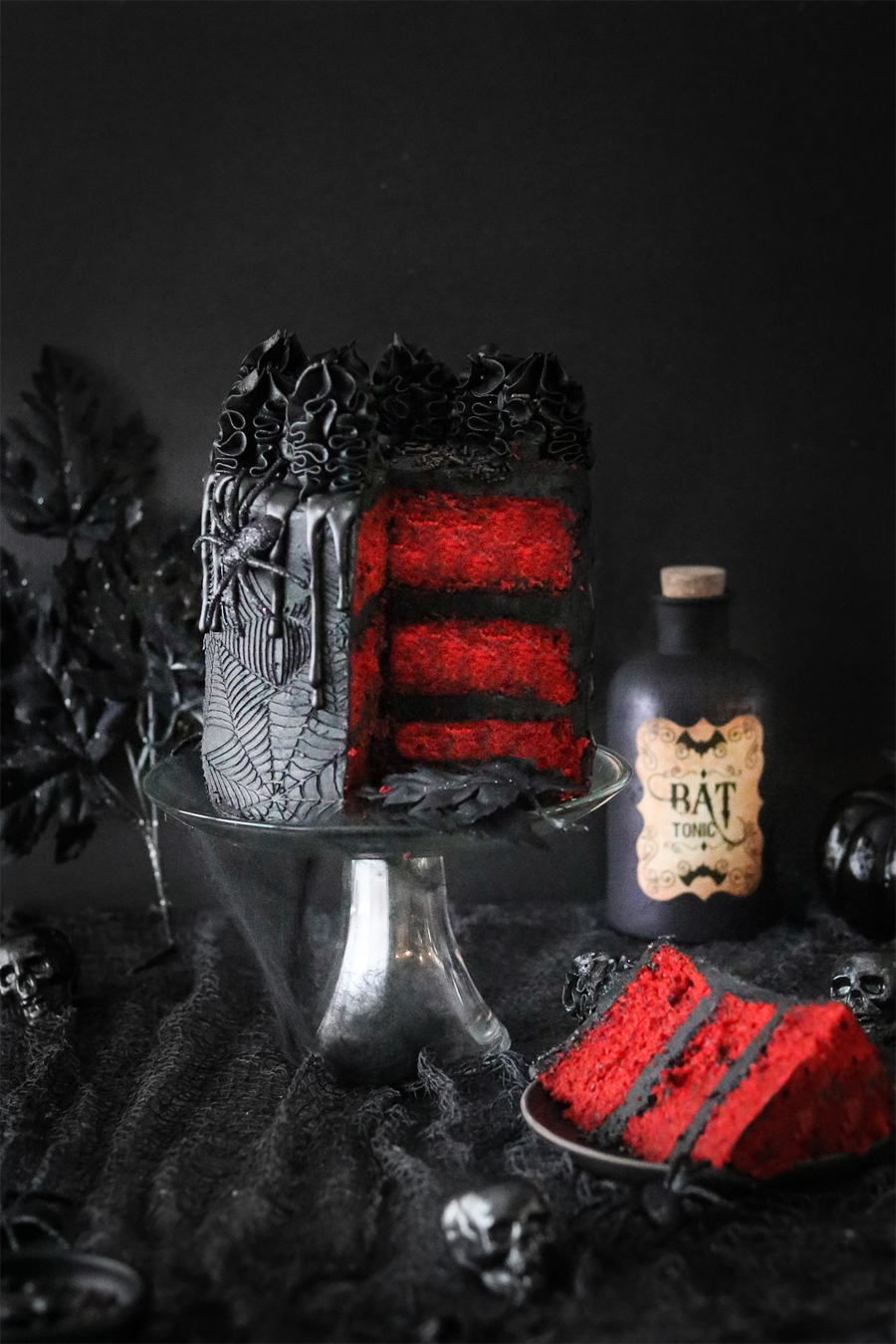 Get the recipe at Peaches 2 Peaches
24K Black Magic Cake
The 24k Black Magic cake is a hauntingly beautiful masterpiece, epitomizing the enigmatic spirit of Halloween. At the heart of its dark, mysterious facade lies a solitary golden skull, gazing into the abyss. The stark contrast between the dark buttercream frosting and the gleaming gold skull creates a visual drama that's as enthralling as the spooky tales of Halloween. It's a bold expression of the transition from the eerie allure of Halloween to the cozy, comforting vibes of the fall season awaiting ahead.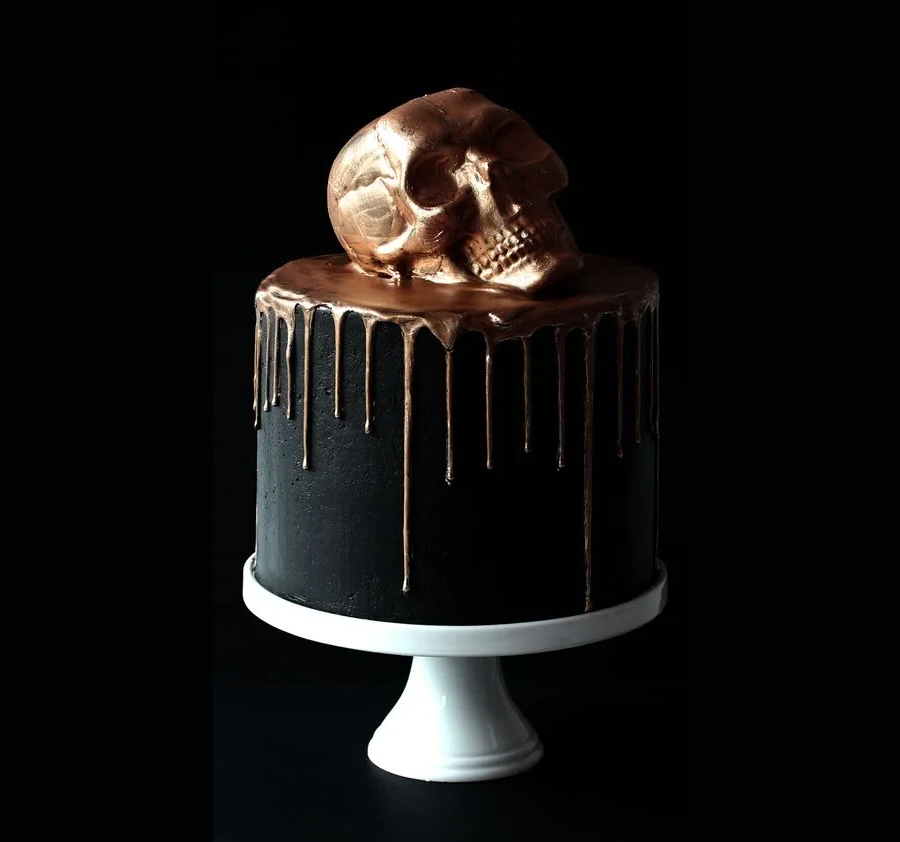 Get the recipe at The Scran Line
Dark Chocolate Pecan "Worms in Dirt" Mousse Tart
The Mousse Tart is a concoction of chilling aesthetics and heavenly flavors, perfect for a Halloween gathering. Its layers of dark chocolate mousse, cookie dirt, and chocolate whipped cream evoke the eerie ambiance of a graveyard, while the realistic raspberry gummy worms add a creepy, fun twist. The "dirt" element, made from chocolate pecan cookies with a hint of cinnamon, ties in a comforting warmth to the chilling theme. This flavor ensemble of chocolate, pecans, and cinnamon is a proven delight, evoking a rich, hearty taste that contrasts and complements the spooky visuals. The tart is a sweet spectacle where the eerie ambiance of Halloween melds with rich, comforting flavors, making it a frightfully delicious dessert that tantalizes both the eyes and the palate.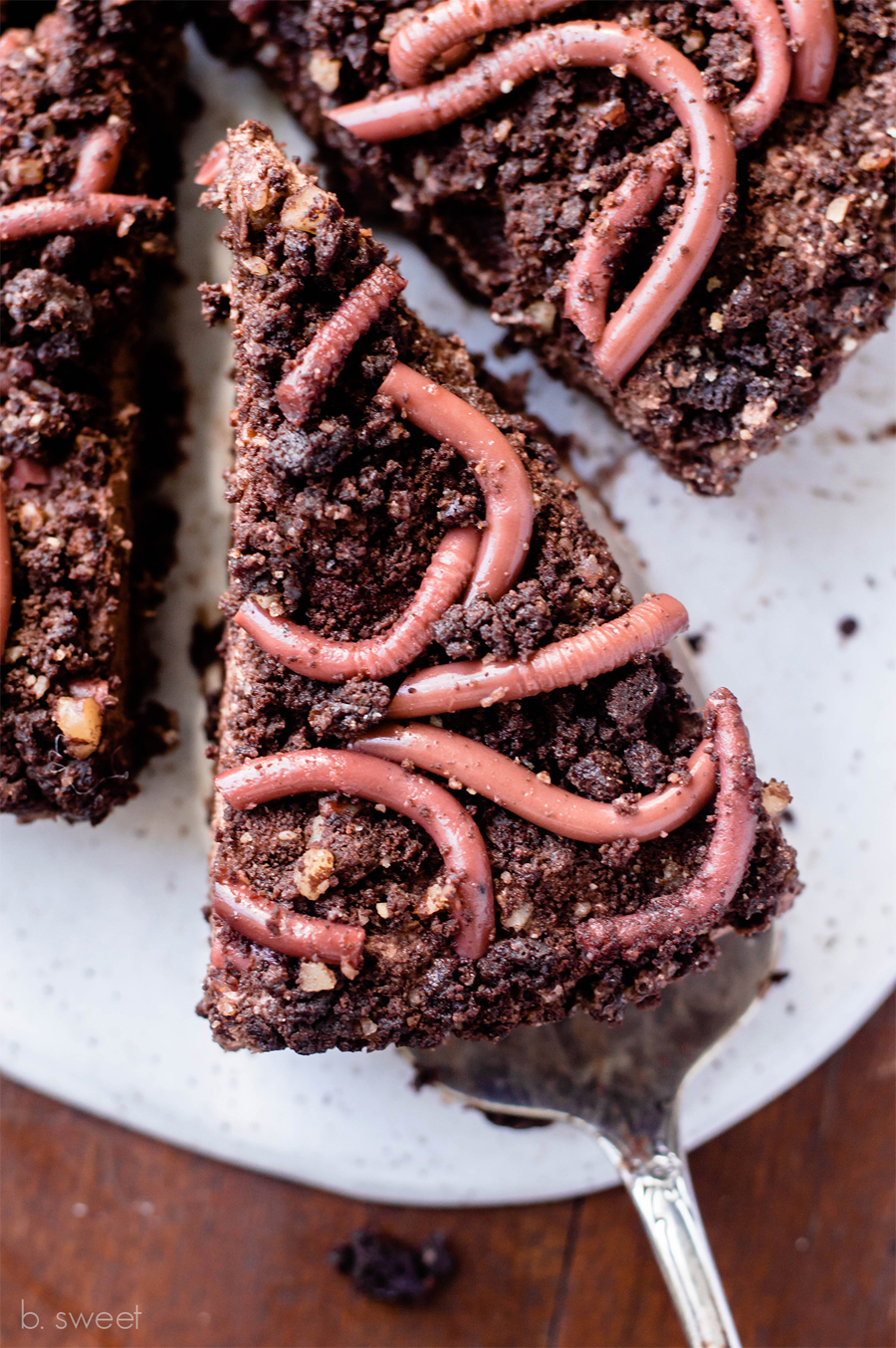 Get the recipe at B. Sweet Dessert Boutique
Glowing Ghost Cake
The Glowing Ghost Cake is a spectacular addition to any Halloween festivity, effortlessly becoming the star of the show. Despite its complex and eye-catching appearance, it is surprisingly easy to create, making it a delightful project even for the novice baker. Children will be enchanted by its eerie glow, while adults will appreciate the artistic and whimsical design. The ghostly figure, hollow within, houses a light that casts a mystical glow, creating a ghostly ambiance that's both eerie and captivating.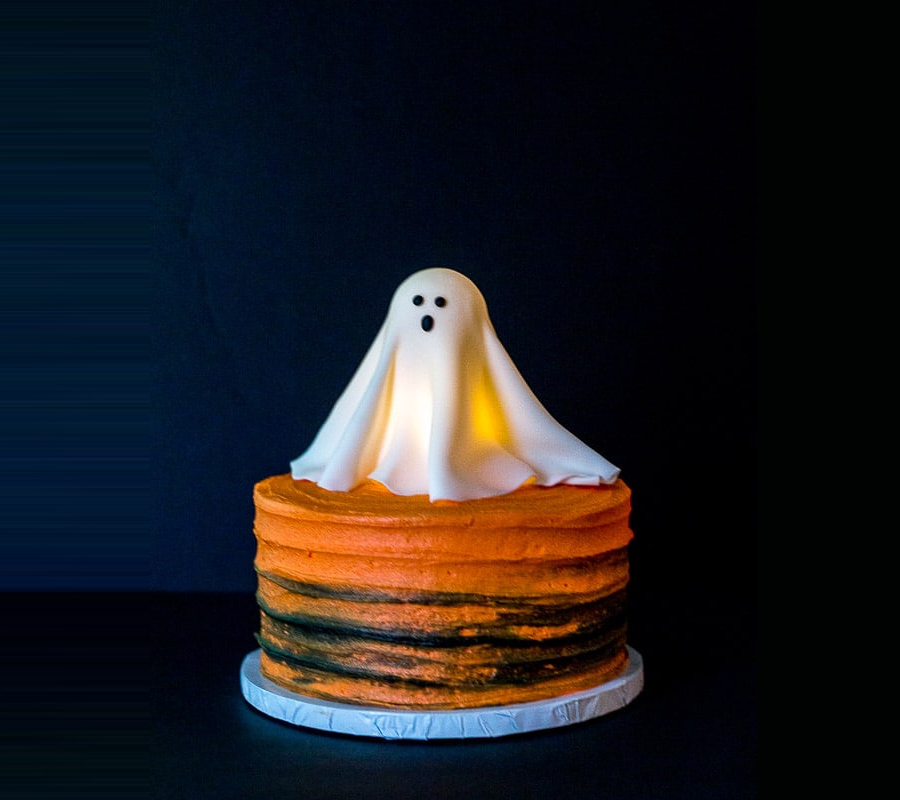 Get the recipe at I Scream for Buttercream
Bridezilla cake
The Bridezilla Cake is a marvel of spooky elegance, encapsulating the drama and the whimsy of a haunted nuptial. Cloaked in a ghostly white fondant and adorned with meringue bones, is a blend of spooky creativity and meticulous preparation. The meticulously crafted roses add a touch of melancholy beauty. This cake is not just a dessert, but a narrative of a ghostly romance, making it a captivating centerpiece for any Halloween gathering.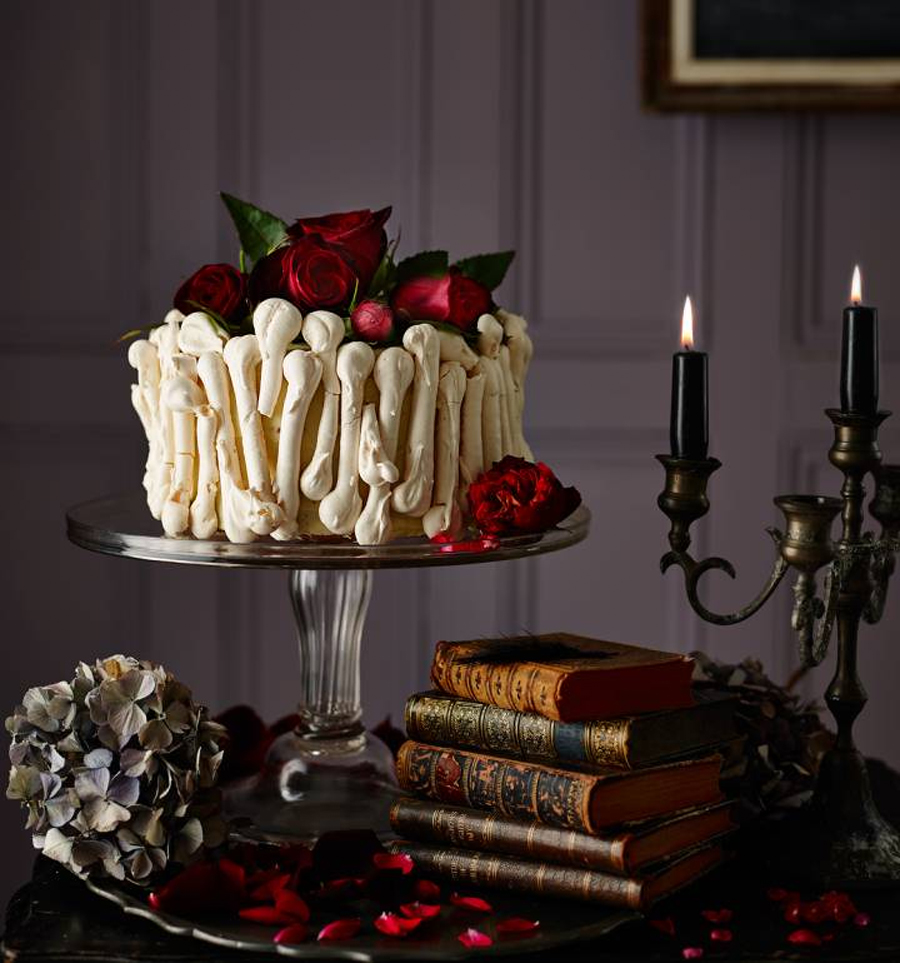 Get the recipe at Sainsbury's Magazine
Guinness and Cassis Cupcake Roulette
The Guinness and Cassis Cupcake Roulette is an eerie delight, offering a playful spin on Halloween treats. These cupcakes, though seemingly innocent, hold a sinister surprise for the daring souls willing to partake in the spooky game of dessert roulette. A bite into the wrong cupcake reveals a fiery heat, a devilish trick amidst the sweet treat. The rich blend of Guinness and blackcurrant liqueur lends a depth of flavor to these dark, moist cupcakes, while the creamy frosting offers a sweet reprieve. Adorned with creepy edible decorations, these cupcakes are a mischievous addition to the Halloween table, enticing the brave to take a chance in the ghostly game of luck.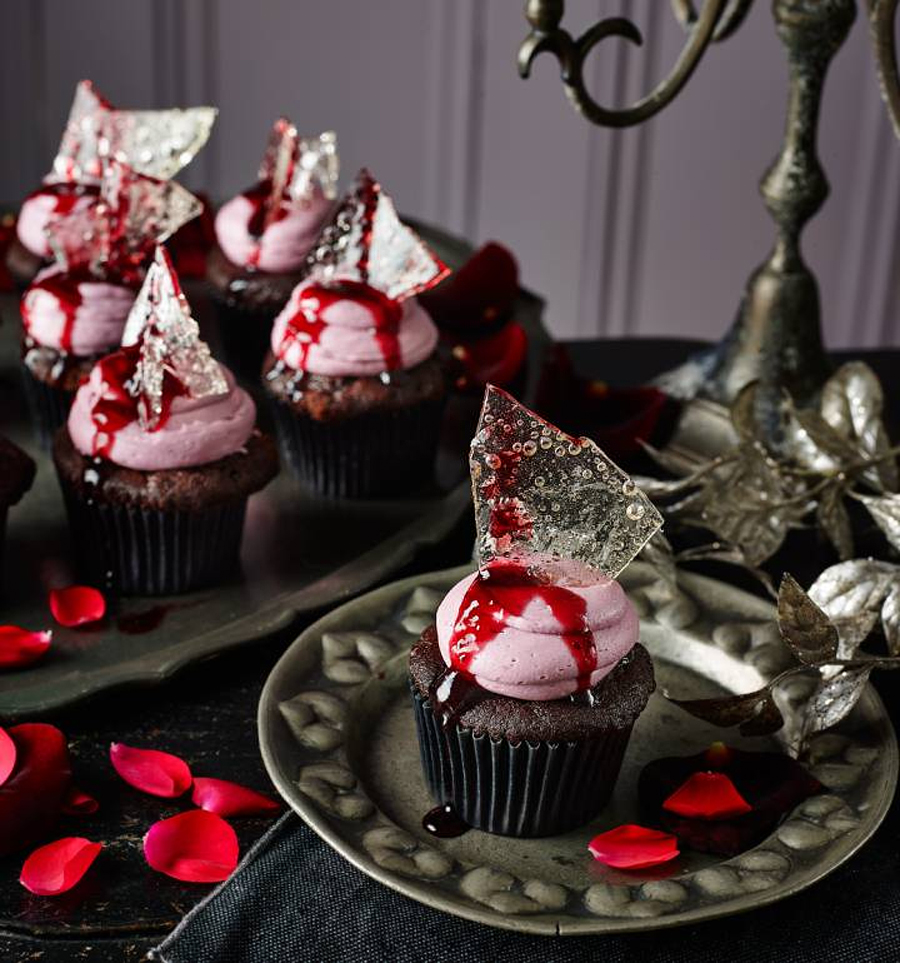 Get the recipe at Sainsbury's Magazine
"Rise from the Dead" Mocha Meringue Cake
The "Rise from the Dead" Mocha Meringue Cake brilliantly intertwines decadence with spookiness, making it a standout centerpiece for Halloween festivities. Its moist, fudgy mocha base is crowned with a light, chewy chocolate meringue, creating a delightful contrast that's both visually appealing and satisfying to the palate. The macabre addition of corpse fingers and moss cookies elevates the eerie aesthetic, enticing the brave to indulge in a slice of the unknown. While the Halloween adornments add a layer of spooky charm, the mocha meringue cake alone is a rewarding endeavor, promising a rich, flavorful escape even without its ghostly companions. The cake is not merely a dessert, but a narrative of the mysterious, inviting everyone to embrace the eerie magic of Halloween while indulging in a luxurious treat.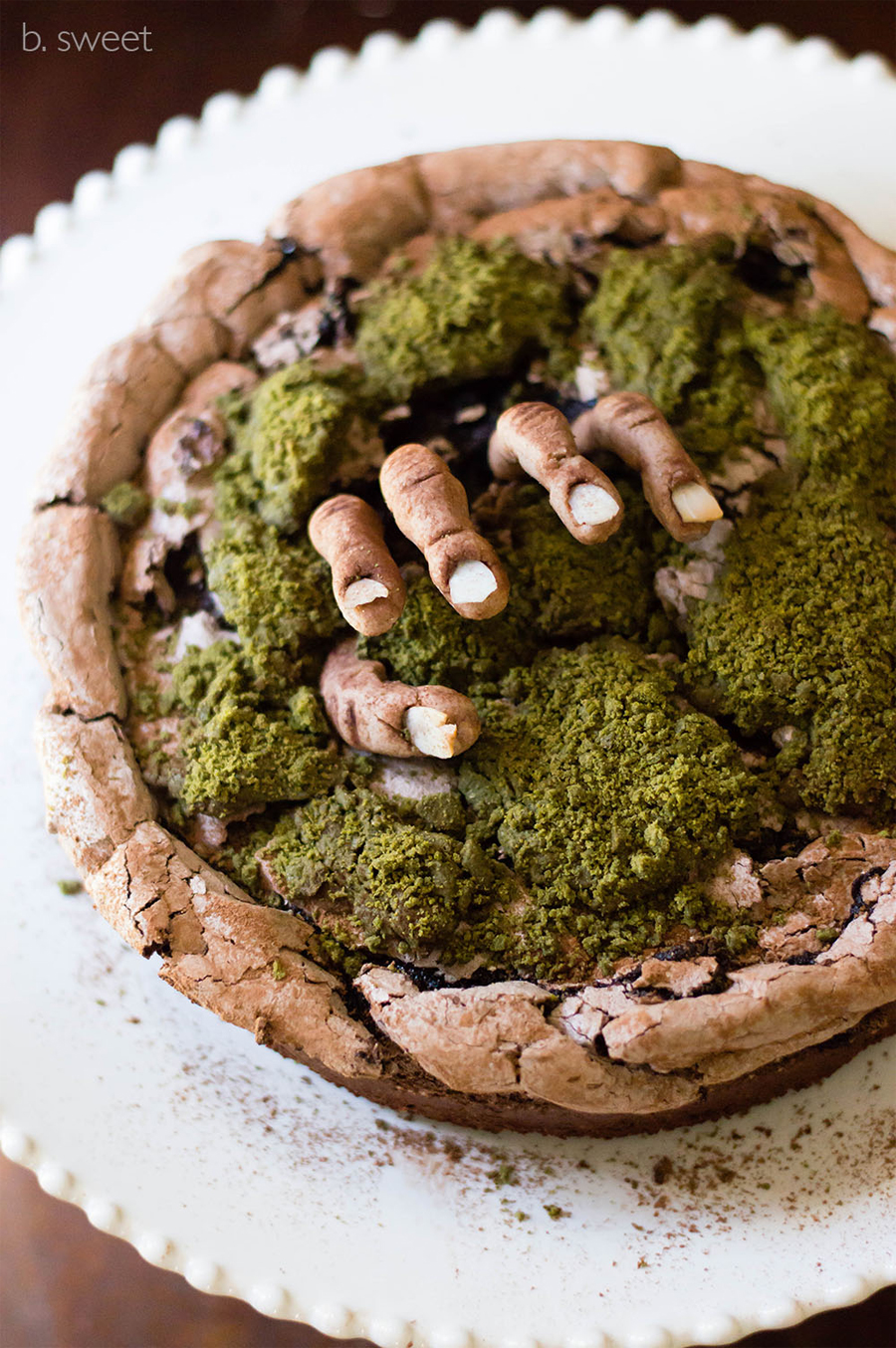 Get the recipe at B. Sweet Dessert Boutique
Moist Black Velvet Halloween Cake
he Black Velvet Cake is a beguiling dessert that embodies the mystique of Halloween. Its deep, dark hue, achieved with black cocoa, sets it apart, offering a unique flavor profile that intrigues and delights. Each layer of this cake is a moist, rich haven, generously enveloped in a silky black cocoa buttercream that adds to its decadent charm. The stark splatters of starry white food coloring create a cosmic effect, while the flight of paper bats adds a whimsical, eerie touch.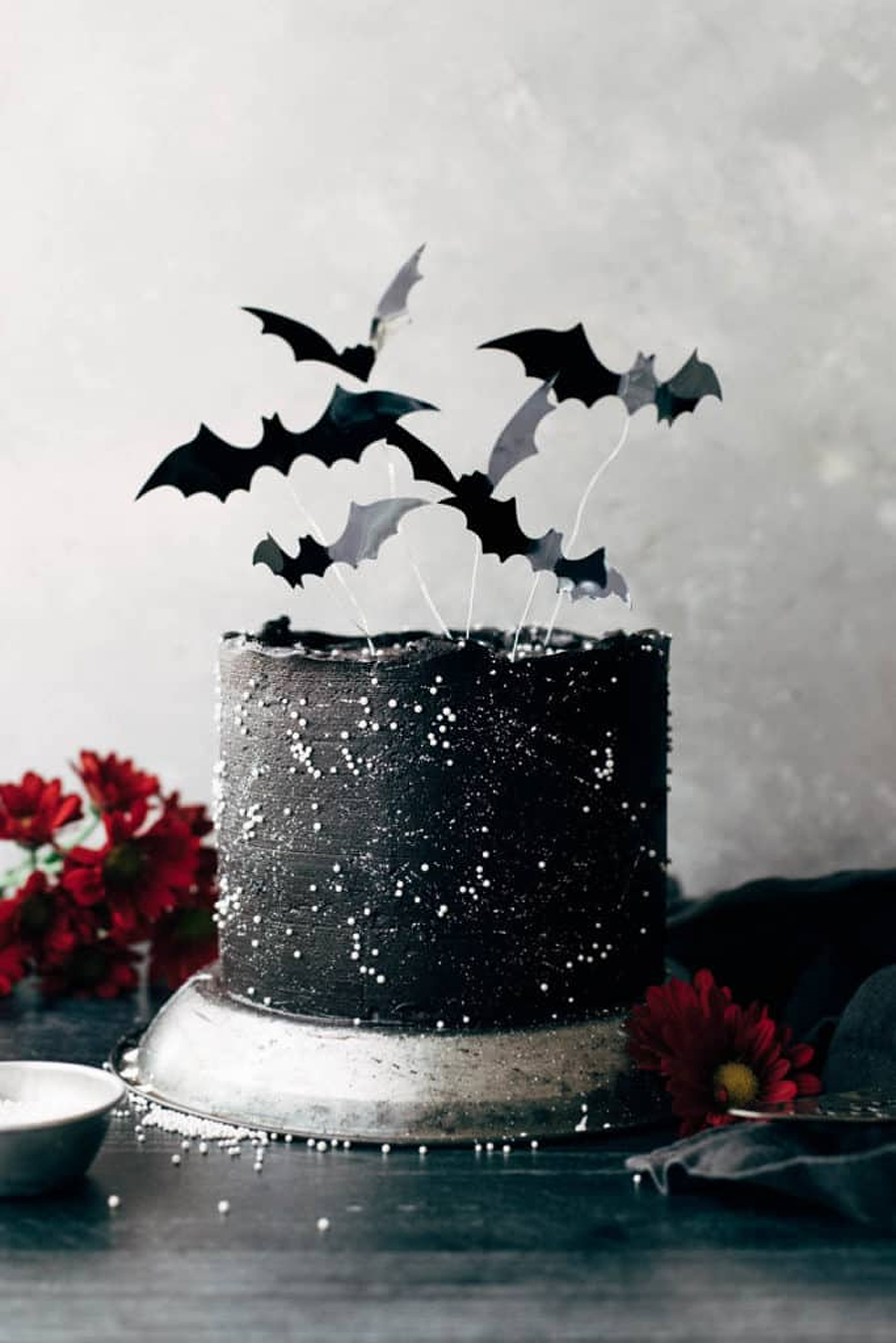 Get the recipe at Butternut Bakery Blog
Halloween Witch Cake
The Halloween Witch Cake is a whimsical display of spooky creativity. The base is a rich, tender chocolate cake, stacked high and enrobed in a vibrant green frosting, reminiscent of a witch's eerie brew. The vibrant green frosting embodies the eerie yet playful Halloween spirit, while the black frosting details add a touch of whimsy. Decorating the cake with witch hat shapes lends a creative and festive flair.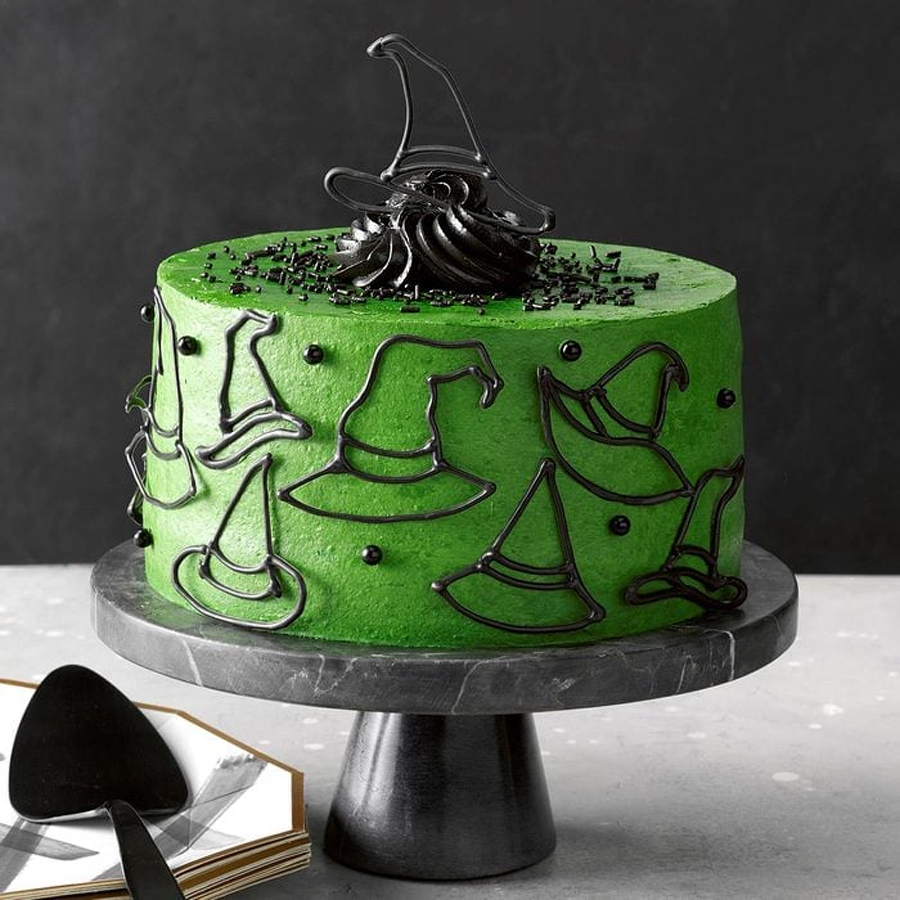 Get the recipe at Taste of Home
Silver Skull Red Velvet Cakes
The Silver Skull Red Velvet Cakes are a striking embodiment of elegance meeting eeriness, perfect for a sophisticated Halloween gathering. The rich red velvet base, known for its tender crumb and vibrant hue, is a delightful contrast to the metallic silver skull. The silver skulls, meticulously crafted, hold an air of mystery and opulence, making these cakes not just a dessert, but a conversation piece.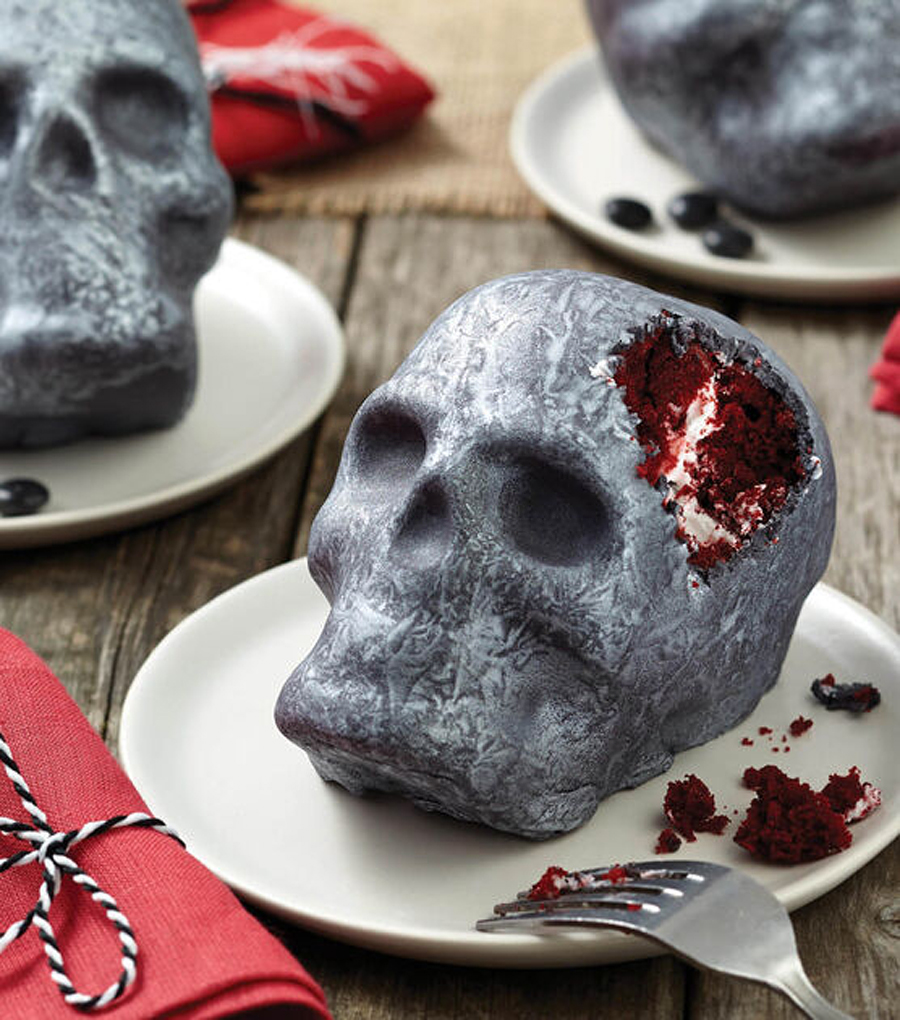 Get the recipe at Joann
Halloween Mummy Cake
This Halloween Mummy Cake is a simple yet eye-catching dessert, perfect for beginners and kids. Despite its impressive facade, it's easy to create with a few supplies from a local craft store. The mummy design, achieved with buttercream or ganache, is adaptable to smaller cakes or cookies too. It's a delightful, spooky centerpiece that's sure to impress guests at any Halloween event.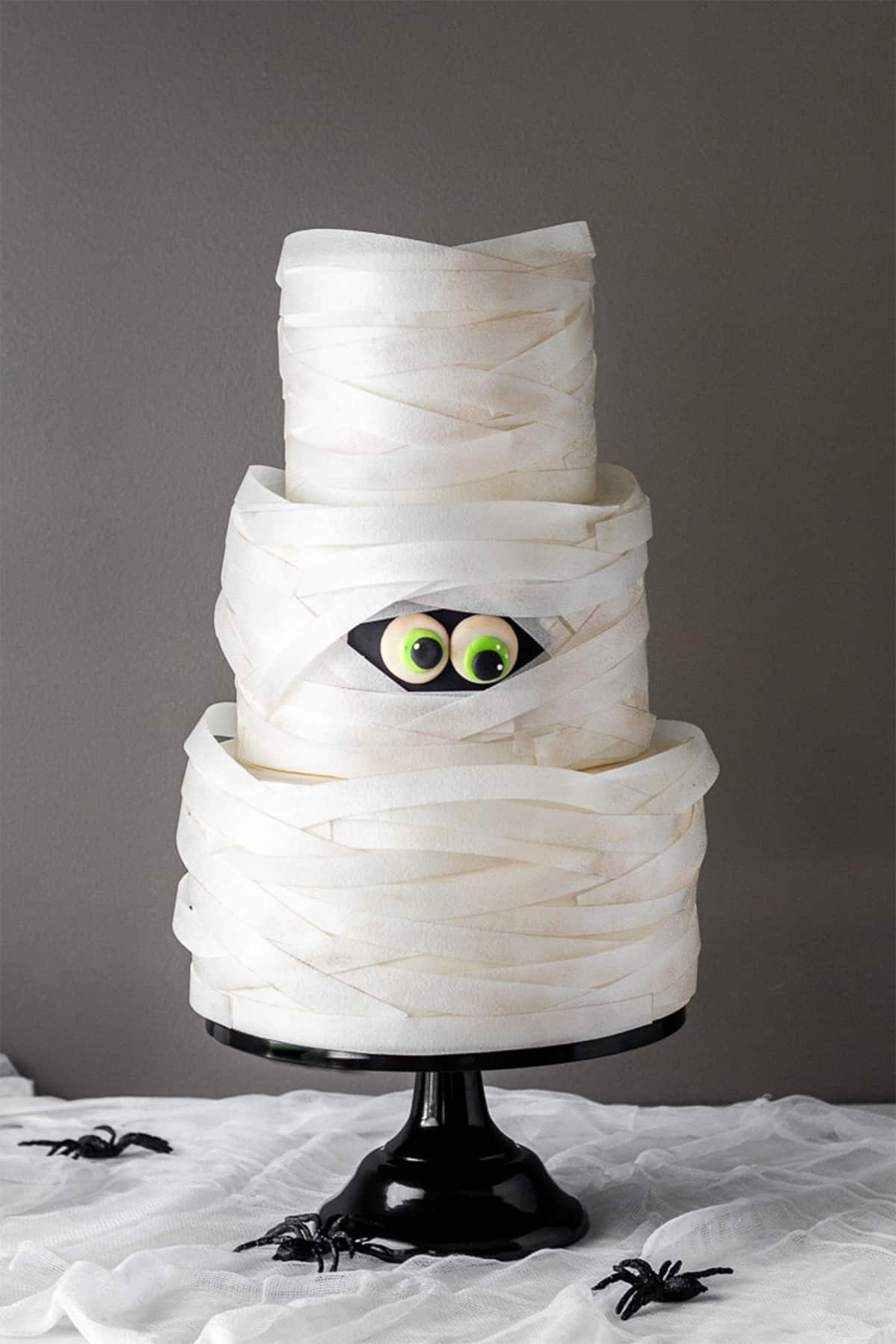 Get the recipe at The Little Vintage Baking Company
Circus of Horrors Cake
The Circus of Horrors Cake is a captivating blend of visual intrigue and delicious flavors. Inside, alternating layers of chocolate and banana sponge with vanilla sponge create a chessboard effect. The filling is a whipped dark chocolate ganache, praised for its taste and texture. Covering the exterior is a milk chocolate ganache, applied thinly for a refined finish. The cake's unique tent shape, representing a circus, is crafted using modeling chocolate instead of fondant for a better taste, showcasing meticulous craftsmanship. This cake is not just a dessert, but a spooky, whimsical piece of art, perfect for those looking to add a touch of eerie elegance to their celebration.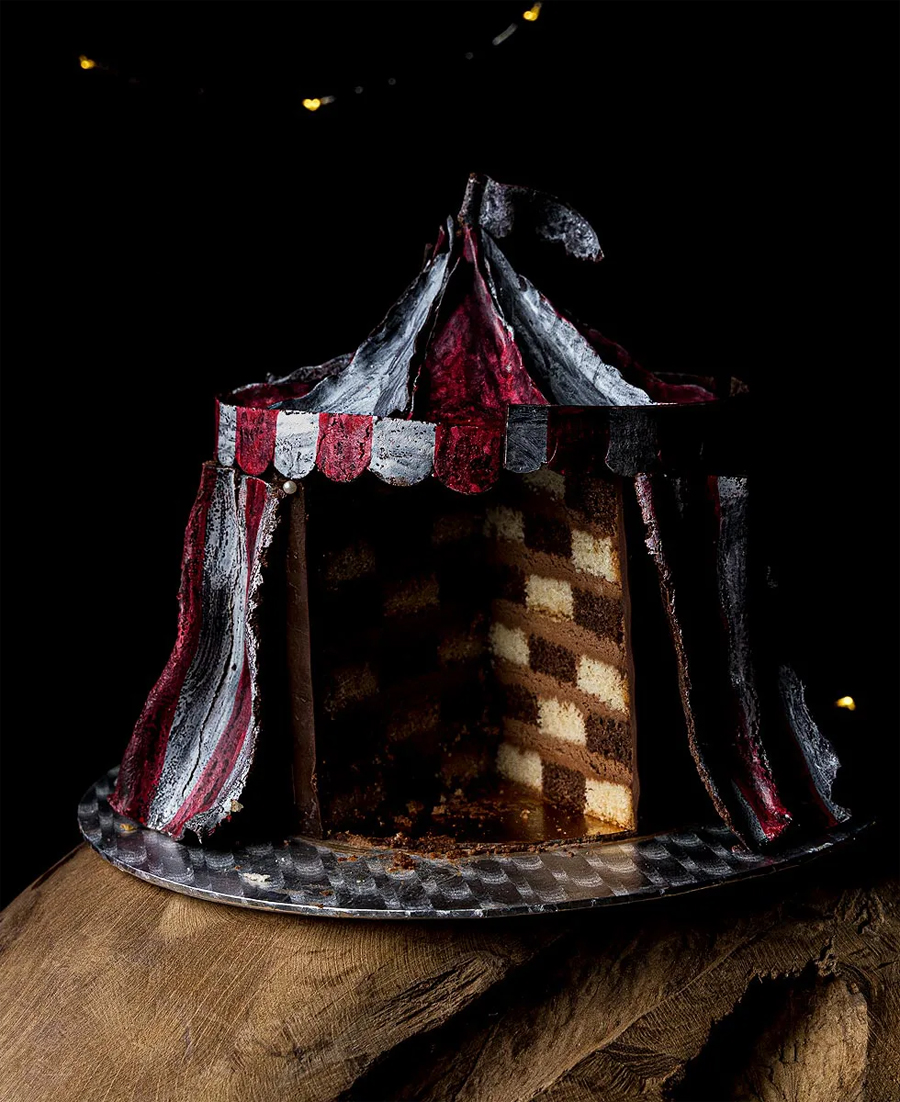 Get the recipe at Bake Street
Le cake d'Halloween
The shared recipe unveils an enticing Halloween treat, inspired by Laeti Green Yogi's mini cakes filled with pumpkin and spices. While adapting it to a gluten-free version and adding a personal touch, the creator presents a delightful and easily achievable recipe to impress guests during Halloween festivities. The comforting essence of pumpkin, mingled with a blend of spices, encapsulates the cozy autumn vibes while aligning with the spooky theme of Halloween. This dessert is not merely about satisfying the sweet tooth, but also about diving into the creative spirit that Halloween evokes, promising a delightful culinary adventure for both the maker and the guests.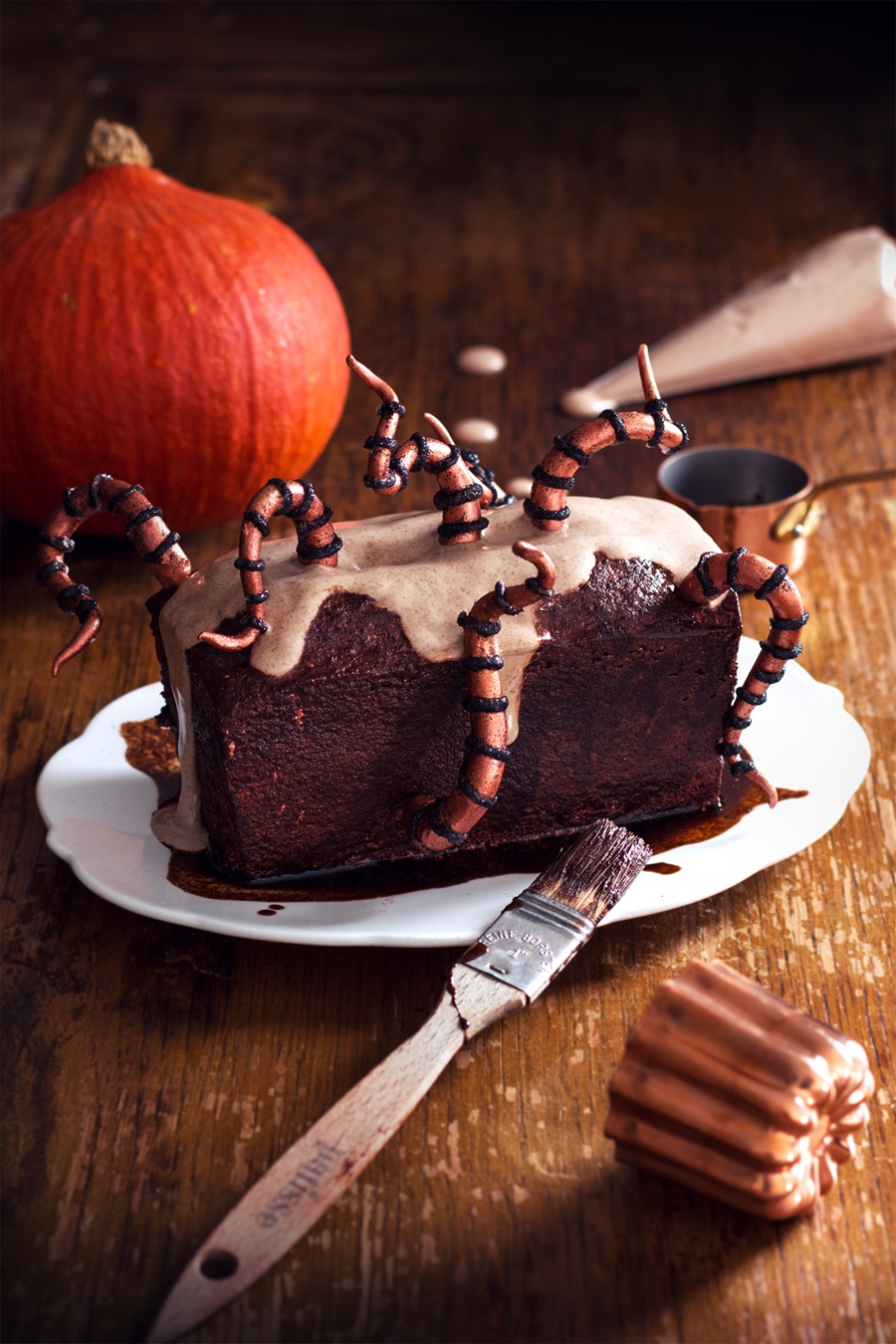 Get the recipe at La Chateleine
Frankenweenie Sparky Cake
The Frankenweenie Sparky Cake is a charming homage to Tim Burton's iconic character, Sparky, from the film "Frankenweenie." This cake is crafted with a meticulous eye for detail, capturing Sparky's whimsical yet eerie essence perfectly. The monochrome color palette stays true to the film's aesthetic, while the cake itself offers a delicious treat beneath the artistic exterior. The playful design is bound to capture the hearts of Tim Burton fans and add a touch of whimsy to any Halloween celebration. It's a delightful blend of spooky aesthetics and scrumptious flavors, making it a captivating centerpiece for a Halloween gathering.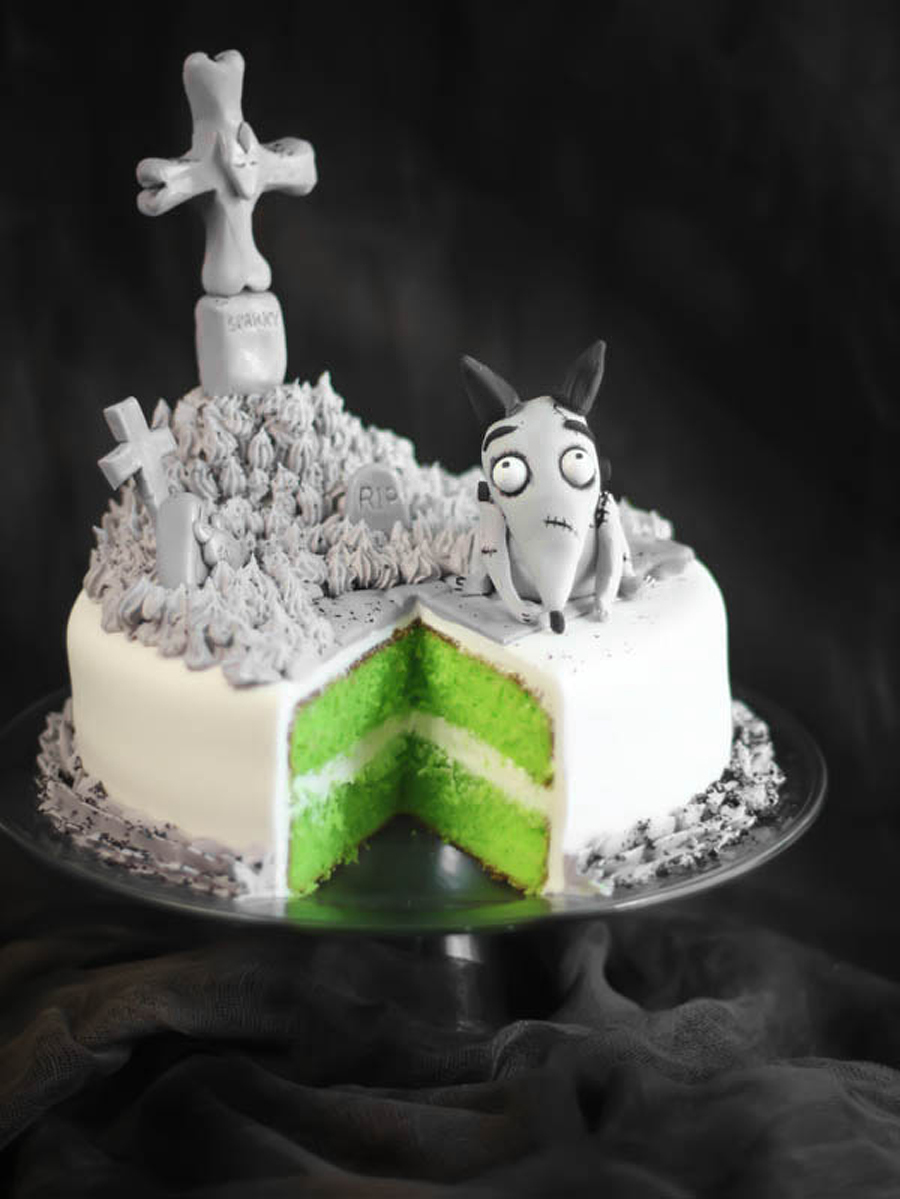 Get the recipe at Sprinkle Bakes
Skeleton Piñata Cake
The Skeleton Piñata Cake is a frightful delight, perfect as a centerpiece for a macabre-themed Halloween celebration. This eerie skeleton cake, with its dark exterior, unveils a vibrant red velvet interior upon slicing, adding a dramatic flair to the spooky ambiance. But the real shocker comes when a cache of candy bones spills out from within, adding a playful and interactive element to the festivities.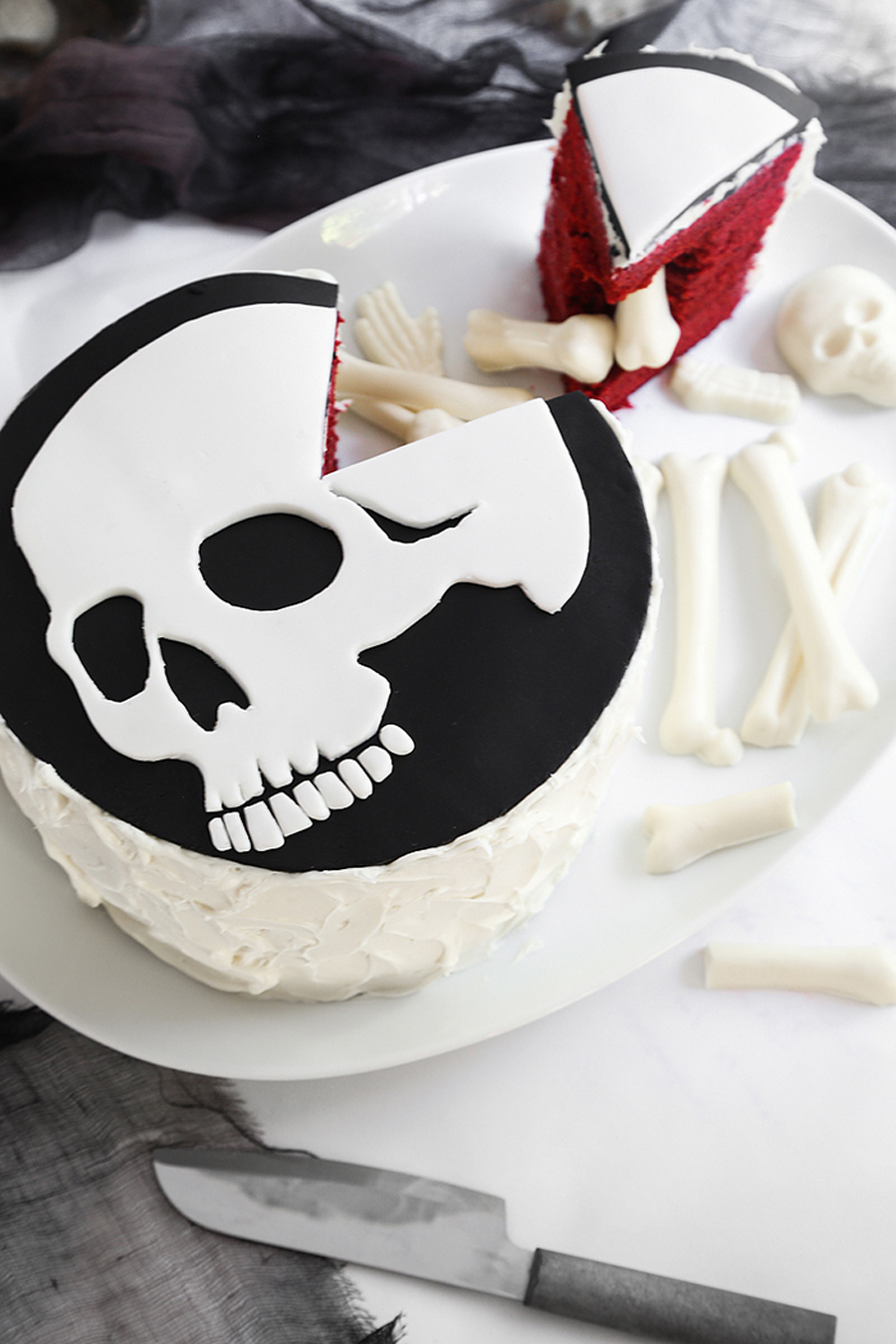 Get the recipe at Sprinkle Bakes
Brain Cake for Halloween
The Brain Cake for Halloween is a morbidly fascinating creation, perfect for sending shivers down your spine while tantalizing your taste buds. The exterior is meticulously crafted to resemble a human brain, with eerie realism that's bound to be a conversation starter at any Halloween gathering. Despite its grotesque appearance, the cake promises a delightful taste, offering a quirky contrast that epitomizes the playful yet spooky spirit of Halloween.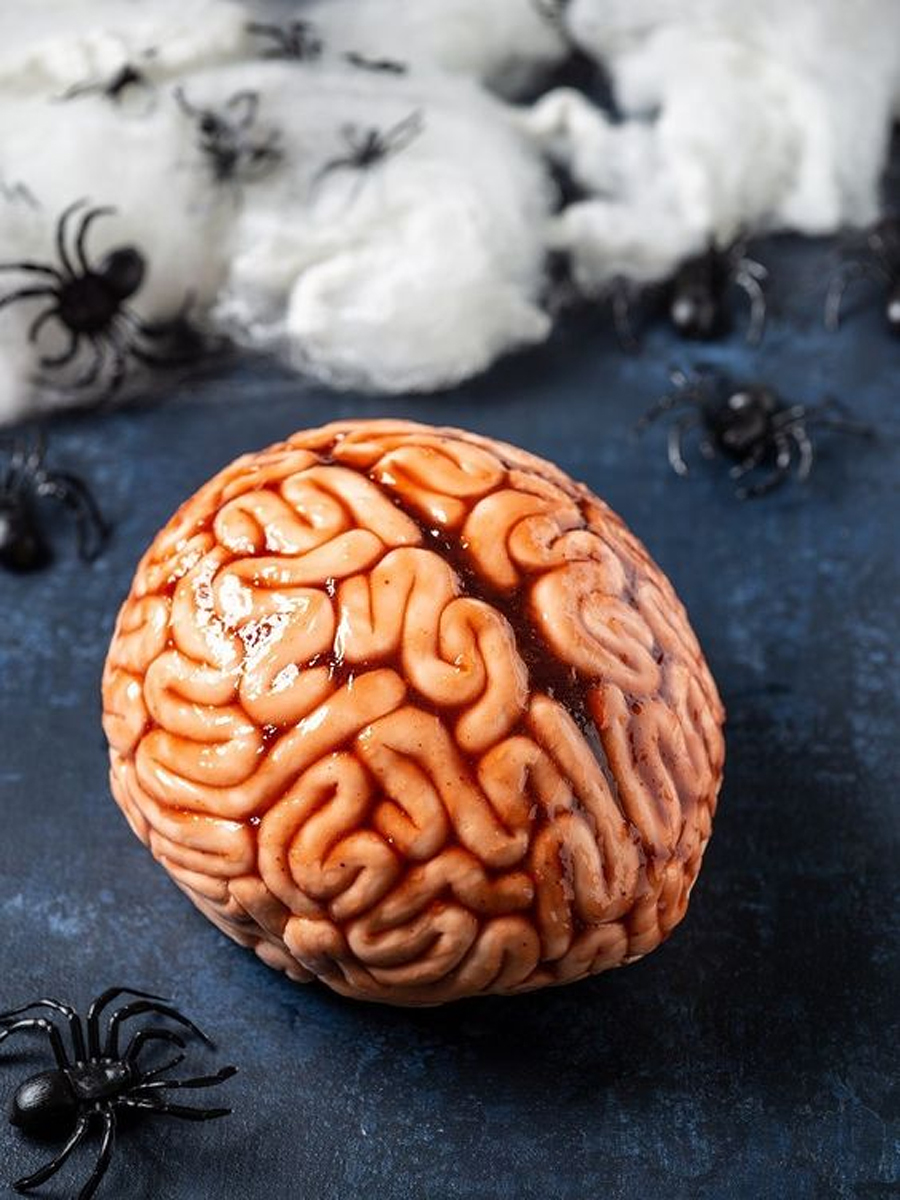 Get the recipe at Recipes From a Normal Mum
Super Easy Two-Tier Halloween Cake
The Easy Halloween Cake showcased on Bird's Party blog is a playful celebration of Halloween's spooky charm. The cake is adorned with a variety of quirky and eerie decorations, including ghostly meringues, creepy crawly spiders, and whimsical pumpkins, all set against a dark, appetizing canvas. The simple decorating techniques employed make it an accessible project for bakers of all levels, promising a fun and creative baking experience.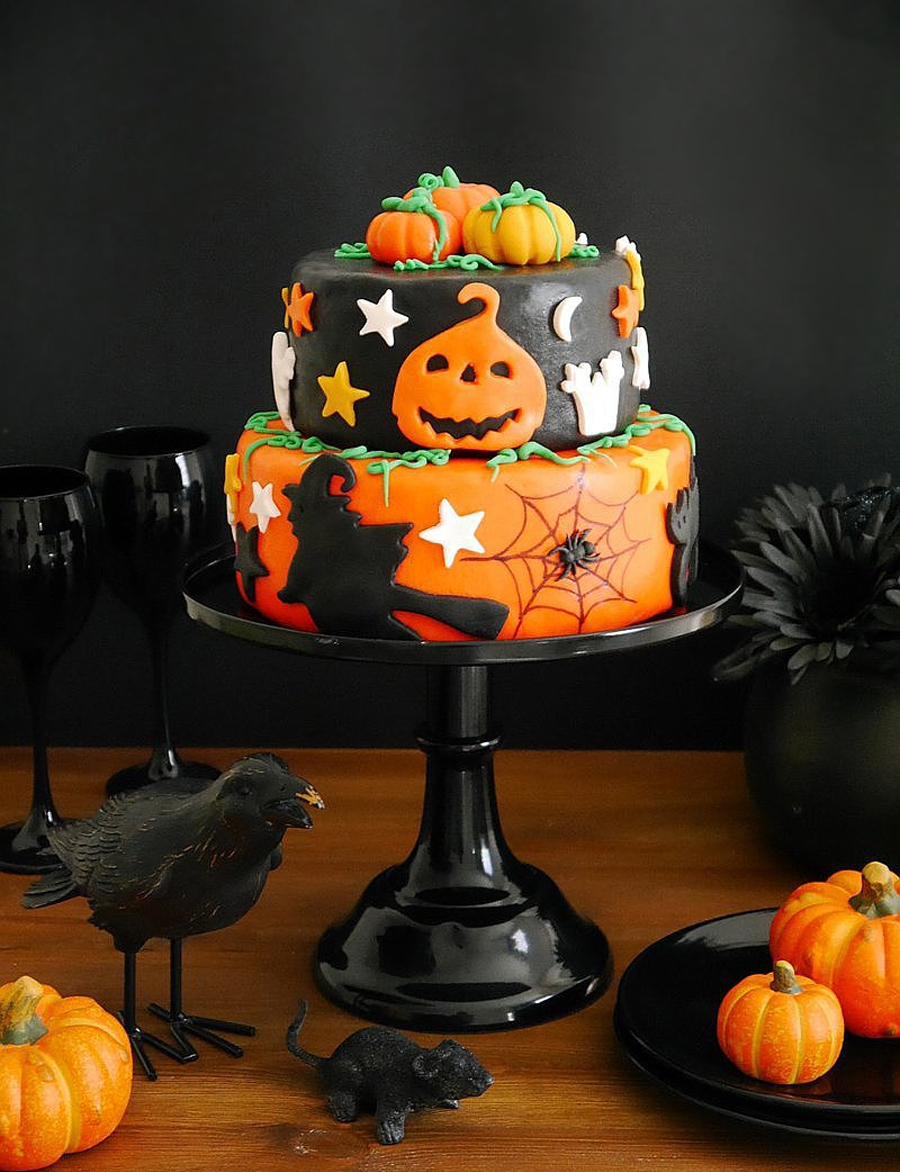 Get the recipe at Bird's Party