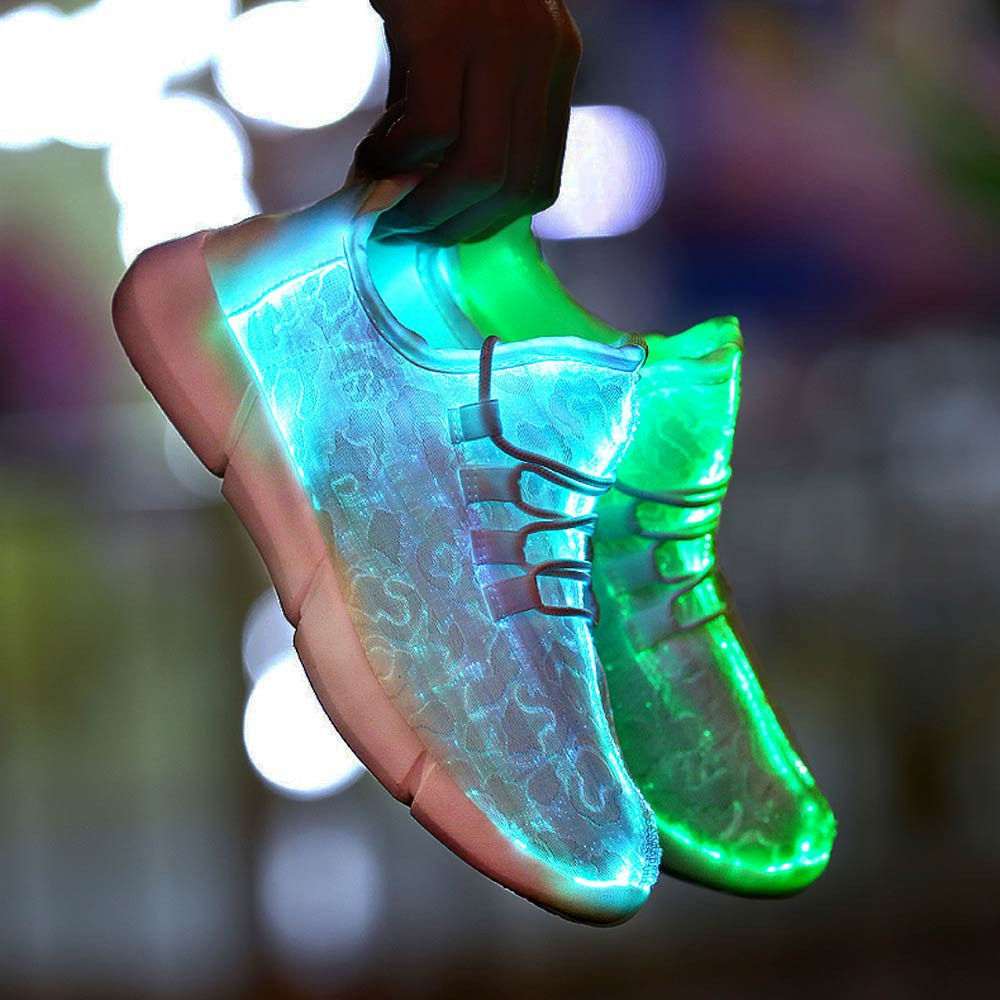 Kids love playful noises, flashy things, and all that's fun. 2022 brings a pleasant surprise with the comeback of light-up sneakers for kids. They are making a return this year: more fun, quirky, and full of lights than ever. If there is a pair of shoes that will make a child excited and crazy to wear, it is one with a light-up function. Whether it is a gift or a guilty pleasure for your children, light-up sneakers are the right choice of footwear. Ride along for the 10 coolest light-up sneakers for kids.
Toddler Girl Light Up LED Sneakers With Wings – BabyOutlet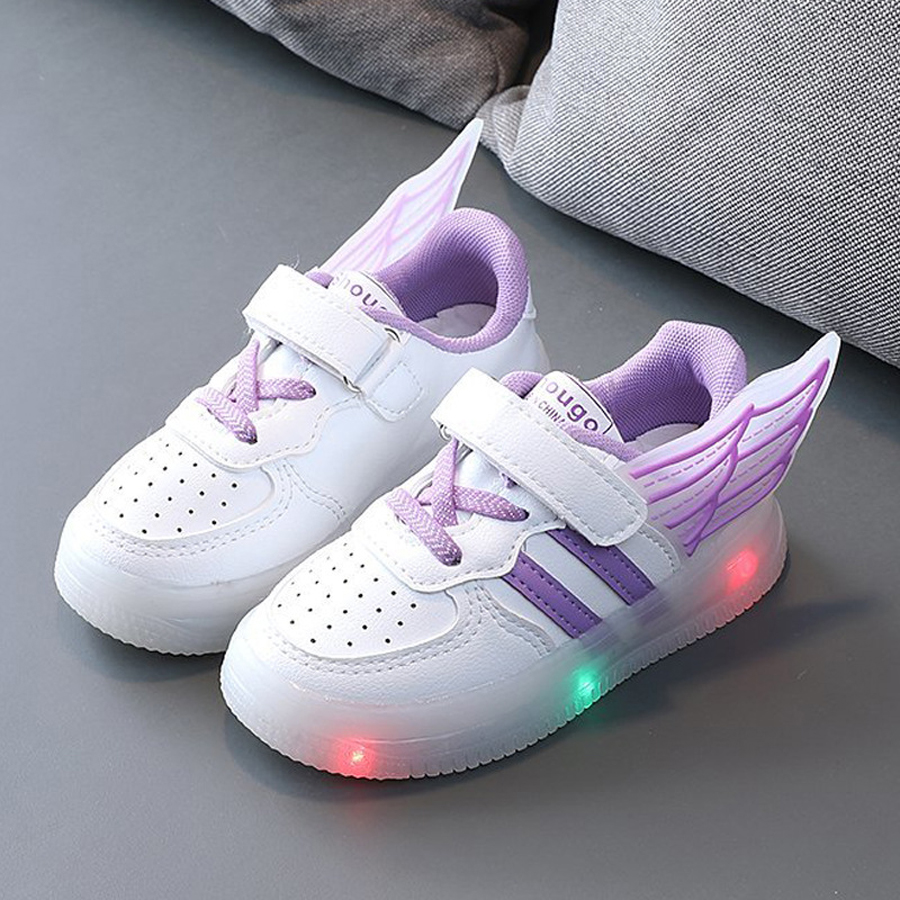 It cannot get better than wings and lights. These shoes by BabyOutlet scream fun while looking good. The high-quality toddler light-up sneakers are great to combine with most outfits. The colors make it easy to match with other pieces of clothing. However, if you want to make a truly trendy combination then shorts are the way to go. The wings will stand out, and the lights become the center of attention. Any kid will have fun while wearing these cool shoes. Shop toddler girl winter boots & light-up sneakers at BabyOutlet.

Roller skates Unisex light-up shoes – Ufantasy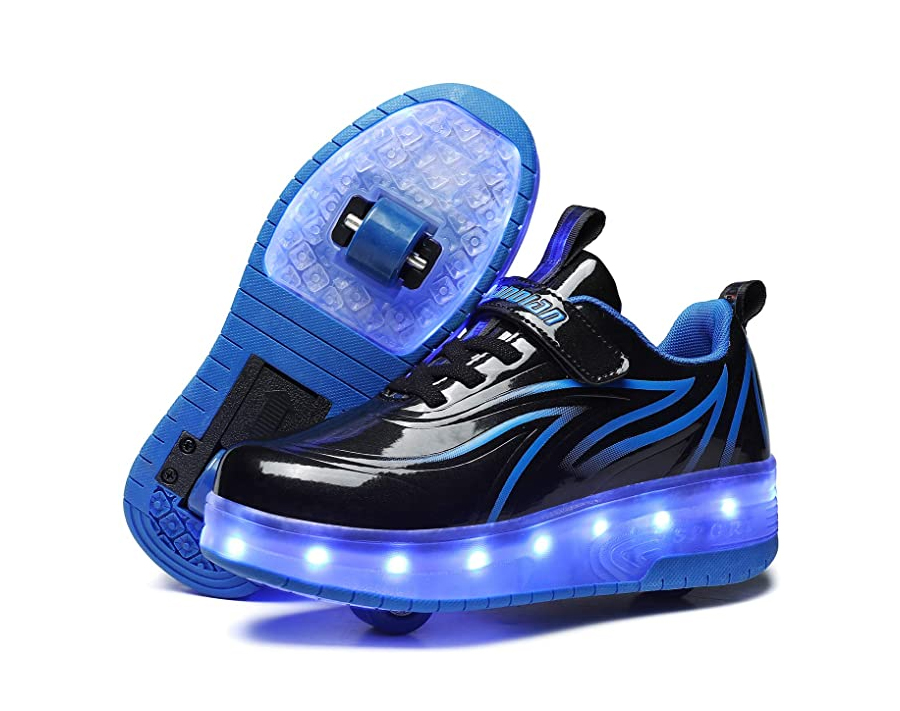 Ufantasy light-up kids sneakers edition doesn't disappoint. The skate's color combination sets these fun sneakers apart. The Heelys-inspired brand is famous for rendering amazing designs. Speaking of fun, how cool are light-up shoes with wheels? Now, your kids can skate along while flashing neon to the whole neighborhood. These sneakers are wild-looking and they will be hard to match with other outstanding clothing. The best combinations include jeans and a neutral-color t-shirt, or other blue and black garments.

Spiderman Light-up Sneakers for Toddler – Off Brand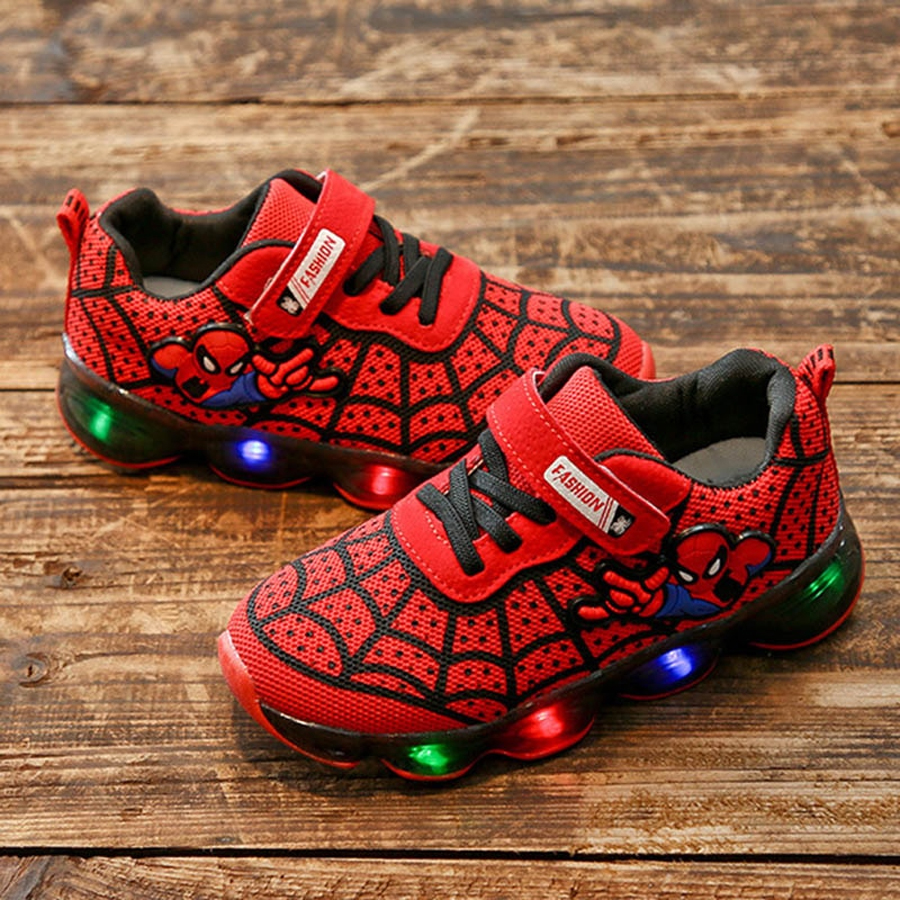 Spiderman and Lights combine to create really cool toddler light-up sneakers. The off-brand shoes have a striking design after the popular superhero. The shoe design is made to be very comfortable for young children as the laces are purely aesthetical and the velcro strap is the true way to keep it in place. The shoe is meant to be flashy and showcase the love for Spiderman. The best clothing combination includes jeans, and either a color-neutral or similar color or themed t-shirt.

New Spring Hello Kitty Bedazzled Led Light-up Sneakers – KKABBY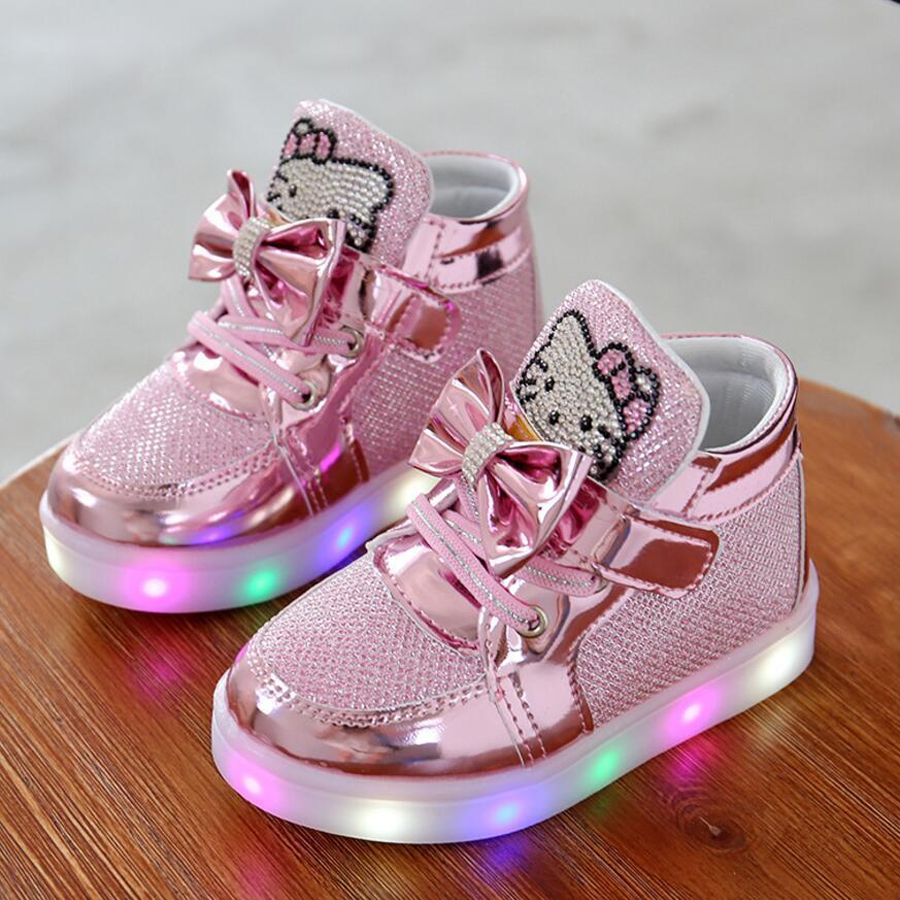 The KKABBY bedazzled Hello Kitty light-up sneakers are any little girl's dream. The shoes are flashy enough without having to add the lights which definitely brings to the mixture a cool gimmick. The sneakers are cute and comfortable. The design is girly, as are the colors. These shoes are excellent to combine with other girly pieces in soft colors like pinks and whites.

Light-up Breathable Snake Print Automatic Glowing Sneakers – Off Brand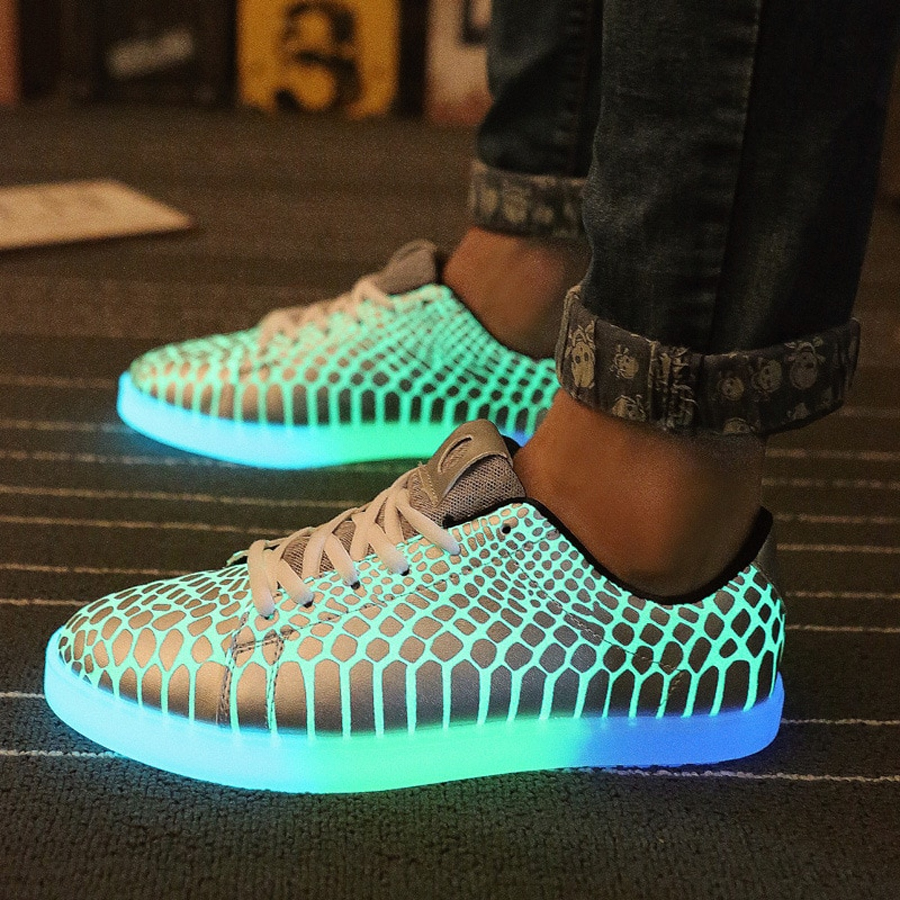 The cool snake-like light-up shoes are quite unique as they recharge with light and glow automatically. The sneaker has a trendy design, perfect for older kids and teenagers. Unlike most light-up shoes that only have lights on the soles, these sneakers are fully lit across the made-up scales. The shoes can be matched with any outfit and it's a great purchase that any kid will appreciate.

USB Charging Light-Up Golden Wings High-Top Sneakers – ONEKE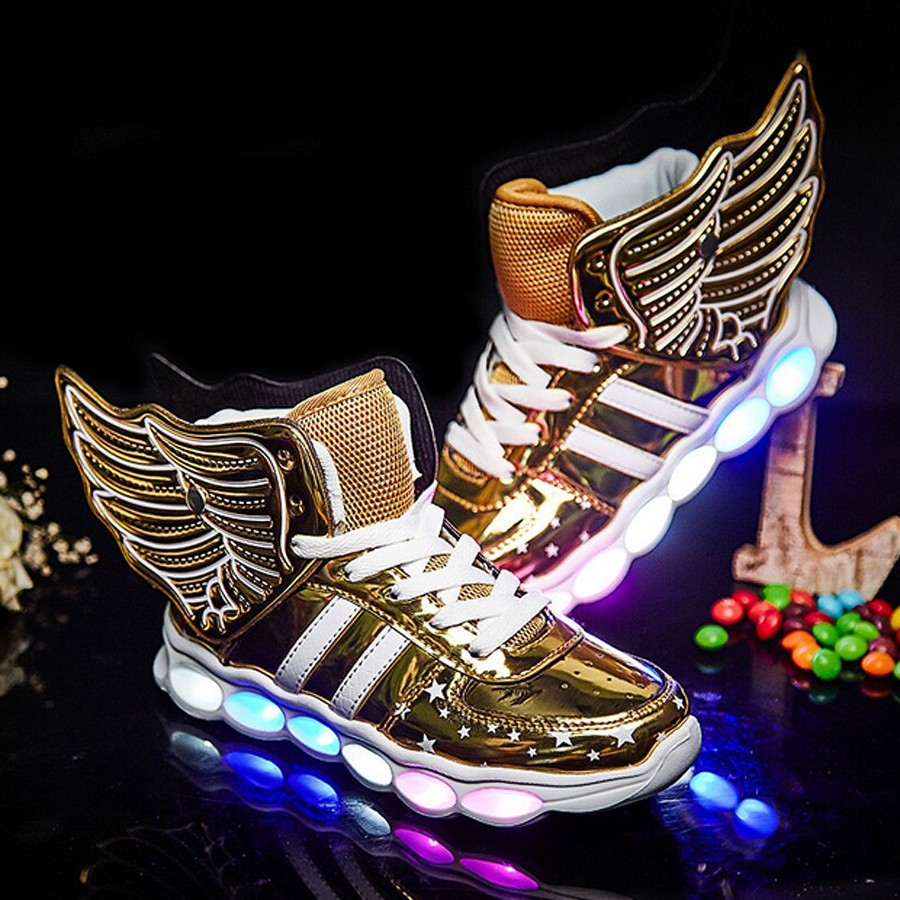 Wings, gold, and lights are amongst the coolest combinations. These light-up high-top sneakers combine different styles and make them work effortlessly. The flashy shoes are a chimera of extraordinaire with the large wings, and the bright golden bod. The lights are encased into egg shape capsules on the soles giving an unusual element to this pair of sneakers. These are a one-of-a-kind type of shoes and should be made the centerpiece of any outfit. The best styling will be when combining black or white clothing with the golden-winged sneakers.

Winged Fire Kid's LED Light Sneakers – Mamimore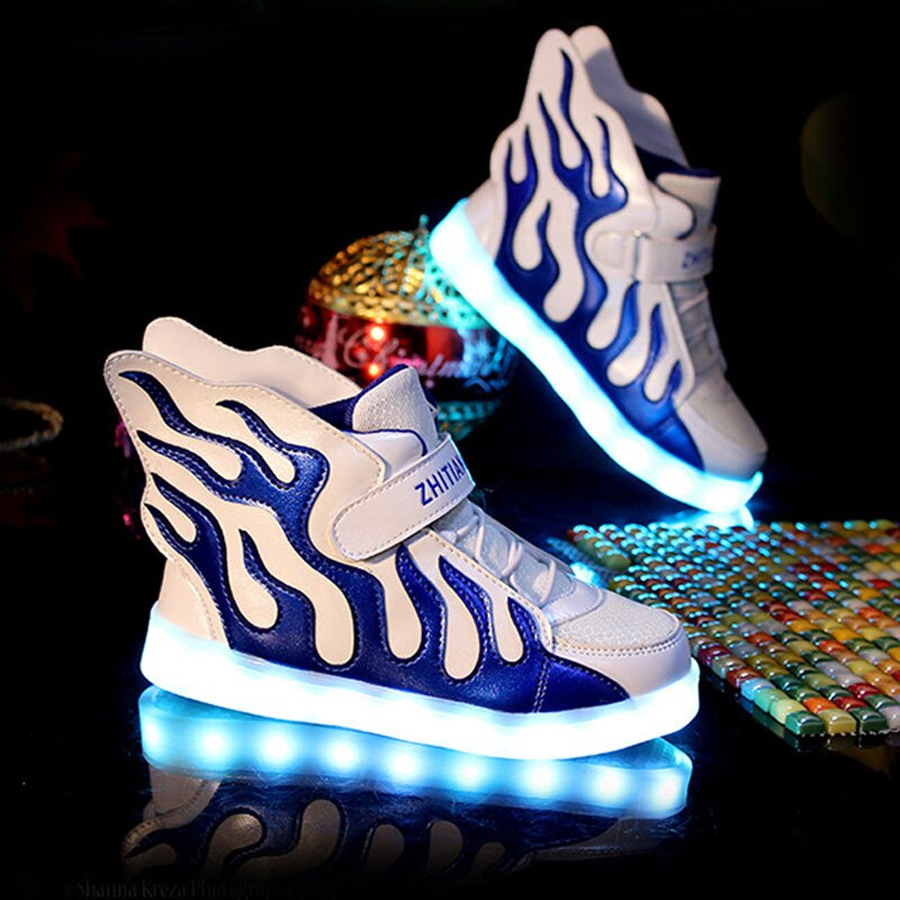 These shoes by Mamimore are truly on fire. The high-top sneakers with blue fire details on the wings will have your kids looking cool. The trendy model with minimalist color is a perfect fit for both boys and girls in any outfit. Whether it is a dress, skirt, jeans or shorts the light-up sneakers will look amazing due to the white base color and simple but outstanding design.

Kids Light-Up Charging LED Sneakers – Voovix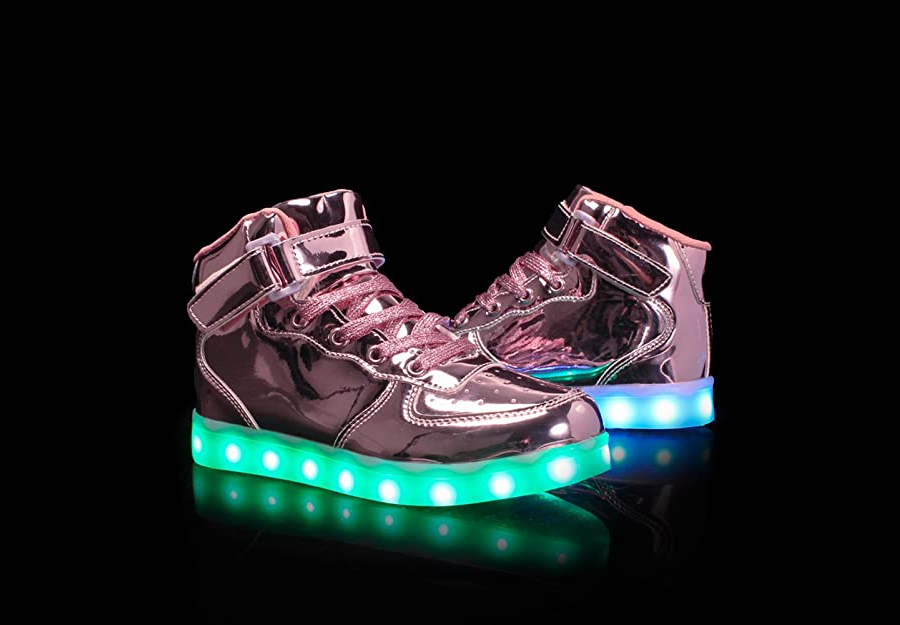 The charging light-up kids sneakers by Voovix will ensure your children have these shoes for a long time. Although the brand has a few color options, the most notable is it's golden model. The mirror-like sneakers will reflect the LEDs and create the coolest patterns. These shoes are mostly targeted towards older kids who can be responsible for charging the shoes. The golden color is a great match to other warm-toned garments. They will look good with anything from neutral colors like white and black to salmon and reds.

LED Shoes Kids Fibre Optics – Crazy Fiesta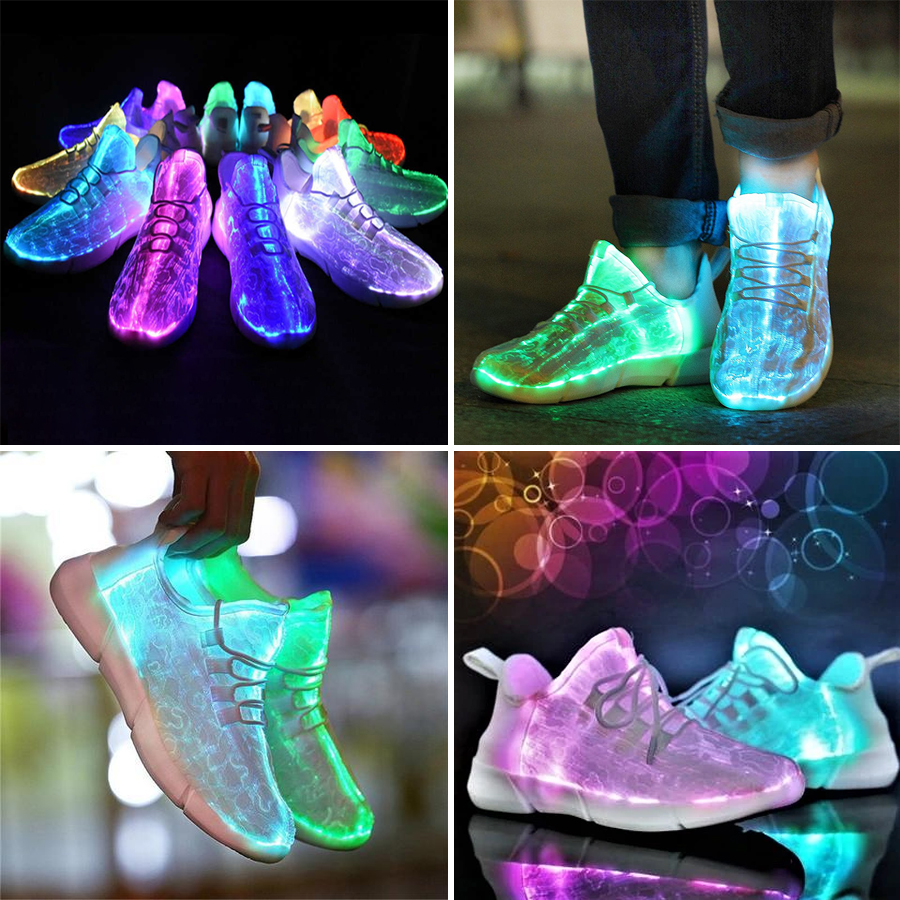 The newest form of light-up sneakers for kids is fiber optics. CrazyFiesta brings these sports shoes with the full glow ability. The shoes are not only fun but practical. When your kids go running at night, or you're doing something fun and it gets dark, what better way to find them. The sneakers' lights have a long life and will last until the kids outgrow them. These shoes are fun for them, and useful to you. Although the sneakers are white, the fiber optic can glow in any color. The shoes fit all casual and sportswear, even at night.

Spider Upper USB Charging Kids Light-up Sneakers – Yunicus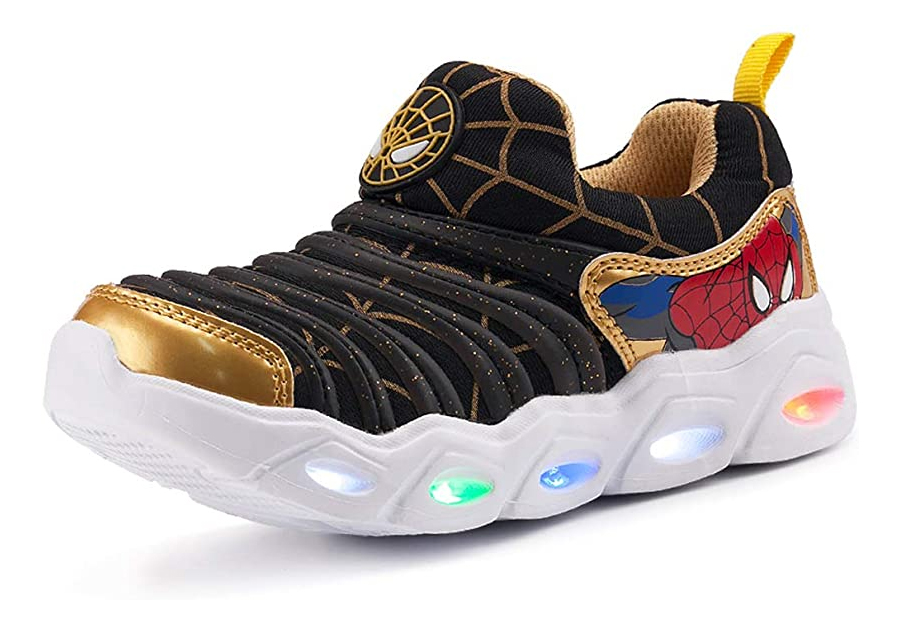 Yunicus excelled at making a unique shoe. At first glance, the spiderman detail which makes these sneakers be coveted by children all over the world may seem the most alluring element. However, everything about this shoe is interesting. The slip-on sneakers are great for kids of all ages, as it's easy to put on and take off. The curved sole aids with movement, thus making this a great sports shoe. Also, the cool design of curved lines across the main body makes this shoe excel from others. The differently colored lights are a great touch to an overall really fun sneaker.

Light-up sneakers for kids are an affordable and cool way of keeping your children entertained. There are plenty of options that are not only interesting and unusual but trendy. Your kids will have a blast this season with any of these amazingly fun light-up shoes.