In the modern world some perfumes stand above the rest, wearing price tags as grand as the most expensive cars. The most opulent perfume is Shumukh by Nabeel, an exclusive scent that fetches a staggering $1.5 million. Following closely is Golden Delicious by DKNY at a cool $1 million. Browse through our list of the ten most expensive perfumes to understand what drives enthusiasts to spend such significant sums on these fragrances.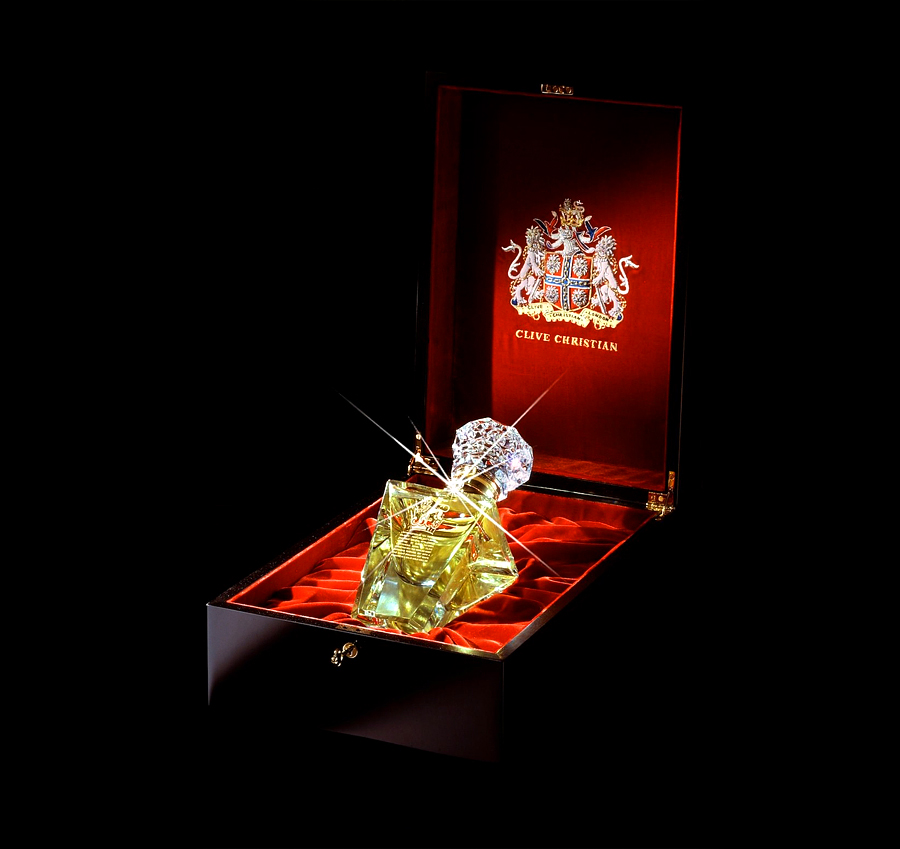 In our lives perfumes do more than merely scent our skin – they tell stories, evoke emotions, and capture moments in time. For centuries, the art of perfumery has weaved its magic, melding nature's most precious ingredients into bottled poetry, including the enticing allure of vanilla perfume. But amongst the vast array of fragrances, there exists an elite echelon that defines opulence and luxury. These are not just mere scents, but symbols of affluence, mastery in craftsmanship, and sometimes, even historical significance. Dive with us into a world where artistry meets extravagance, as we unveil the top 10 most expensive perfumes the world has ever known. Whether it's the rare ingredients, the artistry of the bottle, the seductive notes of vanilla perfume, or the legacy of the brand, each has a unique tale of grandeur waiting to be told.
10. Joy by Jean Patou – $850
And we start our list with "Joy" by Jean Patou, priced at $850. This perfume is more than just a fragrance – it's a symbol of opulence and refinement in the world of haute perfumery.
Crafted during the economic downturn of the 1930s as a response to the gloom of the Great Depression, Jean Patou envisioned "Joy" as the most extravagant perfume in the world. It was a bold statement of hope during challenging times. And true to its promise, the perfume shines with a rich and effusive blend of blossoms.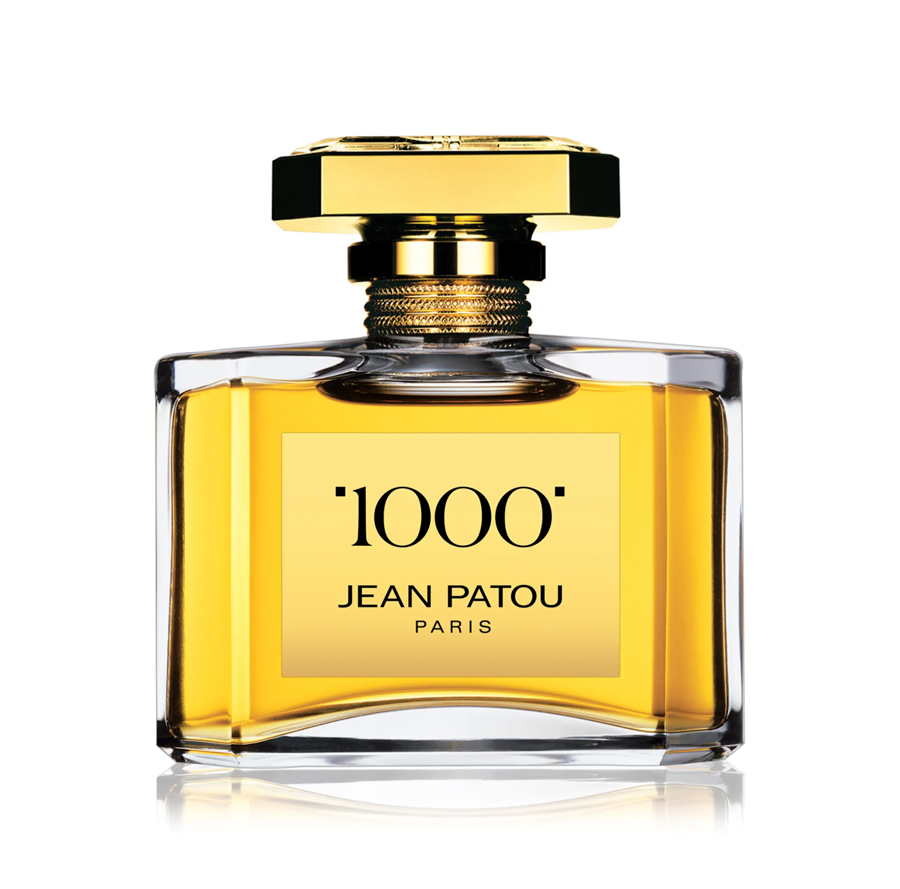 Photo source: perfumery.com.au
At the heart of "Joy" lies an intoxicating bouquet of Bulgarian rose and Grasse jasmine, two of the most precious and coveted ingredients in the world of perfumery. The sheer volume of flowers used is staggering, with thousands of blooms condensed to create just an ounce of this perfume, earning it its famed descriptor: "the costliest perfume in the world." This floral heart is complemented by ylang-ylang and tuberose, adding layers of depth and warmth to the scent.
The bottle, simplistic in design, allows the golden elixir within to take center stage. Its clear glass and modest label speak to the elegance and confidence of the fragrance itself.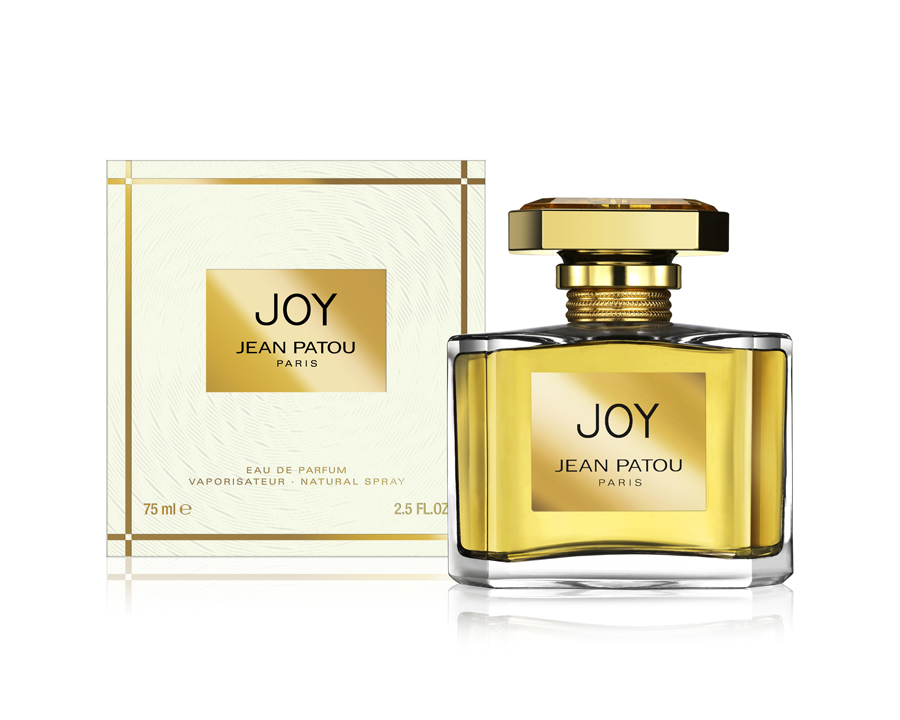 Photo source: perfumery.com.au
9. Poivre by Caron – $1,000
Caron, an esteemed name in the world of haute perfumery, has graced the industry with many captivating scents, and "Poivre" stands as one of its most distinctive creations. Priced at a noteworthy $1,000, Poivre offers a fragrance experience that is both bold and enchanting.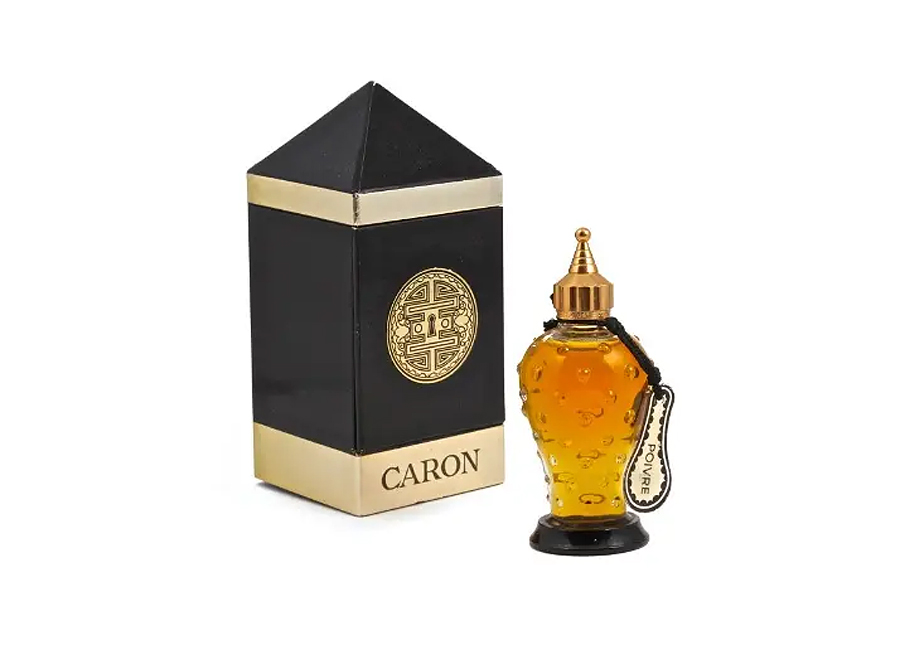 Photo source: liveauctioneers.com
"Poivre" means "pepper" in French, and this scent lives up to its name. From the first spritz, one is greeted with a robust and piquant pepper note, evoking images of exotic markets and age-old spice routes. As the scent unfolds, it intertwines with a melange of other spices, notably cloves, adding depth and warmth. These spicy notes are then harmoniously balanced with a bouquet of florals, including the delicate and ever-romantic rose, adding a soft, ethereal touch to the otherwise intense fragrance.
The bottle is simple but classy, reflecting the brand's style. It's clear and elegant, letting the golden perfume inside shine.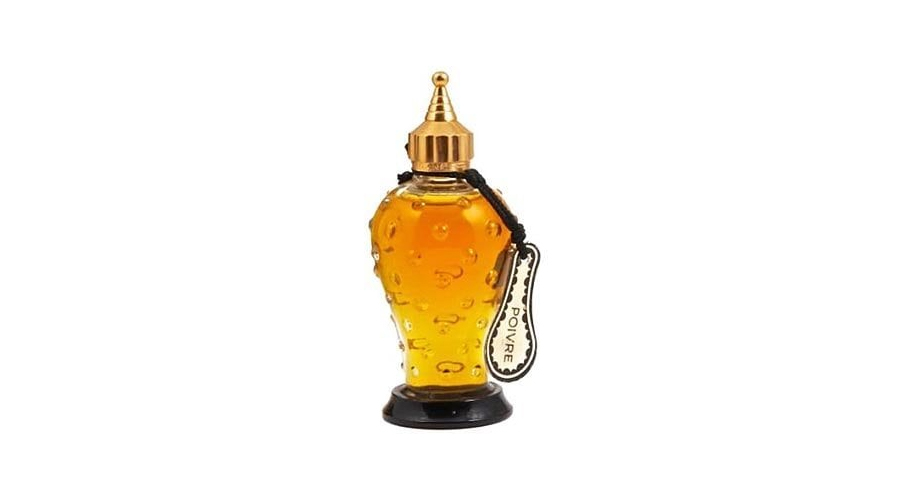 Photo source: parfumo.de
8. Le N°5 Parfum Grand Extrait by Chanel – $3,500
Chanel's N°5, since it was found in 1921, has stood as an emblem of elegance, a symbol of modernity, and the very essence of femininity. With the introducing of "Le N°5 Parfum Grand Extrait," priced at $3,500, Chanel offers a sublime version of this iconic scent, presenting a richer and more luxurious olfactory experience.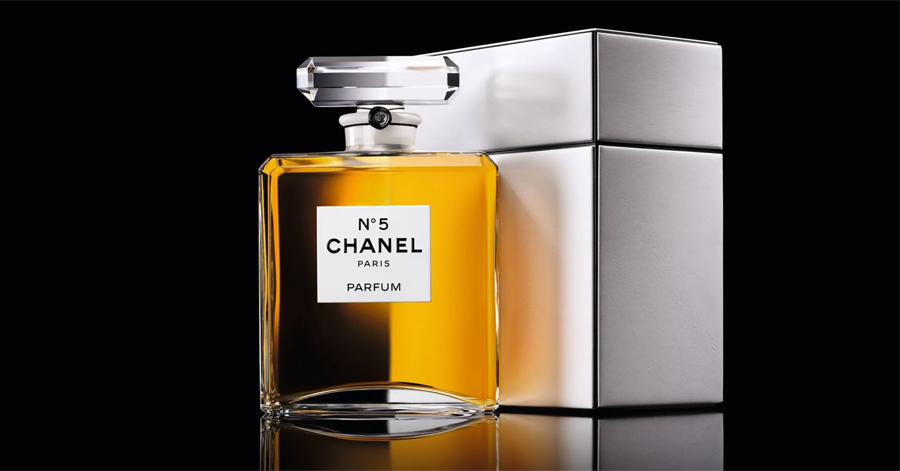 Photo source: chanel.com
The scent of Le N°5 Parfum Grand Extrait remains true to the original fragrance's heart – a masterful concoction that has captivated generations. It embarks on an olfactory voyage with top notes of aldehydes and neroli, presenting a sparkling, effervescent introduction. The heart blossoms with a bouquet of May rose and jasmine, encapsulating the essence of femininity and grace. This floral mélange gracefully descends into a warm base of sandalwood, vanilla, and vetiver, crafting a finish that is both sophisticated and alluring.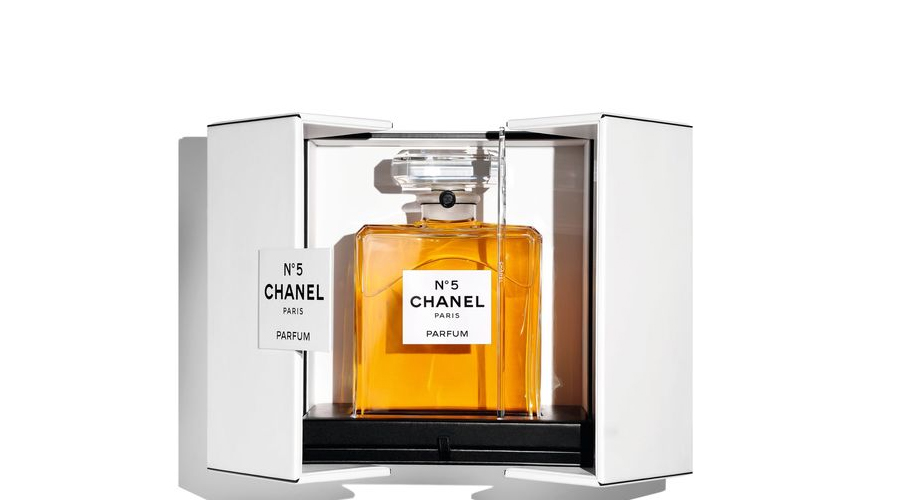 Photo source: formesdeluxe.com
The Grand Extrait bottle, crafted with meticulous attention to detail, is larger, symbolizing the magnified essence of the N°5 experience. Its minimalist design, accentuated by its sheer size and the iconic Chanel logo, stands as a beacon of elegance and luxury. Each flacon is hand-sealed with baudruchage, a traditional sealing technique, ensuring the perfume's purity and the brand's commitment to tradition.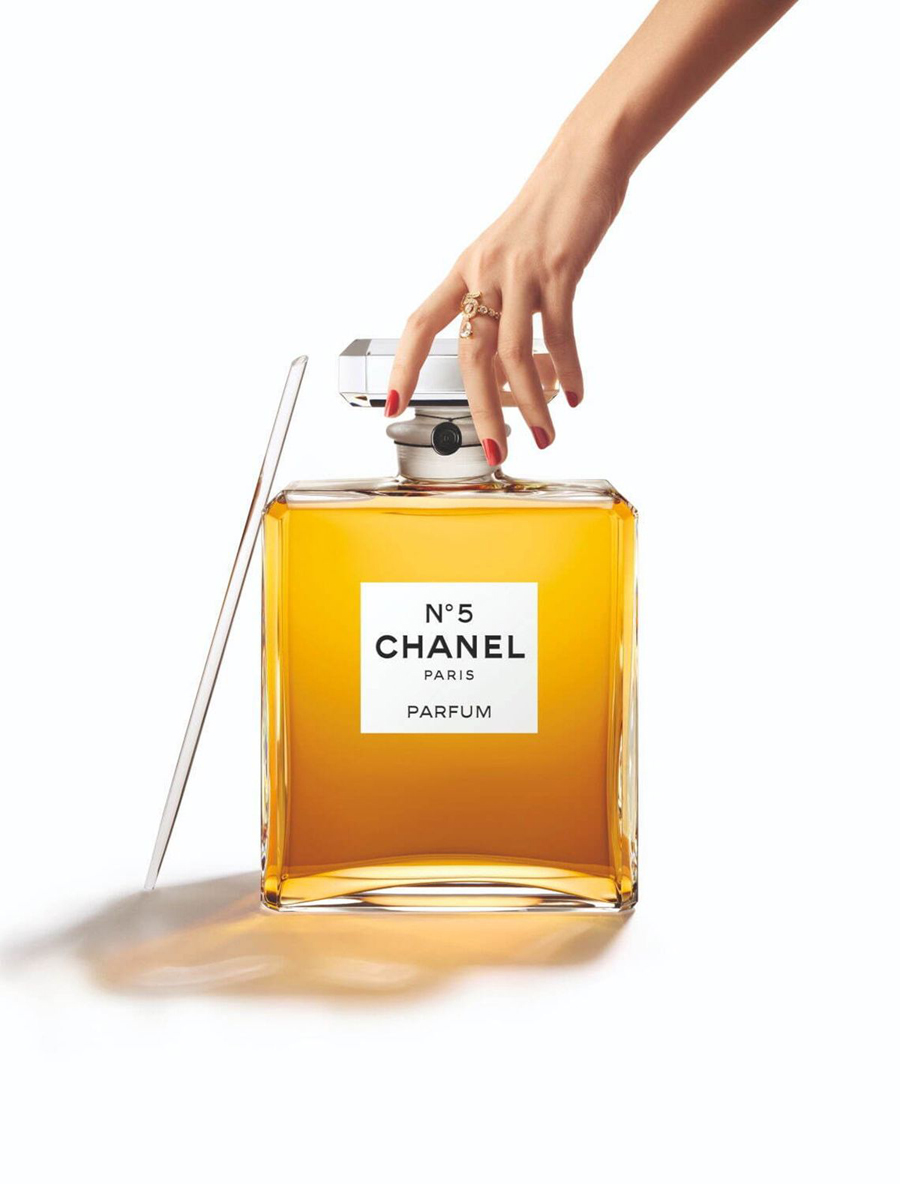 Photo source: fragrantica.com
7. Les Larmes Sacrées de Thebes by Baccarat – $6,800
Baccarat, well known for their crystal creations, presented luxurious perfume "Les Larmes Sacrées de Thebes." Translating to "The Sacred Tears of Thebes," this fragrance, priced at $6,800, captures the essence of ancient mystique, timeless elegance, and the brand's dedication to craftsmanship.
The fragrance was inspired by a mysticism of ancient world, particularly Thebes, one of Egypt's ancient cities. At its core, Les Larmes Sacrées de Thebes captivates with a harmonious blend of oriental and woody notes. It opens with the aromatic allure of geranium and myrrh, painting a picture of balmy Egyptian nights. The heart pulses with rich frankincense, interlaced with a delicate symphony of jasmine and sandalwood. The base, warm and enduring, reveals the depth of amber and musk, leaving a hauntingly beautiful trail.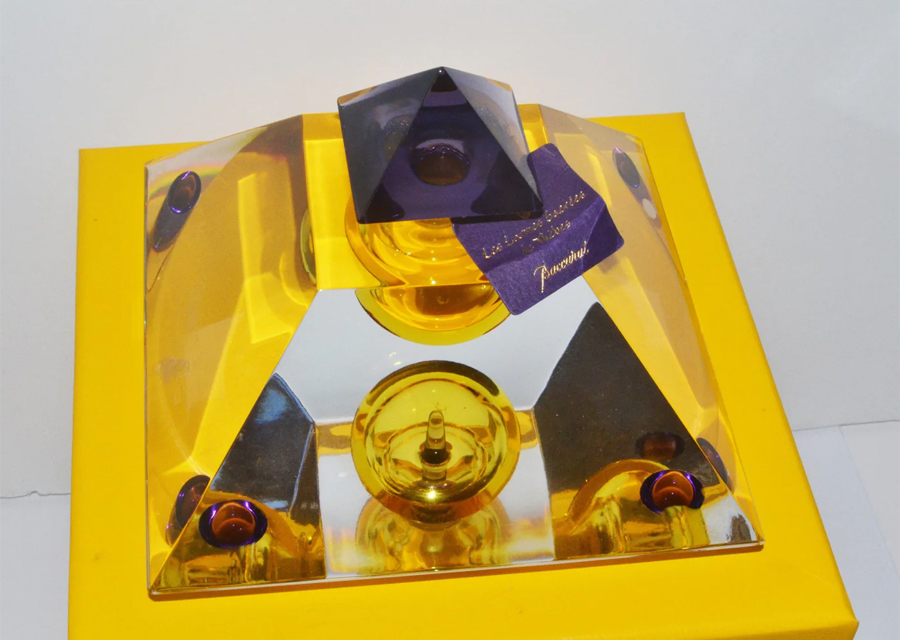 Photo source: quirkyfinds.com
Yet, the magic of this creation doesn't end with its scent. The flacon, crafted with Baccarat's signature touch, is a veritable work of art. Taking inspiration from the pyramids and the architectural marvels of ancient Egypt, it is shaped like a pyramid and carved from the purest Baccarat crystal. Capping this crystal marvel is a stopper that mirrors the design of traditional Middle Eastern incense burners.
This perfume is not just about the scent – every detail, from the bottle's design to the fragrance's composition, has been meticulously thought out and executed, reflecting Baccarat's commitment to excellence and luxury.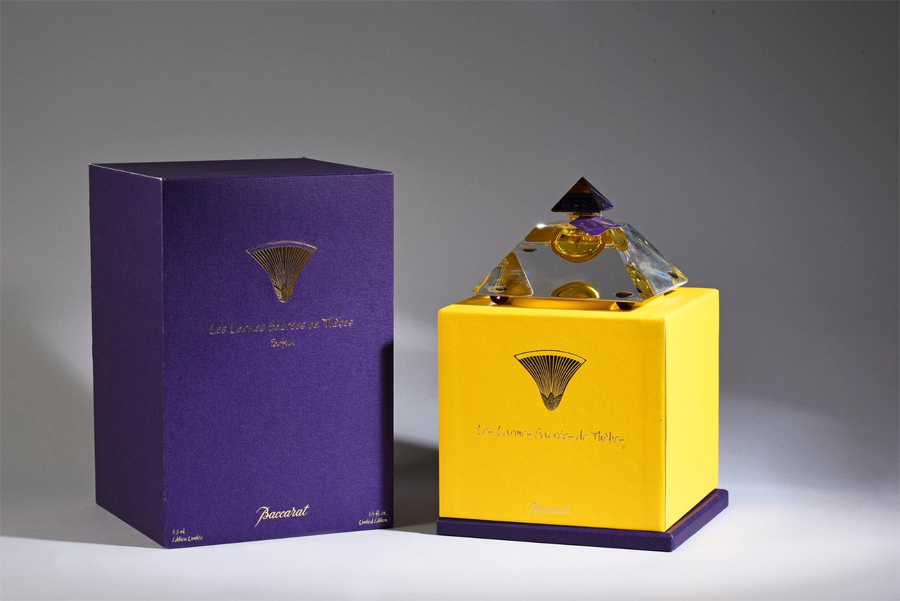 Photo source: debonairafrik.com
6. 1 million, LUXE edition by Paco Rabanne – $57,000
Paco Rabanne's original "1 Million" fragrance shook the perfume industry with its audacious scent and unforgettable gold-bar bottle design. But with the LUXE Edition, priced at a staggering $57,000, Paco Rabanne elevated this iconic fragrance to new heights of extravagance and prestige.
The fragrance profile of the LUXE Edition remains true to the original "1 Million" DNA – a tantalizing blend of spicy, fresh, and leathery notes. It begins with a lively burst of grapefruit, mint, and blood mandarin. This effervescent opening then cascades into a heart of rich rose absolute, cinnamon, and spicy notes, embodying both virility and vibrancy. The base is a warm embrace of leather, white woods, amber, and Indonesian patchouli, creating a lingering trail that is both masculine and magnetic.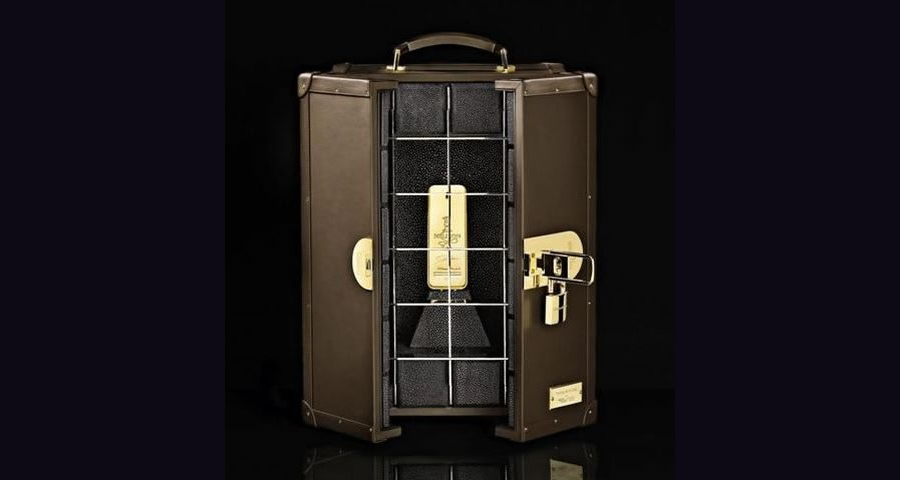 Photo source: luxurylaunches.com
But what truly sets the LUXE Edition apart is its presentation. The bottle, retaining the iconic gold-bar design, is meticulously crafted from 18k gold and is further adorned with hand-set diamonds, making it not just a container for the fragrance but a piece of jewelry in its own right. Yes, we're talking about diamonds again – check 10 most expensive diamonds in the world.
Moreover, the exclusivity factor of the LUXE Edition is not to be underestimated. With a limited number of bottles ever produced, it's not merely a perfume but a collectible item.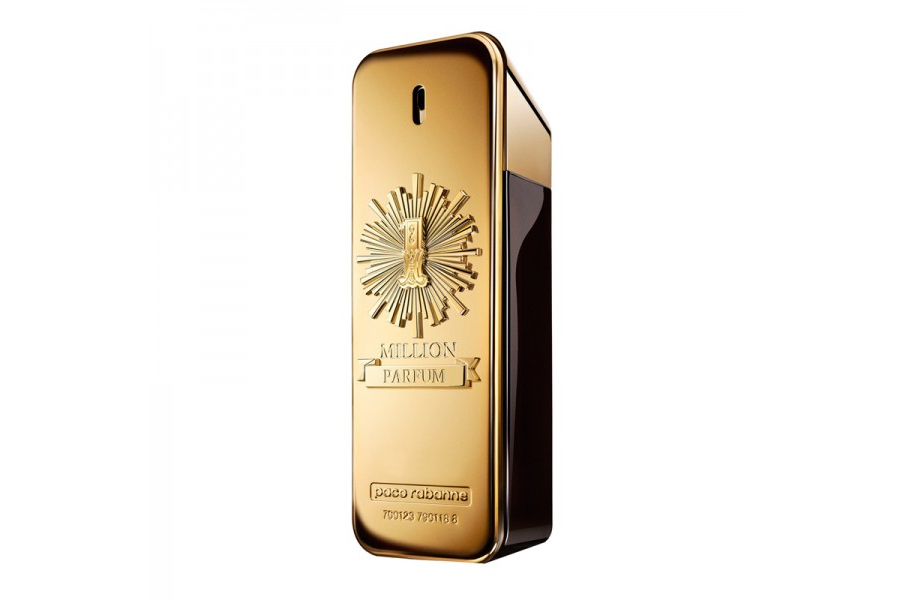 Photo source: luxurylaunches.com
5. Parfum VI by Gianni Vive Sulman – $89,000
The next perfume in our list is Parfum VI by Gianni Vive Sulman with a price tag of $89,000, making it one of the most expensive perfumes in the world. Once the favored scent of the King of Pop, Michael Jackson, Parfum VI has a legacy intertwined with music royalty. Its debut in 1998 saw the legend himself purchasing several bottles, further cementing its place as a fragrance of unmatched allure.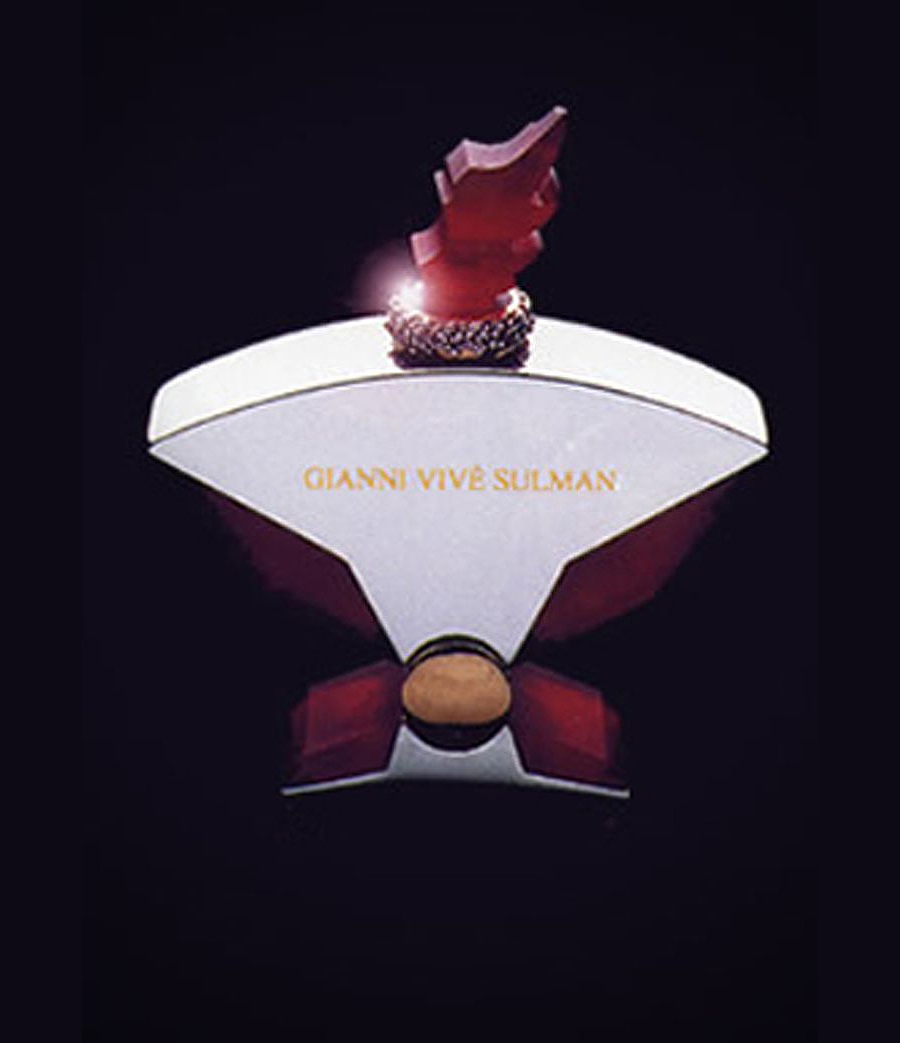 Photo source: pinterest.com
At the heart of Parfum VI lies a captivating blend of scents. The luminous bergamot interplays beautifully with the intoxicating allure of jasmine and the deep, grounding notes of patchouli. This primary bouquet is then elevated by the exotic aroma of ylang-ylang, the sweet undertones of blackcurrant, and the enigmatic warmth of musk. Together, they craft a fragrance profile that is not only fresh and floral but also teems with depth and sophistication.
But the magic of Parfum VI doesn't end with its scent. The presentation of this fragrance is a masterpiece in itself. Housed in a meticulously handcrafted crystal bottle, it boasts a flacon forged from gold, encapsulating the perfume like a treasured gem. The pièce de résistance is the diamond-wreathed stopper, further embellished with rubies, ensuring that every aspect of this perfume exudes luxury. As a finishing touch, the bottle is accompanied by a gold key, symbolizing the key to a world of opulence and history.
With only six bottles ever crafted, and limited to 173 pieces in total, this perfume transcends the notion of luxury to become a genuine collector's item. Each bottle carries the personal touch of the master perfumer, hand-signed and numbered, making every flacon a unique piece of art.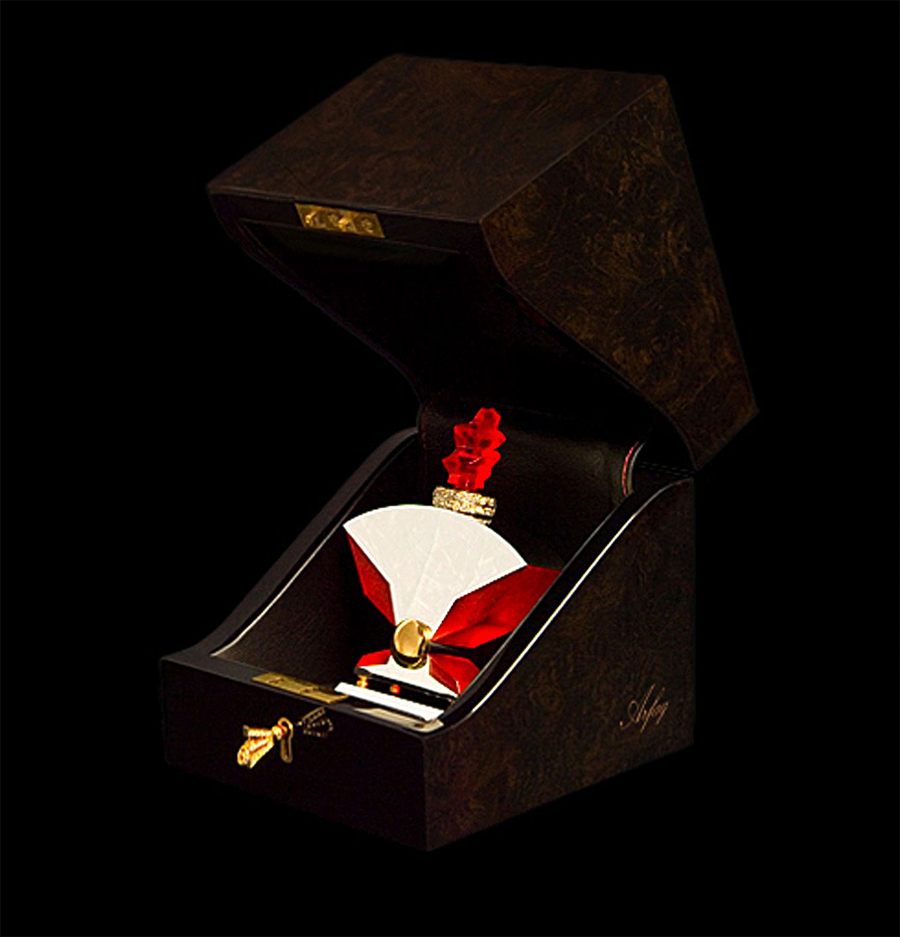 Photo source: pinterest.com
4. No. 1 Majesté impériale by Clive Christian Perfume – $215,000
No. 1 Majesté impériale by Clive Christian is a fragrance that stands as a paragon of luxury in the perfumery world. Bearing a price of $215,000 , the perfume embodies the zenith of opulent perfumery.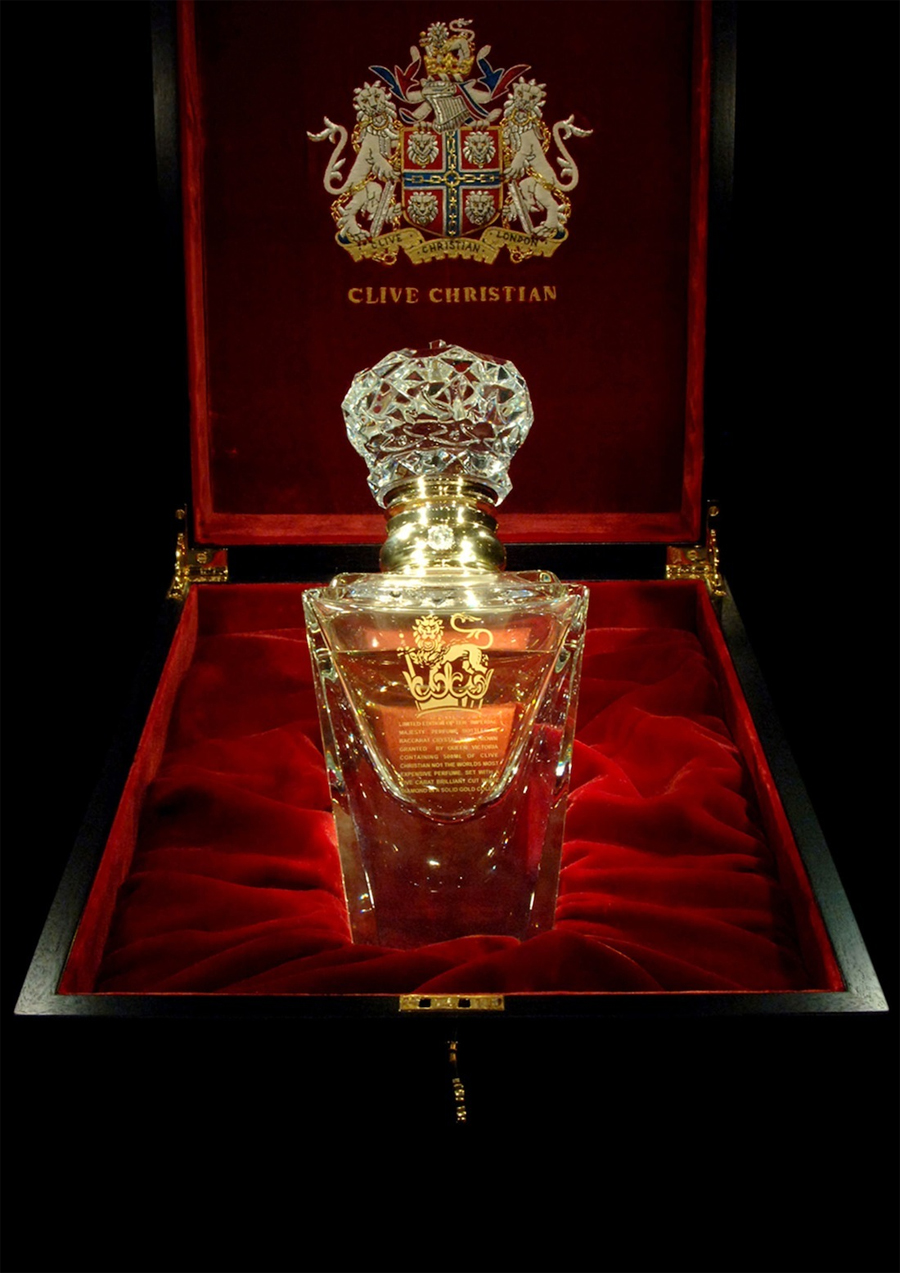 Photo source: themilliardaire.com
The fragrance itself is a masterful blend of the world's rarest and most treasured ingredients. Majesté impériale unfurls with top notes that are a luminous amalgamation of white peach, Indian jasmine, and Italian lemon, weaving a narrative of freshness and elegance. The heart reveals a bouquet of May rose and tuberose, complemented by exotic spices and a hint of orris. The base, grounding this luxurious blend, is a melange of rich vanilla, cedarwood, and the opulent depth of Mysore sandalwood.
Photo source: themilliardaire.com
However, the allure of No. 1 Majesté impériale extends beyond its scent. To call it a bottle would be a disservice! It is a work of art – a Baccarat crystal flacon that possesses an aura of ageless beauty. But the real magic is in the details. The collar of this masterpiece is crafted from 24-karat gold, studded meticulously with a dazzling array of flawless diamonds. The bottle's design and the precision of its embellishments serve as a testament to the meticulous craftsmanship and attention to detail that the Clive Christian brand upholds.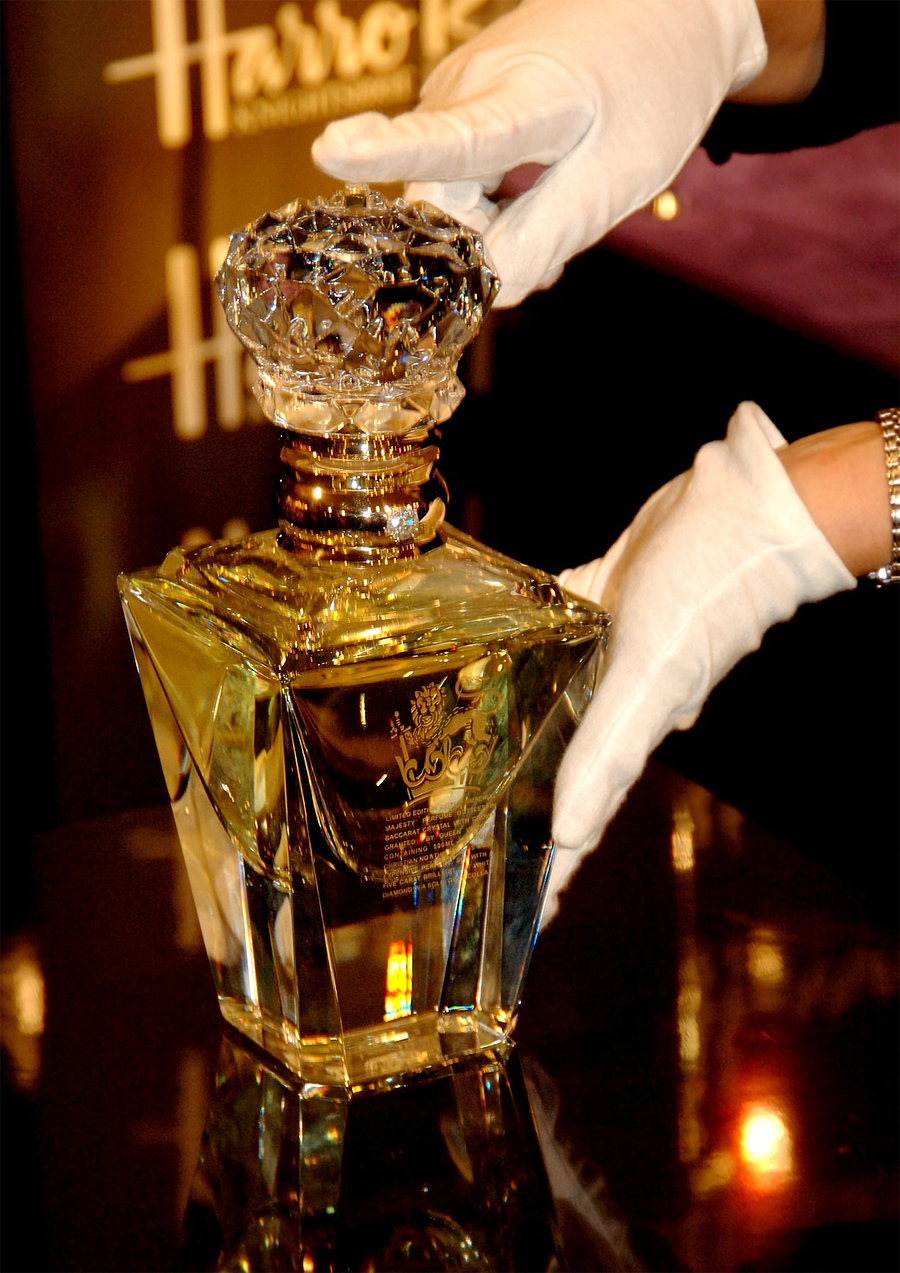 Photo source: themilliardaire.com
The "No. 1" in its name isn't merely symbolic; the perfume has often been hailed as the "most expensive perfume in the world."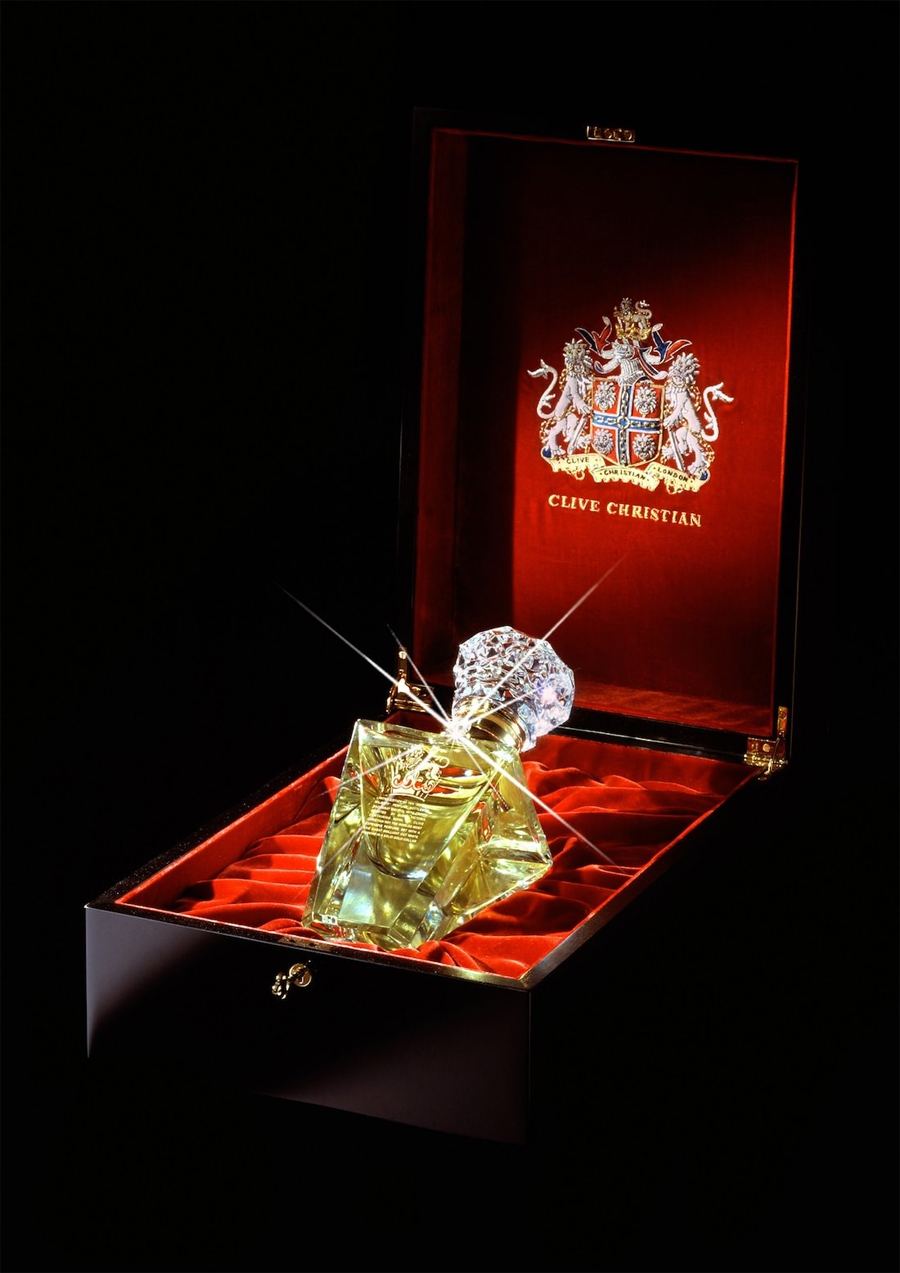 Photo source: themilliardaire.com
3. Opera Prima by Bulgari – $235,000
Bulgari, Italian iconic brand, unveiled a fragrance that stands as a true testament to their legacy of opulence and artistry: Opera Prima. With a mindblowing price tag of $235,000, it ranks among the world's most expensive perfumes, and its majesty lies not just in the fragrance but also in the intricate details of its presentation.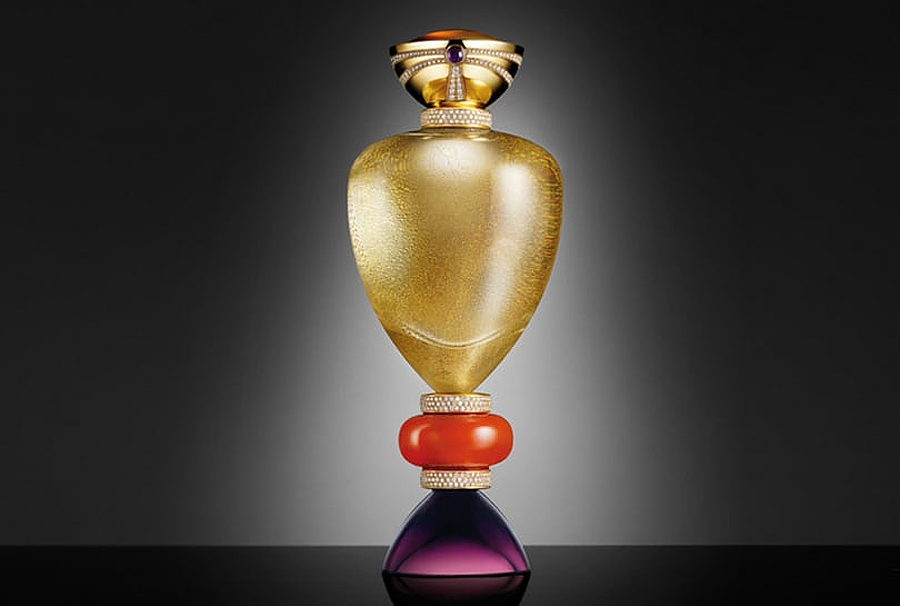 Photo source: luxatic.com
The name "Opera Prima" translates to "First Work" or "Masterpiece" in Italian, and indeed, this fragrance embodies the essence of that term. A harmonious blend of floral and citrus notes, it opens with the invigorating brightness of Calabrian bergamot, followed by the tender notes of orange blossom. The heart unveils a sensual dance of jasmine and musk, while the base lingers with the warmth of amber and precious woods. Each inhalation promises a journey through a blooming Mediterranean garden, echoing Bulgari's Roman roots.
The true spectacle of Opera Prima is its breathtaking flacon. In collaboration with the prestigious crystal house Val Saint Lambert, Bulgari crafted a bottle that is nothing short of a masterpiece. Mimicking the silhouette of a citrus fruit, the bottle's body is carved from a single block of crystal. Its intricate design boasts an array of colors, from deep amber to luminescent green, capturing the light and reflecting an array of mesmerizing patterns. But the crowning glory is the bottle's adornment: a cascade of diamonds, citrine, and topaz, meticulously placed to enhance the flacon's luminosity.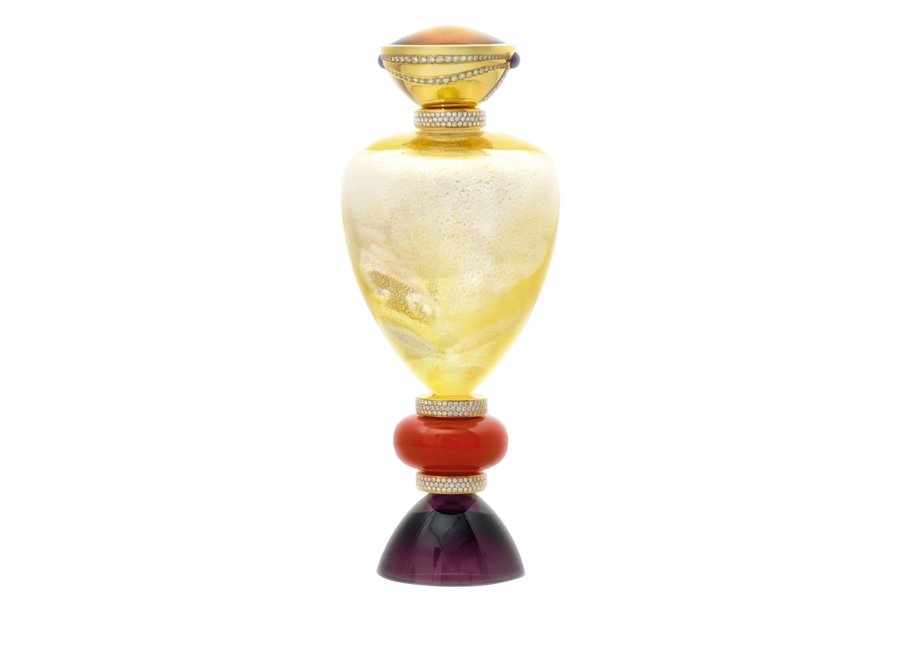 Photo source: fashionnetwork.com
The creation of Opera Prima was to commemorate the 130th anniversary of Bulgari, making it not just a perfume but a piece of the brand's storied history. Every detail, from the scent to the bottle, exudes the brand's dedication to luxury, craftsmanship, and innovation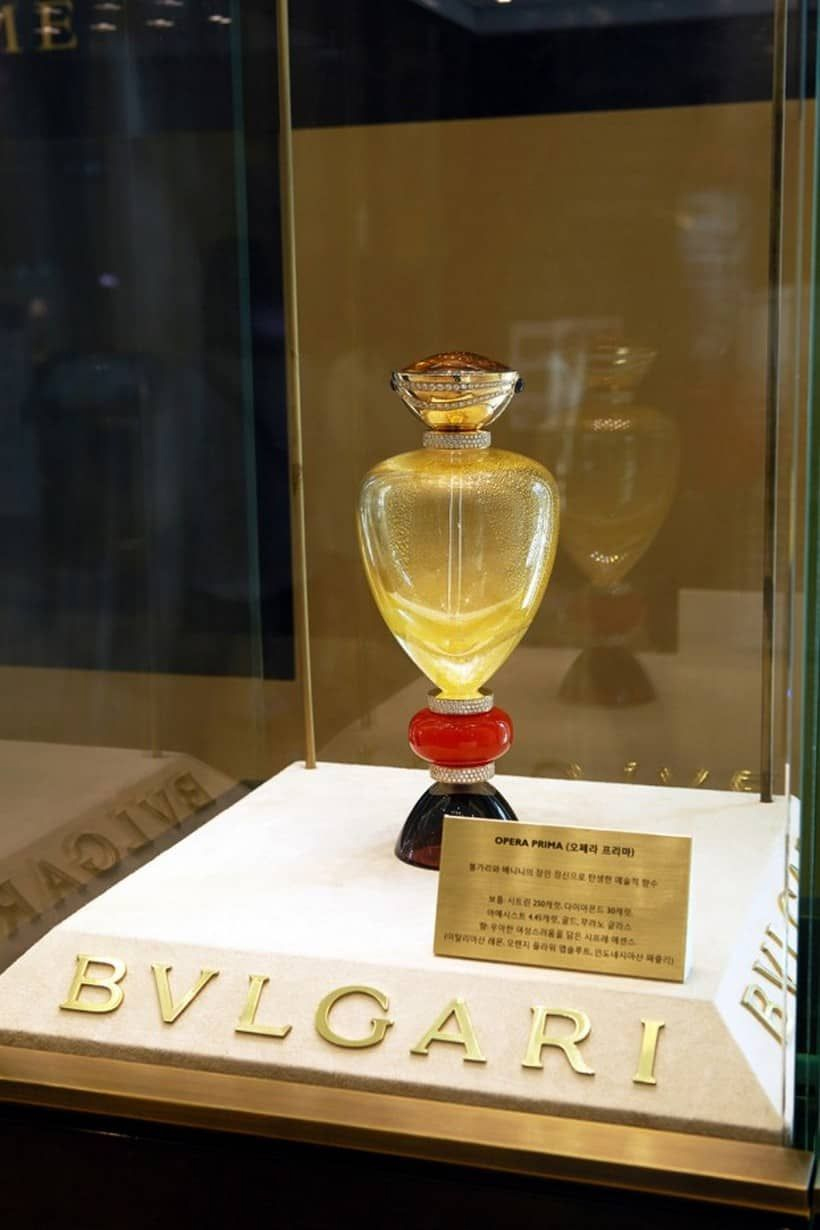 Photo source: pinterest.com
2. Golden Delicious by DKNY – $1 million
Golden Delicious by DKNY created a fragrance that epitomizes both luxury and opulence with $1 million price tag. While the intrinsic scent pays homage to DKNY's renowned apple-centric creations, this perfume's staggering value arises not just from the fragrance within but the dazzling vessel that encases it.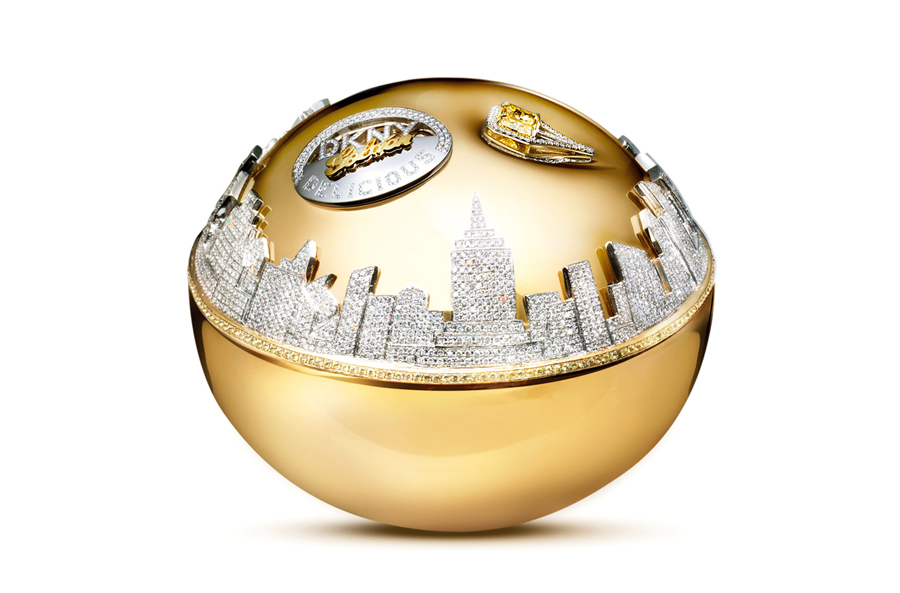 Photo source: katerinaperez.com
Let's begin with the heart of the perfume. Golden Delicious maintains the signature apple note synonymous with DKNY fragrances but elevates it with a more sophisticated, luminous blend. It presents a mesmerizing bouquet of white roses, casablanca lily, and vanilla orchid, complemented by musk, sandalwood, and teakwood. The scent is both radiant and sensual, making it versatile for both day and night.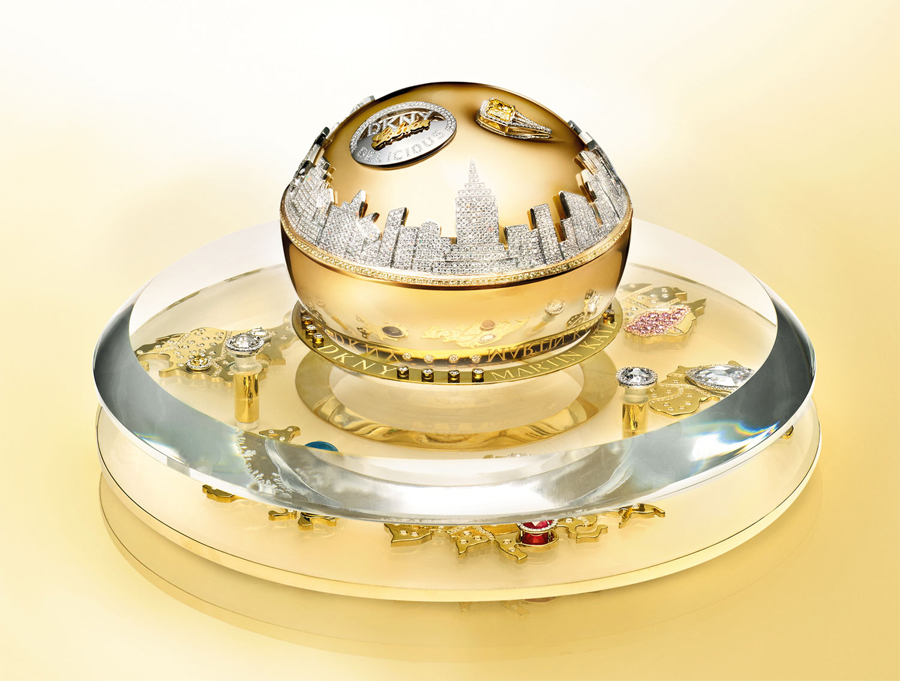 Photo source: katerinaperez.com
The true pièce de résistance is the bottle itself. Collaboratively designed by DKNY with renowned jewelry designer Martin Katz (you may know him for creating some of the most expensive shoes in the world), the flask is a breathtaking testament to the world of fine jewelry. It is meticulously crafted and draped in a cascading design of 2,909 precious stones sourced from all over the world. This includes a medley of white diamonds, yellow canary diamonds, sapphires in a spectrum of colors, and a singular, exceptionally rare 1.65-carat turquoise Paraiba tourmaline from Brazil. The golden apple-shaped design is further accentuated with a gleaming 14-karat yellow and white gold overlay.
Beyond its undeniable beauty and luxury, the Golden Delicious by DKNY also had a philanthropic angle. When it was unveiled, proceeds from its sale were dedicated to the global charity, Action Against Hunger.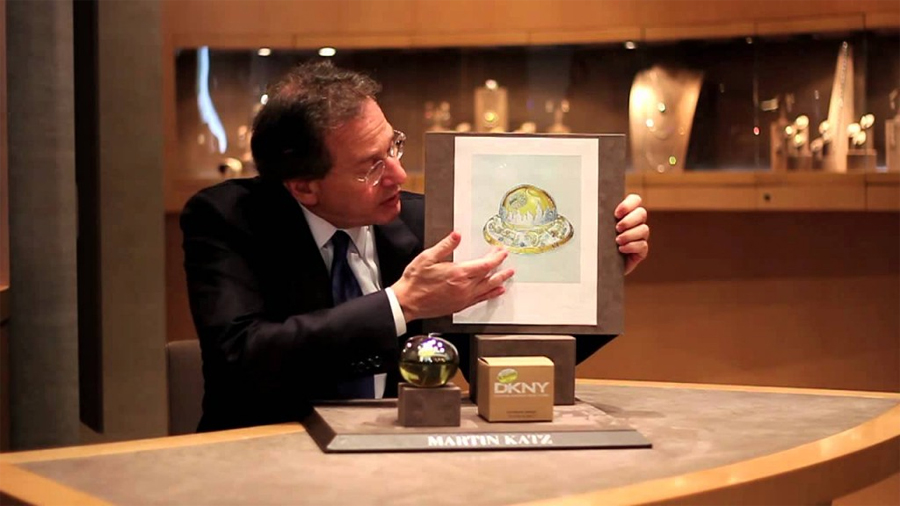 Photo source: katerinaperez.com
The Most Expensive Perfume in the World – Shumukh by Nabeel – $1.3 million
And last, but not least in our list – Shumukh by Nabeel. Shumukh stands as one of the world's most luxurious fragrances, holding a commanding price tag of $1.3 million.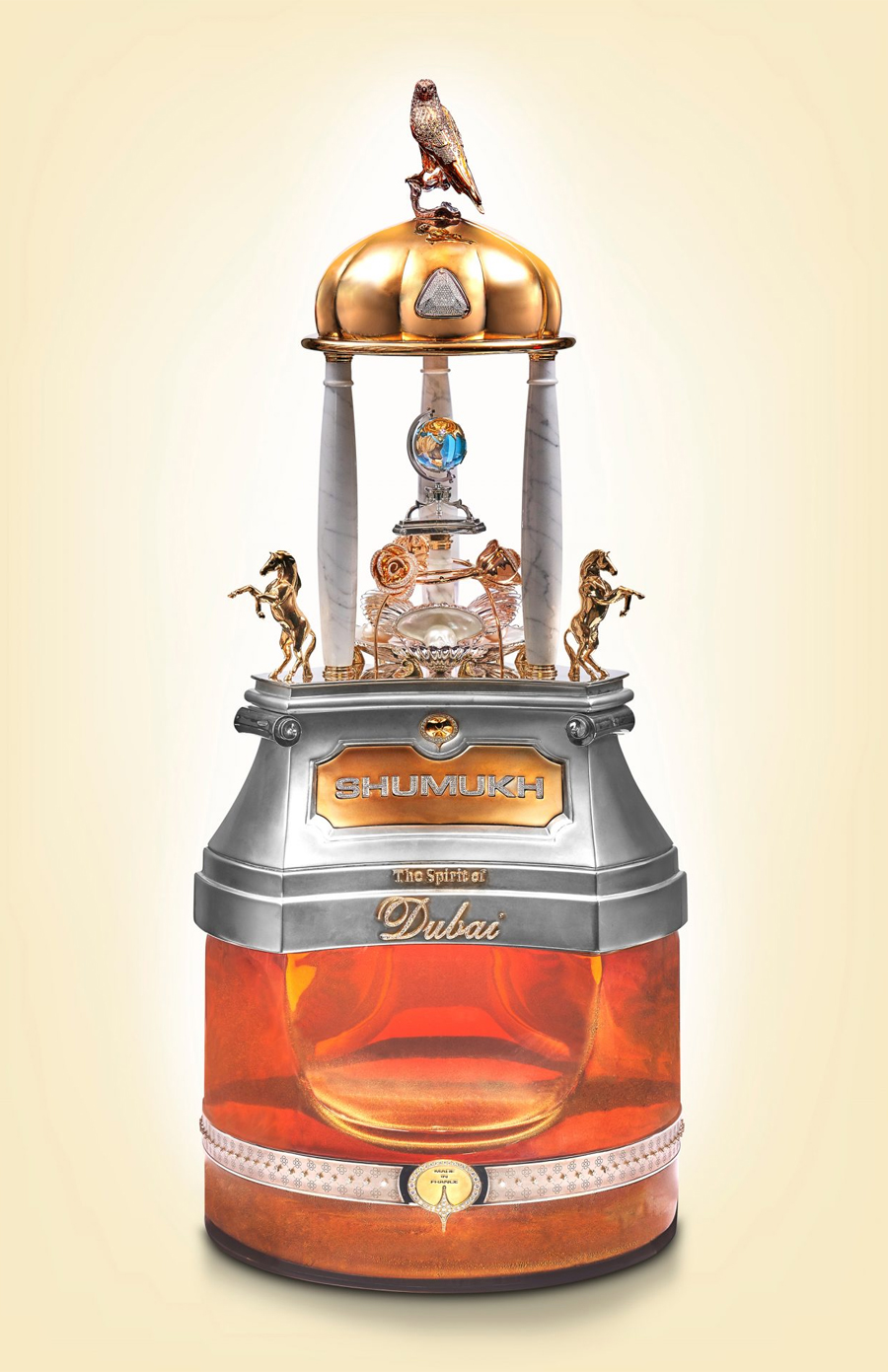 Photo source: artsandcollections.com
Shumukh, which translates to 'deserving the highest', is a perfect representation of its name. This perfume, created by The Spirit of Dubai Parfums by Nabeel, is renowned for its unparalleled longevity, claiming to last up to 12 hours on the skin and as long as 30 days on fabric.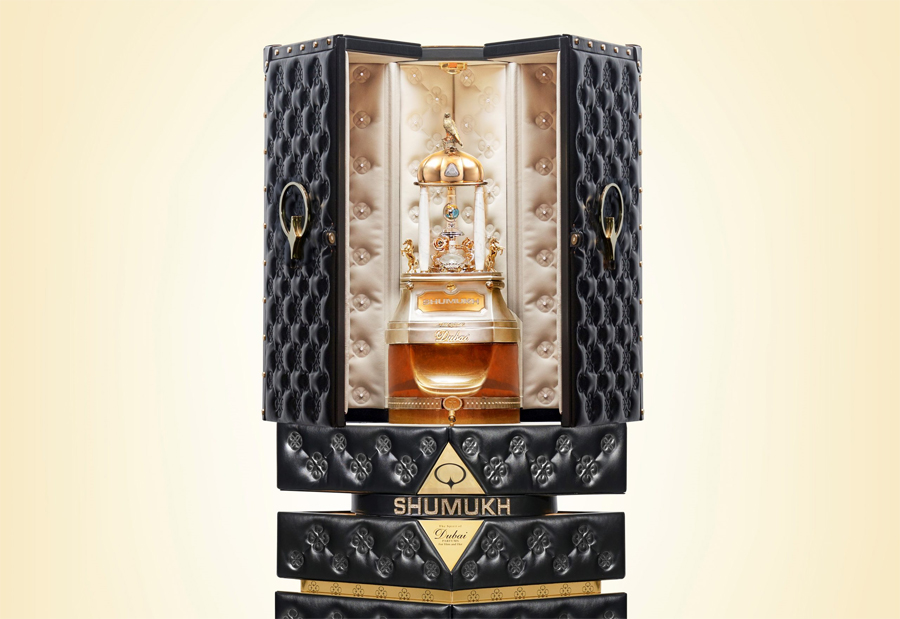 Photo source: gqmiddleeast.com
The fragrance skillfully combines the rich scents of amber, sandalwood, musk, rare pure Indian agarwood, pure Turkish rose, patchouli ylang-ylang, and frankincense. These notes harmoniously come together to produce a scent that is both earthy and ethereal, capturing the essence of the East in the most luxurious manner possible.
Photo source: cnn.com
But what truly sets Shumukh apart is its presentation. The bottle, a masterpiece in itself, stands tall at over three feet and is adorned with 3,571 sparkling diamonds, topaz, pearls, gold, and silver. Every inch of it echoes the grandeur reminiscent of the majestic Middle Eastern palaces and their timeless tales. Furthermore, the bottle features intricate automations, including a falcon that rotates atop the perfume's cap and miniature, detailed landscapes of some of Dubai's iconic landmarks.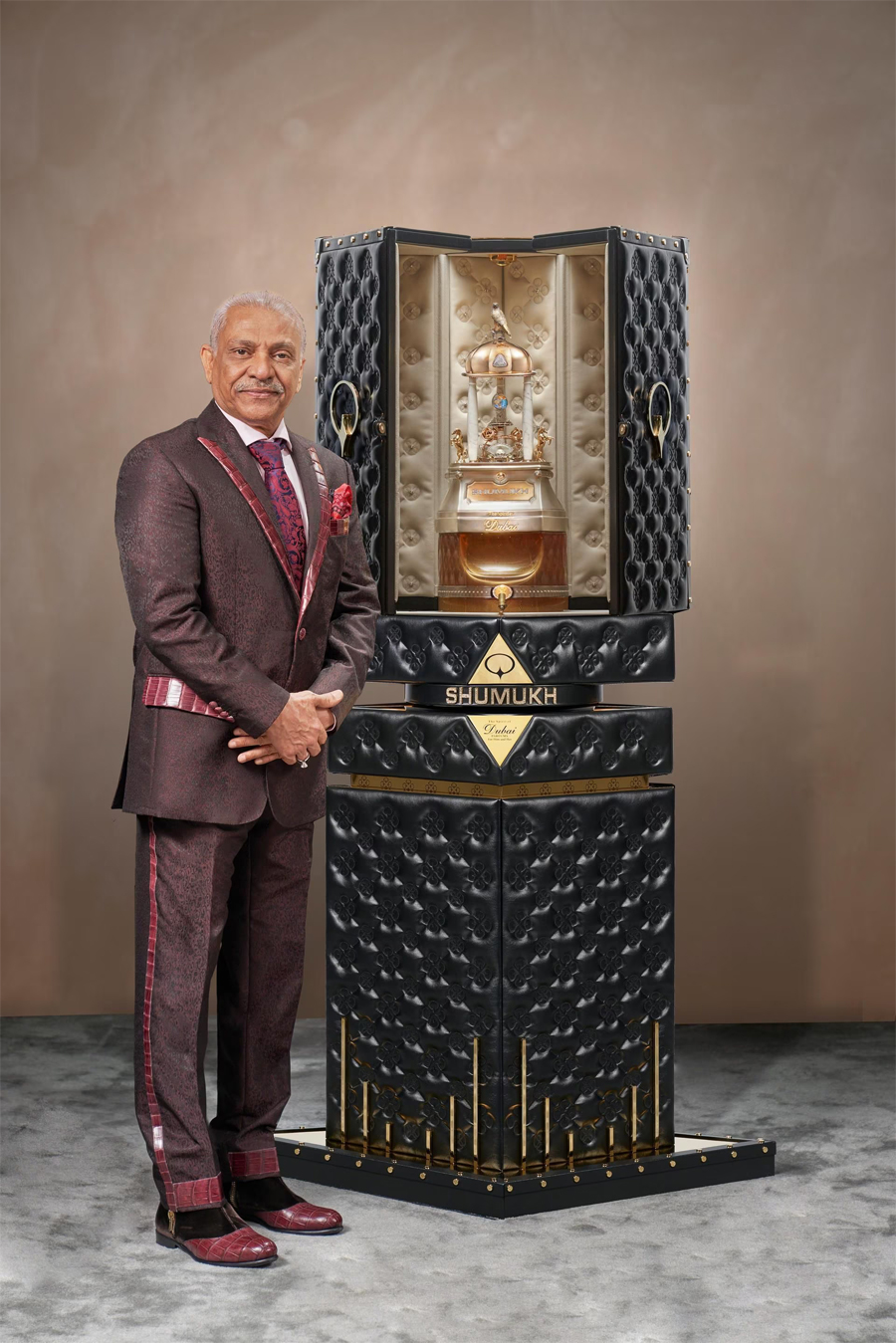 Photo source: thenationalnews.com
Also be sure to check our list of the most expensive bottles of wine and the most expensive coffee in the world.