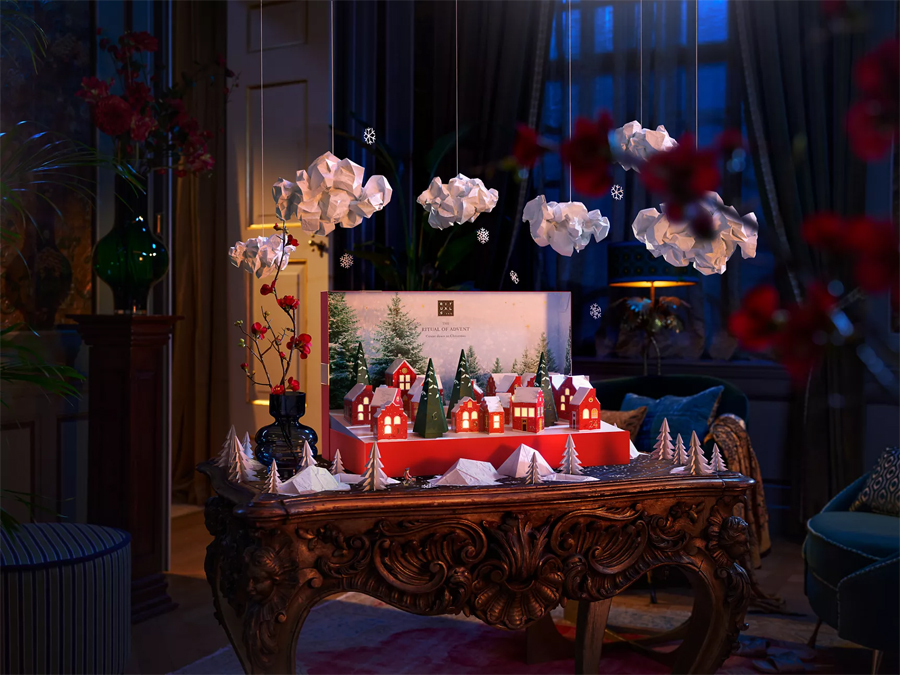 Advent literally means 'coming' in Latin. This signifies the arrival of Jesus into the world. Advent Sunday is the fourth Sunday before Christmas Day. Christians use the four weeks as a period of waiting and recall the real meaning of Christmas. The best way you can remember what Christmas is really about — without losing yourself in the chaos of the holiday season — is by purchasing an advent calendar.
Use the calendar as a tool to count each in the season and build the anticipation of the anniversary of Christ's arrival. Choose a calendar you love and pick a time to hit pause on your life and count the day. ANd don't forget about our collection of the best gifts for him.
What are advent calendars?
Advent calendars are a type of special calendar. These calendars are specially designed for a Christmas enthusiast like you. You can await Christmas with the utmost excitement with the help of an advent calendar.
You can count the days of Advent in anticipation of Christmas. Advent is the season of the liturgical year (church year or Christian year). You wait and prepare for the celebration of the Nativity of Christ at Christmas and the return of Christ at the Second Coming.
The traditional design of an advent calendar is that of the stereotypical Christmas setting, the manger scene, Saint Nicholas, and winter weather. Other calendars have varied themes like beauty, sports, and toys.
You can buy a simple paper calendar or something extravagant like wooden boxes. The options are endless.
How do advent calendars work?
Most calendars have a rectangular form. Each smaller rectangle is called a window, one for each day of December till 24th or 25th December. Each window depicts a poem, image, story from the Bible, a verse, Christian prayer, or a small gift.
You should use the calendar to count up towards the days before Christmas rather than counting down. Think of the calendars as boxes with little "doors" numbered 1 through 24. So, work your way up the calendar, and count from 1 to 24 rather than 24 to 1. So, on December 1st, you open the 1st door. Every night during the period of waiting you open one door to see a present.
Fix a time in your busy day to open the door with your family. If you see a Bible verse or Christian prayer, incorporate it as a part of your daily Advent devotions.
When do advent calendars start?
The actual period of Advent in the Catholic Church is based on the liturgical calendar. Thus, the date of Advent Sunday varies each year falling between November 27 and December 3. However, companies make calendars in bulk and sell them every year. Hence, most Advent calendars, especially the reusable ones begin on December 1 and continue for 24 days.
The advent calendars that are based on the liturgical calendar will start on the date of Advent Sunday and end on 24th December.
Where to get the best advent calendars?
Day Spring has advent calendars ranging from high-quality fun and interactive fabric calendars designed for kids with 25 pockets in which you can put daily surprises like candy and small toys to more sophisticated calendars with modern, geometric designs that can be used all year long. The calendar has 10 reversible number tiles and 4 reversible message tiles. They also have 25% off with the code FAMILY.
Amazon has cheaper options. They have traditional options like the Nativity Scene and Vermont Christmas. They also have more unconventional depictions like Hershey Kisses Calendar and Disney-themed collections.
You can design your own personalized calendar.You can select a size, make it an easel calendar, desk calendar, calendar mousepads, or calendar posters with the help of pre-existing templates. You can start your calendar in any month, from any date. Hence, you start on the actual Advent Sunday.
Here are some advent calendars that have gained immense popularity in 2022. Learn about who you can buy them for, what you can expect, and what you should look for.
Best beauty advent calendars 2022
Retailers like Sephora, Lush, and Asos have luxurious advent calendars filled with different-sized products. They have treats across skincare, make-up, fragrance, and hair. These calendars sell out very fast, sometimes in minutes. Usually, they release waiting lists as early as September or October. You'll be notified as soon as the product is ready to be sold. You can place pre-orders.
Such calendars usually include beauty products like make-up, skincare, and candles. The charm of such calendars lies in the quality and variety of products. The diverse range of gifts from 1st to 24th can be a mix of exclusive and general products from general and high-end brands. It depends on which calendar you buy and which products they have curated.
You can go for a selection of bags, sunglasses, hair products. This makes for a perfect gift for a fashion enthusiast. It is also a great luxury gift product. Brands like Avant include the brand's biggest hits in a 12-day calendar. The value of such a calendar is over $1200.
Rituals Classic Advent Calendar 2023
The Classic Advent Calendar from Rituals is a collection of 24 exceptional surprises designed to add luxury and delight to the festive season. This beautifully designed advent calendar is inspired by the flagship House of Rituals store and includes an exclusive array of body, home, and beauty products. Among the treasures are the Boutique Line Jing bath & shower gel, the Amsterdam Collection Body Mist, The Ritual of Namaste Anti-Ageing Serum, and four special Advent candles. Each product is carefully selected to offer joy and relaxation, making every day leading up to Christmas a unique experience of discovery and indulgence.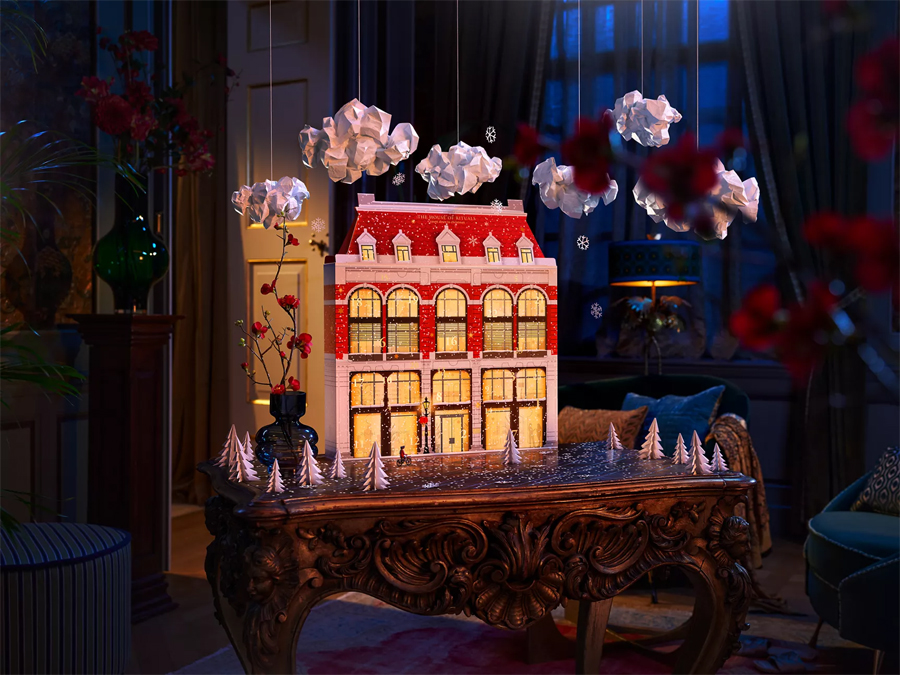 L'OCCITANE Classic Beauty Advent Calendar 2023
The L'Occitane Classic Advent Calendar for 2023 is a beautifully curated collection of the brand's best-loved body, hair, and skincare products. This calendar is an invitation to 24 days of pampering, featuring a blend of all-time favorites and new releases. Among its contents are the Noble Epine Shower Cream, Immortelle Precious Eye Balm, Cherry Blossom Bath & Shower Gel, and the best-selling Shea Butter Hand Cream and Overnight Reset Serum. Emphasizing eco-responsibility, it includes ingredients like Provençal Almond, Shea Butter, and Verbena, ensuring each day in December brings a touch of relaxation and natural beauty care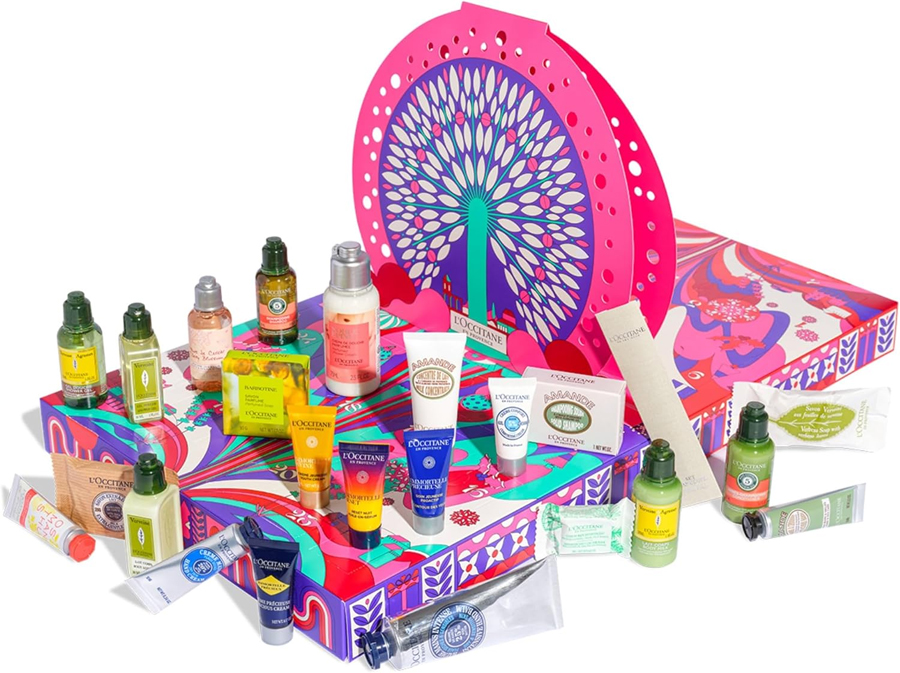 Yves Rocher Christmas Advent Calendar 2023
The Yves Rocher Beauty Advent Calendar for 2023 is a celebration of natural beauty and festive wonder. Each day from December to Christmas unveils a new surprise, blending magic with beauty care. The calendar includes a rich variety of Yves Rocher's products, featuring face and body care, hair care, make-up, and perfumes. Notable items are the Frozen Lychee Hand Cream, Botanical Balm, Calendula Regenerating Mask, and the Fraise Fabuleuse Rouge Elixir Matte Lipstick. Embrace the holiday season with this advent calendar that promises a daily discovery of Yves Rocher's beloved and novel beauty essentials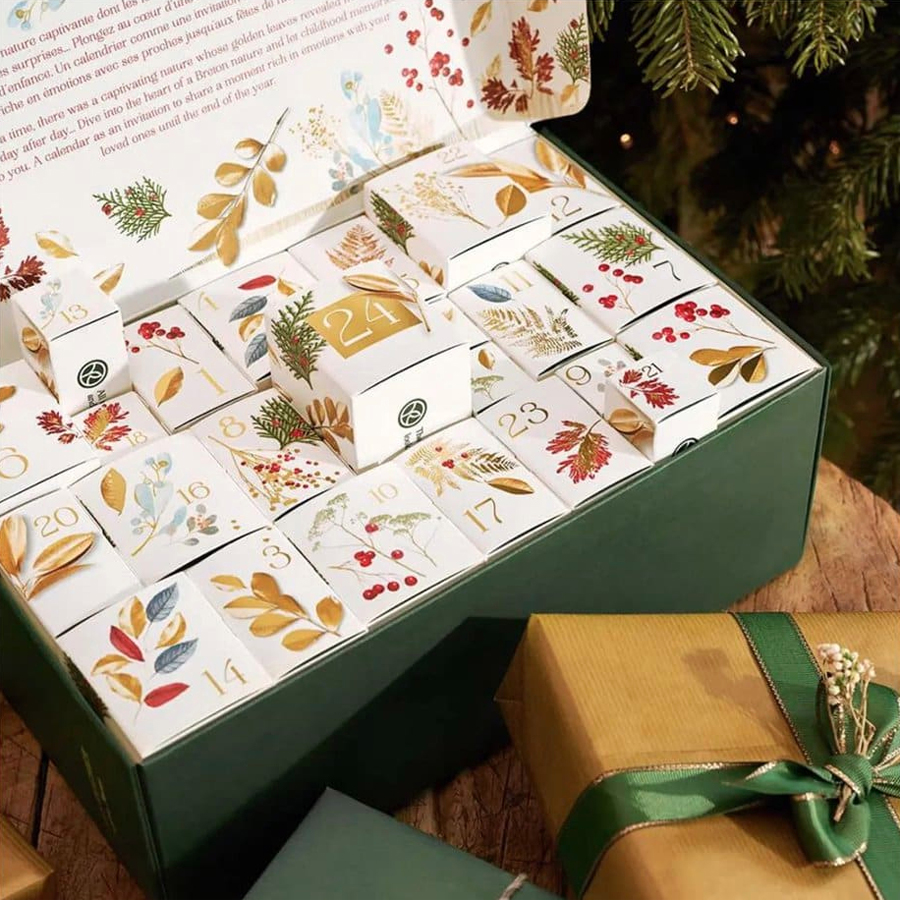 Cult Beauty Advent Calendar 2023
The Cult Beauty Advent Calendar for 2023 is an exquisite collection of 39 luxury beauty products, half of which are full-size, showcasing a wide range of premium brands. The calendar features a diverse selection of skincare, haircare, and makeup items, including notable products like 19/99 Beauty Precision Colour Pencil, Augustinus Bader The Rich Cream, bareMinerals MINERALIST Gloss-Balm, Benefit Fluff Up Brow Wax, and Biossance Squalane + Marine Algae Eye Cream. With brands like Drunk Elephant, Charlotte Tilbury, OLAPLEX, Glow Recipe, and ELEMIS, it offers a unique opportunity to explore high-end beauty products. The calendar is a 25-door festive feast, with one door containing seven surprises, ensuring a daily dose of luxury and excitement in the countdown to Christmas.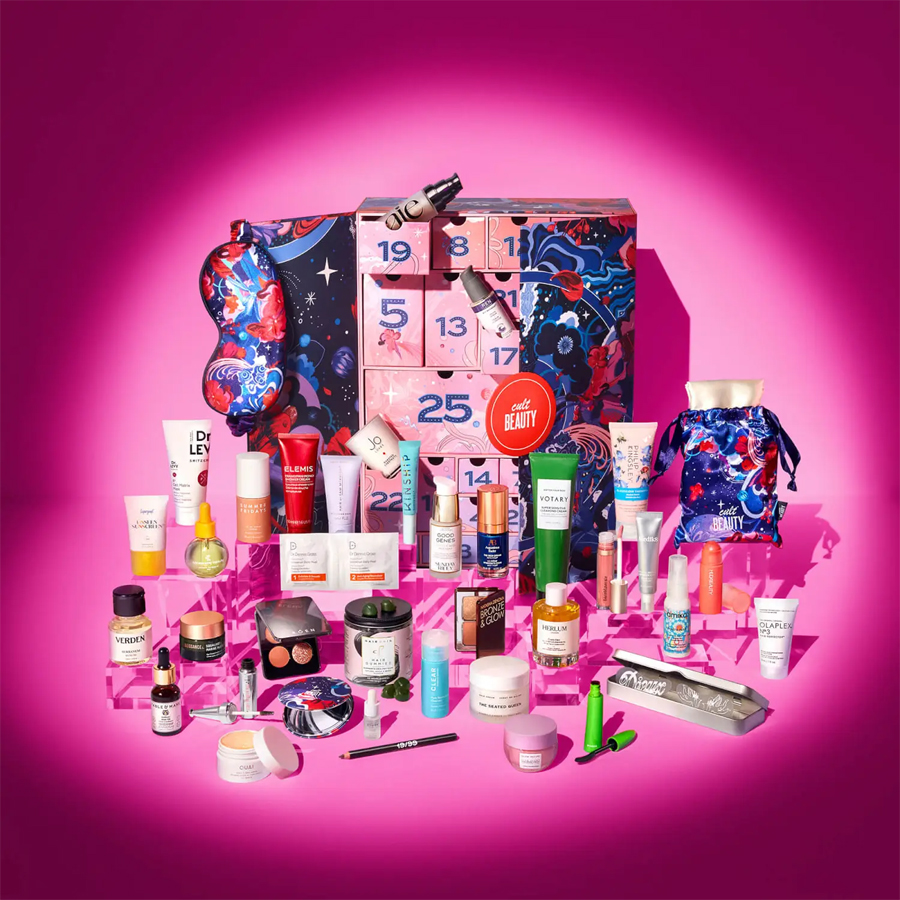 Saks 25 Days of Beauty Advent Calendar
The 25 Days of Beauty Advent Calendar is a curated collection of self-care luxuries from renowned beauty brands. It features an array of skincare, makeup, hair care, fragrances, and body care items. Among its notable inclusions are Guerlain's Abeille Royale Advanced Youth Watery Oil, Augustinus Bader's The Rich Cream, and Olaplex's No.8 Bond Intense Moisture Mask. Makeup enthusiasts will appreciate Charlotte Tilbury's Pillow Talk Mascara and Kjaer Weis's Cream Blush in Blossoming. The calendar also offers exclusive fragrances like Christian Louboutin's Loubirouge Eau de Parfum and Initio's Hedonist Initiation Extrait de Parfum.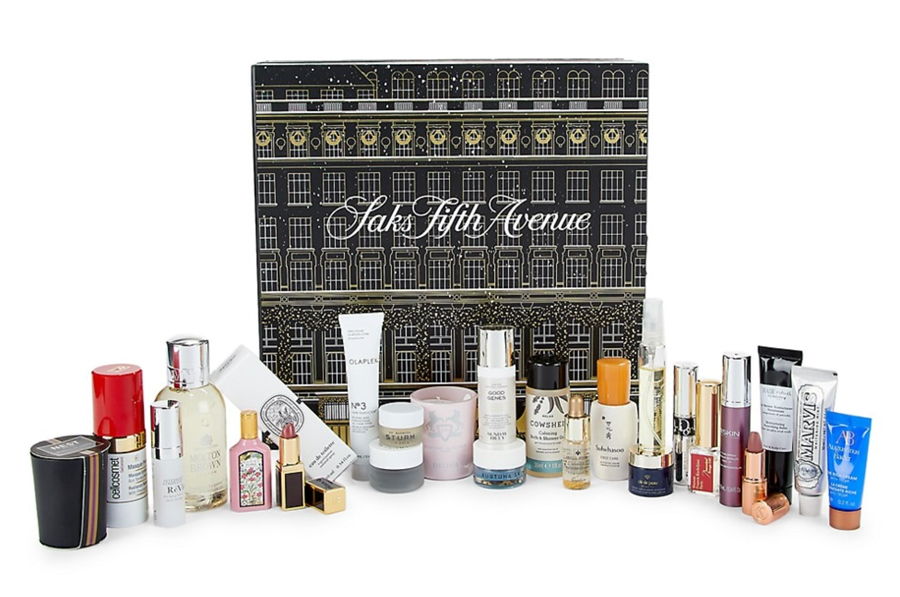 Wine advent calendars 2022
The wine advent calendar is perfect for adults in your life who are wine aficionados. In the chaos of Christmas, this gift will give them the opportunity to relax with a variety of vintages that last over several weeks. Such calendars usually have either 12 or 24 bottles of wine. The bottles are actually half bottles, (375 ml). This is enough for two glasses making it the perfect gift for your partner or a couple.
The wines are a mix of different varieties such as red, white, and sparkling wine from popular vineyards across the globe. You can also choose to go for a curated collection from a vineyard you know your loved one enjoys. You can also purchase an empty wooden frame that has holes to hold 12 or 24 bottles. You can choose the wines and fill the frame to put together a truly unique and heartfelt, personalized gift.
Virgin Wines Wine Advent Calendar 2023
The Mixed Wine Advent Calendar from Virgin Wines offers a unique and delightful way to countdown to Christmas. For a reservation fee of £10, with the remaining £79.99 billed upon delivery, this calendar is a journey through the world of wines. It features 24 miniature bottles of 187ml each, encompassing a diverse range of red, rosé, and white wines. Additionally, it includes a special full-size bottle of sparkling wine for Christmas Day, adding an extra touch of celebration. This calendar showcases a selection of new wines featured in Virgin Wines' original 2023 Mixed Wine Advent Calendar. The lineup includes exquisite varieties like Argentinian Malbec and Australian Sauvignon Blanc, providing a festive and impressive experience for wine enthusiasts.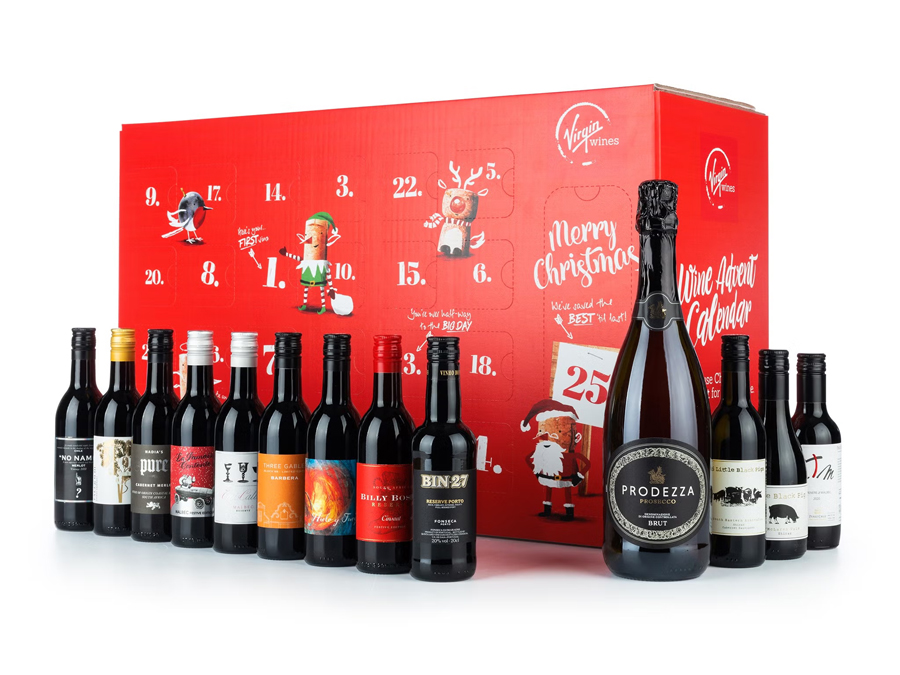 VINEBOX 12 Nights of Wine
The VINEBOX 12 Nights of Wine advent calendar is a sought-after holiday treat for wine aficionados. It showcases hand-selected wines from prestigious regions like Italy, France, Spain, and California's heart. The Cozy Collection offers 12 exceptional reds, perfect for fireside sipping under cozy blankets. Alternatively, the Chill Collection includes a diverse mix of rich whites, vibrant rosés, and a few chillable reds. For those seeking the ultimate experience, combining both collections creates 24 Nights of Wine, a comprehensive journey through the world of fine wines.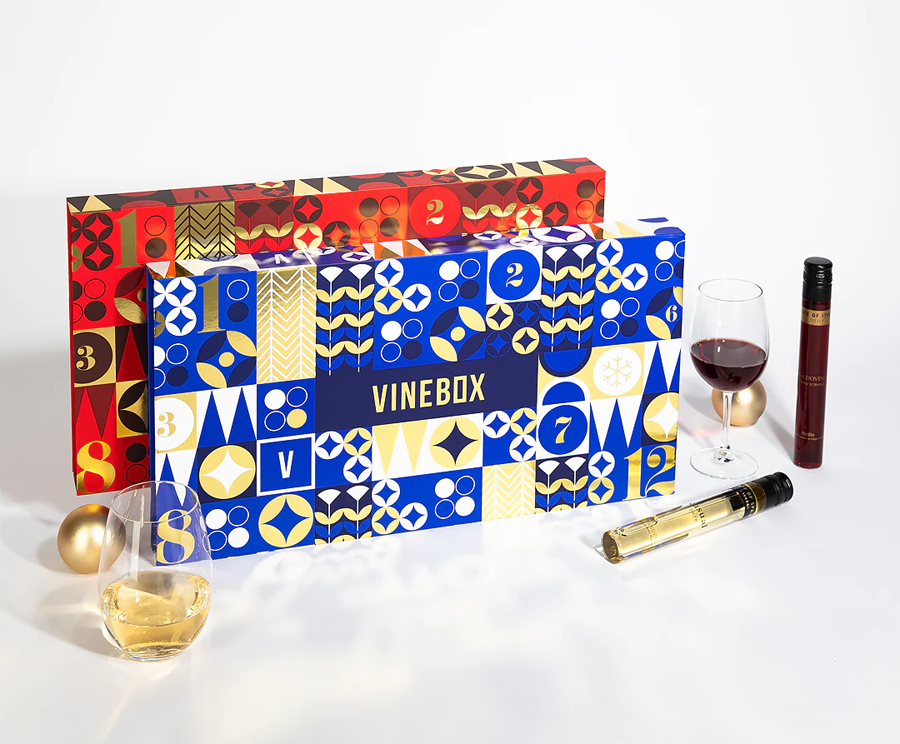 Most Wonderful Wine Advent Calendar
Total Wine's advent calendar is a delightful and budget-friendly option for wine lovers. Priced at $80, it offers 24 miniature 187-milliliter bottles of wine from around the world, all wrapped in a festive, holiday-themed box. This calendar is not just a countdown to Christmas, but also a global wine tasting experience, perfect for those who appreciate variety and quality. It has garnered positive reviews from customers who return year after year, praising the excellent selection and quality of wines. One reviewer noted its suitability for evening gatherings with friends, highlighting the enjoyment of sampling various wines. This advent calendar from Total Wine is an ideal choice for anyone looking to explore a wide array of global wines in a joyful and accessible format.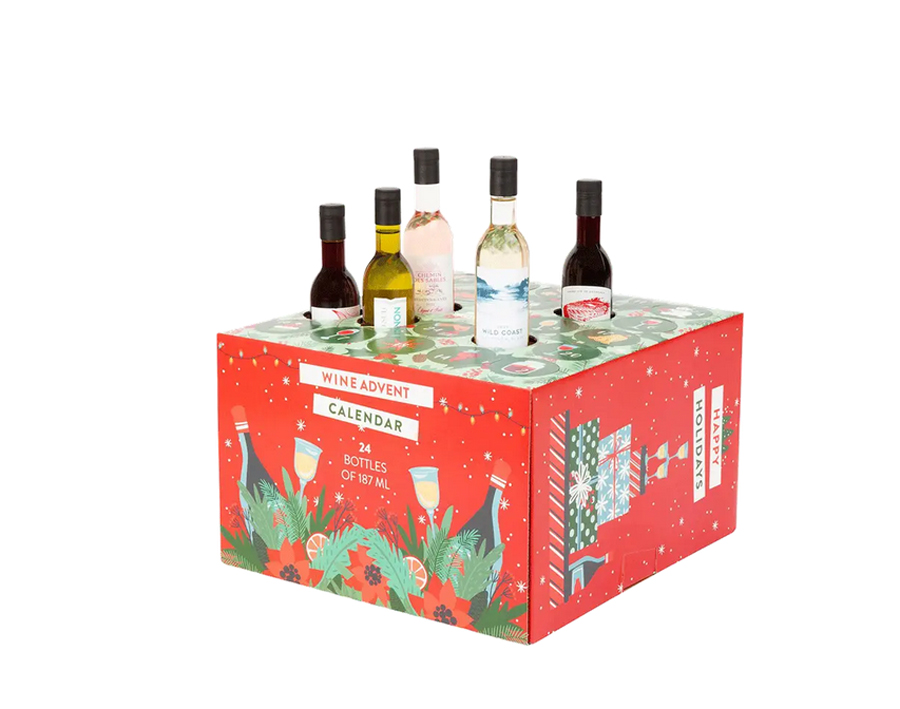 Vintage Wine Estates 12 Bottle Wine Advent Calendar
The Vintage Wine Estates Advent Calendar brings a unique and festive twist to holiday celebrations. It features 12 half-bottles of assorted wines, each hidden behind a flap in an advent-style box. The calendar offers a delightful mix of varieties, including options like Laetitia Moscato, Qupe Rose, and Owen Roe Pinot Noir, among others. With choices of all white, all red, or a mixed selection, it caters to different preferences, making each night of the holiday season a special wine-tasting experience. This calendar from Vintage Wine Estates is perfect for those looking to savor different wines in the lead-up to Christmas.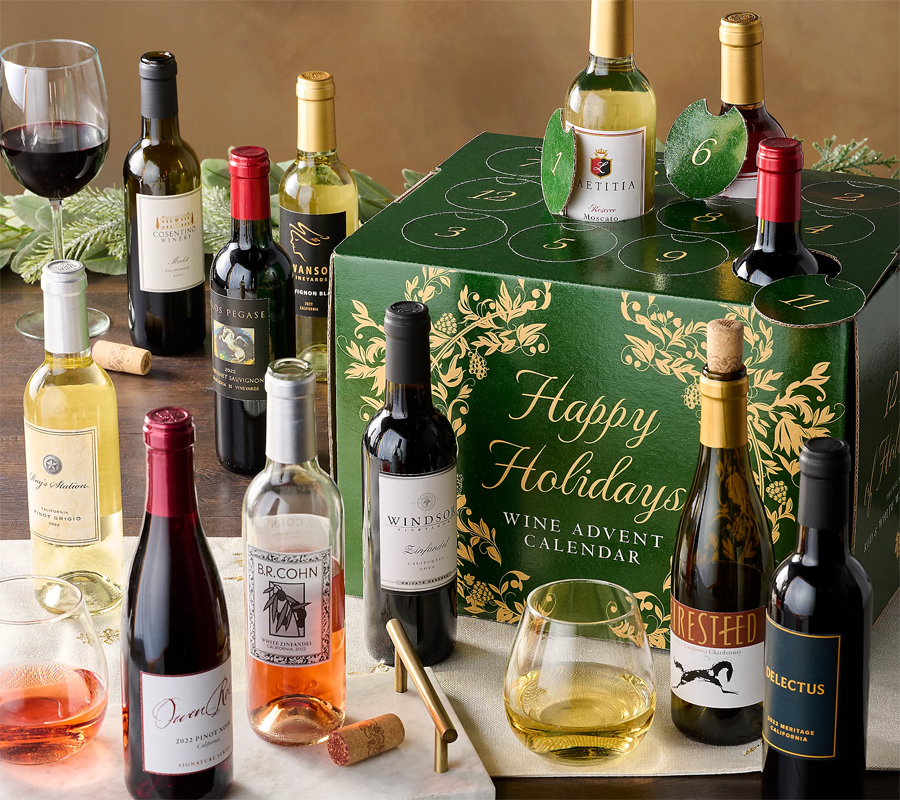 In Good Taste 2023 Wine Advent Calendar
In Good Taste's advent calendar offers a unique wine tasting experience with its variety of 24 bottles, each from France, Italy, Spain, Portugal, or California. Ideal for exploring regional differences and grape varieties, the calendar includes everything from light, crisp whites like Sauvignon Blanc to richer reds such as Montepulciano. Each bottle, containing 187 milliliters, provides a perfect serving for an evening's enjoyment or sharing. The calendar not only delivers a diverse wine journey but also enhances the experience with daily emails offering insights into each wine, making it educational and enjoyable.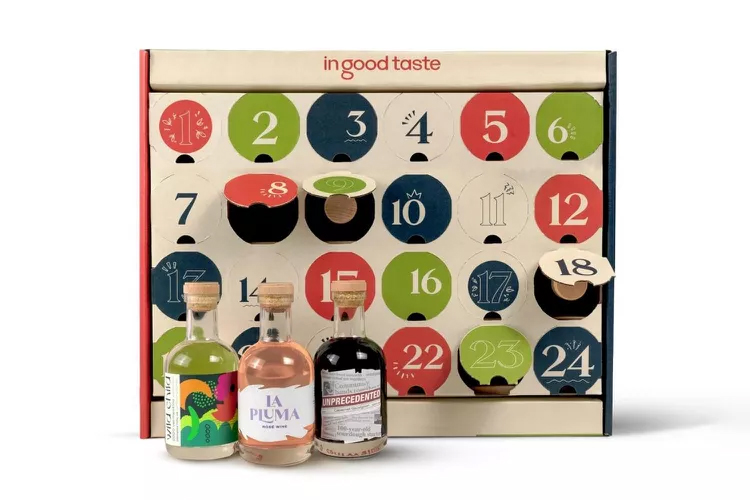 Best chocolate advent calendars 2023
The chocolate advent calendar is perfect for people who like to start their day with something sweet. This advent calendar will give you a taste of chocolate every day in December leading to Christmas eve and pile onto your Christmas excitement.
Most calendars that you'll find in grocery stores are filled with regular chocolates and make for the perfect gift for acquaintances. However, you can also go for the luxurious options available in such calendars for your loved ones. You can pick out a renowned, luxurious brand of chocolate and look for their calendars. Such calendars will curate 24 days of gourmet chocolates in different flavors and sizes. You can also get a nostalgic calendar filled with childhood favorites like Hershey's and M∧Ms. Each day will unpack a new memory for you.
Harrods Chocolate Advent Calendar 2023
Harrods' Coated and Dusted Chocolate Confectionery Advent Calendar is a sumptuous treat for the festive season, encapsulating the essence of their renowned chocolate hall. This calendar is designed to delight the senses with each drawer revealing a decadent selection of chocolate-coated delights. The assortment includes a luxurious mix of coated nuts, fruits, coffee beans, and cereals, offering a delightful surprise each day as you count down to Christmas. This advent calendar is not just a celebration of chocolate but an indulgent journey through Harrods' exquisite confectionery craftsmanship, making the wait for Christmas all the more enjoyable.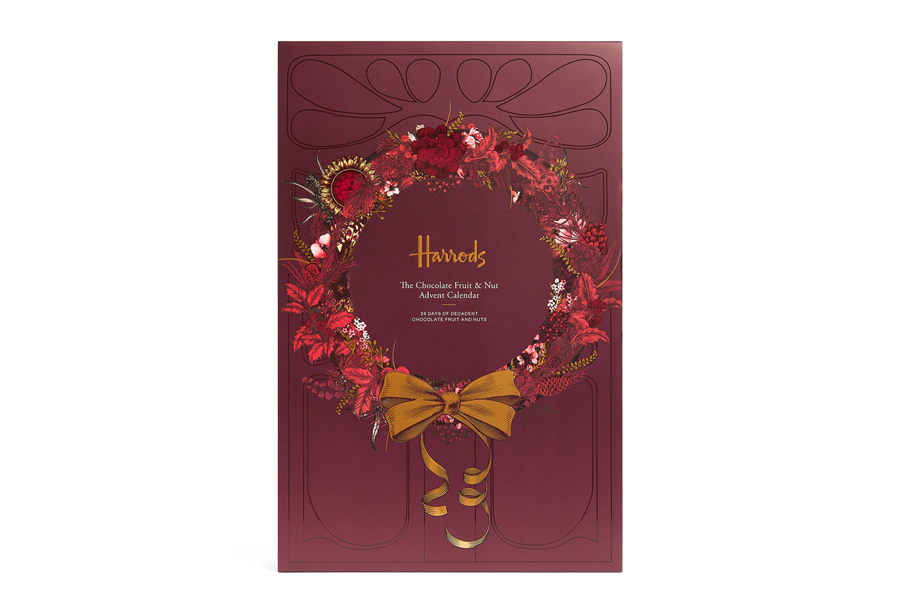 Godiva Holiday Classic Chocolate Advent Calendar 2023
The Classic Chocolate Advent Calendar from GODIVA offers a delightful countdown to Christmas with its luxurious assortment of chocolates. Designed like an album, each day reveals a hidden treat, comprising a total of 24 exquisite pieces of GODIVA's finest milk, dark, and white holiday chocolates. This advent calendar isn't just about savoring premium chocolates; it's also a festive tradition perfect for sharing with family and friends. Sending a GODIVA advent calendar is a thoughtful way to spread holiday cheer and start the festive season with a touch of elegance and indulgence.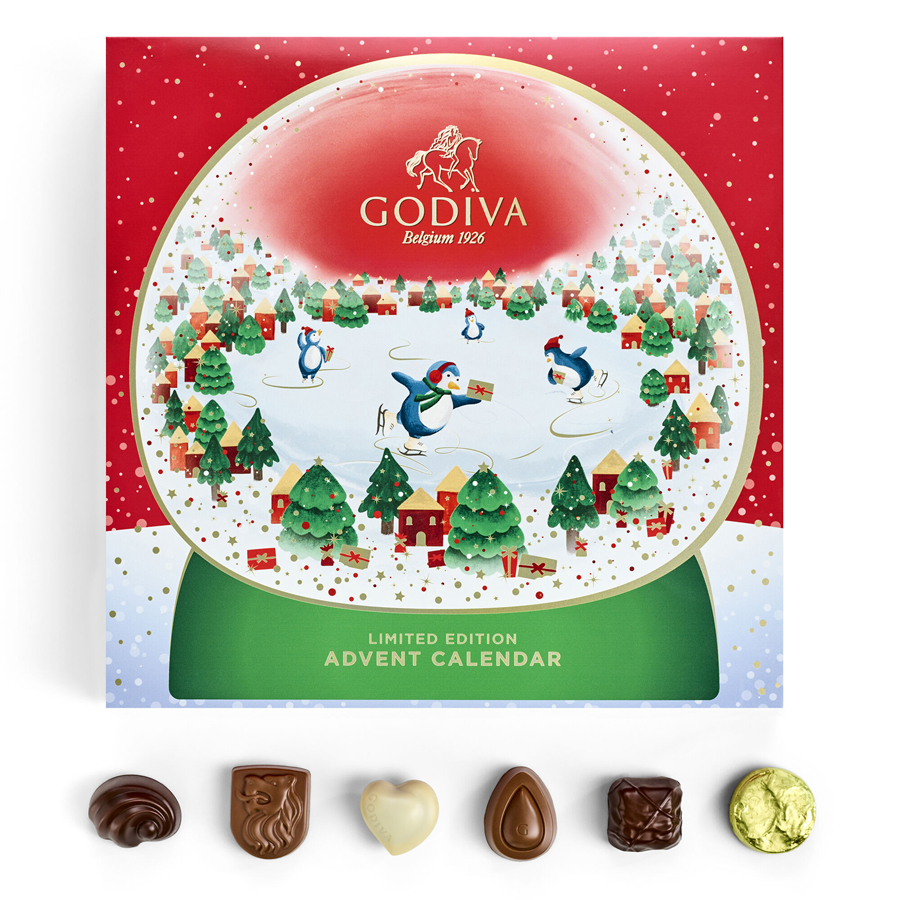 Haut-Chocolat Calendar of Advent
Vosges Haut-Chocolat's 25th Anniversary advent calendar is a spectacular celebration of chocolate. It features a mesmerizing light display and plays "Dance of the Reed Flutes" at the touch of a button, illuminating each compartment filled with haut-chocolat. This calendar elevates December with a daily unveiling of handcrafted chocolate gems. Adding to the excitement, a special 25th chamber is brimming with exclusive delights for Christmas Day, making this calendar a unique and luxurious treat for the festive season.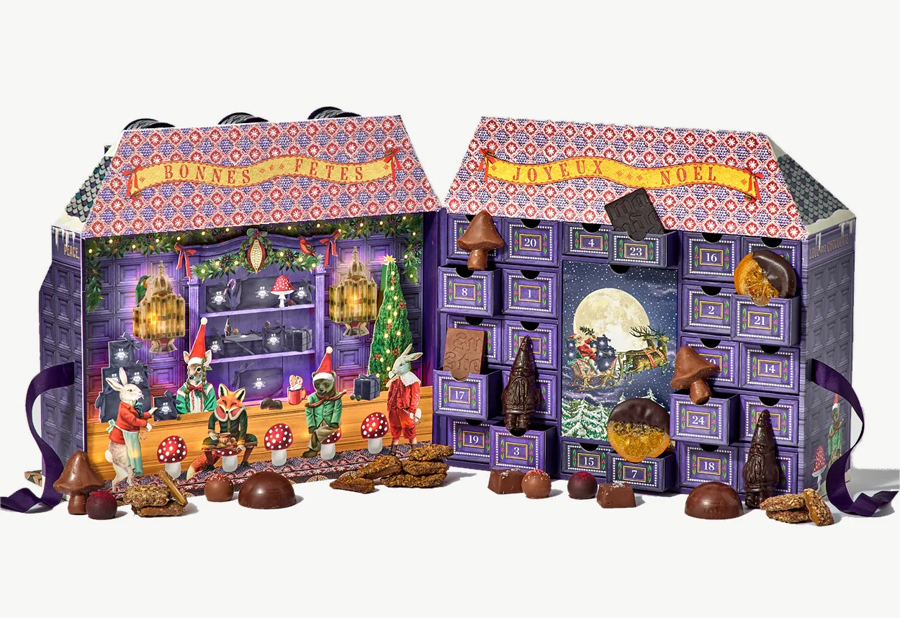 Snowflake Chocolate Advent Calendar
The Snowflake Symphony Advent Calendar presents a captivating holiday experience with its 26 chocolate delights, all housed in a beautifully designed frosted case. Each of the 24 windows reveals a unique and indulgent treat, perfect for the festive countdown. The calendar's enchanting blue-white icy design adds to the charm and allure of this holiday tradition. Notably, this year's calendar continues to embrace eco-friendliness, being entirely made of cardboard and fully recyclable, catering to both chocolate connoisseurs and environmentally conscious consumers.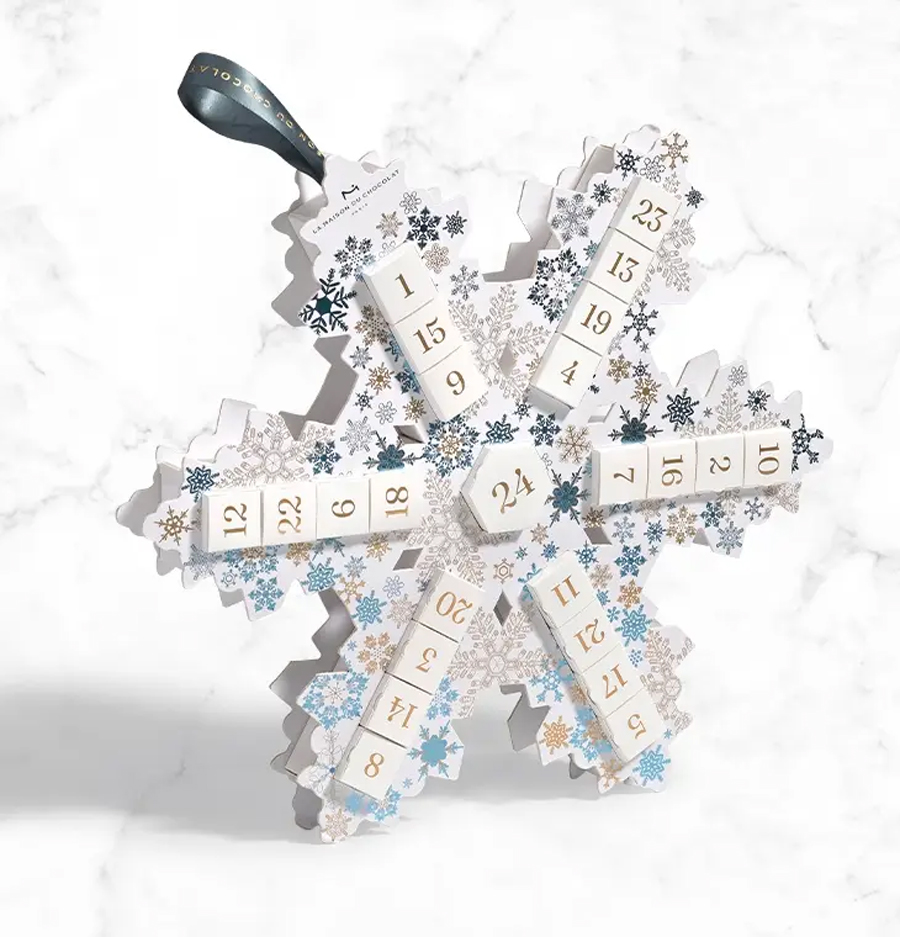 Amedei Advent Calendar
The Tuscany Artisanal Chocolate Advent Calendar offers a daily indulgence of Italian confectionery from the award-winning Amedei. This calendar features 25 drawers, each filled with a delightful mix of bars, pralines, and snacks, perfect for savoring throughout the festive season. Some drawers contain two chocolates, while others include a small bar ideal for sharing. Adding to its charm, the calendar's gift-worthy packaging is environmentally conscious, crafted from recycled cocoa bean shells. This advent calendar is a sweet celebration of Italian craftsmanship and sustainable design, making it a perfect treat for the holidays.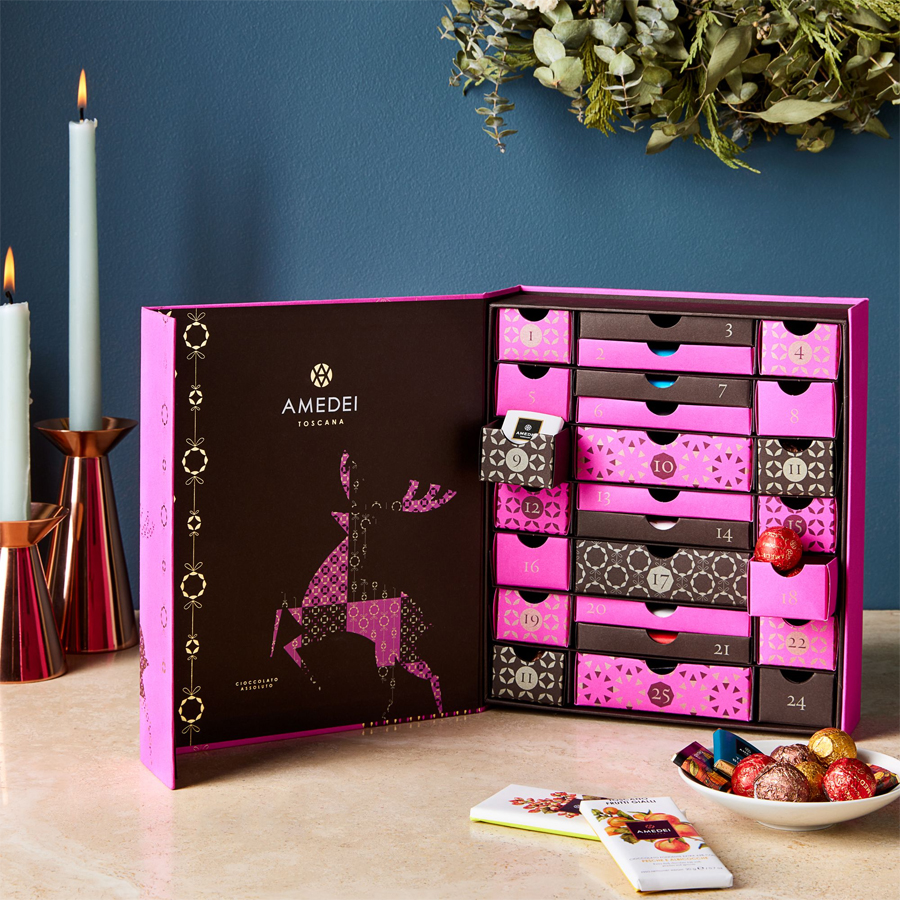 Best toy advent calendars 2022
If you don't want to deal with the sugar rush that chocolate gives kids, toy advent calendars are your next best alternative. There's nothing better to keep children engaged in the busy season of Christmas than a new toy every day.
Brands like Playmobil, Harry Potter, and Disney have the most popular play figures behind every door. There are also miniature toys like dolls, robots, and cars. You can also go for a Christmas-themed toy calendar where each day you'll get a Christmas figure like Santa and elves. There are also options that let kids build a whole playset throughout December. This is the perfect gift for houses with multiple children. It is the perfect family activity each morning.
Christmas Advent Calendar Bracelets 2023 for Girls
The Christmas jewelry advent calendar with 22 Charm Beads and 2 Bracelet Chains to make 2 Christmas bracelets. The adorable charms are all the theme of Christmas like Santa Claus, Christmas tree, Santa hat, gift box, stocking, snowflake, wreath, candy cane, etc and none duplicates, exquisite and delicate.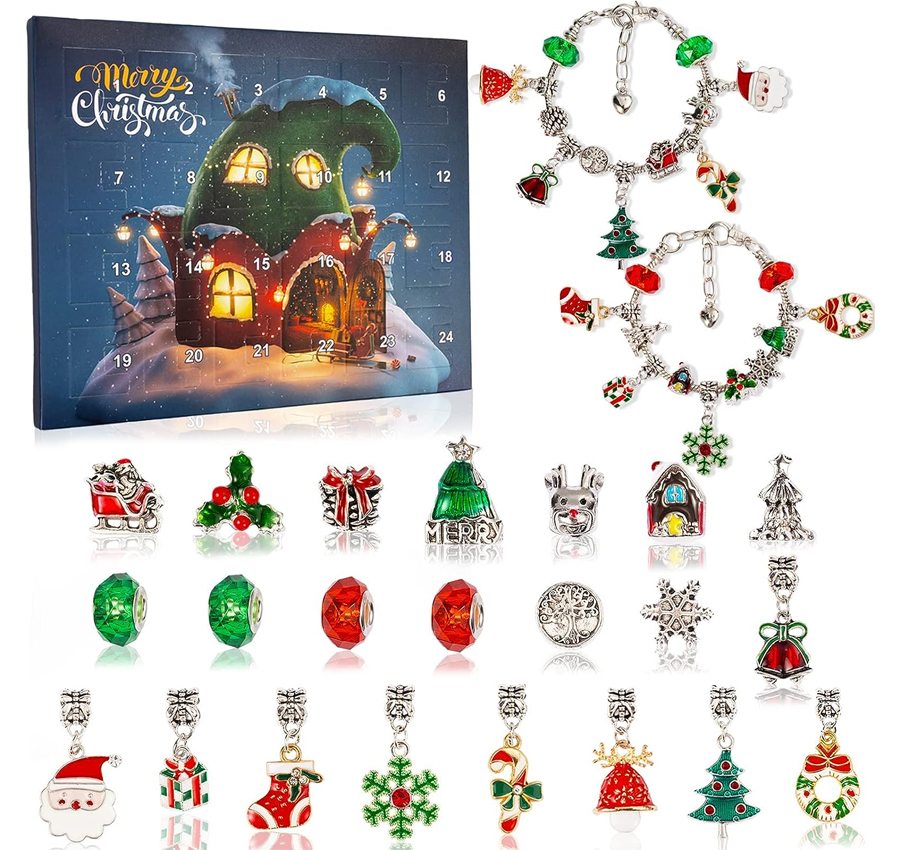 Hot Wheels Advent Calendar
Make the holiday season a cool countdown with colorful Christmas-themed packaging and 24 windows for a daily surprise. There are eight decorated Hot Wheels vehicles and sixteen accessories for every day leading up to the holiday. The Hot Wheels Advent Calendar now includes a foldout playmat for kids to play with their new Hot Wheels vehicles and accessories!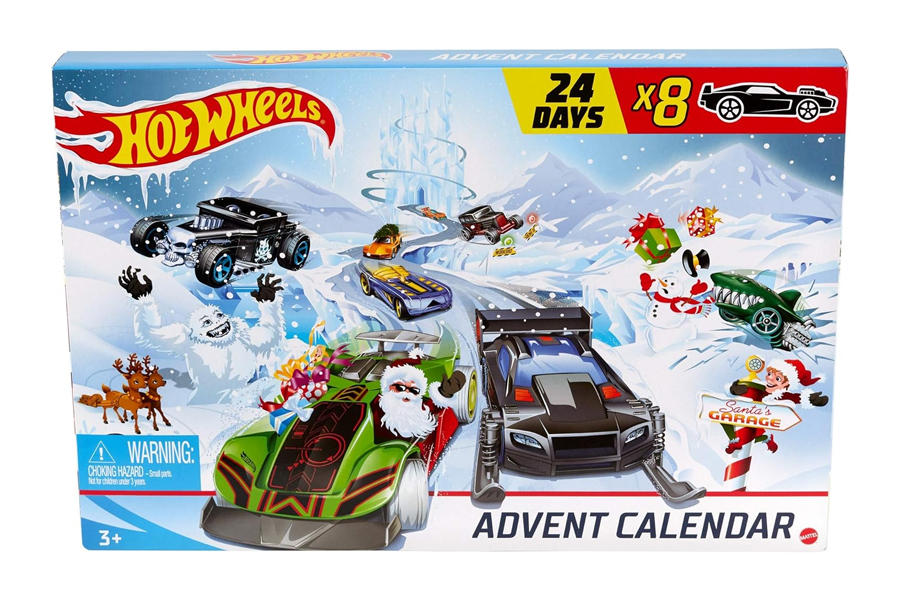 NATIONAL GEOGRAPHIC Science Advent Calendar 2023
Each day of December as Christmas approaches, kids will open an exciting science experiment to conduct from our world-class science kits, or a gemstone or fossil to add to their collection! Kids will love hiding/revealing a secret message, making a test tube glow, floating coins, growing a colorful crystal tree & much more!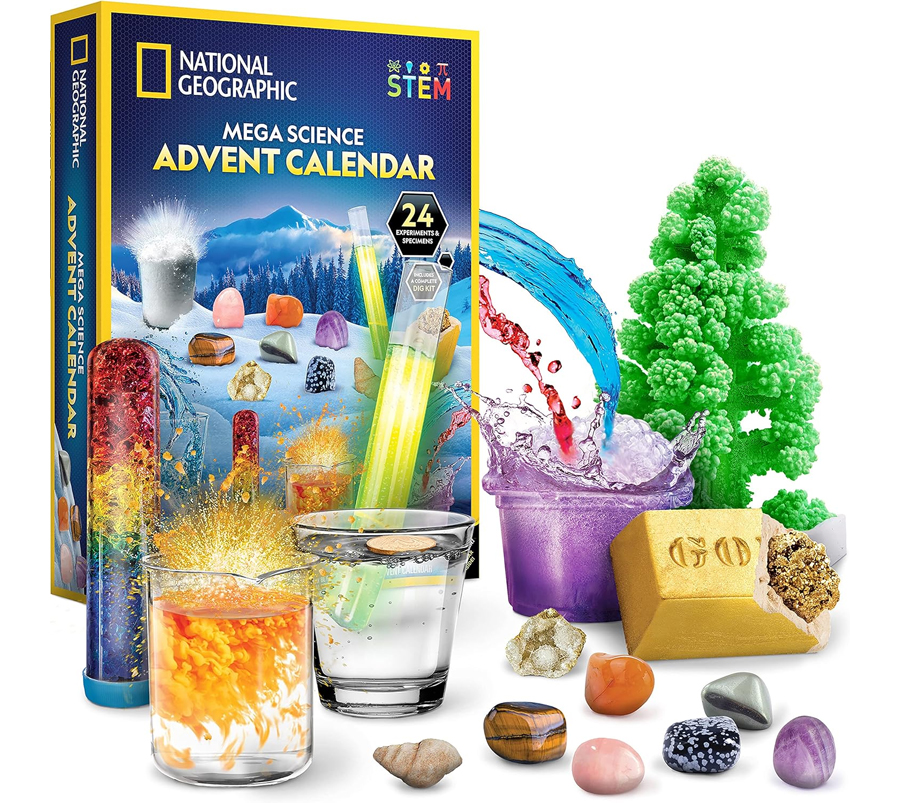 Advent Calendar SHOCKING SCIENCE
This unforgettable Christmas countdown advent calendar is for boys and girls with an inquisitive mind that are keen to explore the magic of science. The illustrated step-by-step guide comes along with pictures to accompany the DETAILED instructions for this great 2023 advent calendar.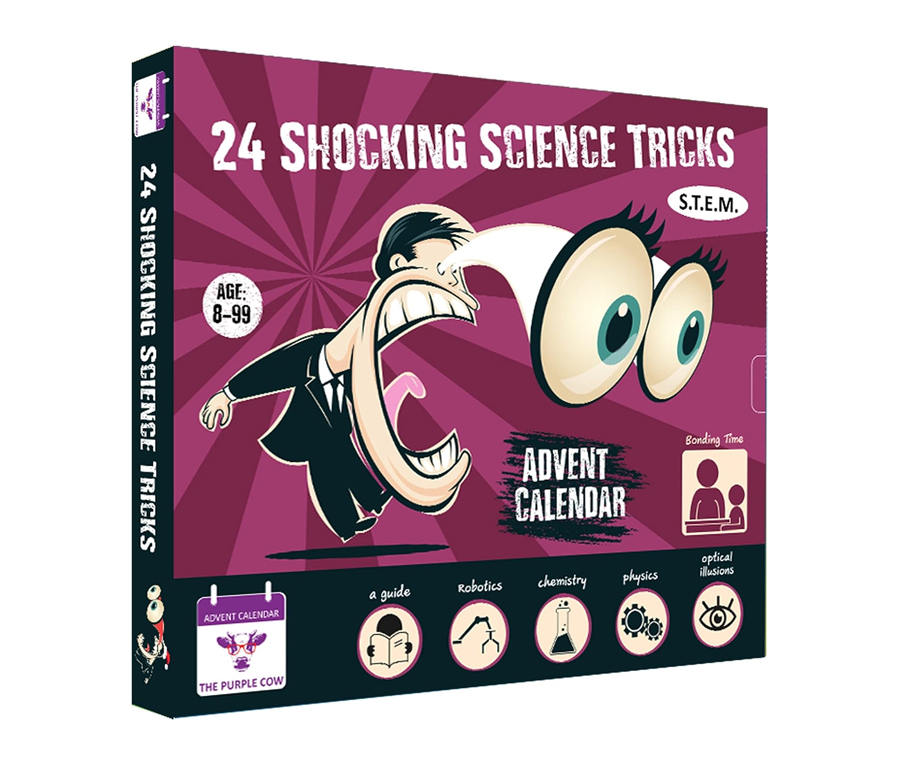 JOYIN Rubber Duckies Advent Calendar 2023
Surprise your kids everyday from Dec. 1st to Christmas Eve with our unique Christmas themed rubber duckies gift. The Advent Calendar includes 24 days Countdown, 18 Christmas Themed Rubber Ducks and 6 Novelty Rubber Duckies. A unique way for your little ones to count down the days throughout Advent until Christmas Day.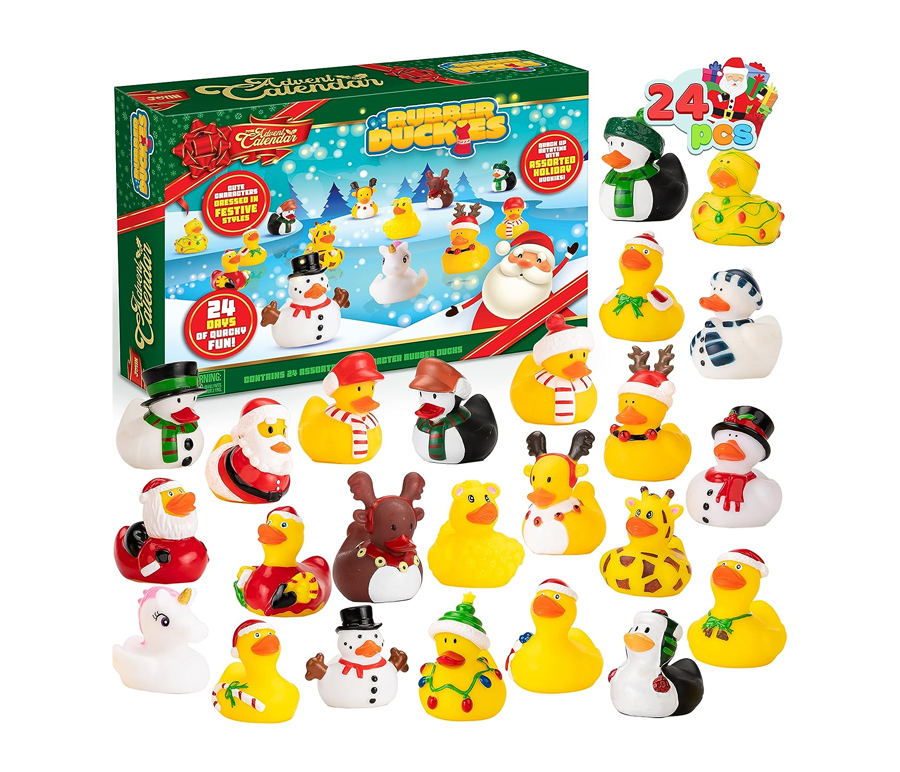 LEGO advent calendars 2022
Start the holiday season with building legos. There is nothing better than giving kids a sense of accomplishment each morning as they await Christmas. A LEGO advent calendar has 24 different presents, including items like space shuttle, drone, race car, robot, Christmas tree, monster truck, and much more. There are usually over 300 lego pieces in each calendar.
This gift is suitable for kids between the ages of 5-12. It is also a good family bonding activity. Such calendars also have different themes Star Wars, and Avengers letting you be a part of your kid's imaginative world.
LEGO Star Wars 2023 Advent Calendar
The 2023 LEGO Star Wars Advent Calendar brings festive joy with daily surprises from the Star Wars universe. It includes nine characters like Emperor Palpatine and Princess Leia in holiday outfits, along with 10 mini vehicle building toys such as The Mandalorian's N-1 Starfighter and an AT-ST. The set also features fun mini builds like an Ewok village. Ideal for kids ages 6 and up, this 320-piece set blends the excitement of LEGO with the magic of Star Wars, making it a perfect holiday gift for fans to recreate iconic scenes and stories.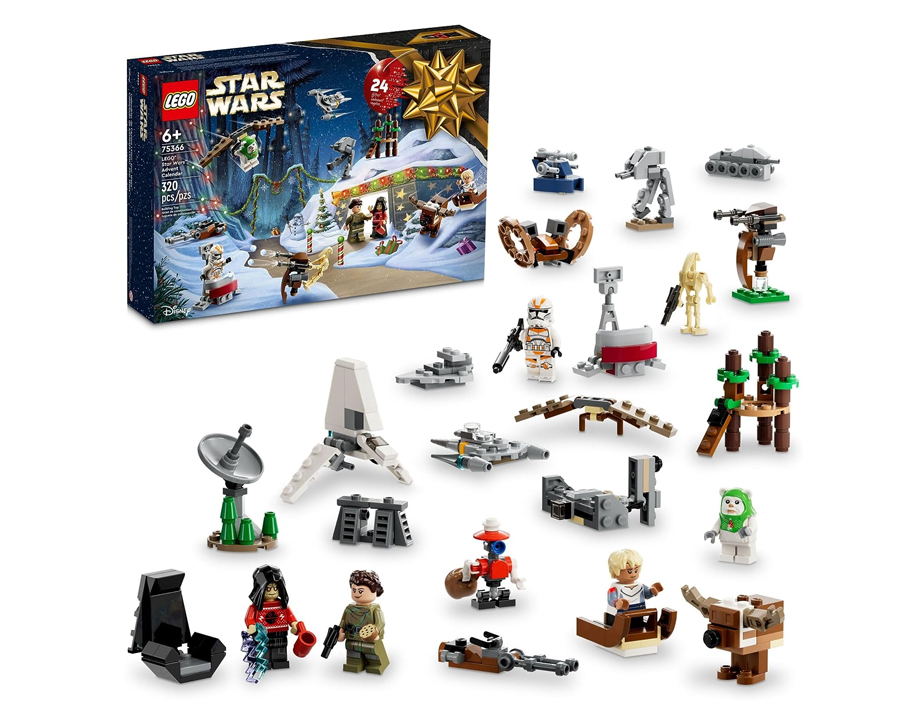 LEGO Harry Potter 2023 Advent Calendar
The 2023 LEGO Harry Potter Advent Calendar is a magical Christmas build for kids, featuring surprises from the Harry Potter universe. It includes six minifigures like Harry Potter and Hermione Granger, plus 18 Hogsmeade village mini builds. Each door has simple building instructions, making it an engaging gift for Harry Potter fans aged 7 and up. This 227-piece set combines well with other LEGO Harry Potter sets for more creative play.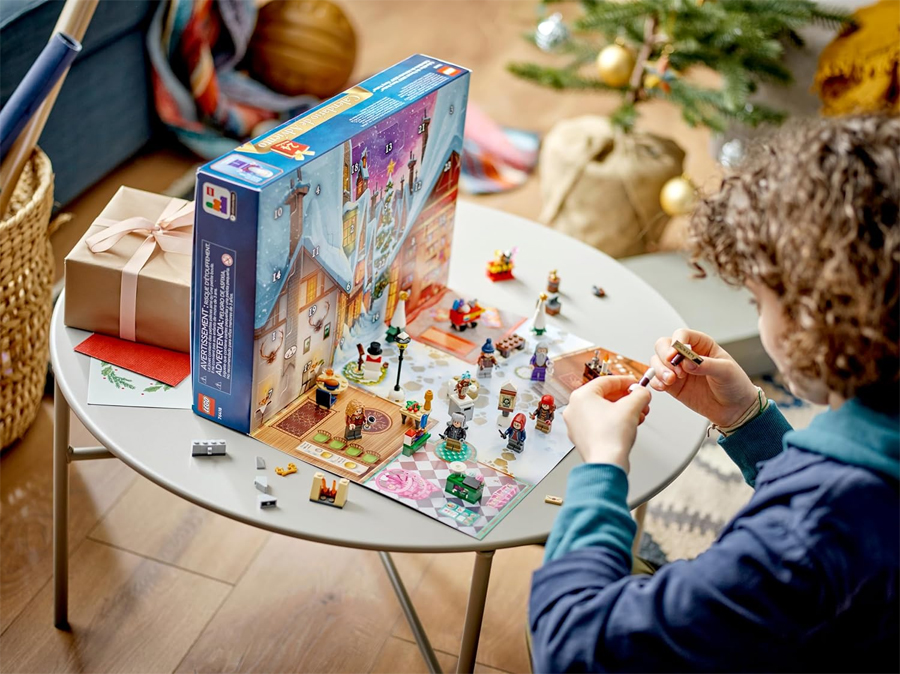 LEGO Marvel Avengers 2023 Advent Calendar
The 2023 LEGO Marvel Avengers Advent Calendar is a thrilling holiday countdown for young Super Heroes. Each of the 24 doors reveals a gift to start a new adventure, including seven Super Hero Minifigures like Okoye, Doctor Strange, and Iron Man, along with mini builds and accessories inspired by the Marvel Cinematic Universe. Highlights include a Quinjet and the Hydra Train. This calendar is perfect for kids aged 7 and up, offering a fun way to recreate Marvel scenes and imagine new adventures. These gifts are compatible with other LEGO Marvel sets, ensuring ongoing creative play.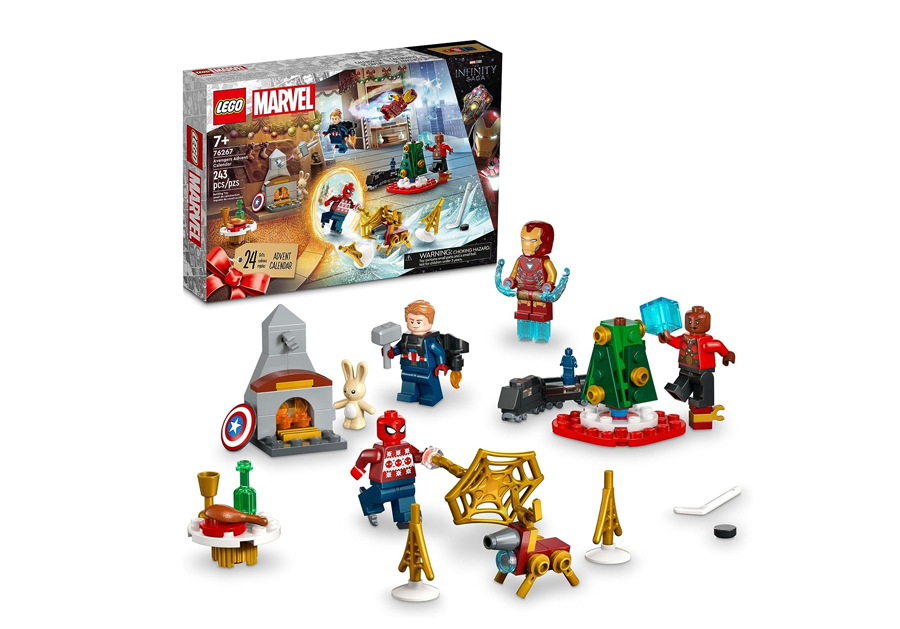 LEGO City 2023 Advent Calendar
The 2023 LEGO City Advent Calendar is filled with festive fun, perfect for kids counting down to Christmas. It includes daily surprises like Mr. and Mrs. Claus, a carol singer, ice hockey player, ice sculptor, and other fan favorites such as a snowman, reindeer, puppy, and kitten figures. The calendar also features a foldout playmat, creating a cozy winter wonderland for imaginative adventures. Suitable for kids and LEGO fans aged 5 and up, it's a delightful pre-Christmas gift. The box measures over 10 inches high and comes with easy-to-follow building guides for each surprise, ensuring engaging play without the need for batteries.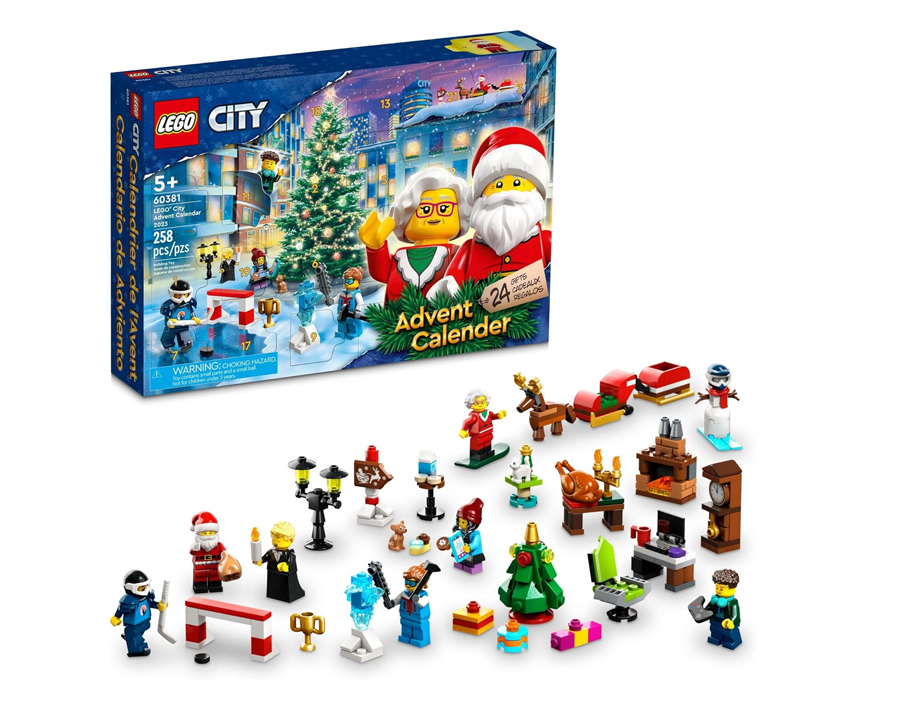 LEGO Friends 2023 Advent Calendar
The 2023 LEGO Friends Advent Calendar is a Christmas holiday countdown with a pet-themed twist. It features buildable characters and a festive pet playground, along with 10 LEGO Friends characters. Each day reveals a new mini build, offering hours of imaginative pet-related adventures. Suitable for kids aged 6 and up, this calendar is a creative and fun way to enjoy the holiday season, measuring over 9 inches high.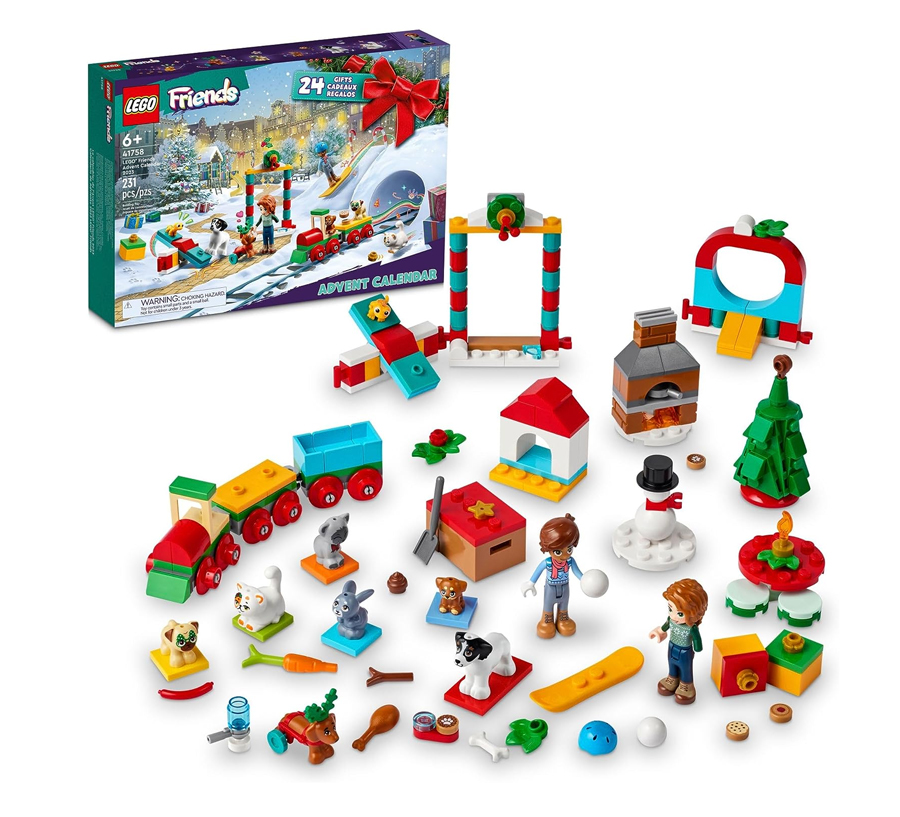 Unique advent calendars 2022
There was a time when advent calendars were plain and boring. A simple countdown, a few figurines, and maybe a piece of chocolate. Today, the calendar has become fancy and has products like chocolates, wine, makeup that appeal to people across ages and genders. However, now, even such calendars can be found everywhere and are becoming more common.
So, why don't you look into buying a unique calendar that will astound your loved ones? Pop a door open and discover popcorn. Some calendars have an assorted collection of popcorns making it the perfect gift for your friend who loves to snack. Pair the popcorn with a movie each night and you've got a Christmas tradition.
Wine calendars are pretty common but your whisky enthusiasts may not be so stoked about it. Instead, get them a whisky calendar that stores vials of premium whiskies. There are also Funko Pop calendars that have vinyl figurines of beloved TV series like The Office. A perfect gift for young adults and teenagers who are in love with such shows. For the music enthusiast, you can get a calendar that curates merchandise from a band. This is a foolproof gift for teenagers.
Ilchester Cheese Advent Calendar
The Ultimate Advent Calendar for Cheese Lovers is a unique and delightful holiday treat. Touted as the world's first and only cheese advent calendar, it includes mini cheeses behind each door, paired with cheesy jokes for added fun. The selection of cheeses is varied and includes Jarlsberg, Applewood, Mexicana, Ilchester Cheddar Cheese, Red Leicester Cheese, Double Gloucester Cheese, Wensleydale Cheese with Cranberries, and Wensleydale Cheese and Gingerbread. The calendar features a 'book style' packaging design, which can be torn off after the first 12 days to maximize fridge space, making it both practical and enjoyable for cheese enthusiasts.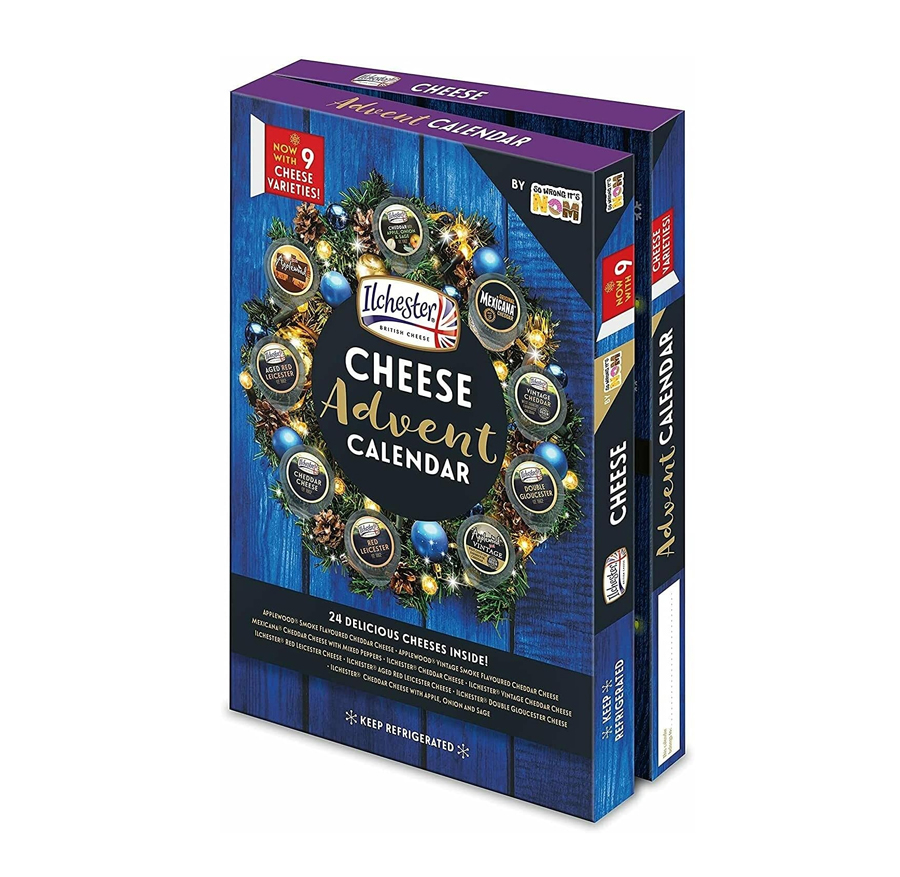 New Yorker Advent Calendar
The New Yorker Advent Calendar offers an engaging and festive way to count down to Christmas. It features a 13″ × 13.75″ outer box containing 24 individually boxed mini puzzles, each measuring 7″ × 9″ with 100 pieces. This calendar is perfect for puzzle enthusiasts, providing a unique and daily puzzle challenge. The included puzzles are inspired by New Yorker themes such as Sidewalk Spruce, Yuletide Parade, and Santa's Elves. The variety of designs, from Season's Greetings to Christmas Morning, makes this advent calendar a delightful and mentally stimulating gift for the holiday season.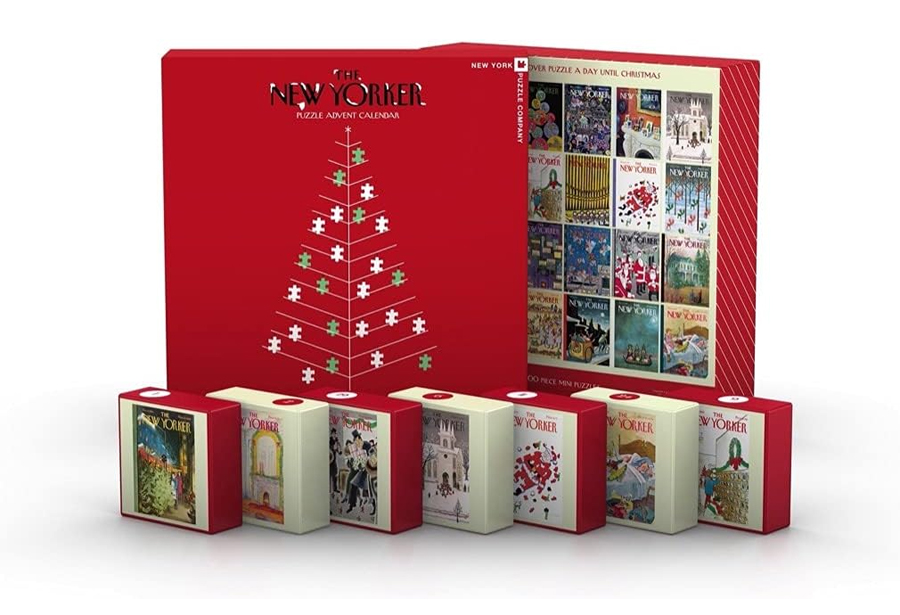 Star Wars Enamel Pins Advent Calendar
The exclusive Star Wars 2020 Advent Calendar is a must-have for fans, offering a festive countdown to Christmas with a Star Wars twist. This calendar features 24 unique pins and buttons, many of which are exclusive designs that have never been made before. The collection includes beloved Star Wars characters, spaceships, creatures, and droids.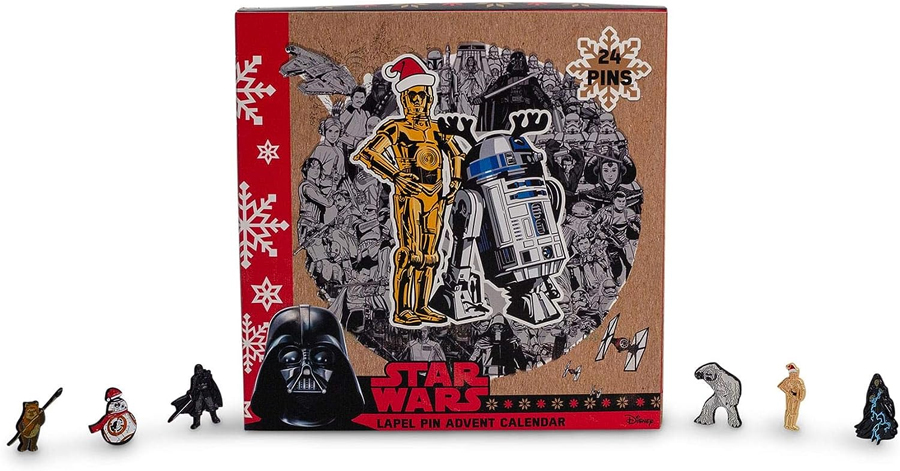 Pukka Herbs Herbal Tea Advent Calendar 2023
The Pukka Tea Advent Calendar for 2023 is an ideal gift for herbal tea enthusiasts, offering an alternative to traditional chocolate advent calendars. It features 24 different delicious organic tea blends, allowing you to discover a new flavor each day. This calendar is a wonderful way to treat yourself or delight someone with a daily herbal hug. It includes an assortment of citrusy, floral, sweet, and spicy flavors, providing a diverse and enjoyable tea experience throughout the advent season.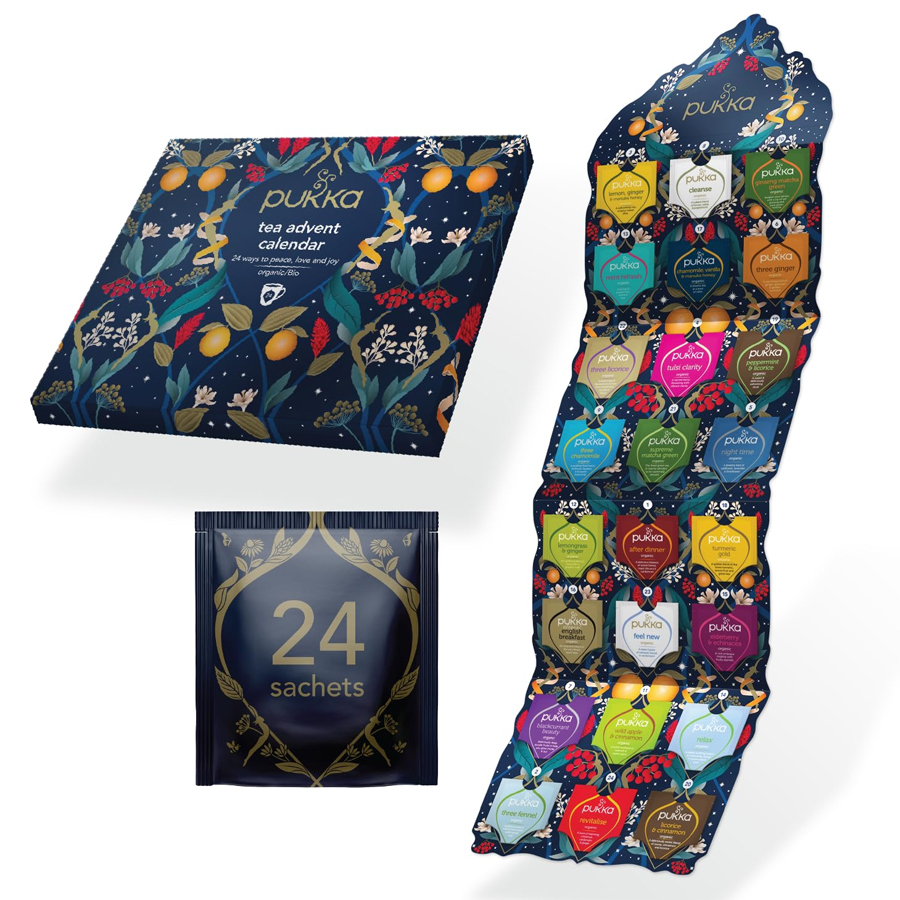 Ground Coffee Advent Calendar 2023
The Ground Coffee Advent Calendar is a perfect Christmas gift for coffee enthusiasts. It features 24 days of luxury ground coffee in a variety of gourmet flavors, offering a delightful countdown to Christmas. Flavors include Colombian, Amaretto, Irish Cream, and more. This advent calendar is ideal for those who appreciate a daily gourmet coffee experience and makes a thoughtful gift for loved ones or a special treat for oneself.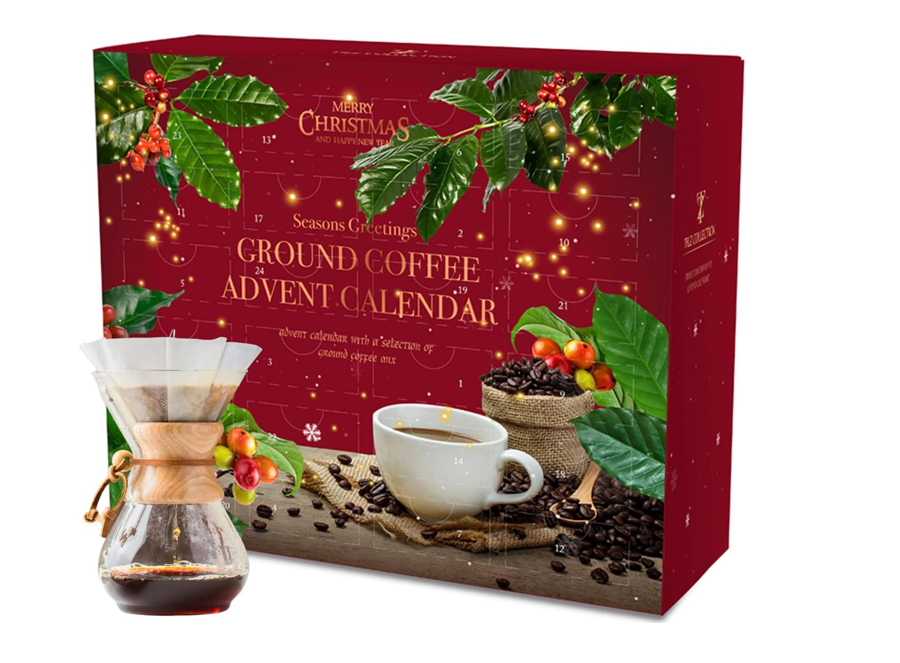 Dog and cat advent calendars 2022
Don't leave your pet out of your Christmas fun. Buy a calendar for your dog or cat. Such calendars are filled with treats and toys to let your pet participate in the holiday spirit. This is also the perfect gift for families with dogs or your single friends who cherish their pets. Think about whether you want toys or treats or a mix of both. Ensure that the products are appropriate and safe for your pet. If there are treats in the calendar, you might want to keep calories in mind.
Some calendars have dog biscuits in fun holiday shapes like stars, trees, and bells. If you have multiple dogs, there are also calendars with multiple treats behind each dog. If you're not big on treats, get a calendar with chew toys or other products that your dog can enjoy.
For cats, you can have similar calendars with treats behind each door. You can also go for a calendar that has a variety of toys, such as plush toys, balls, crinkly paper, and catnip. Make sure that the toy or treat is the appropriate size for your pet.
Cat Advent Calendar 2023
The Larchio Advent Calendar for cats is a delightful way to include your feline friends in the holiday festivities. It contains 24 different cat toys, such as crinkle balls, mice, playful ball toys, and a fairy cat teaser wand, all in a festive Christmas box. Made from high-quality, non-toxic materials, these toys are safe and ideal for indoor play. They promote your cat's health and vitality by encouraging physical activity. This advent calendar not only brings joy to your cat but also adds a magical touch to your holiday atmosphere, making it a perfect Christmas gift for your pet.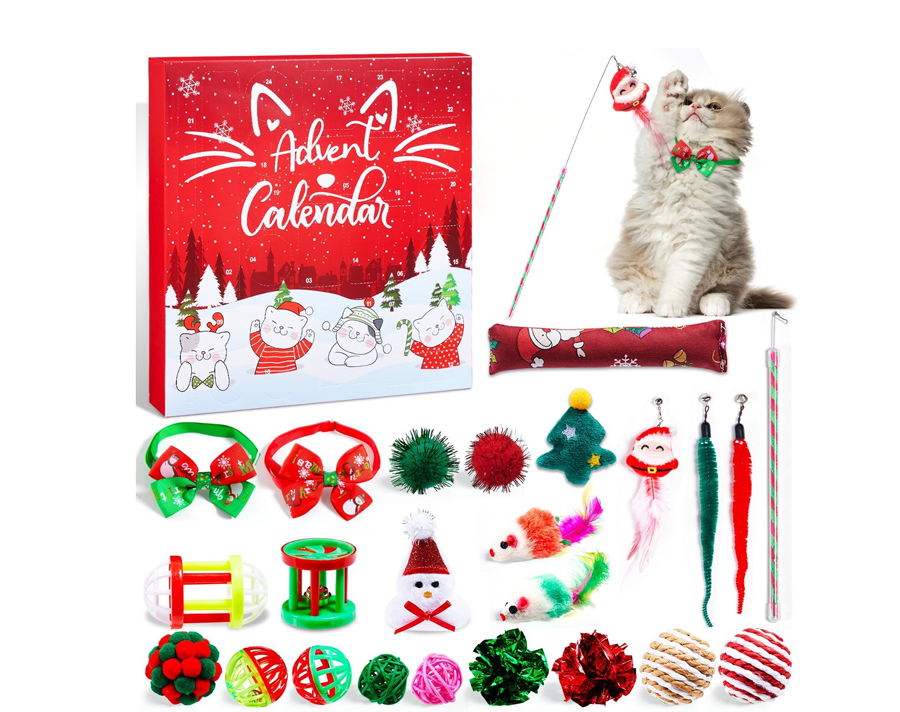 Bosco & Roxy's 24 Dog Days of Christmas Advent Treat Calendar
The Dog Advent Calendar offers a delightful way for your pet to join in the holiday festivities. It features 24 days of tasty bakery-style treats, each day bringing a new surprise for your pup. Made in Canada, this advent calendar includes adorable treats in shapes like Santa, gingerbread man, and snowman. It's a fun and tasty way to count down the days until Santa Paws arrives, perfect for making the 2023 holiday season special for your furry friend.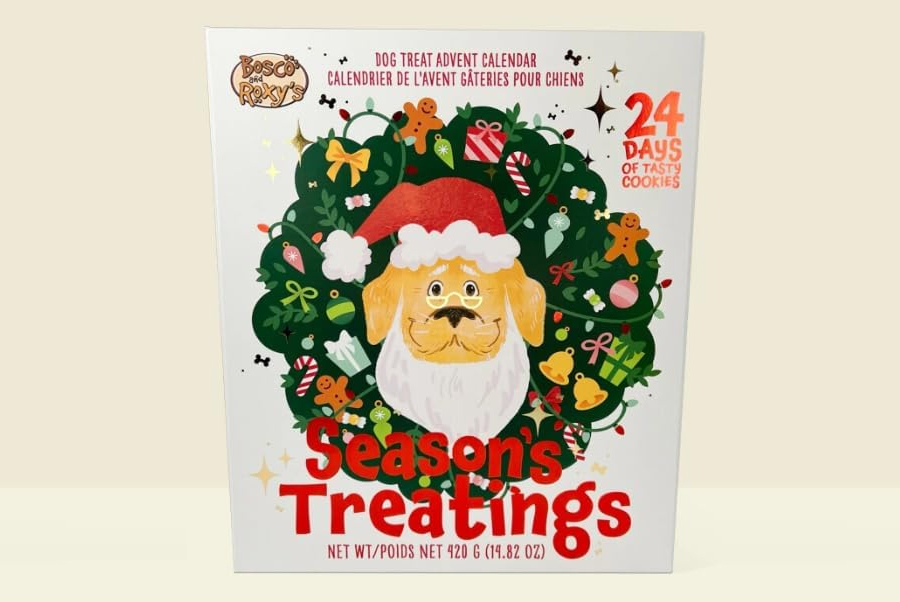 12 Day Countdown to Christmas Dog Advent Calendar
The Dog Advent Calendar 2023 is a festive and fun way for your furry friend to enjoy the holiday season. It's a 12-day calendar where each day unveils a new toy, ranging from plush squeaky toys and chew ropes to dog ties and a Christmas bandana. These toys are not only entertaining but also safe, made from premium quality materials. This calendar is perfect for interactive play, helping to strengthen the bond between pets and their owners. It makes an ideal Christmas gift for dog lovers, promising tail-wagging fun for their canine companions.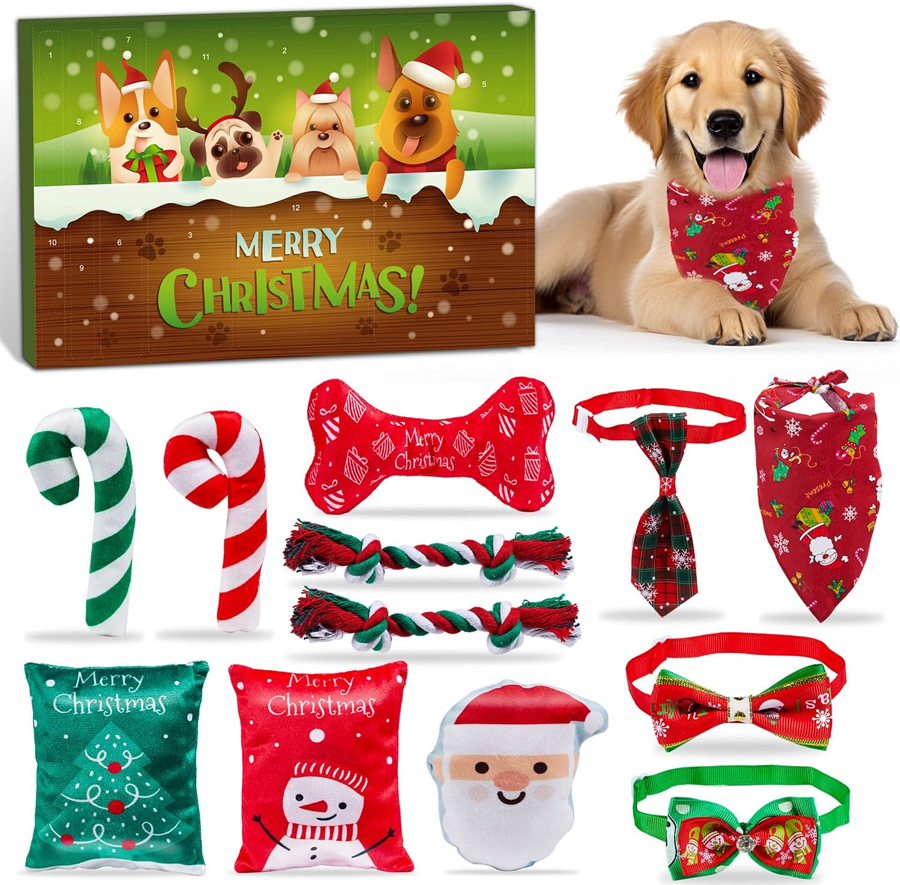 Trader Joe's Advent Calendar for Cats
This feline advent calendar is a delightful gift for cat lovers, featuring salmon and seaweed treats that are a hit with cats, including the picky eaters. Each day of the calendar brings excitement as kitties come running for the treats hidden behind the little windows. The calendar is thoughtfully designed with 2 or 3 treats per day, catering to households with multiple cats.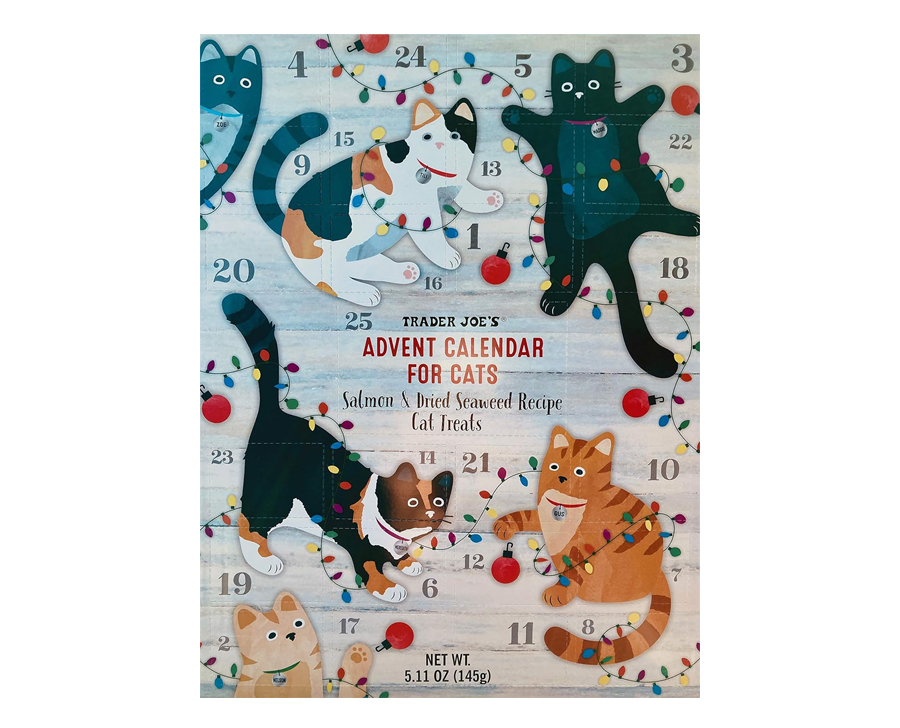 Wufers Advent Calendar Dog Cookie Box
A boutique illustrated box, 24 delicious cookies, and the sweetest way to include your dog in holiday traditions. Each one of dog treats is freshly baked, hand-decorated and made with wholesome and locally sourced human grade ingredients. Your box comes with a variety of cookies that are big and small and are either frosting drizzled, enrobed, contain plain yogurt cups, etc. to satisfy all doggie sizes and taste buds!
Purina Fancy Feast Gourmet Advent Calendar
The Fancy Feast Feastivities Advent Calendar is a special holiday treat for cats, featuring a variety of gourmet wet cat food, complements, and treats. This limited-edition advent calendar includes 16 different Fancy Feast recipes in 3 oz. cans, along with savory break-apart treats, broth recipes, and Fancy Feast Savory Puree Naturals in two flavors. Each cat food recipe is complete and balanced, made with tasty ingredients like ocean whitefish, salmon, and chicken. Additionally, the calendar comes with QR codes for unique recipes for people and a festive Fancy Feast holiday Spotify playlist.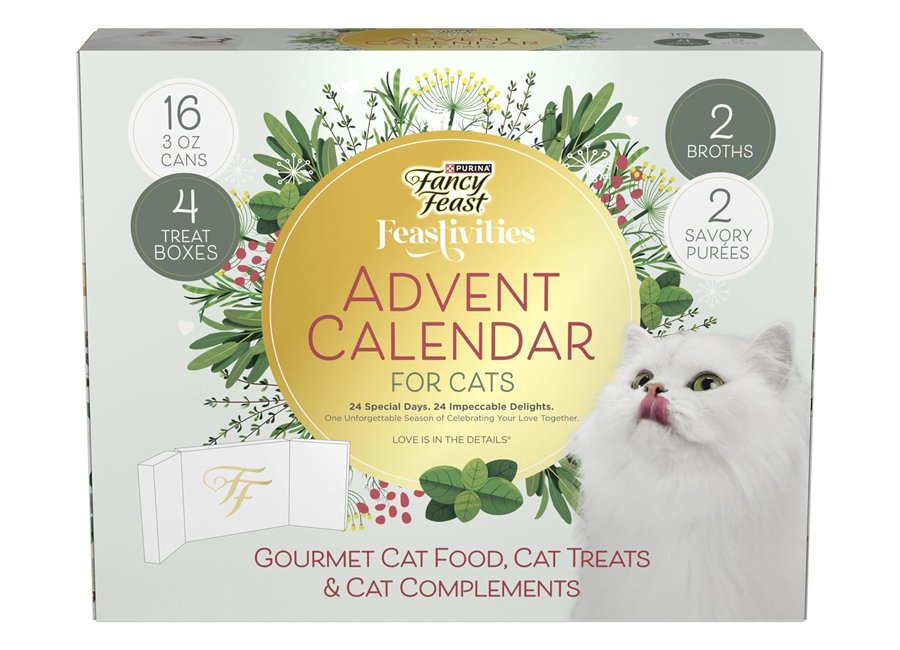 Fun advent calendars 2022
Maybe the tastes of your loved ones don't fall into the above-mentioned categories. You can just get them fun, specialized advent calendars that suit everyone's taste. You can not go wrong with such calendars. Wine and whisky might be too fancy, get your buddy a beer advent calendar. You'll get an assorted collection of 12 beer bottles from breweries across the nation.
Purchase an advent calendar that has fun shapes like cats or dogs etched into another wooden structure of the same theme. Another fun idea is a condiment-based advent calendar. For each day, you get a different condiment. You can either purchase a calendar that has different types of the same condiment like 12 days of different hot sauces, or 12 days of distinct condiments.
Funko Pop! Advent Calendar: The Office
Commemorate and collect some of your favorite memories and coworkers from The Office with the Funko The Office Advent Calendar. Which character will you get each day? Maybe you'll find Dwight or Jim, there's 24 awesome Pocket Pop vinyl figures to open up!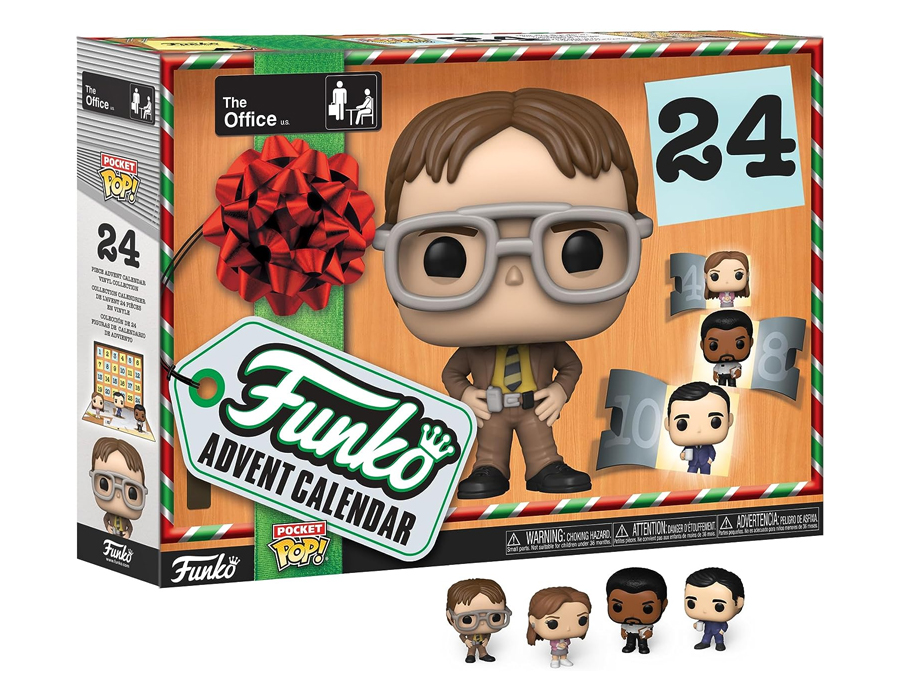 Balance IQ Advent Calendar 2023
Countdown to Christmas is exciting for kids. Each toy in the advent calendar gift set is individually wrapped in a "window" and presented in a Santa Claus-themed counting calendar gift box. You can enjoy a different surprise toy every day for the first 24 days of December, create an exciting Christmas countdown experience.