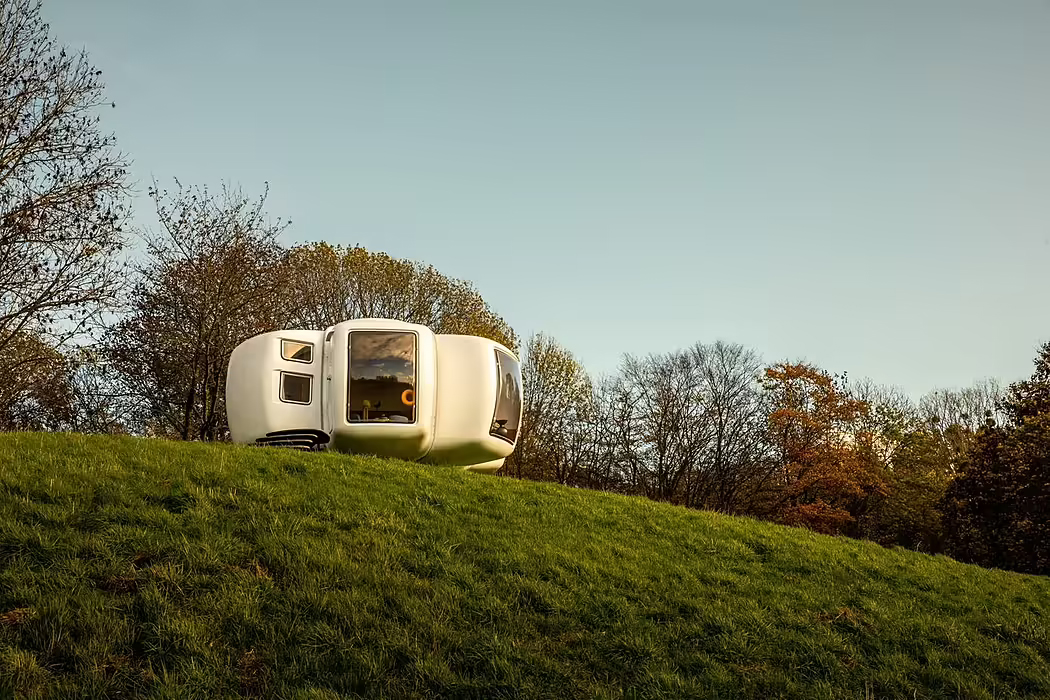 In a world increasingly embracing eco-consciousness and sustainability, there's a growing movement away from the rigid lines of conventional architecture, towards designs inspired by the fluidity and diversity found in nature. One stunning example of this is the innovative and whimsical Bubble House, conceived by the French architect Jean-Benjamin Maneval, which has recently undergone a breathtakingly contemporary redesign.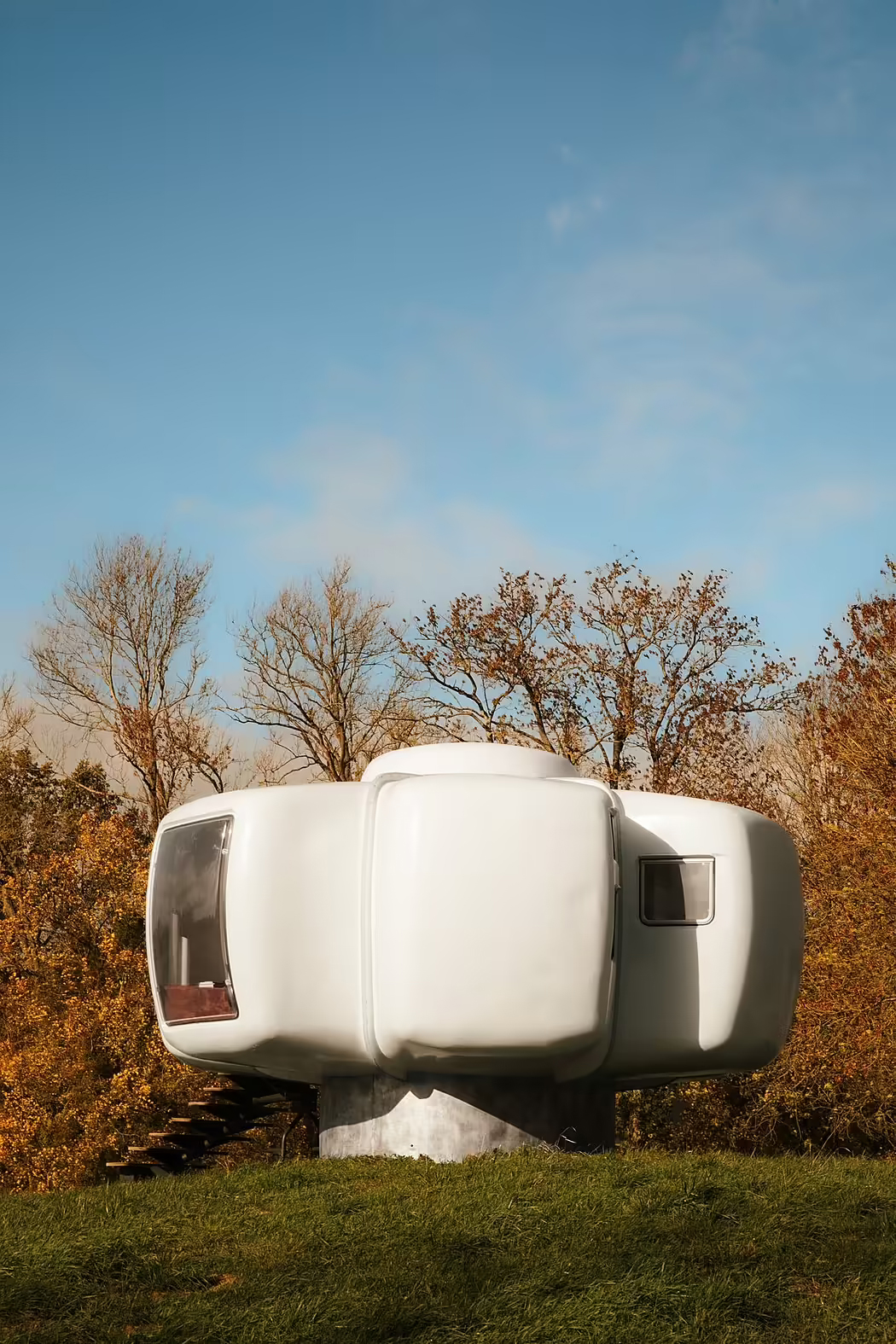 Jean-Benjamin Maneval, renowned for his avant-garde approach to architecture and urban planning, challenged traditional design notions with the creation of his six-shell Bubble House in the mid-20th century. Maneval's sketches of the bubble house first surfaced in 1963, with the prototype manufactured between 1968 and 1970. This ground-breaking abode, composed of six polyester reinforced shells, stands foundation-less, occupying a compact floor area of just 36m2 (387.5 square feet).
Maneval's intent was for these Bubble Houses to serve as secondary residences, cleverly designed to accommodate a family of four within its cocoon-like confines. Their interiors were optimized for functionality, embodying Maneval's conviction that design should aim to serve humanity in the most direct and organic ways possible.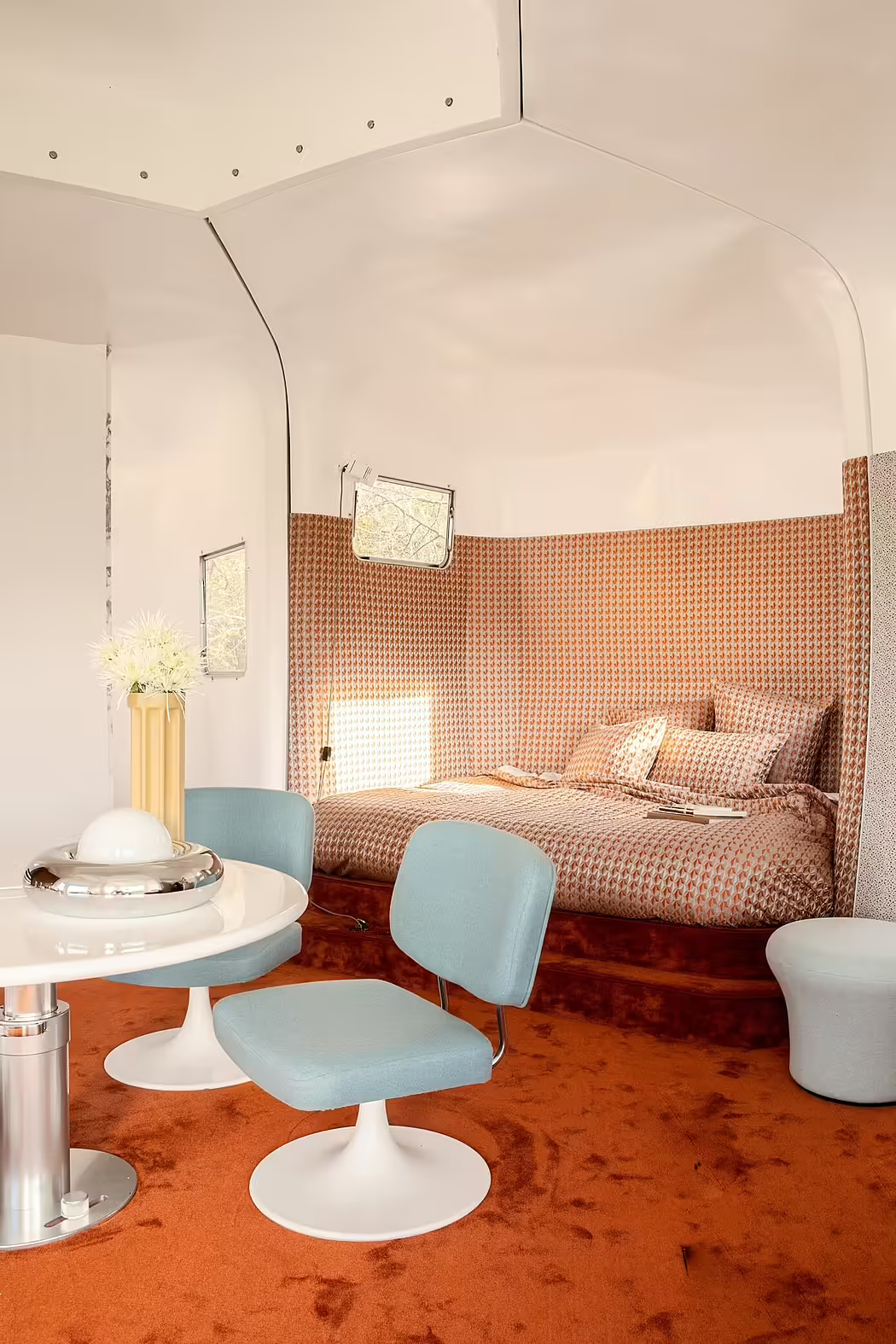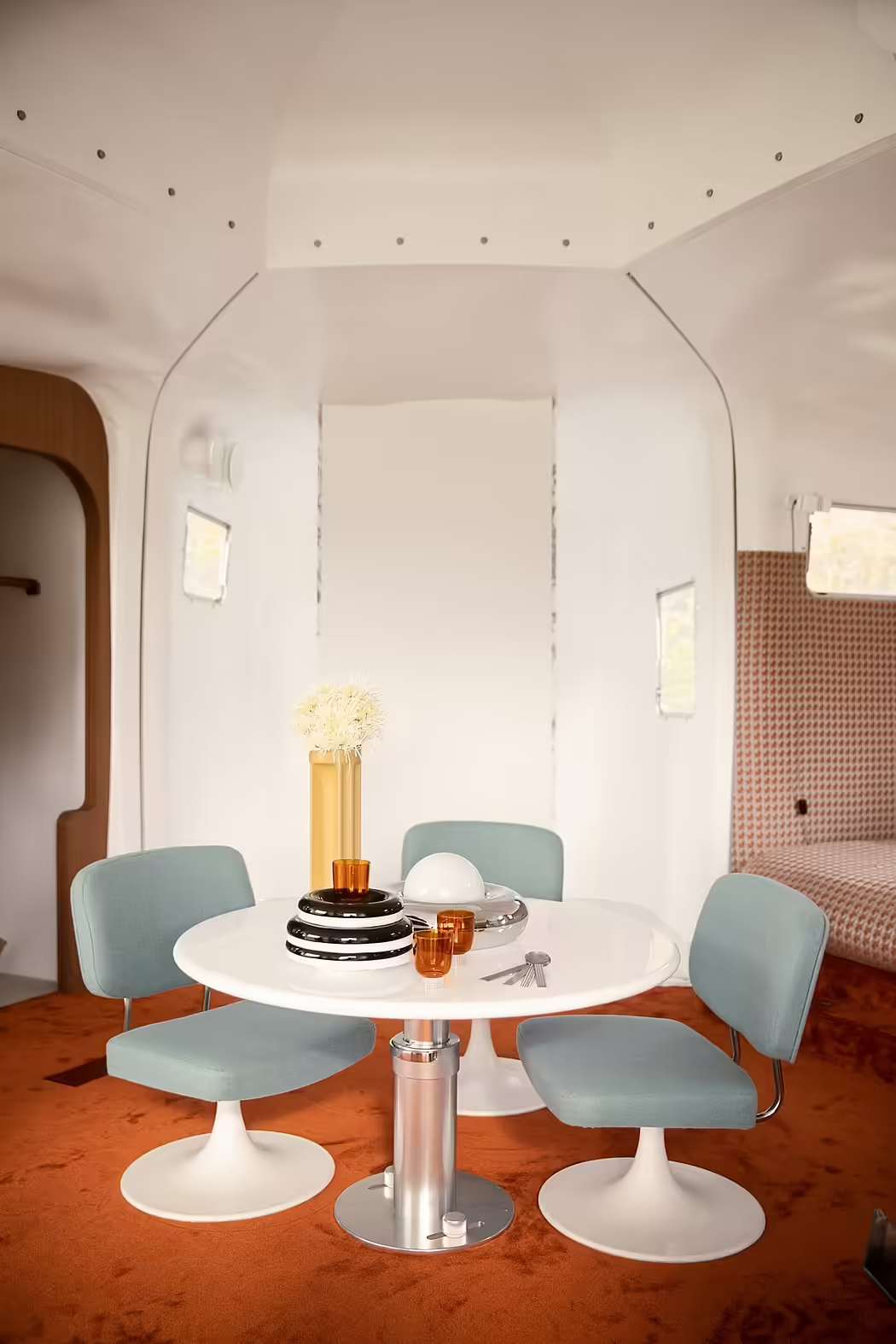 Fast forward to 2014, and one of Maneval's original 1968 Bubble Houses found a new home and purpose. Purchased at auction by an unconventional collector, it was relocated to the family estate, once a stud farm, tucked within the natural beauty of the Véxin area.
To rejuvenate this architectural artifact, the new owner called upon the creative prowess of KIF, an interdisciplinary studio led by Guillaume Furet and Mélissa Louis. They viewed the bubble house not merely as a structure, but as a "capsule of conviviality", akin to a secluded, nature-immersed hotel suite.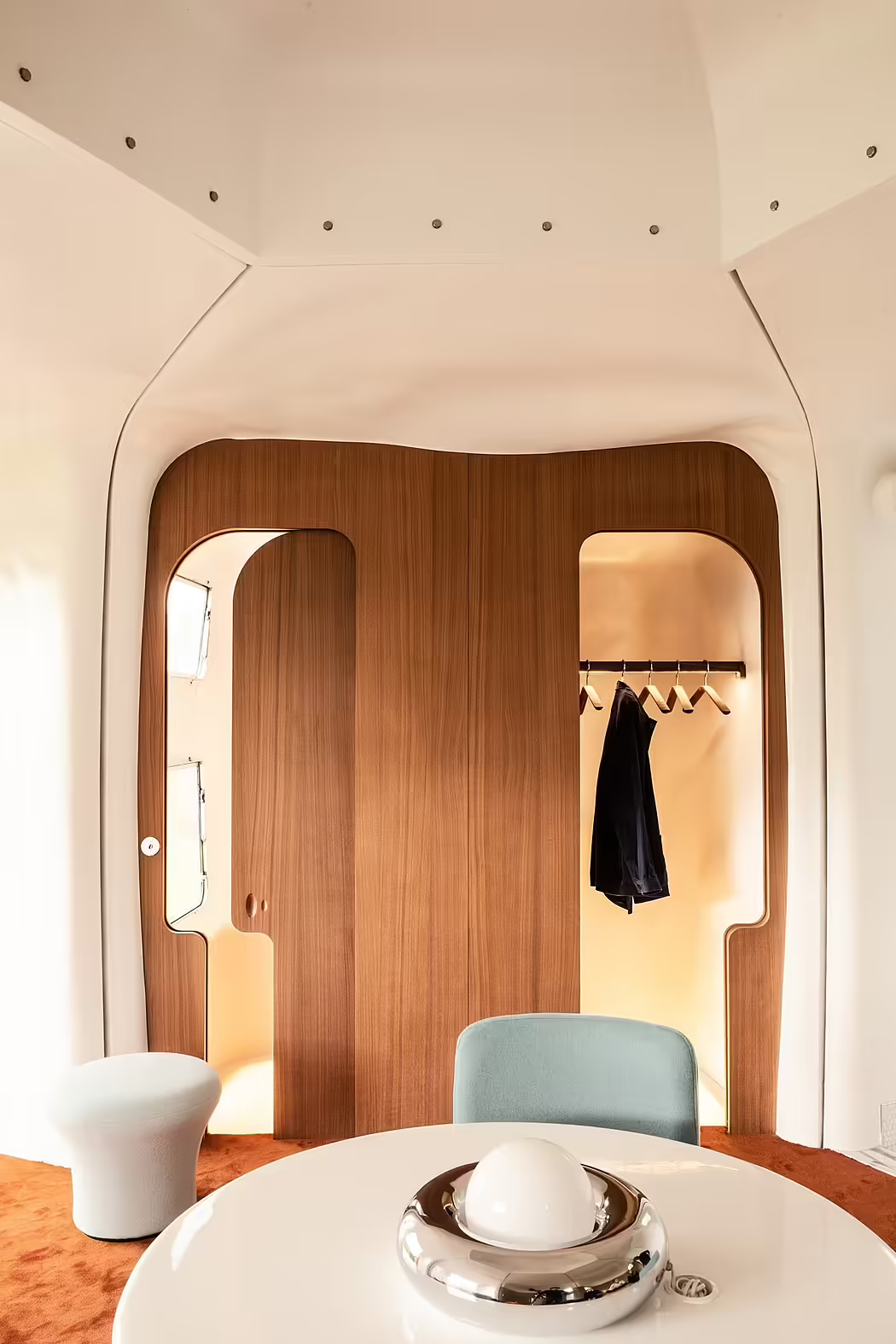 The interior redesign fell to Dorothée Meilichzon, acclaimed for her hotel, bar, and restaurant designs. Meilichzon was charged with transforming the bubble house's interior into a hotel suite, and, true to Maneval's design ethos, she did so without introducing a single straight line.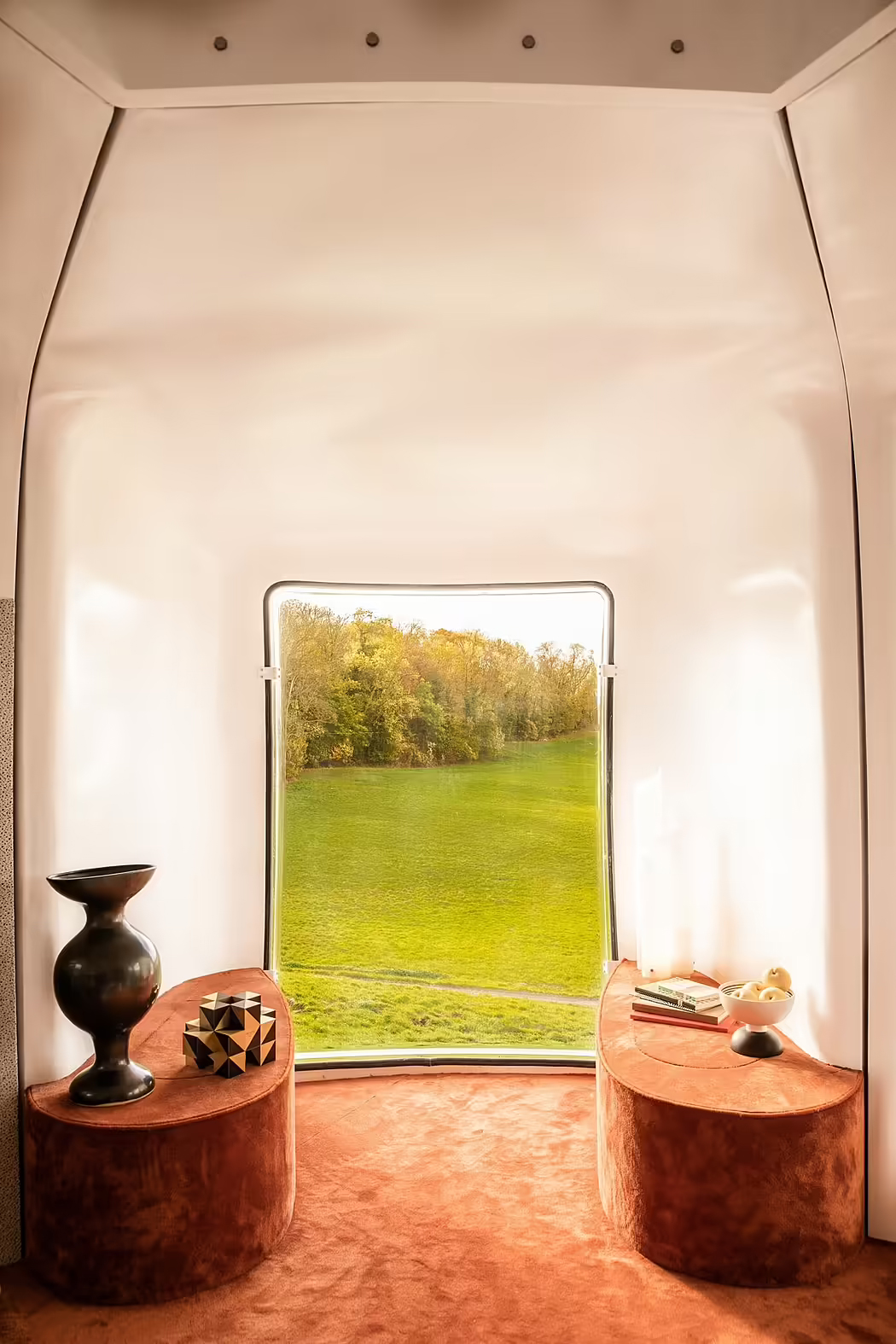 Meilichzon's vision led to a space perfect for relaxation, reading, bathing, and entertaining. Residents can even engage with nature, watching wild boars and deer through expansive plexiglass windows. To maintain design continuity, each piece of custom-made furniture mirrors the shell's double curvature, echoing the organic theme throughout the house.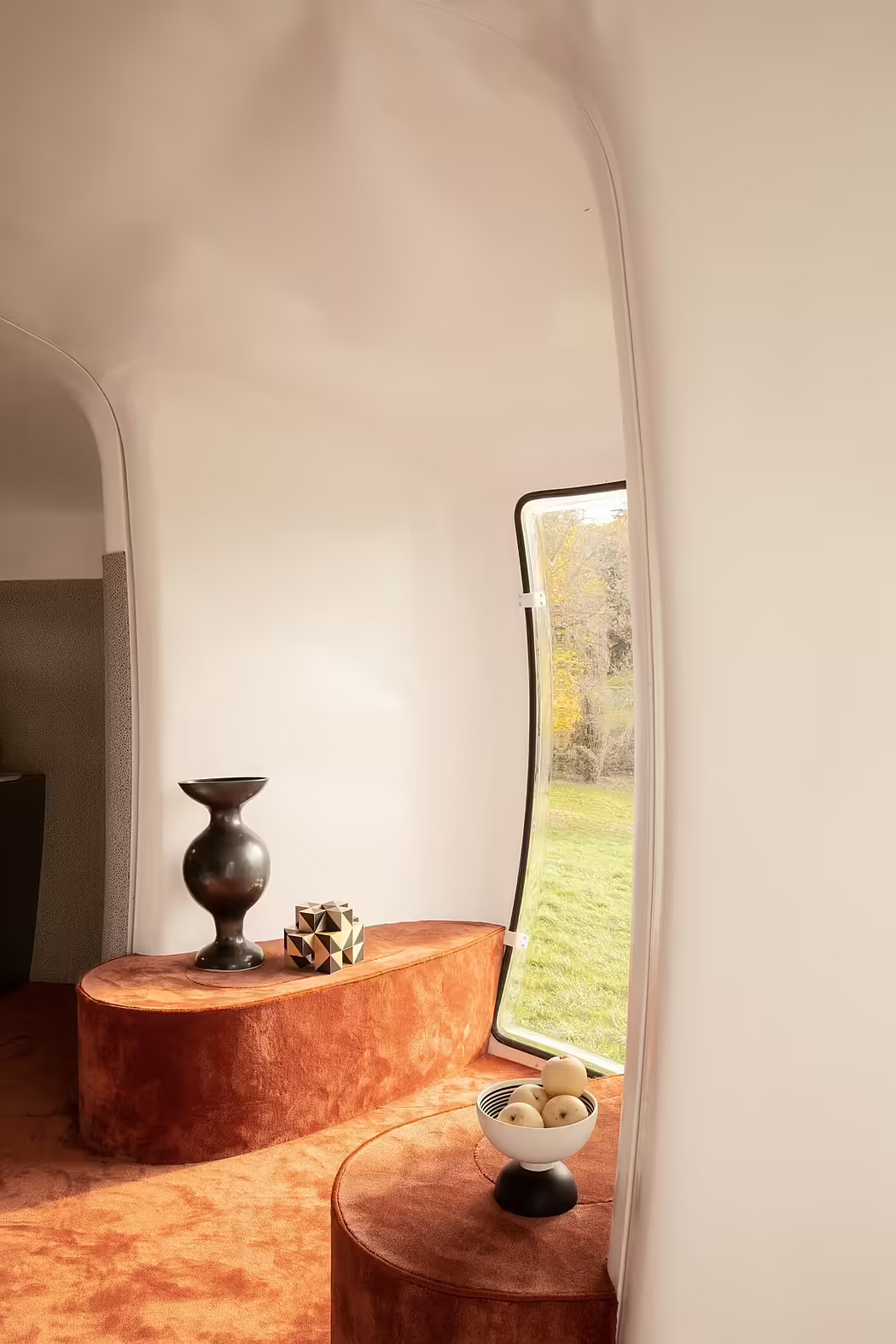 The Bubble House's six shells, unified by a large, vibrant orange carpet, each play a unique role. The "bed" shell, adorned with bold Edinburgh Weavers fabric, pays homage to the owner's affinity for Vasarely's artworks. The "bar" shell showcases custom-made stainless-steel furniture against a backdrop of Tibor fabric.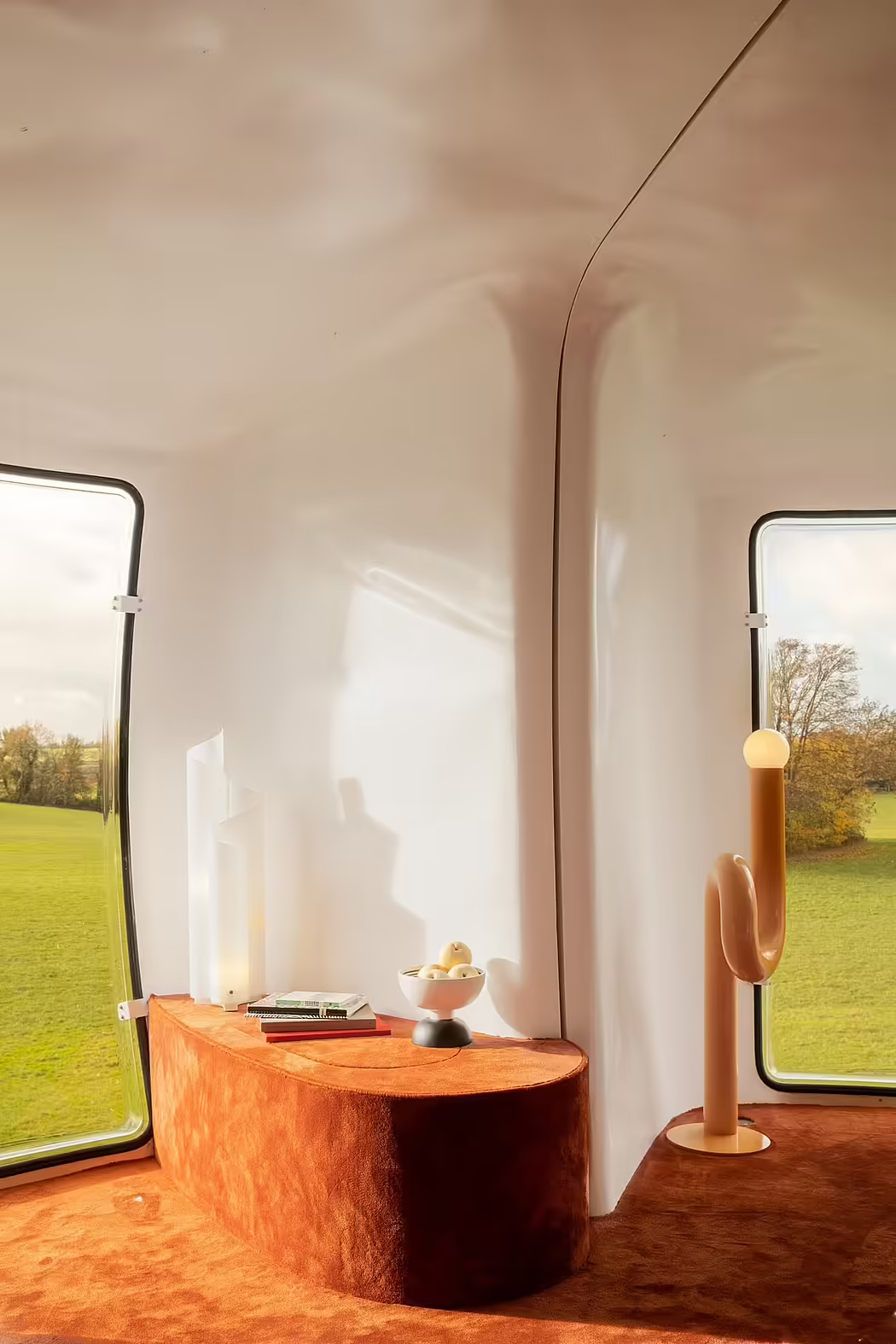 The "entrance" shell, graced by an Axel Chay lamp, opens to a view of the surroundings and leads to the "living room" shell, a tranquil area with two curved benches beneath a Chimera lamp by Vico Magistratti.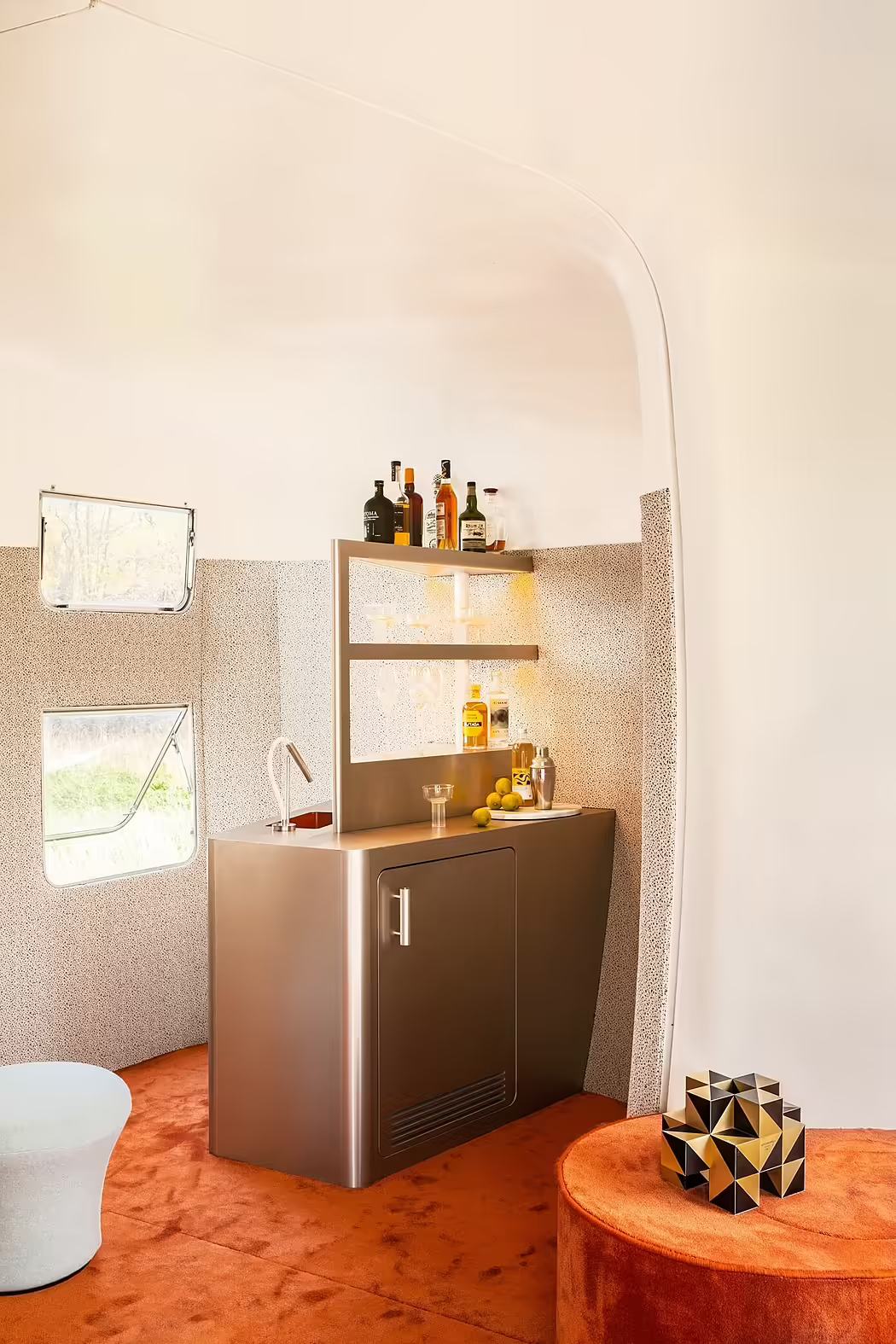 The "shower" shell is a study in contrast, marrying Arabescato marble and pastille mosaic to match the Bubble House's pristine white exterior. Finally, the "wood" shell functions as a dressing room and toilet, featuring a walnut partition that slides open to reveal a lit-up floor.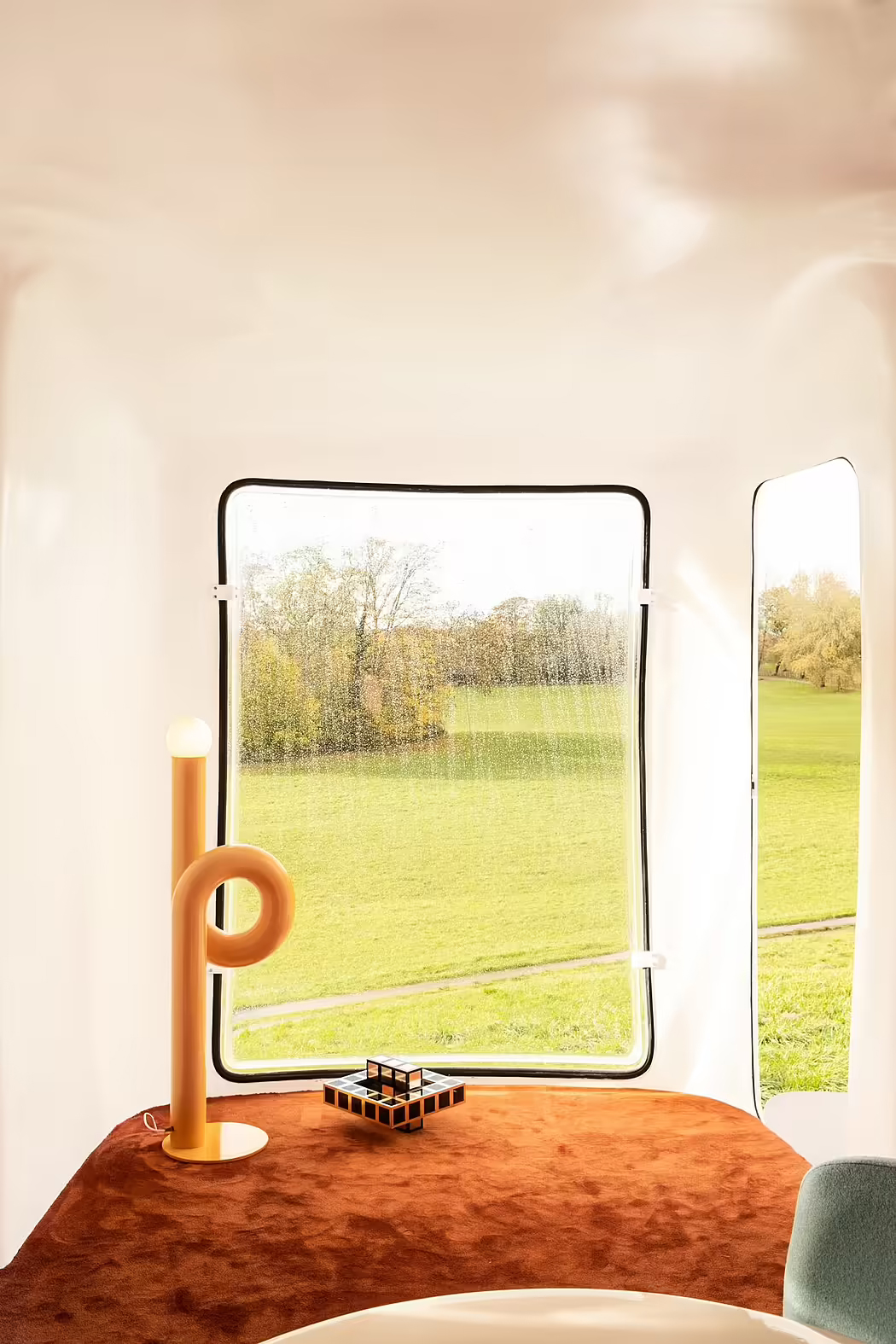 The six-shell Bubble House, in its modern form, serves as a testament to Maneval's timeless belief in nature-inspired design. Through its ingenious remodeling, this architectural curiosity continues to intrigue and inspire, proving that when architecture and nature converge, the results can be truly extraordinary. Also be sure to check 15 modern tiny houses.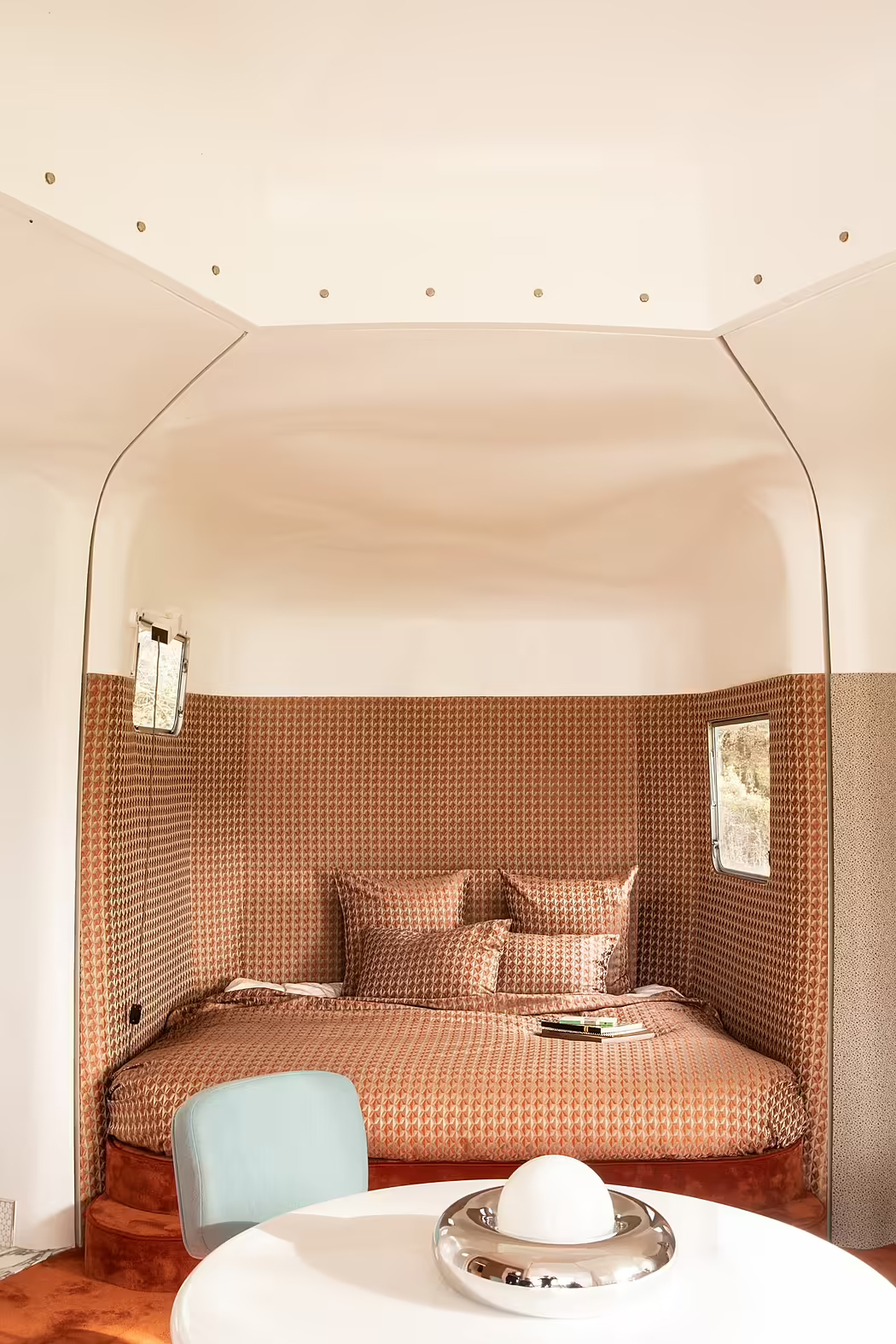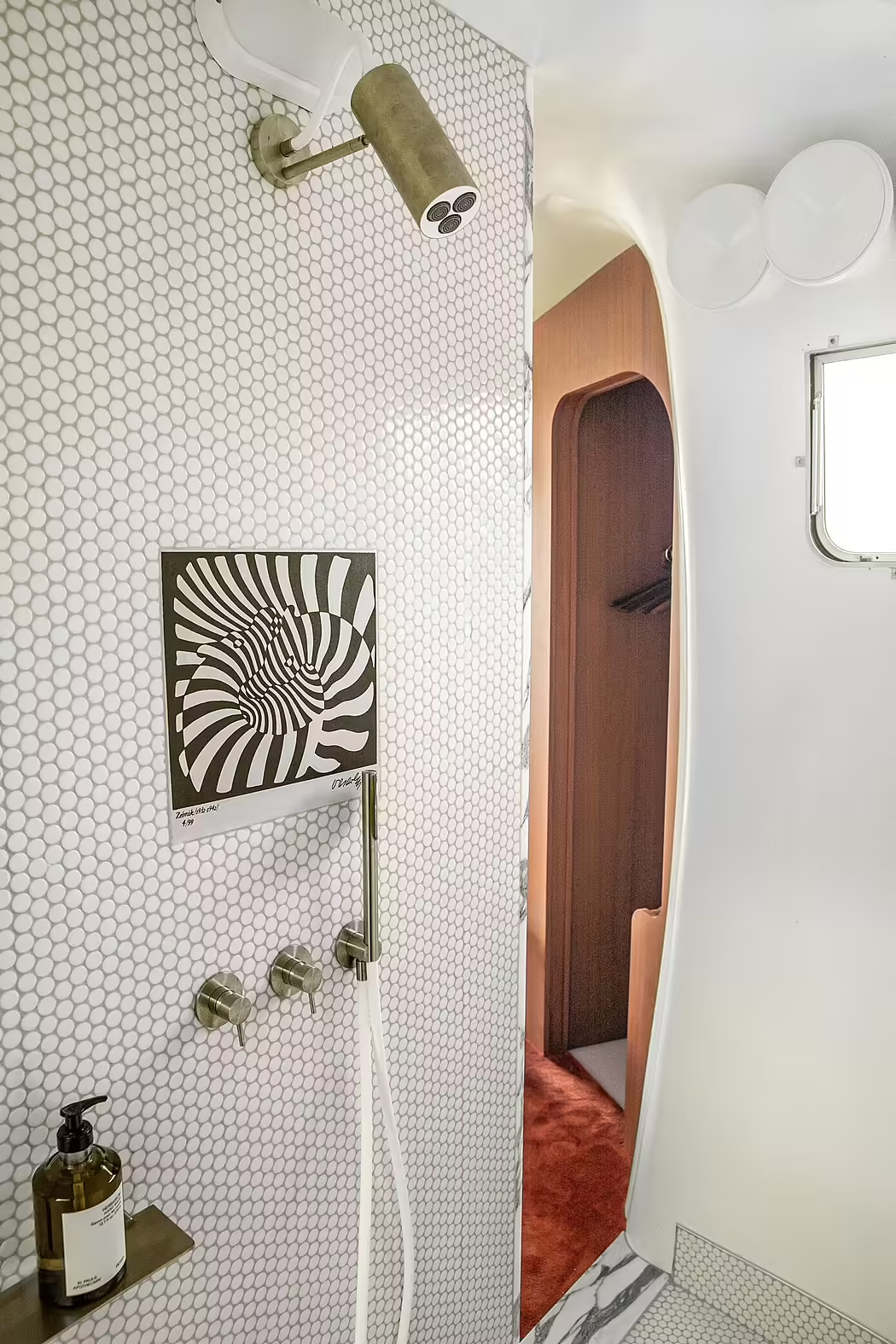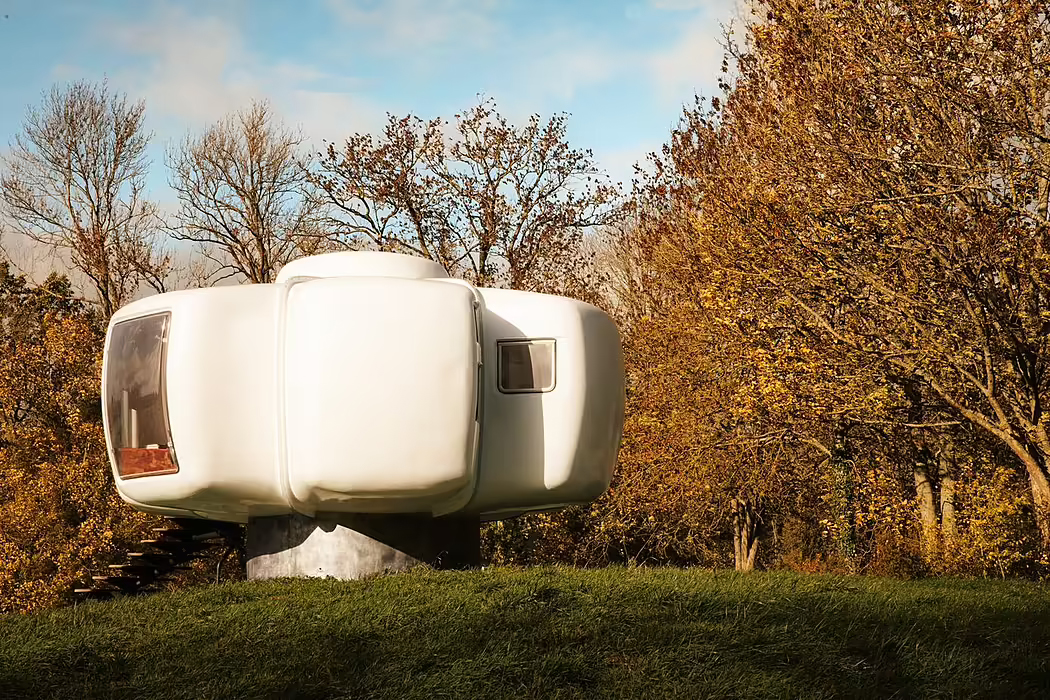 Photography by Karel Balas