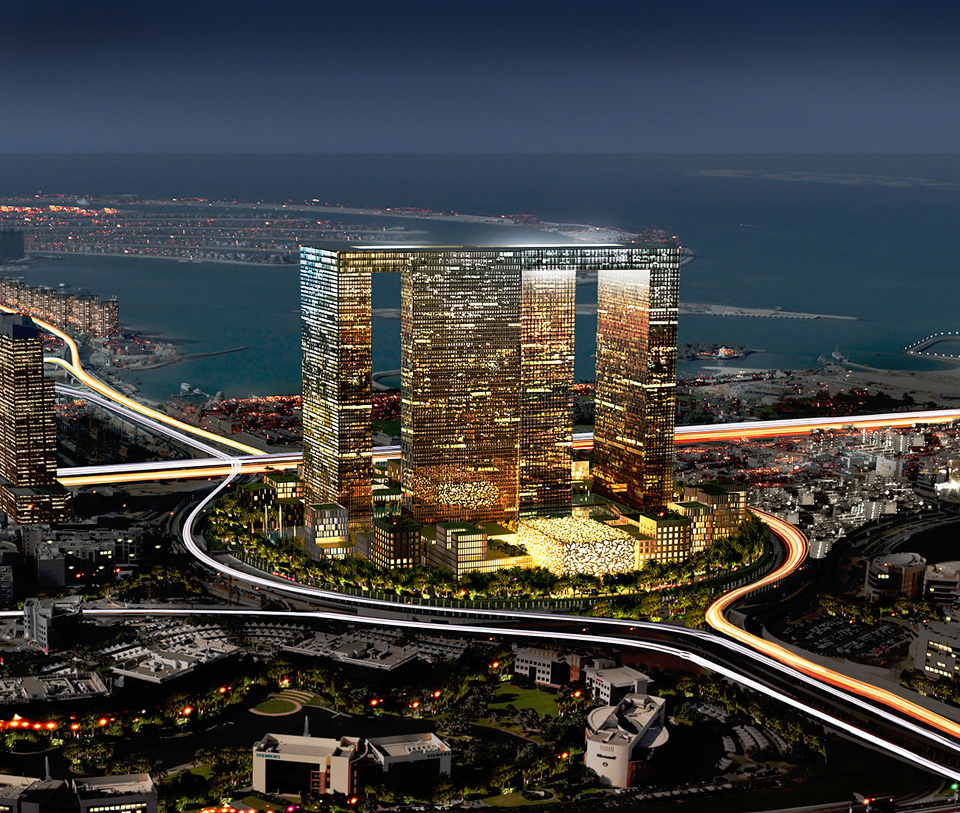 There are some pretty amazing buildings being constructed around the world; some of them absolutely defy conventional human civil engineering wisdom and others challenge the laws of gravity. Every year seems to take the bar higher; pioneers of material sciences, civil engineering, landscaping, interior designing are taking design and architecture to a whole new level with unbelievably futuristic spaces for work, living and play. Here's your introduction to some of them. Meanwhile be sure to check Top 20 Tallest Buildings in The World.
Jeddah Tower (Kingdom tower), Jeddah, Saudi Arabia
To be built to 1007 metres, the Jeddah Tower is set to be the first building on the plant to breach the kilometre mark! It will have more than 200 floors with the world's highest observation deck on the 157 th floor (26 floors have already been built up). It will house office space, luxury condos, a Four Seasons hotel and an observatory and is slated for completion in 2019. It has 12 escalators and 59 elevators with 5 of the elevators being double-decker.
The architectural style being used for the building is extremely unique featuring an aerodynamic 3-sided design to tackle wind-speeds and gravity. The tapering shape of the building also helps to maximize rentable and usable area. The core of the building is narrow at the top and large at the bottom of the building. The exterior walls are made of low-conductivity glass to reduce cooling loads. When complete, this project would be all set to take over from the Burj Khalifa as the defining tower in the Gulf.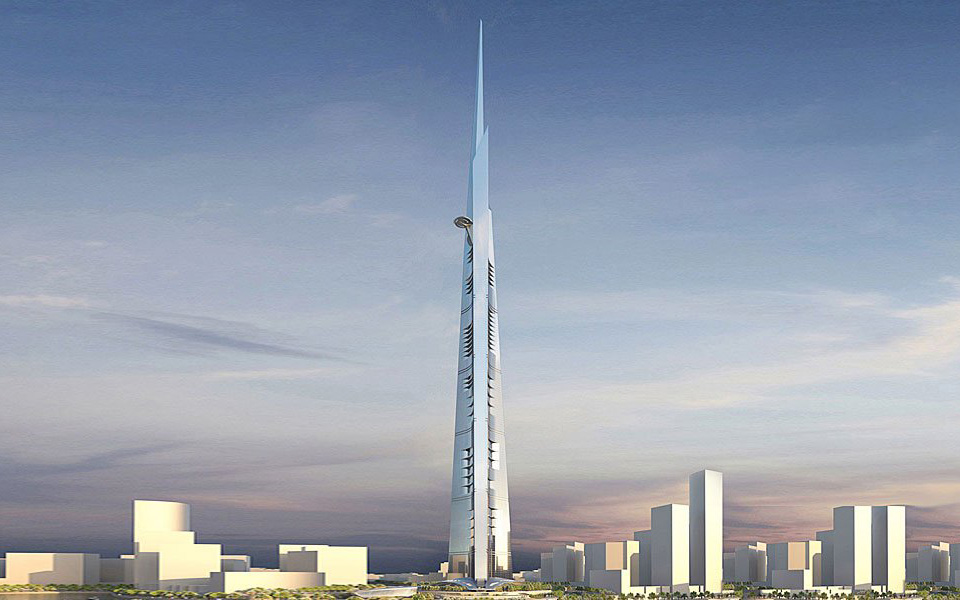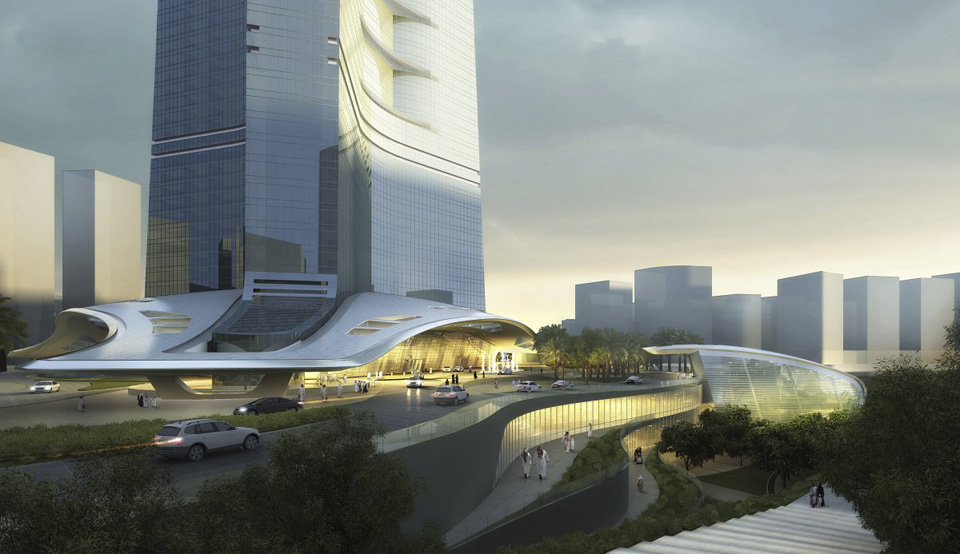 Dubai Pearl, Dubai
Make no mistake about it; the Dubai Pearl is not your average high-rise. With 73 stories in 4 towers rising to 300 m, it's a unique, mixed-use development with premium offices, residences, dining, retail, leisure and entertainment. Overlooking the Palm Jumeirah Island in the Dubai Technology and Media Zone, the Dubai Pearl is designed to provide residences for 29,000 people. There is a sky-bridge at the top connecting the 4 towers. The Dubai pearl sets new benchmarks in the Gulf for LEED-certified skyscrapers with 56% green space. It has features perfectly proportioned spaces with 51% space for branded residences, 12% for commercial space, 19% for retail and leisure and 18% for hospitality. This is one skyscraper with a difference for sure!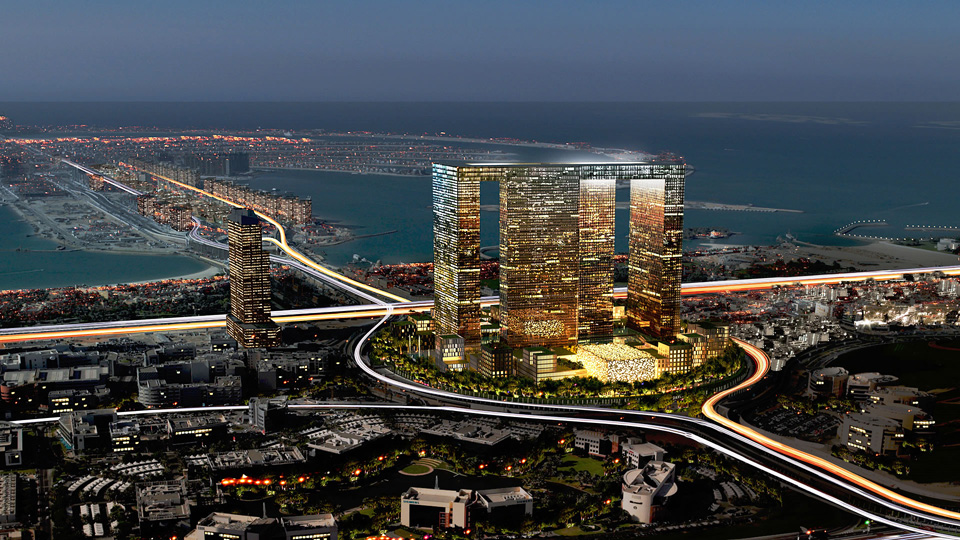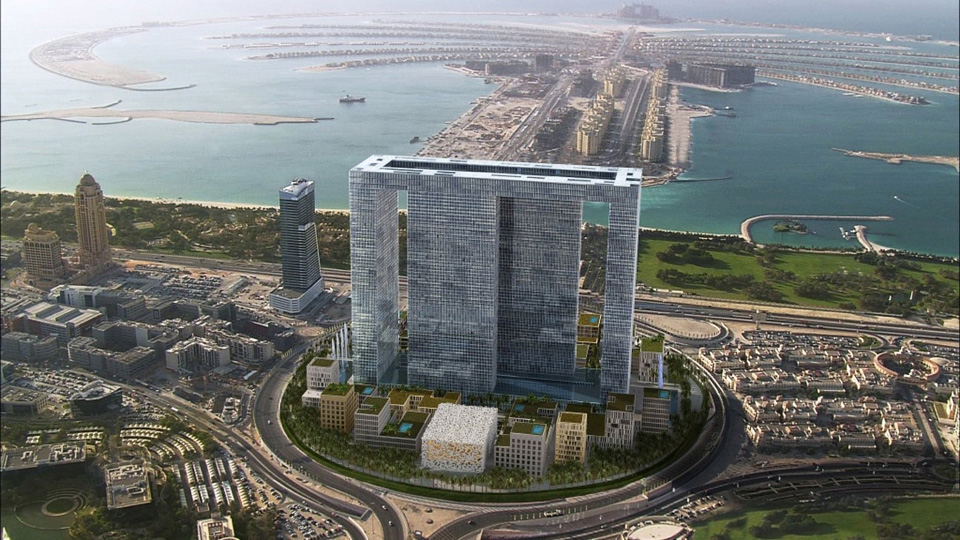 Agora Garden Tower, Taipei
The Agora Garden Tower is a 20-story luxury building that is eco-friendly in every sense imaginable with gardens on each floor. But wait, we haven't even got to the piece de resistance – the brilliant design by Vincente Callebaut Architecte. Inspired by the double-helix shape of DNA, we are sure you would have seen nothing like it anywhere else. A shape that is twisting from bottom to top, the awe-inspiring design of this building makes jaws regularly drop in amazement, the building seemingly appearing to rotate 90 degrees along its profile as you move from bottom to top.
The building is designed to be fully self-sufficient for energy with a couple of giant photovoltaic shades fitted at the top of the building. All the construction will be out of recycled and recyclable materials. The Agora Garden is setting new standards for brilliant design.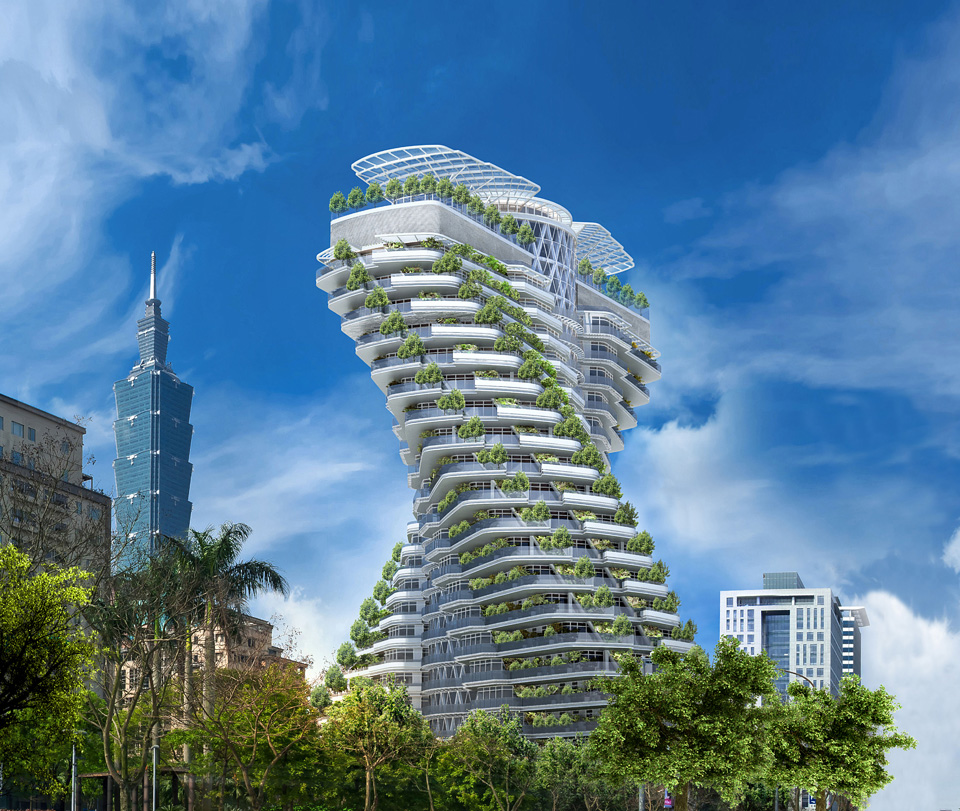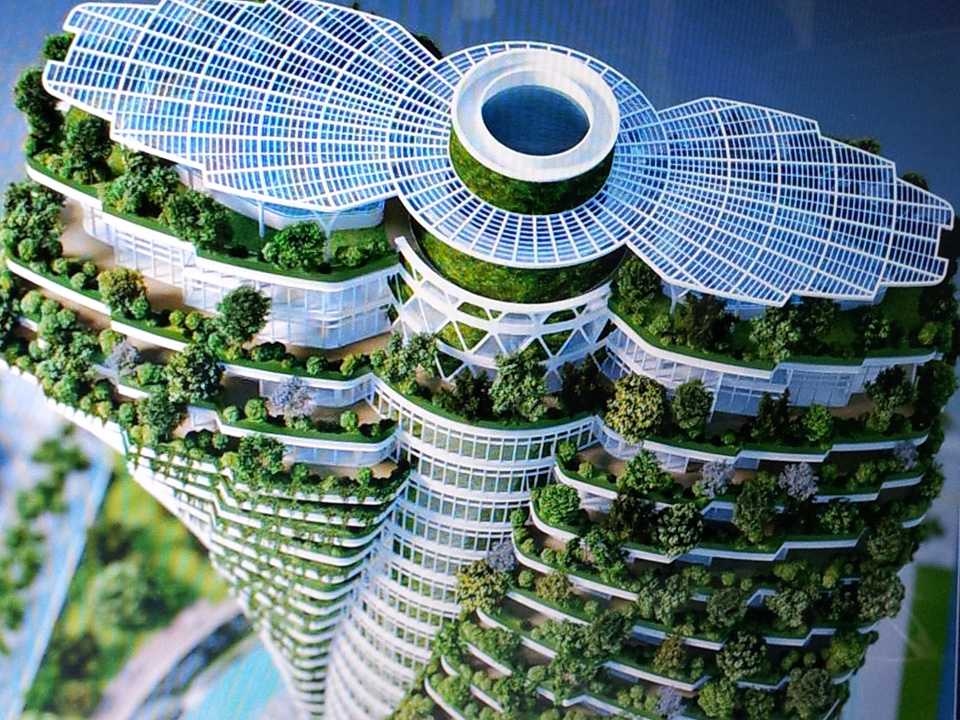 Dawang Mountain Resort, Changsha, China
Want never before seen design? How about resort built above an old rock quarry with a 200 feet waterfall rushing down? This project built to span two cliffs, combines an indoor ski slope, a water park and an ice world with a hotel, restaurants and shopping.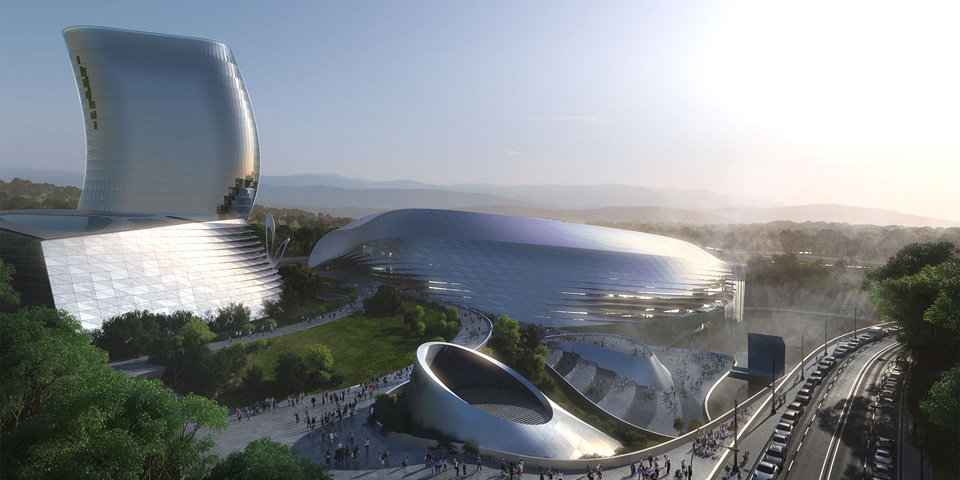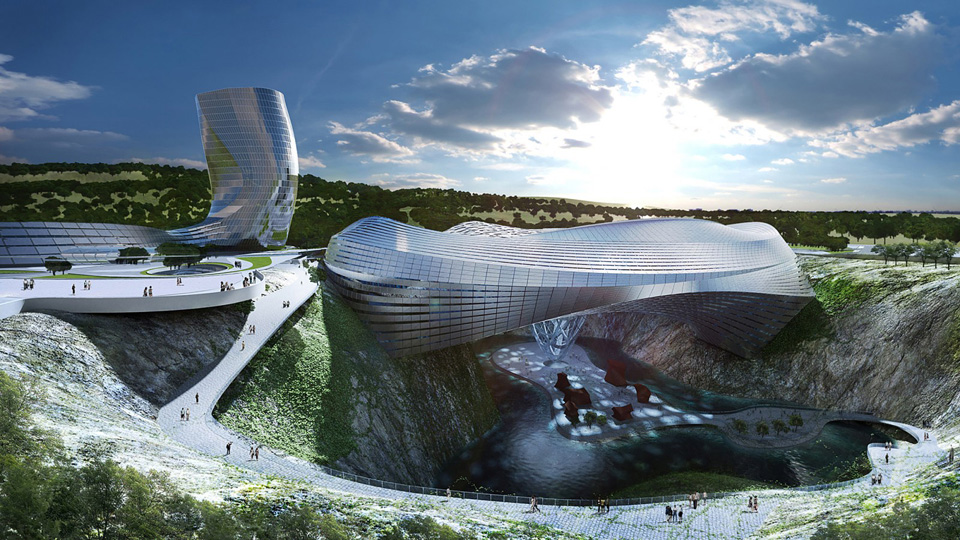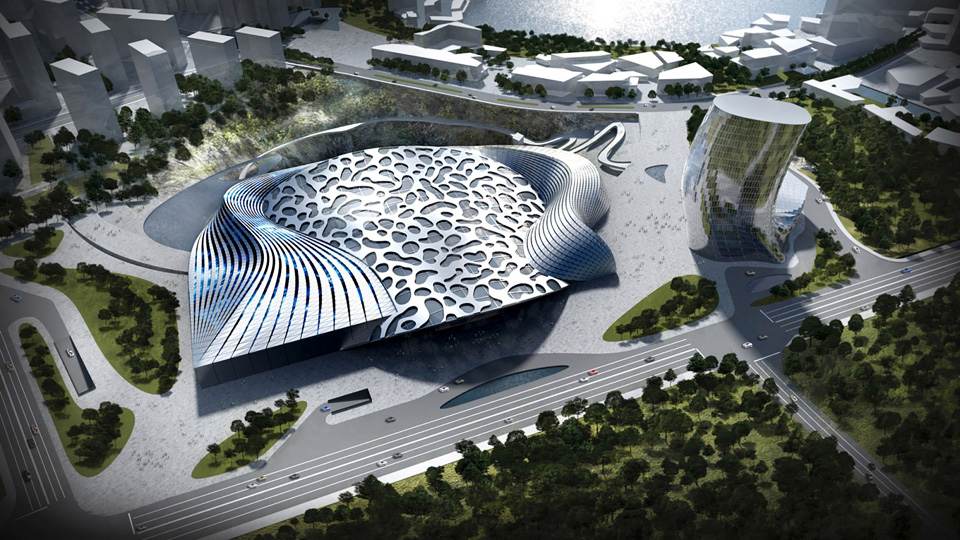 Istanbul New Airport
Istanbul is one of the biggest aviation hubs in a geographic region spreading across Europe, North Africa and the Middle East. The new Istanbul airport is projected to handle 150 million passengers every year and is set have a number of firsts. Located 22 miles from Istanbul on the Black sea coast, the airport will have 6 runways and is expected to serve 90 million passengers in a year when completed in 2028.
Its duty-free area is set to be the biggest in the world at 53,000 square metres and more than 400 luxury brands under one roof;
When the Phase1a of construction ends in 2018, the airport will have the largest terminal in the world (under one roof) with a floor area of almost 11 million square feet;
It will also have Europe's largest car park with 24,000 spaces along with a unique, tulip-shaped ATC tower.
Terminal 1 is currently under construction and the use of a slatted, blue-reflecting roof and a vaulted ceiling combine to create a very exciting space inside Terminal 1. When complete, there is no doubt whatsoever it will be the number one airport in the world in every sense of the word.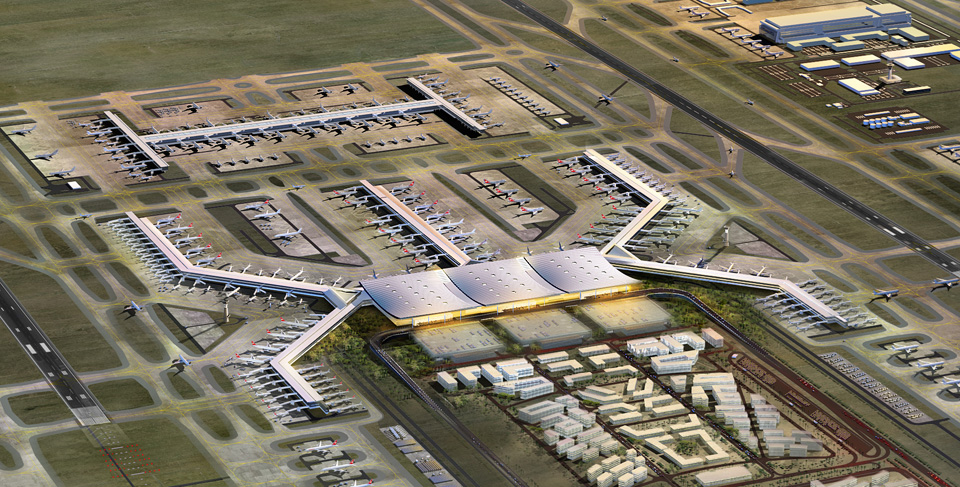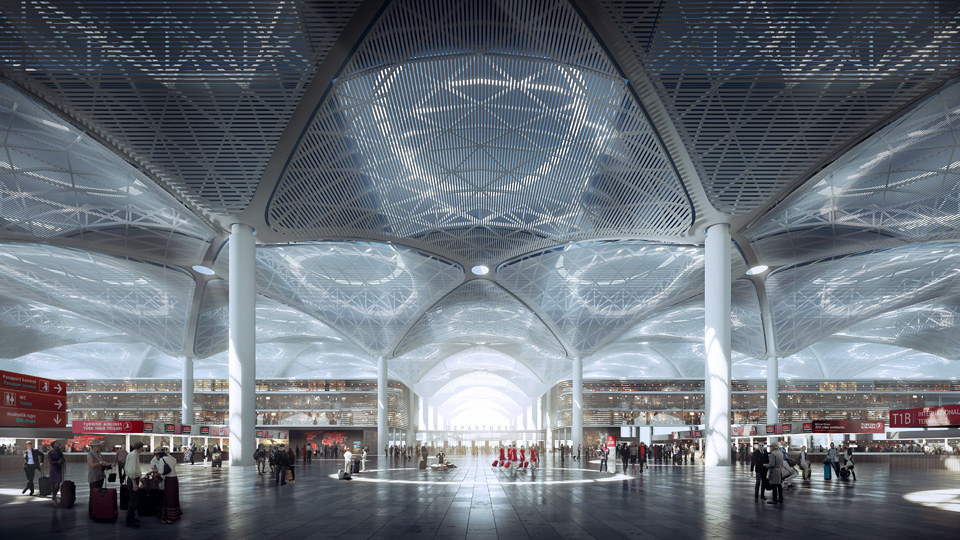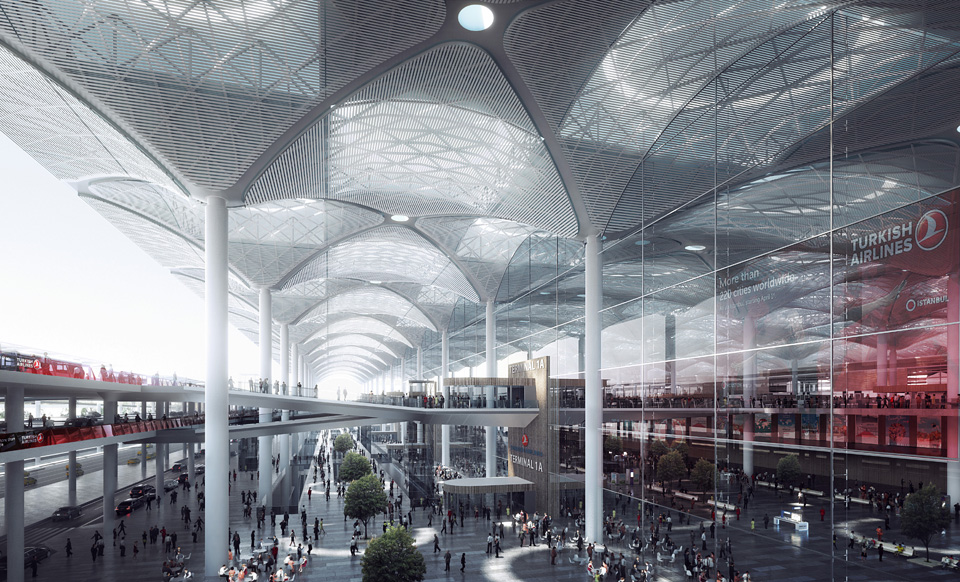 Dubai One Tower
Next in the line of super-tall buildings being built in the Gulf, the Dubai One Tower will be the tallest residential tower in the world at 711 metres, when completed. To house 78000 residents, the tower will have 885 apartments, an indoor ski slope (you saw that right) and a marina. It will also have a hotel and a shopping centre inside. The indoor ski resort will be largest in the world with an unbelievable 1.2 km slope, believe it or not. The other funky part of the design is that the roof over the restaurants and cafes will be retractable for the cooler winter months. Dubai One will be the next trendsetter for residential high-rise buildings in the Gulf.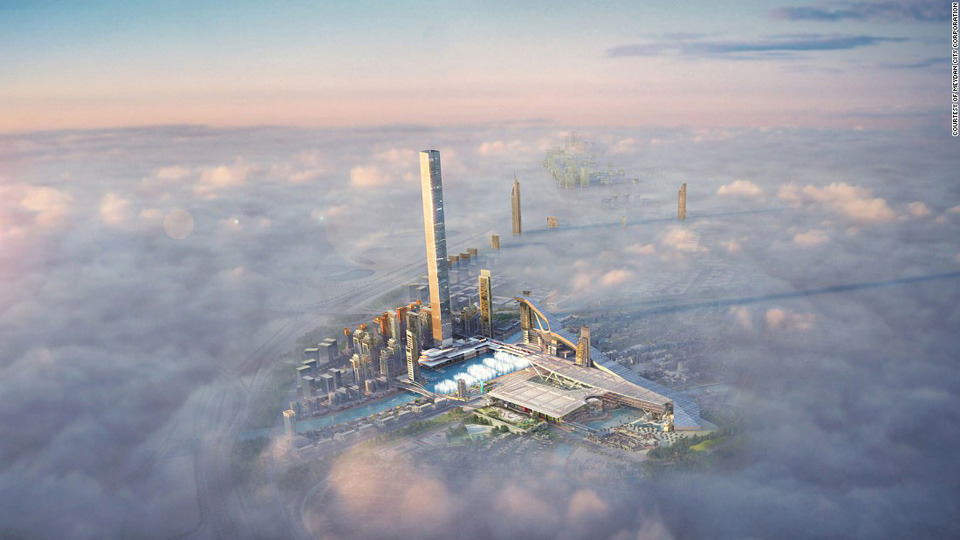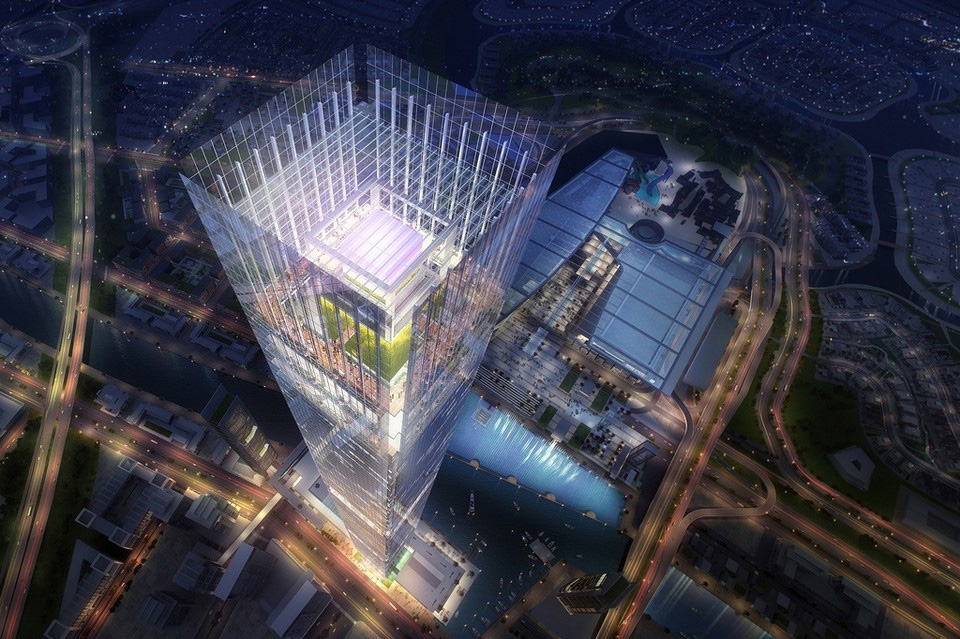 Forest City, Johor, Malaysia
Forest City is one of the biggest land reclamation projects in the world, seeking to build 4 new islands from 1400 hectares of reclaimed land in a bay between Malaysia and Singapore. The project is being executed by Country Garden Pacific View and is projected to house up to 700,000 residents after about 20 years of construction. Forest City is a work-live-play integrated zone designed to support about 220,000 jobs in finance, technology and bio-technology.
The architectural plan for Forest City calls for the building of a green city with rainwater and storm-water harvesting, solar power, vertical growth and dense foliage. In additional to large park areas, mangrove swamps and a green corridor, an innovative design for a rooftop network of parks and gardens is also planned for (all of which would be interconnected). The Forest City is one development which exemplifies the advancement of sustainable building tech like no other.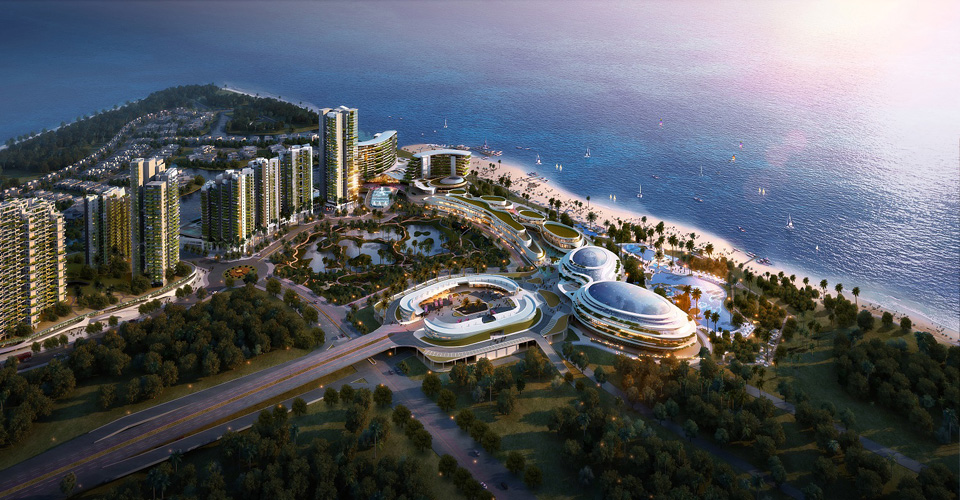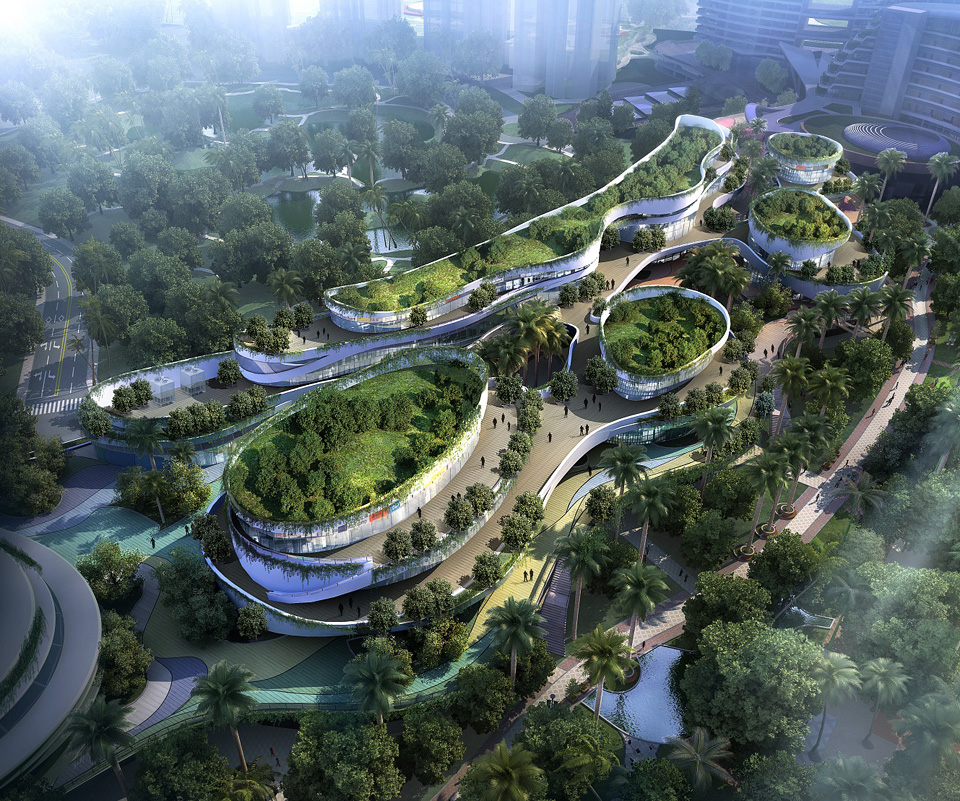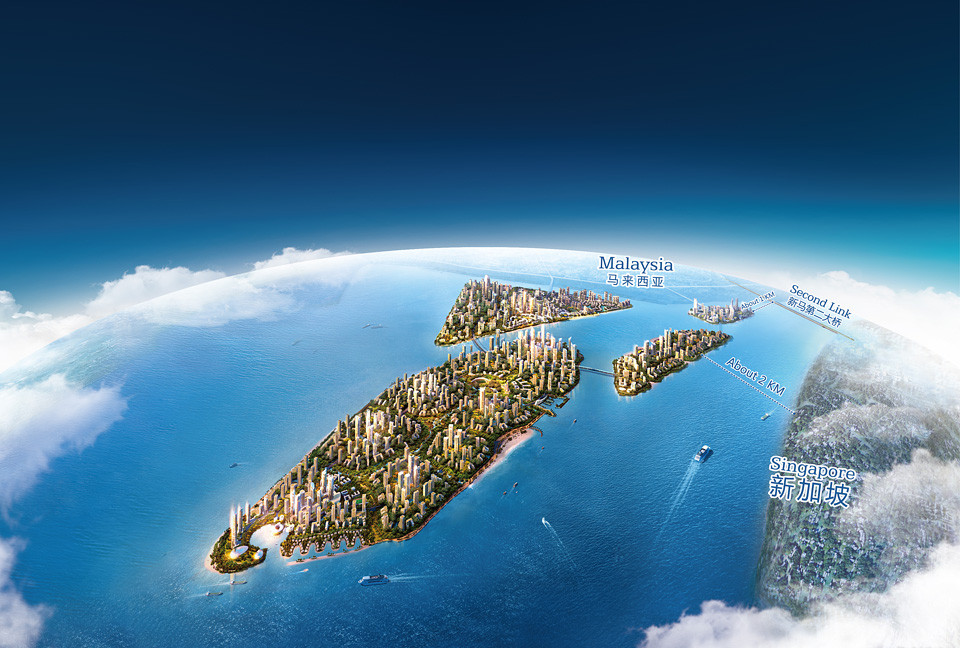 Eko Atlantic City, Lagos, Nigeria
Eko Atlantic City is a pioneering development with the use of reclaimed land following in the steps of the likes of the Jumeirah. It seeks to build a new city off the coast of Lagos on 10 million square metres of reclamation. It will be a high-end live-work-play space with marinas and 250,000 units of prime housing when complete. The business district will be a landmark in itself and aspired to be the financial headquarters for Nigeria.
The Eko Atlantic City is pioneering in the area of development in flood-prone regions in a time of global warming and rising sea levels. Believe it or now, there is an 8.5 km long wall being built around the development specifically to protect it from erosion and flooding. It is designed green in terms of water treatment and for low carbon footprints by the use of locally sourced material and environment friendly design. The Eko Atlantic city shows the way to the future in terms of the kind of development and design that would need to happen in coastal areas facing the threat of rising sea-levels.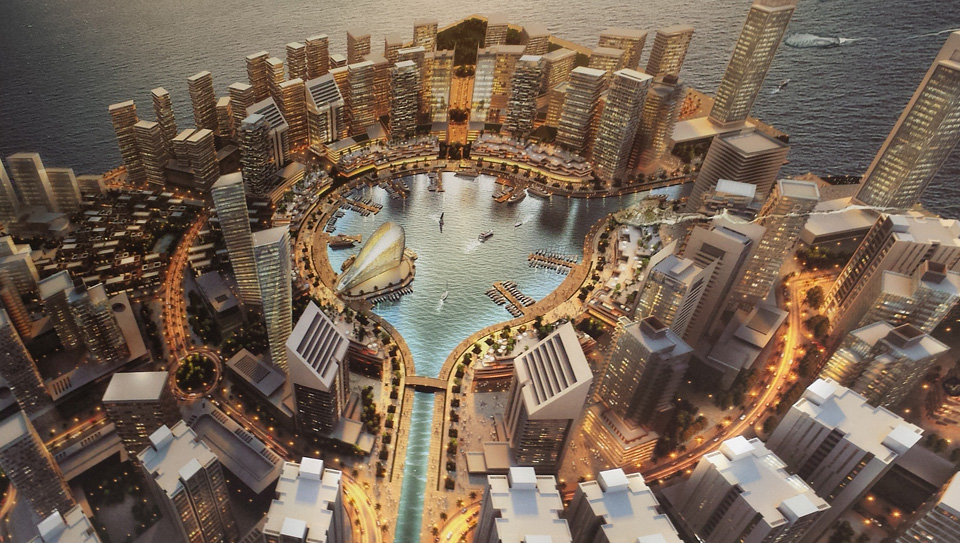 Millennium Village, Tangerang, Indonesia
Millenium Village is a global smart city being promoted in Tangerang off the Jakarta-Merak Toll road. The singular selling point of this development is that office space is located across not one but three high-rises – the 75-story Gateway Tower, the 75-story Super Tower and the 100-story Iconic tower. The Iconic tower is truly an iconic building which will be the tallest building in Indonesia when complete.
With colleges, hotels, an art district, a convention center, fine dining, a club, an art museum, a 470,000 square metre mall and a health city, the Millenium Village is truly a Millenium city, not just in name. With 125 hectares of green space set apart within 600 hectares of floor area, green living aspects are well taken care of. Not just that, the Millenium Sky Park sprawls across hold your breath, 25 hectares (yes, you read that right!) of gardens right in the middle of the city. The blend of high-rise living with green development is the hallmark of this project.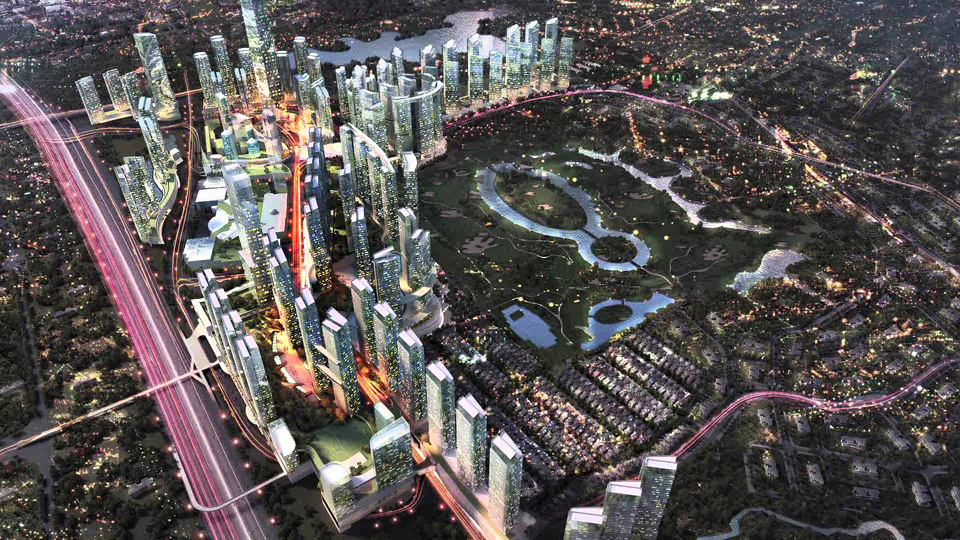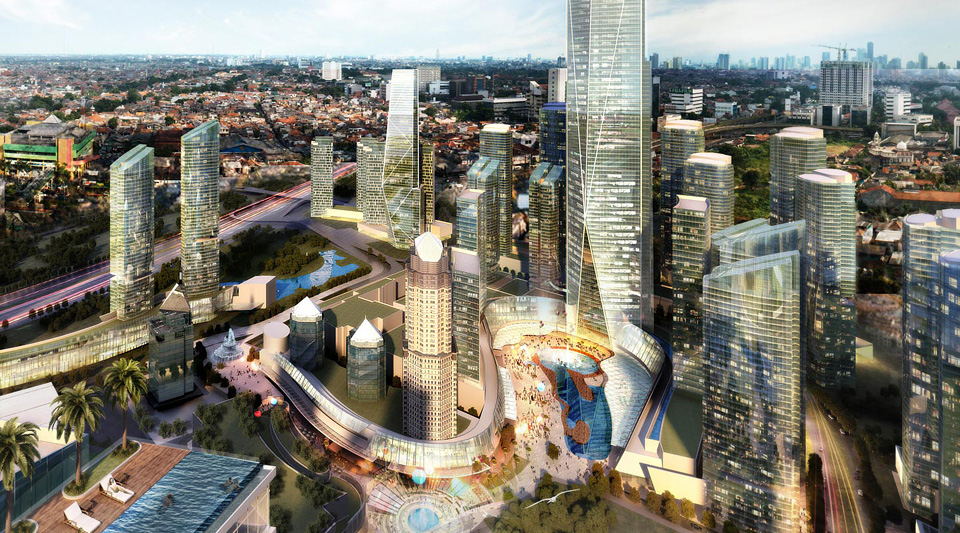 Khazar Islands project, Azerbaijan
The Khazar Islands project is a mega venture being developed on 41 artificial islands 25 kms from Baku, Azerbaijan in the Caspian Sea (the furthest island is located 7 kms from shore). Development is planned to occur over 2000 hectares with high-rises in several islands and a truly audacious plan to have bridges to connect built-up areas. Once complete, the Khazar Islands are set to be the emblem of Azerbaijan's development with the centrepiece of the project being the world's tallest tower (at that time) – The Azerbaijan Tower. When completed, the islands are expected to feature eight hotels, a yacht club and amazing enough, even a Formula 1 racetrack and an airport! This development will be a trendsetter in the area of development on reclaimed land.