Free website builders are still the easiest and most affordable way to develop a website. In order to decide which website builder is the best, we've compiled this independent rating: 15 Best Free Website Builders of 2019, specifing the pros and cons of each. In total, 34 free website builders were tested and we've included 15 best of them into the comparison table.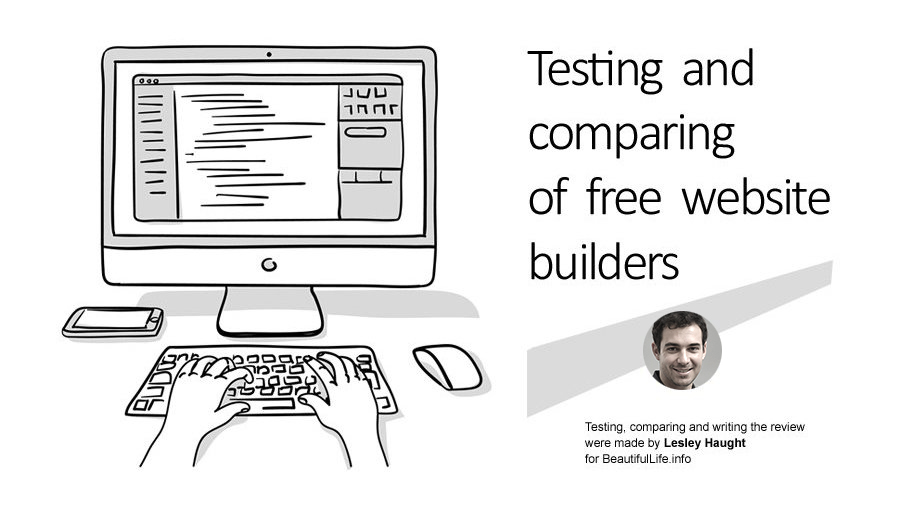 Many people think that the best free website builder is WordPress, but it's not so. WordPress is an open source CMS and isn't a website builder. And to use it you will need professional web development skills. Website builders, in particular, free website builders, are online tools that allow you to develop websites by yourself without having to know web design, HTML and programming.
Best website builders have simple and functional drag and drop editors that greatly simplify the creation of websites. All you need is to simply move the elements of the website you need to where you need and manage their parameters: size, color, font, etc. And it is really easy.
Since there are hundreds of online website creators in the world – I've personally tested 34 of the most popular free builders and compiled a review which you are currently reading. As a result, I received a TOP 15 free website builders and a comparison table with parameters for each one. All this will help you to make a more balanced choice.
Let's Compare the Best Free Website Builders
Website Builder
Sites Сreated
Web Templates
Storage Space
Usability
Prices
WIX
110M
500+
500MB
Best
FREE

or min $5
WebNode
30M
90+
100MB
Very Good
FREE

or min $3.95
ImCreator
17M
65+
50MB
Good
FREE

or min $9.95
SITE123
n/a
185+
500MB
Good
FREE

or min $10.80
Weebly
50M
60+
500MB
Average
FREE

or min $8
Bookmark
n/a
20+
500MB
Average
FREE

or min $11.99
Jimdo
20M
15
500MB
Average
FREE

or min $9
Ucraft
n/a
80+
1GB
Good
FREE

or min $10
WebStarts
3.8M
120
1GB
Average
FREE

or min $4.89
Webs
55M
402+
500MB
Terrible
FREE

or min $5.99
Top 15 Free Website Builders With Pros and Cons
Now let's take a closer look at these free website builders. I tried to keep an open mind and describe each of them as accurately as possible. For each free website creator you will see a screenshot of its drag and drop editor interface (what is this – we will tell below), links to some free templates – so that you can evaluate their quality. And of course – a listing of the pros and cons.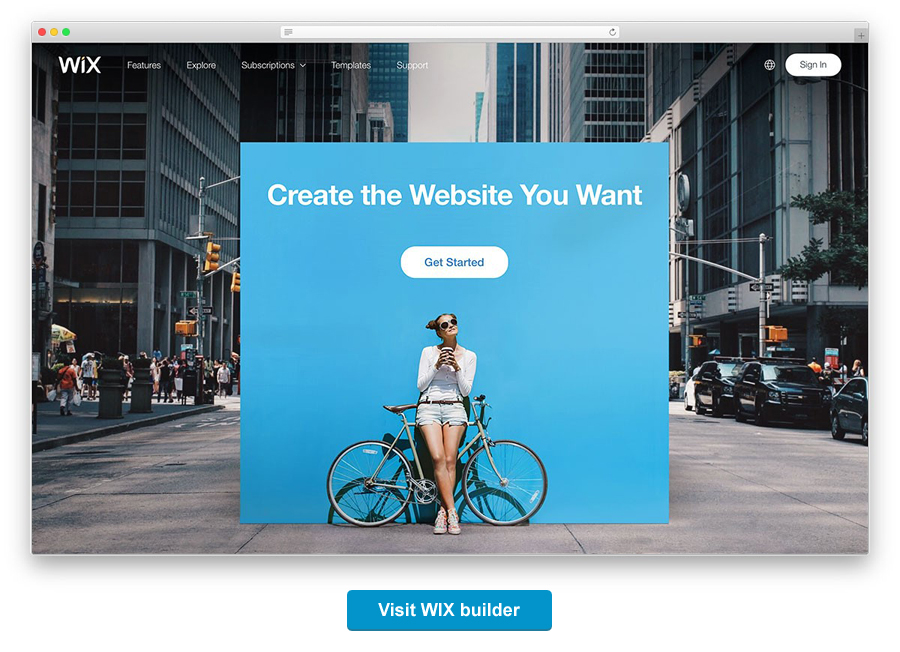 Wix – best free website builder for small business
Which of the famous platforms comes to your mind when hearing the term "free website builder"? WIX should be the one. It's one of the best free website builders oriented for novice users. Since the launch of WIX company in 2008, it managed to serve more than 110 million websites all over the world. This proves the fact that WIX creators know their business from A to Z. Why exactly Wix deserves to head our list of the best free website builders – check out our other article: Why Wix is the Best Website Builder?
WIX "strong side" is about creating personal websites, business cards for small businesses and creative portfolios. It's full of stylish interactive design templates, which were clearly developed by high-level professionals. Currently, you're open to 500 different templates sorted in almost 7 dozen thematic categories.
All screens are clickable and open in new windows
When it comes to admin panels used for website management and configuration, WIX is a total winner. It has one of the most intuitive, visually clean, logically structured. And pleasant looking interfaces. Drag-and-drop editing helps make changes to the website and see them in a real-time mode.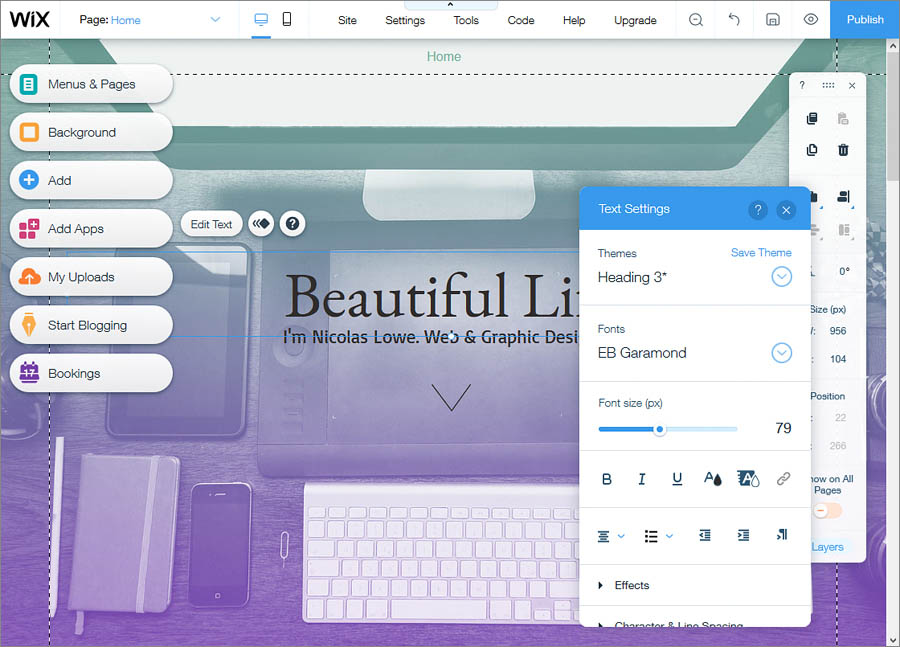 "Is it all free? I can hardly believe it," you may now ask. Yes, this website builder is absolutely free as well as all the rest in our review, but you should know more about this.
First of all, Wix really allows you to create a website absolutely for free with min limitations in functionality. In this Wix is one of the best website builders for free. But, you will have to extra pay if you would want to use your own domain name (but not a free one offered by Wix). You'll have to pay for the purchase of widgets, special e-Commerce extensions, statistics collection tools, etc.
Second, the bottom of each website created with the help of WIX will have a link to the parent platform, while the company logo will be placed on the top. Not a large "payment" for the opportunity to use an intuitive editor, free hosting, free SSL certificate, and advanced SEO (search engine optimization) tools, right?
Foreseeing a question – do not bother yourself by looking for a free website builders without ads. You won't find anything worthwhile. All high-quality website builders place ads on their free websites — whether this is a link "create website" in footer or a link in a logo in a header or a strip with a banner at the bottom of the website. Anyway, if you use a free plan – you will have advertising of a platform you're using. But when you buy any premium plan – ads will be removed, plus you will get additional functionality for your website.
Pros:
The biggest collection of web templates from all free website builders;
Ability to choose web template before registration;
Ability to create an unlimited number of pages;
Free and safe hosting;
Free domain name (URL with the name WIX in it);
High-quality and fully-responsive HTML5 templates;
Wix free plan includes lots of useful options: forum, blog, chat, the mobile version of the site and much more;
ADI (artificial design intelligence);
Excellent site indexing by search engines, SEO-master;
A wide range of applications in the AppMarket;
Ability to load your own templates;
High level of technical support;
Plenty of educational materials and video lessons.
Cons:
No analytics option for the WIX free plan;
No opportunity to edit HTML code of a site;
Creating an ecommerce website is impossible for free plan. For this you will have to buy subscription on eCommerce Premium Plan.
Is it worth to use Wix?
Definitely yes. Wix is one of the most convenient and simple free website builders. Therefore, it will be the perfect solution for novice webmasters. For all its simplicity, it has one of the best drag and drop editor and powerful functionality. A large selection of categories for web themes allows you to create modern websites for almost any small business niche.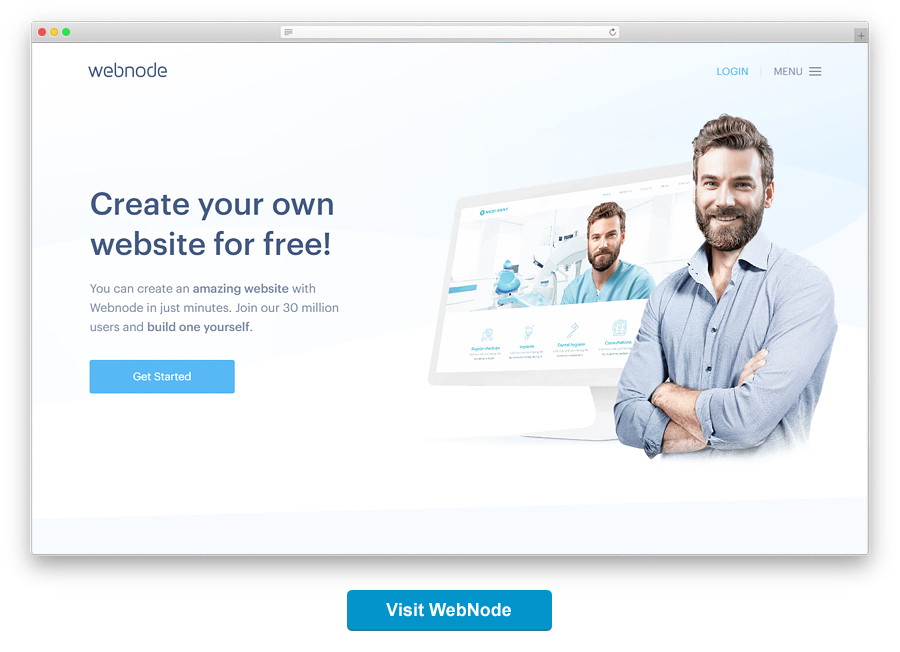 Webnode – best free website builder to create multilingual websites
Webnode is also one of the best free website builders developed by the Swiss company Webnode AG. The project is successfully developing in a number of countries and is available in many languages. In fact, it's one of the oldest web builders of its kind launched back in 2008, currently serving more than 18 million users worldwide.
The system offers several hundred high-quality wide-format and easily adjustable templates allowing to create a mobile site. They are divided into different categories, filled with demo content, as well as endowed with adaptive layouts and high-quality typography.
Webnode claims it's a perfect platform for a beginner, although the statement is kinda questionable. It is much more difficult to get started in Webnode than in a much more intuitive WIX editor. The drag-and-drop builder looks a bit overloaded, so changing some of the theme elements can become a challenge.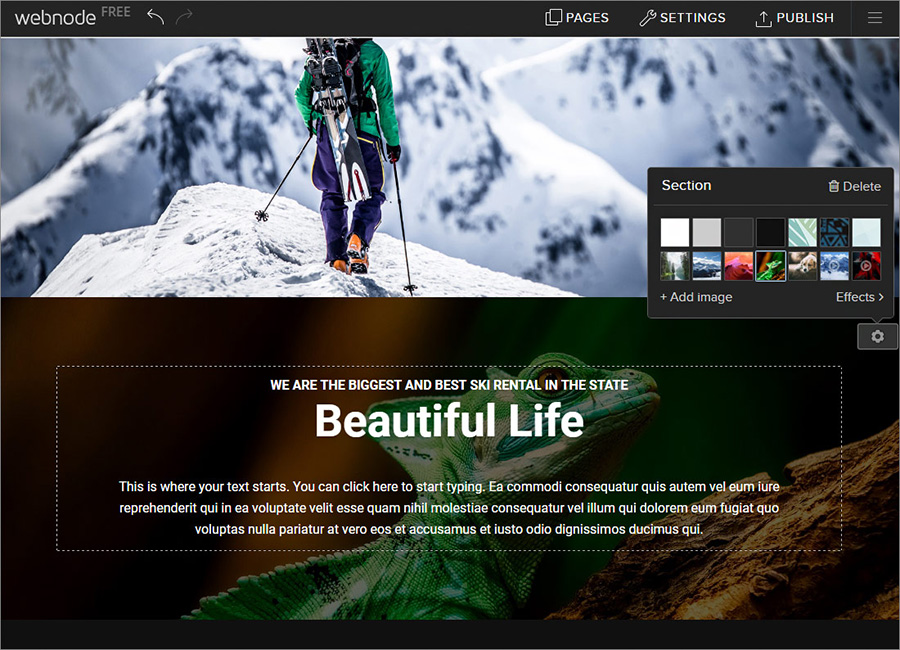 The free functionality is limited and rather intended for getting familiarized with a platform than creating full-fledged web pages. The Webnode free version has super limited functionality, most of it works only during the 30-day trial period. The only thing the service guarantees for sure is the ability to create an unlimited number of website, as well as provide access to reliable hosting and competent technical support.
Pros:
Great collection of free web templates;
Attractive and well-thought-out templates (business cards, blogs, and portfolios).
Convenient editor with the ability to add attractive filters and effects;
Free web hosting;
Ability to create multilingual website on over than 20 languages;
Opportunity to edit HTML code of a website;
Free automate mobile version of a website.
Cons:
Huge limitations in functions for a free plan;
Illogical structure of the administrative panel.
Is it worth to use Webnode?
Yes. Webnode is a good website builder if you need a not big website for small business or your personal site. Also it will be ideal solution for creating multilingual websites since Webnode has the appropriate options.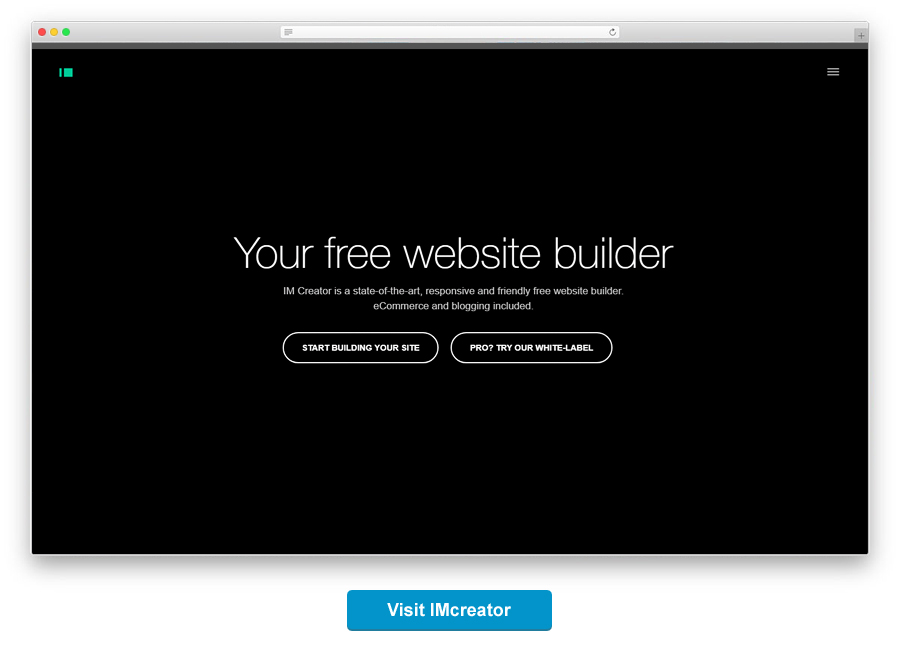 ImCreator – perfect free website builder for personal portfolio
Speaking of ImCreator, one is clear: this is a perfect site-building platform for those willing to create a visual impression by using outstanding design themes. Lately, the service has been significantly improved, so now it got even more lightweight and simplified. The drag-and-drop interface is quite minimalistic with some unusual and modern elements of animation displaying the content exactly the way it will look on the website.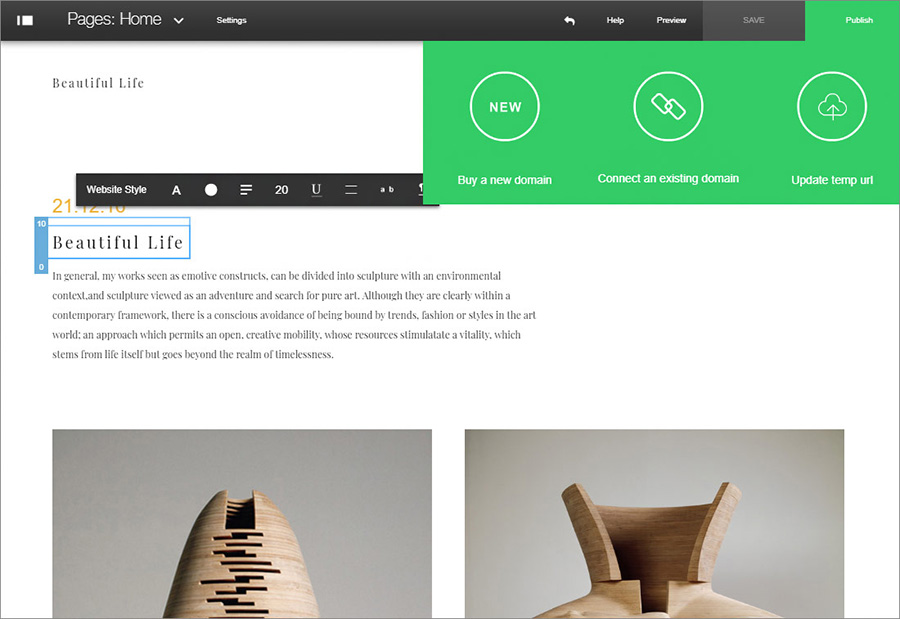 ImCreator indeed has one of the most stylish themes on the market. All templates are flexible, fully-adaptive to any device, and categorized into landing pages, templates for apps, business card, etc. Thumbs up for the ImCreator front-end editor – it's super convenient and good-looking.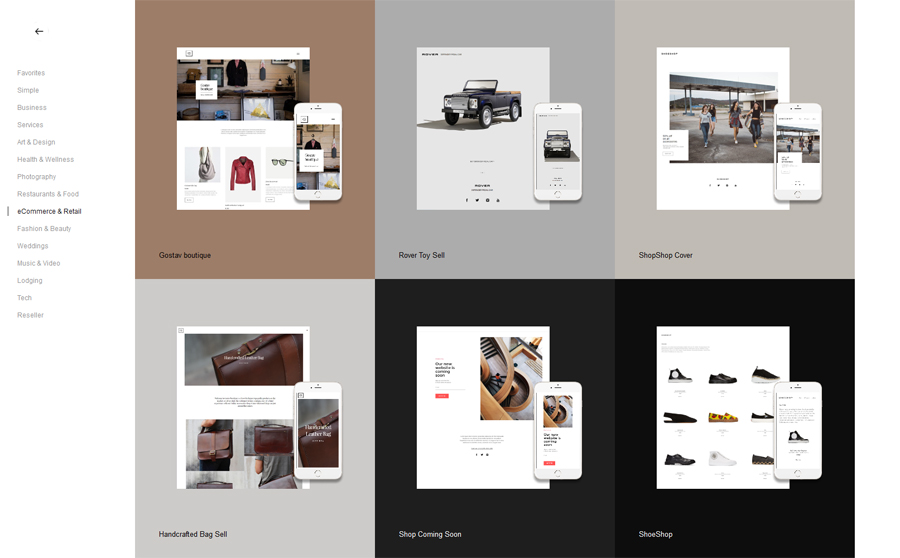 The free ImCreator plan gives you a chance to create your own page, shop for add-ons, choose a ready-made layout, and customize it to fit your needs. Although the platform is only free for students, artists, and non-commercial projects. It offers unlimited hosting, as well as the ability to connect to any provider's domain.
If all you need is to create a simple website, the particular set of free options will be more than enough. The most significant features worth to be purchased are eCommerce, SEO, and blog. The real disappointment of ImCreator, however, is the lack of site analytics and integration with social feeds.
Pros:
Ability to start creating a website without signing in;
Outstanding and creative pre-populated templates;
Ability to add your code to the website;
Convenient customization of sections;
Wide choice of business niches (restaurant, real estate, etc.);
Free hosting;
Ability to get a free premium plan for non-commercial projects;
Quality Knowledge Center.
Cons:
ImCreator doesn't offer free domain – your website will be placed on sub-pages of im-creator.com;
Annoyingly slow drag-and-drop editor;
Difficulty swapping templates. Switching a template basically means redoing the website again;
No opportunity to create eCommerce website for free plan;
There is no website analytics for free plan.
Is it worth to use ImCreator?
Yes. ImCreator platform is one of the simplest website builders, although it's hard to believe there exists something even more lightly built than Wix. At the same time you have to admit that ImCreator is weaker than Wix in functionality. The free ImCreator plan will satisfy absolutely anyone who needs a small personal website for his own needs but with high requirements regarding the website design.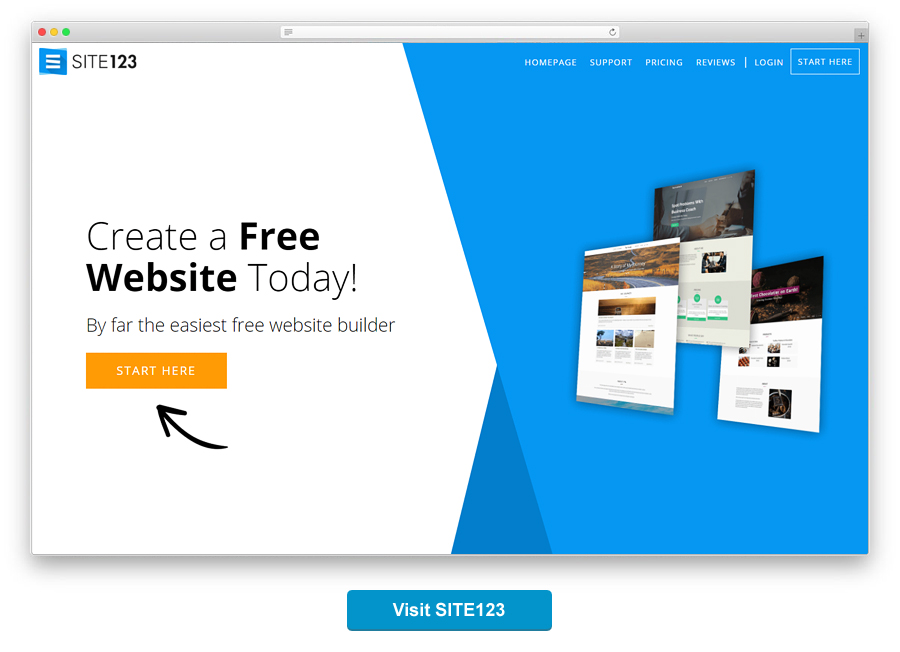 SITE123 – one of the easiest to use website builder
Among the other easiest free website builder software, Site123 should be the first on the list. Just like other ones, it's mostly focused on creating business cards and blogs for novice website owners.
The site-building process operates in three steps. The most interesting Site123 feature is the ability to switch the one-page website to a multi-page one (with the output of each block on a separate page). You can also add up to five language localizations.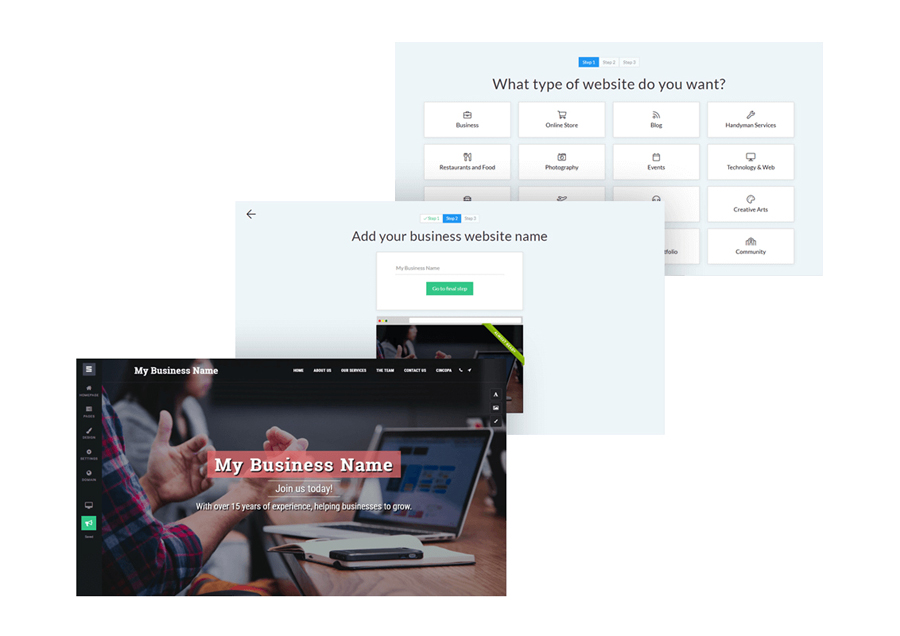 The platform offers plenty of high-quality templates of various categories, although most of them look somewhat similar. The themes can be slightly customized by applying one of 13 different structures and changing the color style settings. The visual editor of the platform is more difficult to master than its competitors. All the customization options are located in the side menu where the most job is going on, meanwhile, the user can observe changes in real time on the right side of the page.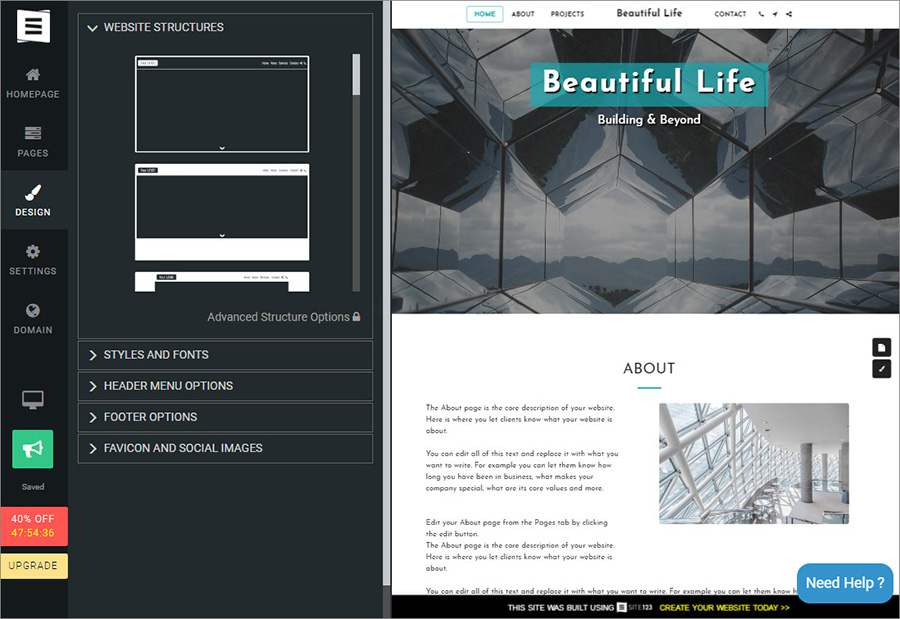 The platform connects to promo plugins and analysis statistics indicators, as well as marketing tools and modules for setting feedback – LiveChat, Google AdWords / Analytics, etc. The free Site123 plan includes 500MB storage, 1GB bandwidth, and a subdomain. eCommerce feature is not included.
Pros:
Supports an unlimited number of websites for one account;
A large set of modules with individual settings;
Flexible and simple customization means;
The ability to develop multilingual websites;
Corporate logo;
Integration with a large number of social services;
A rich selection of third-party services in AppMarket;
Flexible easy-to-use tools for structure customization and SEO integration;
High-quality technical support 24/7.
Cons:
Templates and their layouts are somewhat similar;
Presence of ads in a free plan;
No flexible pay scale;
Poor functionality compared to competitors.
Is it worth to use SITE123?
Yes. SITE123 – is a really easy and free website builder. SITE123 is a solid average website builder in its niche. This product won't offer you something unique than its competitors will, but at least one is a good option for small personal and commercial websites.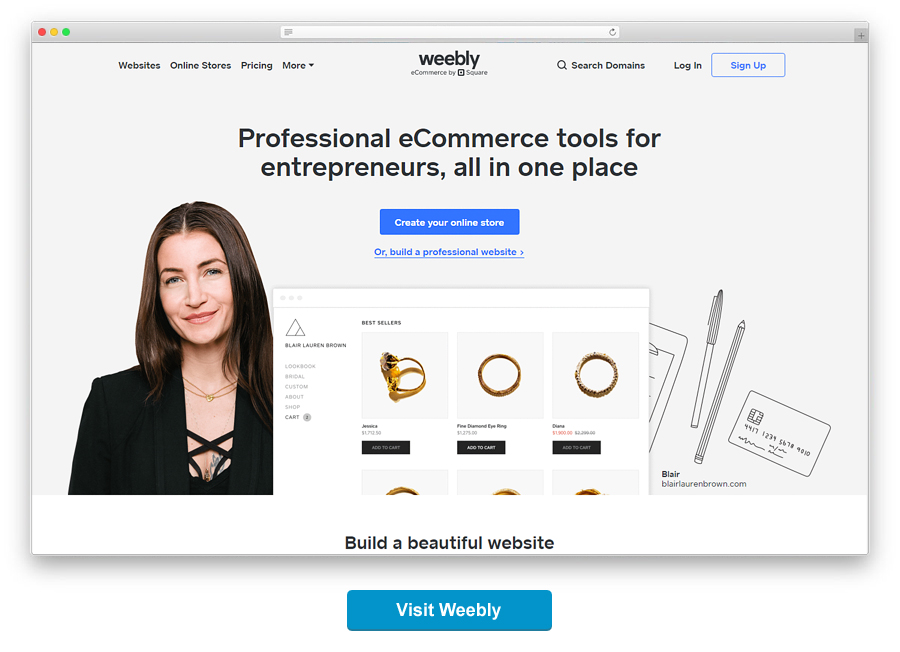 Weebly – good free website builder with access to CSS code
Making a high-functional site builder for "dummies" is quite a challenge – the more useful options it includes, the harder it is for an inexperienced user to figure them out. But Weebly seems like the service that managed to find a golden middle. Despite the fact that it's one of the most advanced website editors, it's pretty straightforward and simple in use.
Weebly features a large number of functions used by more than 10 million users. The free plan works well for both a business card website and a small eCommerce store but is only limited to 5 pages. Weebly offers more than 100 various premium themes that can be easily replaced during the process. From the other side, the interchangeability of templates points to their overall uniformity and likeness.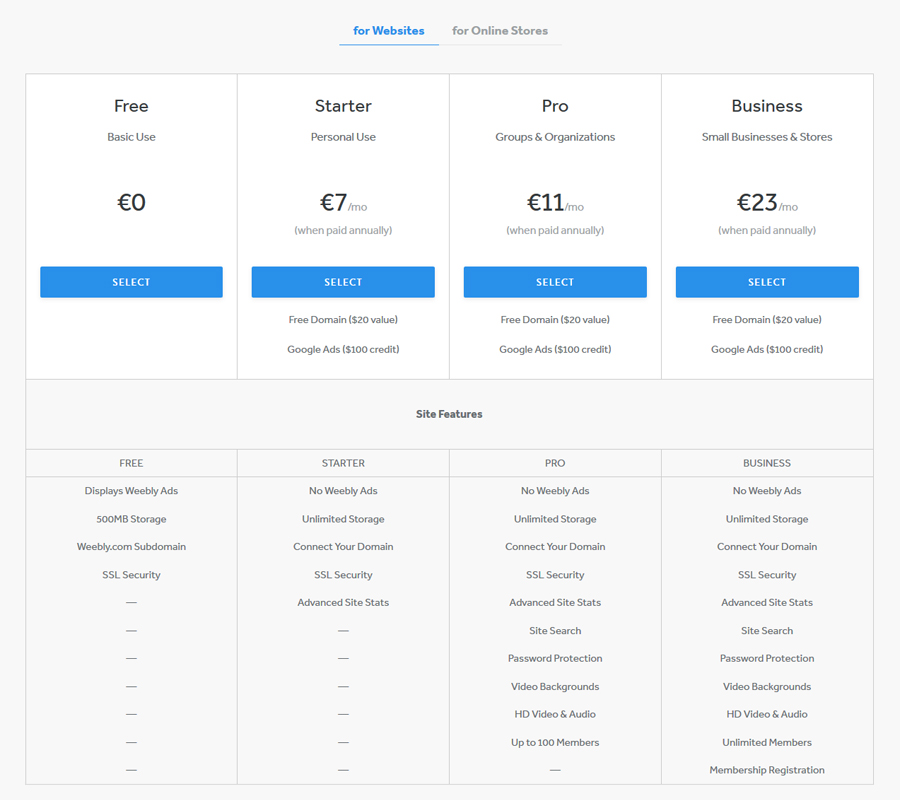 In spite of the limited number of instruments, the Weebly editor seems to be very flexible. Page editing is available not only from the front-end but also back-end due to the accessibility of CSS files. Among the other cool features, one allows you to edit a website from the mobile version of the builder without any restrictions. In other words, the platform puts no limits on adding or deleting elements in the mobile editing mode, as if compared to Wix.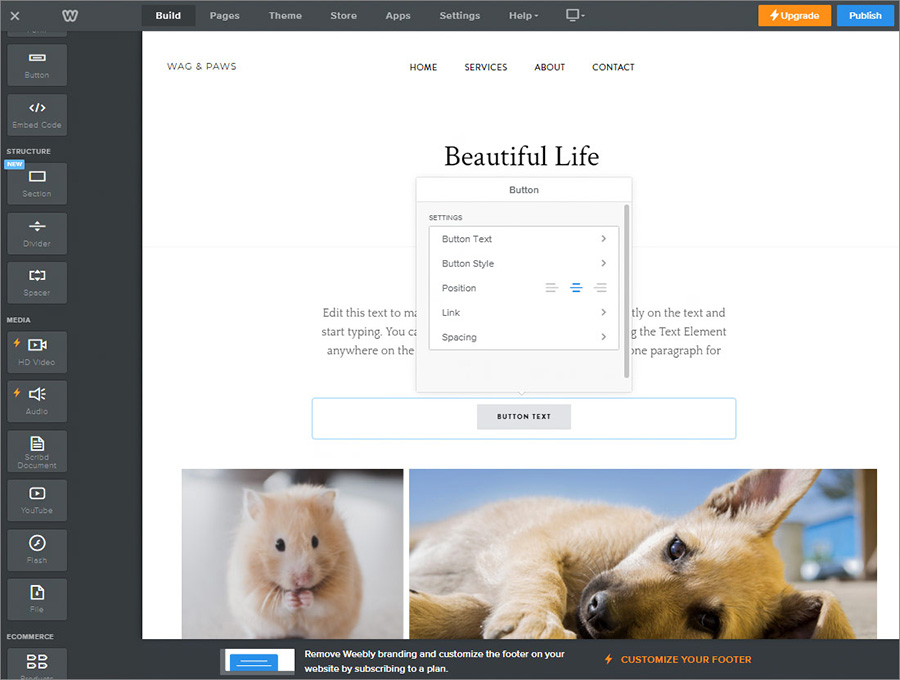 Pros:
Solid templates and the ability to download your own design in the form of code;
Convenient admin panel;
The ability to insert your own HTML-code into the body of the page;
Availability of built-in app store.
Cons:
Half of the apps from the store are useless;
The service charges you a sales fee in case you launch an online store;
Templates look similar to each other.
Is it worth to use Weebly?
Yes. Weebly is one of the few website creators which allows webmasters to edit HTML/CSS code for their website. It will be highly appreciated by more experienced users. But at the same time Weebly is simple enough and has not bad functional options. We recommend it for developing a websites for small business.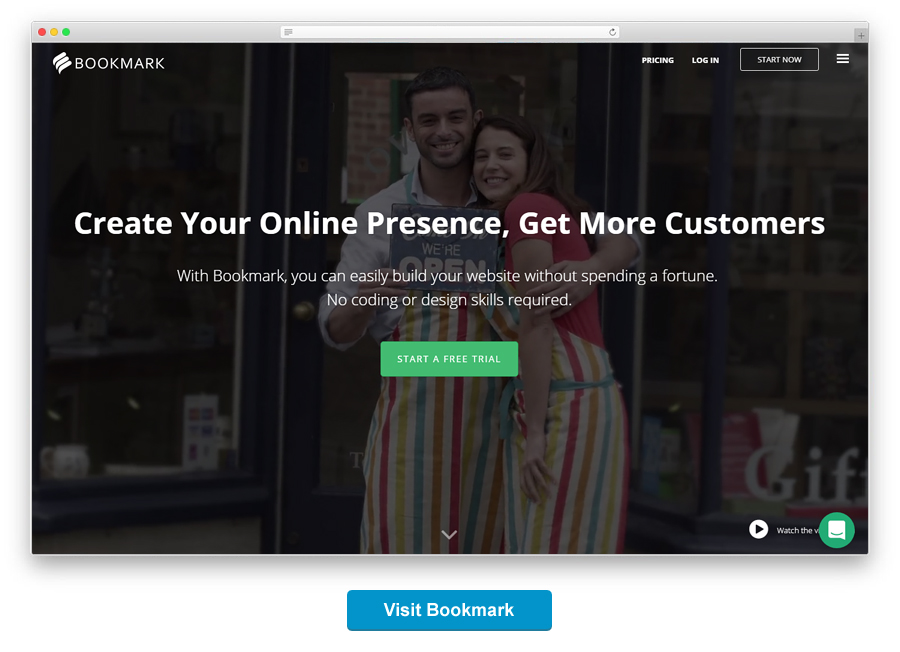 Bookmark – best free website builder with AI
Bookmark is an innovative cloud-based AI-powered website builder that can definitely impress even an experienced user with a balanced set of features. The service can boast of friendly service as well as appealing and well-structured design. Serves best for developing business websites, landing pages, and online stores with responsive design.
Interesting interface, creative web design process and unique system of statistics collection – it's obvious that the developers tried to make the system stand out from the crowd. Have they succeeded at this? Yes. Bookmark functionality is above the average, which makes it a good choice for beginners as well as for the web design experts.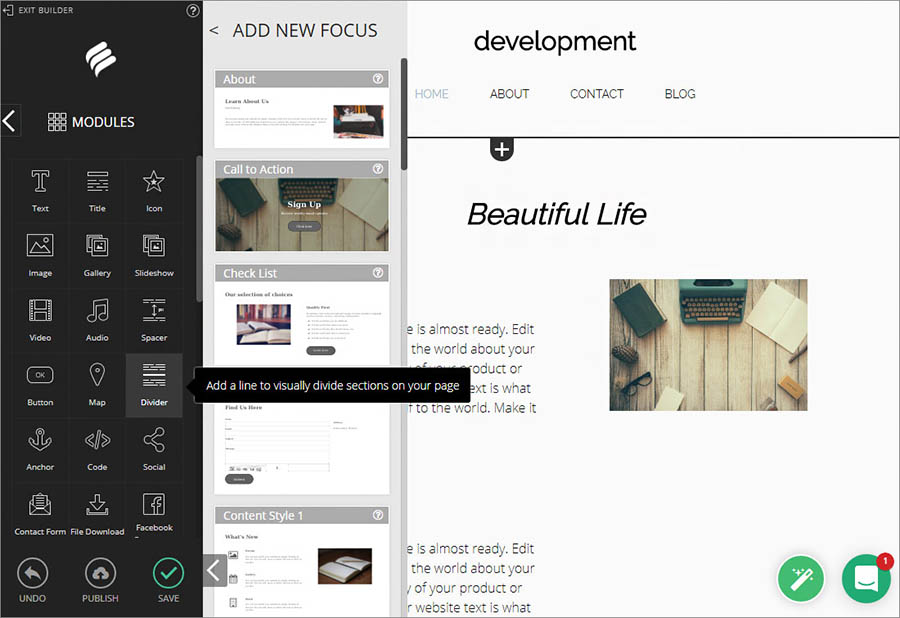 The platform works best for creating different types of business websites. If you opt for a free version, you can count on free hosting, free subdomain, 500 MB of storage, mobile editing mode, and branding from the provider.
Pros:
Simple dashboard;
Free images and hosting;
Advanced AIDA assistant;
High-quality educative materials;
Nice integrated tools for statistics collection;
Availability of mobile apps to manage a website;
Creating a full-featured functional website takes several minutes.
Cons:
No ready-made templates – you're supposed to create a website from scratch;
The process of creating personal blocks for single-page websites is very inconvenient;
Small signature fonts in the visual editor.
Is it worth to use Bookmark?
Yes. Bookmark – is an attractive full-featured website builder. It doesn't offer any website templates but has a wonderful AIDA to assist you during the process. The tool makes it possible to launch responsive websites for multiple businesses and do it in a matter of several minutes, while the result is always impressive.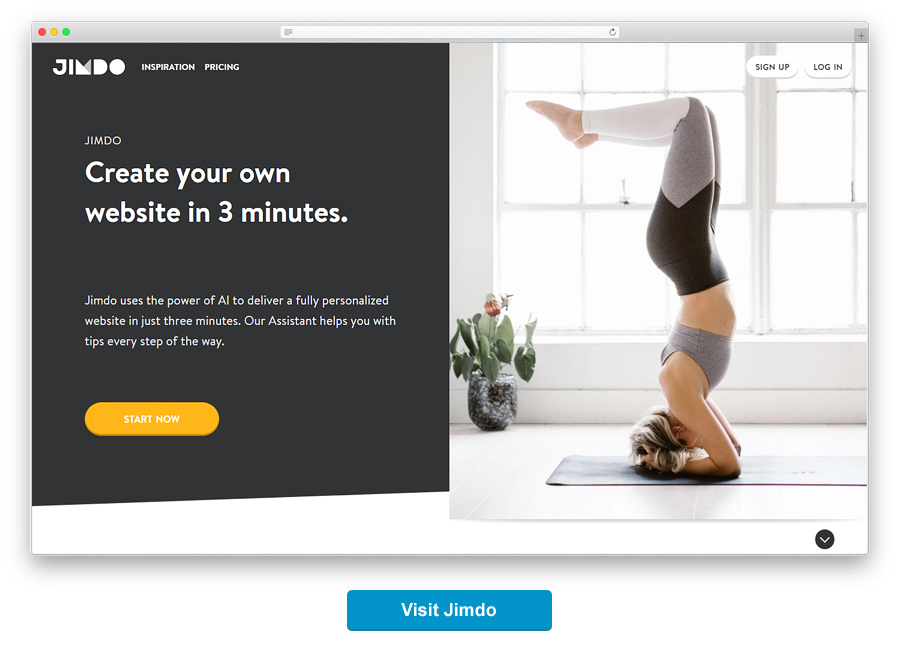 Jimdo – good free website builder for simple ecommerce sites
Jimdo is another visual editor with a user-friendly interface and a strong focus on small business entrepreneurs. The basic Jimdo plan is suitable for creating a blog, business card (corporate/personal website or portfolio) or an online store.
The latest version of the builder was noticeably simplified – the developers made an emphasis on simple features for beginners, and at the same time pushed back the interests of more experienced users. Now it offers minimal settings and even provides hints on how to work with different page elements.
The structure of the configuration sections is extremely logical. Separate sections are responsible for creating a store and a blog, as well as for SEO, design options and a domain attachment. General settings are minimized: code insert, protection of data and website pages, plus some common things like favicon, links in the footer, logo, display of the "Up" button and so on.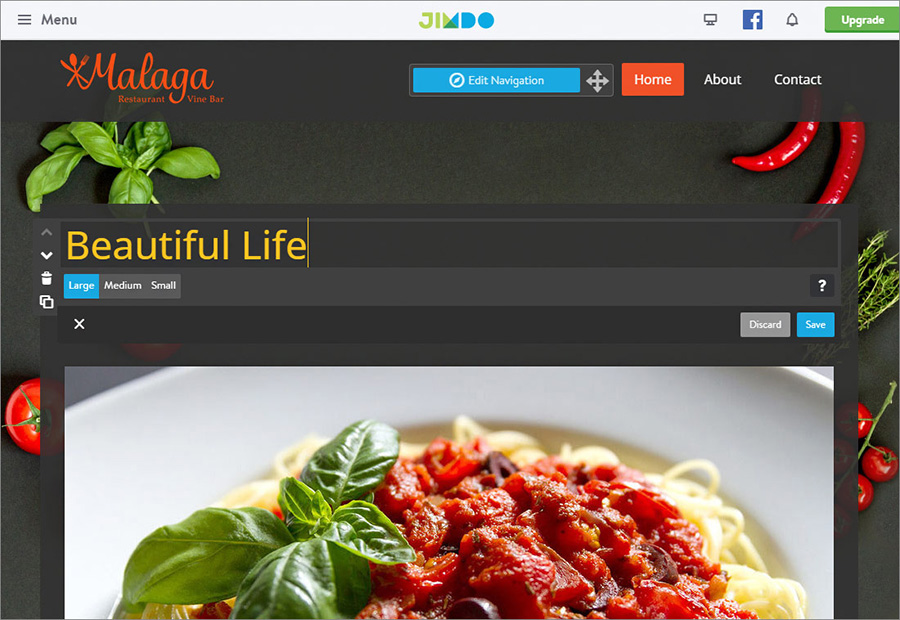 After registration, you're opened to 16 templates with different page layouts. As you visit the administrative panel, you can change the template to one of the 38 proposed templates, although they are considered as styles or skins. Such styles change the shape, size, and color of the menu and slightly affect the layout or other elements. In other words, you first choose a template and then try on its variations.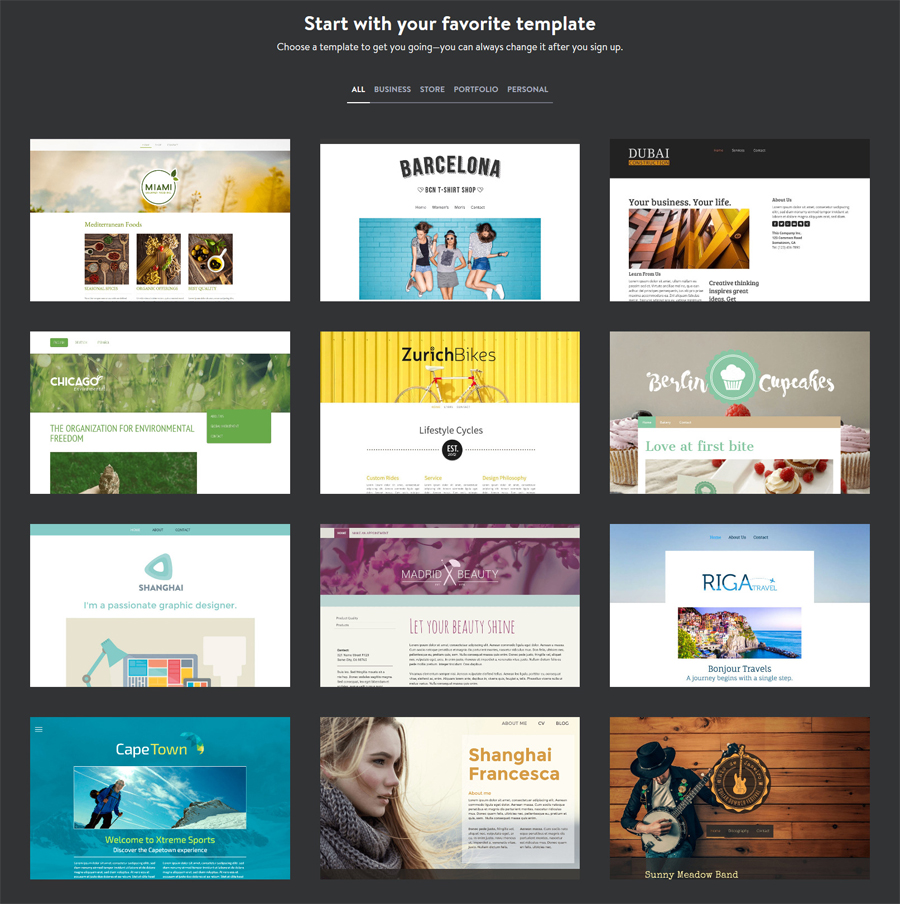 Pros:
Good functionality (albeit with possible drawdowns);
Themes of decent quality;
The ability to edit HTML and add your own template to the system;
A good set of additional apps that might significantly expand the functionality of the service;
Good support;
A nice visual editor allowing you to customize the website on a deep level.
Cons:
Free-account has limited opportunities;
Weird-looking and somewhat inconvenient control panel;
The template system might seem strange;
No SEO option in the free plan.
Is it worth to use Jimdo?
Yes. Jimdo is a free website builder and allow to develop absolutely different website. But its free plan has more limited opportunities comparing to its competitors. But you cannot say this about premium plan. We recommend Jimdo for creating ecommerce stores.

Ucraft – simple website builder for creating one-page web sites
Ucraft is a versatile website site building plans for creating stylish resources with an original flat design and concise widescreen blocks. It is used by both beginners and advanced users in the field of web programming. The target audience of this platform is owners of blogs, landing pages, and business cards.
The design collection of the system includes many responsive templates for online stores, landing pages, and sites of various subjects and directions – about 80 of them in total. Any selected theme can be changed and adjusted to your own project.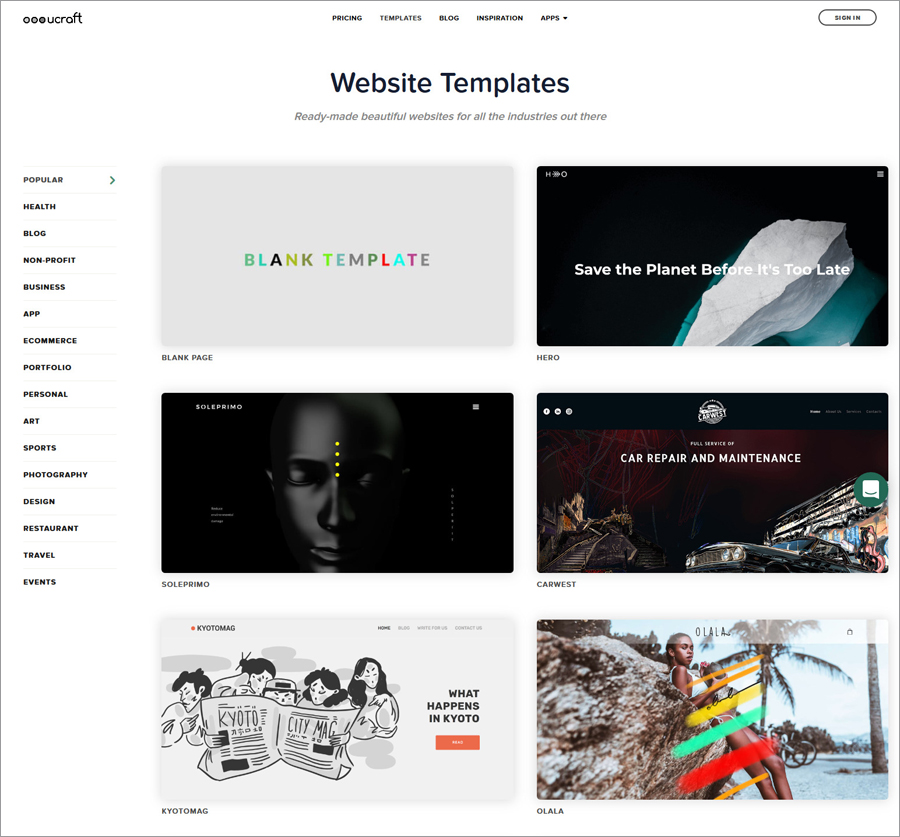 In addition to the standard features, the visual editor is equipped with designer tools. They help to make your website design even more unique by using different typography, button/field design and layout options. The editor features a panel for adding such effects as rotation, parallax, and emersion. The control panel displays a separate unit for synchronization with third-party services. The list of available connections includes various services of Google, as well as Intercom, Paypal, and YouTube.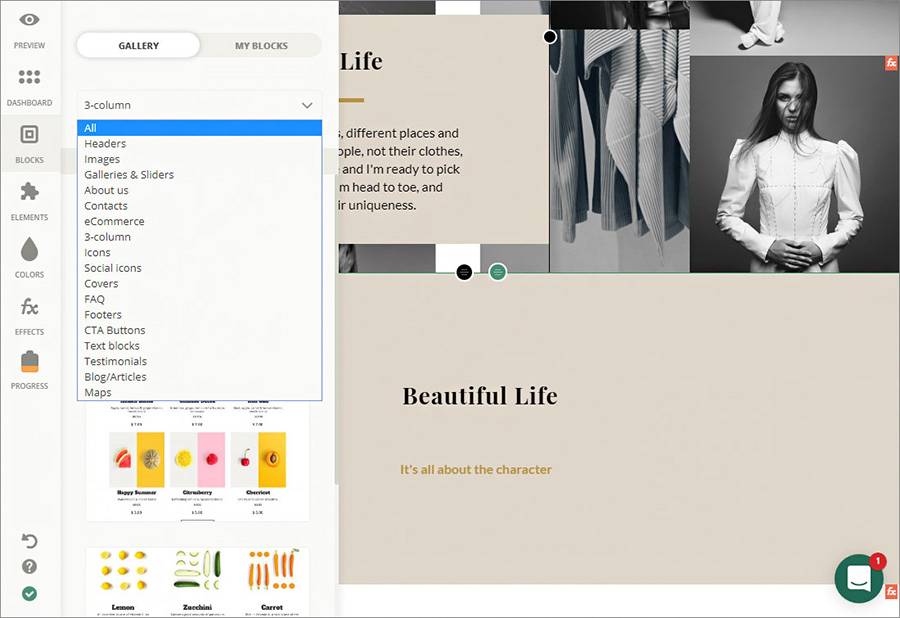 Ucraft offers free plan set for an unlimited period allowing you to create only 1 landing page in it and connect a second-level domain.
Pros:
Multilingual web resources;
Built-in designer to create simple logos;
Advanced design tools;
The possibility to attract partners to the project;
Domain even for a free plan;
Free SEO;
Free hosting and support.
Cons:
Low speed of the block panel;
A small selection of templates;
The list of ready-made themes is rarely updated.
Is it worth to use Ucraft?
Possibly. Despite not so big selection of web templates Ucraft is convenient and simple.The free plan includes cool and at the same time simple customization tools. It is also great for creating websites and online stores, especially if you want to add multilingual content and enter the international market. Ucraft has everything for it: from integration with third-party services to several dozens of payment and delivery methods.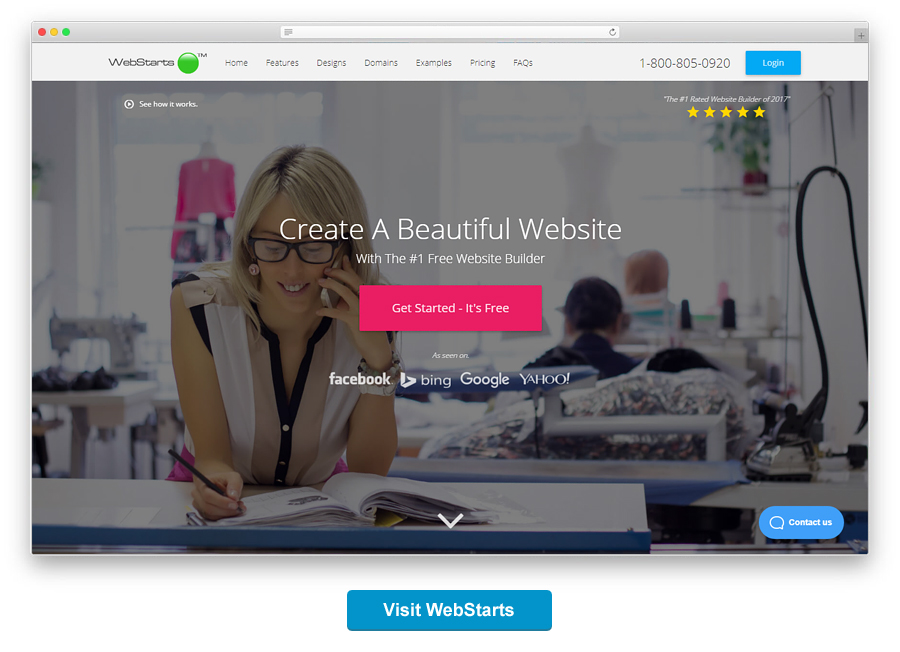 WebStarts – simple free website builder with not enough modern templates
From the first side, WebStarts seems like a great simple website solution. But from the other, one has a lot of hidden costs you probably wouldn't want to come across. The good news is, the service has many useful tools and powerful options that can truly bring your business website to a professional level. It can also be considered as a free solution for personal use.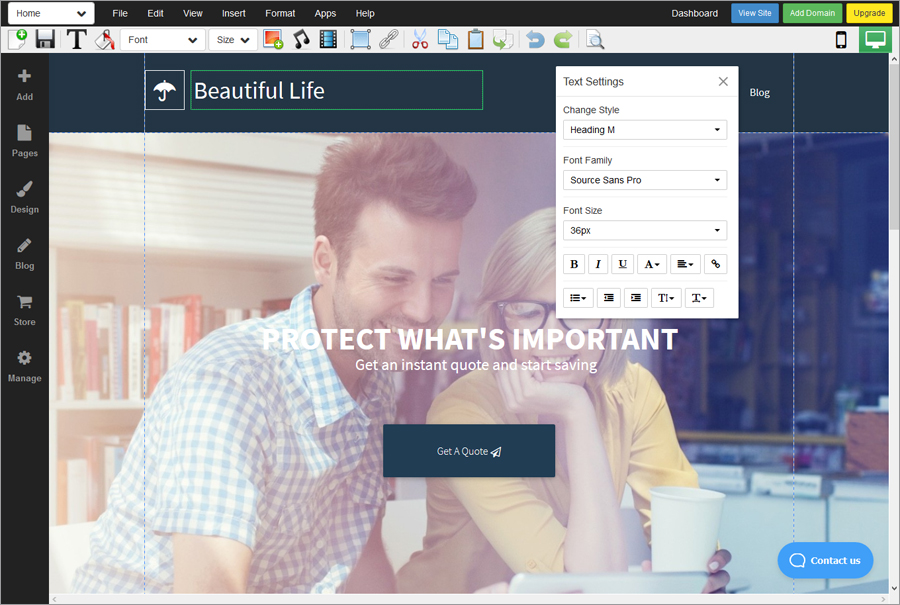 WebStarts offers a sufficiently large number of templates divided into logical groups. Some templates might look old-fashioned, but if you search well, you'll surely find some really chic options. The free plan provides 1GB of data volume and the unlimited number of website pages. Also, it gives you a chance to switch and change the builder themes however you want. Everything can be customized, from colors, fonts, images to text fields and so on.
Unfortunately, audio, video, slideshows, and online galleries are available only in paid subscription plans, just like the feature of social media integration.
Pros:
Simple and convenient to use;
Menu constructors;
Customized design;
Faster and easier registration via Facebook;
Free images.
Cons:
Most of the service features are not free;
The server is often unavailable;
Tech support doesn't work well;
Expensive services selected by default;
E-mail and social media integration are available only in paid plans;
Displaying ads.
Is it worth to use WebStarts?
Possibly. Indeed, WebStarts has a chance to become a good website builder – but only after fixing several annoying bugs. For example, a lot of users were unpleasantly surprised by unexpected payments on their accounts, as well as by the fact that getting their money back was rather problematic. In addition, too many features are available only at an additional cost.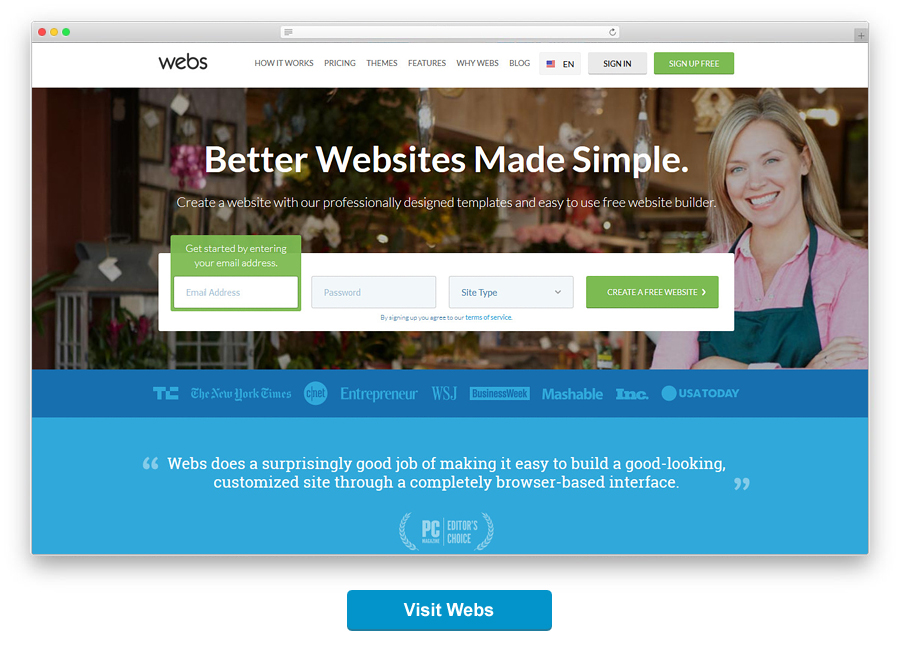 Webs – the oldest but not the best website builder
Webs is perhaps the oldest DIY website building platform launched back in 2001 under the name Freewebs. At the moment, more the service helped develop more than 65 million sites, while the number continues to grow.
Webs is known primarily as an honest and free platform. This means you can not only create a website at no cost here but also make sure it exists for years while remaining completely free. Webs has a simple and intuitive interface, as well as a large selection (over 450 items) of adaptive templates, and additional apps for implementing modern features to the website…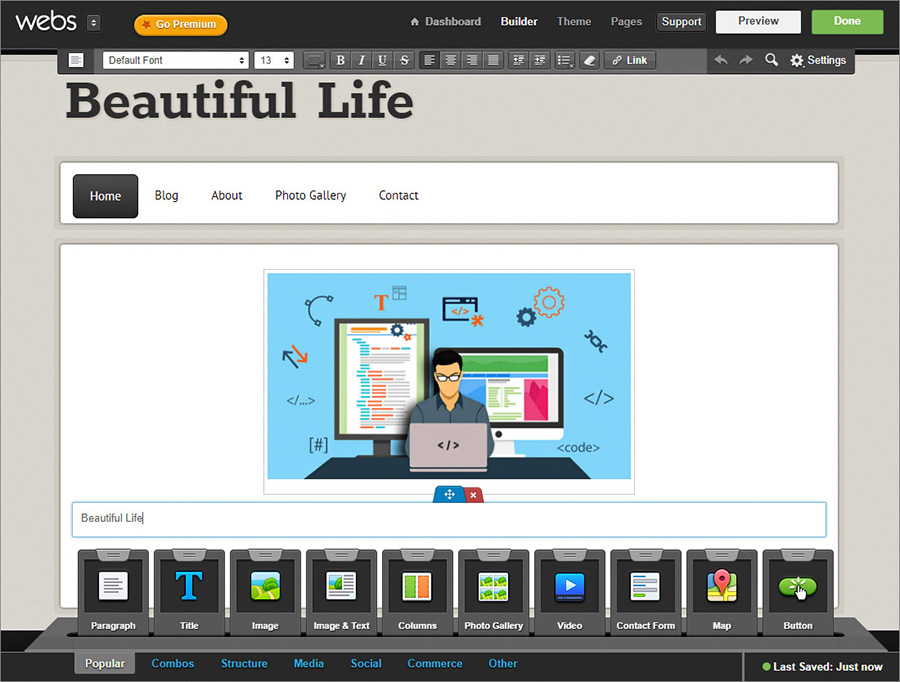 What distinguishes Webs from other builders? One allows you to deploy a membership system on your sites. A part of your website content will remain open to a particular group of members of your site. Such a unique feature is available only in this particular builder.
Pros:
Free custom domain name & unlimited pages;
Available in English and Spanish;
Included video tool and photo galleries;
App library with third-party widgets;
Free cloud hosting.
Cons:
Not all templates are available for free;
The average quality of the templates, many of them have a frankly outdated design;
Minor template editing tools ;
Week features of a free plan;
No option to export site;
Poor hosting and support.
Is it worth to use Webs?
Possibly. Webs free plan can be used to create a small business website or a photo gallery. However, due to its limited feature set, it is not a perfect platform for creating content-rich websites. But you can try to use Webs if you need a site with membership system

What is the Most Popular Website Builder?
You can talk about popularity of website builders by comparing the two parameters: number of built websites and number of requests to Google.
By Number of Built Websites
Accordingly to our table comparing website builders the most popular are those website builders which were created over 10 years ago. For this time they've managed to interest tens of millions of users. So on Wix for all this time were created more than 110M websites. Weebly – twice less. Webs which was launched in far away 2001, was able to make 55M websites. There is no statistics for Google Sites – but we can predict that the number will be commensurate with Wix.
By Number of Requests to Google
Thanks to Google Trends we can analyze how often people searched for a particular website builder in Google search. Google Trends shows the values in the form of comparative graphs without specifying any numerical values. Here is a graph of the popularity of website builders in the world over the past 2 years: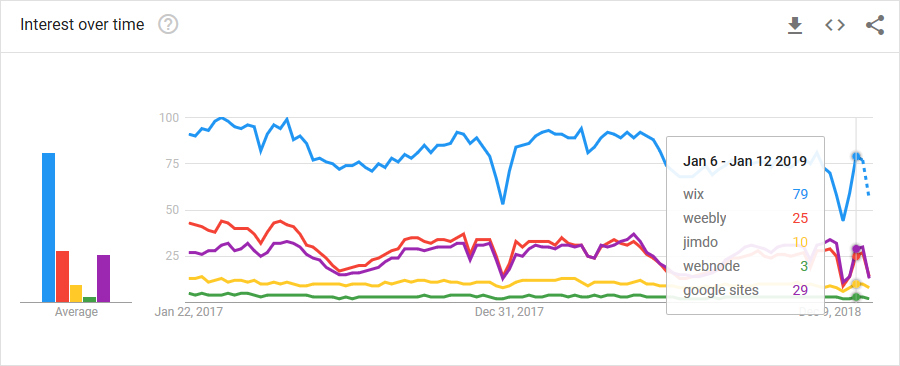 As you can see on this graph, absolutely leader by popularity is Wix (blue line). It was searched almost three times more often than Weebly (red line) and Google Sites (purple line). Jimdo (yellow line) is less popular than Weebly but larger than Webnode (green line). The rest website builder, which aren't presented in our graph – have even lower popularity. Their graphics are simply not noticeable on the background of these five. It's also worth noting that in different countries, the popularity of website builders will have different ratios.
How do Website Builders Work?
A website builder is a special online service that includes tools and instruments made for developing and managing web pages of your own website. All project files are stored on a remote server – web hosting. The user can get access to the service account from any browser or mobile devices. In particular, they have solid iPad site-editing apps. In general, website builders do not require additional installation, configuration, or administration.
The system guarantees its functionality and security. The user only needs to focus on the developing process that one performs by using a special drag-and-drop builder. It allows users with no experience in web design and programming knowledge to create a website in a visual real-time mode. The user gets access to ready-made elements and additional apps or widgets so that one can create cool designs and insert this functionality directly to the website.
Using cloud builders like that is beneficial in all aspects. They also attract professional web designers who can instantly master their skills and create an advanced project in a very short period of time. A wide choice of platforms for creating websites allows you to choose a system that is best for performing your particular task.
Benefits of Using Website Builders:
Responsive design. The prevailing number of systems is mobile-friendly and features fully-responsive templates for a convenient mobile viewing;
Intuitive interface. All site constructors adjust their features to the needs of beginners, rather than professionals, although it doesn't affect the "richness" of the functionality;
Latest technologies. Such platforms get updated almost every month. Fast servers, reliable protection against cyber attacks, interesting functionality and template designs are the key reasons why people choose builder instead of CMS;
Convenient customer support. Such services offer technical support, where users can solve their problems quickly and efficiently;
Speed and efficiency. You get the full range of integrated options to achieve the wished result;
SEO optimization. Most website building platforms include at least 1 promo tool. SEO features are by far the most common way to bring your website to the top search engine results.
How to choose a free website builder?
The quality of your result depends directly on the choice of your website builder, whether you'd like to buy a paid version or limit yourself to a free one. That's why you need to take time and focus on choosing the best option out of offered ones.
Step 1 – Set tasks. Determine what type of a website you need. The functionality you'll need to create a landing page and an online store can vary. Most website builders, for instance, do not offer an eCommerce option, so your choice will be significantly limited, compared to options that work for landing pages or portfolios.
Step 2 – Select what service will work best for your website. For example, systems with a visual editor are best suited for creating business websites. Fortunately, most platforms are rather universal and offer pre-made templates for different industries and purposes.
Step 3 – Analyze the "possible" costs. The trickiest thing about almost all free plans of website builders is that they are not completely free as you expected. Many of them are simply useless until you purchase some additional add-ons, widgets, and features, like SEO, social media integration, or templates, etc. Make sure you know what you're going to pay for and whether you are ok with making those extra purchases.
Step 4 – Test. Use a free plan or a trial version to check the system parameters and suitability. As soon as you get that valuable user experience, you'll be able to make an objective review of all builders and finally pick the best one for yourself.
Website Builders vs WordPress. What's better?
Website builders or WordPress? Let's compare the upsides and downsides for both:
Visual vs Form Editor
All website builders provide visual page editors allowing you to drag-and-drop elements the way you want it to be. SaaS platforms or Content Management Systems, in particular WordPress, work differently: they extract the text from the page while you edit it (although there exists alternatives like Composer or Elementor);
Ease of Use
No doubt, WordPress requires more experience and technical skills than website builders, especially when you need to deal with the code.
Flexibility
WordPress plugins ensure its better flexibility compared to site-building platform, although they require additional configuration. Website builders, on the other hand, provide ready-to-use plugins.
Hosting
Every drag-and-drop site building platform provides free web hosting services. It's a significant benefit compared to WordPress, which does not. The latter, however, gives you a chance to export your website and move to another host.
In general, the choice in favor of either or or another depends on your individual needs. If you want to create a website for a fairly standard purpose without going deep into the configuration and or the necessity to use various tools, you'll be satisfied with any of the above-mentioned website builders. Those will save you time, nerves, and even money. The time and efforts spent on learning the programming languages , the necessity to set up/manage hosting, and find/select WordPress plugins, can be used in a more profitable or pleasant way.
Yet, if your goal is to create a non-typical or a very specific and unique website, and you also want to have ample customization opportunities, WordPress will be a much better choice.
What is the Difference Between Free and Paid Website Builders?
Imagine that a free website builder is a small room in a hostel with a shared kitchen and bathroom. A paid builder, however, is a cool apartment in the location that will directly depend on your budget. A premium account gives you more freedom in actions and opportunities compared to free platforms where users must simply comply with the given terms and restrictions. For instance, the site owner is provided with a certain amount of hard disk space, and as a rule, it's impossible to increase this volume.
Each user chooses one's own site-building method, depending on personal skills and available funds. For someone, using a free builder is enough for developing a simple business card, while others need a corporate site or an online store with the functionality provided by more advanced website builders. Today, the market is full of builders that manage to combine paid hosting and other premium options with basic free perks. For example, Wix offers to create quality custom content by using some free functionality. At the same, though, it offers to expand the initially given features to more expanded opportunities. At the end of the day, such plans are the best option for website owners with poor knowledge of servers, domain, and CMS.