If you are looking for websites with free templates and themes, you have found the place where the best of them are collected. Here is a list of websites with free templates and free WordPress themes, which you can download without paying a cent.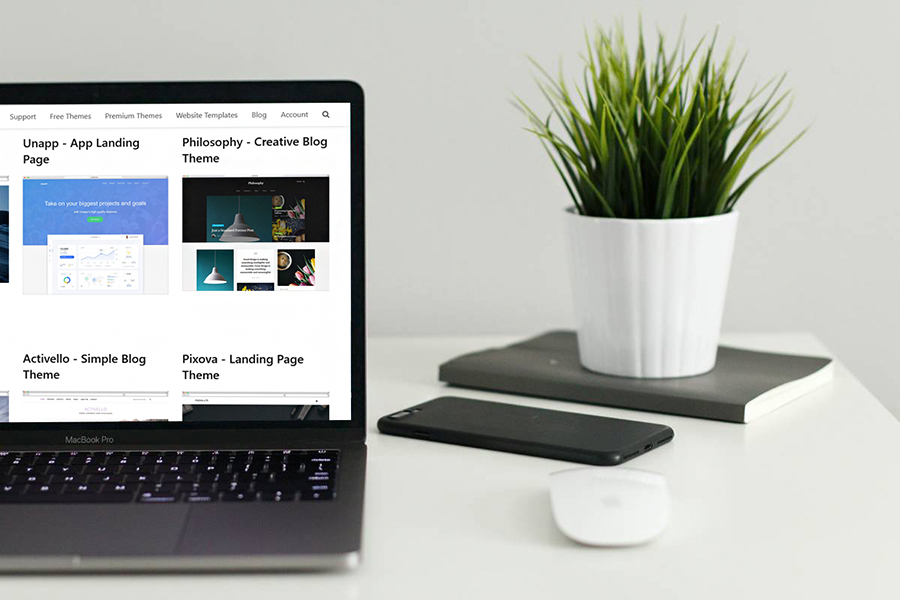 Free website templates and free themes are the second most popular way (after free website builders) to launch a website. Today, you don't necessarily have to purchase web templates to be assured of their excellent quality. Some websites and platforms offer premium-quality free website templates completely free of charge. Just register on the site and download the template you like. In some cases, you won't even need to download it – simply use the free template within the chosen website builder. They will also provide you with free hosting, a CSS certificate, and even a domain name.
Downloadable Free Website Templates
Here are the most popular websites containing collections of free website templates. These templates can range from simple free HTML website templates to those with pre-installed CMS like WordPress, Joomla, Drupal, Magento, and others. They are also commonly referred to as free themes. Essentially, you get a ready-made website. Just download such free themes and upload them to your web hosting – and your website is ready.
1. ThemeForest
Part of the Envato Market family, ThemeForest is a mammoth resource when it comes to website themes and templates. While it's predominantly known for its vast collection of premium offerings, there's a little-known secret about ThemeForest that can benefit budget-conscious users. Every month, ThemeForest selects one of its premium templates or themes and offers it for free to registered users. This ensures that, even though the quantity is limited, the quality is top-notch.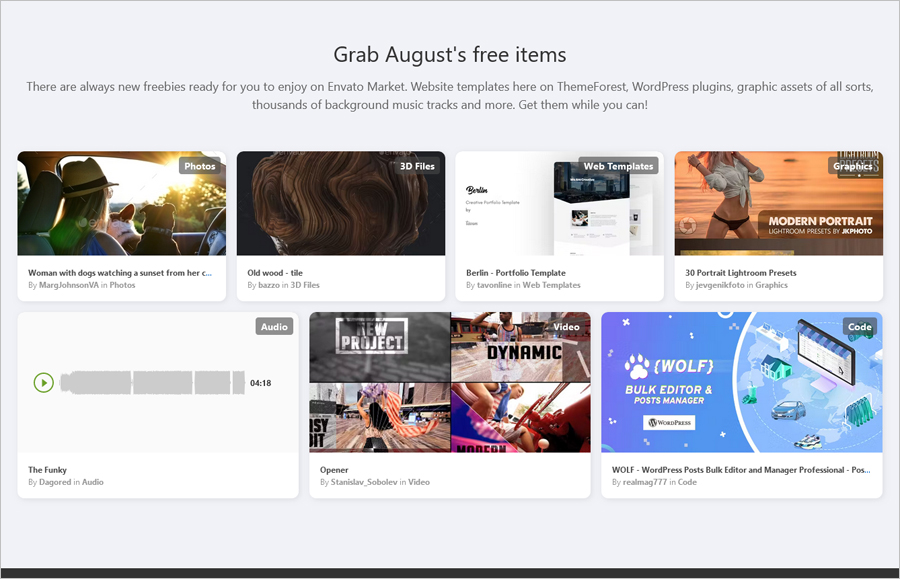 Diverse Categories: From e-commerce sites and blogs to portfolios and corporate sites, the free templates and themes span across various categories, ensuring there's something for everyone.
Well-Documented: One of the major advantages of these free offerings is that they come with detailed documentation. This is essential for users, especially beginners, to understand the features and customize the theme as per their requirements.
Regular Updates: Despite being free, these templates and themes often receive updates. This ensures compatibility with the latest web standards and technologies.
Support and Community: Since ThemeForest is a major player in the template world, there's a robust community and support system. Even if you grab a free theme, there's a good chance you'll find forums and discussions to help you out with any issues.
ThemeForest might be renowned for its premium range, but its monthly free offerings are a gem. It's an excellent opportunity for users to get their hands on a high-quality template or theme without spending a dime. All you need to do is keep an eye on their monthly giveaways and grab them while they last!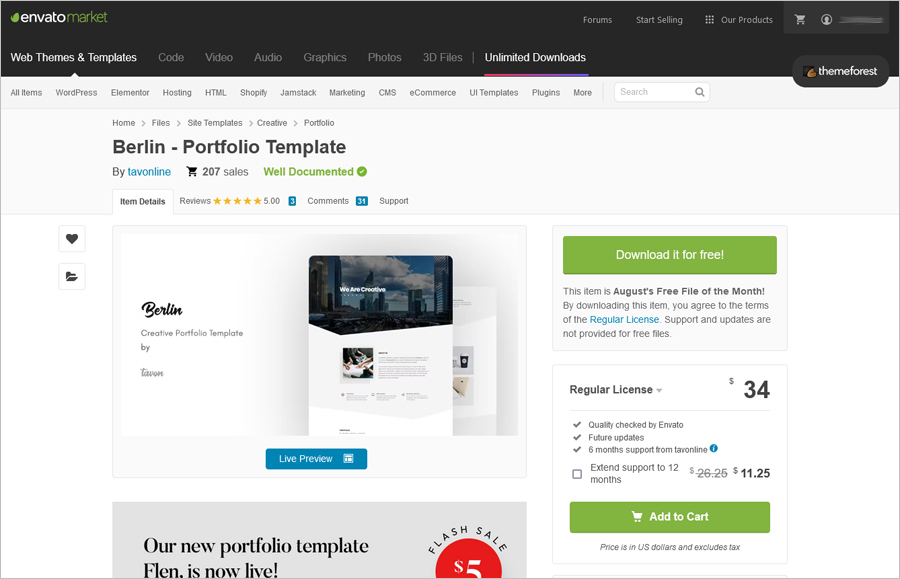 2. Colorlib
Colorlib has made a significant mark in the digital world by offering a myriad of high-quality WordPress themes. Beyond its extensive range of premium offerings, Colorlib generously provides several free templates that have won the hearts of website developers and bloggers alike.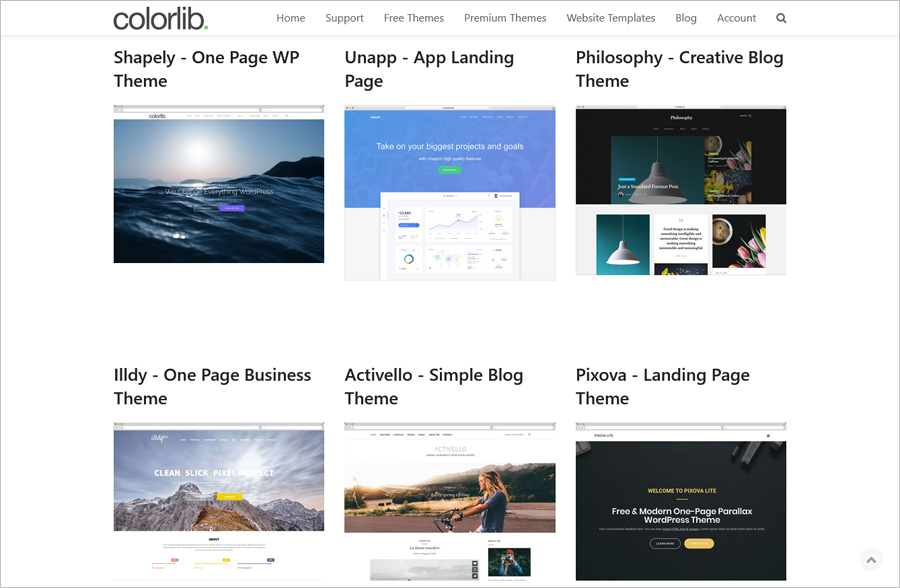 Vast Selection: While some platforms might offer a handful of freebies, Colorlib stands out with its extensive range of free WordPress themes. They cater to a wide variety of niches, from business and eCommerce to blogs and personal portfolios.
Responsive Designs: In today's age, a website's adaptability to various screen sizes is crucial. Colorlib's free themes are designed to be fully responsive, ensuring that they look and work perfectly across different devices, from desktops to smartphones.
SEO Friendly: A beautiful website is great, but it also needs to be discoverable. Many of Colorlib's free themes are built with SEO best practices in mind, giving your website a head start in search engine rankings.
Colorlib is not just another repository of free themes. It's a testament to the fact that free resources can match, and sometimes even surpass, their premium counterparts in terms of quality and functionality. If you're on the lookout for free WordPress themes that combine aesthetics with functionality, Colorlib is a resource you shouldn't miss.
3. Templated
Another noteworthy mention in our list is Templated.co. The platform offers a straightforward approach to web design, providing a collection of templates that are both simple and functional. Unlike many sites that can overwhelm with too many bells and whistles, Templated.co focuses on the essentials, making it easier for users to find and implement the designs they need. With its user-friendly interface and a range of versatile templates, it's a reliable choice for those looking to set up a website without the fuss.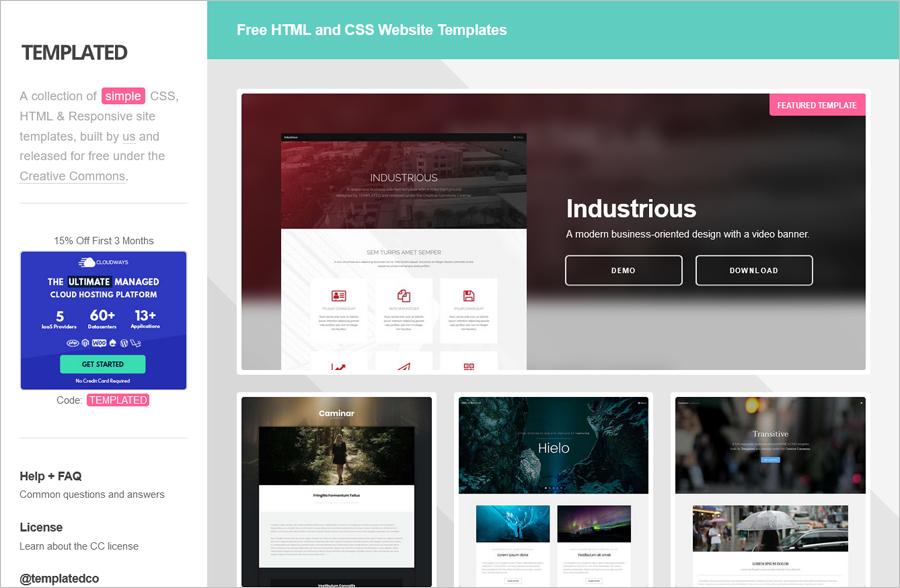 Large Collection: With over 800 meticulously curated templates, Templated.co ensures a broad spectrum of choices for users, be it for business, portfolios, blogs, or niche-specific projects.
CSS & HTML5 Based: At its core, Templated.co harnesses the power of CSS & HTML5. This commitment ensures that users get lightweight, swift-loading designs aligned with the latest web standards.
Responsive Designs: Recognizing the paramount importance of mobile compatibility in today's digital age, every template on Templated.co is crafted to be responsive, adapting seamlessly across diverse device screens.
Minimalist and Modern: The platform's distinctive design philosophy leans toward minimalism. This focus ensures that while the aesthetics are contemporary and engaging, the user experience remains uncluttered and centered around content.
Easy Customization: For the code-savvy, Templated.co's offerings are a delight. With well-structured and organized code, customization becomes intuitive, allowing for easy tweaks to align with individual preferences.
Clear Licensing: All templates are generously provided under the Creative Commons license. This transparency ensures users can embark on both personal and commercial projects with clarity and confidence regarding usage rights.
In an industry where free resources often come with strings attached, Templated.co's transparent licensing provides users with the freedom to use templates for both personal and commercial projects. As a result, it has become a trusted resource for many in the web development community.
4. HTML5 UP!
HTML5 UP! is a distinctive platform that offers a collection of sleek, responsive, and free HTML5 and CSS3 website templates. These templates are a perfect fusion of design and functionality, providing users with tools to craft websites that are both visually pleasing and optimized for performance.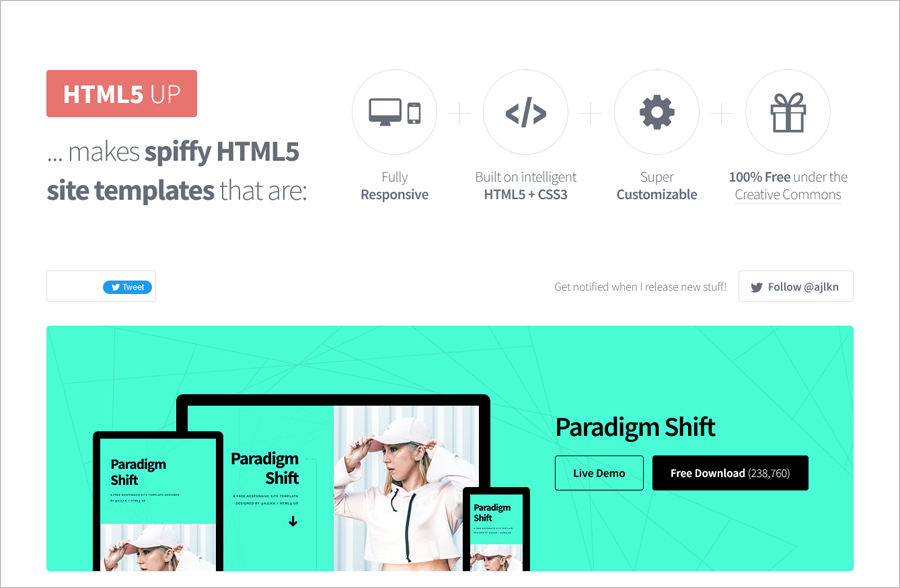 Quality Over Quantity: Every template on HTML5 UP! is a testament to superior design and coding standards. Rather than overwhelming users with countless choices, the platform focuses on offering a select range of high-quality templates.
Fully Responsive:Whether accessed from a desktop, tablet, or smartphone, websites built using these templates offer a seamless viewing experience.
Clean and Modern Aesthetics: The templates lean towards minimalist and contemporary designs, ensuring that the user's content remains the focal point, without being overshadowed by design elements.
Easily Customizable: Each template is structured with clean code, making it accessible for developers and beginners alike to customize and adapt to their specific needs.
Regularly Updated: The platform is committed to staying updated with the latest in web design trends and best practices. As a result, users can expect fresh designs and updates to existing templates.
For those seeking a no-fuss solution to crafting professional-looking websites, HTML5 UP! offers an array of templates that strike the right balance between form and function. Its dedication to quality and usability makes it a favorite among both novice and seasoned web developers.
5. BootstrapMade
BootstrapMade specializes in creating and offering an impressive array of templates and themes built around the Bootstrap framework. This platform perfectly encapsulates the power and flexibility that Bootstrap brings, offering sleek designs that are both adaptive and functionally rich.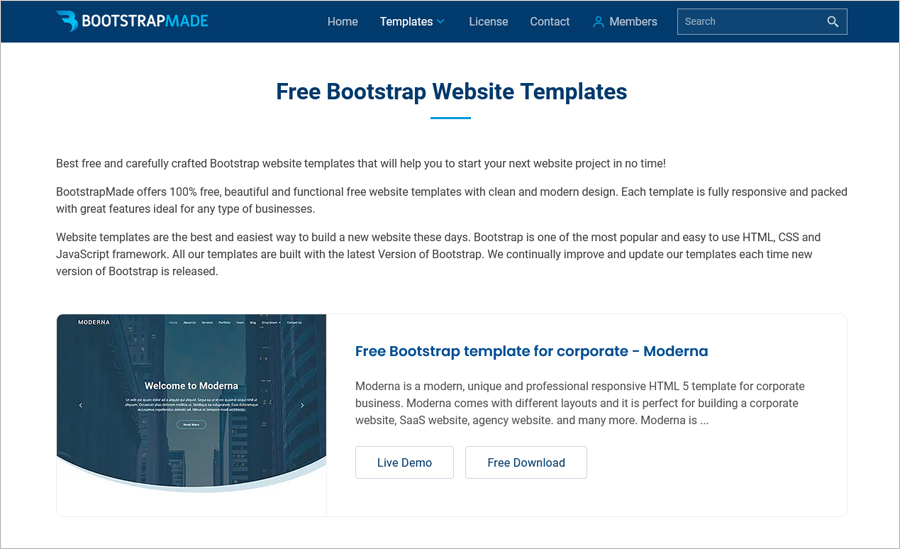 Bootstrap Centric: All templates and themes are crafted around the highly popular and versatile Bootstrap framework. This ensures that the designs are inherently responsive and compatible with a range of devices, from mobile phones to desktops.
Clean & Intuitive Designs: The templates prioritize user experience. With clean layouts, intuitive navigation, and emphasis on content, they ensure visitors have a pleasant browsing experience.
Customizable & Developer-Friendly: Given their Bootstrap foundation, the templates are inherently modular and easy to customize. Even those with a basic understanding of web development can tweak designs to fit their specific needs.
Updated Regularly: BootstrapMade remains in sync with the latest updates and versions of the Bootstrap framework. As a result, users are assured of templates that adhere to the latest web standards and practices.
BootstrapMade is an ideal destination for those seeking the blend of Bootstrap's robustness with sleek design aesthetics. With its varied collection and emphasis on quality, it's a reliable resource for both beginners and seasoned developers looking to expedite their web development process.
6. Themewagon
Next up on our list is Themewagon. Pioneering in the world of templates and themes, Themewagon has established itself as a reliable hub for web enthusiasts, both amateurs and professionals alike. The platform distinguishes itself through its wide array of designs, catering to diverse website needs, from corporate profiles to personal blogs. A notable attribute of Themewagon is its rich variety of free offerings.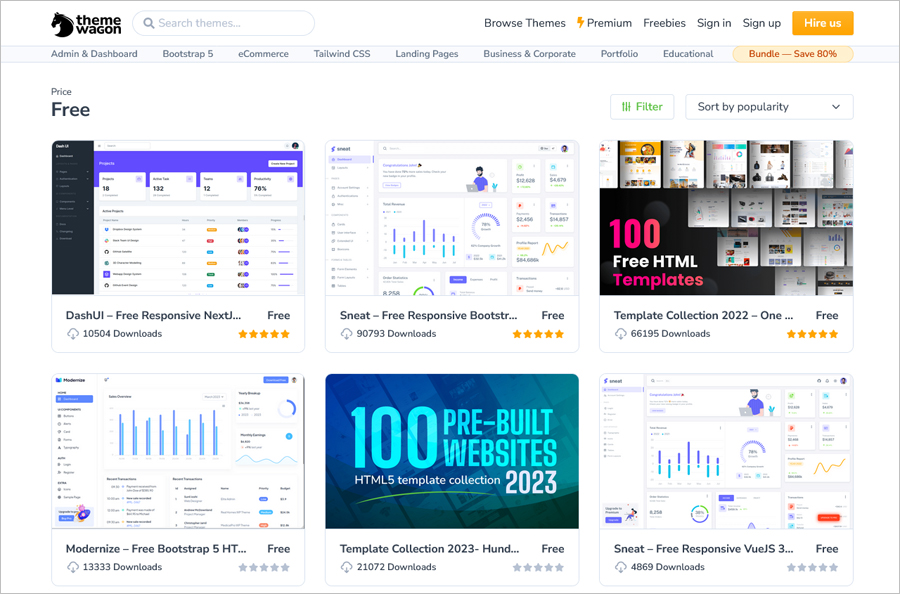 Tailored Selection: Unlike many other platforms, Themewagon offers a curated set of templates, ensuring every design meets a high-quality standard.
E-commerce Ready: For businesses looking to set up an online store, many of their free templates come e-commerce enabled, simplifying the setup process.
Lightweight and Fast: Recognizing the importance of website speed, Themewagon's templates are optimized for fast loading times without compromising on design.
Active Community Support: Along with the platform's regular support, there's a thriving community around Themewagon, often sharing tips, tricks, and tweaks for various templates.
Detailed Documentation: To aid users, especially those new to website creation, templates come with thorough documentation, guiding you through every step of setup and customization.
Themewagon.com stands out as a valuable resource for high-quality website templates. Its dedication to combining aesthetics with functionality, especially in its free offerings, makes it a top choice for those keen on crafting compelling digital spaces.
Direct-Use Free Website Templates
Unlike downloadable free website templates, these themes are part of website builder platforms. This offers certain advantages. Firstly, you don't need to download such a template and upload it to web hosting. Web hosting is already provided to you for free by the platform. Secondly, all leading free website builders come with integrated drag-and-drop editors. And these are more advanced drag-and-drop editors than those offered by third-party plugins, for example, for WordPress sites. Thanks to this, you can independently edit the website template you've chosen and even each page of your website individually.
1. Wix
Wix is a prominent player in the realm of online website building, known for its intuitive drag-and-drop interface and a plethora of free templates. . The platform is super easy to use and offers a ton of eye-catching templates that you can use for free. So, if you're just starting a business, looking to share your passion through blogging, or just want to try your hand at creating a website, Wix has got you covered. The best part? Their free templates aren't some second-rate designs – they actually look professional. That means you can create a stunning website absolutely for free.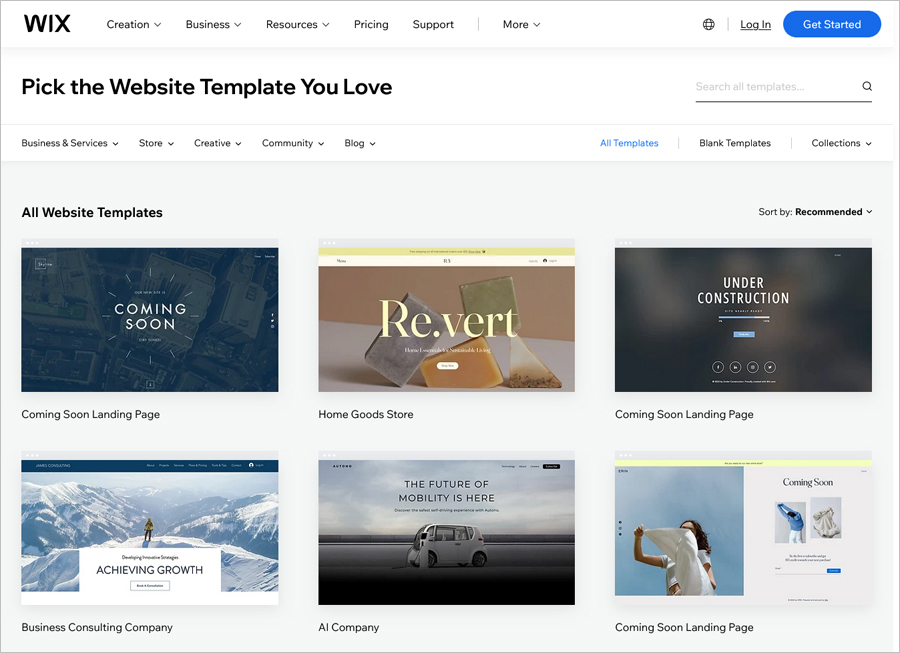 Diverse Collection: Wix boasts a rich library of over 500 free templates, catering to various industries from businesses, blogs, portfolios to event sites, and more. Every template is designed keeping in mind the latest design trends.
Drag-and-Drop Functionality: Unlike traditional templates that require some degree of coding for customization, Wix's templates come with a seamless drag-and-drop editor. This allows users to place elements like images, text, or videos wherever they see fit.
Mobile-Optimized: Recognizing the surge in mobile browsing, every Wix template is mobile-optimized, ensuring that websites look impeccable across all devices.
Customizable Design: Wix provides a wide range of design tools, allowing users to tweak templates, change layouts, adjust fonts, and more. This ensures every website can have a unique touch.
Built-In Features: Beyond aesthetics, Wix's free templates come embedded with functionalities like SEO tools, contact forms, and social media integrations, ensuring websites are equipped for the digital age.
For those aiming for a hassle-free approach to website building, coupled with the freedom to personalize every detail, Wix.com stands out as an impeccable choice. It's not just about creating a website; it's about bringing a vision to life effortlessly.
2. Webflow
Webflow is not just another name in the website design scene; it's a distinctive platform celebrated for its blend of user empowerment and design flexibility. Webflow.com has earned its place as a standout favorite for many, and a lot of that credit goes to their flexible templates. Designed for those who want a blend of simplicity and powerful customization, Webflow offers a unique approach that caters to both designers and beginners alike.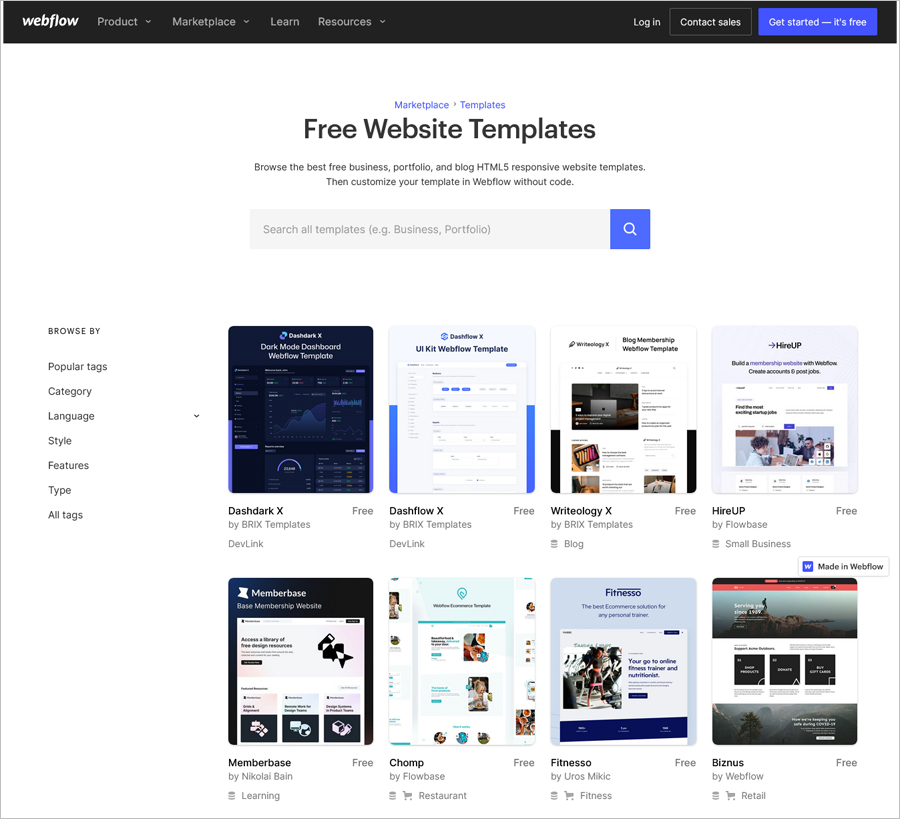 Designer's Playground: Unlike many platforms, Webflow offers pixel-perfect design control, giving users the freedom to tweak every aspect of their site.
Seamless Integration: Webflow's free templates come with integrated CMS capabilities. This makes content updates and site management a breeze.
Responsive by Nature: Given the increasing mobile traffic, every Webflow template is built to be responsive. This means sites look great on devices of all sizes.
Interactions & Animations: With Webflow, not only do you get a visual treat, but you can also infuse life into your designs with interactions and animations, making your site stand out.
No Coding Required: The platform caters to both pros and novices. So, even without coding knowledge, you can use Webflow's intuitive interface to customize free templates to your liking.
If you're looking to merge creativity with functionality, all while staying within budget, Webflow's free template offerings are more than worth a look. They truly merge the gap between design freedom and user-friendliness.
3. Weebly
The next on our list is Weebly, a favorite for many people who want to create a website. What makes Weebly special is how user-friendly it is. Even if you're new to making websites, you can get started easily. One of the best parts about Weebly is their wide selection of templates. They offer a lot of choices, so you can find something that fits your style or your business. And here's the kicker: these templates are completely free. So if you're on a budget but still want a quality website, Weebly's free templates are a great place to start.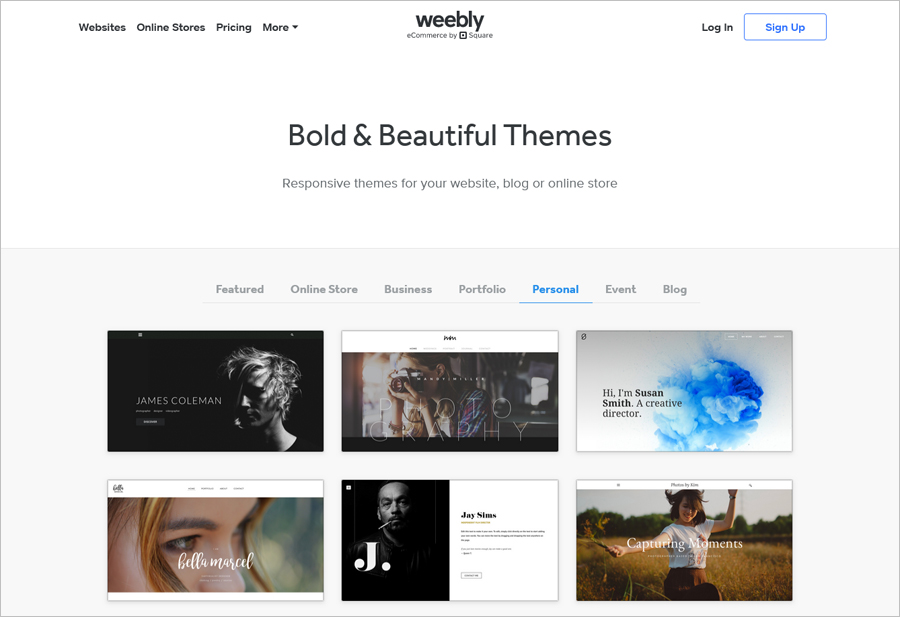 E-Commerce Ready: Many of Weebly's free templates come pre-configured for online sales, providing an immediate platform for budding entrepreneurs.
Drag-and-Drop: The intuitive drag-and-drop editor ensures that customizing your chosen template is straightforward, requiring no technical know-how.
Mobile Optimized: Recognizing the mobile-first world we live in, all of Weebly's templates are designed to be responsive, ensuring a seamless experience across devices.
Integrated Features: Beyond the design, Weebly's free templates are backed by a suite of integrated features like contact forms, image galleries, and more.
SEO Friendly: To help your site get noticed, Weebly's templates are constructed with SEO best practices in mind, ensuring you have a solid foundation for online visibility.
Weebly's commitment to delivering quality, even within its free offerings, makes it a standout choice for those aiming to establish an online presence without facing hurdles or breaking the bank. Its free templates serve as a testament to its dedication to user empowerment and accessibility.
4. Webnode
The next resource is Webnode. This platform has been around for over a decade, steadily building its reputation as a hassle-free website builder. Catering to millions globally, Webnode focuses on simplicity and effectiveness, making website creation a breeze. One of the standout features of Webnode is its vast collection of templates. From bloggers to entrepreneurs, there's something for every online endeavor. And the icing on the cake? A significant portion of these templates won't cost you a dime.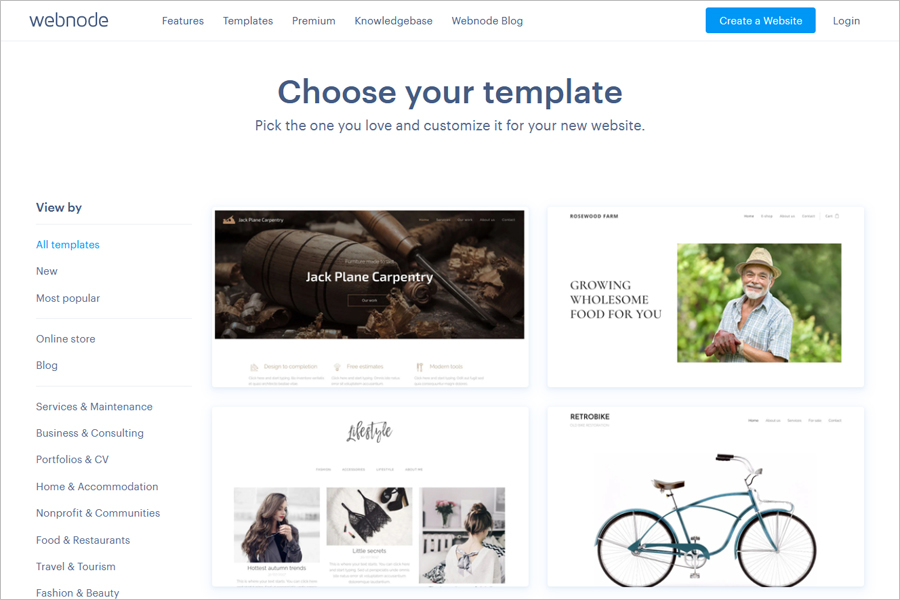 Versatile Designs: Webnode's templates cater to a plethora of industries and niches, ensuring a fitting design for every project.
Mobile-Responsive: With the rise of mobile browsing, Webnode ensures its templates are optimized for all device types, guaranteeing a seamless user experience.
Built-in SEO Tools: These free templates come equipped with tools to help your site rank better on search engines, giving you a head start in online visibility.
Multilingual Support: Recognizing global needs, many templates support multiple languages, allowing businesses to cater to diverse audiences.
Webnode's dedication to user-friendliness, combined with its offering of high-quality free templates, makes it a top contender for anyone looking to get online swiftly and stylishly.