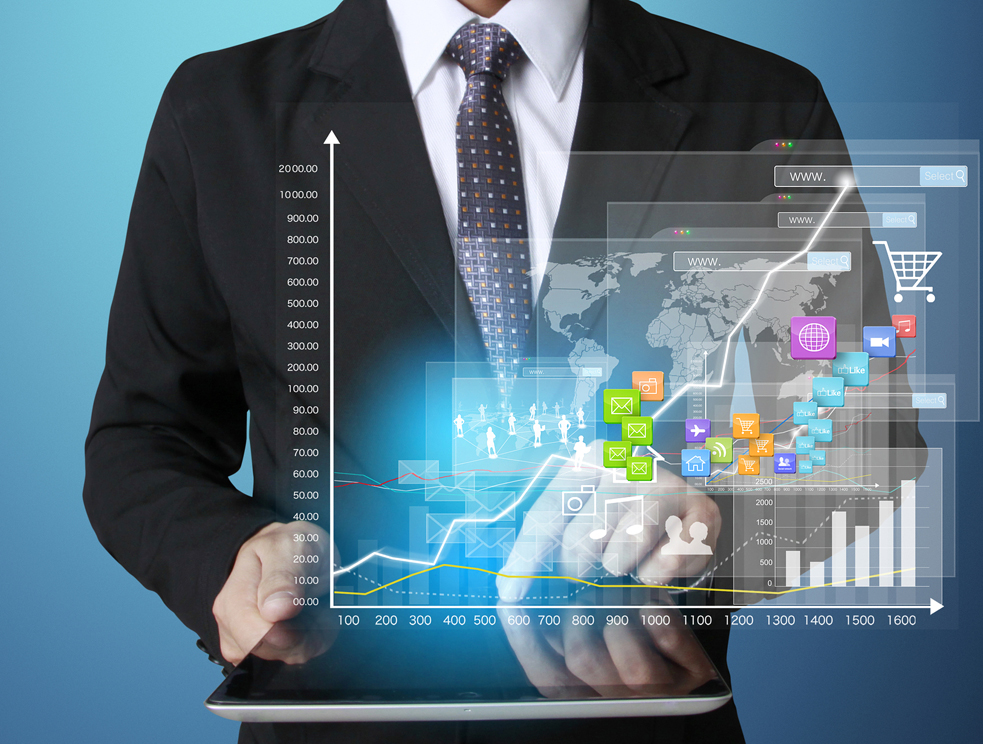 Among the several ways in which Internet has touched our lives is the manner in which we sell and purchase stuff, which has also undergone a massive change, courtesy Internet. More and more retailers are choosing to acknowledge the World Wide Web as a wonderful channel of selling with ample rewards and little investment to begin with. The contribution of eCommerce in creating a substantial part of a business' revenue can't be undermined. And almost every website builder now offers ecommerce package, check our last post about Top 10 Best eCommerce Website Builders. Thankfully, even small and medium sized retailers can now enjoy the leverage of Internet and take their business to a global level courtesy powerful eCommerce Content Management Systems. Here's a quick overview of how the features that let these systems help retailers sell as flexibly as they can sell at physical stores, using configurable and customizable interfaces.
Quality web store templates that give a beautiful face to your online shop. It is of prime importance that your virtual shop exudes the sense of quality in every sense, including the way it looks. With free and premium themes, you can ensure that you get a web store that looks precisely like you'd want it to.
Limitless product catalog management. Product is at the core of eCommerce, and you ideally want your CMS to deliver you the best of all worlds in terms of limitless products and categories, and attributes of the added products so that you are able to create impressive and expansive product catalogs.
SEO friendliness. Light and Easy are the two keywords to remember. Light SEO means that the CMS is not code heavy, and hence it is easier for crawlers to crawl pages built using it. Easy SEO implies the provision of on page SEO functions such as search friendly URLs, meta tags and descriptions.
A checkout process that breeds confidence. Just the right amount of information requirements, just the right amount of clicks, and just the right progression of pages – all these spices go into creating the perfect checkout that minimizes abandonment of purchase.
Configurable shipping and tax rates. A sale is not complete until you generate a price for the customer to consider. And, the final price will not be calculated until you have rules for calculating shipping and tax rates. So, an eCommerce CMS must empower you to define rule passed pricing so that selling is automatically managed rather than requiring manual intervention.
PrestaShop
For the discerning retailers, there are not many CMS for eCommerce that match the feature richness of PrestaShop. With more than 310 features that help you do business better, PrestaShop is right up the alley of those sellers who like nothing short of the most complete collection of functions in the CMS they use for web based selling. With powerful catalog management with differentiated product displays, in-built SEO features, a quick and efficient check out mechanism, integrated payments, marketing tools and security, PrestaShop emerges as a one stop solution for the web store selling needs of small, medium as well as large sized retailers.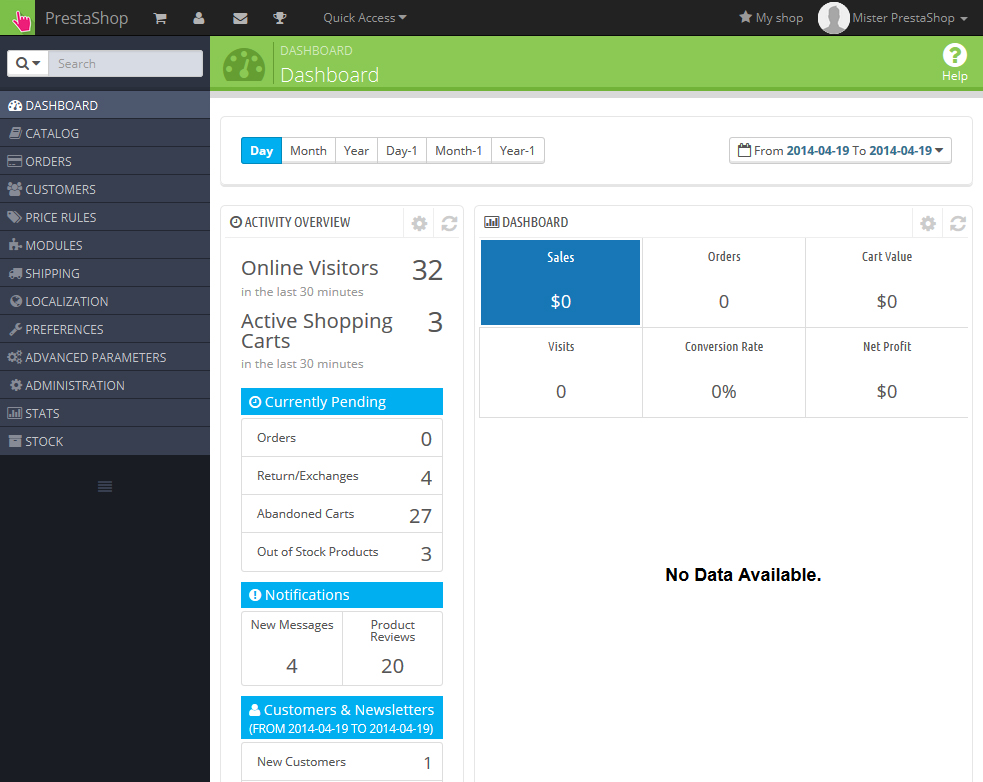 Scale up from one product to a thousand with power packed catalog management. The PrestaShop backoffice allows you to manage your products so easily and effectively that you will never find scaling up the product catalog a problem. One click updates to inventory, an incredible administrative interface that makes complex product catalog handling easier, and import and export options that help you make mass changes in a jiffy – these are just a few powerful features of the PrestaShop catalog management system. You can also sort products, manage attributes and present bulk discounts in a few clicks.
Third party selling websites' integration. PrestaShop establishes its authority as a selling oriented CMS by offering you the opportunity of creating new sales channels through product listings on other websites such as Amazon and eBay. This also helps you enhance the search engine rankings of your web pages. EBay comes as an integrated selling option, whereas add on tools let you integrate other websites.
Customize the behavior of your web store. Right from specifying the number of products visible per page to defining as to when the Add To Cart comes over products, there is ample customization flexibility offered by PrestShop. You can also configure how the Out Of Stock message is shown to viewers.
Cross selling, digital goods selling, and limitless categories. Hassle free, advanced and limit less selling is what PrestaShop focuses on offering you, and the cross selling and digital goods selling features go a long way in enabling this. By clubbing similar kind of products together, you can cross sell and hence give a push to revenues. Then, you can offer digital goods through downloads. You will also working with the unlimited categories, products and attributes that PrestaShop allows you.
More from the PrestaShop kitty to help you sell more and sell better:
• Product Comparison to allow the customer to make buying decisions better; enhancing the conversion rate of prospects into customers
• Layered navigation to make it easier for customers to find products in the categories they are interested in, also enhancing the SEO attributes of the website
• Advanced inventory management that lets you manage stocks from multiple warehouses, generate supply orders, manage partial deliveries, etc
• Filtered search by product attributes to help customers find the product most suitable for them
• Options to let customers write product reviews and share favorite products with friends
Magento
With 200,000 businesses already having set shop with Magento, the trust and credibility that this CMS enjoys is unquestionable. Its CMS come in all packages, catering to the needs of startups as well as fast growing business powerhouses. Creating rich customer experiences is a core benefit of opting for Magento. The ease with which Magento can be configured to suit a business' needs to the massive number of smart tools that focus on helping you retain as well as grow your customer pool, and the growth oriented philosophy that runs through the entire feature set offered by Magento are all some of the differentiating elements of the Magento eCommerce CMS.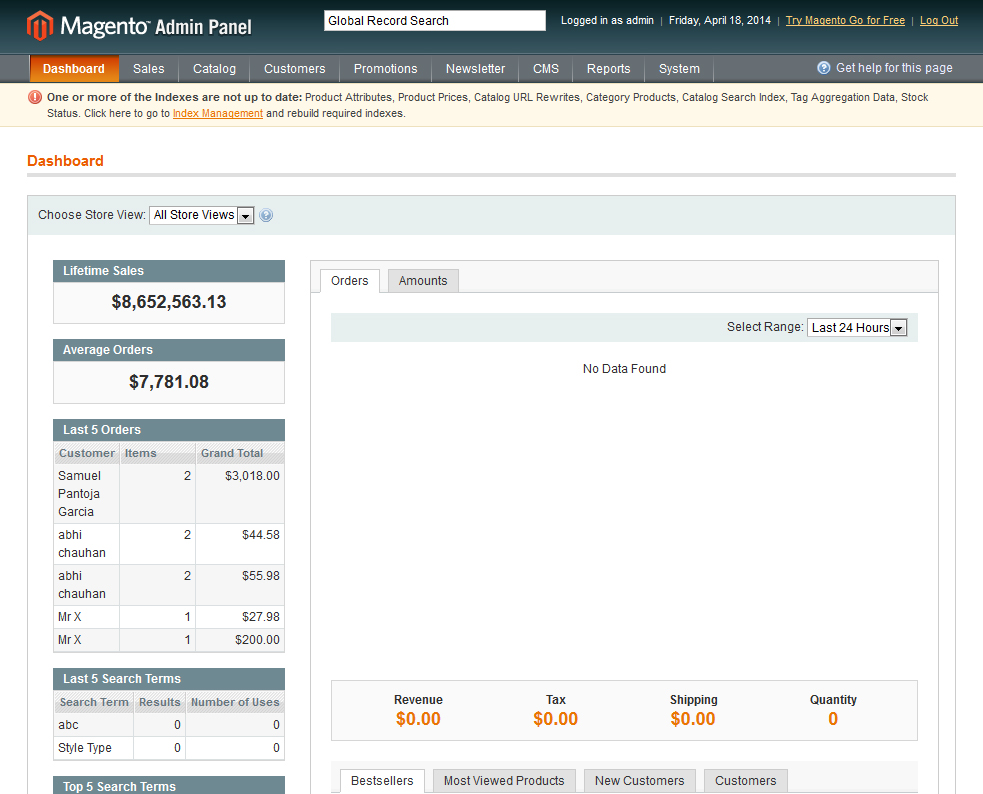 Impetus to your online sales. With several tools that help you attract more traffic, keep the existing users engaged and well served, scale up to a higher number of transactions, and with complete control in your hand to decide as to how the web store looks, Magento is everything that a fast growing business needs to skim more out of the online clientele.
Enhance customer experience with personalized promotions. You can target customers in a specific and personalized manner by tracking their buying behavior, and then planning coupons and discounts accordingly. Then, social sharing lets you broadcast offers and promotions quickly, and also allows your audiences to share product pages with their friends.
In-built SEO features for enhanced web store visibility. If you're not visible, even the most irresistible offers will fail to convert into sales, and that is where Magento kicks in and lets you be visible on search result pages of leading search engines. With a Google site map, customized meta tags and keywords, SEO friendly URLs and descriptions, Magento helps you catapult the web store to the top ranks of search engine result pages.
Segmentation based selling. Magento helps you take a marketing perspective of your business by allowing you ample inputs to help you segment customers into actionable profiles based on criteria such as first time or repeat sales, demographics and shopping cart and purchasing history.
Magento has a lot more to make selling an exciting experience for businesses; here are the top picks:
• Rule based product relations functionality helps you promote specific products to specific sections so that your promotional efforts are more relevant and get rewarded with high conversion rate
• Attach personalized coupon codes to newsletters and several other promotional methods to ensure that your web store is always active in terms of customer activity and revenue generation
• Create customized websites right from a single administrative panel to be in complete control of your web based selling even if you have multiple verticals
• Create customized websites right from a single administrative panel to be in complete control of your web based selling even if you have multiple verticals
• Pick from hundreds of added extensions that help you perform specific functions
• Configure your web store for multiple currencies and tax classifications to make your selling shop a truly international success
• Offer safe and secure mobile initiated transactions so that your customers can purchase your good son the move
ZenCart
Here's an eCommerce CMS that takes the 'technicality' out of the web selling concept by providing an amazingly easy to install and even easier to understand web store setup. Does the ease of installation and understanding come at the expense of feature coverage? Thankfully, the answer's a NO! ZenCart puts the requirements of business owners at the forefront, and builds a selling platform around the needs, thus ensuring that first time movers into the domains of web based selling have a non-intimidating eCommerce solution that they can rely upon to get off the blocks quickly. With a fair degree of customization and ample product management features to please small and medium sized business owners, ZenCart is a hassle free foray into the realms of eCommerce for most users.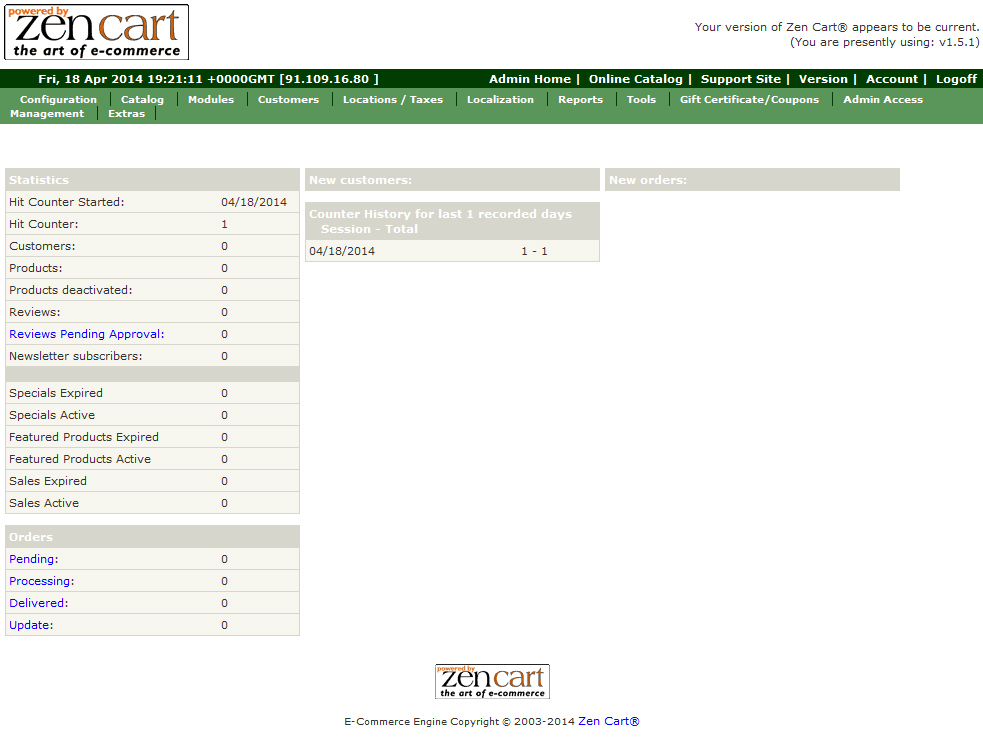 Sufficient product management functions. You will not need more than a few minutes to set your first product up for sale using the intuitive administrative interface provided by ZenCart. An add-on called Easy Populate is very useful if you wish to create products in bulk. You will not find anything amiss with the product management options put forth by ZenCart. Product reviews let your customers have a say and share their purchasing experience, stock management features let you manage your sales and stock updation requirements in the easiest possible manner, and automatic thumbnails creation makes your product pages more attractive as they feature in search results.
Extensive payment gateway integration. Most of the commonly used payment gateways come automatically integrated with ZenCart. Adding additional payment gateways is easy, and you just have to copy some files at the right locations in order to activate them.
Power packed shipping management. Right from calculating shipping costs according to weight to charging a flat rate, you can implement all sorts of shipping based pricing runs using ZenCart. On similar lines, taxes are also easy to manage and calculate, and are supported for multiple regions.
Easy and agile reporting. Properly and conveniently generated reports help you make decisions that can have a massive positive impact on your revenues. With many useful reports being provided by ZenCart, you will be able to continually improve your product selection.
With ZenCart, you have a manageable eCommerce platform that puts together advanced selling features in well laid out and branched menus; here's a look at more from the kitty of ZenCart:
• You can add infinite categories and products, and also have pretty wholesome attributes management features that let you prepare a pretty impressive product catalog
• You can add downloadable content for sale, including audio files and PDFs
• Add newsletters, banners coupons, gift cards and other marketing tools to manage useful promotion campaigns
• Lots of free ZenCart templates are available to help you get ready with a presentable web store design quickly and without any costs
• Event calendars, Facebook integration, Google maps are some of the additional widgets that can help you sell well
osCommerce
Install, set up a template, add products, and start selling them – can it get any easier than that? OsCommerce clubs together all the selling functions that any small and medium sized business can need to set up a virtual shop, and then adds more into the feature pool to appeal to bigger businesses with advanced selling needs. Cross browser compatibility, multi lingual setup, unlimited categories and products, and integrated payment gateways make osCommerce a reliable selling solution for all sorts of businesses. Moreover, it zooms pasts several competitors by providing lifetime free upgrades and support – two features that say a lot about the long term viability of choosing osCommerce as a CMS platform for eCommerce.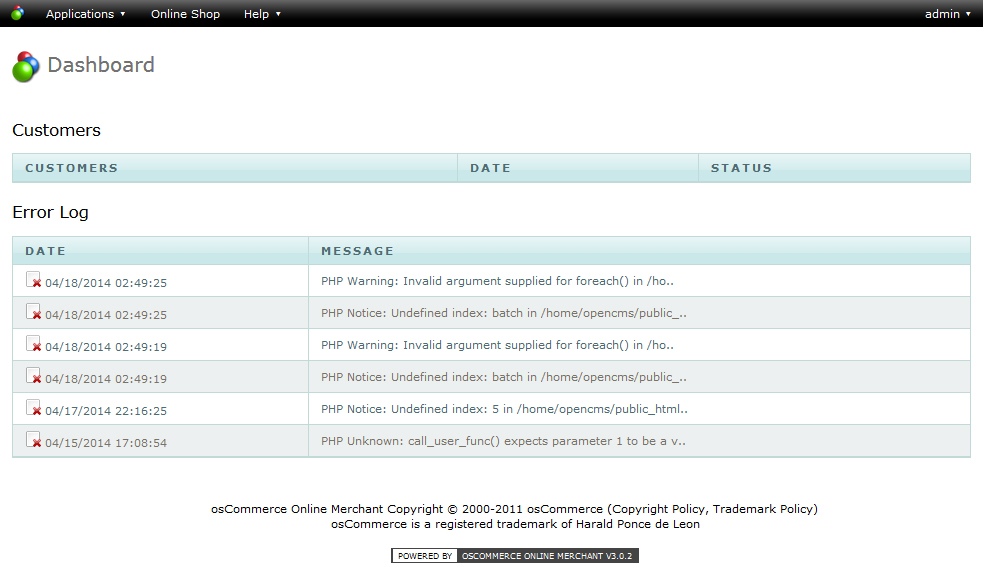 Easy and secure selling. The easily accessible and highly visible product catalogs that osCommerce lets you maintain go a long way in making customers stick to your web store. Moreover, osCommerce ensures that your web store offers intuitive navigation for users along with a convenient shopping cart to make the shopping experience easy to manage. Customers can get automatic product suggestions and related product suggestions, and can use multiple ways to browse through and search the product catalog on your osCommerce empowered virtual shop.
Features to make a customer's shopping experience more input driven. osCommerce does a lot better than several of its competitor eCommerce content management systems by offering several features such as product reviews, order status for customers purchase history, and email notifications of product updates.
Enhance customer base and promote unplanned purchasing. With several smart functionalities such as a What's News feature, Related Products search, specials, newsletters, and email notifications, osCommerce lets you initiate several unplanned purchases from the customer's side, thus giving a lot of impetus to your revenues.
Multiple stores serving different geographies. If you wish to create a scattered virtual selling model with different stores for different geographies, you will find the multicurrency and multi-language features of osCommerce worth lauding. Moreover, you can manage multiple stores from the osCommerce administrative interface.
OsCommerce also has some more features that make it easier for merchants to activate their online stores without any hassles and with ample control:
• Product Comparisons to ensure that your customers treat your website as a credible purchasing option that lets them hone in on the most suitable products
• Import/Export features that let you make mass changes to your website easily
• Coupons that you can use to promote certain product categories
• Email templates that make it easier for you to connect with customers
• Add-ons to help you perform specific functions with your e-store
• Secure transactions using SSL support to make your web store a safe purchasing option for customers
• Zone based tax and shipping calculations to enable error free pricing
VirtueMart
VirtueMart is a cool Joomla MVC based eCommerce CMS framework that's rife with several advantages, the prime ones from them being the template overriding facility alongside the availability of several Joomla Plugins for enhanced management of coupons, shipping, calculation rules, products and a lot more. The installation process is as simple as it gets, and you can be up and running with a functionally ready eCommerce store that's ready to rake in added revenues for your business within a few minutes.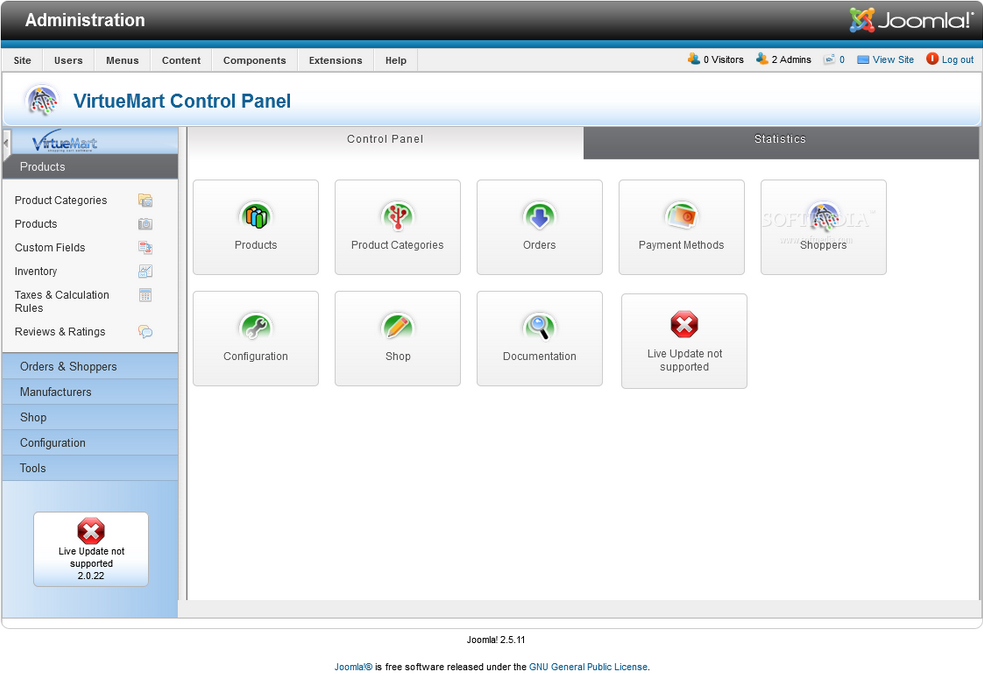 Easy management of categories. With nested categories, you can create pretty well laid out paths to lead customers to the products they are looking for. Also, these nested categories come with meta tags for SEO, and can also be supplemented with descriptions. Also, you can use media to make the categories more appealing.
Create whopping product catalogs. VirtueMart enables you to create a pretty well spread out product catalog easily, using the product catalog management features such as short and long product descriptions, adjustable dimensions, variants and attributes of the products, unlimited derived levels for parent products, reviews that customers can read to know more about the product, and ratings.
Create whopping product catalogs. VirtueMart enables you to create a pretty well spread out product catalog easily, using the product catalog management features such as short and long product descriptions, adjustable dimensions, variants and attributes of the products, unlimited derived levels for parent products, reviews that customers can read to know more about the product, and ratings.
Flexible pricing and shipping costs calculations. You can enjoy advanced rule based calculations with the VirtueMart platform, and can hence price products accurately by adjusting taxes and shipping costs as per the address of the recipient. Moreover, automatically updating currency conversion rates ensure that multi-currency transactions do not lead to an inadvertent loss.
This is just the beginning of what VirtueMart has in store for retailers; we take you through some of the other cool features that this content management system offers you:
• Exciting product displays help you list products in categories such as Latest, Features, and Top Ten
• Sortable product search lists and search options enable customers to find products they want easily
• Marketing tools like coupons and Page Share with Friends options help you expand the customer base for your virtual shop
We recommend to check our previous post about the best free website builders: Best Free Website Builders