Fastest speed boat in the world – Spirit of Australia set the Guinness World Record for achieving a maximum speed on the water of 317.59 MPH. The boat is equipped with a 3000 hp Westinghouse J34 turbojet engine. But there are other incredibly fast boats – learn more about them in this article.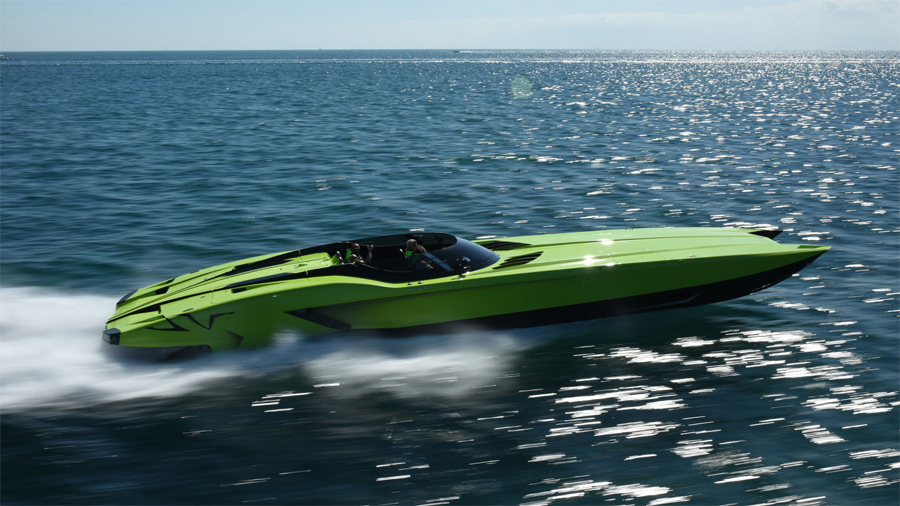 Since the appearance of the first boats equipped with an engine, the question has arisen – how fast can boats be? As a consequence, many people have expressed a desire to compete with their boats to find out which are the fastest. Since then, speed records on the water have skyrocketed.
In this article, we will not focus on the history of the development of speed boats and how speed records were set. Trust me, you could write a whole book about it. We will tell you about the fastest speed boats in the world in 2023, what characteristics they have and what top speeds have been achieved.
Secret of Fastest Boats
Modern speed boats have long crossed the speed limit of 200 MPH. How is it possible to achieve such incredible speeds on the water? The fact is that the density of water is higher than the density of air and the friction force that occurs between the hull of the boat and the water is a serious problem that engineers around the world are trying to solve.
For comparison, the fastest trains in the world achieve incredible speeds thanks to the magnetic cushion. Due to the absence of friction between wheels and rails. But the boat cannot be torn off the water, otherwise it will no longer be a boat but an airplane. The maximum that you can go for is special boats – hydroplanes.
For boats, the solution to achieving super speeds is easier than it sounds. These are jet and turbojet engines mounted on a strong hull that cuts through the water like a razor. The two fastest boats in the world, the Spirit of Australia and the Bluebird K7, have exactly this design. So it's no surprise that the Guinness World Record for the fastest boat in the world is held by the jet-powered hydroplane Spirit of Australia which reached an estimated speed of 317.59 MPH.
Features of World's Fastest Boats in 2023
| | | | | | |
| --- | --- | --- | --- | --- | --- |
| Boat | Year | Engine | Horsepower | Passengers | Max Speed |
| Spirit of Australia | 1978 | Westinghouse J34, turbojet | 3000 hp | 1 | 317 mph |
| Bluebird K7 | 1955 | jet engine | 3500 hp | 1 | 276 mph |
| Problem Child | 2013 | Hemi V8 | 8000 hp | 1 | 262 mph |
| Mystic Powerboats C5000 Turbine | 2011 | T53-703 | 2 x 1850 hp | 6 | 250 mph |
| The Spirit of Qatar | 2014 | Turbojet | 2 x 3000 hp | 2 | 244 mph |
| Lamborghini Aventador | 2017 | T-engine | 1550 hp | 6 | 180 mph |
| Skater 46 Pleasure | 2002 | Teague Custom | 2 x 1500 hp | 5 | 175 mph |
| Nor-Tech 5200 Roadster | 2016 | Mercury Racing | 2 x 5200 hp | 10 | 150 mph |
| Cigarette Racing Team 50 AMG GTS | 2017 | AMG electric engine | 2200 hp | 5 | 135 mph |
| Fountain 47 Lightning | 2014 | Mercury Racing | 2 x 1075 hp | 6 | 115 mph |
| South Bay 925CR | 2007 | Mercury 1075 | 1500 hp | 6 | 114 mph |
| Outerlimits SV-52 | 1993 | quad-diesel SV-52 | 2 x 1350 hp | 4 | 100 mph |
12. Outerlimits SV-52, max speed – 100 mph
Outerlimits power boats are offering a wide range of speed power boats. Their faster boat category includes the SV-50, SV-52, SL-44, SL-52 and even catamarans like the 43CAT and 48CAT. The SV-52 is one of their fastest speed boats. It has been designed especially for superior high-speed performances and is known for its steady ride and soft landing even in rough and choppy waters.
The cockpit boasts of dual helm controls, a standard GPS chart plotter. They even offer both open as well as swim platform models. Most models also have a half cabin for easy storage of extra equipment or much-needed protection from the sun and the sea. At 52 feet, this long beauty is known to easily record 100 MPH plus speeds in even adverse conditions. It has a fuel capacity of 250 gallons and can easily accommodate up to four people in it.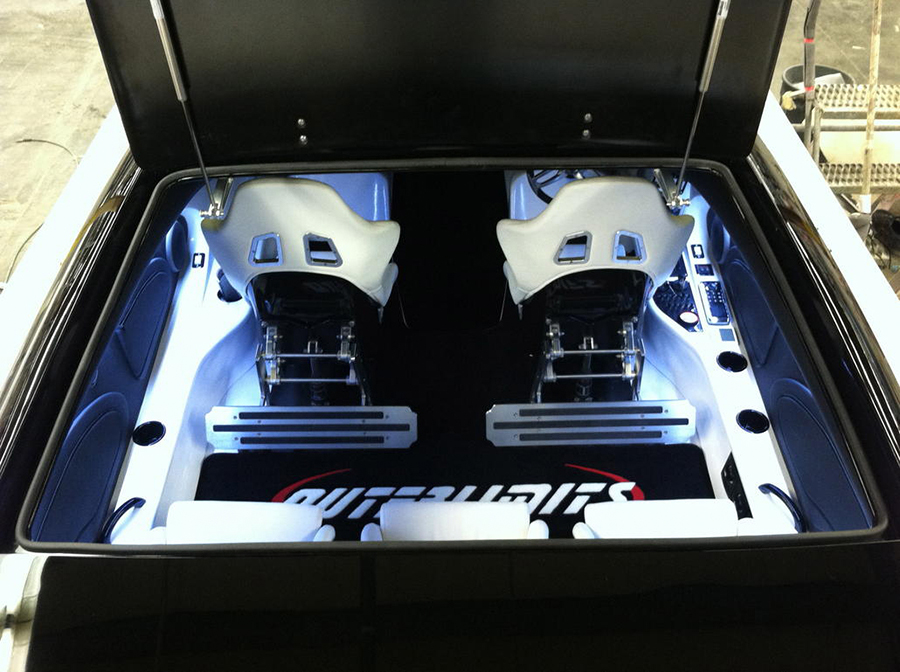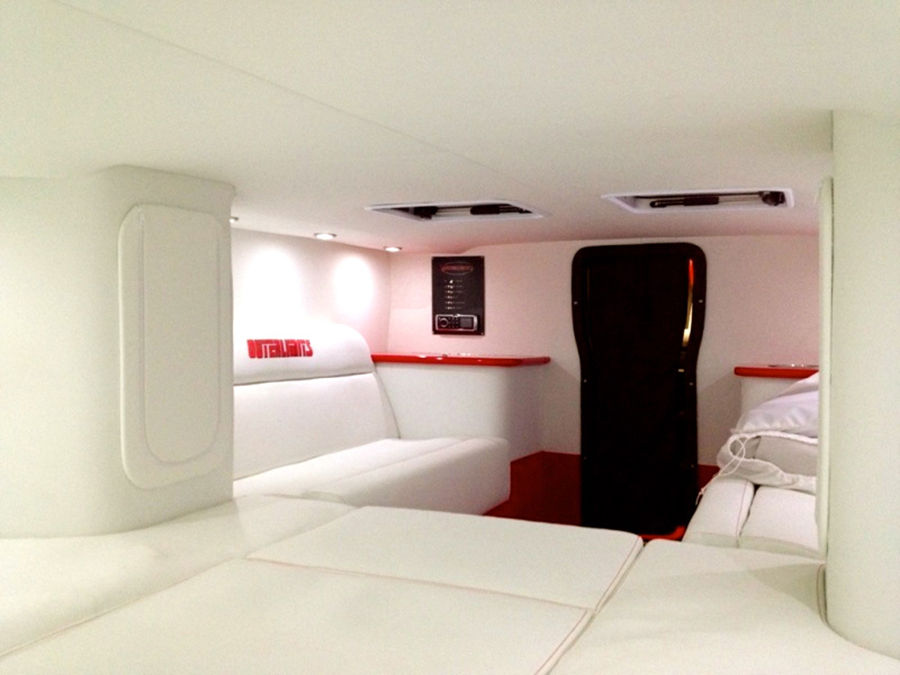 11. South Bay 925CR, max speed – 114 mph
The South Bay 925 CR is unbelievable the worlds' fastest pontoon. If a pontoon can travel at speeds of more than 110 MPH, its only the South Bay 925 CR. In fact, when Brad Rowland's South Bay 925 CR recorded a speed of 114 MPH, it was a new world record! It is fitted with superior Garmin GPS navigation. With a length of 27 feet and a beam of 8 feet, it is perfect for someone who doesn't want a very large speed boat.
The standard equipment found on the South Bay 925CR are Manual Sport Arch, 4-speaker Bluetooth stereo, interior, and exterior LED light. If you are in the mood to create a perfect party ambiance you can even choose to opt for underwater LED lights.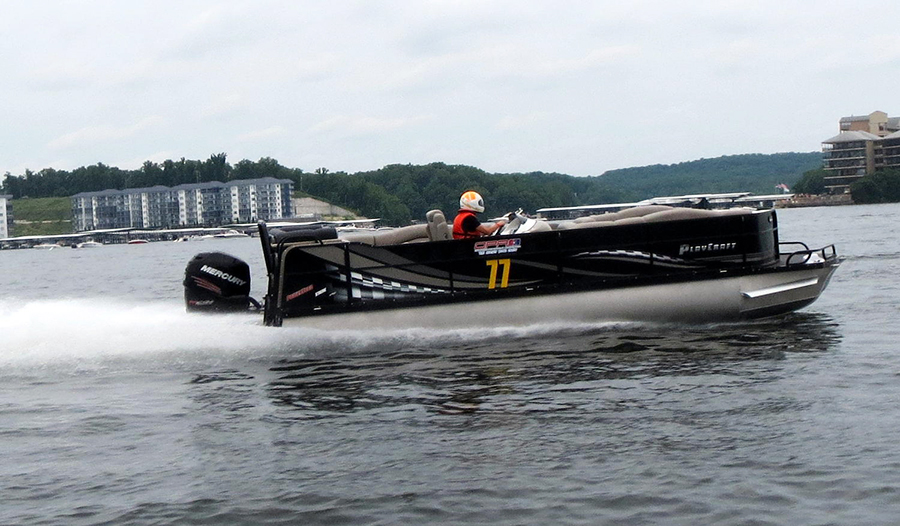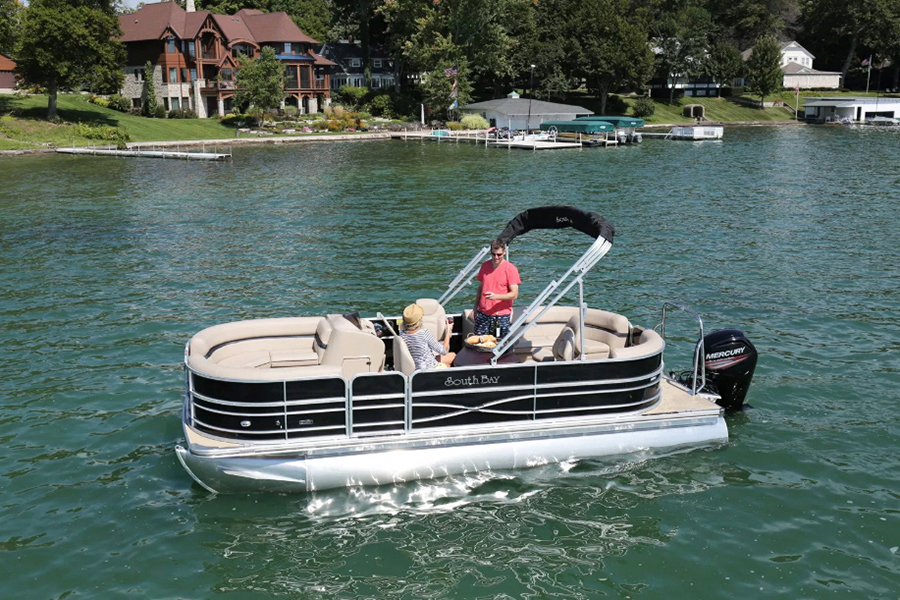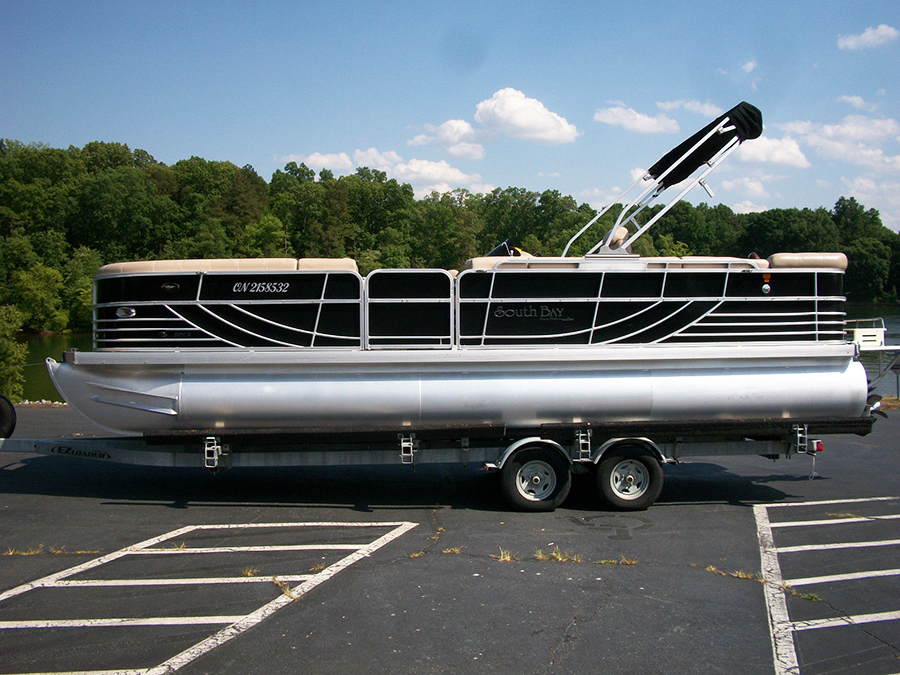 10. Fountain 47 Lightning, max speed – 115 mph
As the name suggests the Fountain 47 Lightning, is definitely lightning fast. The Fountain 47 Lightning is able to go as fast as 115 MPH. It's decently sized at 47 feet and has a seating capacity of four to six people depending on the model you choose. It owes it's super-fast speed to the twin Mercury Racing 1,075 HP engines. It is known as the cruiser boat that can go anyplace at any time.
The fuel tank capacity is 340 gallons and it also has a Fuel Vapour Detection system. The standard features on the Fountain 47 Lightning include a Garmin GPS, LED push-button switches on the navigation dashboard, and Vessel view instrumentation. The cockpit is equipped with LED cockpit lights, motorized hatches and bolster seats with electric drop-downmechanism. What more can you ask for?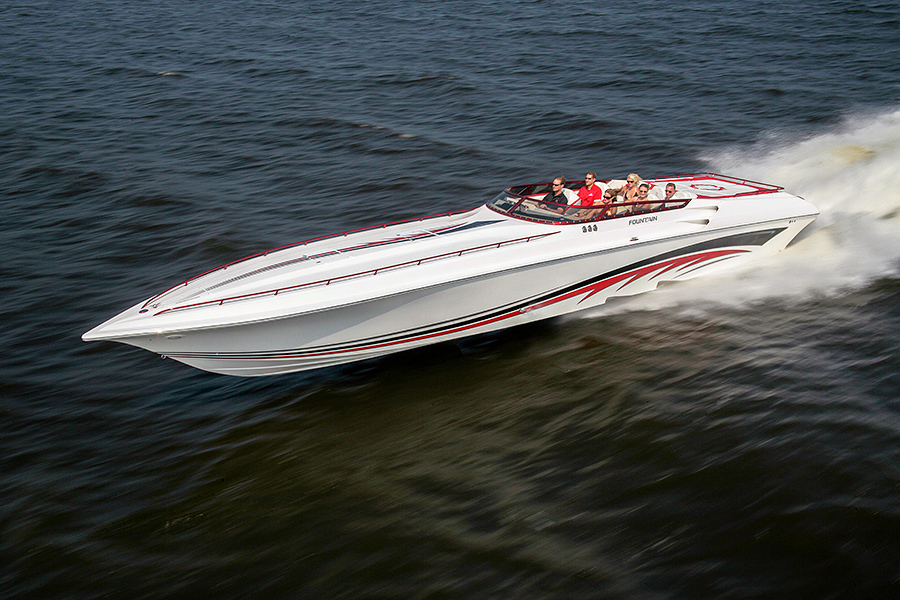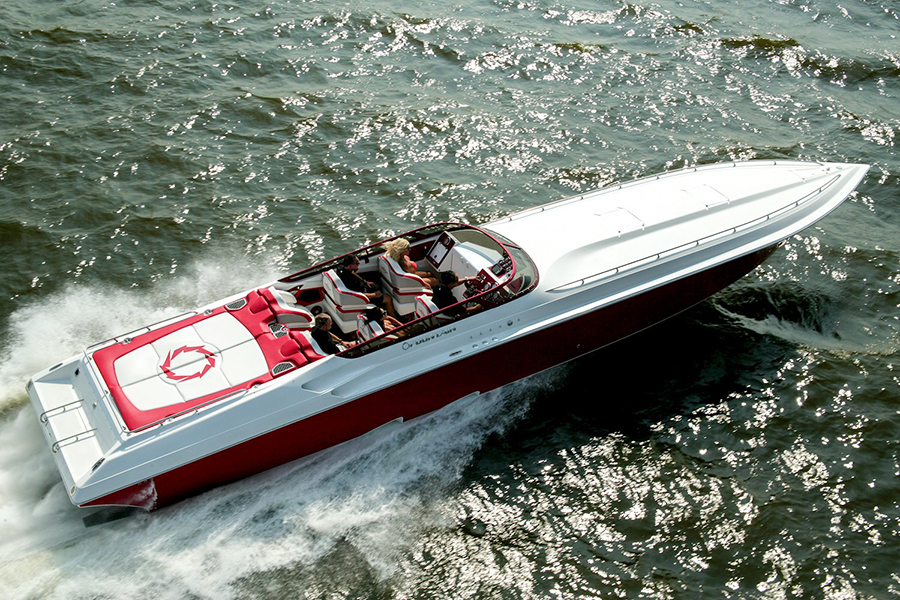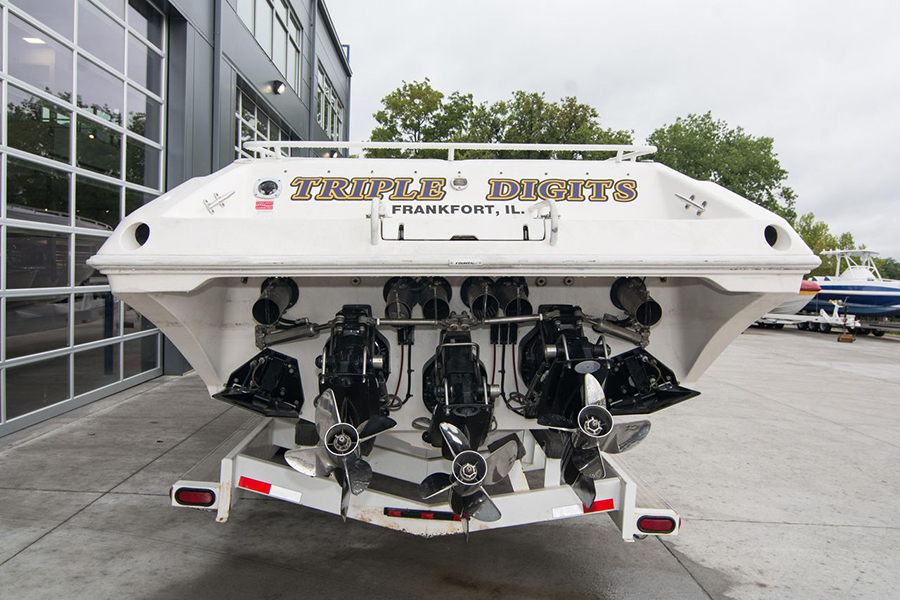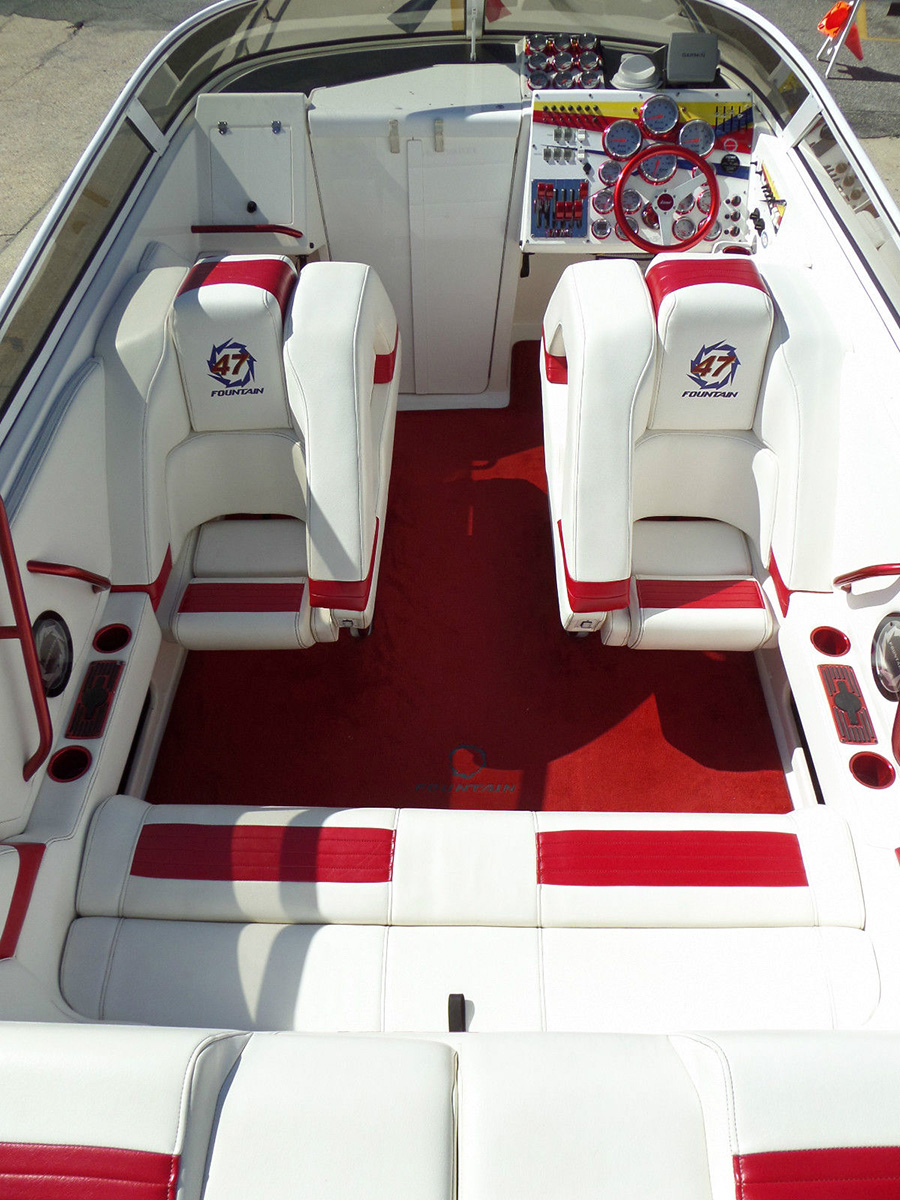 9. Cigarette Racing Team 50 AMG GTS, max speed – 135 mph
The cigarette racing team's 50 AMG GTS slim and long cigarette shaped 50 AMG GTS is an incredibly powerful speedboat. It is considered to be one of the fastest electric speed boats in the world. It is powered by a 2200 HP AMG electric engine which also drives the SLS AMG Coupe Electric Drive – the world's most powerful and fastest electric car. Check out 15 Fastest Cars in the World to find out just how fast cars can be.
This super fast electric speed boat is fitted with a lithium-ion battery containing 3,456 lithium-ion cells. The efficient battery pack can store power at 400 volts offering maximum driving current of about 6,000 amperes. This dashing speedboat has two chargers providing a total charging rate of 44 kW and just takes a meager seven hours for a full charge.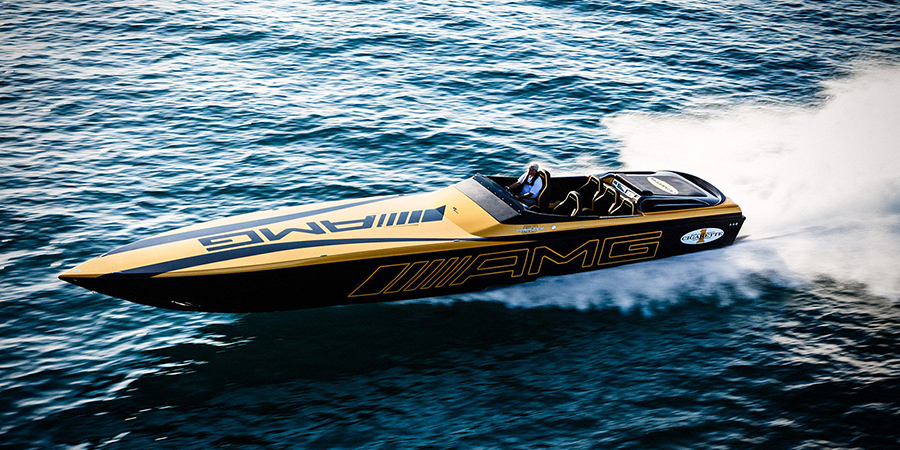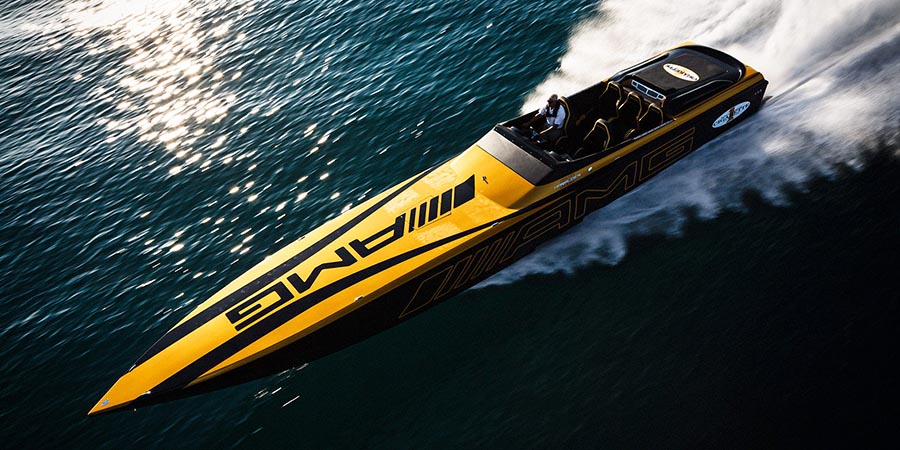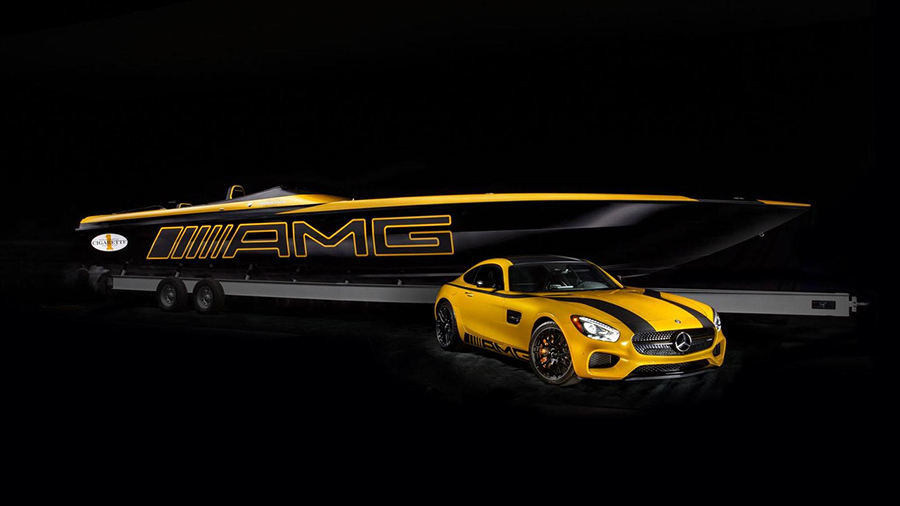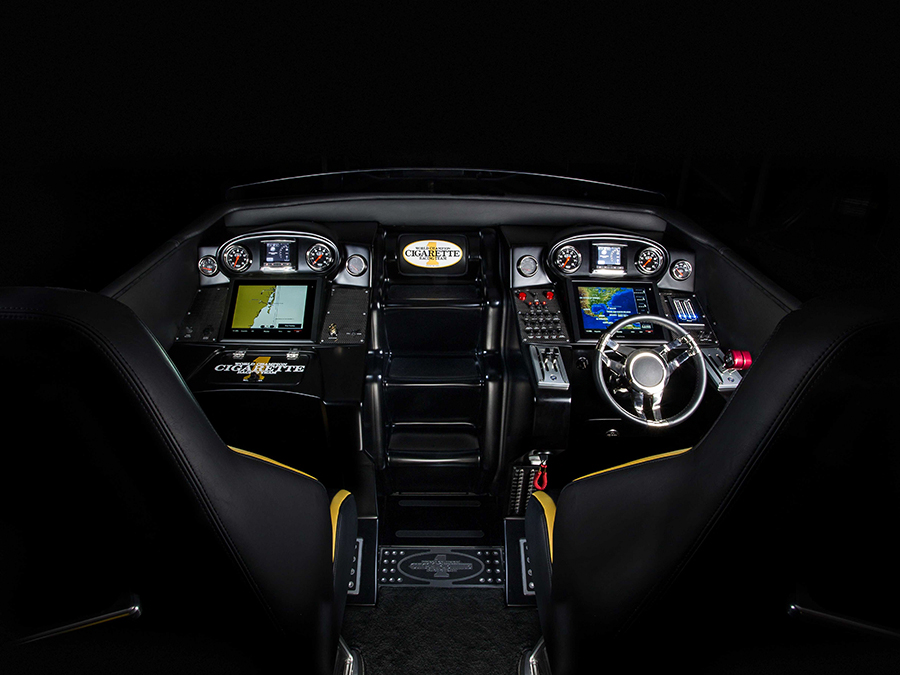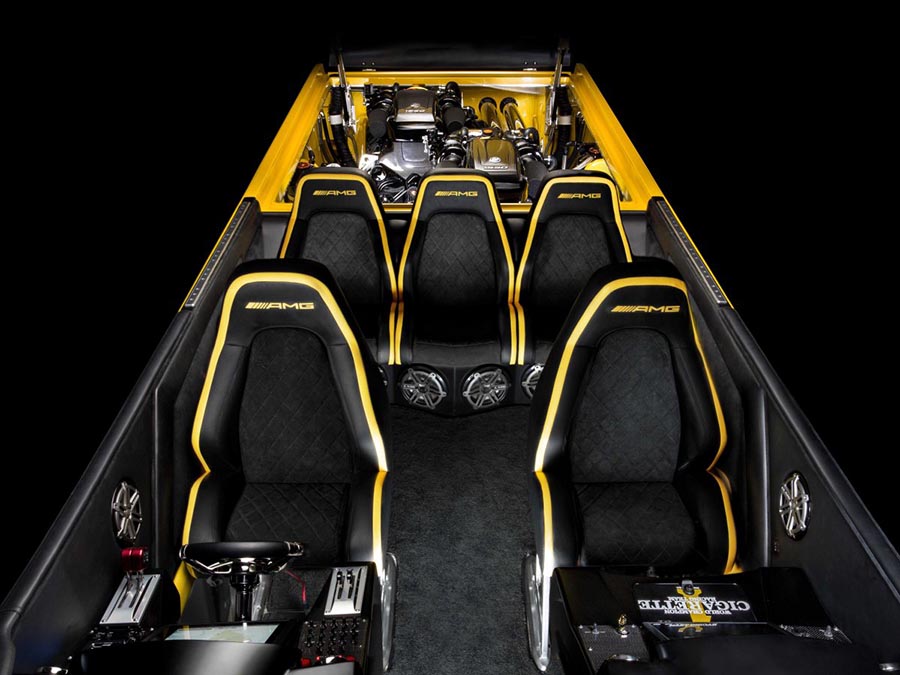 8. Nor-Tech 5200 Roadster, max speed – 150 mph
The Nor-Tech 5200 Roadster is a large boat with seating capacity for up to 10 people. Depending on the type of engine fitted, the 5200 Roadster can clock speeds of over 150 MPH. With a 400-gallon fuel tank, the 5200 Roadster has 5400 HP engines, making it one of the most powerful boats in the water. Along with offering unmatchable speeds, the Roadster is also the ultimate in luxury boating.
It features a padded sun lounge, swimming platform with boarding ladder and also video monitors. The Roadster is also equipped with a state-of-the-art music system and aft facing seats with coolers. Nor-Tech can also offer a wide range of configurations to suit our engine requirements.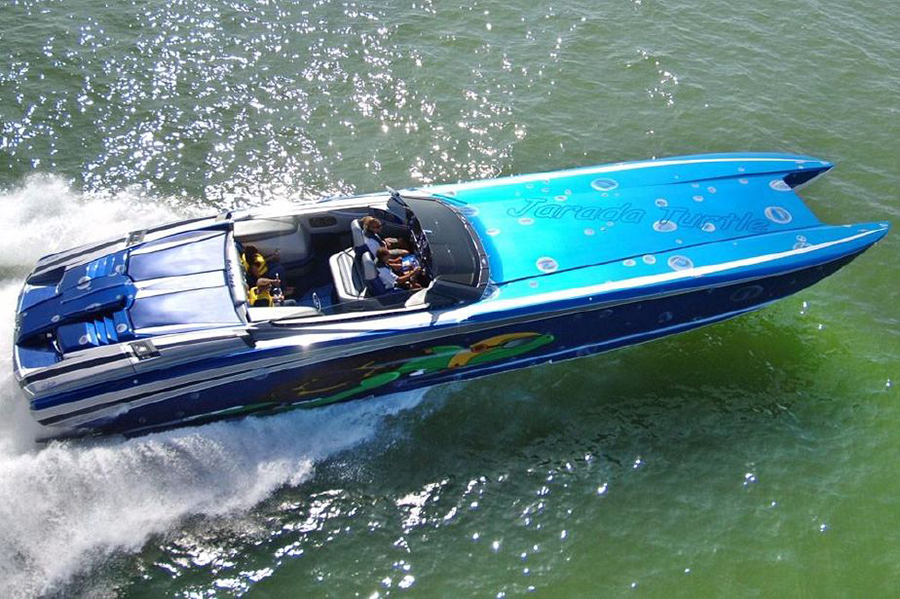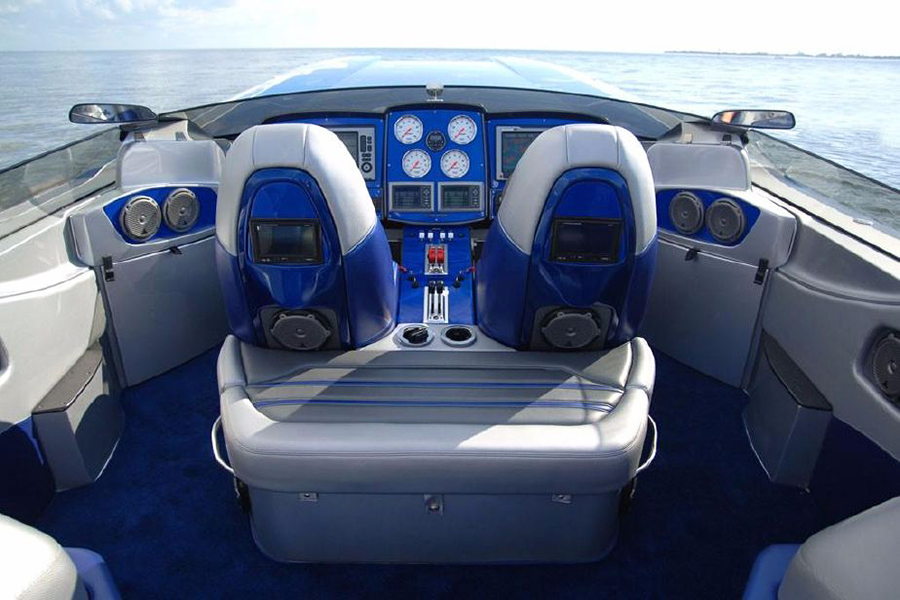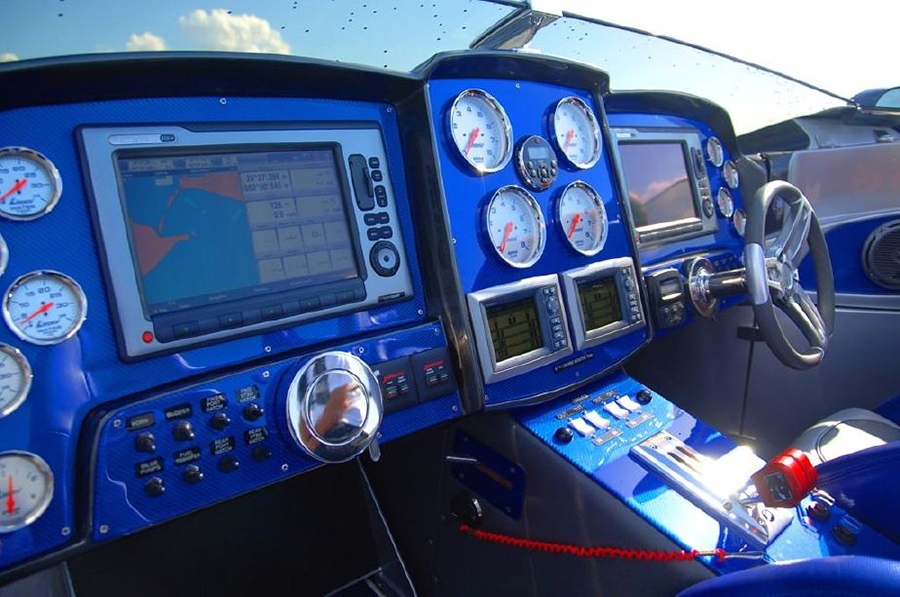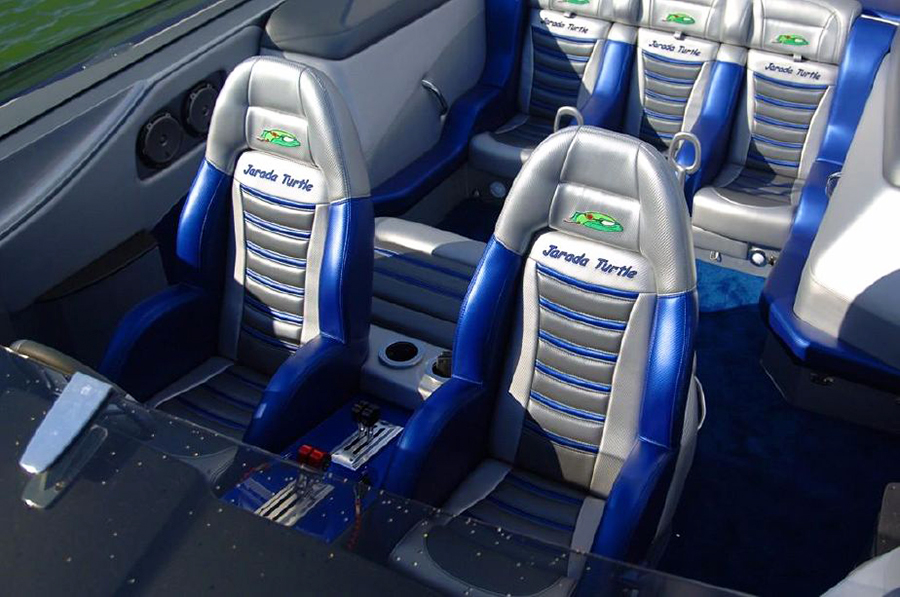 7. Skater 46 Pleasure, max speed – 175 mph
The Skater 46 Pleasure is a high speed and power boat. As believed by the company Skater, it is truly the "Rolls Royce of power boats." The Skater 46 Pleasure is fitted with twin Teague Custom engines of 1500 HP each giving a total power of 3000 HP. The Skater comes with dual fuel tanks with a maximum capacity of 1,000 gallons. It is can easily cruise at more than 100 MPh for long hours and is designed for soft landings in rough waters.
With maximum speeds of approximately 175 MPH, the Skater 46 Pleasure is one of the fastest motor boats available today. Most boats also feature a complete stereo system and air-conditioning. Its spacious design can seat even five people. Its unique design lets you enjoy the speed thrill and also lets you sit back and enjoy the joy-ride.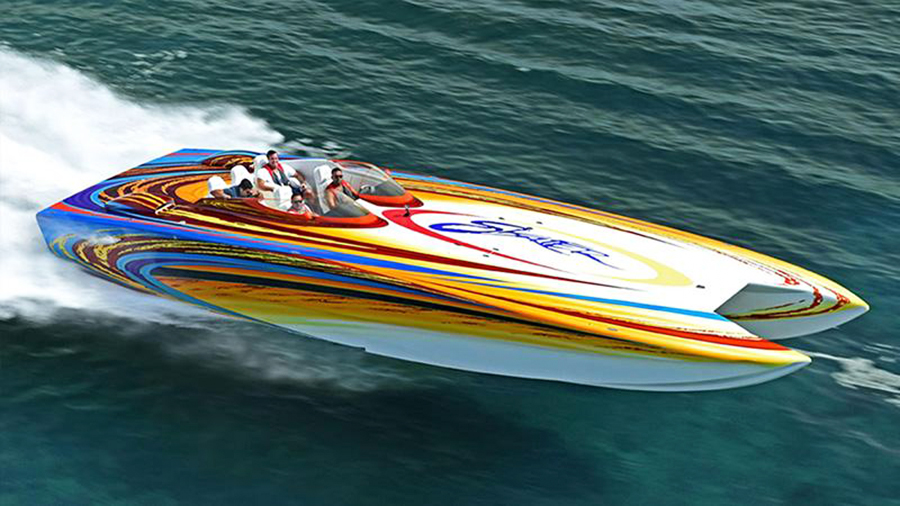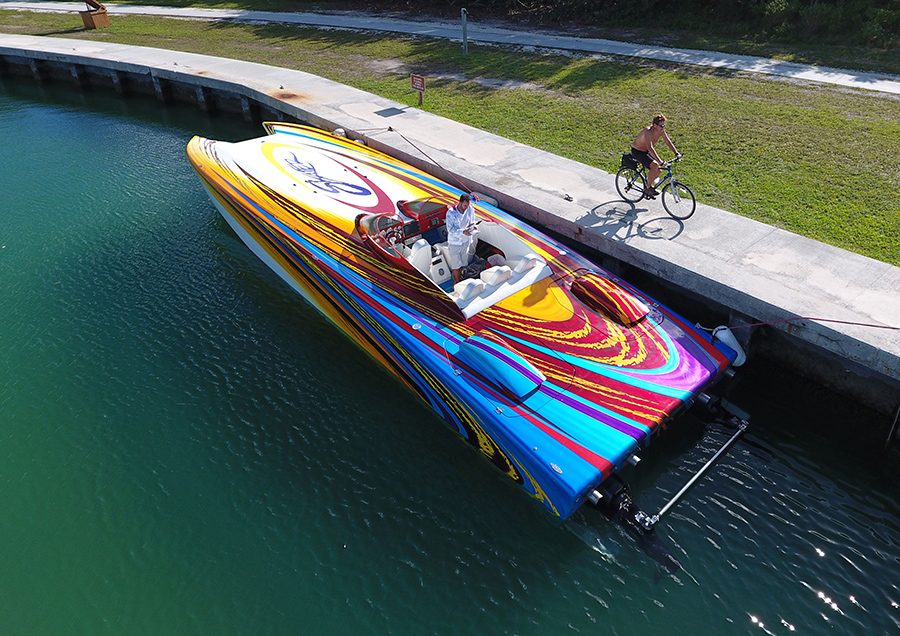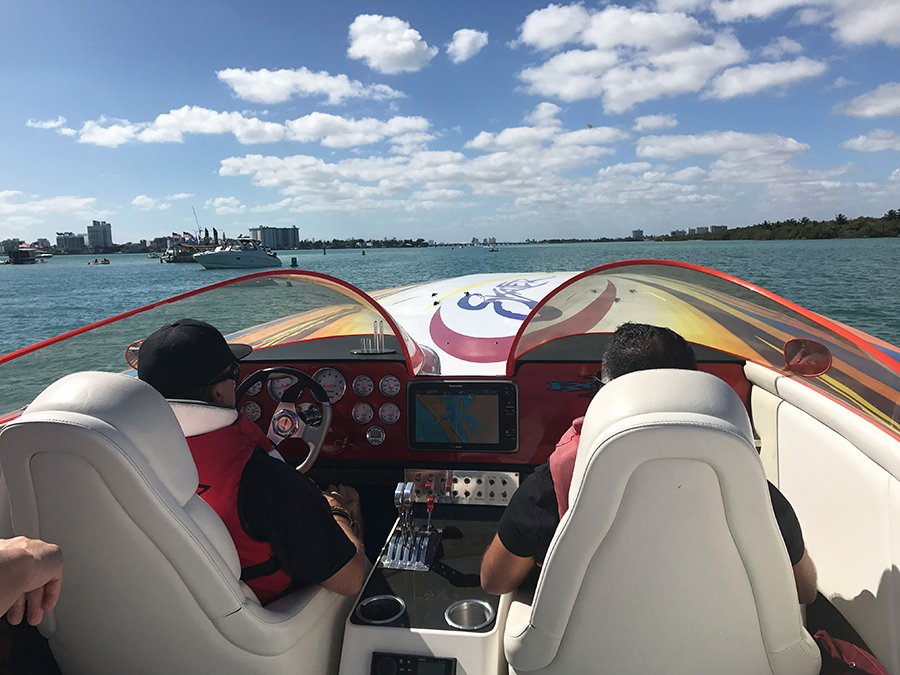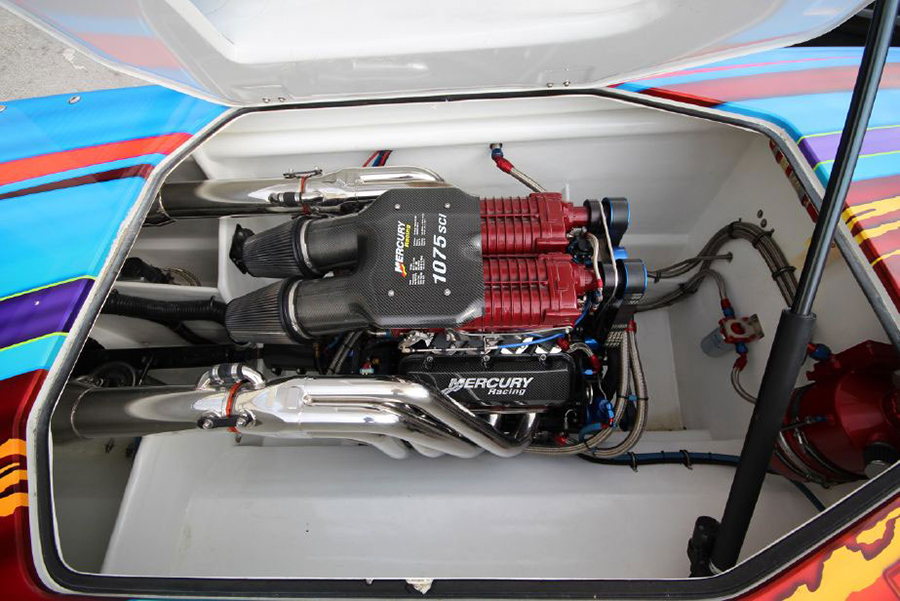 6. Lamborghini Aventador Super Veloce, max speed – 180 mph
Lamborghini's Aventador Super Veloce is an incredible 52-ft, custom-built speedboat that runs on a 1550 hp engine and can reach up to an impressive 180 mph. Designed as a companion piece to the carmaker's Aventador supercar, the boat is decked out in the same lime green (or 'Verde Singh') paint job.
The speedboat includes a cockpit that fits six people, outfitted with custom buttons and dials inspired by the car's interiors, including a "Race" and "Pleasure" key that alternates between the boat's top speed and a more relaxed pace. More information, photos and video you can find in our article about Lamborghini Aventador Super Veloce.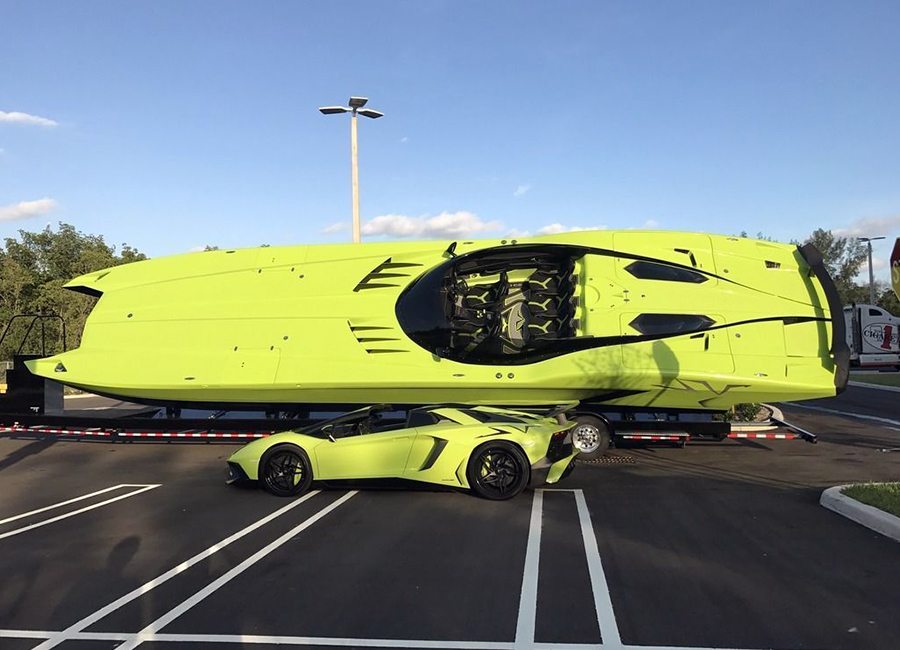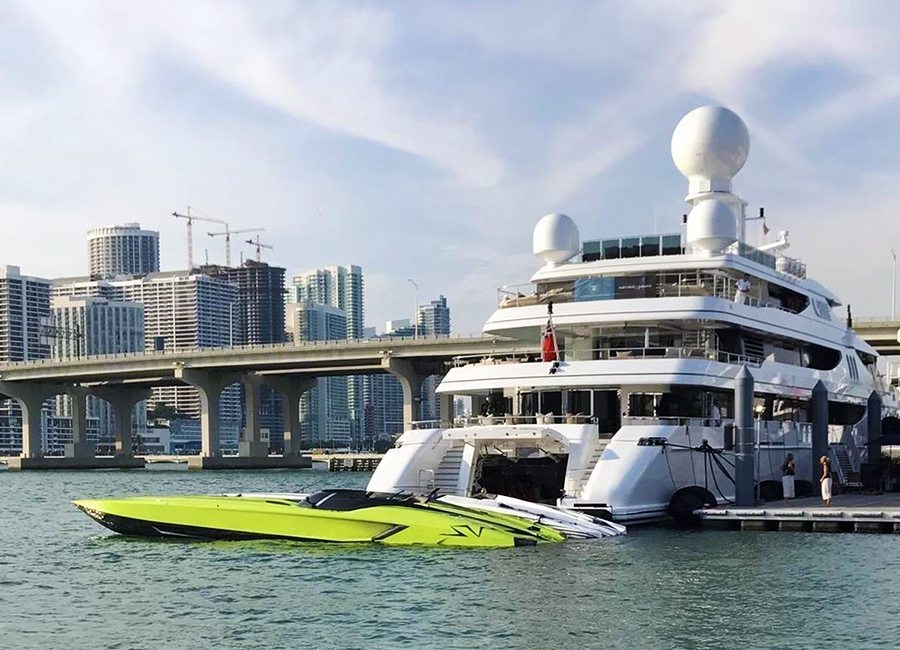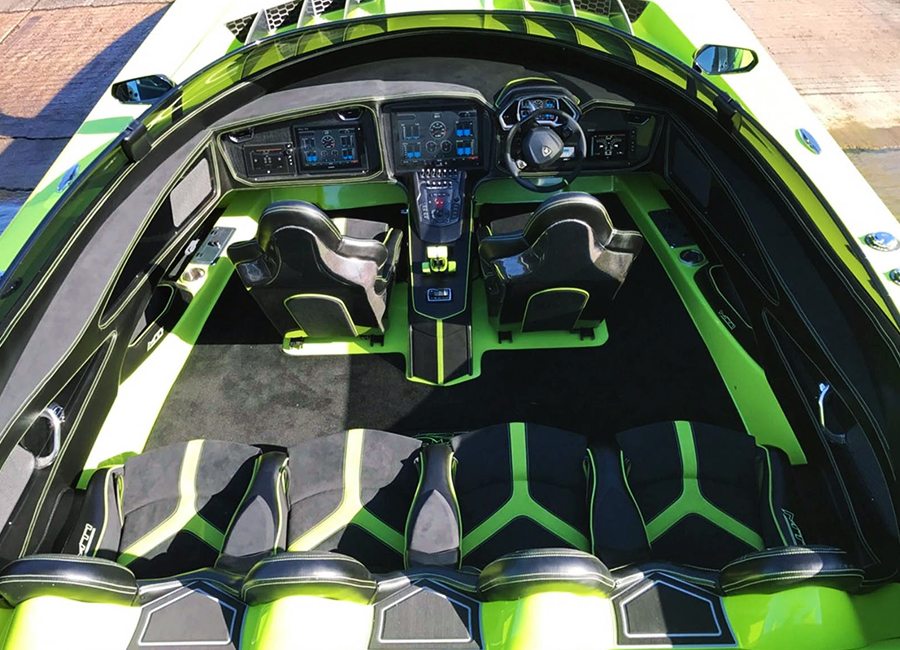 5. Spirit of Qatar, max speed – 244 mph
This is the fastest catamaran out there and fifth on the all-time speed list. The Spirit of Qatar uses twin Lycoming turbines to make a total of 9,000 Hp allowing this catamaran to reach ludicrous speed of 244 Mph (212 Knots). 50 feet long and full of turbine power, the Spirit of Qatar is a real eye catcher.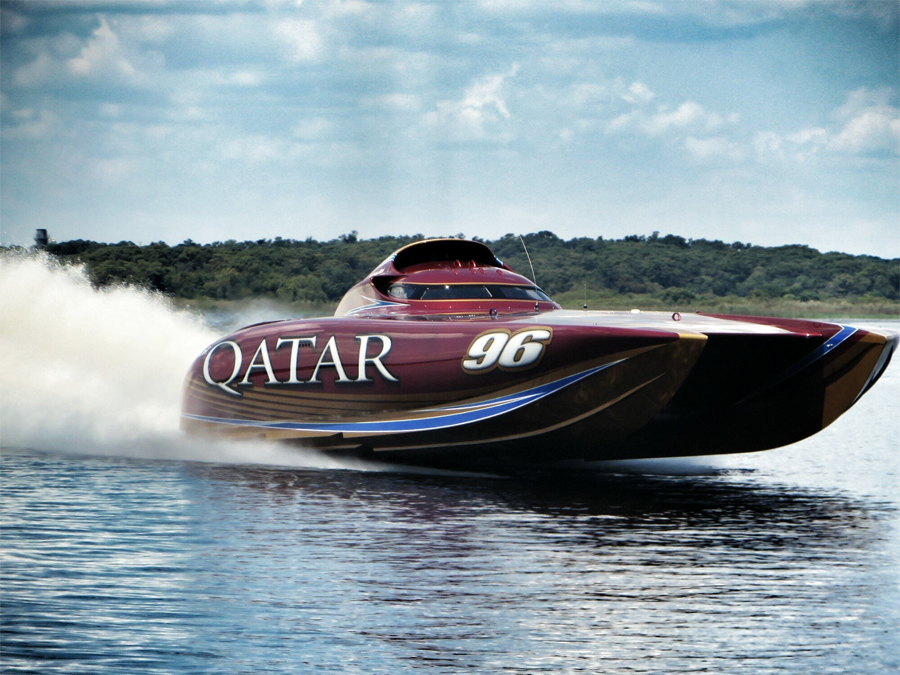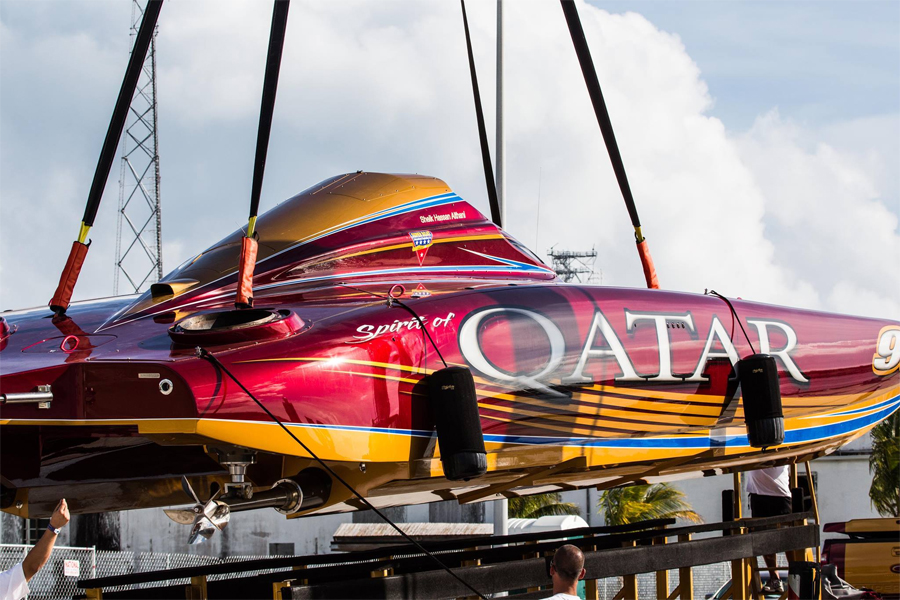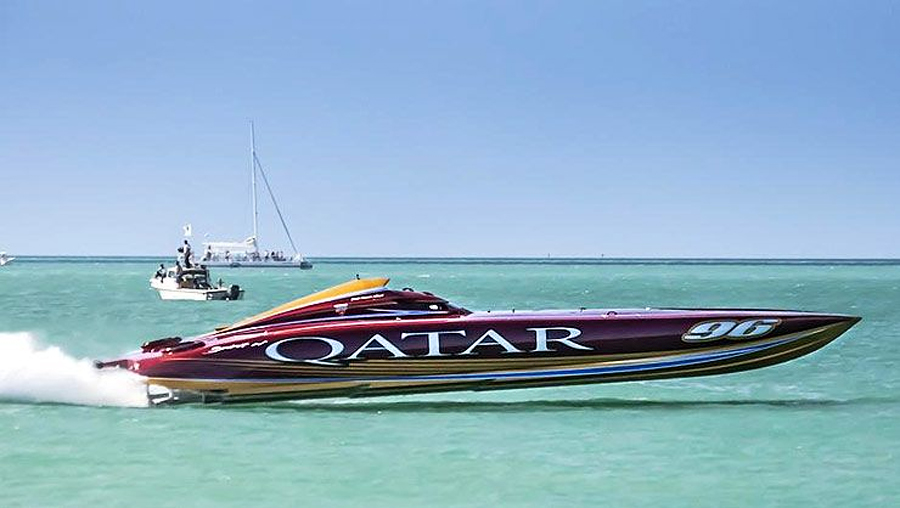 4. Mystic Powerboats C5000 Turbine, max speed – 250 mph
The Mystic Powerboats C5000 Turbine is manufactured by Florida based Mystic Powerboats. Powered by two 1850 HP engines it has a total engine power of 3700 HP and can easily reach cruising speeds of 150 MPH. The C5000 is considered to be one of the most powerful speedboats in the world today. The highest recorded speed of the C5000 is 250 MPH. The powerful C5000 beast runs on diesel. With a fuel tank capacity of 600 gallons, it has even recorded 15 engine hours.
The C5000 is almost 50 feet long. It comes equipped with electronic equipment like Log-speedometer, Plotter, Navigation center and GPS. Some of the extra features for enjoying your joy-ride are radio, CD player, and cockpit speakers. It also has a road trailer and launching trailer for ease of movement on land. This super-fast catamaran also offers cockpit air-conditioning. The Mystic Powerboats also offers C4400 and C3800 models.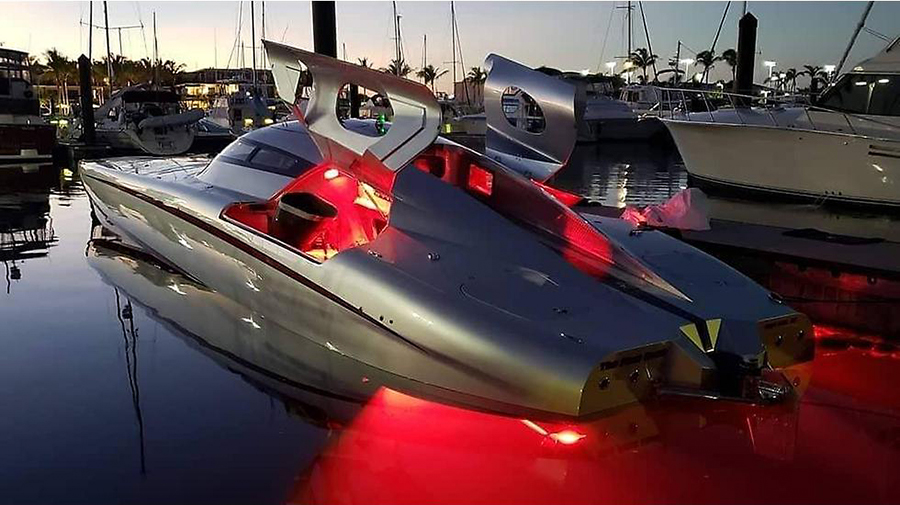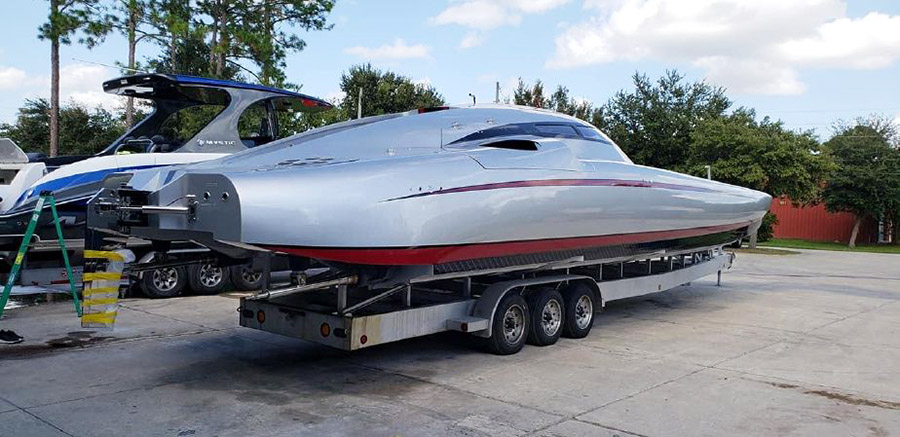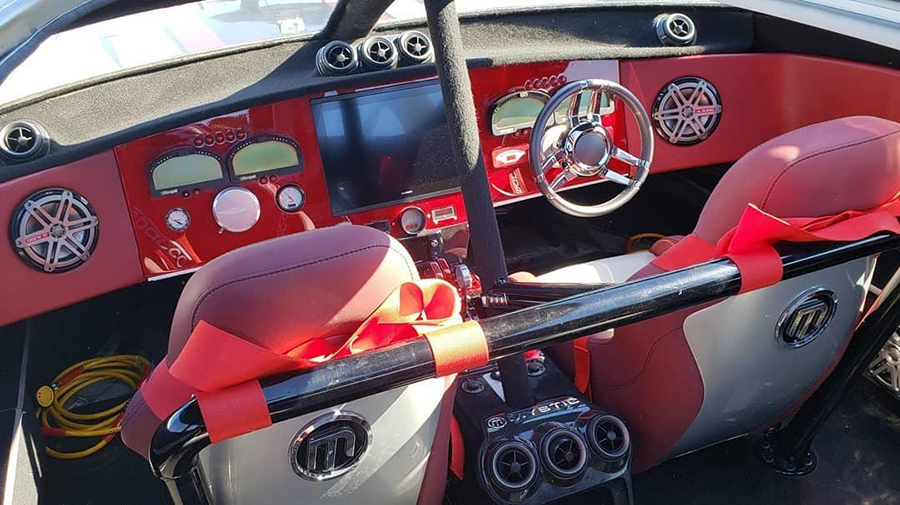 3. Problem Child, max speed – 262 mph
The Problem Child is the world's fastest nitro drag boat. Ironically it gets its name due to its super-fast speed capacity. With a super-powerful 8000 HP engine Eddie Knox's Problem Child is the fastest drag boat in the world. How fast can the fastest boat in the world run? It can reach speeds up to 262 MPH in just 3.5 seconds. Incredible, isn't it? The Problem Child is the ultimate speed machine on water. This amazing speed monster literally seems to fly over water. With a speed crossing over 250 MPH, this incredibly fast drag boat is known to leave behind a wall of water as it speeds through it.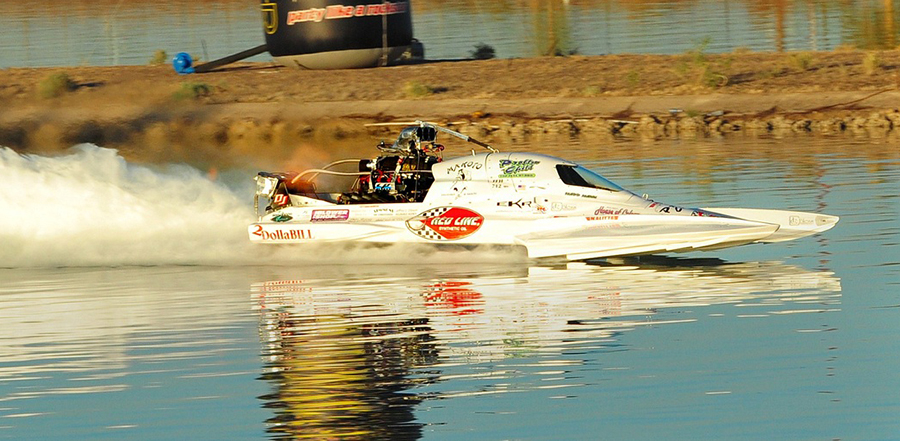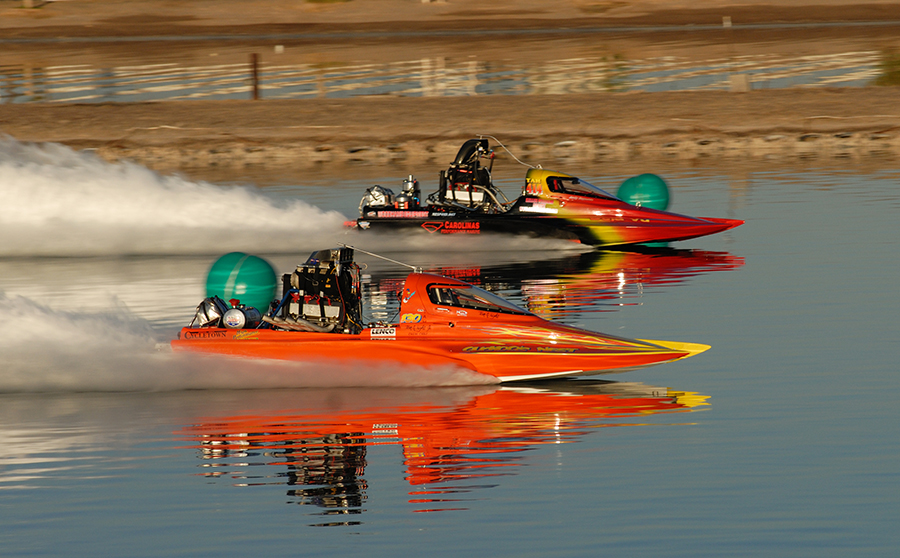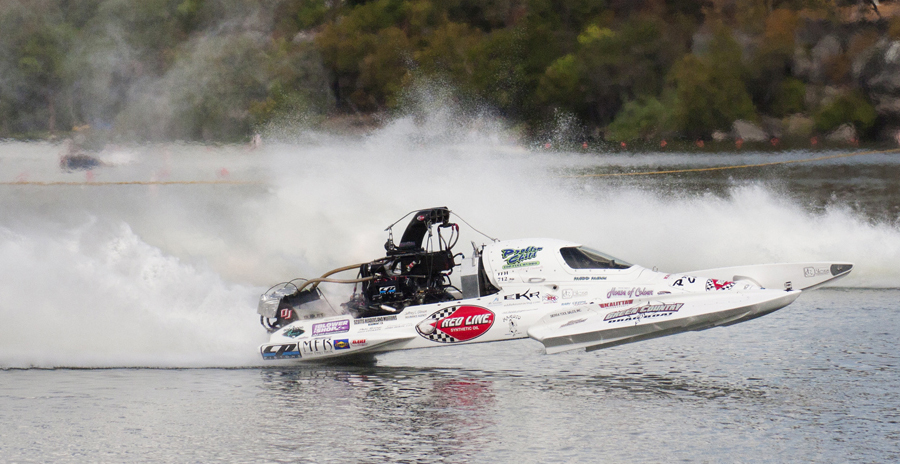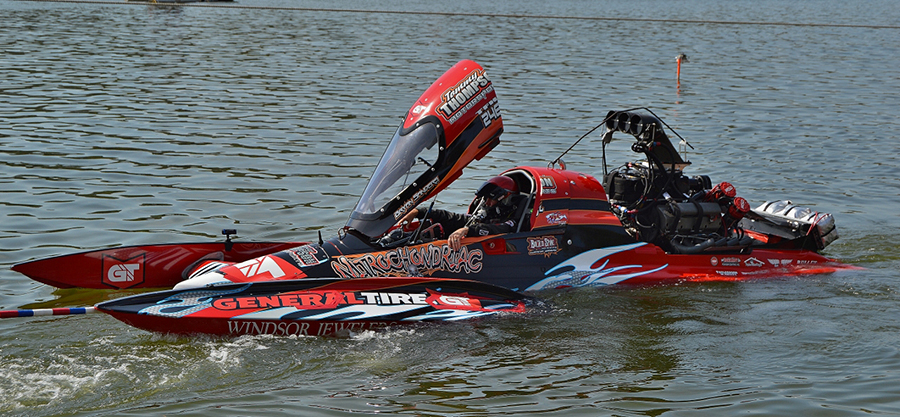 2. Bluebird K7, max speed – 276 mph
One of the oldest and fastest hydroplanes of the 20th century, the Bluebird K7 is considered to be one of the pioneers in the field of speedboats. Donald Campbell held the records of the fastest water speeds in the 1950s and 1960s in this amazing hydroplane. He set seven-speed records between July 1955 and December 1964. Unbelievably, the Bluebird K7 managed to record 276 MPH way back in 1964. Unfortunately, Campbell lost his life in 1967 while attempting to record a speed of 300 MPH. The wreckage of the Bluebird was recovered between October'2000 and May'2001. Campbell's daughter has formally gifted the Bluebird's recovered wreckage to the Ruskin Museum. It is believed that the Bluebird Project is undertaking trials for the return of Bluebird K7 to Scottish waters once again.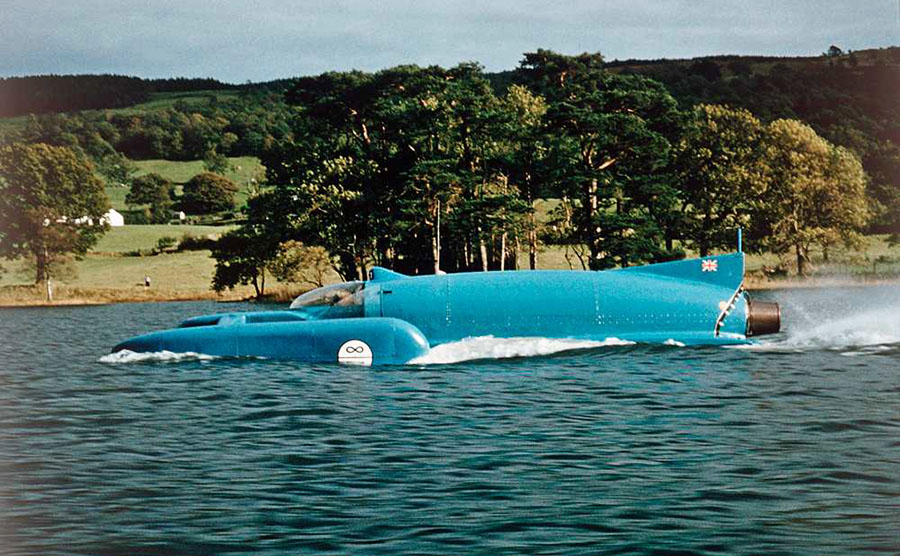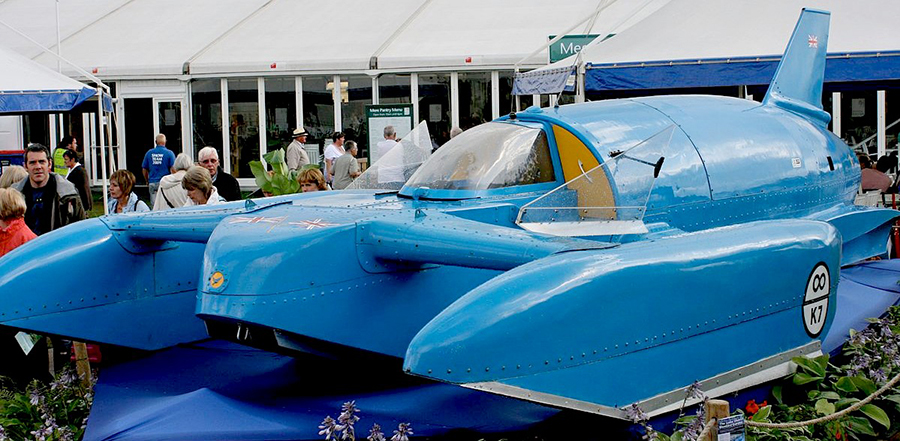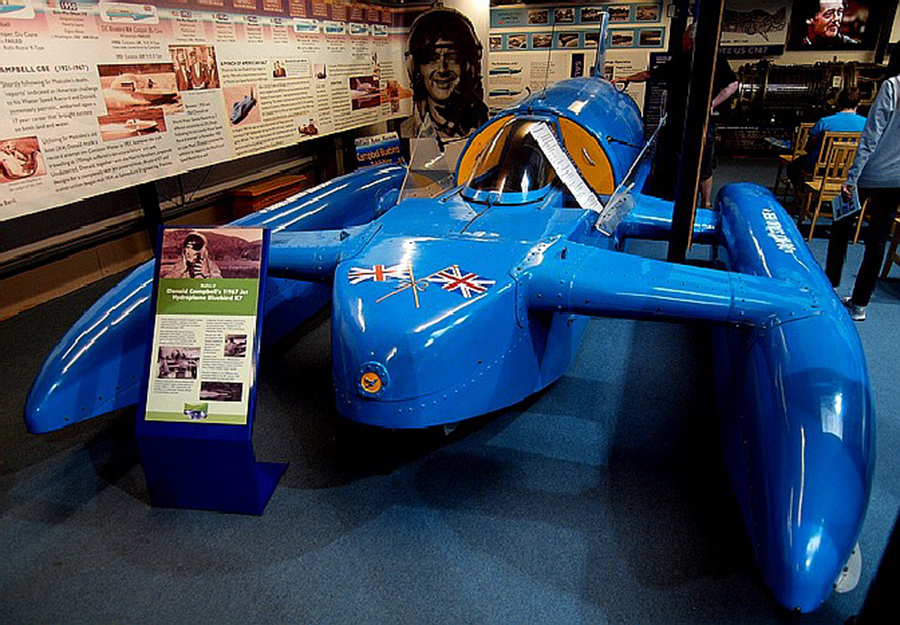 1. Spirit of Australia, max speed – 317 mph
Would you believe that the Spirit of Australia which holds the World Record of clocking a speed of 317.6 MPH in was designed and built by Ken Warby in his backyard? The wooden speed boat ran on Westinghouse J34 jet engines which are also used for aircraft and fighter jets. The Spirit of Australia is on permanent display at the Australian National Maritime Museum. Though several people have tried to break Warby's world water speed record, none have succeeded. Warby also went on to build the Aussie Spirit as a successor to the Spirit of Australia.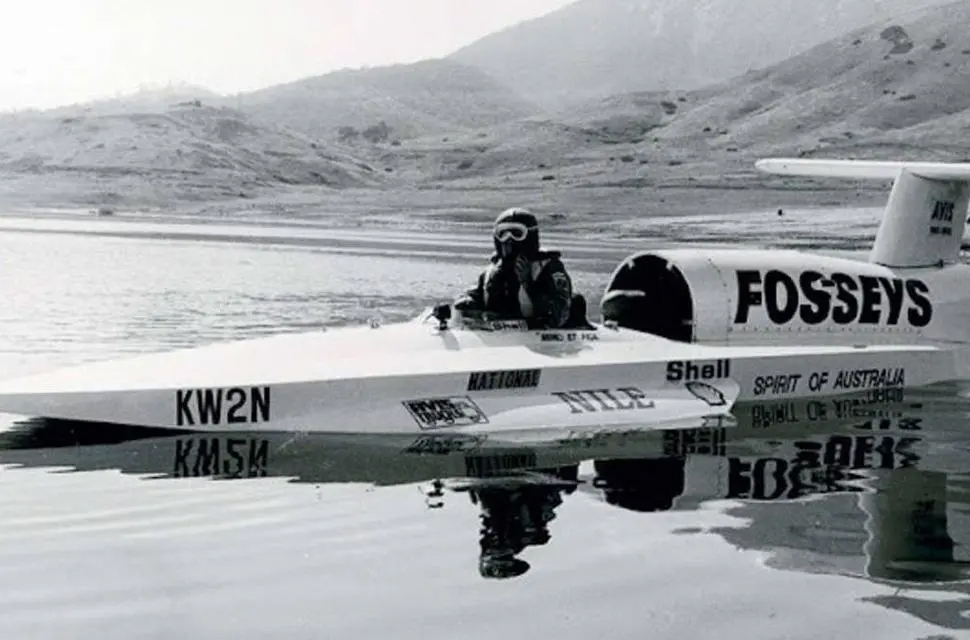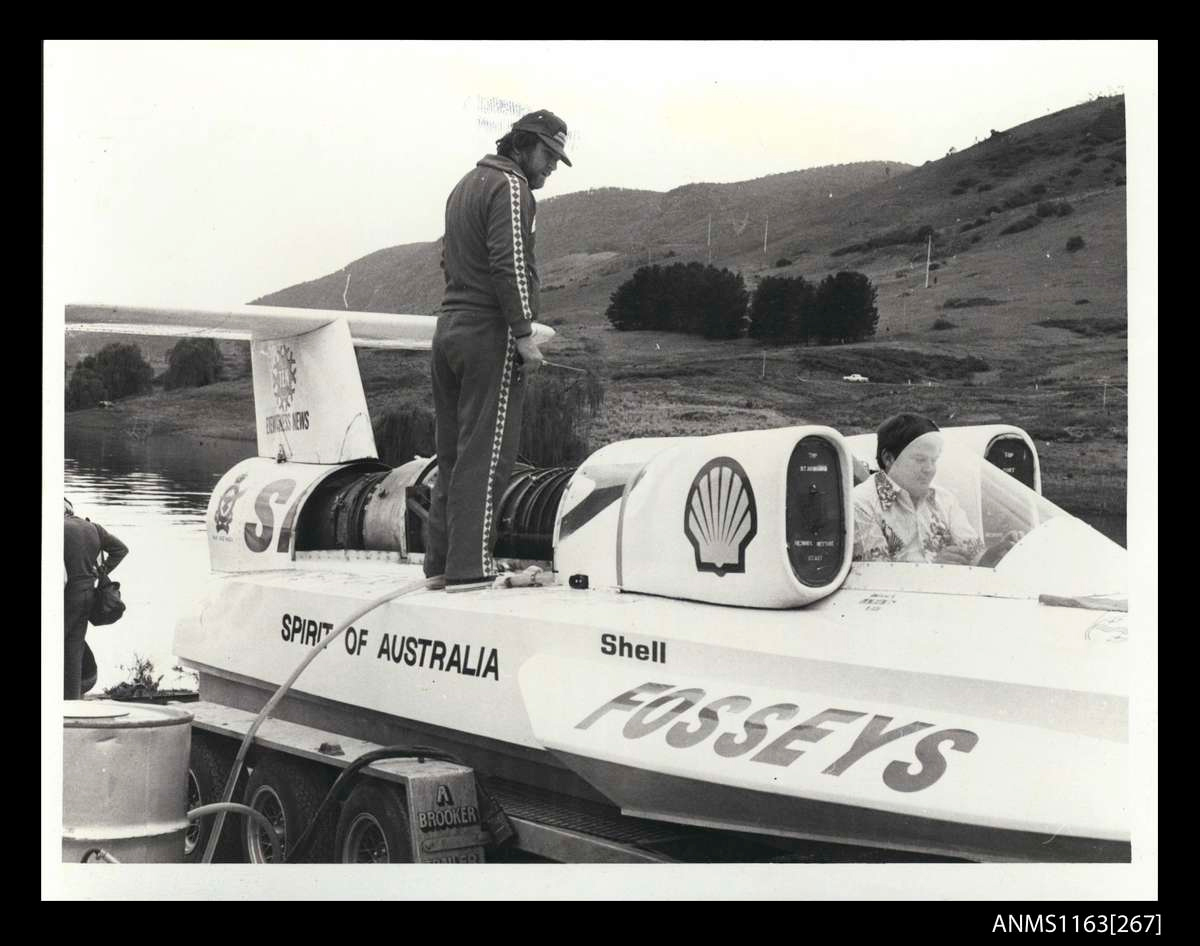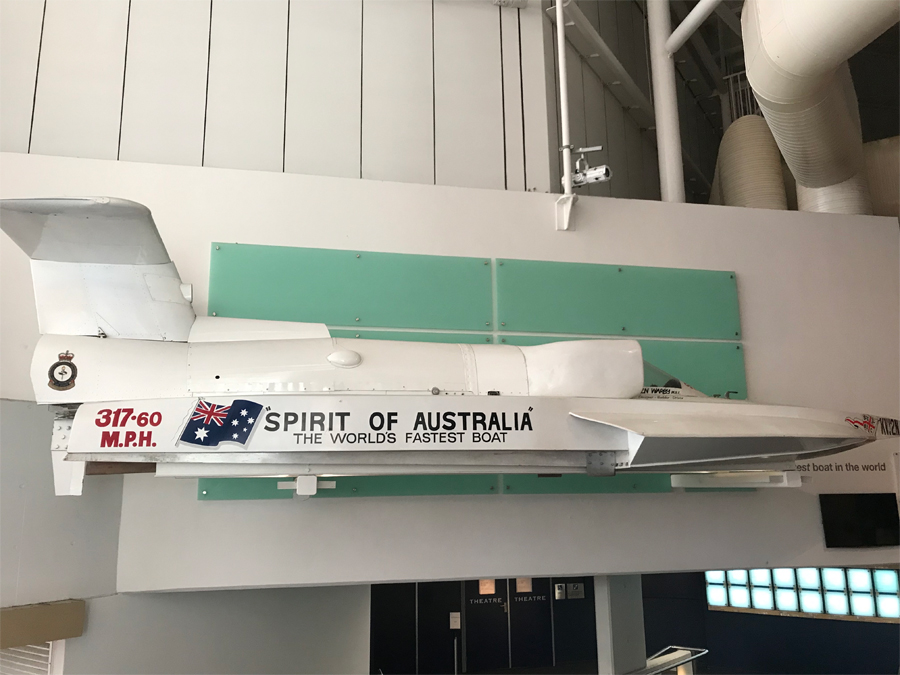 With so many awesome speed machines available, it is becoming increasingly easy to indulge in the ultimate adrenaline overdrive by sailing over waters. Cross the 100 MPH mark and enjoy the fastest boats in the world!