What is the maximum speed for trains? In 2015, the Japanese maglev train L0 Series achieved an absolute railway speed record of 375 mph (602 km/h). In reality, there are about 10 super-fast trains with a speed greater than 200 mph. In this comparative review, we have collected such fastest trains in the world. You will find out what are the fastest trains in the world, what are their maximum speeds, in which countries they operate, who their manufacturer is and a lot of other interesting information.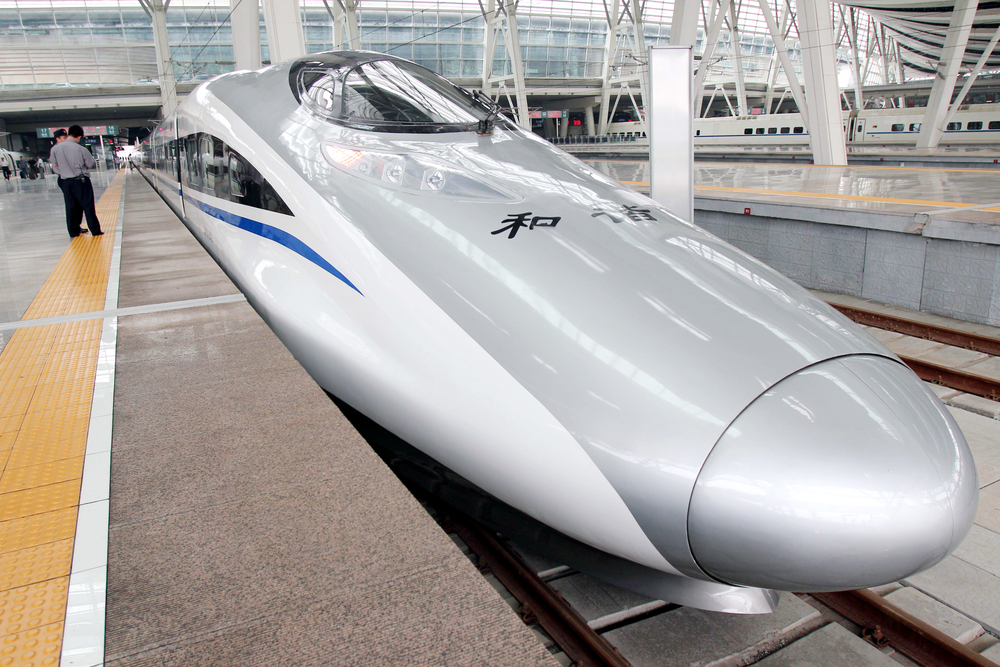 In the post-war years when the baby boomers were kids, the word "train" used to evoke different images. These were images of colossal lumbering beasts such as the Flying Scotsman and Union Pacific Big Boy with six feet tall cast iron wheels and huge pistons heaving to and fro. From 1964 that all changed. The first "bullet train", formally known as Shinkansen, ran in 1964 between Tokyo and Osaka. Ever since, the world has viewed railways differently.
What Are the Fastest Trains in the World?
Gen Z has always associated trains with a long silver snake elegantly speeding its way through Europe or Honshu Island and, more recently, across China. Bullet train action sequences have also proved popular with moviegoers – Mission Impossible with Tom Cruise/Ethan Hunt hanging on to Eurostar at over 150 miles an hour comes to mind.
We take a look at the fastest trains in the world.
Fastest Trains in the World Comparison (Data for 2023):
Train
Country
Year
Manufacturer
Max Speed (km)
Max Speed (mph)

Shanghai Maglev
China
2004
Siemens-Thyssenkrupp JV (Joint venture)
431 km/h
267 mph

Fuxing Hao CR400AF/BF
China
2017
CRRC Qingdao Sifang
400 km/h
249 mph

Harmony CRH 380A
China
2010
CSR Corporation Limited
380 km/h
236 mph

Shinkansen E5, H5 Series
Japan
2011
Hitachi, Kawasaki
Heavy Industries
360 km/h
224 mph

AGV Italo
Italy
2008
Alstom
360 km/h
223.6 mph

Talgo 350
Spain
2005
Talgo, Bombardier
350 km/h
217 mph

Haramain Western Railway
Saudi Arabia
2018
RENFE, Bombardier
350 km/h
217 mph

Deutsche Bahn ICE
Germany
1985
Siemens
330 km/h
205 mph

Korail KTX
South Korea
2004
Hyundai
330 km/h
205 mph

Eurostar e320
United Kingdom
2015
Siemens
320 km/h
200 mph
10. Eurostar e320 – the United Kingdom, 200 mph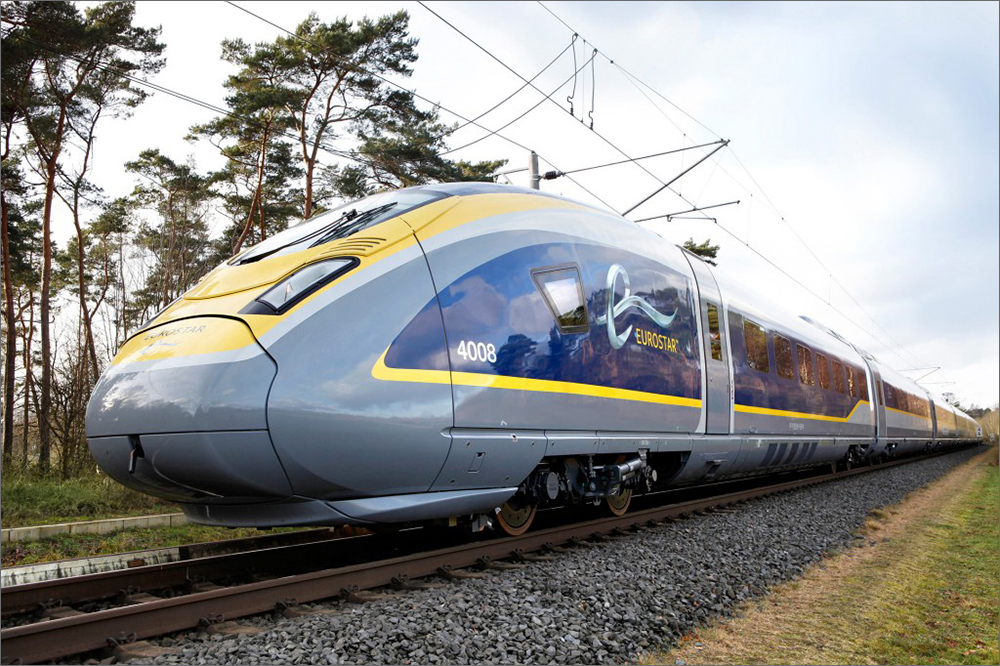 Source: press.siemens.com
The British Rail Class 374, otherwise known as Eurostar e320, was unveiled by Siemens in 2015. The interiors are designed by the famed Italian automotive stylist outfit Pininfarina. The train can carry 900 passengers in comfort, an increase of 20 over its predecessor Eurostar e300.
The e320s operate between London St Pancras and Paris Gare du Nord . It can complete the 305 mile trip in 2 hours and 16 minutes, reaching the highest 200 mph speed under the English Channel. There is also a service between London and Brussels.
This e320 is fast and cuts down travel time through the Channel Tunnel, making it preferable to flying. The frequency of operation is also high, with a train every hour from London to Paris every day of the week.
Eurostar is reliable, and most trains arrive on time or at most 15 minutes late. It is remarkably eco-friendly, with 90% fewer emissions than London to Paris flight per passenger.
9. Korail KTX – South Korea, 205 mph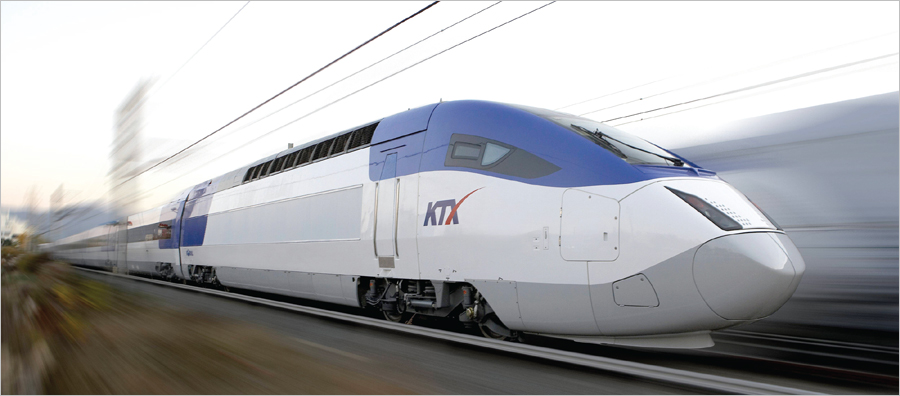 Source: englishspectrum.com
The KTX Sancheon is built by Hyundai and operated by Korail from 2009. With a top speed of 205 mph, the Sancheon is an update over the previous KTX-I and the first to be designed and built in South Korea in the run-up to the 2018 Incheon Winter Olympics.
With a demure blue and white livery, the superfast expresses are quite a common sight speeding across the countryside at lightning speed. With two classes – first and the standard – they are a hugely popular form of travel through the nation.
The Sancheon operates with 8 or 16 cars, and the seats are rotating. You could travel backward or forwards as it suits you since this provides more leg space.
The trains run on five lines Gyeongbu, Honam, Gyongjeon, Jeolla, and Gangneung, connecting the capital Seoul to Busan, Mokpo, Gwangju, Gangneung, and Shinju.
8. Deutsche Bahn ICE – Germany, 205 mph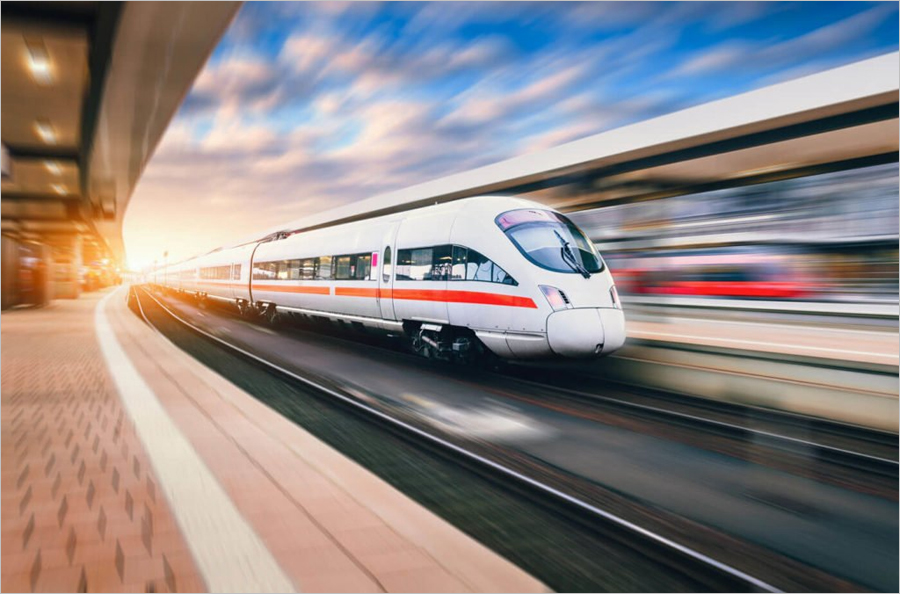 Source: isgedr.com
The InterCity Express or ICE 4 is operated by Deutsche Bahn. They connect Berlin, Munich, Hamburg, Stuttgart, and other major German cities. You can also take an ICE train to Austria, Brussels, Amsterdam, and several other locations outside Germany.
Cool, classy interiors are spacious and well designed. The train uses 30% less energy due to better aerodynamics.
Developed by Siemens in collaboration with Bombardier, each train can accommodate upwards of 450 seats. The ICE 4 runs on an innovative power car concept with as many as 24 driven axles spread across six out of twelve compartments.
DB has placed an order worth Euro 1 billion with Siemens for 30 supplementary trains to run on new lines between Dortmund and Munich. Depending on the chassis design, some of them can be used later to reach London through the Channel Tunnel.
7. Haramain Western Railway – Saudi Arabia, 217 mph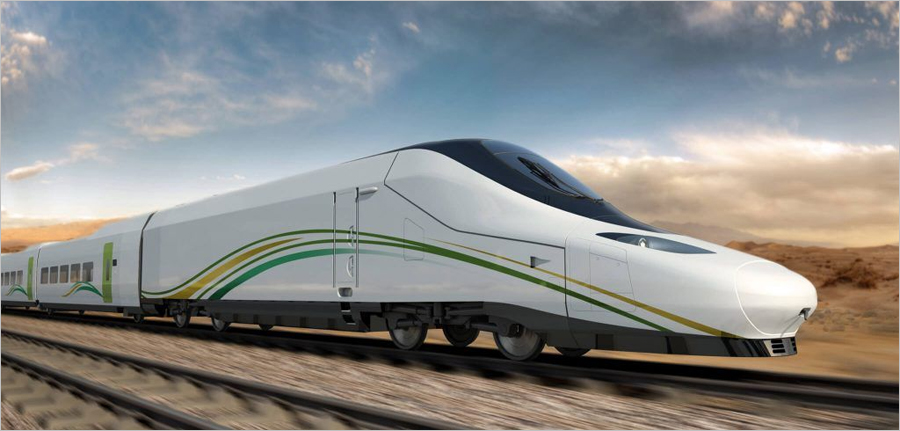 Source: buzz24feed.com
The Haramain high-speed railway, also known as Mecca-Medina high-speed corridor, is 450 km or 280 miles long and was inaugurated in 2018.
It has cut down the travel time between the two holiest sites of Islam to under two hours. The fleet currently consists of 35 trains, and with a capacity of 400 passengers, each can theoretically ferry 60 million passengers annually.
The five stations on the route are Mecca, Medinah, Jeddah, King Abdullah Economic City, and King Abdulaziz International Airport. The rolling stock is Talgo 350 developed for RENFE and made in partnership with Bombardier. With a distinctive snout that makes it look like a dolphin, the silver streak speeding across the hot desert sand is a sight to behold.
6. Talgo 350 – Spain, 217 mph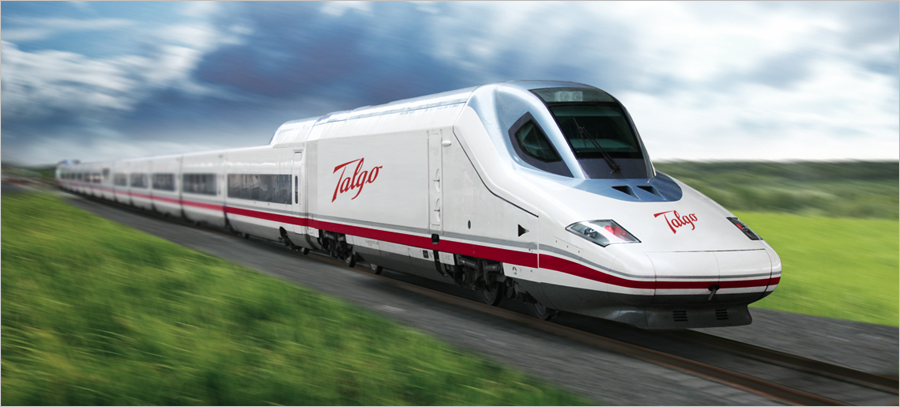 Source: talgo.com
The Spanish Talgo 350 is built by Patentes Talgo and runs between Madrid and Barcelona. The train has a curious nickname,"Pato," meaning duck in Spanish. This is due to its distinctive nose cone that resembles a duckbill.
During its trial runs, the express managed a speed of 228 miles per hour, though, in regular service from 2005, that is restricted to 215 mph. The design focuses on safety as well as high speed. There is minimum rolling of the coaches, and an innovative tilting mechanism provides stability around corners.
There are several classes – Club (with 14-26 seats), First (with 26 seats), and Coach with 36. Each seat comes with reading lamps, reclining back, and power points for recharge of laptops and cell phones.
5. AGV Italo – Italy, 223 mph
Source: flikr.com
At 223 mph, it holds the distinction of being the fastest train in Europe. Nicknamed "Ferrari of the tracks," the plum red trains are run by Nuovo Trasporto Viaggiatori, a consortium headed by the erstwhile president of Ferrari, Luca Cordero di Montezemolo. The train itself is built by Alstom AGV, and instead of having an engine at the front and rear is powered by axles throughout the rake making it very fast.
The train is also lighter, and by some accounts, shaves off 70 tons from similar designs by Talgo and Siemens. The compartments are 9 feet wide, making it easy to maneuver with luggage, and even the general compartments have luxurious leather seats.
It first started running on the Naples to Milan route and later extended the service to Turin and Venice.
4. Shinkansen E5, H5 Series – Japan, 224 mph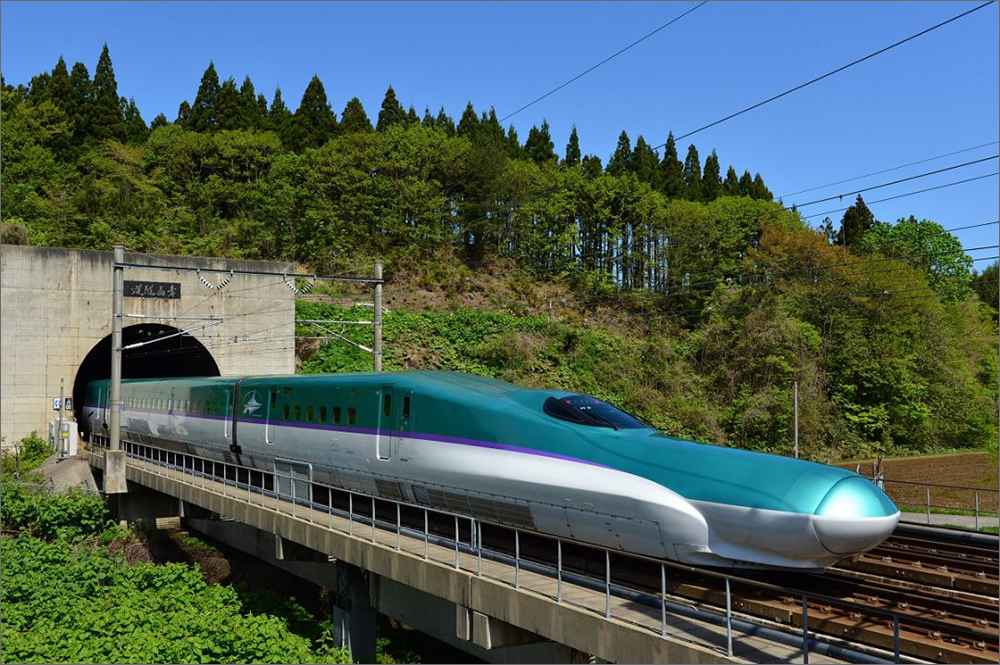 Source: japanrailandtravel.com
The legend, the first and for many purists, the only "bullet train." Japan is the birthplace of the modern high-speed railways' network. The network centers around Tokyo and stretches to Sapporo in the north to Nagasaki in the south. There are nine operational routes with another four set to come into operation by 2023.
There are several models of bullet trains of which the H5 is the latest. Entering service in 2016, the fastest bullet train has an appearance not unlike the Talgo 350.
The cars are silent due to excellent acoustic suppression, and all the seats face forward. The Japan Rail Pass makes travel by the H5 very economical.
Each ten car train has eight Ordinary Cass compartments seating five abreast, a Green Class seating four abreast, and a First Class seating three abreast. Seats are both reserved and unreserved. Many of the lines do have exceptionally high demand, and it is advisable that interested traveler books first.
3. Harmony CRH 380A – China, 236 mph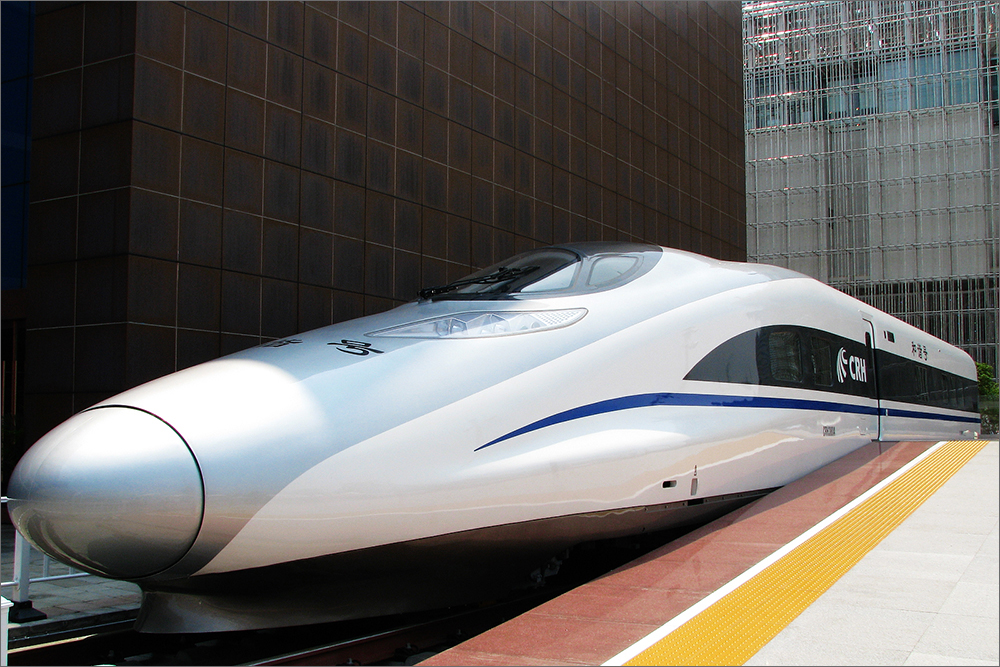 Source: wikipedia.org
The top three come from where else but China. The Middle Kingdom has made rapid strides in the past forty years and likes to show its progress through technological might. Its traditional rival over centuries, Japan had to surrender the crown to China a decade ago.
The Harmony CRH 380A is the second fastest operating wheeled train in the world. Designed by the China South Locomotive & Rolling Stock Corporation Limited (CSR), it entered service before the Beijing Olympics. The train runs in various configurations from eight to sixteen compartments and even comes with superb six-seat executive compartments. Each has a bar and a sightseeing lounge behind the driver.
Like airplanes, the seats are equipped with LED screens, power outlets, and reading lamps. The fastest lines run from Beijing to Shanghai, Guangzhou, and Shenzhen. Built out of aluminum alloy and with a long barracuda nose, it is the envy of the rest of the world.
2. Fuxing Hao CR400AF/BF – China, 249 mph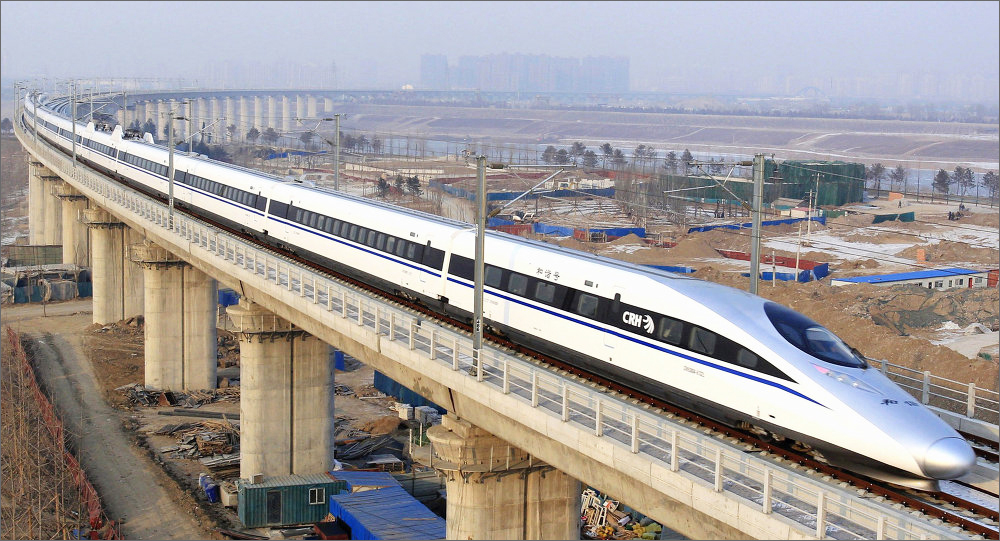 Source: beautifulplaceali.blogspot.com
The world's fastest conventional long-distance train is the Fuxing Hao CR400. With a capacity for over 550 passengers, it runs between Shanghai and Beijing in just five hours. Fuxing Hao name means revitalization. The two models AF and BF, slightly different from each other, are also known as "Dolphin Blue" and "Golden Phoenix." The trains usually operate in eight and sixteen car sets.
The train debuted in 2016 and edged out its sibling Harmony 380 to second place by 13 mph. According to reports and in trial runs, the BF version can reach more than 250 mph.
1. Shanghai Maglev – China, 267 mph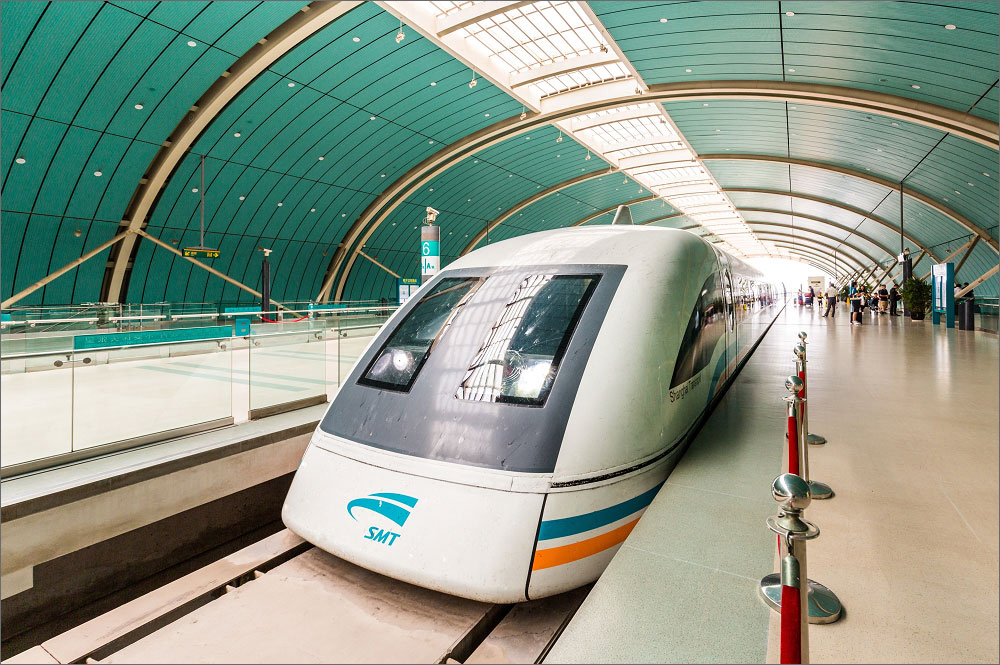 Source: trip.com
At the top of the list of top 10 fastest trains in the world is a machine that many would refuse to call a real train. But like it or not the Shanghai Maglev is the world's fastest train. Maglev or magnetic levitation has been around for a long while – at least three decades. However, operationally it has not been successful in most parts of the world.
The most extended maglev tracks are in Shanghai, connecting the Pudong Airport with Longyang Road Station. The 19-mile journey takes only 8 minutes, and the trains run every fifteen minutes. Compare that to the fastest train in the USA (back in post-war years) Union Pacific 4014 a.k.a The Big Boy which would have taken over twenty minutes.
A maglev train has no wheels and "floats" on the tracks using magnetic repulsion. This allows the electromagnetic train to overcome friction and reach extreme speeds comparable to that of aircraft. It is the train equivalent of a hovercraft. Since there is no contact with tracks, there is no noise or vibration. However, long-distance maglev is not yet viable because the tracks have to be dead straight, and it is prohibitively expensive to manufacture. There is only one other operational maglev system in the world at South Korea's Incheon Airport that runs at a mere 68 mph.
Before you go…
This was a brief roundup of the ten fastest train systems in the world. Unfortunately, there are no fast train systems in North America as yet.
Interestingly Africa does have a bullet train – the Casablanca-Tangier link that operates at just under 200 miles an hour and would have been the eleventh on this list.
Do these trains have a future? The rise of EasyJet and other budget airlines over the past decade has raised that question. The initial investment is extremely high and it is difficult to construct long and almost straight tracks that are elevated.
Most nations such as India (the world's largest rail network) have taken to budget airlines in a big way though there is a prestigious Mumbai-Ahmedabad project on the drawing board.