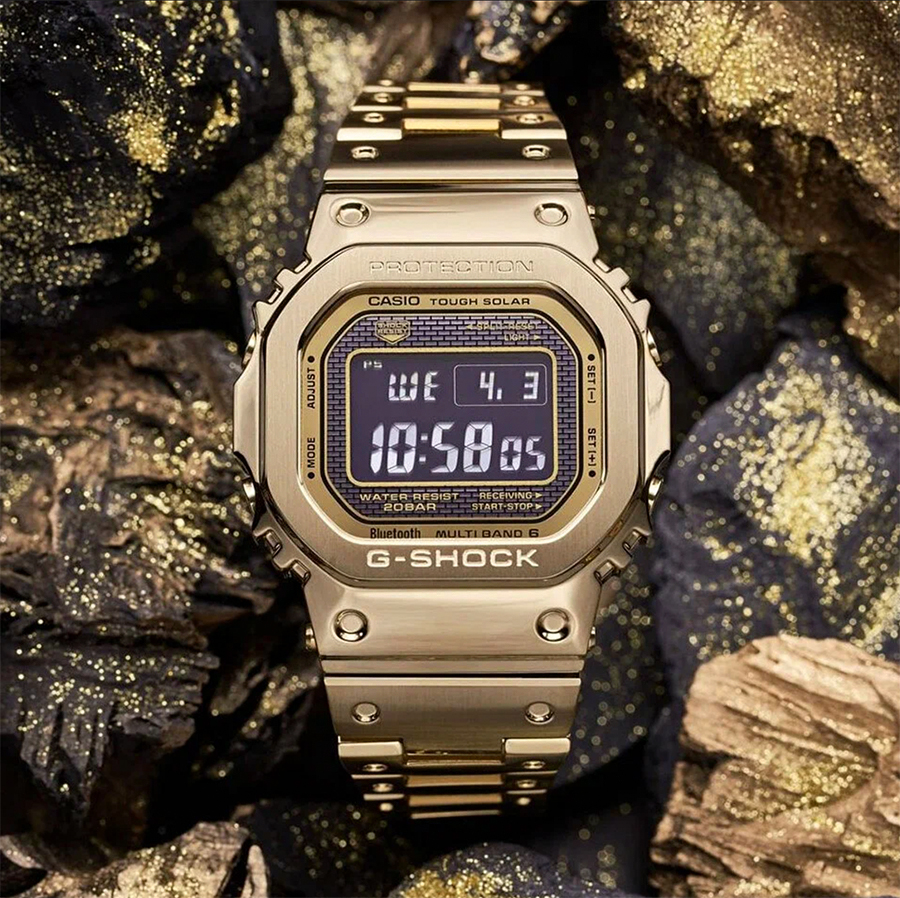 Choosing the perfect digital watch in 2023 isn't just about keeping time. It's about finding a multifunctional accessory that aligns with your lifestyle. Whether you're aiming to monitor your daily fitness routine, keep track of notifications, or simply need to juggle multiple time zones, there's a digital watch designed to meet your specific needs.
From rugged designs suited for outdoor adventures to sleek models perfect for a business setting, this curated list of the 15 best digital watches for men has something for everyone. We'll help you navigate the vast selection available, focusing on key features that set these timepieces apart. We'll not just focus on their looks, but also what makes them tick, feature-wise.
What are the Best Digital Watches?
In this list we've gathered the best digital watches in our opinion:
Casio F-91W – The Most Iconic Digital Watch of All Time
The Casio F-91W has long been a staple in the world of digital watches since it hit the market back in 1991. Its longevity is a testament to its unassuming yet practical design, offering essential features without any unnecessary frills.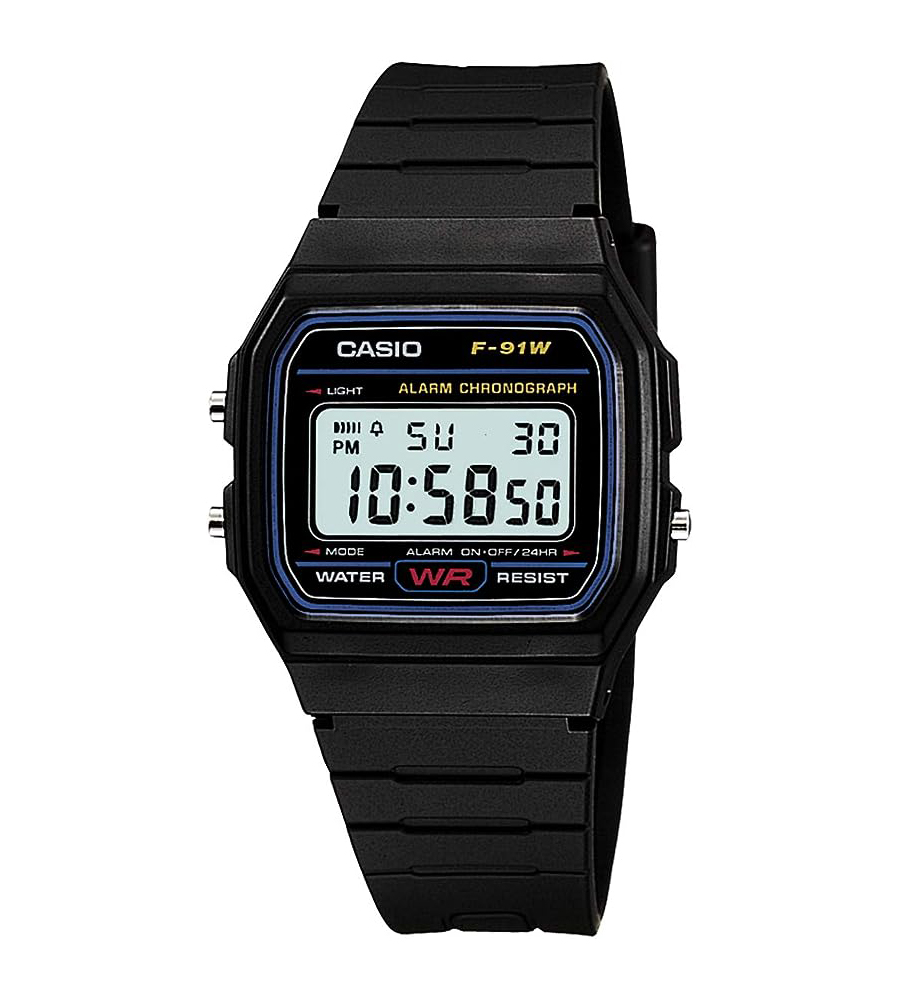 A timepiece celebrated for its minimalism and ease of use, the F-91W has even graced the wrists of notable figures like former U.S. President Barack Obama, adding an extra layer of cool to its enduring appeal.
And foremer president is not the only famous fan of this watch: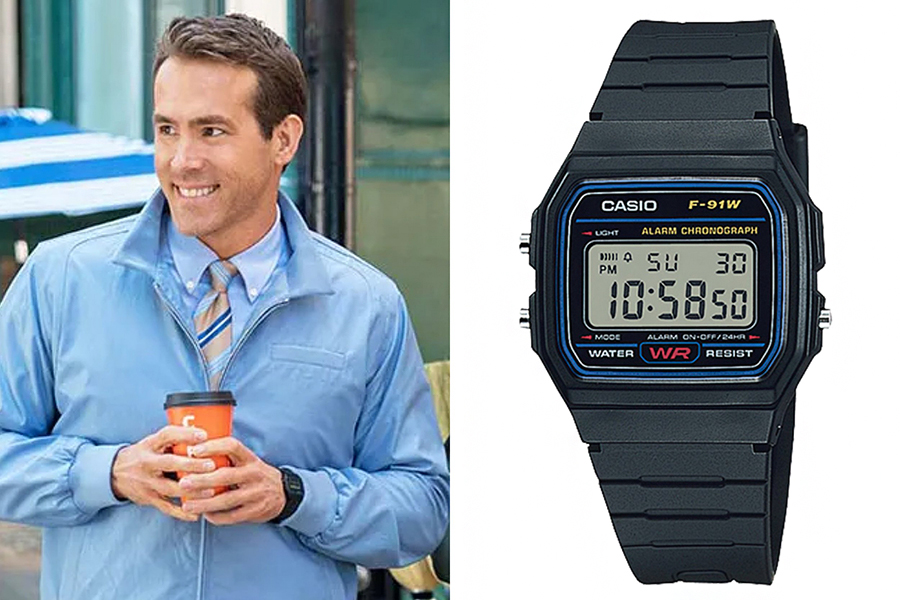 While the watch may lack the bells and whistles of today's smartwatches, it more than makes up for it with its basic but handy features such as an alarm, stopwatch, and a built-in calendar. Built to be both lightweight and durable, it's a reliable choice for a variety of activities, from urban commuting to outdoor adventuring. With a battery life that can stretch up to seven years, the Casio F-91W ensures you'll have a trusty timekeeping companion for the long haul. Affordably priced, this watch demonstrates that there's still a place for classic, no-nonsense design in a world enamored with high-tech gadgets.
Brand: Casio
Model number: F-91W-1JF
Case diameter: 35.2 mm
Case thickness: 8.5 mm
Item weight: 21 g
Movement: Quartz
Water resistant depth: 200 m
Casio A158WA-1 Stainless Steel Digital Watch – Timeless Classic
If the F-91W is the epitome of iconic simplicity, the Casio A158WA-1 is its stylish sibling, offering a bit more flair with its stainless steel bracelet. This digital watch is another testament to Casio's ability to craft timepieces that stand the test of time, both in terms of design and functionality. The metallic sheen of the stainless steel case and bracelet elevates the watch from a utilitarian device to a subtle style statement.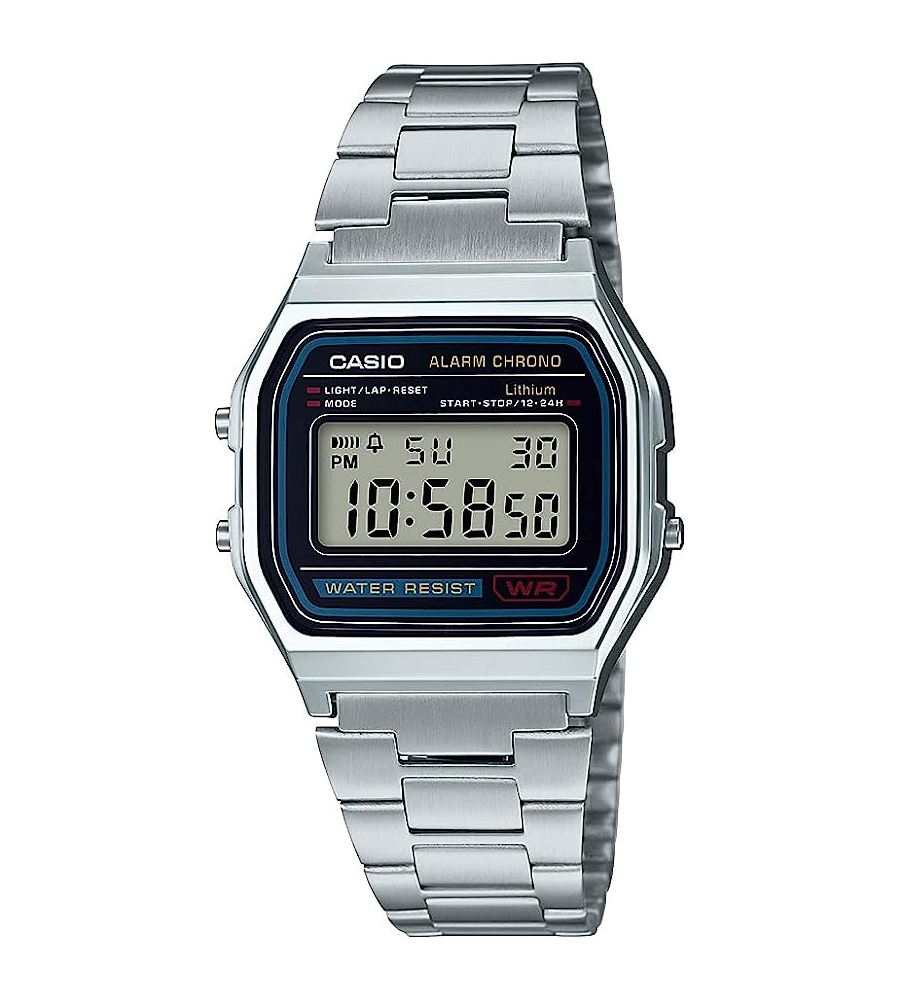 Beneath its shiny exterior, the A158WA-1 maintains the core features that one expects from a Casio digital watch, including an alarm, stopwatch, and an auto-calendar. Its illuminating backlight ensures visibility in low light conditions, making it a practical choice for various settings. This classic watch is also water-resistant, making it robust enough for everyday wear. So, if you're in the market for a digital watch that successfully marries form with function, the Casio A158WA-1 is a timeless choice that won't break the bank.
Brand: Casio
Model number: A158WA-1DF
Case diameter: 33 mm
Case thickness: 8 mm
Item weight: 58 g
Movement: Quartz
Water resistant depth: 30 m
Casio G-Shock DW5600E-1V – The Most Durable Digital Watch
For those who seek a watch that can weather life's toughest challenges, the Casio G-Shock DW5600E-1V emerges as a front-runner. This marvel of engineering belongs to Casio's celebrated G-Shock line, famous for robustness and the ability to thrive under extreme conditions. With a construction that's shock-resistant and water-resistant up to 200 meters, this watch is truly built to last.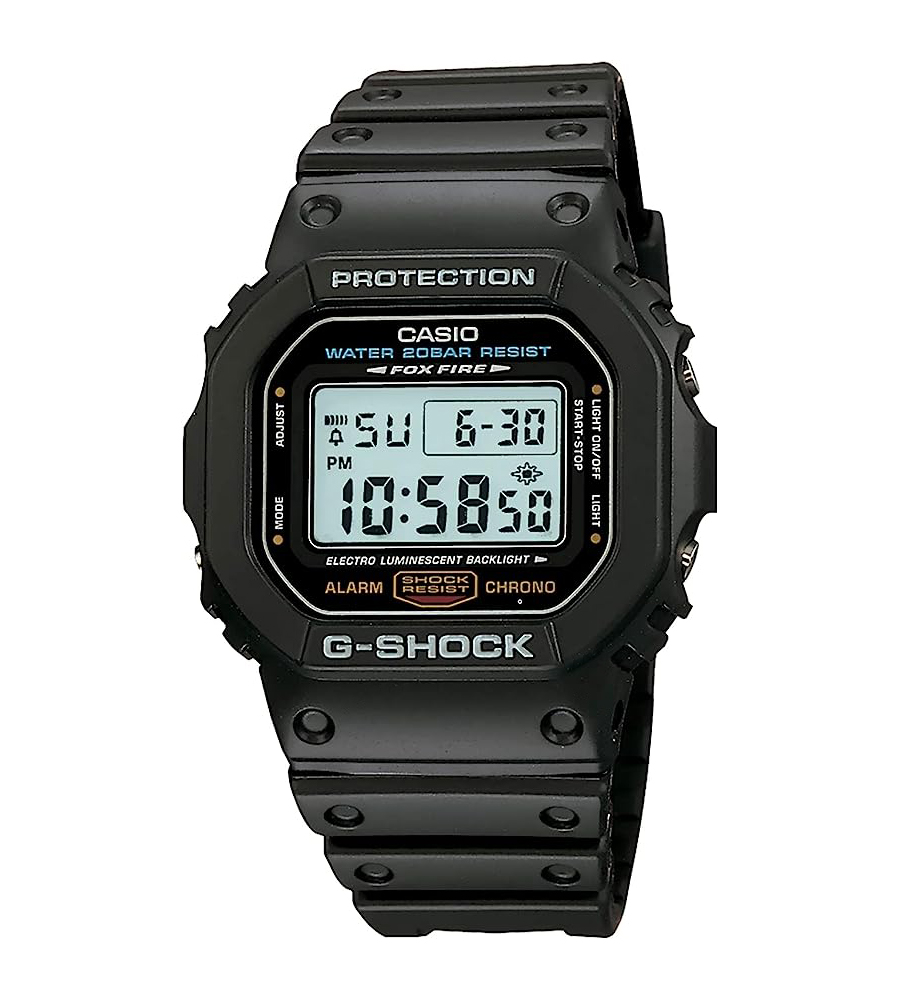 What sets this model apart even further is its incredible 10-year battery life. In addition to a countdown timer, multi-function alarm, and hourly time signal, this longevity means you won't have to worry about battery replacements any time soon. Its EL backlight with afterglow ensures readability even in the darkest conditions. All these attributes make the Casio G-Shock DW5600E-1V an unrivaled choice for those in need of a durable, long-lasting digital watch that doesn't compromise on features.
Brand: Casio
Model number: DW5600E-1V
Case diameter: 45 mm
Case thickness: 15 mm
Item weight: 53 g
Movement: Quartz
Water resistant depth: 200 m
Garmin Instinct 2X Solar – Digital Smart Watch with GPS
When you want to combine outdoor adventuring with cutting-edge technology, the Garmin Instinct 2X Solar is a superb choice. What sets this digital watch apart is its solar charging feature, allowing you to extend your expeditions without the fear of running out of battery. With up to 24 days in smartwatch mode and more than two months in Battery Saver mode when charged through solar, this timepiece is a game-changer for outdoor enthusiasts.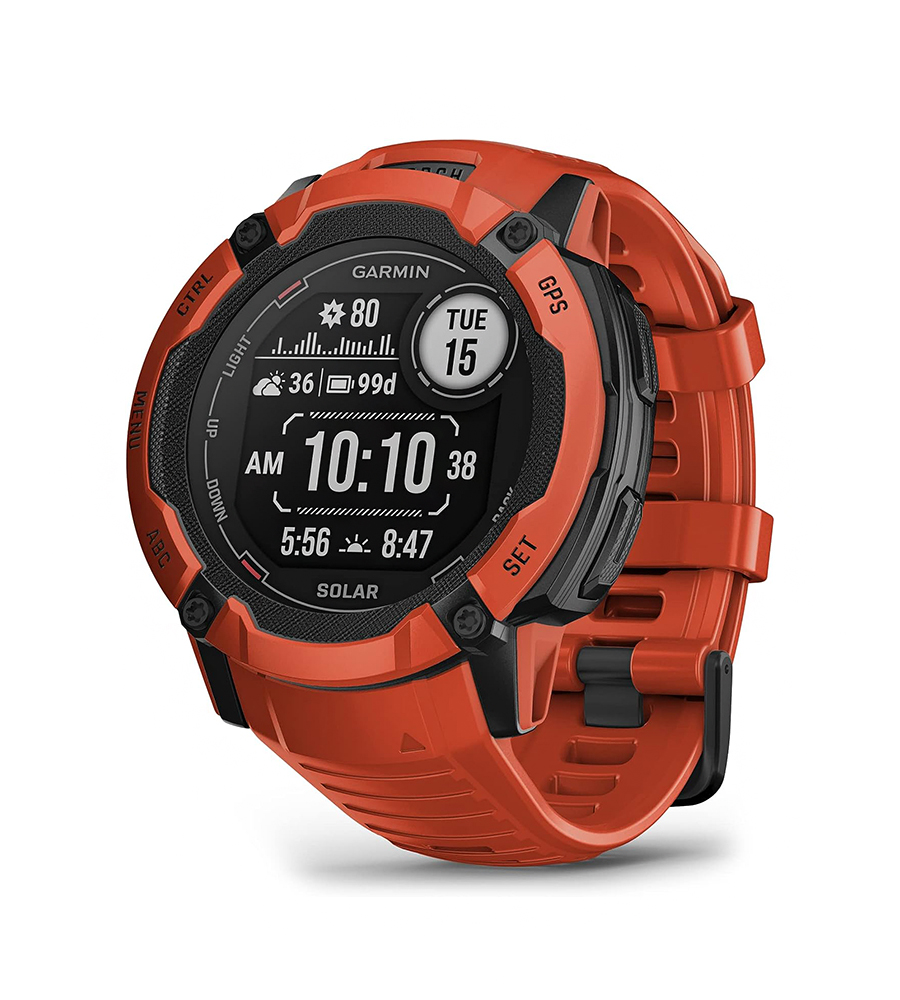 But battery life isn't the only standout feature. The Garmin Instinct 2X Solar offers a wealth of functionalities that make it more of a smart survival tool than a mere watch. From GPS, GLONASS, and Galileo support to health and wellness tracking capabilities like heart rate and stress monitoring, it's designed for those who love to push their limits. The watch also comes with preloaded activity profiles for hiking, running, swimming, and more, helping you keep track of your performance in various sports.
Brand: Garmin
Model number: 010-02805-11
Case diameter: 45 mm
Case thickness: 15.3 mm
Item weight: 53 g
Movement: Quartz
Water resistant depth: 100 m
Casio Pro Trek Tough Solar Powered Watch – The Epitome of Multifunctionality
For those who are searching for a digital watch that brings together an expansive list of features, the Casio Pro Trek Tough Solar Powered Watch is the ultimate candidate. True to its name, the watch harnesses solar power for impressive energy efficiency, minimizing the need to change batteries and making it eco-friendly.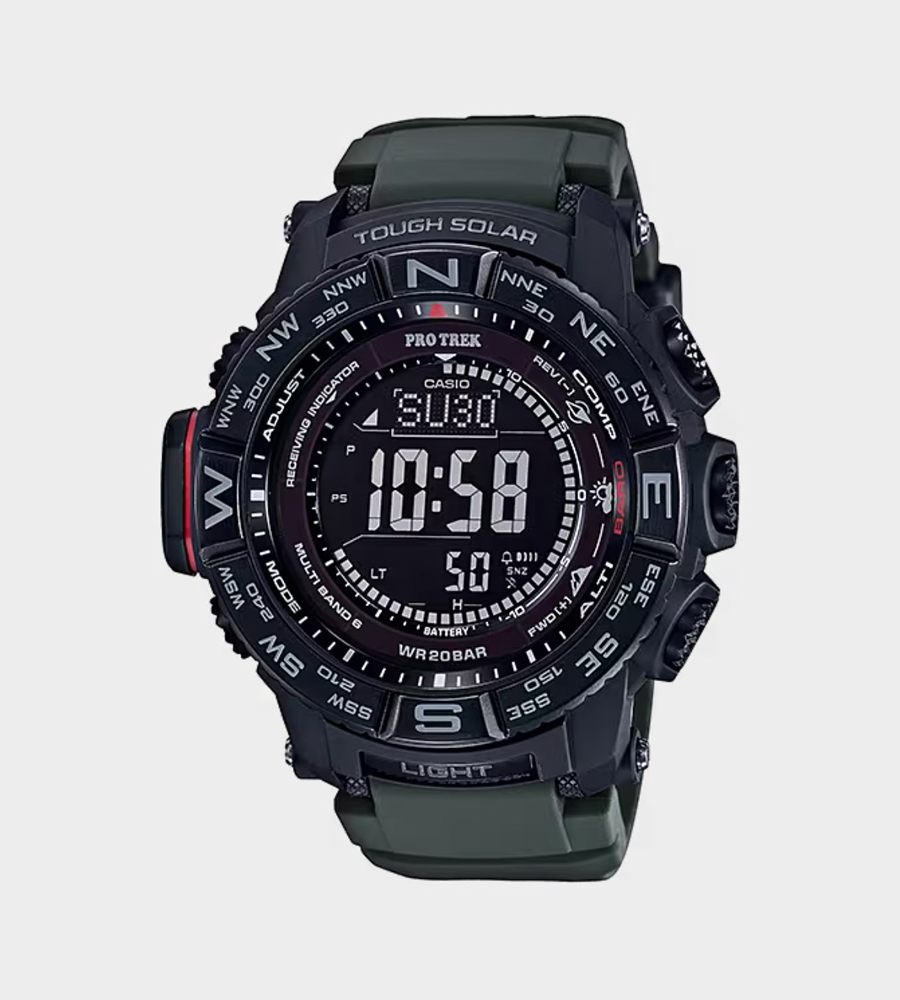 The multifunctionality of this watch is nothing short of exceptional. Beyond standard features like alarms and stopwatches, this timepiece offers a barometer, altimeter, and even a thermometer. Also included are advanced features like tide graphs and moon data, making it ideal for outdoorsmen and adventurers. Its built-in compass and Triple Sensor technology make navigation a breeze, whether you're on a hiking trail or sailing the seas.
Brand: Casio
Model number: PRW-3510Y-8CR
Case diameter: 47.7 mm
Case thickness: 13.2 mm
Item weight: 96 g
Movement: Quartz
Water resistant depth: 200 m
Casio G-Shock G-Squad GBD-H1000-1A7 – The Best Sports Digital Watches
For athletes and fitness enthusiasts, the Casio G-Shock G-Squad GBD-H1000-1A7 stands out as the premier option in sports digital watches. This watch goes beyond merely being durable and rugged. It's specifically tailored to cater to the demands of an active lifestyle. The striking design is not just for looks – it's functional, offering easy-to-access buttons even during intense activities.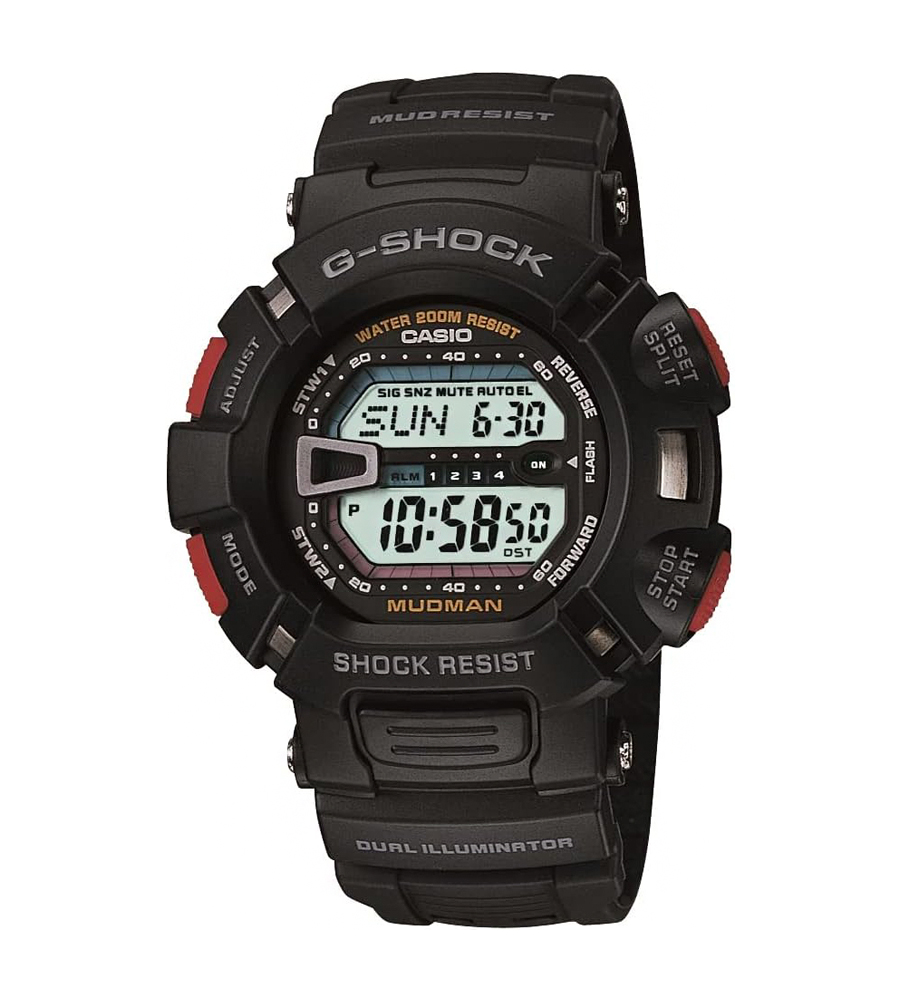 The GBD-H1000-1A7 is brimming with features that make it the ideal training partner. It comes equipped with a heart rate monitor, GPS functionality, and even has a built-in accelerometer. It also offers multiple fitness tracking options, including calorie count, step tracker, and various workout intensity monitors. And for those worried about battery life, this model offers solar-assisted charging, ensuring that you remain powered up during long training sessions or competitions.
Brand: Casio
Model number: G9000-1V
Case diameter: 52 mm
Case thickness: 16.3 mm
Item weight: 113 g
Movement: Quartz
Water resistant depth: 200 m
Timex Men's Classic Digital Watch – With Large Numbers for Those with Poor Eyesight
If you find yourself straining to read the time on smaller displays, the Timex Men's Classic Digital Watch offers a welcome solution with its large numbers. Designed for optimal readability, this watch is a great choice for individuals who have vision challenges. It emphasizes straightforward functionality, ensuring that the time is always easy to see, even at a quick glance.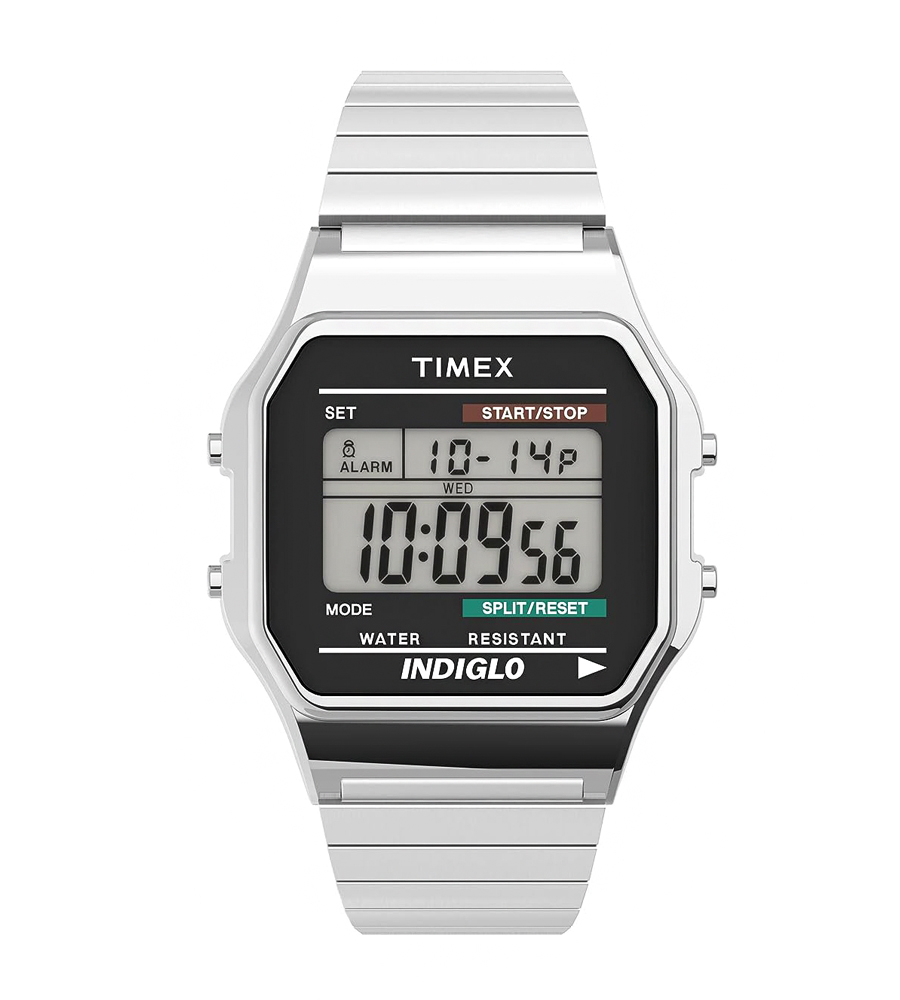 Beyond the advantage of its large digital display, the watch also incorporates basic but essential features such as alarms, date display, and a stopwatch. Its Indiglo backlight feature ensures that you can read the time even in low light conditions. Simple yet practical, this watch is not only user-friendly but also offers a classic design that complements various styles.
Brand: Timex
Model number: T78587
Case diameter: 34 mm
Case thickness: 10 mm
Item weight: 45 g
Movement: Quartz
Water resistant depth: 30 m
Casio G-Shock Full Metal GMWB5000CS-1 – The Most Uniquely Designed Digital Watch
When it comes to making a style statement, the Casio G-Shock Full Metal GMWB5000CS-1 is in a league of its own. This watch is an eye-catching spectacle with its intricate, laser-etched camouflage pattern on the full-metal casing and bracelet. It's a conversation starter that says as much about the wearer's individuality as it does about their taste in timepieces.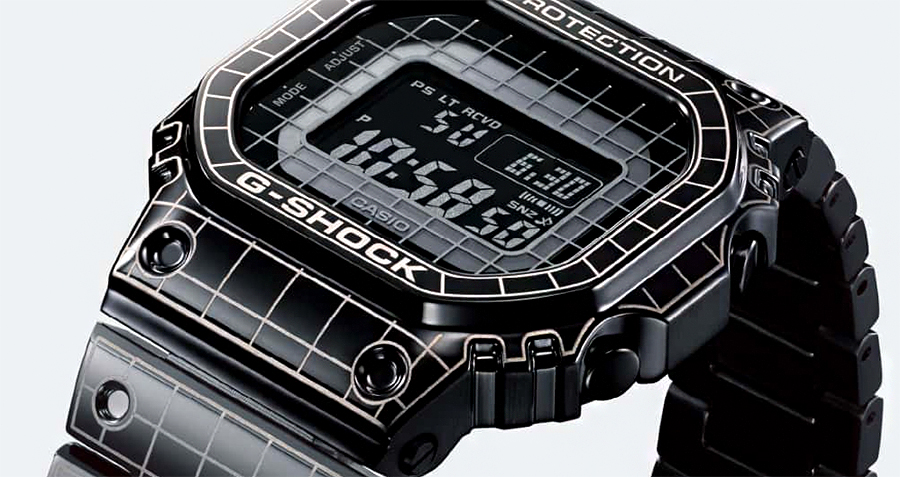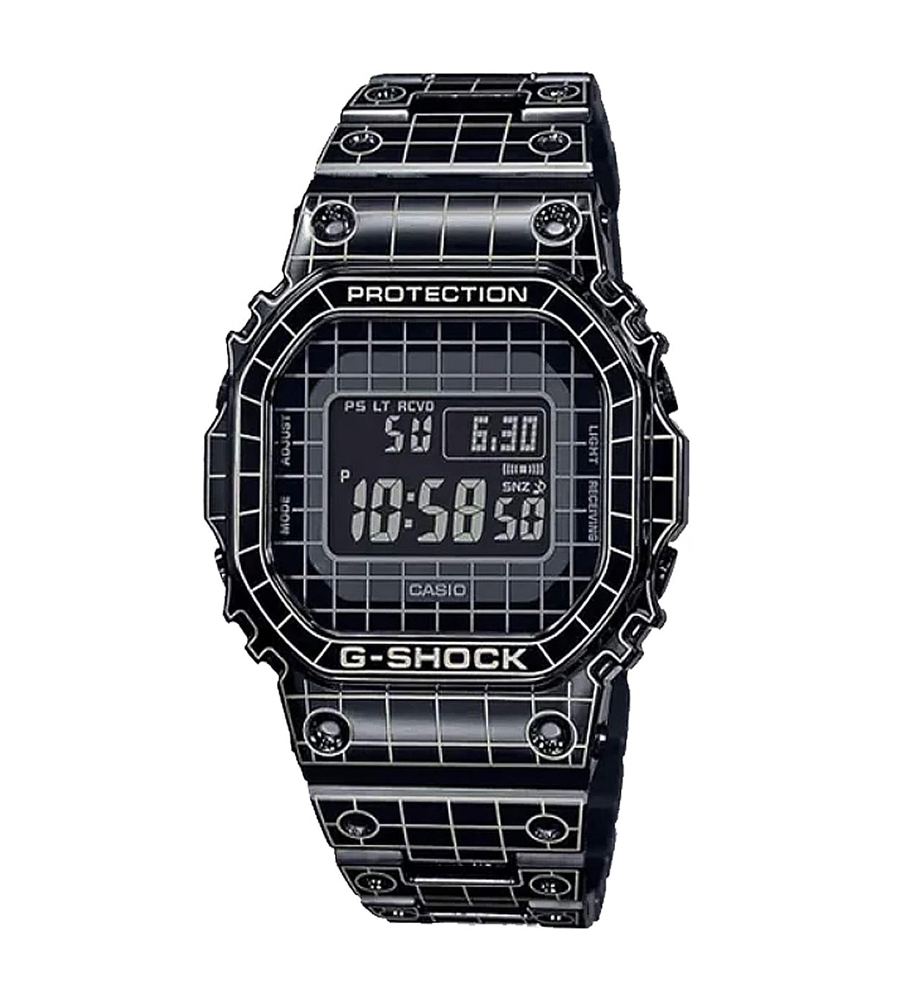 Images source: casio.com
But the GMWB5000CS-1 is more than just a pretty face. This watch embodies the G-Shock promise of toughness with features like shock resistance and a water-resistant depth of up to 200 meters. Add to that the solar-powered battery, Bluetooth connectivity, and a world time function covering 39 time zones, and you've got a watch that fuses form and function in an extraordinary manner.
Brand: Casio
Model number: GMW-B5000CS-1
Case diameter: 42.8 mm
Case thickness: 13 mm
Item weight: 46.5 g
Movement: Quartz
Water resistant depth: 200 m
Casio G-Shock FROGMAN GW-8230B-9AJR Titanium – The Best Digital Watch for Diving
For avid divers and underwater adventurers, the Casio G-Shock FROGMAN GW-8230B-9AJR Titanium stands as the top pick among digital watches designed for underwater exploration. This FROGMAN model is a specialized diving watch that not only offers standard G-Shock durability but is also enhanced with features tailor-made for diving.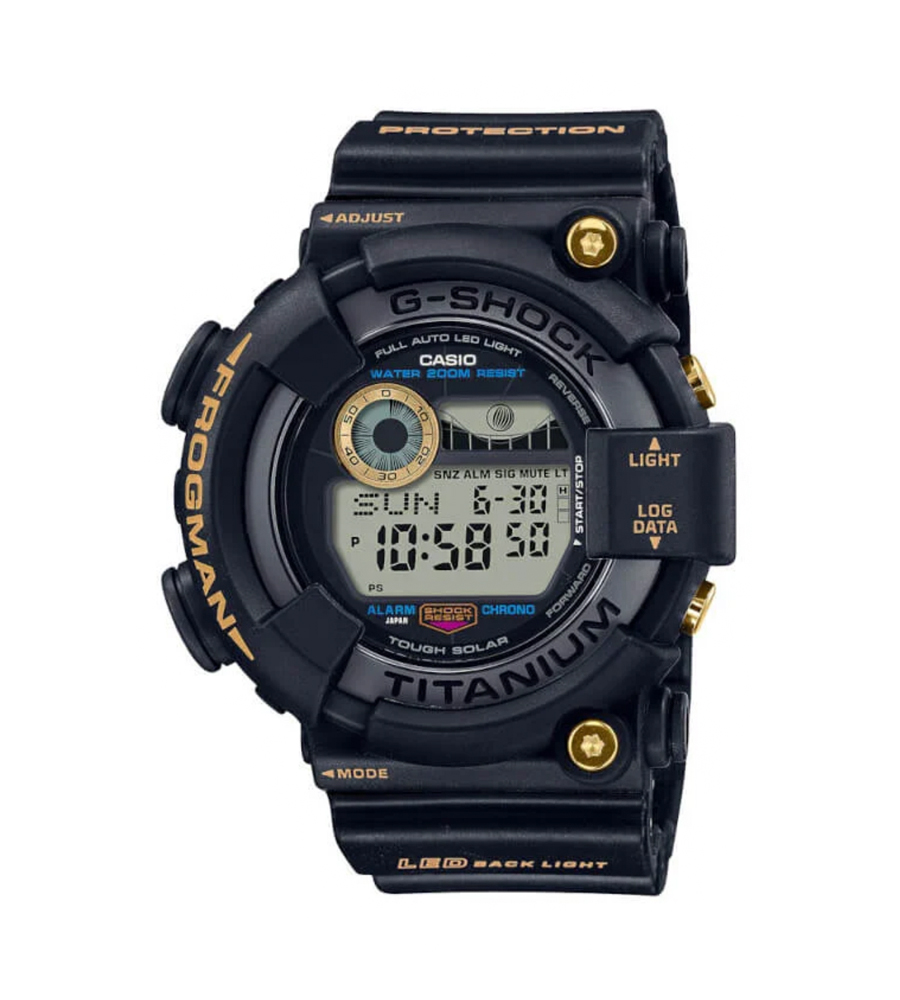 Image source: g-central-com
Made with a titanium case and backplate, this watch is incredibly robust yet lightweight, a crucial consideration for diving. It's ISO 6425 certified for diving and offers water resistance up to an impressive 200 meters. Additionally, it comes with unique underwater capabilities such as dive time measurement, surface interval monitoring, and a dive log memory feature.
Image source: g-central-com
The Casio G-Shock FROGMAN GW-8230B-9AJR Titanium is undoubtedly the go-to choice for those who take diving seriously. With its dive-specific features, robust construction, and premium material use, this watch elevates the concept of a diving watch to new heights. It's the ideal underwater companion for anyone looking to combine style, function, and unmatched reliability. To see how it compares with other premium selections, be sure to check out our article on 25 Men's Titanium Watches.
Brand: Casio
Model number: GW-8230B-9AJR
Case diameter: 50 mm
Case thickness: 18 mm
Item weight: 51 g
Movement: Quartz
Water resistant depth: 200 m
NIXON Mens Digital A1180-2865-00 – Military Style Digital Watch
If a military-inspired aesthetic appeals to you, the NIXON Men's Digital A1180-2865-00 is a watch that's worthy of your attention. With its rugged look and straightforward functionality, this timepiece embodies the practicality and toughness often associated with military gear. Its matte finish and large digital display give it an unassuming yet powerful presence, perfect for those who prefer understated style.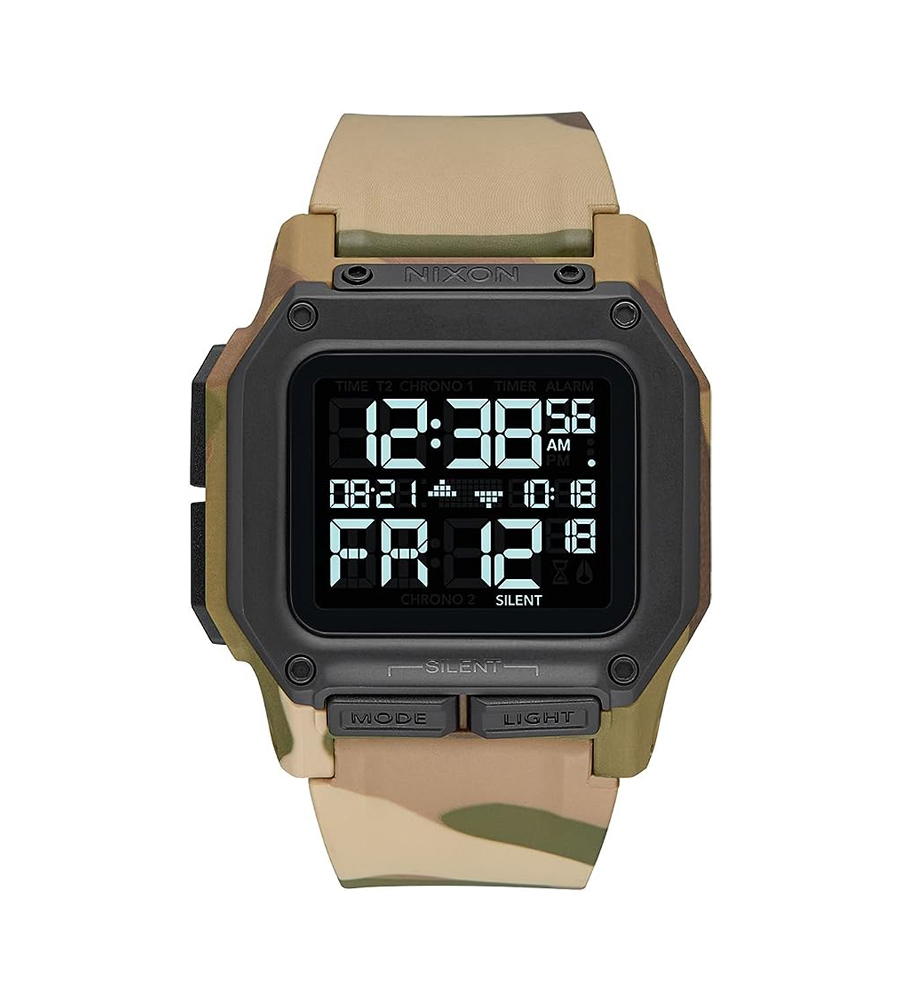 What sets this NIXON model apart isn't just its appearance. The watch also offers a solid set of features designed to match its robust look. Expect standard functionalities like alarms, date and time display, as well as a backlight for low-light conditions. The tough build ensures durability, making it a suitable companion for both outdoor adventures and everyday wear.
Brand: Nixon
Model number: A1180-2865-00
Case diameter: 46 mm
Case thickness: 12 mm
Item weight: 100 g
Movement: Quartz
Water resistant depth: 100 m
Casio G-Shock GW-9400-1 Black – The Most Shock-Resistant Digital Watch
If durability under extreme conditions is your top priority, then the Casio G-Shock GW-9400-1 Black is a prime candidate.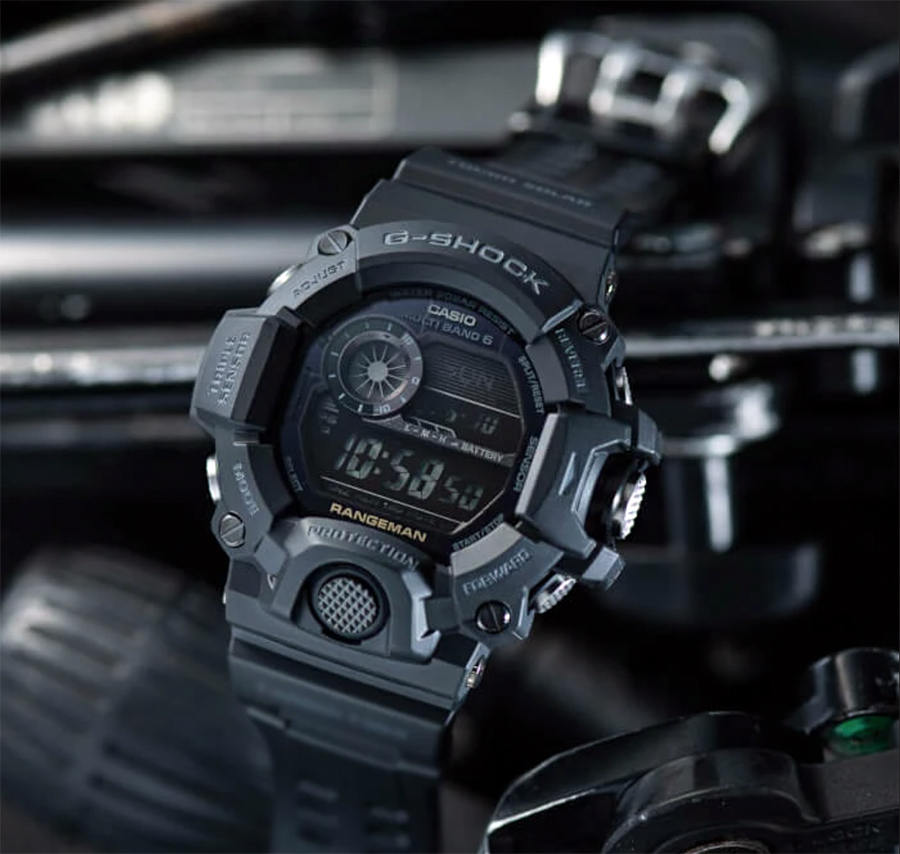 This watch is specifically engineered to withstand the harshest of shocks, earning it the title of the most shock-resistant digital watch in the market. Built to the rigorous standards of G-Shock's renowned toughness, it features a mud-resistant construction and is equipped to handle severe vibrations and sudden impacts.
The GW-9400-1 isn't just about durability, though. It also offers a wide array of features tailored for an active and adventurous lifestyle. This includes a Triple Sensor for measuring altitude, atmospheric pressure, and temperature, as well as Sunrise/Sunset Data for outdoor enthusiasts. Additionally, it has Multi-Band 6 Atomic Timekeeping, ensuring that you're always on time, no matter where in the world you find yourself.
Brand: Casio
Model number: GW9400-1B
Case diameter: 53 mm
Case thickness: 16.3 mm
Item weight: 180 g
Movement: Quartz
Water resistant depth: 200 m
Casio GMW-B5000TCC-1JR Special Edition – The Most Unique Digital Watch
For those seeking a timepiece that goes beyond the conventional, the Casio GMW-B5000TCC-1JR Special Edition offers a sense of uniqueness that is hard to match. This watch is a special edition that truly stands out from the crowd, embodying the epitome of exclusive design and limited availability. From its aesthetics to its functionalities, every aspect of this watch screams originality.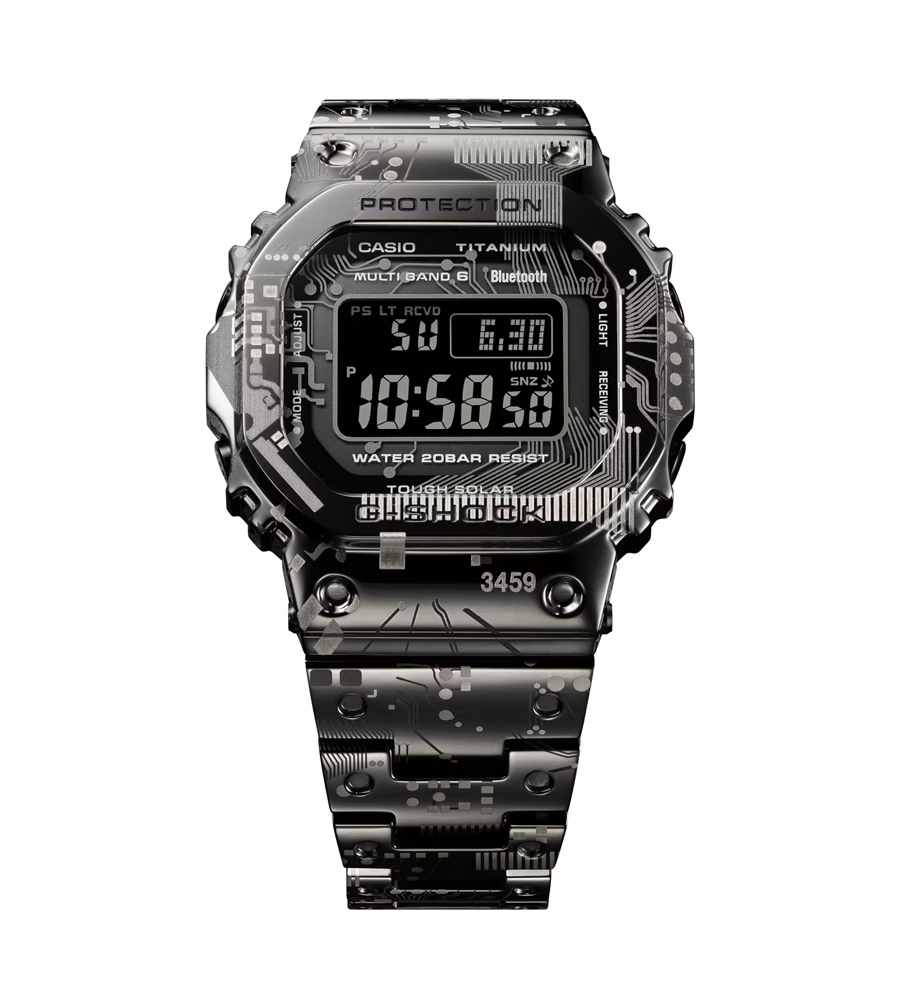 However, the GMW-B5000TCC-1JR isn't just about a one-of-a-kind appearance. This watch comes loaded with features that make it as functional as it is fashionable.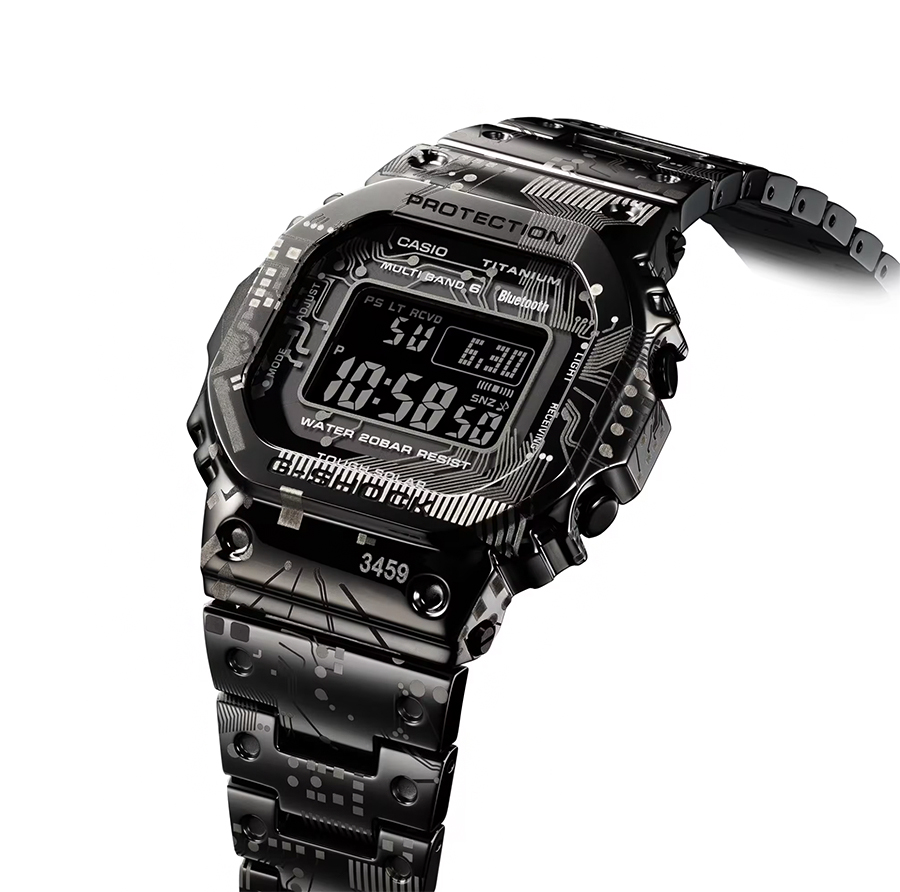 You can expect all the hallmark G-Shock toughness, solar-powered capabilities, and advanced timekeeping features such as Multi-Band 6 Atomic Timekeeping and world time for 48 cities. The Bluetooth connectivity allows for seamless synchronization with your smartphone, adding an extra layer of convenience to an already remarkable timepiece.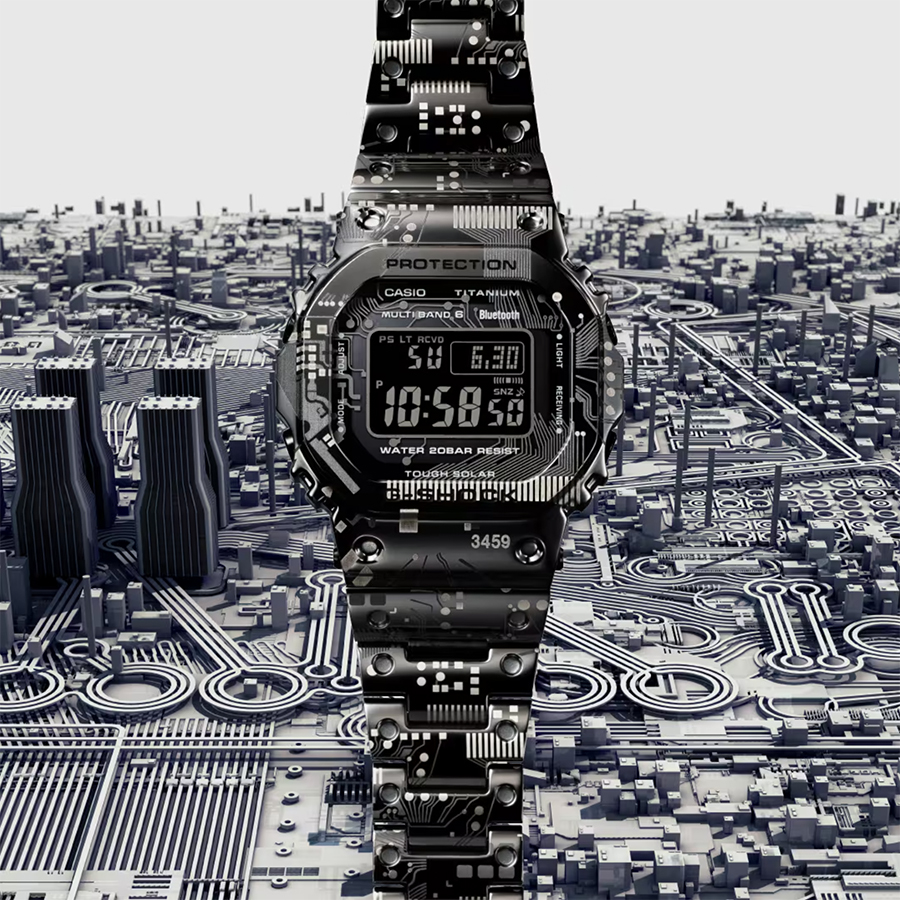 With its striking design and comprehensive feature set, the Casio GMW-B5000TCC-1JR Special Edition offers a blend of exclusivity and practicality. It's the perfect pick for those who want a digital watch that not only turns heads but also offers high performance in a variety of settings.
Brand: Casio
Model number: GMW-B5000TCC-1JR
Case diameter: 43.2 mm
Case thickness: 13 mm
Item weight: 104 g
Movement: Quartz
Water resistant depth: 200 m
Citizen Promaster Blue Angels Skyhawk A-T – The Best Analog Digital Watch
The Citizen Promaster Blue Angels Skyhawk A-T offers an impressive blend of analog and digital displays, catering to a broad range of preferences. Inspired by the elite U.S. Navy Blue Angels, the watch exudes an air of precision and performance, manifested in its dual display system. With both traditional analog hands and a digital window, the watch provides users with the flexibility to access time and an array of features in their preferred format.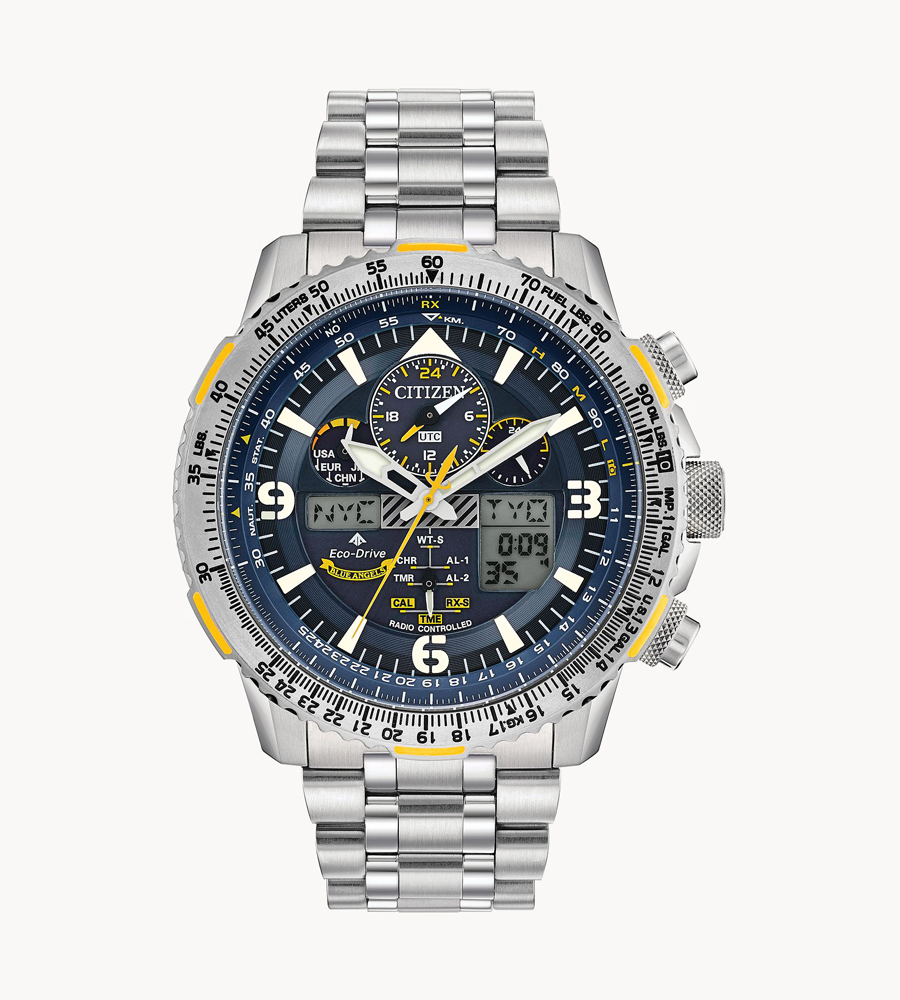 The watch isn't just aesthetically appealing, it's also packed with functionalities that make it a versatile choice. It employs Citizen's Eco-Drive technology, allowing it to be powered by any light source and eliminating the need for a battery.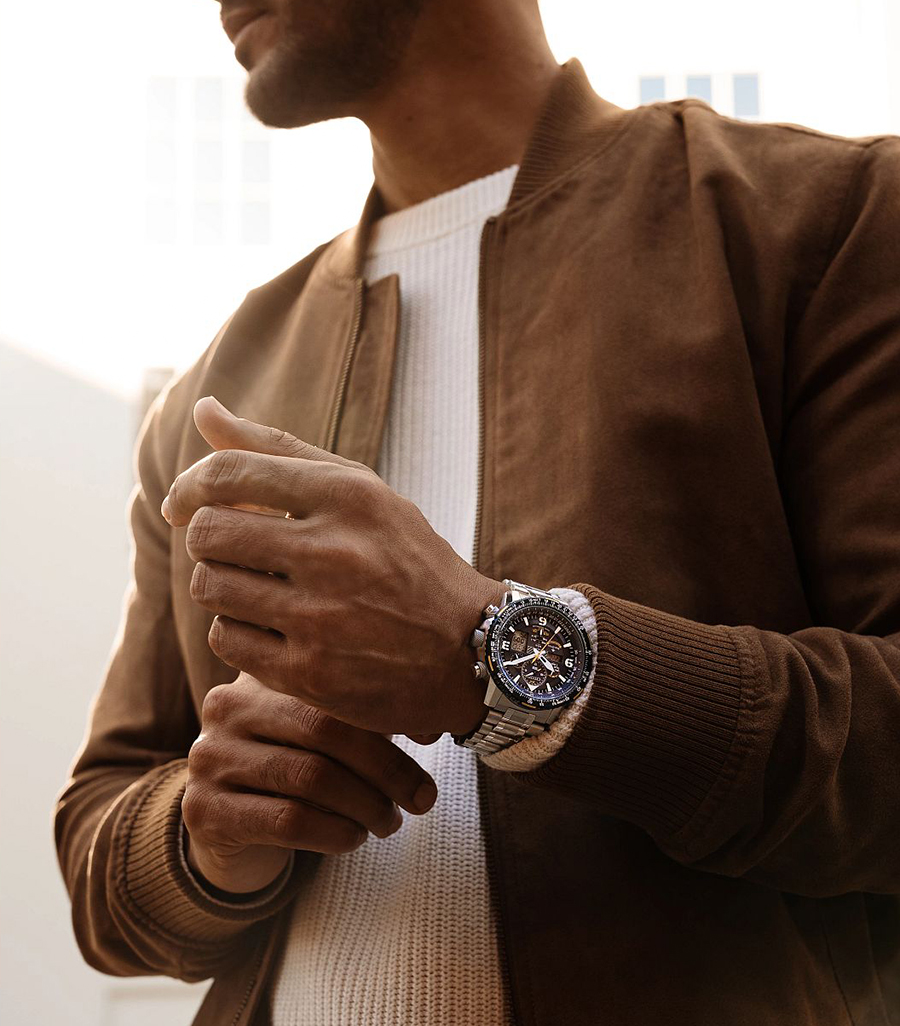 With atomic timekeeping in 43 world cities, a perpetual calendar, multiple alarms, and a countdown timer, it boasts a feature set that is as comprehensive as it is practical. The added bonus of 200-meter water resistance underscores its utility in a variety of settings.
Brand: Casio
Model number: JY8101-52L
Case diameter: 45 mm
Case thickness: 15 mm
Item weight: 87 g
Movement: Quartz
Water resistant depth: 200 m
Casio G-Shock GMW-B5000GD-9 Gold – the Most Luxurious Digital Watch
The Casio G-Shock GMW-B5000GD-9 Gold raises the bar when it comes to luxurious digital watches. With its eye-catching gold tone, this timepiece makes a bold statement, setting itself apart from the standard fare. The watch retains the hallmark durability and functionality G-Shock is known for but does so in a frame that exudes opulence. Its shimmering gold exterior serves as both a fashion statement and a testament to G-Shock's versatility.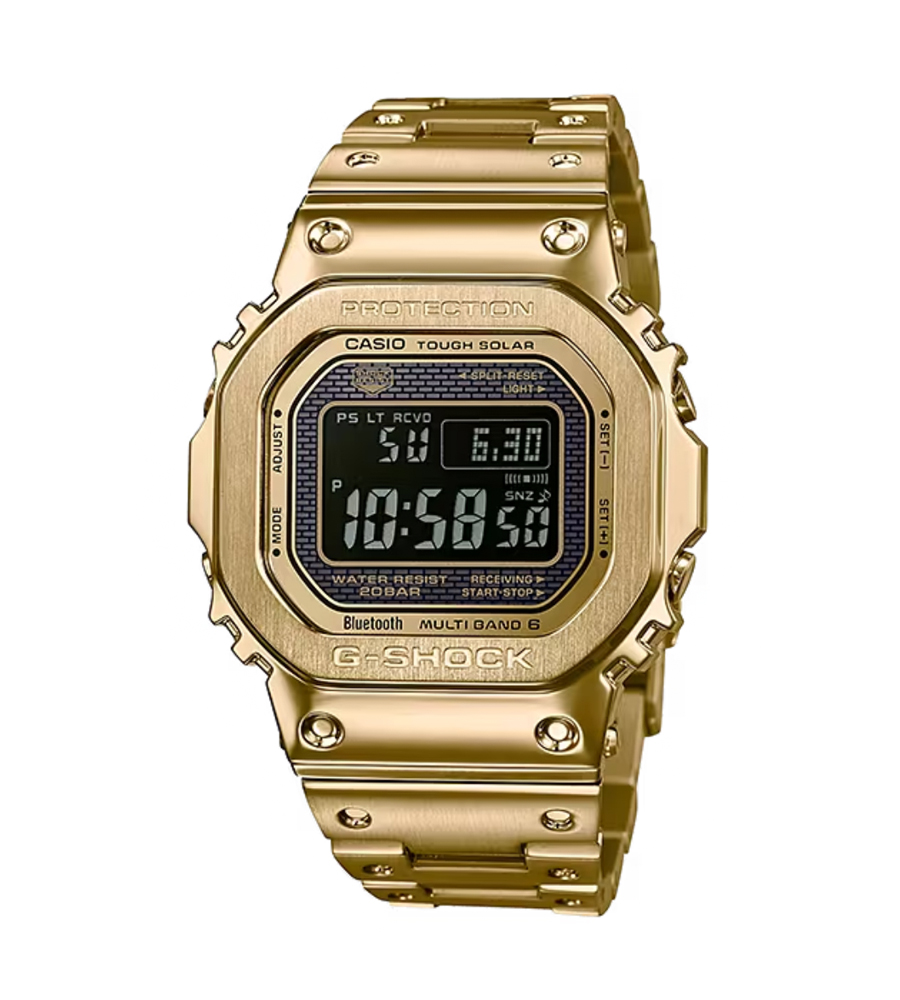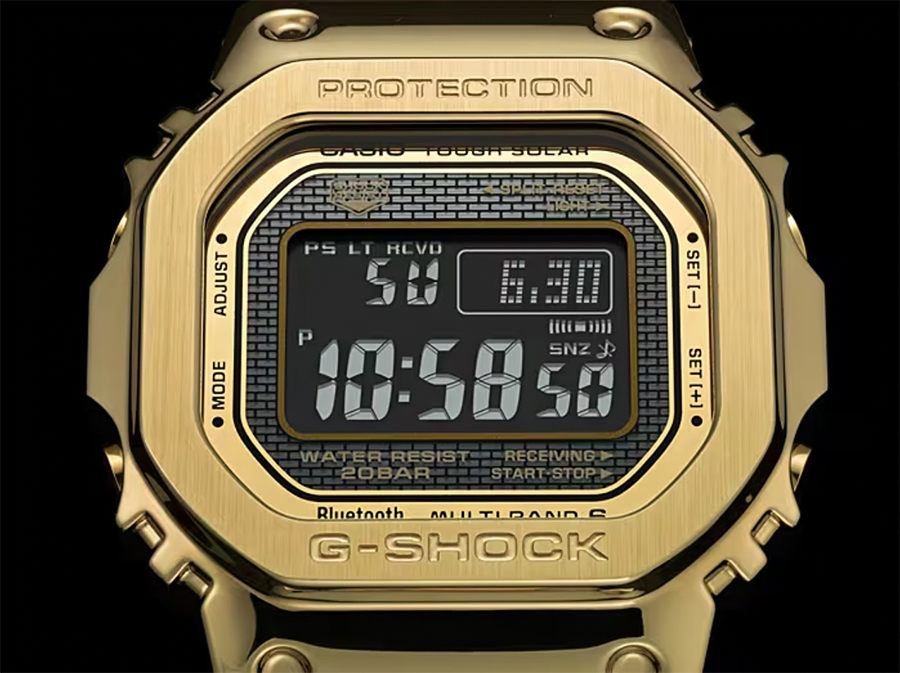 While this watch shines in the aesthetics department, it also brings a wealth of features to the table. Solar-powered capabilities ensure you don't have to worry about changing batteries, while Multi-Band 6 Atomic Timekeeping keeps you punctual, no matter your location. Additional functionalities like alarms, countdown timers, and world time for various cities round out this well-designed timepiece.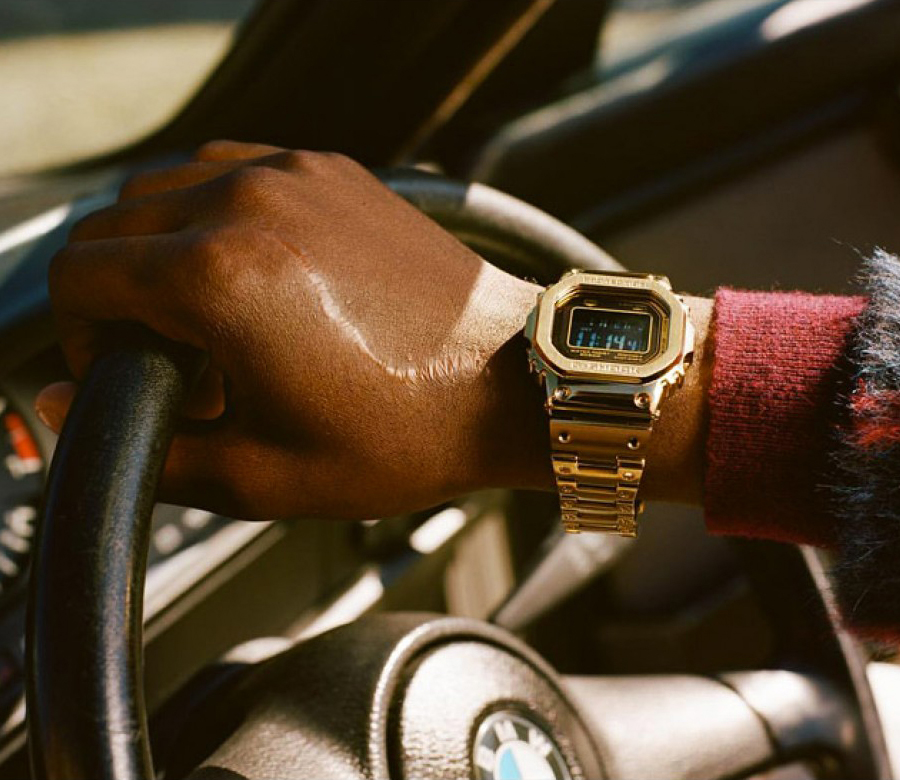 If you're keen to see how this luxurious piece stacks up against other high-end selections, be sure to read our article on 25 Best Gold Watches For Men.
Brand: Casio
Model number: GMW-B5000GD-9CR
Case diameter: 43.2 mm
Case thickness: 13 mm
Item weight: 339 g
Movement: Quartz
Water resistant depth: 200 m
Casio G-Shock GMW-B5000V-1JR Radio Solar – Cool Digital Watches Priced at $3000
If you're in the market for something that stands out, both in terms of price and features, the Casio G-Shock GMW-B5000V-1JR Radio Solar is a noteworthy option. Priced at around $3000, this watch is positioned at the higher end of the digital watch spectrum. What you get for that investment is a timepiece that marries G-Shock's renowned durability with advanced technological features, all encased in a visually striking design.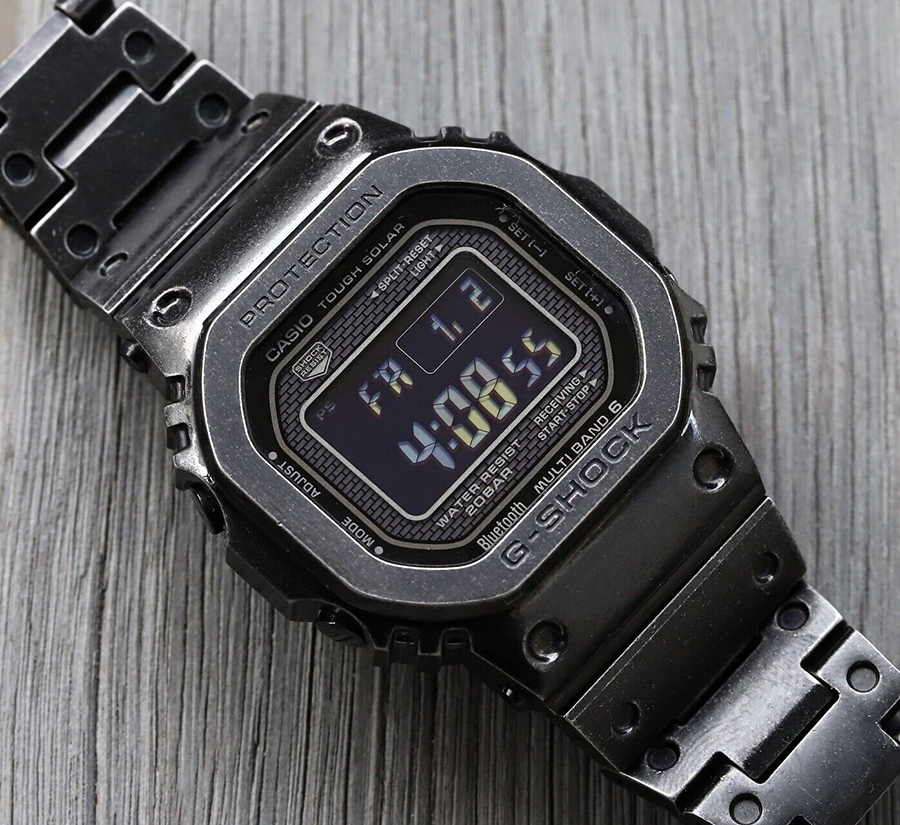 Image source: watchvault-com.au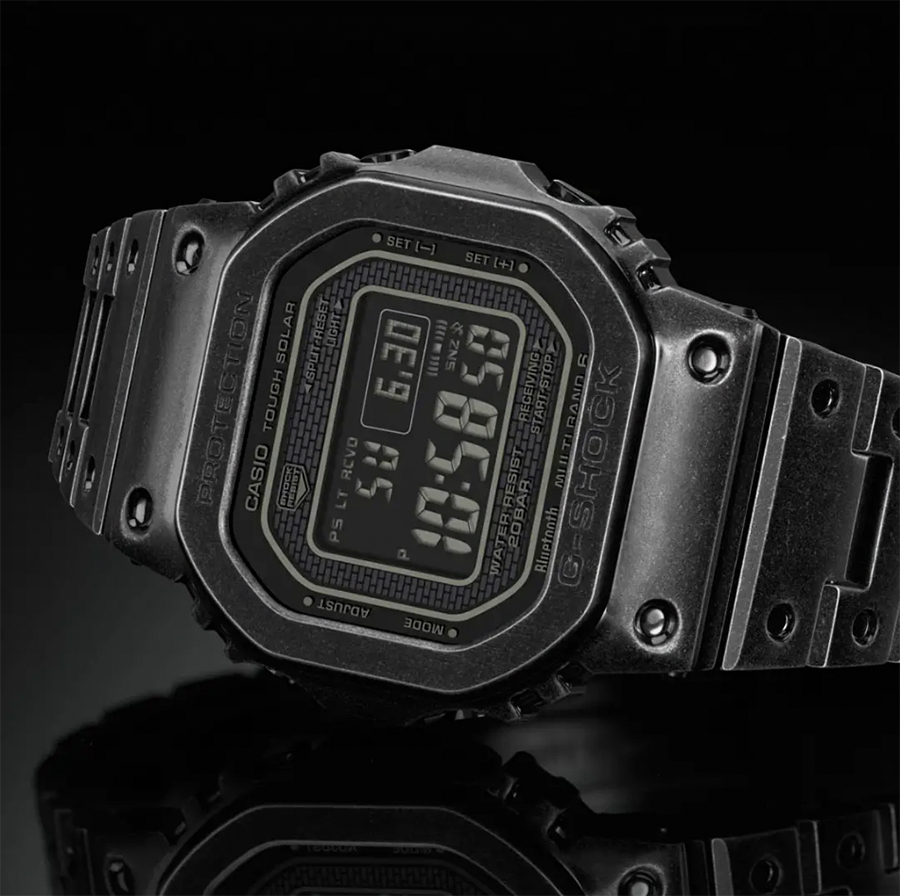 The GMW-B5000V-1JR isn't simply about flaunting its high price tag. It backs it up with a comprehensive suite of features. Solar-powered capabilities are paired with Radio-Controlled Timekeeping to offer accurate and reliable time, irrespective of your global location.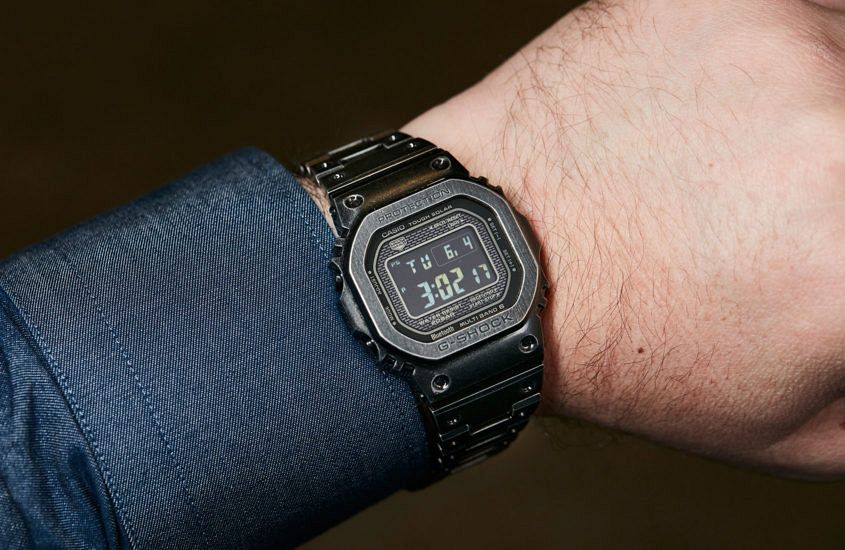 Image source: timeandtidewatches.com
The watch also includes standard G-Shock functionalities like alarms, countdown timers, and world time for numerous cities. With its blend of state-of-the-art features and eye-catching design, this watch sets a new standard in the premium digital watch category.
Brand: Casio
Model number: GMW-B5000V-1JR
Case diameter: 43.2 mm
Case thickness: 13 mm
Item weight: 167 g
Movement: Quartz
Water resistant depth: 200 m
Question You May Have About Digital Watches
Why Digital Watches Are Better for Men?
When it comes to choosing a watch, the decision between digital and other types of timepieces can be more significant than you might think. Especially for men, digital watches offer certain advantages that set them apart from their analog or mechanical counterparts. Two key strengths stand out: unparalleled accuracy and unmatched reliability.
Digital watches utilize quartz movement, which is incredibly accurate. With a margin of error of just a few seconds per month, you can count on a digital watch to keep you punctual for important appointments or deadlines. This level of precision is something mechanical watches can struggle to achieve, especially without regular maintenance or adjustments.
Another significant benefit is the robust reliability digital watches offer. They are generally more durable and less susceptible to wear and tear compared to analog watches, which often have more delicate internal mechanisms. The solid-state electronics in digital watches are designed to last, making them highly resistant to shocks, water, and other environmental factors that could affect their performance. This durability makes digital watches an excellent choice for men leading active or adventurous lifestyles.
How Digital Watches Work?
If you've ever wondered how digital watches work? At the core of a digital watch is a tiny quartz crystal that oscillates at a constant frequency when subjected to an electric current. This quartz oscillator serves as the timekeeping element, generating a stable, predictable frequency that ensures accurate timekeeping.
Once the quartz crystal generates this frequency, an electronic circuit divides it down to a manageable size that can be translated into seconds, minutes, and hours. This information is then displayed on the watch's digital screen, usually in the form of LED or LCD numbers. In essence, the quartz crystal and the electronic circuit work in tandem to provide the exceptional accuracy and reliability that digital watches are known for.
Besides the essential timekeeping function, many digital watches also include additional features such as alarms, stopwatches, and calendars. These functions are controlled by a microprocessor, which interprets signals from buttons or other input methods on the watch. These features can vary widely from model to model but are generally aimed at providing additional utility and convenience to the user.
So, the remarkable precision and functionality of digital watches are the result of a well-coordinated interaction between a quartz crystal oscillator, electronic circuitry, and sometimes a microprocessor for added features.
When Were Digital Watches Invented?
The inception of digital watches can be traced back to the early 1970s. Pulsar, a brand associated with the Hamilton Watch Company, released the first-ever commercially available digital watch in 1972. This groundbreaking invention featured an LED display and signaled the beginning of a new chapter in the world of timekeeping. In this context, it can be said that digital watches came out during a period of rapid technological advancements, revolutionizing the way people looked at wristwatches.
The initial models were prohibitively expensive and primarily considered luxury items. However, as technology progressed and manufacturing costs dropped, digital watches became increasingly accessible to the general public. Their high accuracy, reliability, and affordability quickly caught the attention of consumers, making digital watches a popular choice that has stood the test of time.
How to Change the Time on Most Digital Watches?
Adjusting the time on a digital watch is generally a straightforward process, although the specific steps can vary slightly depending on the brand and model. Here's a basic guide that should apply to most digital watches:
Locate the "Mode" Button: This button is often found on the side of the watch and is used to switch between different functions like timekeeping, alarms, and stopwatch.
Enter Time-Setting Mode: Press the "Mode" button repeatedly until the time starts blinking on the display. This indicates you've entered the time-setting mode.
Adjust the Hours and Minutes: Use the buttons labeled "Up" or "Forward" and "Down" or "Backward" to adjust the hours and minutes. In some models, you may have to press a separate "Select" or "Set" button to move between the hour and minute settings.
Switch Between AM/PM: If your watch uses a 12-hour format, you'll usually see an option to switch between AM and PM during the time-setting process. Toggle this using the same "Up" or "Forward" and "Down" or "Backward" buttons.
Confirm the Settings: Once you've set the time correctly, press the "Mode" button again or a designated "Set" or "OK" button to exit the time-setting mode and confirm your changes.
And there you have it – a quick and easy way to adjust the time on most digital watches. Always refer to the specific user manual for your watch model for any unique steps or features.
How Loud Are Digital Watches?
Contrary to some beliefs, digital watches are generally silent timekeepers. You won't hear ticking or any mechanical movements, as you might with an analog or mechanical watch. This makes digital watches an excellent choice for those who prefer a noise-free environment, whether it's during meetings, while studying, or even just relaxing at home.
However, digital watches can produce sounds if you've enabled specific features. Most come equipped with alarms, countdown timers, or hourly chimes that emit audible alerts. The loudness of these alerts can vary from one model to another, but they are generally designed to be heard clearly without being overly disruptive. If you're concerned about the noise level, it's a good idea to check the settings and features of the specific model you're considering to ensure it meets your personal preferences for sound.
What Useful Functions You Can Find in Digital Watches?
Digital watches come equipped with a wide array of functions to suit various needs and lifestyles. Here's a list of some of the most common and specialized features you can find:
Alarm
Altimeter
Calendar
Chronograph
Compass
GPS Navigation
Luminous Display
Screw-Down Crown
Shock Resistance
Slide Rule
Solar-Powered
Stopwatch
Tachymeter
Timer
Water Resistance
Weather Forecast
World Time
Moon Phase Indicator
Thermometer
Heart Rate Monitor
Bluetooth Connectivity
Smartphone Notifications
Sleep Tracker
Fitness Tracker
Barometer
This list is by no means exhaustive, as technological advancements continue to introduce even more sophisticated features. Whether you're an adventurer, an athlete, or just someone who appreciates convenience, there's likely a digital watch out there with the functions tailored to your needs.
Who Makes the Best Digital Watches?
When it comes to manufacturing top-quality digital watches, several brands have gained a reputation for excellence, durability, and innovation. Among these, Casio, Garmin, and Citizen stand out as industry leaders, each offering a unique set of features and specialties.
Casio: Known for their rugged G-Shock line and classic designs like the F-91W, Casio offers a wide range of digital watches that combine durability, affordability, and functionality. Whether you're into sports, outdoor adventures, or simply need a reliable everyday watch, Casio has got you covered.
Garmin: A key player in the realm of smart and GPS watches, Garmin specializes in timepieces designed for the active lifestyle. With features ranging from heart rate monitoring to advanced GPS navigation, their watches are a hit among fitness enthusiasts and outdoor adventurers.
Citizen: Renowned for their eco-friendly solar-powered watches, Citizen merges innovative technology with sleek designs. Their digital-analog hybrid models offer the best of both worlds, combining traditional watch aesthetics with modern digital functionalities.
Each of these brands has carved out a niche, making them go-to options for specific needs. Whether you prioritize durability, advanced functionalities, or eco-friendly technology, you'll likely find a watch that fits the bill from one of these esteemed manufacturers.
How Long Do Digital Watches Last?
One of the many advantages of digital watches is their exceptional longevity, both in terms of battery life and overall durability. Most digital watches require a battery change every 2 to 5 years, a relatively low-maintenance commitment. Advances in solar-powered and kinetic technologies have further extended the intervals between battery replacements, making it even more convenient for users.
Beyond just battery life, the actual watch mechanisms are built to last for decades. Many people still use digital watches that were first introduced in the market years, if not decades, ago. The robust construction and quality materials used in these timepieces ensure they stand the test of time, making them a worthwhile investment for those seeking long-lasting reliability. It's not uncommon to hear stories of digital watches being passed down from one generation to the next, still ticking as accurately as the day they were first purchased.
What Is The Average Lifespan Of A LCD Display In Digital Watches?
LCD displays in digital watches are generally designed to be very durable and have a long lifespan. While the exact lifespan can vary depending on the quality of the watch and how it's used, many LCD displays can last up to a decade or more without significant degradation in quality. Factors such as exposure to extreme temperatures, moisture, and physical impact could potentially shorten this lifespan. High-end digital watches often use more robust materials and technologies, potentially extending the lifespan of their LCD displays even further.
What Makes Digital Watches Go Amok?
Digital watches are generally hardy pieces of technology, but like all gadgets, they have their vulnerabilities. Here are some environmental and physical factors that could negatively affect the performance of a digital watch:
Extreme Heat: Excessive temperatures, particularly direct sunlight, can cause the electronic display to fade or even become entirely unreadable.
Extreme Cold: Very low temperatures can slow down the liquid crystal display response time and drain battery life more rapidly.
Water Damage: While many digital watches are water-resistant to some extent, prolonged or deep exposure to water can compromise their integrity.
Impact and Shock: Though many models are designed to be shock-resistant, a significant impact can still disrupt the internal mechanisms or crack the screen.
Magnetic Fields: High levels of magnetic interference can disrupt the timekeeping functions of a digital watch.
Battery Leakage: Old or damaged batteries can leak and corrode the internal components of the watch.
Chemical Exposure: Household cleaners, solvents, and even lotions or perfumes can damage the watch case, seal, or screen.
Wear and Tear: Regular use over many years can lead to gradual degradation of the seals, buttons, and other components, making the watch more susceptible to other forms of damage.
Awareness of these factors can help you take precautionary measures to extend the life of your digital watch. Always refer to your watch's user manual for specific care instructions tailored to your model.
Where to Buy Digital Watches?
When it comes to purchasing a digital watch, the options are virtually endless, but certain outlets offer advantages over others. Official dealers and brand stores are highly recommended for those who want the assurance of authenticity and the opportunity to try on different models before making a decision. Here, you can usually expect a higher level of customer service and the option to explore limited edition or newly-released models.
Another popular destination is Amazon.com, which offers a wide variety of options often at reduced prices. This online retail giant often features special promotions, flash sales, and discounts offered directly by the brands. Plus, the convenience of online shopping and customer reviews can make your decision-making process easier. However, it's essential to exercise caution and ensure you're buying from a reputable seller to avoid counterfeit products. With a range of options and often attractive pricing, Amazon stands as a compelling choice for many digital watch shoppers.