Titanium watches are the choice of those who do not want to look for a compromise of strength and weight. Titanium watches compare favorably with watches made of stainless steel with a more durable and lightweight case. In addition, they feature an excellent gray color so characteristic of titanium. So, we've selected for you 25 cool titanium watches that you can purchase.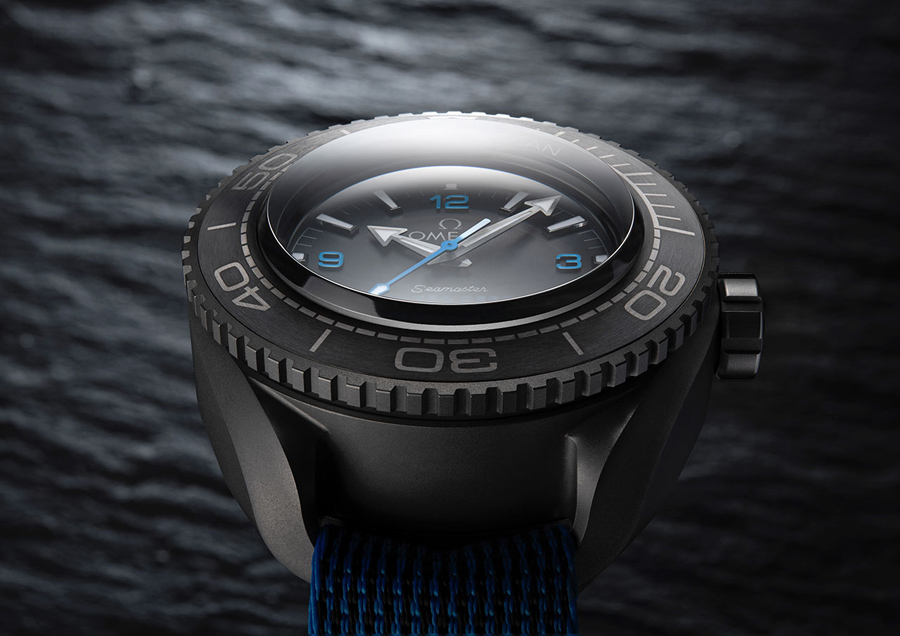 In the past few decades titanium has emerged as the material of choice for watches. It is lightweight and extremely durable. More importantly, it is also resistant to corrosion and is ductile making it possible to create intricate designs.
The first titanium chronometer was manufactured by Citizen in 1970 and modern titanium watches are up to 40% lighter than their steel counterparts, making them attractive to buyers. We take a look at the best titanium watches in the market at various price points – from utilitarian to uber luxury.
Limited Edition Titanium HYT H1 Alinghi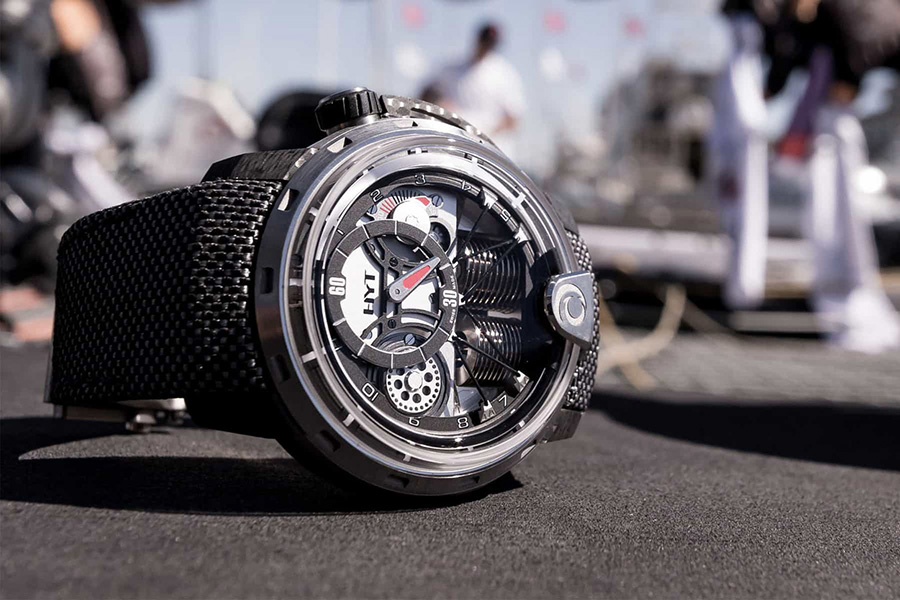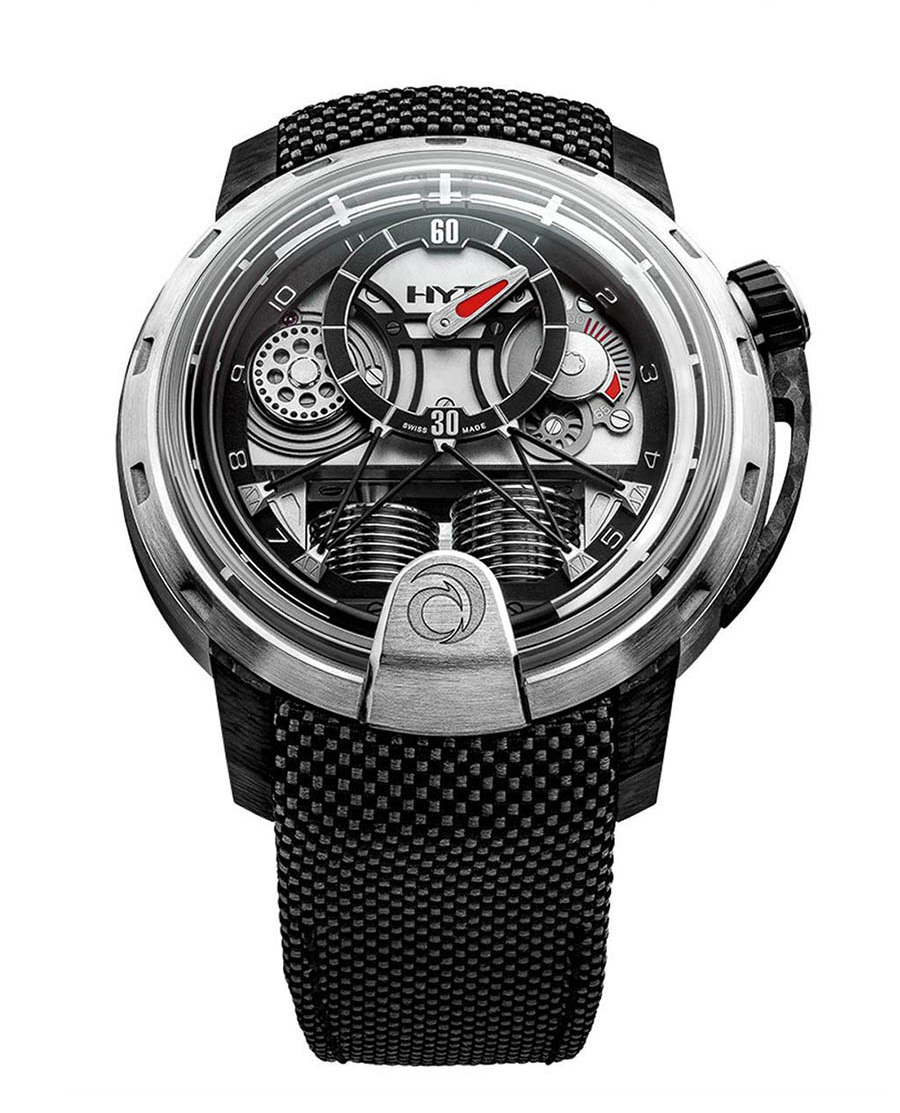 Check more photos.
HYT, the precision Swiss watchmaker has created another exquisite masterpiece, the H1 Alinghi. The watch features a hydro-mechanical movement enclosed in a grey titanium case with a fabric strap. The black and grey color of the watch is perfectly complemented by the red accent of the minute hand.
The proprietary HMG movement of HYT has bellows which push fluid into a system of capillary tubes to turn the hands. Only 20 units will be produced to make sure that this remains limited to a really exclusive club. The price is around $36,000.

2019 DeWitt Academia Slide Titanium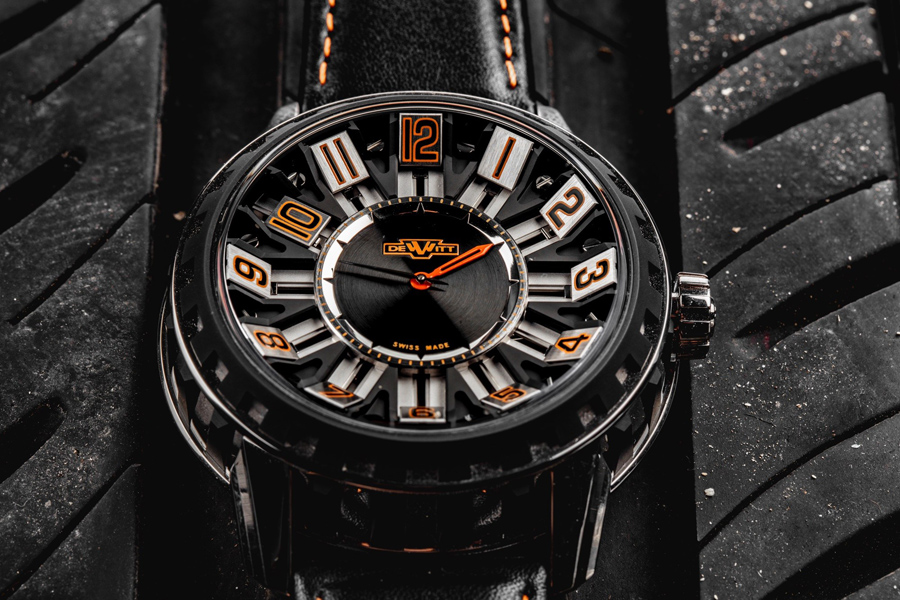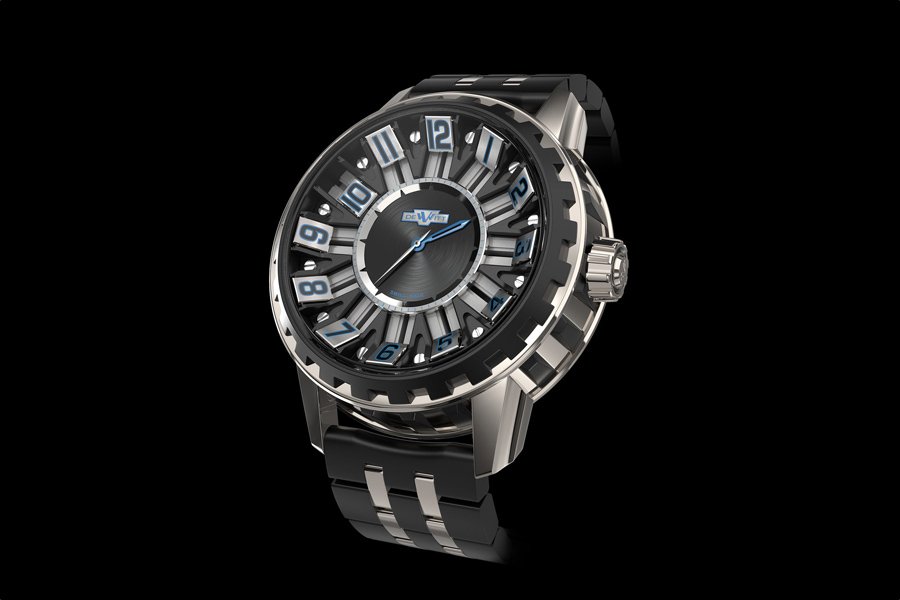 The new watch from DeWitt is unique in more ways than one. The watch which debuted at Baselworld 2019 has hour plates made of tiny strips of brass with Arabic numerals outlined in blue inscribed on them. The current hour slides down slightly from its normal perch at a 45° angle to the horizontal.
At the center, there is a blue minute hand and a thin needle like the second hand which rotates around the center normally. To read the time you have to look at which hour plate is depressed followed by the minute hand.
At nearly 50 mm diameter it is a quite large watch. To accommodate the slide mechanism it is also quite thick at over 15 mm. Equipped with automatic winding, it retails for about $50,000.

Citizen Eco-Drive PCAT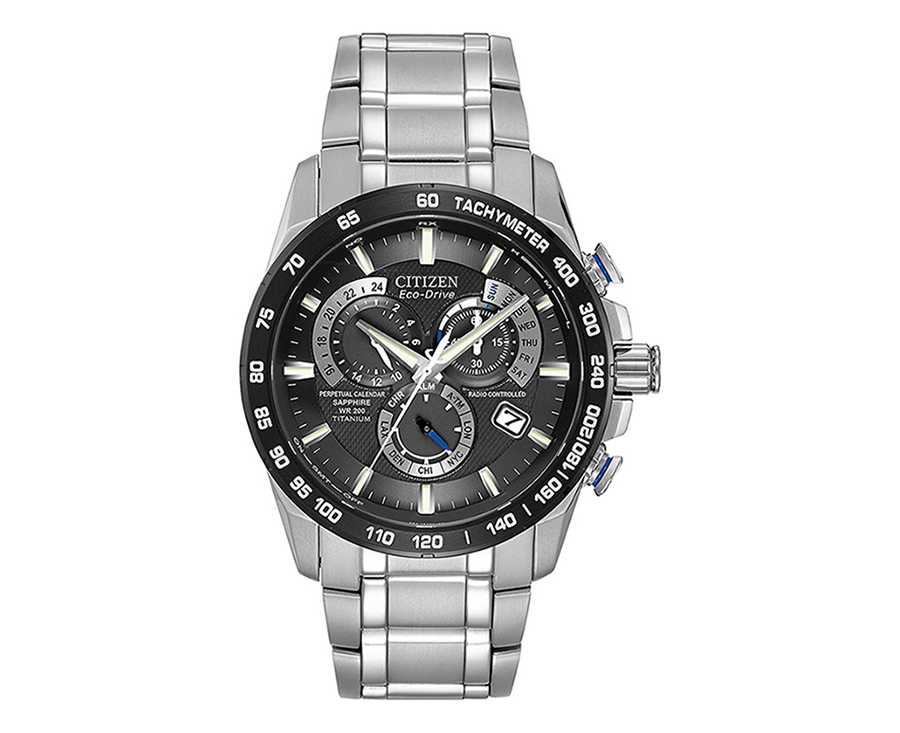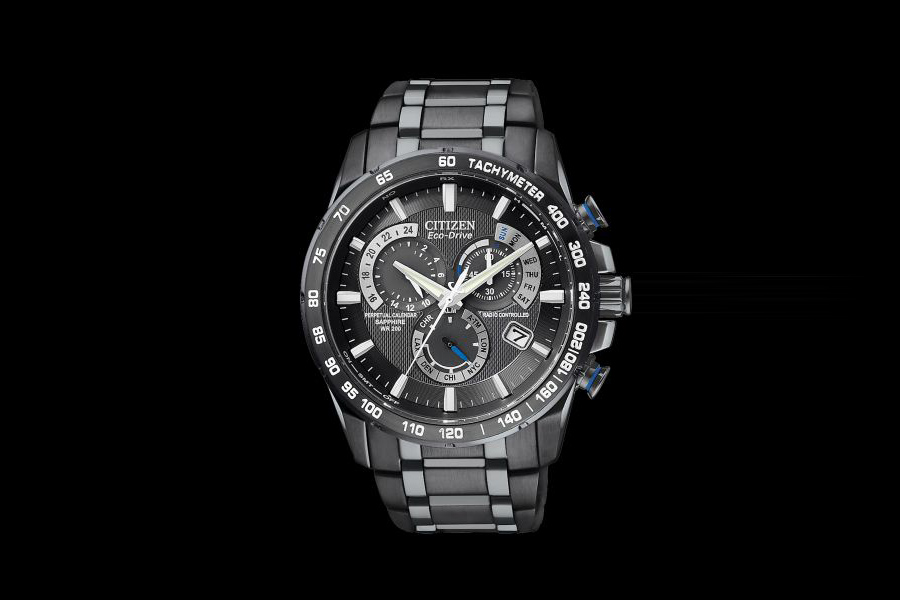 A sturdy, dependable and no frills chronograph with a tachymeter, the Citizens titanium watch, AT4010-50E is another winner from the reputed Japanese budget chronograph maker.
It lacks the technological jugglery of the postmodern European watches and provides a thoroughly dependable quartz movement. Water resistant to 200 meters, it has a perpetual calendar and 12/24 hour time display as well as alarm. In our book that is about all that a watch should do, apart from keeping excellent time. The scratch-proof sapphire crystal dial window is trademark Citizen design.
Priced between $350 and 500 depending on the retailer it is a relatively affordable device that provides the prestige of wearing a chronograph within reach of everyone.

Citizen Red Arrows Skyhawk A-T Titanium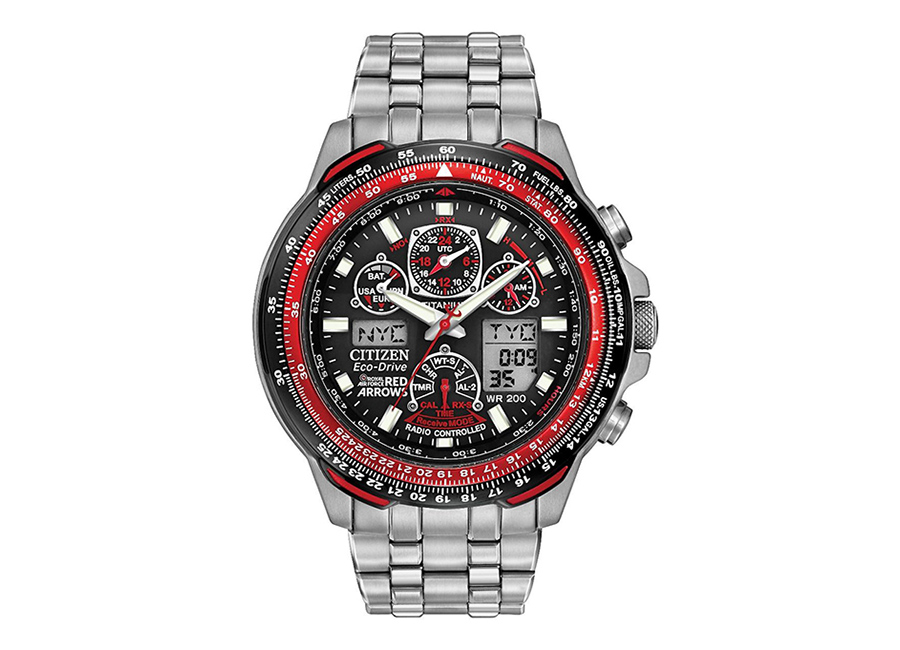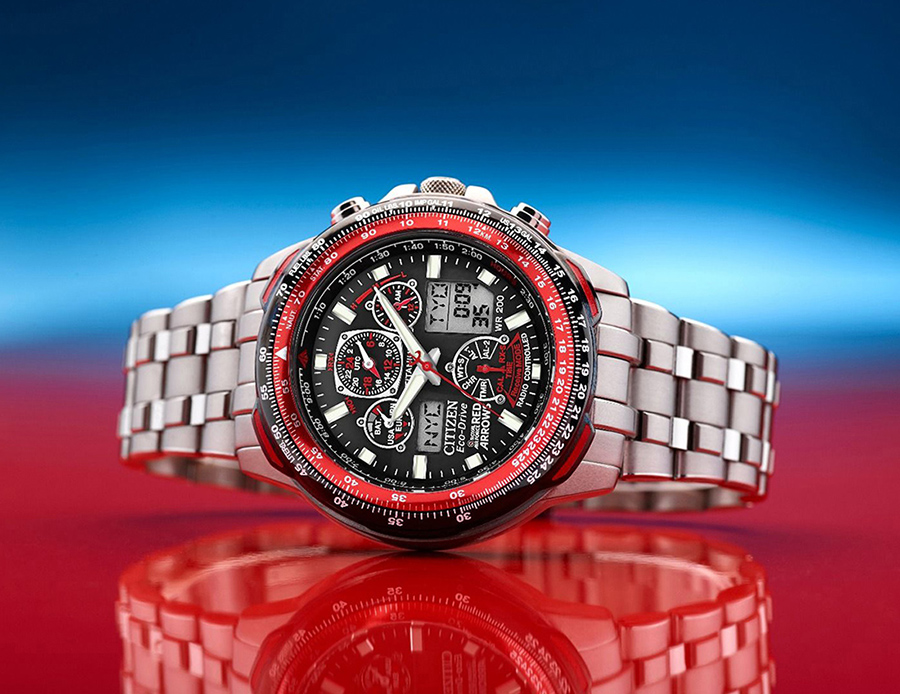 The Skyhawk A-T model is brilliantly engineered for pilots. The large and solidly built titanium case is lightweight yet long-lasting. With a contrasting red and black design, it boasts of a slide rule bezel for and also Eco-Drive technology which means it would never require a battery but recharges when exposed to any light source.
To conserve power, it enters a hibernation mode in the dark and comes alive at the first hint of light. The movement is radio controlled and synced daily no matter where in the world the watch is. With 4 subdials and 2 tiny LCD readouts, it displays every information quickly and legibly. The inbuilt mechanism has time settings for 26 zones pre-stored. Equipped with backlight and luminescent hands it is a worthy device priced at between $670 to 750 in retail.

Seiko Astron GPS Solar Watch SSE077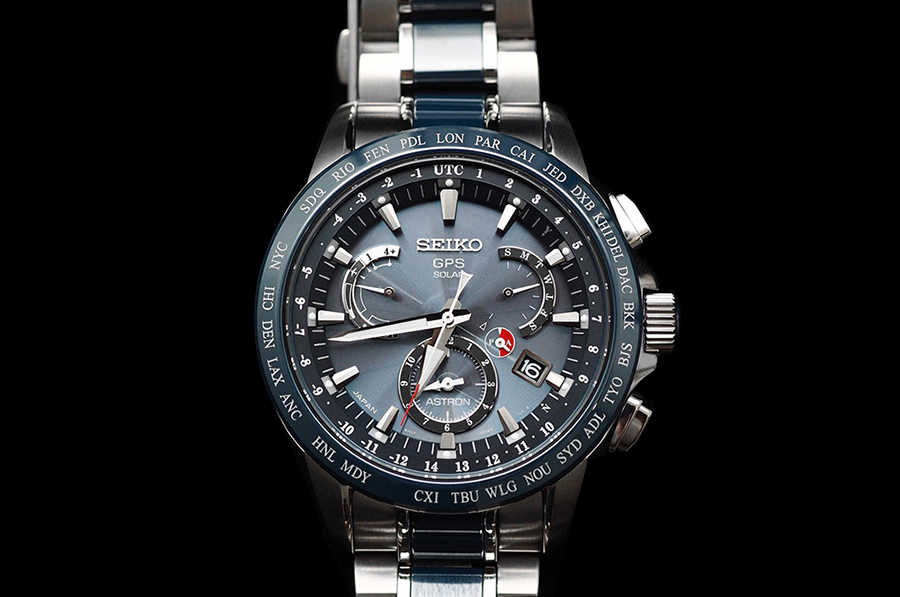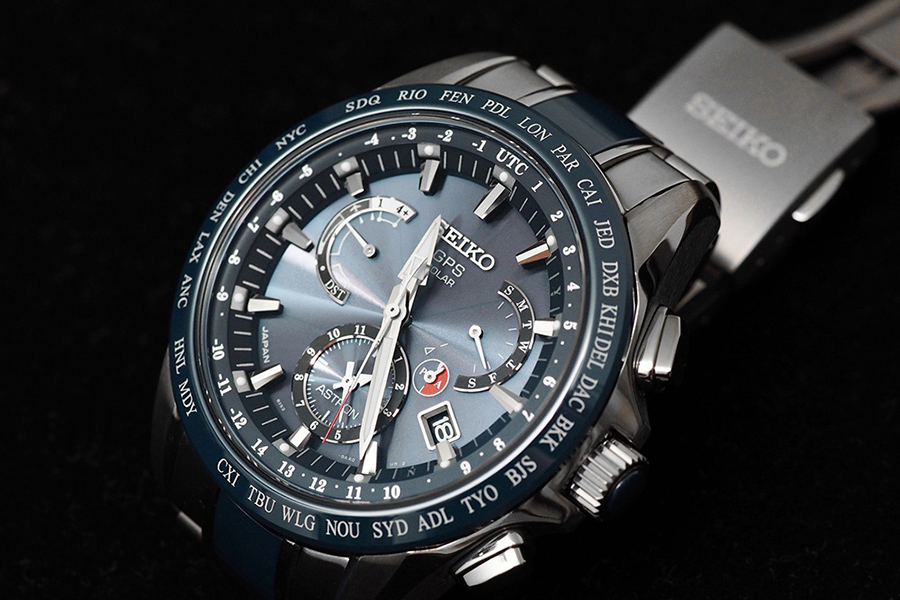 An outstanding titanium quartz watch from Seiko, probably the most reputed Japanese watchmaker, the SSE077 has been designed keeping in mind the needs of the business traveler who is hopping across time zones frequently. The Astron does not use radio time but GPS signals to coordinate the time with satellites in orbit.
The power source is a long lasting battery that can be charged using sunlight. The Seiko titanium watch displays two-time zones, one for home and one for travel simultaneously. The diameter of the watch is 45 mm which makes it large but not unwieldy for daily wear and retails for $1,800 approximately.

Vacheron Constantin Overseas Dual Time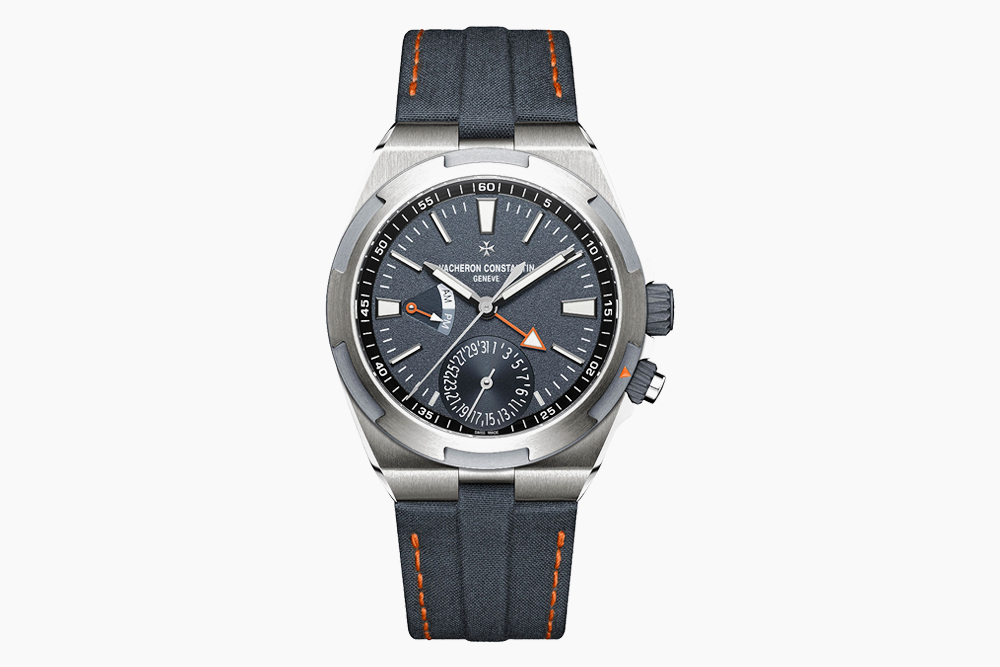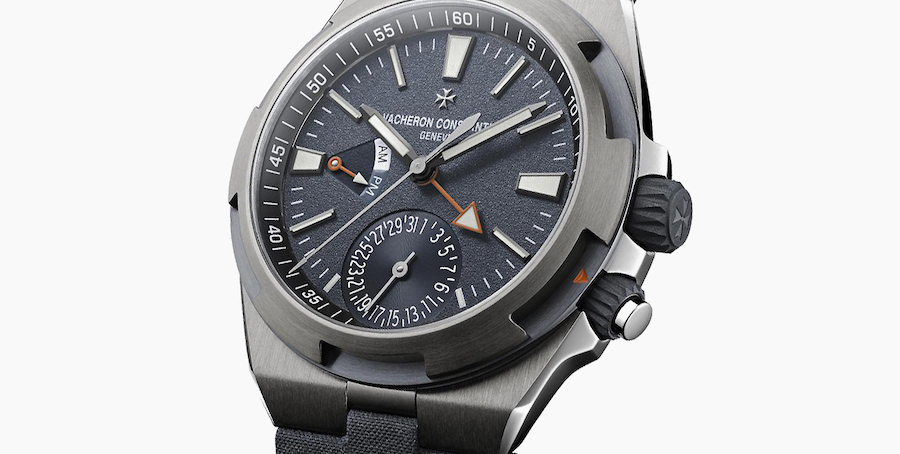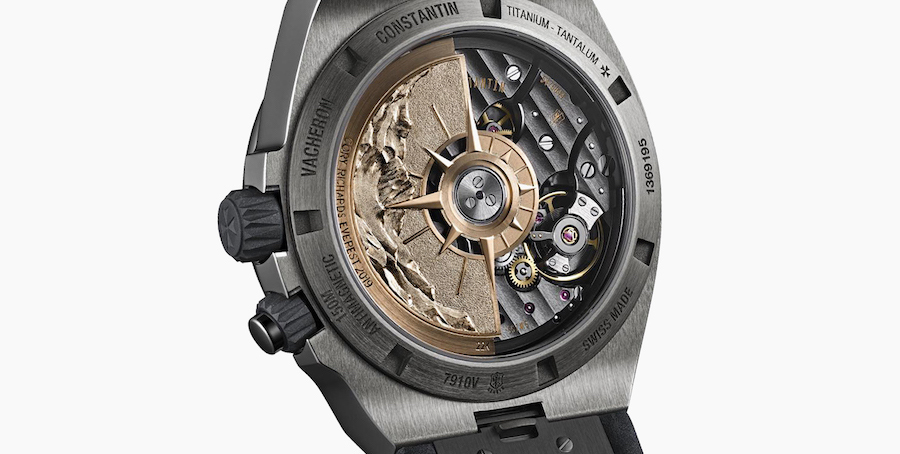 A sporty watch with the familiar Maltese Cross emblem of Vacheron Constantin, it has an easy to use dual time display. Besides the usual hour and minute and there is also a red arrow that shows the time at home time zone. Both time zones can be set using the watch crown located at the usual three o' clock position.
The transparent back offers a peek at the gold oscillator and the 37 jewel movement which makes sure that the apparatus always shows perfect time. There is also an AM/PM indicator on the dial. Priced at $24,000 it is an elegant chronometer that is a blend between a dress watch and its more masculine counterparts.

Skagen Holst Titanium Hybrid Smartwatch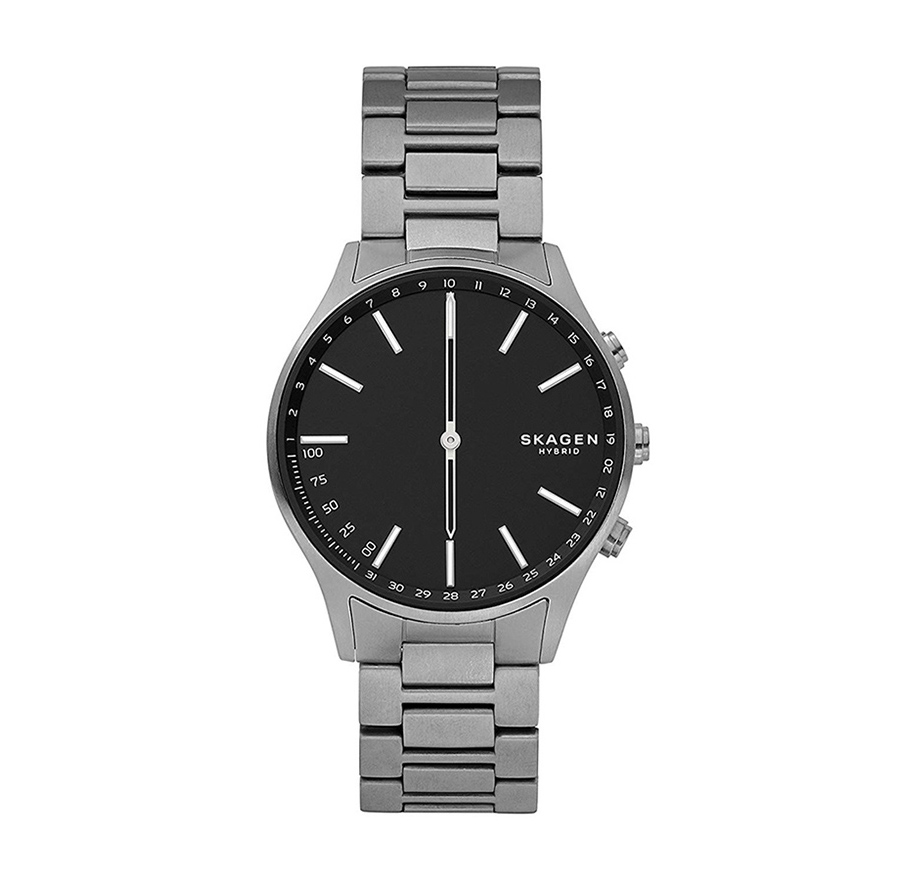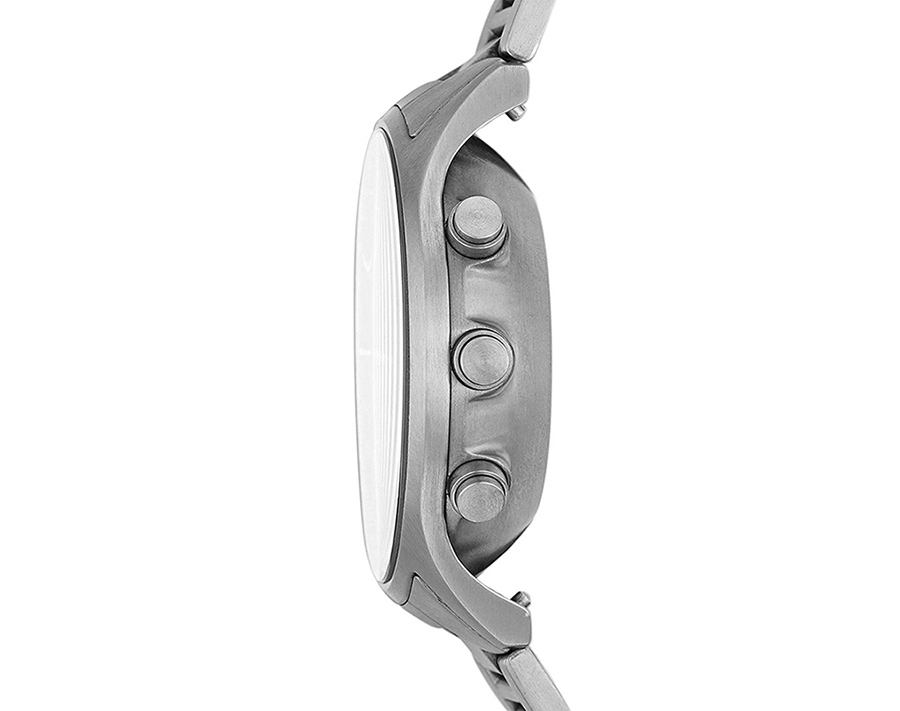 Housed in a thin titanium case, the Skagen has a wide array of smart features and is compatible with both Android and iOS smartphones. The black dial is minimalistic and refreshing to look at in an era of increasingly complex subdials. Water resistant to 30 meters it boasts of six-month battery life and can show texts and has an activity tracker. With a scratch-proof mineral glass dial window, it is priced at $195 and is a great entry-level timepiece among men's titanium watches.

Skagen Hagen Titanium and Leather Hybrid Smartwatch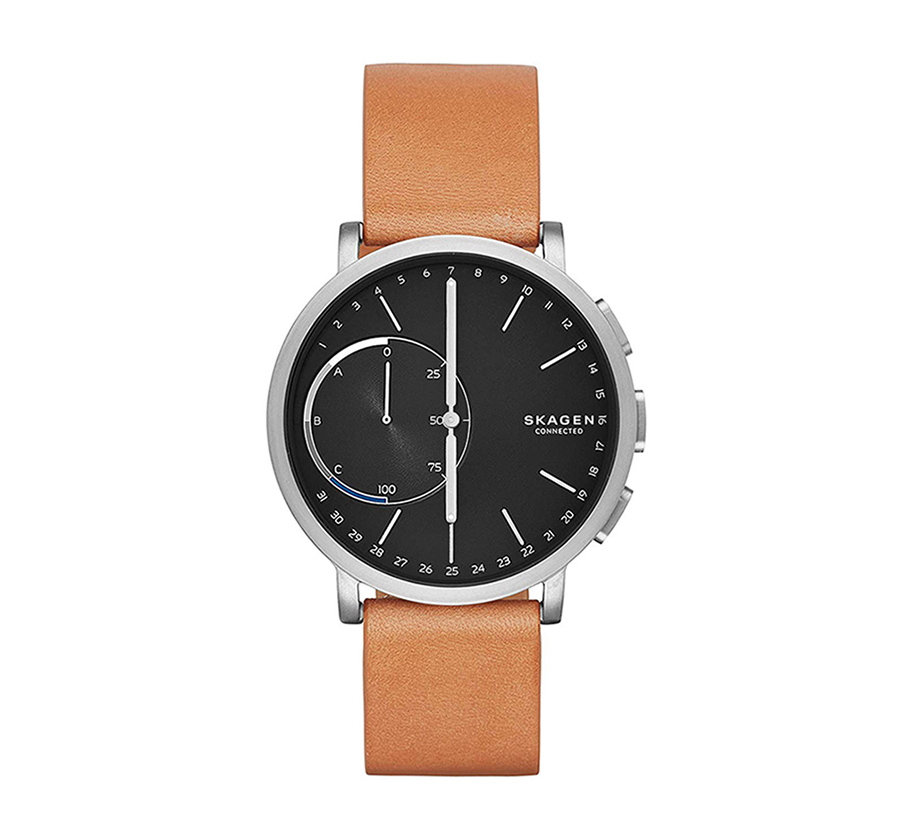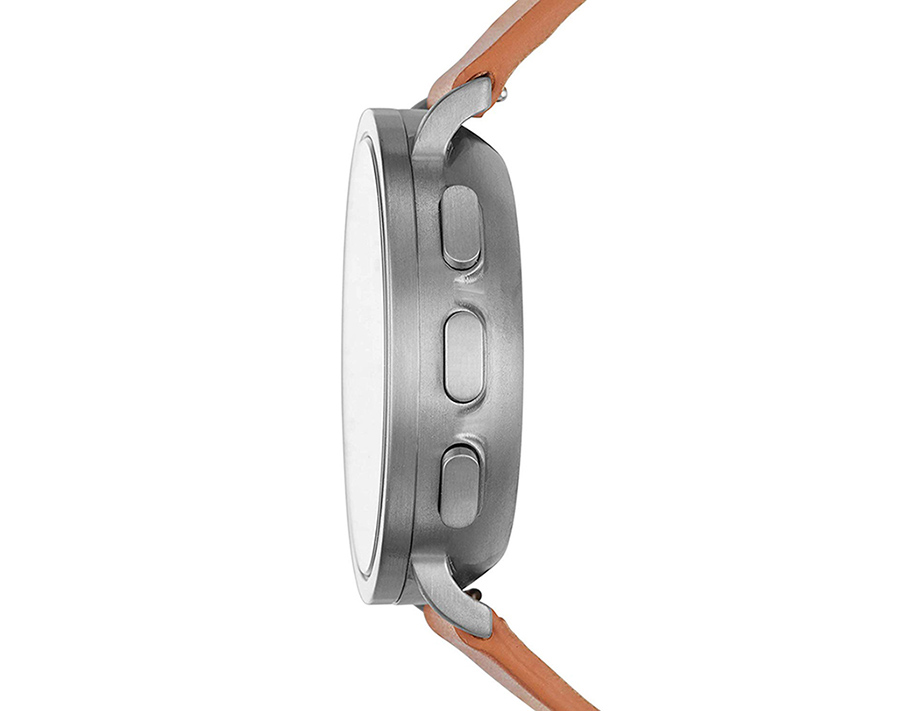 The same model, as Skagen Connected Men's Holst Titanium Hybrid Smartwatch, that sports a smart genuine leather strap in place of a titanium bracelet band. Enclosed in a grey brushed titanium case the Skagen titanium watch is elegant to look at and offers all the advantages of a smartwatch but looks like a premium analog device.

Breitling Exospace B55 Titanium Watch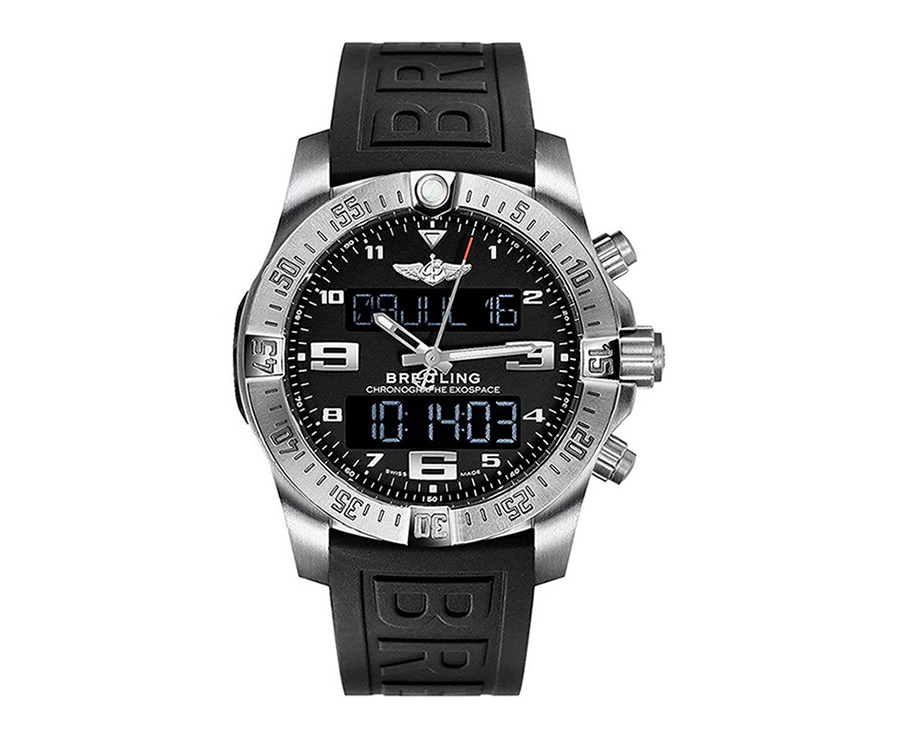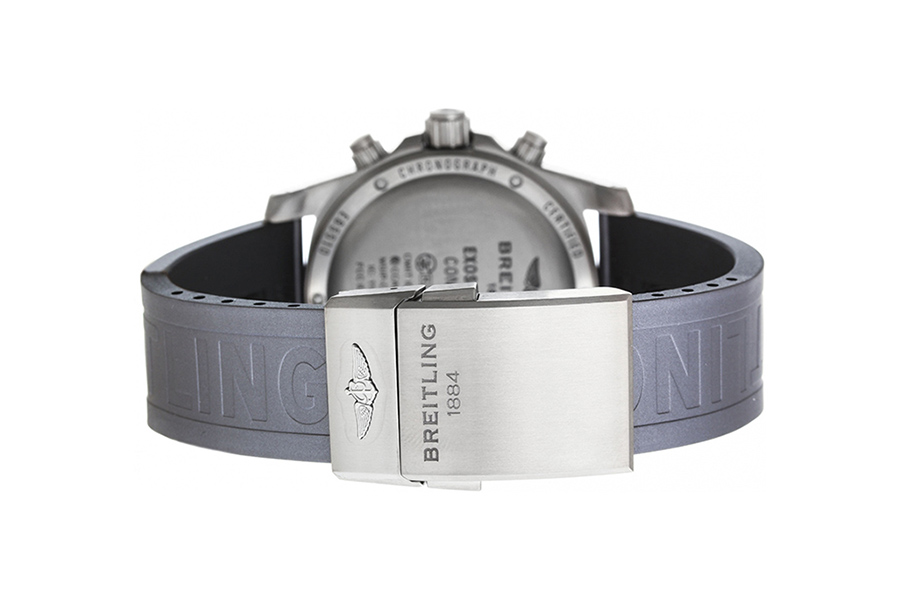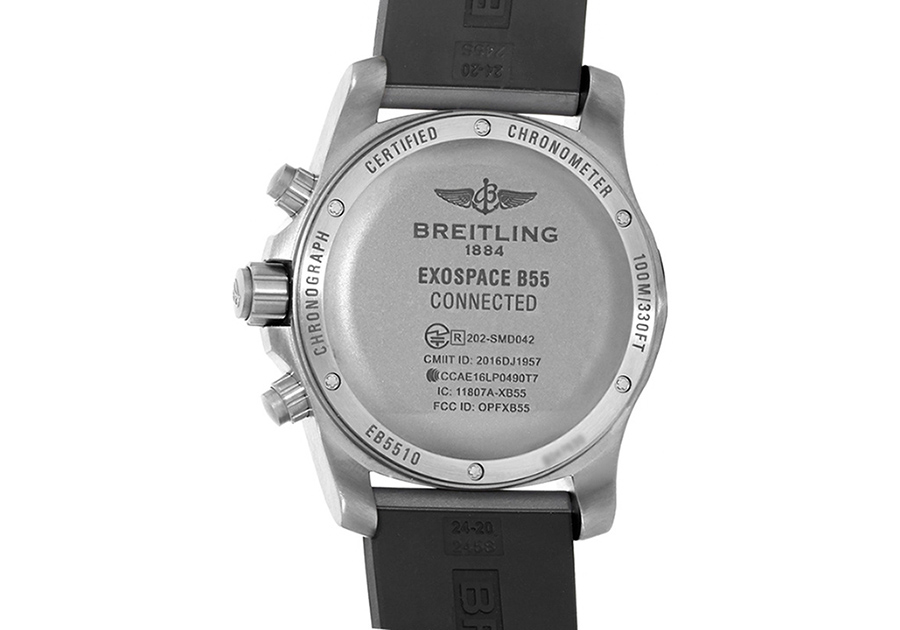 Featuring a black rubber strap with the company name embossed on it, titanium Breitling watches have avant-garde design and a range of features that can be customized through a paired device. It can, like many watches of this era, be synced with a smartphone and display text messages as well as other notifications. Besides a tachymeter and analog dial, there are dual LCD displays for showing the time and date digitally. Priced at $5,200 approximately it is a superlative Swiss luxury timepiece.

Breitling Exospace B55 Black Titanium Watch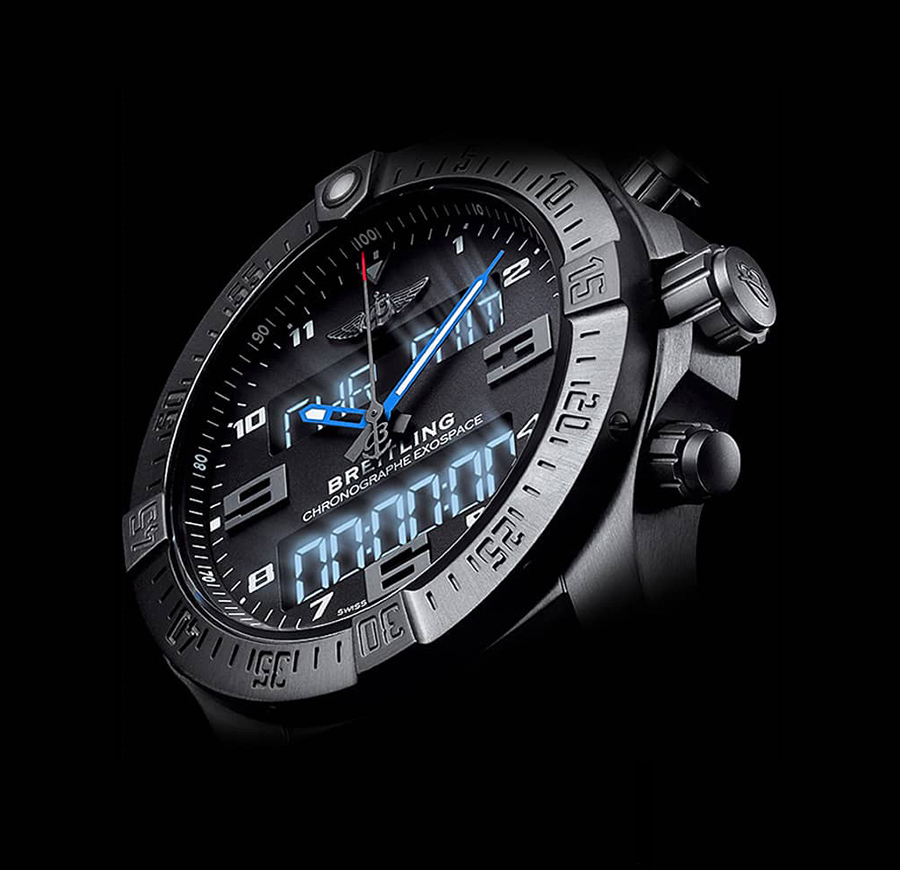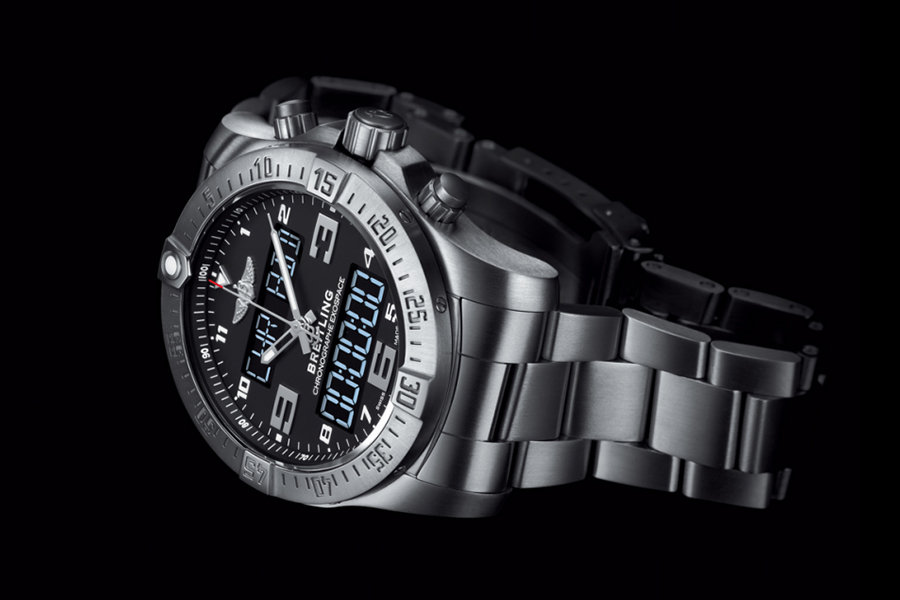 The same model but with a titanium bracelet and a push-down clasp, it is made of brushed titanium with a 46 mm diameter. The sapphire crystal window shows a jet back dial underneath with bold Arabic numerals and luminous hour and minute hands. With prices starting at $6,700 it is the perfect Swiss chrono that provides value for money.

Porsche Design Worldtimer Black Titanium Watch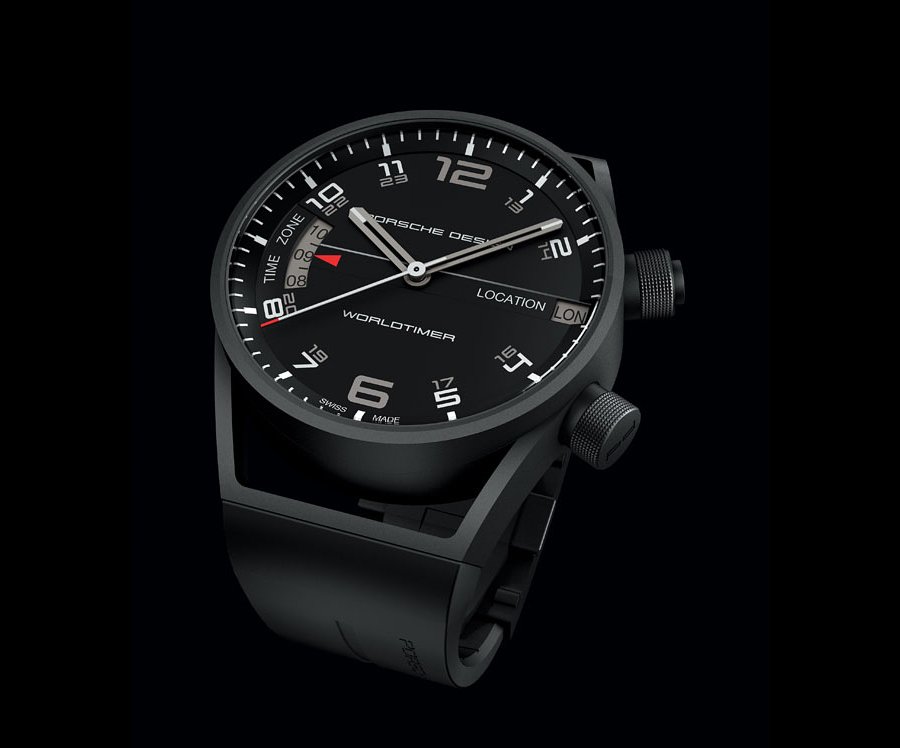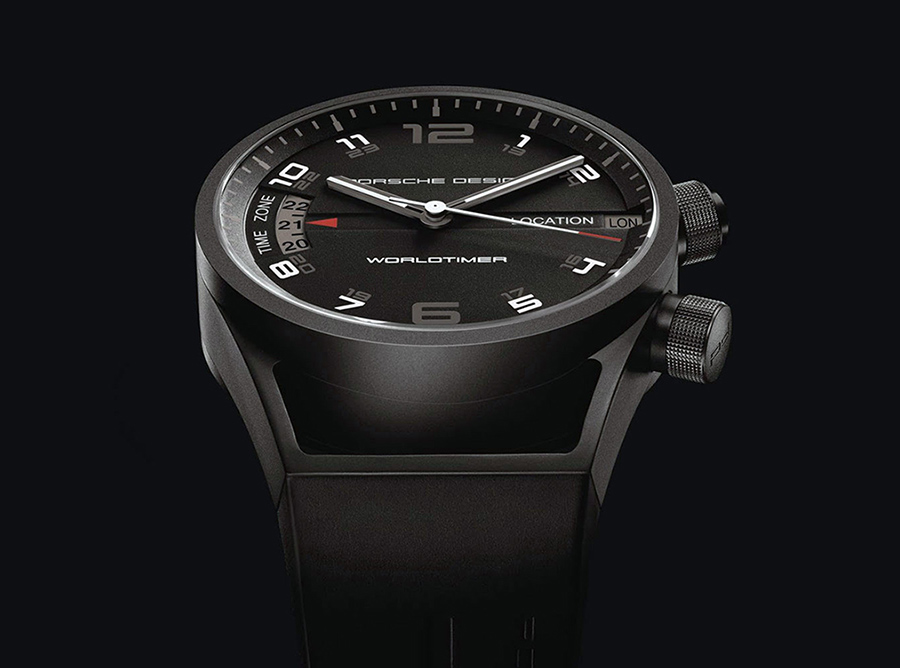 Check more photos.
Be it cars or watches Porsche is known for its sleek designs and the current product is no different. Winner of at least two design awards it boasts of a clean, zero clutter interface that nearly all world timers lack. There are two tiny peep windows at 3 and 9 O'clock for location and time zone.
The crown sits at 2 O'clock and makes multiple adjustments possible. Priced at about $3,800 it is an absolutely affordable way to access something made by one of the most famous brand names in engineering.

Oris Aquis Grey Dial Titanium Men's Watch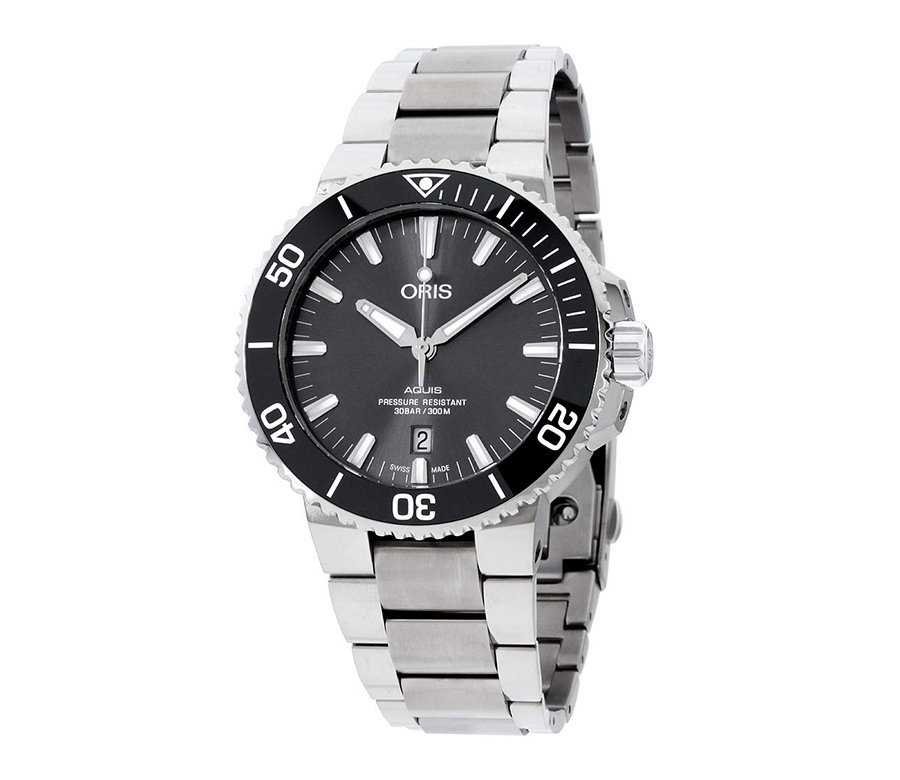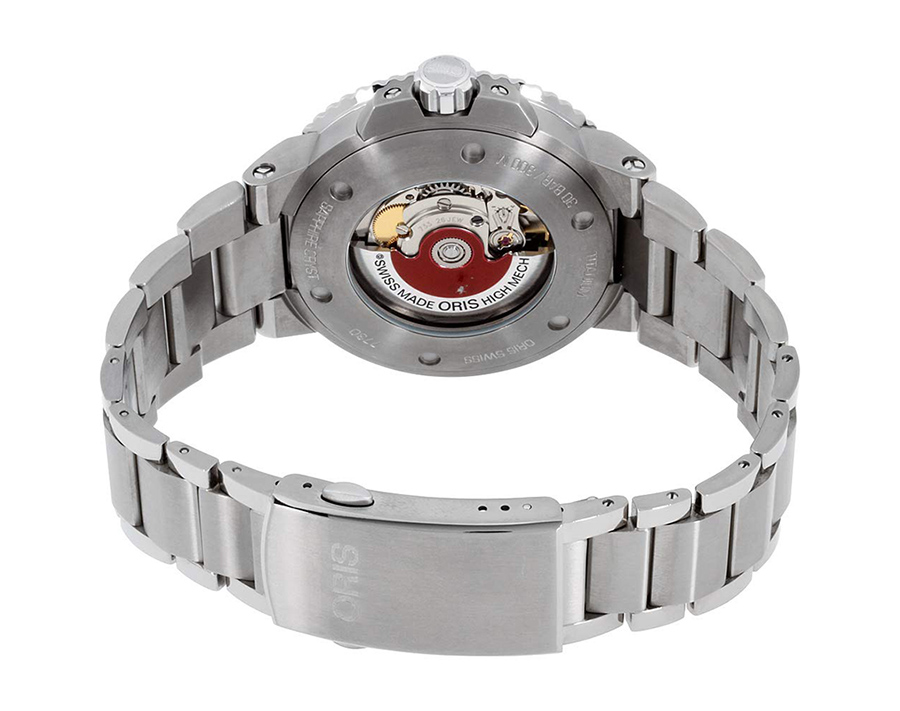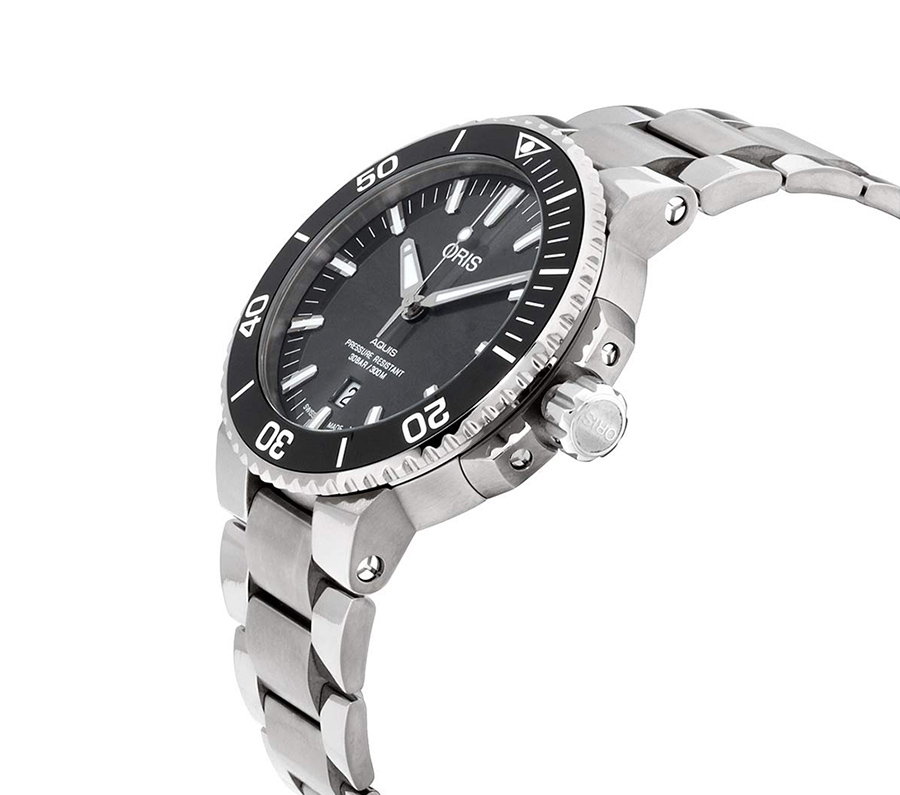 Everything about the OrisAquis Grey Dial Titanium shouts classic design. With a tiny window for the date at 6 O'clock and a traditional and conservative looking grey dial, it looks like it means business. Priced at $1,500, the Oris titanium watches runs for 38 hours with an automatic mechanism.

Oris Aquis Regulateur Titanium Men's Watch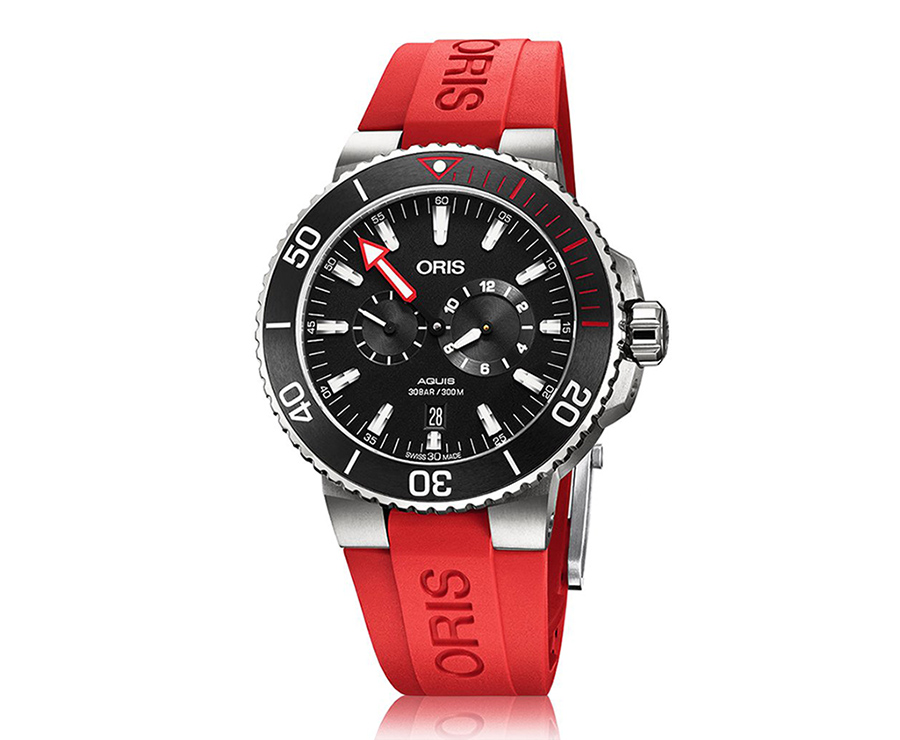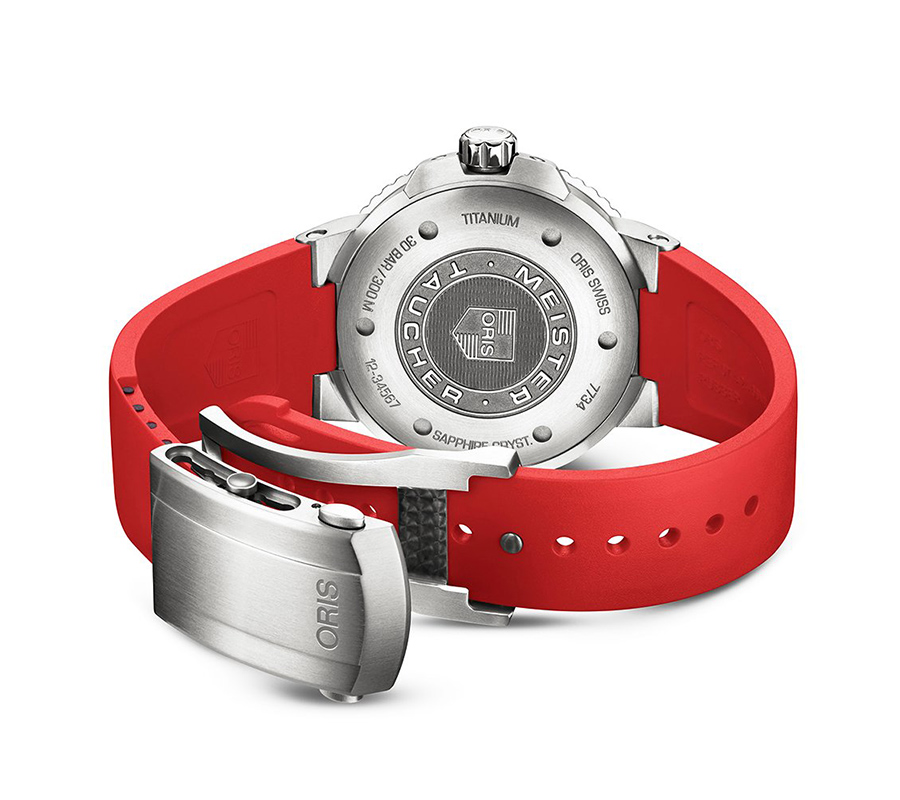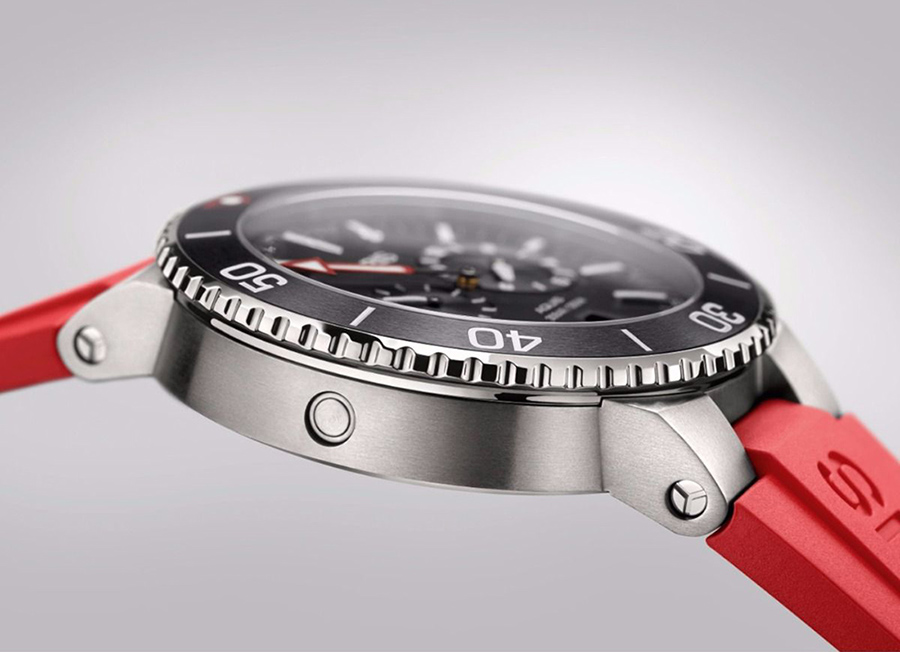 The OrisAquis Men's Regulateur has an uncommon red strap made of silicone which can be interchanged with a regular titanium bracelet. Water resistant to 300 meters it has small subdials for an hour and minute and a large arrow for counting seconds. The more than a century-old brand is not yet a household name like its more well-known brethren but makes perfectly capable titanium diving watches able to withstand seawater salinity and rough use. At $2,600 a perfect purchase for your upcoming scuba vacation.

Victorinox Men's I.N.O.X. Watch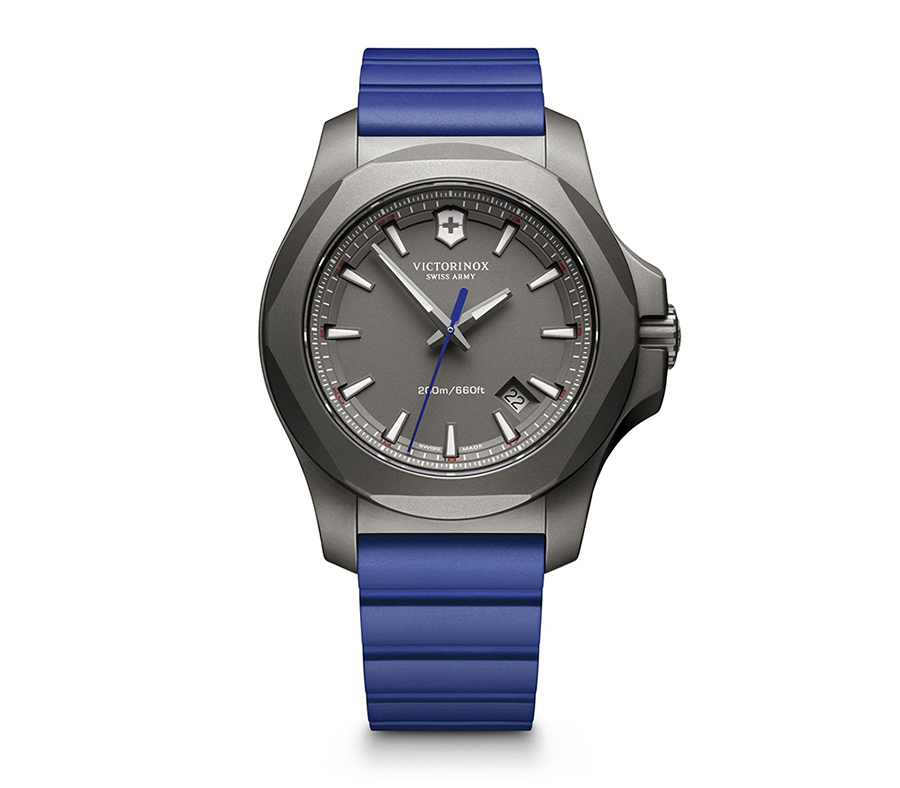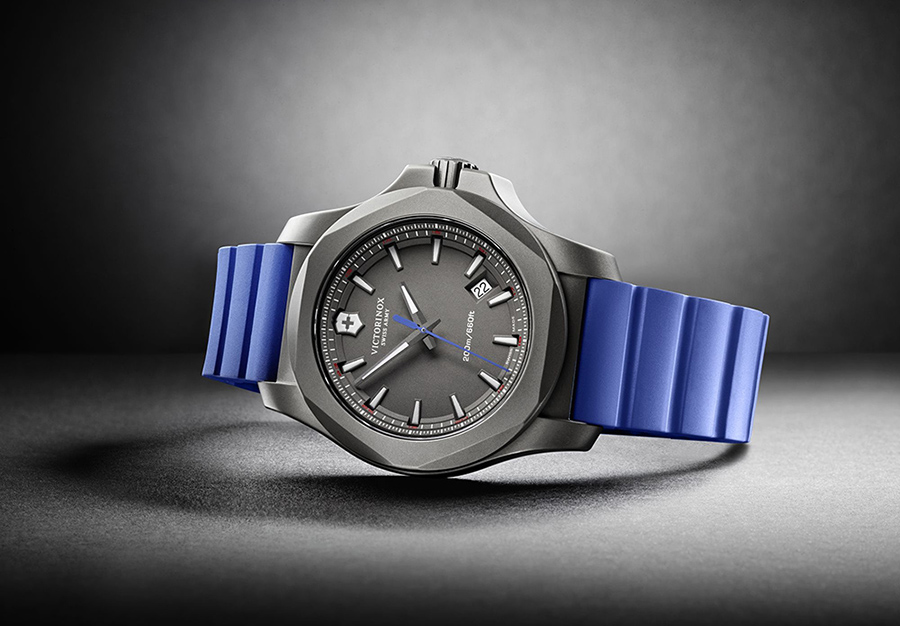 Check more photos.
With a comfortable rubber band that grips your wrist reassuringly, the I.N.O.X. is a Swiss made black titanium watch. The unique hexagonal shaped hypoallergenic watch case is made from sand etched titanium and sports a matte finish. The dial is simplicity personified with an orange colored second hand which matches the strap color. Water resistant to 200 meters at a price of mere $380 the titanium Victorinox watch is a steal.

Omega Seamaster Planet Ocean Ultra Deep Professional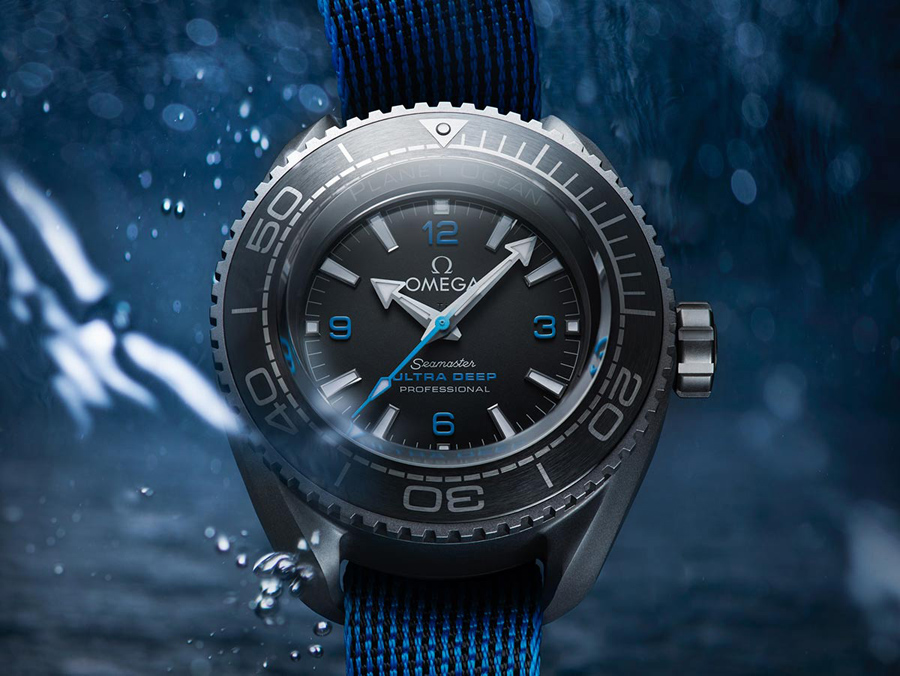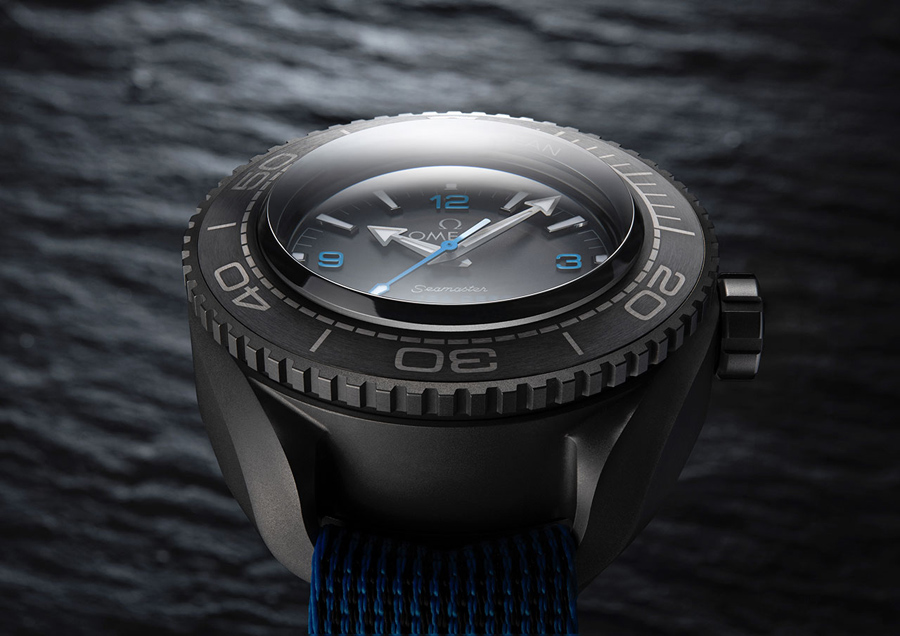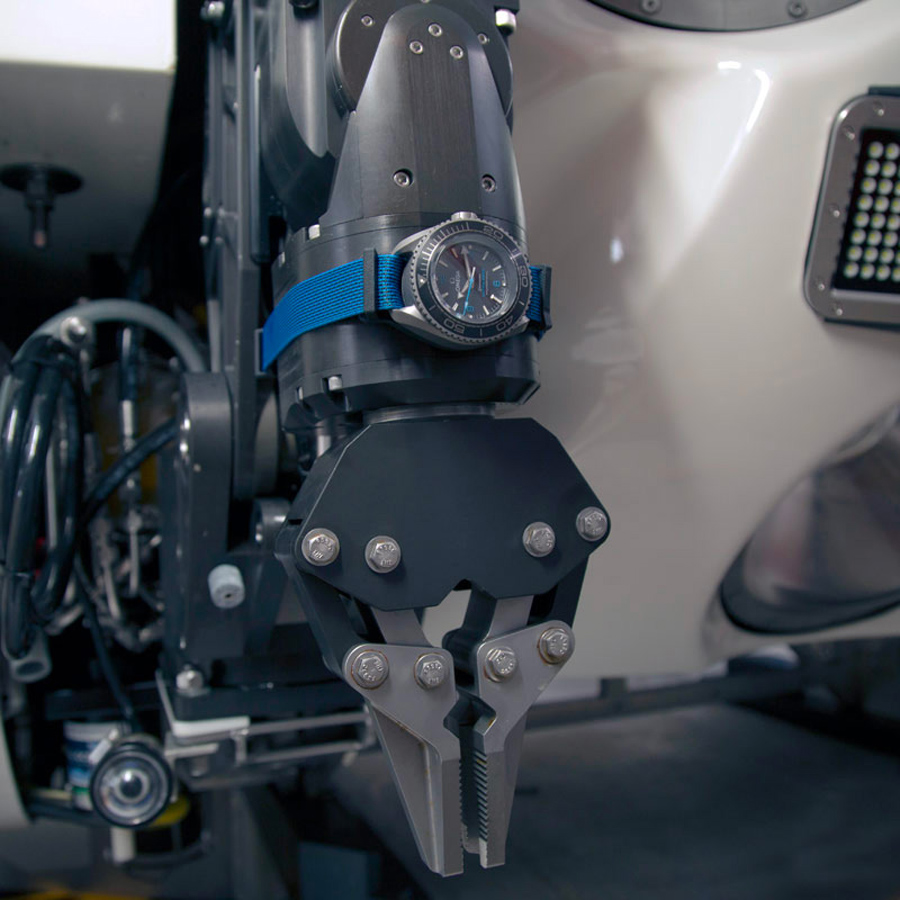 Only three Seamaster Planet Ocean Ultra-Deep Professional watches have been made. All were carved out of the hull of the DSV Limiting Factor. DSV stands for deep-submergence vehicle and the submersible had descended to the deepest parts of Mariana's Trench piloted by Victor Vescovo.
Made using new weld-free forging the case is 28 mm thick but can withstand the 22.5 tons of pressure 35,000 feet under the ocean. With a dull black dial under a sapphire crystal watch face sealed using special techniques to withstand pressure and a sandblasted finish, it is truly one of a kind.

Omega Seamaster Planet Ocean 600M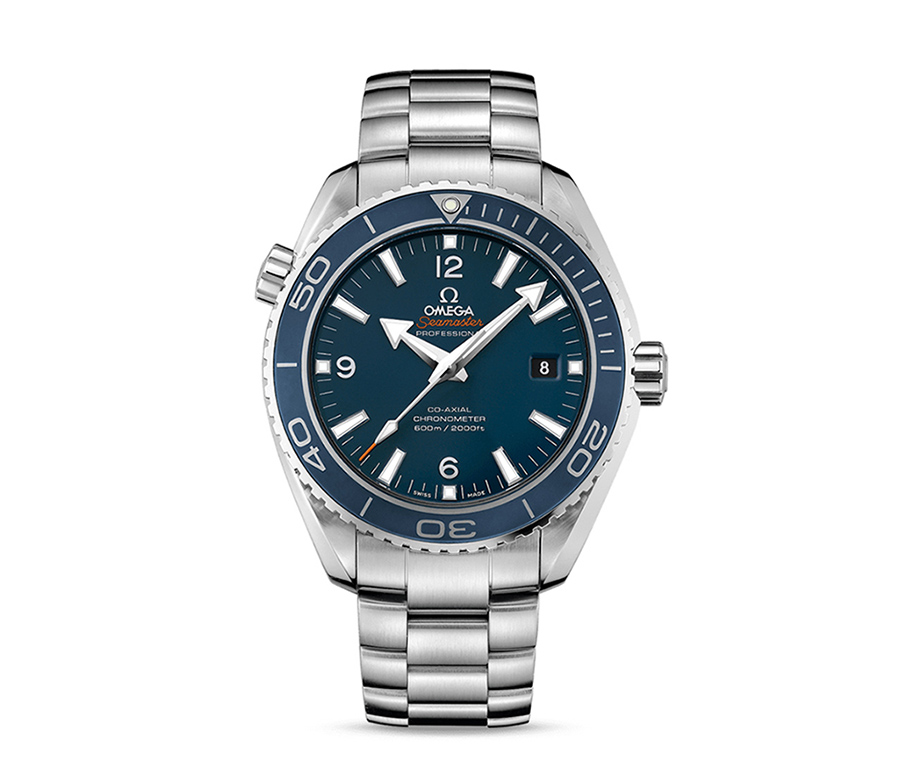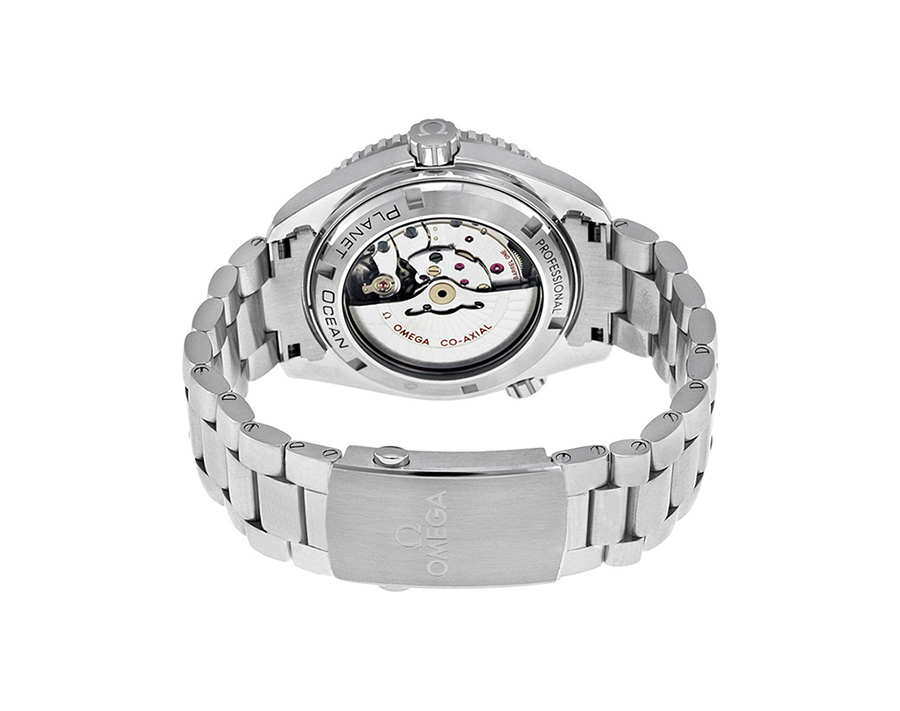 Priced close to $5,000 this Omega titanium watch is a genuine work of art from the Swiss watchmaker known for innovation and superb craftsmanship. Water resistant to 600 meters it has a traditional black dial with two subdials and a transparent back that makes it possible to appreciate the mechanism.
The watch runs on Omega's patented 9300 automatic movement with a power reserve that is nearly 3 days long. A classic 45 mm case made of titanium has a unidirectional bezel that helps a diver keep track of time underwater.

Bvlgari Octo Finissimo Watch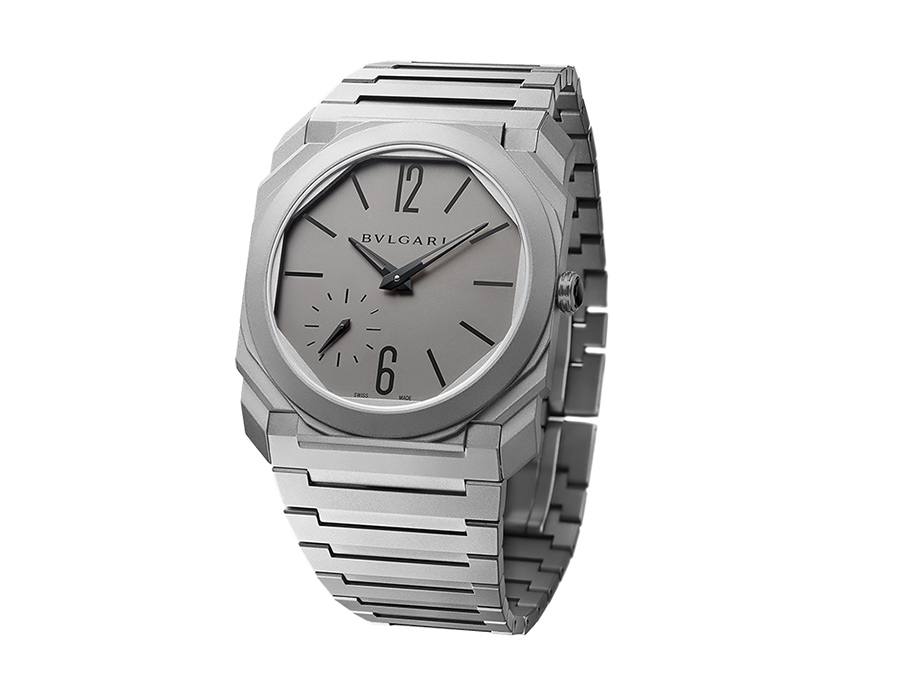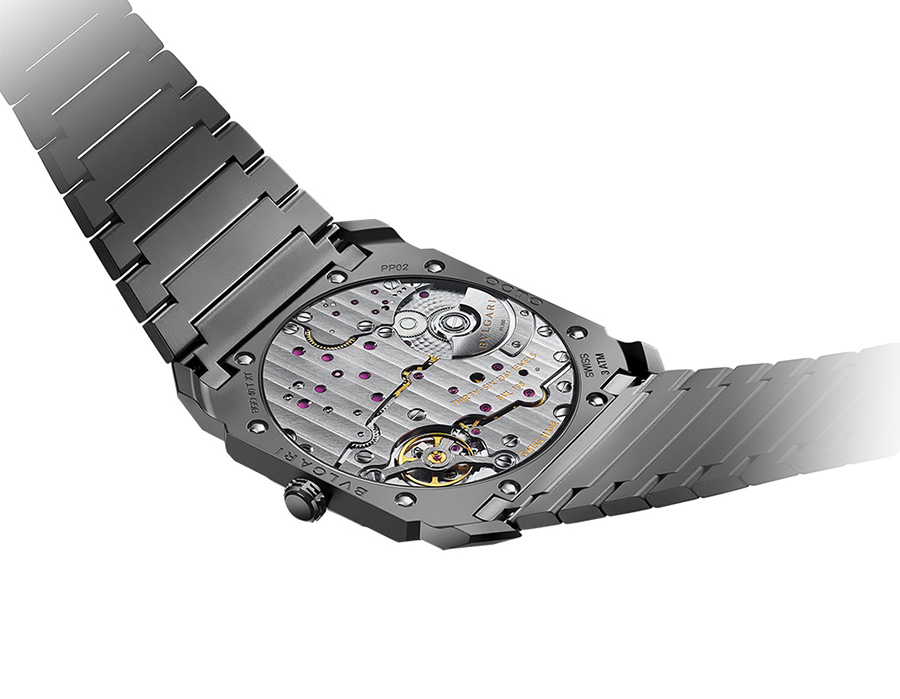 Check more photos.
With a pathbreaking octagonal design, the Italian fashion house Bvlgari has created a timepiece of enduring beauty. With an automatic mechanism housed in its slim 2.2 mm thick case, the 40 mm wide white dial has a seconds subdial. The transparent back and titanium case givesBvlgari titanium watch the look of a truly stylish accessory. Priced at $14,000 it is water resistant up to 30 meters.

Hublot Big Bang King Carbon Fiber Men's Watch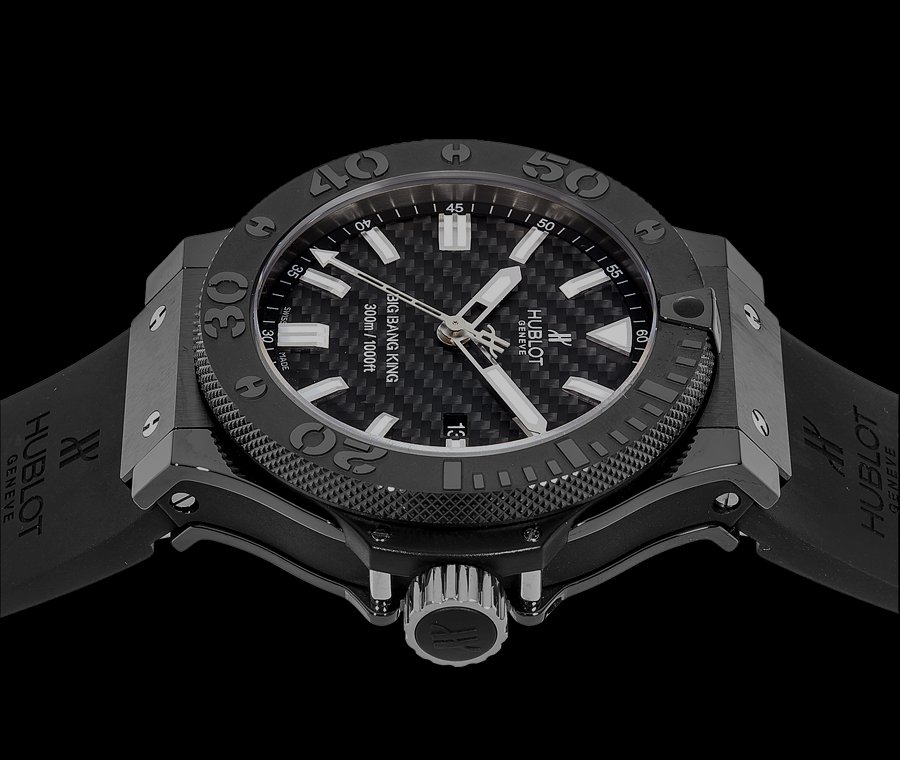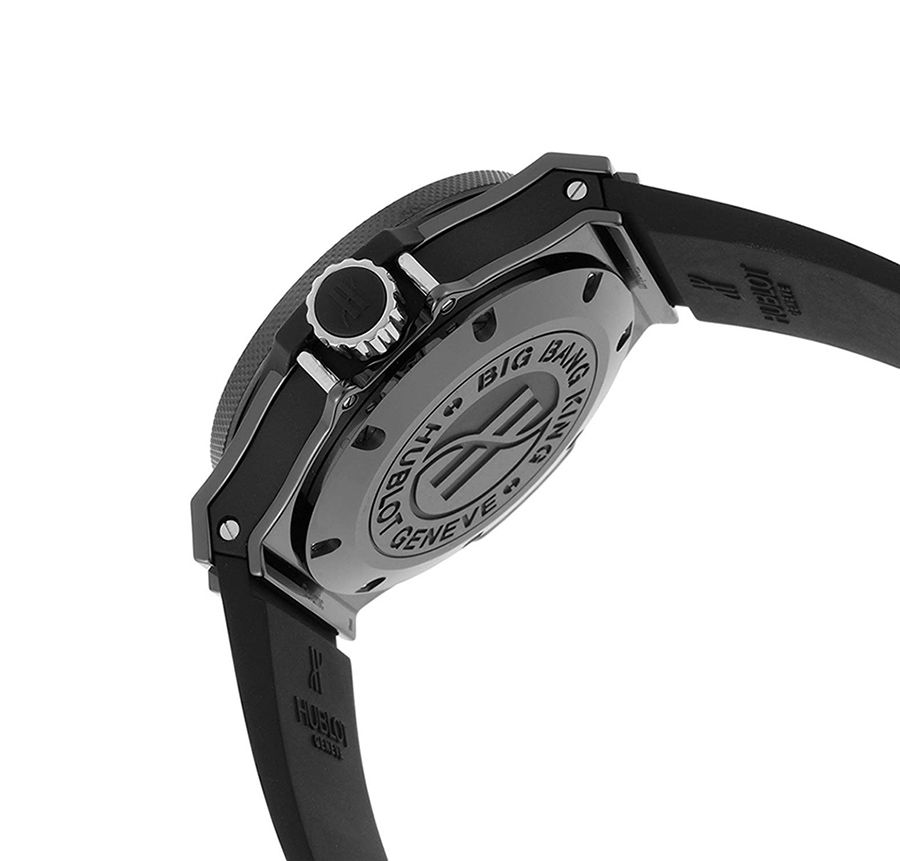 With a 48 mm wide case and a textured black dial, the brushed titanium watch looks stylish and chic. With a rubber band and accurate quartz movement sourced from Switzerland, Hublot has as usual created a winner. Priced at $13,000 the chronograph has a tachymeter and white hour, minute and second hand.

Hamilton Khaki Titanium Men's Watch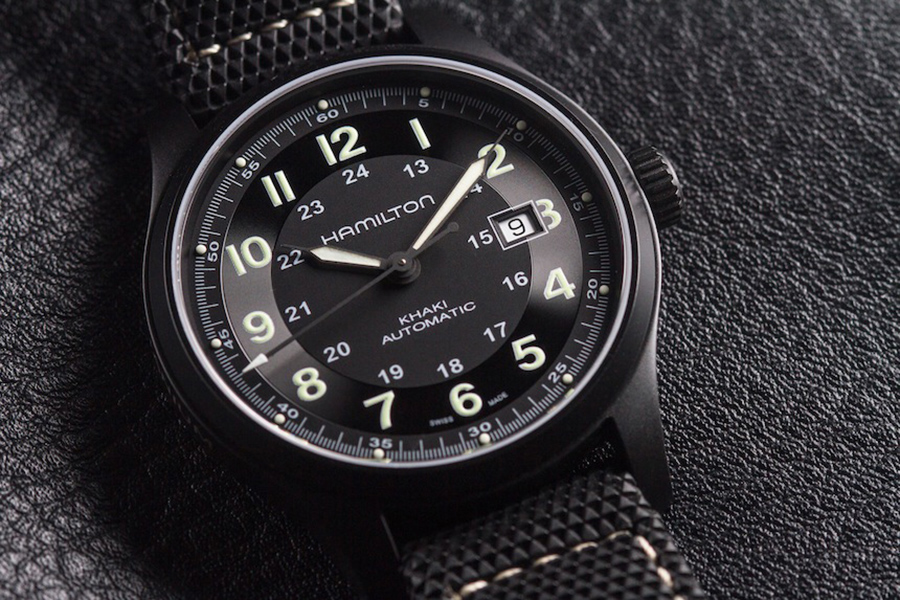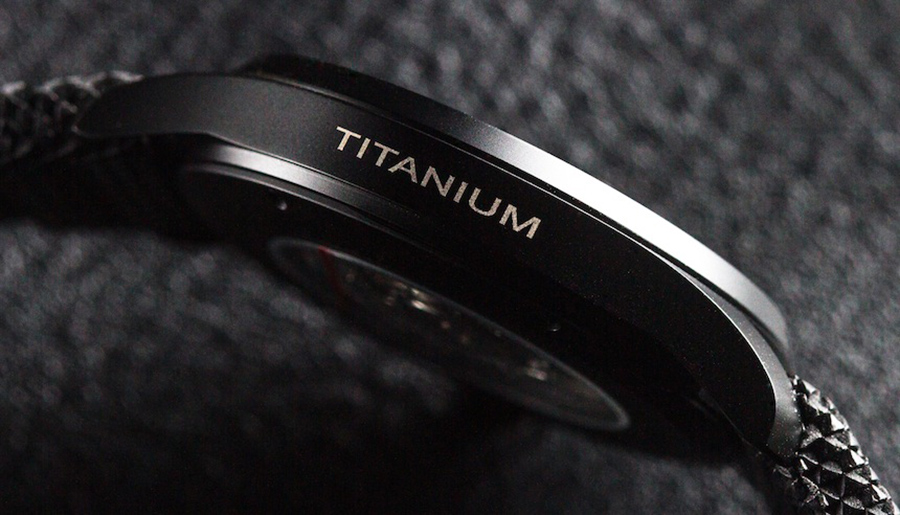 For those who are new to "good" watches and may not wish to use something that looks daunting with several dials or costs as much as a small car, the Hamilton Khaki Field Titanium Automatic is a great watch to begin a collection. Priced at $850 with a clear no-fuss dial it is a wonderful swiss watch that brings prestige at a not very high price point. The 42 mm wide titanium case with PVD coating has a clear and crisp look that sets it apart from the also-rans.

Sinn T1 B, T2 B Dive Watches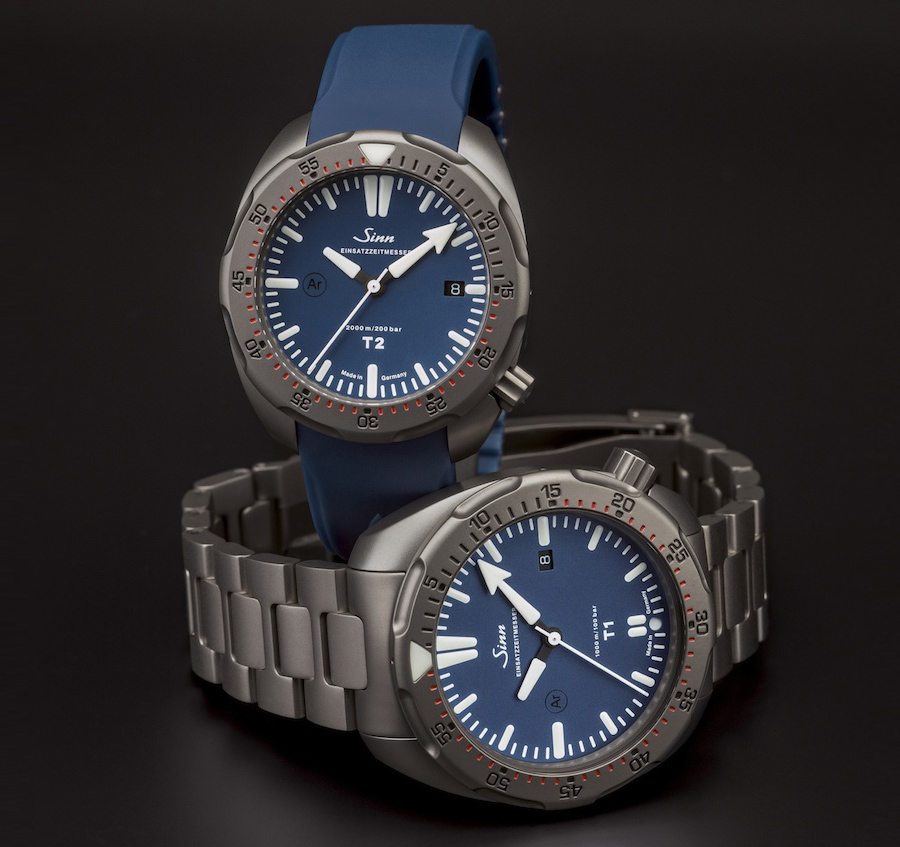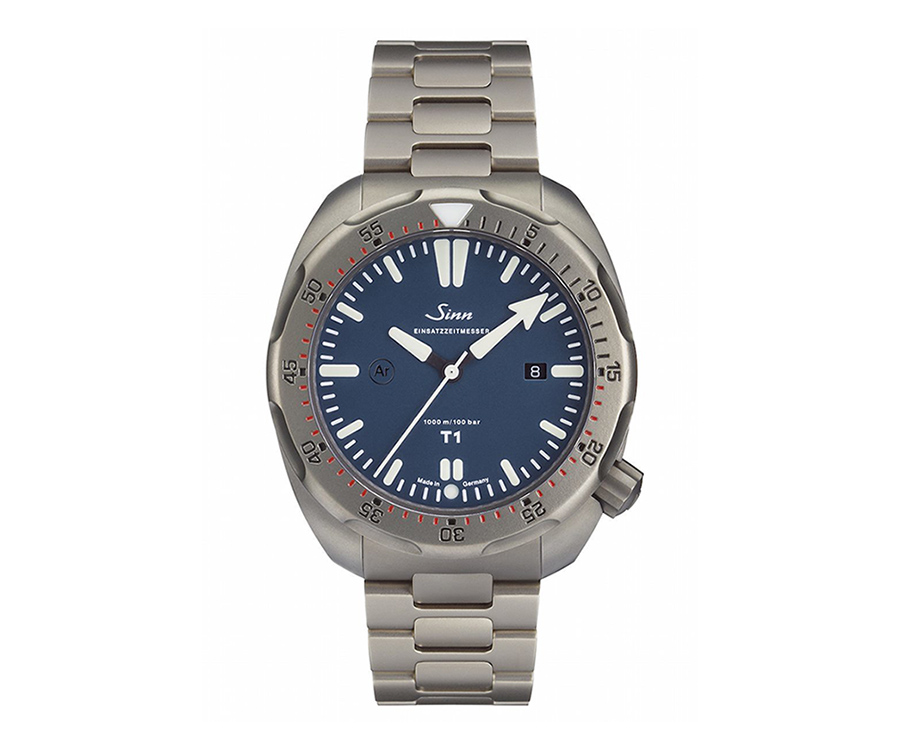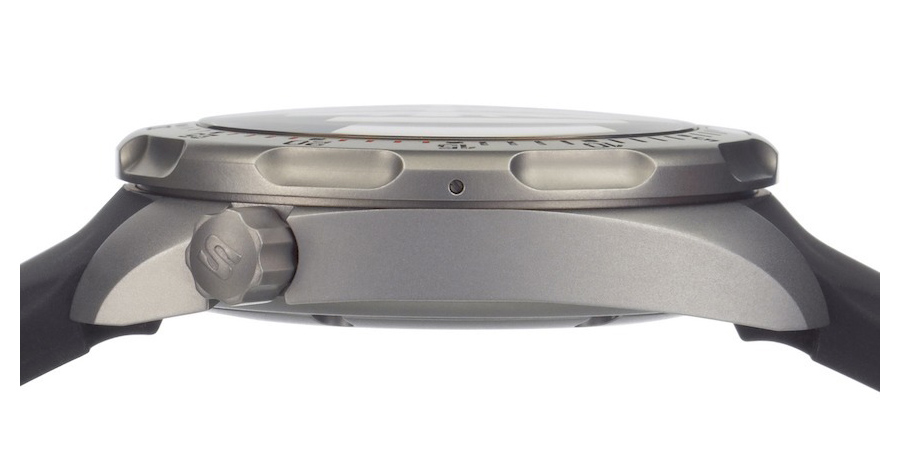 Despite their renown as the world's finest engineers, Germany has never quite succeeded in making watches that grasp the popular imagination. Sinn looks set to change that with their T series of dive watches. The T1 B is slightly larger than the T2 B and both have an earthy look and feel with their light-colored brushed titanium casings and attractive blue dials.
The T1 B is water resistant to 1000 meters and the T2 B to 200 meters. Both have 25 jewel Swiss made automatic movements and can survive temperatures up to 80° C. Priced little above $3,100 the pair makes an excellent purchase.

IWC Schaffhausen 'Ingenieur Sport' Watch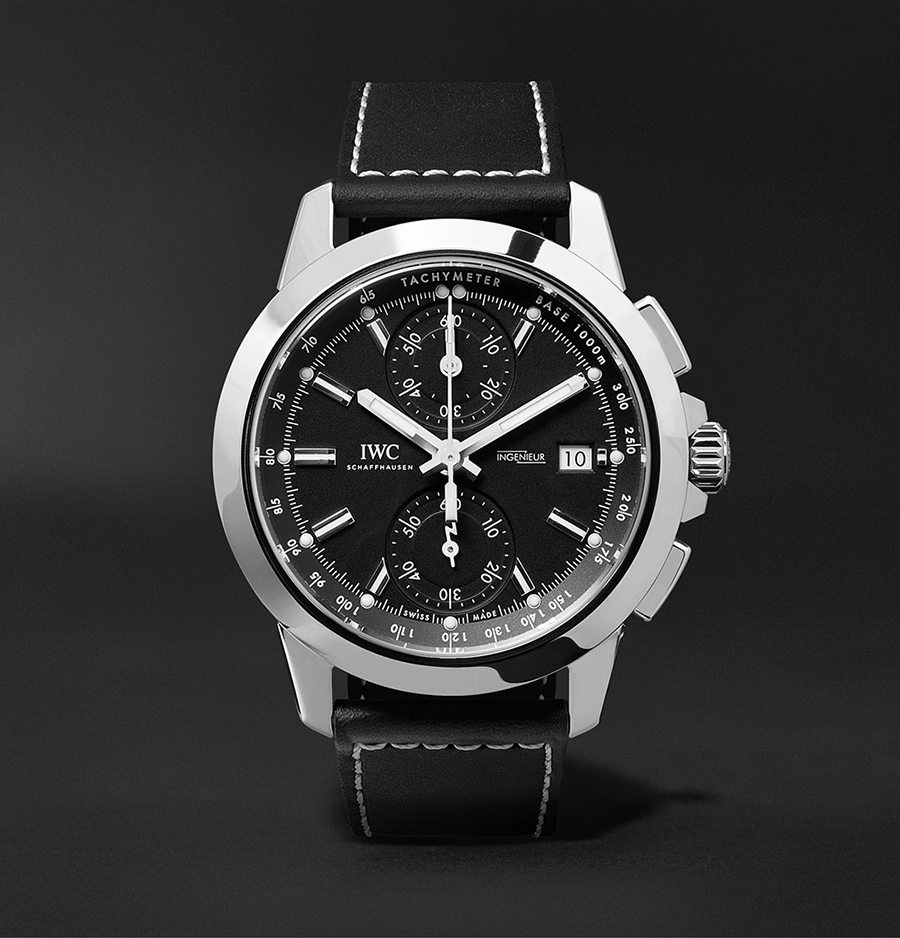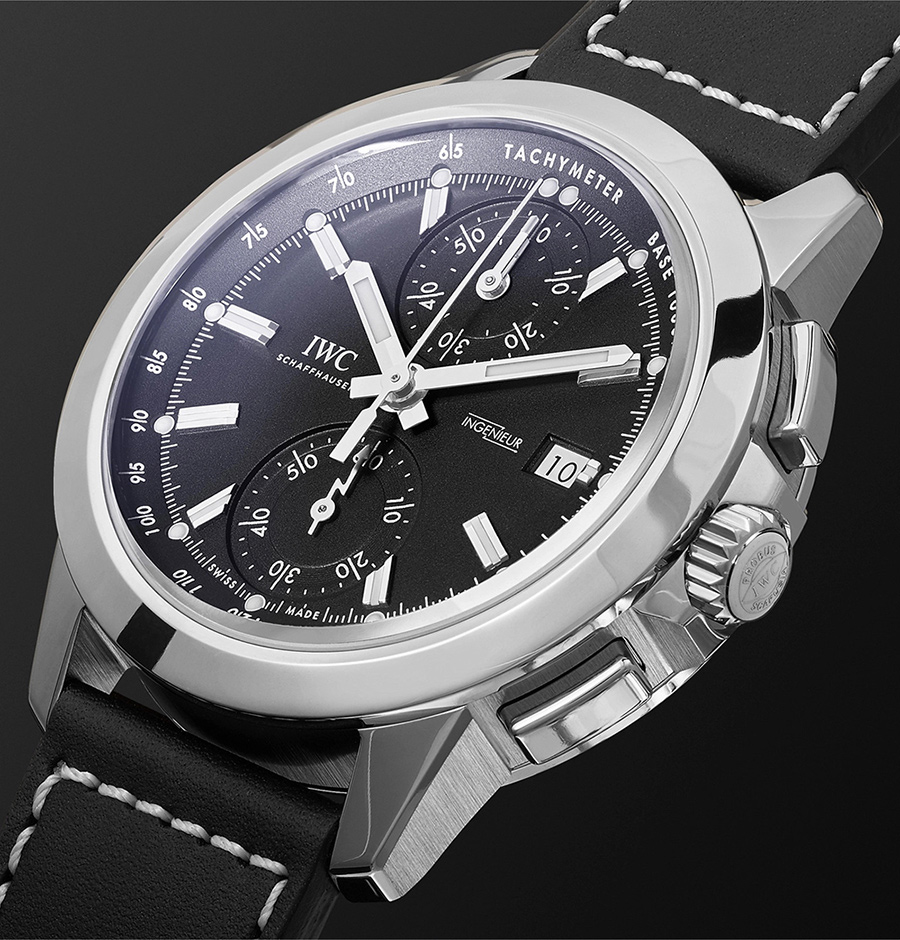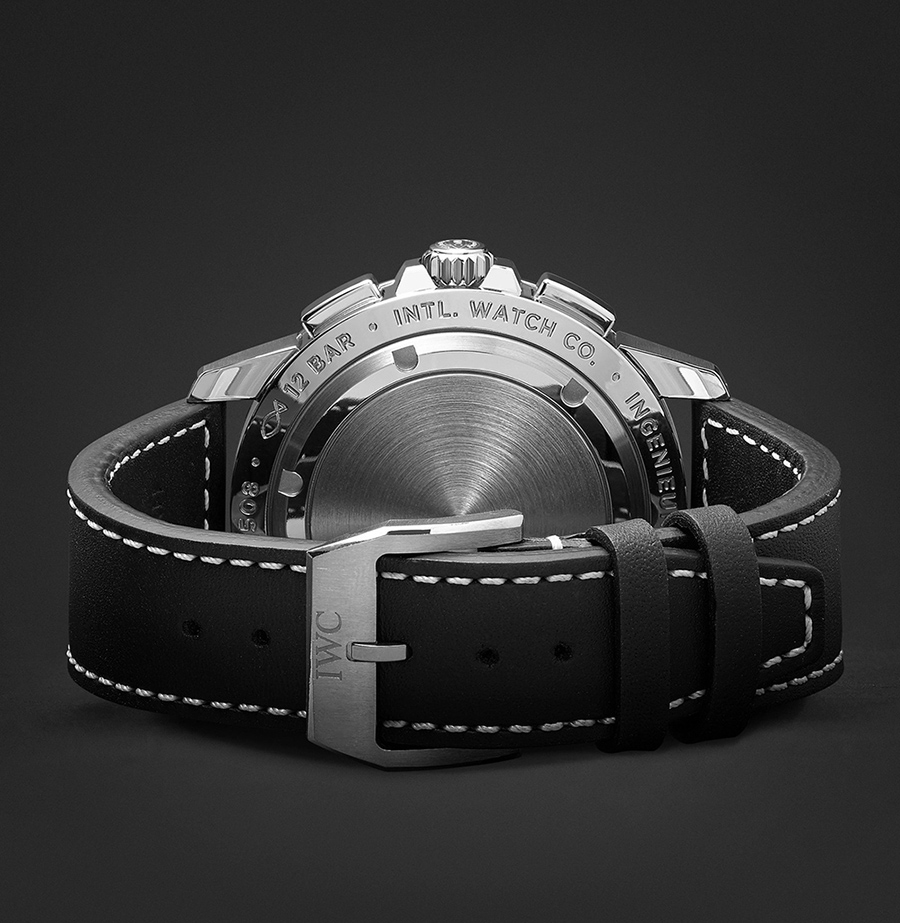 A limited edition product, the Ingenieur Chronograph Sport will perhaps not be the first choice of many due to its large and thick case. The bulky device is unbelievably light owing to its titanium construction.
The flyback chronograph works with an automatic movement housed in a metallic cage to prevent the effect of magnetic distortion. Priced at $11,000 the watch comes with a black genuine calf leather strap and a transparent back.

IWC Schaffhausen Pilot's Mark XVIII Watch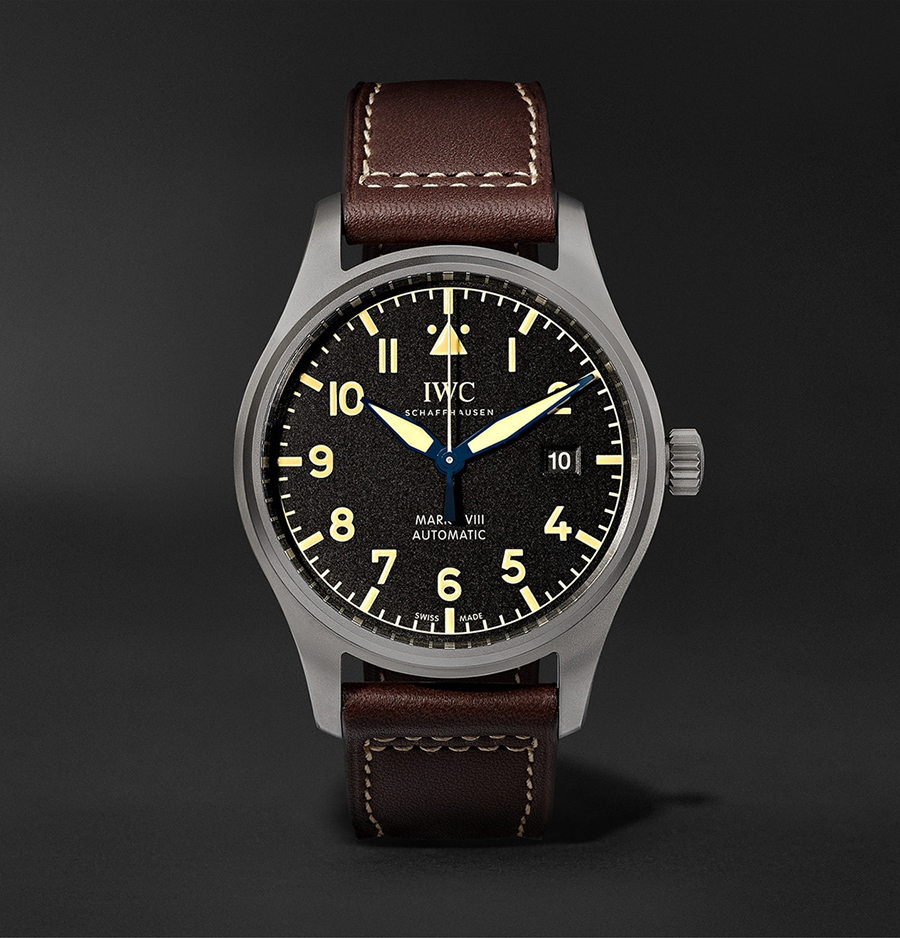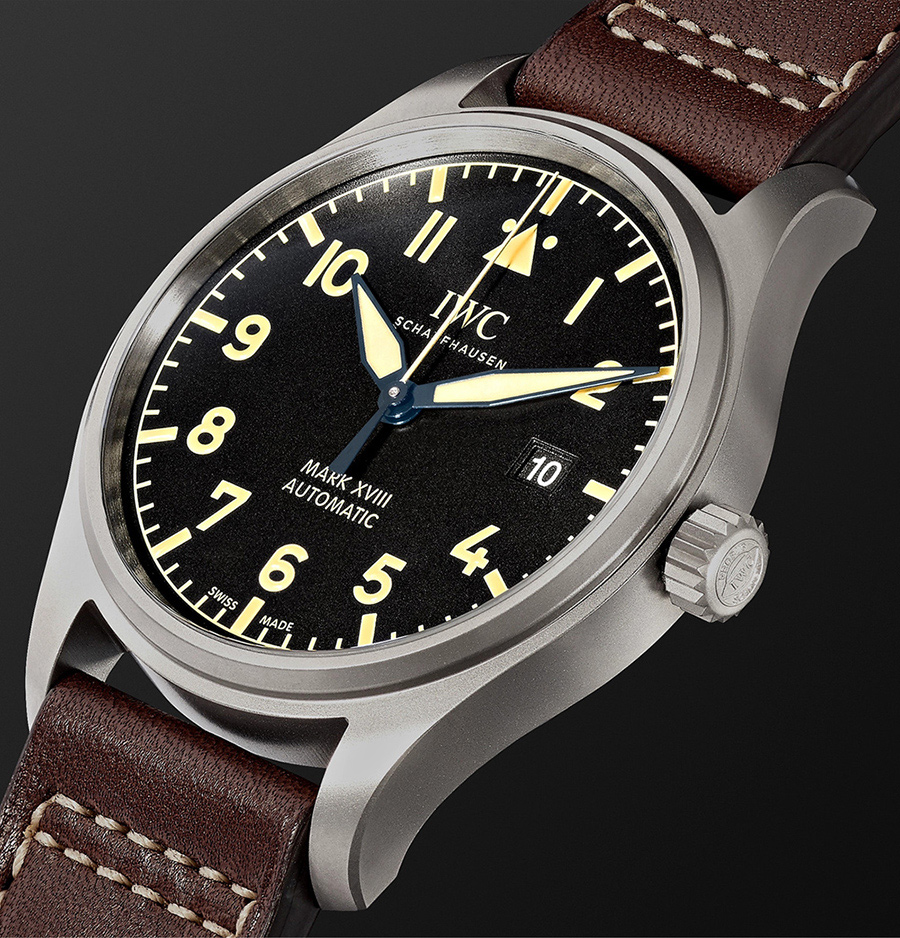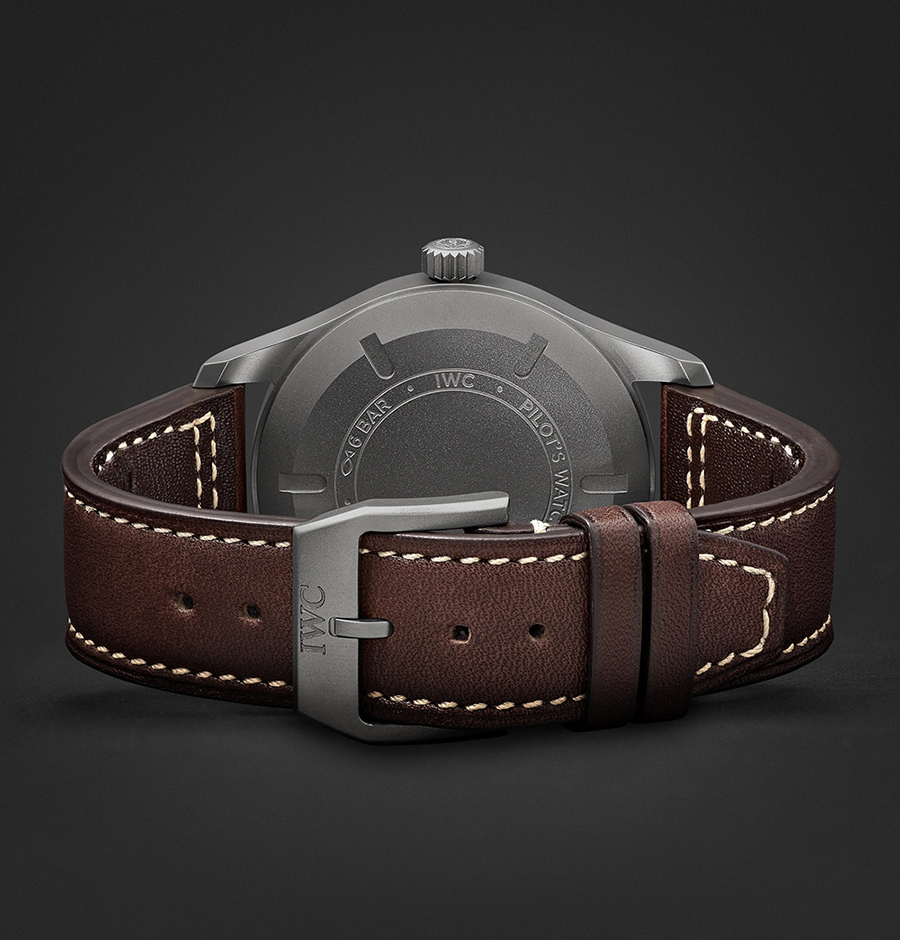 Check more photos.
With a functional design inspired by aviation watches of WWII, IWC has brought to market the Mark XVIII watch. The automatic winding has an unparalleled week long reserve and a 4 Hz mechanism encased in a soft metallic cage to protect against magnetic aberrations.
The sparkling finish of the case and a retro style leather strap makes it a collector's item. Priced at $13,000 the titanium watch is a priceless addition to your collection of luxury accessories.

Panerai Luminor Regatta Chrono Flyback Watch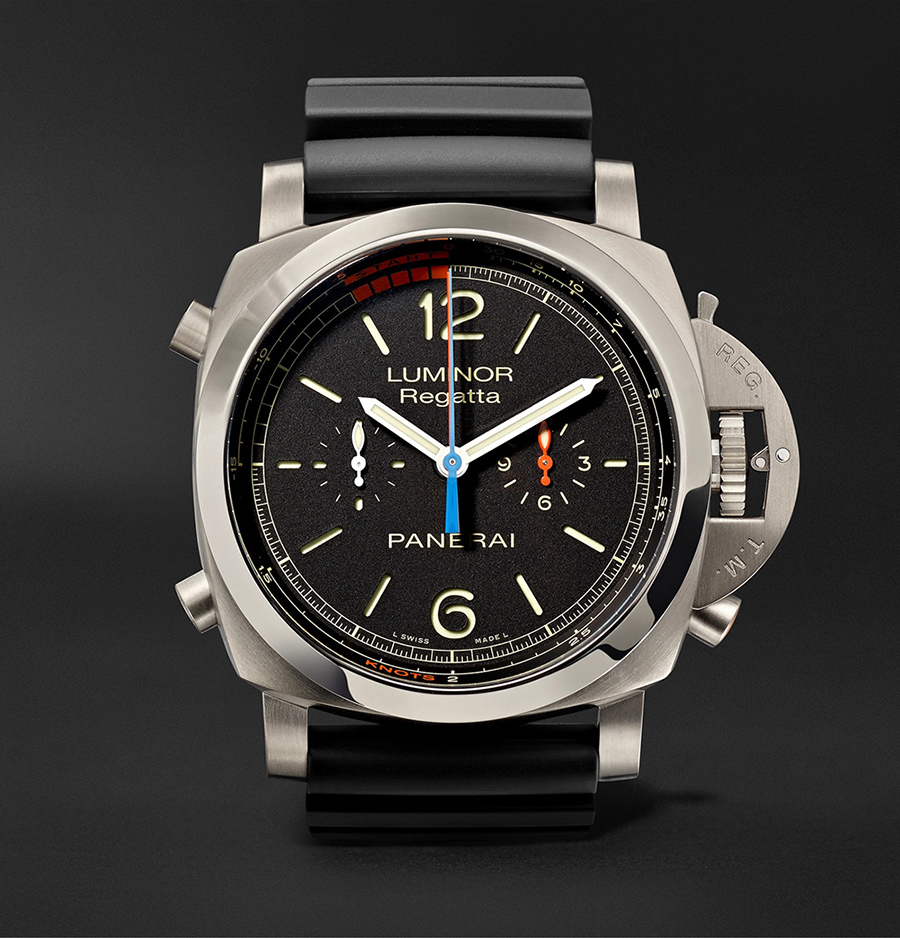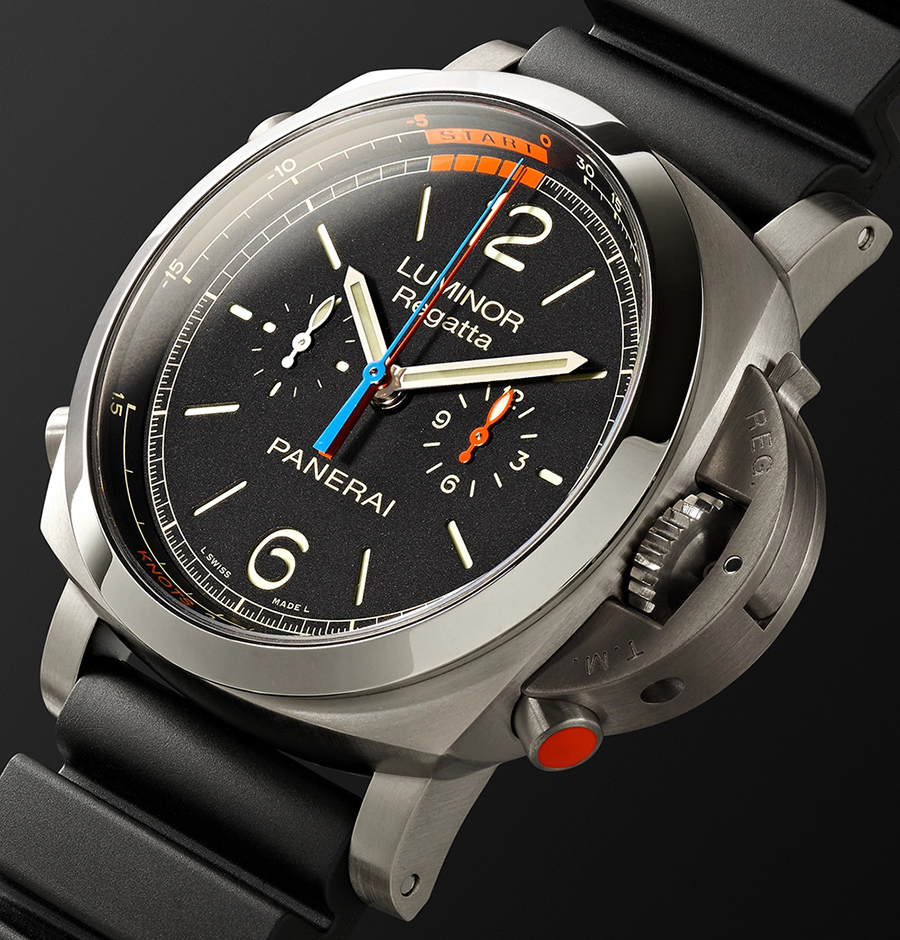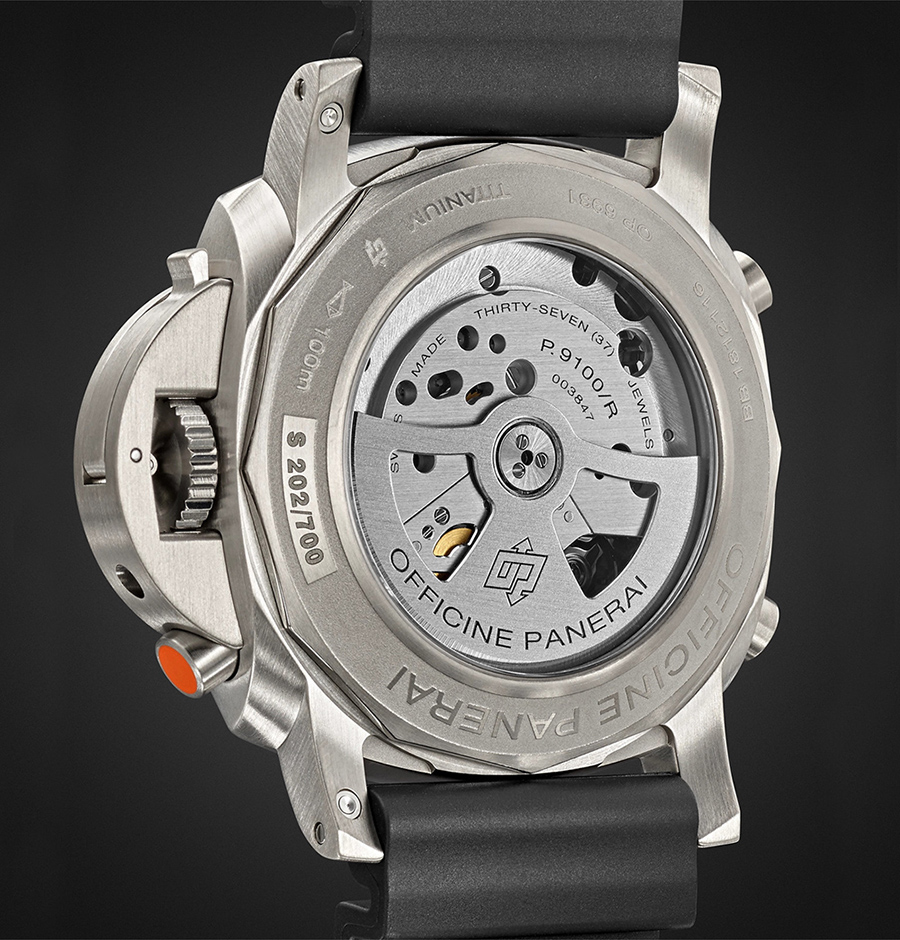 Check more photos.
A large and impressive device, the Luminor 1950 Regatta, from Panerai is a superb looking diving watch. The titanium case is well polished and looks almost bronzed in its finish. With only 12 and 6 shown in numerals and diving subdials for ease of use underwater it has a transparent back and is waterproof to 200 meters. The P.9100/R caliber movement is automatic chronograph and has a power reserve of 3 days. Priced at about $15,000 the Regatta 3 Days also has integrates a KIF Parechoc anti-shock design.

Panerai Radiomir 1940 Titanium and Leather Watch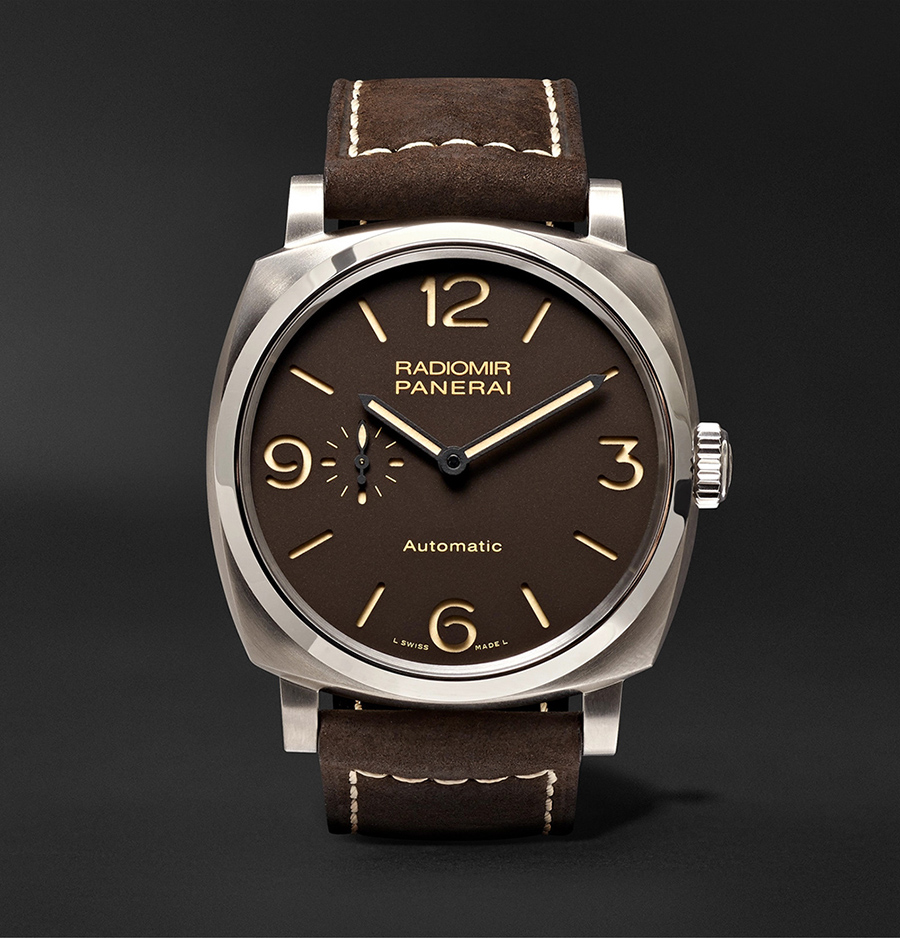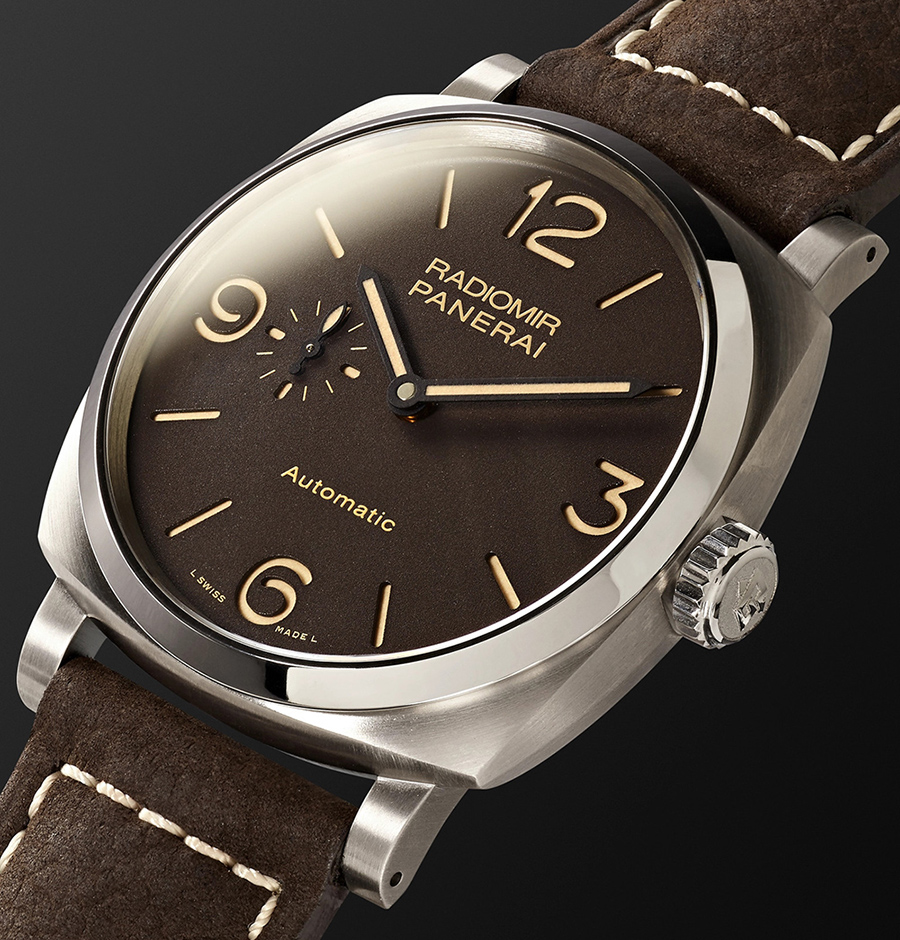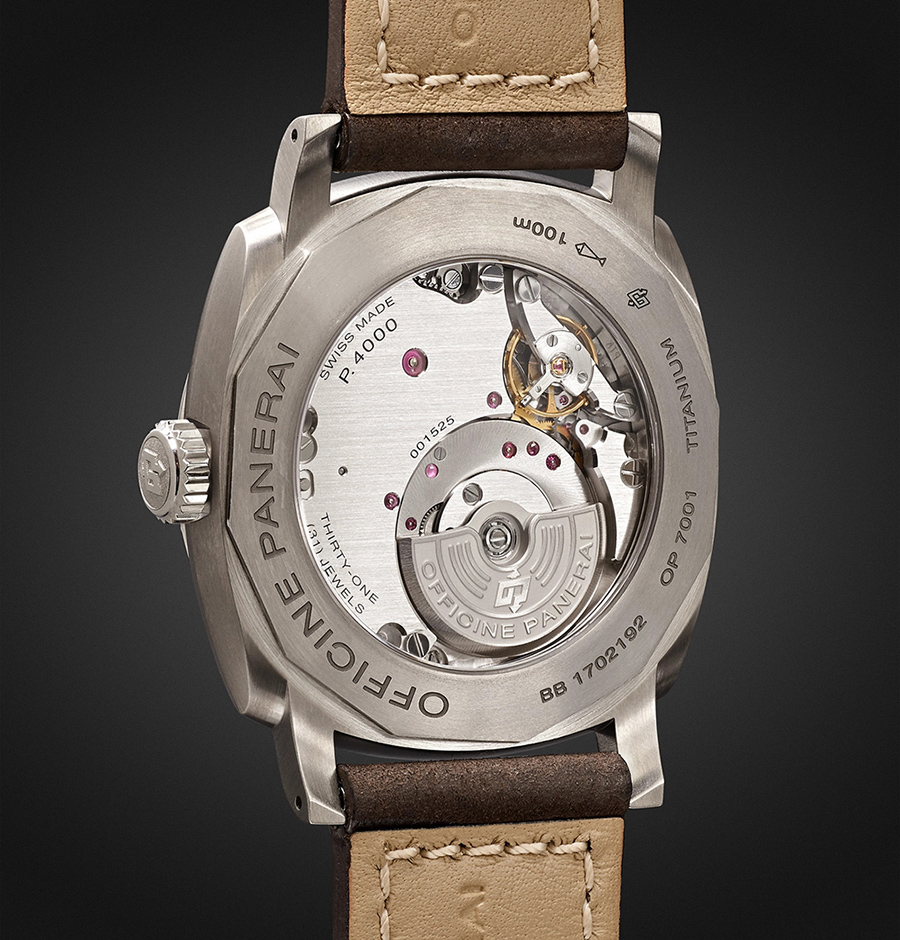 Check more photos.
Another beauty from Panerai, powered by a P.4000 caliber movement is made from Grade 5 titanium and is scratch and corrosion resistant. A dark brown leather strap and a transparent back complement the brown dial design exceptionally well. The watch is water resistant to 100 meters and costs about $9,000.

Ressence Type 1 Titanium Watch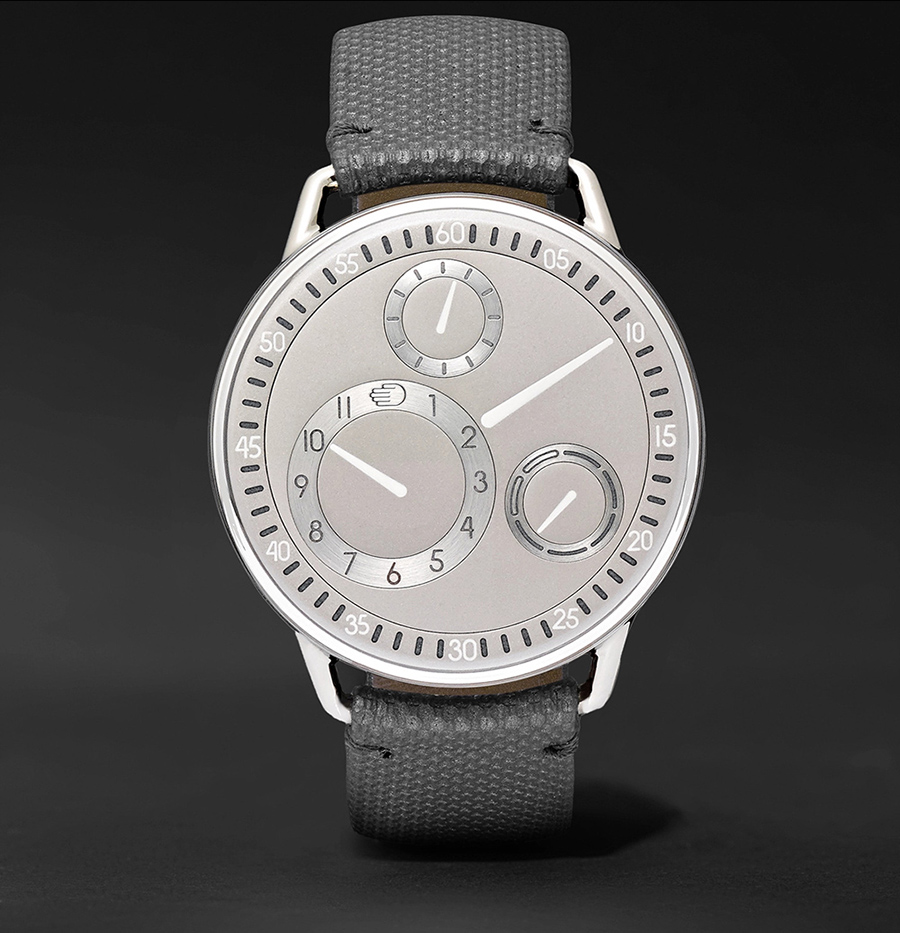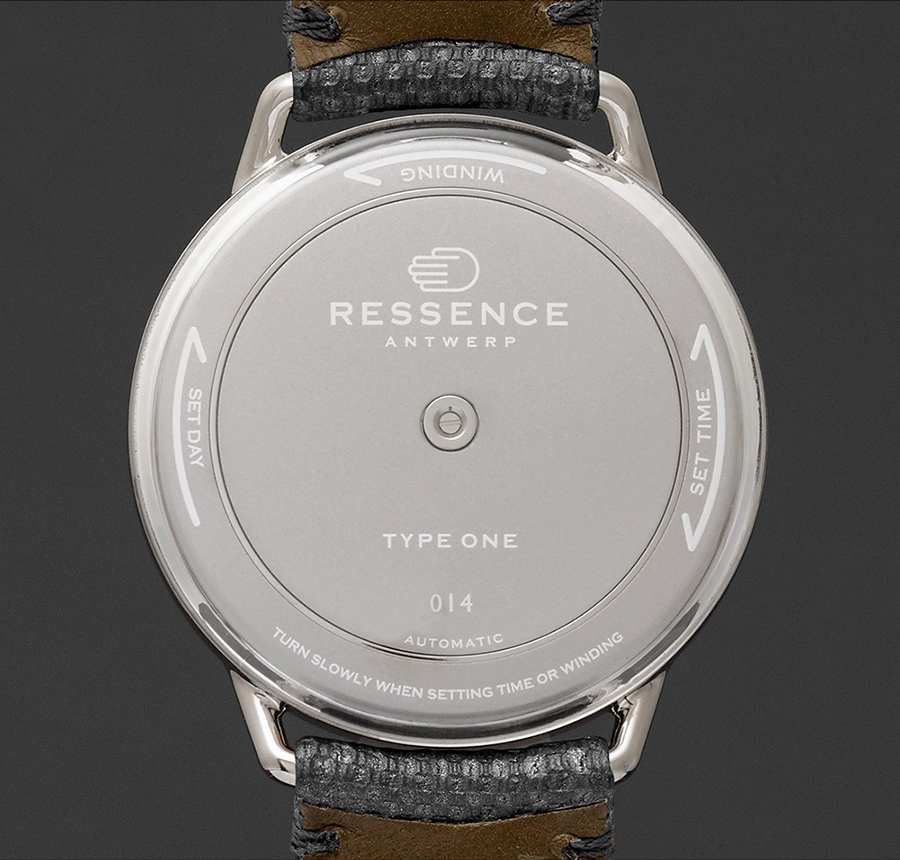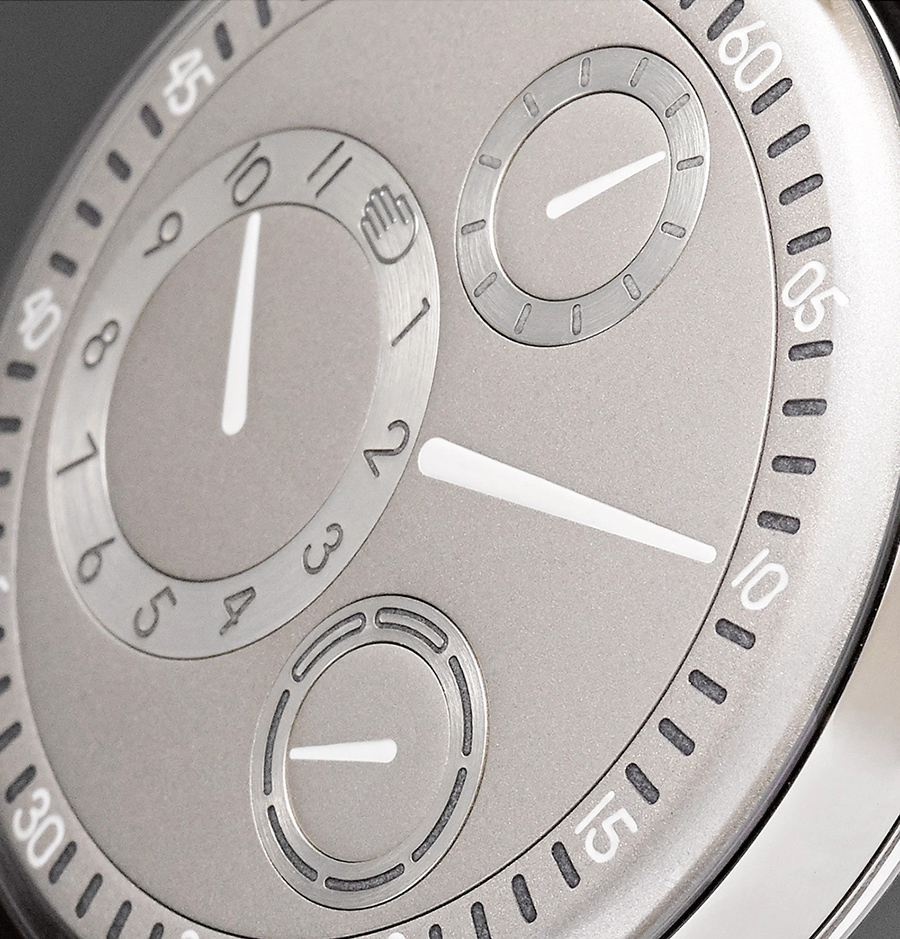 The Ressence Type 1 has a futuristic and slightly strange look. You would have expected September (the man from the future in Fringe) to have worn it. With sub-dials showing the hour and seconds this intricate horological masterpiece is an impeccable example of what a luxury watch should be. Priced at about $15,000 the 42 mm thin and flat dial is perfect as both fashion and formal wear.