Looking for stylish men black watches? Then check our collection of 50 best black watches for men. Different watch brands, different mechanisms, different watch materials – the only thing that unites all of them is their color. They are completely black. Here you will find luxury mechanical Black Omega Speedmaster Moonwatch and modern smart watches – Black Apple Watch 3, incredibly expensive Hublot Big Bang King and affordable black Fossil FS5447.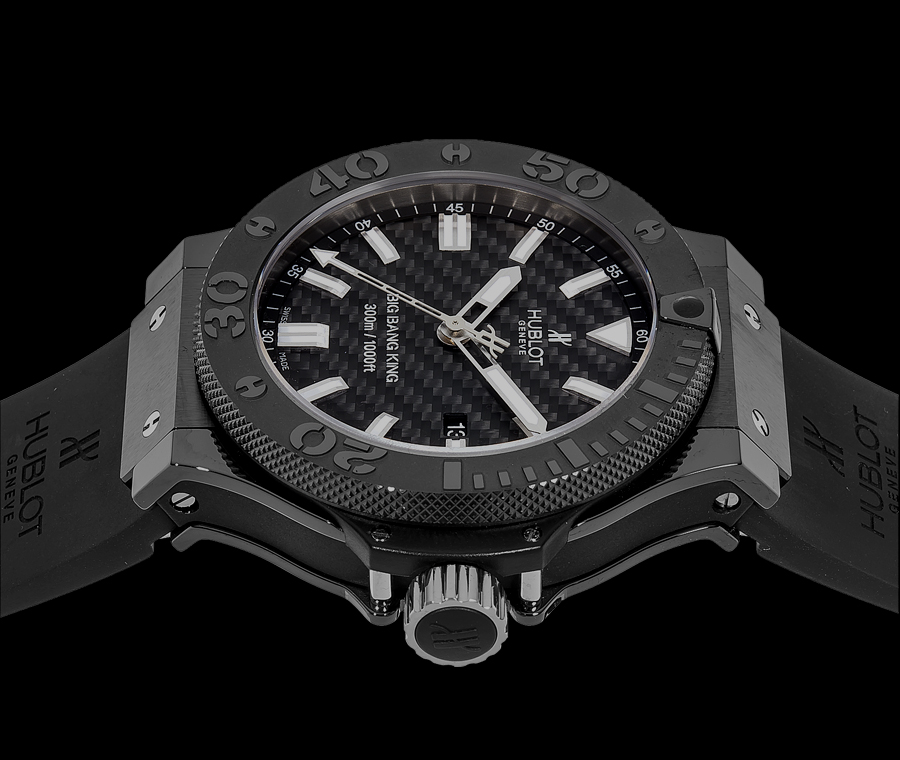 Wristwatches define a man's character. A man sporting jewelry is not taken half as seriously as a man adorning a classy watch. Watches exude persona and character earning respect for the wearer. A man wearing a wristwatch displays discipline, diligence, and good taste.
Picture this, an elegant wristwatch with a black dial, chronograph, adorned with a ceramic bezel and crisp black hands with gold inlay. It is wrapped around snugly on the wrist of a tall man in a formal black shirt, sleeves folded a few inches above the wrist revealing the exquisite timepiece he is wearing. What does it say about him?
A timepiece is something that is not only a trend setter but also a social magnet. Yes! Exquisite timepieces make great conversation pieces. They define a trend, style, and social attitude. Let's take a look at the 50 most classy Black Men's Watches for the year 2018.
Black Omega Speedmaster Moonwatch Chronograph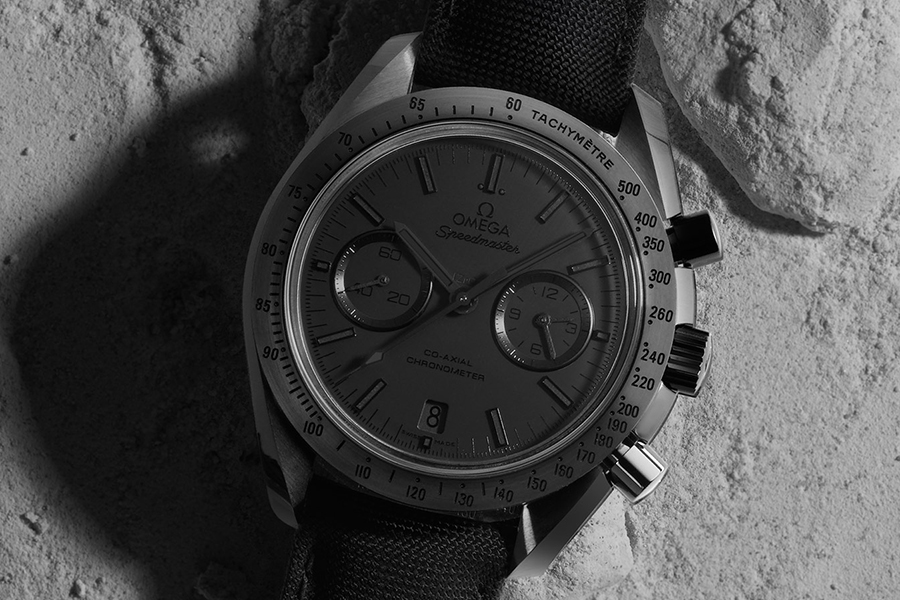 Looking for something more conservative and classical? Try the Black Omega SpeedmasterMoonwatch Chronograph automatic watch. It sports a snazzy look, subtly combining the black dial emblazoned with black ceramic bezel. The black and grey nylon waterproof strap is designed to give a smart and snug fit. The gorgeous timepiece is water resistant up to 50 meters. One look at this piece and you can't keep your hand off of it. Also this model has investment attractiveness for watch investors.

Hublot Big Bang King Ceramic Black Watch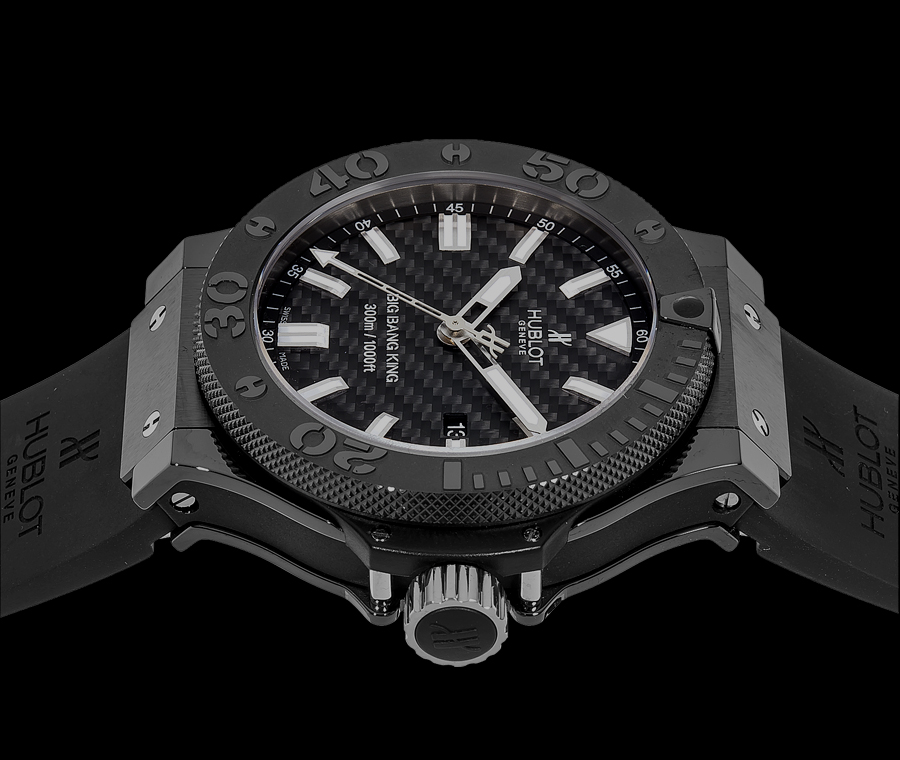 Impress those around you. The Hublot needs no introduction to the class of luxury wrist watches. This Swiss made watch features an automatic movement and a 32-hour power reserve. The large 48 mm dial crafted with superior cutting-edge technology precision-time-keeping feature will never let you down for your appointments. The 16 millimeters wide rubber strap is designed for a soft and comfortable fit. The more you wear it the more you'll love it.

Pioneer Black Dial – Black Leather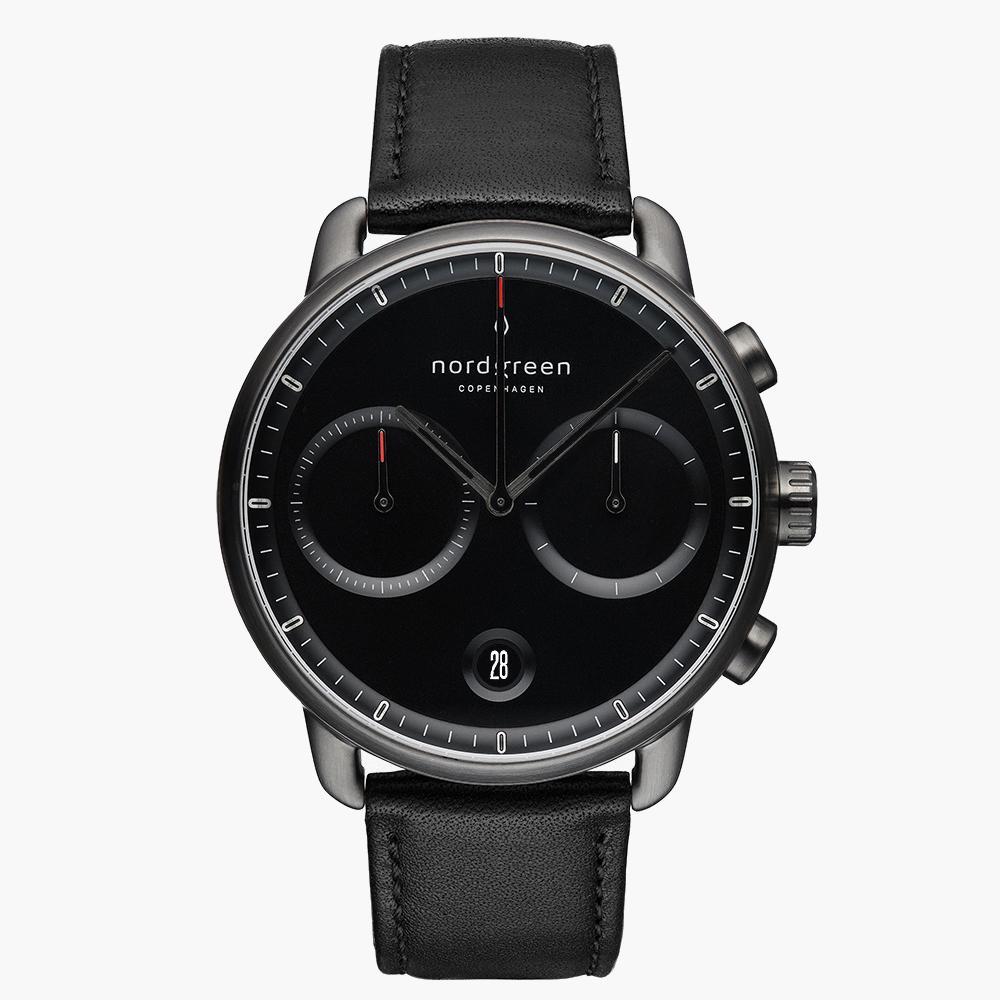 Mystery, power, elegance, sophistication — all come together in the Nordgreen Pioneer Black Dial Watch. The Danish design by Jacob Wagner gives a classy timeless (pun intended!) look. It's just a watch to say, but it can take you back to the memories of good times. It can make you feel the passion and power of being in control today. For $289, you can bring home the Nordgreen Pioneer Black Dial Watch, which is also the reddot winner for 2020. Plus, it isn't a bit black and a bit something else. With its black dial, black leather strap, and even the dark gunmetal case, it is a true gem for black purists. It won't just sit on your wrist, it grants you control of your time.

Panerai Luminor 1950 Mechanical Black Watch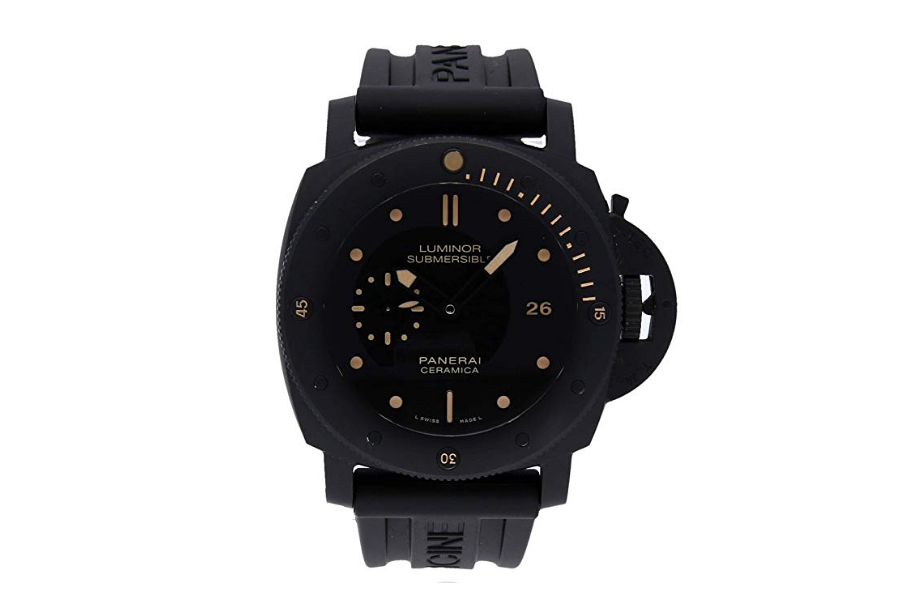 This self-winding automatic timepiece is truly inspiring. It blithely flaunts a sporty appeal. The 47mm gorgeous ceramic case surrounding its black dial is trussed with soft rubber straps woven through a jet-black ceramic tang buckle. Sledge silently sporting this stunning watch on the golf course and gloat over your opponent missing his putts. The sexy ensemble just can't keep keeps heads from turning for a second glimpse.

Breitling Bentley GMT B04 S Carbon Body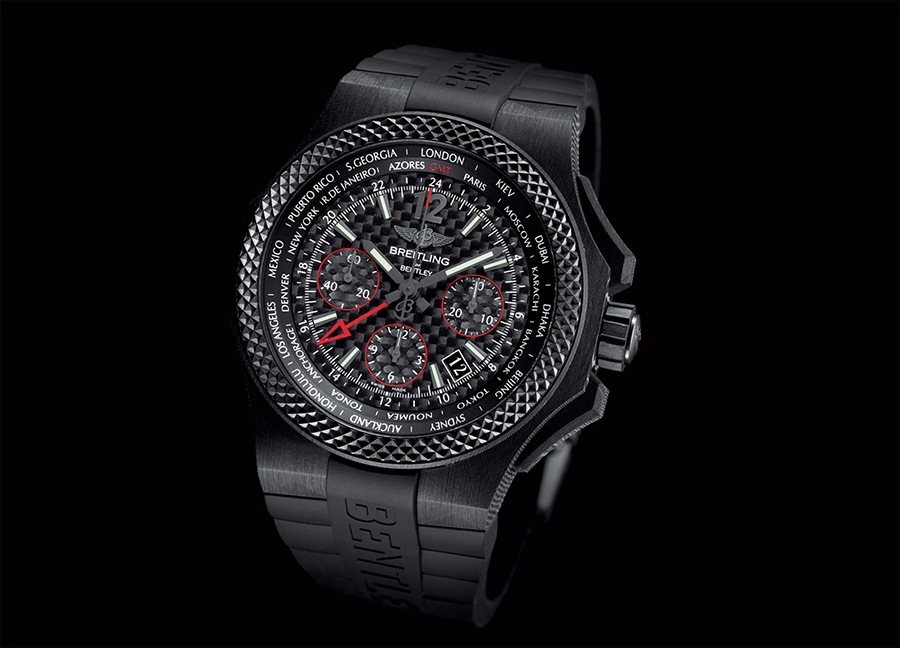 If you are looking for something classy and unique, try the Breitling Bentley carbon black. It is a limited-edition model with only 250 pieces in circulation. It features scratchproof crystal glass and a water-resistant dial up to 100 mts deep. Flaunt it on your wrist in the pool or on the beach. The black dial with white digits gives an extraordinary visual appeal. The sporty black rubber Bentley II strap makes the look complete giving it the distinctive appeal you've been looking to achieve.

Rolex Oyster Perpetual Sea-Dweller with Black Dial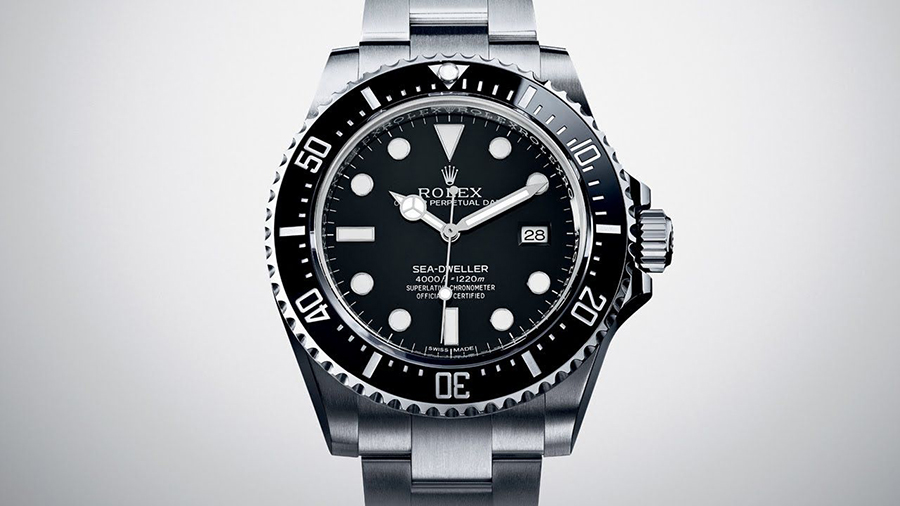 Looking for a little extra attention in your glitzy parties? Grab the Rolex Oyster Perpetual Sea-Dweller with a Black Dial and receive a red-carpet treatment.
Rolex needs no introduction to luxury, quality, and appeal. This Swiss automatic timepieceflaunts a roundblack dial, with a unique screw down crown. This beautiful watch comes with a gorgeous night black metallic strap. Anyone sporting it will be treated like a celebrity.

Panerai Radiomir PAM00384 Black Watch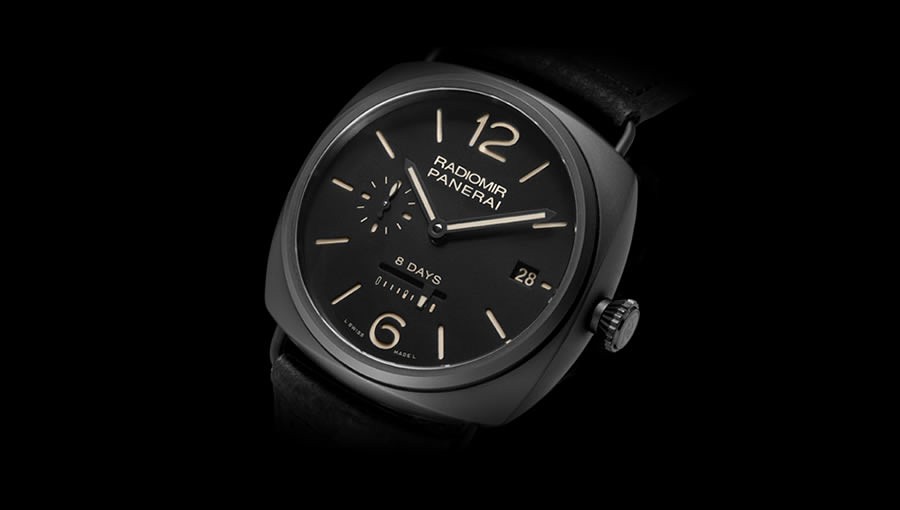 If you are the no-nonsense kind of guy, clean shaven, pulled back gelled hair, white shirt black tie, the Panerai Men's Radiomir automatic watch would be a perfect choice. This Swiss watch comes sports a stylish black ceramic dial. The luminescent hands with eye-catching markers combined with the black buffalo leather strap add panache and complete an unforgettable look.

Breitling Aeromarine Superocean Heritage Black Watch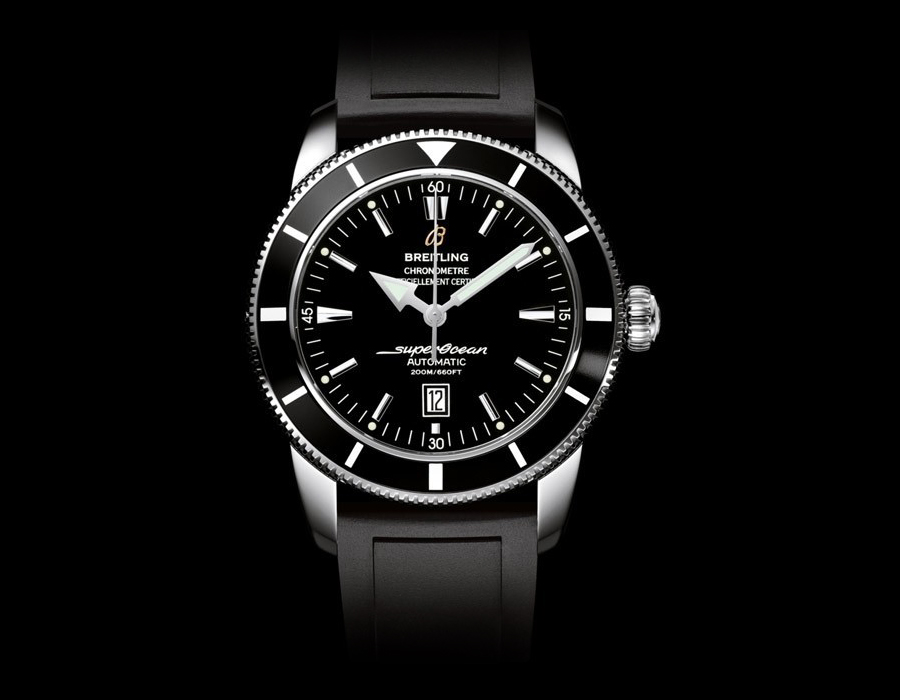 When you need to stand out in a crowd and get noticed, the Breitling Aeromarine Super Ocean Heritage can do the trick. The distinctly grand black dial with soft silicone strap is simply hard to get unnoticed. This black beauty with contrasting white hands and markers is sure to set you apart from the rest.

TAG Heuer Men's Monaco Black Watch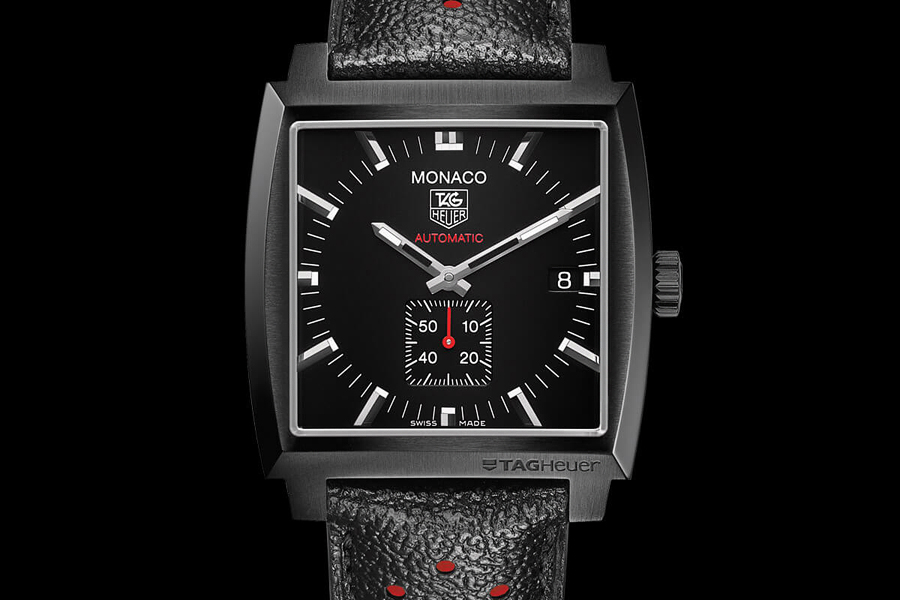 Make them all Backoff and give way when you enter wearing your TAG Heuer Men's WW2219.FC338. The Unique design comes with a 37 mm stainless steel case. The anti reflective-sapphire dial window is balanced with a Perforated-leather calfskin band with deployment push-button clasp completes the classy look. The striking square cut dial defines discipline and purpose. Get the respect you deserve!

Porsche Design World Timer Black Titanium Watch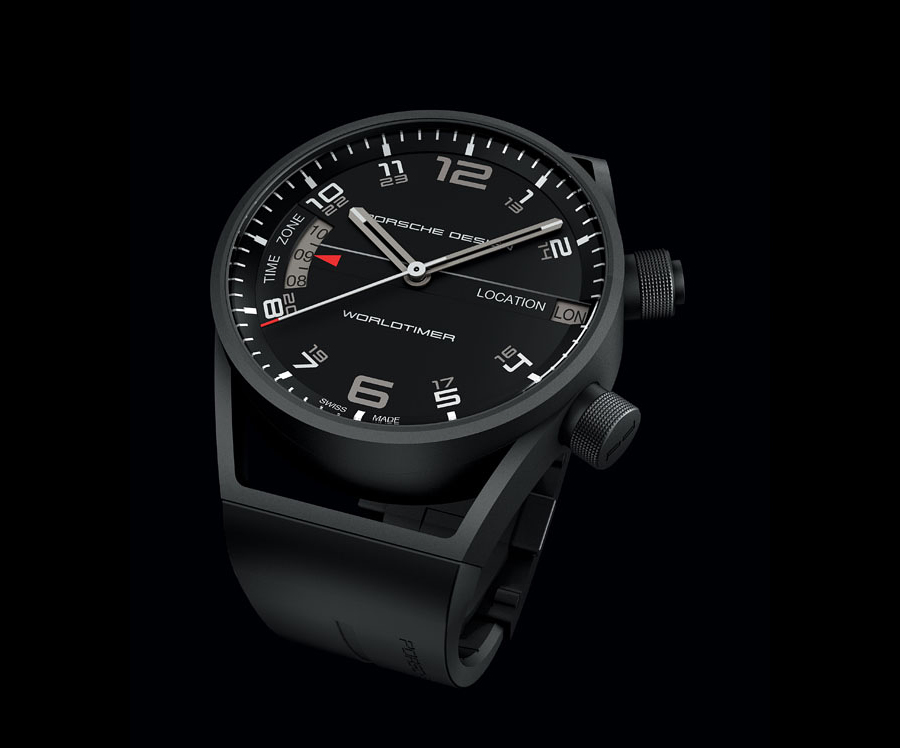 Timing is everything in a race. The Black Porsche Design world Timer is ideal for the first-class frequent traveler. It features a Swiss Automatic Self-winding movement, Caliber ETA Valgranges A 07 11, combined with a Black dial set with white luminous hand indicators, and hour markers. With timing this reliable you are never going to slow down. Sporting this classy black dial with a soft rubber strap with Porsche engraved on it is sure to make the ladies swoon in any part of the world.

Bell & Ross Aviation Black Watch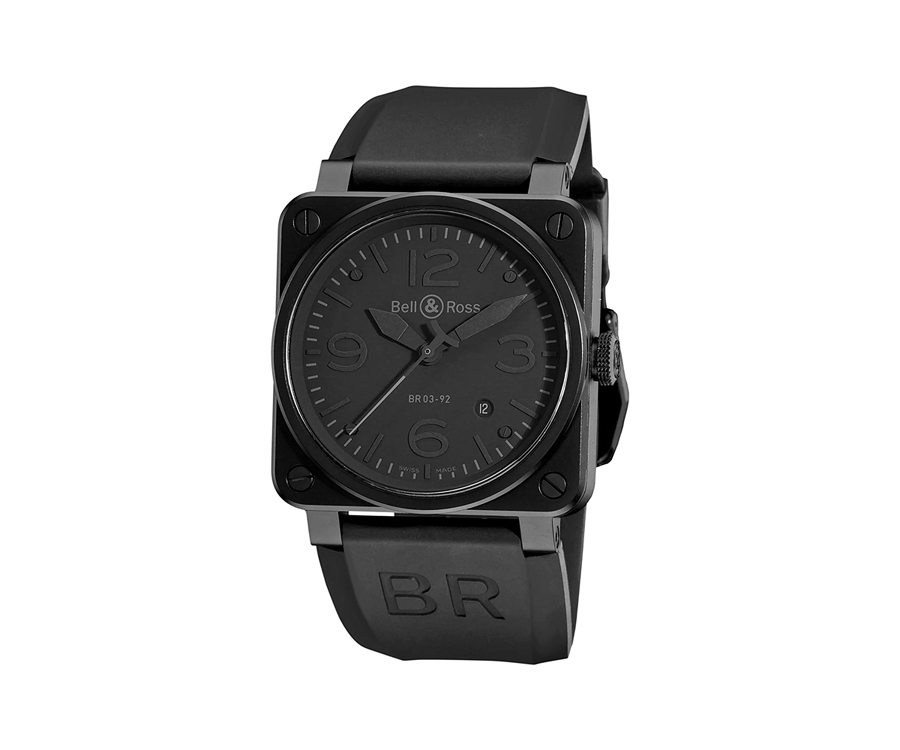 Take gifting a notch higher and watch. Bring the time instrument from the cockpit to his wrist. Crafted by aeronautical panel specialists and designer watchmakers the superior Bell and Ross Aviation watch will make the perfect gift for any occasion.The unique circular all-black dial within a square cut case with black luminous hands is sure to win you compliments for your great taste.

Black Edox Men's Watch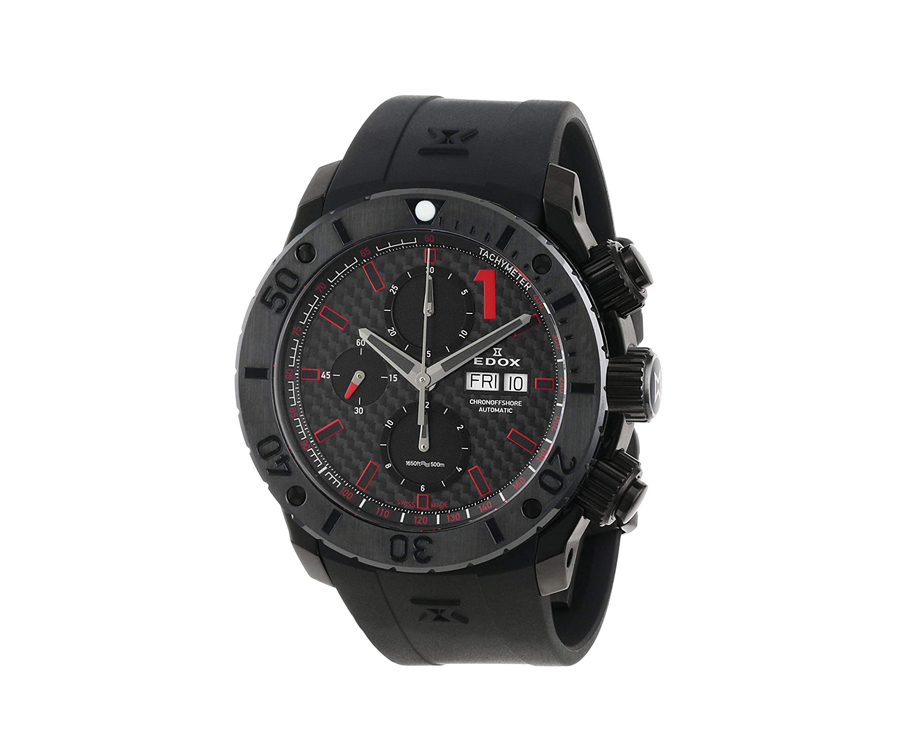 Feed your adrenaline every time you wear the Class 1 Automatic Chronograph, Black Edox Men's Watch. This beautiful timepiece spells passion, ingenuity and meticulous attention to detail. The Edox Men's Watch features a scratch-proof sapphire crystal, date calendar with water resistant Chronograph up to 660 meters deep making it a perfect choice for marine activities like recreation water sports, surfing, or scuba diving. The stunning combination of all black with a hint of red markers is going to set you apart from the rest.

Fortis 'B-47 Big' Swiss Diving Watch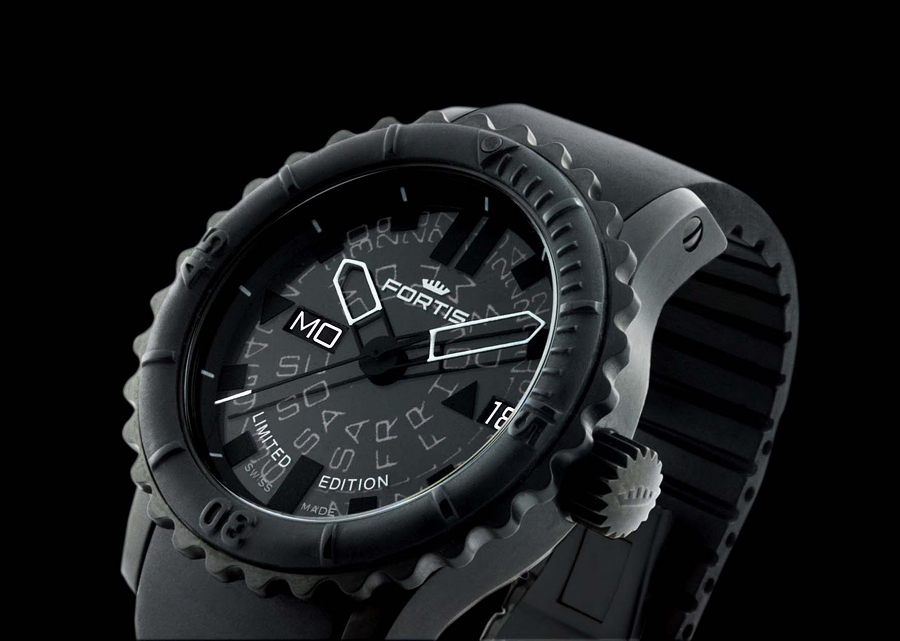 Do you enjoy water sports? Dive deep and revel in the ocean of compliments you get sporting the strikingly gorgeous black timepiece. The large 47mm dial is sure to make a bold statement everywhere you go. This fine watch comes with precision timekeeping and incabloc shock absorber. It is water resistant up to 200 mts, making it an excellent choice for water surfers and scuba divers.

Rado Men's Black Watch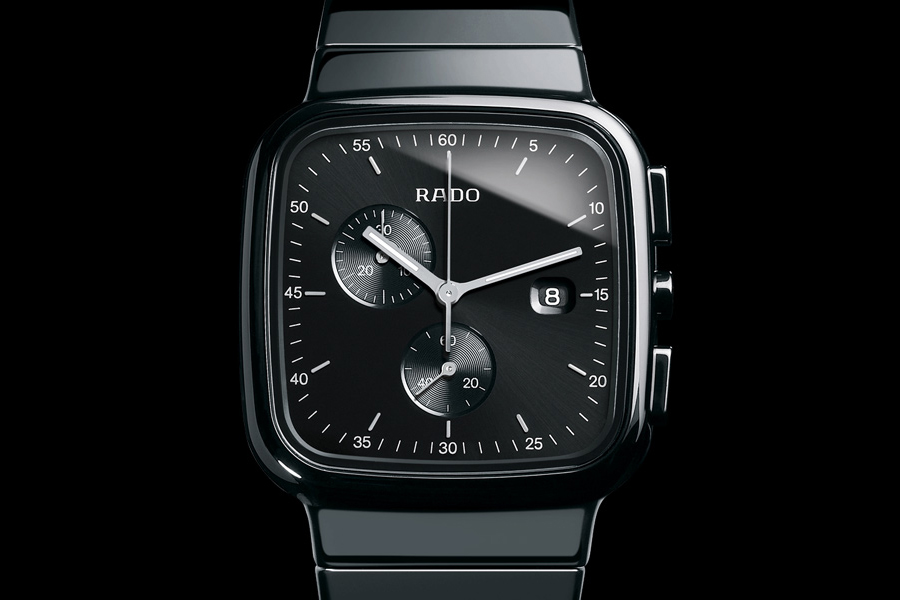 Nothing comes close to class when you're talking about the RADO Men's Black ceramic watch with a black ceramic link bracelet. The spiffy square dial with white markers has an intriguing sharp appeal. It is water resistant up to 99 feet deep to withstand, splashes of water and rain. Flaunt this elegant watch receiving an award and they will know why you deserve it.

Rado Men's Black Ceramic Chronograph
Not sure how to break the ice on a date? Let your wristwatch do it for you. This brilliant black timepiece encased in a ceramic dial and bracelet can be spotted from a distance. It tells a lot about your taste and attention to detail in life. No wonder it called the 'chick magnet'.

Concord C2 Black Automatic Chronograph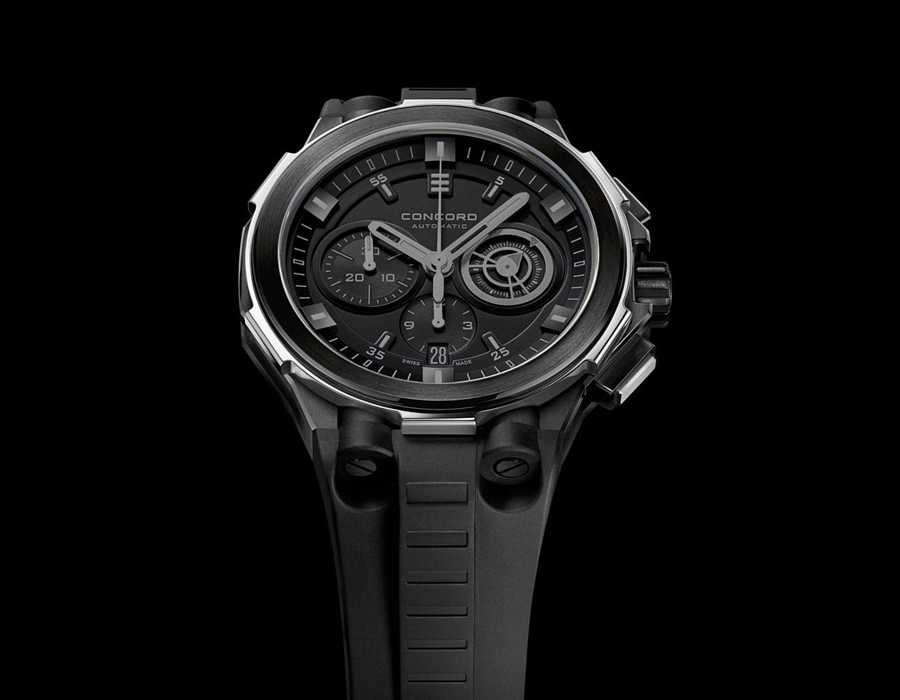 Defy opinions and set impressions with the Concord C2. This dapper timepiece is made of cutting-edge technology for the ultimate precision in time. The 43mm brushed stainless steel and black polished PVD coated case with a black dial and demure grey hands will display your depth and substance in silence.

Raymond Weil 'Freelancer' Black Watch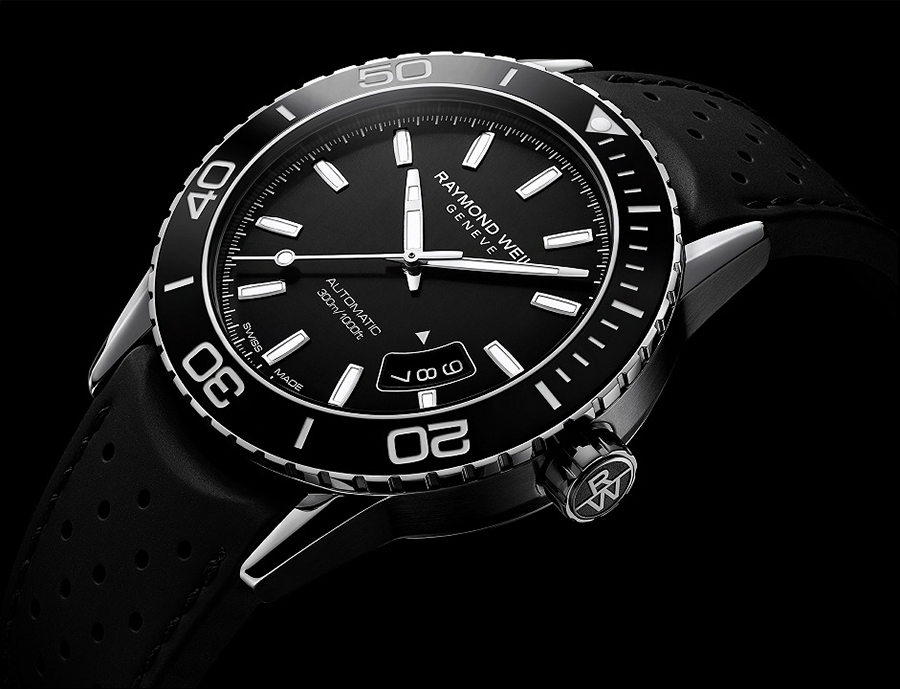 Just because you are cool, does not mean you don't respect time. Less is more. Those who appreciate simplicity and minimalism pick up the sensible automatic movement Raymond Weil Freelancer. The chic black ceramic bezel with uni-directional turning is the coolest gadget one can own. Pair it with your Dockers and she will never be able to take her eyes off you.

Casio G-shock Multi-Band 6 Black Digital Watch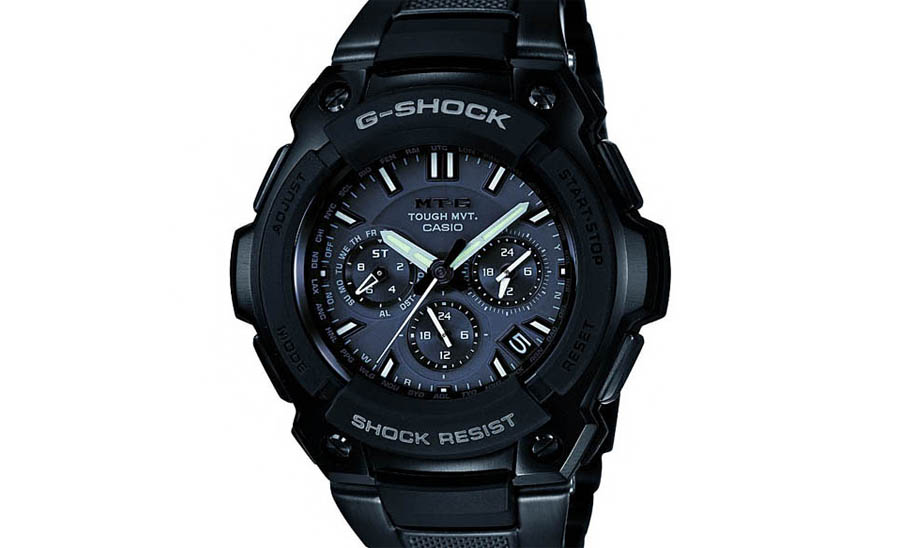 Don't get offended when they stare. All they need is a glimpse of the gorgeous timepiece on your wrist. The Casio G Shock is synonymous with ruggedness. It's what a real man wears. The G Shock is considered to be the toughest watch of all time. It guarantees precision, shock, gravity, temperature, water and vibration resistance. It is a phenomenal combination of beauty and Braun. It's no wonder you will be spotting envious eyes everywhere you go.

Gucci G-Timeless Black Chronograph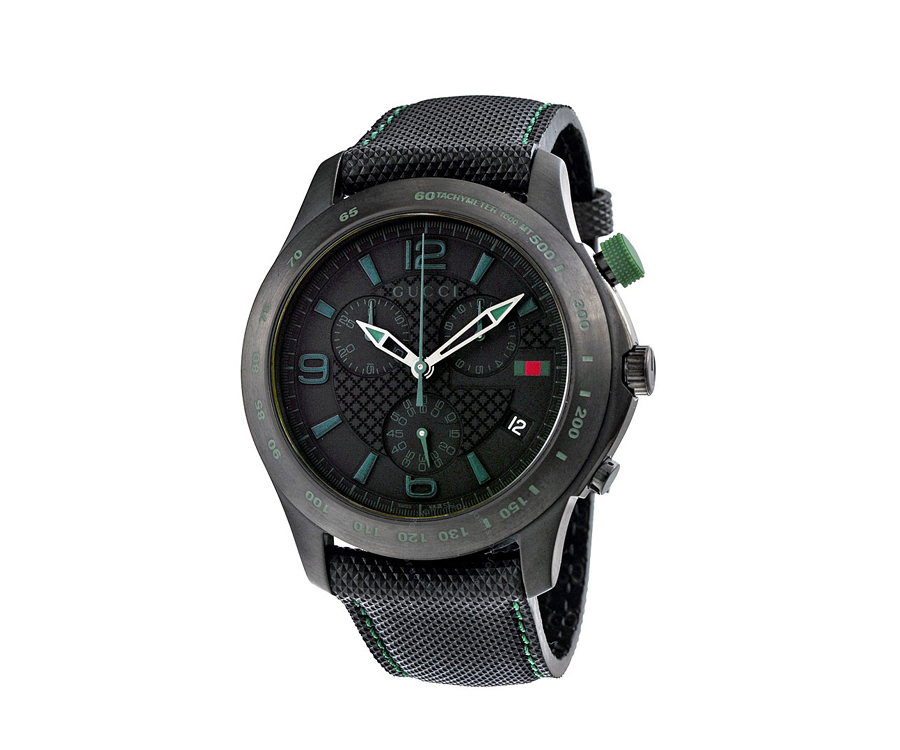 The subtle style in the black dial with splashes of blue effortlessly combines sporty and elegance in one timepiece. The polished diamond pattern center, sun-brushed frame with a brown center make it a stunning head-turner. The snazzy black leather strap with Gucci crest engraved and ardillon buckle makes the look completer. The Gucci G black chronograph precision watch would make a splendid timeless possession in your wardrobe. The sleek dial with demure markers complemented by a soft leather strap will make a perfect companion for the mature, classy urban man.

Black Movado Bold Chronograph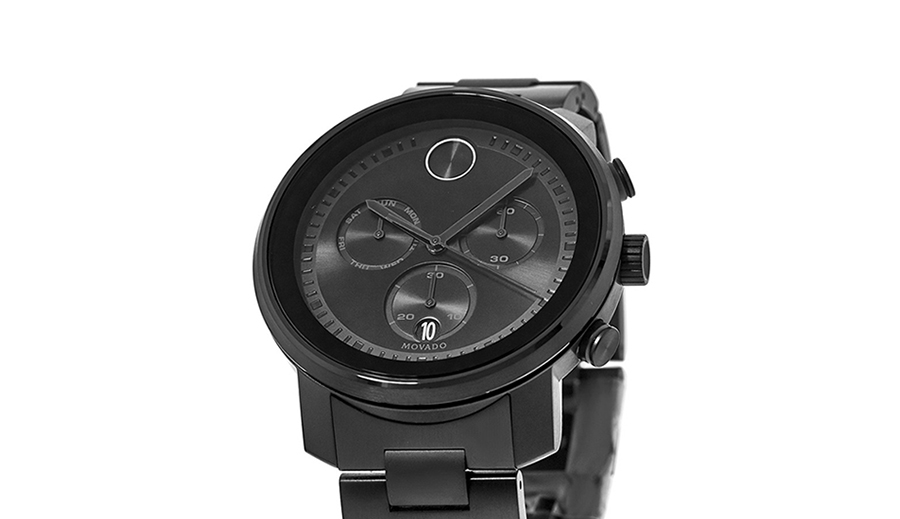 Movado Bold is exclusively for those who always strive to make an impression. This innovative and artistic craftsmanship in this watch has leaped over and beyond in the art of watchmaking. This unique numberless round dial timepiece features three chronograph sundial and a spick date window. The elegant dial is complemented with a be suited sturdy stainless-steel bracelet. Owning one would be a man's dream come true.

Oris Big Crown Black Watch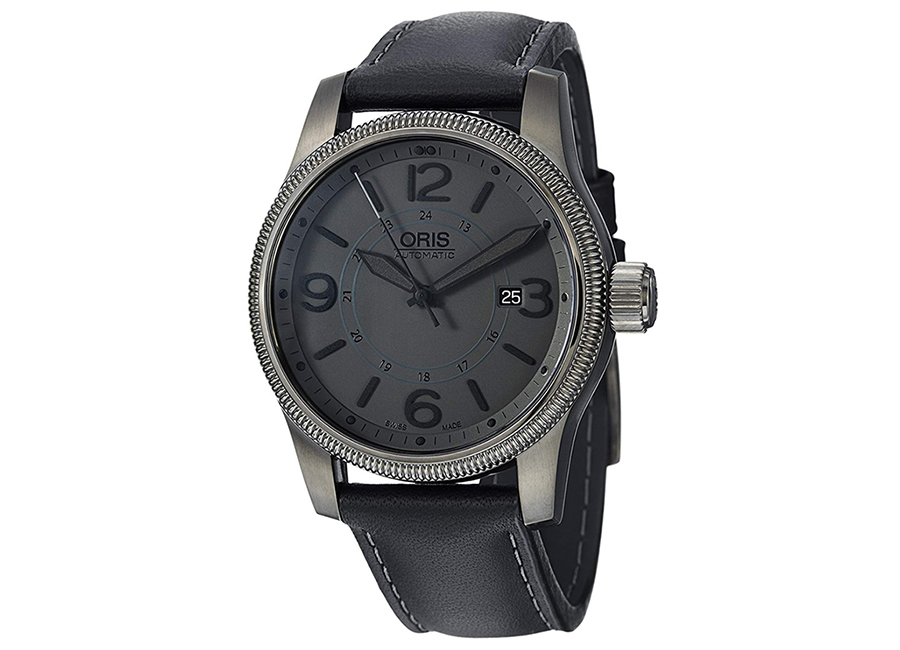 Nothing spells sophistication like the Oris Big Crown Black Watch. Oris has been manufacturing classic elegant watches of the highest quality for over a hundred years. Sporting the gorgeous all black stainless-steel case, black markers and a chic screw-down crown, this watch will set you apart from the rest. Grab attention in your presentation and make your point with conviction.

Movado "Sport Museum" Black Watch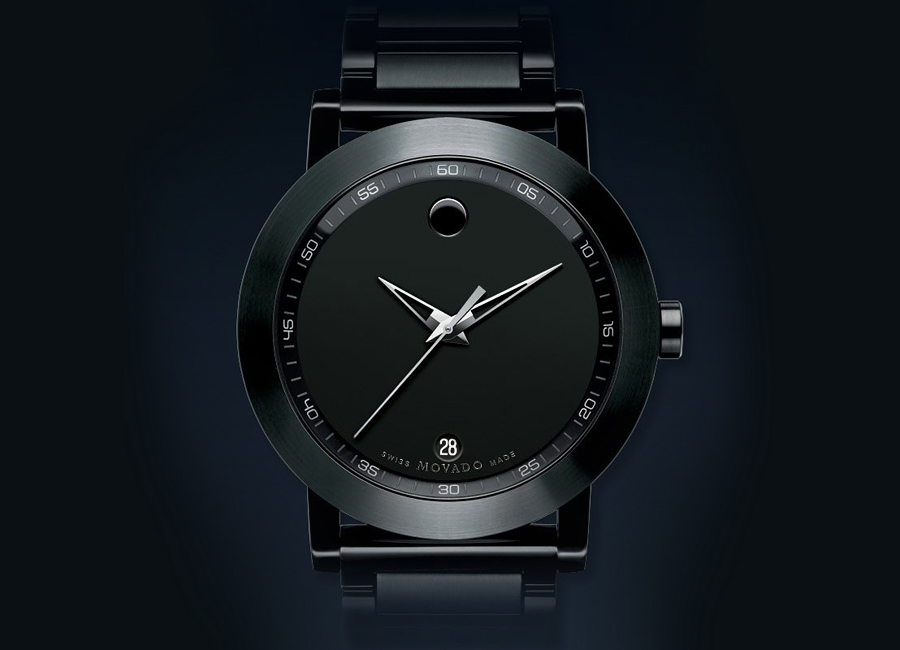 Looking for an impressive anniversary gift for your beloved? Buy the Movado "Sport Museum" Black Watch and you can be sure to win compliments for your fine taste.
The unique single dot representing the sun at noon makes the Movado Sport Museum a fascinating timepiece. The intriguing piece features a spiffy 43 mm diameter black dial with a funky frog-face to add a touch of mischief. The sleek dial with beveled markers complemented by a flexible-soft rubber strap would be the perfect choice for the evergreen, fun-loving man in your life.

Black Casio G-Shock Mudmaster Watch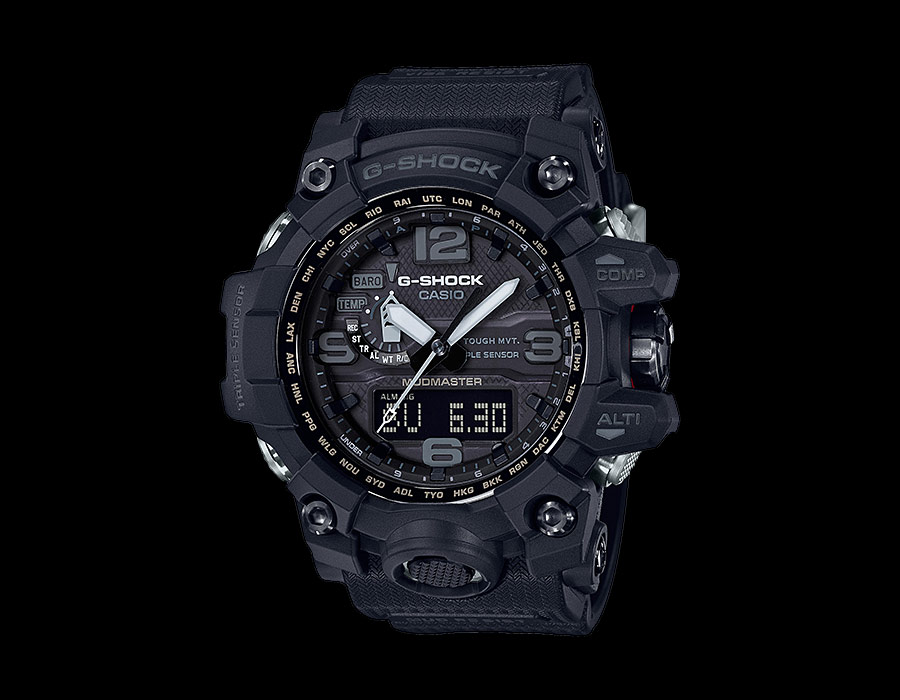 Looking to pamper yourself this holiday season? Give yourself a Black Casio G-Shock Mudmaster Watch. The audacious large dial will go with your personality in any kind of rescue operation. The comfortable and sturdy body is designed to withstand any abuse from piles of rubble, mud, dirt or sludge. Anything can happen in a split second. It will stand by you with precision-timing all through his noble deeds.

Glycine Incursore Men's Watch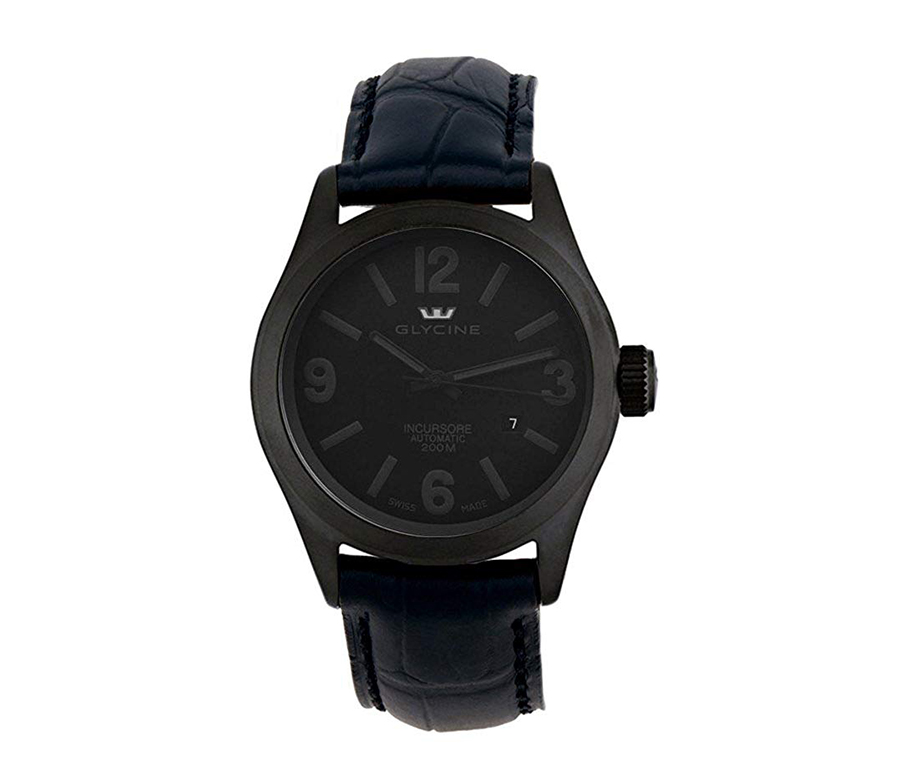 If you are looking go bold, and grand to your style, you can't ignore the Glycine Incursore Men's Watch. Glycine is the first of its kind to make magnificent oversize wristwatches that have become synonymous with style. The strikingly oversize macho dial held by a black leather strap with the contrasting white seam is enough to make a statement of the MAN you are.

Issey Miyake Silan004 Black Watch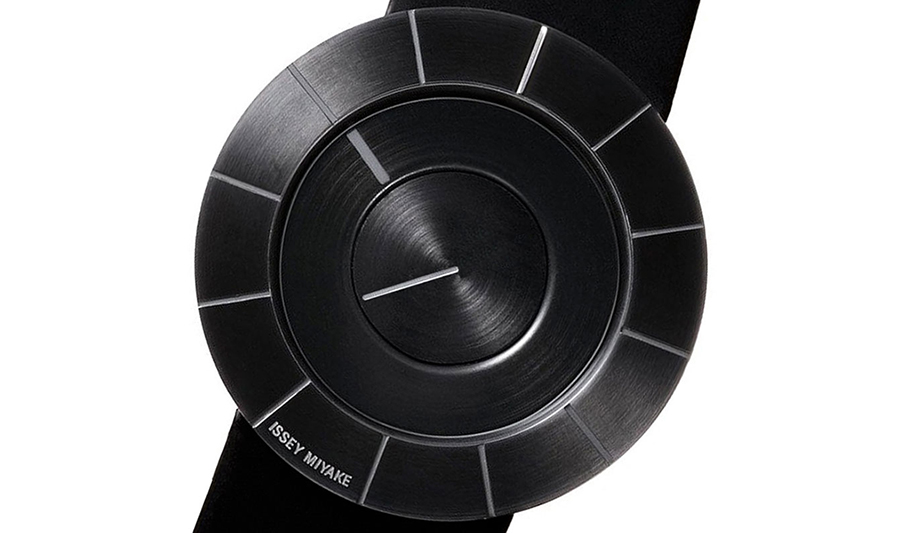 Be a trendsetter sporting the trendy Issey Miyake timepiece on your wrist. The Japanese designer watch is an innovative and skillfully created timepiece that combines stylish craftsmanship with bold looks. Its unique feature lies in its design that makes it look like it's sculpted from a single piece of metal. The incredible combination of a black dial with white markers is a great way to add fun into your life. Yet, the simplistic design keeps you groundedevery time you look at it.

Invicta II Sea Hunter 1073 Black Dial Watch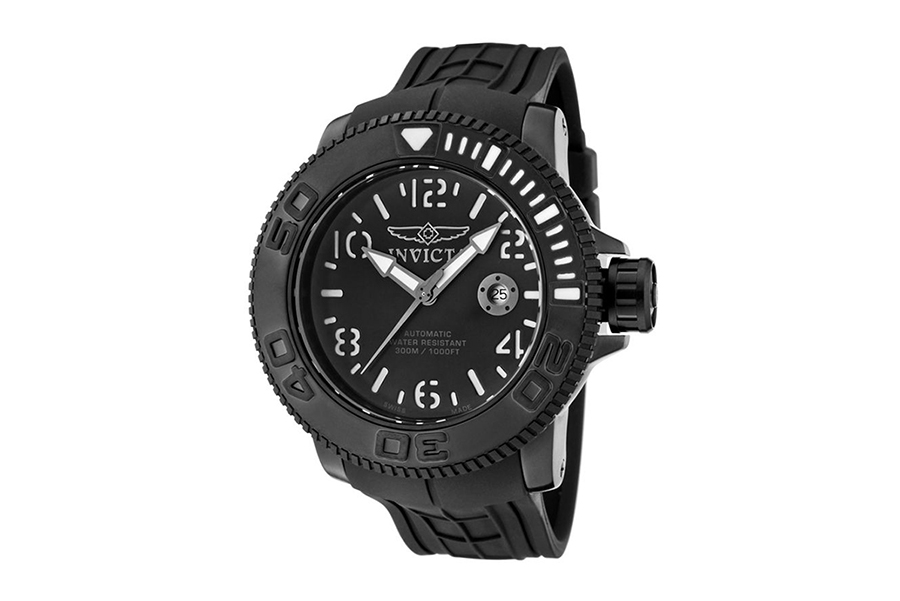 Born of Swiss style luxury, this classy watch is the perfect blend of contemporariness and class and no, it's not outrageously expensive. Designed for the adventurous, it is stylish, sleek and smart–what with its striking black dial with black and white hands.
This self-winding watch does away with battery operation, making it eco-friendly and reliable. So, its Swiss quartz movement keeps you on time, every time. It is water-resistant for 300 meters and comes with a black polyurethane strap and a matching buckle clasp.

Electric FW02 SS Black Watch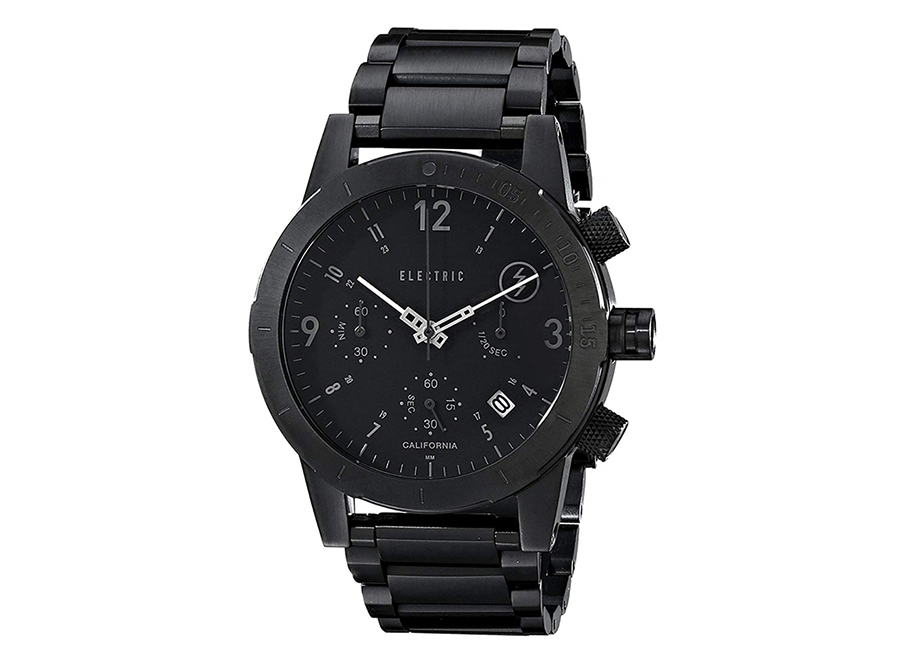 Here's an all-black round watch made of stainless steel, made exclusively for casual wear. This analog fashion watch has precision-oriented Japanese quartz movement and a uni-directional rotating bezel. It has a round dial that displays three subdials and Arabic markers with 24-hour counters inset. What's really impressive is its six-hand Japanese quartz chronograph along with dates displayed. It is just right for sporty men, particularly divers, and professional water sportsmen. It is also water-resistant up to 200 metres.

Calvin Klein Solid Watch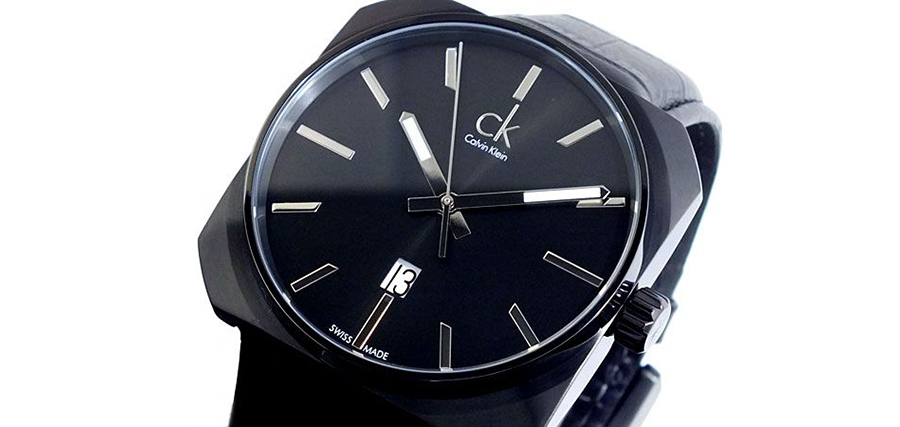 A casual watch for those lazy moments, the Calvin Klein Solid Watch is attractive to anyone looking for a good deal. Square-shaped, this covering of the watch dial of this quartz watch is made of mineral crystal. The many elements that go to make up this mineral crystal give it a unique hardness that make the watch highly scratch-resistant. It has a Swiss quartz movement. To give it a more medieval look, the round watch in a square shape is held together by a leather strap.

Ingersoll Bison No.24 Black Watch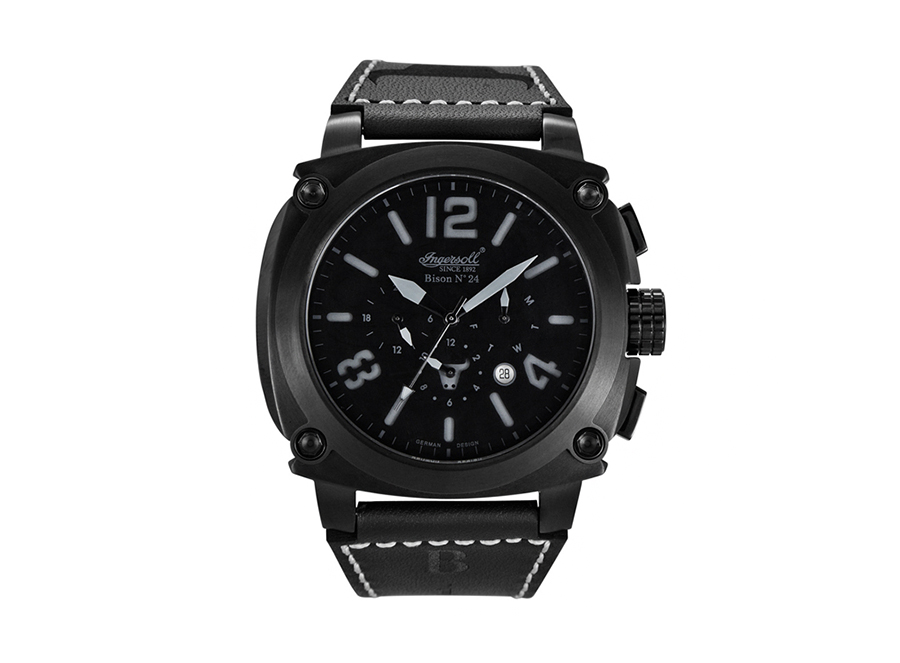 The Ingersoll Bison watch for men isn't an ordinary one. In fact, it was designed for big-made men. It is a well-fashioned automatic watch with German design and several enviable features for just under $500. In fact, you'll be amazed by its Chinese movement that helps keep precise time. The covering of its dial is made of mineral, rendering it highly scratch-resistant. It has a 24-hour sub-dial and black display. It is water-resistant up to 100 meters and can be a suitable fit for snorkelers and swimmers.

Movado Bold 3600261 Black Dial Watch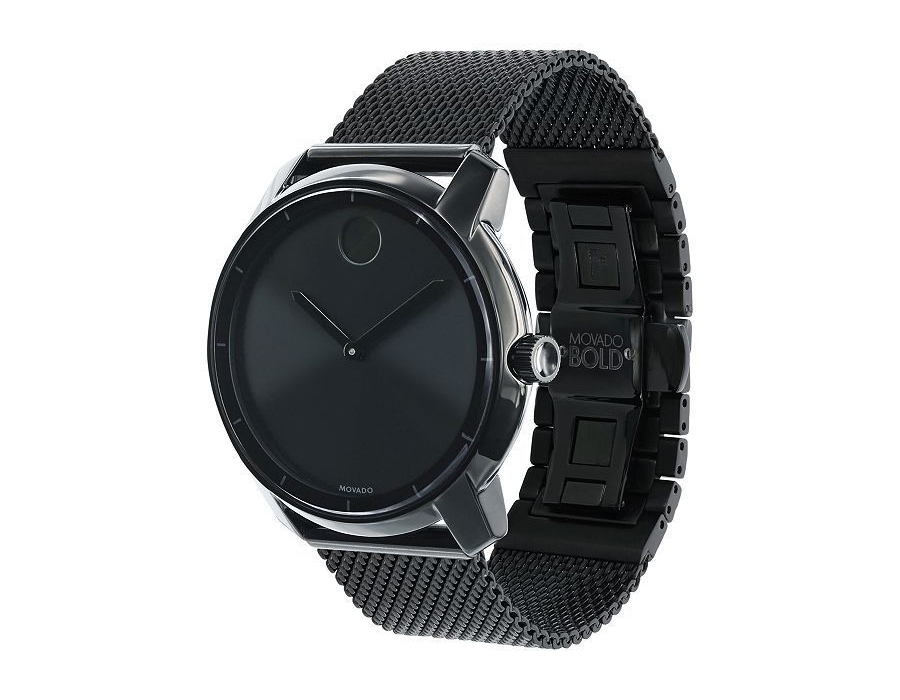 An ode to Swiss design, the Movado is unique and spectacular in design and utility. It is endowed with Swiss quartz movement and highly durable and strong minerals keep its surface from getting scratches. You can't go too deep into the water as it is water-resistant only up to 99 ft. However, its completely black dial is enticing and hour hands in the same color give the look of there being totally void and dark. It makes an elegant gift to someone special.

BRERA Orologi Classico Black K1 Watch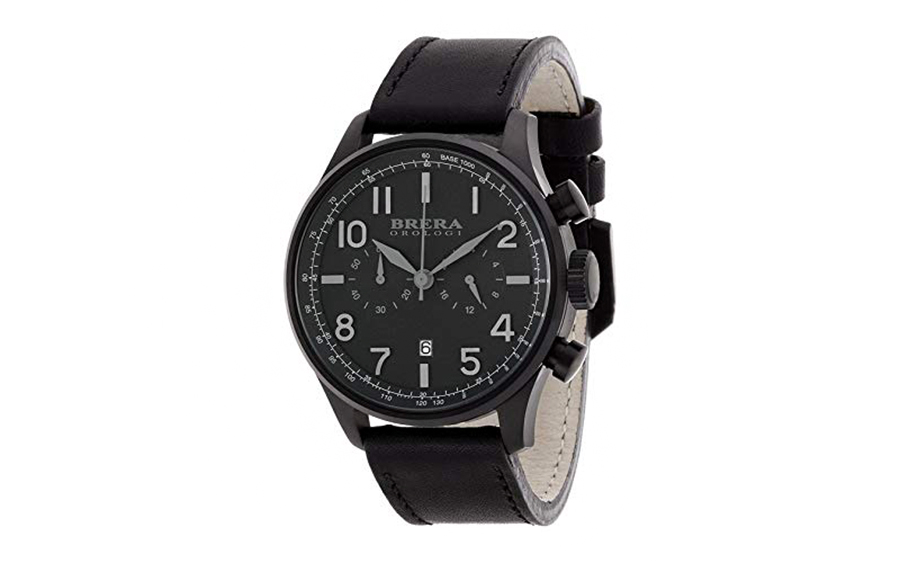 An Italian wonder, this black watch is round in shape, set in stainless steel and has an analog display. It has a fixed black ion-plated bezel and is held together by black calfskin leather. It has a quartz movement and its face is entirely black. Its date display is set at 6 o'clock. It is water-resistant to a maximum of 10 ATM.

Nixon The Patriot A937001 Black Watch
Inspired by industrial design, this member of The Patriot collection isn't called Nixon for nothing. Its Swiss quartz movement keeps it ticking on-time while its hour hands and a second hand give a precise time. Its black dial and stainless steel markers with white hands make for a very attractive and easy-to-read watch even in the dark. For the same reason, there's a red hand on the sub-dial. Mineral crystal on the dial keep it from getting scratches, so it keeps looking like new for longer. It is water-resistant to the extent of 660 feet, so dive into the water with your Nixon on.

Citizen Eco Drive AR3015-53E Stiletto Black Watch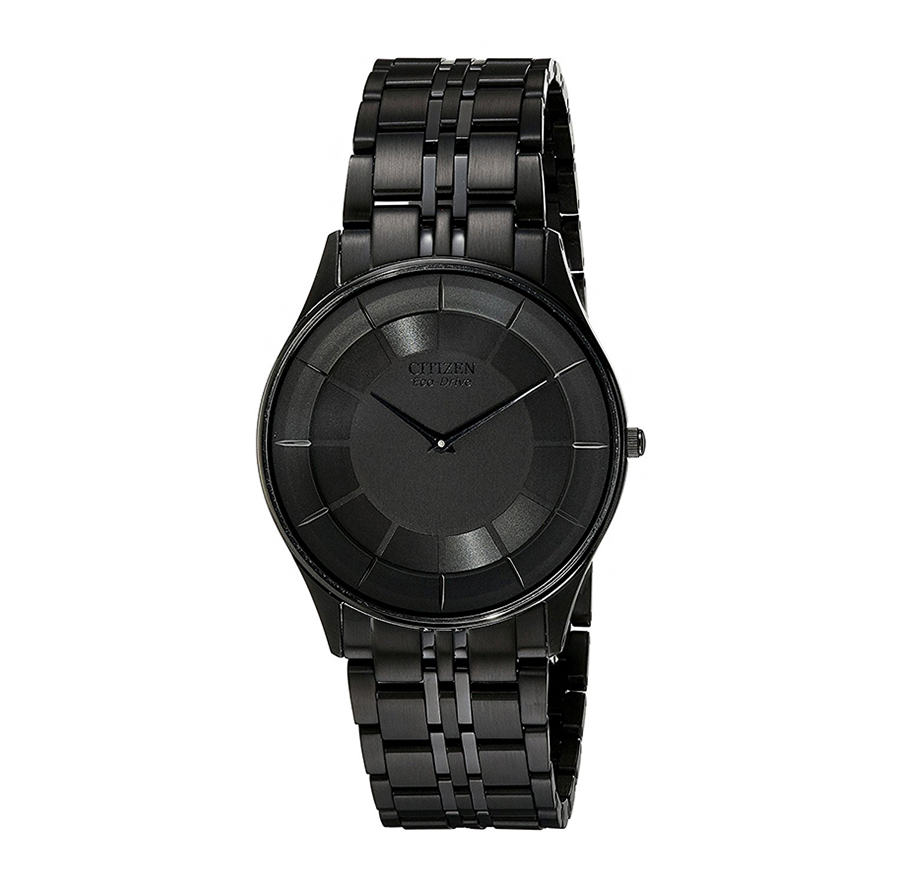 The classy and stylish Citizen Men's Eco-Drive Stiletto Watch can enhance male attire considerably, thanks largely to Eco-Drive technology that has shaped this watch to perfection. It is the perfect accessory for the outdoorsy man and the urban professional.
This entirely black timepiece is a classic black what with its sleek black dial with hour markers that give it a minimalistic look. The stainless steel bezel is wonderfully etched with hour markers. The sapphire dial window gives it top-of-the-line protection from scratches and the Japanese quartz movement makes it 100% reliable. It is water-resistant till 99 feet (30 m).

Nixon Chronicle SS Black Watch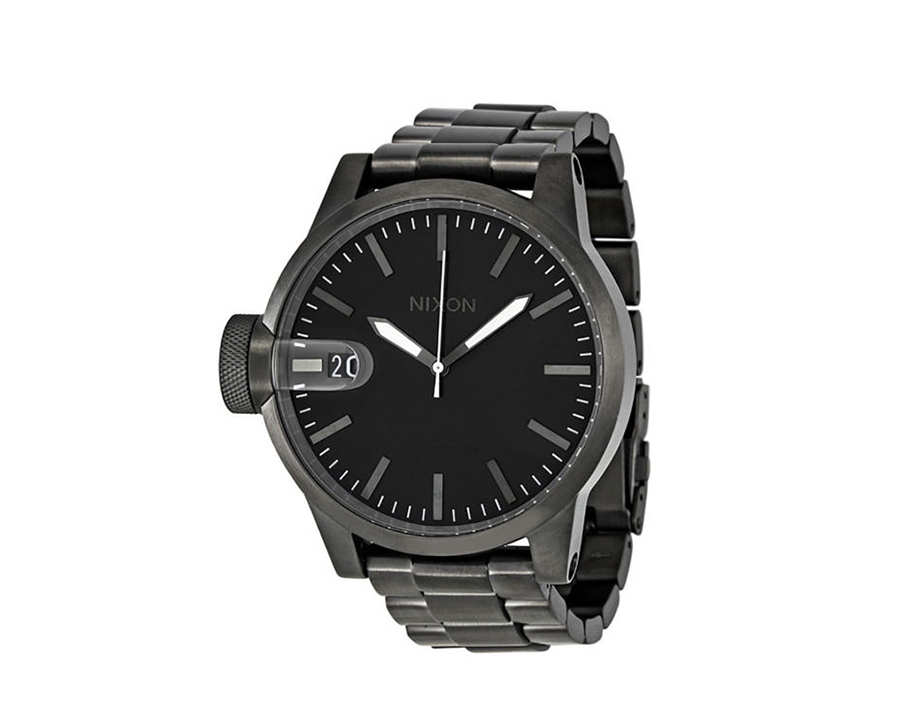 Yet another in the Nixon range of men's watches, this one's case and the band are made of gunmetal. It is big without being ugly and has been designed for a male wrist. It accessorizes well with any kind of male wear, casual or formal. Its large and easy to read dial is impressive and a tiny blurb pops up so you can read the date clearly. The hour and seconds hands glow in the dark, which is extremely thoughtful. It is encased in stainless steel, which makes it a bit too heavy. It works with Swiss quartz movement and is water-resistant to 100 meters.

Eone The Bradley Element Black Watch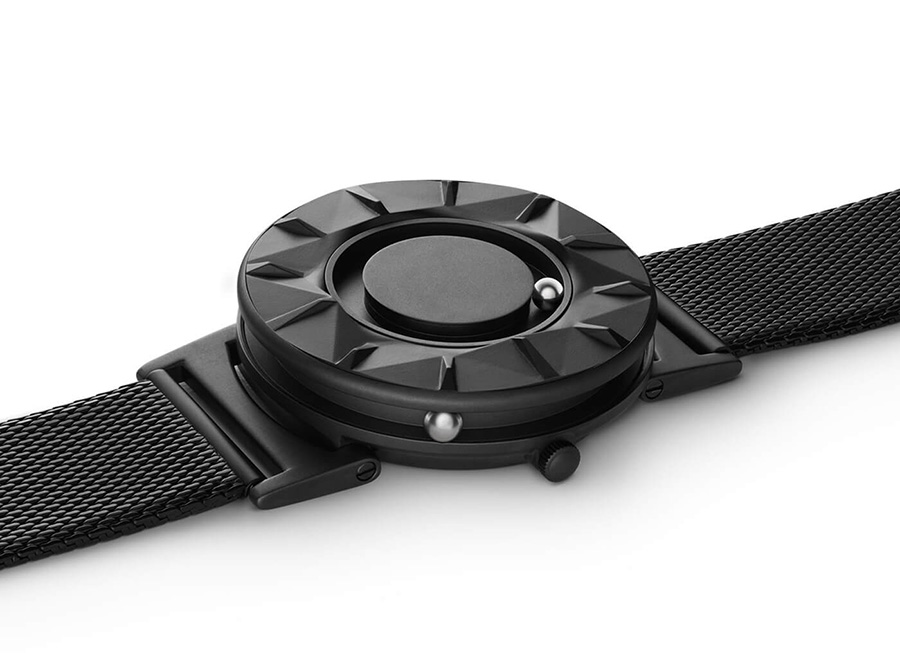 The Bradley Element is designed to be innovative, right from the concept stage. It was designed so that its raised beveled hour markers allow you to touch and feel the time, rendering it ideal for the blind. The watch face topography shapes itself towards each marker in raised and lowered impressions alternately. Scratch-resistant ceramic helps keep the watch face durable while a coating of PVD gives enhanced durability. Minutes and hours are designed here differently: there are two magnetized ball bearings that travel in distinct and recessed orbits—one around the middle of the dial to tell the minutes while another travels around the outer edge of the dial to tell the hour.

Tissot T-Race Cycling Black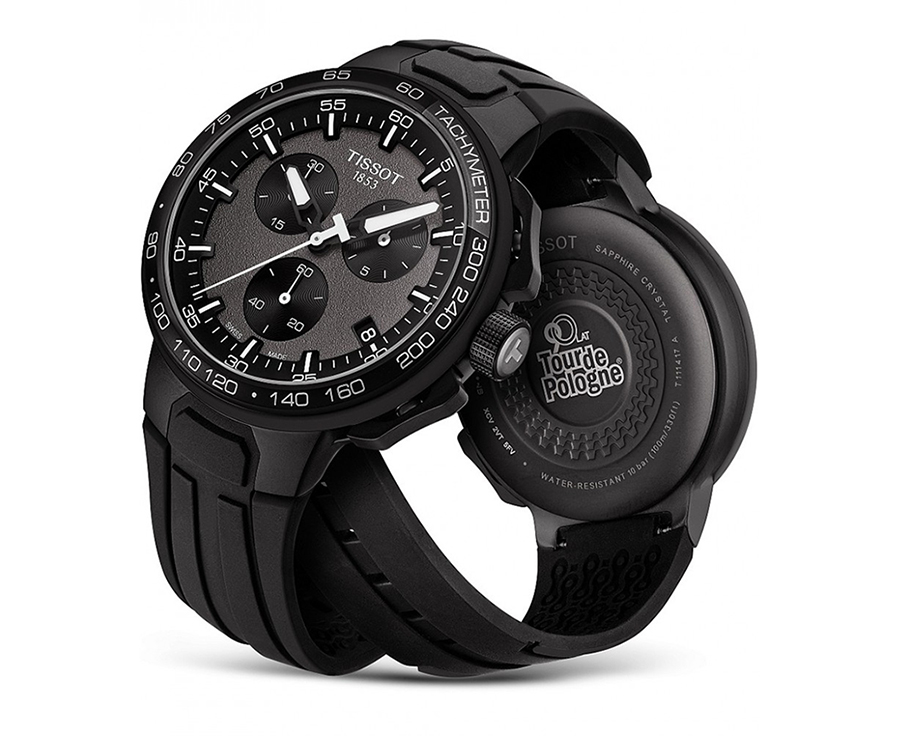 Specially designed with cycling enthusiasts in mind, the black Tissot T-Race Cycling features several details that all racing bikes have. This round watch, encased in stainless steel, has an impressive luminous three-hand analog display and comes with precision-oriented Swiss quartz movement. A sapphire crystal window and black PVD coating on the dial keep ugly scratches at bay. It also impresses with three sub-dials and a window for date display. The chronograph feature is thoughtful, considering this watch is for bikers. Its ceramic bezel comes with a tachymeter to measure speed. It is barely water-resistant up to 100 meters.

Seiko SKA649 Men's Watch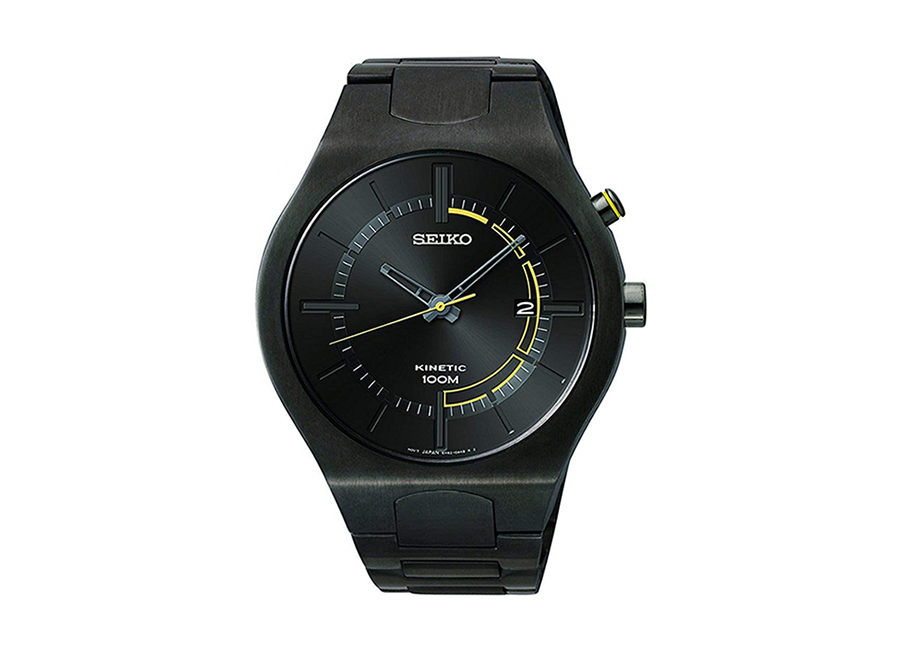 Made of entirely different technology, the Seiko SKA649 watch for men ticks to the movement of the user's body to generate enough power to run the watch. Also called kinetic movement, this watch works to Japanese-quartz movement. This technology gives it a power reserve of six months. Its band is made of stainless steel and leather and the case diameter is 45 mm. It is resistant to water to a depth of 330 feet.

Casio G-Shock GA-110CM Watch – Camouflage Series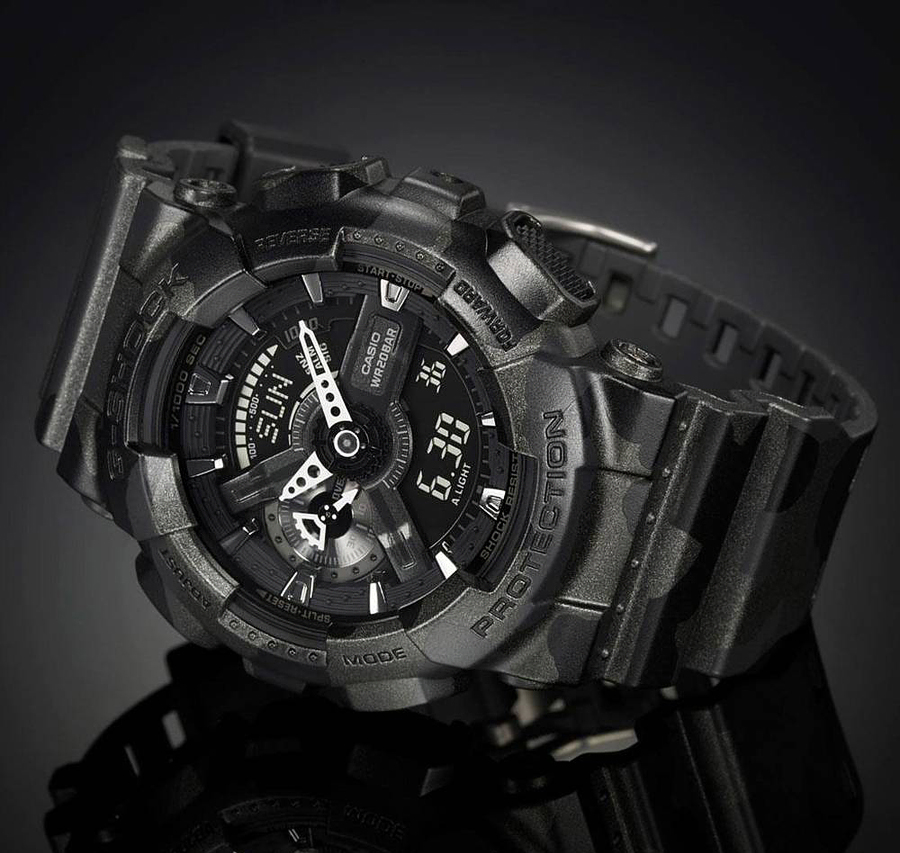 The Camouflage Series of Casio livens up the big case GA-110 to throw up a series of vibrant camouflage patterns. This new model adds a striking note to casual fashions. This series of watches charms with a cool and muted look with a metallic finish. It is intelligent enough to light up automatically in low light conditions. Its large resin case bears an analog-digital display. Its hands are designed to resemble those of a mechanical watch. It is magnetic- and shock-resistant.

Nixon–The Safari Deluxe Leather Watch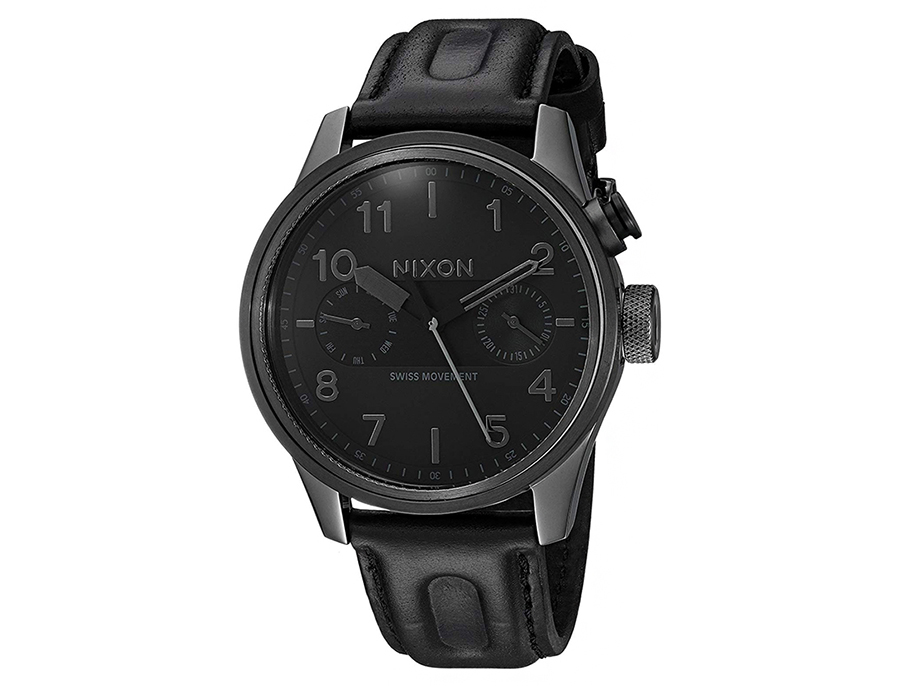 You may be in difficult terrain or a city environment, but the Nixon Safari Deluxe Leather Watch is a classy accessory on your male wrist. It is built largely in stainless steel, and has Swiss quartz 3 hand movements along with day and date functionalities. The dial shows the hour hands and seconds track. Its crown placement is set at 3 o'clock and date display at 2 o'clock. This watch is water-resistant only up to 100 metres, so be careful with it when in the water.

Ferrari Scuderia 0830093 Black Watch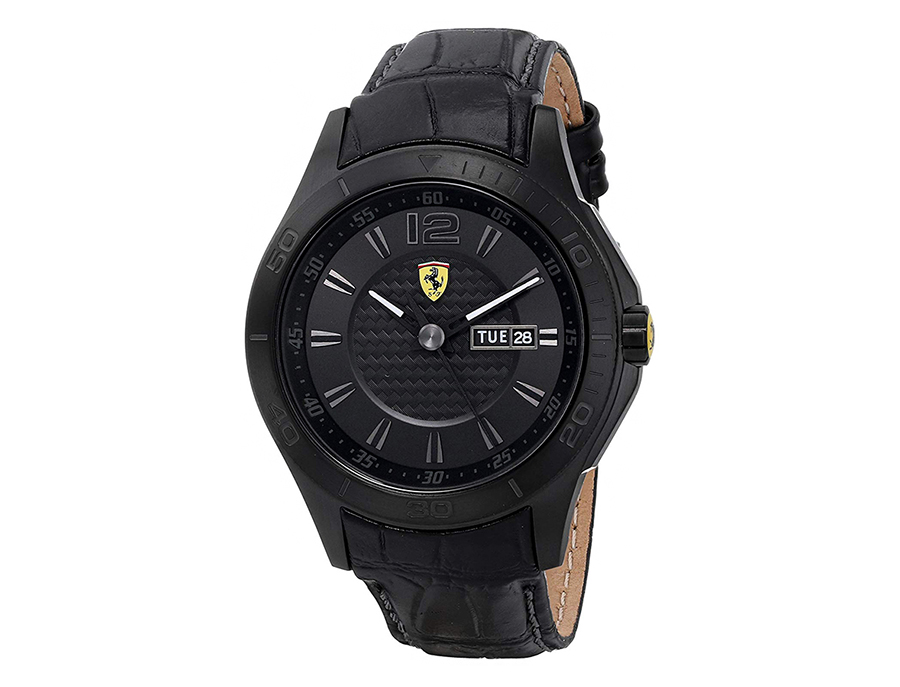 A combination of the best name in racing, Ferrari and the Italian legendary name, Scuderia, brings to men a wonderful timepiece. This wonder is encased in a black ion-plated stainless steel accompanied by a black alligator leather strap. A black carbon fiber patterned dial with black hands and hour markers that glow in the dark, make this watch distinctive. Scratch-resistant mineral crystals keep this watch looking new for longer and its automatic engines offer precise time. Besides, red accents give it a hint of color.

Black Diesel Master Chief Watch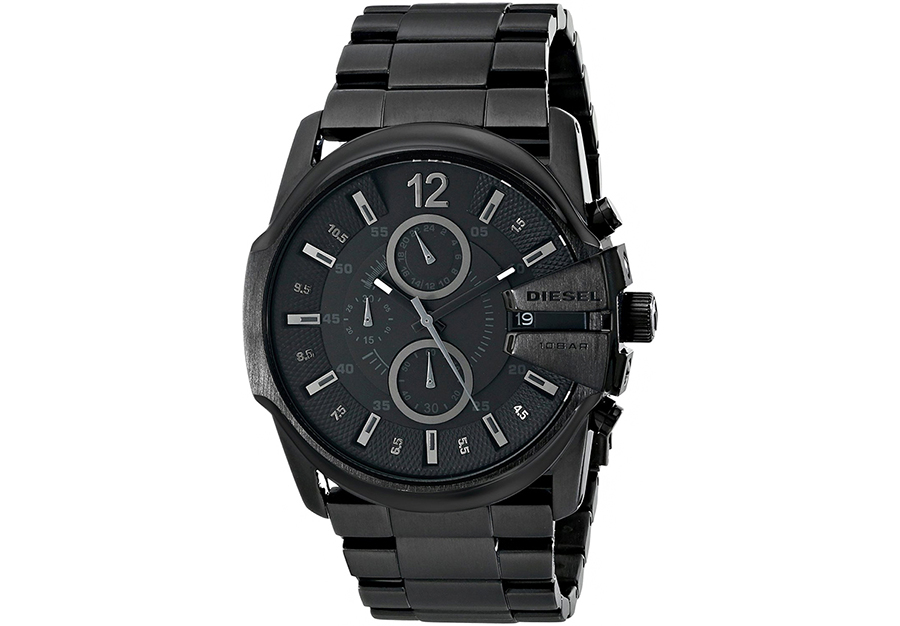 A black beauty, the Black Diesel Master Chief Watch impresses with its mineral crystal dial and three chronograph sub-dials. Against a black dial is set a dark grey outer dial and hands and hour markers that glisten in the dark. What makes it reliable is its quartz movement and black plated stainless steel bracelet. It is water-resistant up to 30 meters. Though it can withstand a splash or two and can be immersed in water, don't take it for a swim or a shower.

Armani Exchange Smart Black Watch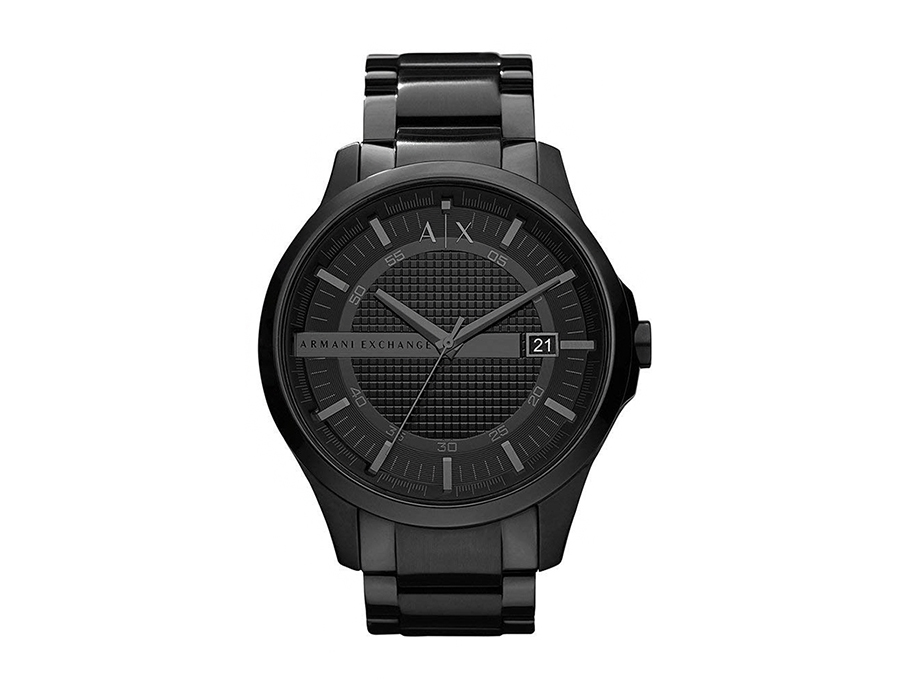 Here's a black solid watch with a design difference. Here, the logo is set at 12 o'clock which isn't something you'd see anywhere else. The texture of the dial is grid-textured and is matched with a ribbed hour track. Its mineral dial window keeps it from being scratched while a 46 mm stainless steel case gives it the required solidity. It keeps the most precise time with quartz movement and an analog display. For enhanced safety, it comes with a fold-over stainless steel bracelet and clasp. It is water-resistant till a depth of 50 m.

MVMT Chrono Watch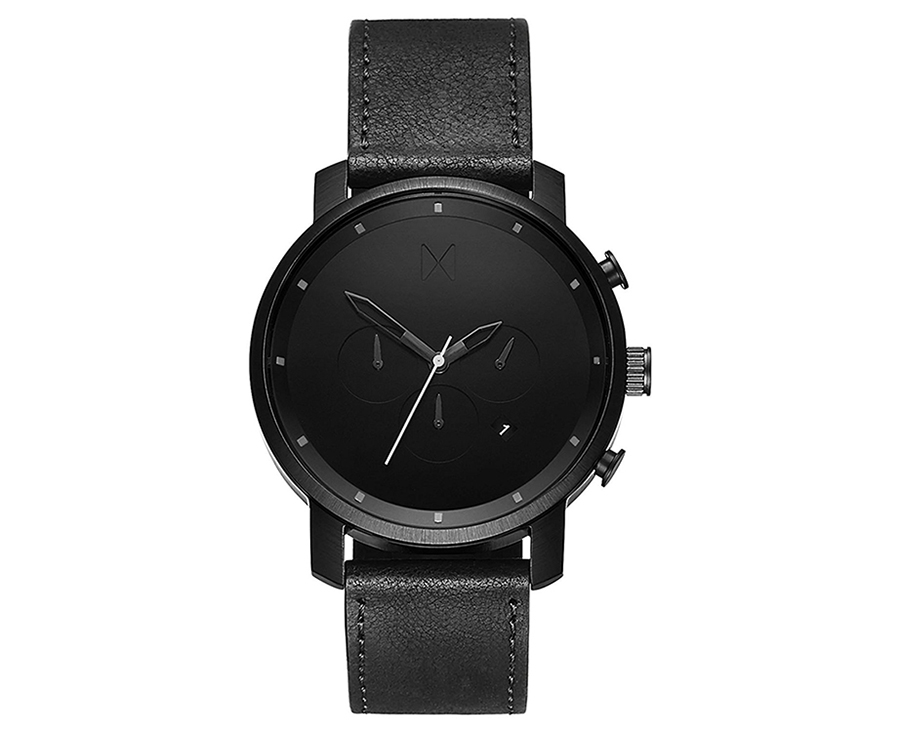 This simple and understated watch is set in a stainless steel case measuring 45 mm. It is available in four colors—black, tan, gold black and white caramel— colors that match well with a 100% genuine leather strap. It has a main dial and three sub-dials that show a 24-hour time, a 30-minute timer and a 60 second timer. Its movement is finely crafted to offer the user a six hand battery-operated chronograph along with the date. It can withstand water up to a depth of 50 metres, but care should be taken not to go swimming or bathing with it on. It comes with a two-year guarantee.

GUESS U0789G4 Black Men's Chronograph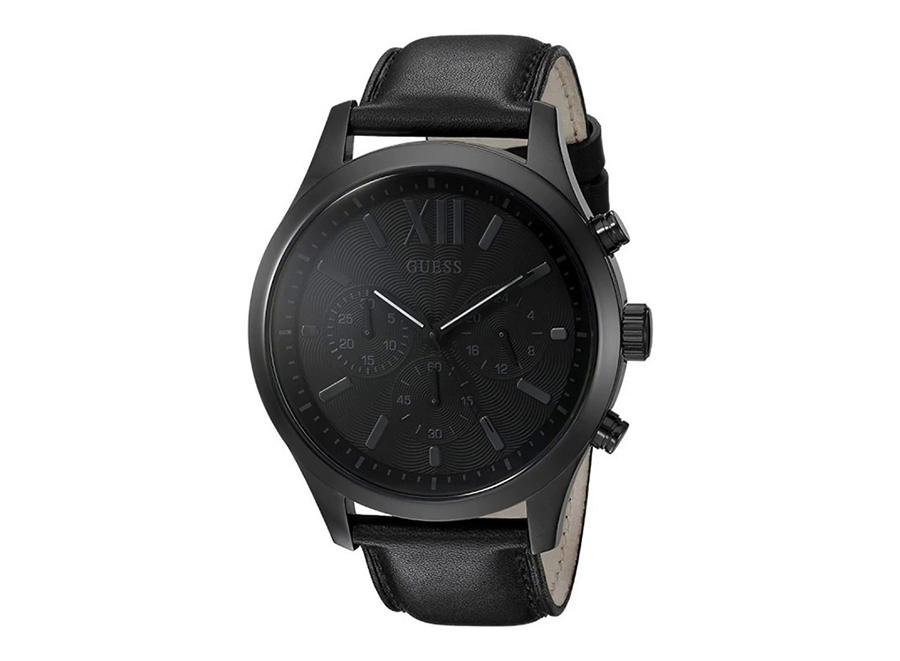 You may not be able to go diving or snorkelling with this watch, but it can still help you be a showstopper. It also matches your standard of style and comfort and meets your expectations of functionality. This chronograph timepiece comes with an integrated stopwatch, quartz movement and accompanying date functions. It is encased in a 46 mm ionic-plated black case, and has a smart dial and leather strap. It is water-resistant up to 50 m.

GUESS Men's Crystal Dress Watches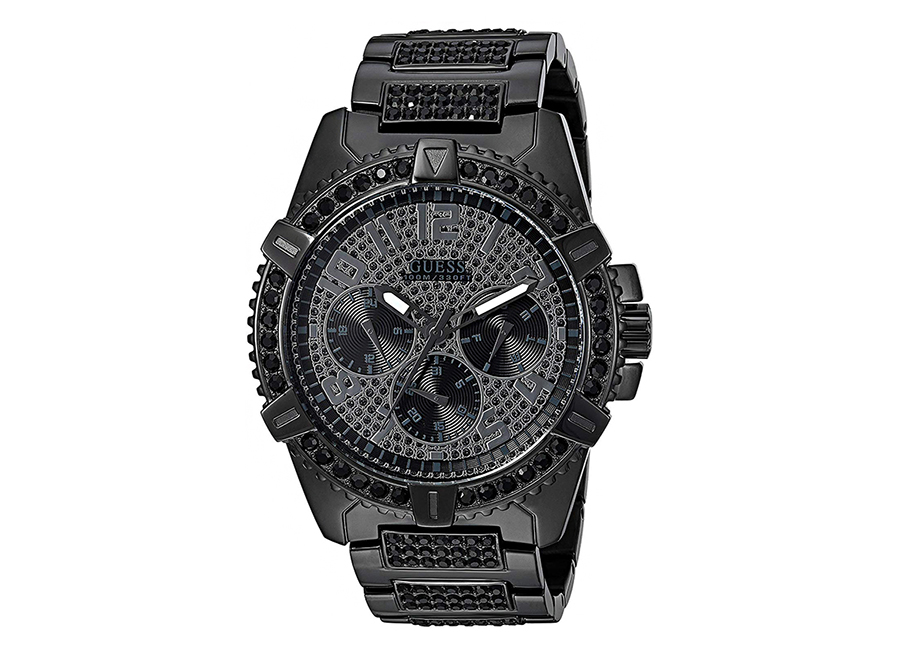 Whether you want to make heads turn at a corporate event or at a social function, you need to accessorize with the Guess Men's Crystal Dress Watch. It can help you make a fashion statement, what with its crystal-encrusted center, interspersed with silver and gold. This multifunction watch has a round face, a stainless steel case, gold-tone hands and hour markers. It also has three sub-dials, a lot of glitters and a minute track. This chronograph watch can go down a depth of 100 meters in the water and is protected from scratches with mineral crystal.

Fossil Nate Black Tone Bracelet Watch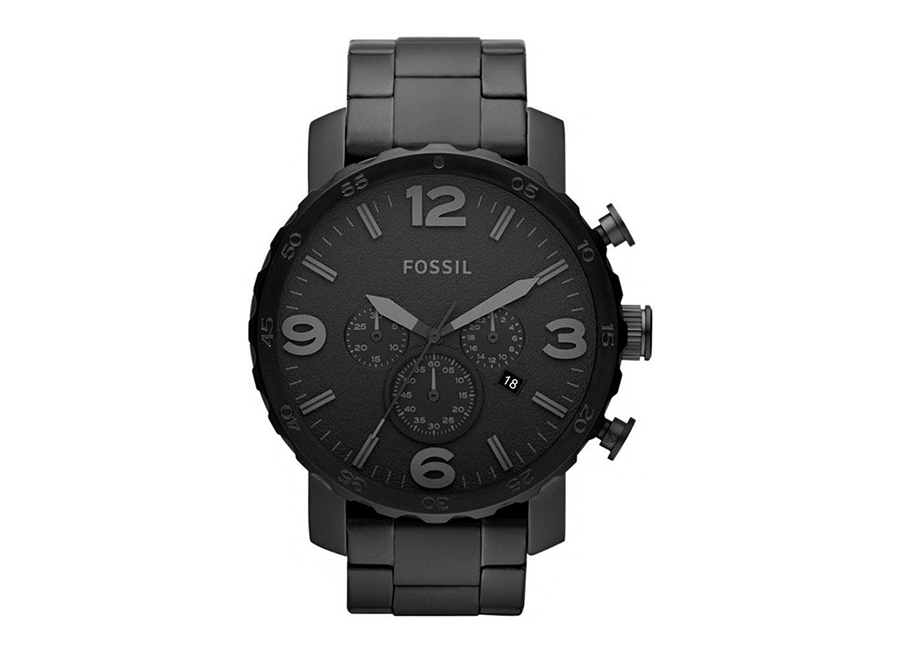 A cool watch to wear when you're lounging in a pair of denims and a white tee. It has. This multifunction watch comes with a quartz chronograph, a stopwatch and three separate dials to display the hours, minutes and seconds. This watch is for people on the move but with a lazy and rugged style. You can certainly wear this watch while bathing, snorkelling or swimming but not scuba diving, since it is water-resistant to the extent of 50 metres.

Fossil FS5447 Minimalist Leather Black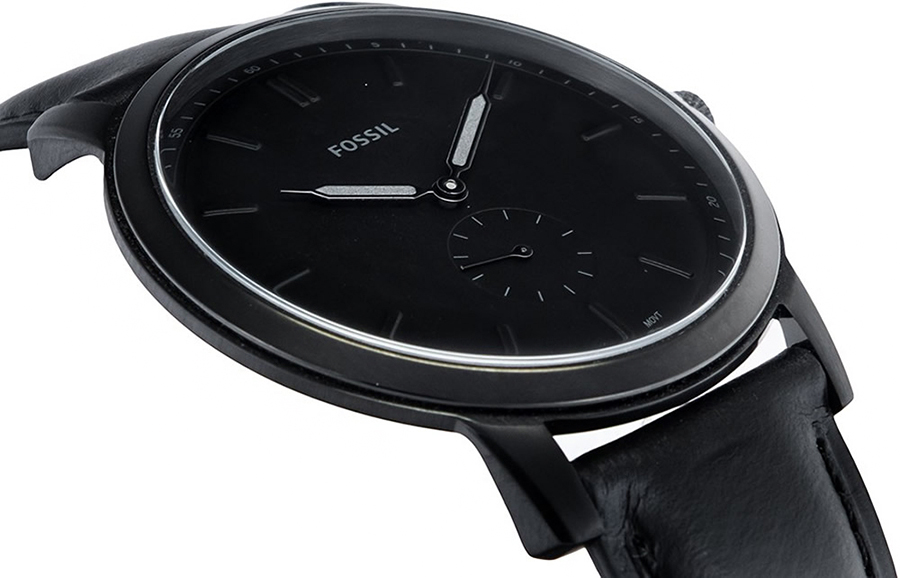 Aptly named, the Fossil FS5447 is really simple, all the way from the case to its strap. The Minimalist is distinctive for its black and white colour palette and black dial, accessorized by a leather strap. Its slim and smart construction integrates a two-hand movement, providing the right time. Its silver bezel gives it a certain dignity and makes it look distinctive on a male wrist. It is water-resistant to a maximum of 50 meters.

Casio G-Shock Monotone Matte Black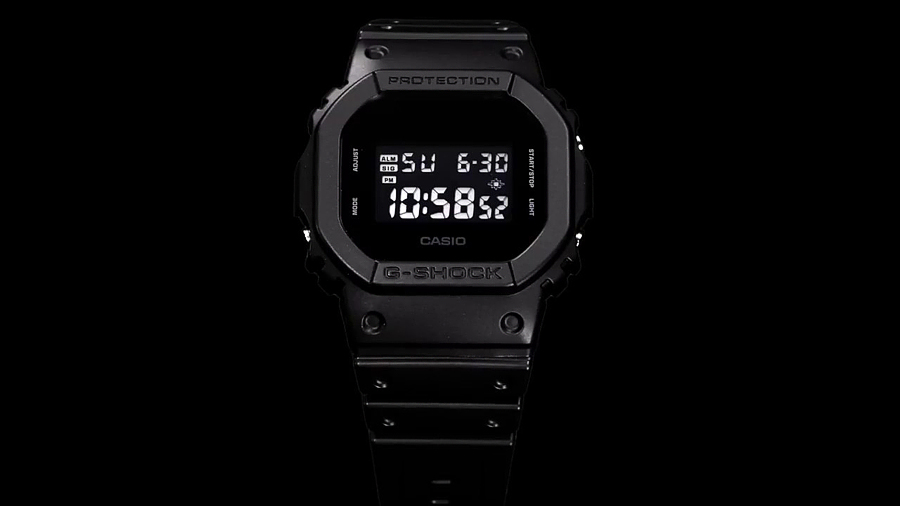 Watch out for this stunner. The Casio G-Shock Monotone watch has a black square dial, digital display, EL backlight with afterglow. You'll find all these features set in a black resin case, along with scratch-resistant mineral crystal. It is also endowed with quartz movement, a black resin strap and buckle, five daily alarms and a stopwatch. Its water-resistance does not exceed 200 meters. This watch is also shock- and magnetic- resistant.

GUESS Men's Diamond Dial Black Watch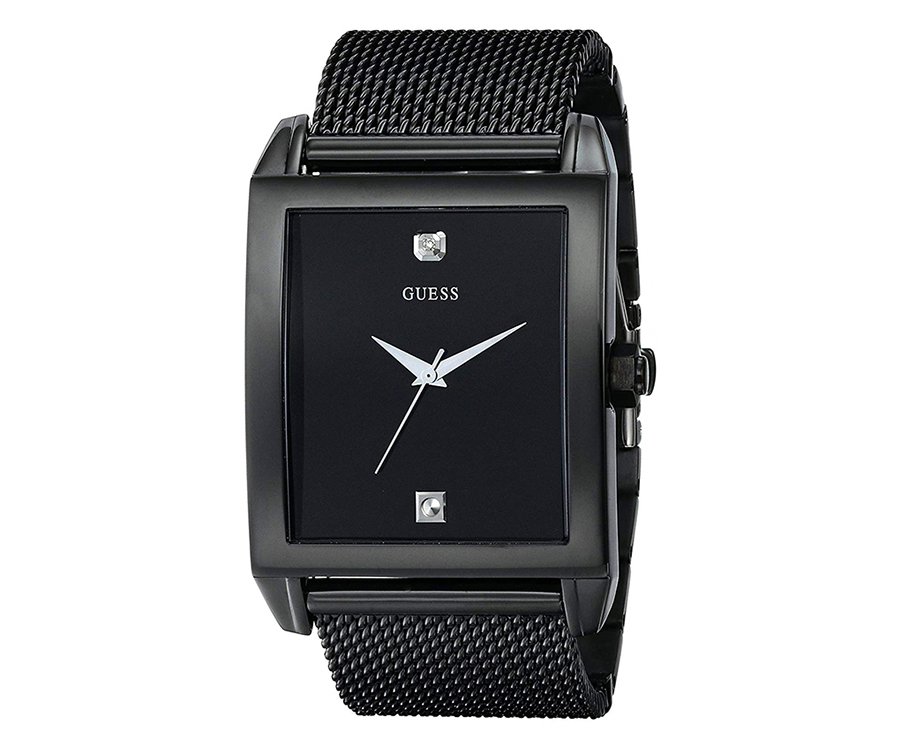 A diamond dial black watch for men? Yes, GUESS has it. You're now looking at a rectangular diamond dress mesh watch with black ion-plating. Its case has a diameter of 37 mm and this unisex watch is considered highly durable because of its mineral crystal content. You can't go too deep into the water wearing this watch, but only to a depth of 50 meters.

Fossil Men's Machine FS4775 Watch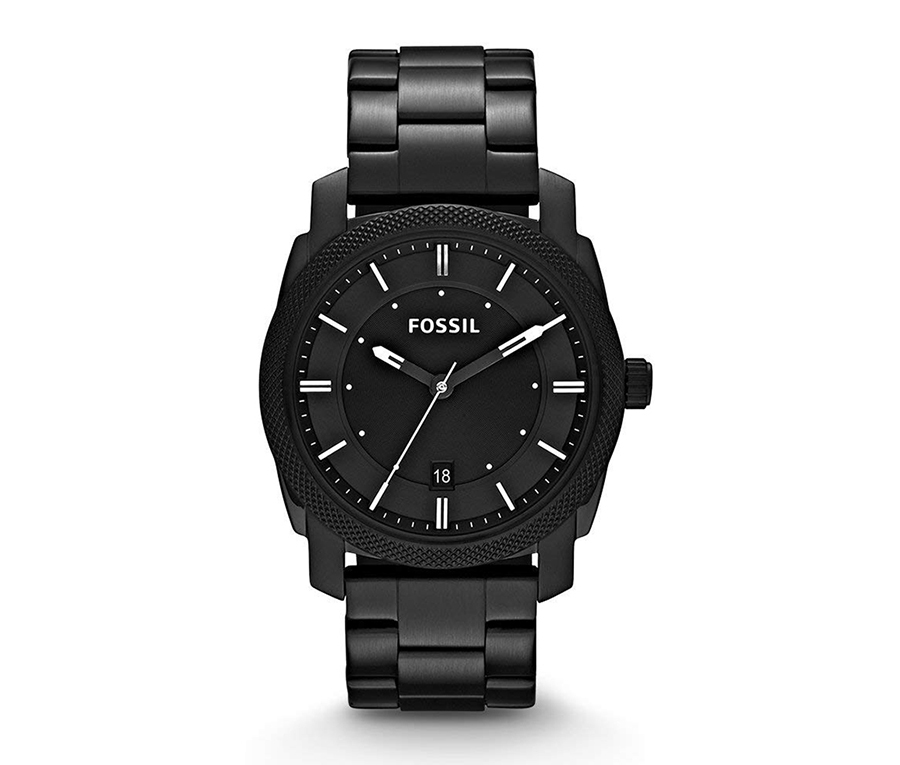 The Fossil Men's Machine watch has all the ingredients of a blockbuster watch. To begin with, it has an integrated quartz battery for accuracy in time-keeping. This bracelet type watch has a case size of 42 mm, and a 22 mm lug width, apart from a date indicator. The luminous dial is a thoughtful feature as it helps to see the time in low or no light conditions. It displays the time in analog numbers on a 12-hour format on a stainless steel dial. It can go as low as 50 meters underwater.

Parting Thoughts
Men flaunt the exact same brand and model of a wristwatch with pride and bond instantly. A timepiece is eternal. Pick one of these 50. Or you can check 25 Best Gold Watches. And don't forget about watch winder for your watches.