When it comes to a good men's watch, the cost may well fit into $1000. Many famous watch brands make great mens watches under 1000 dollars. We have collected the best such watches from reputable global brands: Mido, TAG Heuer, Hamilton, Longines, Raymond, Alpina, Tissot, Bertucci, Seiko, Maurice Lacroix, Junghans, Citizen, Casio, Edox, Chotovelli, Victorinox, Movado. Choose any of them and be sure you bought the best $1000 watches from all that are now on sale. And in order to make it convenient for you to choose, we have divided the review into thematic sections: Automatic Watches; Dive Watches; Swiss Watches; Dress Watches; Luxury Watches; Gold Watches; Field Watches; Sport Watches; Chronograph Watches; Pilot Watches. Choose, buy and enjoy using.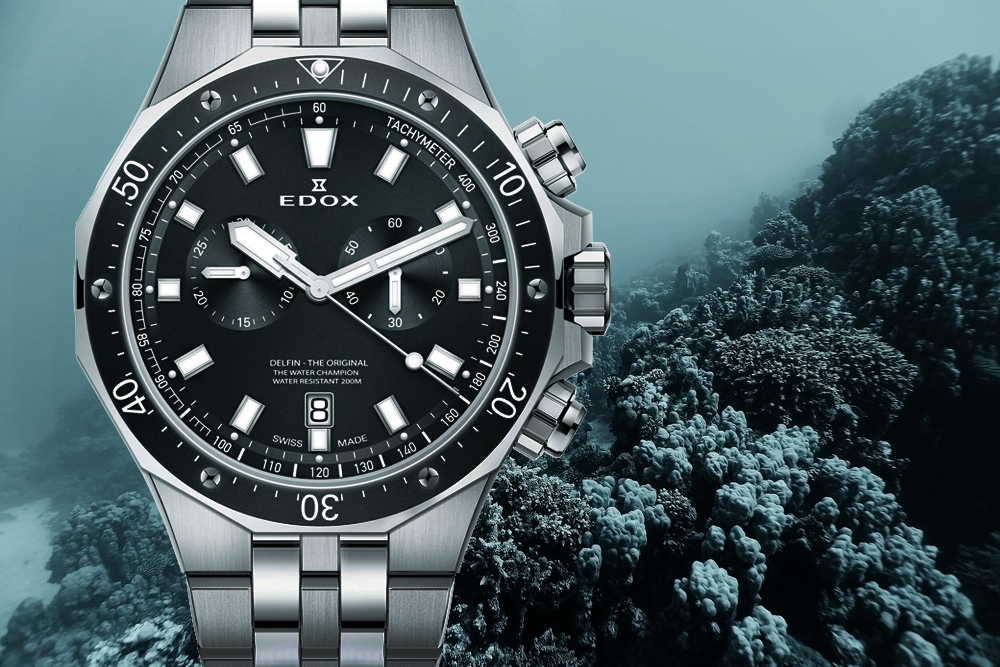 Ever wondered what is common between John F. Kennedy, Tom Cruise, astronaut Buzz Aldrin, Bill Gates, Micheal Jordan, Warren Buffet, and Leonardo Dicaprio? Well, it's the ubiquitous wristwatch. The wristwatch has come a long way since the first Patek Phillip watch created for Hungarian Countess Koscowicz in 1868 to today's digital and smartwatches.
A wristwatch that was once considered to be a functional piece of equipment used to read the time has now become an essential nuance in the world of men's fashion and styling. If you are looking for a stylish, timeless, and affordable addition to your wardrobe, all you need is an elegant timepiece on your wrist.
Best Watches Under $1000
When you buy a watch, it is not just "buying a watch". To buy a watch is to buy a piece of jewelry. Buying a watch is like investing in an heirloom. It is bringing home a passion, a sentiment, and all shades you. Depending on your lifestyle, profession, fashion preference, personality, status, sports, or just love for watches, some of the world's best watches are waiting for you.
Here's our specially curated list of the best automatic watches, best dive watch, Swiss watches, dress watches, luxury timepieces, gold watches, field watches, sports watches, chronographs, and pilot watches for you. If you are worried about breaking your bank in pursuit of a timeless classic, let our experts help you pick the best watches under 1000$. Here's our list of the best men's watches that you can buy.
Best Automatic Watches Under 1000
An automatic watch is a watch that winds itself automatically, earning it the nickname of a "self-winding watch." Here are the best automatic watches all under $1000:
Hamilton Khaki Field Murph Watch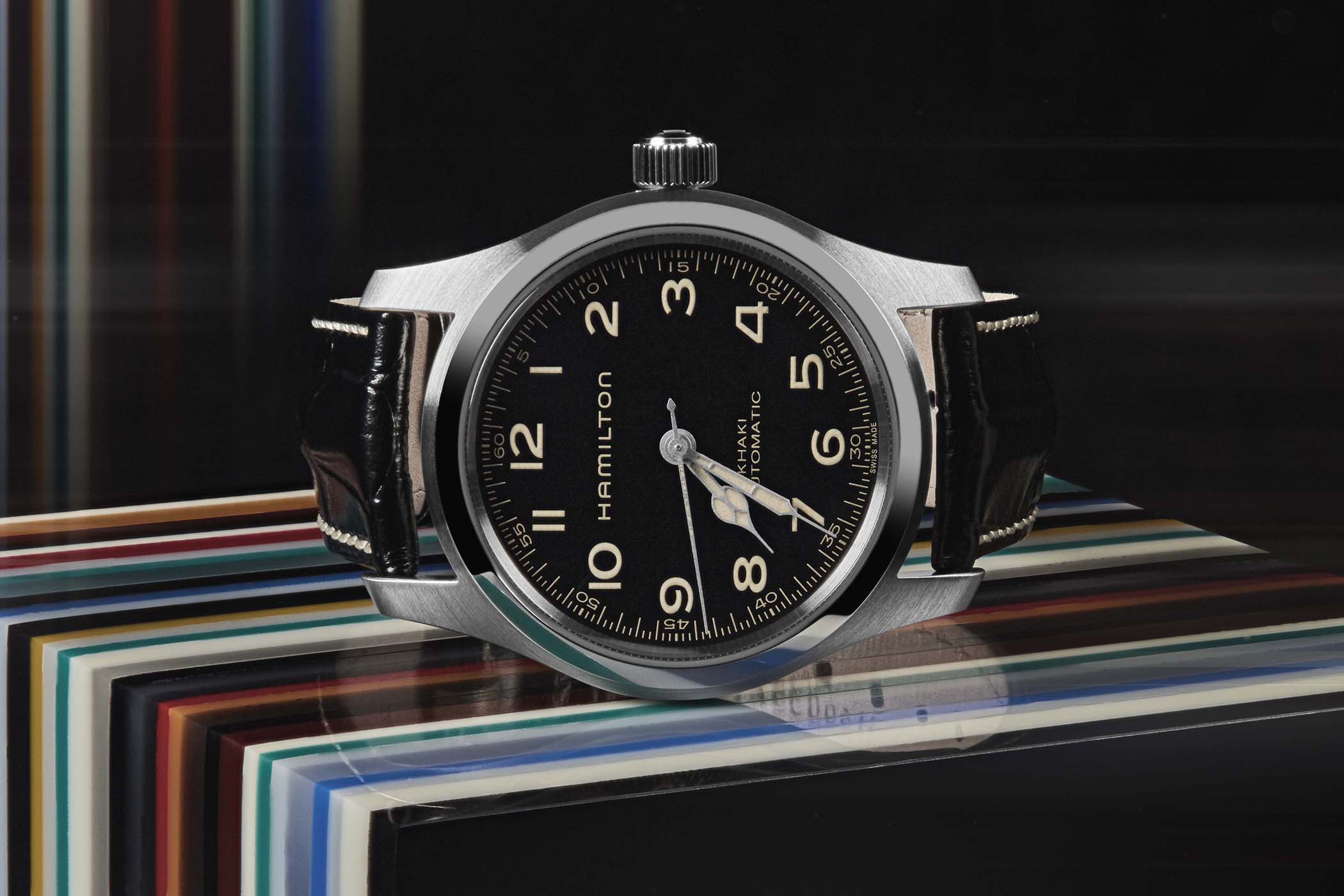 Source: hamiltonwatch.com
The Hamilton watch company is synonymous with Swiss precision combined with the indomitable American character. This understated timepiece in exquisite black is every Interstellar fan's dream come true.
Here's an engineering marvel with a self-winding mechanism that offers a power capability of almost 80 hours. This black beauty is crafted out of the finest quality calf leather. And the second's hand made of lacquer with the words "Eureka" printed in Morse code make it a truly collectible timepiece.

Alpina Alpiner 4 Shadow Automatic Watches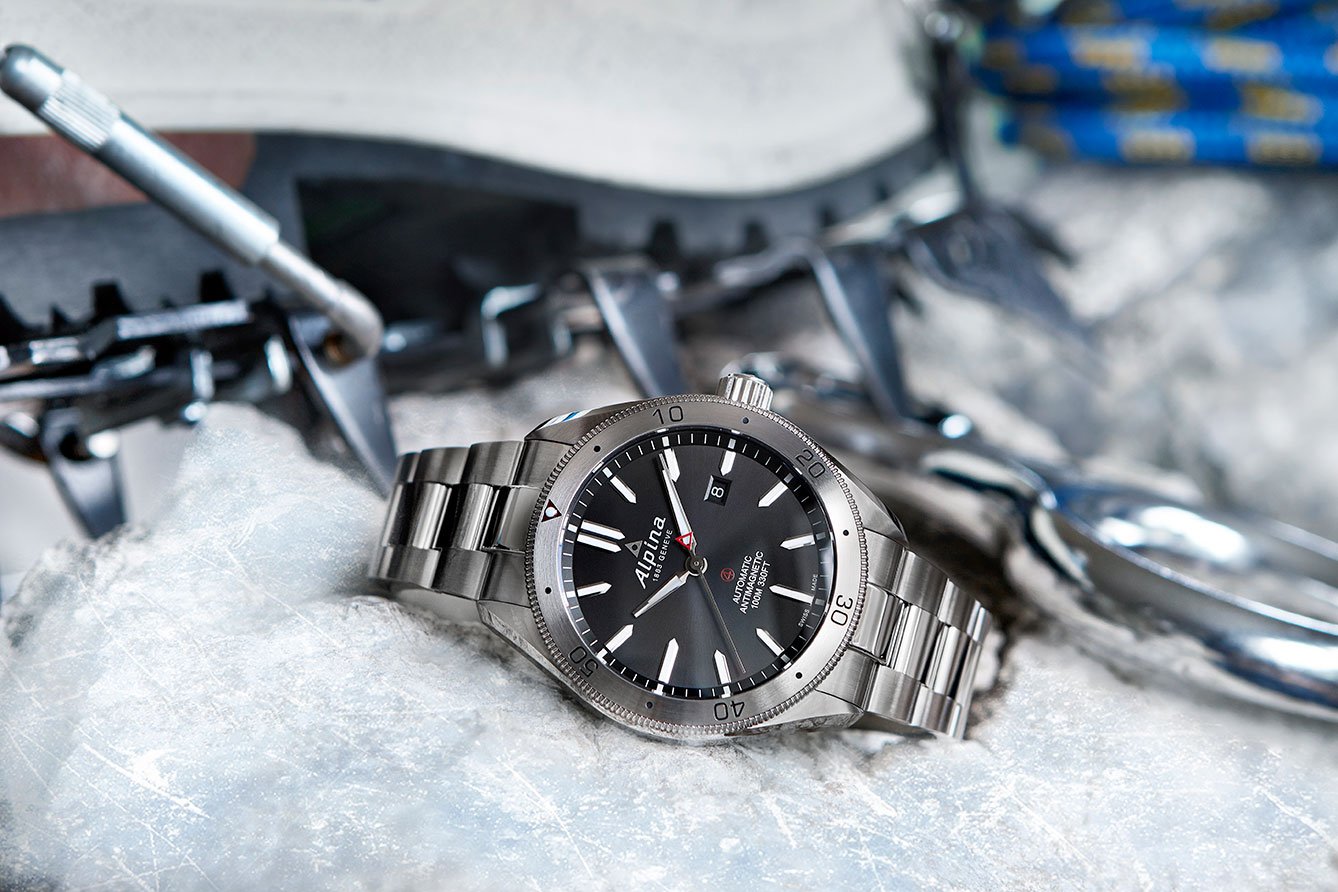 Source: alpinawatches.com
Swiss watchmakers Alpina has been creating the finest timepieces for more than 130 years. Their Alpina-4 series is a favorite amongst the navy, air force pilots, divers, and of course alpinists and high-altitude climbers. The Alpiner is as powerful as the man who wears it.
It boasts of anti-magnetic and anti-shock engineering along with a stainless steel round case strengthened with sapphire crystal. This stunning black wristwatch with white luminous watch hands and marker is a show-stopper.

Tissot Heritage Visodate Automatic Watch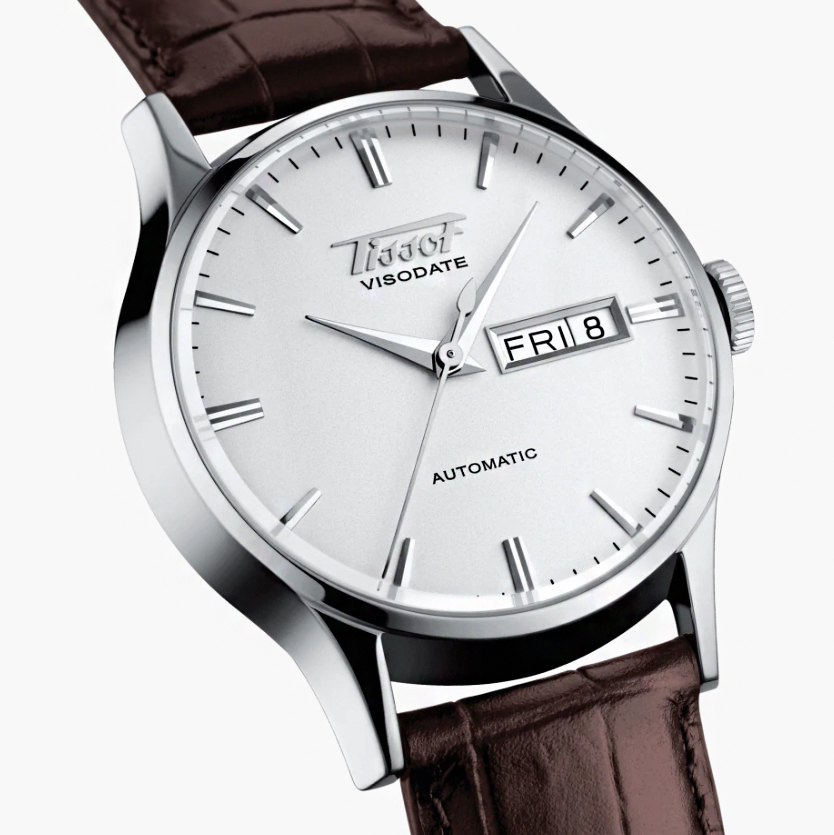 Source: tissotwatches.com
A Tissot watch is a brand that needs no introduction. It is a reflection of traditional Swiss timekeeping heritage dating back to more than 150 years. This sublime Tissot Heritage Visodate automatic watch is a dream come true for the urbane man.
The Tissot Heritage Visodate is made out of the best quality cow leather processed to imitate alligator skin finish. This uber-chic look is completed with butterfly clasps engraved with iconic "Tissot" branding.

Nordgreen Pioneer White Dial Mesh Chronograph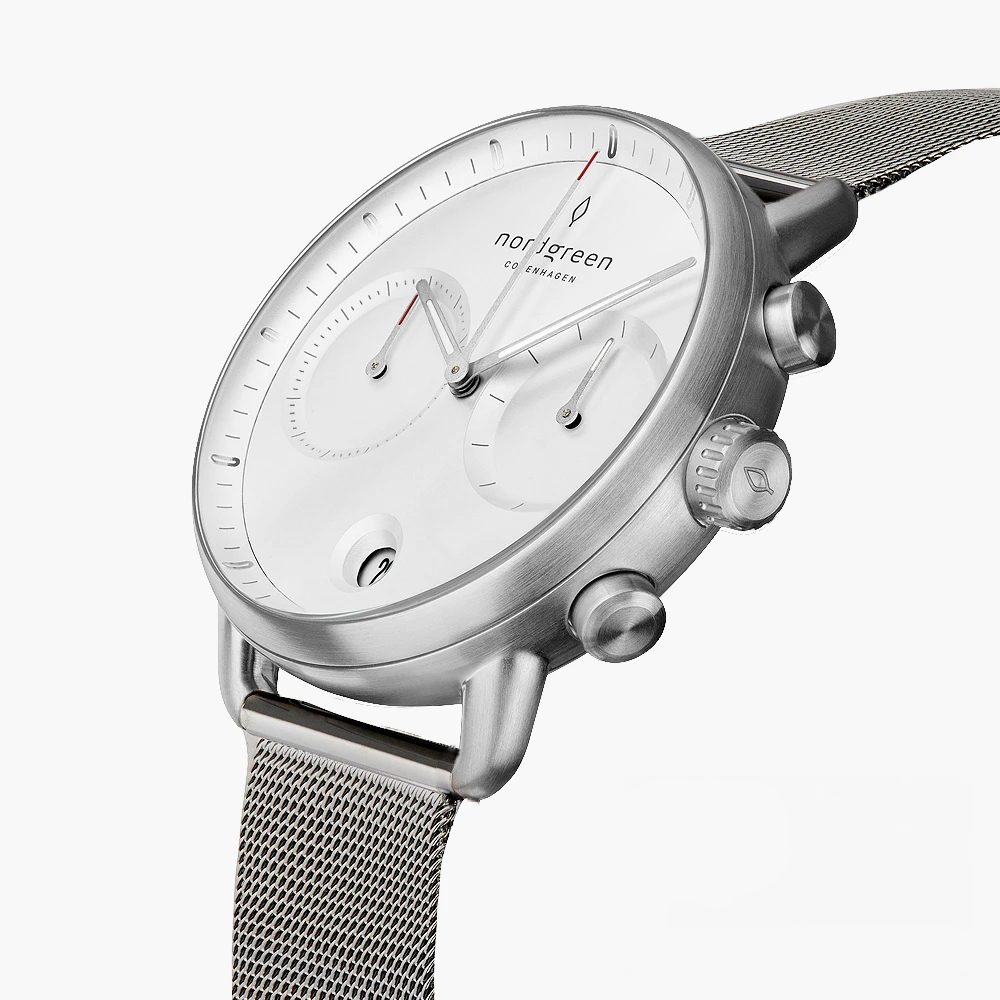 Nordgreen is a brand that brings the Danish spirit of sustainability to watches. Their minimalistic Scandinavian watch series, Pioneer, invites everyone to join the movement. The White Dial Mesh watch from the collection, designed by Jakob Wagner, bridges the gap between great aesthetics and functionality.
The Pioneer White Dial Mesh watch comes in at approx. $320. And makes for a great pick for casual dates, business meetings, parties, and every time you want to create a great impression. "The clean space of the chronograph", says Wagner, "is a reflection of the environment that we wish to live in." And the red tip of the hands? "That's a direct link to wind turbines."
The 42-millimeter piece is a combination of spectacular design and sustainability. And it doesn't just sit gracefully on your wrist. It makes you a part of the global movement towards sustainability. A stylish part of a style-led revolution.

Best Dive Watches Under 1000 USD
A dive watch is much more than a watch for your next scuba dive. It's your power tool for the next meeting too. Here are some of the finest dive watches that all under a thousand bucks:
LIV GX-Diver's 44mm Blackout Diver Watch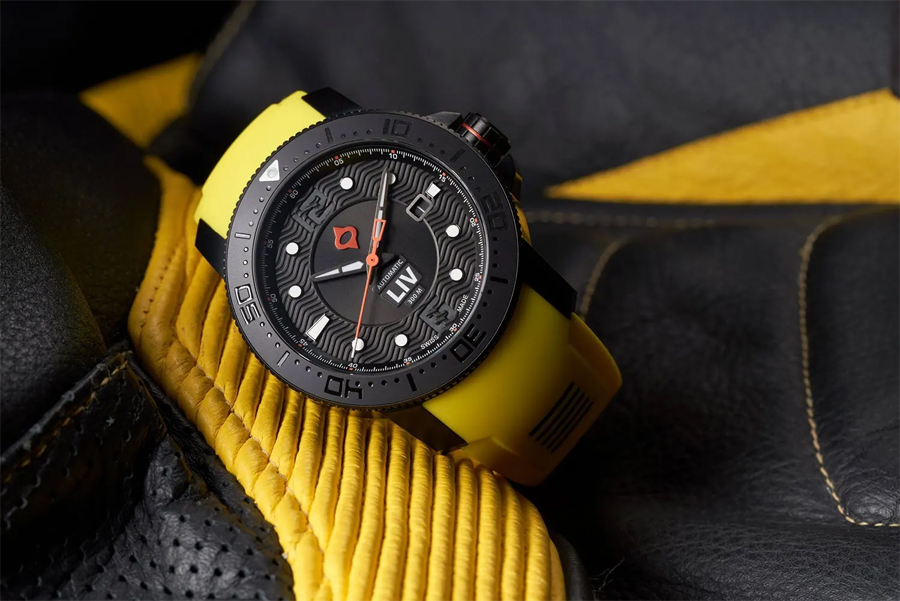 Source: www.livwatches.com
The idiosyncratic blend of contemporary and classic makes the LIV GX-Diver's 44mm Blackout Watch seem timeless and luxurious. Dive 300 meters into water, turn heads, and get ready for the compliments. Your new companion is scratch-resistant. You don't need to take it off your wrist, you wouldn't want to.
Available in three straps. Pick either a yellow or orange silicone band or go for the classy bracelet look. Either way, you get to live and dive in style. Priced at only $790 with 26 jewel Swiss automatic movement, you get more than your money's worth.

Alpina Seastrong GMT Diver Watch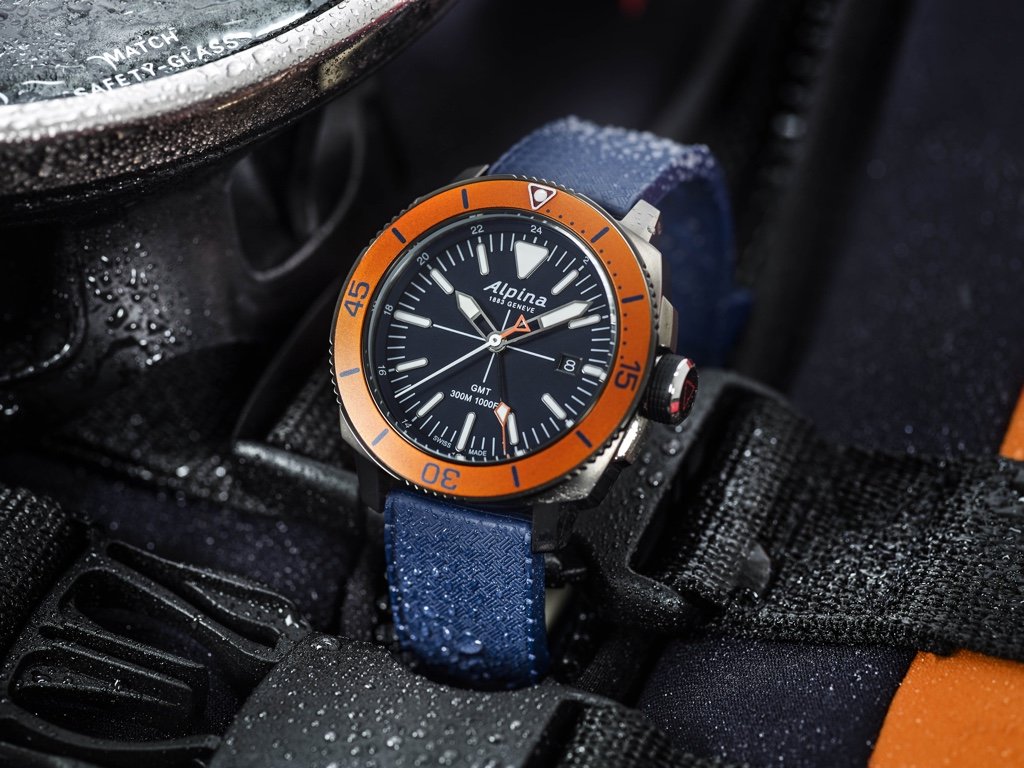 Source: alpinawatches.com
The Alpina Seastrong GMT Diver Watch is truly a dive watch lover's dream come true. Though marketed by Alpina as the watch "to swim against the tide", this watch is all you need to make the tide turn your way. Wear the bright orange color paired with the navy blue band on your hand and create a lasting impression on your next date.
Priced at approximately $750 this engineering wonder is one of the best diving watches that money can buy.

Citizen Eco-Drive Promaster Aqualand Diver Watch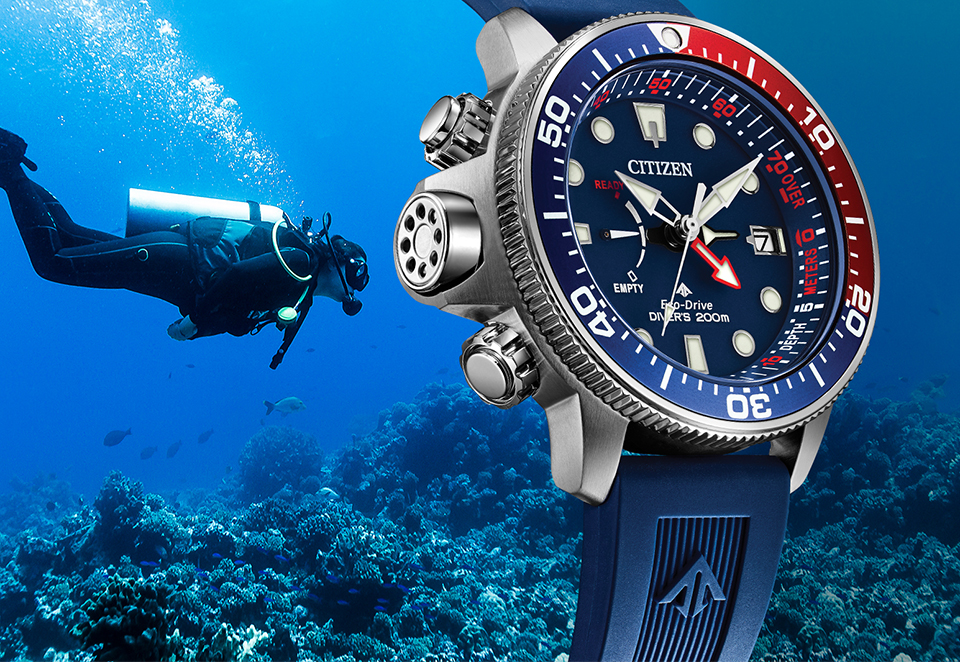 Source: citizenwatch.com
The brilliant blue, red, and white Citizen Eco-Drive Promaster Aqualand Diver Watch is a quintessential nautical timepiece. With a four-hand Japanese quartz movement, the Citizen Eco-Drive Promaster Aqualand Diver Watch is a watch that can go seamlessly from your diving expedition to golf-game, to coffee-date, to next team meeting, to discotheque.
Believe it or not, you can own this handsome time wear for less than $500.

Casio G-Shock Frogman GWFA1000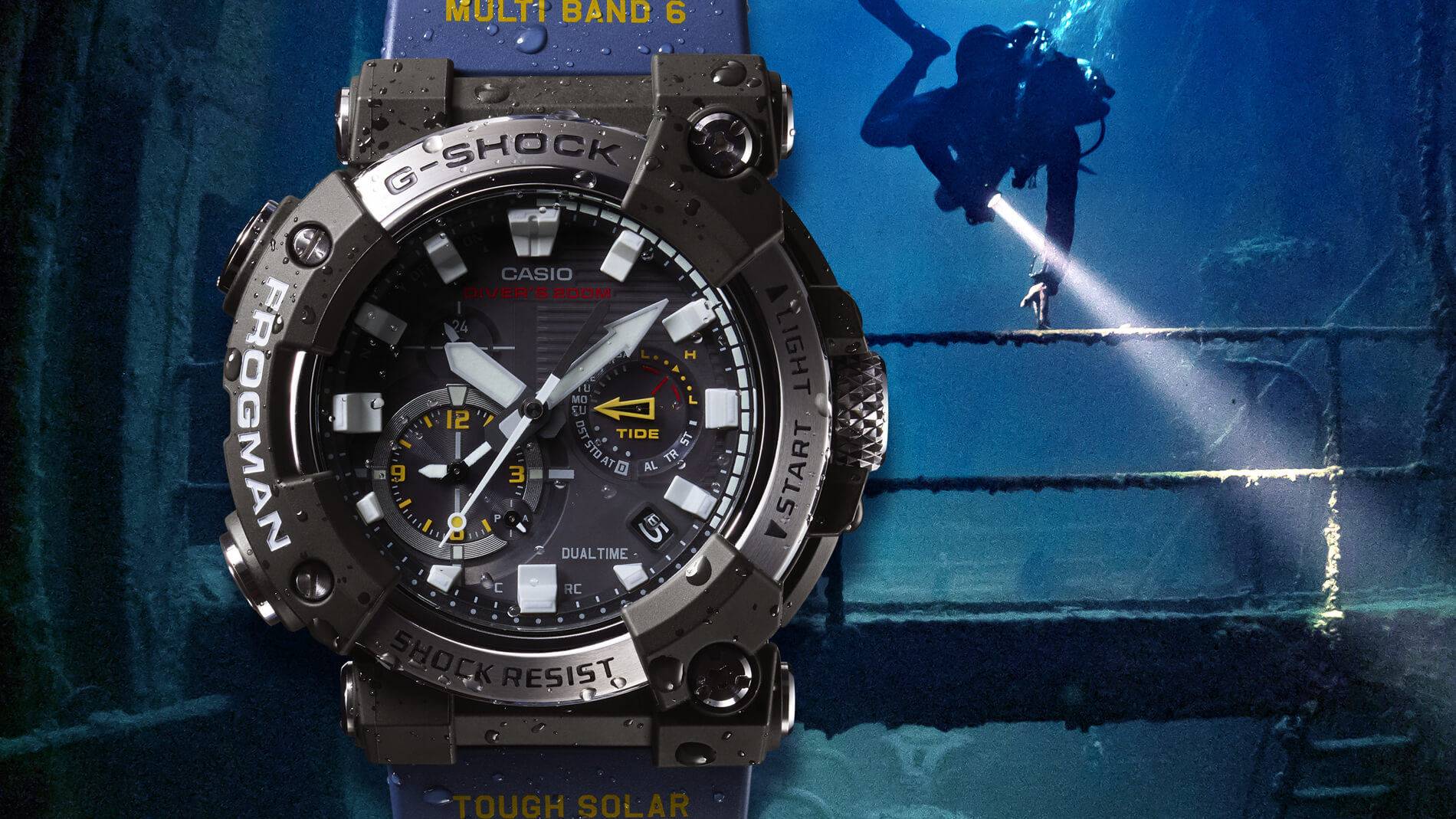 Source: casio.com
The Casio G-Shock range of watches has been a very popular choice among celebrities and the US Army. Since the 1980's most US Navy seals have been wearing the Casio G-Shock Frogman or Gulfmaster on duty. The G-Shock Frogman offers water-resistance up to 200 meters. It also comes with Neobrite hands, LED lighting, diving mode, and Bluetooth connectivity for easy pairing with mobile devices.

Edox Delfin The Original The Water Champion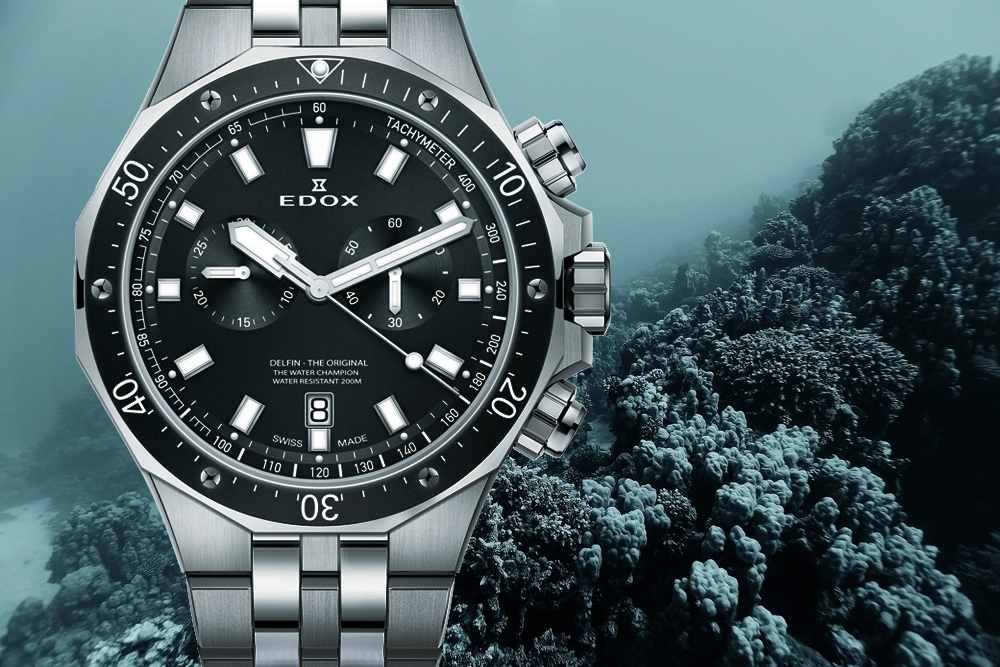 Source: edox.ch
The Edox Delfin is truly "The Original" The Water Champion. The Edox Delfin redefined the world of diving watches. In the year 1961, Delfin was the first to use the "Double O Ring" system in watches. This unique system is what makes watches water-resistant up to 200 meters. Even today these fine-looking watches continue to rule over the hearts of thousands of mariners, explorers and watch lovers from all over the world.
If you are a lover of maritime activities like fishing, snorkeling, diving, boating, or sailing, this timepiece is everything you've ever wanted in a watch.

Best Swiss Watches Under 1000 USD
Since Swiss watches are the benchmark in the world of fine-quality watches, no watch collection is complete without a Swiss watch. Here are some of the finest Swiss watches that you can buy without flinching at the price tag:
Victorinox Swiss Army I.N.O.X. Titanium Watches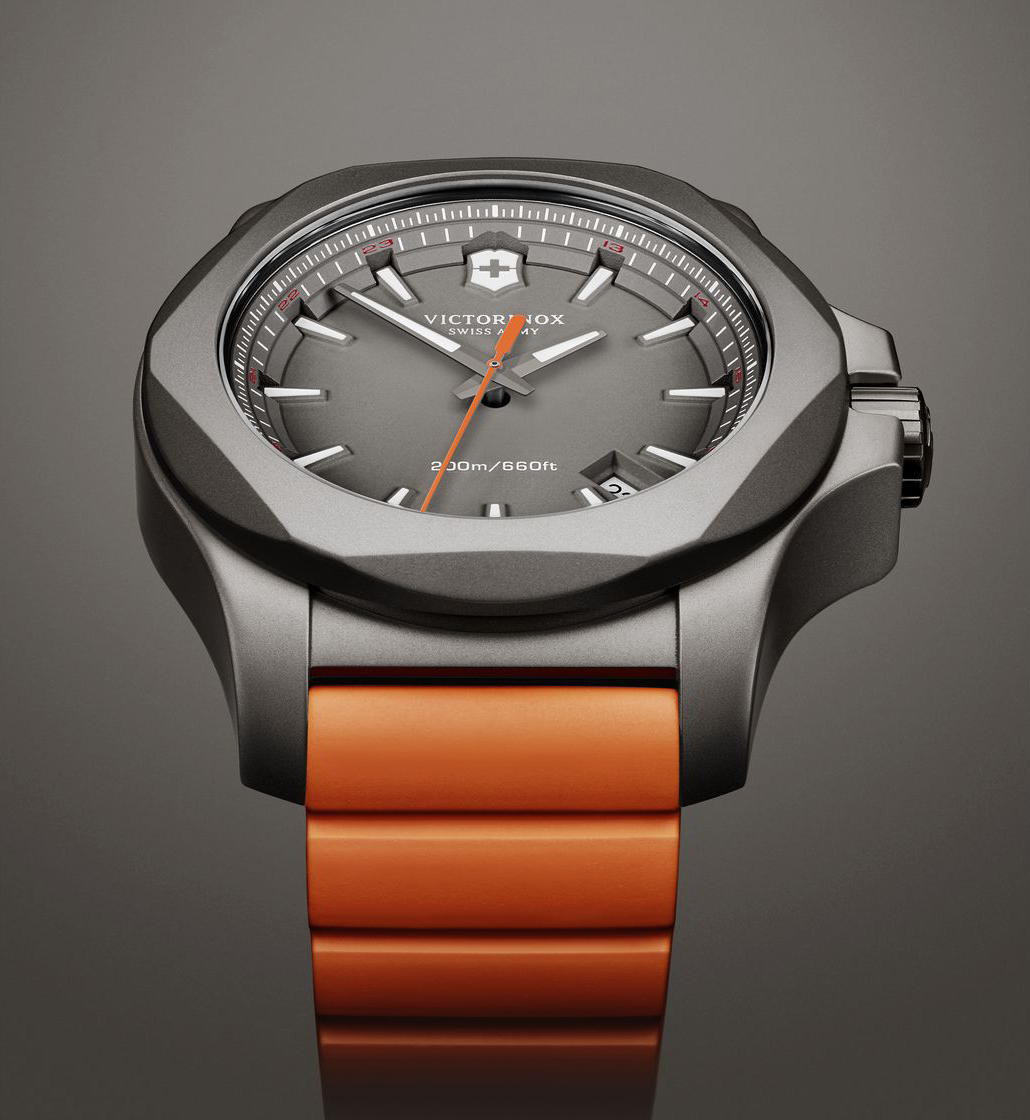 Source: swissarmy.com
Did you know that the Victorinox Swiss Army I.N.O.X. Titanium is the only Swiss watch that can withstand up to 130 extreme endurance homologation tests? This beast of a test is a clear indication of this mean machine's sheer strength and durability.
These stellar timepieces are not just all power and functionalities. They come in a wide range of trendy colors including vibrant shades like orange, red, titanium blue, and olive green to somber shades like deep blue, brown, black, and steel with different colored dials.

Raymond Weil Freelancer Swiss Watch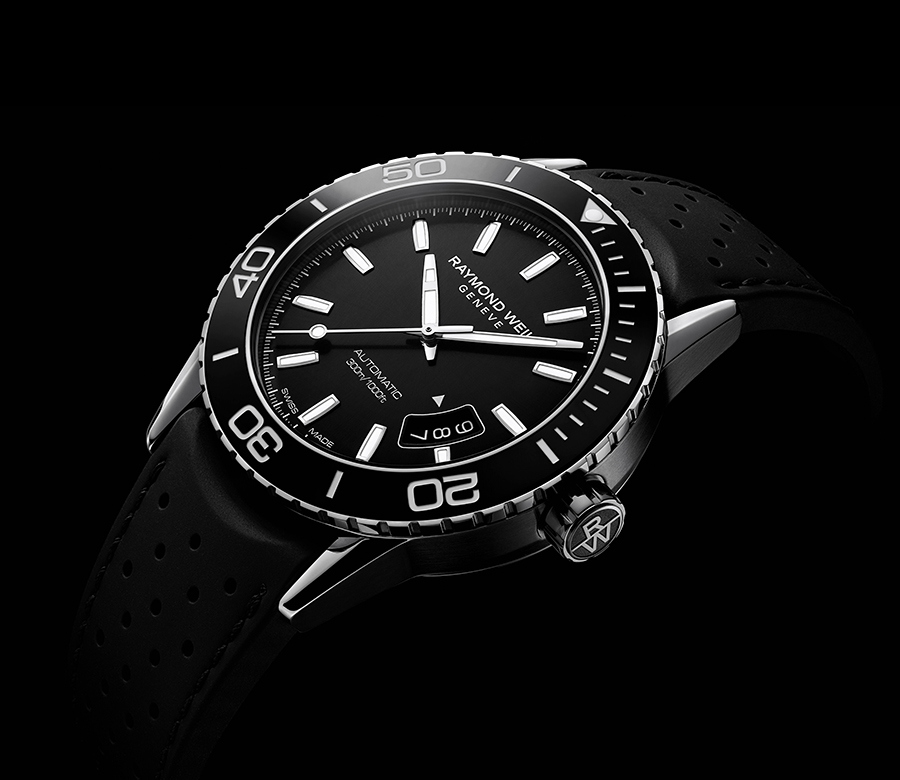 Source: raymond-weil.com
If you are looking for the archetypal stainless steel Swiss watch, there's no beating the Raymond Weil Freelancer Swiss Watch. Pair it with a suit or wear it with your jeans, the Freelancer is sure to make heads turn. The Freelancer collection by Raymone Weil is a rare combination of style, modern-chic, and elegance rolled into one gorgeous wristwatch.
The Raymond Weil Freelancer Swiss Watch is an affordable luxury on your wrist. A timepiece that speaks understated elegance and power, available for less than $1000, go for it.

Tissot Gentleman Powermatic Silicium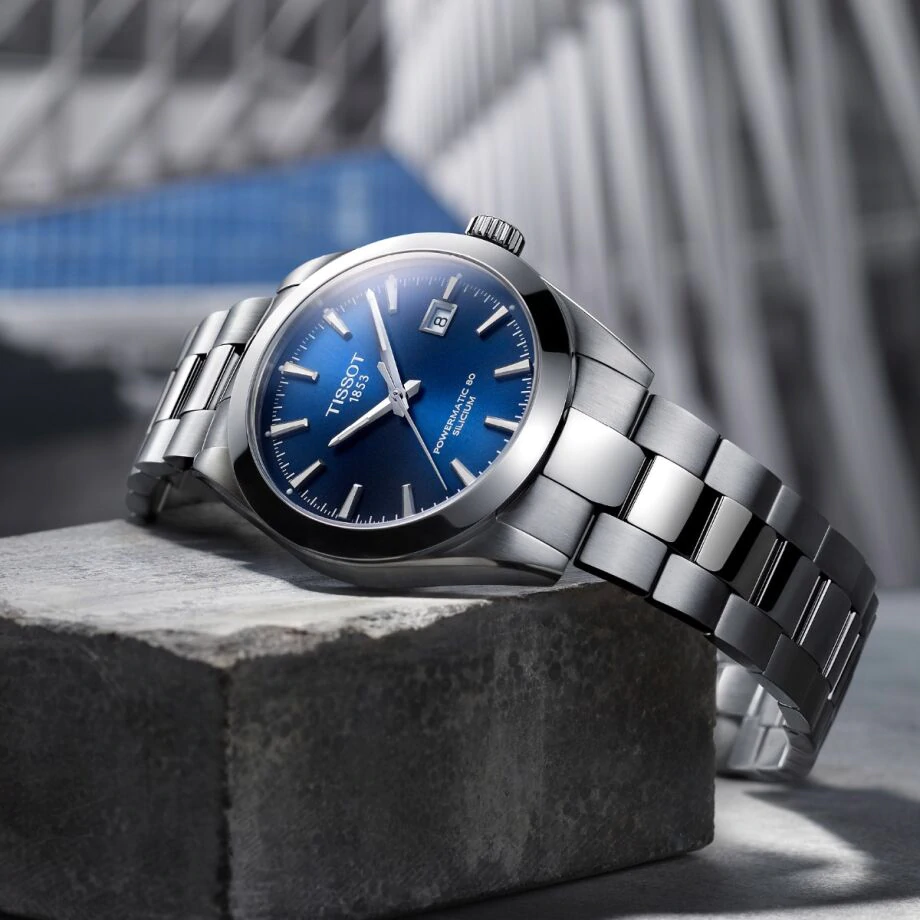 Source: tissotwatches.com
The Tissot Gentleman Powermatic Silicium is what separates the boys from the men. This elegant dress watch is the epitome of class in the world of Swiss watches. The Tissot Gentleman Powermatic Silicium's power-packed all-steel body against the backdrop of the manliest blue dial is all that a man needs.
From the boardroom to the bar, the Tissot Gentleman Powermatic Silicium will join you everywhere. Priced at a little above $500, this stunning timepiece is a steal deal waiting for you.

Best Dress Watches Under 1000 USD
There are dress watches and there are dress watches. If you are looking for a dress watch always remember the adage, "Less is more."
Tissot Ballade Powermatic Watches
Source: tissotwatches.com
The Tissot Ballade Powermatic Watches is the embodiment of understated exquisiteness. This beauty by Tissot is one watch that is going to grow with you.
This is the timepiece that you need for all your "dressing" occasions. Wear it to a wedding, a board meeting, a fund-raiser, or a funeral, your Tissot Ballade Powermatic watch is just the right dress watch for you.

Junghans Max Bill Watches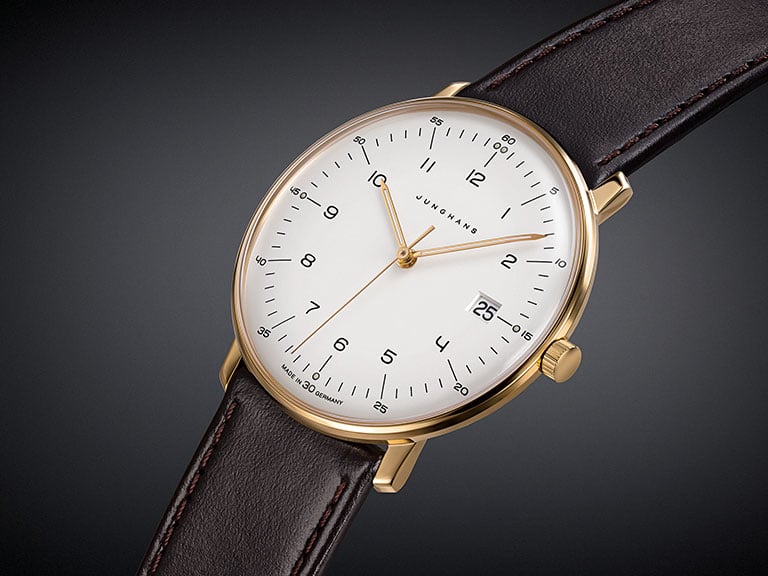 Source: junghans.de
Max Bill is one of the most sought after names in the world of fashion and product design. Watch connoisseurs often opine, " When you buy a Max Bill watch, you own a piece of product design history." A Junghans Max Bill watch is best described by Max Bill himself, " Form, Function, Beauty = Gestalt."
This eternal Junghans Max Bill Watch is the spectacular combination of a Gold PVD stainless steel case with a grey calfskin leather belt. The timeless beauty of the silver-matte dial is further augmented by minimalist gold-tone hands. Yes, less is more. Priced at just $1,000, more can be less too.

Seiko Premier Analog Solar Watch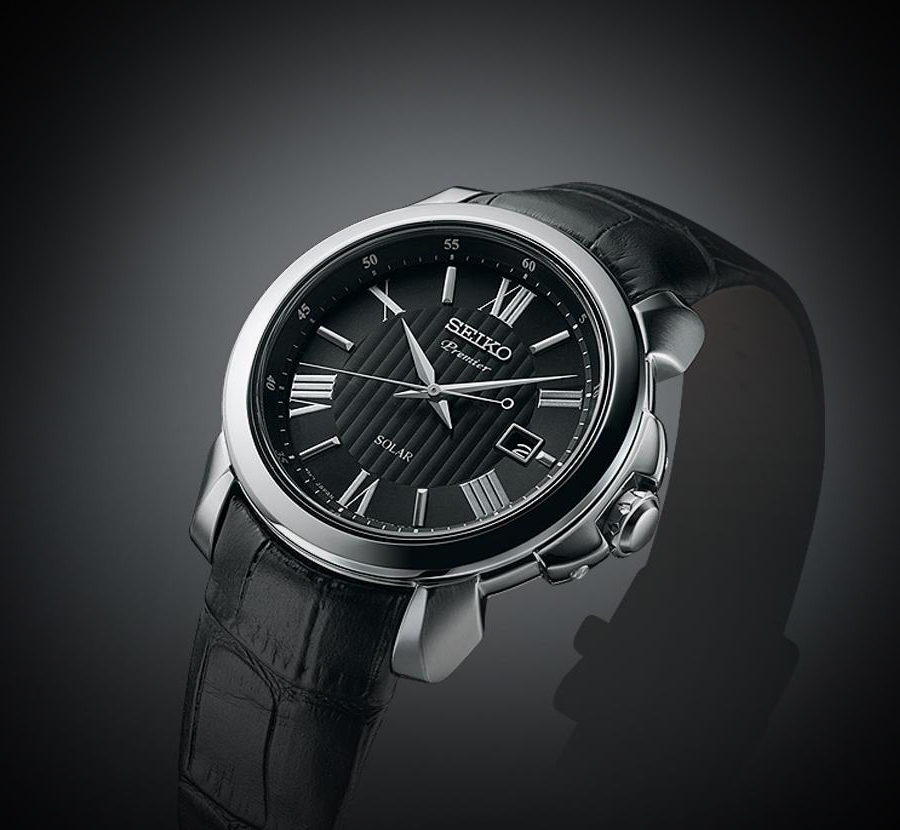 Source: seikowatches.com
Seiko is renowned all over the world as one of the finest Japanese watchmakers with a tradition of watchmaking that dates back to the late 19 th century.
If you fancy the power of the sun on your wrist, the Seiko Premier Analog Solar Watch is your true calling. A solar watch eliminates the need for a change of batteries providing the world with a much-needed eco-friendly solution. These technological wonders by Seiko consume negligible energy and are known to go on for months without seeing any light.

Best Luxury Watches Under 1000 USD
If you've ever wondered if you can buy the perfect luxury watch without spending a cent over a thousand dollars, then our list of Best Luxury Watches Under 1000 USD has you all covered.
Mido Multifort Patrimony Watches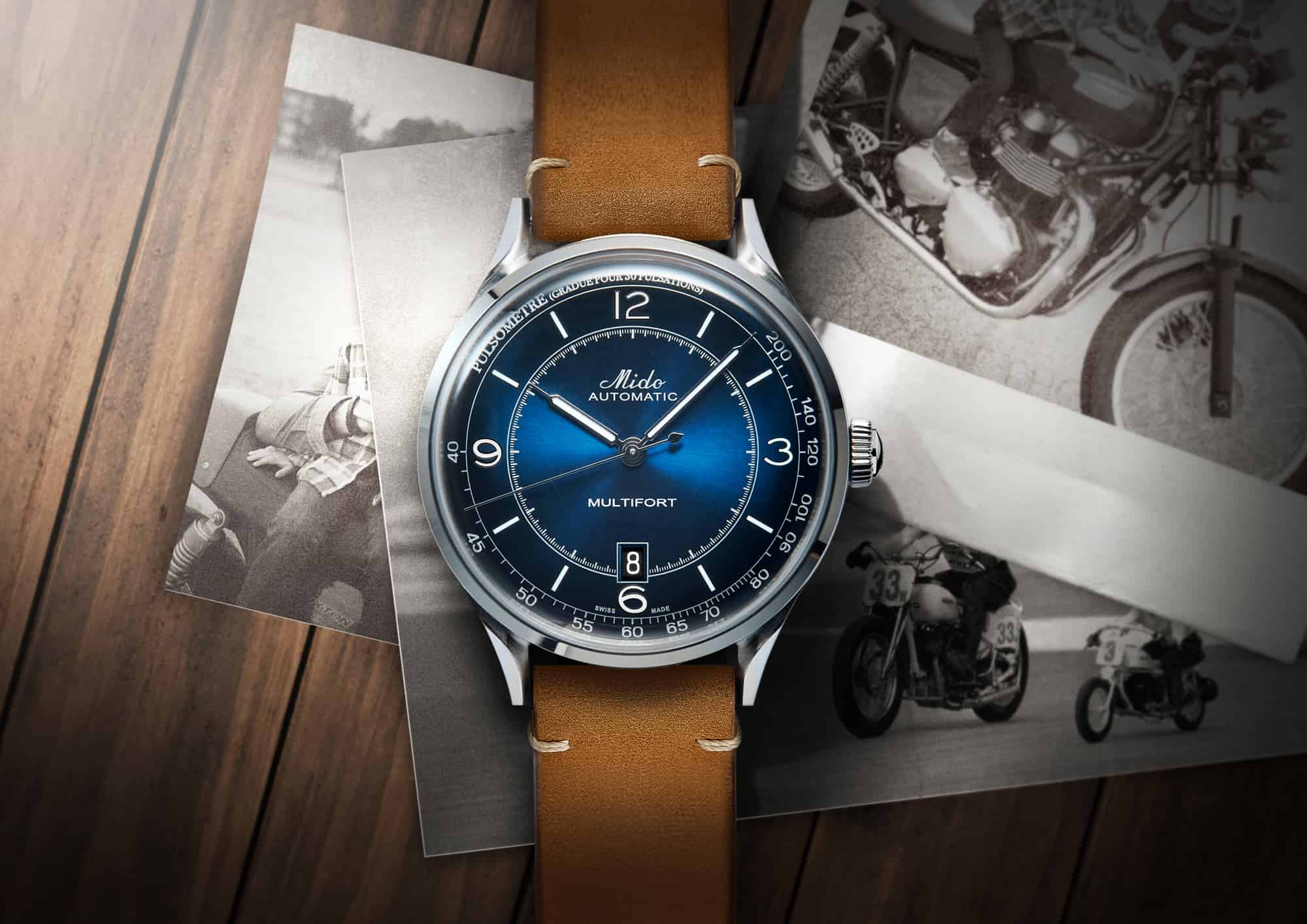 Source: midowatches.com
A classic tan paired with a brilliant cow-boy blue is an absolute icon of men's fashion and styling must-haves. Here's a watch by Swiss watchmaker Mido that is all-things boyish in the all-time favorite tan and blue combination. The Mido Multifort Patrimony watch is not just "stunning looks". This Caliber 80 watch comes with a testing accreditation certified by COSC ( Contrôle Officiel Suisse des Chronomètres) Official Chronometer Testing Institute, Switzerland.
The Mido Multifort Patrimony is comfortably priced at approximately USD 750 and can be a perfect gift for the perfect man.

Maurice Lacroix Aikon Men's Watches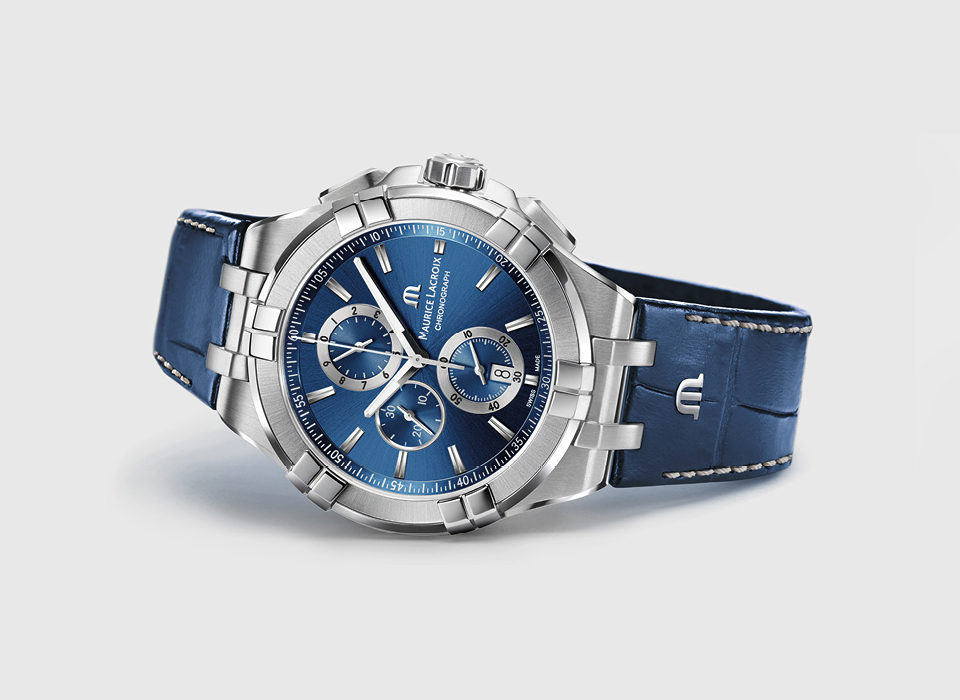 Source: mauricelacroix.com
Did you know that Roger Federer endorsed Maurice Lacroix men's watches before becoming the brand ambassador of Rolex? The Maurice Lacroix Aikon stainless steel watch is one of the most luxurious Swiss chronographs under USD1000. Exhume your powerful persona with this stainless steel and air-force blue chronograph watch.
This striking machine is a unique combination of beauty and brains. Along with a chronograph display, it also has a stop-watch function for sports lovers.

Longines Conquest V.H.P. Blue Dial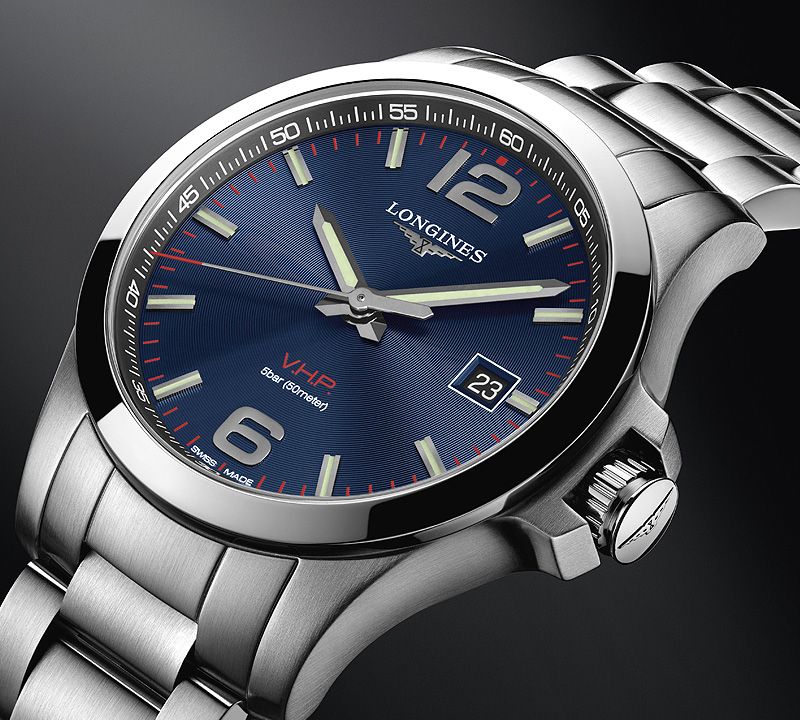 Source: longines.com
No, it's not only an Omega that appears in Bond movies. Longines watches have made three appearances in recent Bond movies like – Casino Royale, Skyfall, and Spectre. In recent times the brand value of the Longines watch has grown by leaps and bounds. And celebrities like Andre Agassi, Kate Winslet, Mikaela Shiffrin, and Stefanie Graf have been the face of the Longines brand.
Longines Conquest V.H.P. with a dazzling blue dial is strengthened by a sapphire crystal with multiple layers of anti-reflective coating on its underside. The Longines Conquest is sports elegance along with understated brilliance.

Best Gold Watches Under 1000 USD
Imagine the finest gold watch under US$1000. Now imagine it on your wrist. Our experts have hand-picked the finest gold watches under US$1000 to make your dreams come true.
Casio G-SHOCK GM6900G-9
Source: g-shock.com
The Casio G-SHOCK GM6900G-9 is a force to reckon with. The sheer radiance of its gold ion-plated stainless steel metal bezel is sure to take your breath away. The black resin belt contrasting the golden radiance of the dial is a fashion lover's delight.
The G-Shock boasts of a negative type LCD to up the ante on its cool quotient. And the mirrored triple graph dials are all that you need for the coolest gold watch ever.

Mido Baroncelli Gold Automatic Watch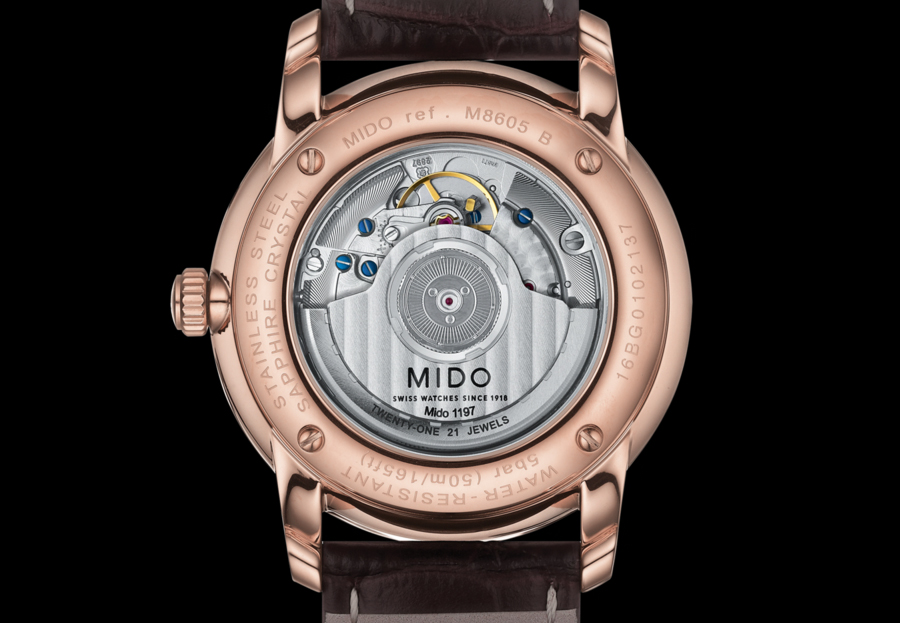 Source: midowatches.com
The Mido Baroncelli III Gold watch speaks of your elegance and sophistication. A textbook example of minimalist beauty, this ageless wristwatch offers the all-time favorite combination of gold-dial with a dignified black belt. The golden hands and Roman-number marks finish the complete look of this Baronecelli beauty.

Movado BOLD Yellow Gold Chronograph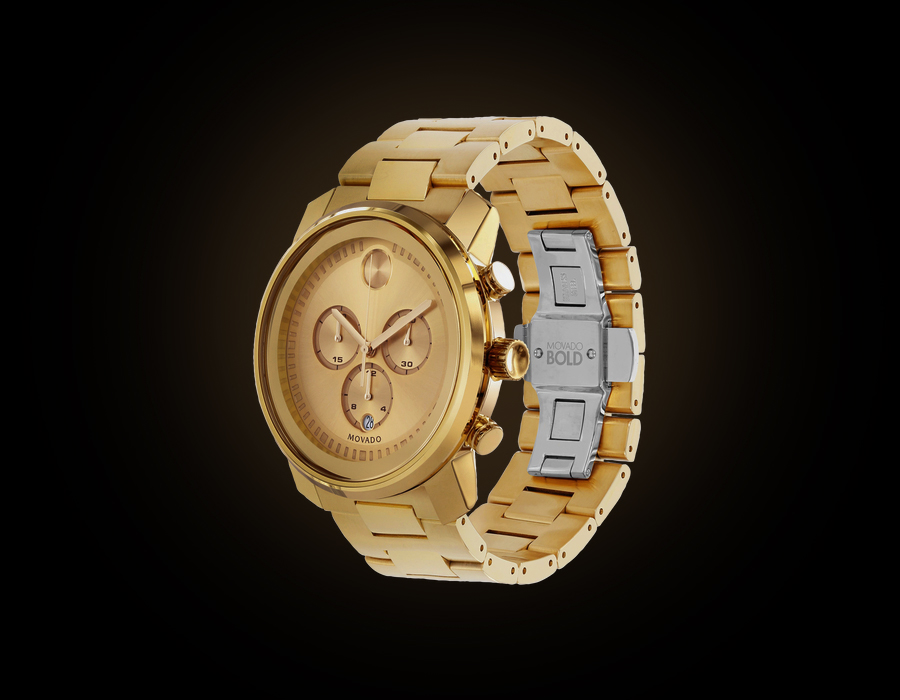 Source: movado.com
Love Gold? You are sure to love the Movado BOLD Yellow Gold Chronograph. Gold dial, gold case, gold belt, and gold hands and marks. This golden beauty is all gold and yet exudes sublime radiance. Who needs jewelry when you have a watch so beautiful and rich?
Movado watches are a notch above the rest. Movado means "always in motion" and this beautiful gold chronograph timepiece is ideal for today's man who is always on the move.

Best Field Watches Under 1000 USD
A guy, who loves the outdoors, is sure to love our recommended sporty field watches:
Hamilton Khaki Field Men's Watch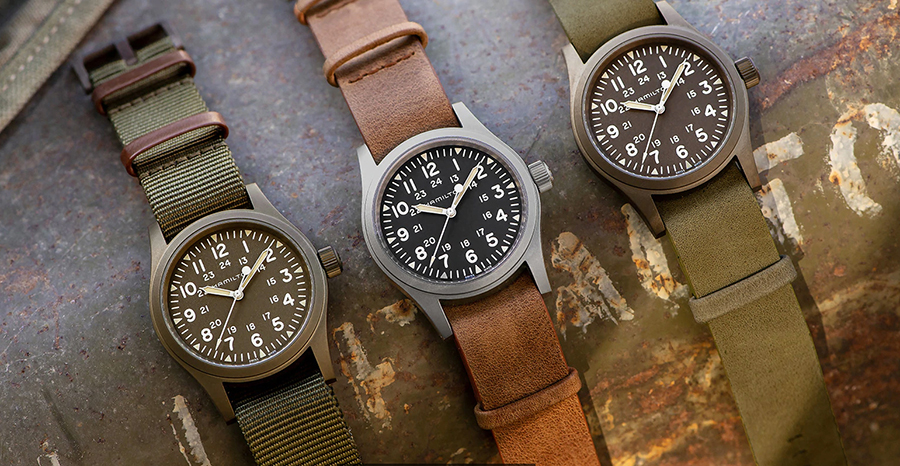 Source: hamiltonwatch.com
The Hamilton Khaki Field watch is everything that a man wants in a field watch. Its khaki brown leather belt with a contrasting black dial talks volumes about a man's love for the outdoors. If there's a watch that oozes with manliness then it's the Hamilton Khaki Field watch.
Along with its rugged looks, this automatic timepiece comes with 80 hours of power reserve and is water-resistant up to 50 meters. Enjoy the Hamilton Khaki Field watch; enjoy the wild side of life.

Bertucci A-11T Americana Watches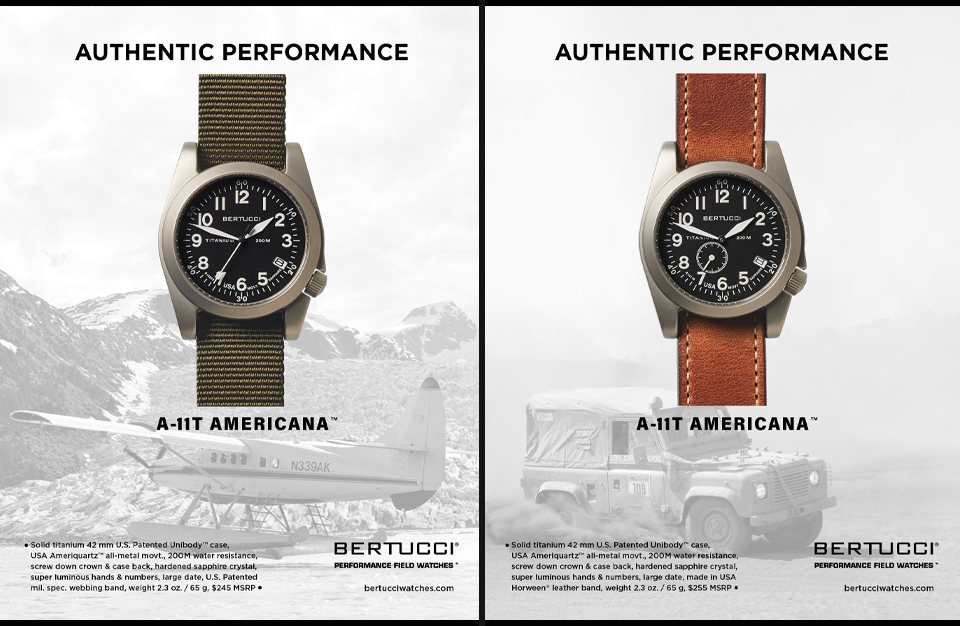 Source: bertucciwatches.com
The Bertucci A-11T Americana Watches is an absolute "must-have" if you are a World-War-II history enthusiast. It's vintage World War-II design is sure to transport you back in time. And you are going to feel the adrenaline rush of the Allied Soldiers with the power of this manly watch on your wrist.
The periodic World War-II dial, the military green nylon belt, and solid titanium unibody make the Bertucci A-11T Americana a dreamboat for every field watch lover in the world.

Best Sport Watches Under 1000 USD
Looking for a sports watch that is as active as you are? Here's a list of the best Sports watches under 1000:
Casio G-SHOCK GA700 Bright Red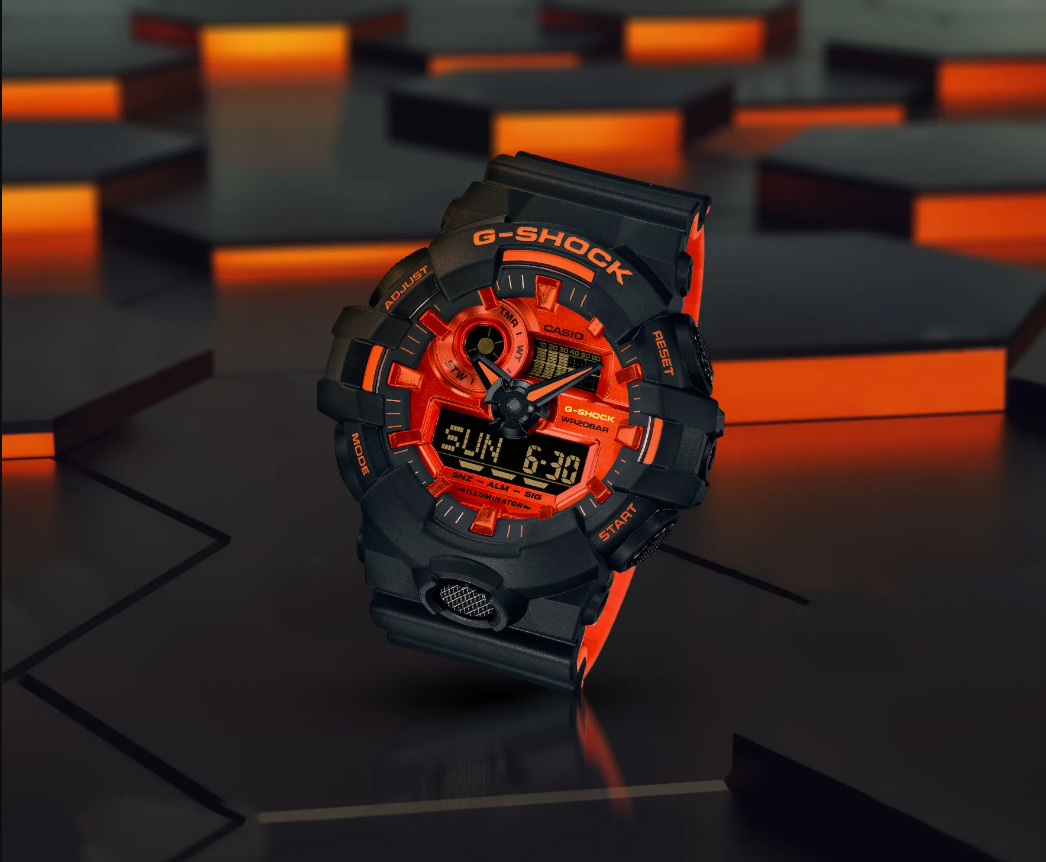 Source: gshock.com
Here's another head-turning macho G-Shock from Casio. The Casio G-Shock GA700 is an all-black sporty device accentuated with the brightest red that you ever could find.
A plastic belt for added comfort, 3D bold hands, a black resin case strengthened with a mineral dial window makes this watch a perfect festive buy. The functions are to die for – 1/100 th second stopwatch, 1/10 th second countdown timer, 31 different time zones for 48 cities, and 12/24 format to name a few.

Alpina AlpinerX Alive Smart Watches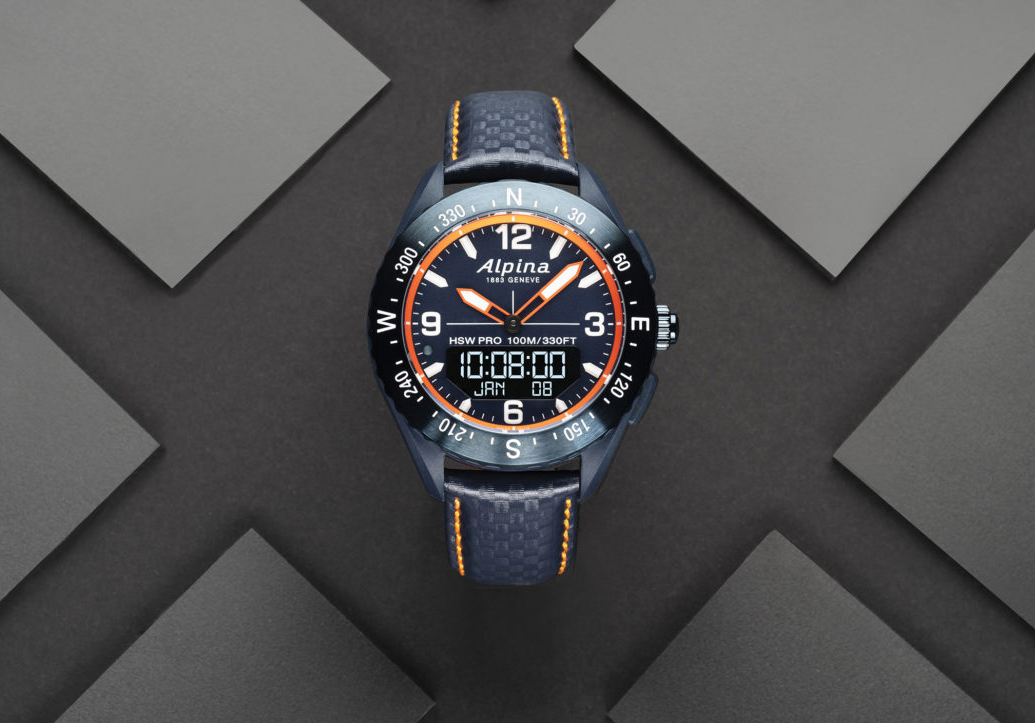 Source: alpinawatches.com
The Alpina AlpinerX Alive Smart Watch is a watch that matches every step you make. Here's a watch that helps you meet all your goals, get over the hurdles, and climb every peak that you've ever wished for.
It is as rugged, bold, dauntless, and dignified as the man who is wearing it. The Alpina AlpinerX Alive has a compass, barometer, UV indicator, temperature monitor, a dynamic coach as well as sleep monitoring device. Its smart features include call and message notifications, GPS connectivity, smart alarms, and cloud storage.

Best Chronograph Watches Under 1000 USD
Man's love for his automatic chronograph goes back to the time Neil Armstrong wore the Omega Speedmaster during his voyage to the moon and back. If you are looking for a chronograph watch that is under 1000USD, here's our list:
Tissot Seastar Quartz Chronograph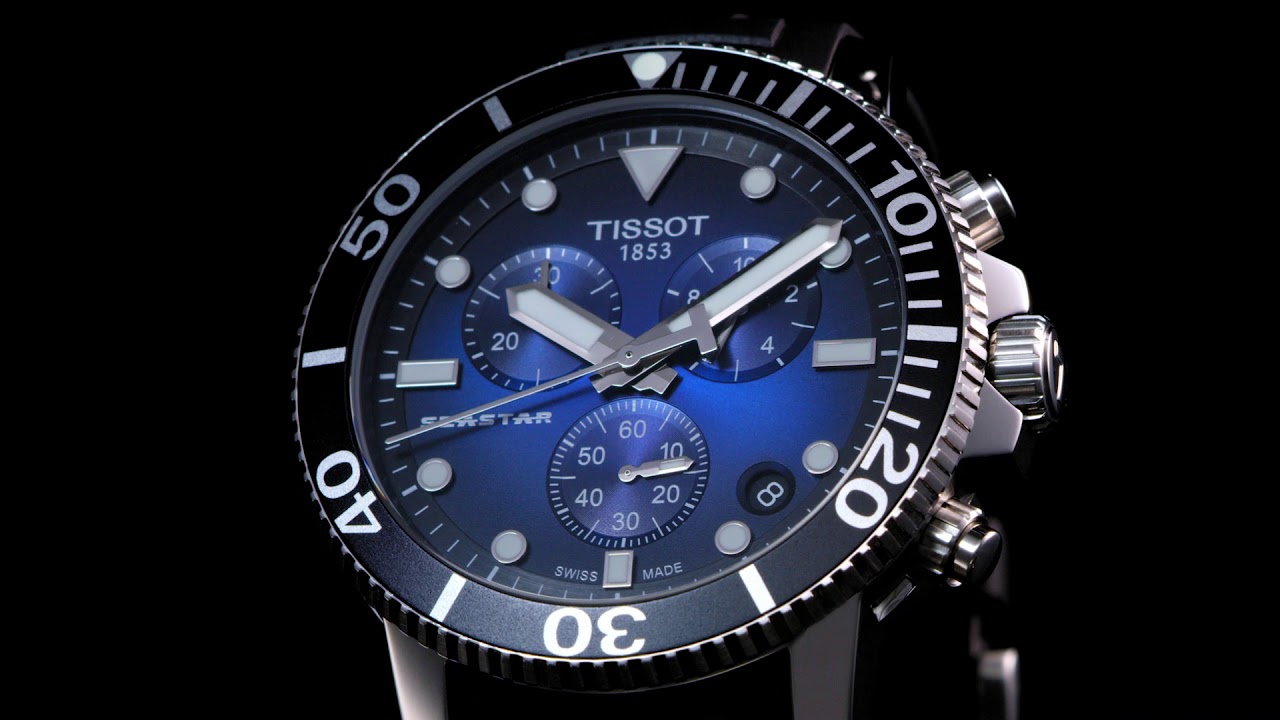 Source: tissotwatches.com
The Tissot Seastar Quartz Chronograph is a watch with dual pleasures. It gives you the joy of a diving watch along with the beauty of a chronograph. And there's Swiss precision technology and Tissot branding to make it the perfect chronograph watch under $1K.
If you are still looking for reasons to buy, there's a stainless steel strap, marine blue dial, and a sapphire dial window to fall in love with. The ivory white hands and markers complete the ultimate chronograph look.

Edox Men's 'Chronoffshore-1' Swiss Chronograph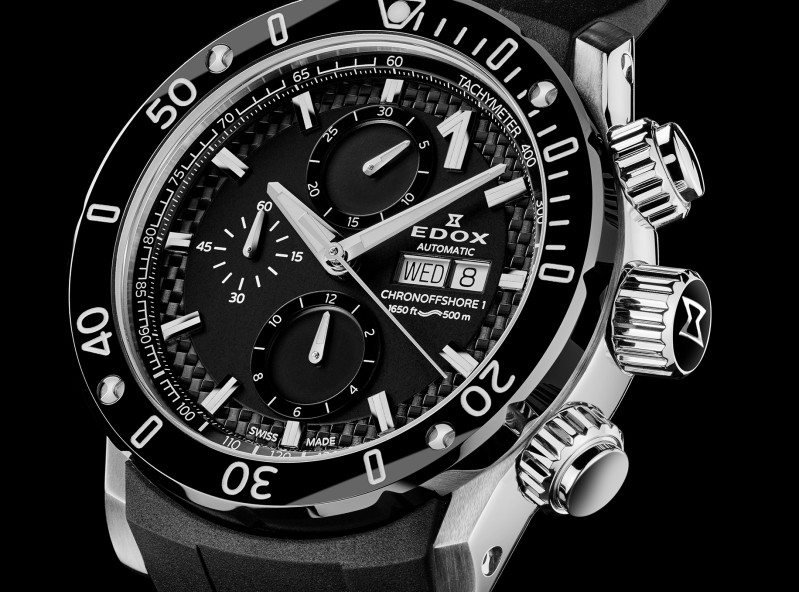 Source: edox.ch
Another intrepid chronograph that we recommend is the Edox Men's 'Chronoffshore-1' Swiss Chronograph. This Chronograph by Edox is crafted from black genuine rubber strap, and also comes with an option of a stainless steel belt.
The Chronooffshore-1 or CO-1 adorns the wrist of Norwegian powerboat champion, Pal Virik Nelsen. The champion trusts Edox precision for his winning streaks.

TAG Heuer Formula 1 Gulf Racing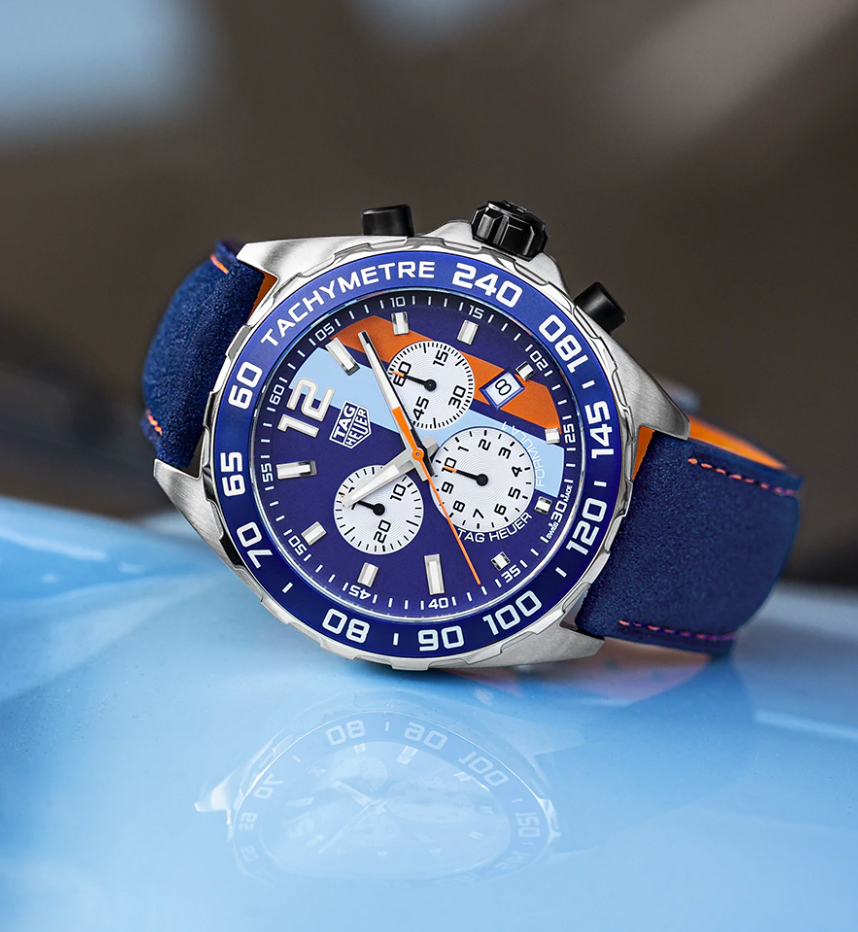 Source: tagheuer.com
If a TAG Heuer has been on your bucket list, don't miss the chance of getting your hands on the TAG Heuer Formula 1 Gulf Racing chronograph watch. By spending just a tad over one grand, you can be the proud owner of a sensational chronograph by TAG Heuer.
This trendy watch is a fashionable combination of blue calfskin leather belt accentuated with the vibrant colors of Gulf Racing. The chronograph is a special edition watch, so don't miss it.

Best Pilot Watches Under 1000 USD
Is there anything more attractive than a pilot sporting an aviator pilot watch? These pilot watches under US$1000 are sure to take you flying high in the blue skies:
Chotovelli Aviator Pilot 5200-1 Watch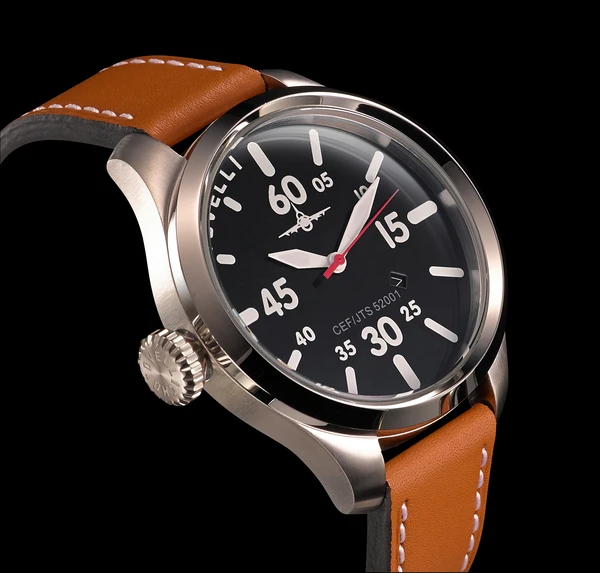 Source: chotovelli.com
The Chotovelli is all things stylish as Italian designer wear can be. Here is a retro yet contemporary watch rolled into one. The Chotovelli design is a real winner with its minimalist tan belt, raven black dial with subtle ivory hands and marking, and not to forget the engraved screw crown.
The watch's USP is in its design quotient. The Chotovelli branding is displayed in a unique arc, bold and loud numerical marking, and the sheer brilliance of this design coming together. One look at the aircraft emblem under the 60 minutes mark and you know this is the pilot watch you've been waiting for all your life.

Alpina Startimer Pilot Chronograph Big Date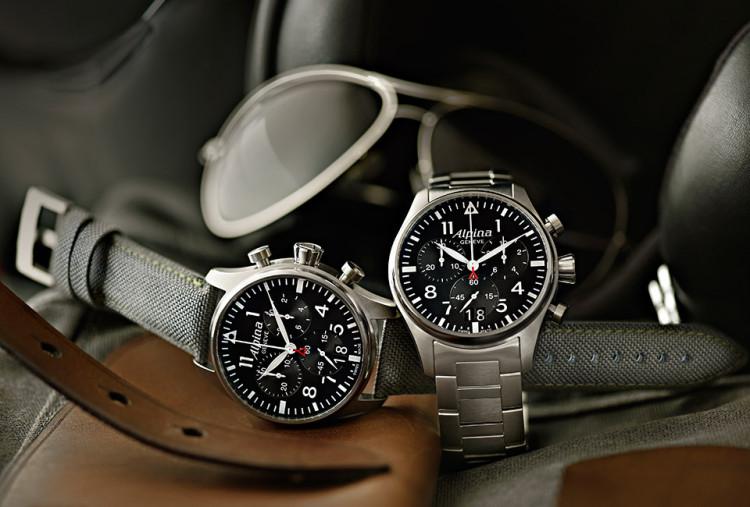 Source: alpinawatches.com
The Alpina Startimer Pilot Chronograph Big Date is not just a pilot watch. It brings to you the functionality of a chronograph and the striking good looks of a field watch along with the guarantee of Swiss precision.
This aviation watch brings to you the rugged handsomeness of a brown leather belt paired with a black dial in a stainless steel case. Manliness personified.

A watch is not merely a timepiece; it is a reflection of a man's personality. These stylish, sophisticated, and elegant pieces of fashion accessories' give a subtle glimpse of every man's persona, journey, lifestyle, and success story.
Like Ian Fleming, the writer of the James Bond series has very rightly said, "A gentleman's choice of timepiece says as much about him as does his Saville Row suit."
And don't forget to check our list of the best watch winders as well as in-depth article Professional Watch Investor: What Watches are Good Investments?