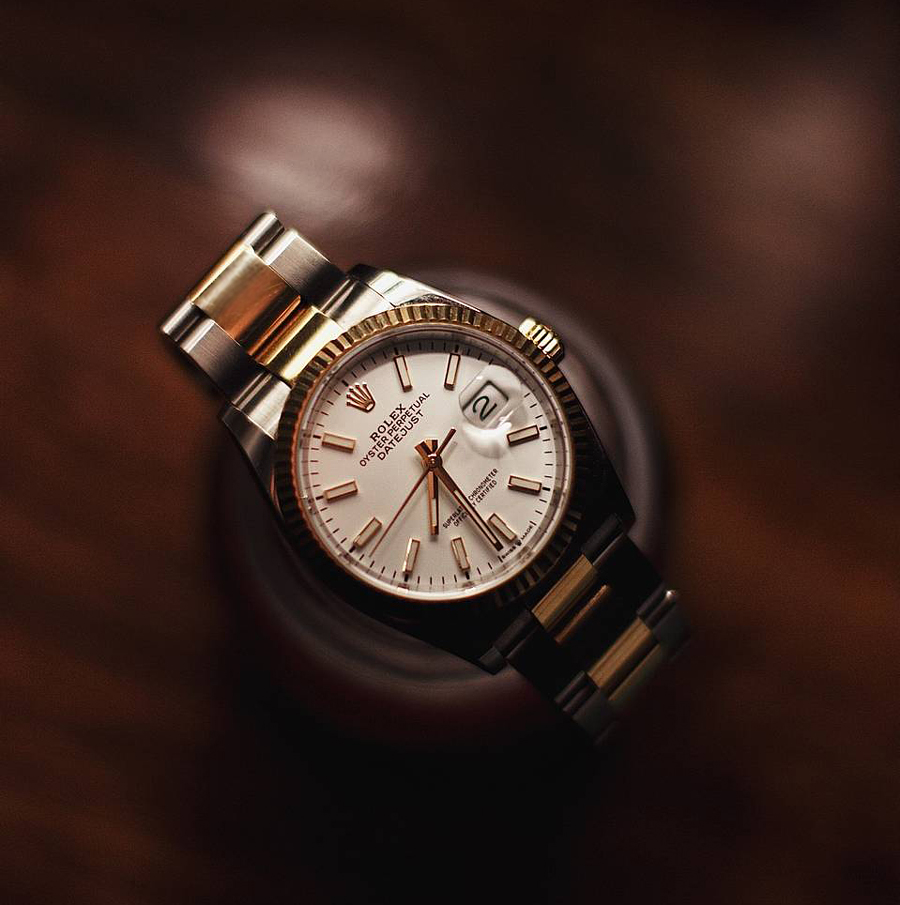 I've been collecting watches for more than 25 years. I buy watches, sell them, and then buy some more.
"Why do I do this?" You can ask me.
The answer is simple. I like watches. And by collecting rare models I also make money with watches. Yes, you heard right. I make money with my investment in watches.
Now, to be honest, I don't like the phrase "investment in watches". Watches a priori cannot be called investments. They don't do any work and don't create value themselves. But that's a phrase that is used often and far and wide by those who aren't very close to this field. And since I'm writing this article for a broad spectrum of audiences, I'd much rather use the terminology understandable by everyone.
Despite the fact that they aren't investments in the classical sense, watches can be successfully bought and sold over time. Of course, this is true only for certain models and watch brands.
Which ones? That's what this article is going to reveal. I will also be sharing my experiences as a watch investor. So this article will be useful for both experienced collectors and beginner investors.
How I became a watch investor?
Let's start with a bit of background.
My name is Boris. I was born in the former USSR in a beautiful southern port city – Odessa (now in Ukraine). My childhood was carefree and happy, by Soviet standards. My father was the chief engineer at a state-owned enterprise and my mother was a school teacher.
Shortly before the collapse of the USSR, my family moved to Germany. As a kid, I had access to expensive and some rare watches – Luch, Mir, and Poljot – something unseen for an ordinary Soviet citizen. It was my father who bought them or received them as presents.
A little later, after moving to Germany, I was quite surprised to find out that the current value of some of those watches was much higher than their value at the time of purchase.
And when I sold a Rolex Submariner 1986 that I bought in BRD after 14 years (I regret it now!) at a price several times higher, my journey as a watch collector and watch investor formally began.
In Germany, I set up a business (which is active to date) that has nothing to do with watches. But my love for watches hasn't gone away. I keep buying some interesting and rare watch models. Just like my father did.
I never considered watches as something purely for making money. For me, mechanical watches have always been amazing and interesting pieces. Every model with its unique history and its own peculiarities. And they are amazing not just in the way they delight the eye with their appearance but also in how technically complicated they are. But with time I began to notice that the cost of certain watches doesn't fall but rises after purchase.
However, buying a new watch requires a lot of money. Especially when it comes to rare and vintage watch models. I first realized this fact with grave intensity while buying my first Patek Philippe. Its price was three times higher than what I had spent on any watch before. In order to not disturb our family budget, I decided to sell one of the vintage Rolex watches I bought many years ago. That was just the beginning.
But it is also important to mention that I bought quite a lot of "profitable" (as I thought then!) watches, whose prices never rose. But I gained good experience. And now, I buy watches both for the soul and to make some money on them, which allows me to continue my costly yet exciting hobby.
So, what I basically do is invest money in what I love. And I make good money on that investment if I remain wise and patient. Either way, it is exciting and I enjoy it.
How to profitably invest in watches?
My friends and partners are always surprised when they see my watch collection for the first time. At the moment, it contains 58 luxury watches from various brands, including rare models such as Audemars Piguet Jules Grande Complication (model : 25984BA.OO.1138BA.01), with its current price of more than $700,000. And three years ago, their price was about half a million dollars.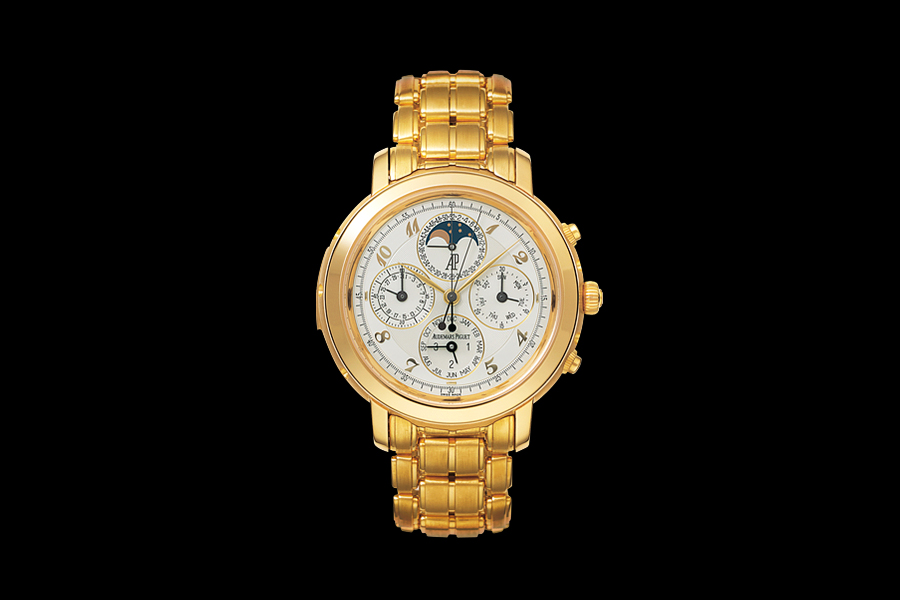 Upon seeing my collection and knowing its worth, everyone asks me the same question.
"How can I make money with watch investment?"
I always have one short answer to the question: It's difficult.
In fact, each step of the process is difficult. It is difficult to identify watches that are only going to see a value boost in the future. It is difficult to find worthy watches in brand-new conditions. It is extremely difficult to buy the watches at an affordable price now and sell them profitably in the future.
And, to be honest, I'd like to warn my readers against this high-risk investment business. There are lots of far more steady and less risky ways to invest. But if you still decide to make money on watch investments, then my experience and advice will definitely be helpful for you. Read on.
Since I'm not a professional writer, I'll start from answers the questions I'm asked most frequently.
Are watches a good investment?
Definitely not. Why? Well, watches aren't investments themselves. It is just about speculating whether the selling price later will be higher than the purchase price today. Whether or not a watch turns out to be a good investment depends on your ability to gauge the market and anticipate people's behavior. Besides, you must be very patient.
Is Rolex the best watch for investment?
No. But it definitely is one of the best brands to invest in. If we ignore the 'ifs' and 'buts', I'd say Patek Philippe is the best watch for investment at the moment. But there are also some nuances to it, which I'm going to discuss later.
What are your recommendations for beginner watch investors?
Don't start with the intention of making money. Buy watches only if they genuinely give you pleasure. Wear your watches and enjoy them. Love them.
And when you have acquired greater knowledge about watches, including vintage ones, this knowledge will allow you to make money with watches. And that's when it is the right time for you to start investing in watches.
Which watch brands are the best for investment?
Here are the top luxury watch brands worth investing in:
P.S. – Almost all of them have more than a century-long history.
Patek Philippe
Rolex
Cartier
Audemars Piguet
Vacheron Constantin
Omega
Breguet
IWC
Girard Perregaux
Richard Mille
Which watches should I invest in – new or vintage?
Of course, vintage watches are worth investing in. You can find and buy vintage watches, which have been phased out long ago, and their value has been rising steadily over the past 10 or more years. With vintage watches, you also have the scope to analyze which watches are seeing a steady increase in valuation and then invest in those. In fact, this is how professional watch investments are done.
What is the benefit of watch investment?
Despite the difficulties, watch investment had a few worthwhile advantages.
Time is your ally
Even if you bought a not-very-good watch from a well-known brand and its value does not increase or even fall – don't get discouraged just yet. You just need more time. And you possibly won't see any value appreciation within 5 to 10 years. But over a 20-year long period, the price of your watch(es), most likely, is going to rise. There will always be some collectors ready to give a substantial amount of money for getting a vintage watch from a well-known brand. Especially if this watch is rare and in a perfect, brand-new state.
You can store it easily and also go unnoticed
Watch is a small and light object that can cost more than any production car. You can buy ten watches instead of ten flats in your city and keep them all in your safe. Meanwhile, nobody can even guess that there's a fortune in there.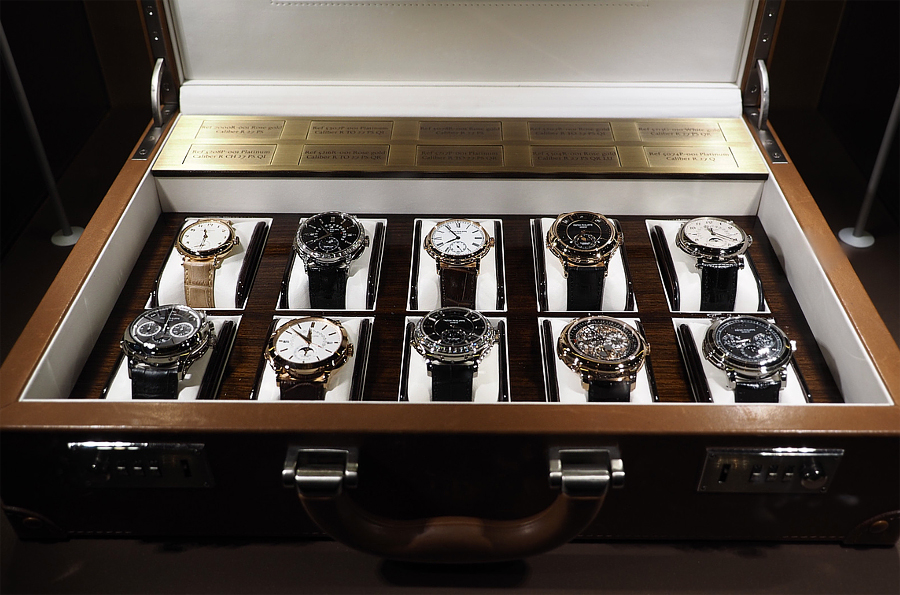 Image source: professionalwatches.com
For example, you'll need a huge room the size of a hangar in order to keep a vintage car collection. You'll also need to pay for the service, heating, and security of this room regularly. Plus, there is insurance. It is the same with paintings and other collectibles. Everything is much simpler with watches.
Resistant to crises and wars
Of course, when there is a war or any other economic crisis, luxury items are the last of people's concerns. But, if we see historic examples, like after the First and Second World Wars, there have always been people and companies willing to buy works of art and things like watches from that time.
Moreover, when the crisis is gone, the prices of luxury collectibles always increase. The same cannot be said about the shares of companies that went bankrupt or are at risk of bankruptcy.
You can use multiple payment modes to buy watches
You can buy a watch using any payment method. Got money in the bank to spend? Visit official stores and watch boutiques to make a purchase.
Have cash or cryptocurrency? No problems. There are a lot of watch dealers on the web who'll sell vintage or even new watches for cash or bitcoins. Also, say you bought a watch using bitcoins. After 5 years you sold it for 3 times the value and received the money in your bank. That's a worthy investment, isn't it? And it is worthy not just in terms of capital appraisal, if you know what I mean.
Swiss watches are ideal for long-term investment
If you buy watches in order to leave a good inheritance for your children and grandchildren, watches from famous Swiss brands are exactly what you need. Analyzing watch prices over the last hundred years, I can confidently assert that the value of Swiss watches will continue to rise in the future, despite epidemics, wars, and crises.
In contrast, if, say, you leave shares for your grandchildren. In the next 50 years, most companies that are selling their shares now will cease to exist. What will be the worth of those shares, then? They'd be worth nothing more than ordinary paper. The same stands true for cash and most, if not all, cryptocurrencies.
But if you leave a collection of vintage rare watches for your grandchildren, they're going to be extremely valuable, even if the watch brands cease to exist. Moreover, the watches of discontinued brands are likely to be valued even more, since new watches from that brand aren't going to come into the market.
It is much like what happens when a famous artist passes away. The value of their masterpieces skyrocket. That's the principle behind a vast majority of investment strategies.
Aesthetic pleasure
Last but not the least, having a collection of watches also gives you aesthetic pleasure. Just like when you collect paintings or any other works of art.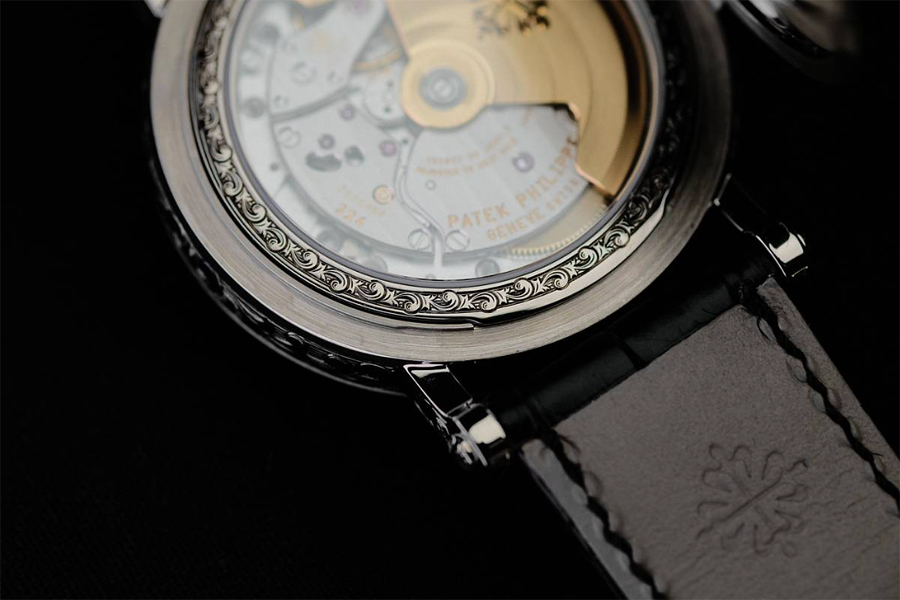 You're unlikely to feel the same with investments in shares, funds, or cryptocurrency. For example, mechanical watches are little, complicated machines created by people, but which can outlive us all. Truly wonderful.
Why are watches becoming expensive?
People wonder why watches are becoming more expensive, thus allowing one to make money on those. Before I come to that, let me be clear for once – not all watches become expensive over time. More so, only a very few of them can help you make money.
Now, there are two main reasons behind the price increase.
First, the popularity of some specific watch models. These may be both limited versions and series-produced watches that managed to become iconic.
Second, the strategy of creating an artificial shortage. This is often actively used by some famous watch brands. The idea is simple. You just cannot buy the watch model you want. And you can't even get it by waiting in line at the stores.
Watch brands create such an artificial shortage for certain watch models by limiting their quantity. In addition, they also reduce the opportunities for buying them. As a result, the prices of those watches grow in the secondary market. Those who want to get certain "limited edition" watch models are willing to go to any extent. And thus, the prices pump up to the skies.
How to profitably sell 1 million expensive watches?
I was once told, "99% of watches lose their price upon exiting the showroom. So what's the point of spending money on them?"
– the watches that are worth investing in cannot be bought at shops. It is next to impossible.
Did you know that Rolex produces around 1 million watches per year?
1,000,000 watches. In just one year. That's a lot, given the price for Rolex watches. But at the same time, you won't be able to buy many Rolex models at official Rolex stores.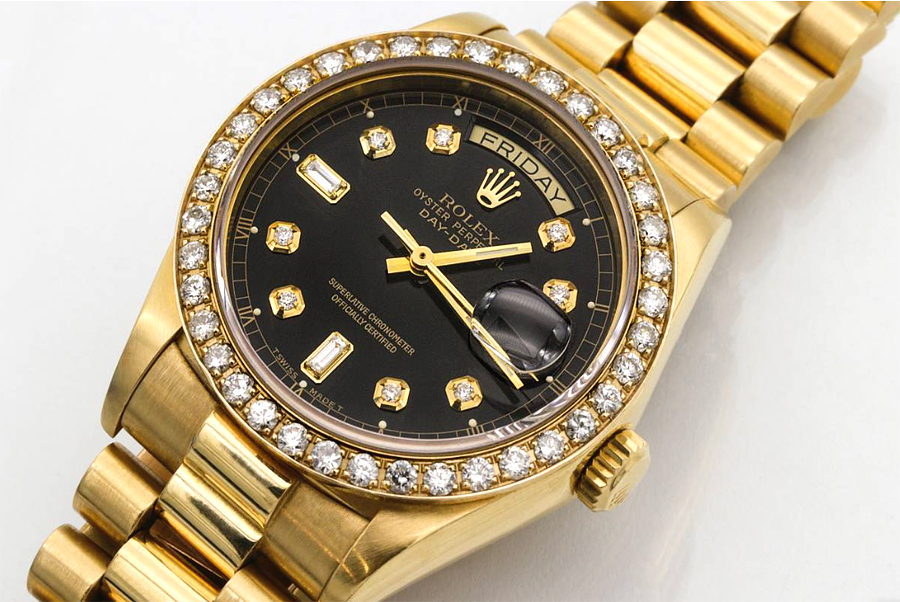 Why?
Because there's a standard practice at watch showrooms that some models and especially "limited edition" watches are sold only to regular customers. Yes, only those who have been buying watches from the shop regularly and for a long time, stand a chance.
Also, one has to use personal connections and make useful acquaintances in order to buy rare Rolex watches.
So if you don't have known faces working at Rolex showrooms, you're unlikely to find some Rolex models in official stores. And this applies not only Rolex.
But prices increase not only for rare and limited watches but common series-produced watches as well.
For example, the common Rolex Daytona Steel has seen a more than 50% price jump in the past three years. And this is despite the official price reduction in 2022, which was prompted because of the complicated global geopolitical situation and economic crises.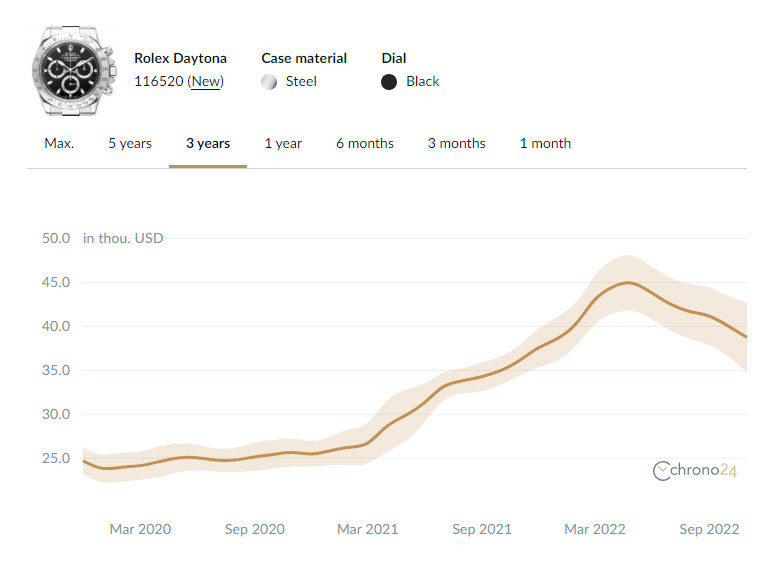 In April 2022, this watch cost almost $43,000. That is more than 100% higher as compared to the price three years ago when it was available for $21,750.
Who buys luxury watches and for what?
There are several time-tested strategies for watch investment. And as you may have already guessed, it won't do you good to buy some Swiss watches by adorable price with the hope of selling them at higher costs in the future. In fact, you are most likely to lose money if you decide to sell these Swiss watches someday.
In order to understand how the market works and what watches are good for investment, it's necessary to begin by finding out who buys expensive luxury watches or gold watches and for what reasons. In other words, you need to create and understand your buyer's persona.
There are 4 main types of luxury watch buyers.
Collectors
Collectors, as the name makes it clear, buy watches to add to their collections. They usually collect watches from certain brands, for example, Omega or Rolex, and less often, watches with a specific type of mechanism or of a particular color. Some collectors also collect watch models of a certain theme. The most popular themes among collectors include Space, the Olympics, and Auto Races.
For collectors, the ideal state of watches is of the most importance . Most of them exclusively prefer unworn watches, with all the papers, instructions, and packaging intact.
They usually won't be willing to sell the watches they have in their collection.
Investors
Investors are essentially the same collectors, but who don't mind selling some of the watches they own. I'm one of this category of buyers.
As a rule, we, watch investors, appreciate rare limited edition watches from famous brands. The preference is given to unworn watches, limited edition watches, and vintage watches that are no longer produced and the ones you will seldom see on sale in perfect condition.
For watch investors, the rareness and exclusiveness of watches are of the most importance . They buy both, already worn, and absolutely new watches.
Private buyers
Private buyers buy watches personally for themselves. Unlike collectors, they wear their watches instead of keeping them in a safe. Preference is given to famous brands and beautiful designs.
Private buyers usually like "this very" certain model. The reasons can be very different. From "I liked its appearance and this blue seconds hand", to "I saw a similar model with my teacher when I was a student", or "I want the same watch as James Bond".
For private buyers, attractive watch designs and brand recognition are of the utmost importance . They can buy both already-worn and brand-new watches.
Gift watch buyers
As a rule, gift watch buyers are wealthy people who prefer watches of famous brands exclusively in an ideal unworn state.
Some of such buyers turn to gray-zone watch dealers specifically for rare models, since it's impossible to get them from official dealers. It often turns out that the future gift receiver is very knowledgeable in the domain of watches himself and one has to find something really unique and wonderful.
For gift watch buyers, brand recognition and an ideal unworn watch state are the most important . Of course, with all the papers and original packaging intact.
What watches are worth investing in?
The short answer is that you should invest in any watch whose design has been created by the unsurpassed Gérald Genta.
But if you are serious, you can create a formula for the selection of watches that have investment attractiveness by taking into account the preferences of all four types of buyers.
It looks like this in graphical form: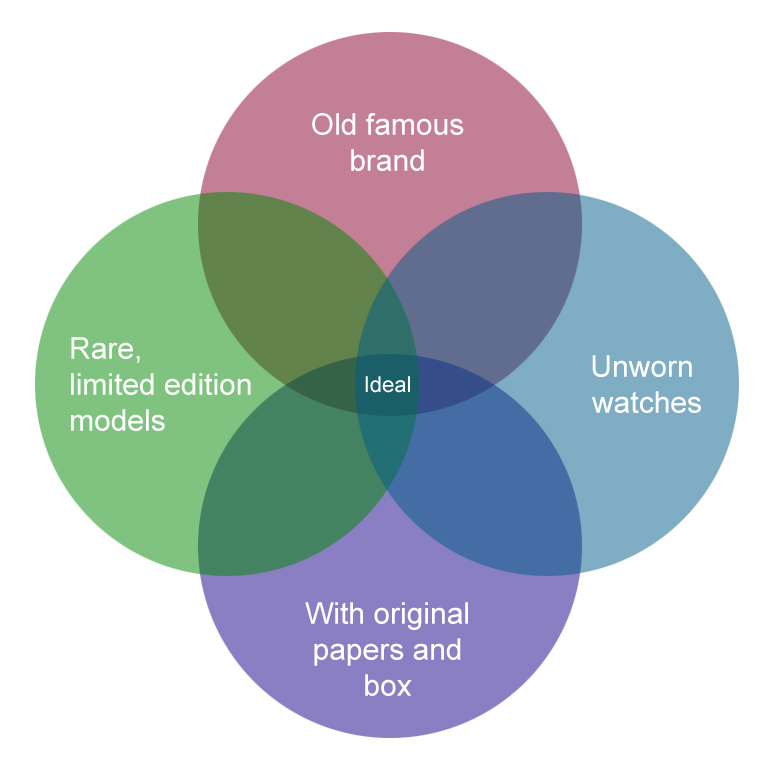 At first sight, it may seem that such watches are likely to be very expensive. But I'd like to hasten to calm you down. There are watches corresponding to this scheme for $10,000, and then there are those available for $200,000, and even much more too. Also, not all of them can be found on sale. You'll have to, at least, sweat a little when looking for Chrono24 and other watch communities. But it is worth doing all that when you'll see the results.
Old big-name brand
The brand is of the utmost importance here. People pay for popular brands with history. But not every watch brand with history is good for investment. There are about ten famous luxury watch brands whose watches are steadily growing in terms of valuation.
These, as I have already said above, are Patek Philippe, Rolex, Audemars Piquet, Vacheron Constantin, Cartier, Omega, IWC, Breguet, Girard Perregaux, and Richard Mille.
In addition to a well-known name, these brands also have more than a century-old history (except Richard Mille). Plus, these watch brands know how to do cool marketing. And I mean really cool.
They send their watches to the ocean floor and into space. They conquer the highest mountains and fly in hypersonic planes with these watches wrapped around their hands. And, of course, they star in films. All this is just for drawing the attention of a wider audience.
Just take a look at this Omega ad. It's just a masterpiece of marketing.
Such marketing contributes to making a brand iconic. Iconic watches are more than just perfect watches. They belong to a certain circle of people. And they are costly. Sometimes, very, very costly.
Here are some of such models that are good for investment:
Patek Philippe Nautilus
Patek Philippe Aquanaut
Patek Philippe Calatrava
Audemars Piguet Royal Oak
Rolex Daytona
Rolex Submariner
Rolex GMT-Master II
Omega Speedmaster
Omega Seamaster
Vacheron Constantin Overseas
Breitling Navitimer
Breitling Chronomat
Cartier Tank
IWC Pilot
IWC Portuguese
Panerai Luminor
Panerai Radiomir

Keep in mind: You shouldn't buy watches from fashion and jewelry brands for investment. As a rule, they only lose value over time compared to the watches of old and established watch brands.
Rare, limited models
The production of "limited edition" watches is a popular marketing move used by many famous watch brands. The fewer watches are produced, the more difficult it is to buy them. That leads to a higher demand for them.
Most "limited edition" watches are limited by circulation. Up to 5000 items. Often up to 2000 only.
But some companies sometimes also produce just a hundred watches of one certain model, for example, Richard Mille. Or even only 8, as does Jaquet Droz.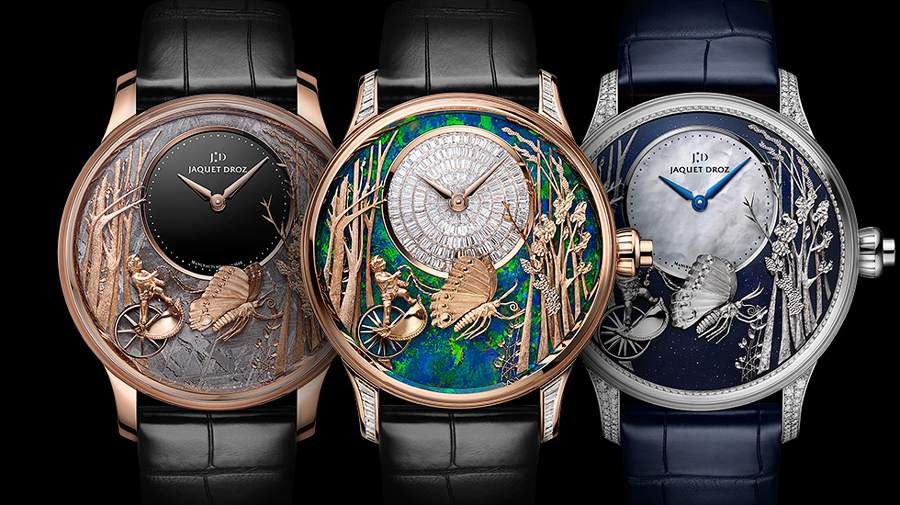 Image source: jaquet-droz.com
Most watches in my collection are limited editions. They are great for watch investment.
The very fact that there are only a strictly limited number of watches available in all makes many brand fans look for opportunities to get them. You have no idea about what fans can do in order to buy a rare model of their favorite watch brand. Sometimes "limited edition" watches are sold out less than a day from the sale's start.
This happened with Omega Speedmaster Professional Moonwatch "Speedy Tuesday" Limited Edition, launched on 10 January 2017. The Omega Speedmaster "Speedy Tuesday" was produced in 2017 and the circulation was limited to 2012 units.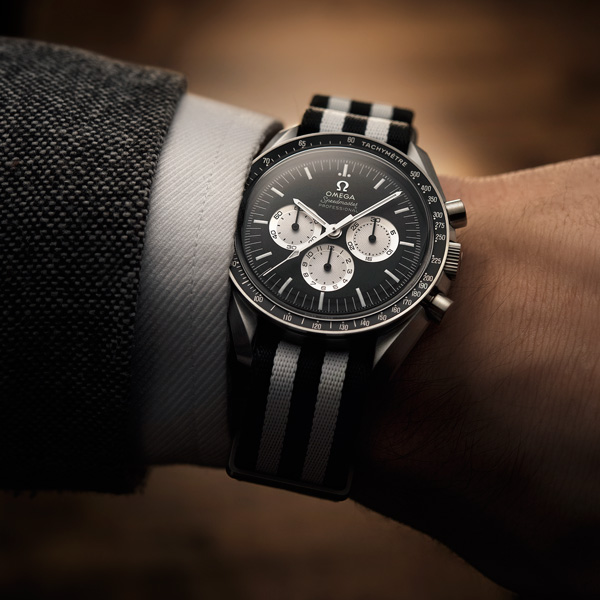 Image source: omegawatches.com
Without exaggeration, this watch was expected by Omega brand enthusiasts from four continents – Asia, Europe, America, and Australia.
The watches were sold exclusively through the submission of preliminary applications for buying on the official Omega website. Unsurprisingly, all the applications were filled within 4 hours and 15 minutes. As a result, all those who were in Europe and Asia managed to buy it. But American buyers didn't get a chance to try. After all, all the watches had been bought by customers even before sunrise in USA.
The speed with which all 2012 "Speedy Tuesday" watches were bought wasn't expected even by Omega.
As soon as the first customers got their watches, the price for this model in the secondary market jumped to between $8,000 to $9,000. Meanwhile, the initial official price was 5,400 EUR (in Germany).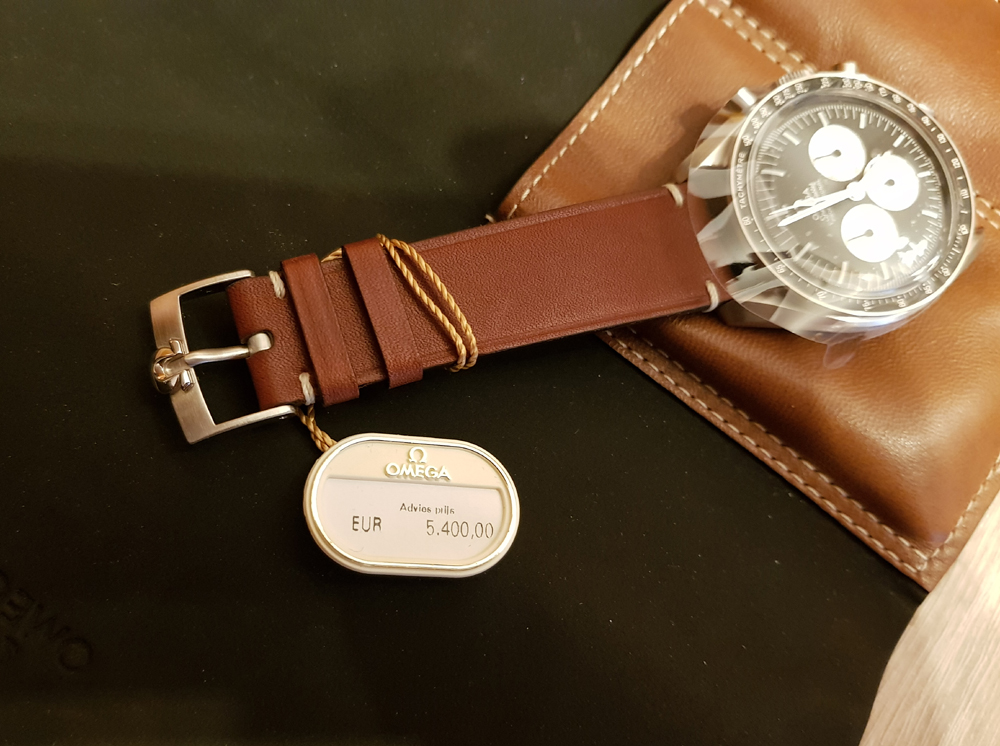 At that time, I managed to buy one of them. But lots of people were less fortunate than me.
Subsequently, the price for the Omega Speedmaster "Speedy Tuesday" Limited Edition rose to 12,000 – 16,000 EUR (depending on the state) and kept on increasing since there are very few of them available for sale.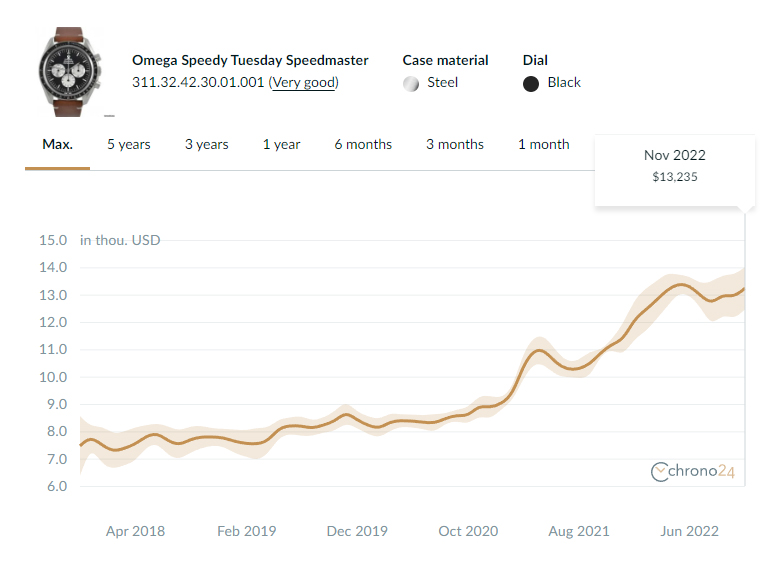 Certainly, the Omega Speedmaster "Speedy Tuesday" is great. And at the same time, it is an affordable "Limited Edition" watch for investment. But it is almost impossible to find it in an ideal and unworn state with all the papers intact.

Keep in mind: If you get an offer to buy limited edition watches at a discount, or 'at a special price', that is definitely not what you need for investment. That's because such watches are no longer in demand now, and are also not likely to be of interest to collectors in the future.
Rare watches aren't necessarily limited editions
Rare watches may not necessarily belong to limited editions. For example, Rolex produces far less limited versions of watches as compared to Omega. However, Rolex has a lot of rare models.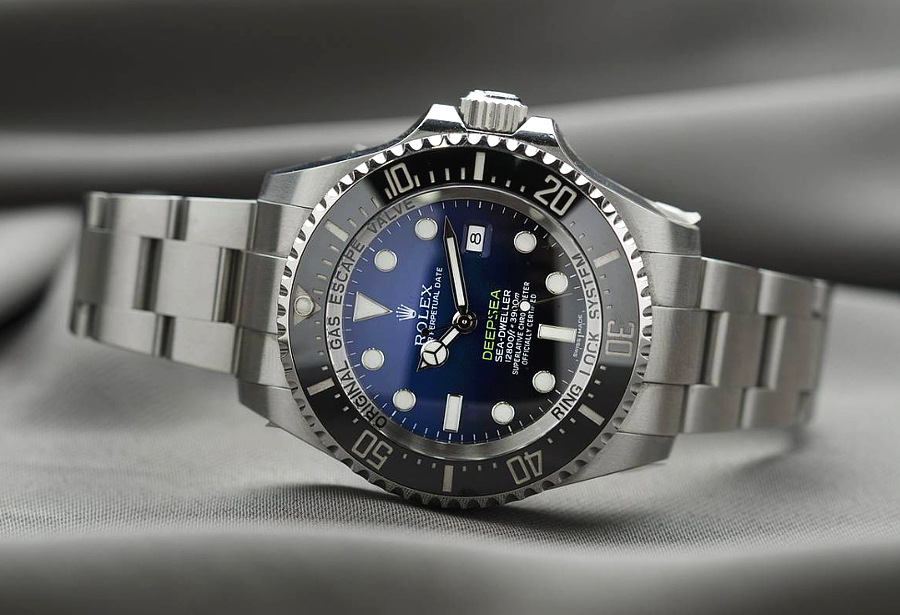 I'll demonstrate it to you with the example of the legendary Rolex Daytona, which is difficult to buy even with its ordinary steel hull.
In the USA, the line for buying Rolex Daytona is about 10 years now. That's why it isn't surprising to see how many people want to buy it.
But if you need collectible, rare Rolex watches then Platinum Rolex Daytona Ice Blue Dial with diamond indexes (notches), ceramic bezel, and a delicate turquoise dial looks especially interesting for investment.
This is an incredibly beautiful watch, and the version with diamond indexes is much more valued among collectors than the conventional one. Of course, it's even more difficult to buy it, but the model is great from an investment standpoint. Of course, if you have got about $190,000 available because that's how much this watch costs now.
I've got one of these and I'm not in a rush to sell it, since I expect its price to reach about half a million USD by the end of 2030. And that's after keeping the oncoming financial crisis, about which there are so many talks now.

Keep in mind: You shouldn't confuse rare watches and tuned-up watches. Tuned-up watches are undoubtedly unique and can look attractive. But they aren't worth it from an investment perspective. All tuned-up watches fall in value in the long run. If your aim is watch investment, then buy only those watches that are manufactured officially.
Unworn watches
Collectors, investors, and many private buyers prefer buying new, unworn watches. Watches as a gift are almost always bought exclusively in brand-new condition.
The idea of watch investment attracts many of my acquaintances as they feel that they will be able to wear these watches. Sorry to disappoint you, but you either wear watches or invest in them. There must be a strict boundary between the watches that you wear and the ones you keep in a safe as an investment.
The point is that some micro-scratches and abrasions are likely to appear on the watch even if you wear them just a few times. They cannot be identified by the naked eye, but one look at them with a magnifier will make it absolutely clear if the watch has been worn before or not.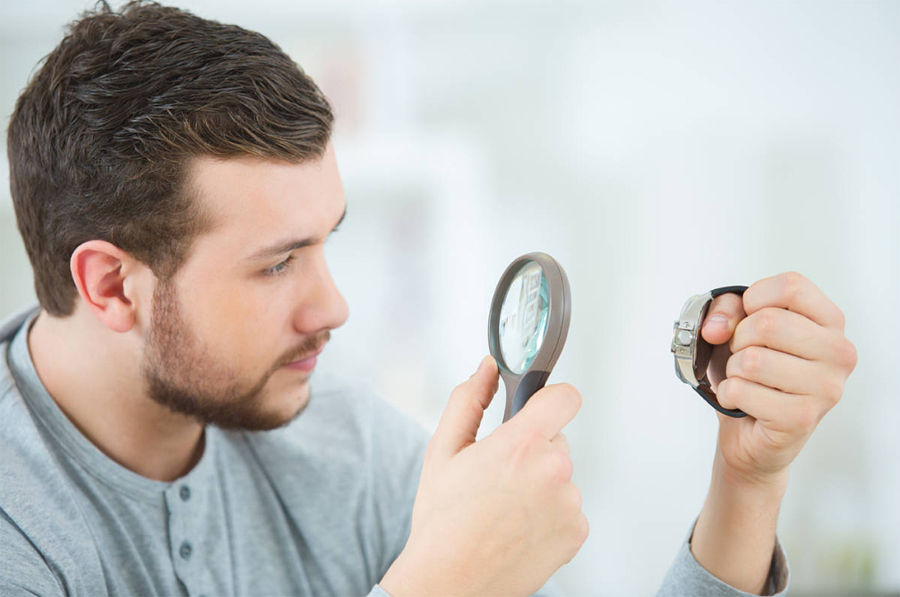 After buying your watch you no longer control its price. It may prove to be a successful deal, and its price would grow in the future. Or it might be an unsuccessful one, and the price might remain the same or even go down. But you'll be much more likely to find a customer for your watch if they are in the same ideal condition as they were initially sold in the shop.

Keep in mind: New watches and unworn ones are different. Watch sellers often use the term 'new' to refer to watches that have already been worn several times. But this isn't the same thing as unworn watches, where there are often the store label and some protective films on the glass and back cover kept intact. In the future, the price for such a 'new' watch and an actually new and unworn one can be very different.
Original papers and packaging
This is also a very important thing to keep in mind when buying a watch. Watches must have all the papers (passport, instructions, booklets, and so on) and original packaging intact. Luxury watches commonly have two, save both of them.
When buying a watch, make sure that the watch number stated in the passport (it's usually a plastic card like a bank card) corresponds to the number stamped on the watch case. If that's not true, stay away from it; you might be looking at a replica watch.

Keep in mind: Remember that you can sell the watch without the mark 'with full set', but its sale value will be significantly cheaper. It's better to keep watch papers and boxes in dark and dry spaces and at room temperature. Lacquer wooden boxes can lose their appearance over time if you leave them in the sunlight or in a room with high humidity. The same is true for papers.
Examples of investment watches
Before you go, here's a comparison table of some watch models that have demonstrated luck via their rising prices over the last five years. These are definitely the watches that are worth being invested in.
| | | | | | |
| --- | --- | --- | --- | --- | --- |
| Photo | Watch Model | Reference number | Price Nov 2017 | Price Oct 2022 | Profitability (%) for 5 years |
| | Vacheron Constantin Overseas Steel | 4500V/110A-B126 | $15 600 | $31 400 | 101% |
| | Rolex Submariner Green Dial 'Hulk' Steel | 116610LV | $8 400 | $27 000 | 221% |
| | Rolex GMT-Master II 'Batman' Steel | 116710BLNR | $8 300 | $19 400 | 134% |
| | Rolex GMT-Master II Gold Yellow Gold | 116718LN | $22 700 | $69 000 | 204% |
| | Rolex Daytona Black Dial Steel | 116500LN | $16 000 | $33 000 | 106% |
| | Rolex Daytona Black Dial Gold Yellow Gold | 116508 | $24 400 | $62 300 | 155% |
| | Omega Speedmaster Professional Moonwatch Steel | 311.30.42.30.01.005 | $3 100 | $5 500 | 77% |
| | Omega Speedmaster 'Speedy Tuesday' Steel | 311.32.42.30.01.001 | $7 100 | $15 500 | 118% |
| | Patek Philippe Nautilus Blue Dial Steel | 5711/1A-010 | $33 600 | $160 000 | 376% |
| | Patek Philippe Nautilus Brown Dial Rose Gold | 5711/1R-001 | $42 300 | $225 300 | 433% |
| | Audemars Piguet Royal Oak Jumbo | 15202ST.OO.1240ST.01 | $23 000 | $102 000 | 343% |