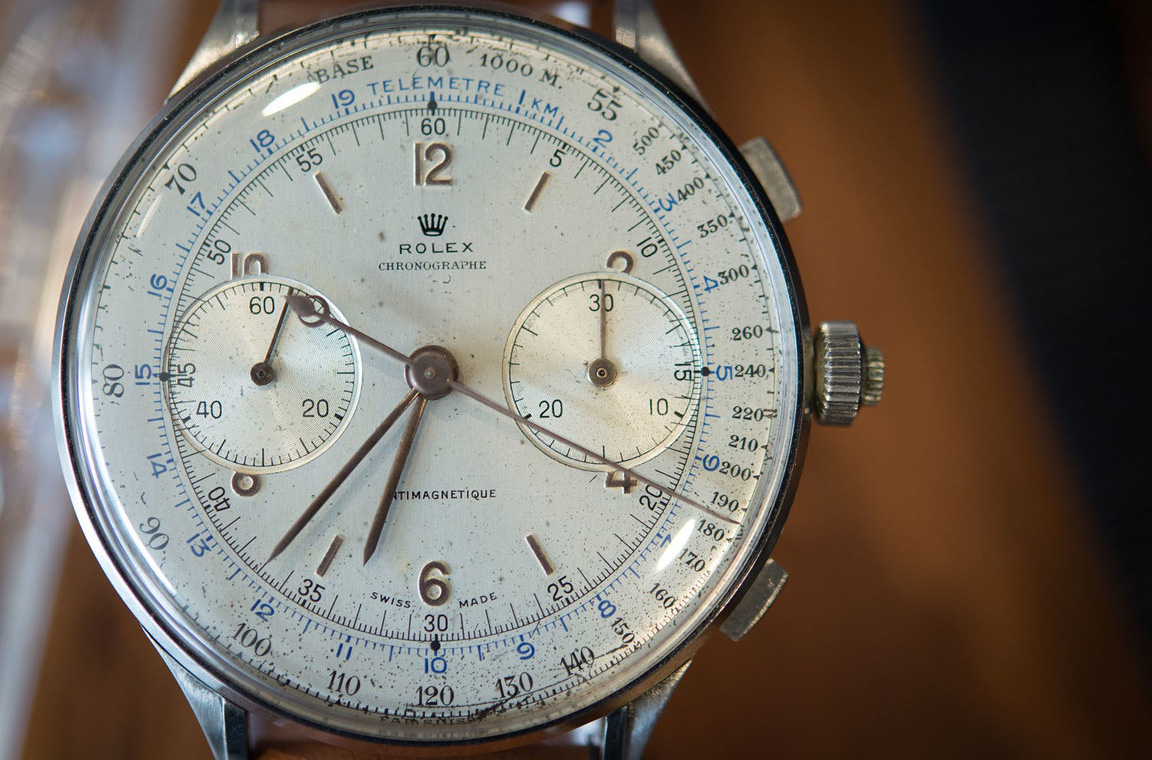 Rolex is a name synonymous with luxury watches. The prices associated with some of these coveted pieces of watchmaking genius and artful material design can often be mind numbing. For instance, in Oct, 2017, Paul Newman's Rolex Daytona was auctioned for $17,752,500. And, it's almost certain that this record will find adequate competition and might even be toppled up, potentially by another Rolex. So what makes Rolex watches so special? Here is looking into some of the possible reasons.
Their 904L steel is so famous and beautiful simply because it is an expensive version of the metal, which is also very difficult to produce.
The company has a lab of its own where top technicians are committed to continually evolving and improving their watch making mechanism.
Literally, everything, from movement parts to bracelets, is assembled by hand after thorough testing.
Even their gold is their own, manufactured by their in-house foundry.
Their proceedings are so secret that even the top government agencies do not have any information on them.
They have the best technologies known to watchmakers across the globe.
There is so much attention to detail that it takes at least a year to make ONE Rolex watch!
They have their own gemologists to look over every single piece of watch manufactured.
Absolutely nothing is outsourced.
In tune with this fascination with beautiful timepieces throughout the ages that makes people invest so much on them ( which make reasonable to buy a quality watch winder ), here is a list of the 15 of the costliest Rolex wristwatches ever sold.
15. The Steve McQueen 1967 Rolex Submariner – $234,000
The Reference 5512 Submariner produced in 1962 by Rolex was given to the actor Steve McQueen by Jimmy Brucker, a close friend, early in the year 1980. McQueen used to keep all his expensive collectibles in Brucker's airplane hangar. A watch of this particular model also featured in his last film Hunter. Thanks to two strategically positioned screws, this watch has amazing waterproof capabilities and can withstand pressure as much as 200 meters below the water level. The stainless steel model has a black lacquer dial enhanced by luminous Mercedes hands, dots and numerals. It comes with the Oyster bracelet secured by a strong clasp.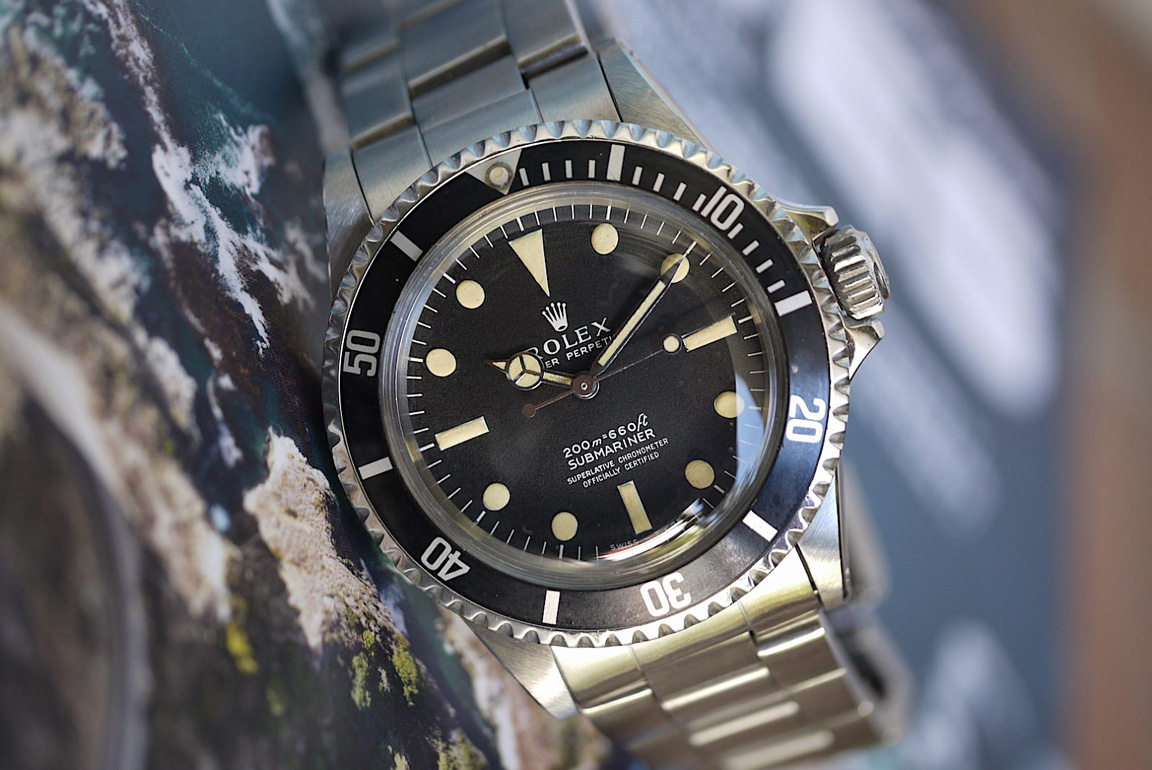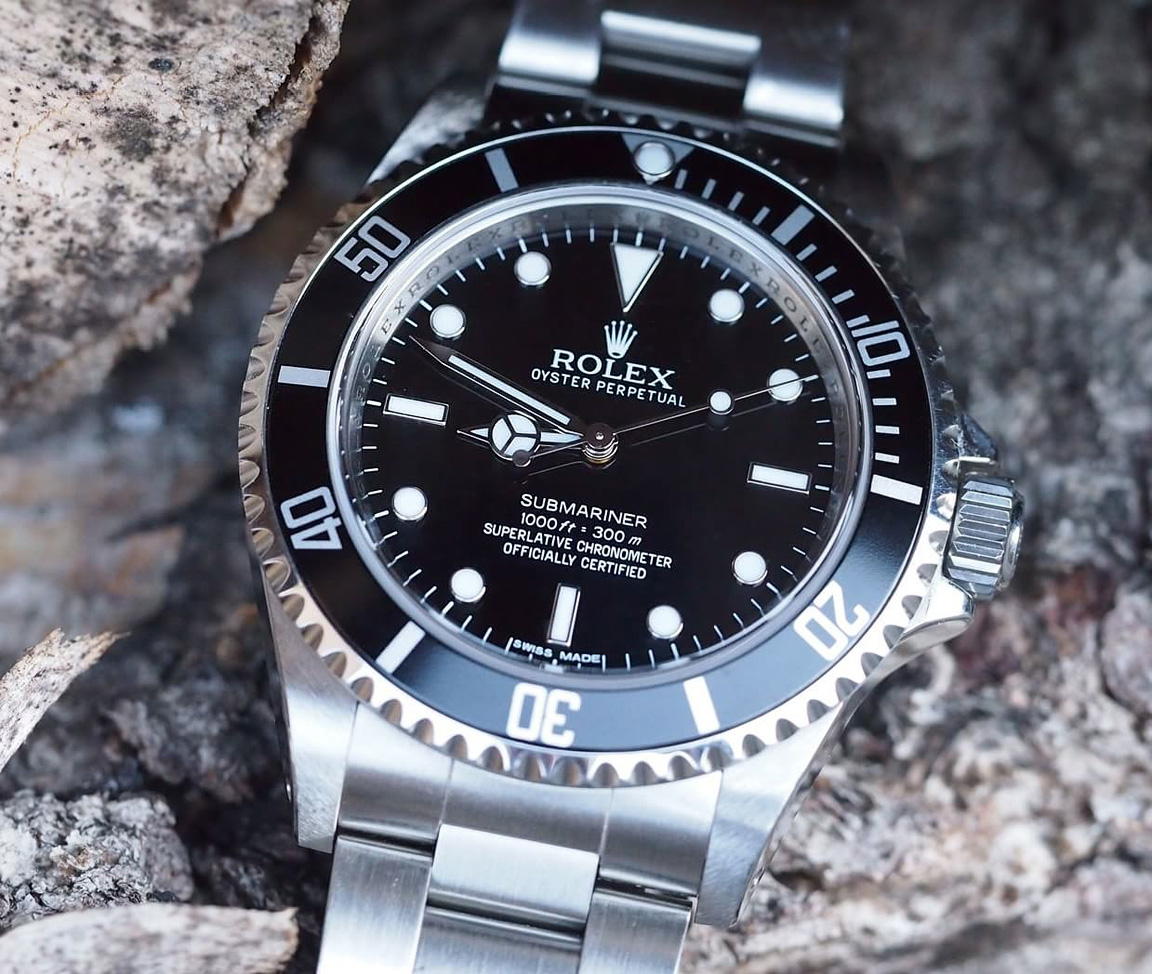 14. Dr. Rajendra Prasad's Gold Rolex Oyster – $440,000
The first President of independent India had this watch dedicated to him on the day India became a republic and has January 26, 1950 written across the dial. One of the few Rolex pieces to be made of 18 K gold instead of the characteristic stainless steel, it generated a lot of interest both during its time of manufacture and when it appeared for auction. Incidentally, this rare pink gold watch was stolen from the Patna museum soon after his death, and nobody knows how it ended up with the auction house, though there were demands for its return to India under the UNESCO 1979 charter conventions.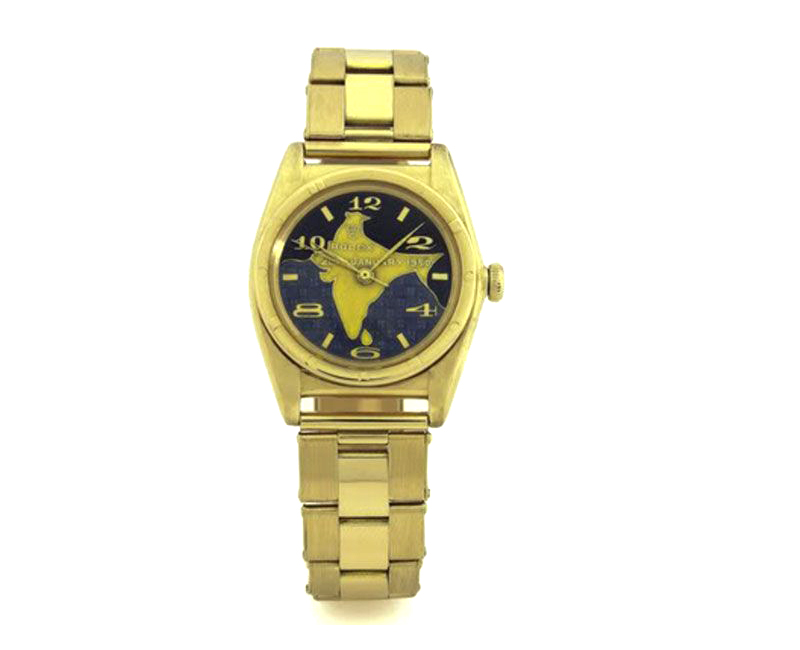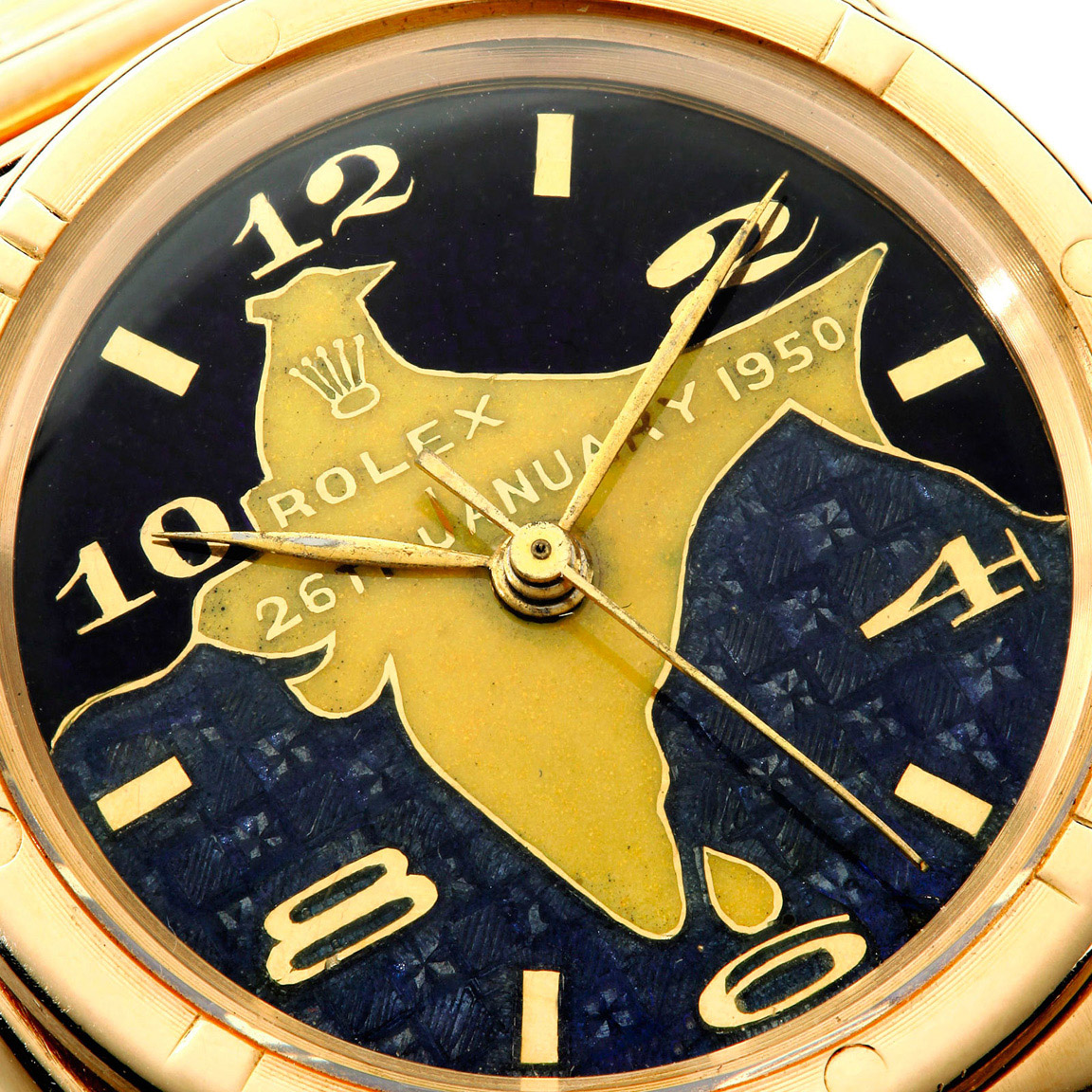 13. James Bond 1973 Rolex 5513 – $450,000
Well, what is surprising in everything being touched by a classic spy becoming a classic? Be it an Aston Martin becoming the most expensive one to be sold, or a Rolex watch, every belonging has a sleek finish to it. This particular model was used by Roger Moore in the James Bond film Live and Let Die. Roger Moore's signature is present at its case back which confirms its authenticity. It has a buzz saw and a magnetic field generator, along with a razor disc that had a very sexy appearance in the movie. However, this is just a movie prop, meaning that in spite of all the hoopla, this watch won't tell you the time!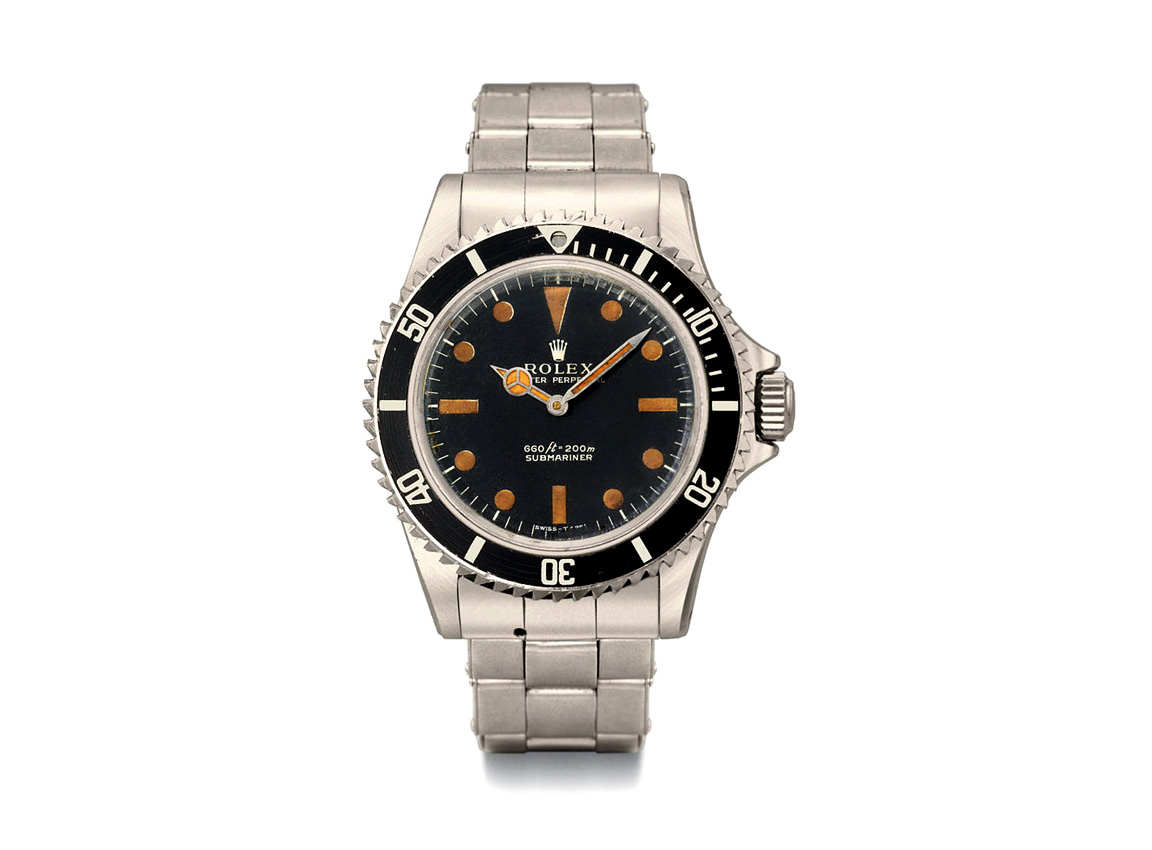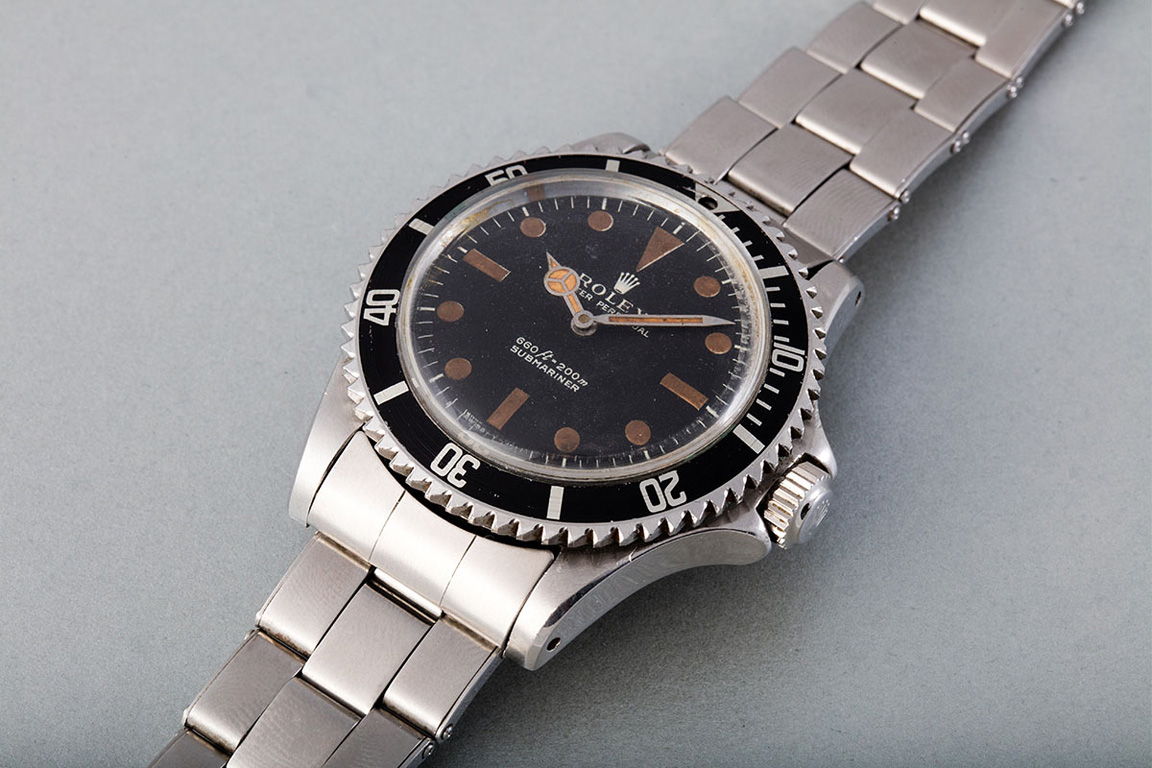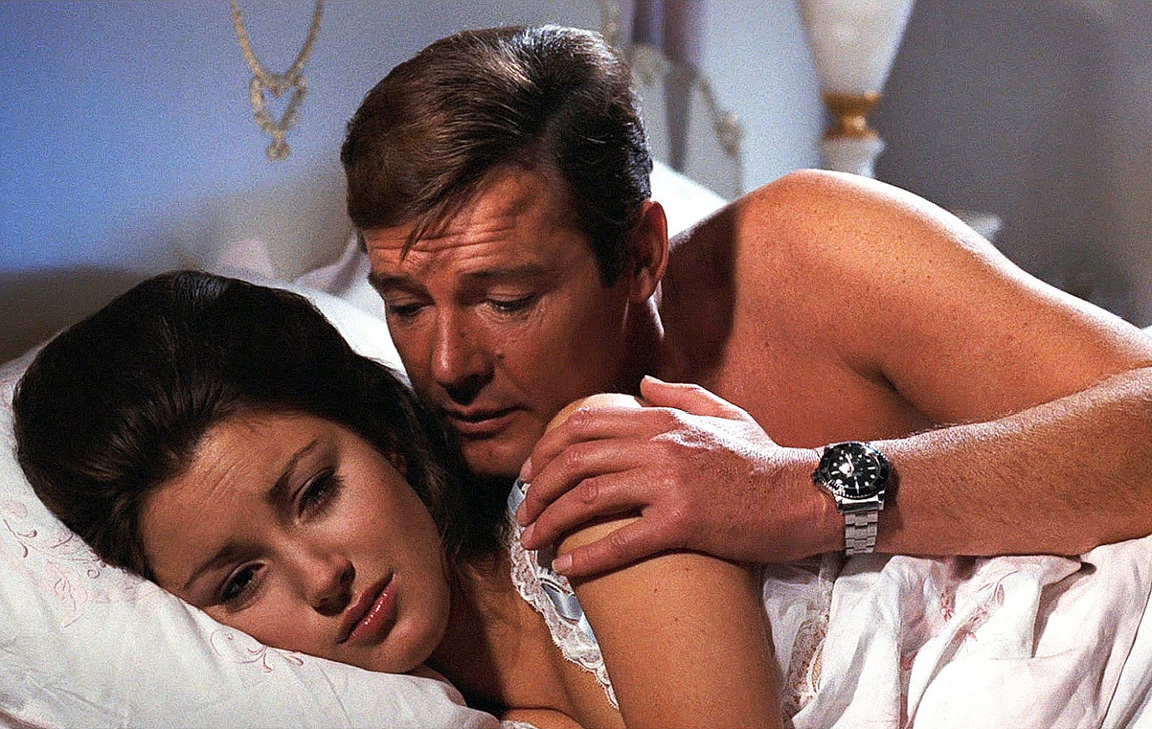 12. Rolex GMT 116769TBR – $547,000
While the other watches to feature in this list fetched their sky-high prices at auctions, this one comes directly from the brand, and is the most expensive of their pieces at present. And of course it is beautiful, so much so that it does not require any other name to validate it. The dial is made of wave diamonds. The hour markers are luminous as are the hands, though they have black lining to set them off against the background. It is a complete jewelry piece, what with the 18 carats bracelet made of white gold. There is a diamond filling along the side. It is an automatic watch, which winds by itself, and the famous Oysterlock clasp makes it very secure. It has an amazing water resistance capability for up to 100 metres. A total of 76 perfectly made round diamonds encrust the case and the locks.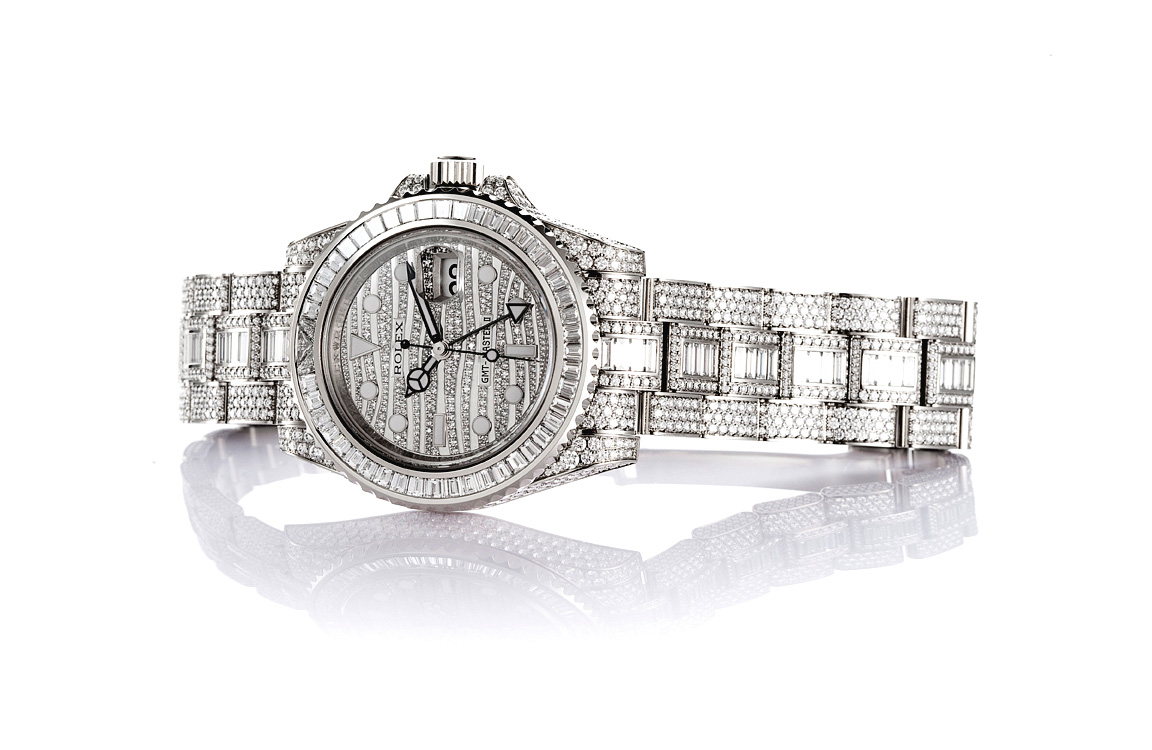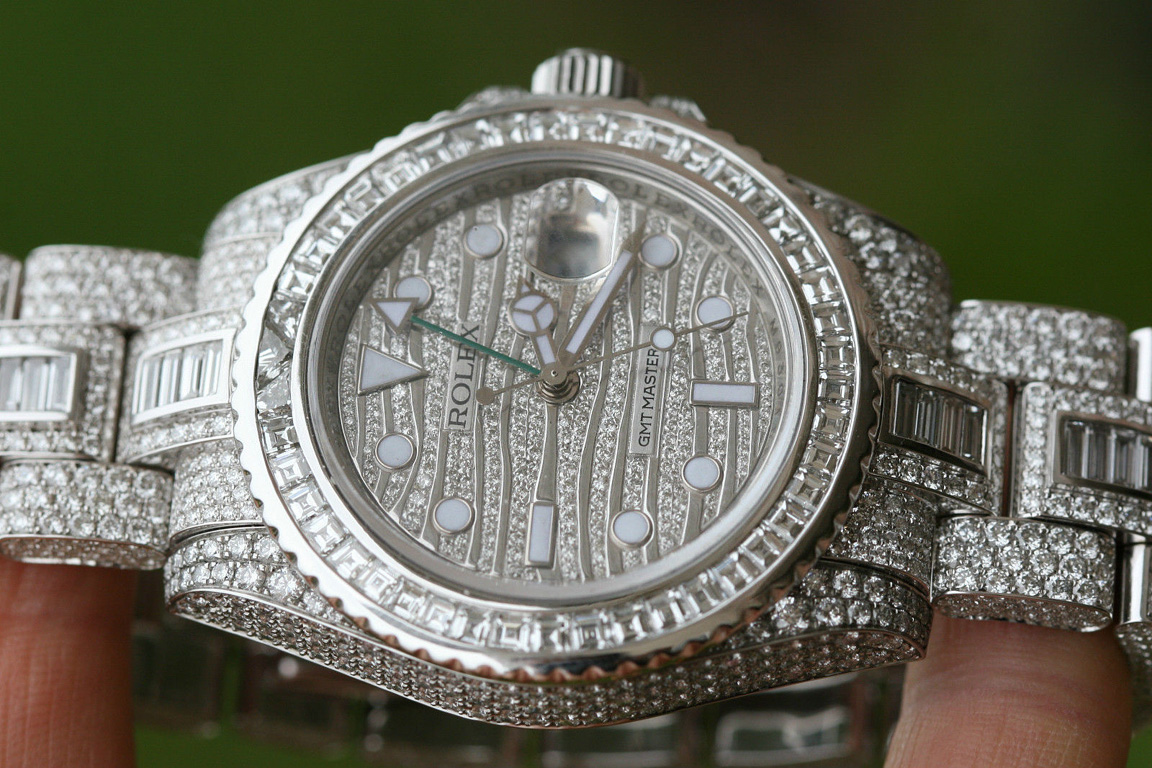 11. Rolex 6062 Gold – $895,000
This ranked among the top four the day it was sold in the 2015 Geneva auction. And that is only fair, considering that this is only one of the two pieces ever made of this model, which itself is one of the only two models to have a triple calendar with a display having the phases of the moon. Made way back in 1953, this Rose Gold Rolex is not only rare, but also qualifies as an antique. In fact, this trademark pink gold piece is rarer than the other gold models available. Due to its dreamy dial configuration, it has received the beautiful nickname 'Stelline', meaning starlet in Italian. Also be sure to check 25 Best Gold Watches For Men.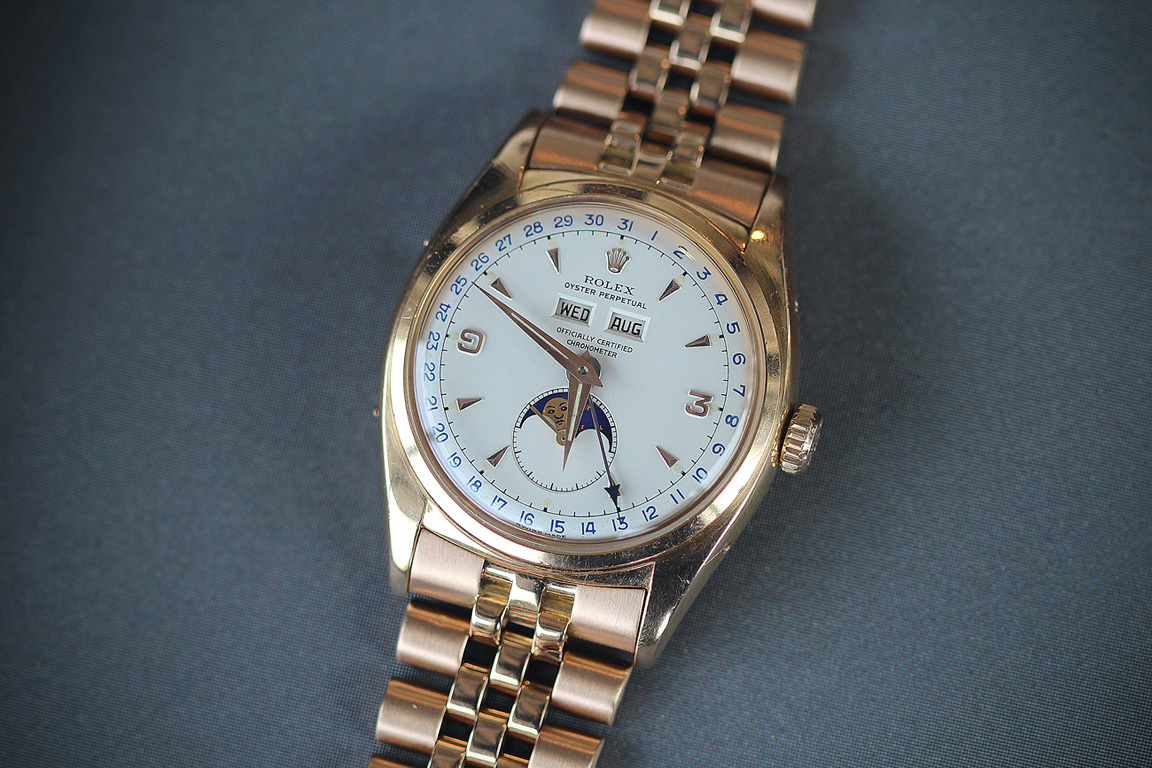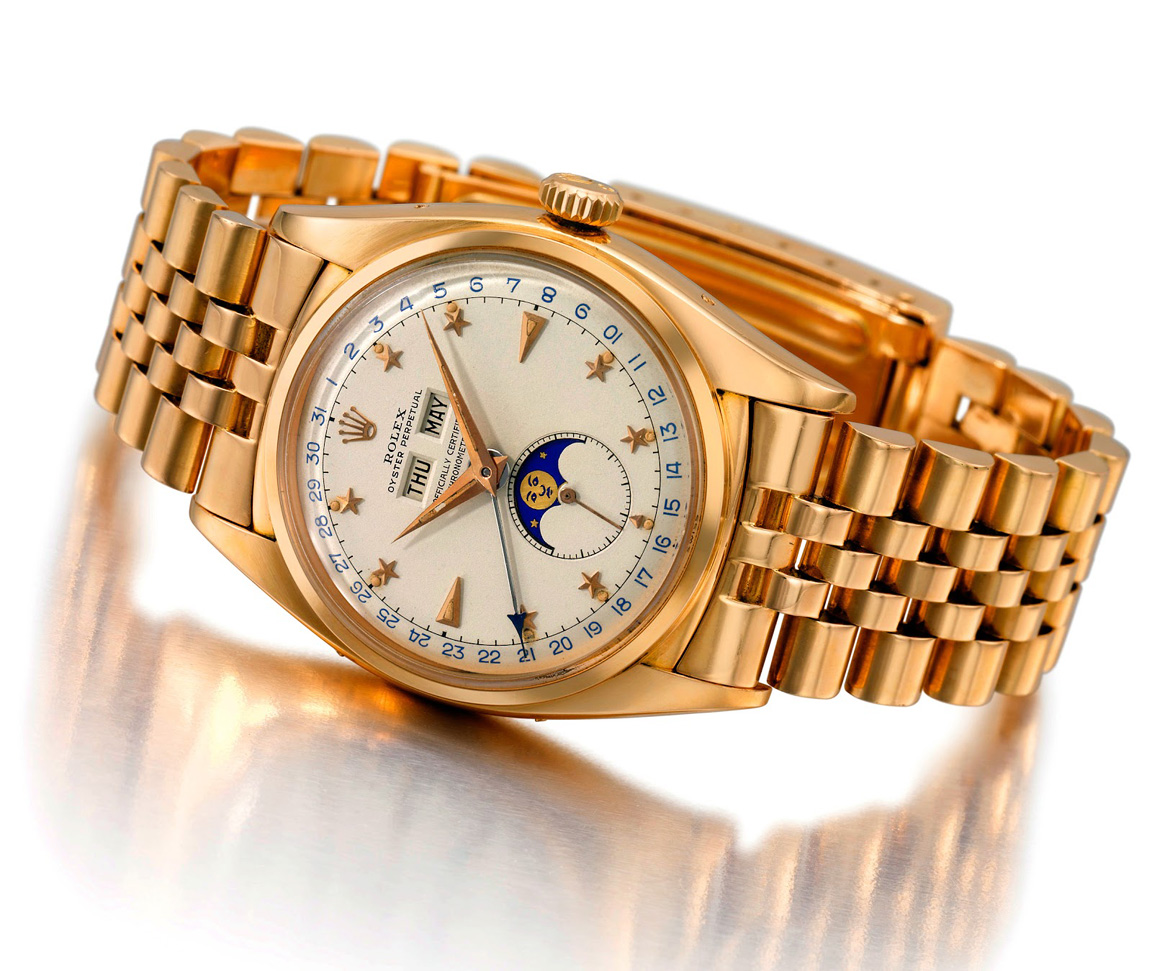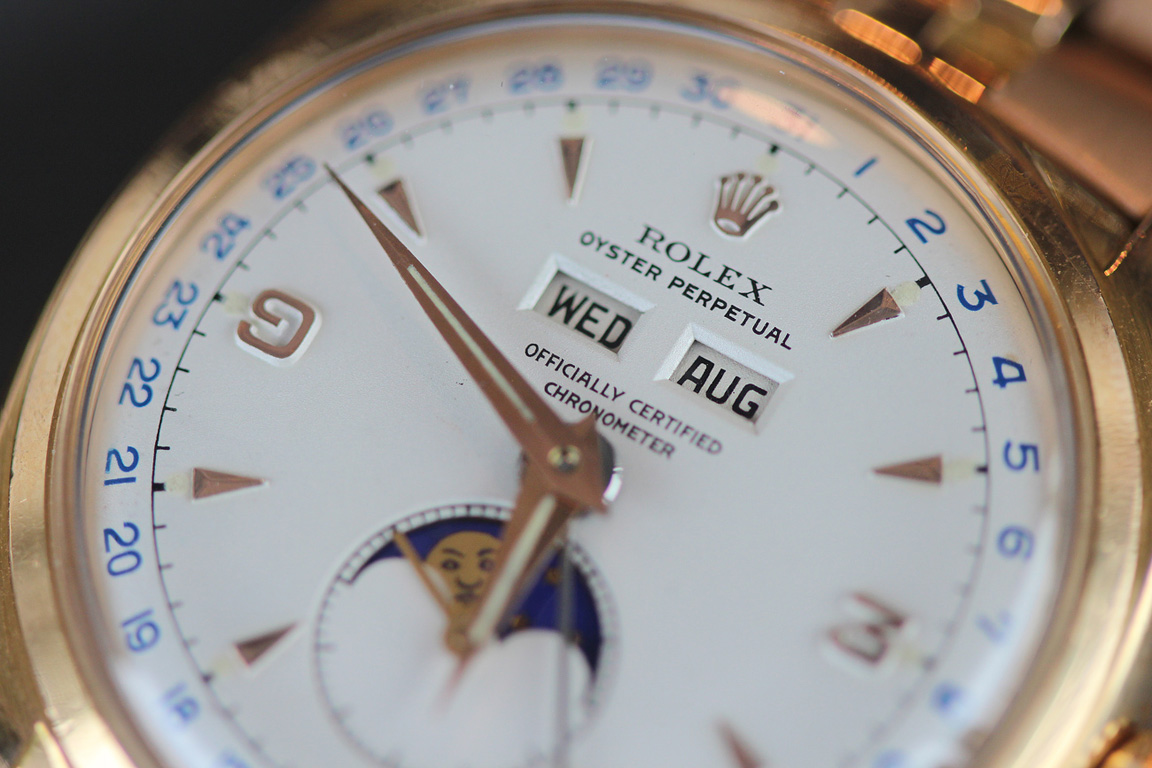 10. Paul Newman's 1969 Rolex Daytona – $1.1 million
While today the Rolex Daytona is one of the most sought after models, it was not much of a hit when it first came out. It was only after Paul Newman, the hit actor and professional racecar driver came to sport them on his wrist that people started to take note. This particular model features an elegant white dial, now known as the 'Paul Newman' dial, set off by push-down chronograph buttons, and acrylic bezel and sub-registers in black. It is actually surprising, considering the fact that the Daytonas were mostly rotting in their shelves till the 1980s, when they were given a new lease of life with rich Italians taking a sudden fancy to them.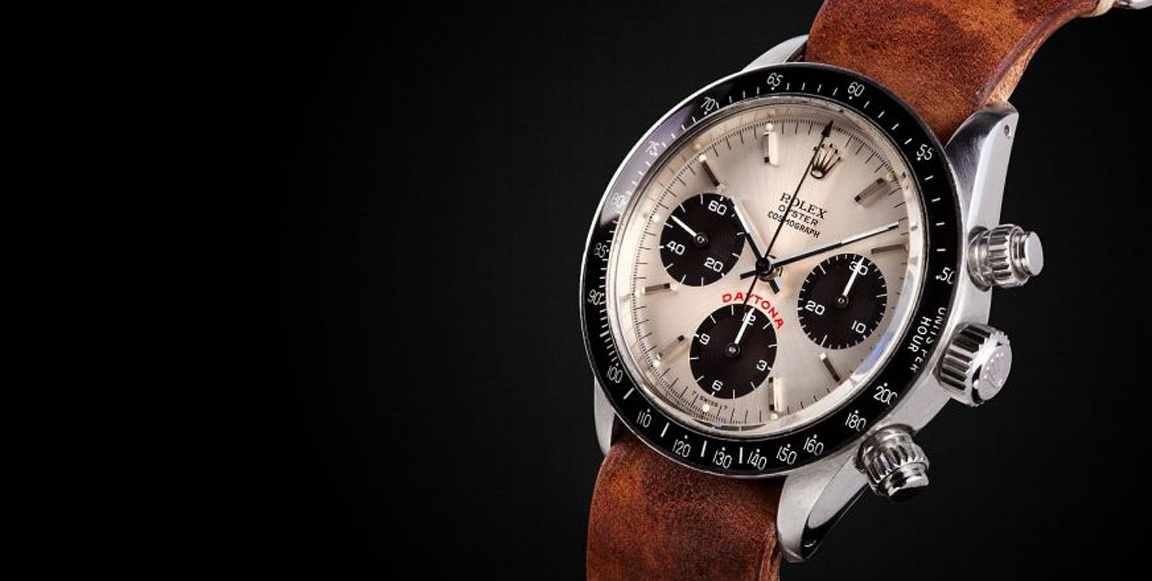 9. 1950 Rolex Sleeping Beauty – $1.14 million
Because of its complicated features, this watch was previously called Pandellone, which means Big Frying Pan in Italian. Yes, you read that correct. Only 100 pieces of this model were ever made, and today they are rare to come across. Estimated at only $250,000- $350,000, it fetched around 4 times that price in 2013 at the Christie's New York auction after fierce competition from four countries. And this surprise bid immediately earned it the new nickname of 'Sleeping Beauty'. With its triple date and the moon phase display, this stainless steel model is one of the most complicated pieces ever made by its company.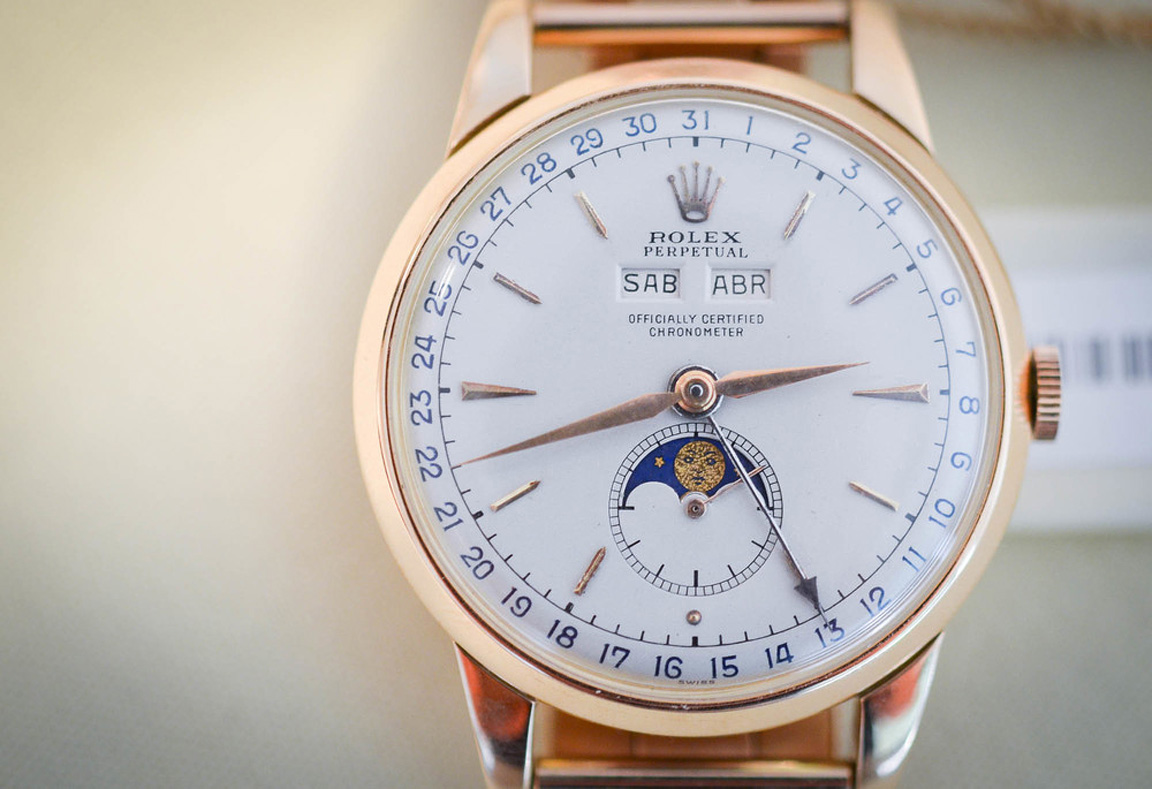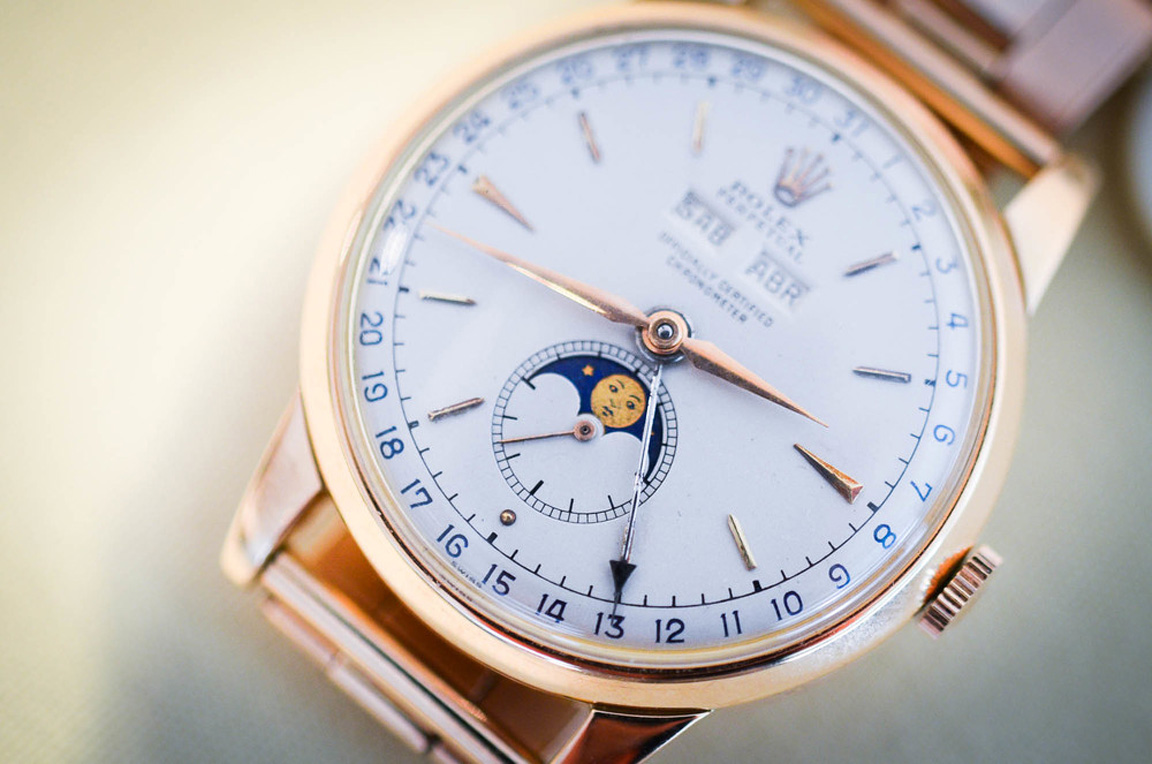 8. 1942 Rolex Chronograph – $1.16 million
This too is a Rolex watch with a complicated mechanism sold at a jaw-dropping price. This model features a blue telemeter, a split second chronograph mechanism, outer minute markings, and many other cool features. Only 12 pieces of this model were ever made, contributing to the model's rarity. It comes with a nickel finish and the dial has a matte silver finish. There are 17 jewels and the Arabic and baton numerals are in pink gold.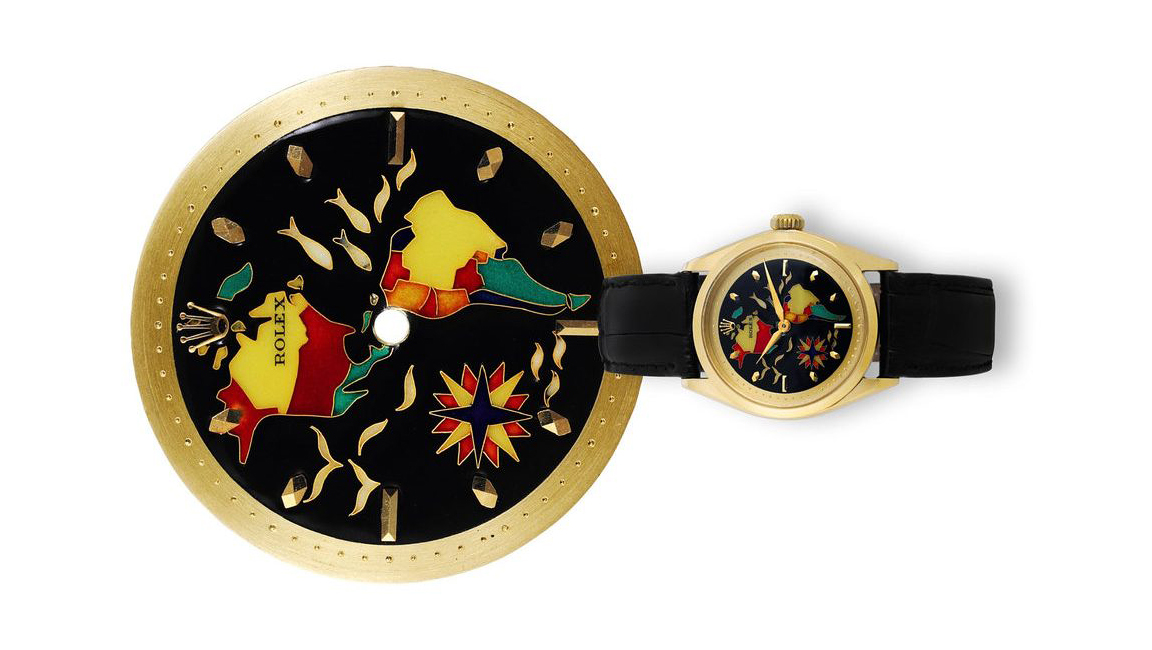 7. 1949 Rolex Oyster Perpetual – $1.22 million
The Rolex Oyster Perpetual is one of the oldest surviving models and this 1949 edition was sold for $1.22 million in a Christie's special auction for luxury wristwatches in Geneva in 2014, way beyond the initial estimate. This beautiful watch is not only rare and an antique, but its dial, made of cloisonné enamel, is simply beautiful, making it one of the most elegant and classical pieces in this list.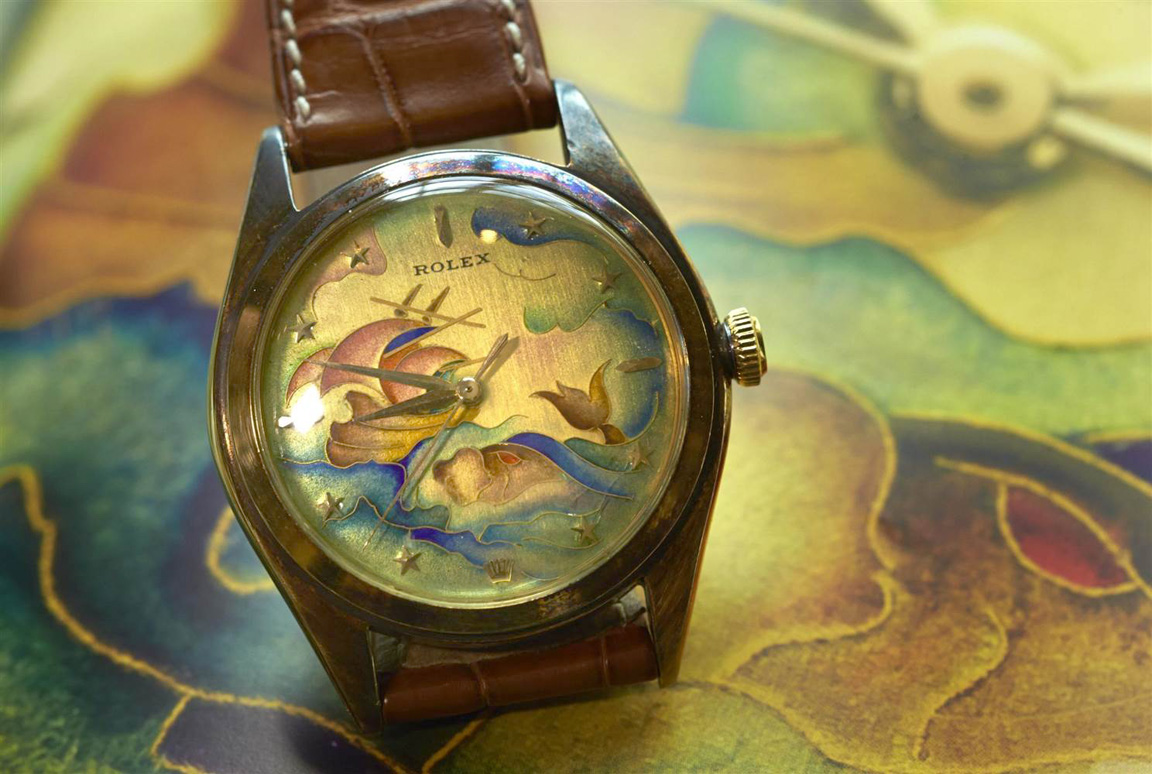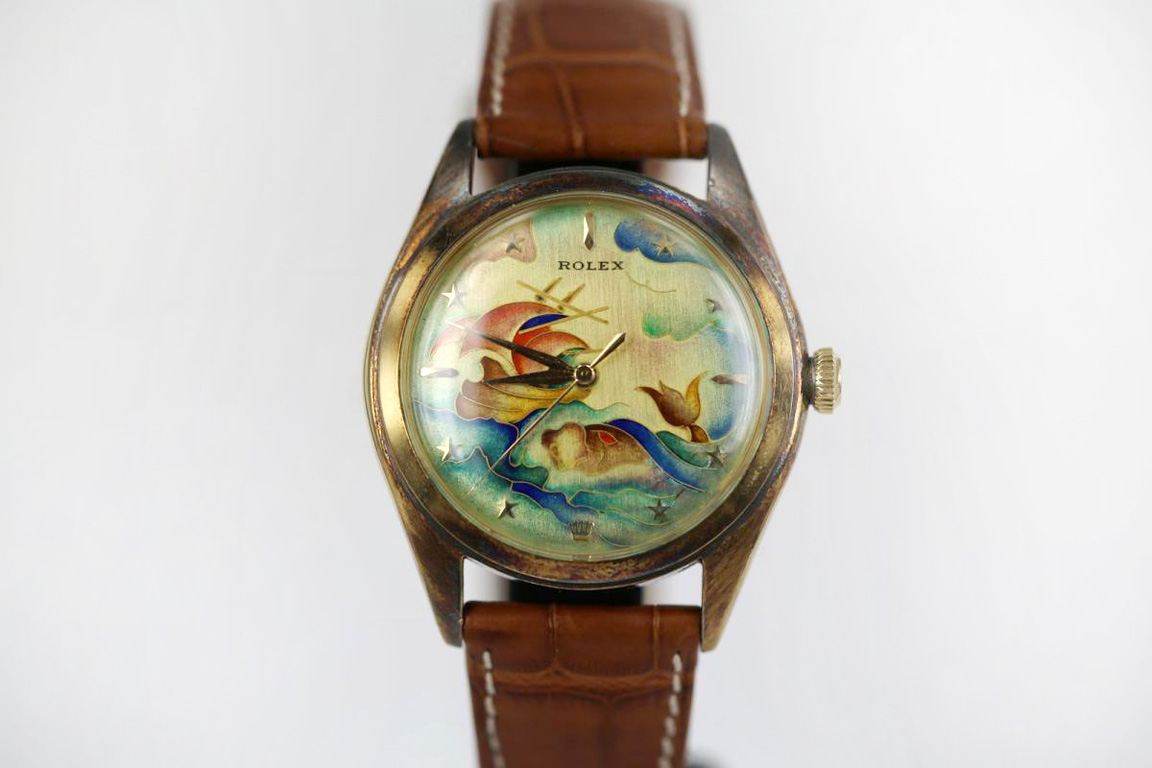 6. Eric Clapton's 1971 Rolex Daytona – $1.185 million
This is one of those pieces that remain timeless in their appeal. When it went under the hammer in a Sotheby's auction way back in 2008, it sold at a whopping $505,000. When it was sold by that successful bidder in a Phillips auction in 2015, at $1.185 million he made a profit of more than half a million dollars. You would be surprised to know that in spite of its famous original owner and the brand value, it was only the third most expensive watch to be auctioned on that particular day, being beaten by the brand Patek Phillipe.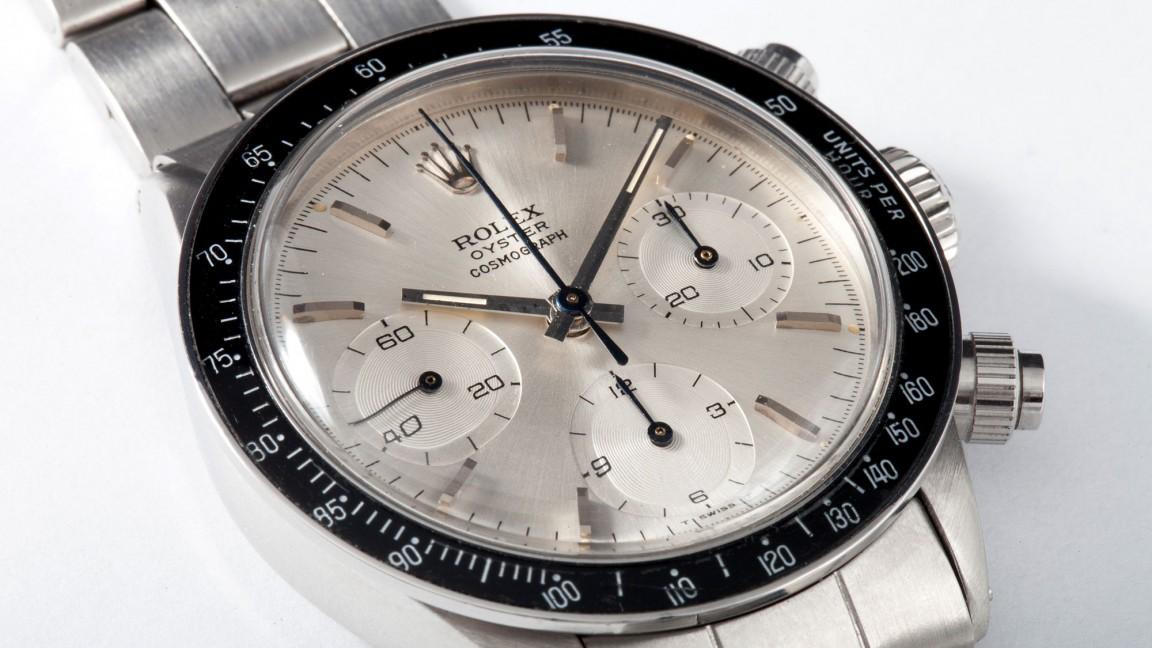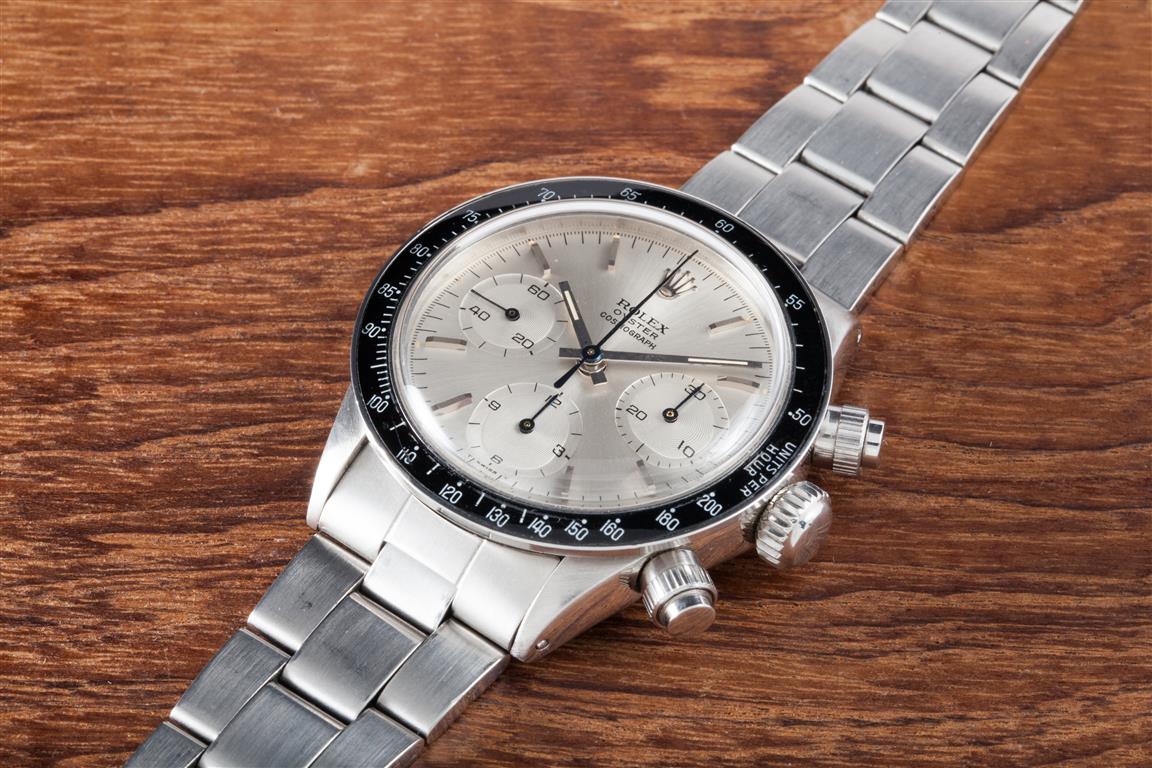 5. Paul Newman's Rolex Daytona Oyster Sotto 6239 – $1.95 million
This was the first ever screw-pusher with a three-color dial set in black to be made by Rolex. And of course, like all cool Rolex models it was owned by Paul Newman. It was sold in May 2016 at the Phillips auction and remained the most expensive watch to be sold in an auction for 5 years before it was pushed off the place by Eric Clapton's watch.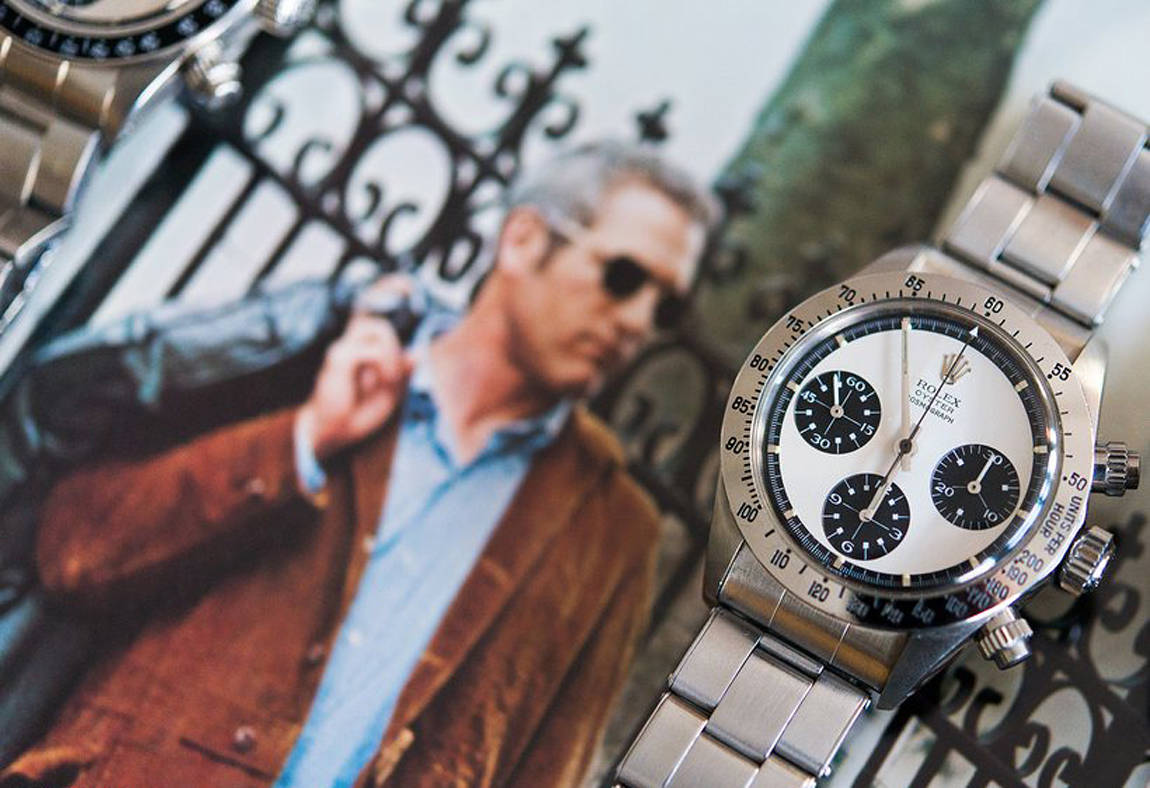 4. Rolex Split-Seconds Chronograph 4113 – $2.45 million
Sold at $2.45 million in a Phillips' stainless steel chronograph auction, this held the record of the most expensive Rolex watch to be sold for just a couple of months. The split-seconds chronograph happens to be among the most complicated and features two sweep seconds hands to help in tracking immediate events while taking note of the time at large. This mechanism first appeared in pocket watches in the late 1800s.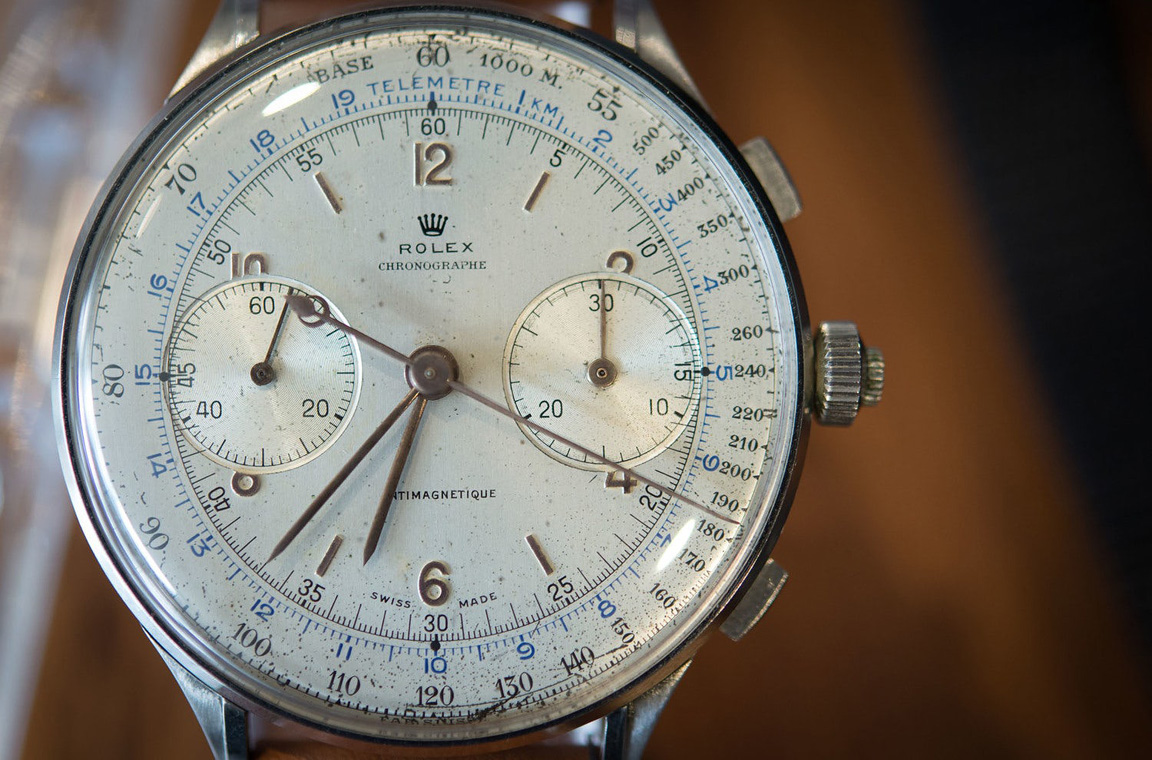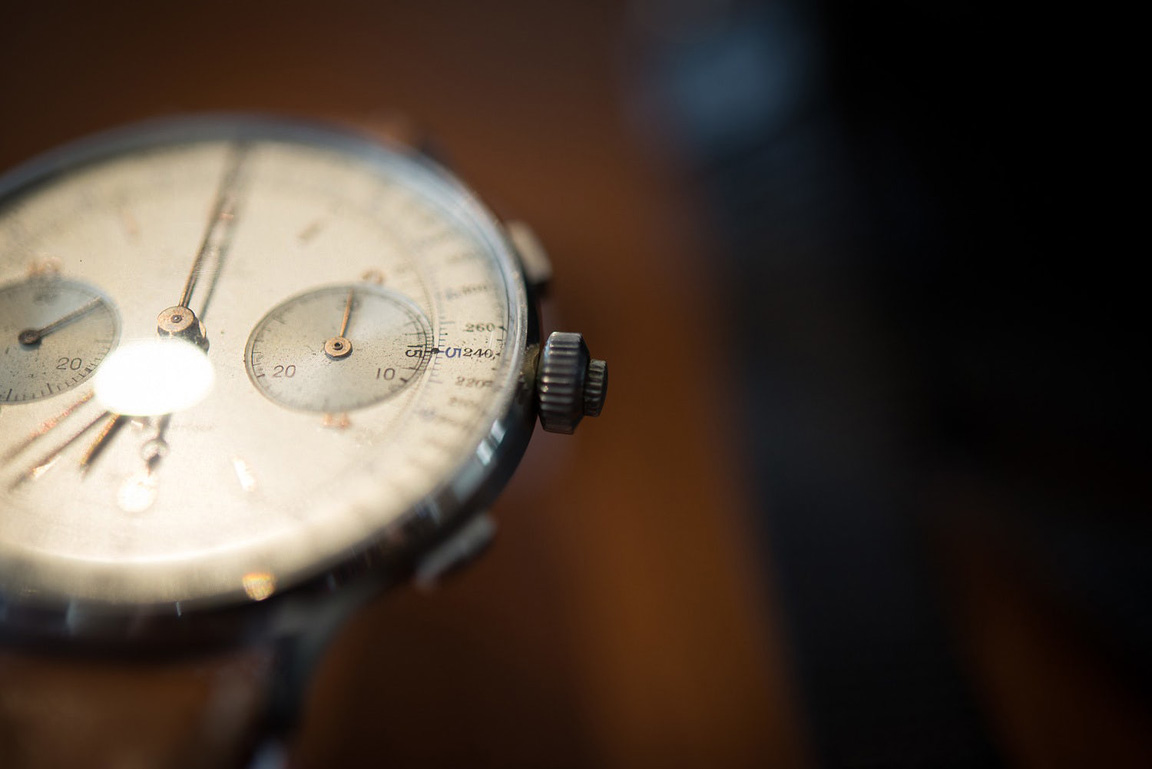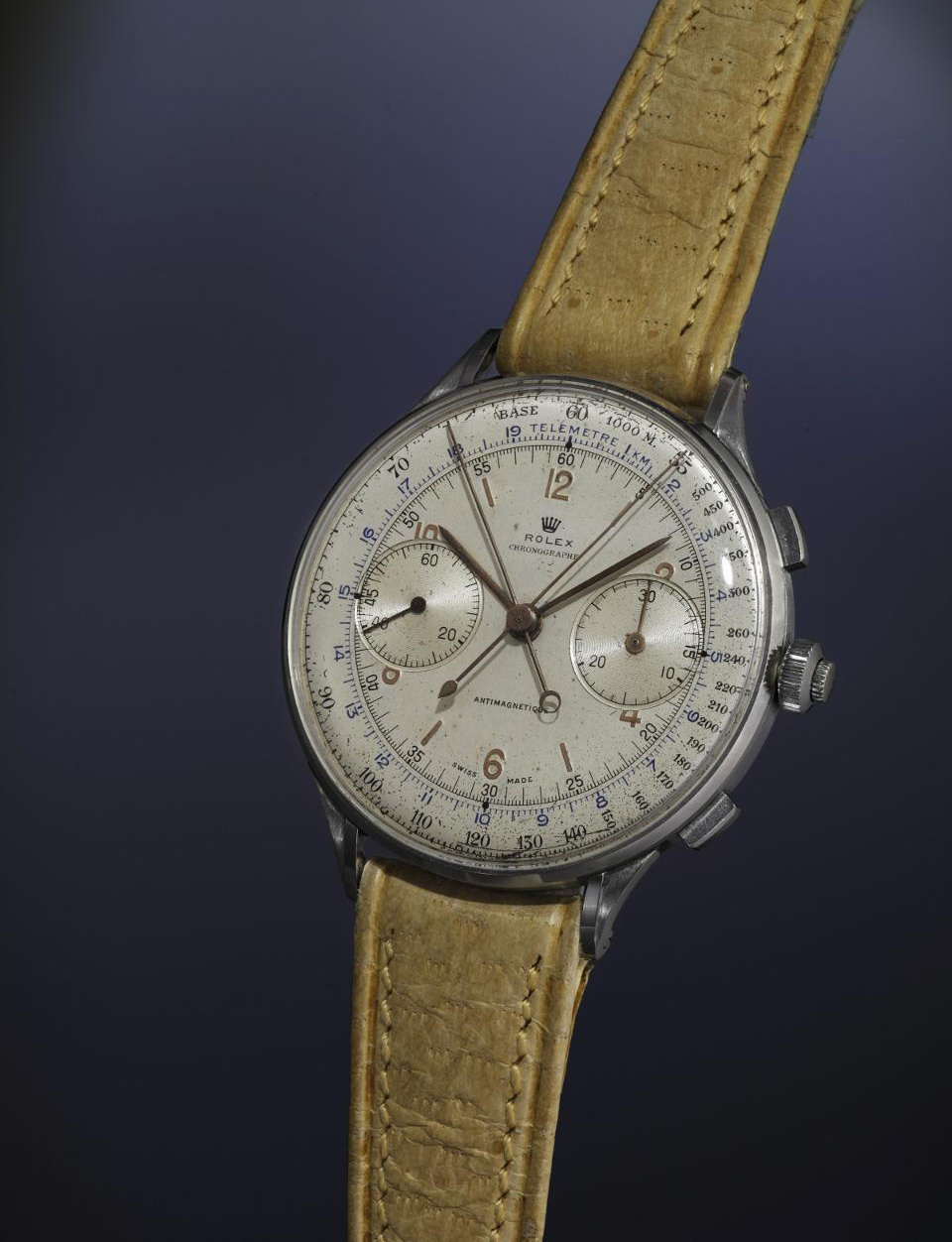 3. 1958 Rolex GMT Master – $3.5 million
Before Paul Newman came in and broke records (yet again) this was the most expensive Rolex. It sold at the Phillips auction house in Geneva for $3.5 million. And why not? Made with 18K gold, it was rare as Rolex GMT watches usually come in stainless steel. One of its most striking features is the Bakelite cognac-brown bezel. For 58 years, this watch had been preserved in its original state without any attempt at restoration. Before this, when the watch was up for auction for the first time, it did not fetch a very remarkable figure.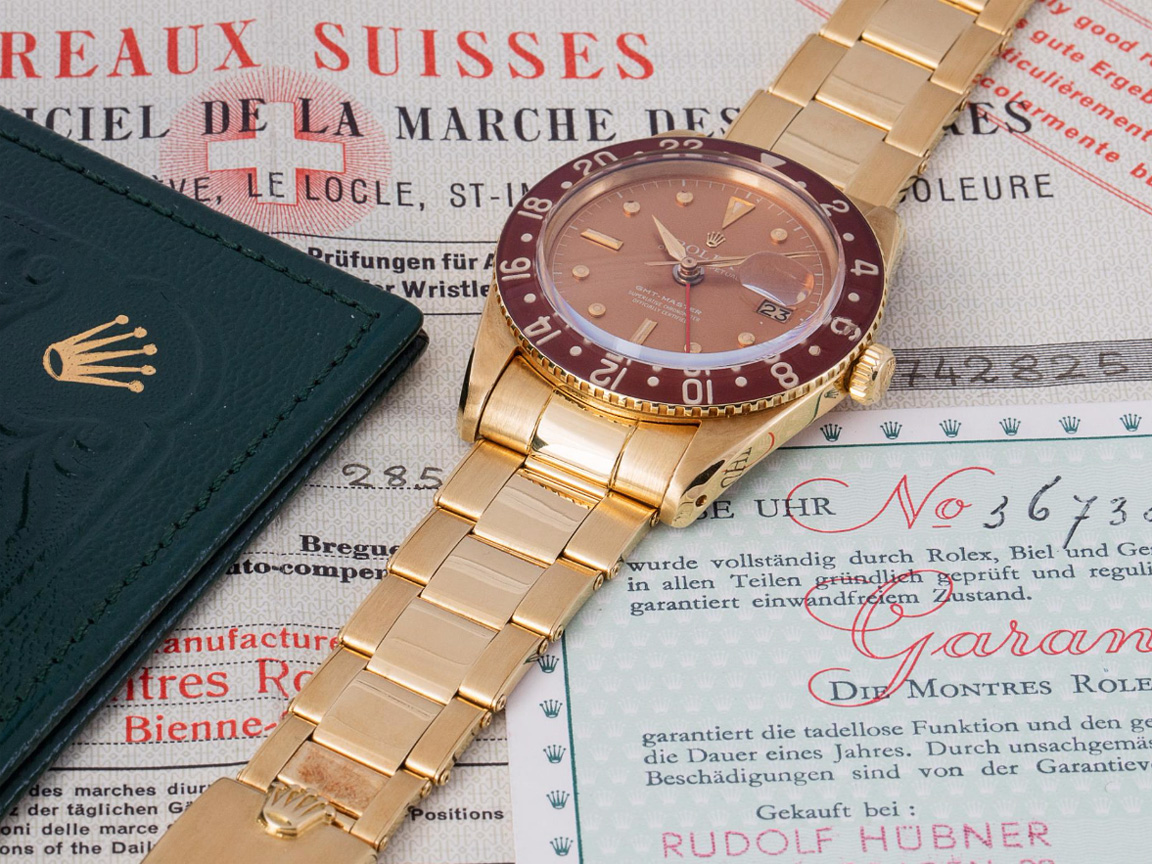 2. Rolex Bao Dai – $5.1 million
One of the few chartbusting Rolex watches not to belong to Paul Newman, this watch was actually the property of Emperor Bao Dai, the last monarch of Vietnam. Made in the 1950s, it was among the most complicated watches ever manufactured at that time, what with its triple calendar and moon phase indicator. This watch is made of 18-karat yellow gold, and is one among only three models to have a black dial, and the only one to have diamond markers at the even hours. In 2002, it was sold for $235,000 at the Phillips Auction House, meaning the latest successful bid was around 21 times its previous price!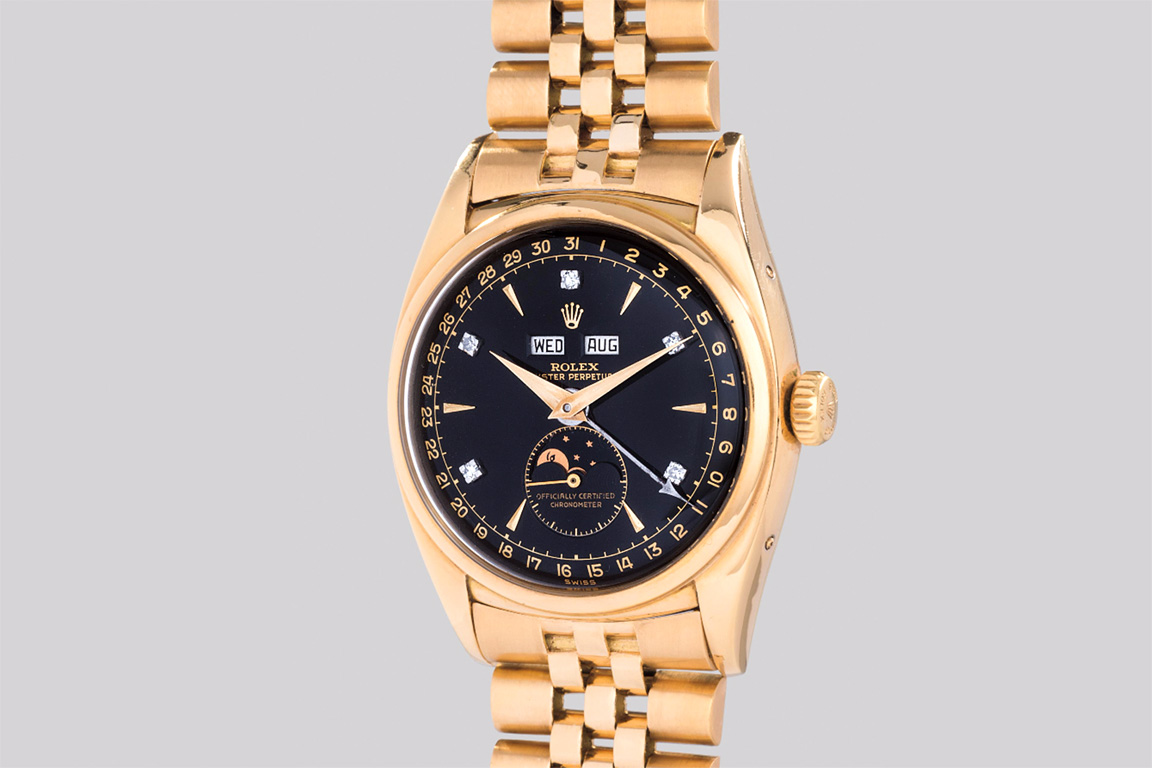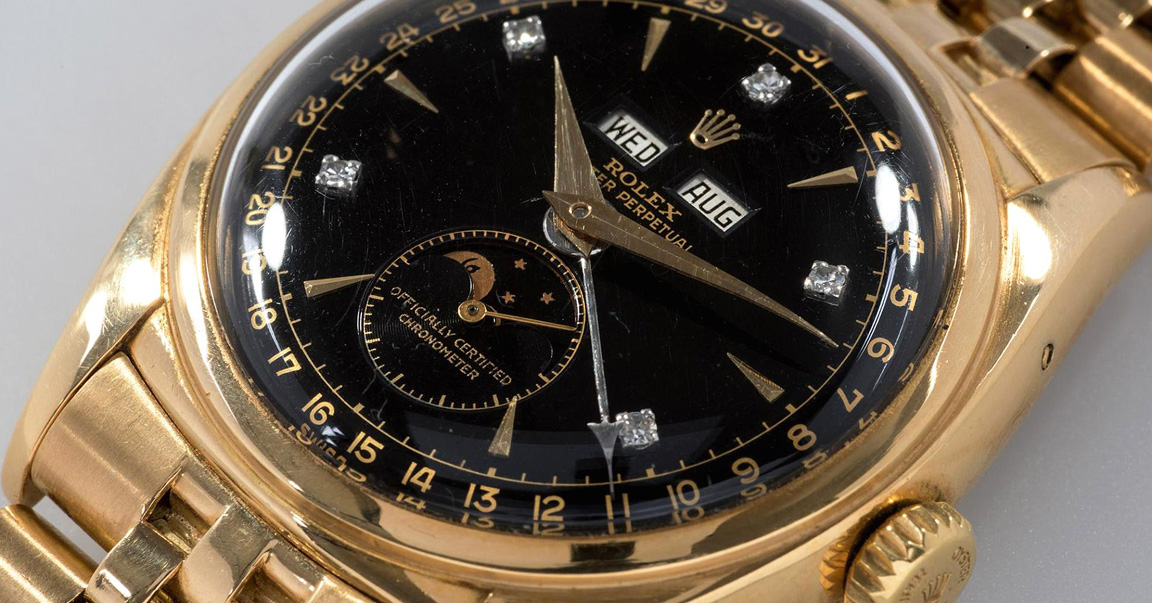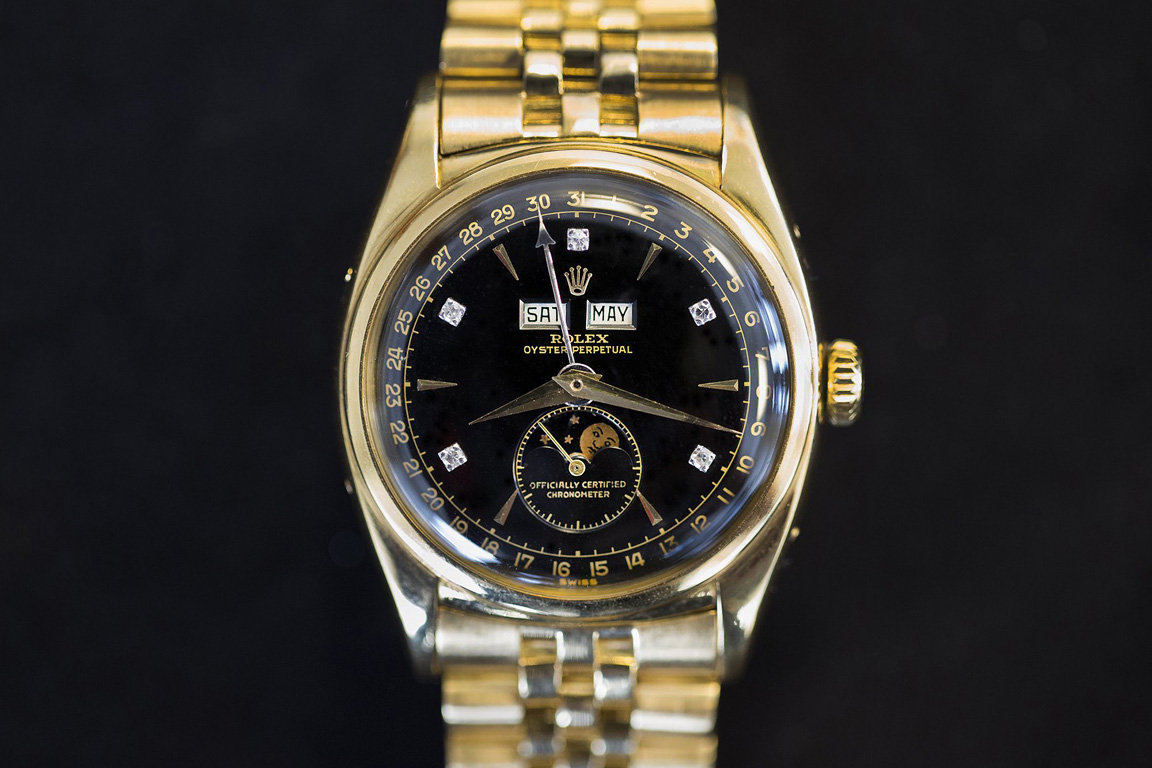 1. Paul Newman's Rolex Cosmograph Dayton – $17.8 million
So yes, Paul Newman has been breaking records with his Rolex collection for such a long time now that you are probably bored. But the price at which his latest Cosmograph Dayton went under the hammer would put his own brand value to shame. Known as the 'Paul Newman' watch, it was a gift from his wife Joanne Woodward who bought it from a Tiffany & Co store in New York in 1968. The 'drive carefully' was engraved while Newman was trying his hands in motor racing. The Oscar winner had used this watch for 15 years, before gifting it to his daughter's then boyfriend James Cox in 1984. Even after their breakup, they remained good friends, and put it up on auction, proceedings from which went to the Newman's Own Foundation and the Nell Newman Foundation. 700 people were present in the auction with participants from 43 different countries by phone, one of whom finally bagged the treasure.