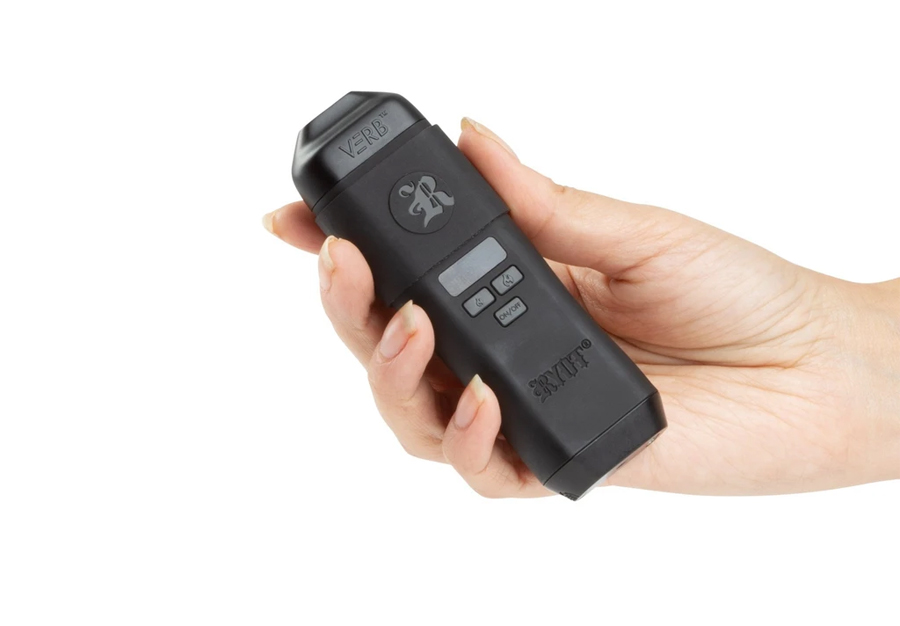 Times have never been better for those who like to breathe in, hold it and puff out. 36 states in the US allow the medical use of some dry herbs. Recreational use is legal in 18 states, including New York. More are on their way to allow lifting of restrictions. But legal restrictions aside, what about discretion? Would you really like a landlord who came in to repair a broken showerhead to discover a bong besides your Nintendo Switch? Maybe your girlfriend doesn't like the lingering smell that just refuses to disappear. That is why dry herb vaporizers are so great. They don't burn the weed but heat it just enough. And if you are going to start with one, we highly recommend the RYOT Verb vaporizer.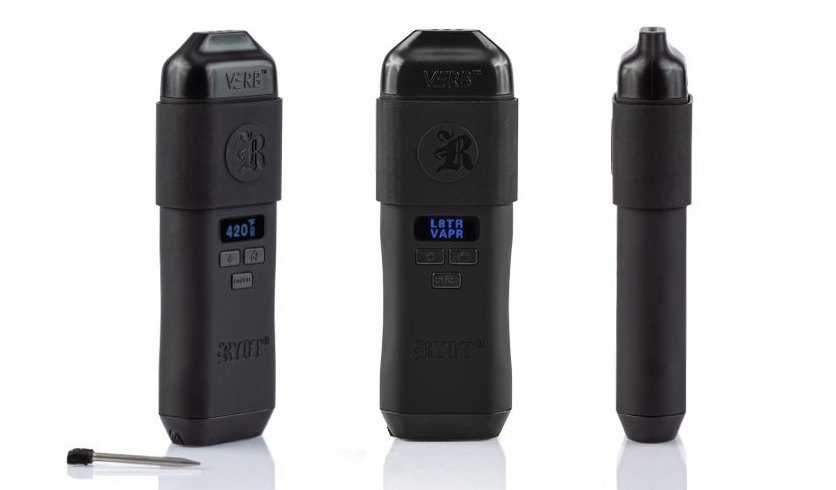 What is the RYOT Verb Dry Herb Vaporizer?
It is a small vaping device with a rechargeable battery and a display that heats the cannabis enough to give you a high. But it does not burn the cannabis and hence no smell. Not only is it small, but looks like something out of science fiction. Maybe if Captain Kirk wanted a hit after his battle with Borgs, he would have used a Ryot Verb!
RYOT DHV is, however, quite chunky. Most of that is because of the battery and heating element.
Tug the mouthpiece to reveal the bowl. The funnel at the top makes it easy to pour in the herb.
The bowl is quite large and you can pack enough to last you a while. It heats evenly and wastes nothing.
Pack it and turn on the element. The OLED would power up and indicate when it is hot enough to inhale.
You can control the temperature between 330 and 420 F in jumps of 30 degrees.
There is a small magnetic poker to move the herb around and cause an even burn. You can also use the poker to clean the bowl once you are done.
Press the power button to shut it down. Simple, discreet, and efficient. It's a cinch to use.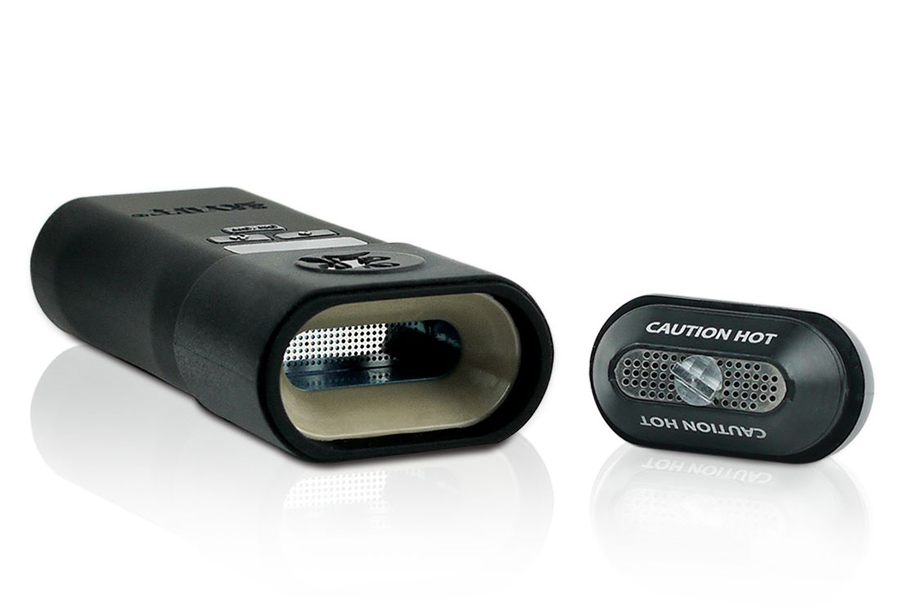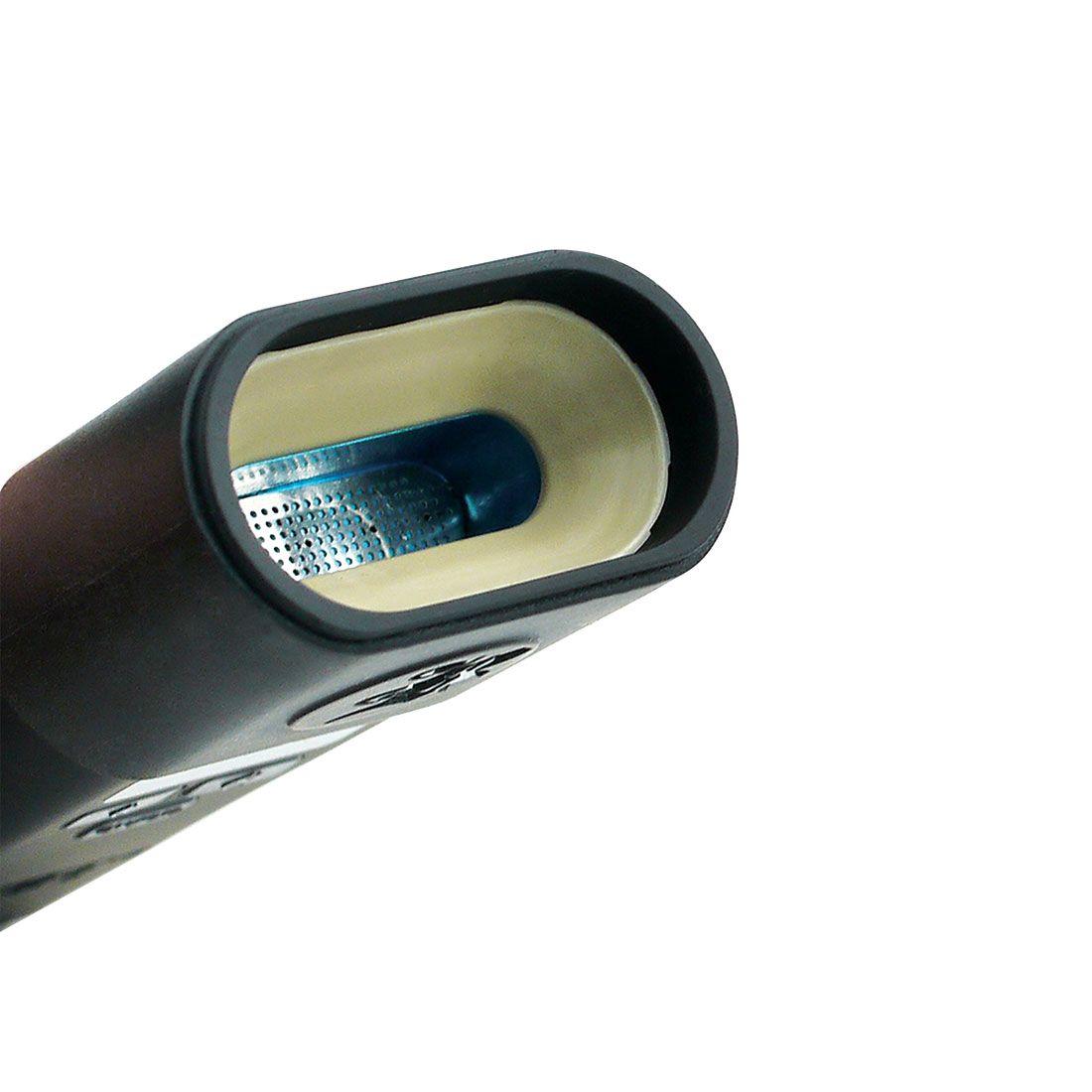 4 reasons why RYOT Verb DHV is best in the market
It lets you adjust the burn temperature
Not all varieties of dry herbs give off cannabinoids and terpenes at the same temperature. For this reason, the capacity to step the temperature of the bowl up and down is crucial. A 30-degree step is perfect. Besides, you might find some prefer to heat the weed a little more and get a stronger influence, while others would rather that it gave a lengthier session that was low impact. Cheaper models with no temperature control are like a car without a gas pedal. You would never get them to burn the load evenly and provide a delightful experience. A brilliant innovation by RYOT.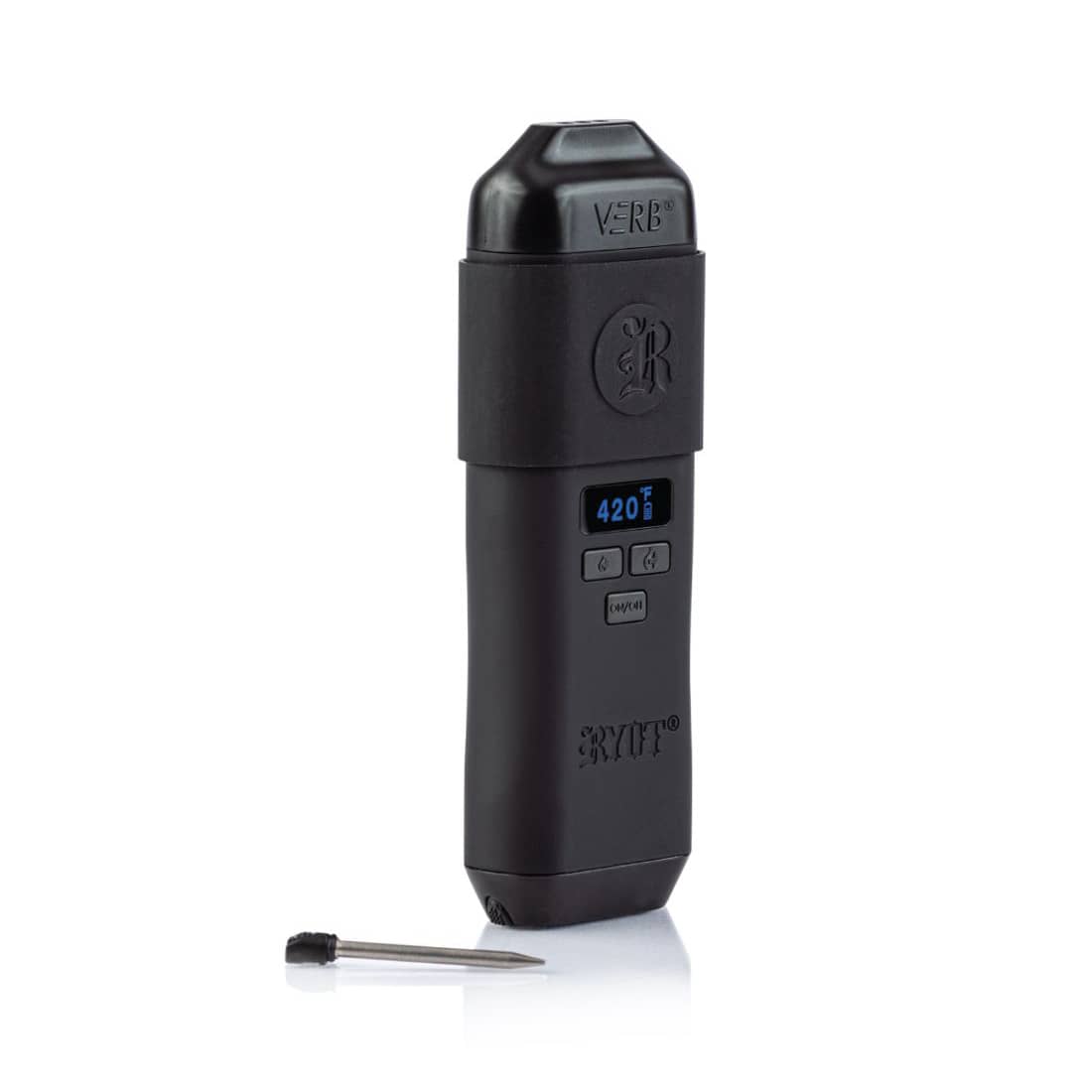 You enjoy full-bodied vapor strength
Those used to a bong or joint are often skeptical of electronic devices. But days of denial are now in the past. You would be surprised by the full-bodied vapor that you inhale. Of course, prejudice and bias would continue to exist. But if you are willing to give it a try, there will be no disappointment. At least the several sessions we spent testing it for efficacy were extremely pleasant.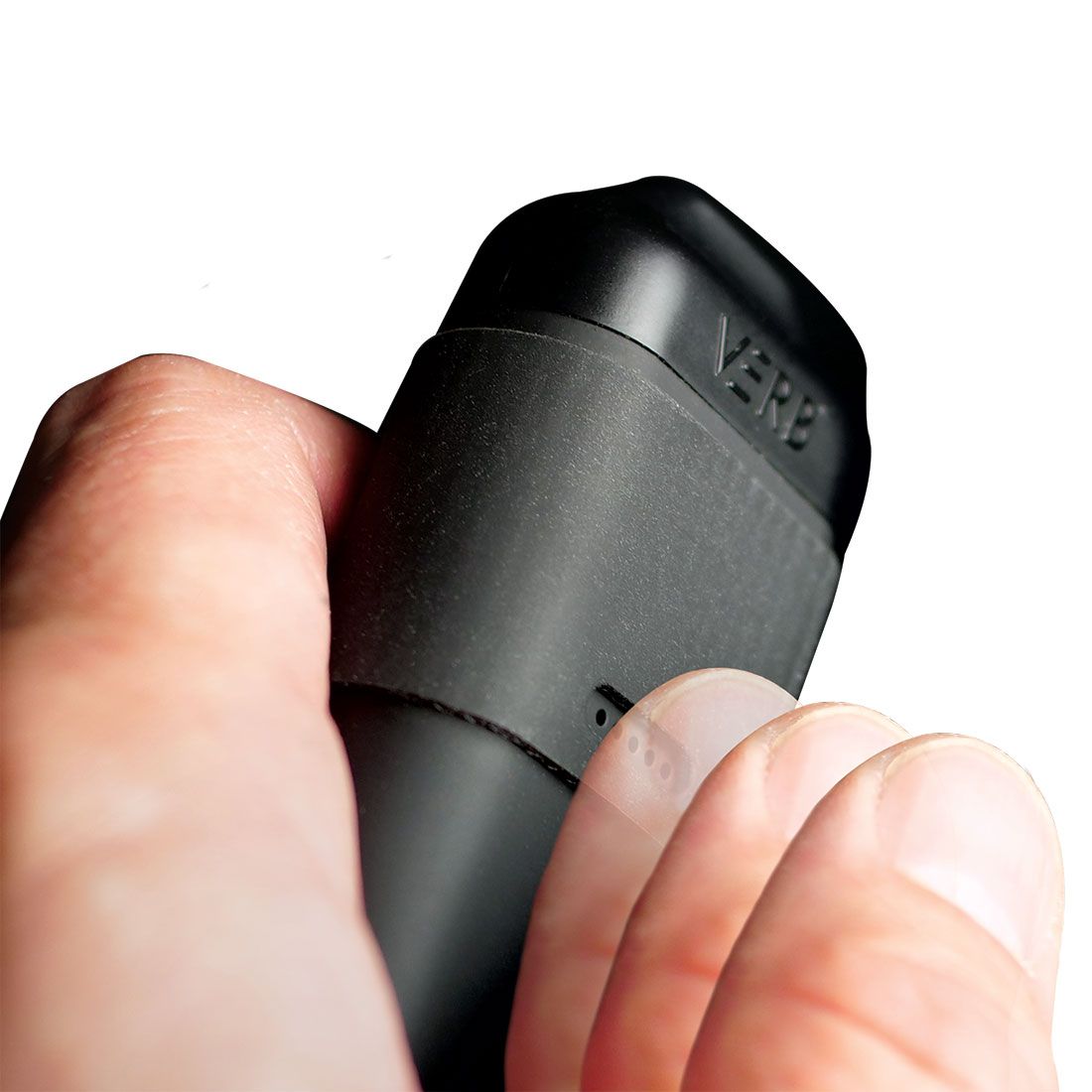 It flaunts top-drawer construction
It is really well-made. Not a cheap Chinese thingy with buttons ready to come off and flaky plastic. At six inches long and half as much wide, the RYOT DHV looks solid and feels the same. The slim-hip design offers you a solid grip and uses a micro-USB port for charging. A hefty 1200 mah battery is enough for 8 hours' use and recharges in about a couple of hours. The funneled oven is exceptionally easy to use and clean.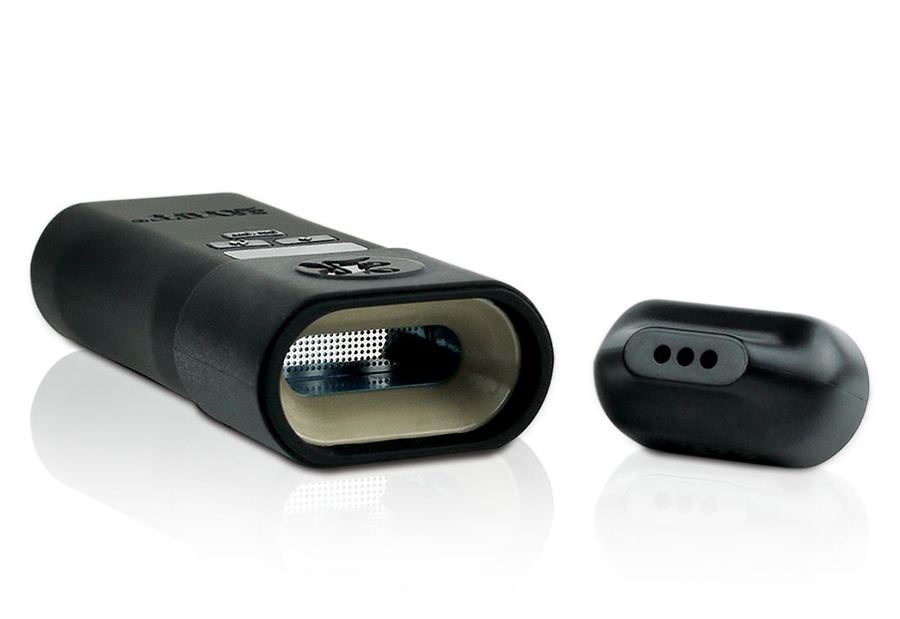 It's OLED display is interesting
At the right moment, after you click the power on, the OLED would say "Hit It"! And when you power the device down, it gives the message "L8TR VAPR". Some might not like the screen, but we found it fun to interact with the device. There is no need to get so serious during a session of smoking weed. A bit of amusement from a quirky feature is welcome.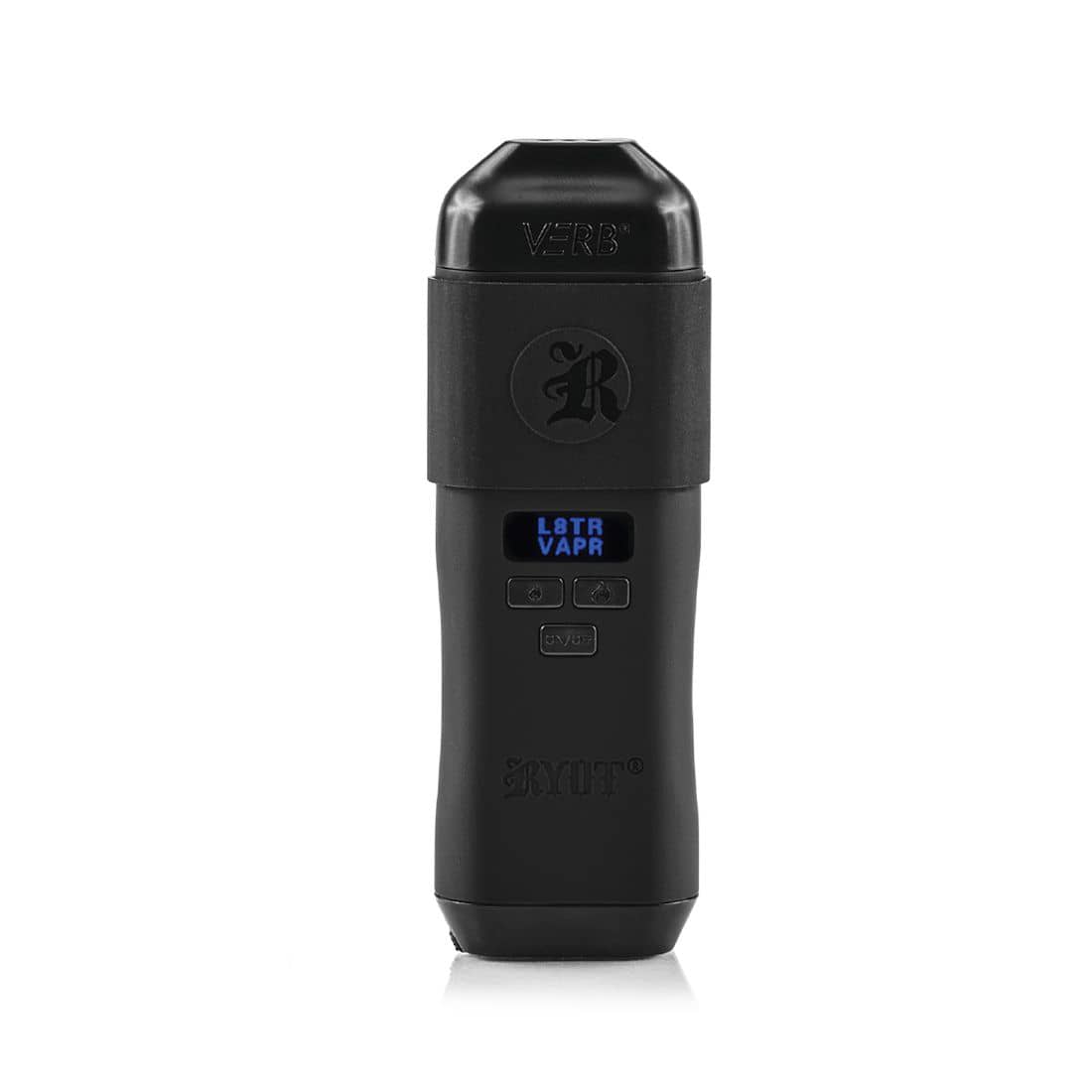 What about the price of VERB DHV Vaporizer?
It's not very pricey. The RYOT DHV is priced at about $99 (prices vary widely among vendors) and right between the G Pen ($40) at the bottom and Puffco ($400) at the top. The Puffco device connects to your phone using an app. That is an overkill of features. Who wants to use an app to control how they smoke weed! The G Pen and similar models are too basic. They are quite flimsy too. Drop it from your hand and the mouthpiece breaks. $99 is not cheap, but you get a lifetime of satisfaction for a modest upfront payment.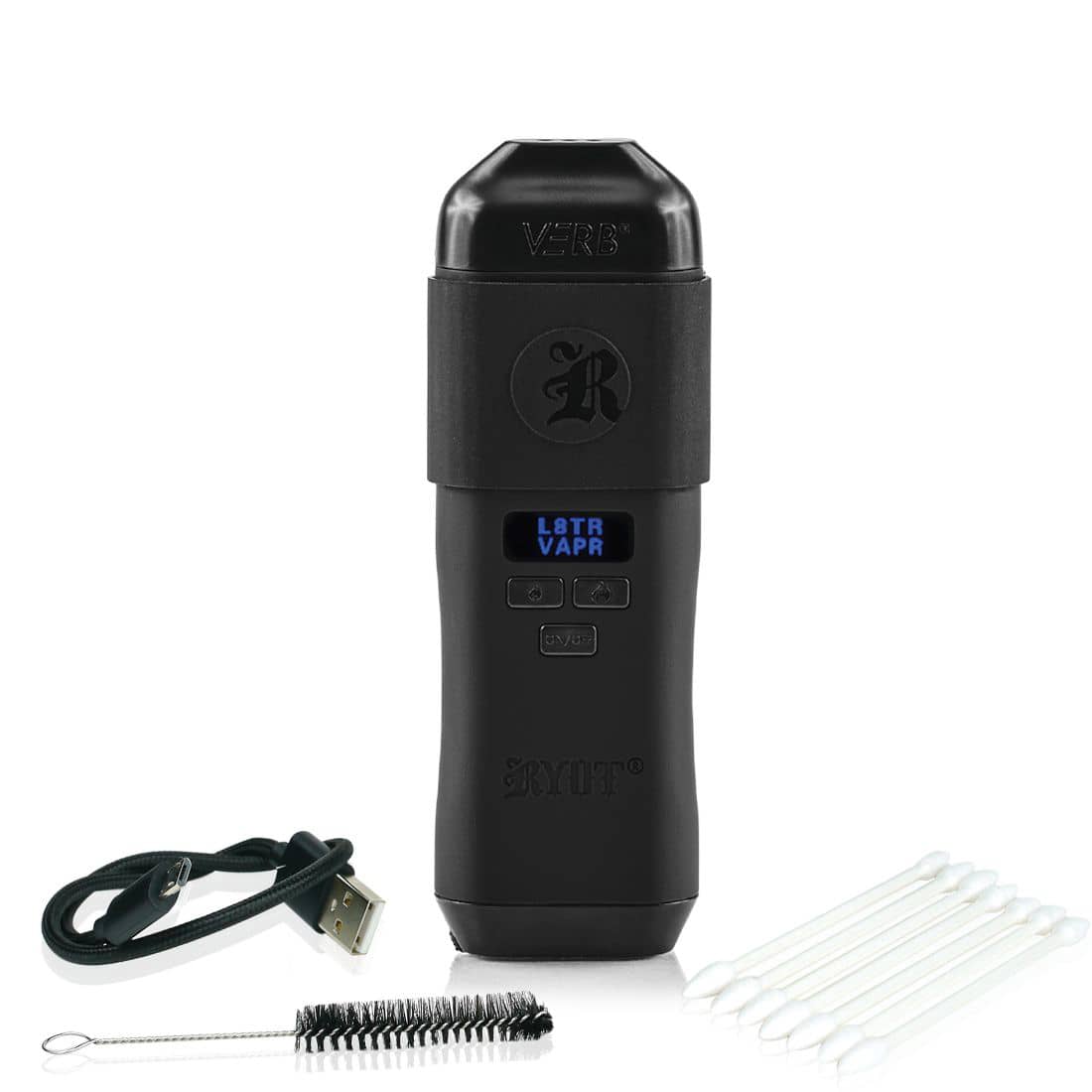 Is the VERB DHV Vaporizer a good buy?
We feel RYOT has really done a great job. The design philosophy is spot on.
Let's start with a summary of the features:
Easy to use and carry in your pocket. Chunky and made from excellent material.
A long-life battery does not need to recharge too often. Of course, that depends on how much you smoke.
Step up and down temperature depending on the load. High visibility OLED makes it easy to control.
A large bowl to pack more and burn it easily. Funneled top makes loading it easy enough. Can't spill the good stuff.
Magnetic poker to stir and clean the pot ensures an even burn. It looks like the stylus' early smart devices had.
A two-year warranty gives peace of mind. If the element burns out or you need a new battery, they cover you.
Priced perfectly – just enough for the features, but not too expensive.
Final verdict on VERB DHV Vaporizer
We would suggest you go for it, no questions asked. There are too many cool gadgets for vaping in the market and it is quite easy to get confused by the excess of marketing gibberish. RYOT keeps it simple and sweet. At about 100 bucks, it won't dent your wallet and provide you with plenty of entertainment. No longer does your day have to start at the end of a joint. If you want you can use a special coupon code for our readers – RYOTLIFE15 – which will give 15% discount for all RYOT products.