How about playing chess? Especially when you play using unique chess sets – these chess pieces have an aesthetic and unusual design of boards and figures themselves. We have collected 25 of these unique and unusual chess sets that are available for purchase. Made of glass, steel, wood, marble and sophisticated design – these chess sets will leave no one indifferent.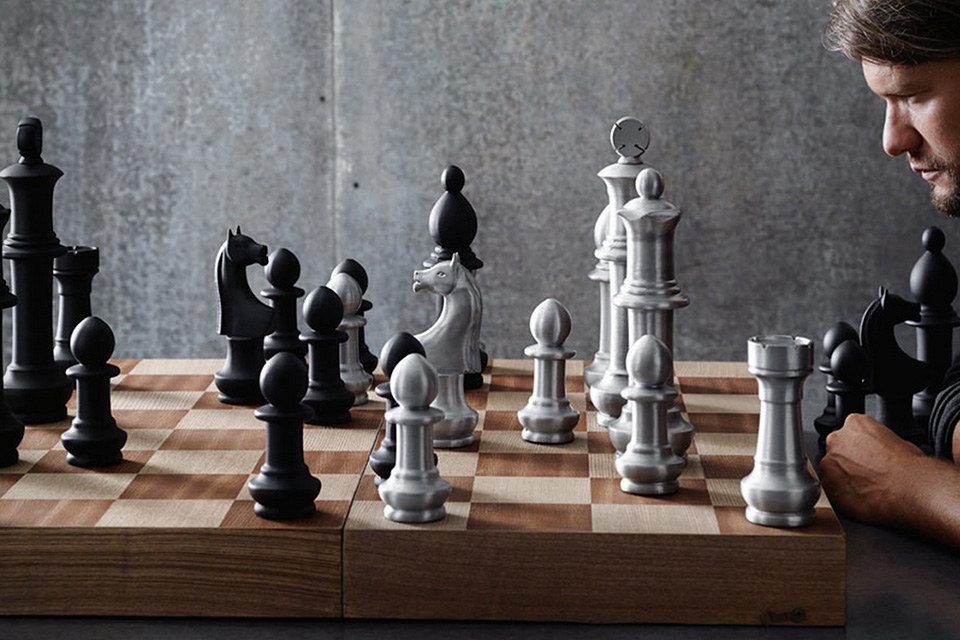 If you are on this page, you have likely enjoyed playing this strategic board game profusely. The standard black and white checkered pieces are a familiar sight in most households. Even if you don't have any previous gaming experience, you will be familiar with common catch-phrases related to the game of Chess. "Checkmate", "opening gambit", "making a rookie move" are all common buzzwords that we use fairly often.
Chess is one of the oldest board games in the world, dating back to about 1500 years ago. A timeless classic, this game has evolved much in recent years. Artists put their own spin in its conception and execution, mixing different aesthetics to create some really unique sets. With a plethora of forms and sizes, this simple board game has become as much a style statement as it has been an intellectual pursuit.
If you are bored with the usual Staunton style chess boards, there are plenty of unique chess tables and sets you can choose from. Nowadays unique chess sets are available in all costs, shapes, and sizes. No matter if you are an amateur or a professional, you can always find an exceptional design to cater to your taste. From ivory chess sets to diamond-encrusted ones, there are a lot of customizations to choose from. Here we have compiled the top 25 unique chess sets that will simply blow your mind.
1. Skyline The New York Chess Set [ buy here ]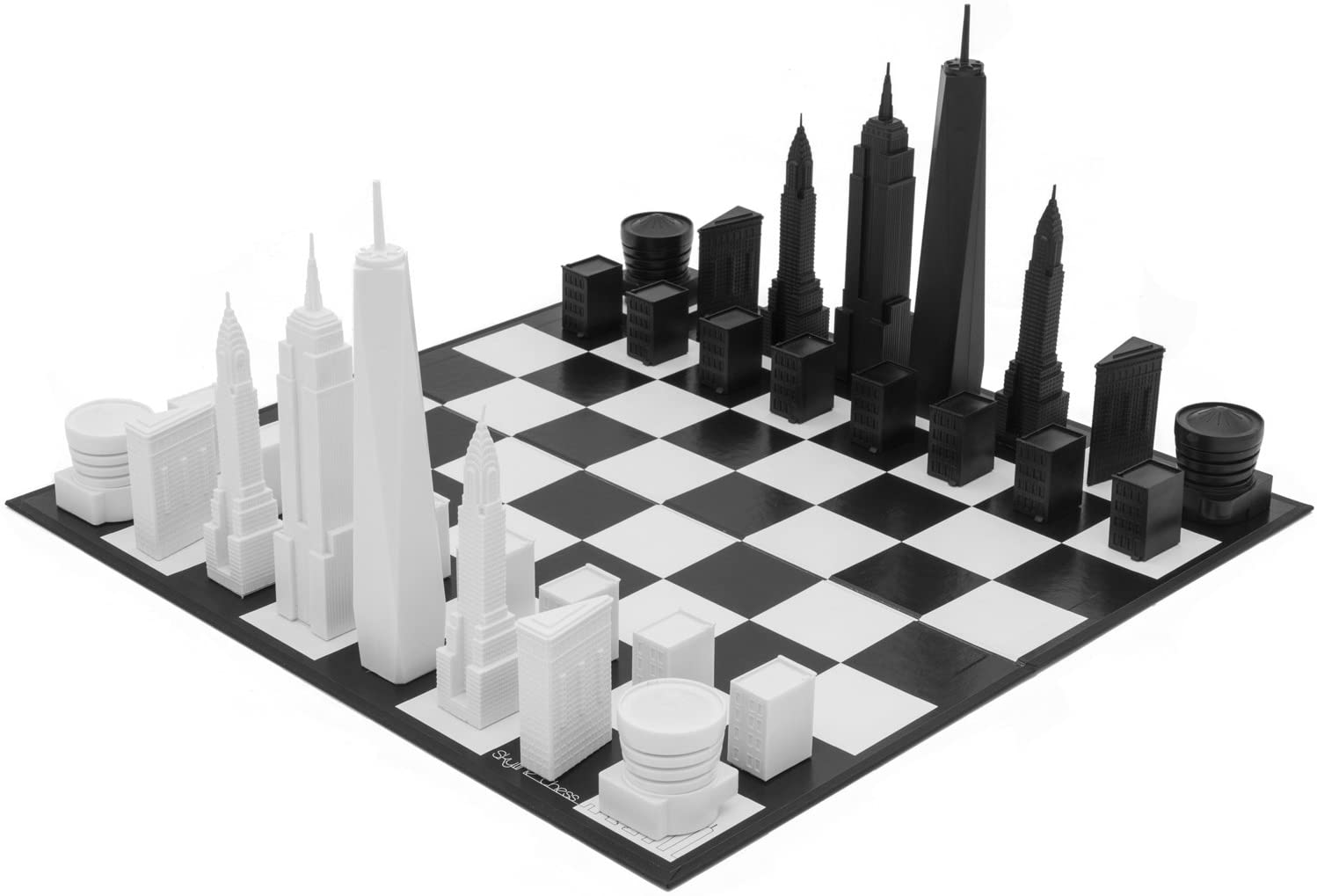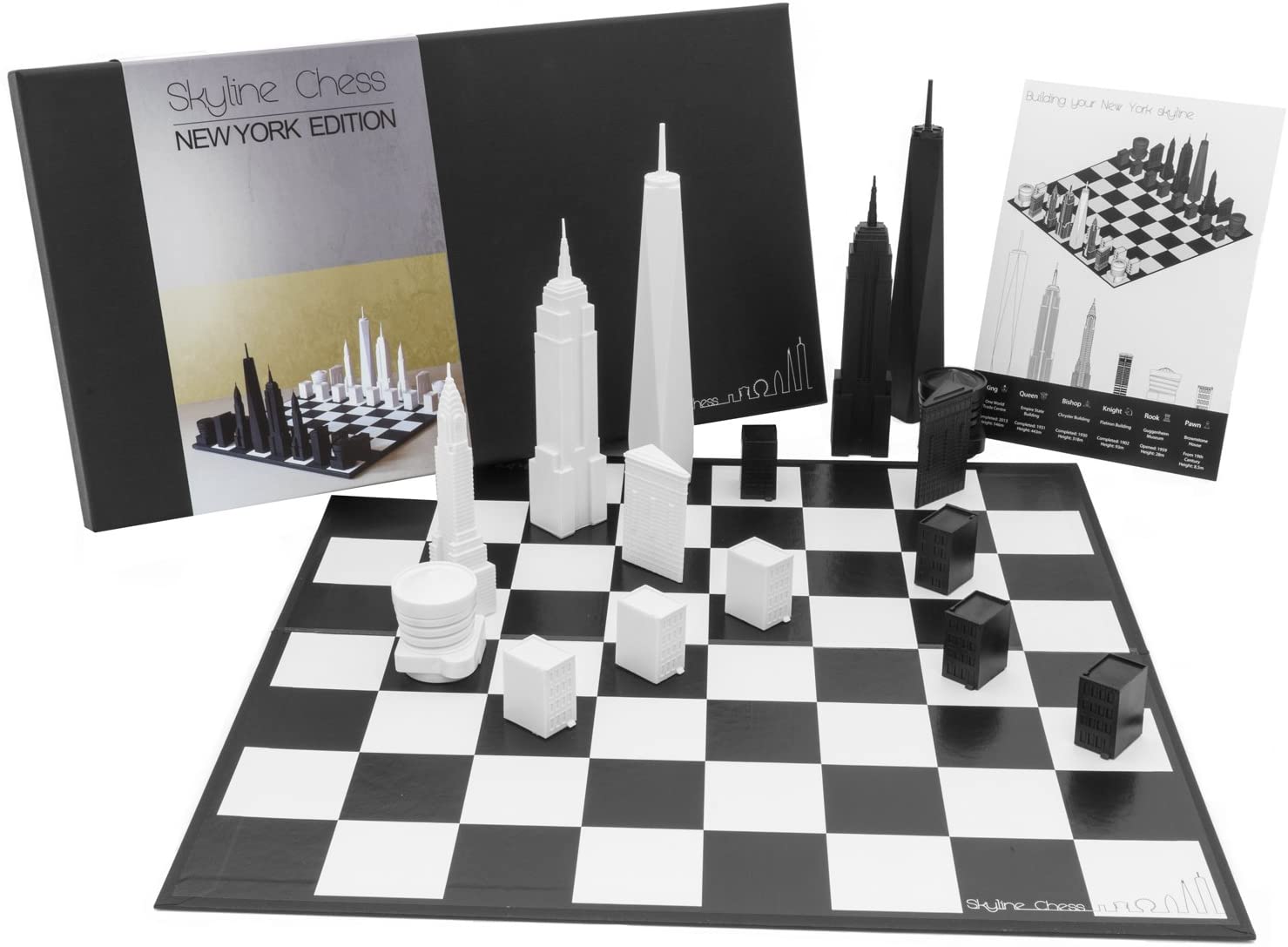 A welcome addition to lovers of grand architecture, this set does go quite easy on the pocket. Inspired by iconic buildings, this chess set combines design aesthetics with a flair for the modern in its unique chess pieces . A tribute to the famous New York skyline, this set comes in three options – acrylic, premium metal and luxury bronze. The 32 piece set is carefully curated to include some of the most iconic skyscrapers of the city. Brownstone House, Guggenheim, Flatiron, Chrysler, Empire State Building and One World Trade Tower make up the most coveted pieces. Each set includes a chessboard with a presentation box.

2. Ralph Lauren Home Sutton Chess Set [ buy here ]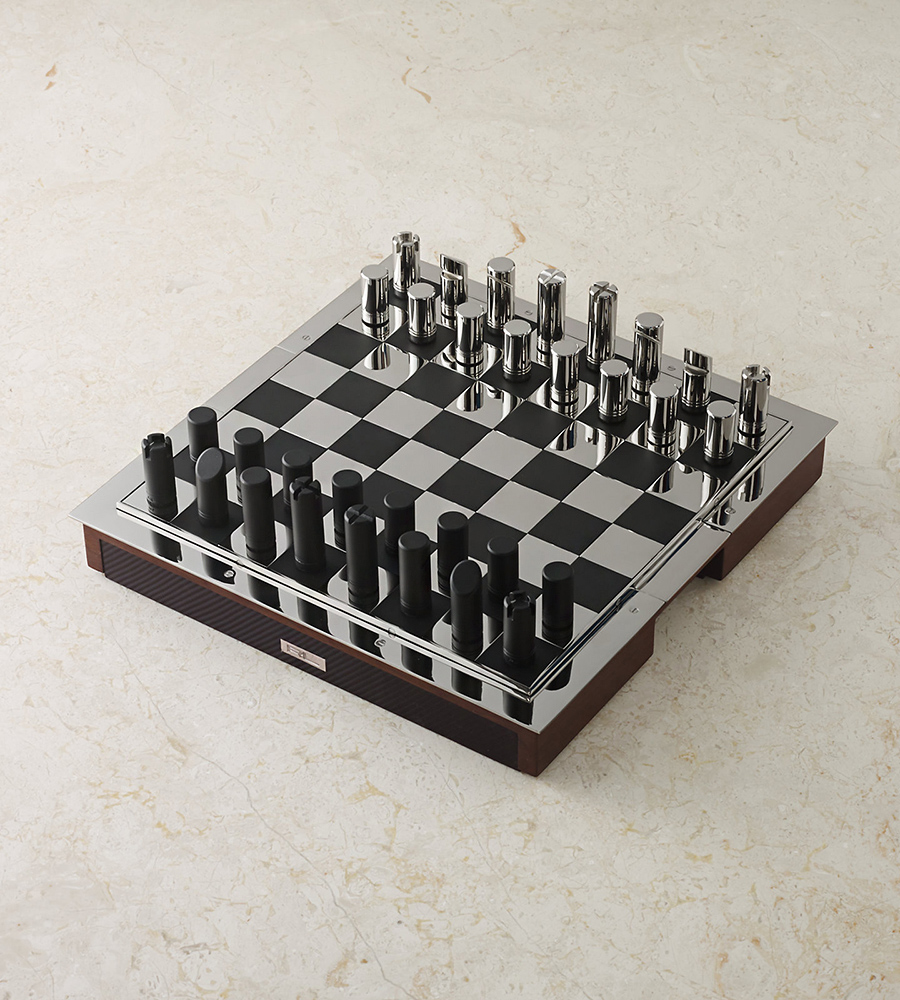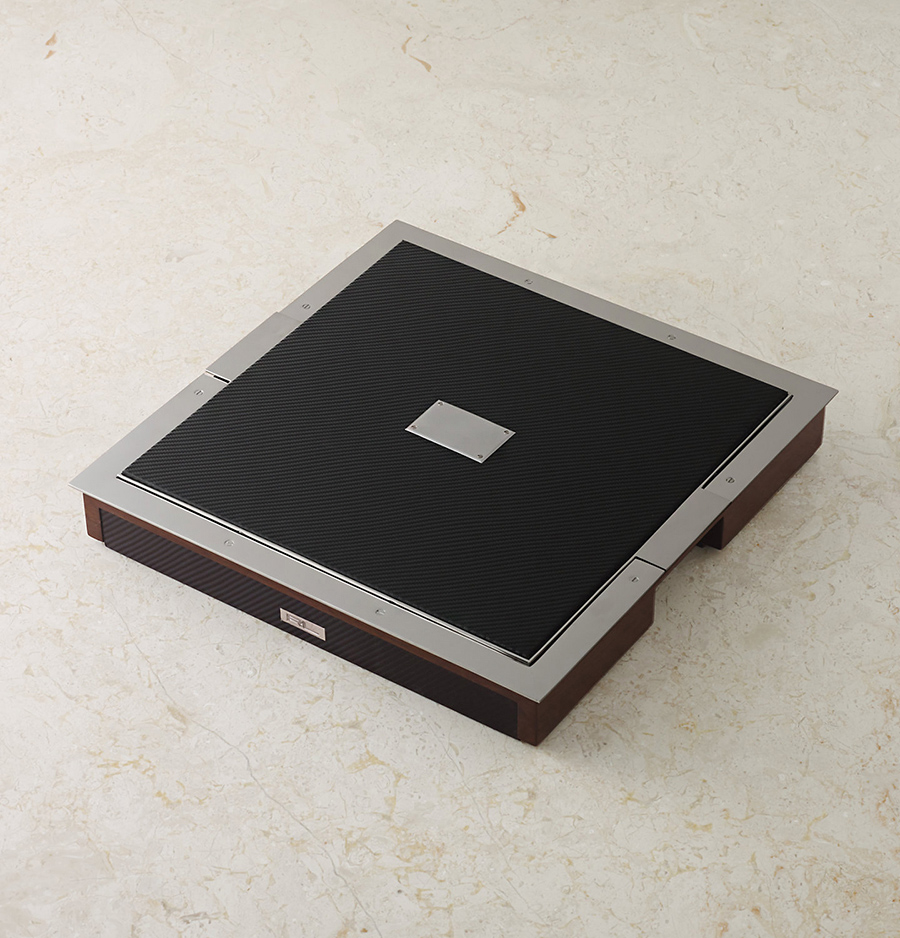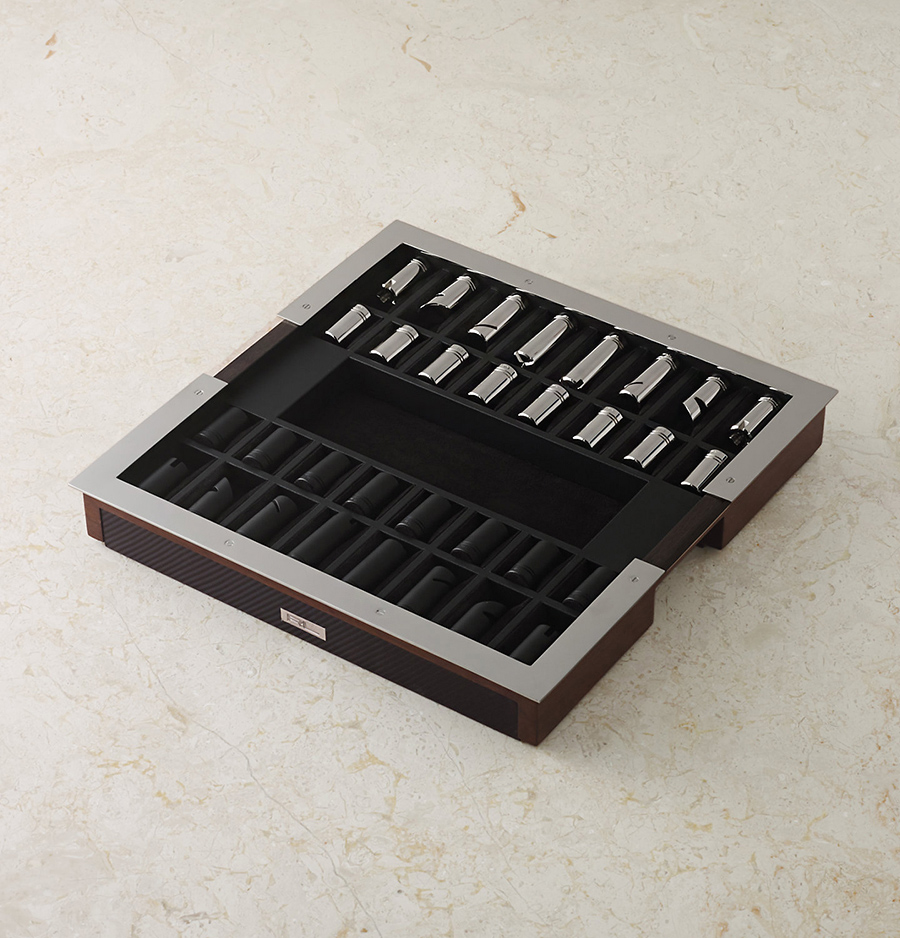 Impeccably designed for those with refined tastes, this chess set from Ralph Lauren is a work of art. It is fashioned out of rich walnut wood and carbon fiber leather with polished nickel and carbon-fiber chess pieces. It comes with a removable lid made of nickel and carbon fiber leather. The base is lined with leather and felt, and includes slots for storage. For the collector, this could be the best chess set to own.

3. Umbra Wobble Chess Set [ buy here ]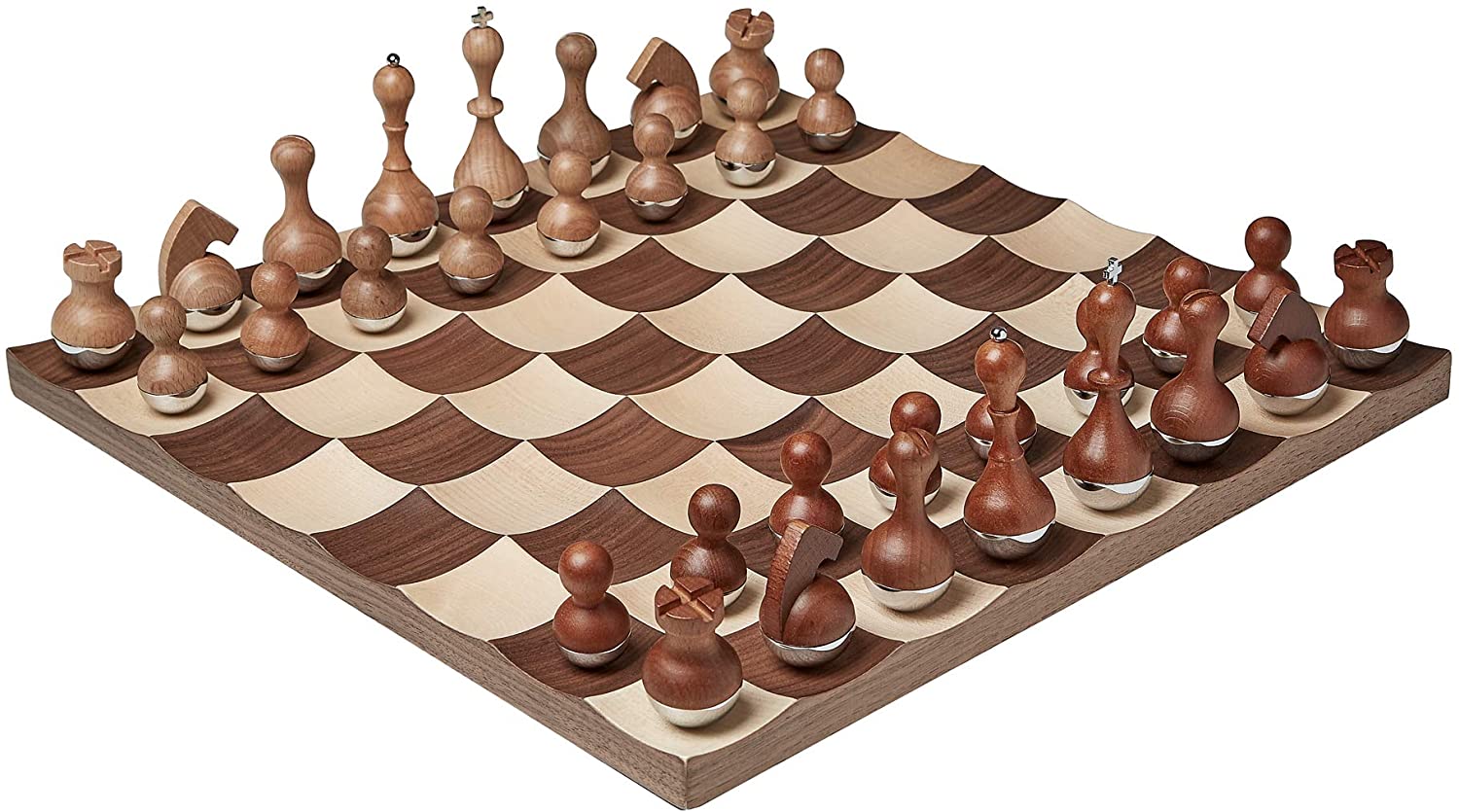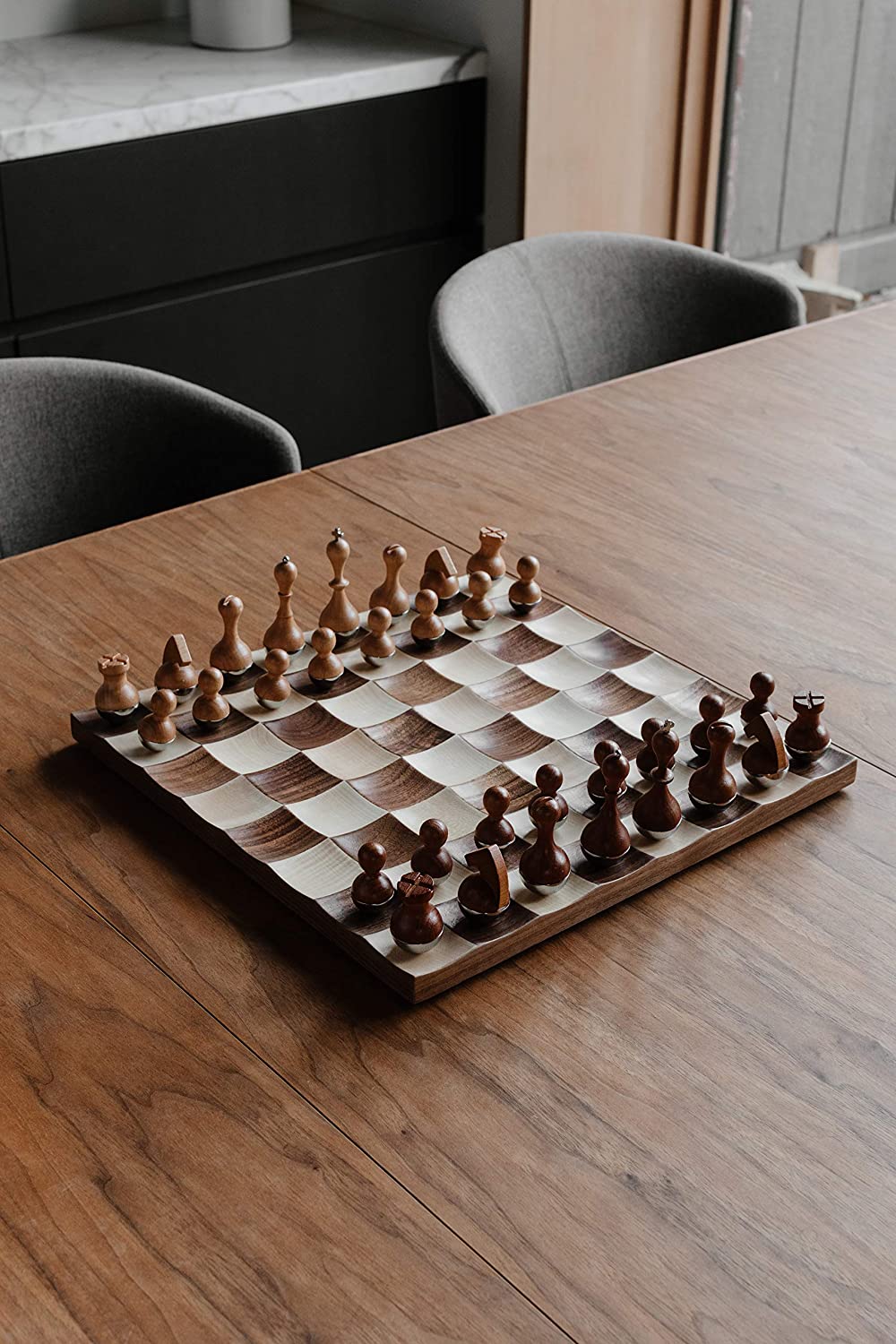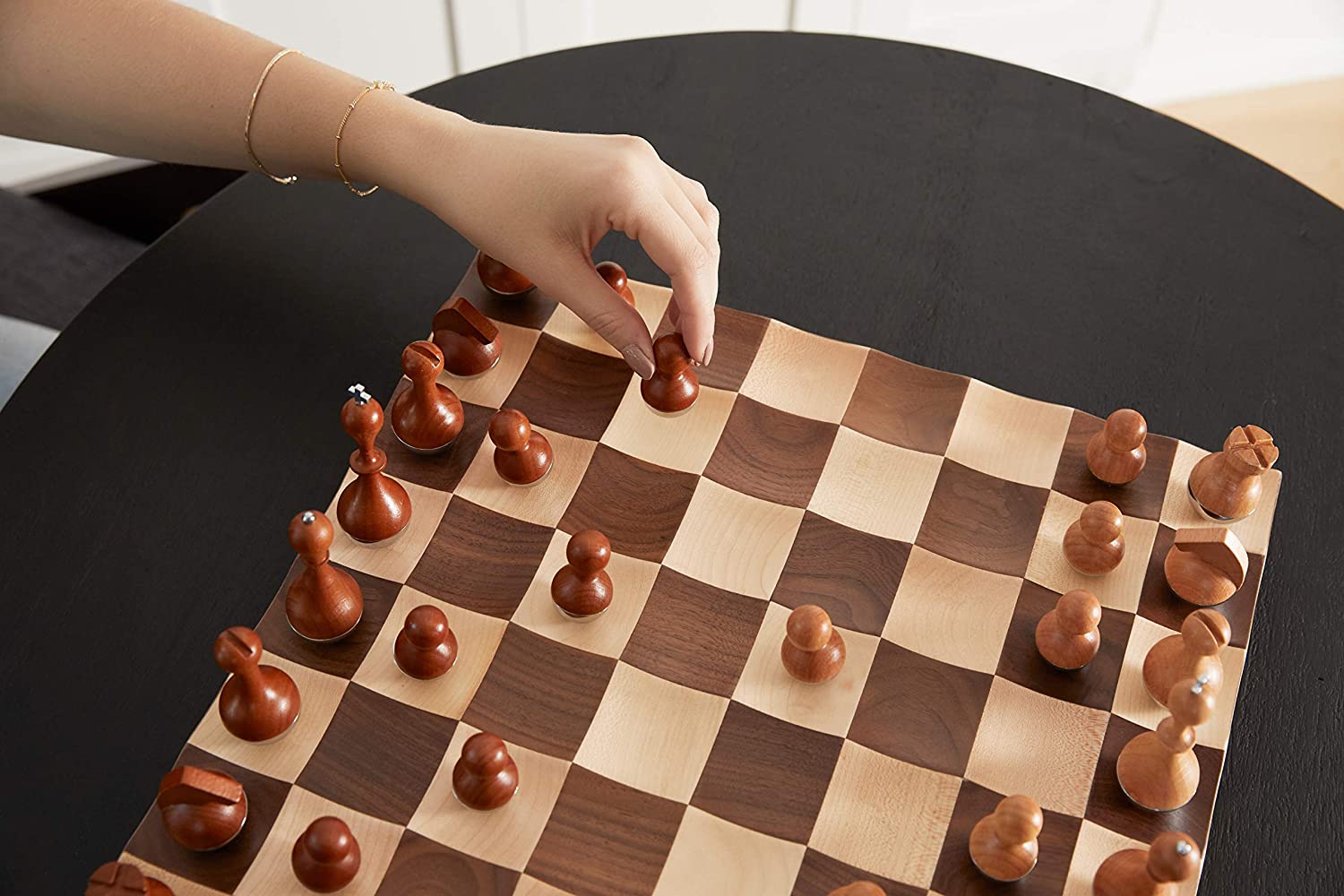 Lend movement and spontaneity to your next strategic match. Uniquely crafted to infuse novelty in the game, this set does exactly what the name suggests. The pieces wobble at the slightest touch, but never rolls off the board. The concave landscape of the board helps, but the chessmen do a good job of balancing themselves. The round-bottom wooden pieces are fitted with a weighted chrome base. This helps them to lean and wiggle without tipping off the board. The set is finished with maple and walnut wood with chrome accents to give it a luxurious feel. A crazy and humorous touch to make an otherwise still game dynamic, this award-winning set is truly an eye-catcher.

4. Original Design Wood Chess Set By Man Ray [ buy here ]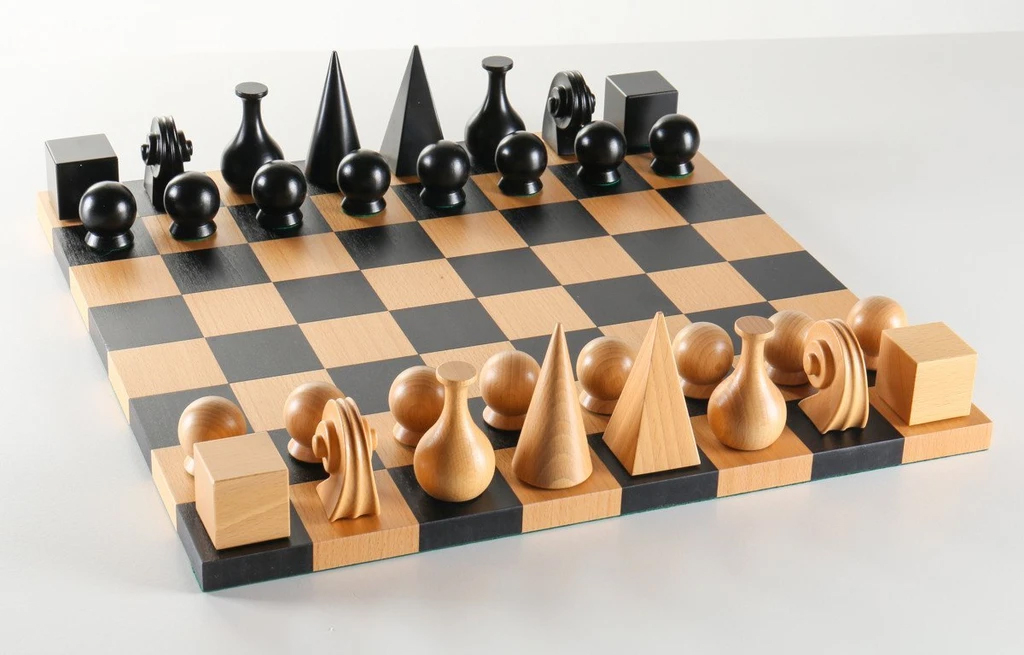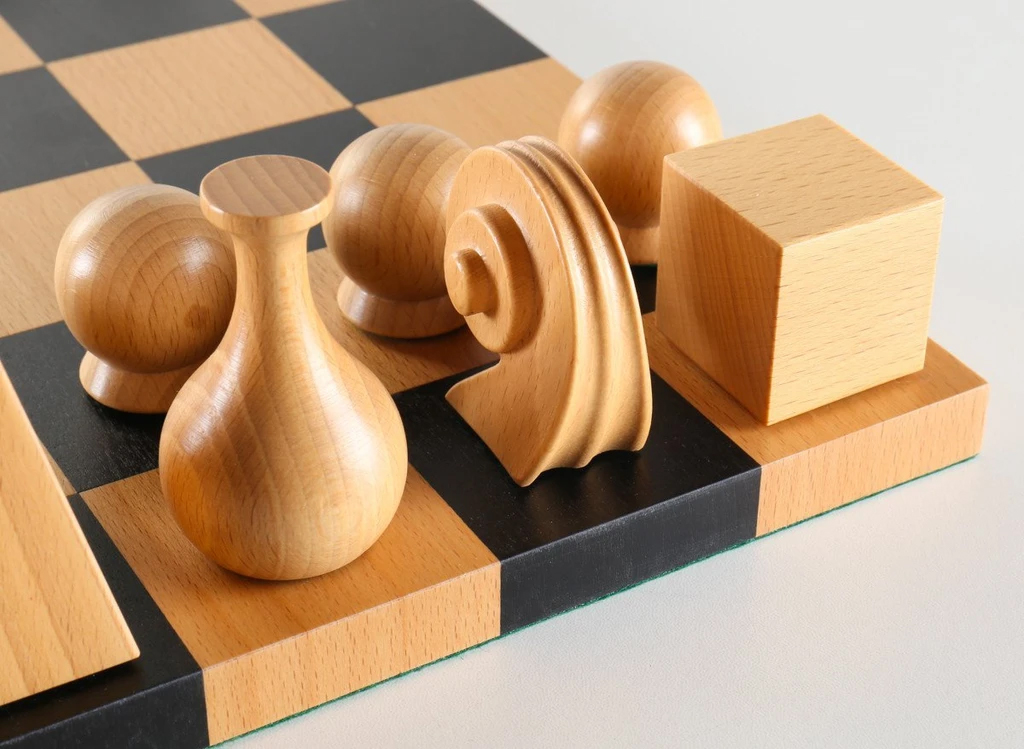 Designed in 1920 by the artist Man Ray, this set has been recreated to perfection by expert craftsmen. The original creation was inspired by Man Ray's lifelong friendship with ardent chess player and fellow artist Marcel Duchamp. Minimalistic in approach, the geometric designs of the chess pieces are ridden with hidden symbology. The king is fashioned after the pyramids while the Queen represents the conical headdress worn in the middle ages. The power of each piece on the board is revealed through its relative volume. The pawns are the shortest pieces on the board, while the king is the sturdiest of the lot. Interestingly enough, the knight pieces are intricately carved by an Italian Violin manufacturer. The rest of the set is crafted to perfection in Germany and assembled with the Knight. One of the iconic chess sets, it is made entirely out of Beechwood.

5. Tubibu Unique Wall Game Chess Set [ buy here ]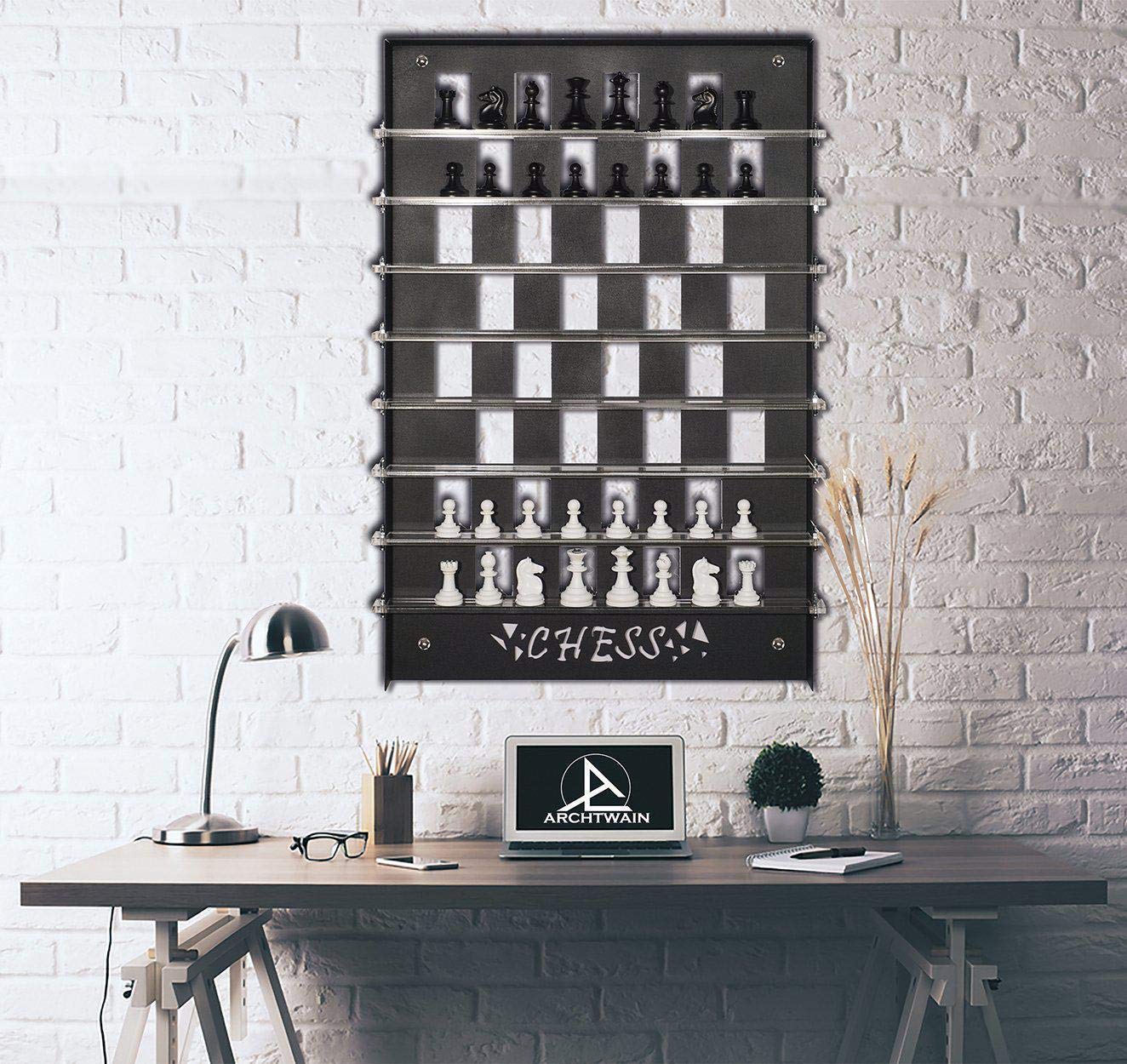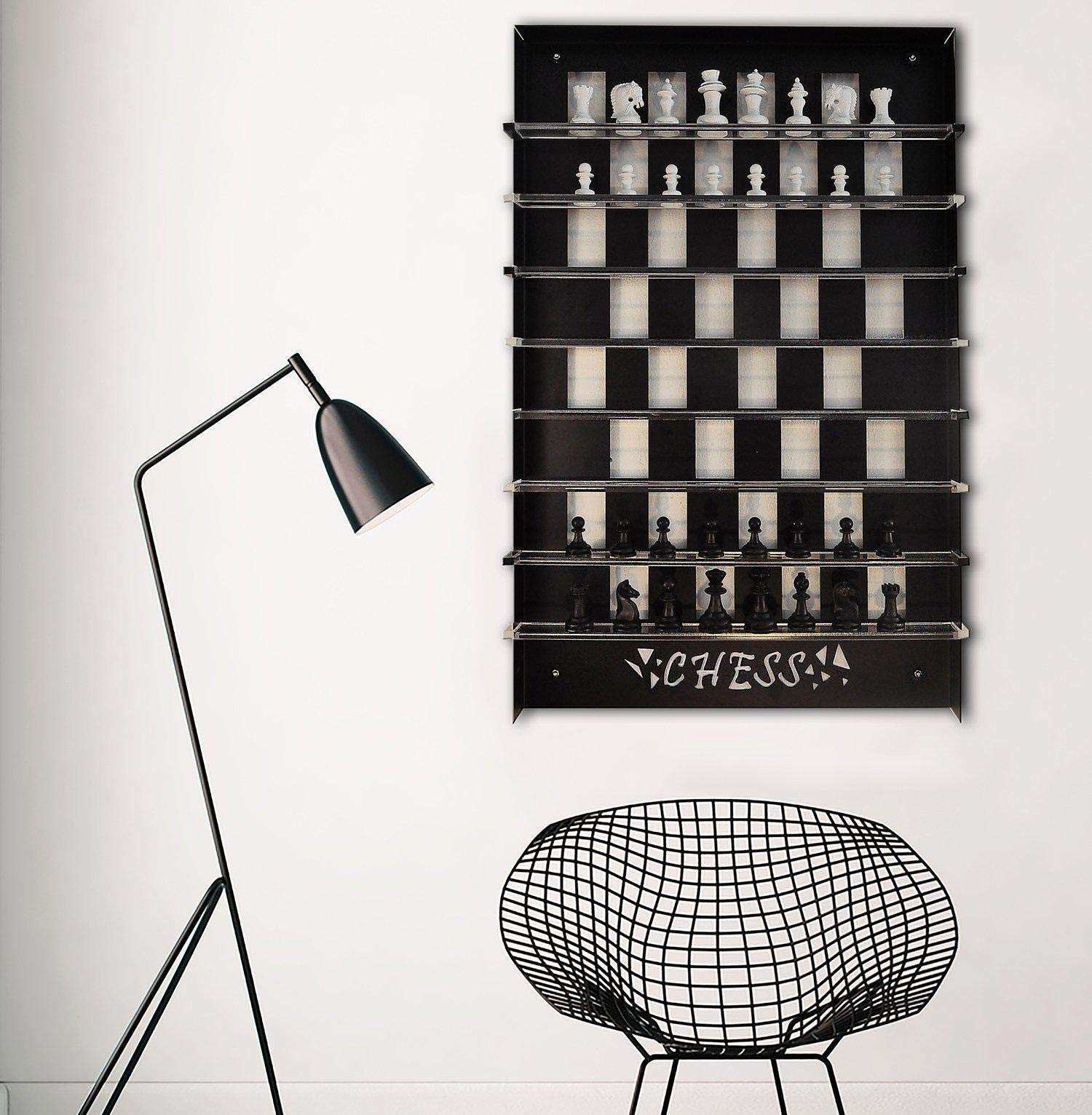 Built out of metal and Plexiglas, this unique chess board with magnetic pieces hangs on the wall for vertical gameplay. It can also easily be removed to play on a tabletop and then back onto the wall again to save space. A fun and functional wall art, it is a versatile set that makes for an extraordinary gift.

6. Bello games New York's Luxury Contemporary Acrylic Chess Set [ buy here ]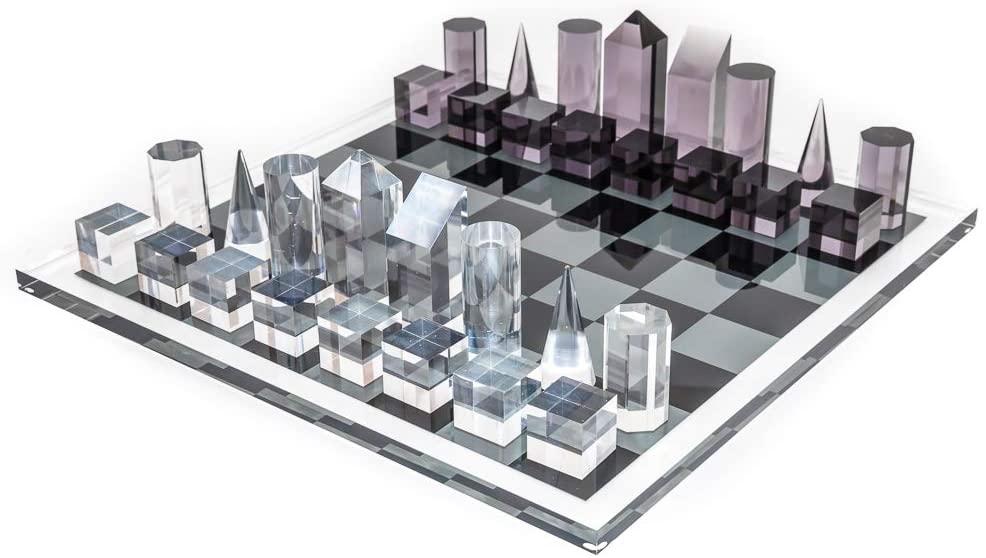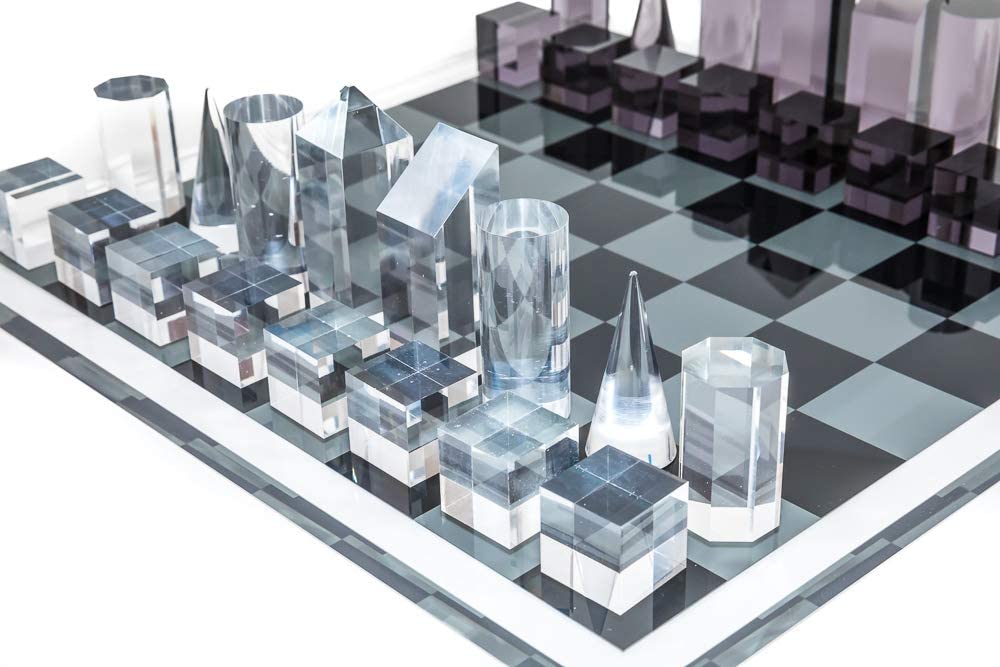 Sleek and contemporary, this chess set gives off the 70's retro vibe with its unique style. This 12-pound set comes with a clear and smoke-grey board with matching pieces. Crafted with the highest quality acrylic, it is a fun addition to your living space.

7. LLADRÓ Chess Set. Silver Lustre. Porcelain Chess [ buy here ]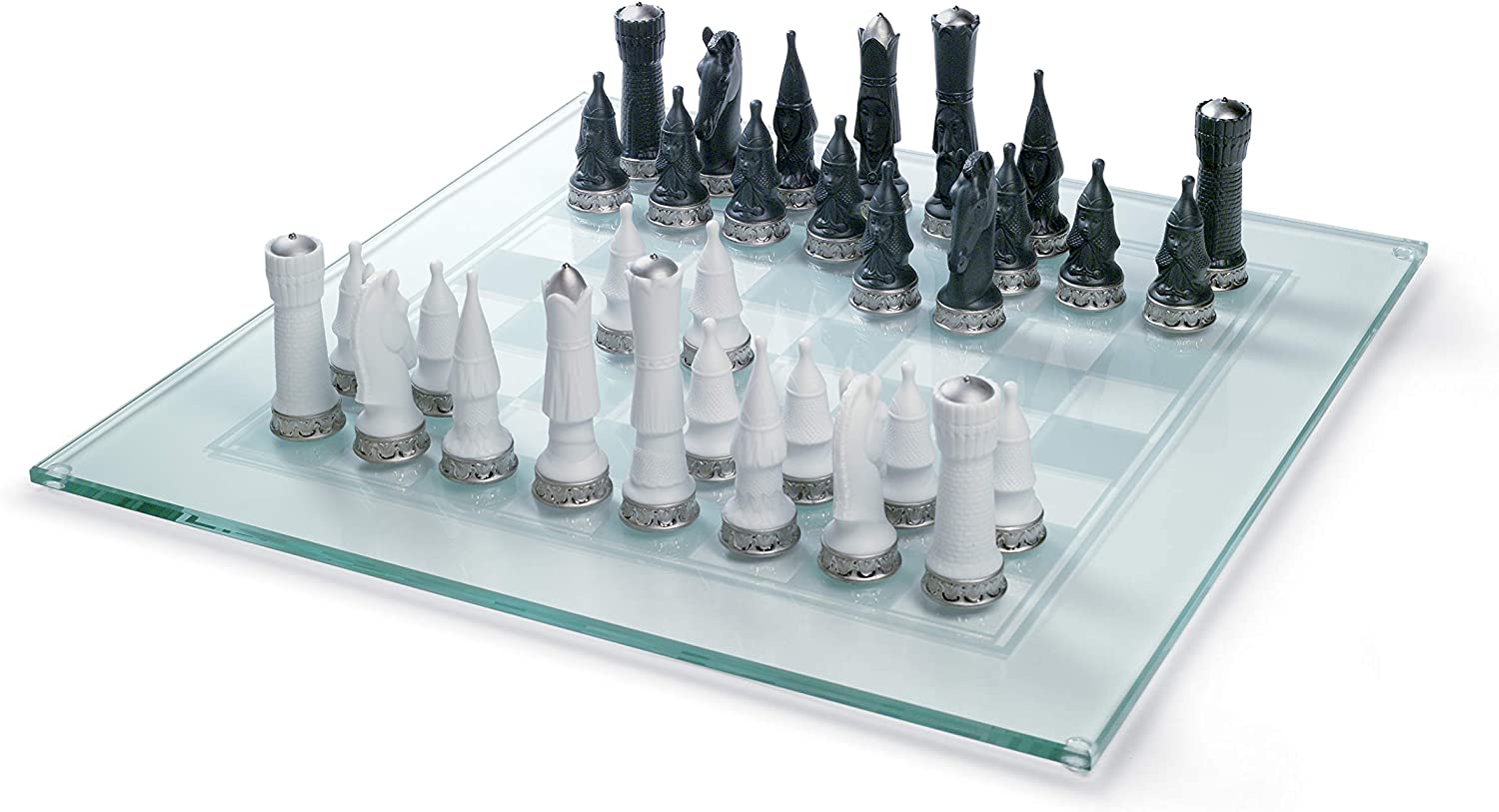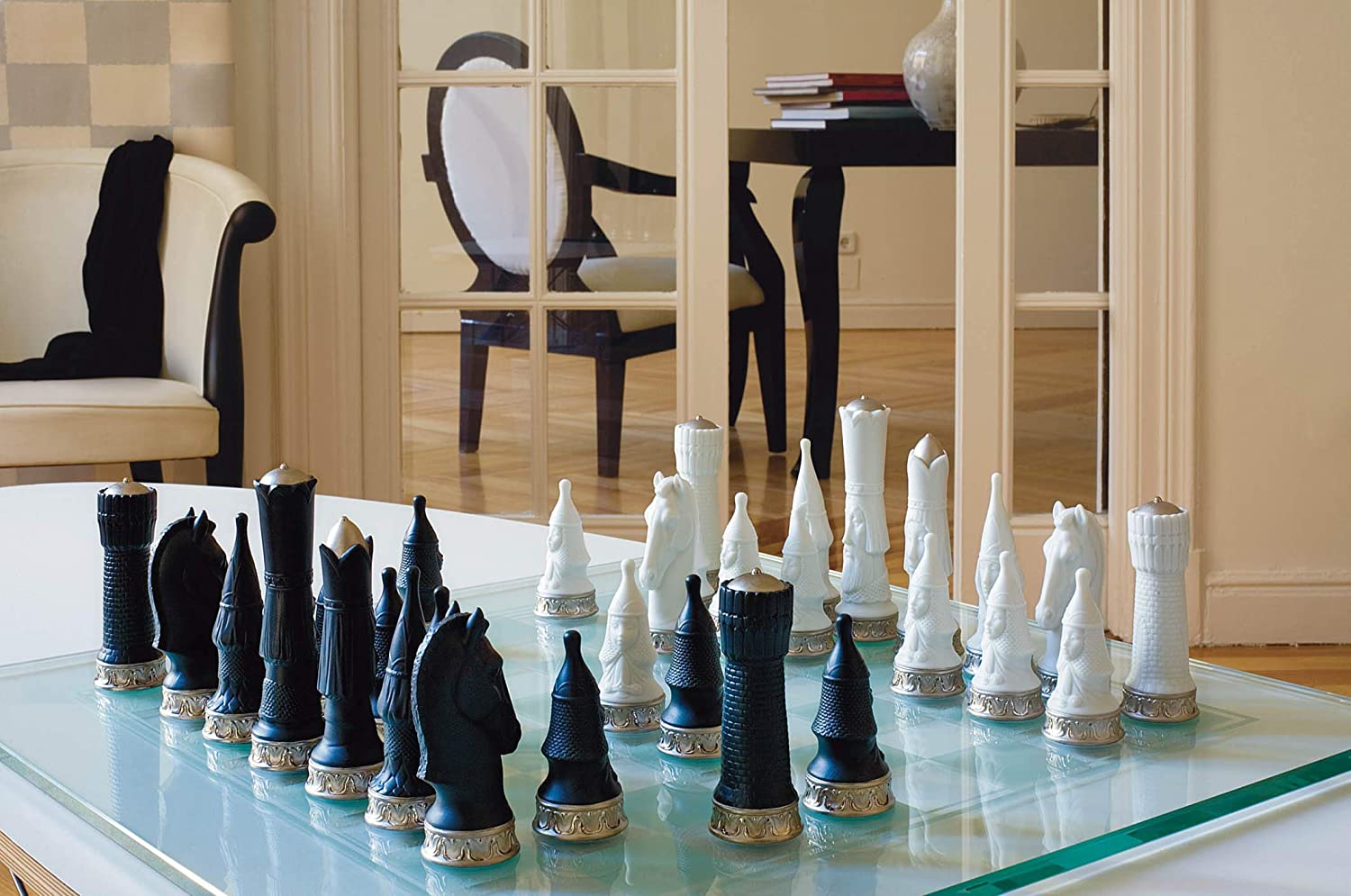 From the house of Lladró comes this unique glass chess set , with a glass board and its pieces built of porcelain. The brand is known for its alluring porcelain collectibles, but few know about their beautifully finished chess sets. These handmade black and white porcelain pieces come with silver-lustred, acid-etched anti-shock glass boards. Lladro's chess sets are typically rather hard to find and thus generally command premium prices. Handmade in Spain, this fascinating set is sure to catch the eye of any chess enthusiast.

8. Charles Hollander Royal Diamond Chess Set [ buy here ]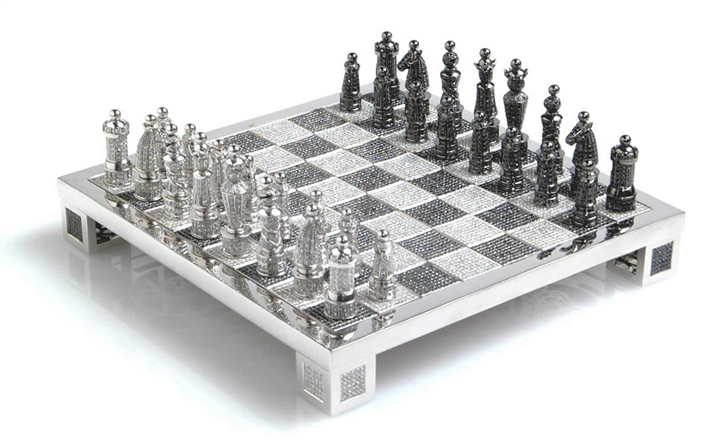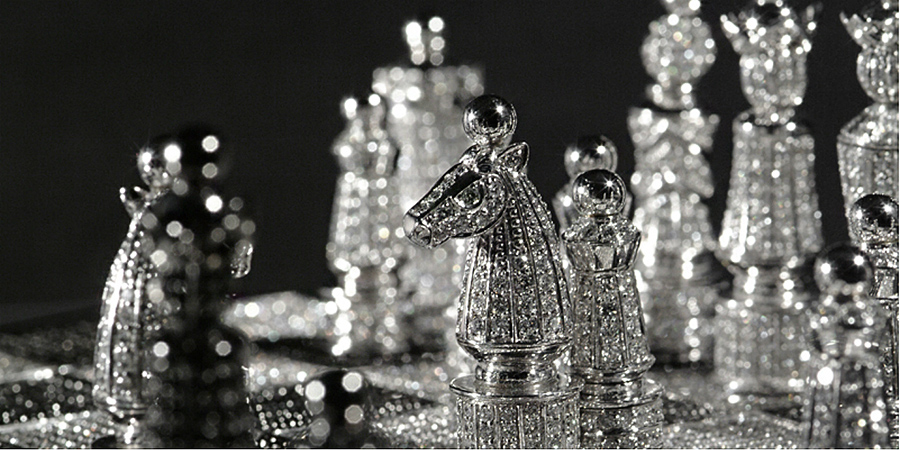 Perhaps one of the most expensive boards of gameplay, this extravagant set is created by French master of jewelry, Bernard Maquin. Handcrafted in 14k white gold, with approximately 9900 black and white diamonds, it transcends the game to a whole new level. An epitome of luxury, the board and the diamond-encrusted pieces alone weighs a total of 186 carats. Each set is crafted by 30 artisans, an outcome of tireless labor of 4500 man-hours.

9. Herman Ohme Minimalist Chess Set [ buy here ]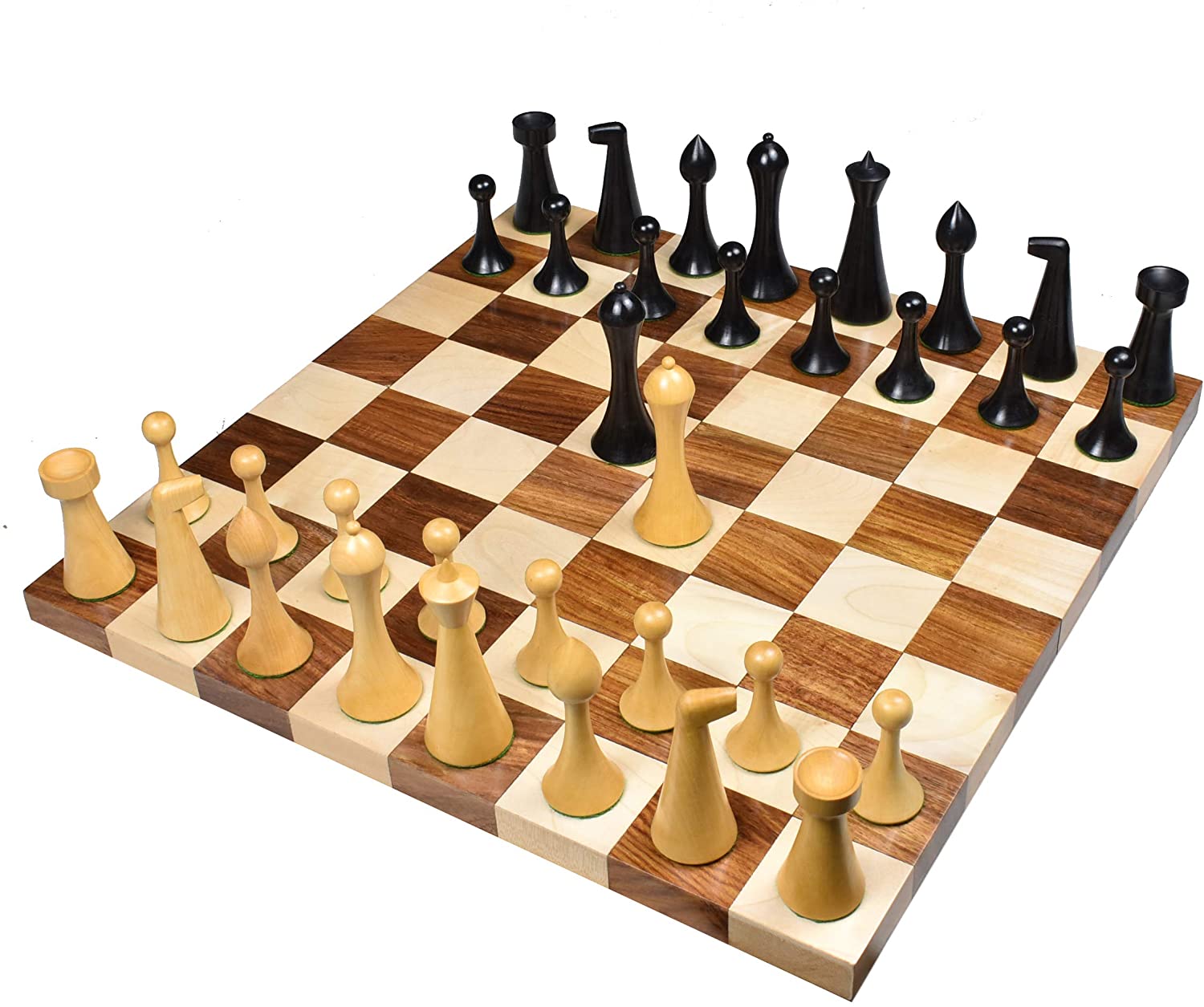 If you are a fan of simple, futuristic design this mid-century modern chess set will sure draw your attention. Faithfully replicated from the original design, this wooden chess set comes with a borderless board and wooden game pieces. Each piece has been reduced to a minimalist modern essence without crossing over into the abstract. Crafted from boxwood and rosewood, the pieces are sufficiently weighted with a felt base. The chess pieces and board are carefully polished, and the shine brings out the wood grain perfectly.

10. SunnyLife Women's Lucite Chess [ buy here ]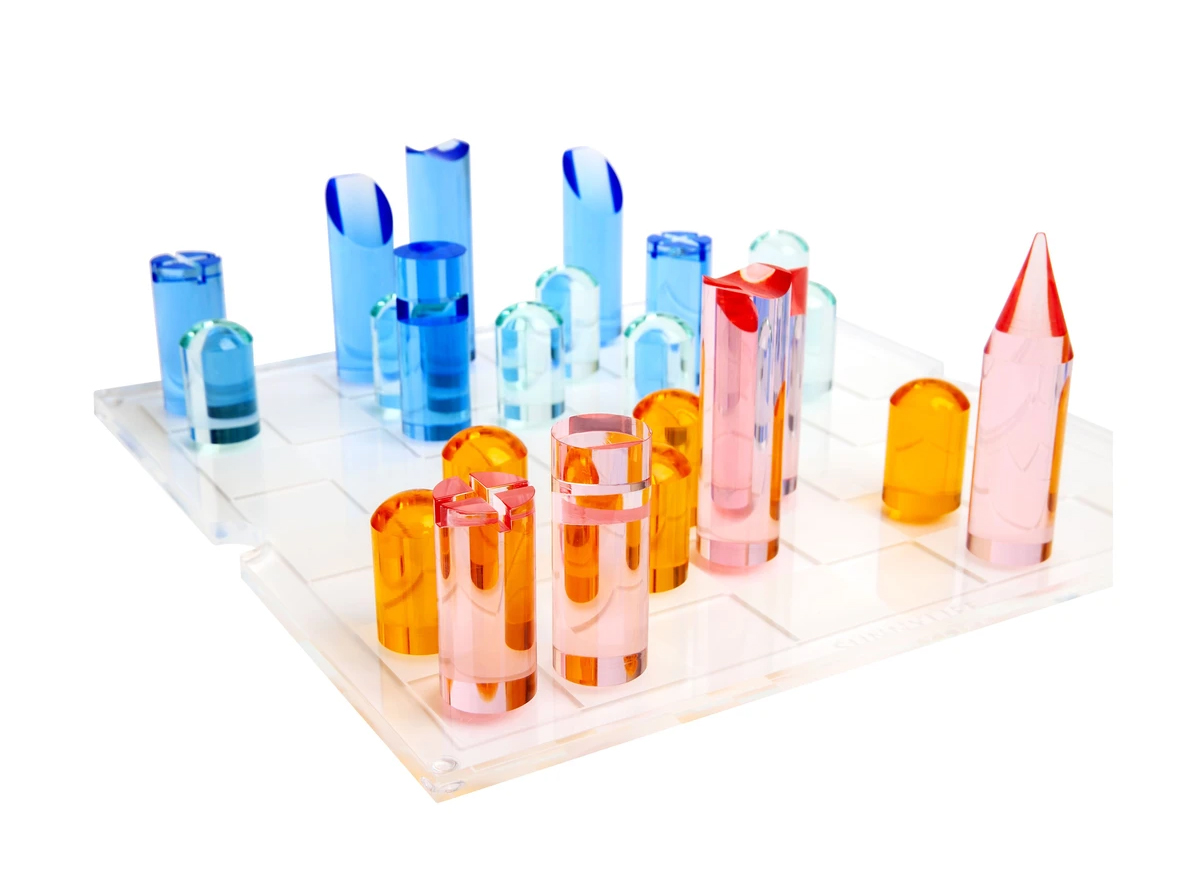 With colorful, transparent lucite pieces and a clear whiteboard, this set is a chic option for those looking to add some jazz to their gameplay. It is made from high-quality transparent acrylic and comes with a clear presentation box. A fun addition to any family evenings, this chess set goes easy on the eye as well as the pocket.

11. Mancini Luxury Chess Set [ buy here ]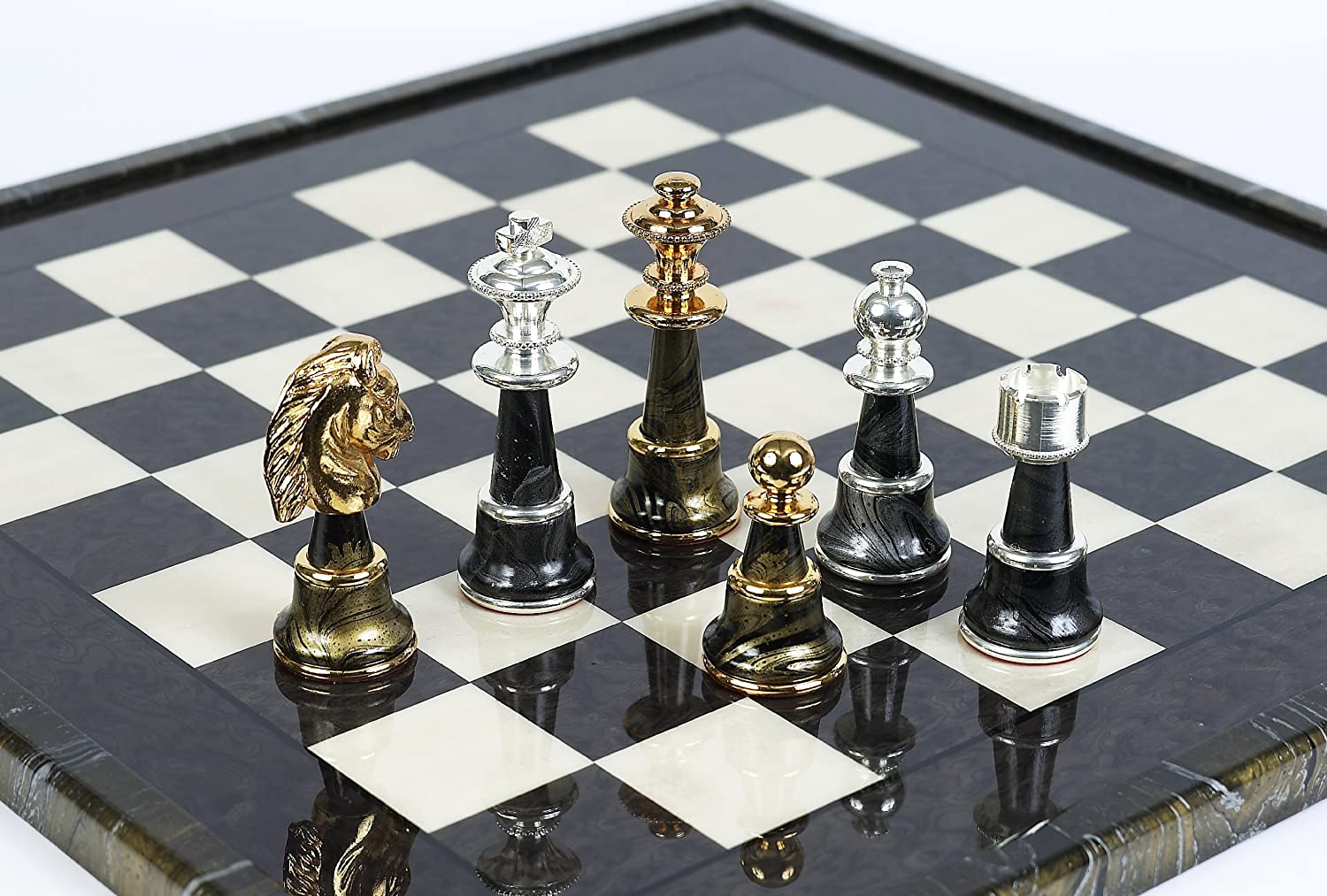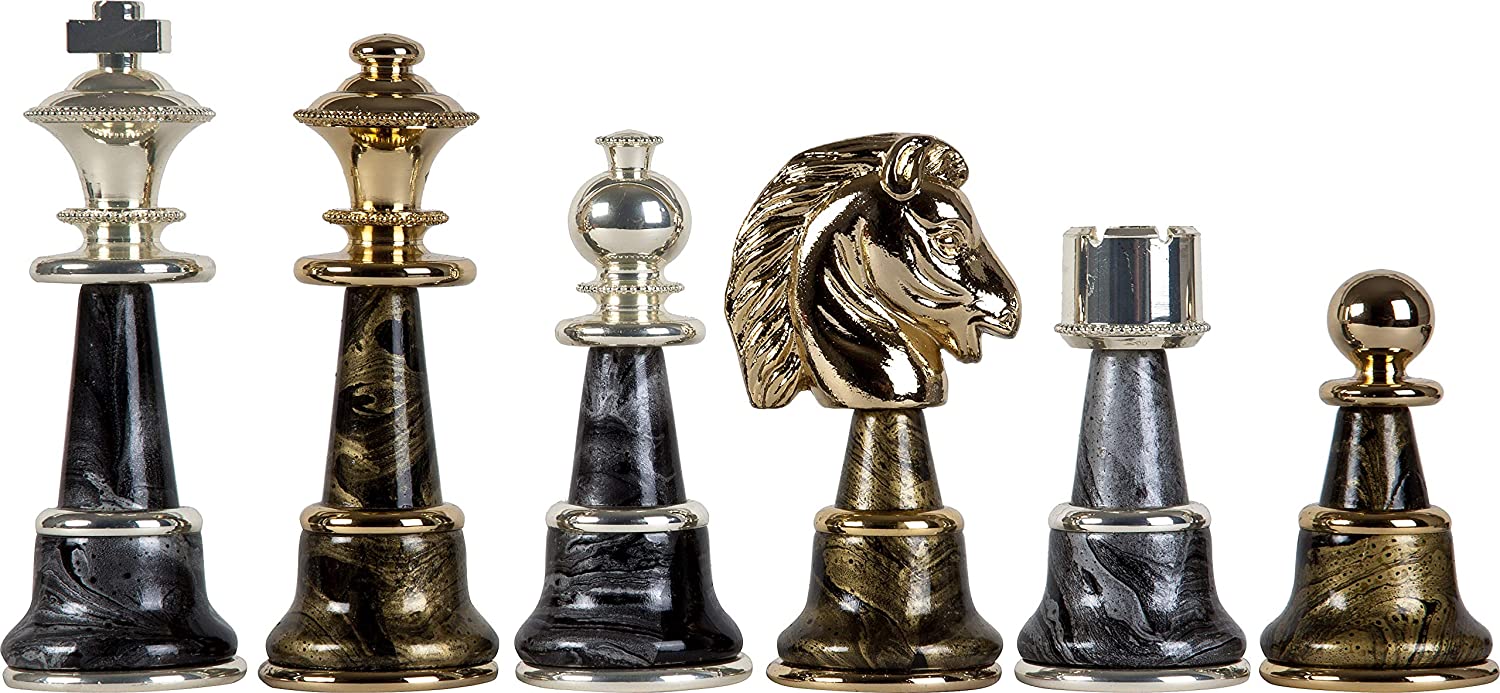 A tribute to the exquisite artistry of Italian craftsmanship, this chess set is truly a collector's item. It comes with a maple and briarwood chessboard with a raised frame and a high gloss finish. The solid brass chess pieces are plated with 24k gold and silver, with felted bottoms. There are several clear coats over the gold/silver plating, ensuring they will not tarnish in the long run. A true heirloom piece, it makes for a great addition to your living space.

12. Chess Set Arena 3D [ buy here ]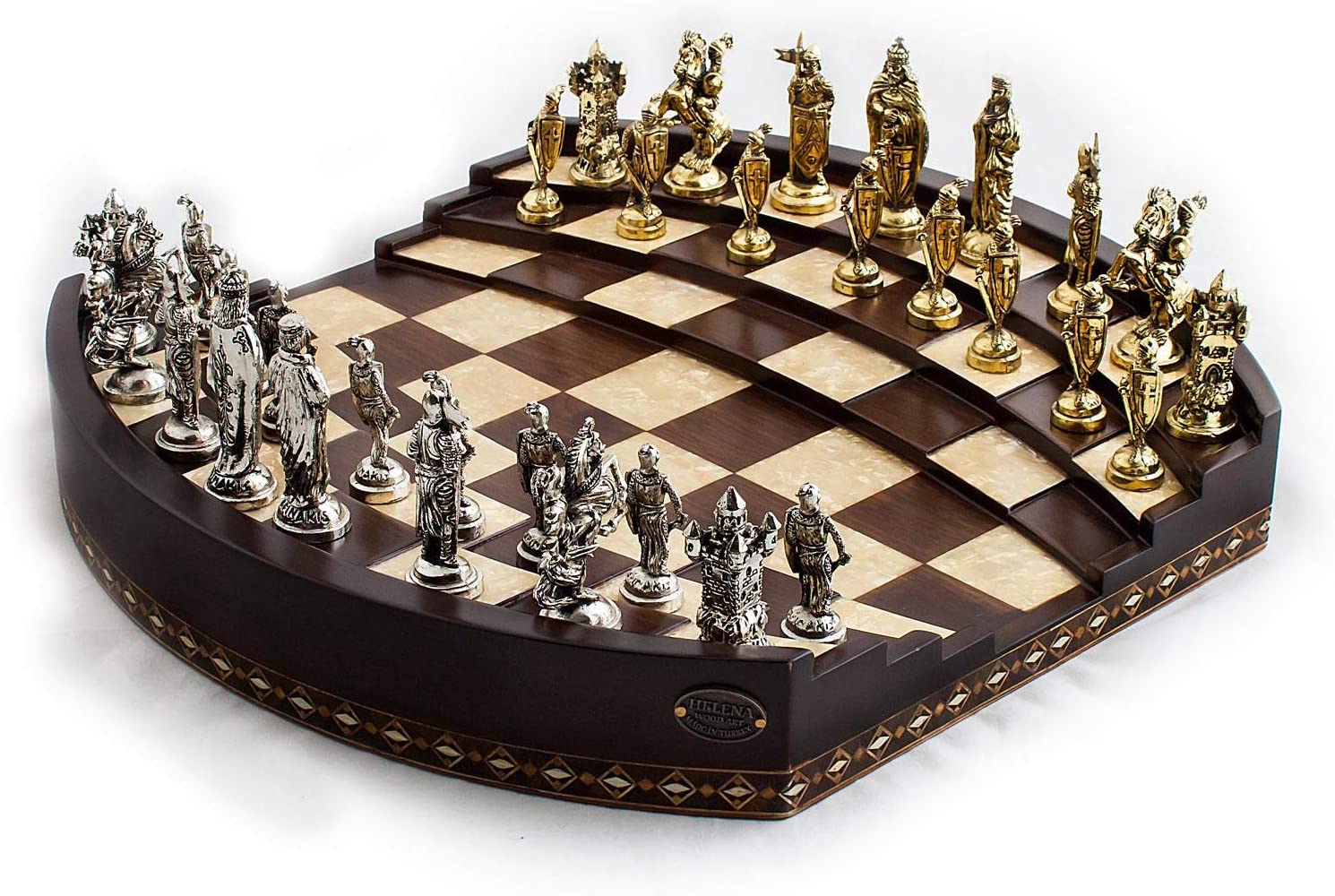 Another 3D chess set, this chessboard was fashioned after the Roman arenas used by Gladiators. The chess set is handcrafted with a wooden board and metal figures. The pieces are designed as perfect tools of learning and bonding, suited for both children and adults. The company is motivated to transform the average wood into a piece of art. Each of their products is carefully crafted to provide the highest level of quality and craftsmanship.

13. Giant Vintage Chess Set [ buy here ]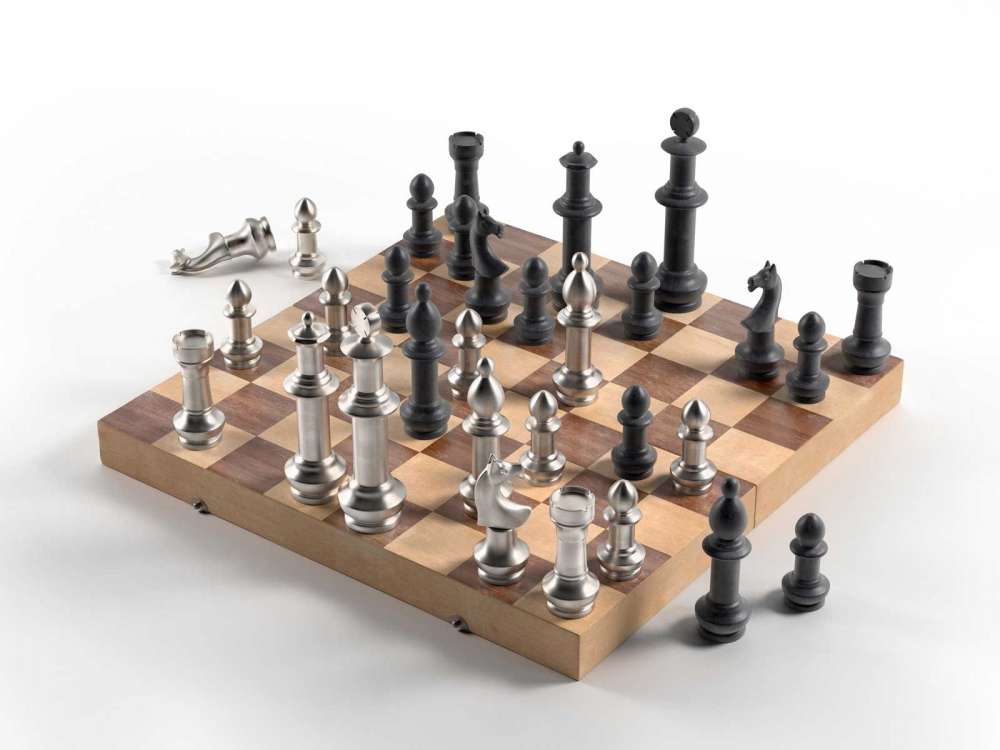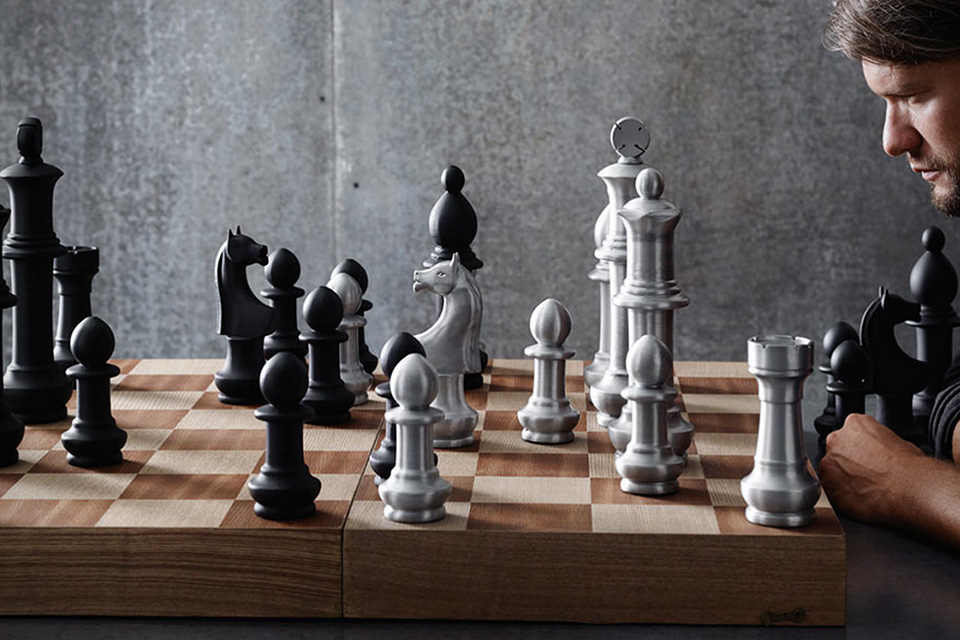 Transcend your gameplay with this gigantic aluminium chess set with supersized chess men. It comes with a beautifully inlaid wooden board with a stained finish. More than just a tabletop game, this chess set makes for a fascinating visual statement. Made by Restoration Hardware, the board measures 29.5 inch on all sides with a height of 2.5 inch. The pieces themselves range from 5 inch to 8 inch, making this unusual chess set literally over-the-top. This ornate, larger than life chess set with a generous board makes for a wonderful companion in the silent battle.

14. Raw Studio Portable Chess Set [ buy here ]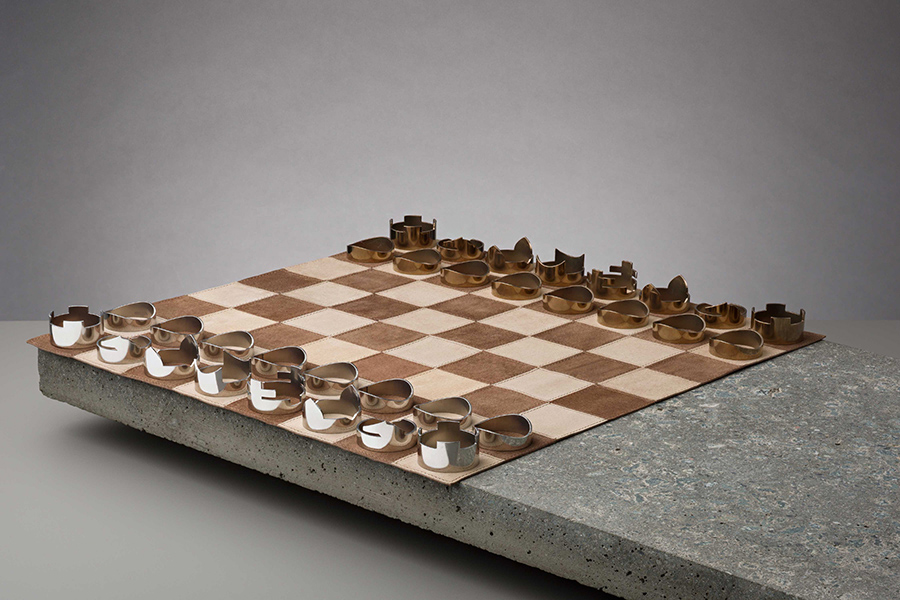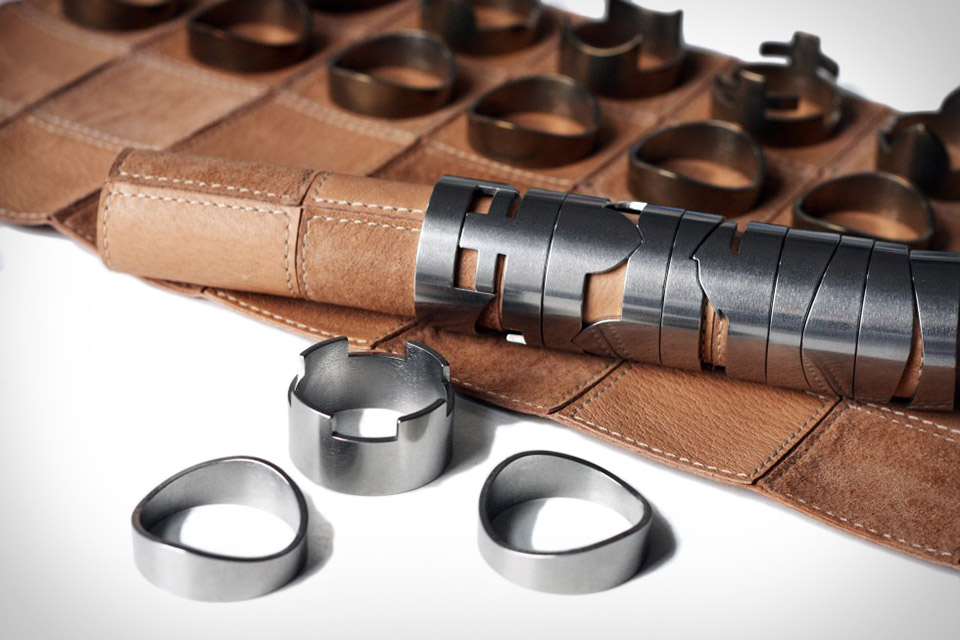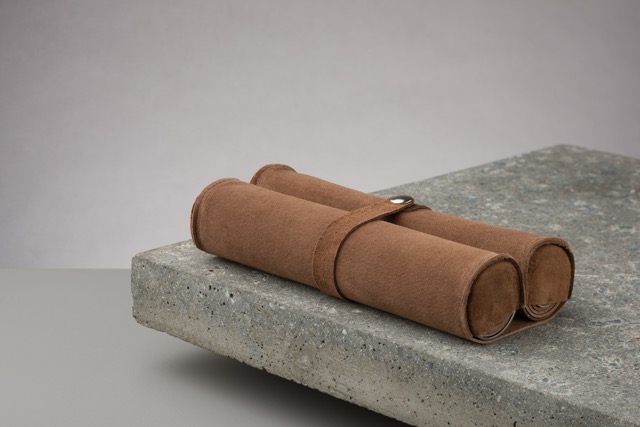 Combining a super unique design with contrasting materials, this chess set is the most beautiful portable game out there. With a handcrafted leather base and individually hand-polished metal pieces, it just begs to be owned and flaunted. The pieces interlock when stacked, which results in a "tube" that can then be used to house the rollable leather board. The board itself is hand-cut and sewn, creating a palpable difference between suede and skin sides.
The chess sets are crafted in small batches, and each set is individually hand-finished by the artist, Nick Rawcliffe. Its contemporary, minimalistic aesthetic is sure to turn eyes. But perhaps the most interesting thing of all are the pieces themselves, as unusual and unique as they are in design. The final product is then shipped in a wooden presentation box, using Victorian-era machinery.

15. Sterling Silver and 24k Gold Vermeil Chess Set [ buy here ]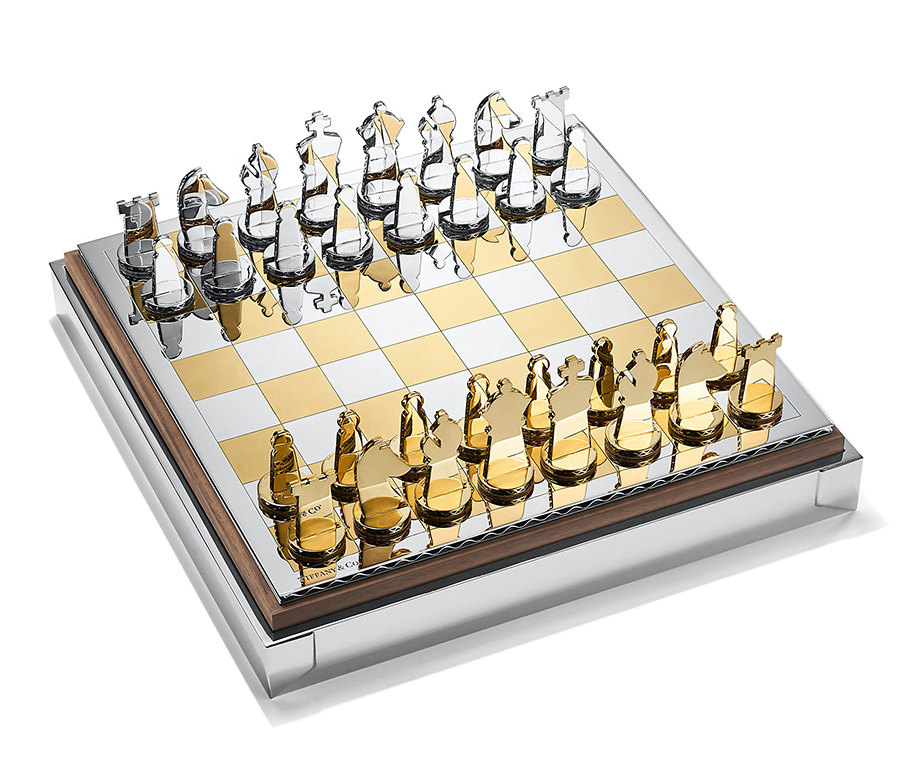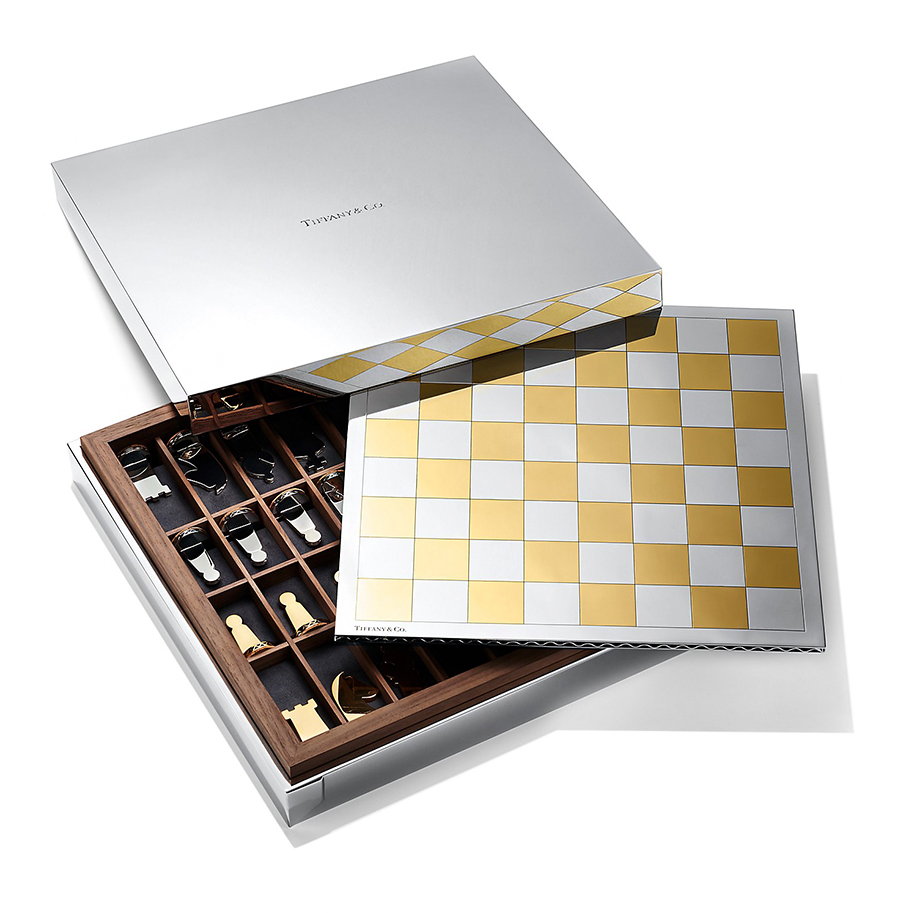 Perhaps one of the fanciest and unusual chess sets ever, this creation from the house of Tiffany is exquisite to its core. Crafted in sterling silver, 24k gold vermeil, and wood, it is housed in a sterling silver box lined with felt and a satin finish at the bottom. The luxurious board measures 12 X 12 inches, with exotic accentuations in solid wood. Drawing inspiration from corrugated cardboard, it elevates the art in the ordinary to create a functional yet elegant design. At a whopping $75000, this chess set bears the mark of Tiffany's true-blue craftsmanship.

16. Chess Game by MAarcel Wanders Studio [ buy here ]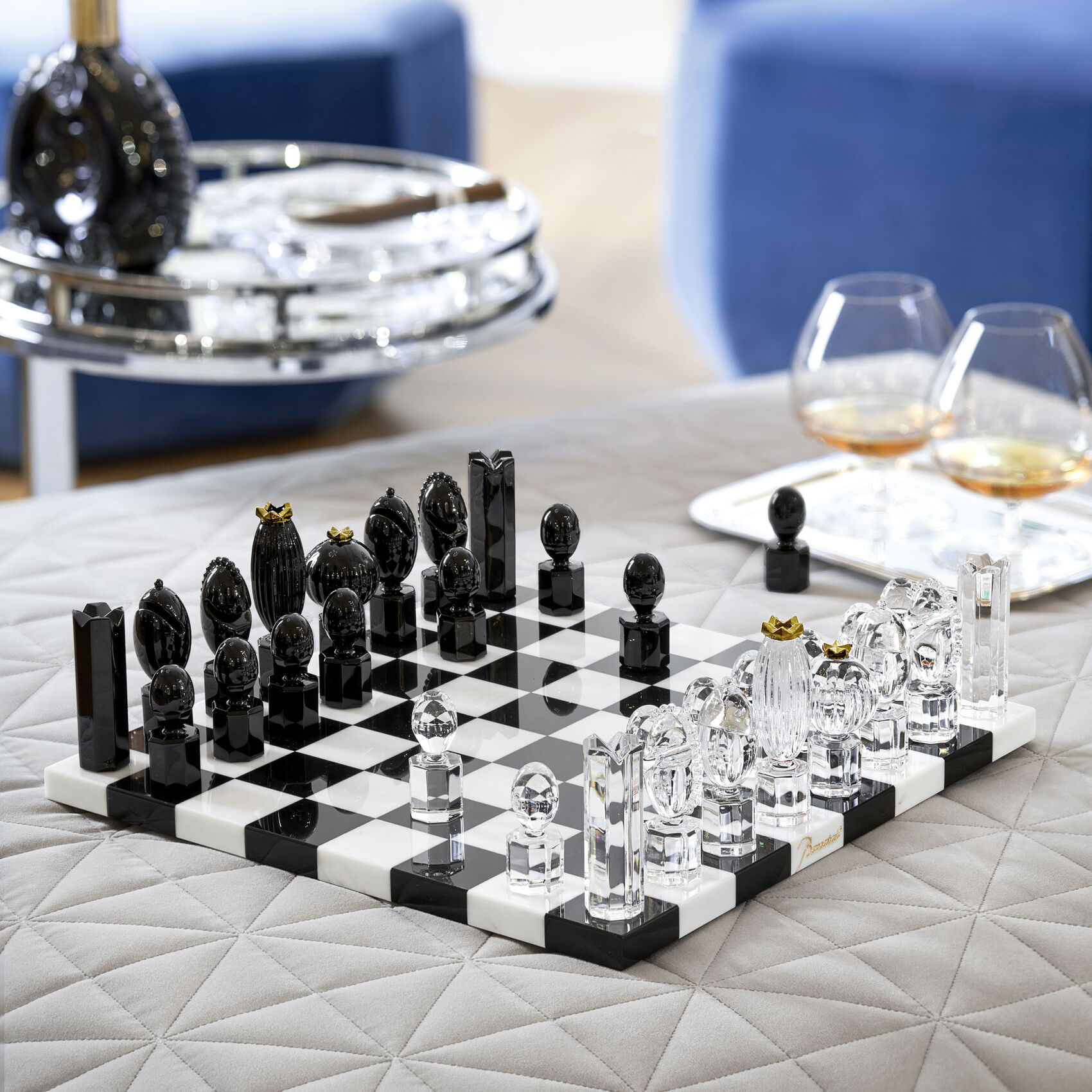 The leading Amsterdam based design studio, Marcel Wanders, transforms this iconic game into a grandiose interpretation of strategy and honor. While the pieces are crafted out of crystal, the board itself is made out of Carrara marble. A true collector's item, it was created in collaboration with Baccarat to celebrate the timeless quality of history's classic board games. In their reinvented silhouettes, the set's monarchs are crowned in hand-applied gold.

17. Leonardo Frigo X Purling London Art Chess 'Untitled III' [ buy here ]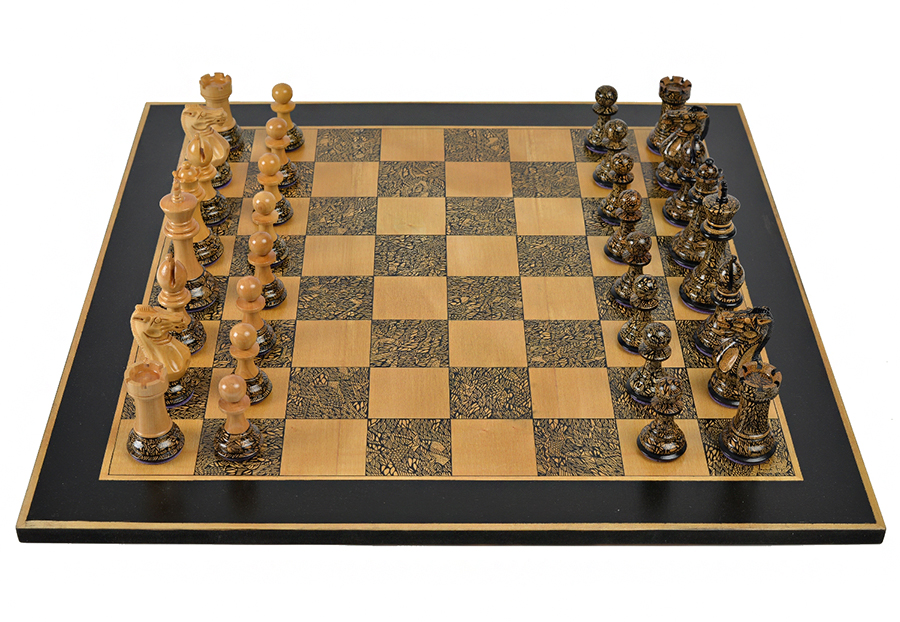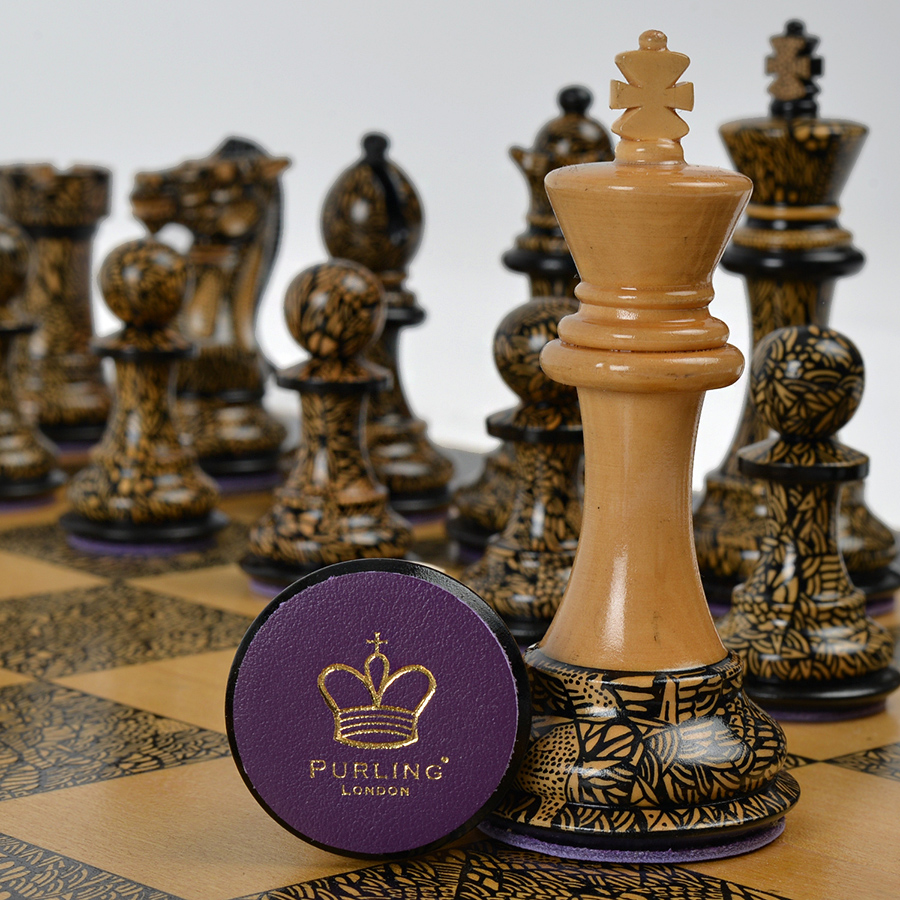 Italian artist and violinist, Leonardo Frigo, creates intricate hand-illustrations in fountain pens with hand-made ink. He worked in collaboration with Purling London, known for their quirky Art chess sets, to create this hand-illustrated set. Crafted out of Boxwood, these chess pieces are covered in Italian napa leather felts with 18-carat gold embossed Purling logos. Finished in handmade ink by the artist himself, this set is a valuable gem for collectors and chess enthusiasts all over the world.

18. Premium Metal London Edition Chess Set [ buy here ]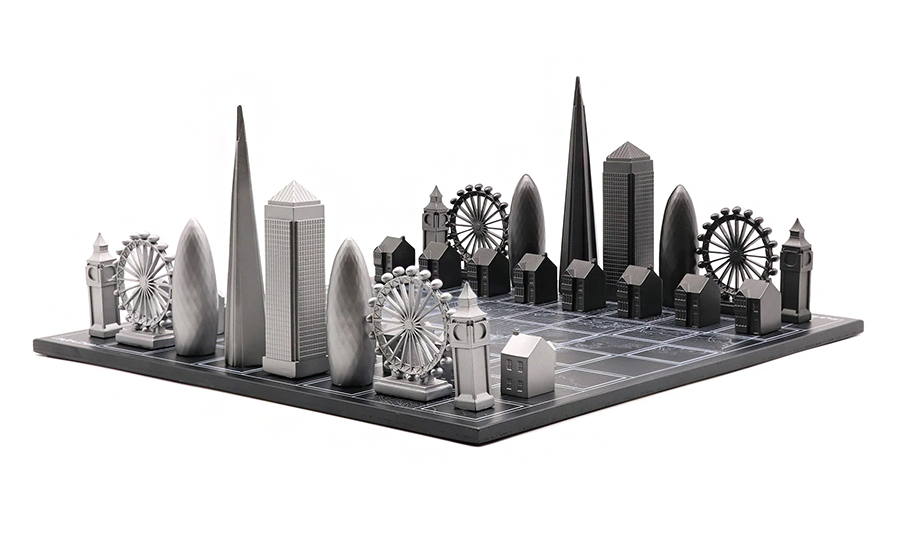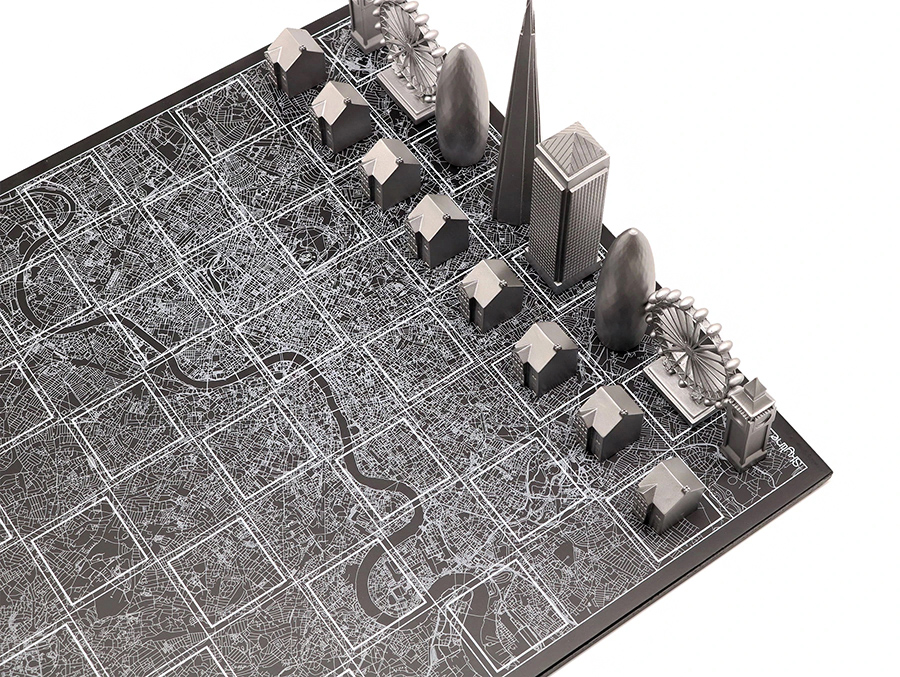 Bringing modern design to a classic game, this is yet another unique set from Skyline Chess. Perfect for both lovers of chess and architecture, the London edition is an ode to the panoramic silhouette of the city. This 32-piece set is hand-casted in solid resin with metal powder and comes protected with a felt base. The chessmen represent some of the notable structures in London. Pawns are terraced houses, Big Ben is the Rook, and The London Eye is represented by the Knight. The Canary Wharf holds the coveted position of the King, while the grandeur of the Shard is symbolised by the Queen. An impeccable Carrara marble board sets the stage, paying subtle fealty to the exceptional structural contour of the city.

19. Black & White Wood And Metal Set [ buy here ]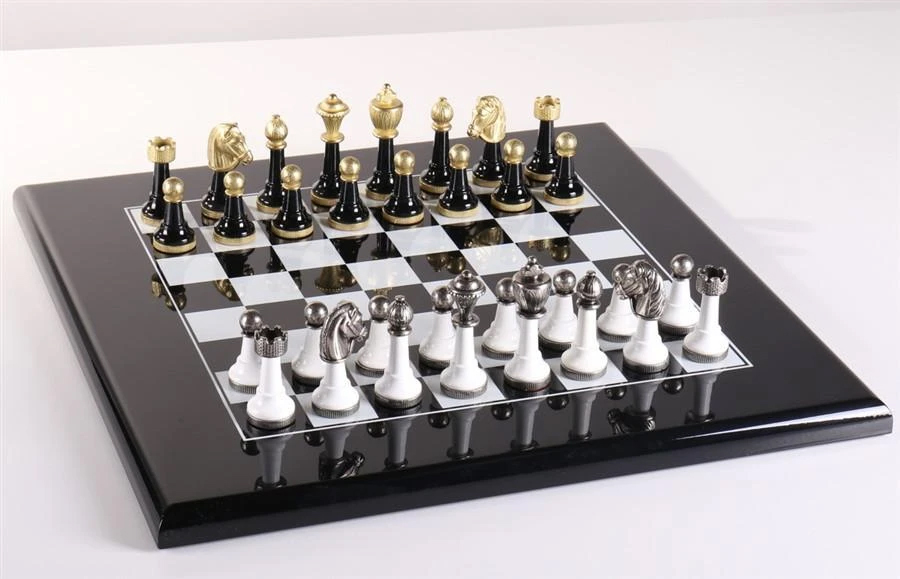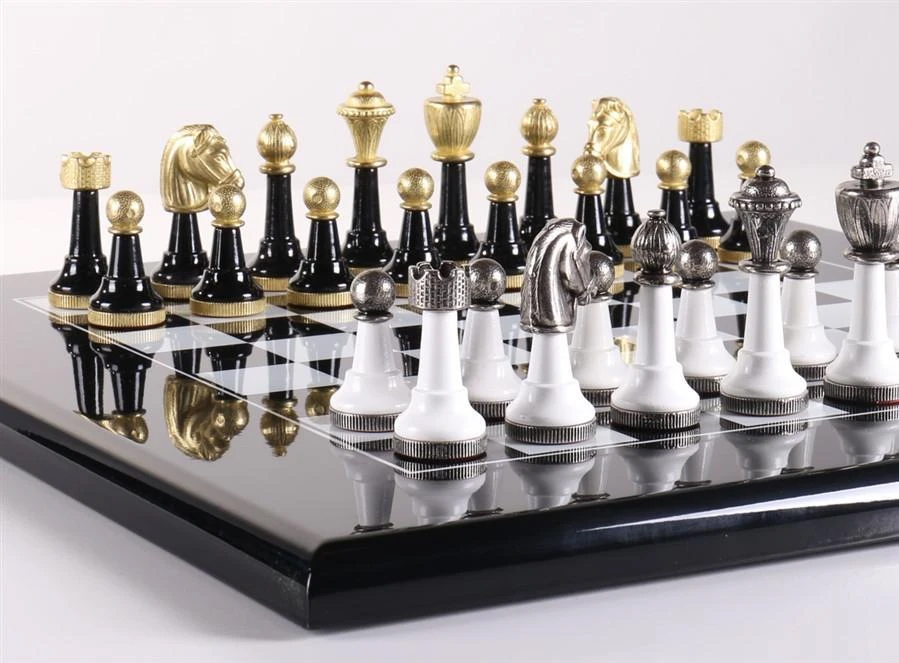 Crafted by the Italian house of Aldo Marsili, this chess set is fit to be the centrepiece of any space. The lacquered chess board is complemented with chess pieces built out of contrasting metal and wood, giving it a premier finish. Made out of rosewood, maple, mahogany, and walnut, this set makes for a great gifting option. Staunton style chess men decorated with metal heads and base add to the charms of this classic set.

20. Metal Art Deco Chessmen on Storage Chest [ buy here ]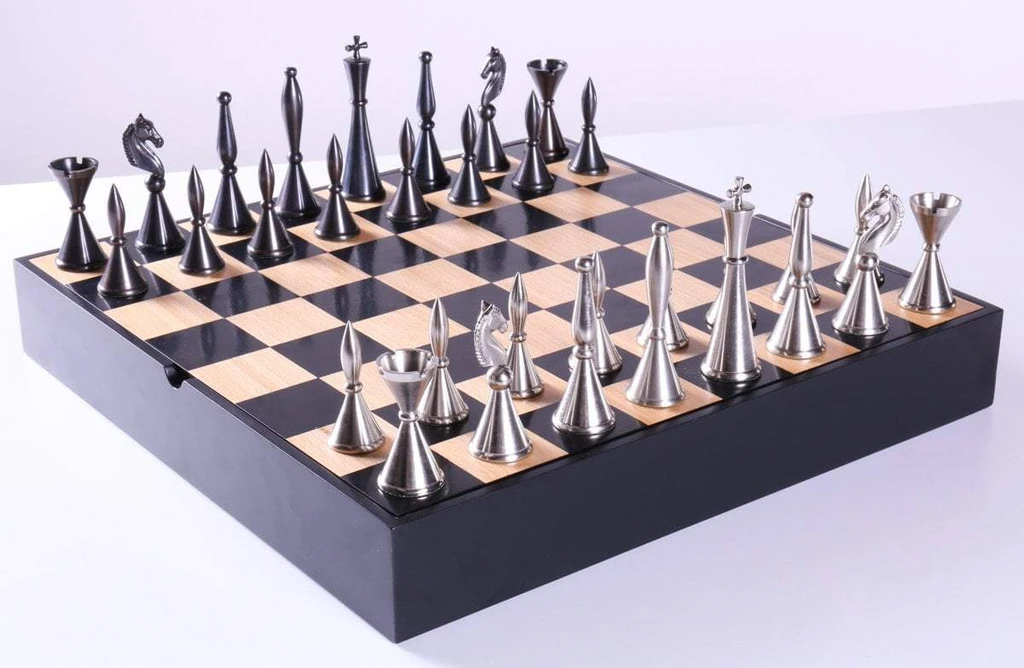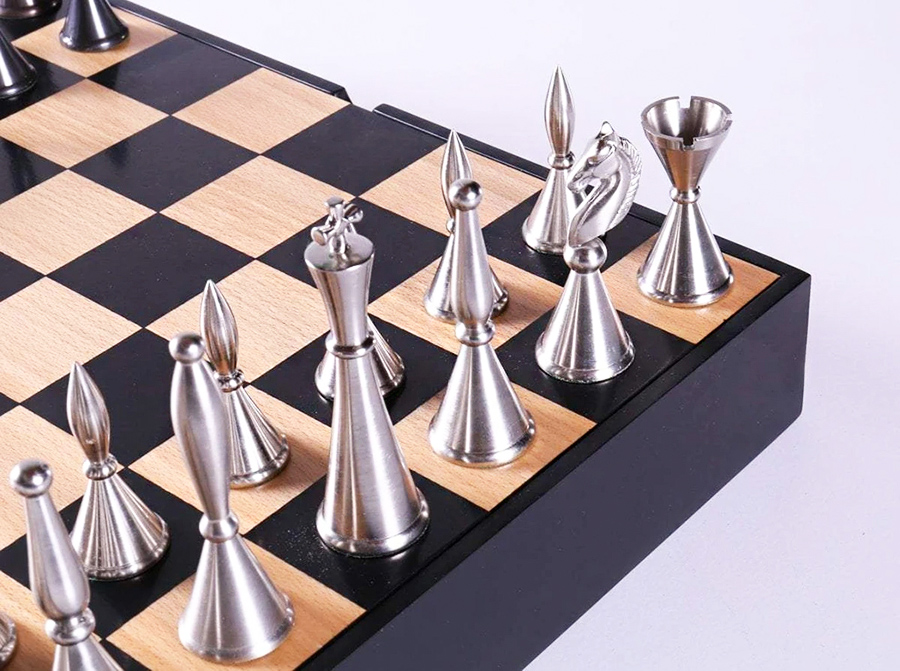 Skilfully forged with bronze and pewter finish, this chess set is beautiful and utilitarian at the same time. The chessboard doubles as a decorative and functional storage chest for the chess pieces. The wooden dividers demarcate 32 separate slots, protecting the pieces from getting scratched or damaged. The board can be lifted off the storage chest and used separately. If you favor Art-Deco style, this set is surely something you would like to get your hands on.

21. Black Berliner On Black Birdseye Board [ buy here ]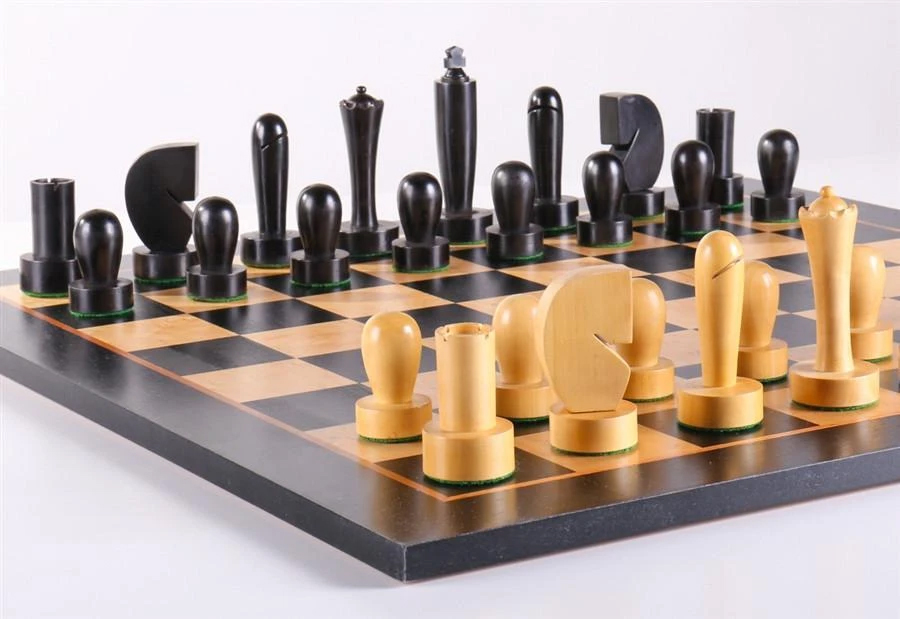 Another noteworthy design that exalts the minimalist, contemporary look, this chess set is an eye-catcher for any chess enthusiast. The chessmen are handcrafted out of wood, with a felted bottom, featuring a 4 inch tall King. The complimenting chessboard is carved out of black and birds-eye maple wood, creating a simple yet elegant design scheme.

22. Strato Chess [ buy here ]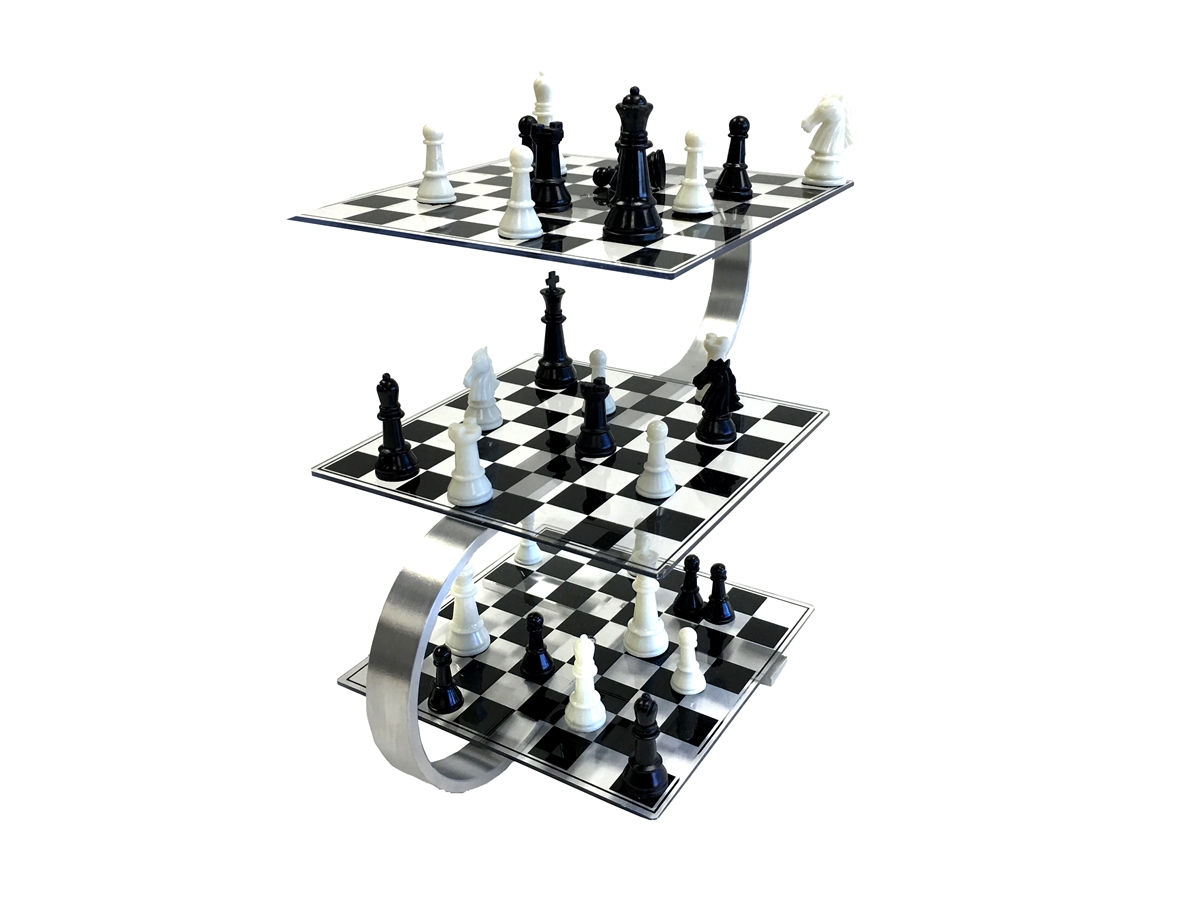 Take your match to the 3rd dimension with this unusual and quirky chess design. A novel variation of the classic game, Strato Chess is played on multi-levels. This makes the game three times more challenging than your usual gameplay. One of the most cost-competitive options listed here, this unique chess set is made out of 8 inch Lucite acrylic chess board built on three levels. The 32 weighted chess pieces are created out of plastic with a felt base. Perfect for those wanting to push the boundaries of their intellect, this set is as pocket-friendly as they come.

23. Bauhaus Chess Set [ buy here ]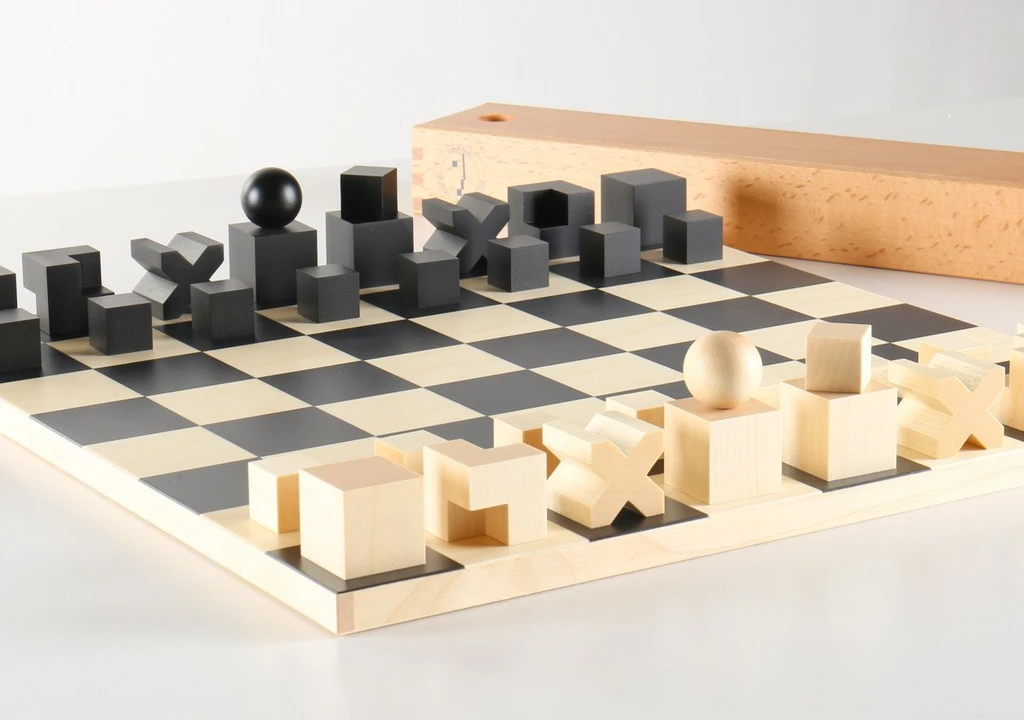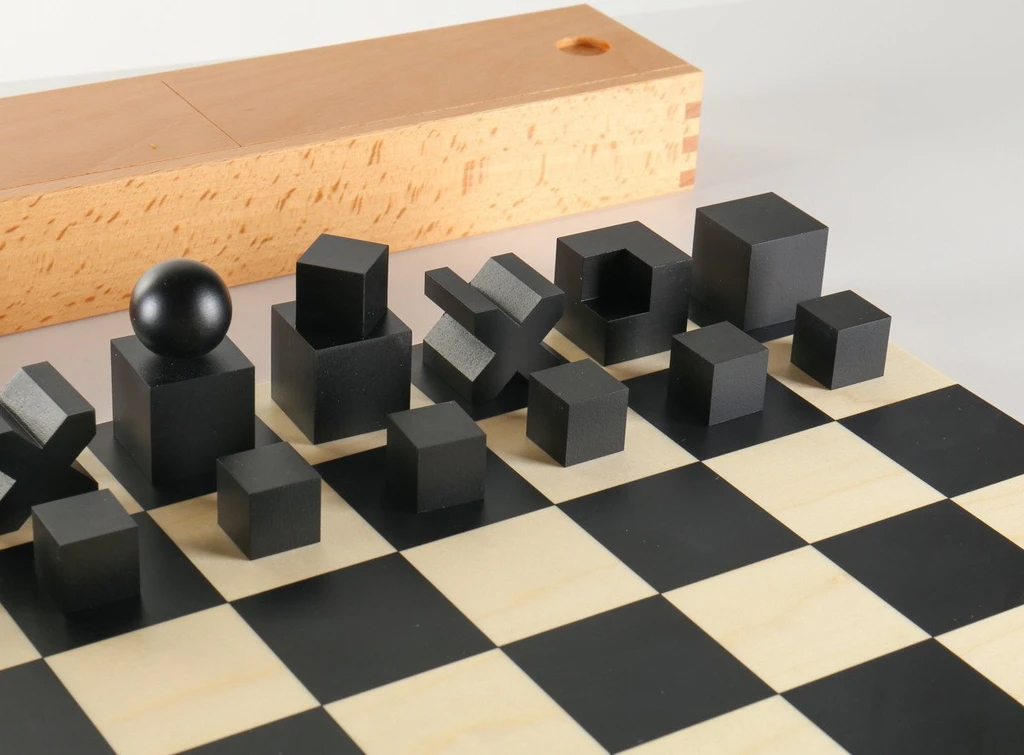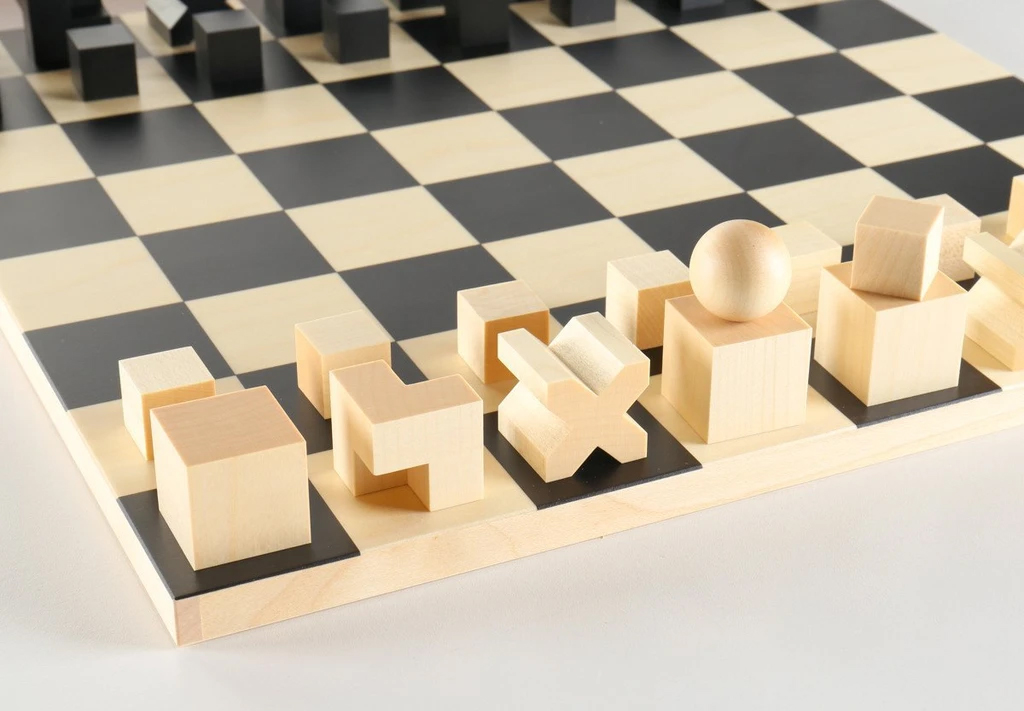 A design classic, the Bauhaus chess set by Josef Hartwig will always remain a favourite among players. Crafted and perfected in the 1920's, this chess set features geometric shapes with a square base. A modern interpretation to the classic monarchs remodels the chess men to their core functionality – movement. The shape of each piece is also strongly suggestive of their rank and power. The X-shaped Bishop denotes its diagonal passage, while the immense possibilities of the Queen's movement are embodied in a simple sphere. What the Bauhaus design sensibility did to the game was stripping it of all cultural and religious markers. Simple, playful, and remarkably modern, this chess set makes a statement that few can miss. Currently replicated by Naef, the Bauhaus chess set is a cult favorite for game lovers.

24. National Museum Scotland The Isle of Lewis Chess Men The Official Set [ buy here ]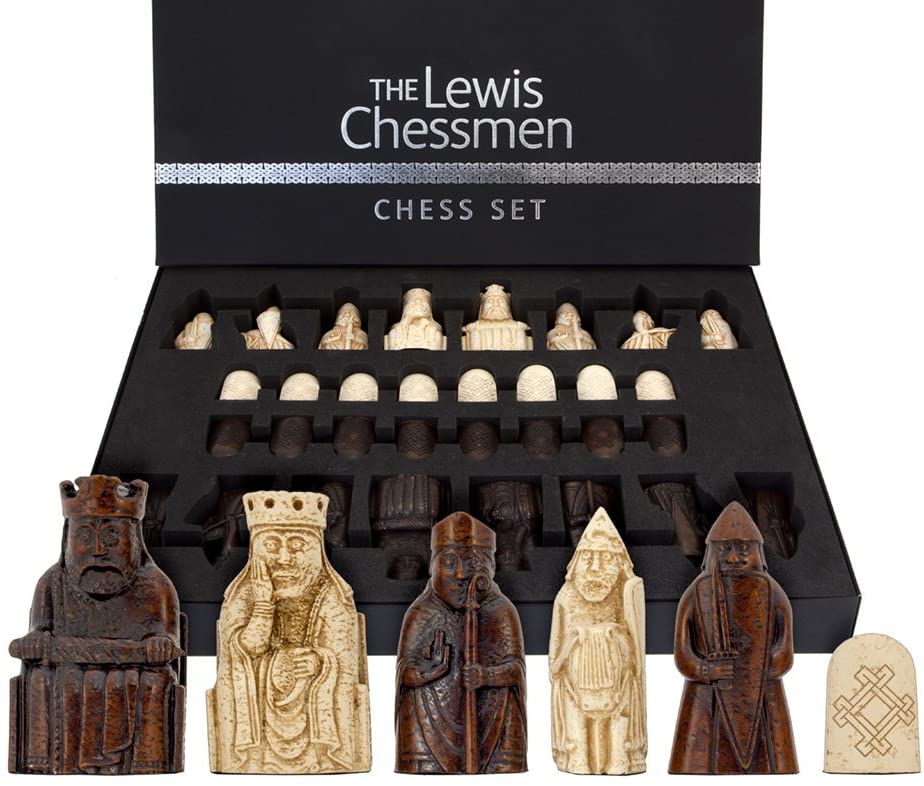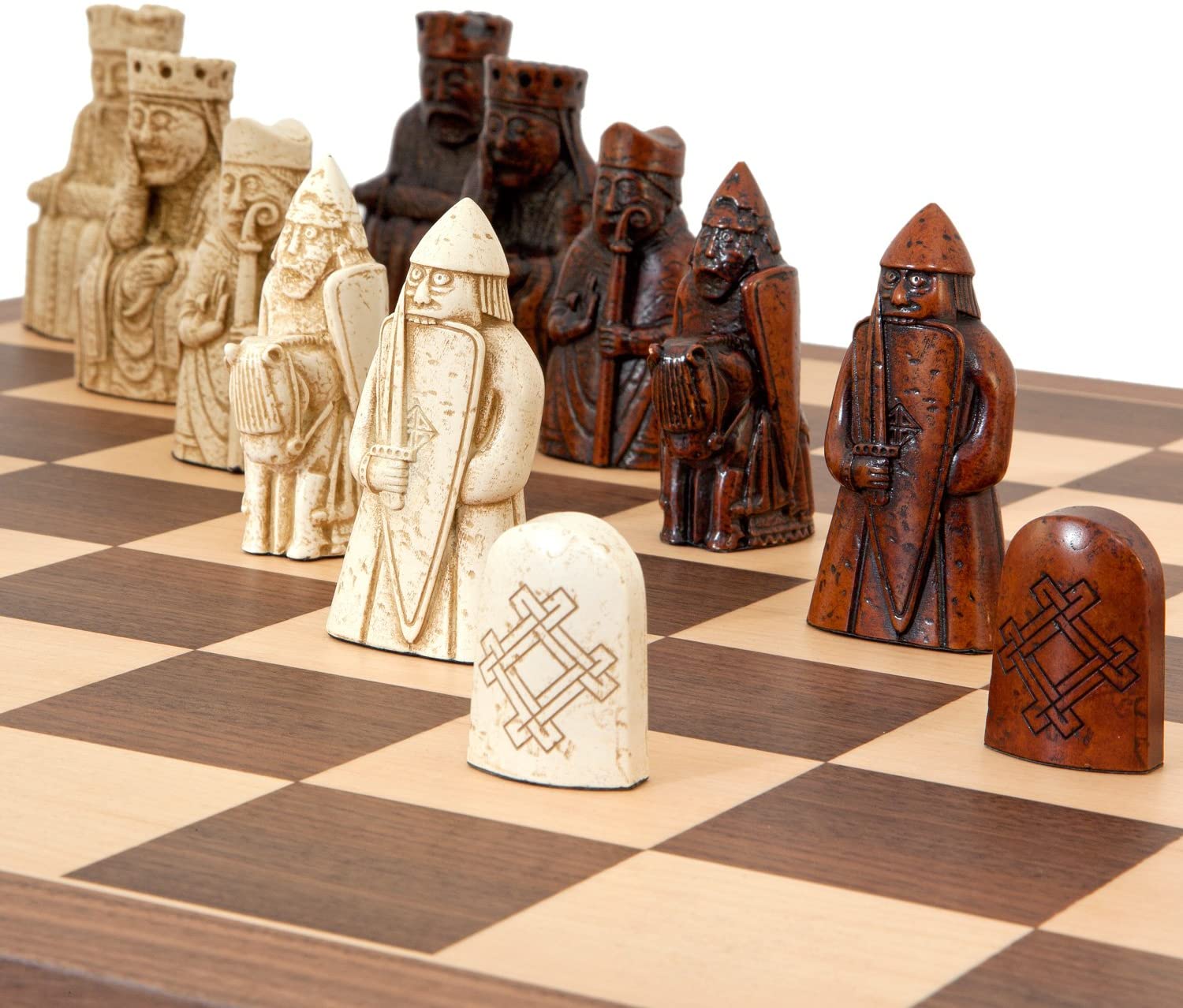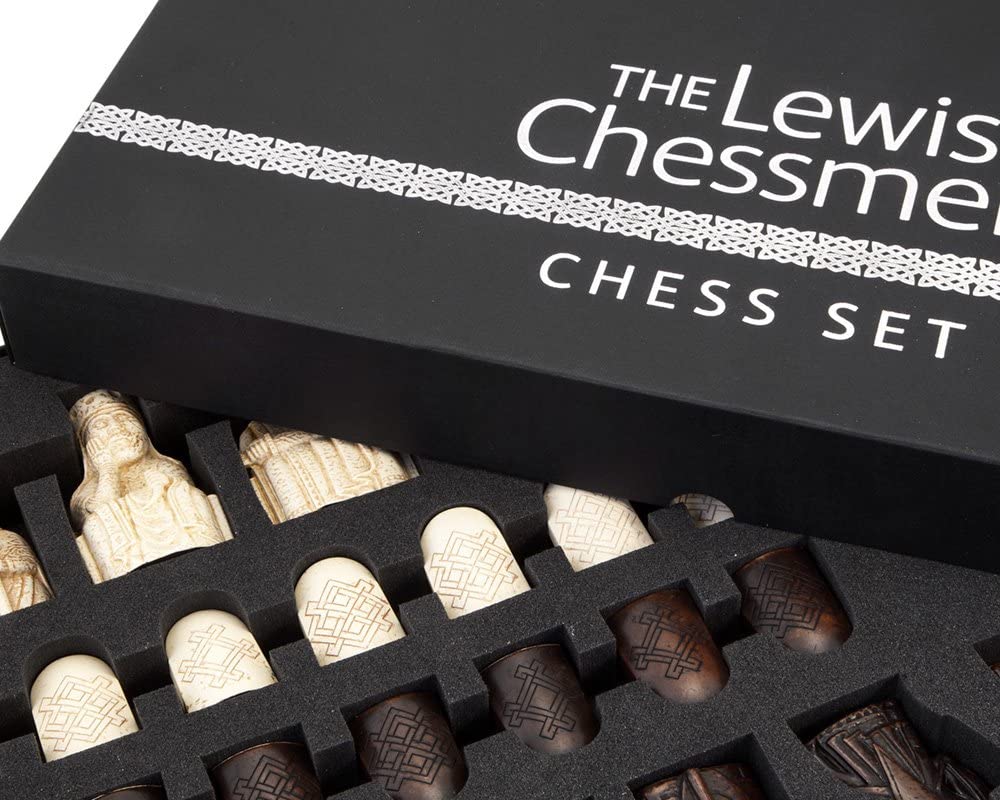 Own a little piece of history with these replica Lewis pieces. Discovered in 1831 by a shepherd, the original chess pieces are the oldest complete set of chessmen ever found. These 12th century pieces are currently exhibited in the British Museum and in the Museum of Edinburgh. However, you can get a replica model for yourself to add to your collection. The official National Museum pieces are authentic replicas produced from laser scans of the original pieces.

25. Renaissance Knight Chess Recreational Classic Strategy Game Set [ buy here ]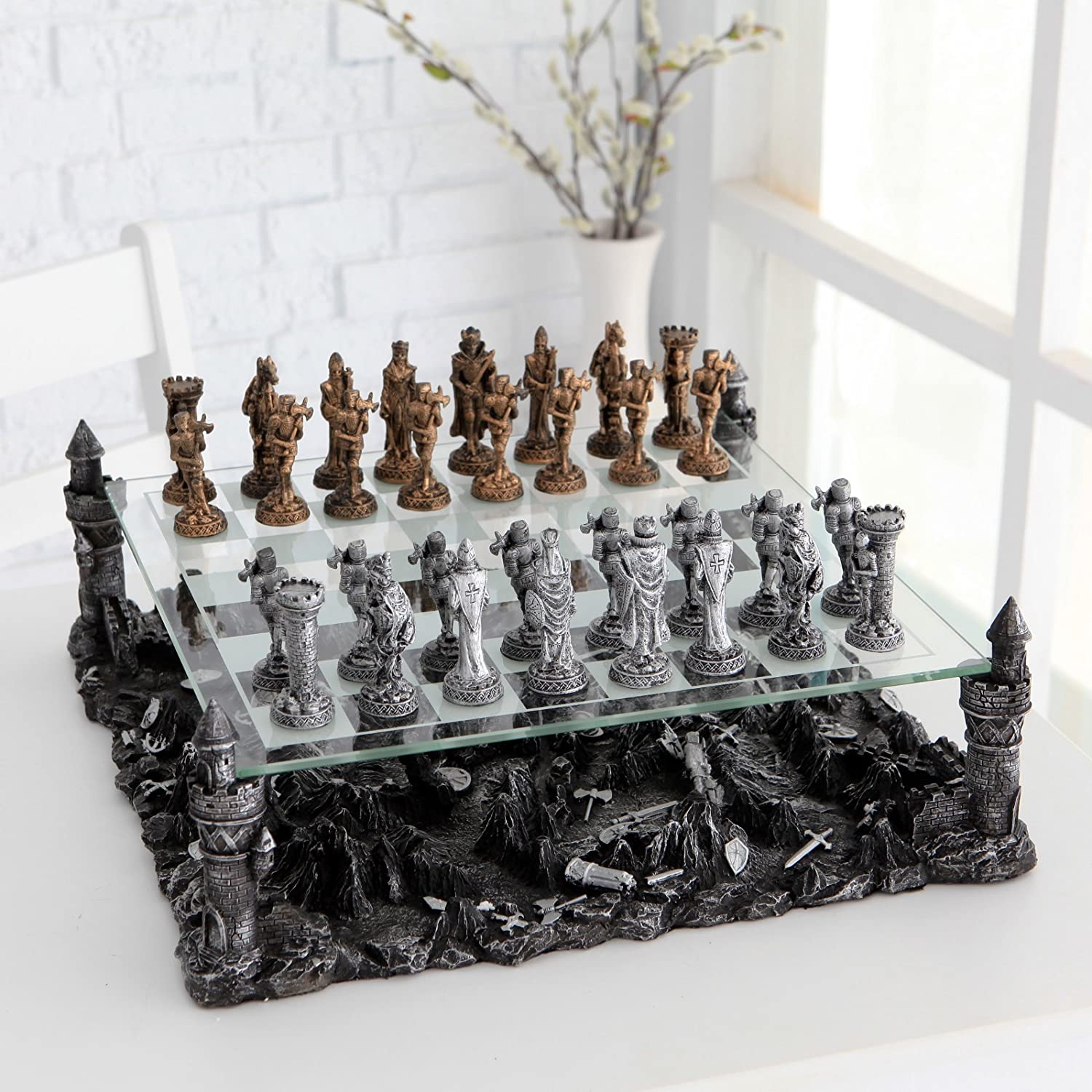 Another pocket-friendly option, this is a premium 3D Knight Chess Set. The chessboard comes with storage, measuring 15 inch Width x 15 inch Depth x 5 inch Height. The chessmen are built out of pewter with a poly-resin base. The King itself is of 2 inches height with a 1 inch base. A perfect option for amateurs and beginners, it is also a great gifting option.

The End Game
Chess of course has rules, and requires practice to reach the desired skill set. Although the game is an exercise in strategy and planning, it can easily be learned even by amateurs. You will find six different types of chessmen on board, where each can take specific actions. These include where they start on the board, how they can move and what actions they can actually perform. The rules and structure of the game remain more or less the same across the globe. Even with variations, it is easy to follow and understand, once you get the moves. Chess sets across the world will include the same basic elements necessary for gameplay. However, they may vary in terms of design and quality.
Decorative chess sets are built using a range of materials – from gems and precious metal to crystals and marble. The more practical ones are usually made of wood or acrylic. Whatever the material used, the best sets will always deliver on both quality and functionality. While looking for a unique chess set to buy, remember to cross the following markers:
Quality – Your set should be sturdy enough to take a hit. The board itself should have an even, flat base for stress-free gameplay.
Weight – Chessmen are weighted so they stay grounded to the board. Wooden pieces are often weighted at the bottom. Portable sets will come with magnets to help the pieces stick to the board.
Storage – Decorative sets do not require storage. But if you are buying for a more practical use, look for sets with storage. This will be convenient to protect your pieces from damage and easy to pack while travelling.
Queens – Although not universally acknowledged, some of the sets do include two extra Queen pieces. It comes in handy when you crown a pawn.
Now that we have shared some of the most unique chess sets available, go ahead and choose one for yourself. Giving wings to human ingenuity, these incredible examples of chess designs will truly set your imagination on fire. Chess may be just a game, but as long as it is played by humans, emotions will always be a factor.
No matter what your skill level, a cool and one-of-a-kind chess set can make you feel smarter. It can also create the right kind of impression on your opponent. Make your endgame stronger by opting for a design that matches your creative expression. One of the most important skills for any chess player is the ability to think critically. Don't forget to exercise this faculty while choosing a chess set. Your search for a unique chess set may surprise you by the sheer variety that exists. Whichever design you choose, make sure it fits your needs and budget.