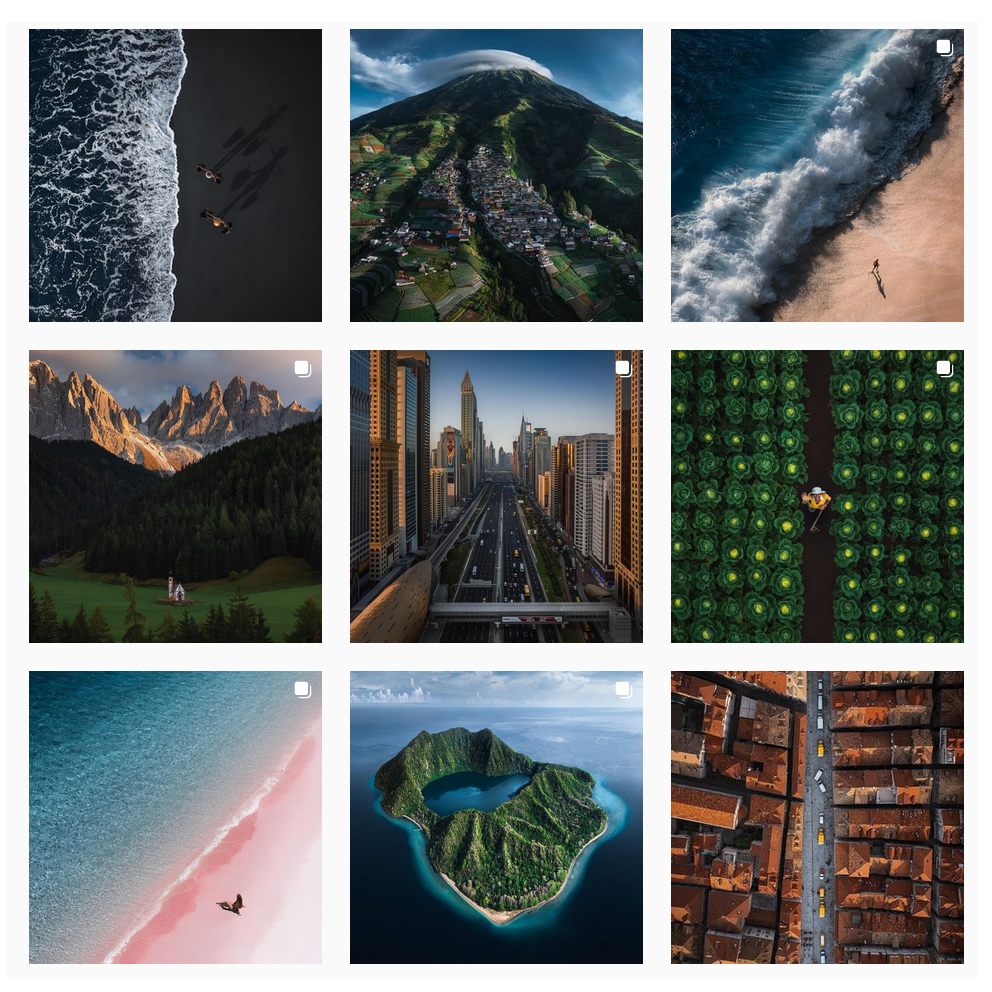 If you love exploring the world, you may have wanted to create a collection of interesting travel destinations. Instagram is a wonderful place to get inspiration.
There are loads of Instagram accounts dedicated to sharing vacation and travel experiences. Unfortunately, it can be stressful to weed through all these accounts. Because, while this type of profile is spreading like wildfire, not all of them are worth following.
Everyone dreams about visiting the most beautiful places in the world. But following the right travel influencers on Instagram can inspire you to make the move and visit these places.
In this guide, you will discover some of the best travel Instagram accounts to follow. These accounts – with their beautiful collection of travel photos – will inspire you to book vacation trips.
Here are 15 best travel Instagram accounts to follow:
One of the best Instagram travel accounts to follow is a page masterminded by Jeremy Jauncey – @beautifuldestinations. This account will inspire you to connect and make a positive impact through travel.
Being a verified travel account dedicated to posting the most fascinating tourist spots, every travel aficionado will benefit a lot by following them. Check them out and discover some of the best travel spots on the page.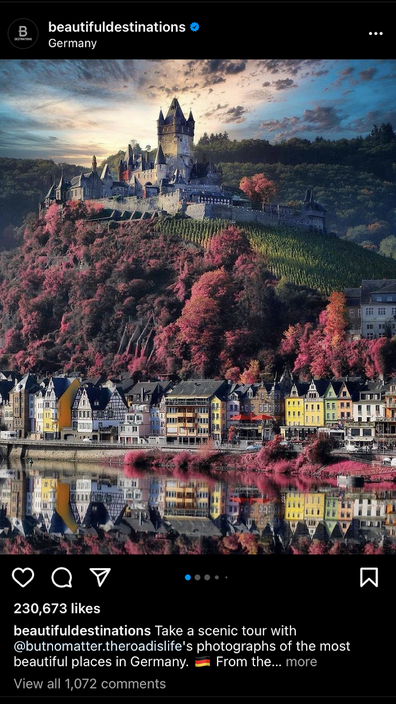 If you are truly looking for the top travel Instagram accounts, the @muradosmann page is a good place to start. For obvious reasons, Forbes has named Murad Osmann one of the "Top 3 Travel Influencers."
This Instagram account has a #followmeto hashtag dedicated to showcasing jaw-dropping duo travel posts. Pictures on this page will inspire you to spend vacation trips with your better half.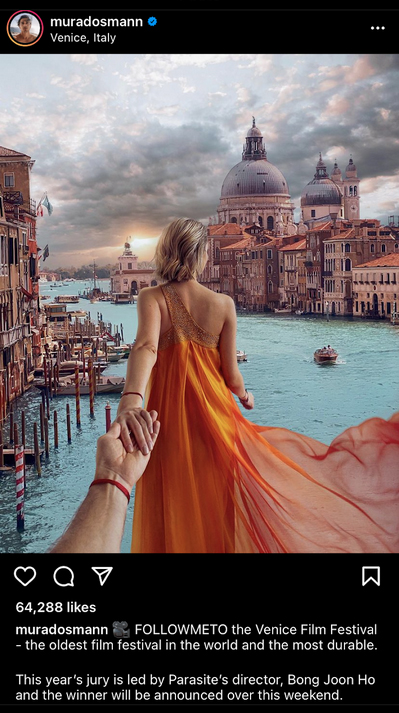 When it comes to travel photography, Jord Hammond understands the assignment. He travels around the world snapping breathtaking pictures of a city's atmosphere and landscape.
On his page, you will find a collection of travel pictures showcasing the most spectacular destinations on planet earth. Through these adventures, you may even be inspired to book your next vacation trip. Yes, Jord's content is that good.
His amazing personality and photography skills are the reason he keeps getting more popular on Instagram.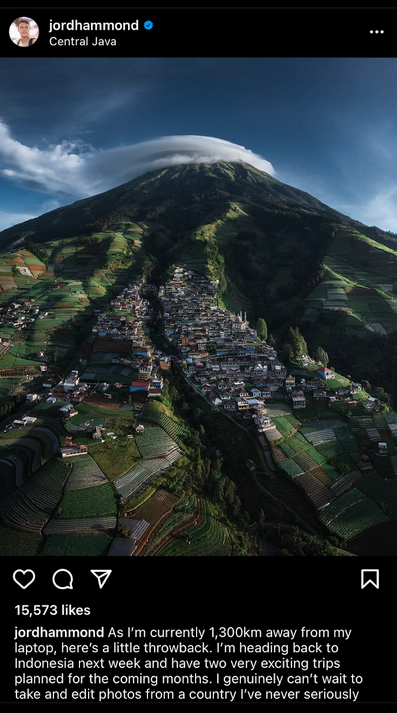 Anyone who loves travel has to explore Jackson's feed of impressive travel snapshots. He became famous through his documentary series which is centered around his lifestyle and travels. Now, he has millions of followers.
Jack Harries is a filmmaker and climate storyteller. This explains why his Instagram feed is filled with highlights of his adventure through nature's climate change. Jack's account is a great account to follow.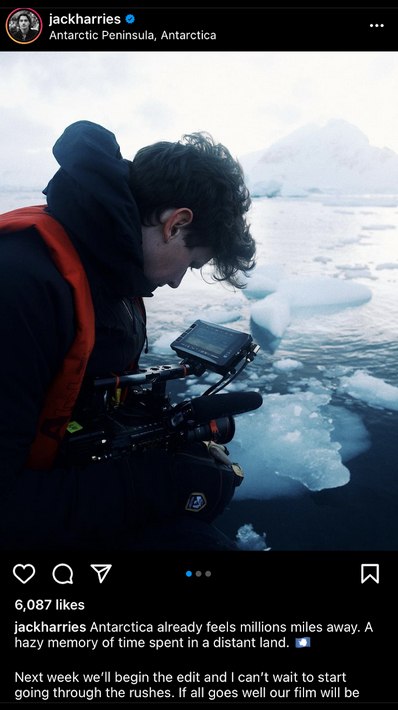 The photography talent of Emilie Ristevski can be clearly seen from the calming shots taken on her adventures across the world. There's a special kind of lighting and tone associated with her work.
Emilie's feed is filled with wonderful landscape pictures, making it the perfect account of vacation lovers.
She's been keeping her Instagram feed alive with pictures that give her followers nostalgic vibes. So, ensure you add this page to your collections of worthy travel Instagram accounts.
Michael Yamashita is a world-famous Asian photographer. He's renowned for shooting some of National Geographic's best works. Everyone admires how he shares thoughtful captions on his posts.
His feed has the best collections of globetrotting images, travel portraits, landscape photos, and pictures showcasing Asia's cultural heritage. You have to follow this account to enjoy the view.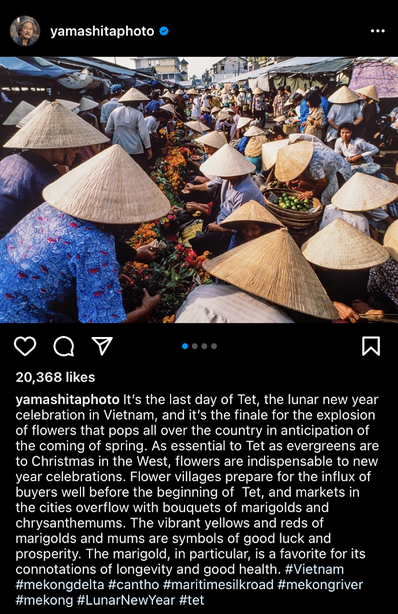 If you love pictures of luxury and leisure takeovers, you should follow this luxury travel creator. Here, you will discover some of the best luxury resorts across Thailand and the Maldives.
Alex shoots for @TravelandLeisure, a world-famous travel magazine. On his page, you will get a quick glimpse of the world's most exciting travel destinations to visit with your loved ones.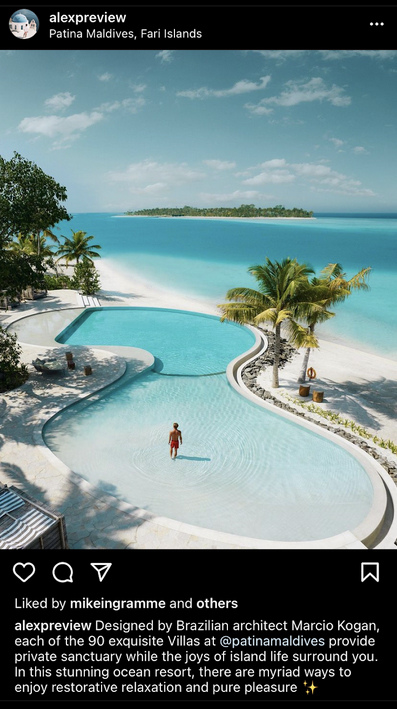 Carolyn shares pictures from her travels around the British countryside, including life from the comfort of her home by the sea. She posts beautiful images of wallpaper-worthy countryside landscapes.
Her page goes beyond beautiful photography of nature's sights and sounds. You can learn basic tips on how to create image contents that will make you gain more Instagram likes and followers.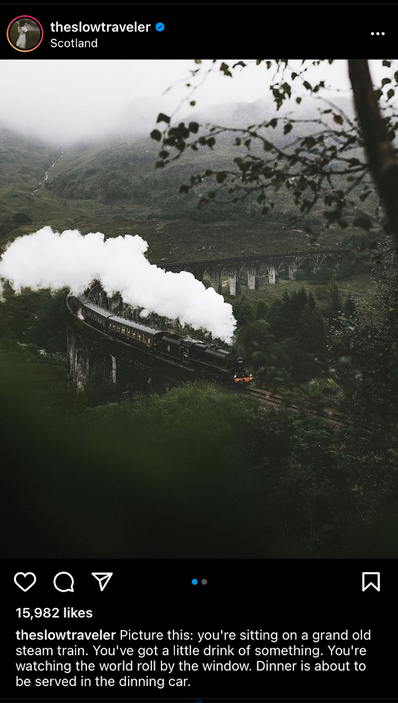 The professional photographer behind the " @DoYouTravel " page – Jack Morris – is dedicated to sharing some of the most inspiring travel shots on Instagram.
Follow this account to keep up with several photo dumps of incredible travel shots taken at some of the world's most picturesque destinations. Scrolling through his feed is like viewing an art exhibition.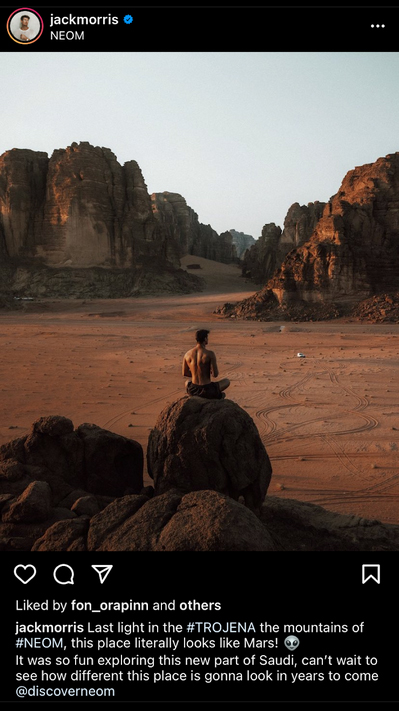 Jennifer Tuffen – @izkiz
Jennifer is welcoming everyone to her colorful world of amazing Instagram-worthy pictures. She's a British traveler and diver. This is the perfect account to follow if you love colorful travel shots.
Her account is one of the most visited on Instagram. With over 2.8M followers, you can tell those millions of Instagram users love viewing her feed and stories. Her feed has a picture mixture of crystal-clear blue waters and luxury hotels.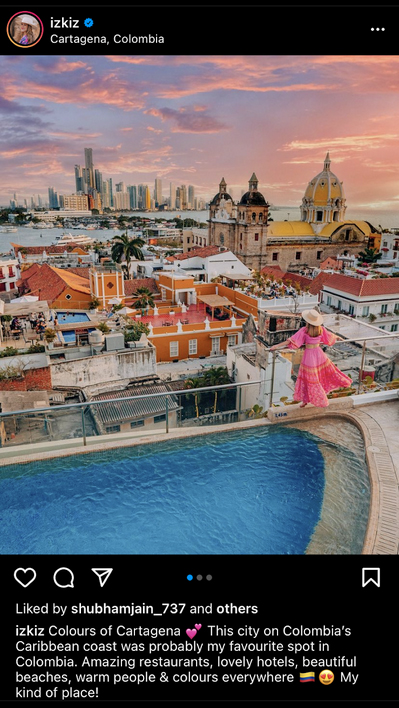 Madeleine Schneider-Weiffenbach – @pilotmadeleine
Pilot Maddie is a famous travel and lifestyle influencer on Instagram. Over the years, she has channeled her love for flying into travel blogging. Today, she's living her best life sharing the most interesting travel snaps.
This is a great account to follow if you want to see some of the best travel destinations around the world. You can even participate in her giveaways to stand a chance of taking your family to paradise.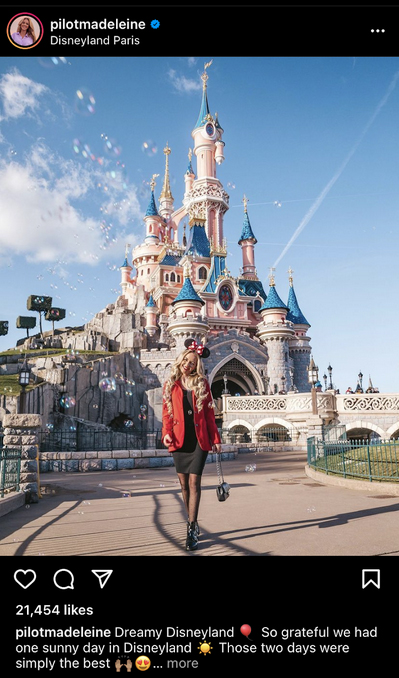 The @trabelsofali page is owned by Dr. Ali, a Saudi-born doctor living in London. He's so passionate about travel that he shares his adventure on his page.
On a side note, he made a ballsy move by quitting his clinical practice to become a travel content creator. He's now an ambassador of @luxuryworldtraveler and he's never looked back.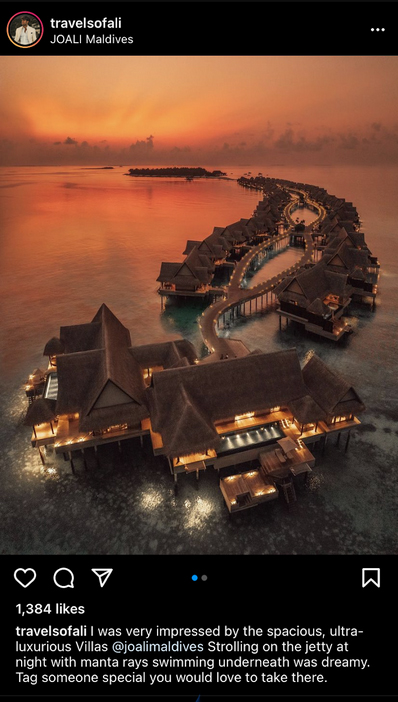 If you love drinking cocktails on your travels, you'll love Ashlee's Instagram page. She's a self-proclaimed cocktail enthusiast who loves flying around the world while crafting lovely cocktails.
She loves sharing pictures of cocktail drinks every time she's at her favorite hangout spots or while on vacation. She contributes so much to the viral #willdrinkfortravel Instagram hashtag.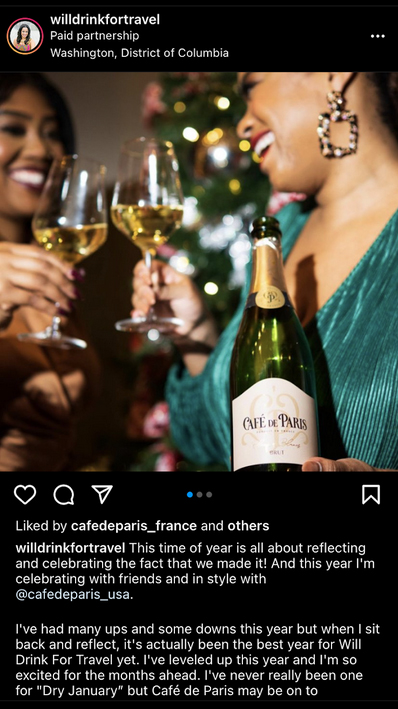 The @calsnape page is one of the best travel Instagram accounts you should follow. It is masterminded by a professional photographer devoted to taking stunning photos of the world.
The page of this Vancouver-based photographer is full of breathtaking images showcasing wonderful lakes and snow-capped mountains. You don't want to miss out on these adventures.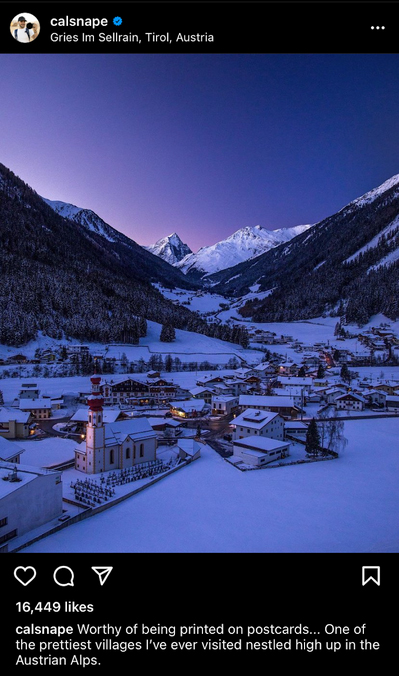 This list will not be complete without mentioning the travel company with over 20M followers on Instagram. As the name implies, the page has a collection of wonderful places to visit across the world.
If you follow this account, you will get to see the best of hotels, private resorts, luxury properties, and beautiful destinations around the world. You will want to visit the magical places displayed.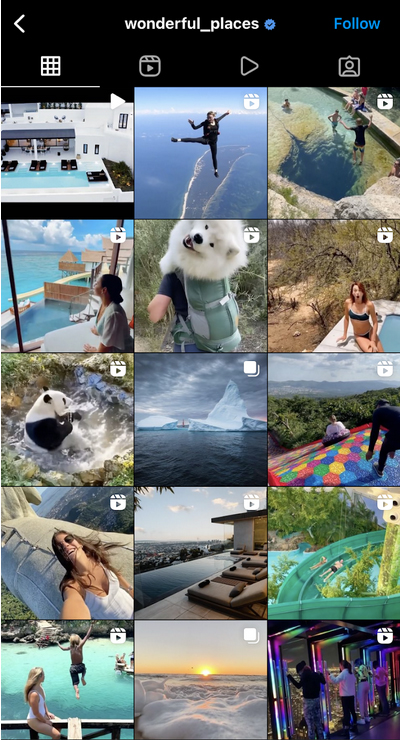 We need the right distraction from the stress of this world. Even if you can't afford to visit these places just yet, a good way to escape reality is to spend your free time viewing the pages of top travel influencers on Instagram.
You should follow all the travel bloggers listed in this guide to feed your wanderlust. Just like you, the humans behind these accounts are passionate about traveling.
There'll never be a better time to share in the travel experience of these bloggers and photographers than now. Happy exploring!