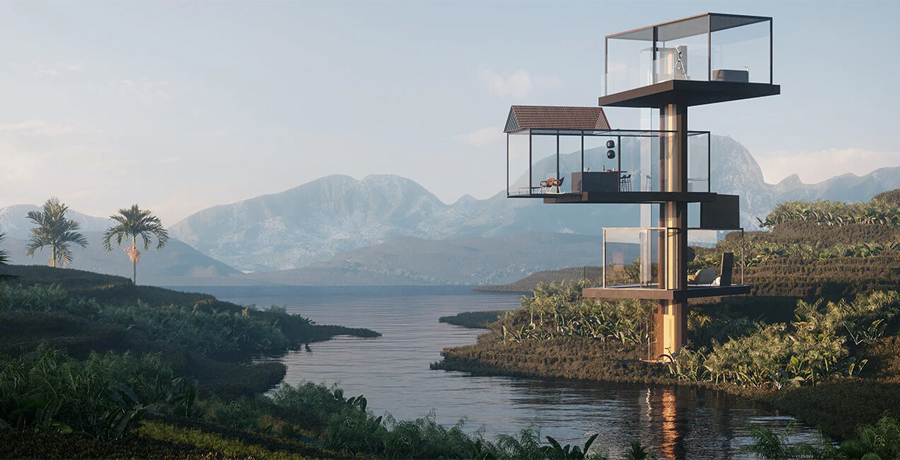 Through the mountainous and lagoon landscape of xianggong, China, climbs the "House on the Rice Paddy" by Adriano Design. Rising from the arable fields, geometric glass rooms overlap and spiral up the helix-like home, enriched by touches of smooth concrete and textured bamboo internally. Inhabitants are offered an uninterrupted, contemporary vantage over the century-old cultivation traditions below.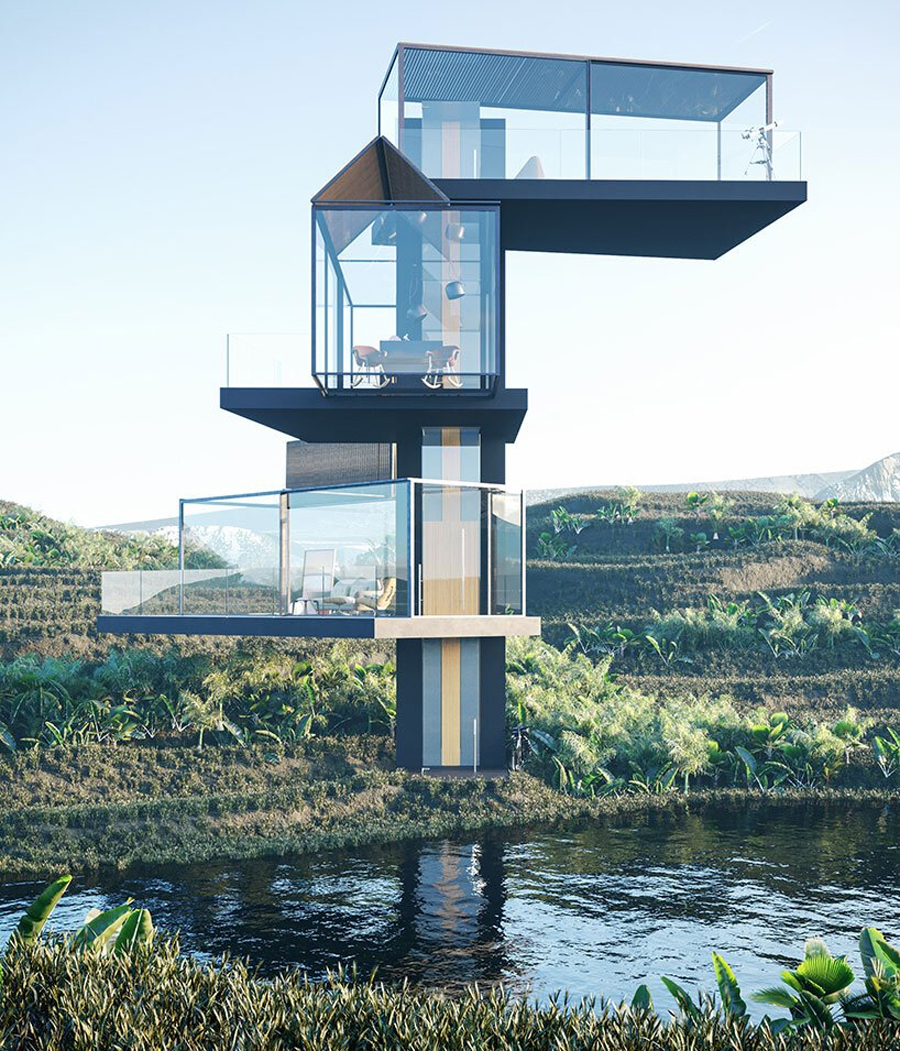 The unmissable observatory by Adriano Design visualizes China's vertical development that continues to fascinate architects today. The unique vision of designers davide and gabriele evolve into an innovative home lift project which eventually overcomes the footprint limitations. As a whole, the transparent wrapping around the wing system creates what seems like a teleport cabin that successfully elevates a new point of view and perspective towards verticality.
"Until now the main limit was the system of overcoming altitude through staircases, which has always represented a significant barrier in architecture. A new generation of elevators could be the solution that opens up semi-explored opportunities for architects," explains the studio.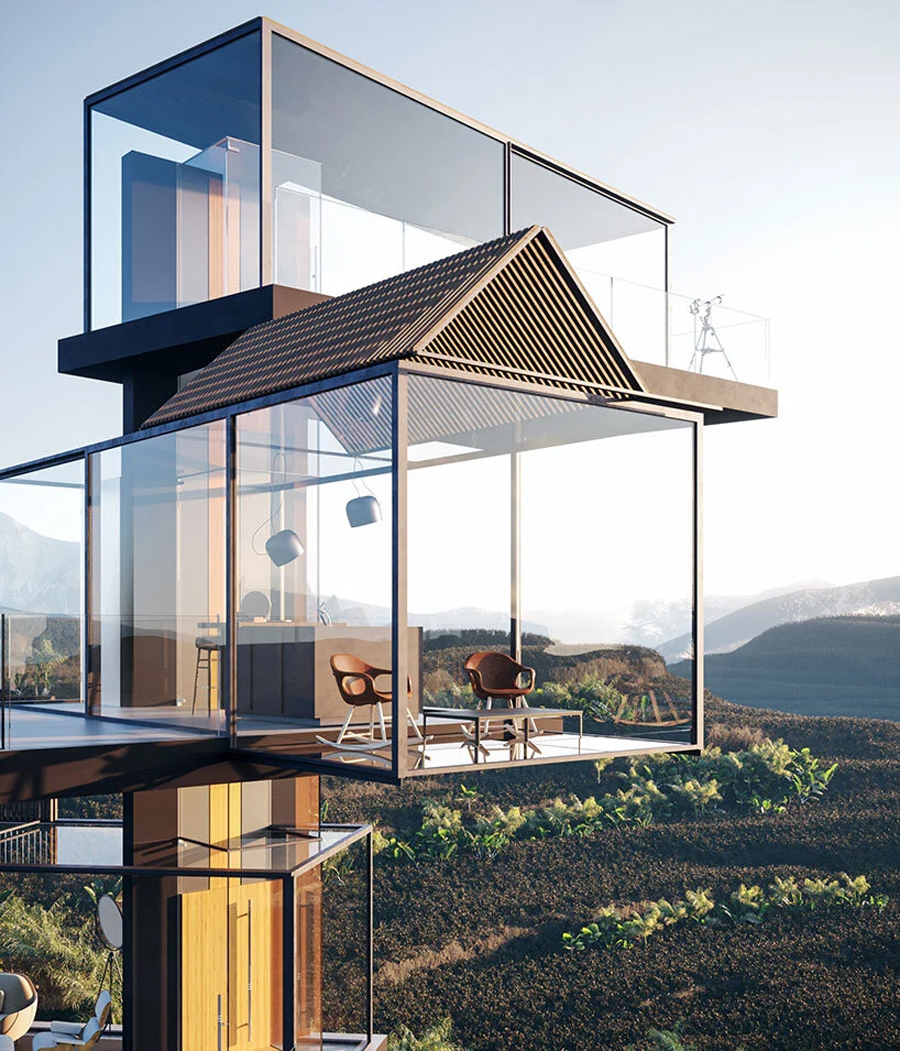 The "House on the Rice Paddy" is characterized by the laminated glass-fitted elevator that silently glides up the 15 meters of the tower. Like a refined pile dwelling, the house wraps around this most modern antennae that, like a sensor plunges, deep into the earth before it rises skywards. The choice of bamboo for the base and back panel cladding makes a strong reference to the surrounding landscape, bringing greater intensity and truth to the feeling of privileged belonging. Moreover, the flexible and durable wood also pays tribute to the value and honor that china holds towards the ancient plant.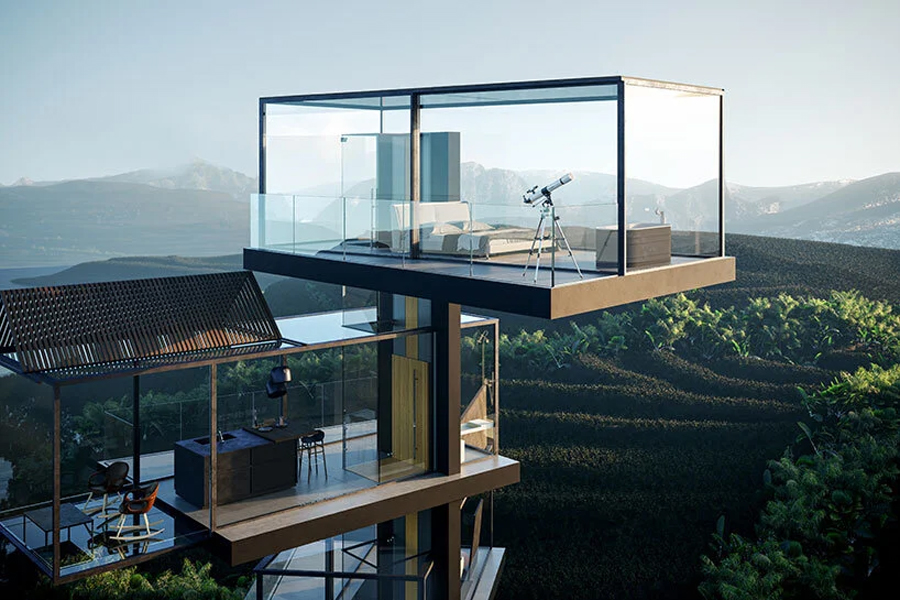 Different rooms spiral off from the elevator. The all-transparent extensions are oriented in an array of directions, granting the user total dominion of the gaze while respecting the constant flow of seasons and light. The shimmering rays enter to decorate the resin cement floors, concrete walls, and corten framed doors and windows to reveal an industrial interior style. The magical tower is adorned with the seamlessly placed brise-soleil heat-treated wood that further enhances china's natural surroundings. As a result, a play of geometry, reflections, and materials complete the delicate architecture of adriano design.