Chinese electric car startup Byton on Sunday unveiled a concept model previewing a fully connected electric SUV promised for launch in 2019 with a starting price of about $45,000. Byton is pitching its SUV as a smartphone on wheels, essentially making it a "smartcar." While still a concept, the SUV is expected to come in a few different packages, with the base promising 272 horsepower and a range of around 250 miles. It will come with an extensive list of infotainment features, including a 1250mm by 250mm touchscreen featuring menus that are interactive for both driver and passengers. This will be accompanied by a tablet that mounts to the steering wheel and can be used to control car functions. The car would be capable of a 350 km (217 miles) range in standard form, with a 500 km (311 miles) version also available. And 10 min of charging will give 120 km (76 miles) of range. Following the launch of Byton's SUV, a saloon is planned to go on sale from 2021, before a seven-seat MPV joins the line-up in 2022. Compare this SUV with our list of the most powerful SUVs.
BMW has unveiled its design for a six-seater SUV, as part of an expanded range of cars that promise customers a more luxurious experience. First unveiled at the Frankfurt Motor Show in September, the BMW Concept X7 iPerformance is conceived as a hybrid vehicle, combining an electric-powered engine with a twin-power turbo petrol engine. Inside, the car's six seats are arranged in three rows to create plenty of room for passengers, while a digital interface enables a variety of personalised services. BMW sees this vehicle as a game changer, combining the luxury features offered by other brands with the distinct identity of a BMW. The Concept X7 iPerformance offers a look ahead to the production X7, set to launch in 2018. The concept car's other features include a large glass roof that offers panoramic views of the sky, 23-inch light-alloy wheels, olive-bronze leather seats and 12.3-inch control screens. Although it wears iPerformance badging, BMW hasn't released any details about the plug-in hybrid powertrain expected to drive the production X7. Price for 2018 BMW X7 is unknown but experts think it'll be one of the most expensive cars in BMW series.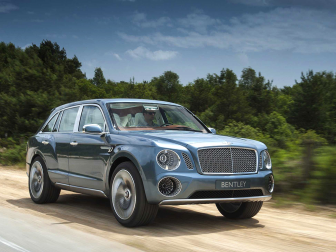 Sports utility vehicles or SUVs, as they are commonly referred to, were originally designed as height-adjusted station wagon-like vehicles that were equipped with four-wheel or all-wheel drive for better performance on off-road terrains. However, the definition of an SUV has changed a lot over the past decade, with many of them specializing beyond the traditional off-road role. Some SUVs new even come with the towing capacity of formidable pickup trucks, while offering all the creature comforts of a passenger car and the space of minivan. In 2015, performance has also emerged as an important factor for SUV enthusiasts who are looking to make their next purchase, provided money is no objection. Let's have a look at the 10 most powerful SUVs that will be available in the market.
When we're talking about Maserati we're talking about luxury sports cars. But Italian brand decided to expand its range and has just revealed first SUV called "Maserati Kubang". This model is the result of a partnership between Fiat Group, owner of Maserati, and Chrysler. "Maserati Kubang" will enter the SUV market in 2013 to rival directly with the Porsche Cayenne. It uses the same architecture with the Jeep Grand Cherokee 4.7, it features an impressive V8 engine and has that generates 450 hp. It will be manufactured in Detroit, United States, by Chrysler. What do you think this luxury SUV?