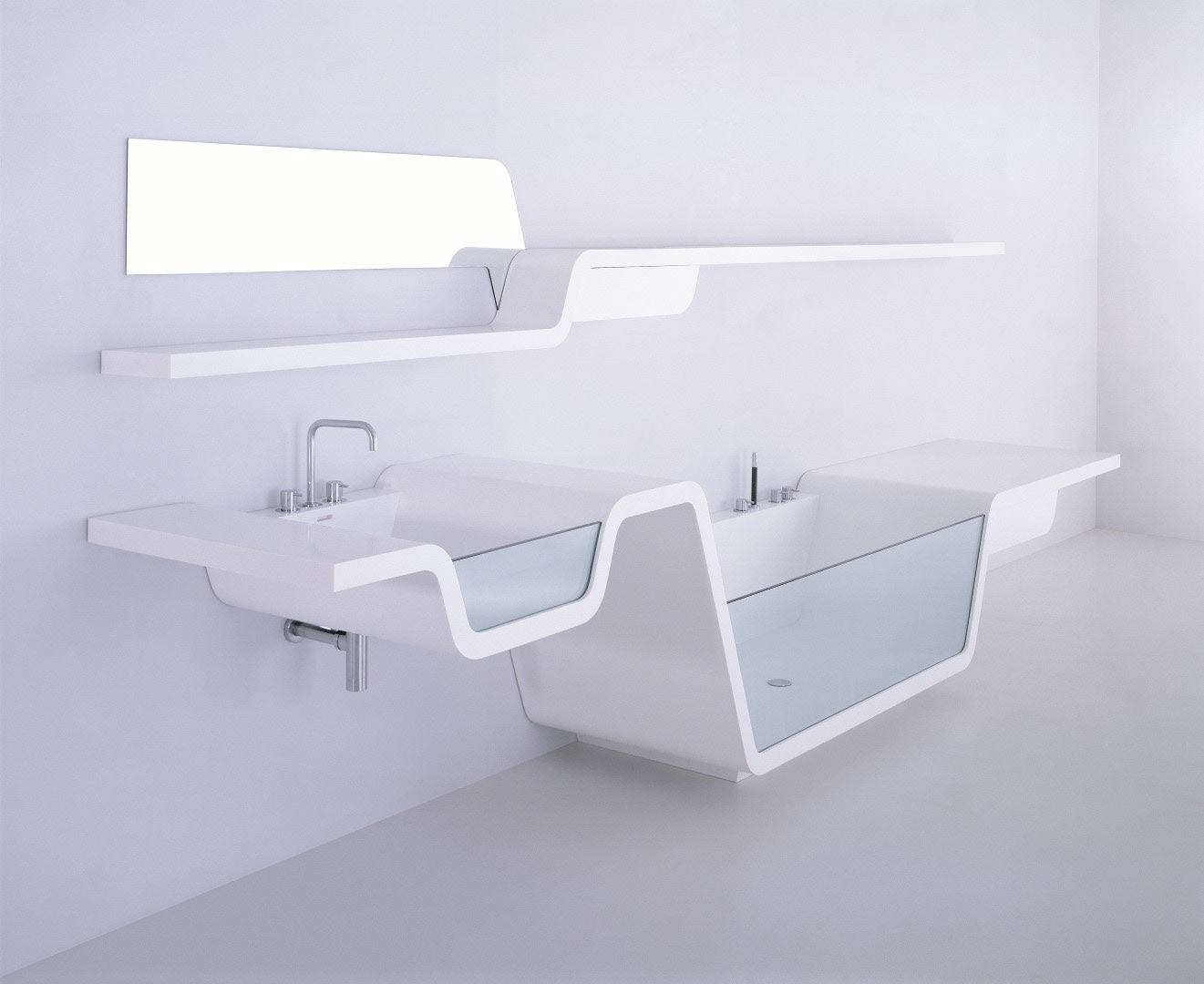 The perfect vanity unit strikes the right balance between style and function. It's also practical enough for daily use – a rare blend to find. So, if you've been struggling to find impressive vanity designs or bathroom wall storage ideas, it's par for the course.
But don't you worry. Your search likely ends now, with these 15 creative bathroom vanity ideas you can customize for your home:
1. Rustic, nature-inspired vanity unit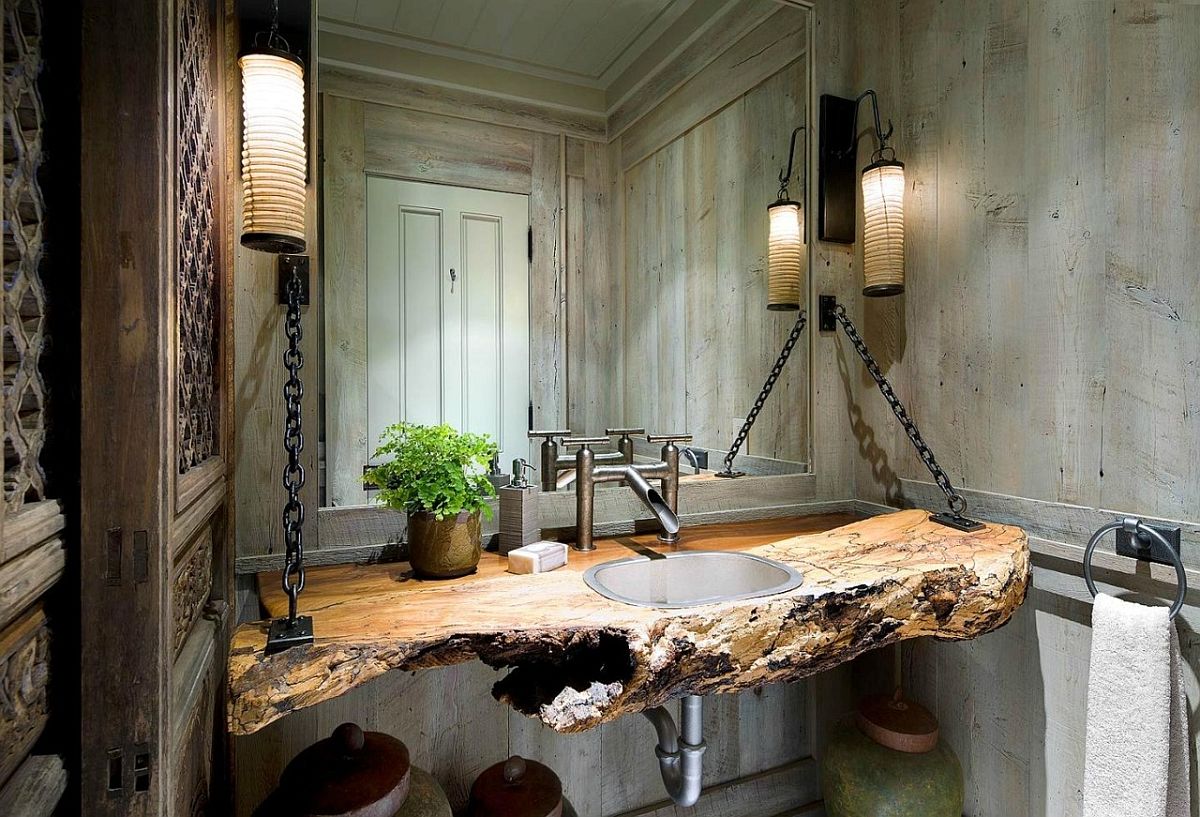 The wooden vanity top of this simplistic unit resembles a hollowed-out log. The metallic drop-in sink has a rustic finish that compliments the antique bronze faucet. A pair of thick, black chains attaches the wooden top to the wood-paneled wall encasing a large square mirror.
A simple towel ring is affixed to the adjoining wall. The small potted plant placed next to the faucet adds to the scene's natural appeal. The wooden containers housed under the vanity top have an ornamental effect. These can also be used to hold water if needed.
2. Whimsical bicycle-infused vanity unit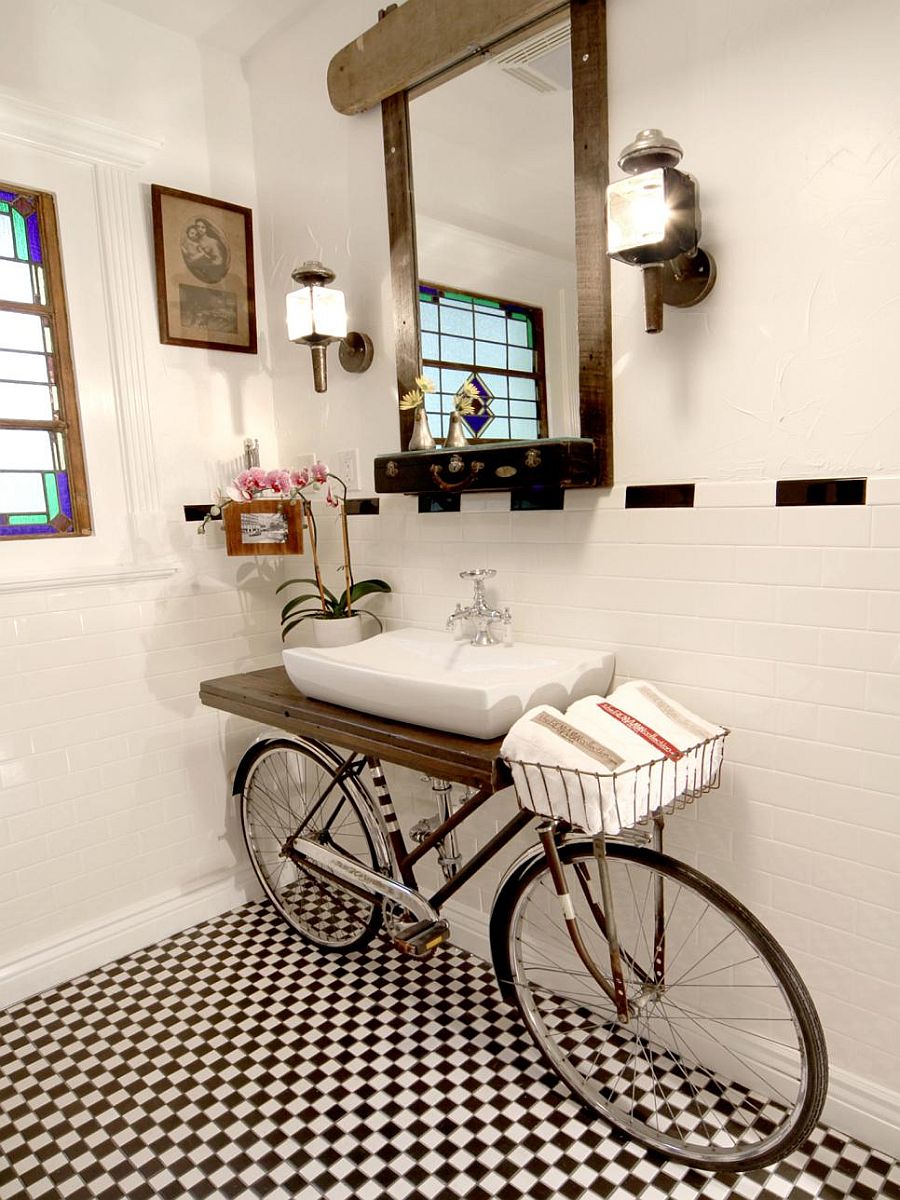 A defunct bicycle serves as the base for a wooden board that support s a ceramic vanity-top sink and a potted plant. The mirror is encased in wood recovered from a discarded trombone case. A side of the case functions as the mirror's top, the latches and handle bring up its bottom.
The pair of coach lights mounted on either side of the mirror adds to the assembled whimsy of this sleek vanity unit.
3. Decorative space-saving vanity with natural motif
This integrated stone sink top with an antique looking faucet is excellent for small bathrooms and when you're looking to save space. The metallic support is fashioned in the likeliness of a tree-base. The glossy dark-green leaves create a beautiful contrast against the branches. The rim of the circular mirror as well as the towel ring bears the same tree – branches motif.
The sink itself is small, just adequate. It leaves ample space at the vanity top for soap and other bath accessories.
4. Vintage train-track vanity unit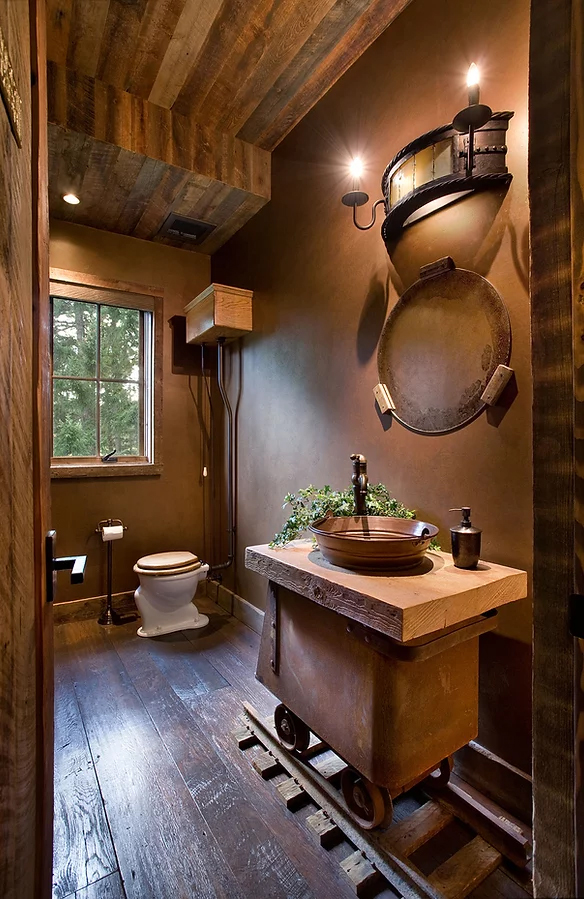 This vintage vanity unit comprises a circular metallic sink and an antique faucet. The vanity top is a simple, rectangular block of wood. Underneath is a metallic railway trolley resting on a short length of railway track.
The round mirror – holder has a rustic look similar to the trolleys'. The circular lamp holder at the top is reminiscent of the train coaches of the bygone era.
5. Minimalist steampunk vanity unit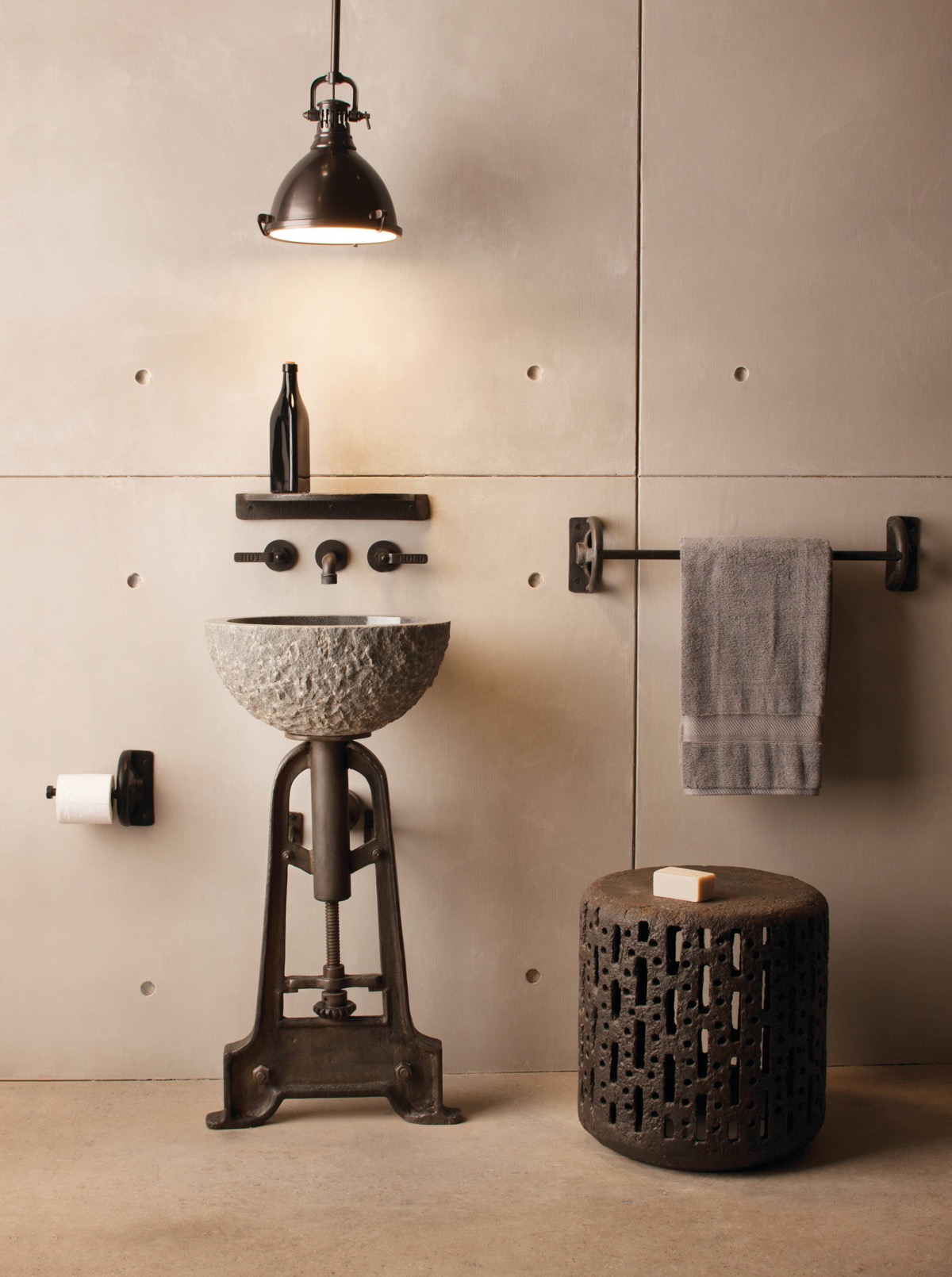 When it comes to minimalist bathroom vanities , few units are as elegant or as memorable as this sturdy beauty with a pedestal sink. The large, vessel-shaped stone sink has a rough looking exterior but a smooth interior finish.
The sink is supported by a lean metallic contraption with prominent bolts that create a steampunk look . The lamp and the small metal shelf above the faucet conform to the visual theme.
6. Artful modern vanity unit with pendant lights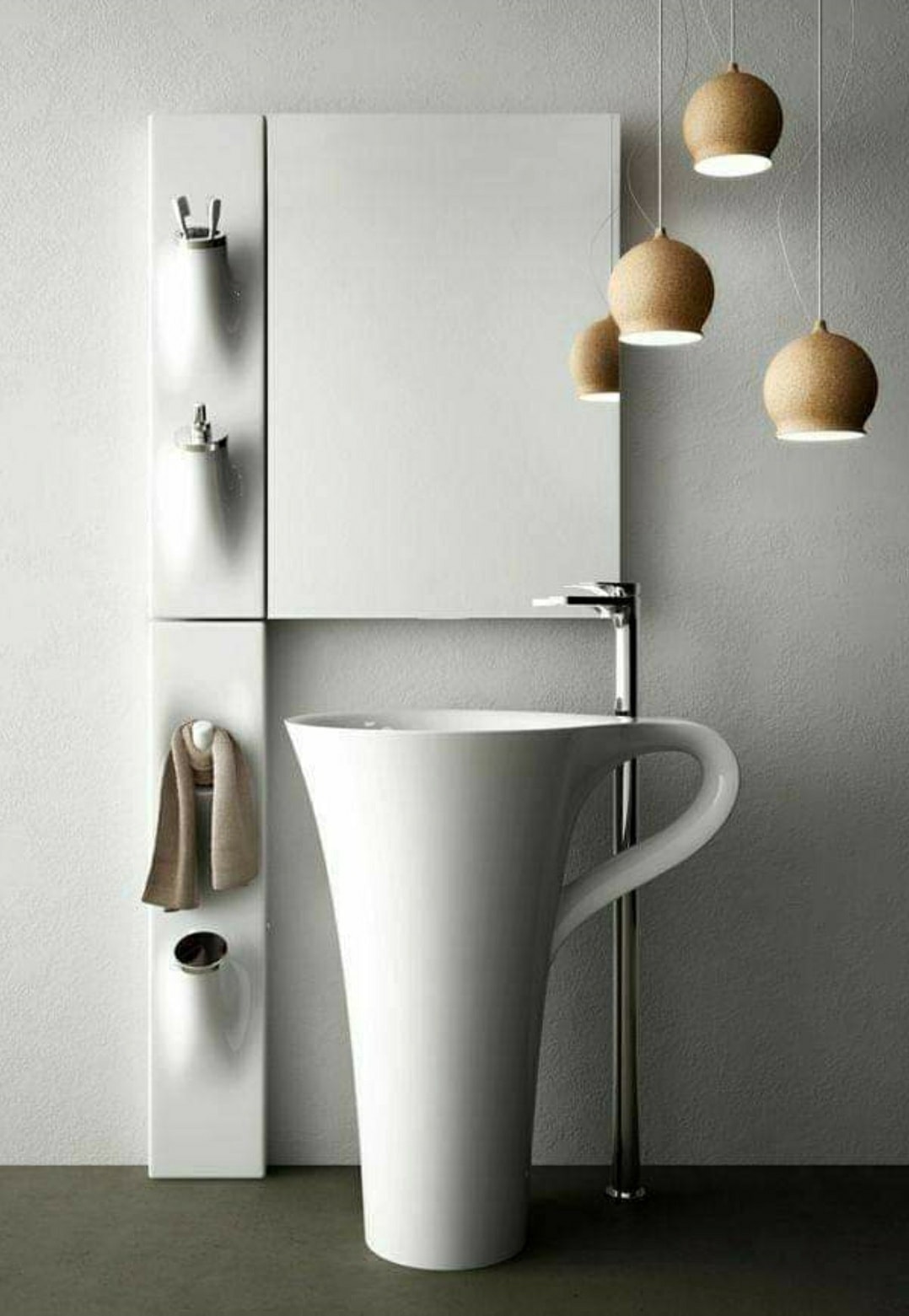 This all-white wash basin with a cabinet is a work of art. The ceramic pedestal sink is shaped like an elongated cup. The sophisticated cabinet above the sink has a smooth, mirror exterior. It also has built-in holders for hanging towels and holding toothbrushes and other utilities.
A contemporary faucet and a trio of pendant lights complete the look, that of sheer functional elegance.
7. Compact vanity unit with natural stone basin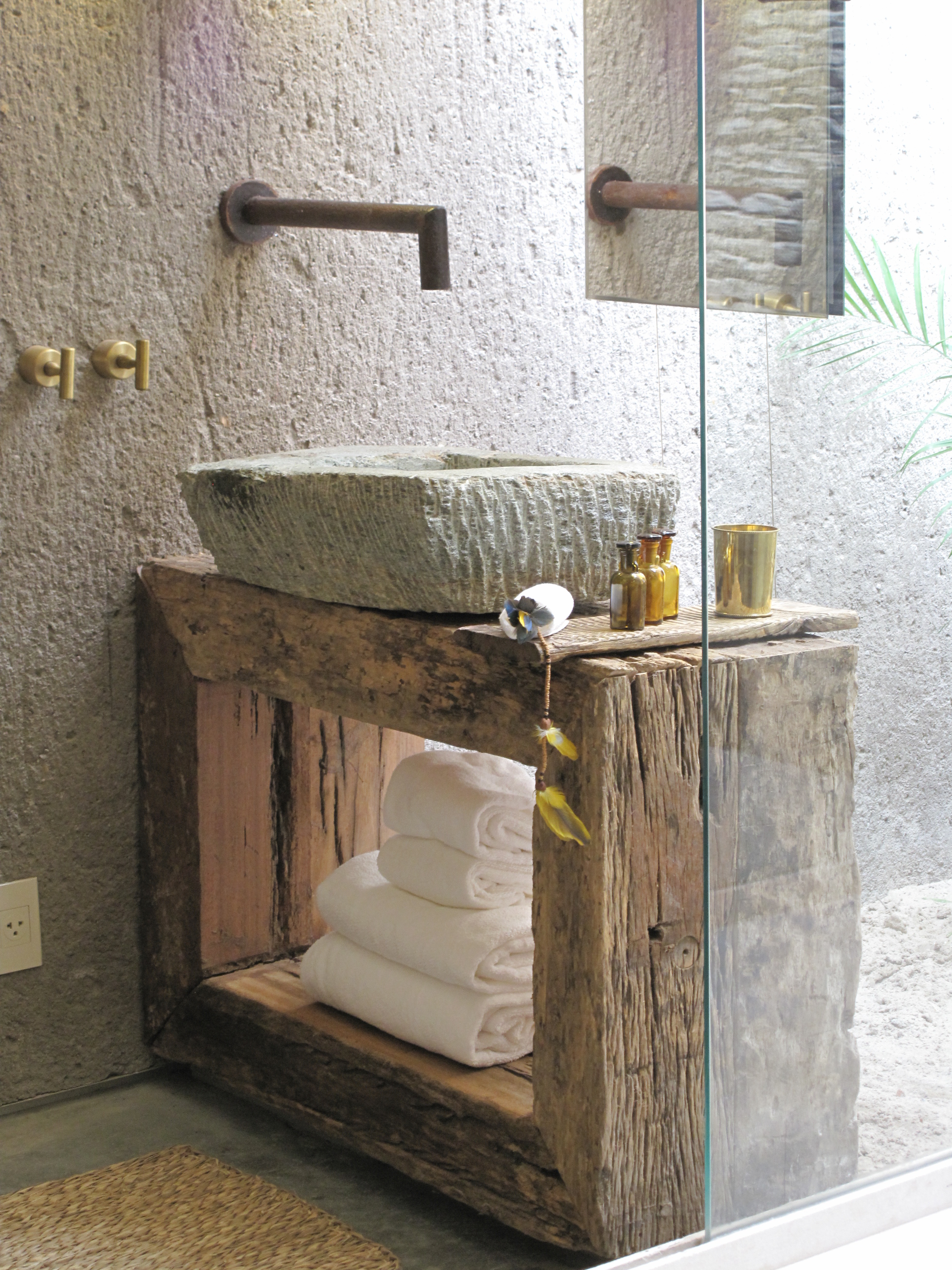 The basin of this stunning vanity unit seems carved out of a solid block of stone. It rests upon a rectangular wooden block with a hollow interior, used in this case for holding towels. The vanity top has enough room to accommodate a wooden tray that holds soap and other bath utilities.
The faucet has a remarkably ordinary appearance reminiscent of the outlets of old-fashioned hand pumps. It's a compact, functional unit with a dash of nature's rugged beauty.
8. A modern art vanity unit fit for a museum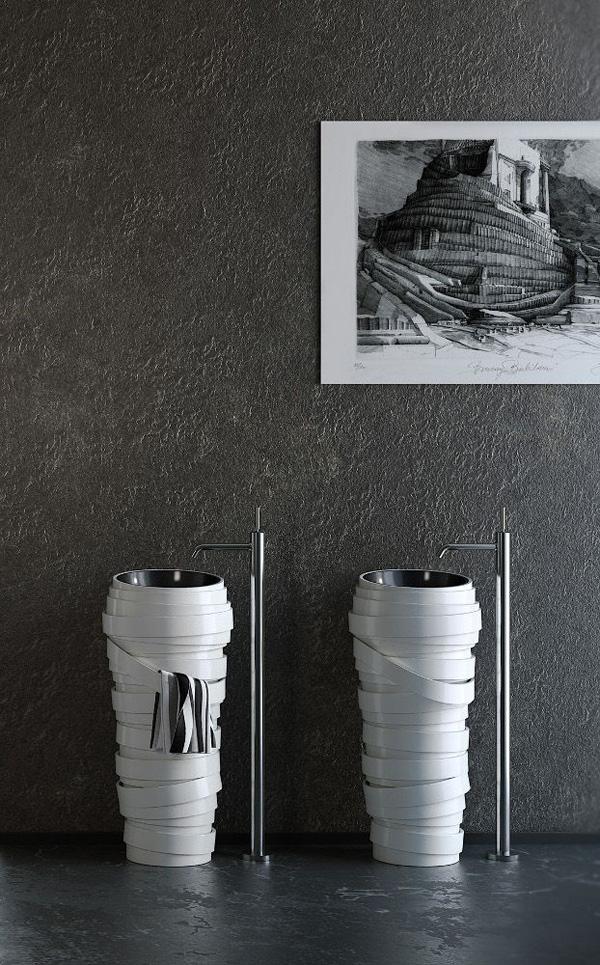 Modern art and assemblage sculpture meet contemporary bathroom fittings in this fit-for-a-museum vanity unit. This particular sink is wrapped around in spotless white straps, but you can also use old, discarded construction or packaging straps. A section of the strap cleverly left loose serves as a towel hanger.
A shiny modern faucet and a large modern-art painting on the back wall complete the picture. You can use a framed painting or even a poster you've got lying around at home to add a personal touch.
9. Luxury modern vanity with attached bath-tub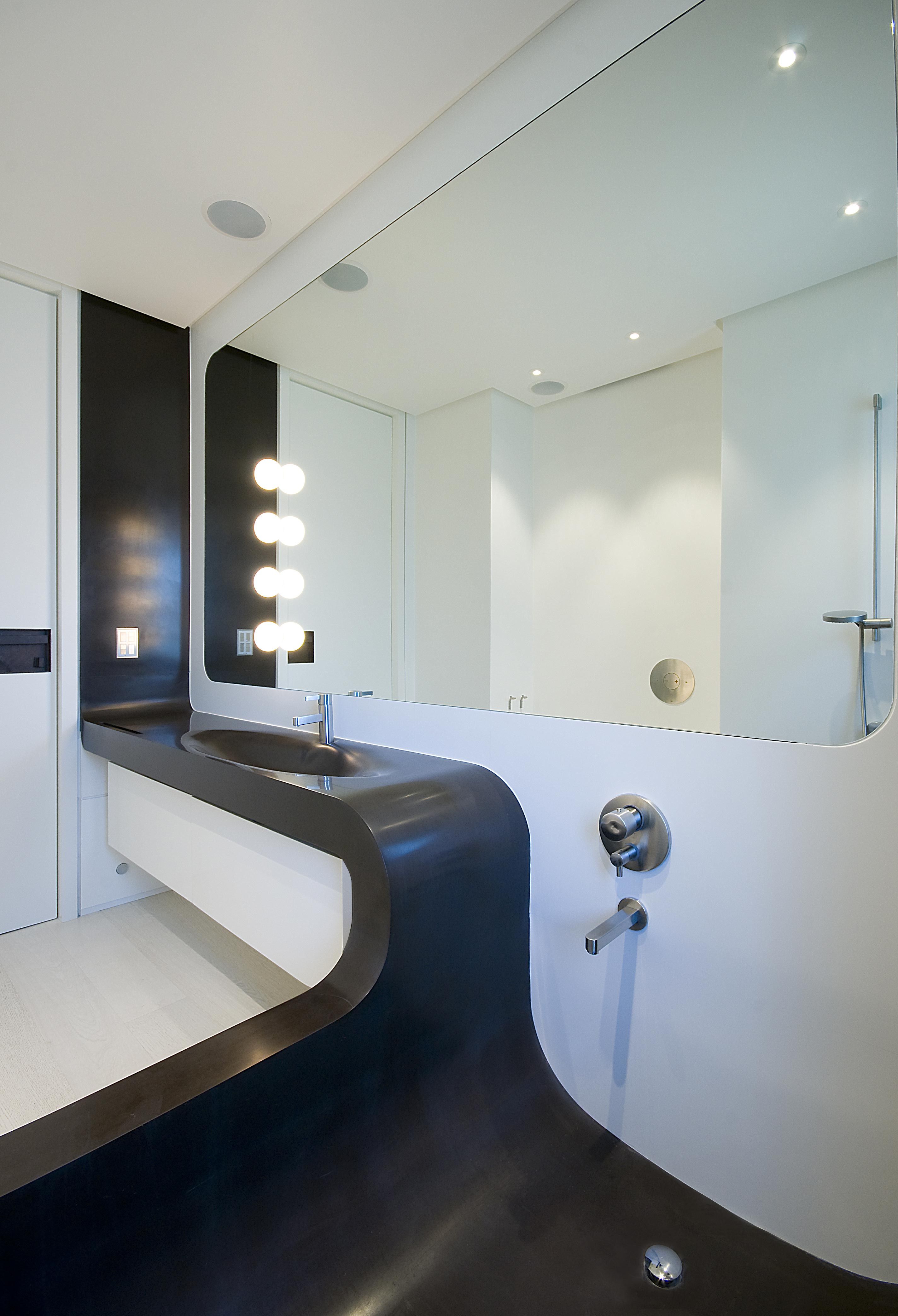 If you're working on designing a sweeping master bathroom, regular bathroom vanity units with sink won't cut it. You need something like this luxurious design here. A floating vanity unit with a sizable sink and modern faucet leads into a luxurious bath tub. The mirror at the front extends to the entire width of the room.
It's a simple, classy design and a wonderful way to make the best use of all that space at your disposal.
10. Minimalist one-piece vanity unit with attached hanger and lamp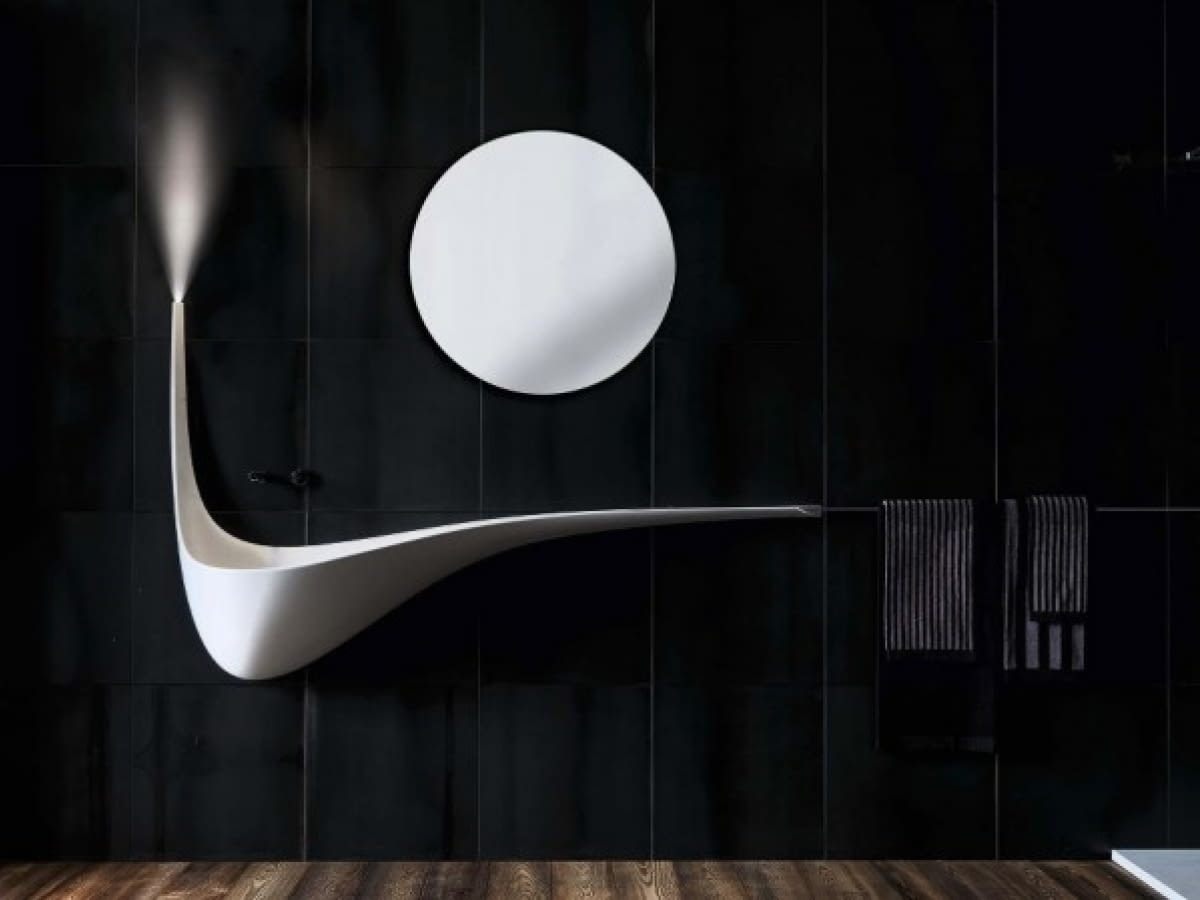 This one-piece vanity unit has a unique elongated shape. The pure white wall-mounted sink leads to a simple towel hanger on the right. The other end of the unit rises vertically, ending into a lamp.
The small, sophisticated faucet is strategically placed above the deepest part of the sink. A simple, circular mirror and a black paneled back wall combine to make this a vanity design idea worth plagiarizing.
11. Elegant all-white double vanity for master bathrooms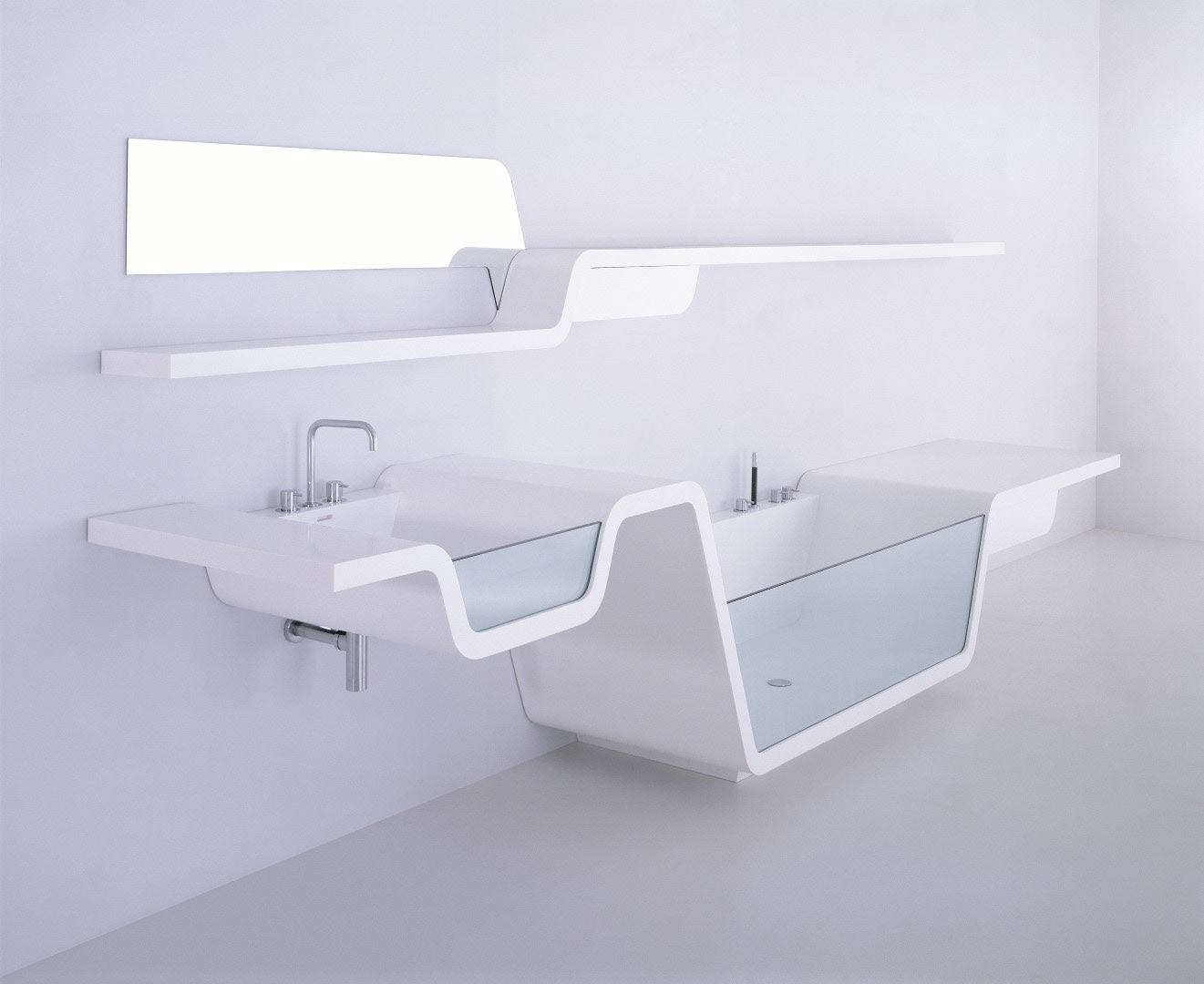 This exquisite double vanity unit is designed to simultaneously accommodate an adult and a shorter adult (or a tall kid). The vanity top has plenty of room for holding the usual bathroom utilities. The panel above the faucets offers plenty of additional space.
The mirrors are strategically located based on the height of the sinks. The larger, deeper sink can double as a baby bath.
12. Luxe floating vanity unit with matching cabinet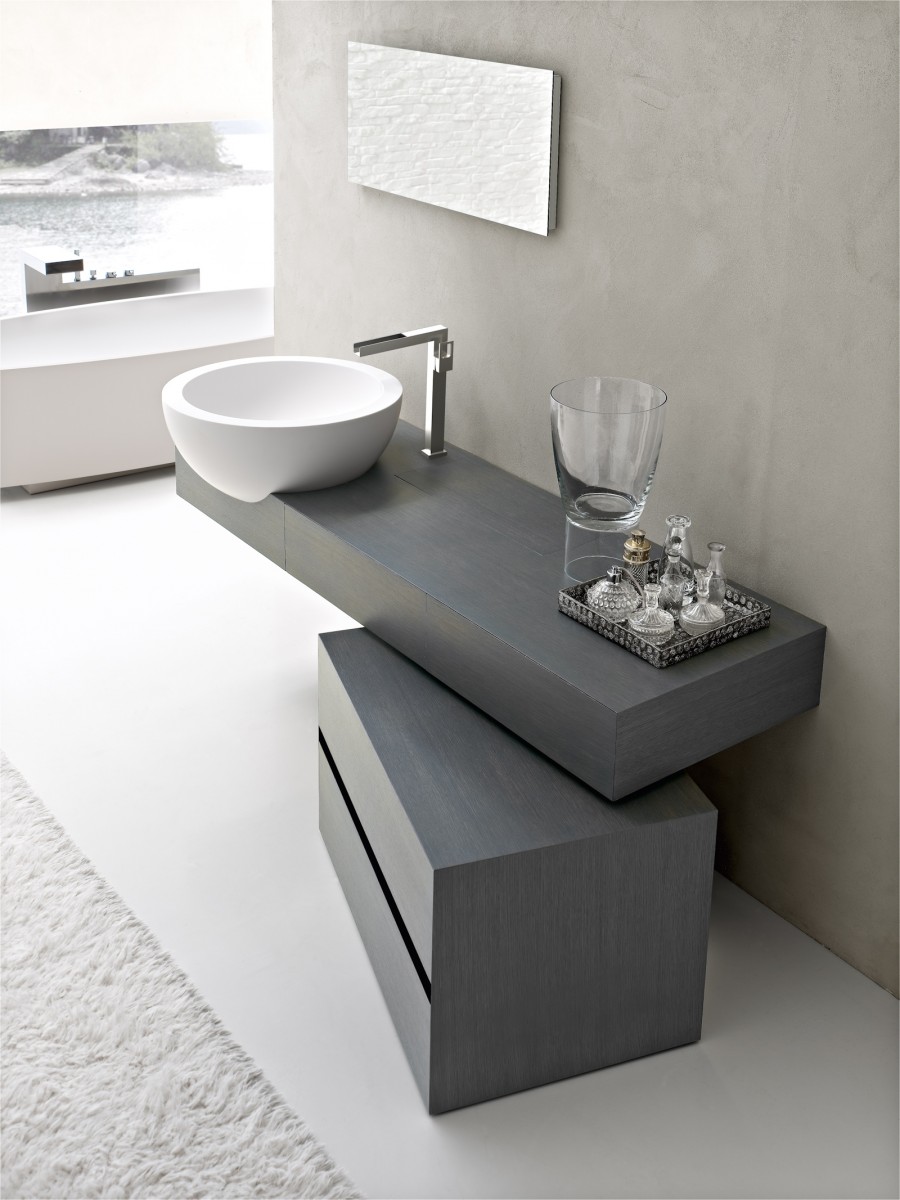 A large white vessel sink is located at the corner of the grey vanity top, leaving lots of free space on the side. The matching wooden cabinet placed under the floating vanity can hold days' worth of towels and bathroom essentials.
This elegant vanity unit includes a simple modern faucet. A rectangular mirror located above completes the design.
13. Antique double vanity for contemporary bathrooms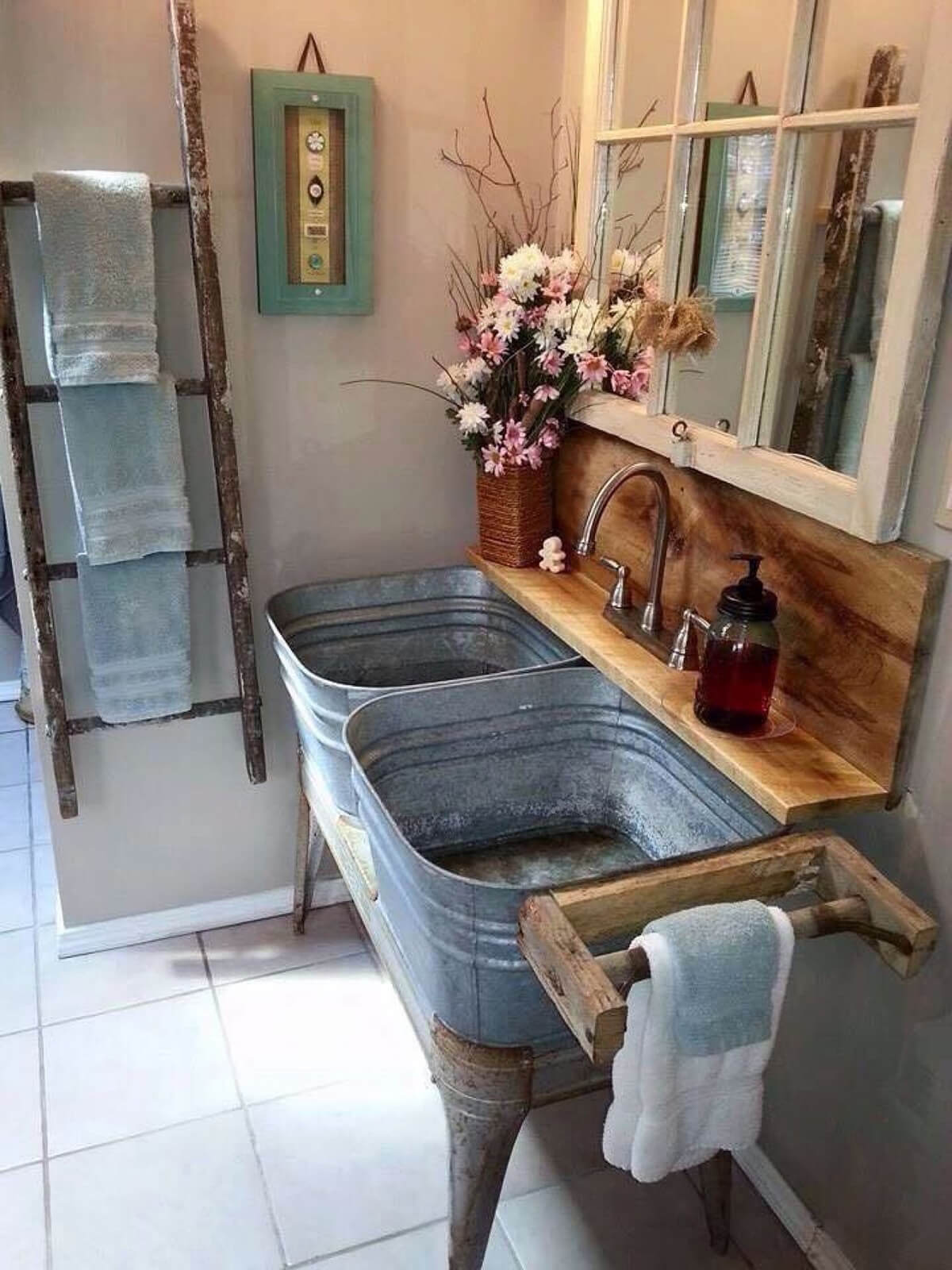 This contemporary double vanity comprises two adjoining pedestal sinks resting on a rustic wooden table. The metal sinks are large and deep, with a simple modern faucet. The wooden shelf that houses the faucet offers sufficient room for holding the bathroom essentials, even a potted plant.
A wooden handle on the right serves as a towel hanger. It's a quaint, functional design, pretty easy to replicate.
14. Compact DIY vanity unit with whiskey barrel sink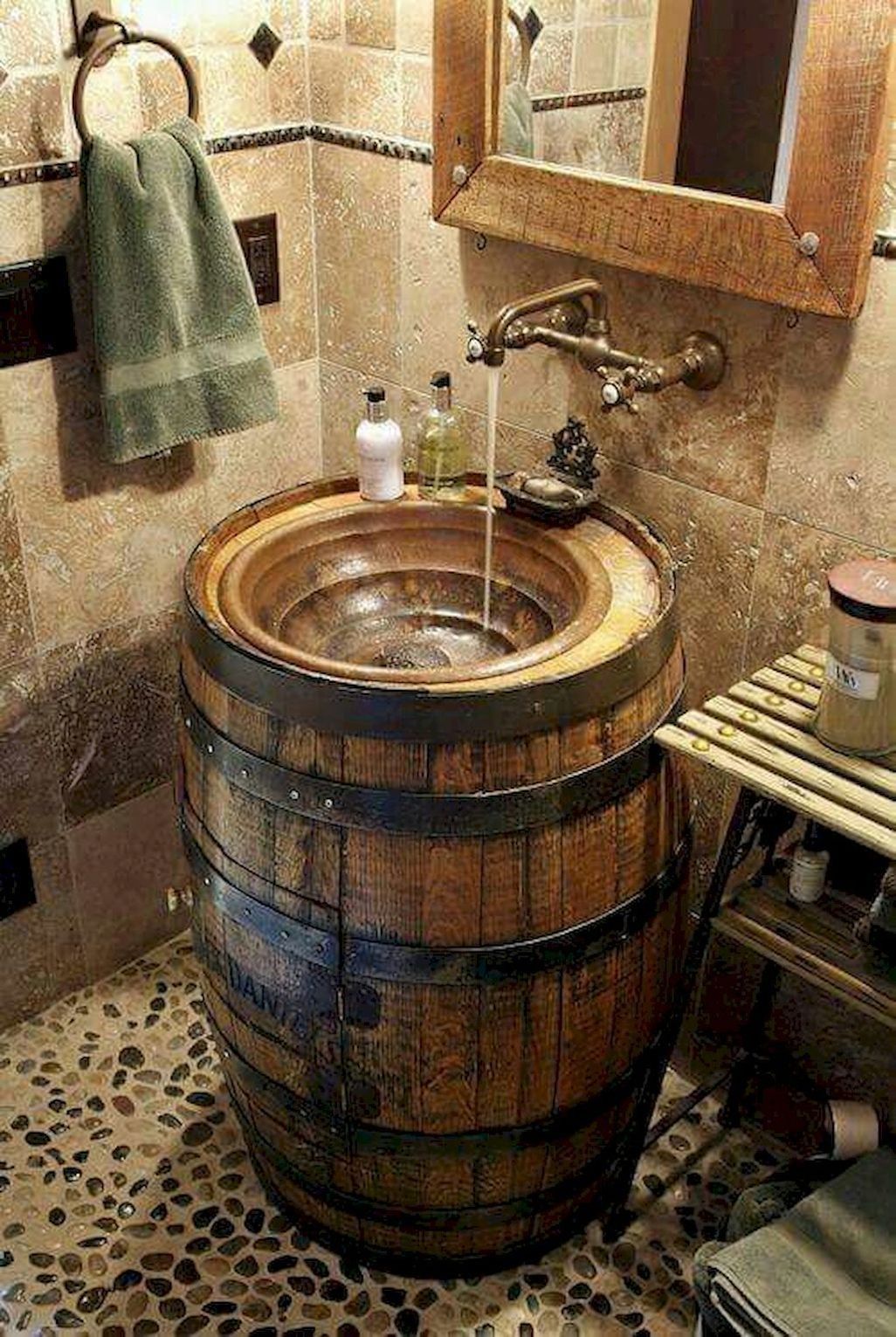 This compact, minimal effort DIY vanity unit utilizes an actual used Jack Daniel's barrel as a broad vessel sink. The broad rims offer enough space to hold common bathroom essentials. The bronze-finish faucet and the simplistic wooden-framed mirror complement the overall rustic effect .
No fancy apparatus, no embellishments, this here is a simple, functional vanity unit you can put together in minutes.
15. Stunning wood-and-marble vanity unit with extra storage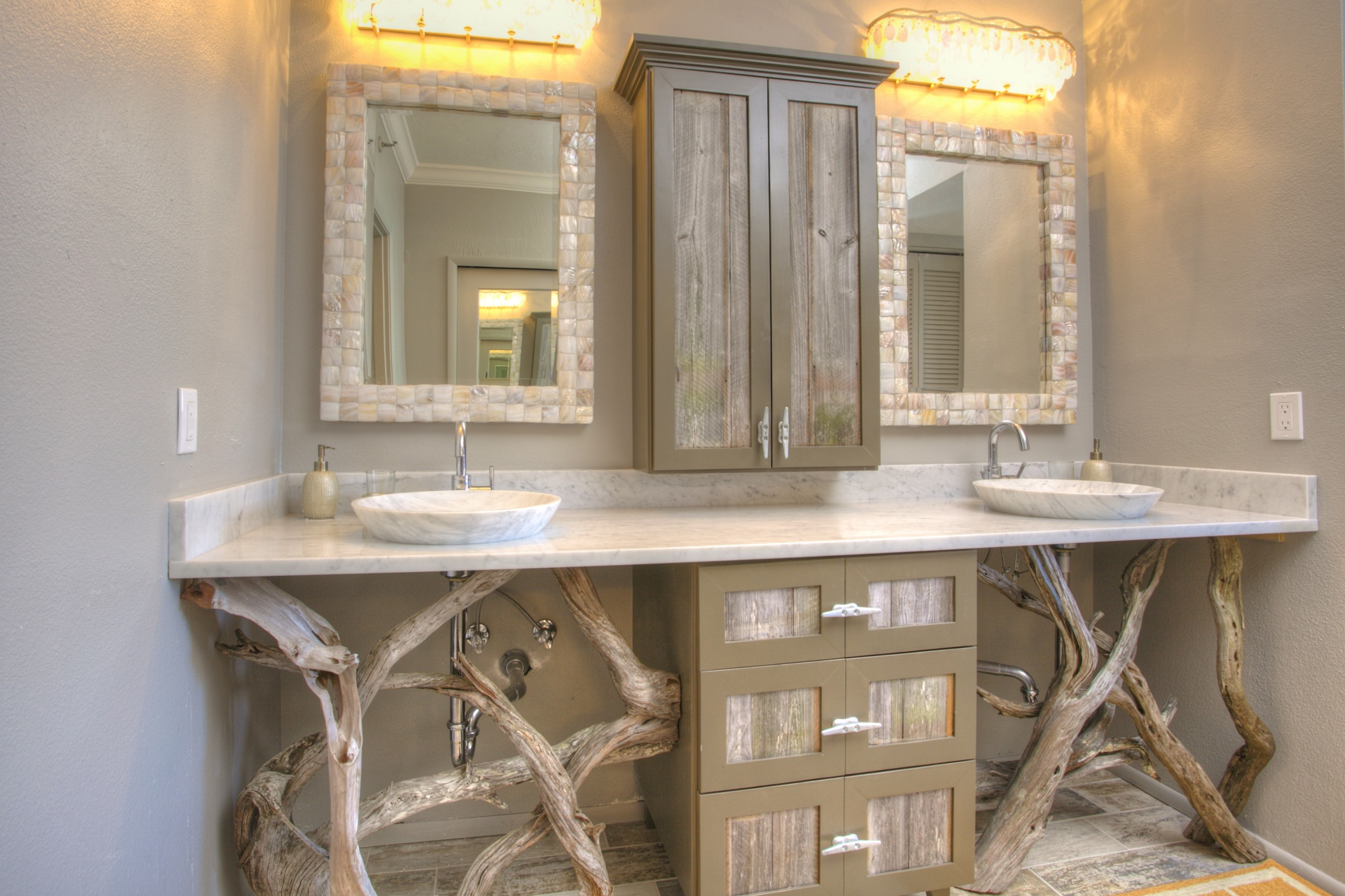 We saved the most elaborate, and arguably the most breathtaking vanity design idea for the last. The large ceramic vanity top holds two vessel sinks on either side, with a beautiful wooden cabinet in the middle. The underside of the vanity top features a criss-crossing of tree branches and another wooden cabinet in between.
Each sink has a contemporary faucet and a large stone-framed mirror.
There you have it – some of the most beautiful, creative and unusual bathroom vanity ideas that you can use to ensure your bathroom scores high on both style and functionality scales.