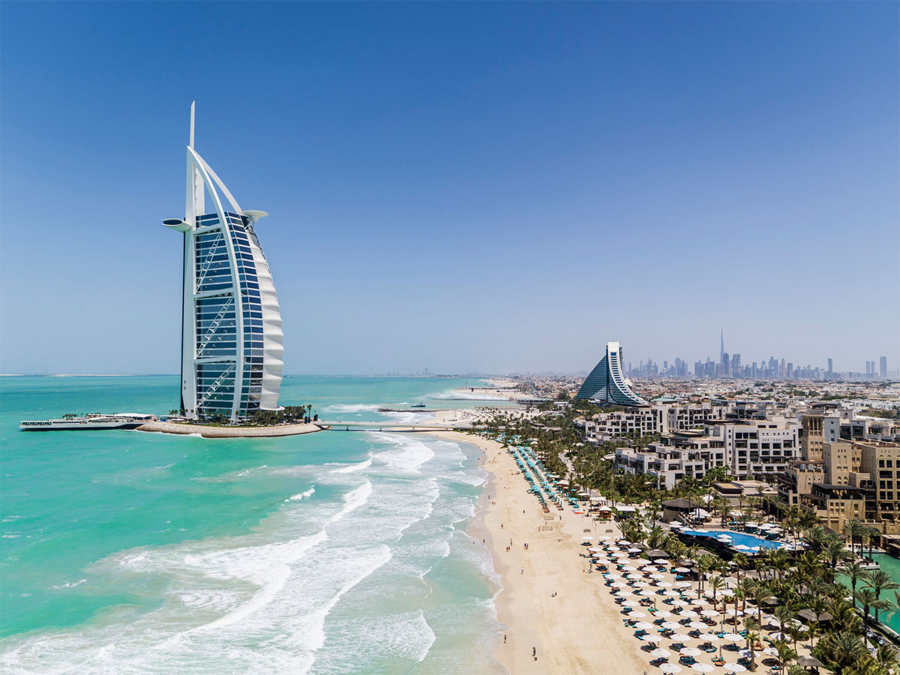 Resplendent in its allure, the cityscape of Dubai with its glittering skyline and serene coastlines holds a unique appeal for globetrotters. Among the multitude of architectural splendors and cultural richness, the unspoiled, pristine beaches of Dubai command a magnetic charm that is hard to resist. This elaborate guide, enriched with local insights and practical tips, is your key to exploring the top 7 beaches in Dubai. Not only does it provide detailed locations and evocative photographs but also proffers invaluable insider suggestions, designed to elevate your sun-drenched journey through the gleaming golden sands and serene turquoise waters of this Arabian utopia.
As you traverse through these coastal retreats, you will experience a potpourri of delights – from heavenly sunsets that paint the sky in a vibrant palette of colors, thrilling water sports that set your pulse racing, to tranquil picnic spots perfect for a relaxed day out. Each beach, in its own unique way, weaves a magical tale of the city's dynamic seaside culture.
Interestingly, the appeal of living by these stunning beaches has seen a surge in the cost of villas with a balcony in UAE. More and more people are being lured by the enchanting call of the sea, willing to invest in the ultimate luxury – a home overlooking the mesmerizing waters. This shift in lifestyle preferences is yet another testament to the irresistible charm of Dubai's beaches.
So, ready to set sail on this sandy expedition? As we circumvent the clichés and delve deeper into the heart of Dubai's coastal charisma, let us reveal the city's most cherished seaside retreats, each a gem in the sparkling crown of Dubai's beachscape.
JBR Open Beach
JBR Open Beach, or Jumeirah Beach Residence Open Beach as it's more formally known, is a favorite spot for beach enthusiasts seeking a blend of vibrant city life and tranquil sea escape in the heart of Dubai.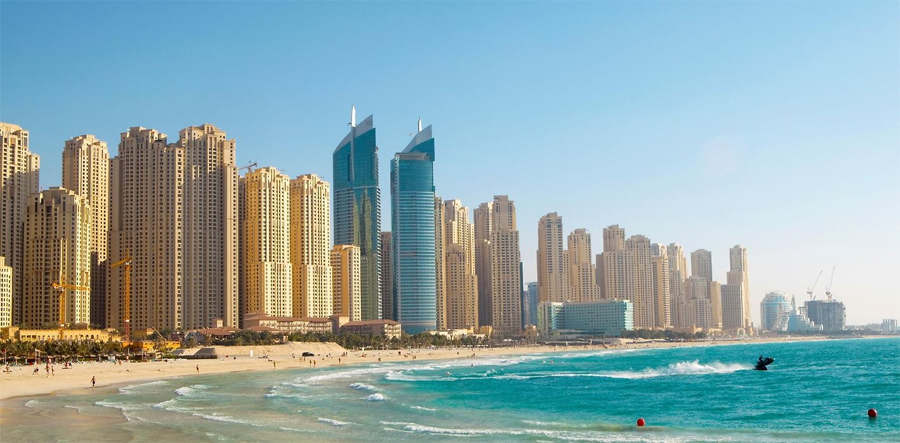 Situated between the azure waters of the Arabian Gulf and the impressive skyscrapers of Dubai Marina, the beach offers an unparalleled blend of urban excitement and seaside serenity. With its wide stretches of soft, golden sand and clear, warm waters, this beach is perfect for sunbathing, swimming, or simply relaxing with a good book.
The view at JBR Open Beach is indeed an extraordinary sight to behold. On one side, you have the sparkling turquoise sea, on the other, a backdrop of towering, futuristic skyscrapers. This beach offers a striking visual reminder of Dubai's unique ability to balance rapid urban development with natural beauty.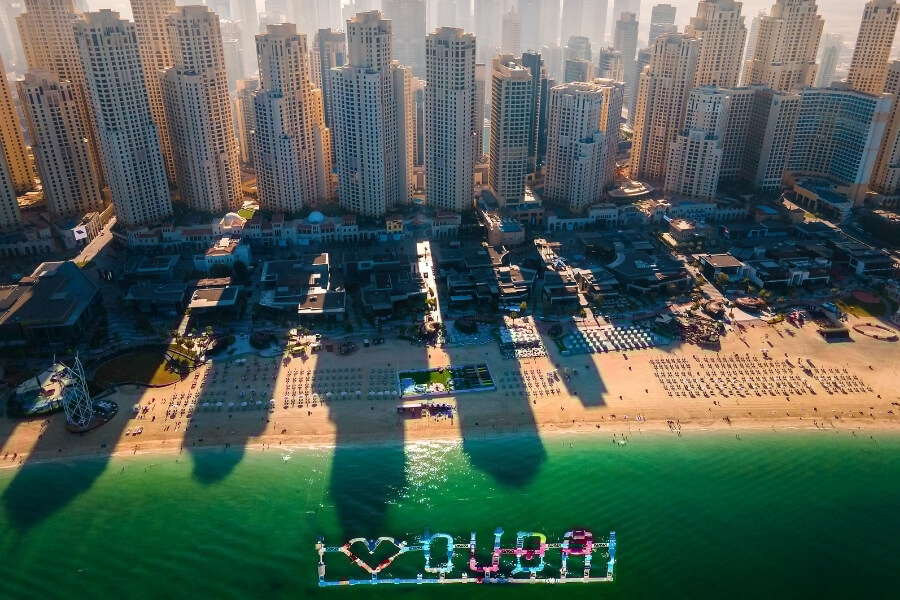 For those seeking a bit of activity, the beach also provides a plethora of options. Water sports enthusiasts will be thrilled with the variety of offerings, such as jet-skiing, parasailing, and wakeboarding. The well-maintained beach also features a jogging track and a series of outdoor gym equipment for those keen on keeping up with their fitness routines.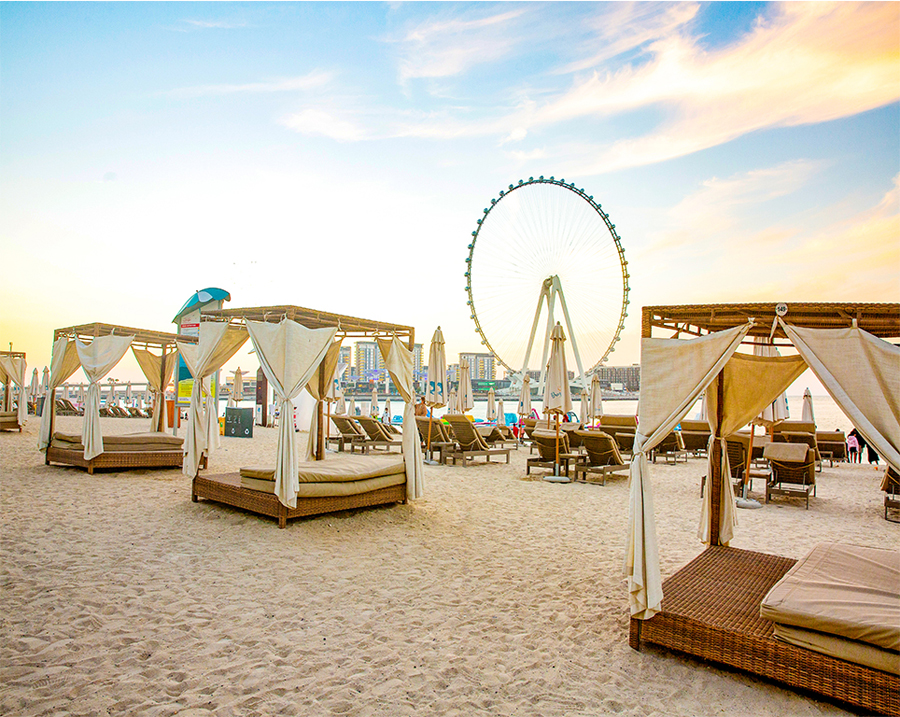 One noteworthy feature of JBR Open Beach is the buzzing Walk at JBR. This promenade is bustling with luxurious shops, restaurants offering global cuisines, outdoor pop-up craft markets, and even street performances, making it a dynamic and lively spot all day.

Tip: As you plan your visit, remember that JBR Open Beach can get quite busy, particularly during weekends. An early morning visit may provide a quieter, more peaceful experience, along with the bonus of a stunning sunrise.
Marina Beach
Marina Beach, perched alongside Dubai's splendid man-made canal, is another coastal gem that brings a fresh dimension to the city's beach scene. Its location within one of Dubai's most cosmopolitan districts, the Dubai Marina, ensures that visitors are always within a few steps of a vast array of amenities.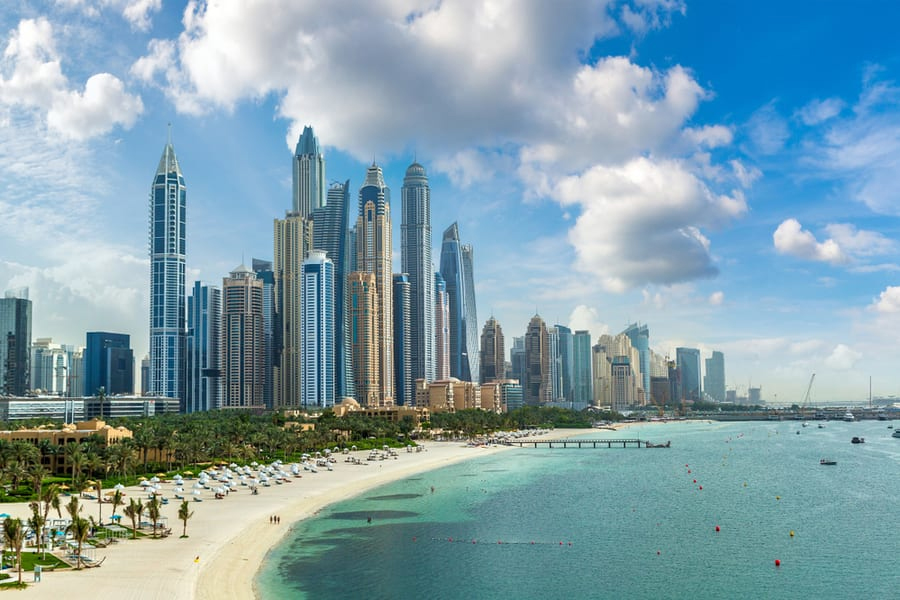 The beach is famed for its serenity and cleanliness. Nestled amidst the towering Dubai Marina skyscrapers, Marina Beach is a haven for those looking for a tranquil day under the sun. The contrast of the towering buildings and the expansive blue sea makes for a striking, picture-perfect vista.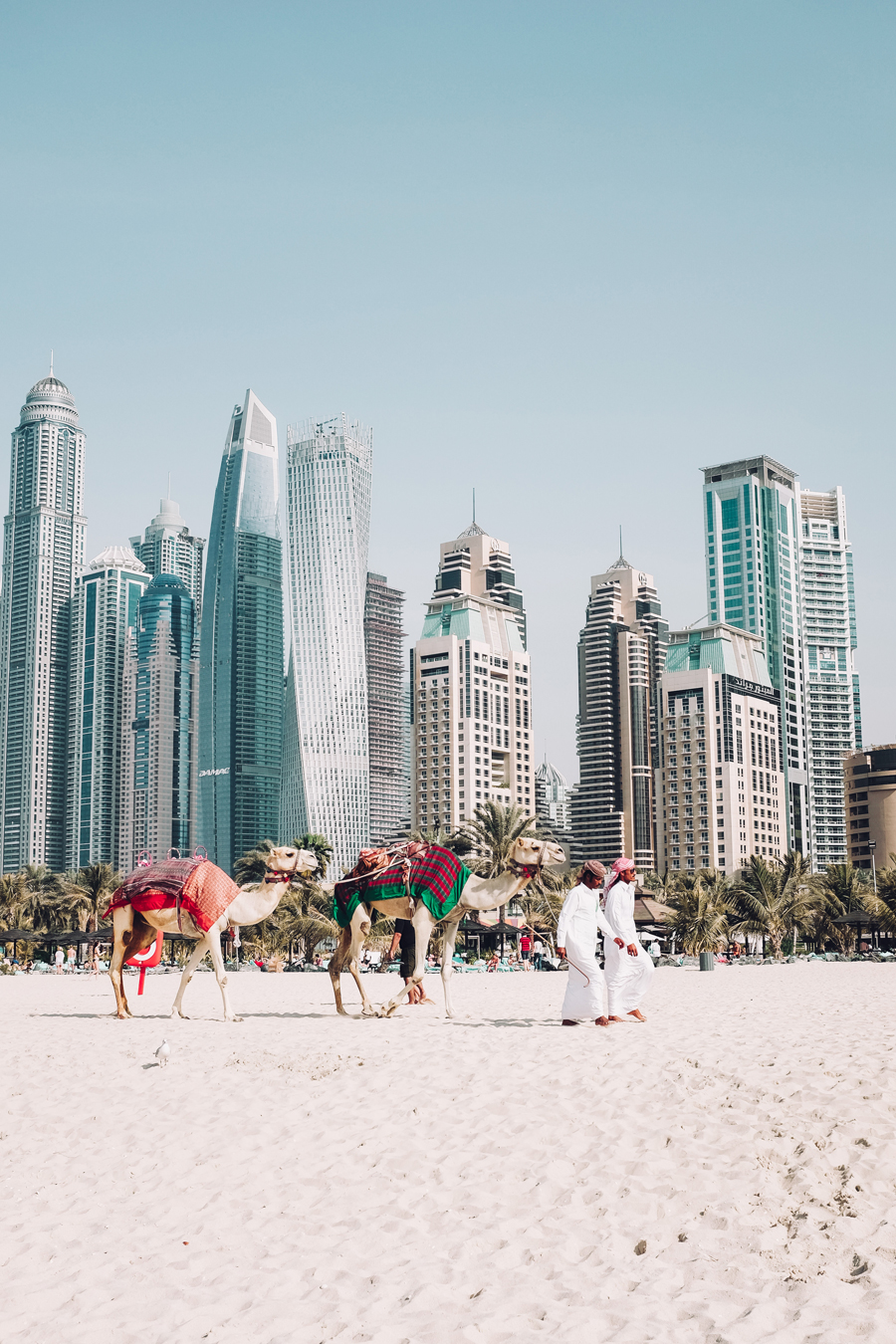 For visitors looking for leisurely pursuits, Marina Beach offers pristine sands to lounge on, as well as tranquil, clear waters for a refreshing dip. Beachgoers can also enjoy a leisurely stroll along the winding Marina Walk, which is set against the backdrop of yachts bobbing gently on the Marina's water.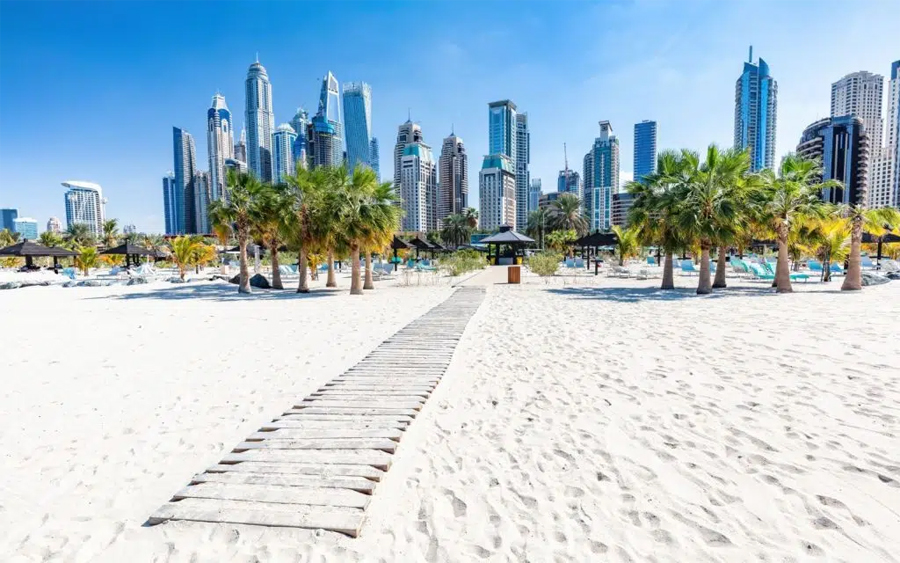 Fitness fanatics aren't left out either. Marina Beach features a host of water sports activities like paddleboarding and surfing. And for land-based exercise, the adjacent running tracks and cycling lanes are perfect for maintaining your fitness routine, all while enjoying the stunning views of the Marina.
Adjacent to the beach is the Marina Mall, a shopping destination with a wide variety of retail, dining, and entertainment options. The proximity of such amenities elevates the convenience factor of Marina Beach, making it a superb choice for families and groups with diverse interests.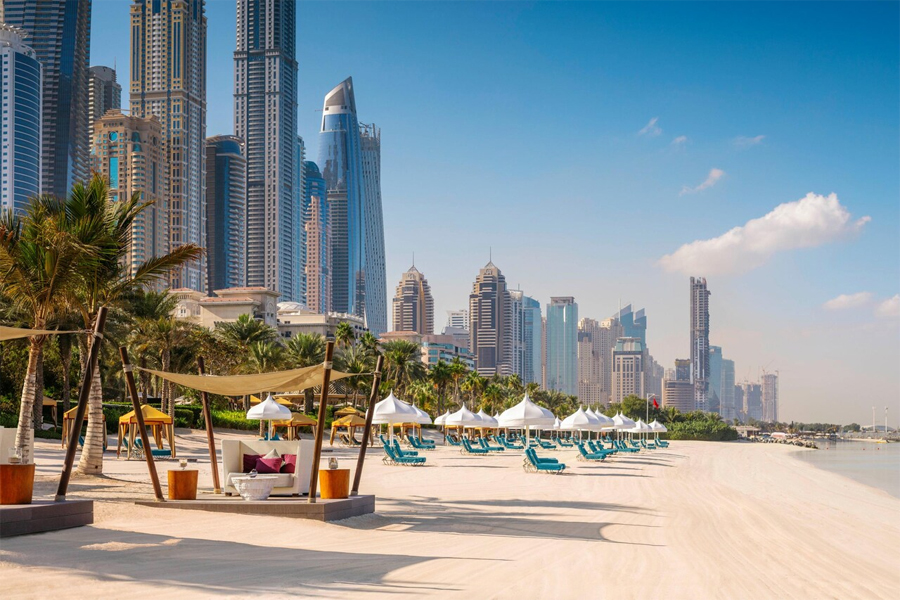 Tip: Marina Beach is typically less crowded on weekdays, making it an ideal time for a peaceful retreat. For photography enthusiasts, the evening time offers a fantastic opportunity to capture the stunning views of the sun setting behind the skyscrapers. Don't forget to take a late-night stroll along the Marina to witness the city's skyline illuminated in all its glory.
La Mer Beach
Set in the vicinity of the tranquil Jumeirah neighborhood, La Mer Beach is a beachfront that boasts more than just sand and sea. With its unique combination of pristine beaches, exceptional dining experiences, and an assortment of leisure activities, La Mer offers a beach experience unlike any other in Dubai.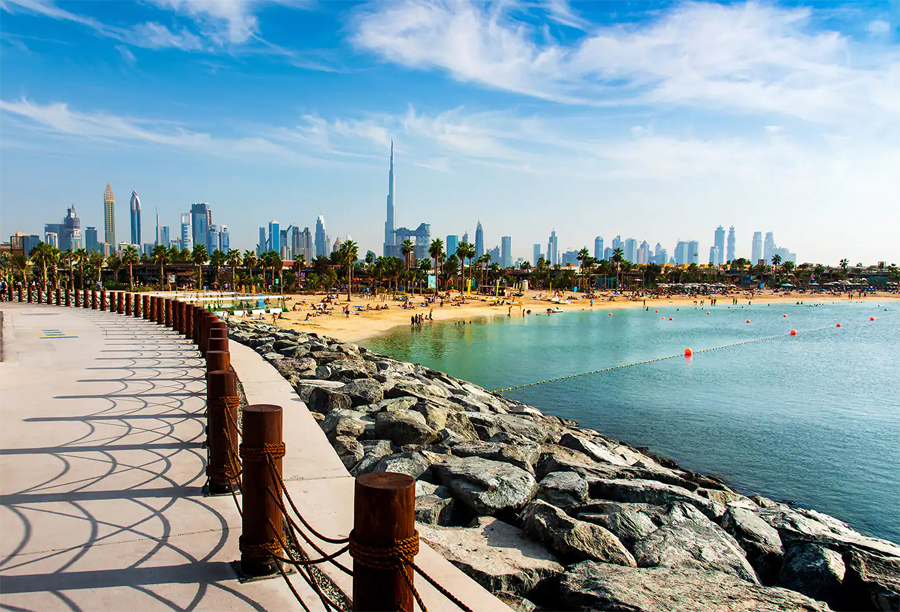 A vibrant and eclectic location, La Mer adds a splash of artistic flair to the beach experience with its extensive use of vibrant murals and innovative architecture. The buildings, brightly adorned with colorful graffiti art, are more than just a backdrop, serving as a canvas that celebrates creativity, adding a distinct aesthetic charm to your beach day.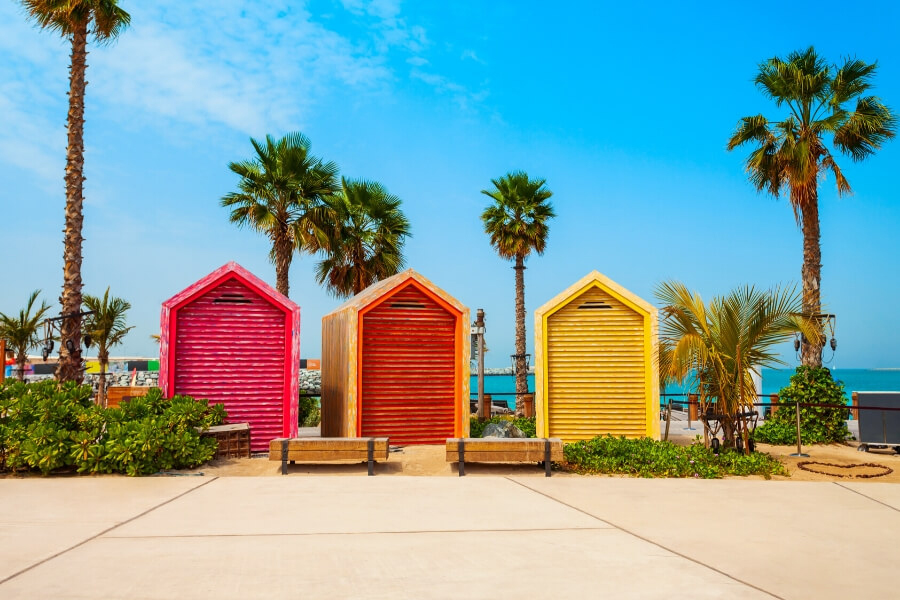 The beach itself offers a vast, clean sandy expanse perfect for a day of sunbathing or castle building with the kids. Its calm waters are suitable for a peaceful swim or a frolic in the gentle waves. For thrill-seekers, the beach also offers a range of water sports.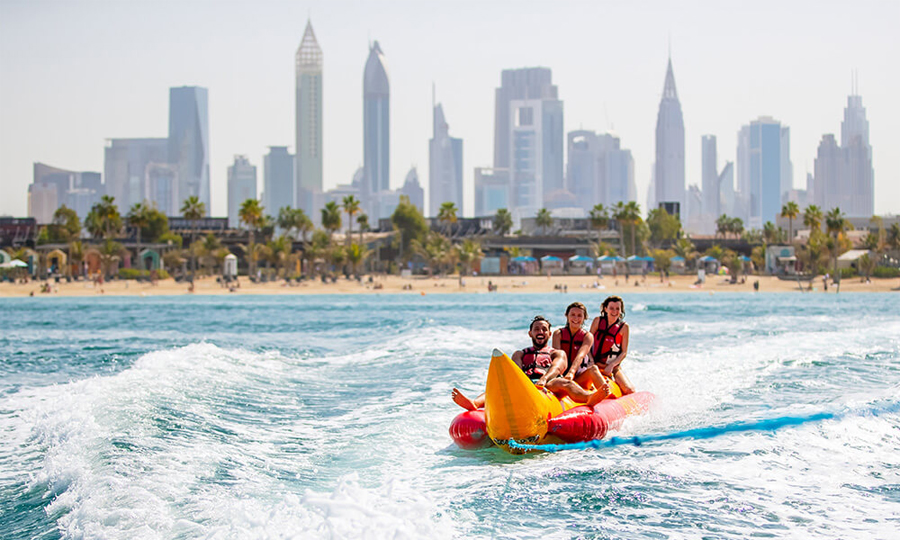 La Mer also hosts a waterpark, Laguna Waterpark, teeming with exciting rides and attractions. From thrilling water slides to a relaxing lazy river, the park offers fun-filled activities for the whole family.

Tip: La Mer is a destination that can cater to your entire day's plan. Arrive in the morning for a serene beach experience and stay till late evening for the vibrant nightlife, complete with live music and entertainment. Do check out the Roxy Cinemas for an upscale movie experience and enjoy the breathtaking sunset view at one of the many beachfront dining spots. With so much to offer, La Mer stands out as a beach with a delightful twist, making it a must-visit on your Dubai itinerary.
Umm Suqeim Beach
Umm Suqeim Beach, fondly known as Sunset Beach, is one of Dubai's most iconic stretches of sand. A favored destination for both residents and tourists, this beach earns its nickname from the breath-taking sunsets that drape the horizon in hues of crimson and gold each evening.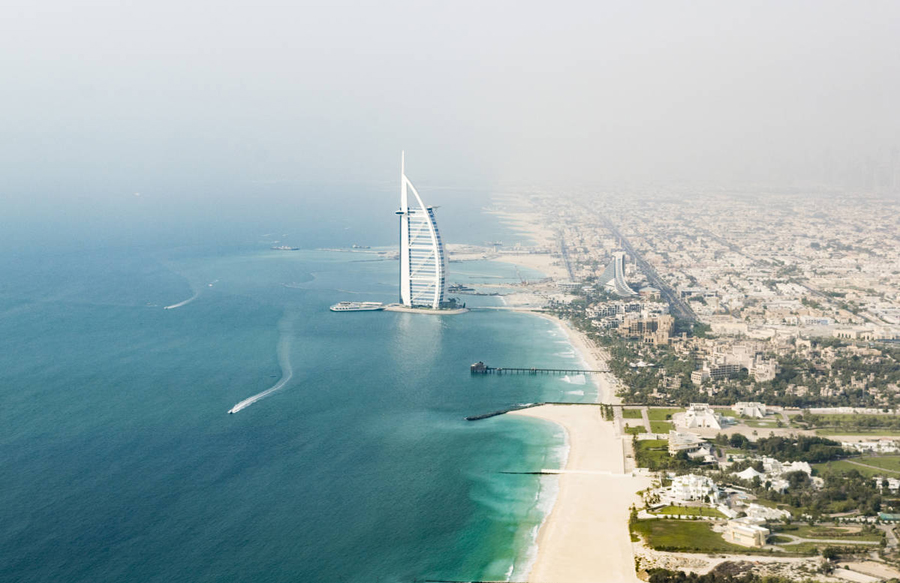 Overlooking the world-renowned Burj Al Arab, Sunset Beach offers one of the best views of this iconic structure, making it a popular spot for photographers and selfie enthusiasts. Whether you're a professional photographer or an Instagram aficionado, you'll be enchanted by the panoramic vistas of the sun setting beside the sail-shaped silhouette of the Burj Al Arab.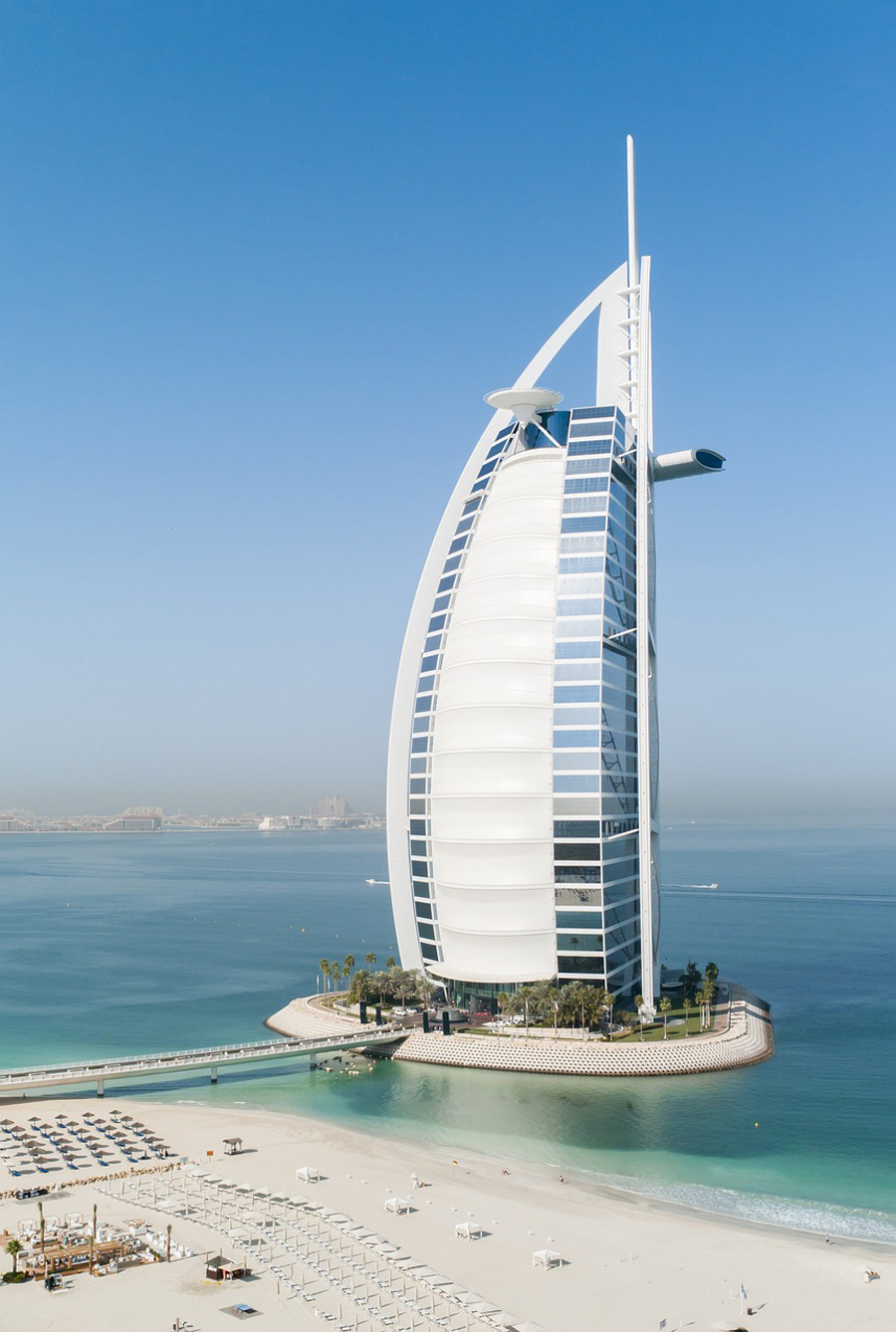 The beach itself is a clean, wide expanse of soft sand leading to the warm, clear waters of the Arabian Gulf. Perfect for lounging, swimming or playing beach sports, it offers a tranquil setting amidst the hustle and bustle of the city.
The beach is complemented by a strip of lush, green parkland where you can enjoy a relaxed picnic or a leisurely stroll. A number of quaint cafes and eateries nearby cater to a variety of palates, offering delightful refreshments post a day under the sun.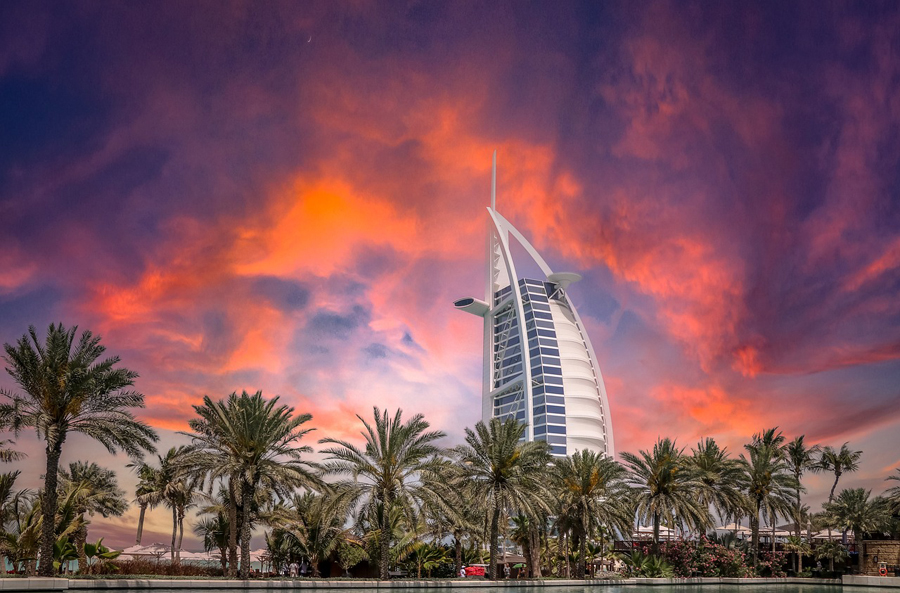 Tip: Given its popularity, Sunset Beach can get crowded, especially during the weekend. So, an early visit is recommended to secure a prime spot. Don't forget to bring your camera along for the must-have shot of the radiant sunset behind the Burj Al Arab. In addition, the nearby surf school is worth checking out if you're keen on riding the waves. Overall, Umm Suqeim Beach provides a relaxing, picturesque beach experience paired with a distinctive Dubai touch.
Al Mamzar Beach Park
Al Mamzar Beach Park, nestled in the northern part of Dubai, is more than just a beach. It is an expansive, well-maintained green park with multiple pristine beaches and a host of other facilities, making it an ideal spot for family outings and picnics.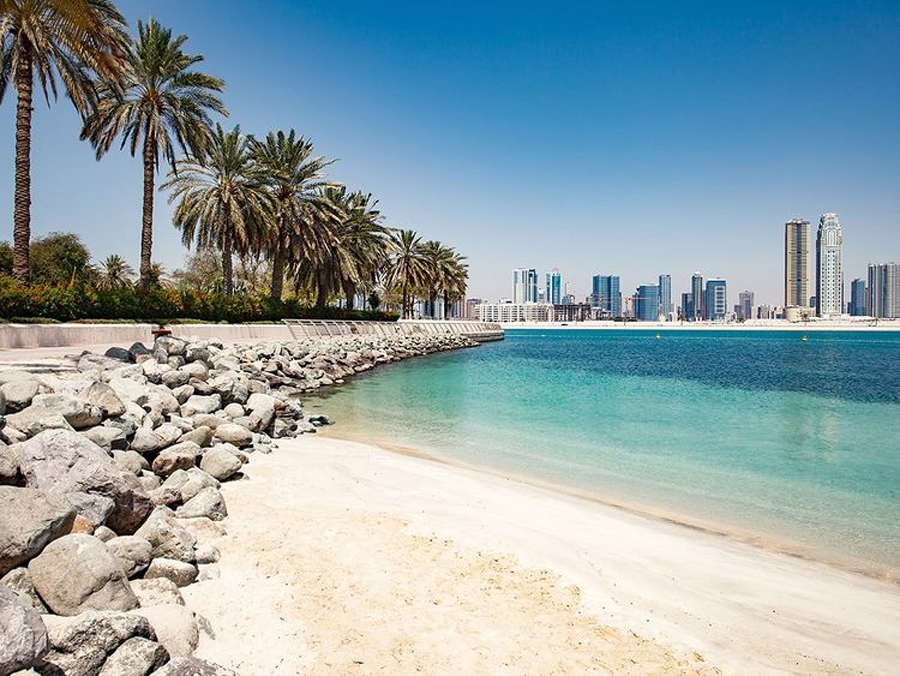 Covering a massive area of 106 hectares, the park is home to five separate beaches, each offering beautiful, clean sands and calm, clear waters for swimming or just cooling off. For those interested in water sports, jet ski rentals are available. The park's large green lawns, dotted with palm trees, offer ample space for picnicking and also feature barbecue areas for a delightful cookout.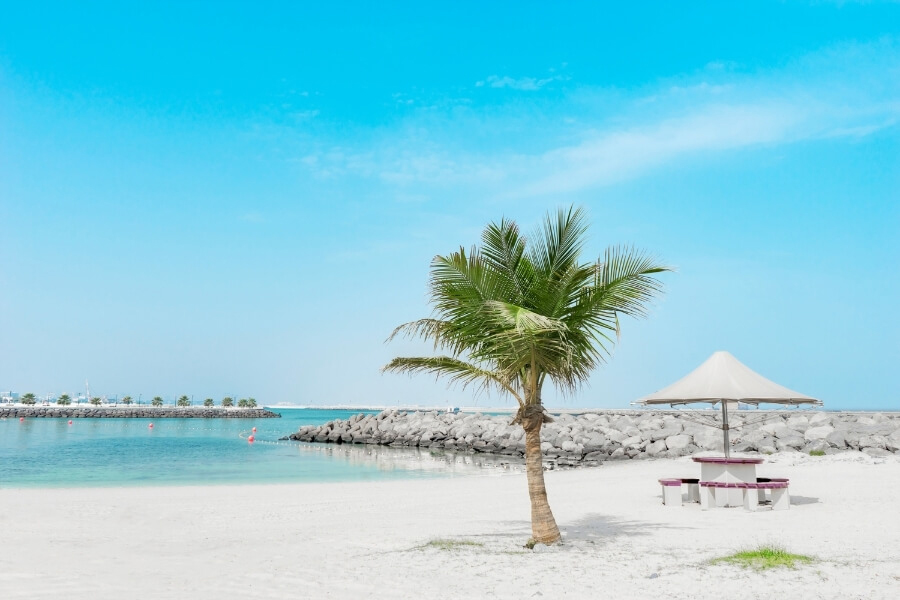 One unique aspect of Al Mamzar Beach Park is its chalet rentals. These air-conditioned cabins come with a private patio, barbecue area, and even a small garden, making them perfect for a family beach day.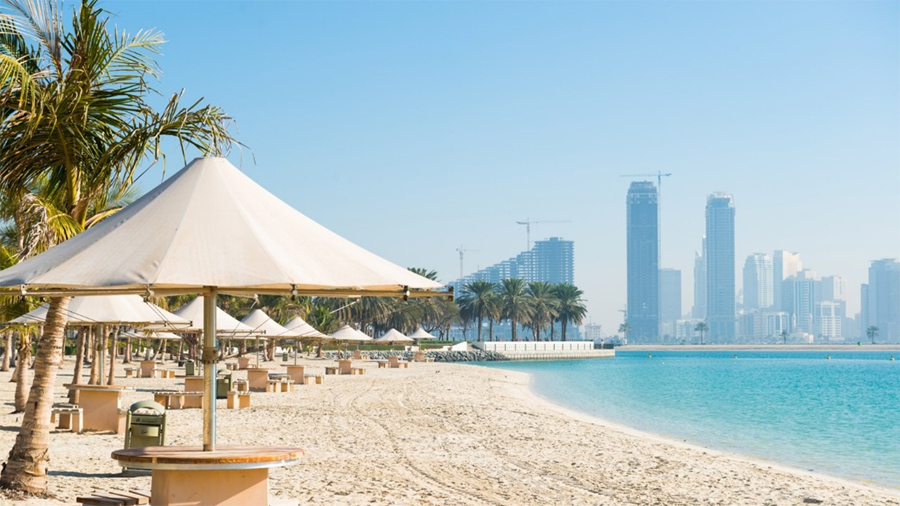 The park also offers a variety of recreational facilities, including children's playgrounds, skateboarding park, football pitches, and basketball courts. There's also a small train that can take you on a tour around the park, which is a big hit with kids.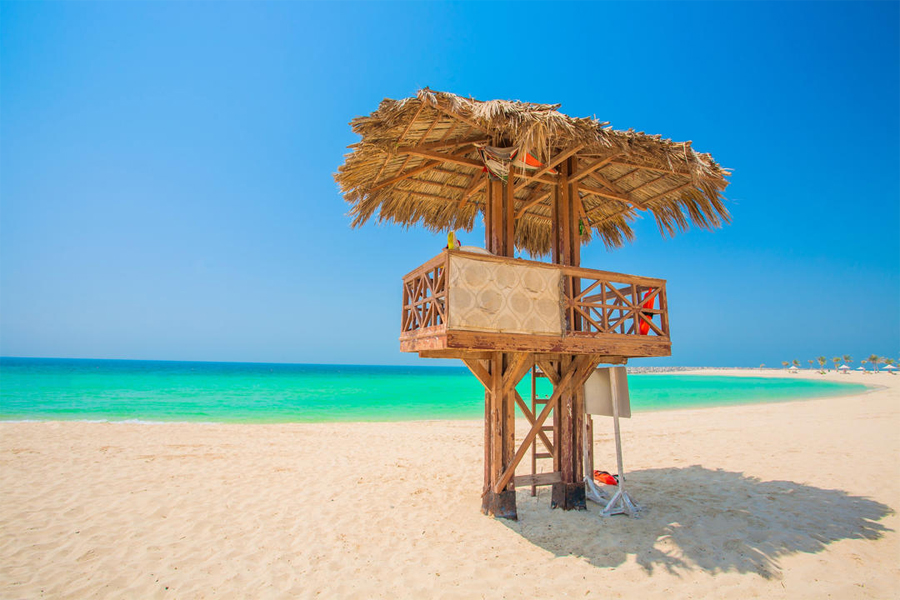 For the more adventurous, the park has a scenic jogging track and bicycle rental services, allowing visitors to explore the vast park and its numerous beaches at their own pace.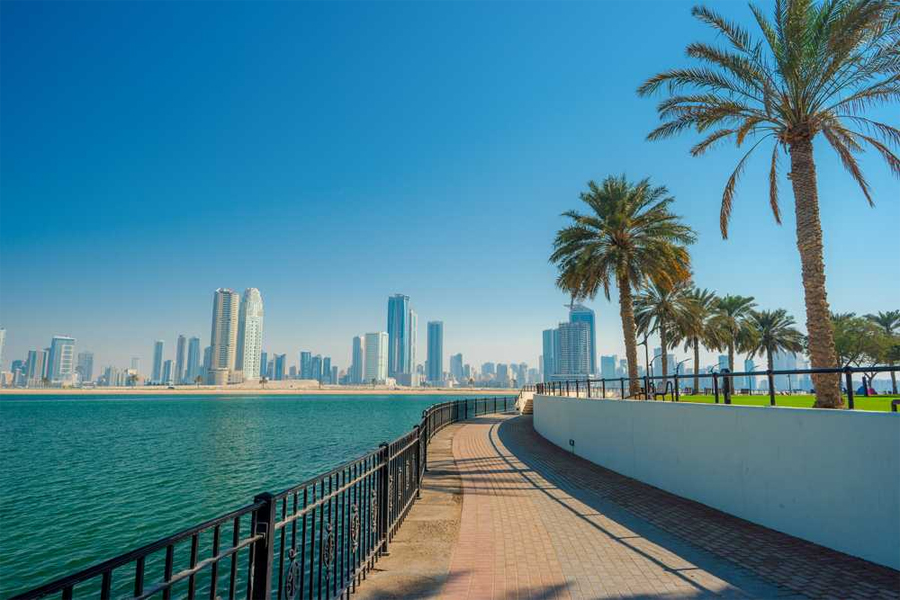 Tip: Mamzar Beach Park is a great place to spend a full day, with plenty of facilities and activities to keep everyone entertained. It's worth noting that Mondays and Wednesdays are designated as 'Ladies Days', where only women and children are allowed in the park. Also, considering its vastness, renting a bike or using the park's train service can help you make the most of your visit. Whether you're looking for active fun or a lazy day by the sea, Al Mamzar Beach Park is a destination that offers the best of both worlds.
Kite Beach
Kite Beach, named for the many colorful kites that often dot its skies, is one of Dubai's most dynamic and active beaches. Located in the vicinity of the Jumeirah's main street, this beach is a popular destination for sports enthusiasts and those seeking a lively beach atmosphere.
As the name suggests, Kite Beach is famous as a hotspot for kitesurfers. With its consistent wind conditions and gentle waves, it offers the perfect environment for both seasoned surfers and beginners. A dedicated kitesurfing shop and training center are on hand to provide equipment and lessons for anyone keen to try this exhilarating sport.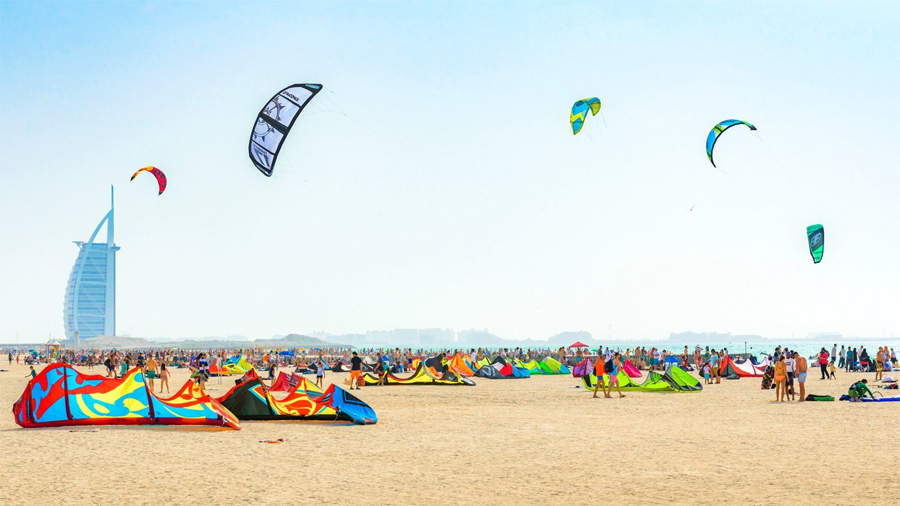 Beyond kitesurfing, the beach is also a haven for other sport enthusiasts. It features a beach volleyball court, a skate park, and a running track that extends parallel to the shoreline. There are also outdoor gyms equipped with all the necessary facilities for a good workout.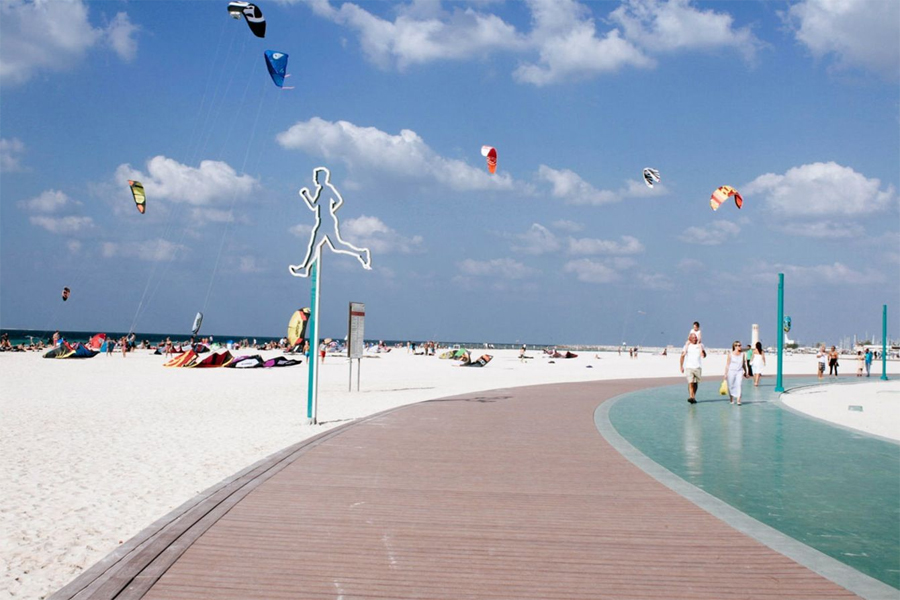 The expansive, clean sandy beach is perfect for a leisurely day of sunbathing, while the clear, shallow waters are ideal for a refreshing dip. Food trucks and cafes are available for when hunger strikes, offering a diverse range of local and international fare.
One key highlight of Kite Beach is the magnificent view of the Burj Al Arab, providing another excellent photo opportunity.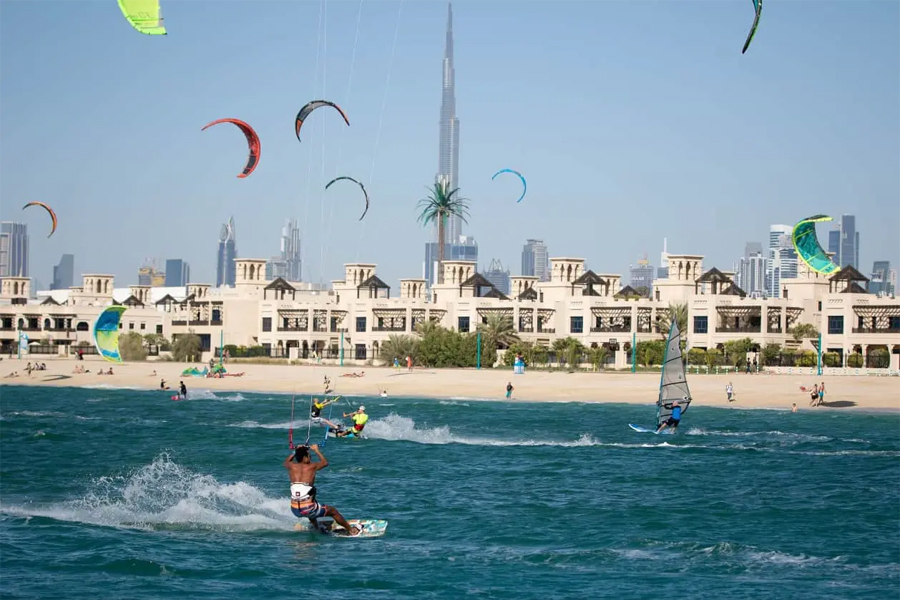 Tip: If you're interested in trying out kitesurfing, it's recommended to check the wind conditions beforehand to ensure a safe and enjoyable experience. With its energetic ambiance and array of activities, Kite Beach offers a lively, active beach experience that is both refreshing and invigorating.
Al Sufouh Beach
For those seeking a tranquil escape from the bustling city life of Dubai, Al Sufouh Beach, also known as 'Black Palace Beach', offers an idyllic retreat. This hidden gem, tucked away between the royal fortresses at Al Sufouh district, provides a serene and less crowded beach experience, unlike any other in the city.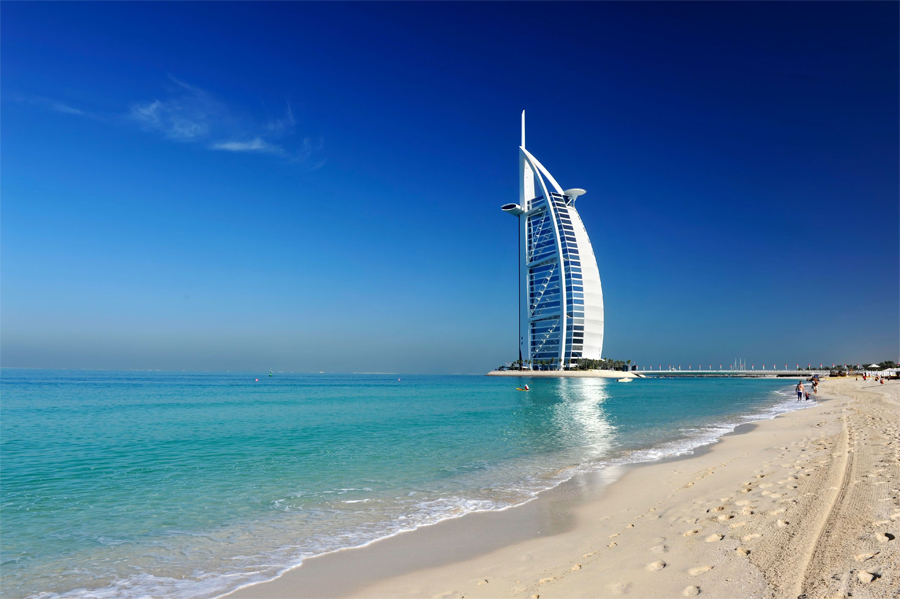 Named after the black-colored Al Sufouh Palace visible from the shore, this beach is loved for its quiet, calming atmosphere. The unspoiled, clean sands and clear, blue waters provide a picturesque setting for a relaxing day at the beach. Its secluded location adds to the tranquility, making it a perfect place for those who enjoy peace and quiet.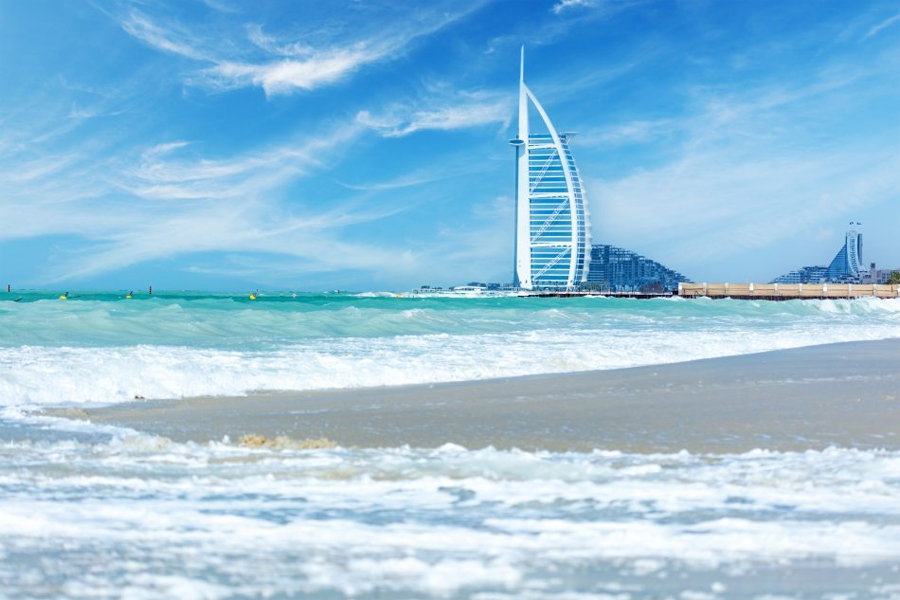 Although it lacks the typical amenities such as sunbeds, showers, and restaurants found at other more commercial beaches, the charm of Al Sufouh Beach lies in its natural, untouched beauty. Visitors can bring along their own beach mats, umbrellas, and picnic baskets to create their personal beach setup.
From the beach, visitors get an uninterrupted view of the stunning Palm Jumeirah and the impressive skyline of Dubai Marina. This makes it a popular spot among photographers looking to capture Dubai's skyline from a different perspective.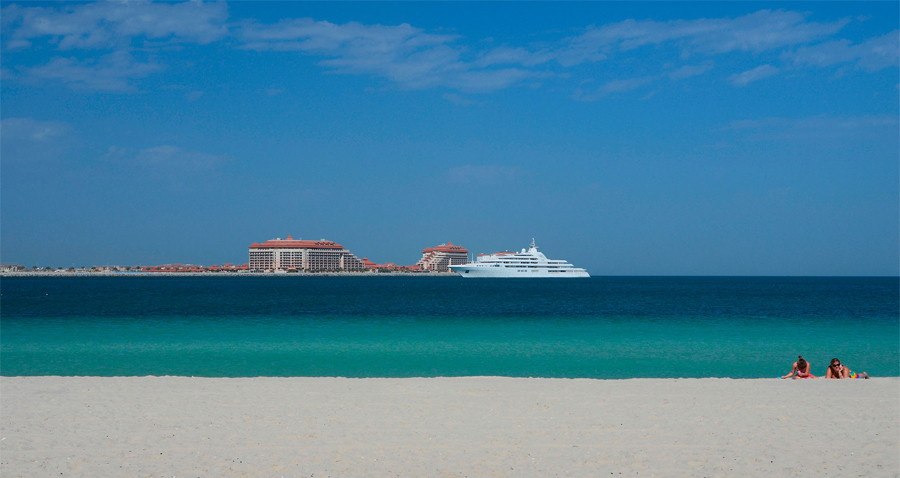 Tip: Given its remote location, it is advisable to bring along everything you need for the day, including water, snacks, sunshade, and perhaps a good book. Do remember that there are no lifeguards on duty at this beach, so always take precautions when swimming. The beach is especially beautiful at sunset, so staying till the evening can reward you with a breathtaking view. For those seeking solitude and tranquility, Al Sufouh Beach offers a secluded sanctuary amidst the vibrant energy of Dubai.