Today we will tell you about the most expensive yachts in the world. These beautiful vessels are built with the latest technology and of course incredibly luxurious. Their owners are very wealthy people – members of royal families, American business magnates, Russian billionaire businessmen and world-class politicians. The most expensive yachts are built according to the personal requirements of the owners – this may be the presence of a helipad or a large pool on the upper deck or exclusive materials for interior decoration. In this post we will show how some of these yachts look inside. Enjoy watching!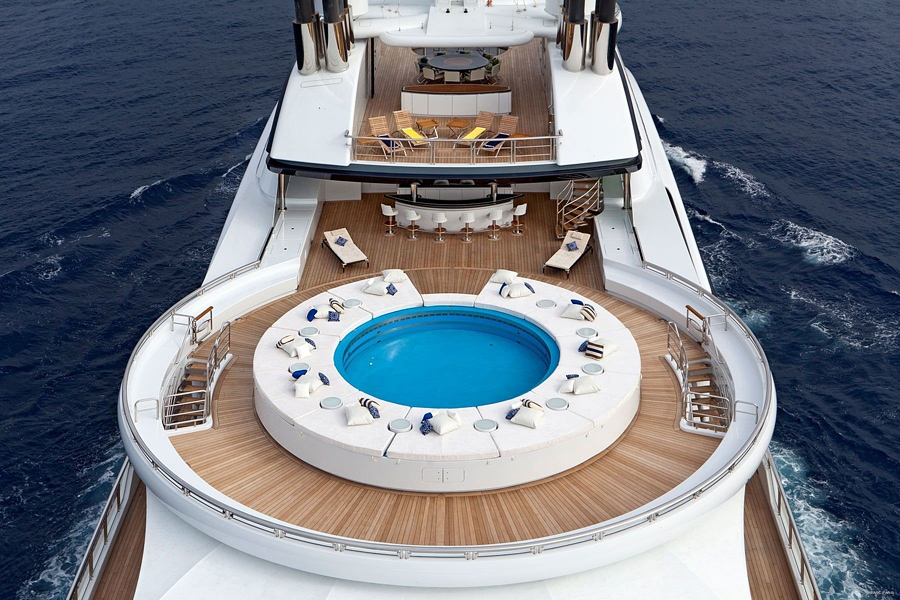 Ownership of a luxury yacht is synonymous of unrivalled wealth, a status symbol and floating extravagance that only the world's richest can possibly afford. They first began to appear at the beginning of the 20th century when wealthy individuals started to commission the construction of large private yachts for their own personal pleasure. Some of the earliest examples include the Christina O and the Savarona with a massive growth in popularity of luxury yachts taking place between 1997 and 2008. So, what originally started out as a fairly simple vessel with basic accommodation has quickly evolved into specimens incorporating features comprising the height of sophistication and luxury as demonstrated with the following top 10 most expensive luxury yachts in the world in 2019. And in addition to this list we're offering you to check our list of Top 10 Most Expensive Cars in the World and Top 10 Most Expensive Wrist Watches in the World.
15. Seven Seas – $200 million
This $200 million superyacht is a custom-built beauty. She was built in the year 2010 by Oceanco in Alblasserdam, Netherlands. The exterior and the extraordinary interiors were designed and engineered by Nuvolari & Lenard.
Seven Seas is 282.15 feet long with a gross tonnage of 2750 tonnes. She had a few attachments and re-fittings in the year 2016 by Amico & Co Srl. Seven Seas comes with an aluminium superstructure on the exterior with a steel hull and a beam of approximately 14 mts. She is capable of accelerating to a maximum speed of 20 knots and cruising speed of about 15 knots. Seven Seas can sleep up to 14 guests in 7 cabins and carry 23 crew members for an unforgettable sailing experience. Unfortunately, it is currently unavailable for private charters.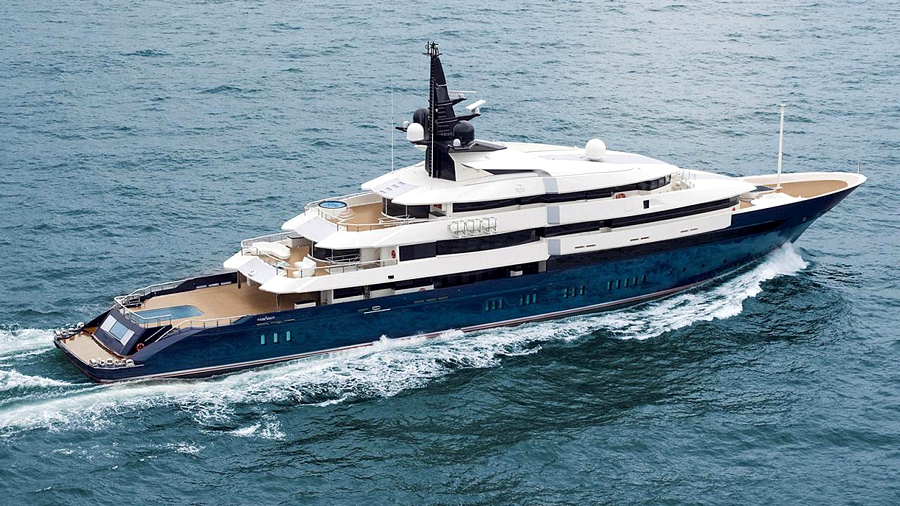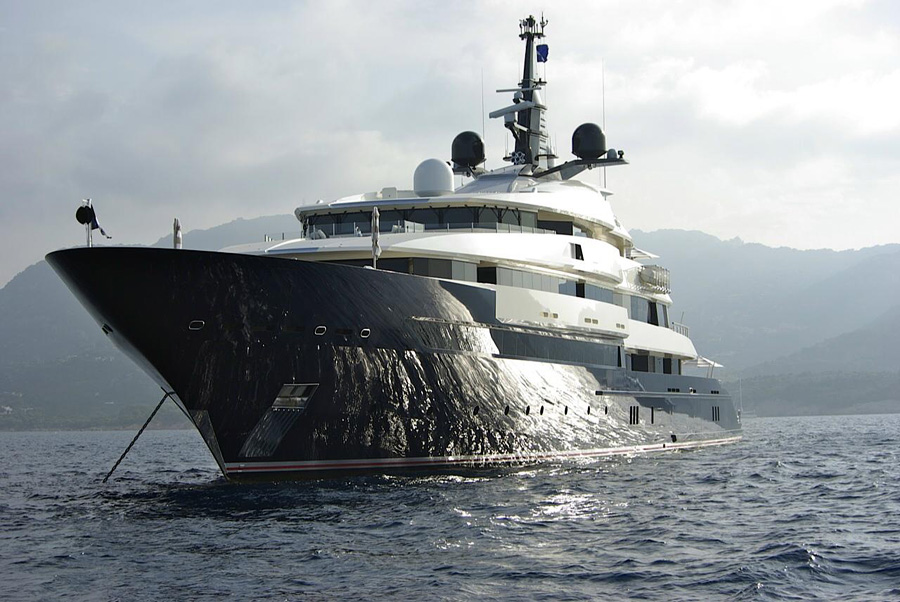 14. Octopus – $200 million
Formerly Owned by the business magnate, philanthropist Paul Gardner the Octopus motor yacht is a one of a kind vessel. It is valued at dollar 200 million. The Octopus is a private vessel leased for scientific inventions, rescue missions, and exploration projects. It was built in 2003 in a shipyard in Lurssen Germany.
The sleek exterior was engineered and designed by Espen Oino Naval Architects. The lavish interior was designed by Seattle based interior designer Jonathan Quinn Barnett. It is meticulously designed and has a large study, a basketball court, a recording studio, outside bar with a whirlpool, 4 guest cabins with walk-in closets, children's cabin and two dedicated cabins for in-house doctors.
Octopus is powered by 19200 HP to pull the 8 Diesel engines. It comes with 2 propellers that pull the vessel to a cruise at a maximum speed of up to 20 knots. It stands 126.2 m in length and 21 m Beam with a tonnage capacity of 9932 tonnes. The Octopus sleeps up to 26 guests and houses 56 crew members at any given time. It is equipped with two helipads on the main deck, a twin pad, and hangers at the stern.
The yacht comes with 7 tenders docked that can transform into a landing craft. Octopus also comes with a pool on the upper deck and two submarines. One of them is capable of going at greater depths and was lent to 'Google Earth' for the 'Explore Earth' project. The side hatches hold docks for personal watercrafts.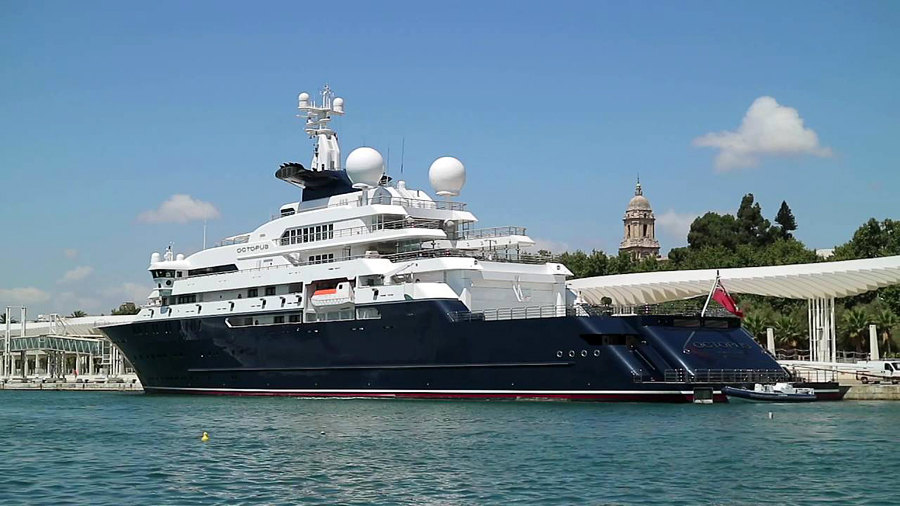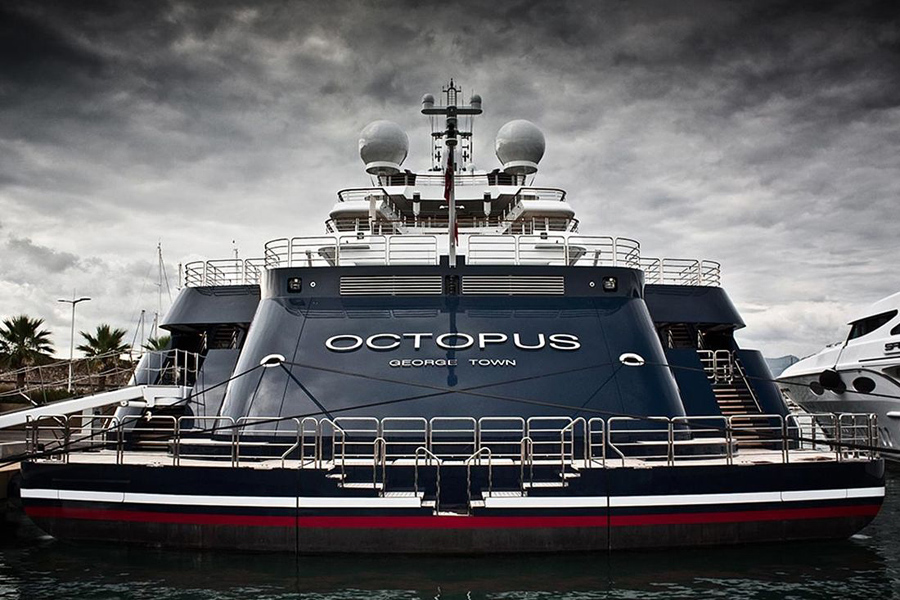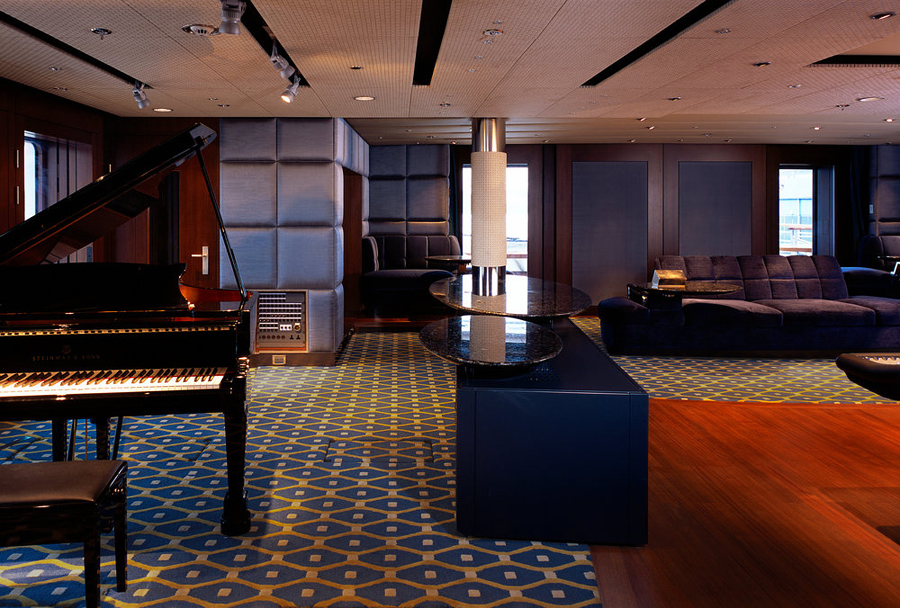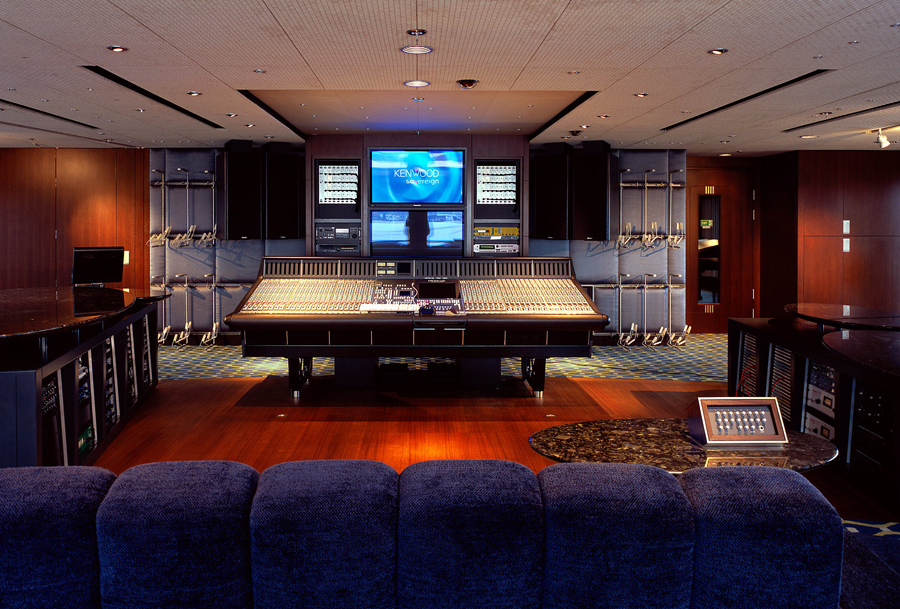 13. Lady Moura – $210 million
Featuring the 10th most expensive yacht in the world is the Lady Moura, custom built by Blohm + Voss shipyards in 1990 for Saudi Arabian businessman Nasser Al-Rashid. This luxury liner is mostly recognisable from the outside owing to its name on the yacht exterior in prominent 24-carat gold lettering. The extravagance doesn't end there. On board the 344-foot Lady Moura is a pool with retractable roof, a helicopter and a 75-foot Viscount Linley dining room table. However, the Lady Moura's most remarkable feature is, without a doubt, the unique sand-covered hydraulic platform that slides out of one side of the yacht which can be adjusted to sit right at the waterline. Not only does this floating oasis boast real sand and deck chairs, but also palm trees for a truly authentic experience. The Lady Moura also features a Mangusta 80 boat or 48-feet Sant Juan boat, as well as a S76B helicopter. Finally, the yacht is capable of accommodating up to 30 guests and carrying 60 crew members.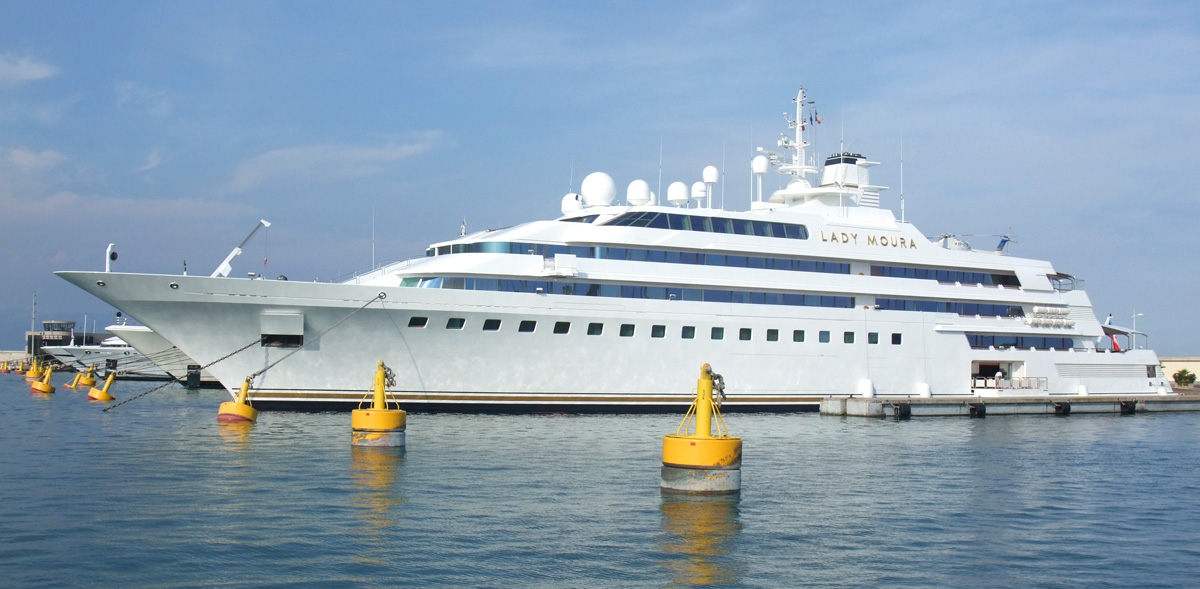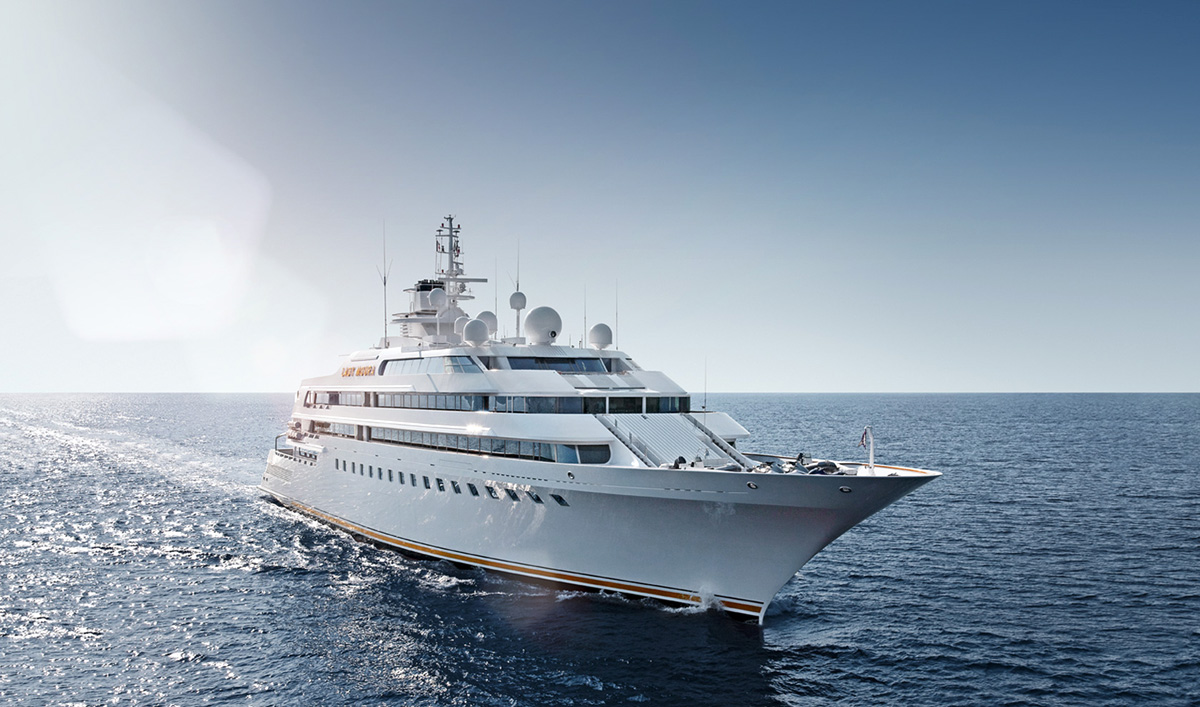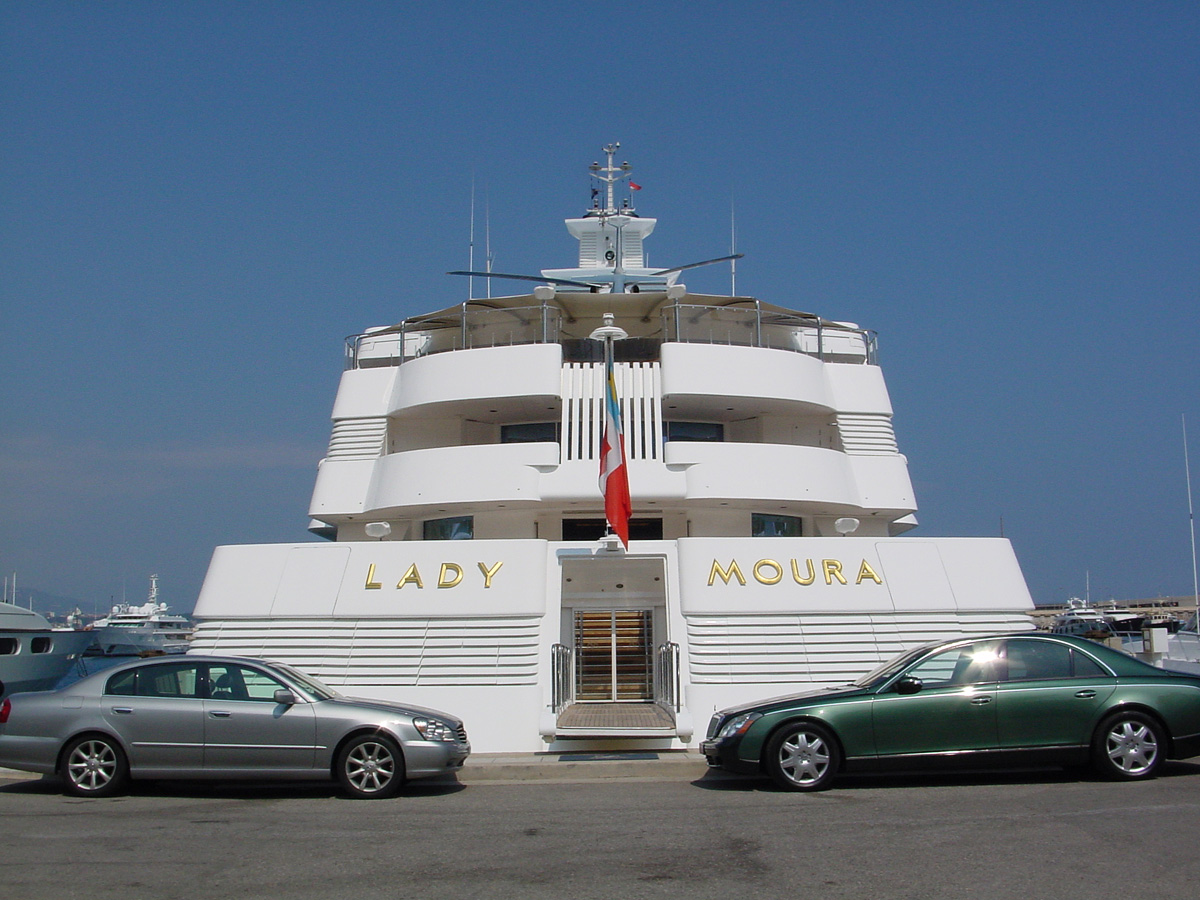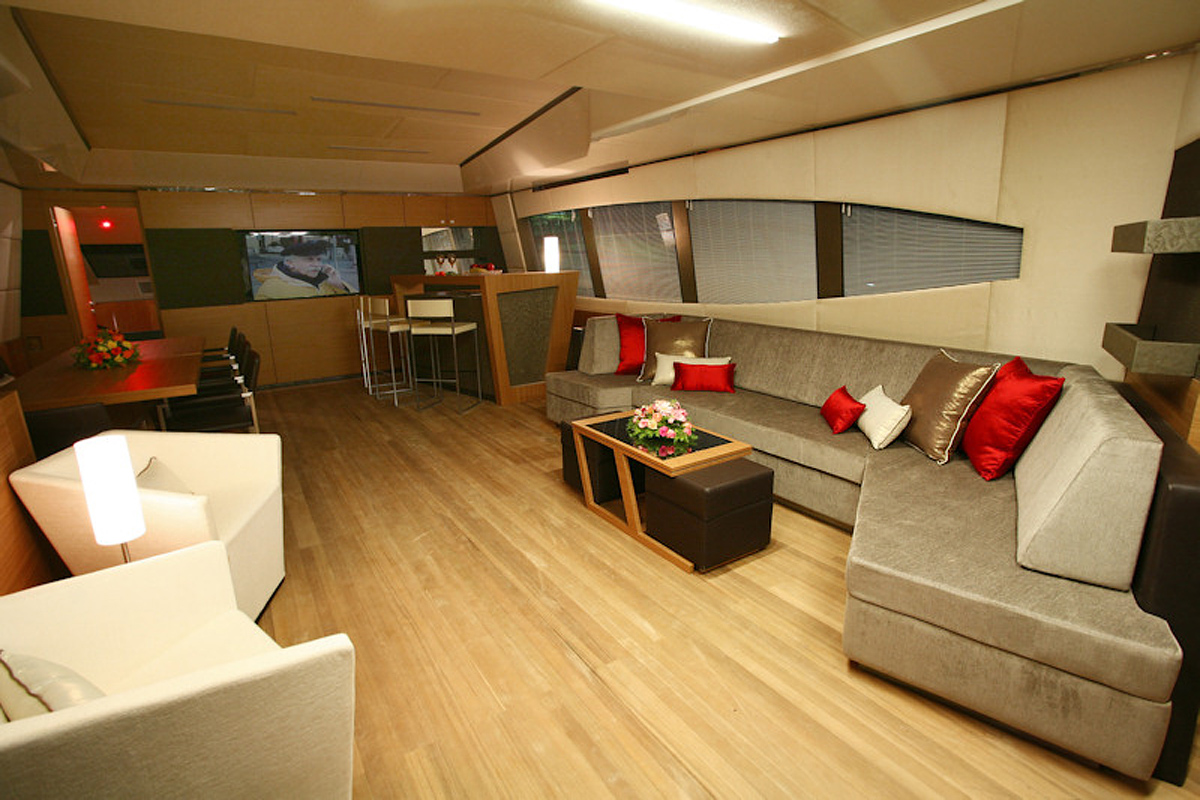 12. Al Mirqab – $250 million
The Al Mirqab was built by Peters Schiffbau Wewelsfleth of Germany for Quatar's Prime Minister and Foreign Minister Hamad bin Jassim bin Jaber Al Thani. It comprises one of the world's largest and was dubbed the second most beautiful yacht in the world after it was completed in 2008. On board this luxury liner are ten suites, which can accommodate up to 24 guests, each with an accompanying bathroom, living room and double bedroom. The fortunate owner has two VIP rooms for himself and there are 55 rooms to house the members of crew. Highlights of the Al Mirqab superyacht include the on-board cinema, sun deck, pool and helipad, as well as outside bars, swimming pool, jacuzzi and a range of watersports equipment.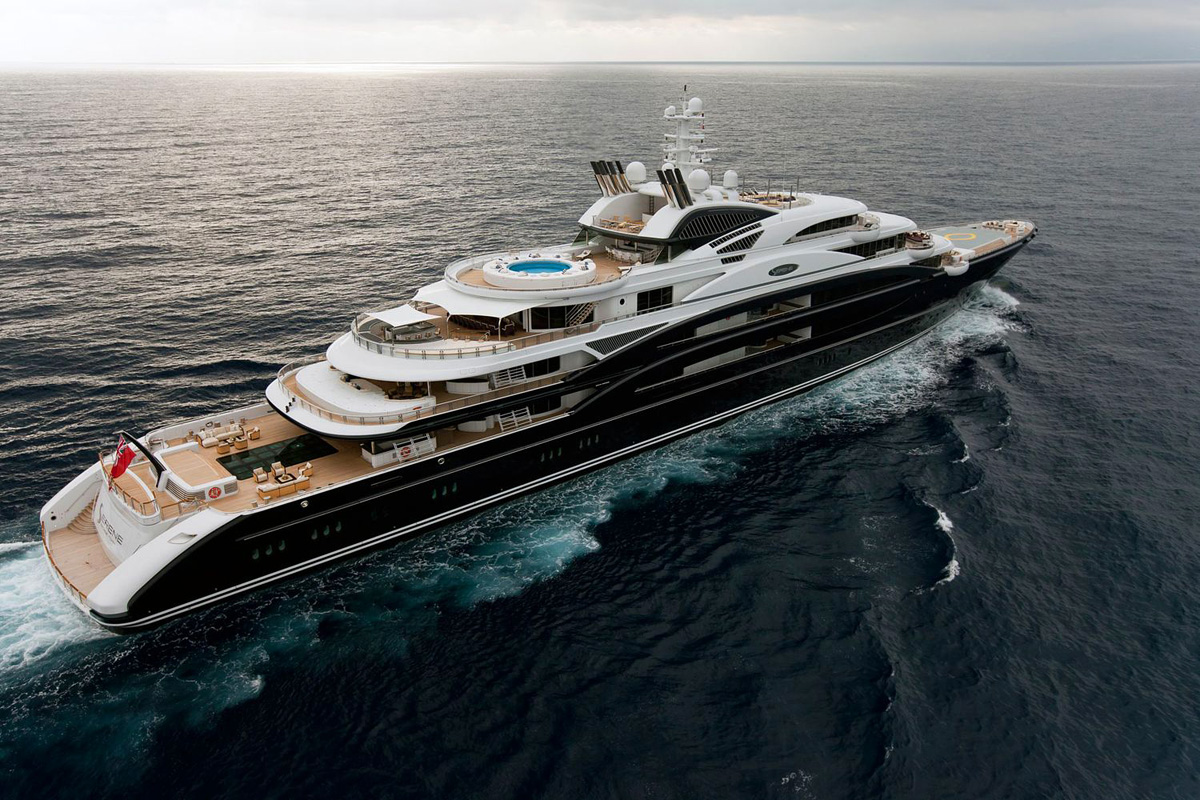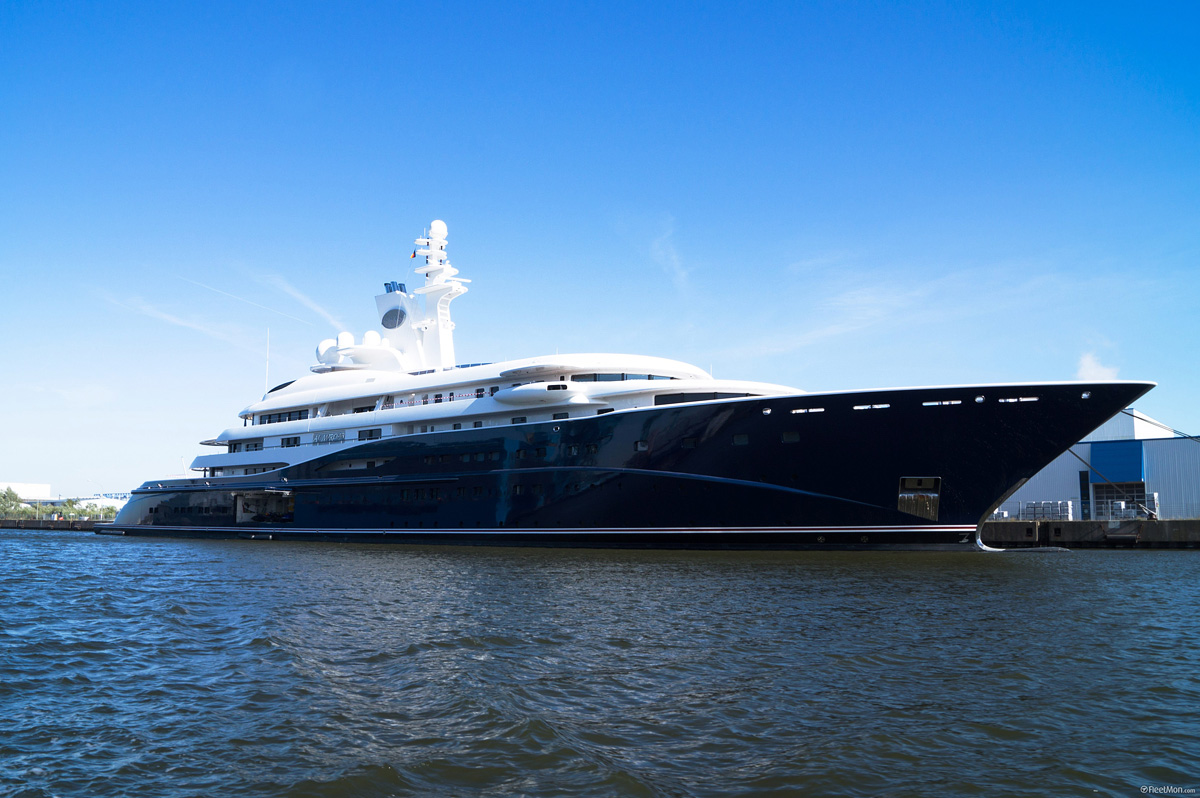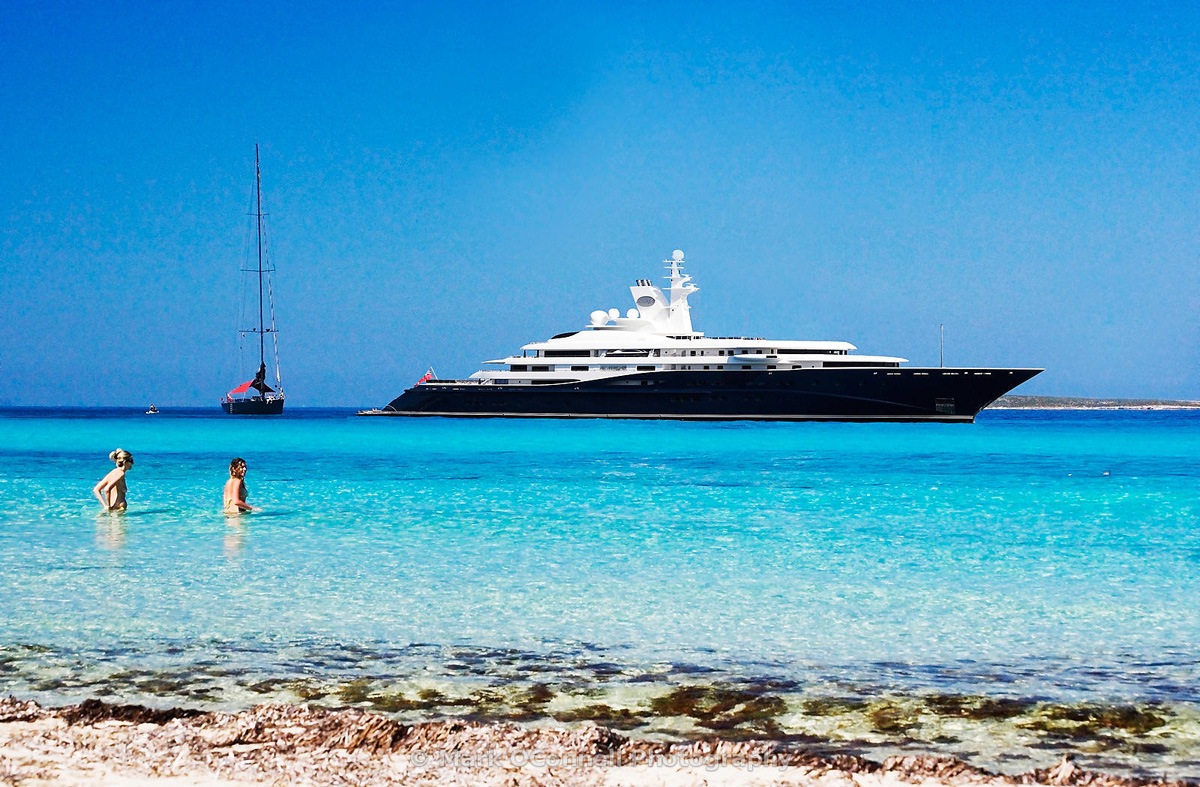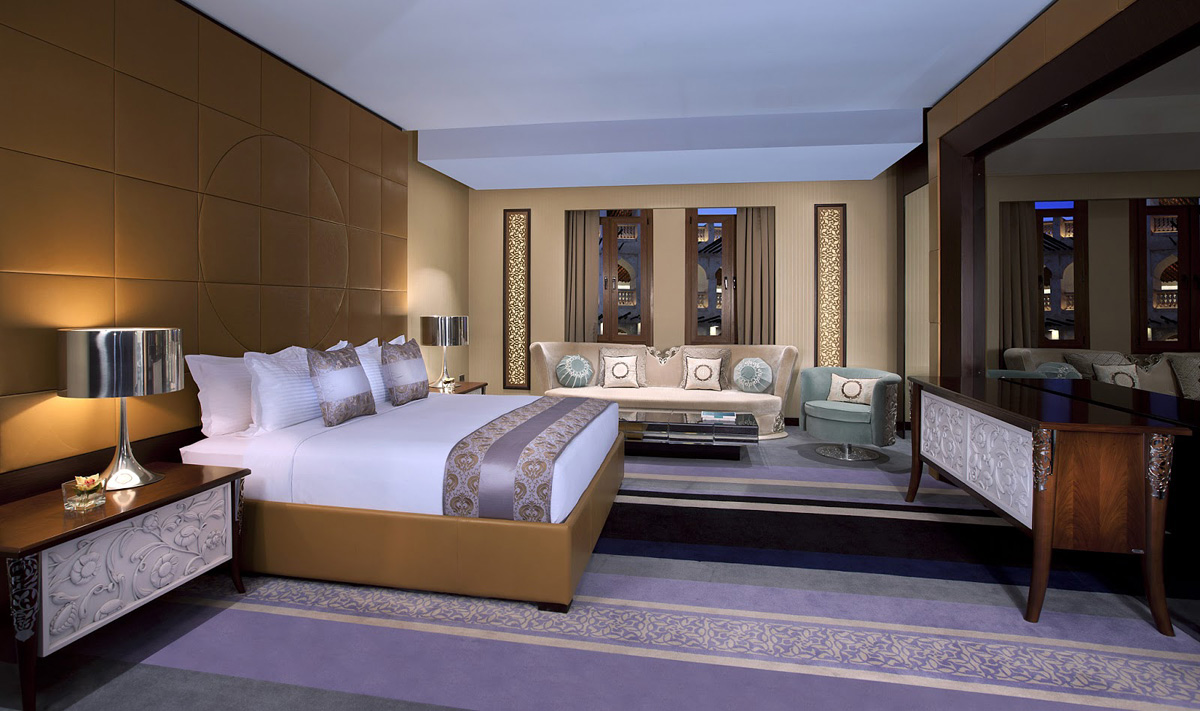 11. Dilbar – $256 million
The Dilbar Superyacht, built in 2008 by Lürssen Yachts, belongs to Russian oligarch Alisher Usmanov. It was named after his mother and boasts one of the world's largest boats measuring 360.89 feet long in total. It is frequently used by its billionaire owner to visit his private islands. The Dilbar boasts some swimming pools and a helipad, amongst many other luxury features, with enough space on deck to accommodate 20 guests and a crew of 48.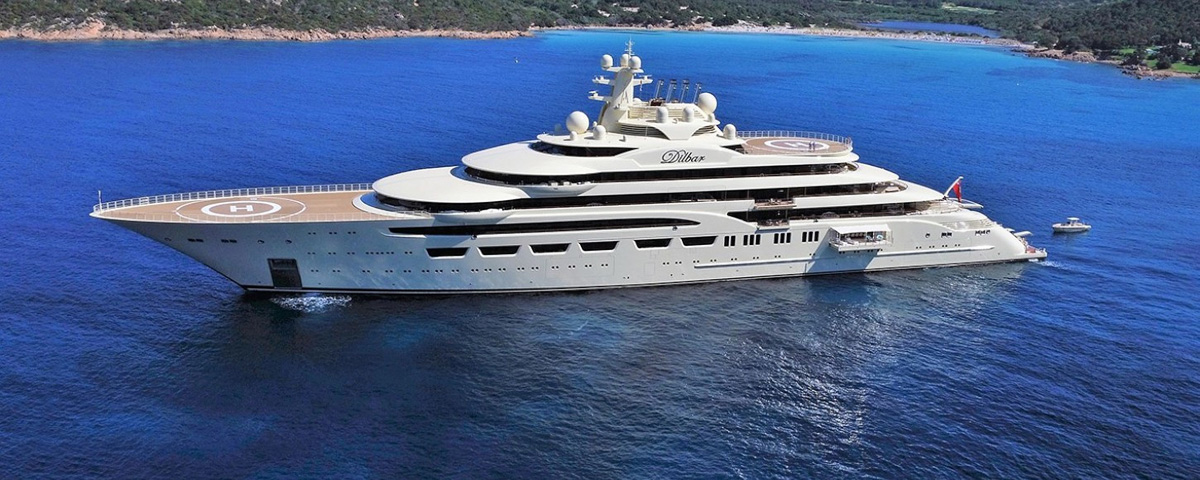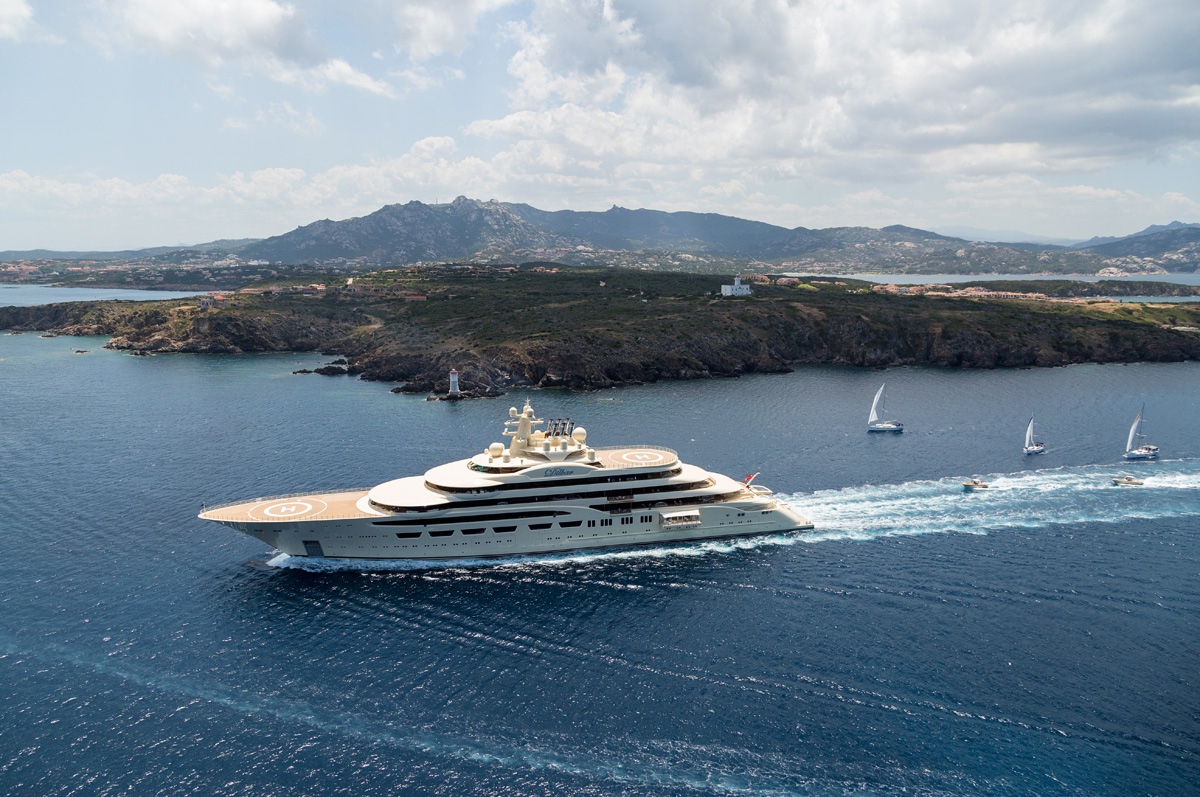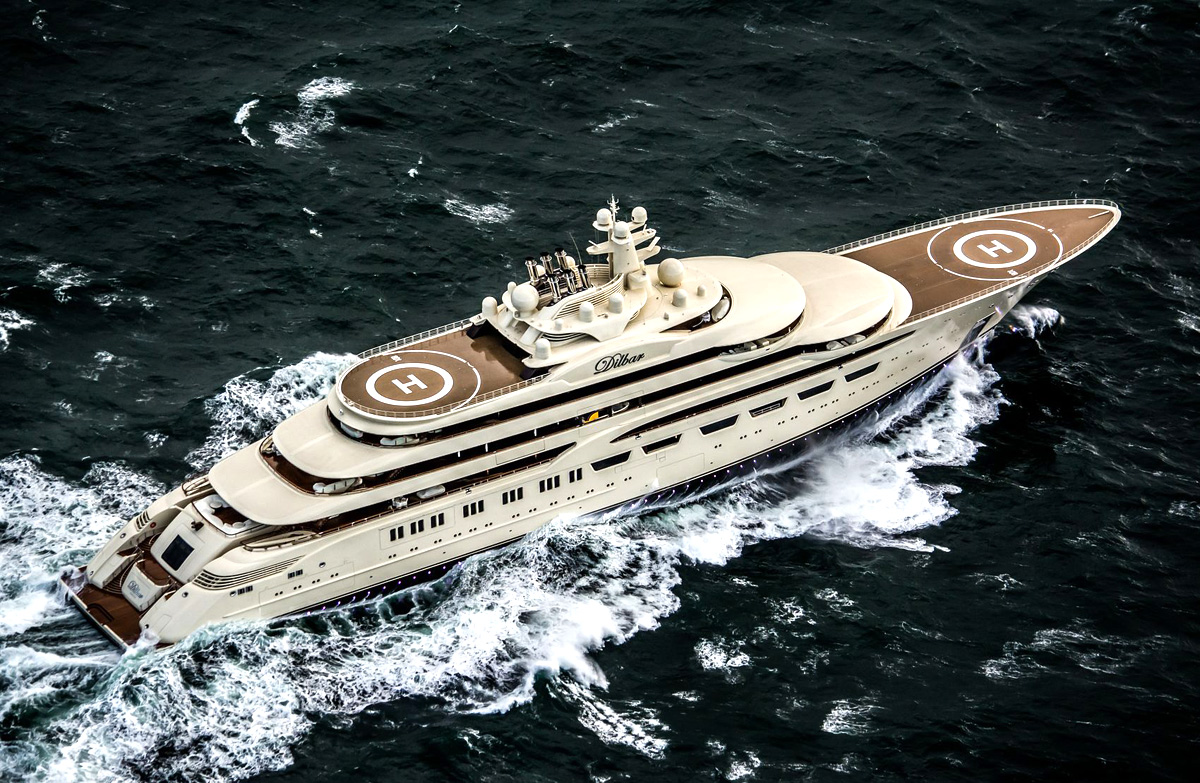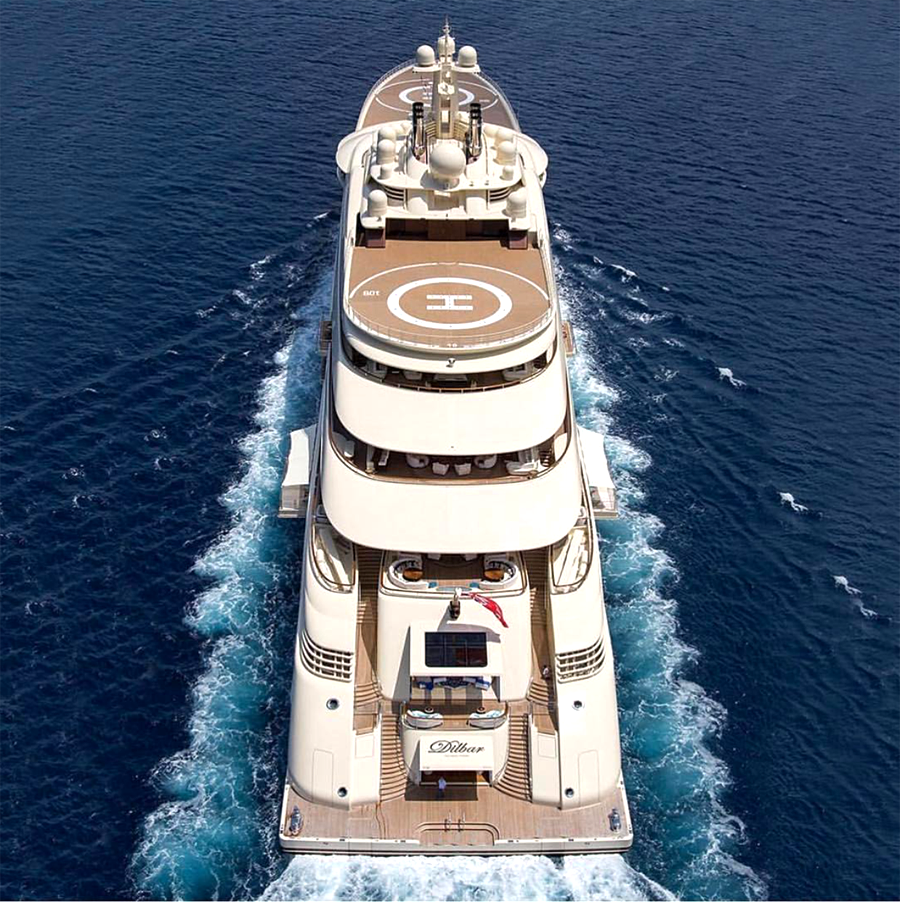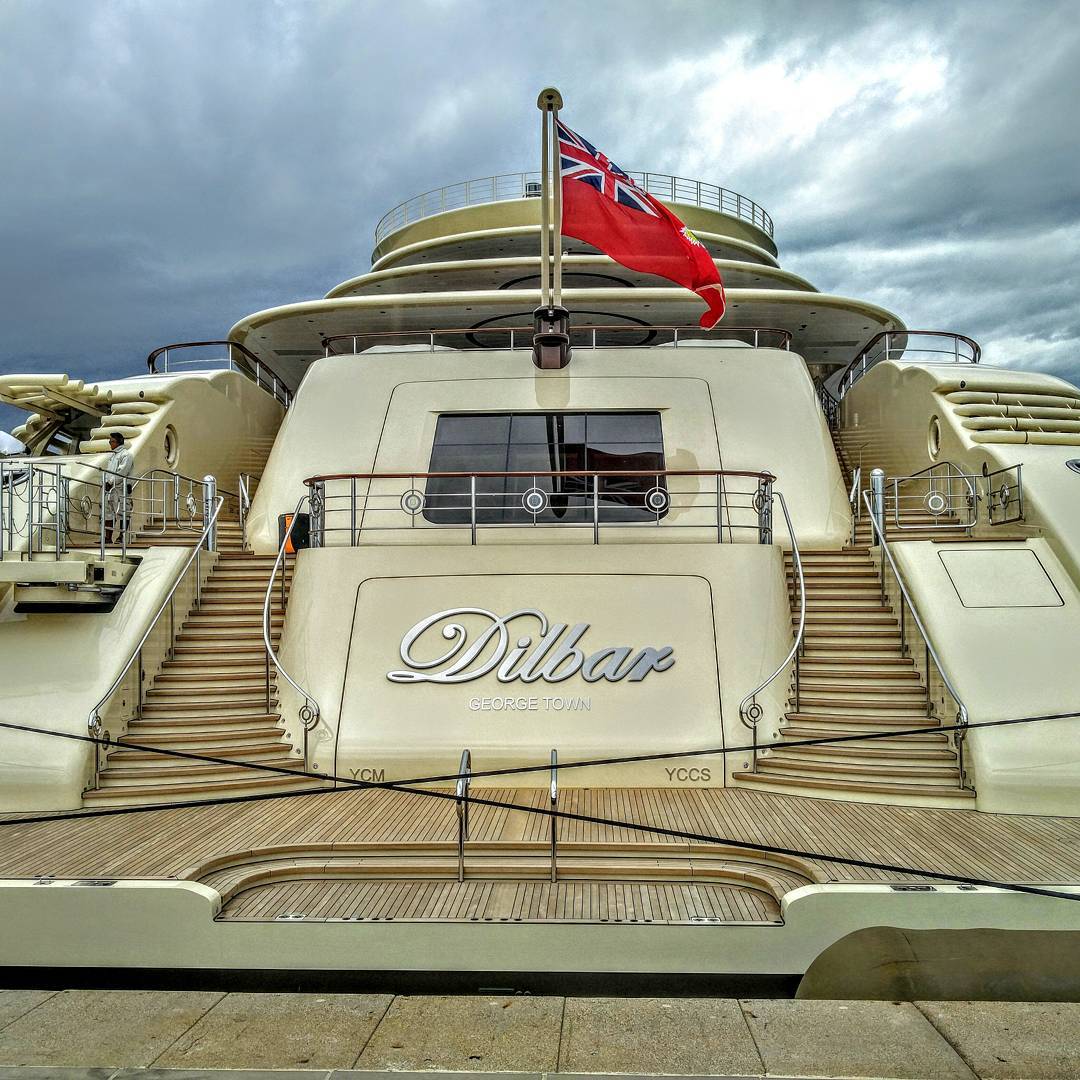 10. Pelorus – $300 million
Honkong based billionaire, property developer and chairman of Prudential Enterprises is the proud owner of the superyacht Pelorus. He purchased it for a whopping 300 million dollars. The yacht gets its name from the Greek word 'pelorious' which means vast. She stands 115 mts long and a beam of 17.2 mts. Her tonnage is alarming 5517 tonnes. The Pelorus displaces at 2973 mts with a propulsion of 3x3900Kw. She is powered by two 5500 HP 12v 26 engines that can make her accelerate up to a speed of 19 knots. She also comes equipped with landing boats, two helipads, and jet skis.
Pelorus was built in Lurssen shipyard in Germany and was launched in the year 2003. She was designed by the renowned yacht designer Tim Heywood. Pelorus was briefly owned by a Saudi businessman who later sold it to the Russian billionaire Roman Abramovich the following year. Abramovich got it refitted to his requirement by Blohm and Voss. The modifications included four new zero-speed stabilizers, an additional helipad, an upgraded exhaust system and a mast and stern.
Pelorus is not a charter yacht. A full-time crew of 46 members are aboard all year long.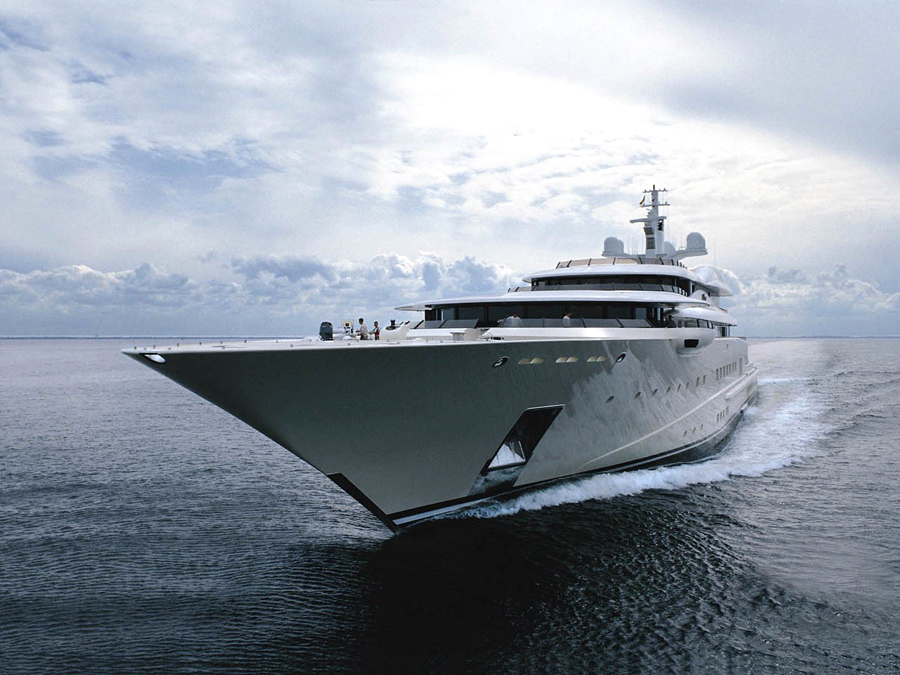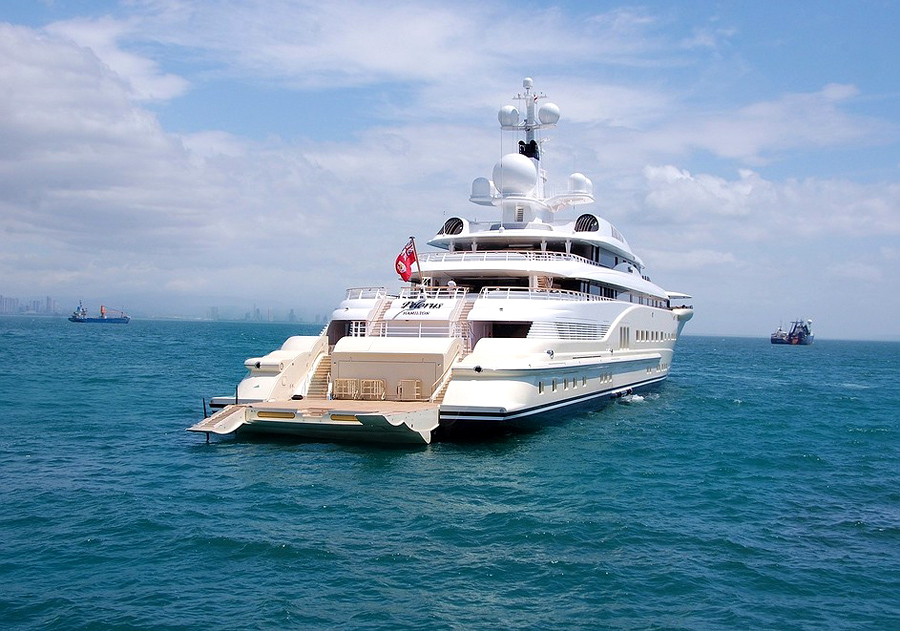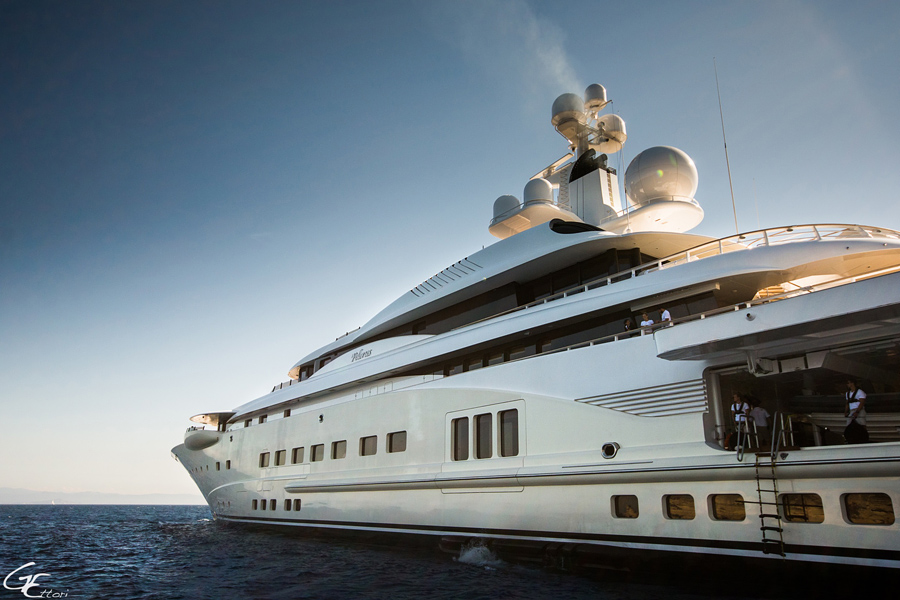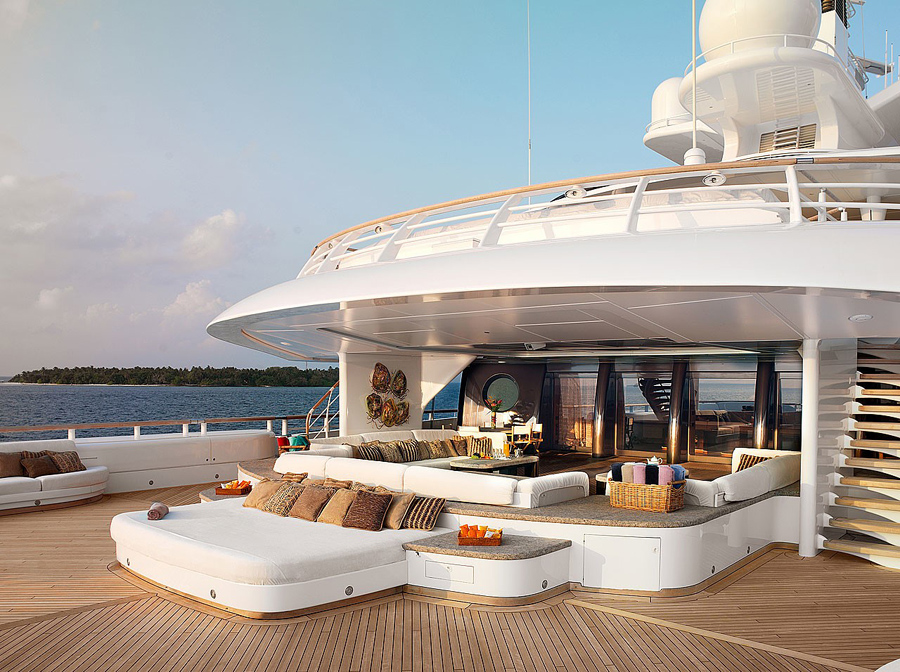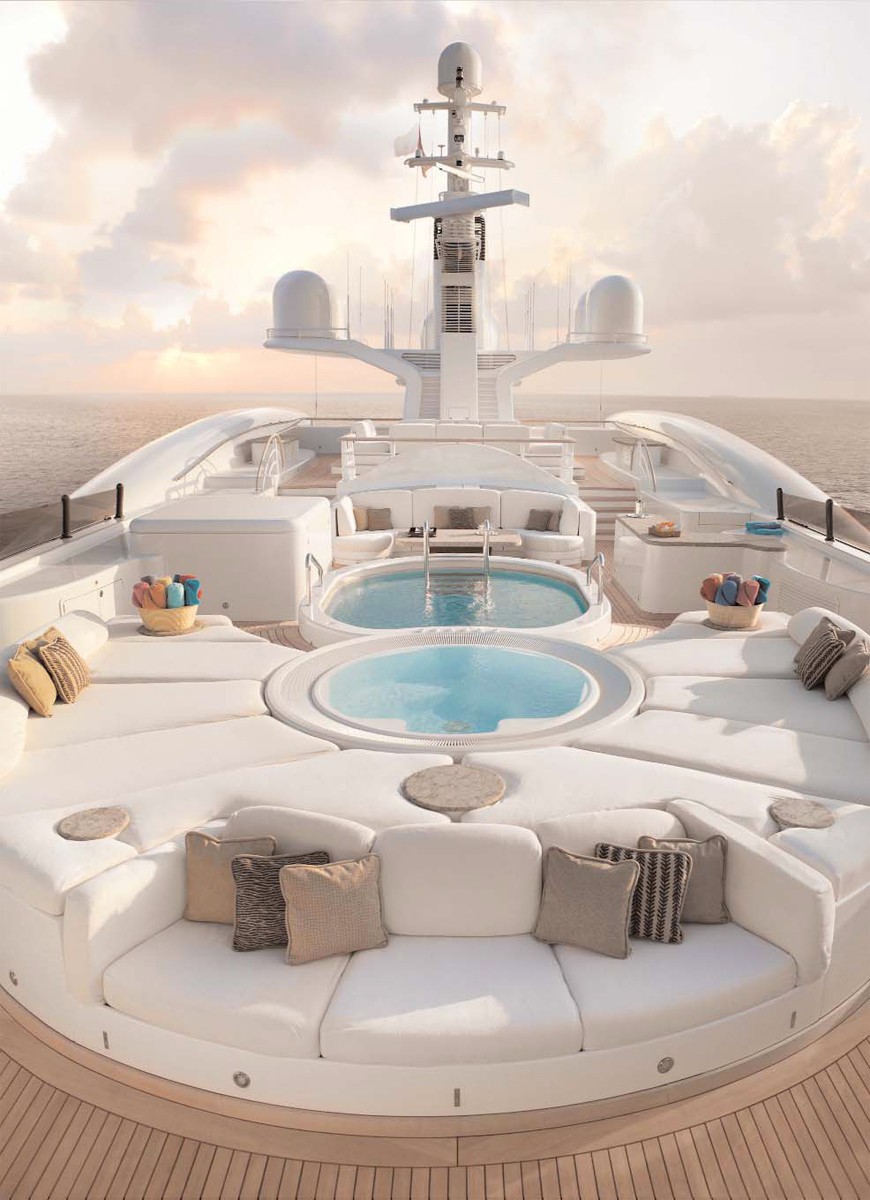 9. Al Said – $300 million
Lürssen Yachts is behind this luxury private yacht belonging to, and named after, Qaboos Bin Said Al Said, the Sultan of Orman. Little is known about the Al Said apart from the fact that it houses a concert hall big enough to accommodate a 50-piece orchestra. At the time of its construction in 2007 and 2008, it comprised the world's second largest yacht and can host up to 70 guests with a crew of 154.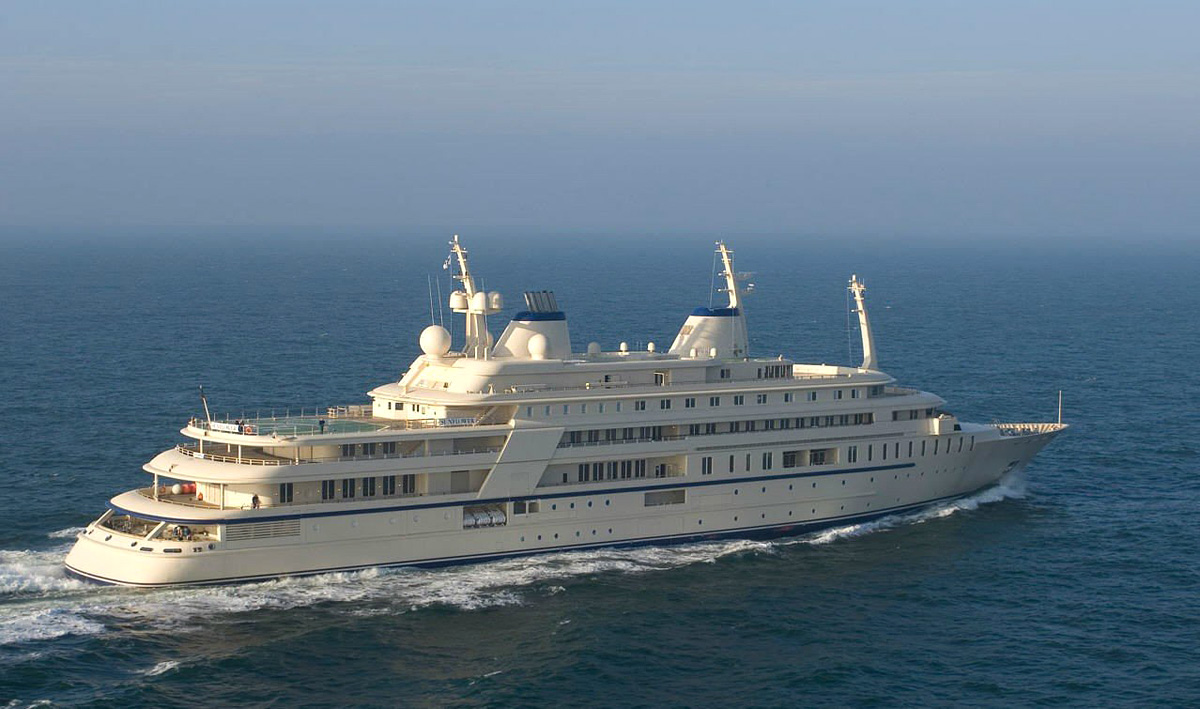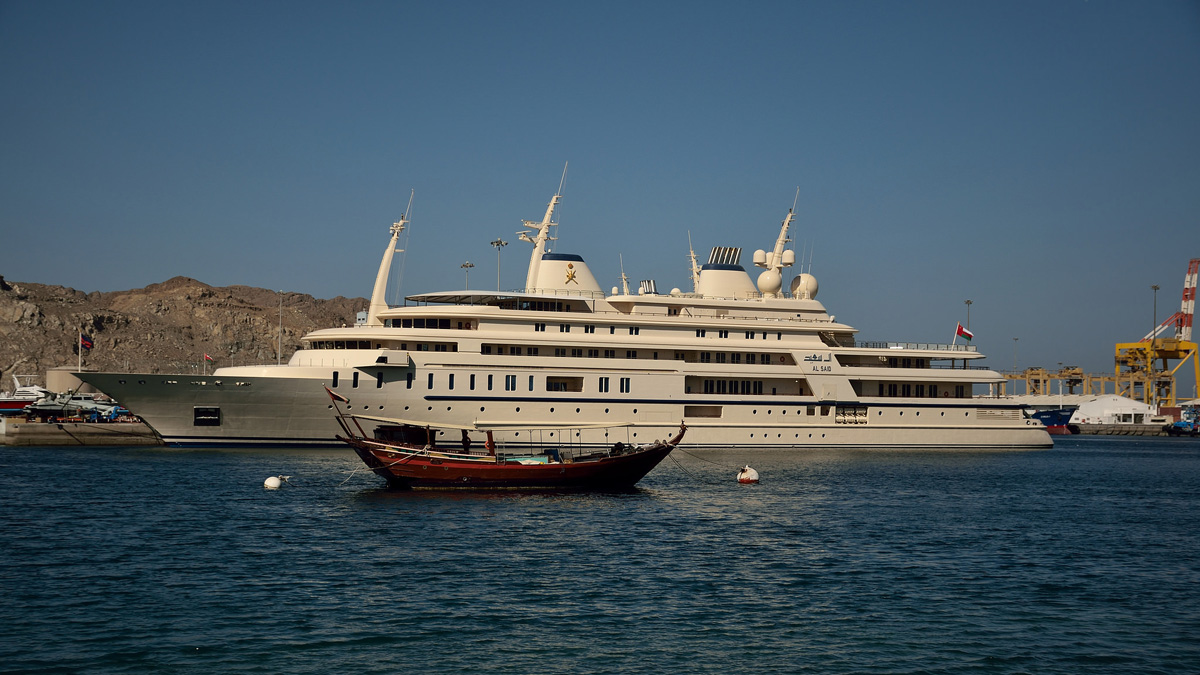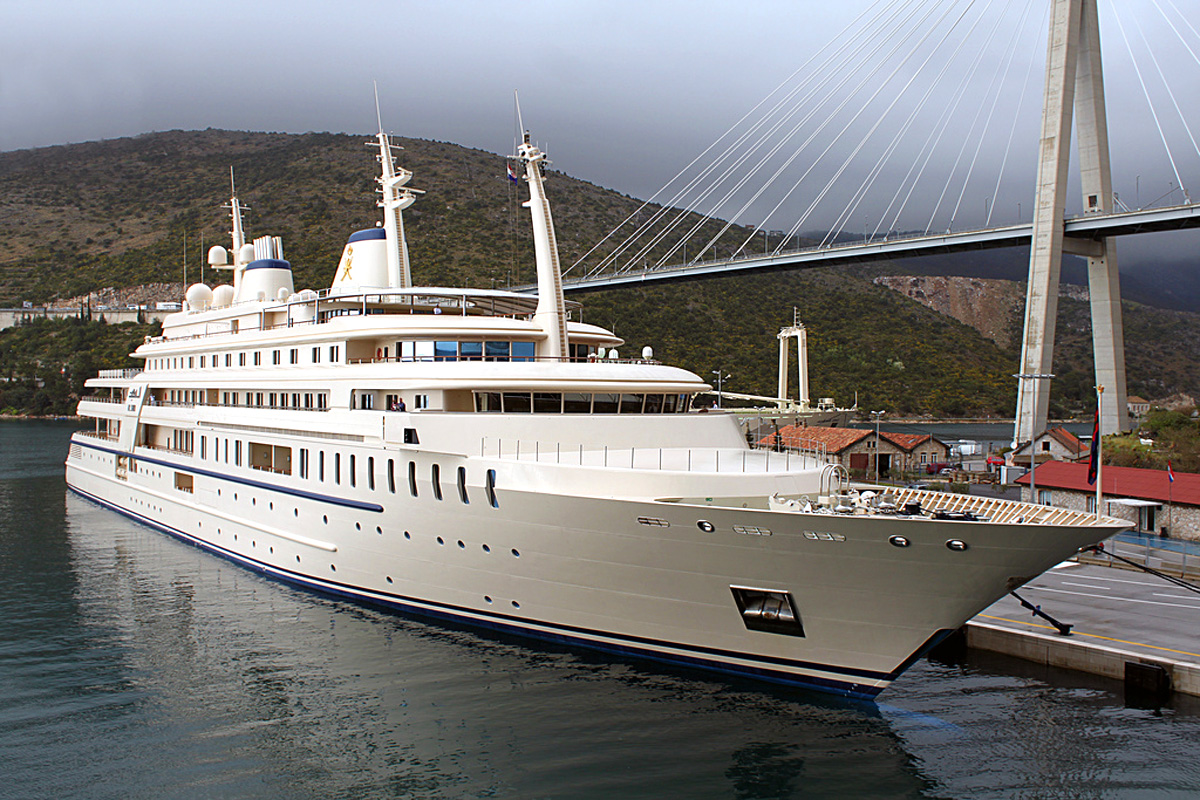 8. Radiant – $320 million
This luxury motor boat was built by Lurssen in 2009. She is owned by the Emirate millionaire Abdulla Al Futtaim. The Radiant is 110 ms long with a beam of 16 mts and a tonnage of 5027 gross tons. The engines are powered by 8715 horsepower MTU, 16V 1163 TB73L. She can accelerate up to a maximum of 21 knots. Radiant has an impressive fuel capacity of 96000 gallons. The Radiant is the 32nd largest luxury yacht in the world. She can sleep up to 20 guests and houses 44 crew members on any given day.
Radiant's portentous exterior was engineered and designed by Tim Heywood and the elegant interiors were designed by Glen Pushelburg. The enormous hull is made of steel and the grand exterior is made of aluminium. The decks are laid with teak wood.
The Radiant comes with zero speed stabilizers, swimming pools, beach club, helicopter landing pad, a massage room, swimming platform, tender-garage, movie theatre, air conditioning, gym, and a deck jacuzzi. The vessel is said to be equipped with an extremely powerful water cannon so she can defend herself against water (pirate) attacks. The price tag on this beauty is appropriately 240 million euros.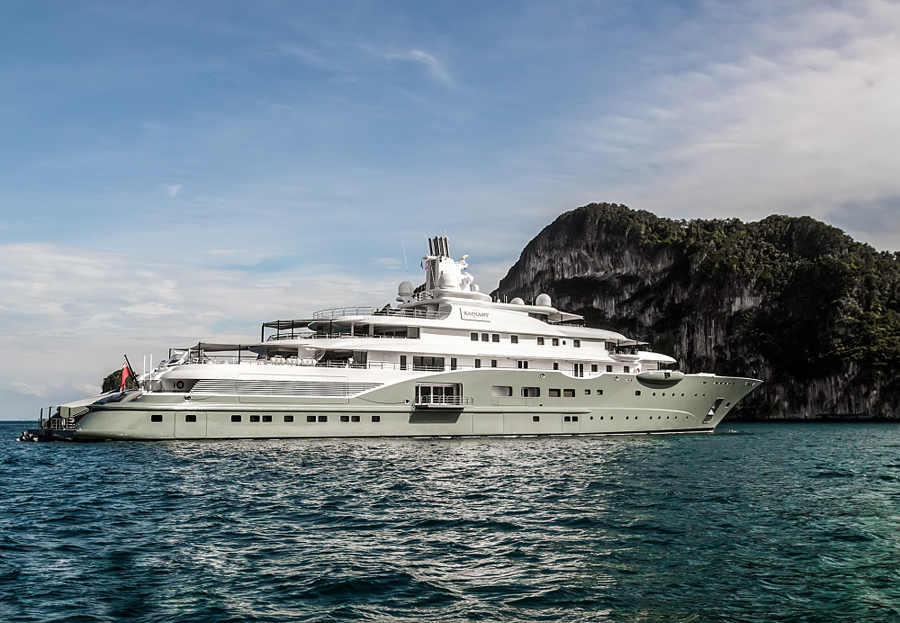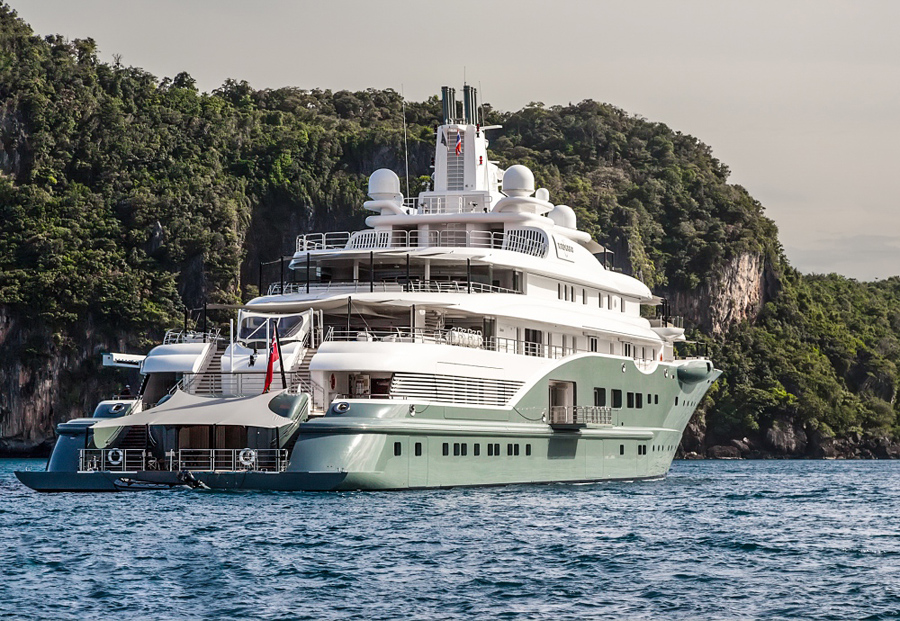 7. SuperYacht A – $323 million
There is nothing unique about the name of this luxury liner however, the 400-feet long Motor Yacht A does boast an original design. Reminiscent of a stealth warship or submarine, it was designed by Blohm + Voss of Hamburg for Andrey and Aleksandra Melnichenko, the Russian billionaire and his wife. As can be expected, the Motor Yacht A comprises the epitome of luxury. The boat interior extends over 24,000 square feet housing a 2,500 square feet master bedroom and disco, as well as six guest suites which can be converted into four larger staterooms thanks to the moving walls. In addition, mirrored surfaces feature extensively throughout the interior whilst the furniture, glassware and tableware are made of French crystal. Above deck, the Motor Yacht A houses a helicopter hangar, as well as a 30 foot speed boat kept in the hull and three swimming pools, one of which is glass.-bottomed and situated directly above the aforementioned disco. Finally, it has been designed to accommodate up to 14 guests and boasts enough space for 42 crew members.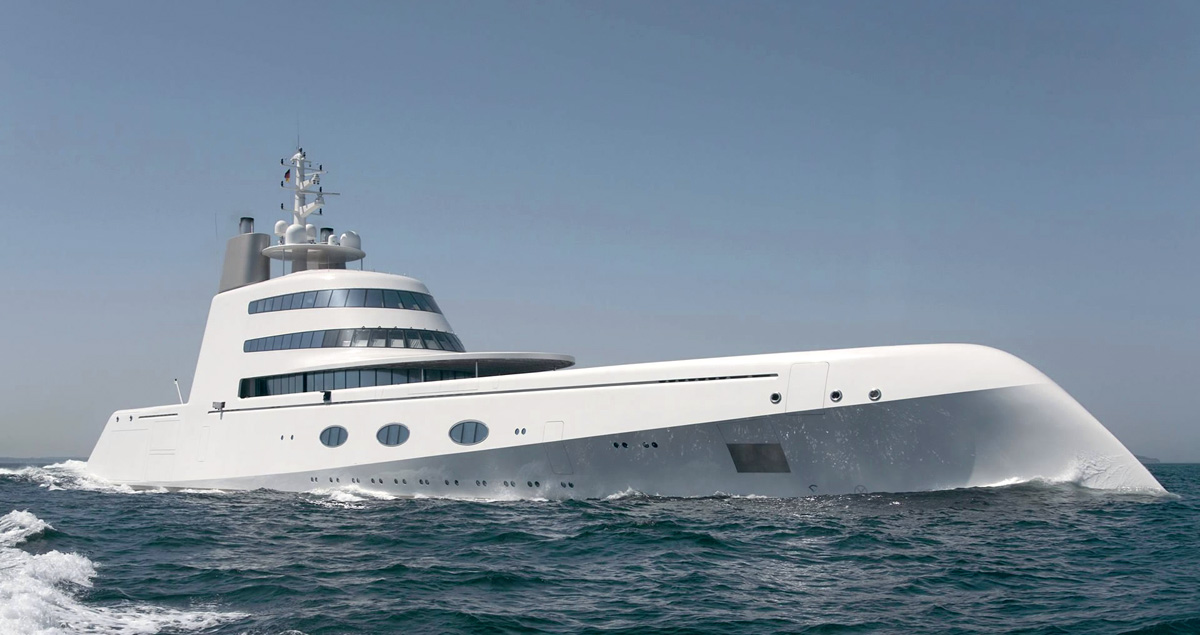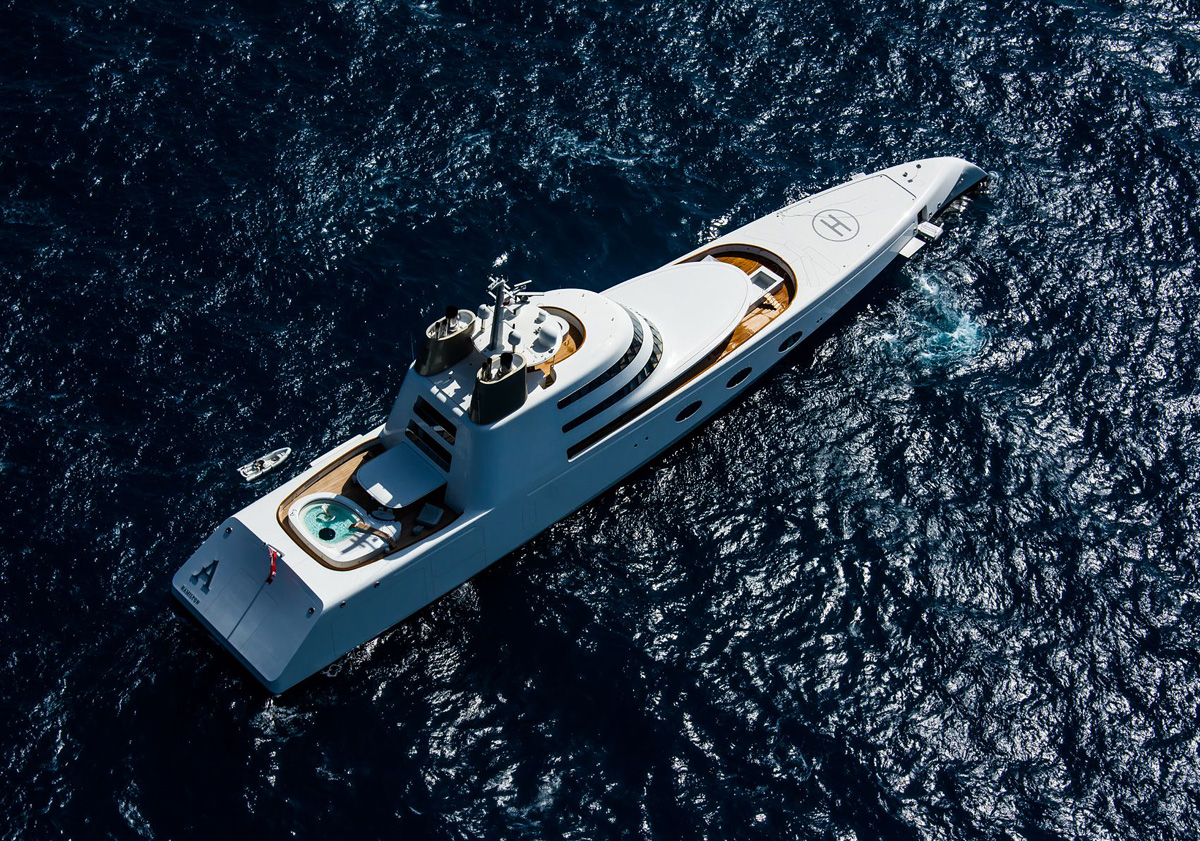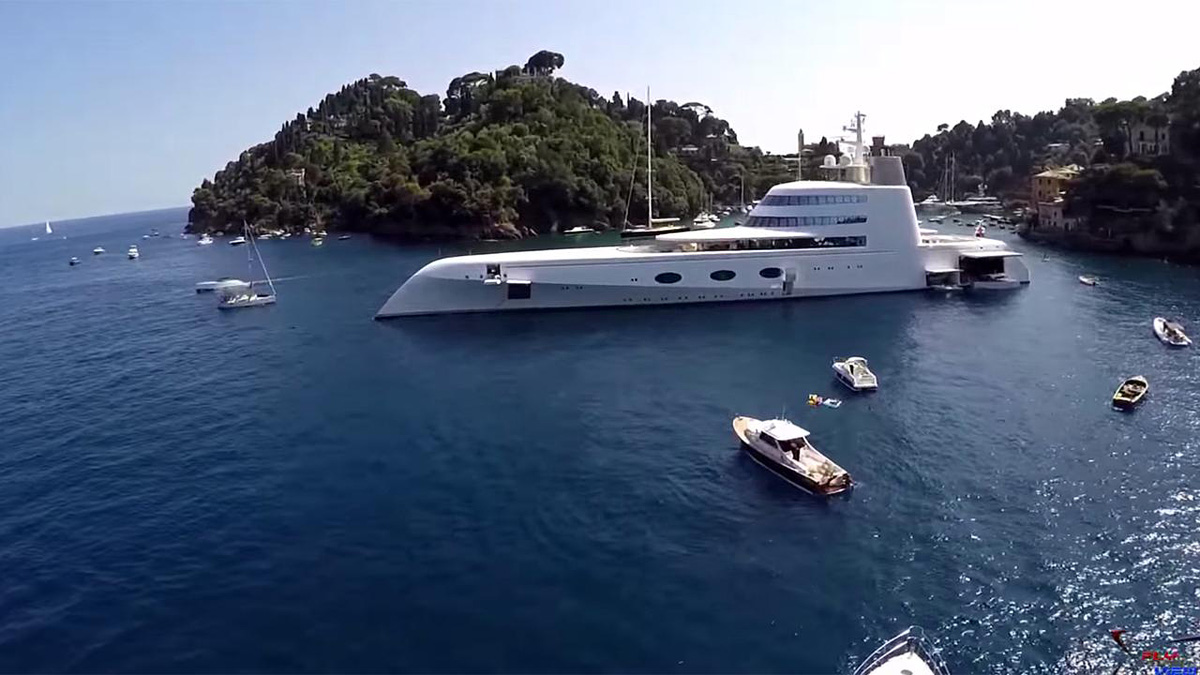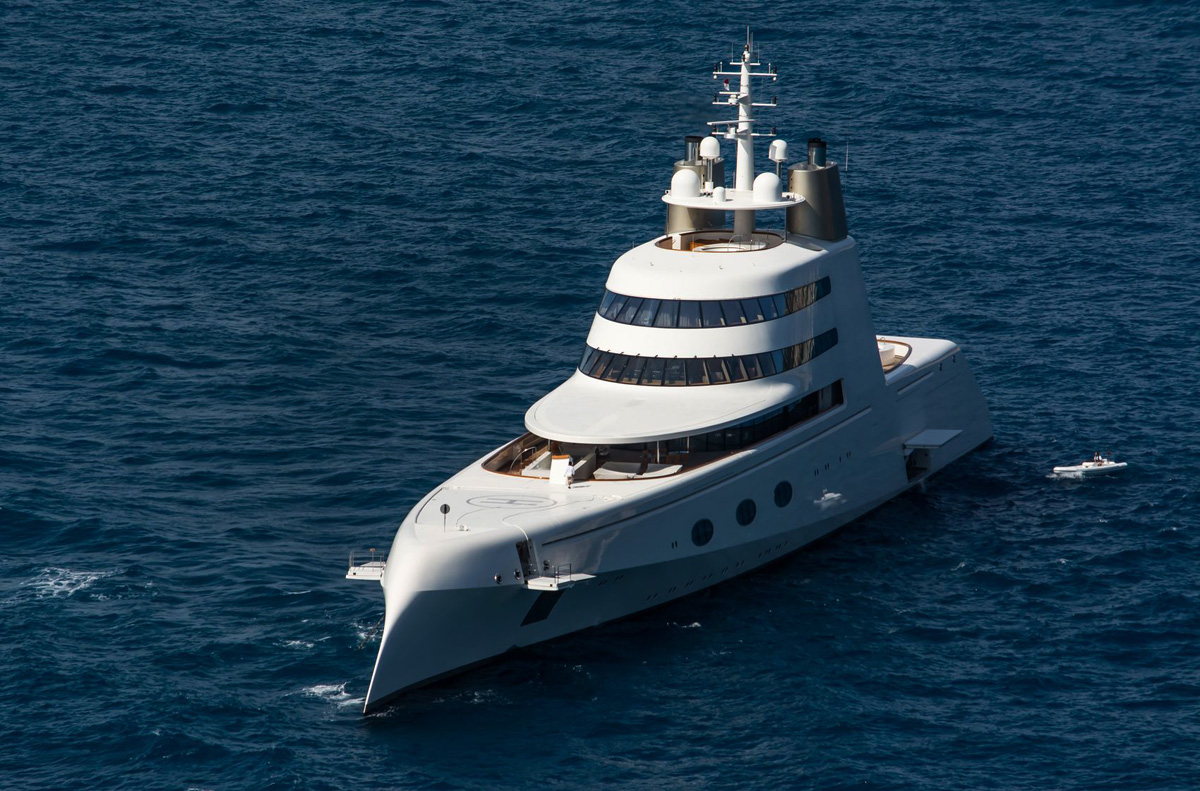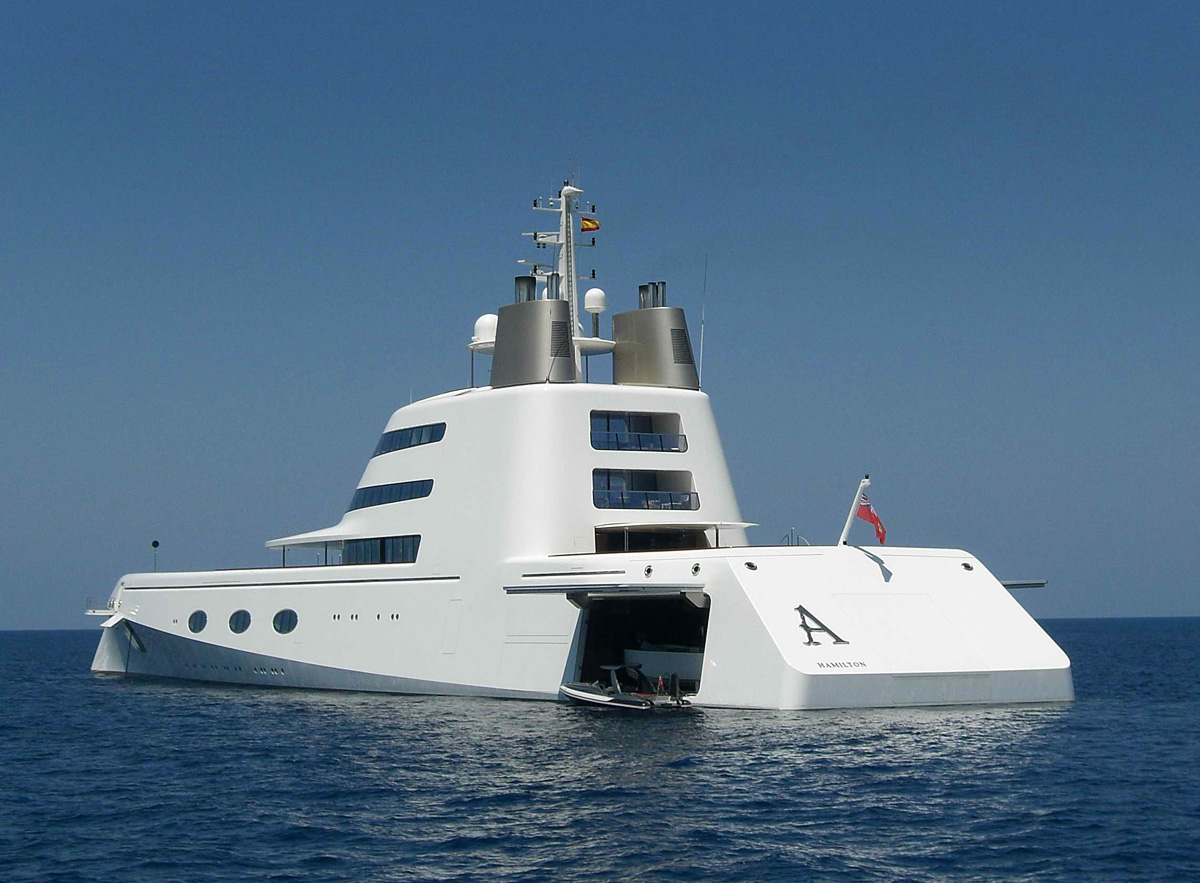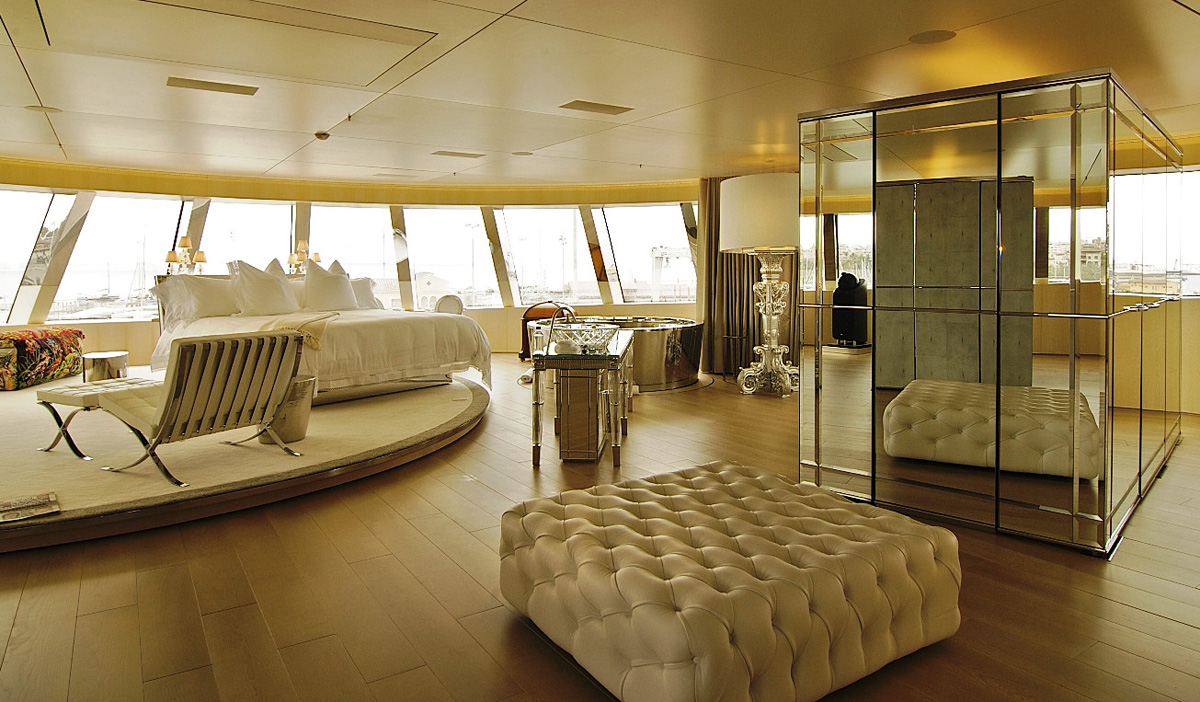 6. Serene – $330 million
Serene is presently owned by the billionaire Mohammed bin Salman. It's is one of the world's largest superyachts. This Italian make luxury superyacht was built is August 2011. It was custom built in the Italian Shipyard by Fincantieri for the Russian Vodka tycoon Yuri Shefler. Did you know Serene was leased by Bill Gates for dollar 5 million a week? Mohammed bin Salman of Saudi Arabia first laid his eyes on this gorgeous vessel while vacationing in France and at once bought it for approximately 500 million Euros.
The Serene docks at 439.4 feet and a generous 60.844 feet Beam with a tonnage of 8321. It boasts of a twin-screw propulsion. It sleeps around 24 guests and 52 crew members. Serene is one of the largest mega yachts in the world. The outstanding and elegant exterior was engineered and designed by the leading yacht designer Espen Oeino. The exquisite interiors were designed by Reymond Langton Design.
Serene is not only reckoned for her size but also for her stylishly designed body. The state-of-the-art features and technology overload is a treat for any techno-geek. Serene comes with features like, wide in-built multiple pools, including a seawater pool, 2 helipads which could convert into a dance floor or a pool. It also comes with a submarine, spa pools, Snow room, Steam room, jet stream pools and several play areas for billionaire tots. There is an amazing underwater viewing room to watch the enchanting marine life. It just doesn't stop here. An outdoor cinema hall, piano room, a bar, conference room, sauna, Hammam beauty centre, swim-platforms with lifts, beach club, dance floor, observation room with domed fireplaces and an endless list of yacht toys. She has multiple decks for an unforgettable viewing experience. No wonder her impeccable charm has earned her the epithet 'Floating Palace'.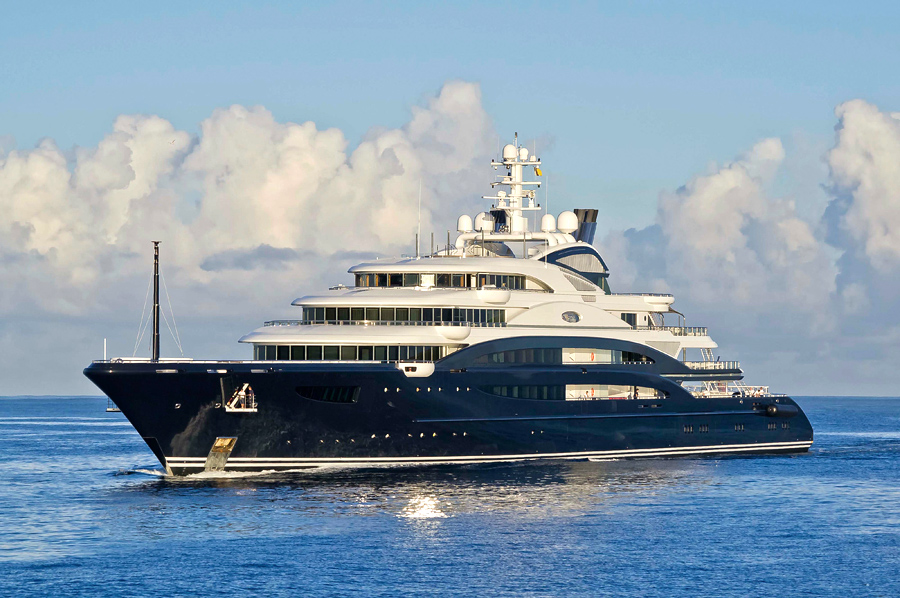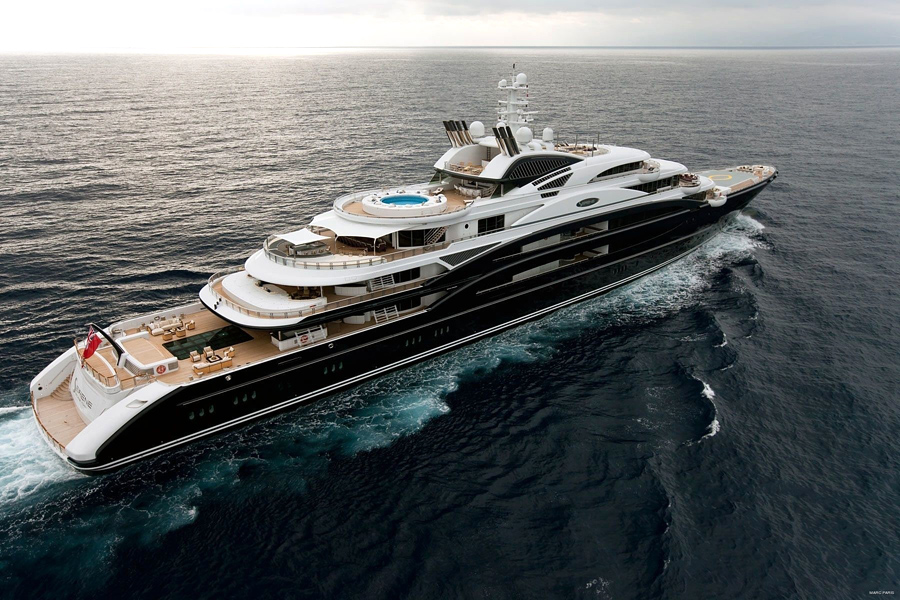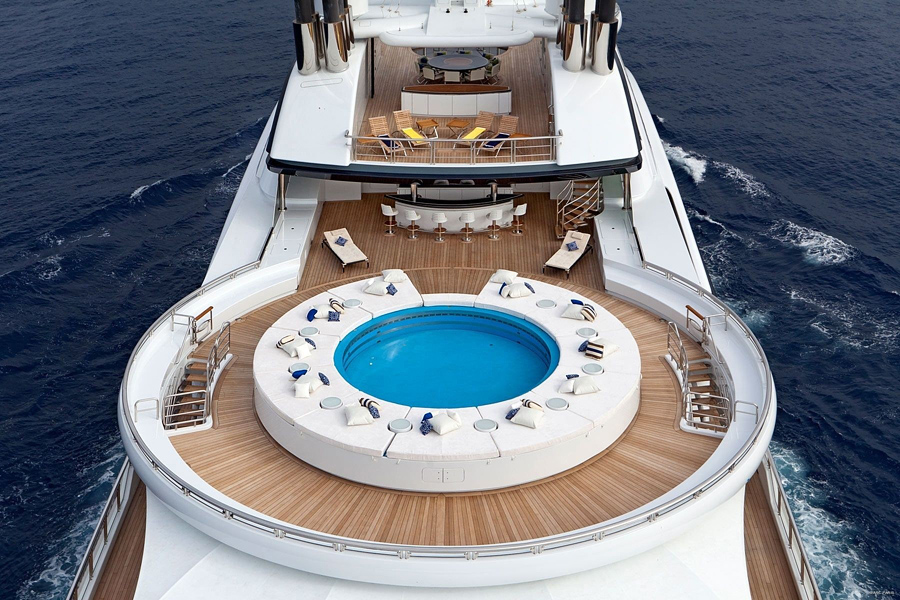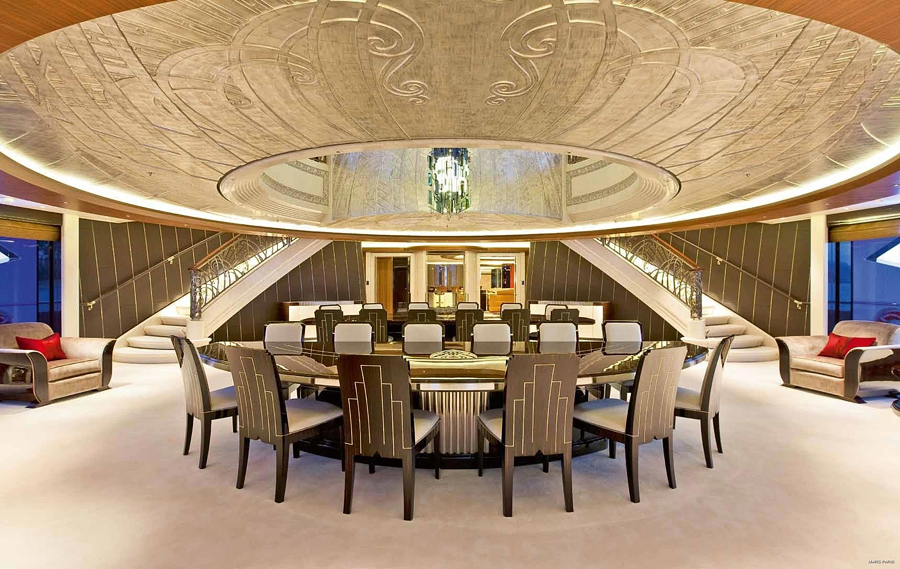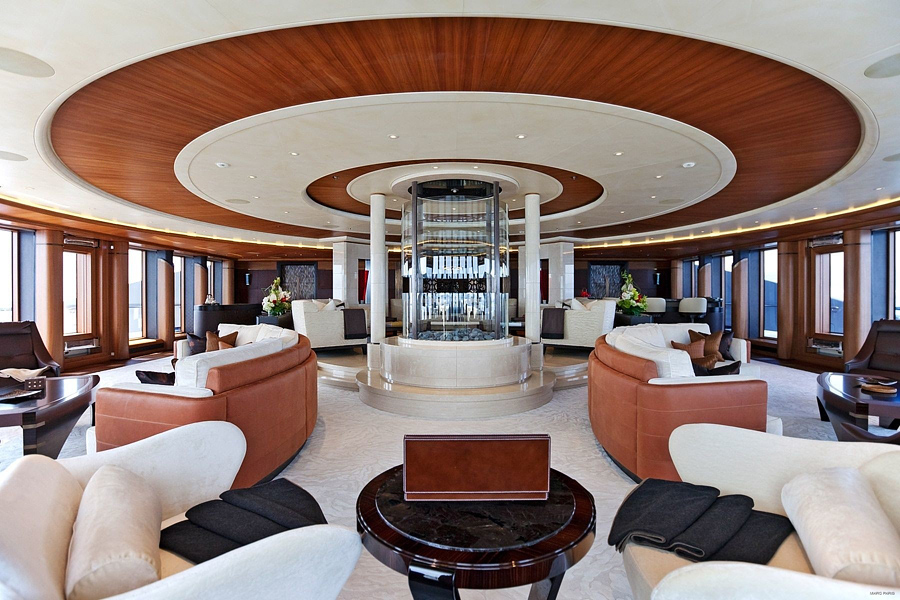 5. Dubai – $350 million
Originally a joint project between Blohm + Voss and Lürssen shipyards, the Dubai was commissioned by Prince Jefri Bolkiah of Brunei more than 10 years prior to the ship's launch in 2006. It was acquired by Platinum Yachts for His Highness Sheik Mohammed Rashid al-Maktoum (ruler of Dubai) who designed the decadent interior. The most striking features of this beautiful boat comprise the abundance of sunbathing areas, several jacuzzis and the swimming pool boasting elaborate handmade tiling. Similarly, the interior features intricately designed handmade mosaics and a stunning circular staircase with glass steps with change colour with the light that enters from the top deck. Bold colours dominate the spectacularly decorated interior whilst the spacious deck of the Dubai houses a split-level owner's deck, a large social area and lounge, numerous VIP and guest suites, and finally a crew area large enough to carry up to 115 people. Finally, a helipad, which can accommodate a helicopter of up to 9,5 tons, completes this extravagant ensemble, previously the largest yacht in the world.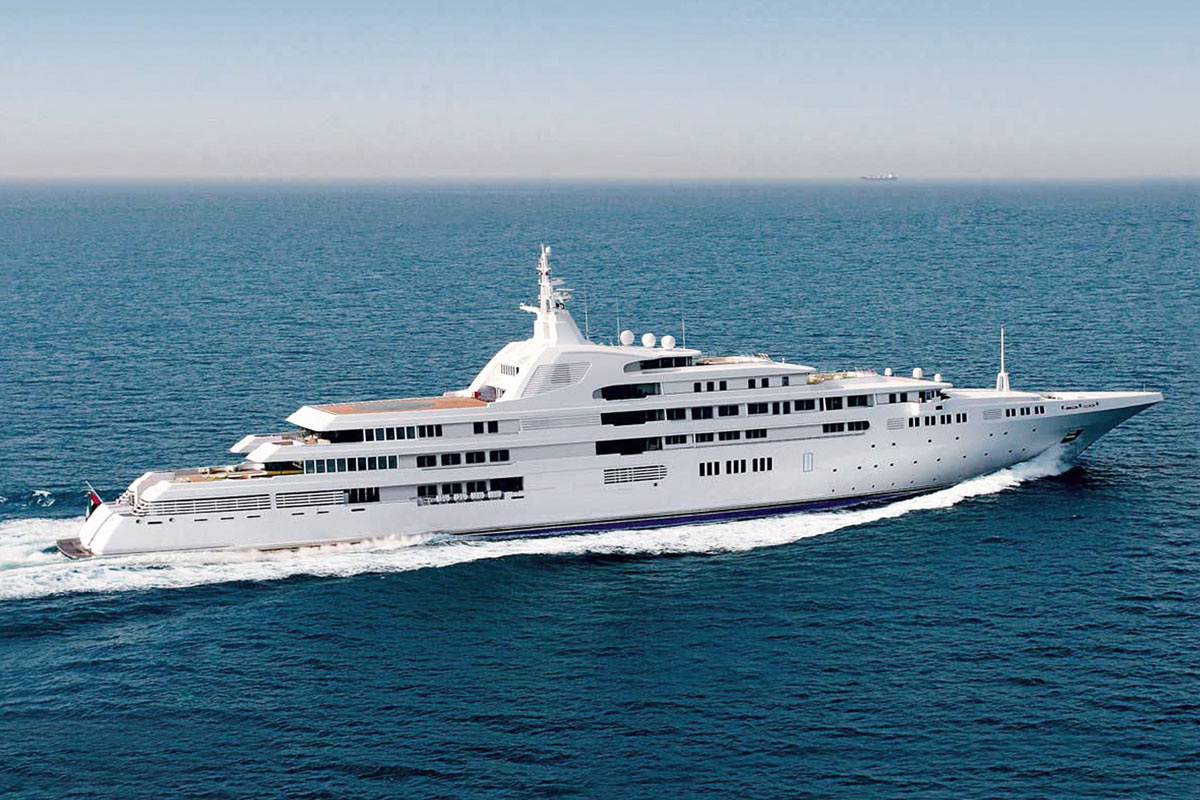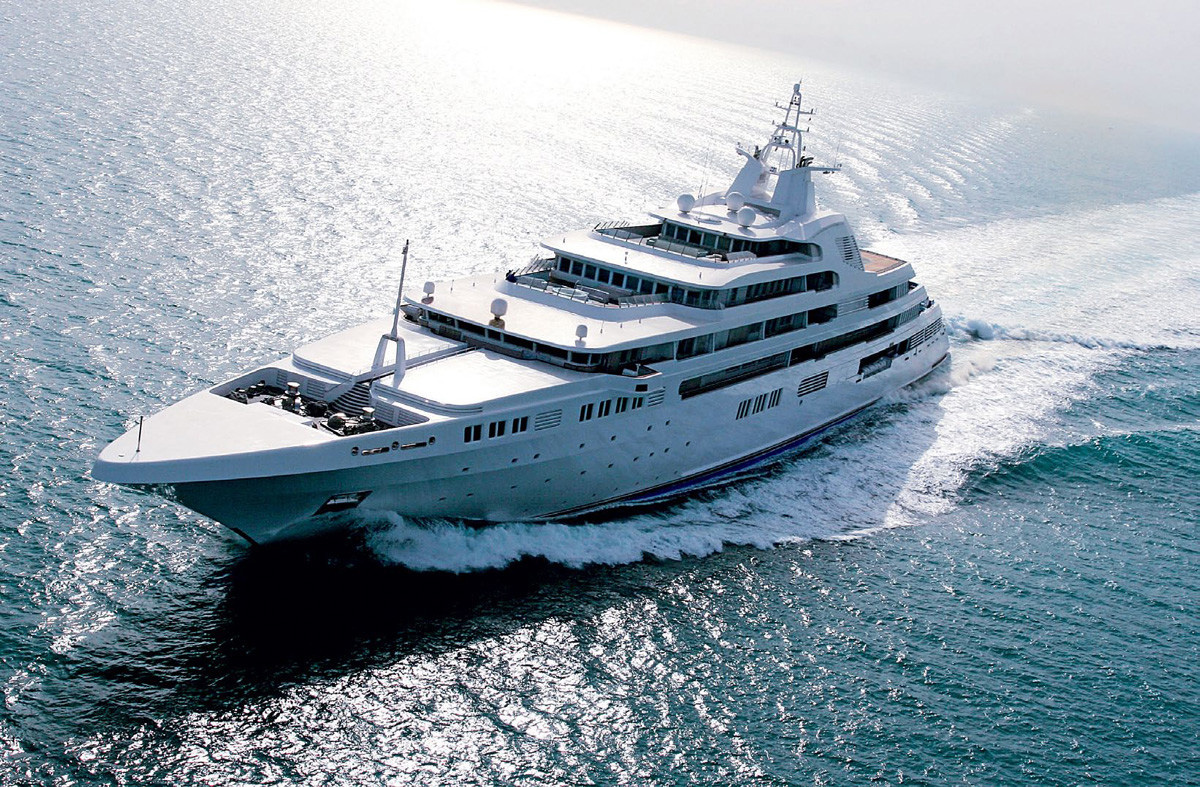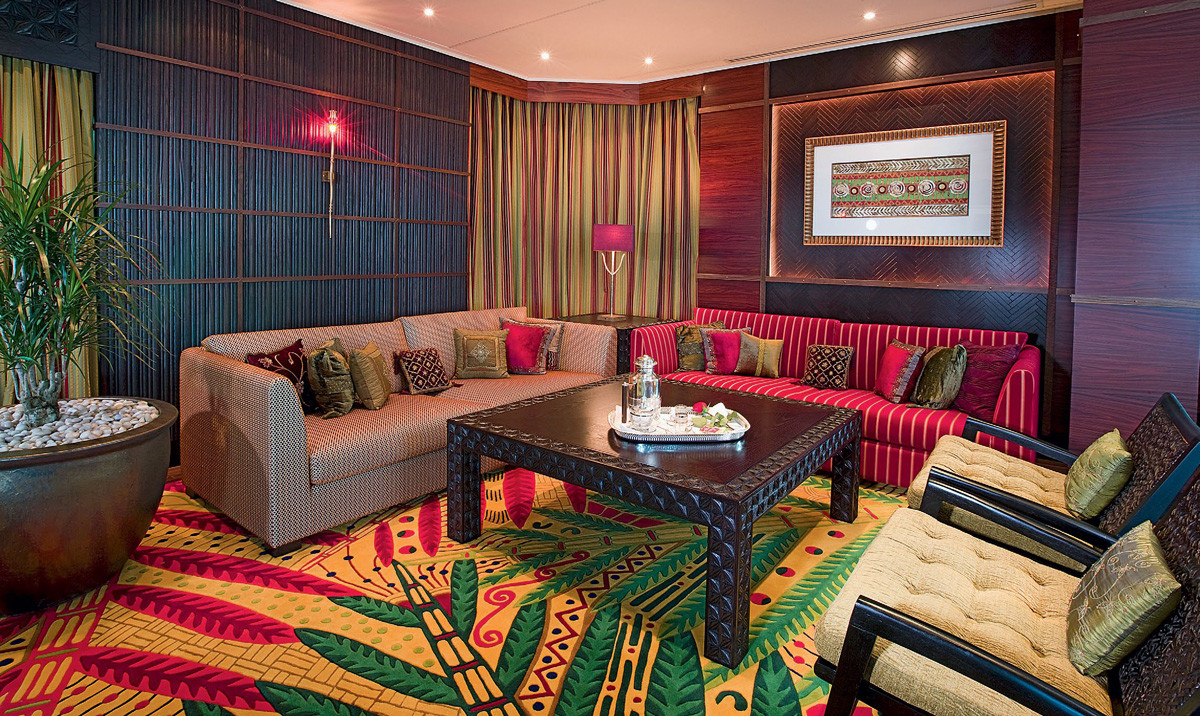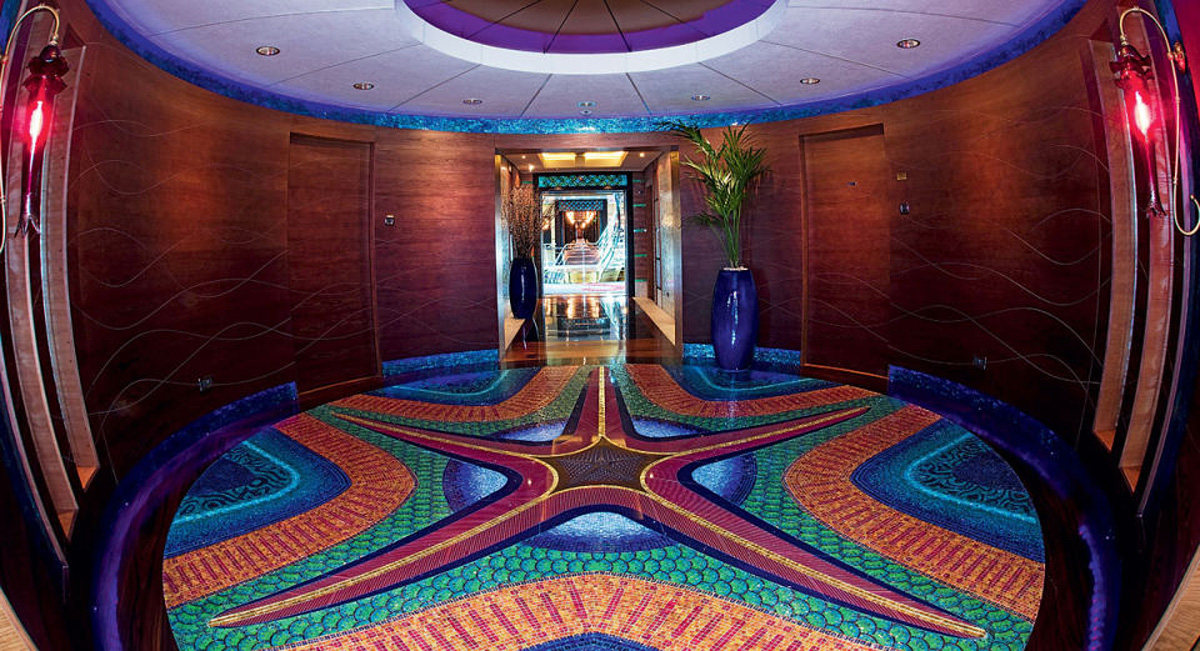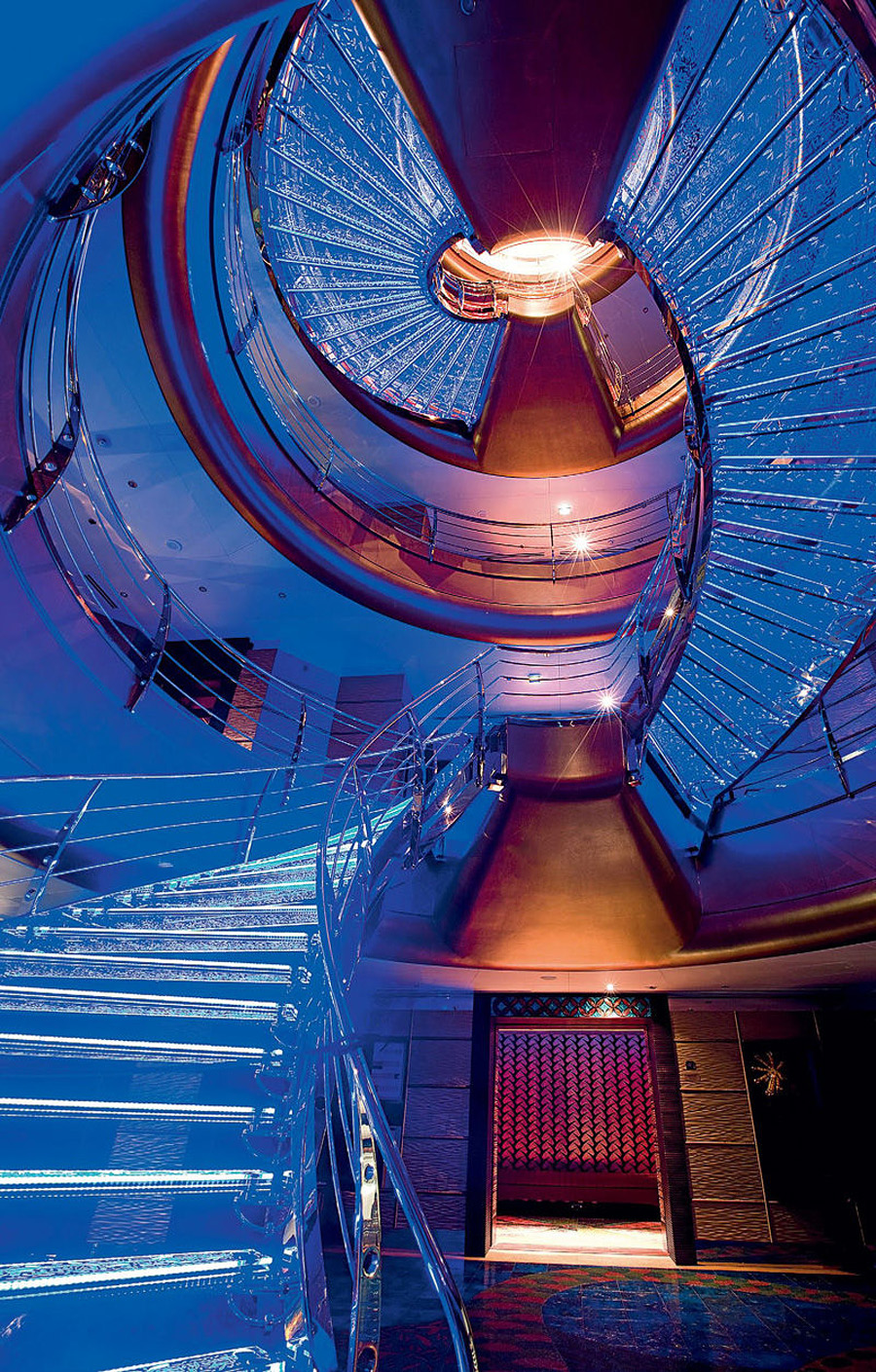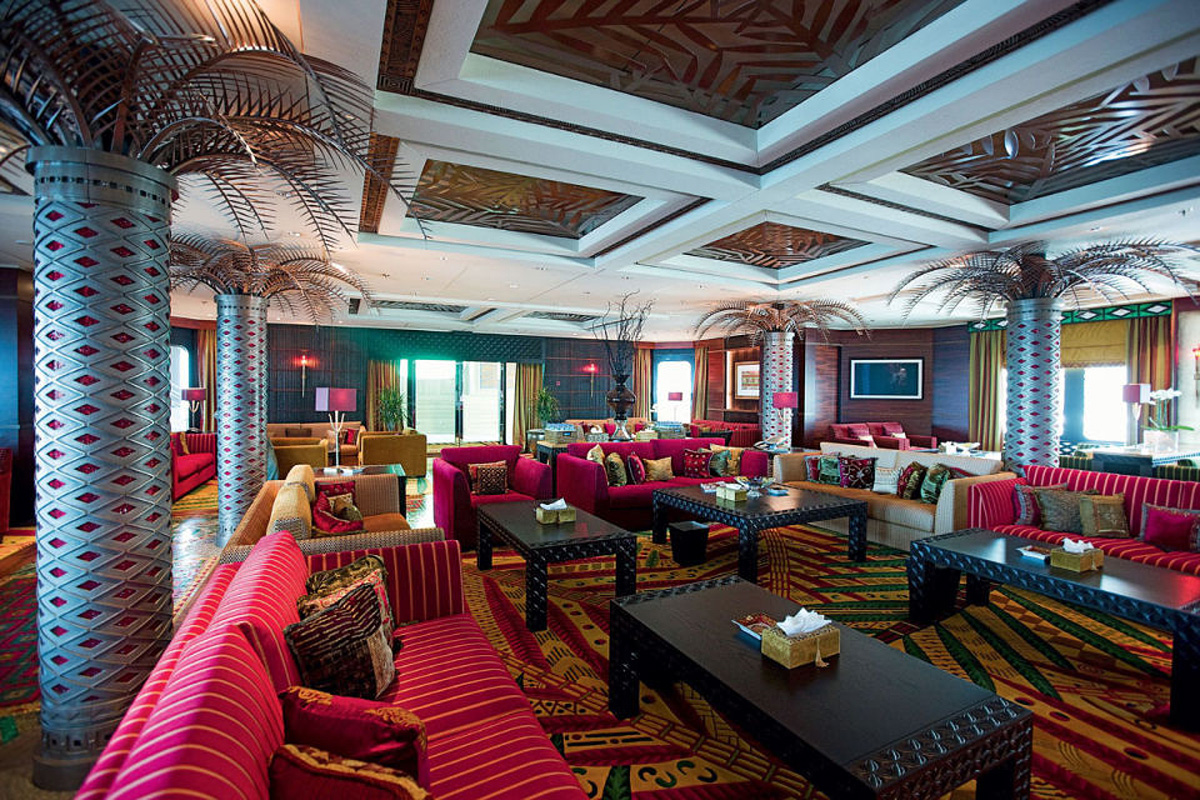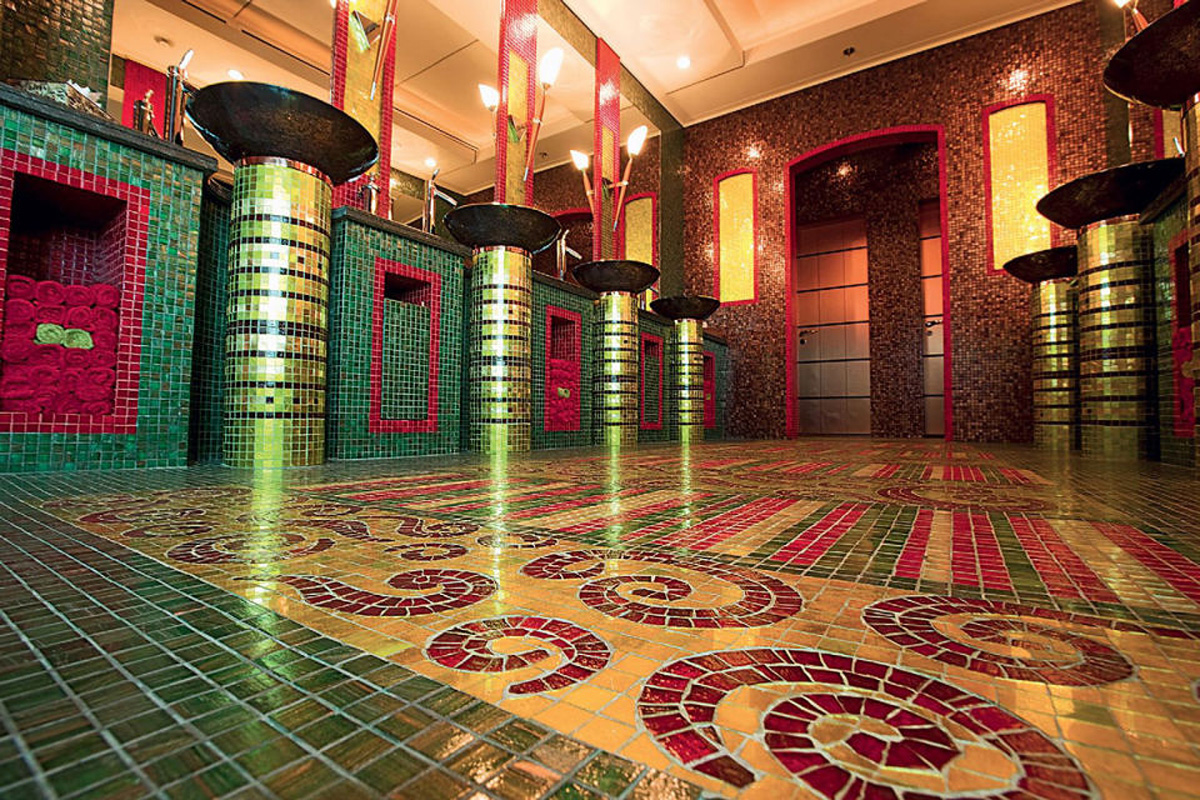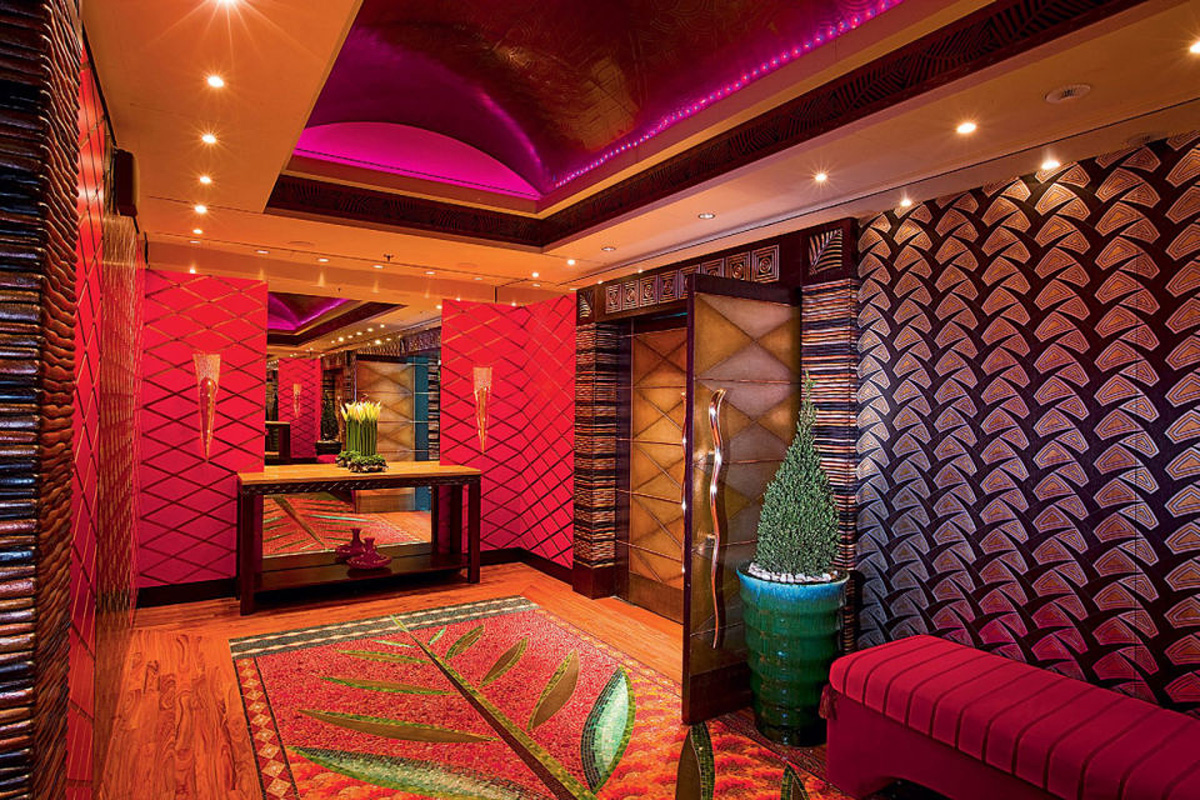 4. Topaz – $527 million
The Superyacht Topaz comes with a price tag $527 million. She was built by Lurssen Yachts in May 2012 in Germany. The exterior was designed by Tim Heywood and the interiors were done up Terrance Disdale Design. She is 482 feet long with a beam length of 70.5 feet and a gross tonnage of 11,589.
The twin Pielstick diesel engineering marvel, comes with a power-packed 7990 HP engine to pull at a service speed of 22.9 knots, accelerating to a maximum speed is over 25.5 knots. The Topaz is equipped with 2 diesel generators to provide power to the stabilizers for all the equipment's onboard along with the navigation systems. It also comes with an emergency backup diesel generator for redundancy.
This beauty features a steel displacement hull and an aluminum megastructure with 8 gorgeous decks for different exotic viewing experiences. The interior extravagance of Topaz showcases, a large jacuzzi on the deck that beckons indulgence. It has a swimming deck with a built-in swimming pool. The yacht is fully air-conditioned for optimal temperature control. The Topaz comes with fancy underwater lights, double helicopter landing pads, a state-of-the-art gymnasium, cinema hall and a large conference room.
Who could the lucky owner be? The Topaz is owned by Shaikh Mansour, the Deputy Prime Minister of United Arab Emirates. He is the minister of presidential affairs and a member of the royal family of Abu Dhabi.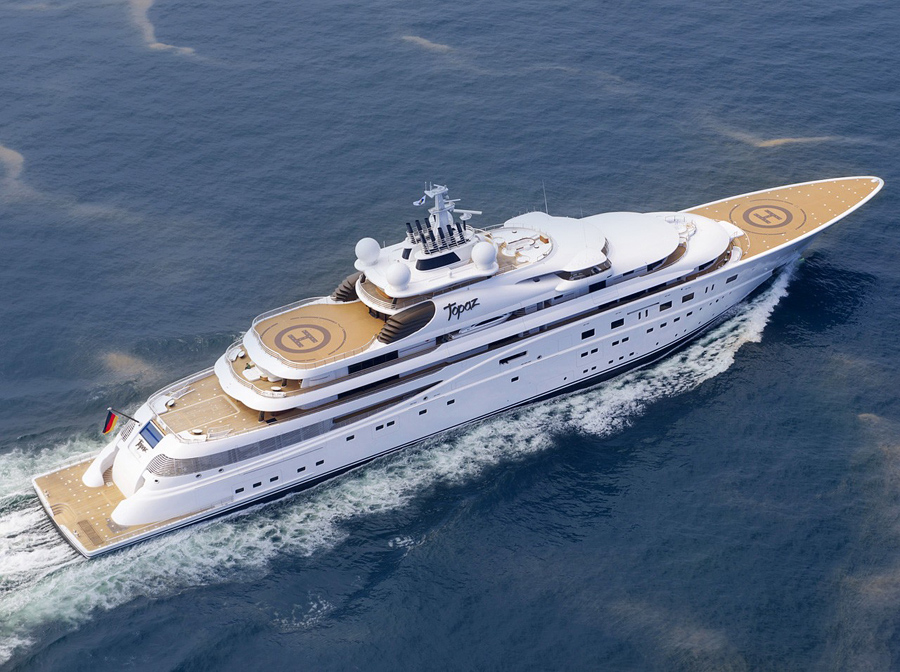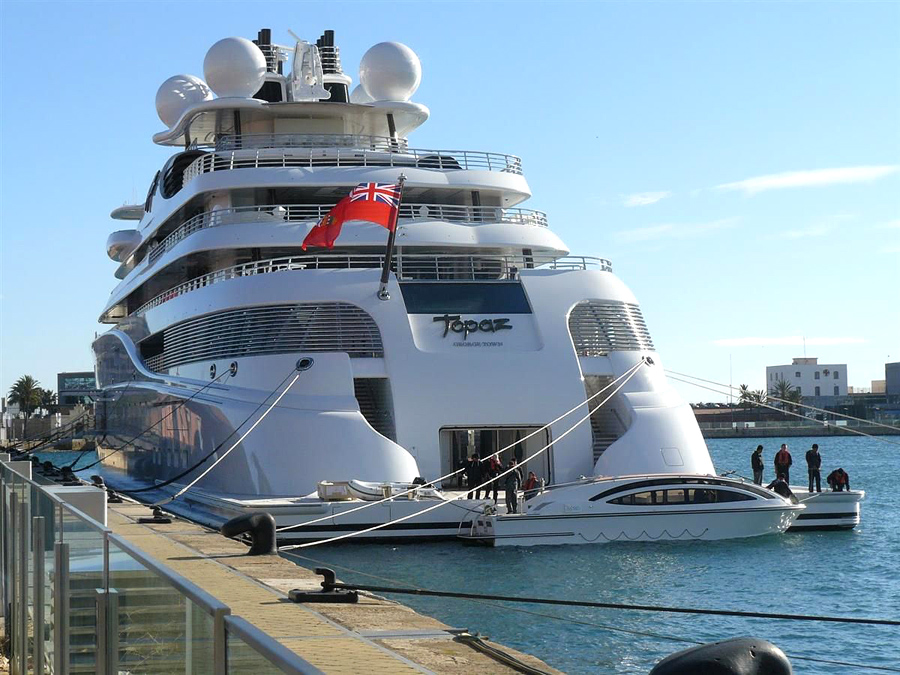 3. Azzam – $650 million
Lürssen Yachts is behind this luxury liner which was recently delivered to fortunate Sheikh Khalifa bin Zayed al-Nayan, President of the United Arab Emirates and Emir of Abu Dhabi for no less than $650 million. This makes it the world's fourth most expensive luxury yacht with the makers boasting that the Azzam is "the most complex and challenging yacht that has ever been built". However, not only has the Azzam been dominating the headlines for its hefty price tag but also due to its immense size. Measuring in at 590 feet long, this floating extravagance boasts the largest private yacht in the world thus knocking the Eclipse, belonging to Russian billionaire Roman Abramovich, off the top spot. In addition, this impressive superyacht is expected to be one of the fastest reaching speeds of more than 30 knots, or 35mph. The luxury interiors were designed by French interior decorator Christophe Leoni which has been described as "sophisticated and luxurious in a turn of the century Empire style". For the moment little else is known about the Azzam. Now the only question remaining is, with the world's billionaires constantly competing to own the largest superyacht, how long will it remain at the top?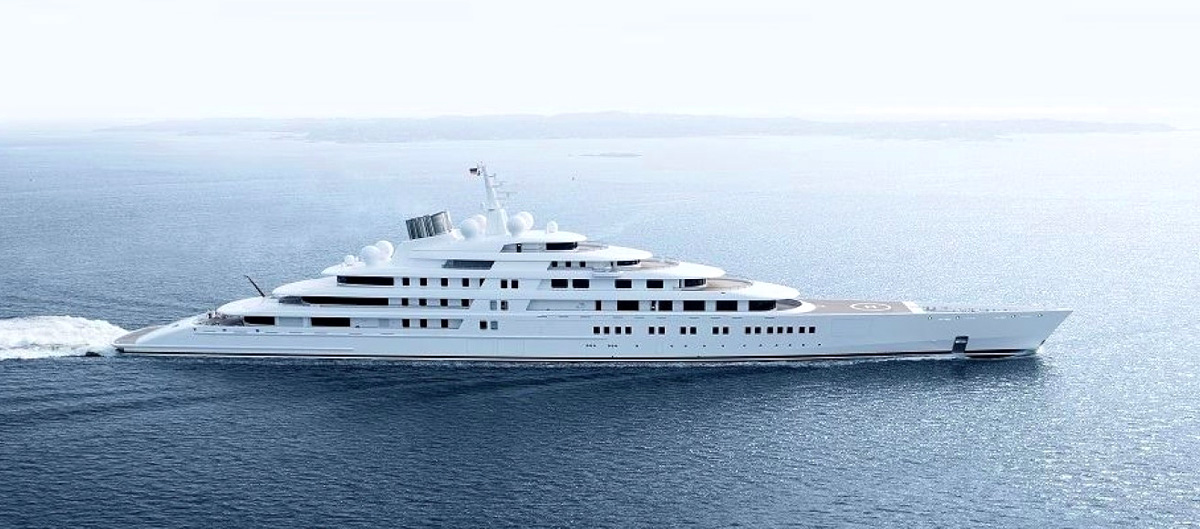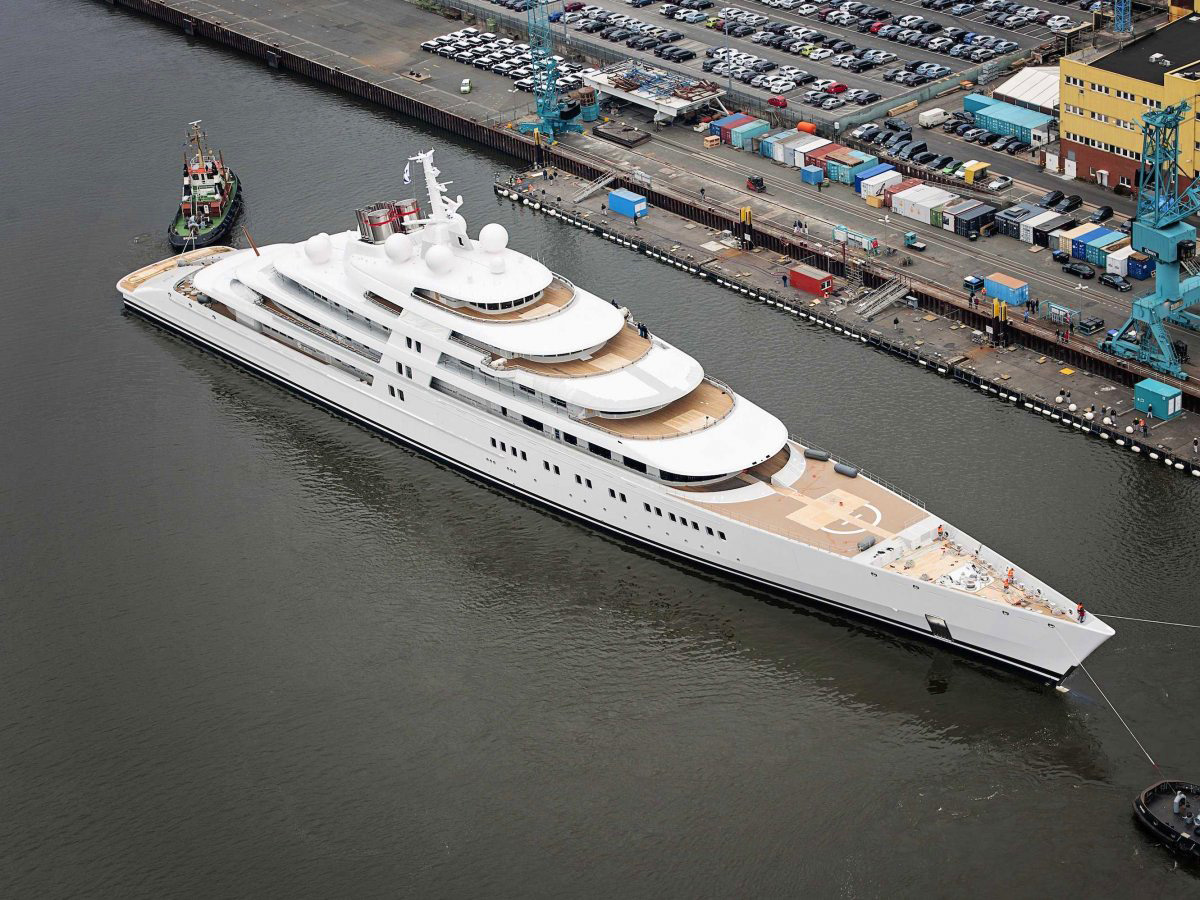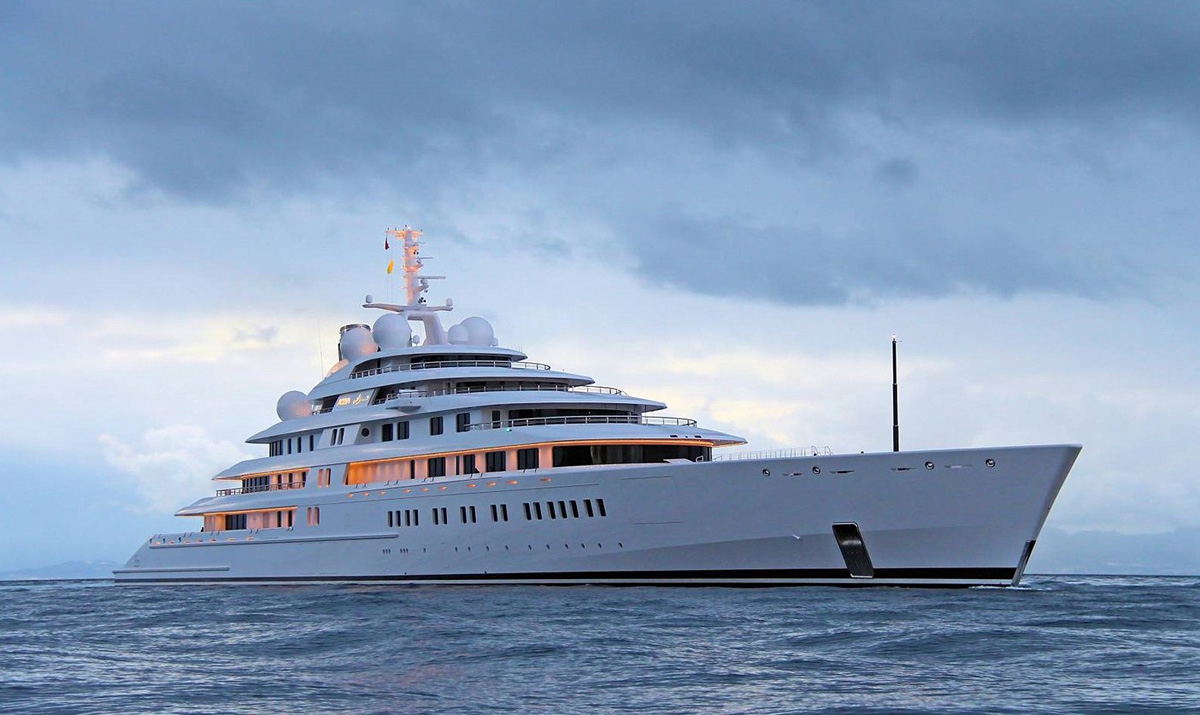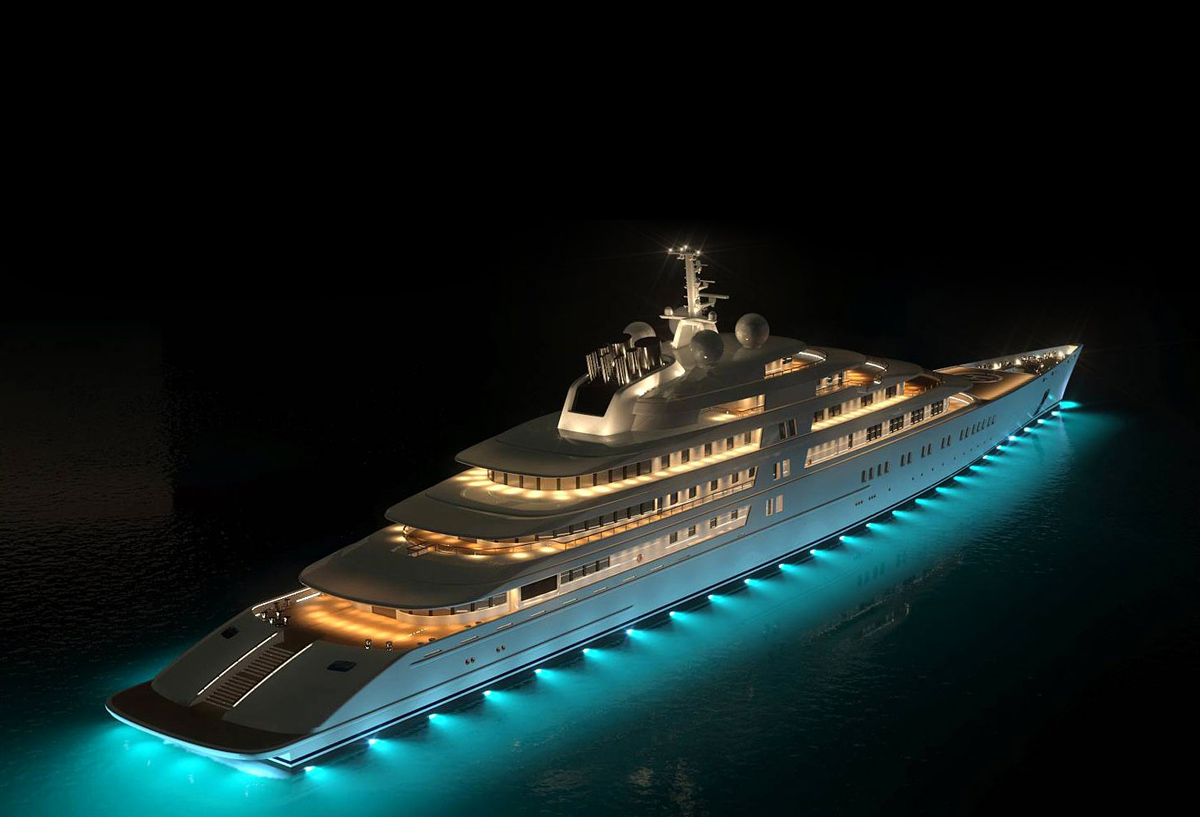 2. Eclipse – $1.5 billion
Russian billionaire Roman Abramovich is proud owner of the Eclipse, the second most expensive yacht in the world. Rumoured to be worth $800,000 to $1.5 billion, it was built by Blohm and Voss of Hamburg and measures 536 feet long also making it the second largest in the world. The Eclipse's immense size allows space for the boat's many extravagant features including 24 guest cabins, two swimming pools, several hot tubs, and a disco hall not to mention the two helicopter pads, three launch boats and mini-submarine capable of submerging up to 50 metres underwater. Furthermore, for maximum security, the Eclipse is fitted with intruder detection systems and a missile defence system whilst the master bedroom and bridge of the yacht features fitted armour plating and bulletproof windows. Finally, this unique vessel boasts an anti-paparazzi shield which consists of lasers sweeping the surrounding areas. Upon detection of possible lurking professional photographers, a light is shone directly upon the camera to prevent a photograph being taken. Finally, a whopping 70 member crew is required to maintain this floating extravagance.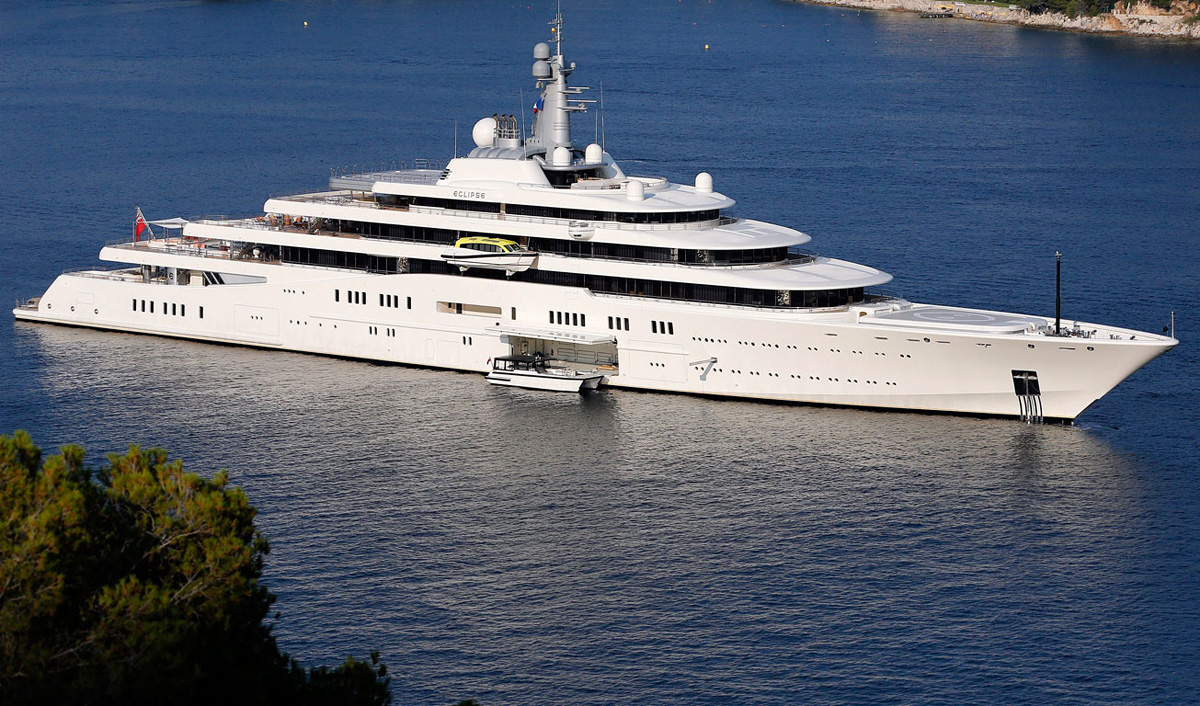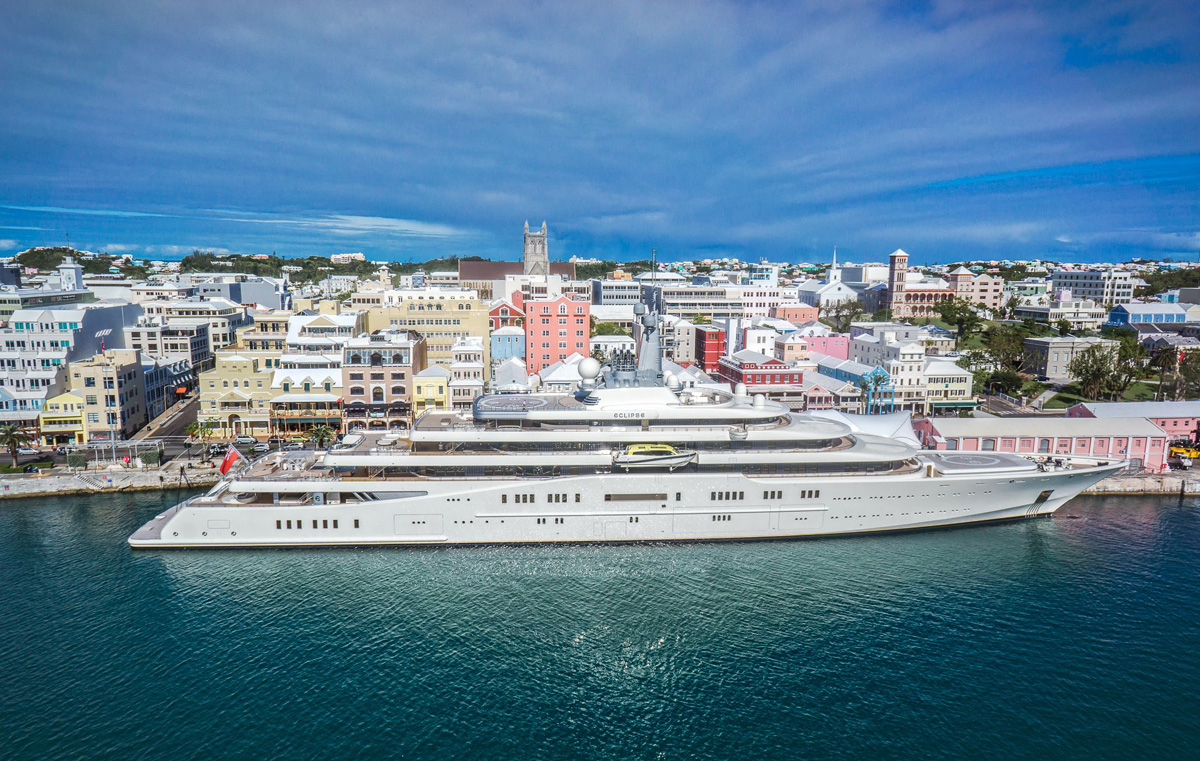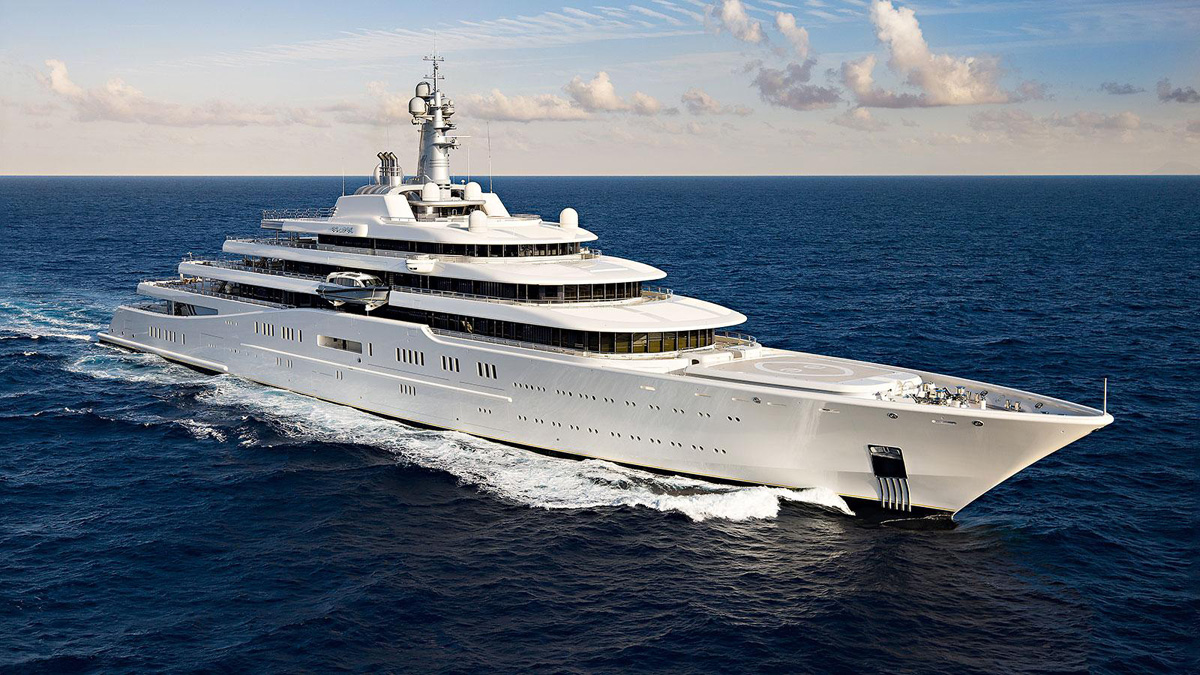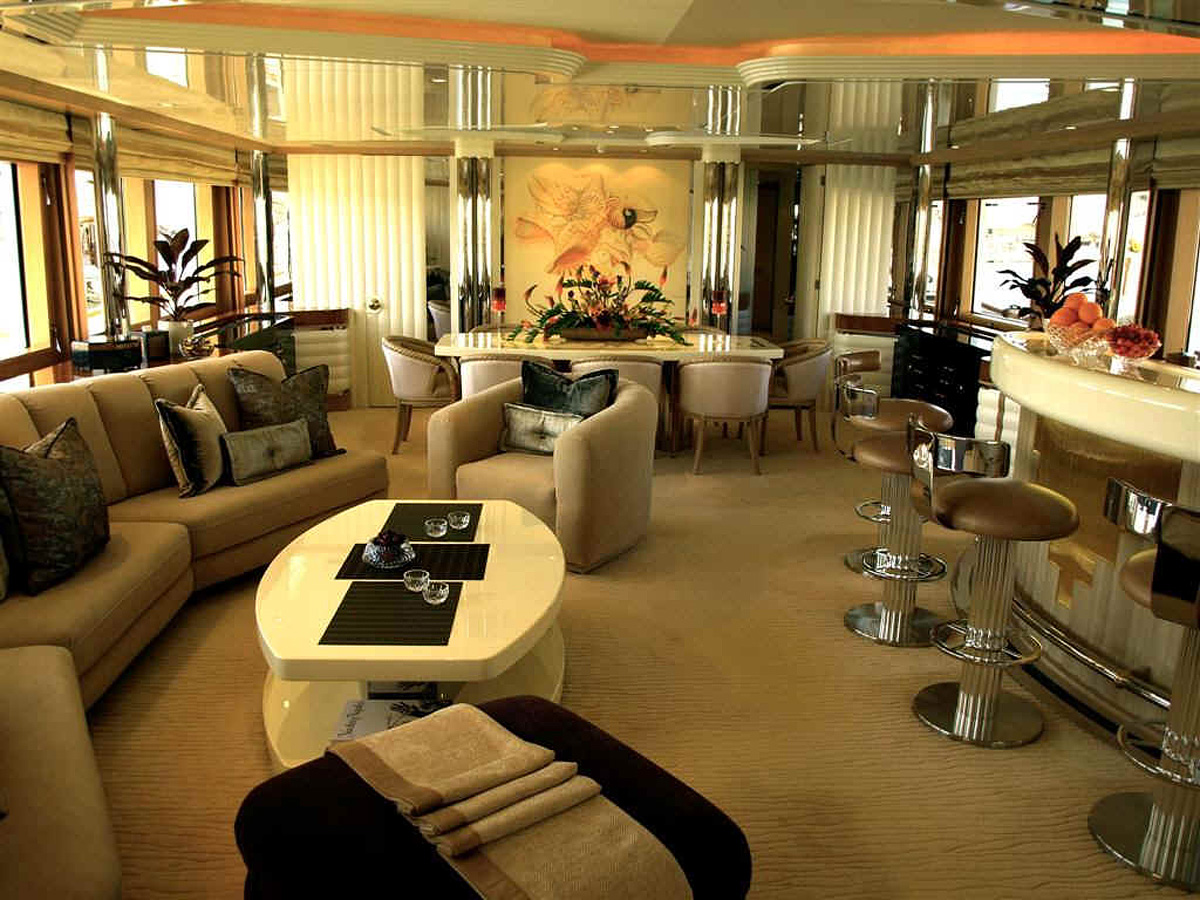 1. Most Expensive Yacht – History SupremeE ~ $4.5 Billion
Finally, boasting the world's most expensive yacht is the History Supreme. This pricey 100-foot vessel was designed by world-renowned UK luxury designer Stuart Hughes, took over 3 years to complete and was purchased by an anonymous Malaysian businessman for a whopping $4.5 billion dollars! This staggering sum is owed to the solid gold and platinum used to assembly this luxury liner which features no less than 100,000 kg (220,000 Ibs) of these precious metals. They adorn the entirety of the boat right from the base of the vessel, coated in a thin layer of solid gold, to the dining area, deck, rails, staircases and anchor. One of the most outstanding features of this magnificent superyacht is the master bedroom. It boasts a wall feature made from meteorite rock and a statue made from genuine Tyrannosaurus Rex bones! In addition, a 68 kg 24-carat gold Aquavista Panoramic Wall Aquarium graces the master suite and on board is a liquor bottle featuring an extremely rare 18.5 carat diamond worth $45 million alone! Finally, an iPhone wrapped in 500 cut diamonds, including two interchangeable diamonds fitted over the "home button, a 7.4 carat pink diamond and a rare 8 carat diamond, add to the many extravagant features on the History Supreme, the most expensive yacht in the world.