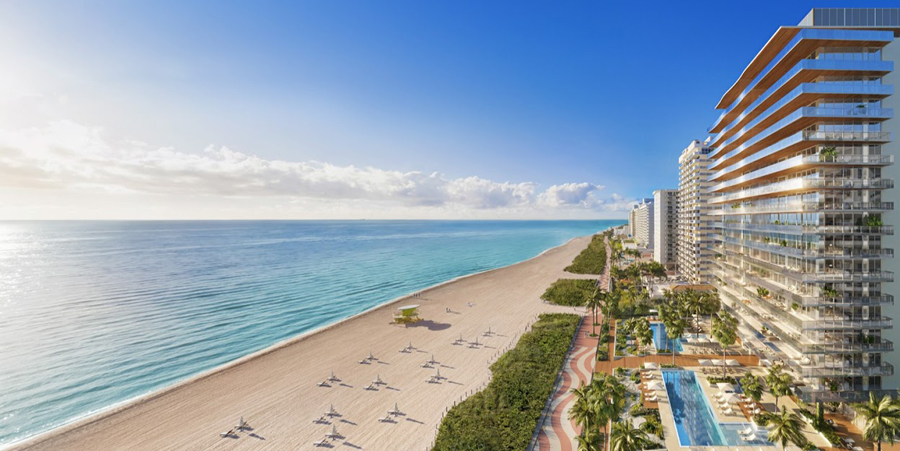 Collins Avenue, which is where Millionaires Row is located, is home to some of the most luxurious buildings in Miami. The real estate market here is super competitive and finding a home can be challenging.
It is now home to world-famous hotels and restaurants. That makes the beachfront properties even more lucrative for buyers. With so many beachfront properties, choosing the right luxury building for you and your family isn't easy.
Here are the top 10 luxury buildings on Collins Avenue.
Eighty Seven Park
Eighty Seven Park Miami Beach located at 8701 Collins Avenue is an ultra-luxury condominium. Starchitect Renzo Piano, the winner of the Pritzker prize, designed the seventy beachfront, elegant homes. It's easy to see why big names like Terra Group and Bizzi & Partners Development are involved in the concept and development.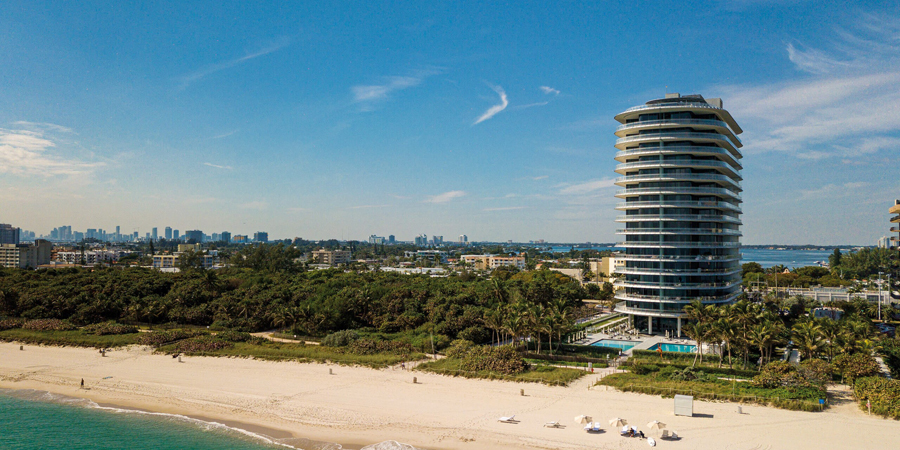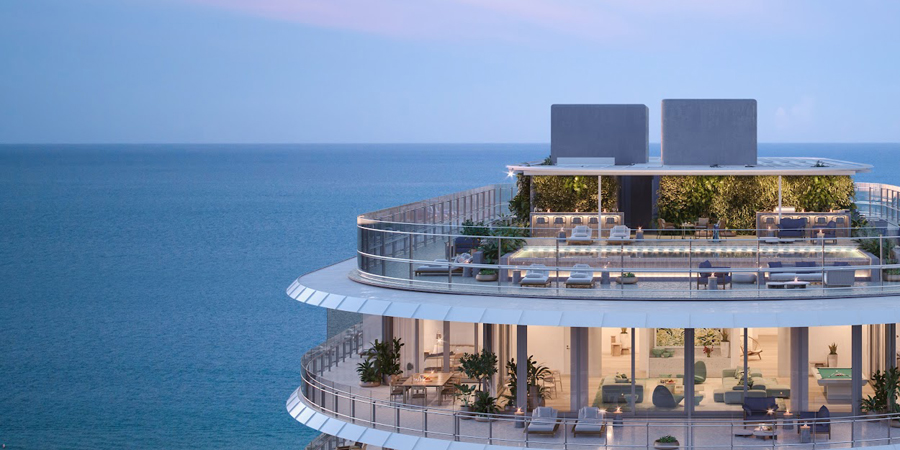 Interior design has been conceived and executed by RDAI and West 8 is the brains behind the unmatched landscaping design.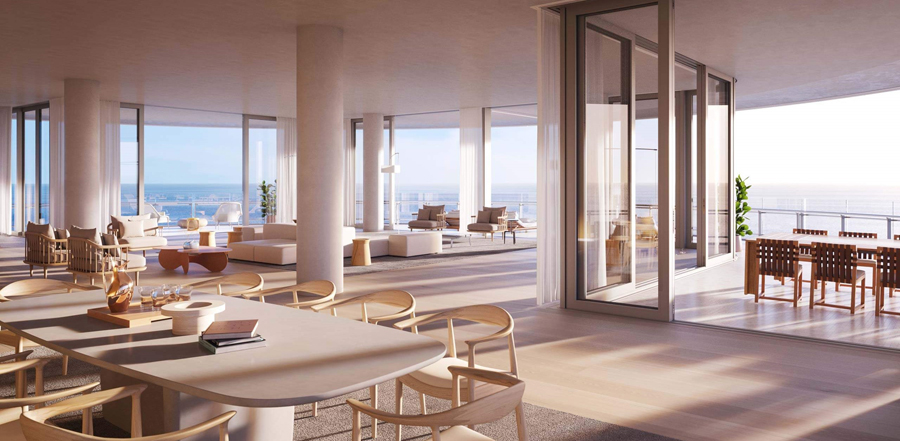 Eighty Seven Park luxury residency has 70 ultra-luxury homes for anyone who values modern design, state-of-the-art amenities, and superb comfort.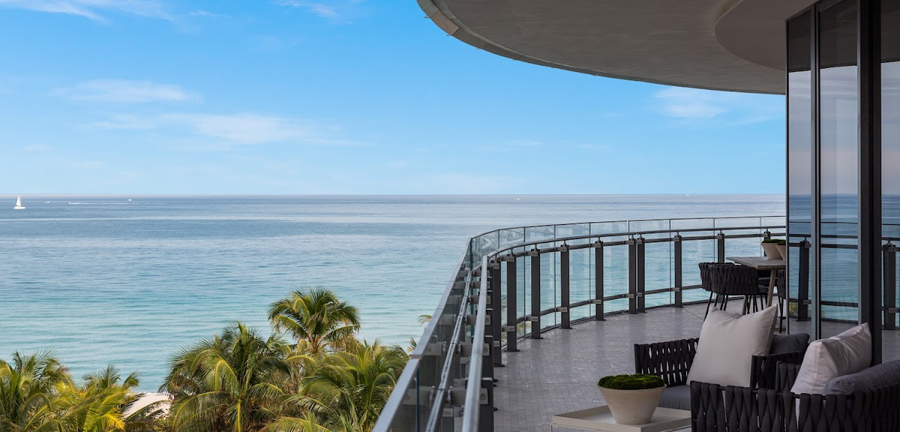 Eighty Seven Park is poetry in brick and mortar. The open-concept residences will have a panoramic view of the bay, ocean, and beaches. They will also have exclusive wrap-around terraces that create a seamless transition from indoor to outdoor spaces.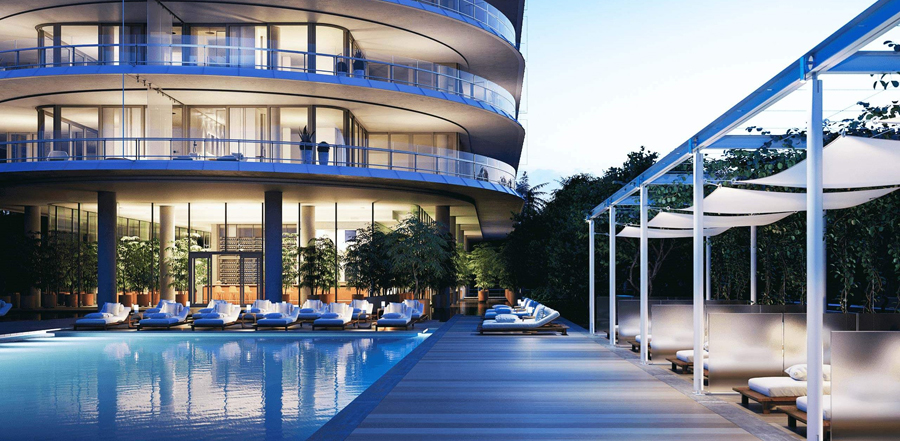 57 Ocean
57 Ocean Condos sits proudly on 5775 Collins Avenue, Miami Beach. It's a one-of-a-kind luxury condo project on Millionaire's Row. It often finds its place among the top 10 luxury buildings in Miami.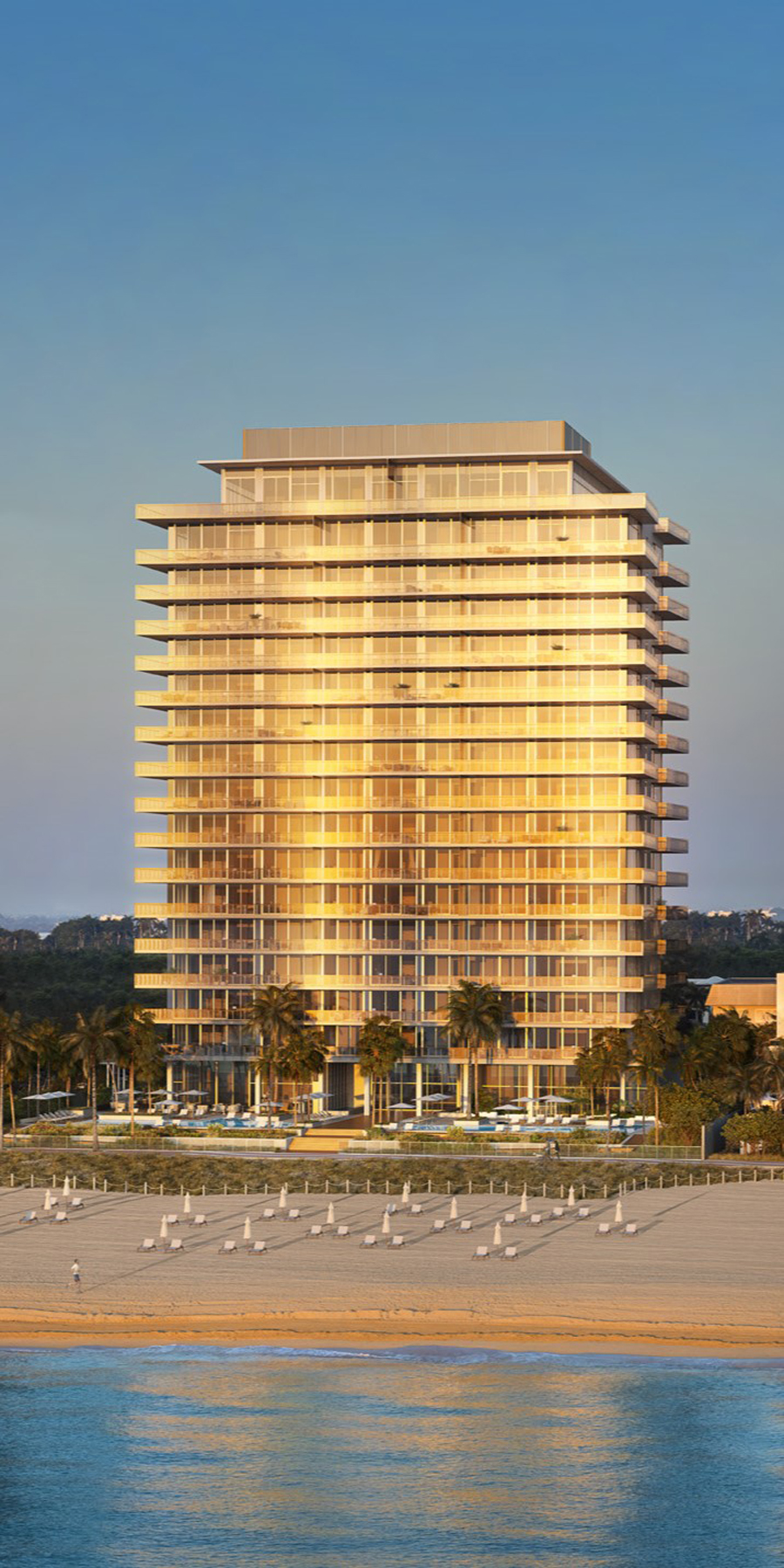 It is right in front of the azure ocean and pristine white sand beaches. 57 Ocean is the home of tranquillity perfectly accompanied by the calm waves of the ocean.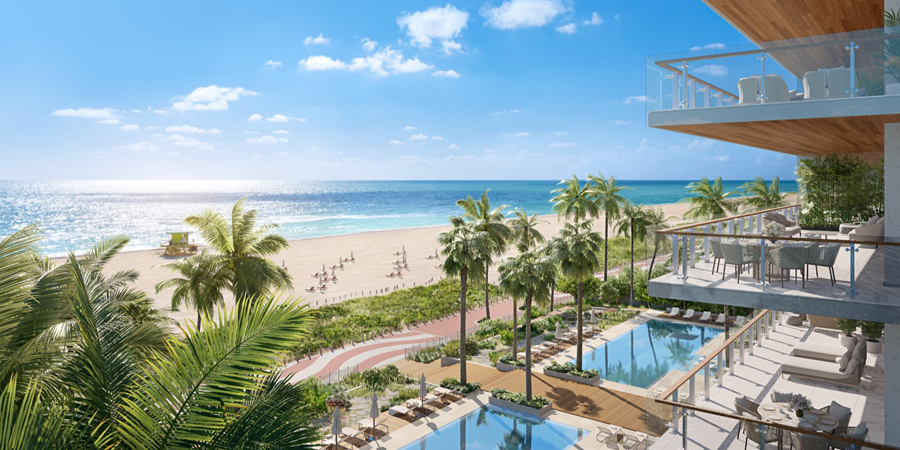 The visionaries at Arquitectonica are behind the design of the 18-story super luxury residential tower. The interiors of 57 Ocean are designed by Anastassiadis Arquitetos.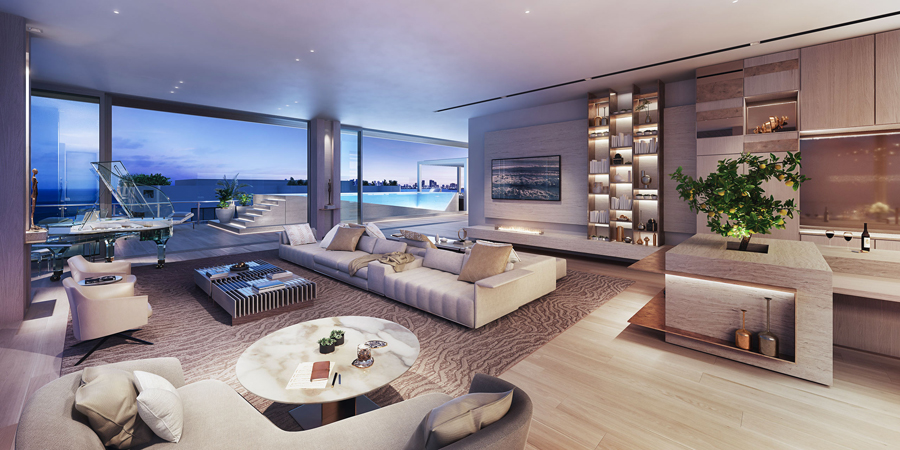 It offers 81 residences in total. Each unit has between 2 to 4 bedrooms. 57 Ocean will feature private elevator foyers and 10-feet ceilings. The designer Italian kitchens by Poliform are the chef's kiss to an already perfectly executed design and style.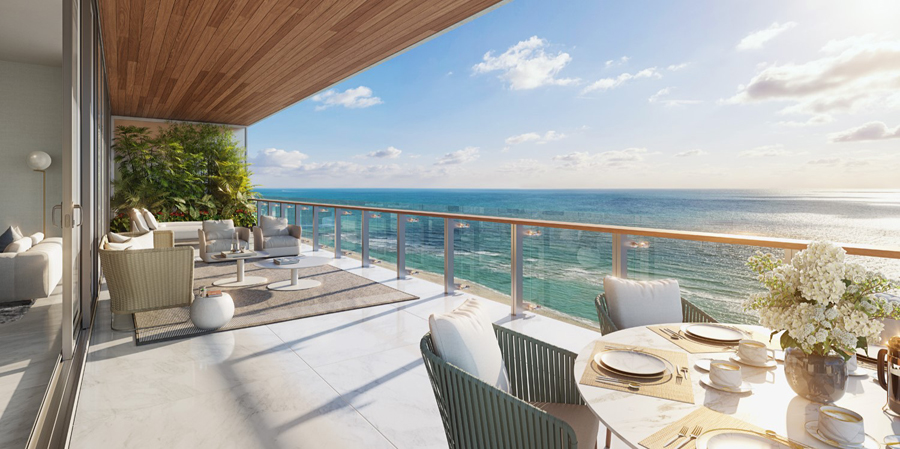 Apart from the regular features, each residence will have access to ocean-front infinity pools, a poolside bar, a fitness center, a Wellness Pavilion Spa, kids' areas, and an exclusive sunset terrace. Residents will also get to enjoy a private 220-feet beachfront offering a plethora of beachside services.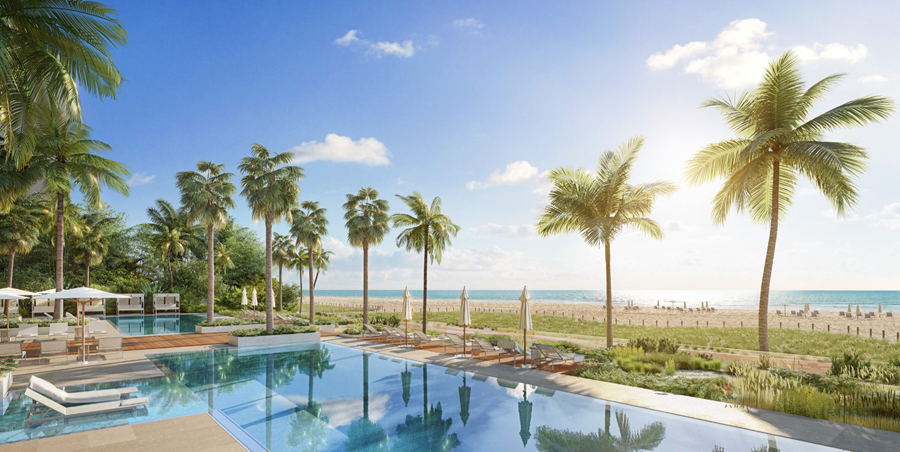 MUSE Residences
The MUSE Residences Miami is where comfort and ultra-luxury meet the latest tech and design. It is a high-end boutique-style design in the Sunny Isles. It's no surprise that MUSE Residences features on almost all the top 10 luxury buildings on Collins Avenue lists.
It stands 50-stories high and offers only 68 oceanfront residences. The interiors have been conceptualized by Antrobus and Ramirez. Most importantly, owners get fully functional kitchens set up with Wolf, and Sub-Zero appliances.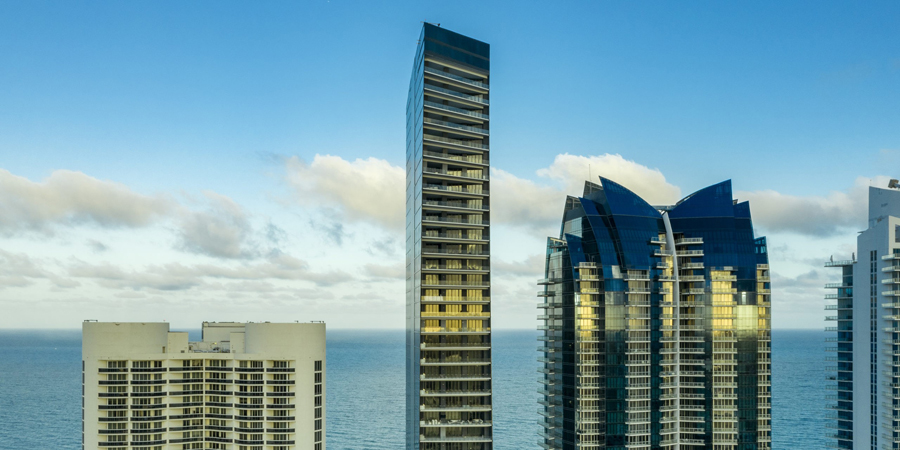 MUSE Residences also offers each buyer a huge selection of flooring and countertop materials, interior landscaping options, and customized furnishing. The soaring 11- and 12-feet ceilings and a picturesque view set the MUSE Residences apart from all other Collins Avenue luxury buildings.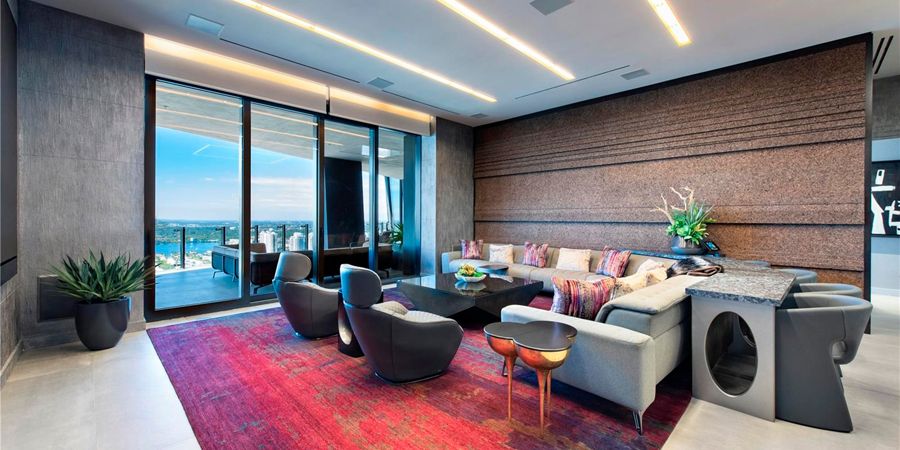 Other amenities include a resort-style pool and services, exceptional food and beverage services by the pool, a vanishing edge pool, a wellness spa with a full ocean view, a completely automated parking system, and a fitness center.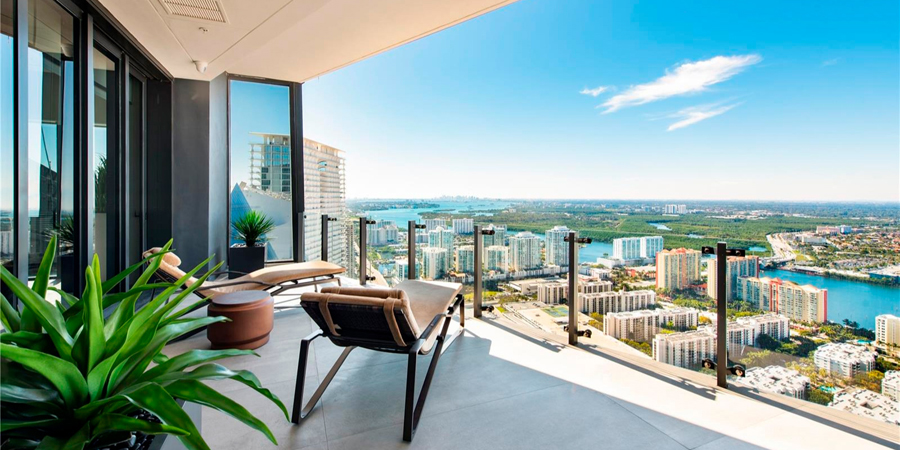 It is the ideal home for people who value privacy and boundaries. Set far away from the maddening crowds; MUSE Residences offers a peaceful life away from the city rush.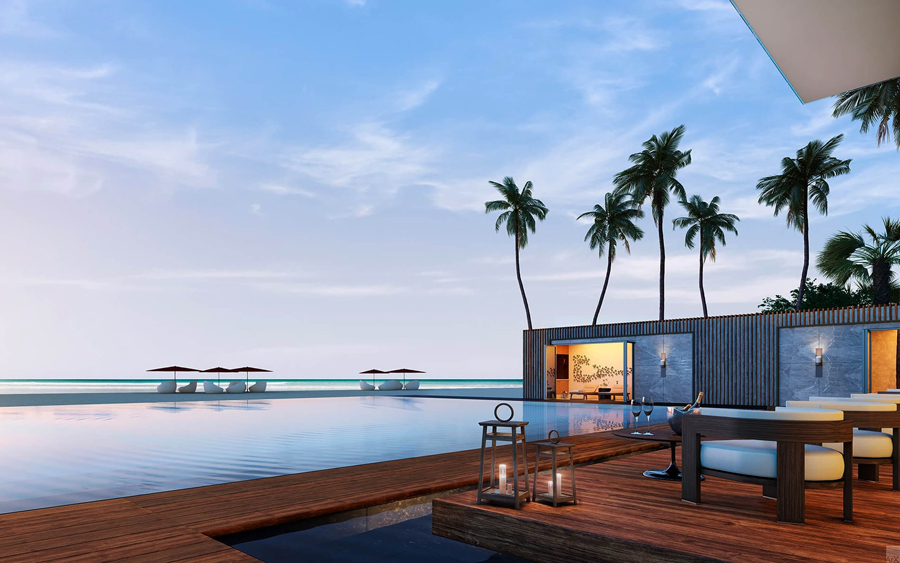 Regalia Miami
Regalia in Sunny Isles on 19575 Collins Avenue is the hallmark of postmodern architecture. It is the potential address for anyone who believes in limited-edition living! Situated on a one-acre area on Sunny Isles Beach, Regalia is home to serenity and security.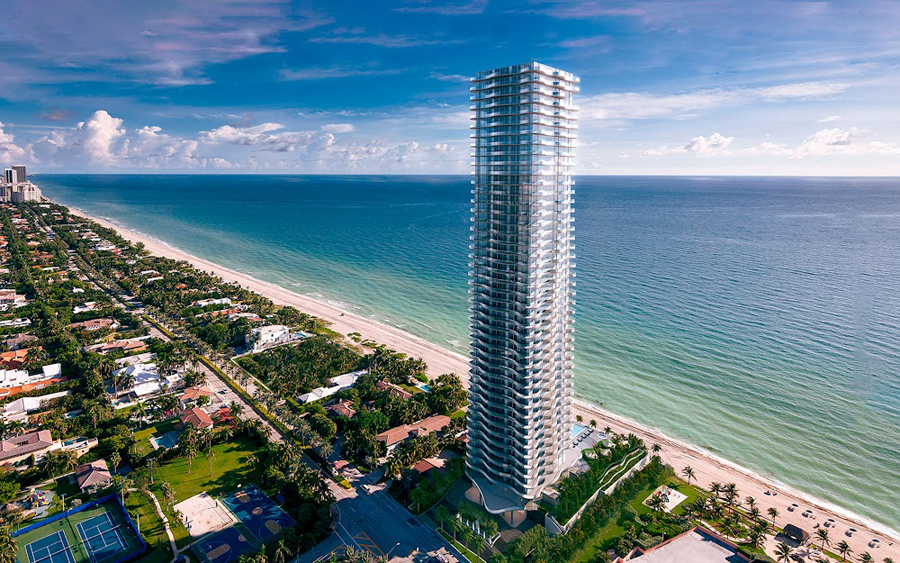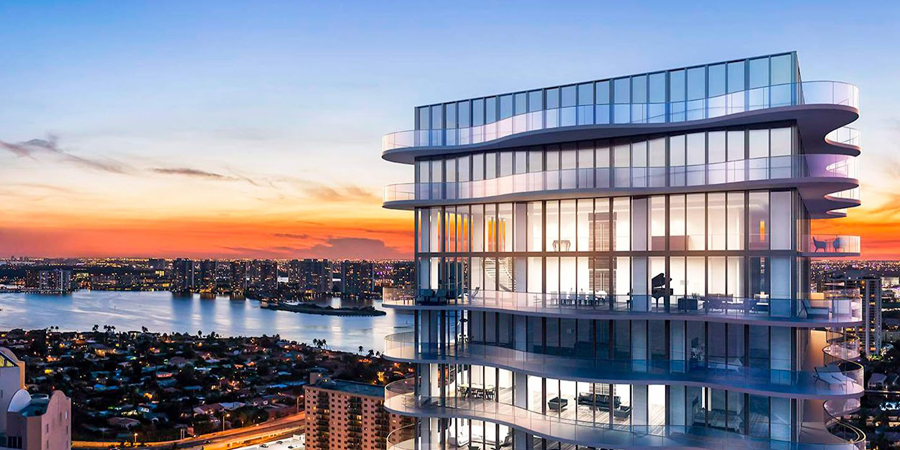 This ultra-luxury condo complex has 46 floors and only 39 residences. Regalia redefines privacy for every real estate connoisseur. With only 1 unit per floor, the residences provide ample terrace space with the ultimate view. It redefines luxury apartments in Collins Avenue, Miami.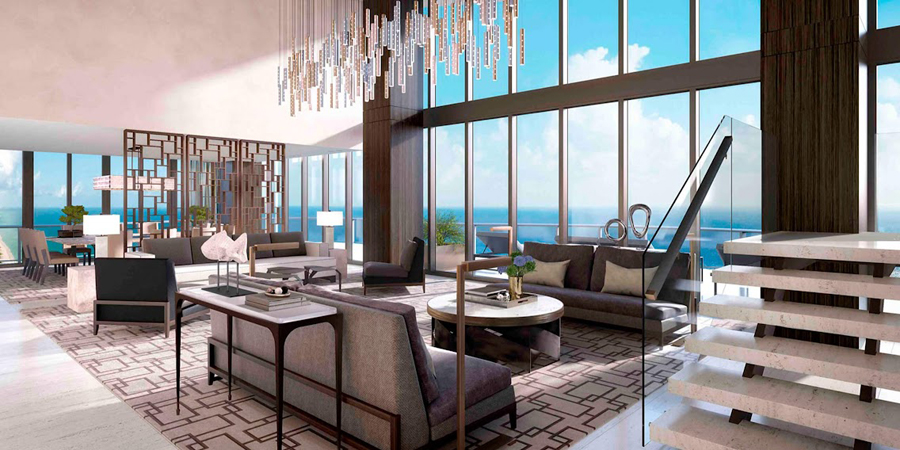 Amenities for owners include the Regalia Spa, infinity-edge pool, lush green gardens, a wholesome tranquility area (complete with chromotherapy and aromatherapy), a media room, a billiards room with a cigar lounge, a private beach, and poolside services.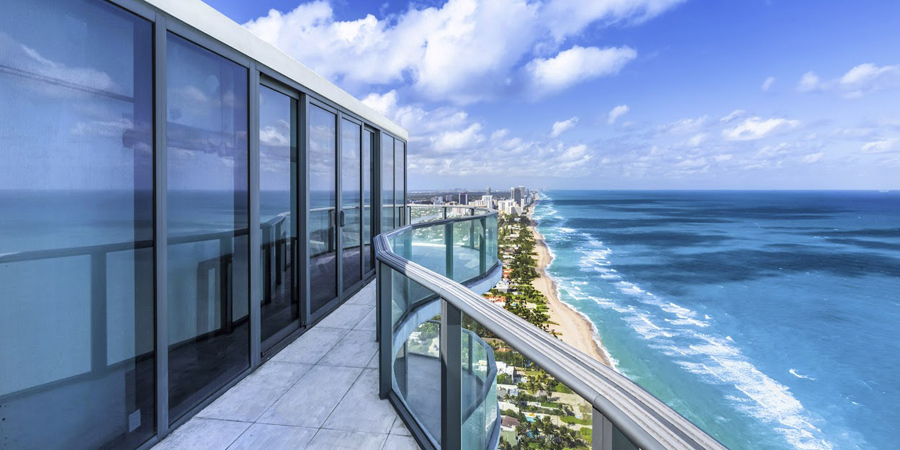 What makes Regalia truly special is – it's the very last oceanfront parcel on the beach. Designed by Bernardo Fort Brescia's Arquitectonica, Regalia has been the winner of the Best Residential High-Rise Development in the U.S.A. by the International Property Awards in London.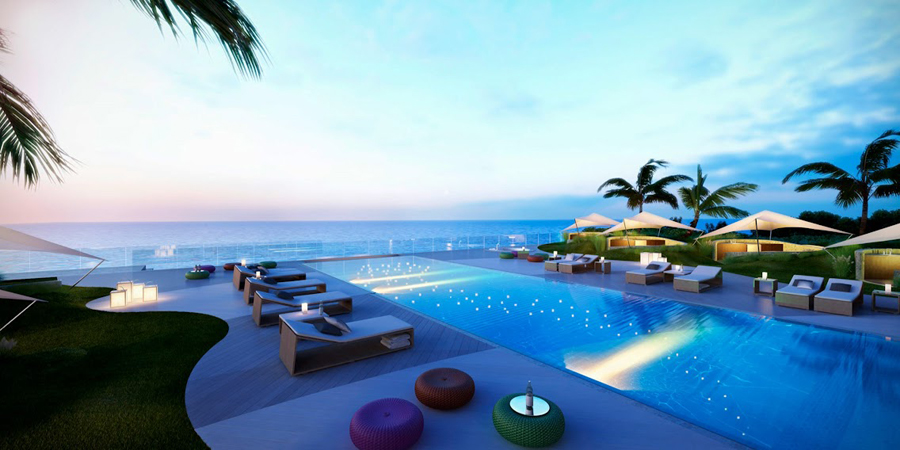 Aurora
The Aurora Sunny Isles residences offer the most revolutionary open-concept layouts on the Sunny Isles. The 17-story building boasts only 61 boutique (2 and 3 bedrooms) residences, amenity deck lanai homes, and penthouses. Aurora is here to change how you look at Collins Avenue luxury buildings.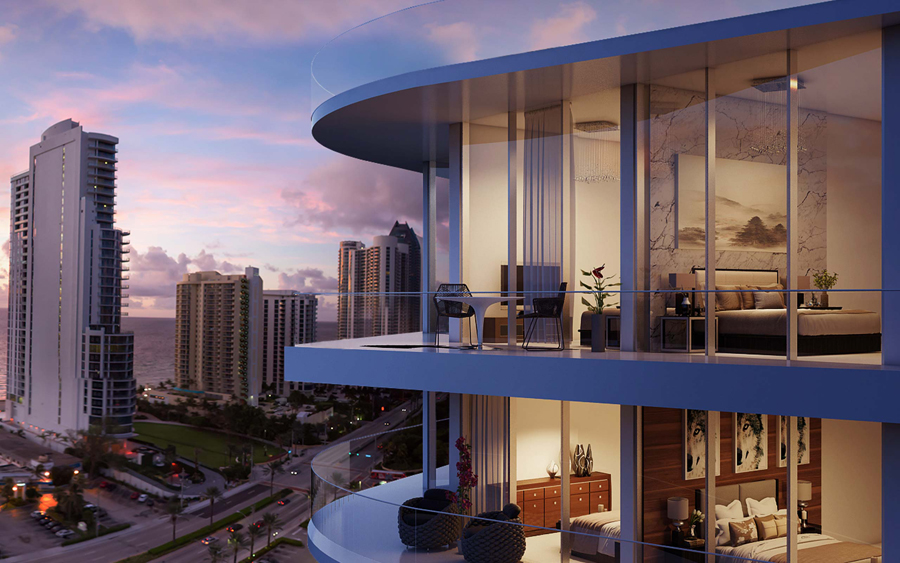 Aurora on Sunny Isles stands out by sporting the perfect blend of serene green landscaping with ultramodern, high-tech living. All the units have 10-feet ceilings, private terraces, and floor-ceiling views.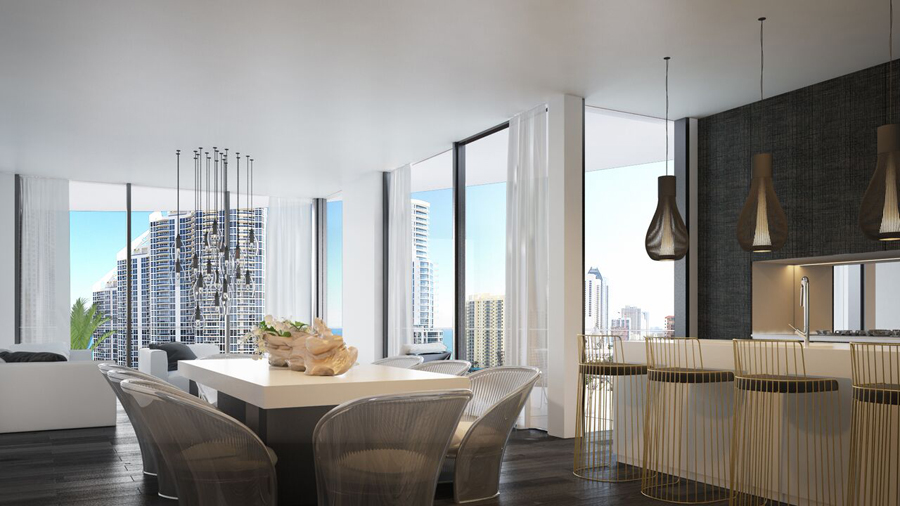 Aurora makes sure that your home is your escape from the everyday humdrum and clamor. The cabanas and sundeck add to the serenity of the building. All residents have access to a fitness center, a half-Olympic length pool complete with an attendant, electric car charging stations complete with 24-hour valet services, concierge services, beach attendants, and so much more.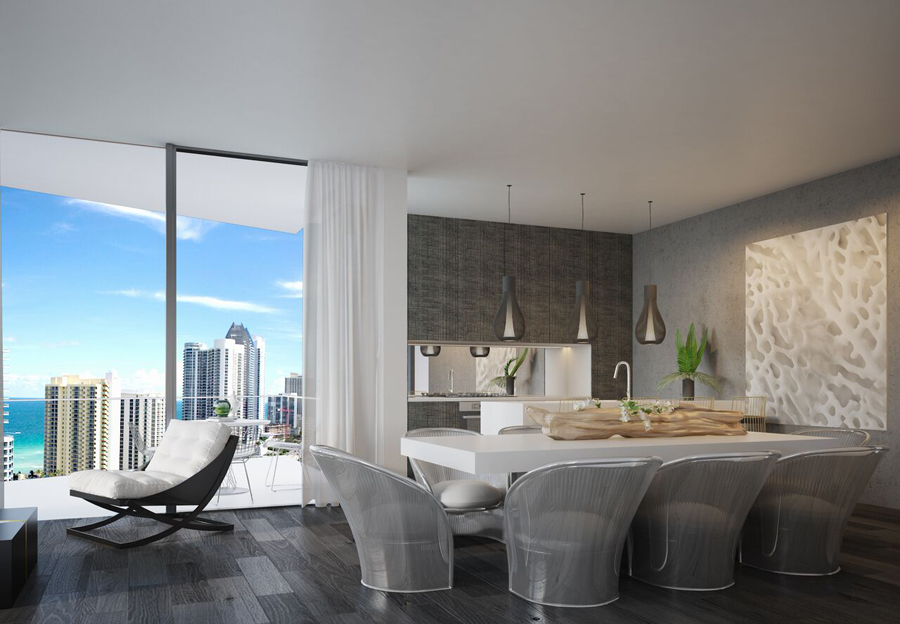 Aurora's design has been inspired by the calmness and easy flow of the ocean. It is easy to see how the rolling waves have shaped each curve. Aurora is the embodiment of calmness, power, and elegance.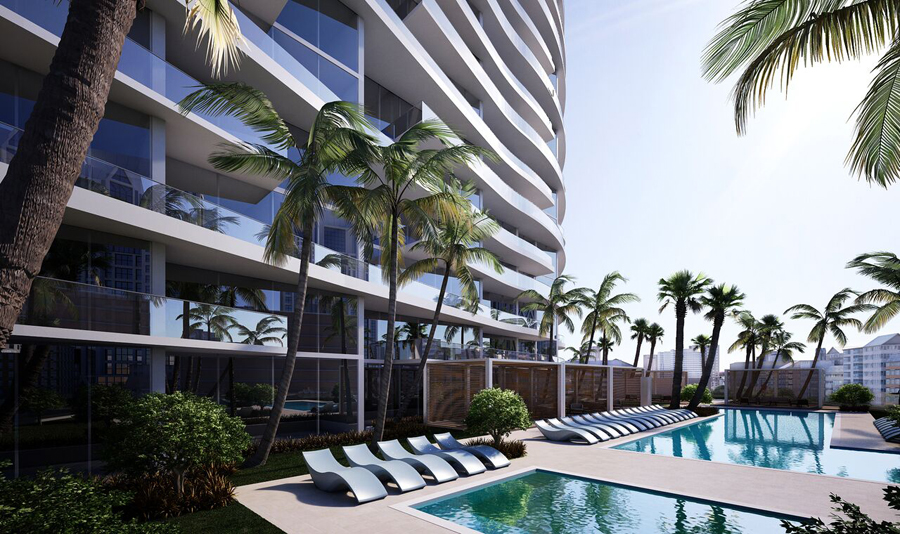 Porsche Design Tower
Porsche Design Tower is here to offer the best of everything to all automobile and luxury lovers. It is a uniquely designed complex that features 132 oceanfront residences. Along with the exceptional view, the Porsche Design Tower boasts state-of-the-art robotic parking and garage systems.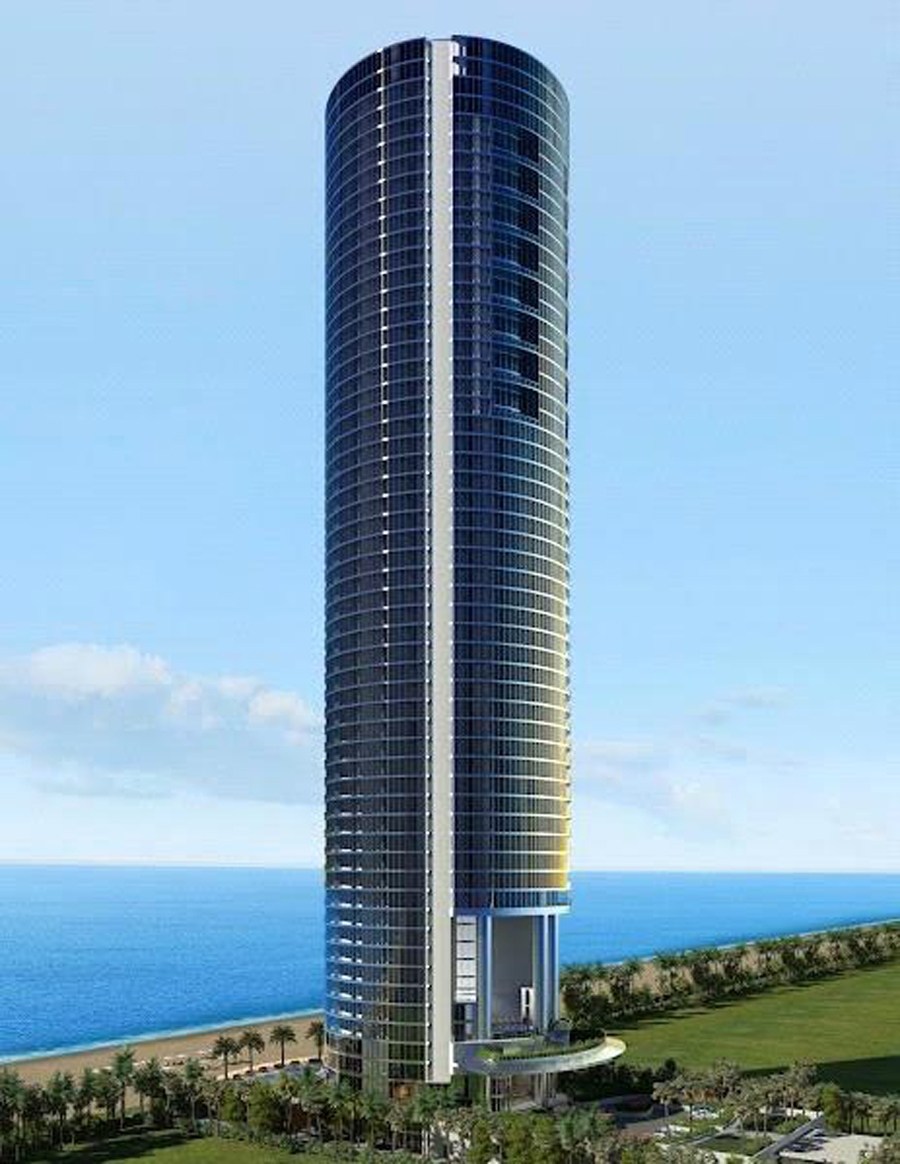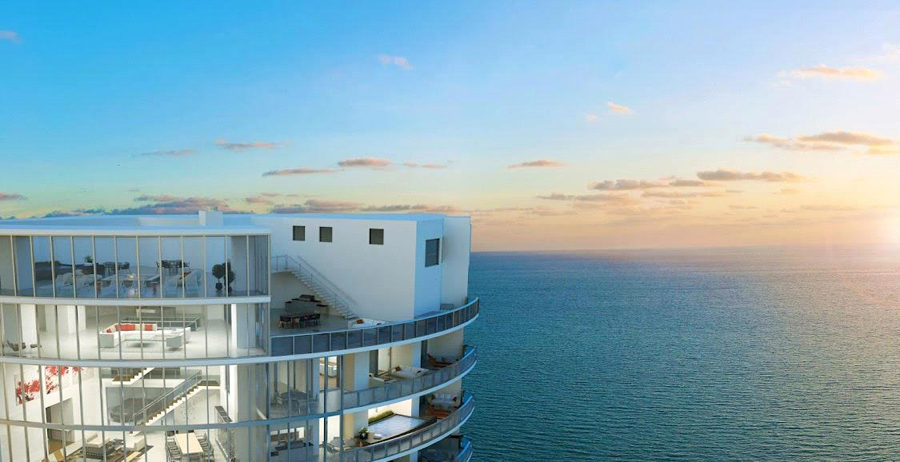 The Porsche Design Tower has both flats and double-height residences, including expansive balconies that look into the ocean, floor-to-ceiling glass windows and so much more.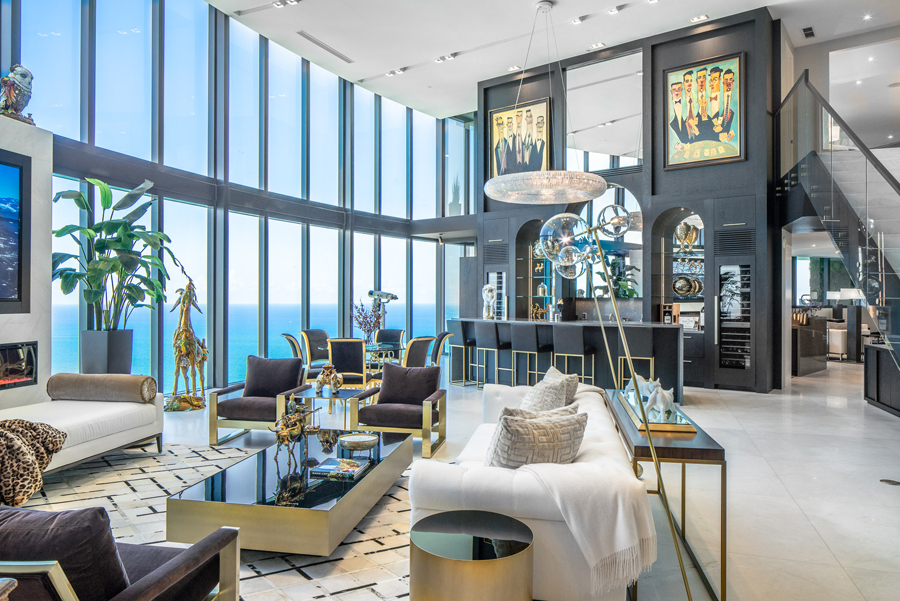 Some of the most exclusive amenities include restaurants with private wine lockers for the residents. So, you can have the chef's special with your favorite red. There's an oceanfront pool with services, a sunset terrace with oversized spa tubs, a movie theater, an oceanfront salon, a beachfront lounge, and a separate game room.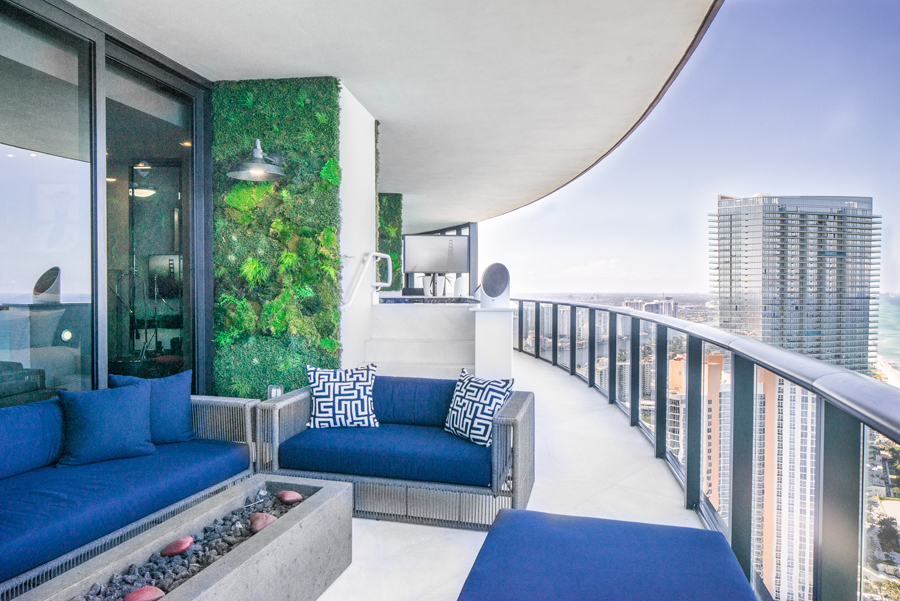 The Porsche Design Tower is the confluence of comfort, sophistication, and convenience.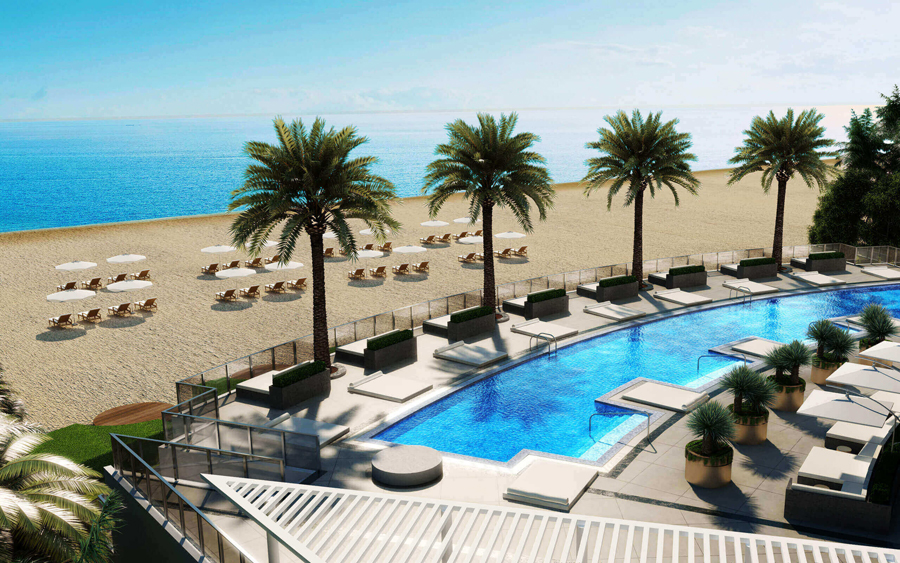 Residences by Armani Casa
Residences by Armani Casa brings the fusion of ultimate luxury, comfort, and futuristic design to Sunny Isles, Miami. Architecturally designed by Cesar Pelli of the Adrienne Arsht Center for Performing Arts in Miami fame, the Residences by Armani Casa exude opulence.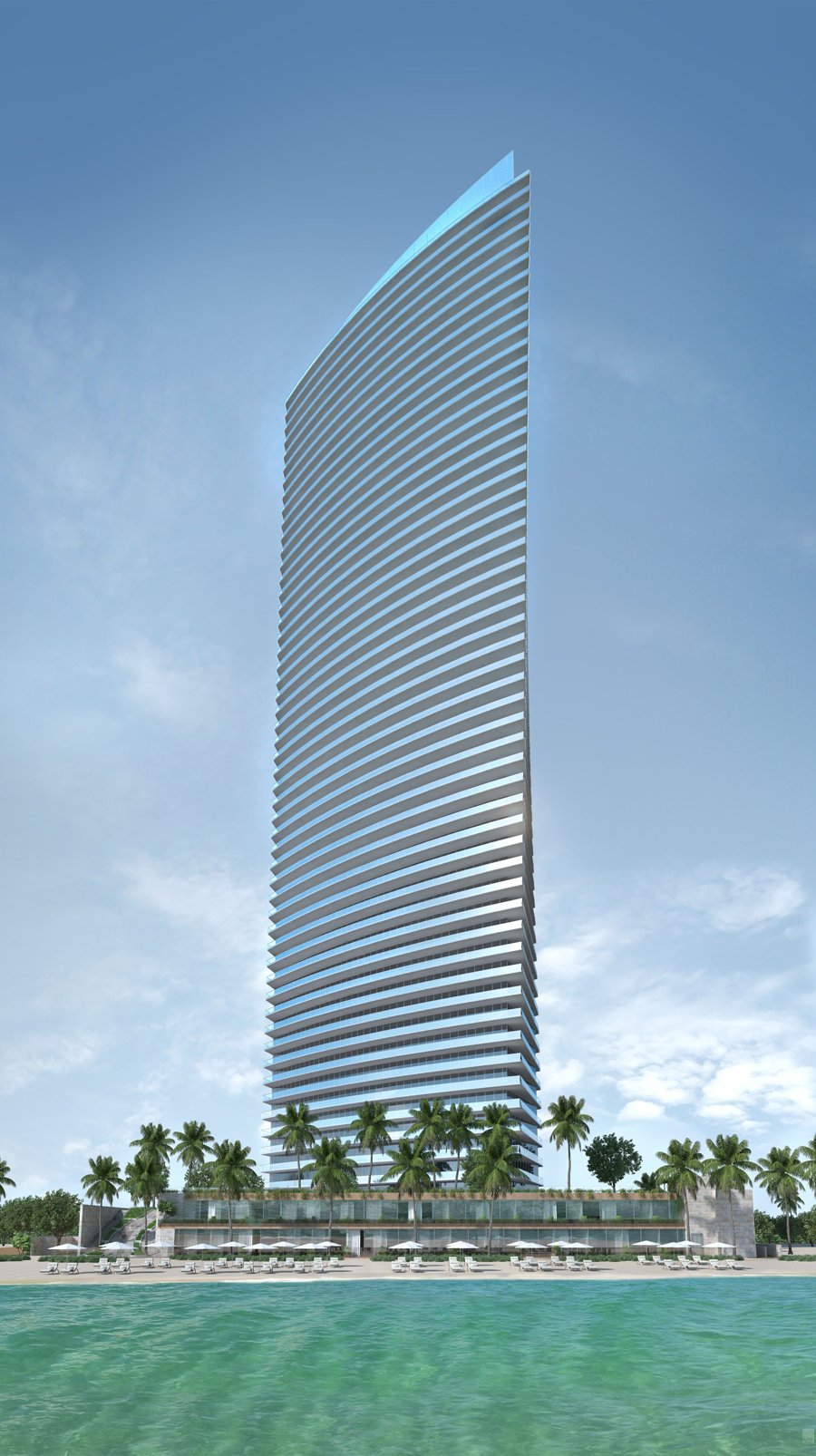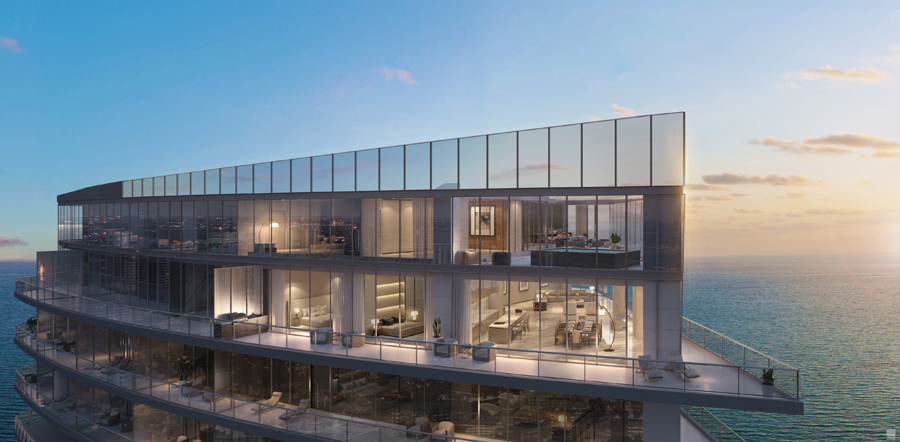 The 56-story high luxury building on Collins Avenue features 308 residences with 2- to 4-bedroom floor plans. The interior design is conceptualized and guided by none other than the legendary Georgio Armani. It is easy to understand how the 649-feet tall, gorgeous glass tower matches the interiors so effortlessly yet elegantly.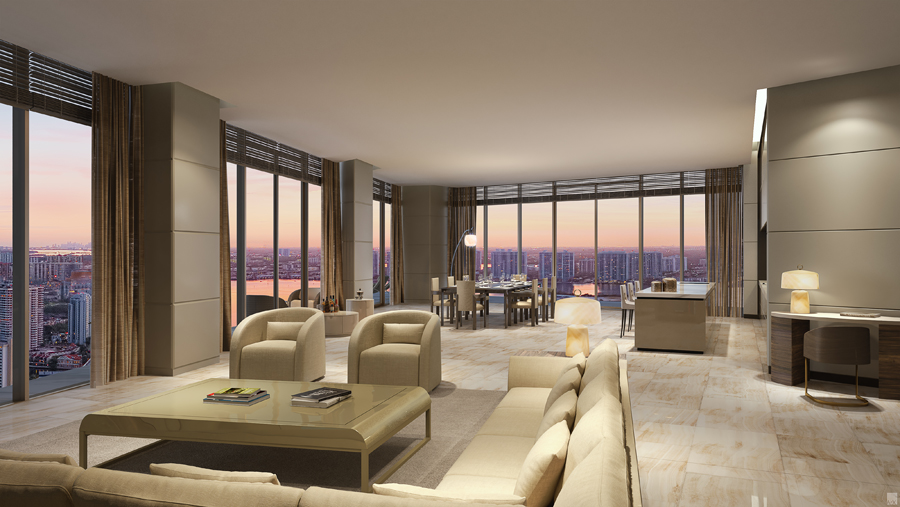 Each home has floor-to-ceiling glass windows that offer a beautiful view of the Atlantic Ocean and the city. They also boast private terraces and balconies.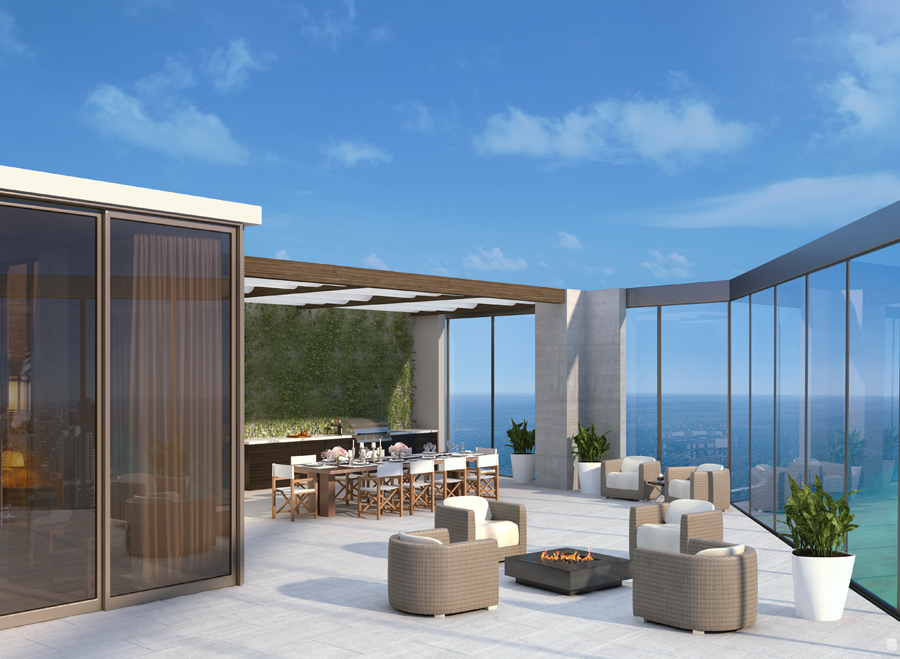 The location makes Residences by Armani Casa the ultimate attraction for anyone looking for ultra-luxurious living. It is nestled between Aventura and Bal Harbor. The residents can enjoy an idyllic life that's filled with comfort and amenities such as pools, food and beverage service and private elevators, and more.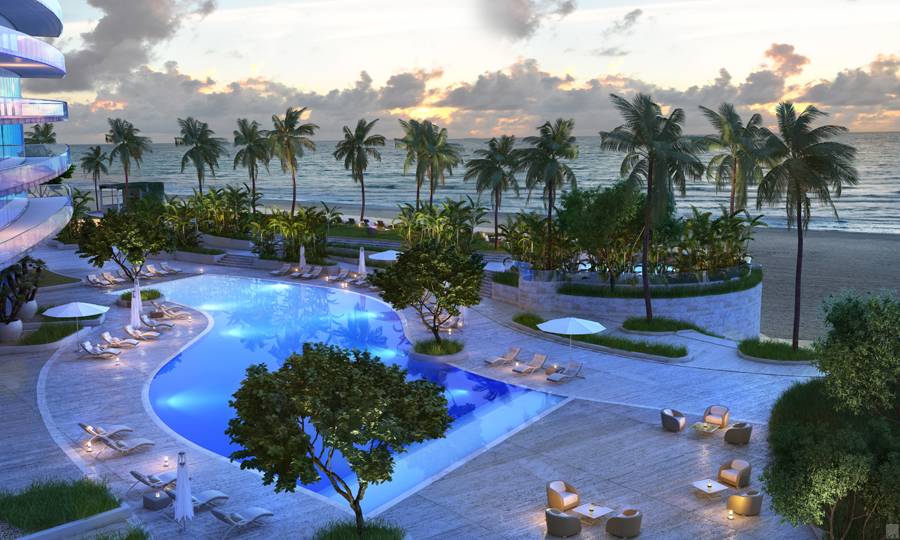 Beach House 8
The Beach House 8 is located in the heart of vibrant Miami Beach. It is a 10-story high ultra-luxury tower that has 8 limited flow-through units. These are some of the largest luxury apartments in Collins Avenue and the Florida real estate market.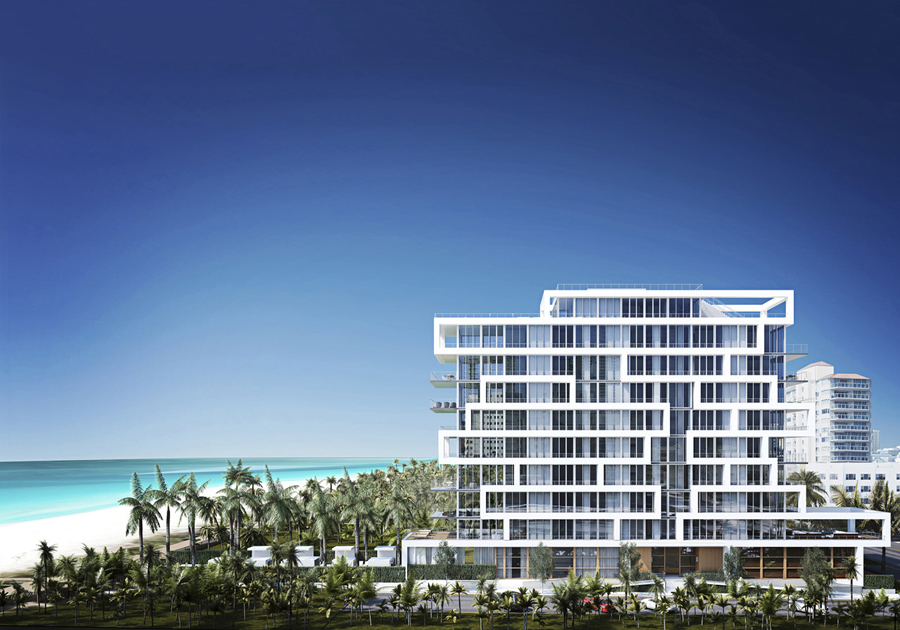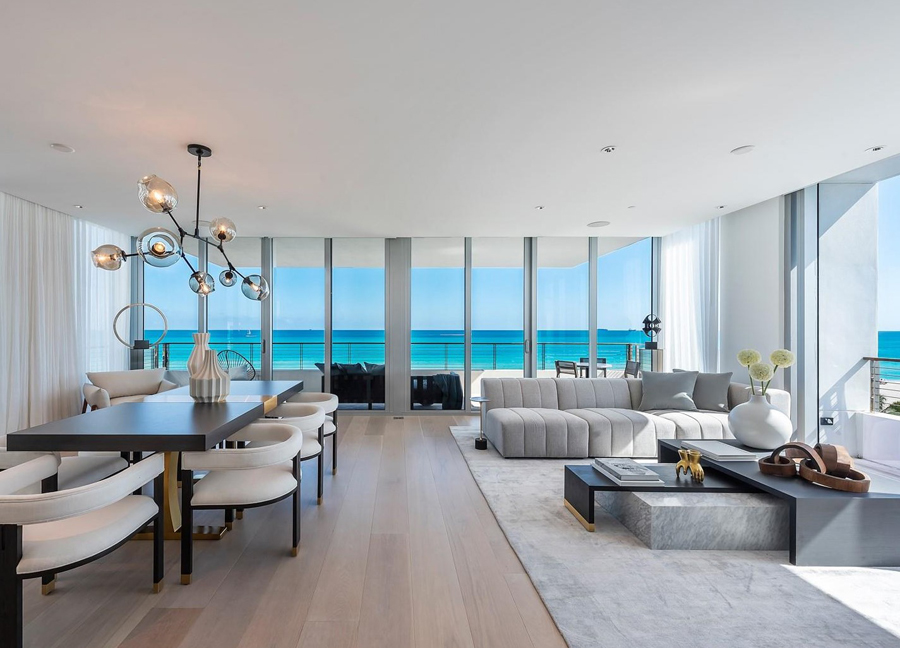 The project has been developed by Valerio Morabito and Ugo Colombo. The entire project draws inspiration from Mediterranean living. Hence you can experience vast open spaces lined by exotic palms and real green foliage.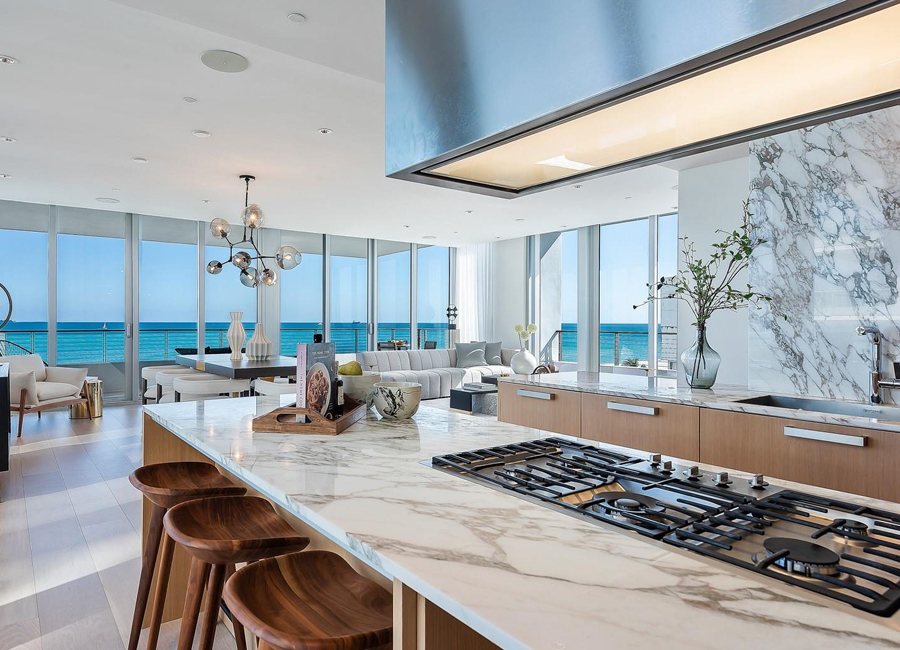 It is an elusive beachfront property with the facilities of getting food and beverages delivered to the beach. It has a resort-style pool and services, a state-of-the-art fitness center, and concierge services.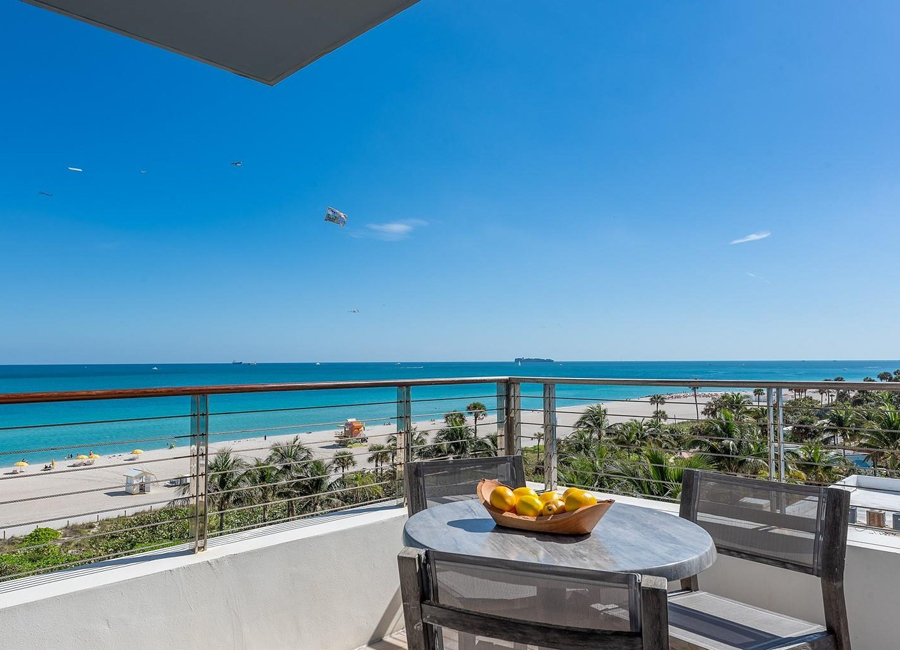 The Beach House 8 is a stone's throw away from Downtown Miami, Park West, Brickell, and Flagler Street. The residents can visit high-end boutiques, art galleries, and restaurants by simply stepping off the driveway. Beach House 8 is home to culture, sophistication, and exclusivity.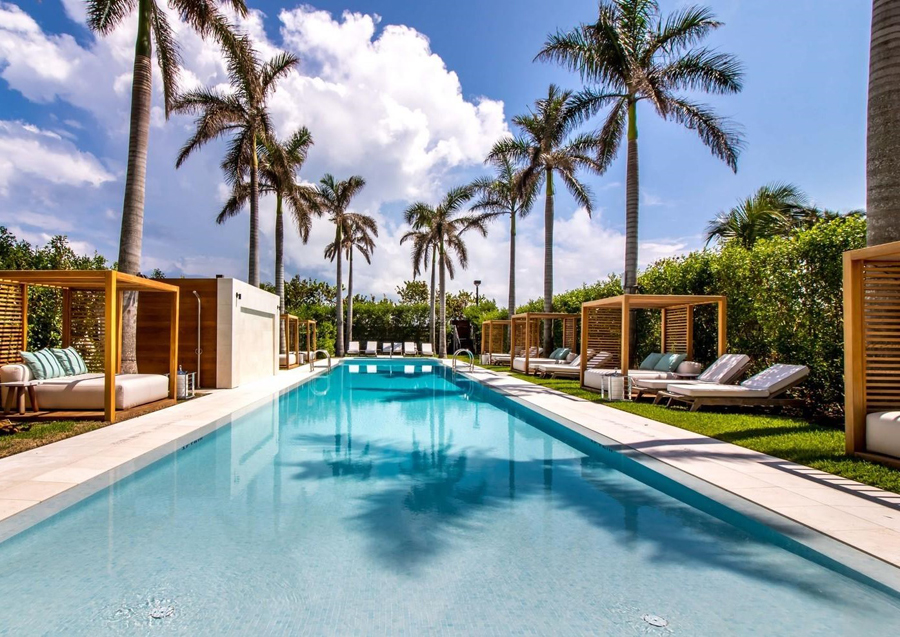 Faena House
The Faena House is one of the most sought-after addresses on Miami Beach. It is a sleek and striking 18-story building designed by Foster + Partners. The team is responsible for the building's incredibly unique exteriors and super luxury interiors.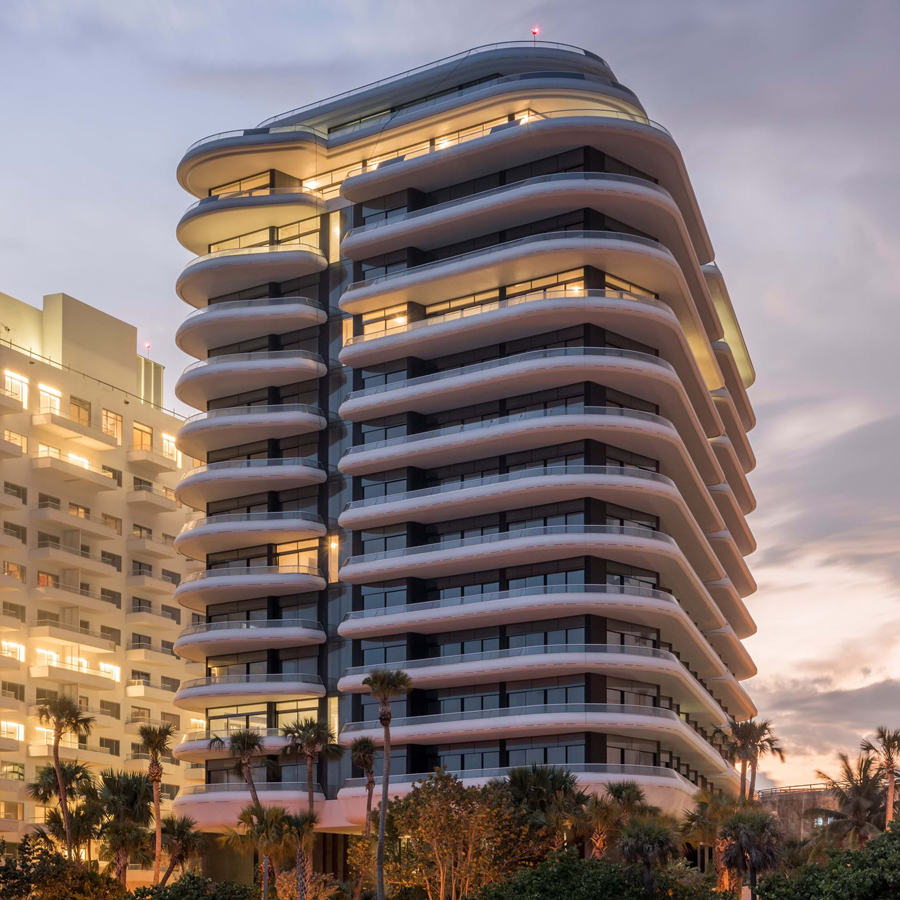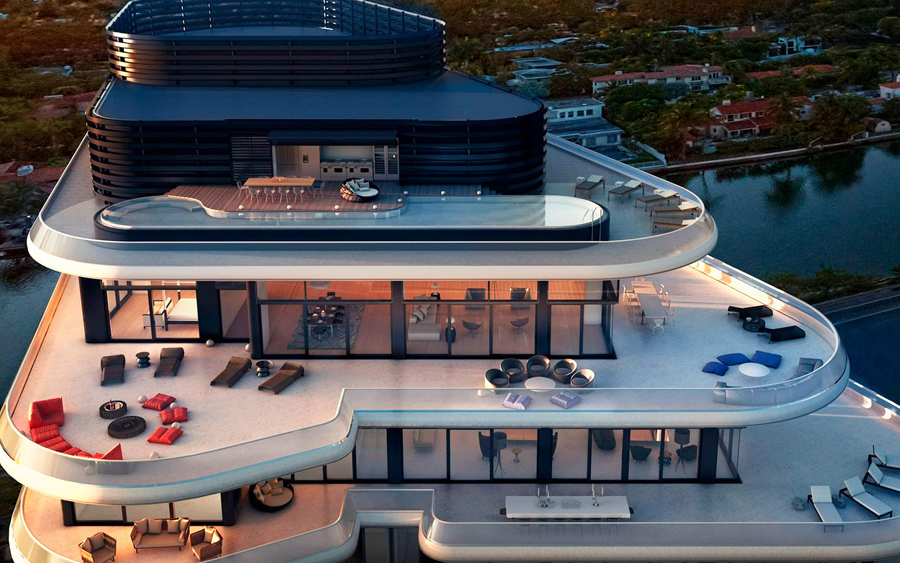 Situated in the Faena District, this 18-story wonder sits on the white sand reflecting the glory of the ocean and beach life. To complement the gorgeous setting, the Faena House features huge glass walls for residents to enjoy the panoramic views. It is one of the top luxury buildings in Miami.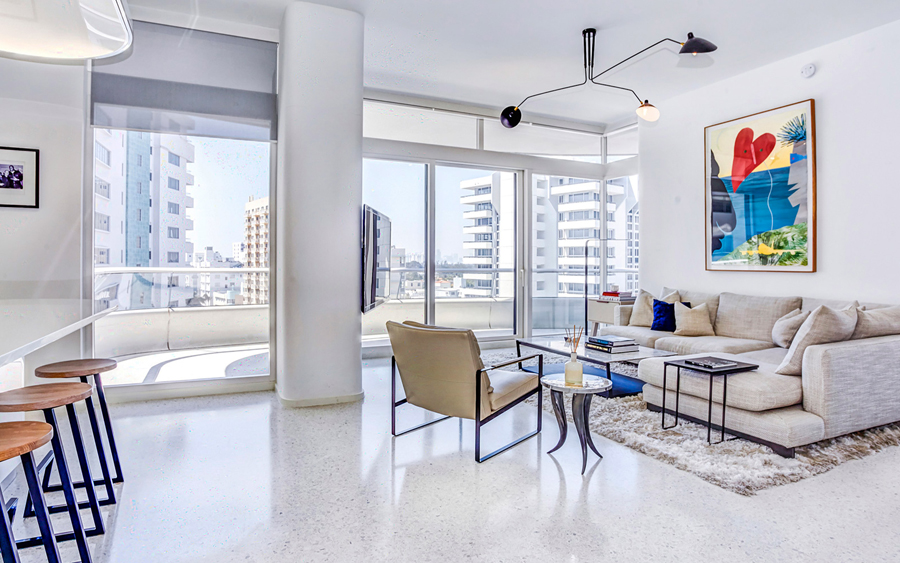 It has 47 ultra-luxury oceanfront residences conceptualized by Alan Faena. Each condominium features marble flooring, Dornbracht bathroom finishes, and a Creston Automated system. It is an ultramodern design and execution that is completely congruent with the fancy Faena District lifestyle as well as the calm oceanfront.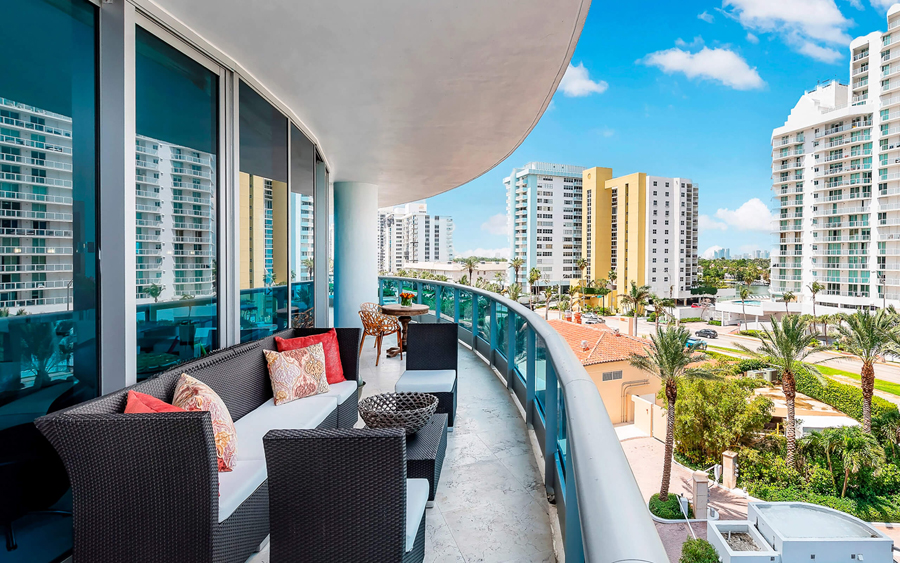 The owners have preferred access to all hotel services provided by the Faena hotel. The residents enjoy 24/7 concierge services, security, private parking, and valet services. Additional amenities include an in-house spa with saunas, steam rooms, showers, and more.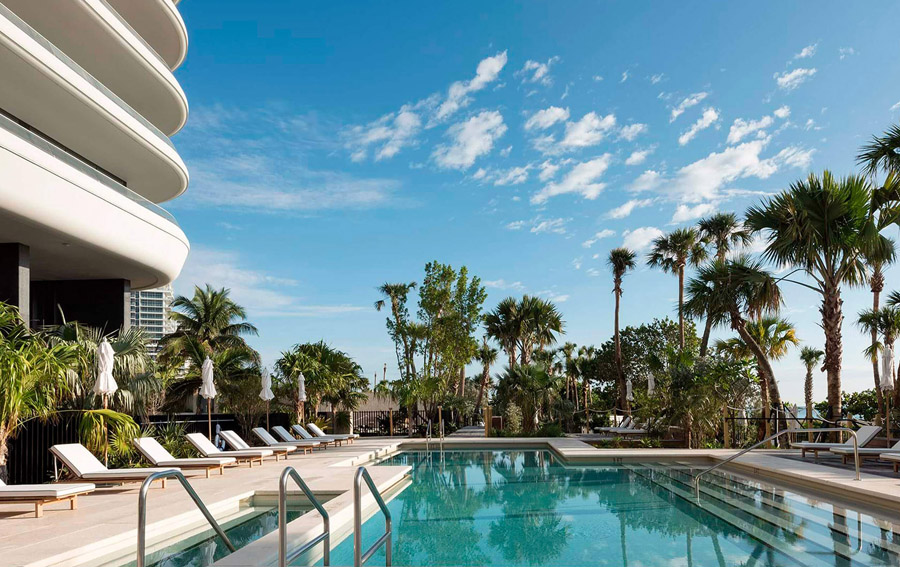 L'Atelier
L'Atelier on Miami Beach proves that architecture is art. The sprawling 18-story is a masterpiece of design and architecture. The translucent glass tower sits proudly right next to a wide sandy beach. With huge glass windows, private terraces, and pools residents can enjoy exclusive ocean views without even leaving their apartments.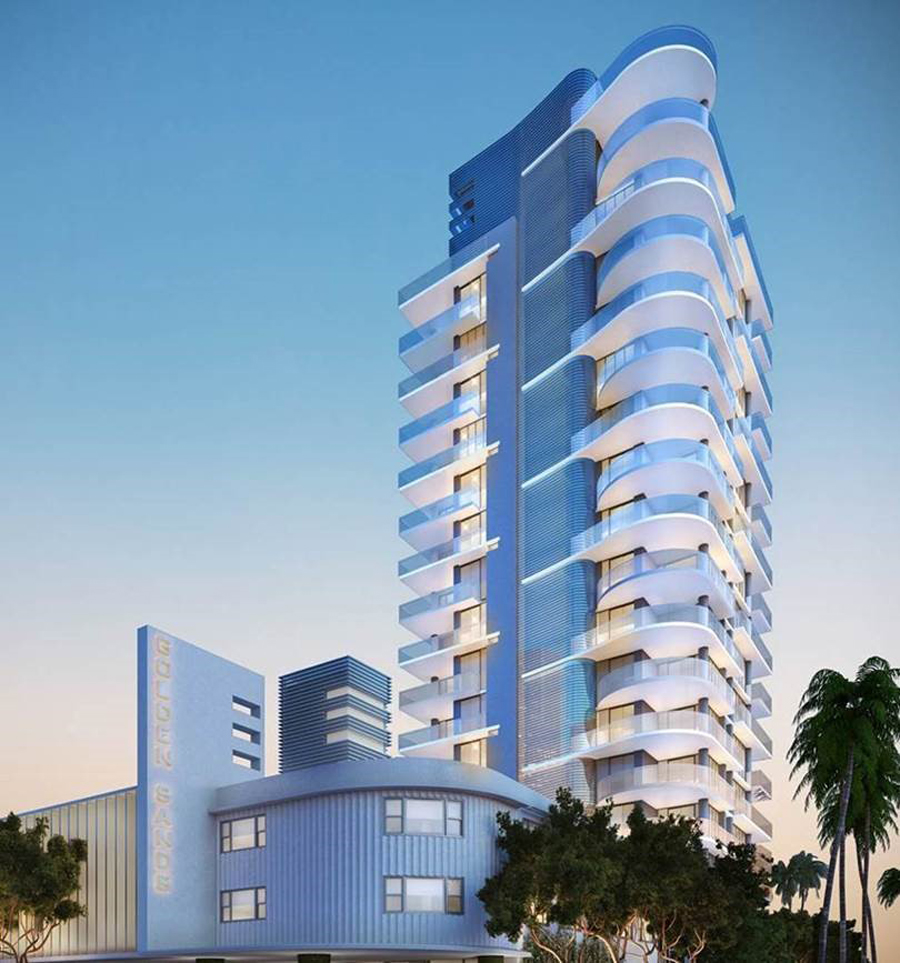 The L'Atelier features 23 luxury residences with 10- and 11-feet tall ceilings offering the perfect view of the beach and ocean. The units have 2 to 4 bedrooms, and penthouses have 6 bedrooms.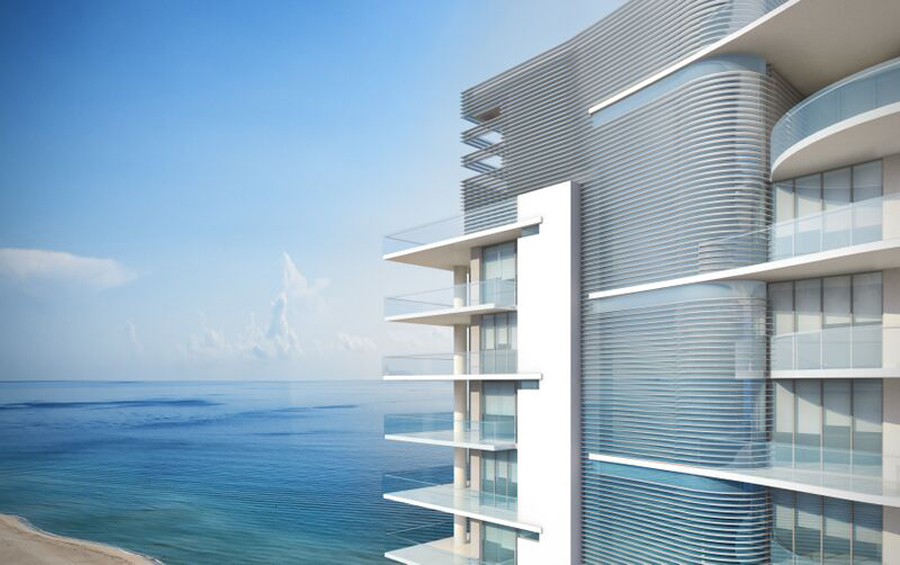 The most lucrative amenities include a private beach with personal concierge services, whirlpool spas, a beachfront infinity pool, a pool bar, an all-inclusive spa, a sauna, a steam room, a fitness center, a beauty salon, and a library.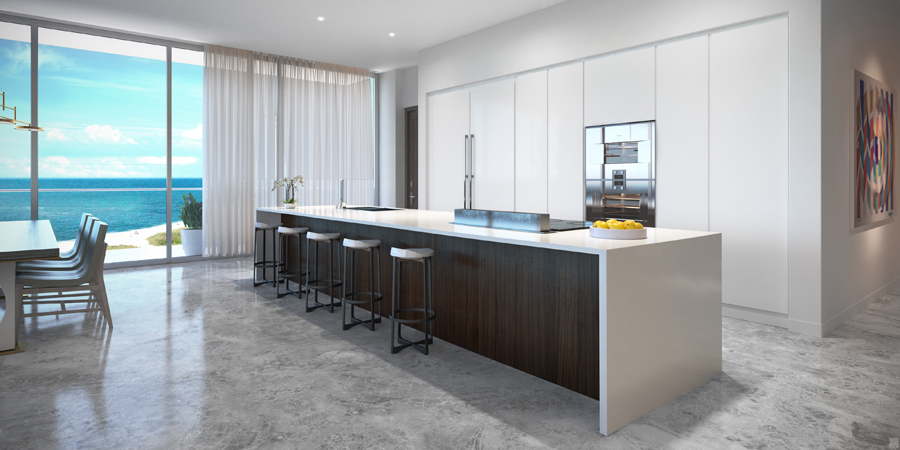 L'Atelier gives you the chance to explore and enjoy all the luxuries of life without having to set foot outside the premises. It is a welcome change from the concrete jungle and city skyscrapers that lack personality. L'Atelier is the bridge that connects the beachfront living with the white sand and warm waters.