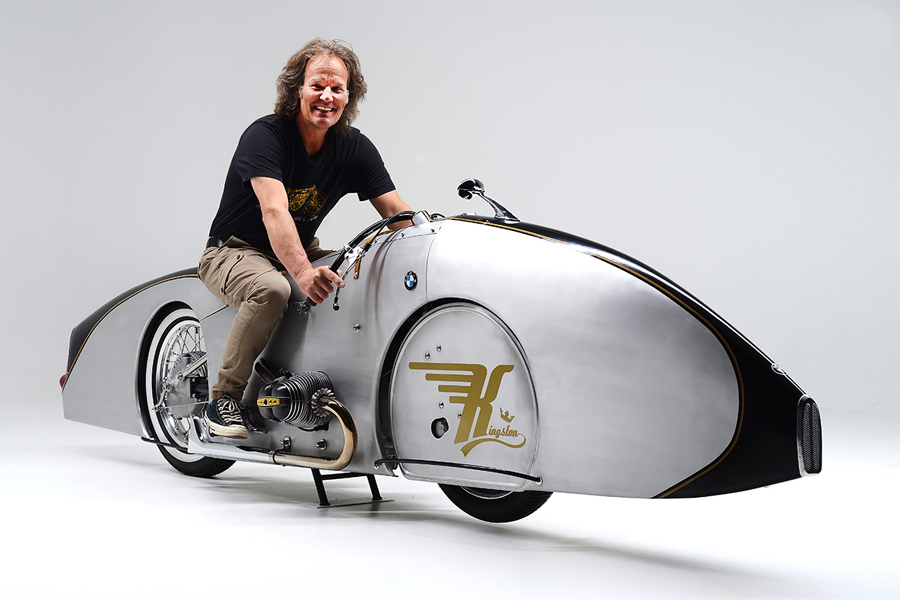 This impossibly elegant custom bike BMW R100 was the last Kingston Custom build that the owner and curator of the Haas Moto Museum Bobby Haas commissioned before he passed away unexpectedly last year.
"I discussed a new project with Bobby and Stacey [Mayfield], his life partner and museum director, in July 2021," Dirk tells. "At that time, I didn't know what it would become – all that was clear was that it was going to be the longest BMW R100, and it was going to be Kingston's fourth motorcycle in the Haas Museum."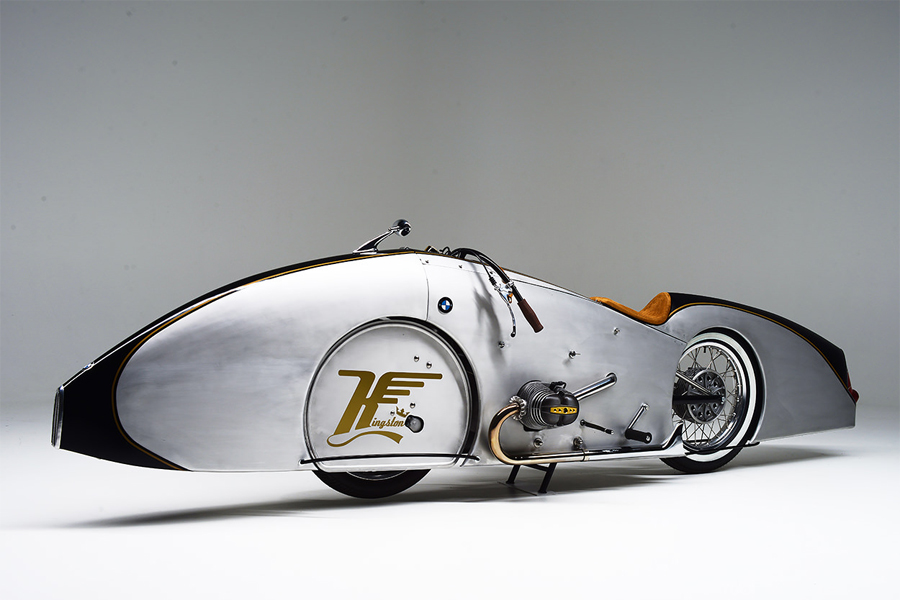 Inspiration for bike design came from the 1930s, "when high speed, aerodynamics and elegance were combined." By now the project was heading in an art deco streamliner direction, and had earned nickname "Eleganza."
After a few weeks since Bobby's sudden passing Dirk decided that the project needed a new name to restore their connection. "Eleganza became "Hommage" – a tribute to Bobby Haas," he says. "It had to be something extraordinary – a work of art, a motorcycle sculpture." His passion reignited, Dirk began the arduous task of bringing Bobby's Hommage to life.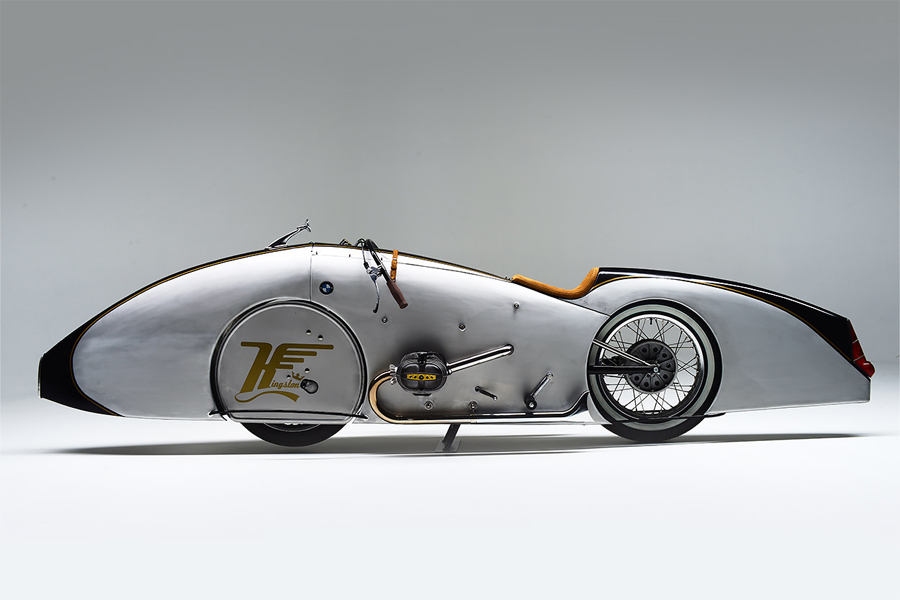 The R100's elongated full-body fairing was hand-formed out of 2 mm thick aluminum. Divided into four main sections, it's actually remarkably easy to take apart. Dirk also fabricated a pair of front wheel covers to give the fairing a seamless feel, but designed them to turn with the wheel.
The metalwork is impressive enough, but what really puts this streamliner over the top is the smorgasbord of tasteful details. Up front is a custom-made BMW-style kidney grill, with a headlight hidden behind it. Out back, you'll find the taillight from a vintage BMW 700 car.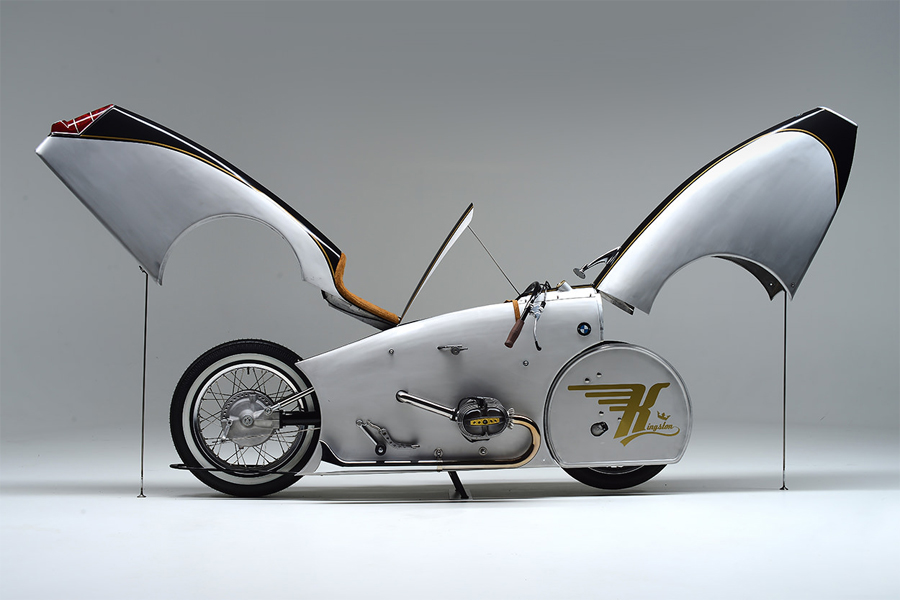 Poking out from the side panels are the boxer's distinctive cylinder heads, hooked up to custom air intakes that move the carbs to under the bodywork. The customized foot controls, key ignition and choke are all neatly integrated too. And if you take a closer look at the front wheel covers, you'll notice small cutouts to access the brake calipers, in case you need to bleed the system.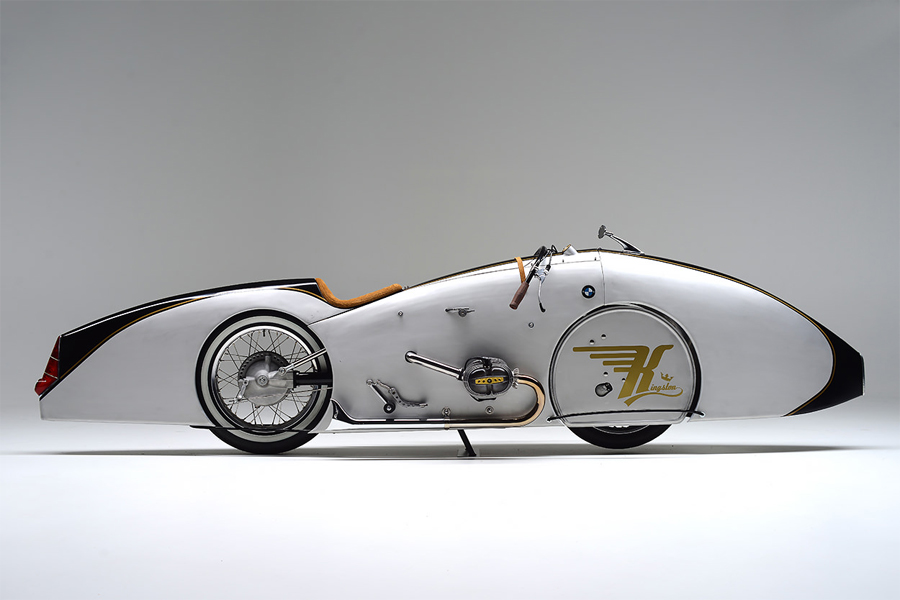 Up top are a set of handmade handlebars, fitted with aftermarket levers and grips. The rider looks down on a vintage-looking speedo bearing Kingston's logo, and a leather tank belt that matches the seat. The chromed mirror housing comes from a Porsche 356 Speedster.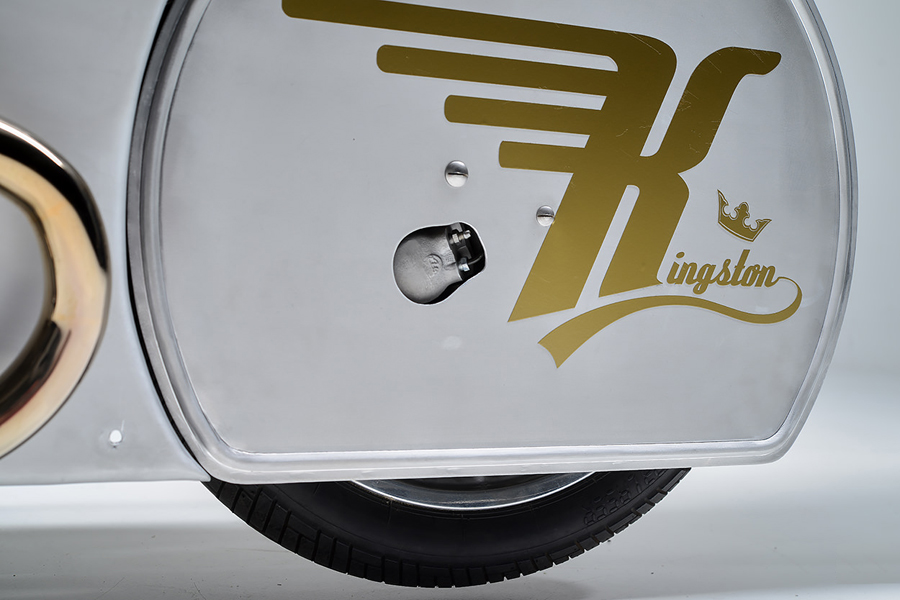 Other stylish touches include BMW roundels on the sides and front, and a set of chromed fishtail mufflers mounted to handmade exhaust headers.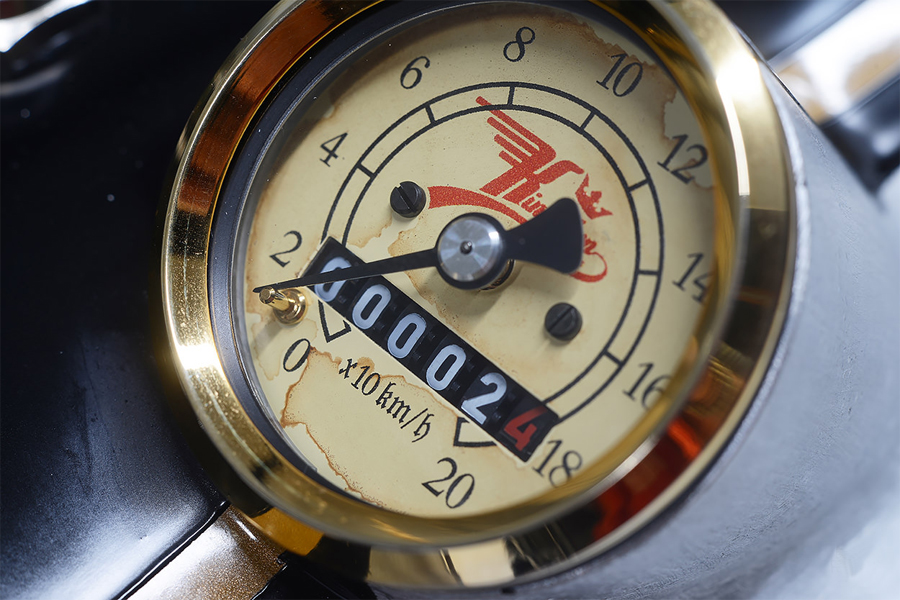 Most of the donor bike is still intact under the bodywork, with a few notable modifications. The stock fuel tank's been replaced by a handmade aluminum reservoir, holding three gallons. And the swingarm's been extended, with a pair of rigid struts replacing the rear suspension.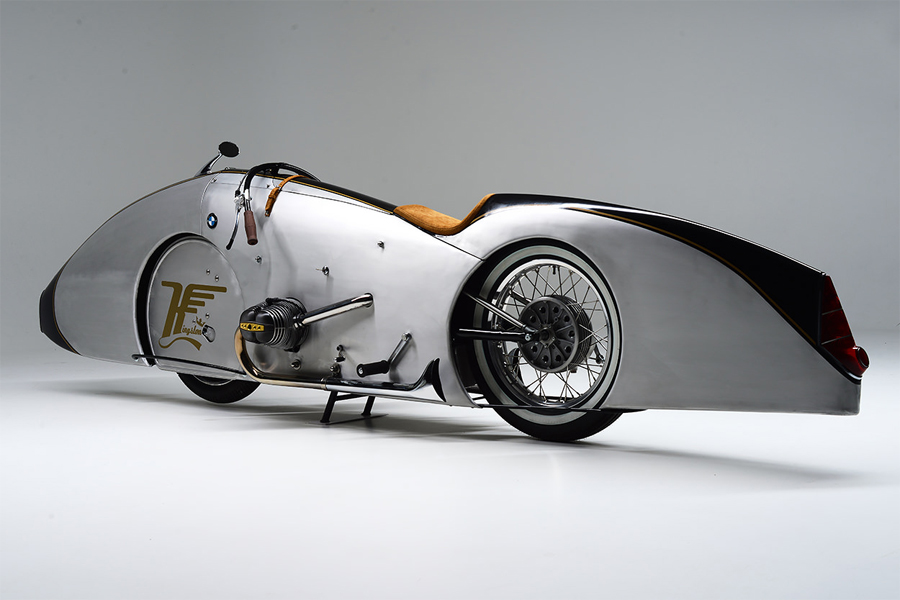 A swathe of black paint, complemented by gold stripes, takes this graceful BMW over the finish line. And before you ask: yes, it's rideable.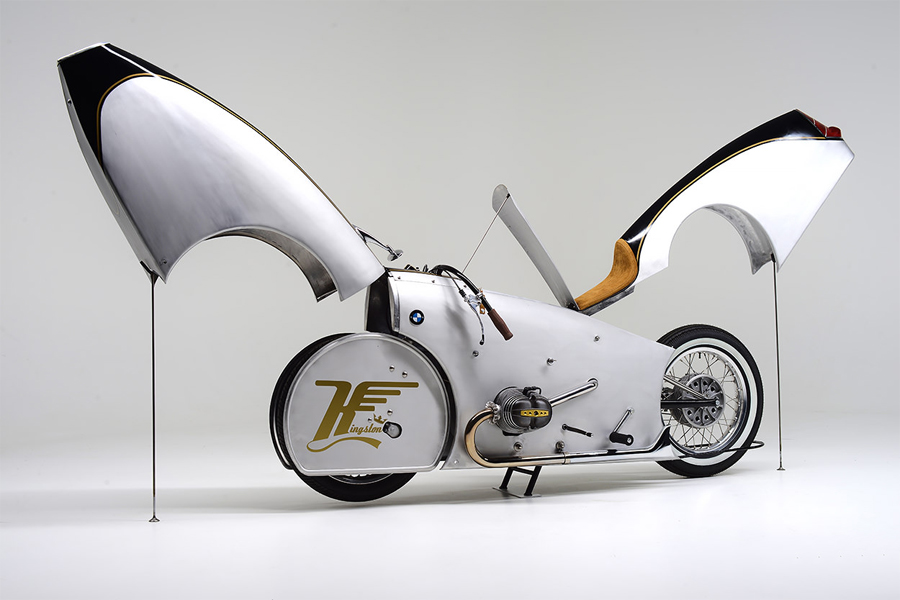 "The bike runs and is not just a show bike," Dirk confirms. "I repeat: the bike can be driven and also steered. Of course, it has a large turning circle – but you only need that while maneuvering at low speeds, not while riding."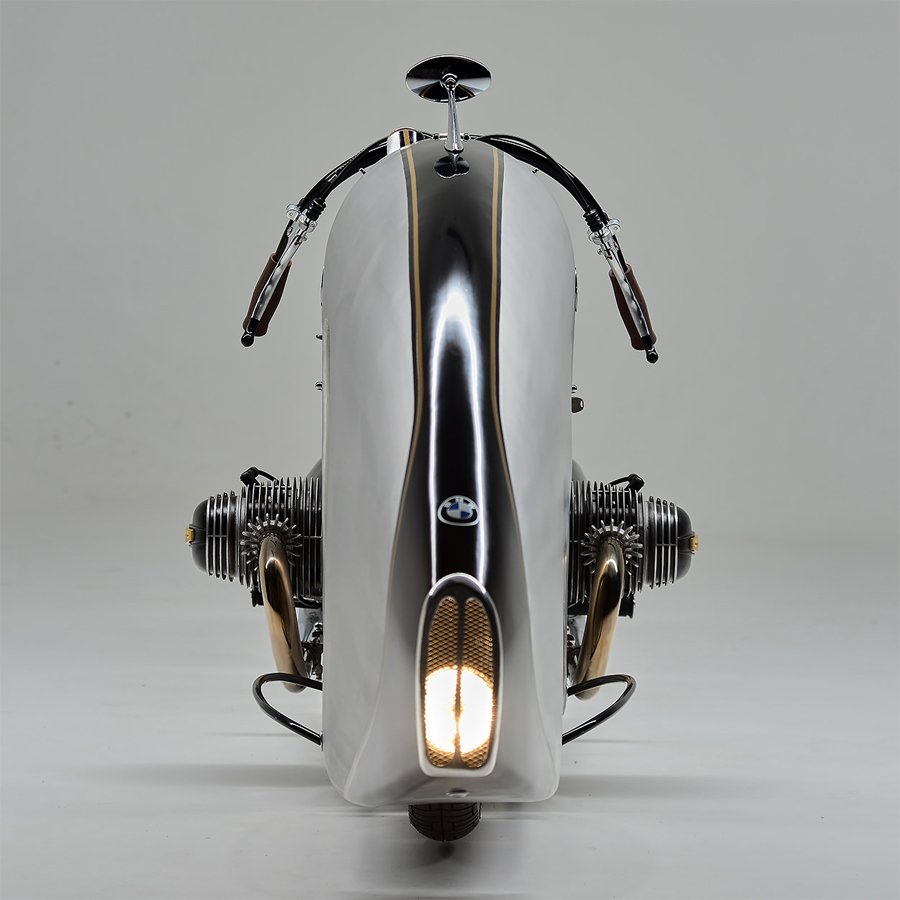 Despite this, the Hommage likely won't rack up too many miles. It's destined for the Haas Moto Museum, where it'll take its place as a tribute to a dear friend of the custom motorcycle scene. Also be sure to check our collection of the best vintage motorcycles.