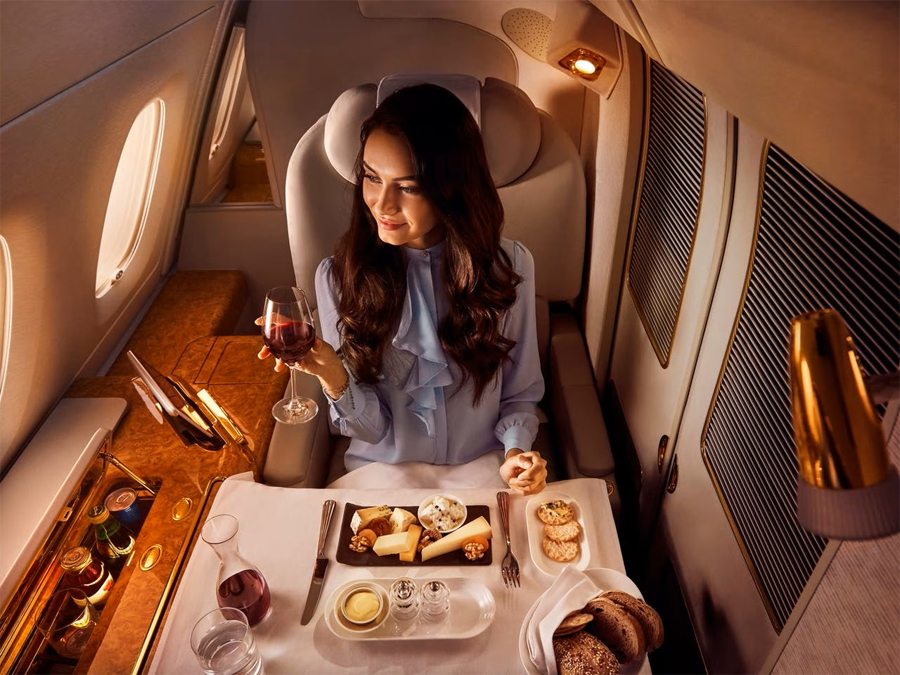 In the vast realm of aviation, some airlines have risen above the rest, crafting flying experiences that transcend mere travel. They evoke a sense of wonder, encapsulating opulence, innovation, and cultural heritage, harmoniously intertwining them to redefine luxury. These airlines aren't just about reaching a destination; they're about the journey, the unfolding narrative between take-off and landing, where passengers become the protagonists of an airborne odyssey. From the hallowed traditions of the East to the innovative flair of the West, let us embark on a journey through the skies, unveiling the ten most expensive airlines in the world. Here, luxury isn't just seen; it's felt, tasted, and experienced.
10. Virgin Atlantic Airway
Founded by the flamboyant entrepreneur Sir Richard Branson in 1984, Virgin Atlantic Airway has always been about breaking the mold. When you step into their Upper Class Suite, it's not just about luxury, but an ode to versatility – an inviting realm where relaxation, work, and gourmet dining coalesce.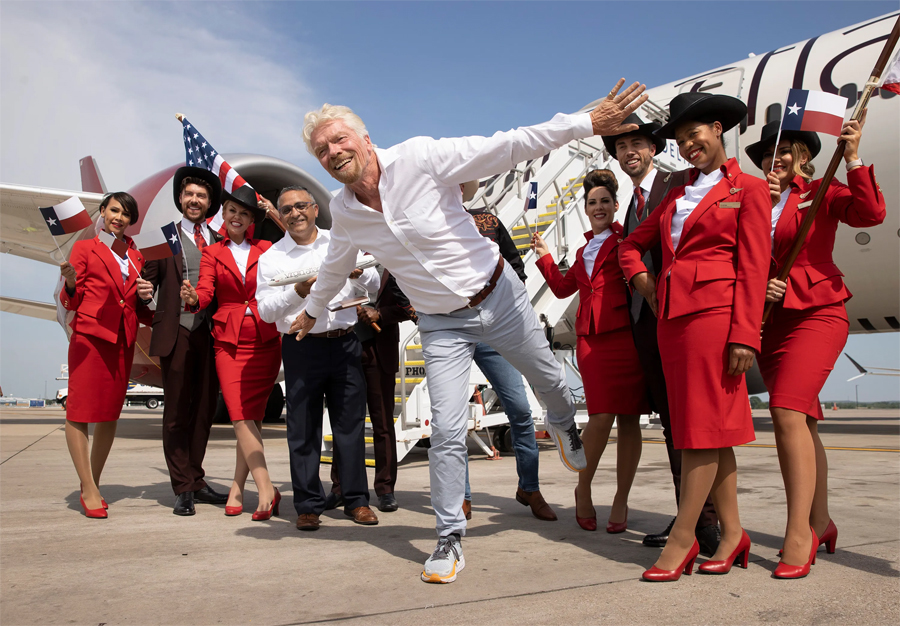 Photo source: statesman.com
The pièce de résistance of their airborne haven? An unparalleled onboard bar, claiming the title of the longest in-flight bar globally. Here, conversations flow as smoothly as the handcrafted cocktails, creating memories at 35,000 feet. And as if the skies weren't high enough, the airline elevates the culinary experience with distinctive offerings, including a cherished British tradition of afternoon tea and a delectable parade of cheeses.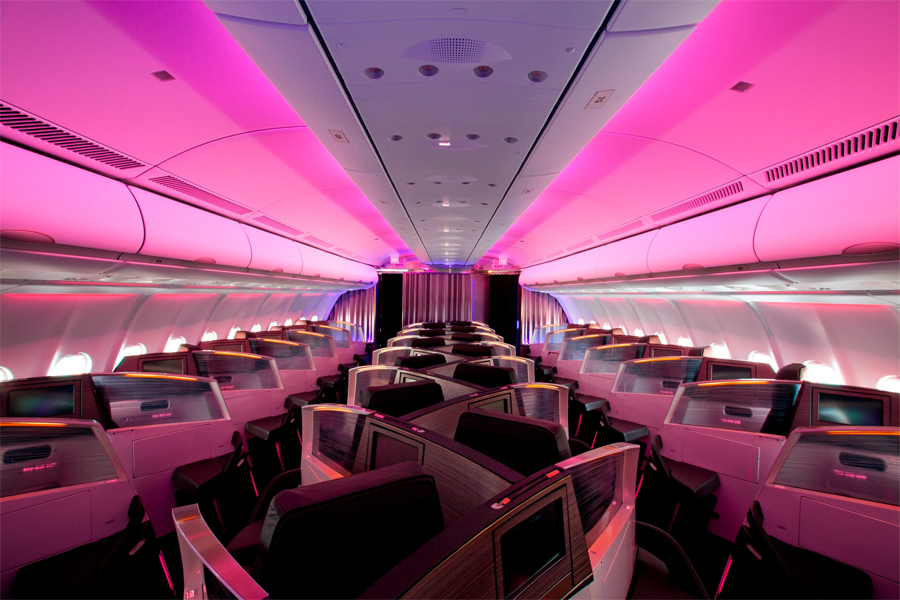 Photo source: airlineratings.com
Yet, what truly sets Virgin Atlantic apart is their unwavering commitment to a greener planet. Not just content with pioneering luxury, the airline has ventured into the realms of sustainability, championing biofuel flights and rigorous carbon-reducing measures. With Virgin Atlantic, opulence takes flight with a conscience.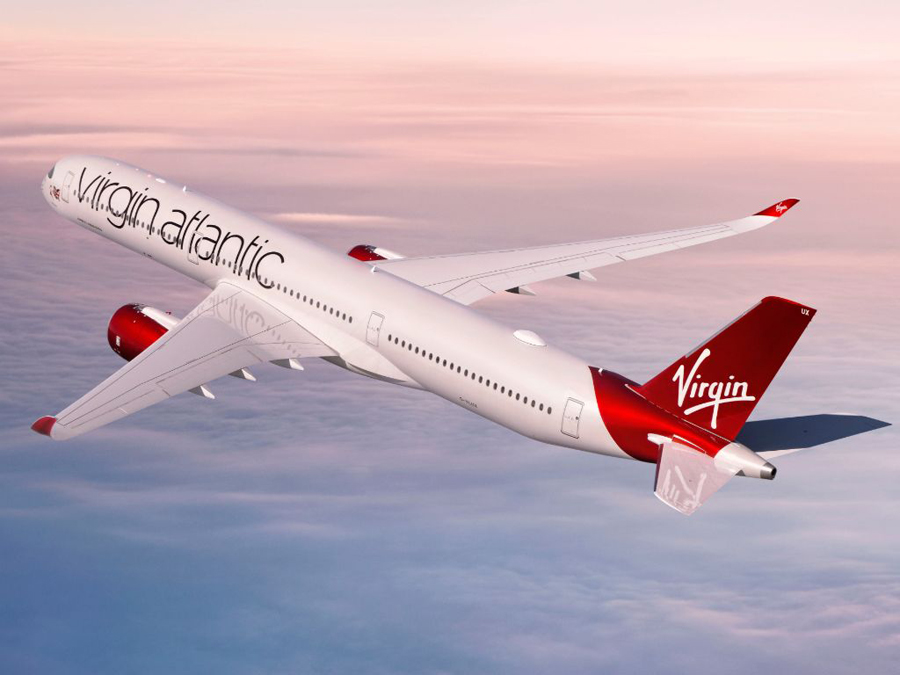 Photo source: virginatlantic.com
9. All Nippon Airways (ANA)
Originating in 1952, ANA is a shining beacon of Japan's age-old dedication to craftsmanship and warm hospitality. Every nuance of their service is imbued with the philosophy of 'Omotenashi', representing the heart and soul of Japanese guest honor.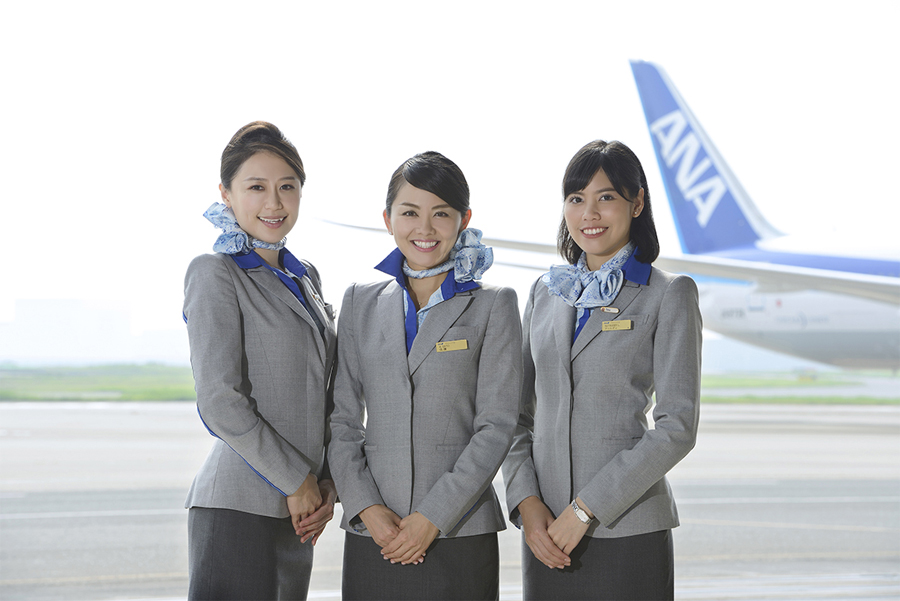 Photo source: statesman.com
Aboard their First Class realm, christened as "THE Suite", one witnesses an artful blend of aviation and the essence of luxury Japanese accommodations. It boasts expansive seating, doors that offer a cocoon of privacy, and a striking 43-inch 4K entertainment system that's a visual treat. But the journey is not just visual. The taste buds are taken on a sublime journey with meticulously crafted Japanese kaiseki cuisine, gracefully juxtaposed with international gourmet delicacies.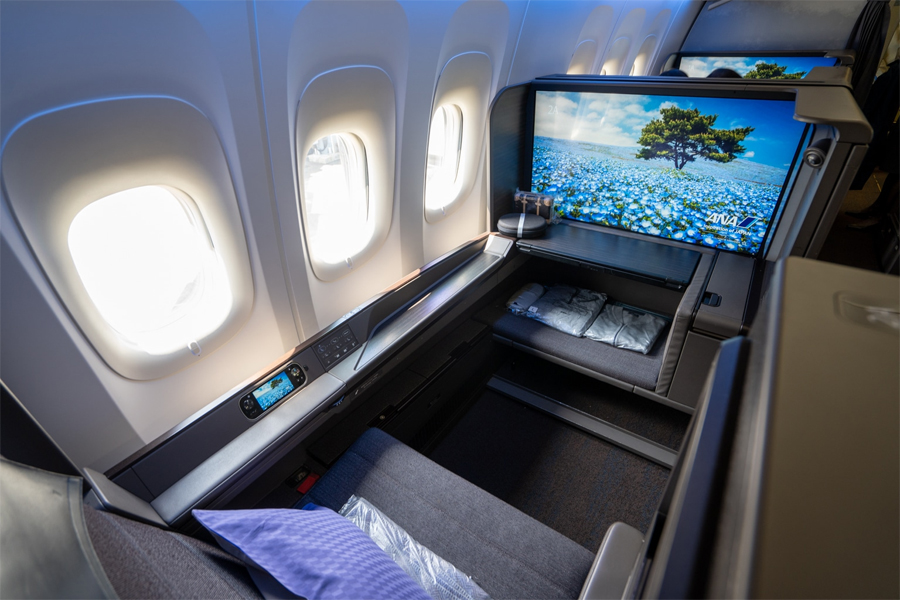 Photo source: princeoftravel.com
Yet, beyond the obvious luxury, ANA forges a path in conscientious flying. Their innovative "Tastes of Japan" initiative not only brings flavors from varied prefectures to the skies but also champions the spirit of local economies and the ethos of sustainable ingredient sourcing.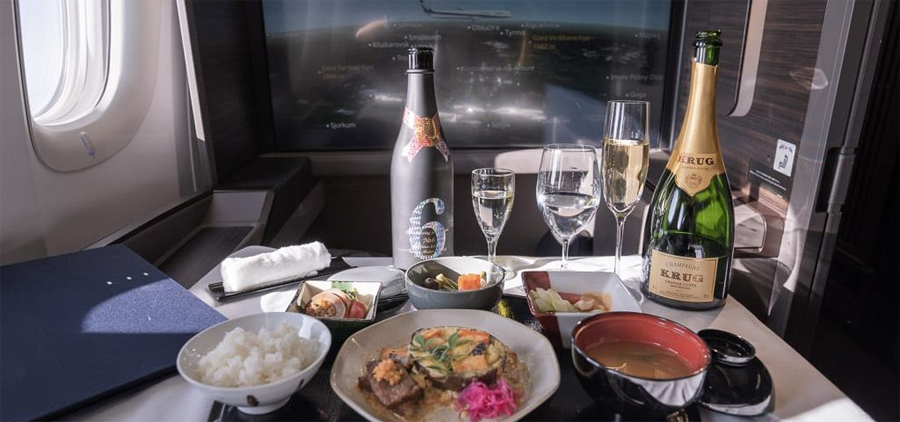 Photo source: theluxurytraveller.com
8. Korean Air
Exemplifying the graceful merger of South Korea's historic legacies with its modern-day prowess, Korean Air, incepted in 1969, crafts an unparalleled luxury narrative. Their Prestige Suites, showcased in select fleets, echo elegance with authentic wooden designs, ensuring passengers indulge in privacy, seamless aisle connectivity, and a roomy ambiance.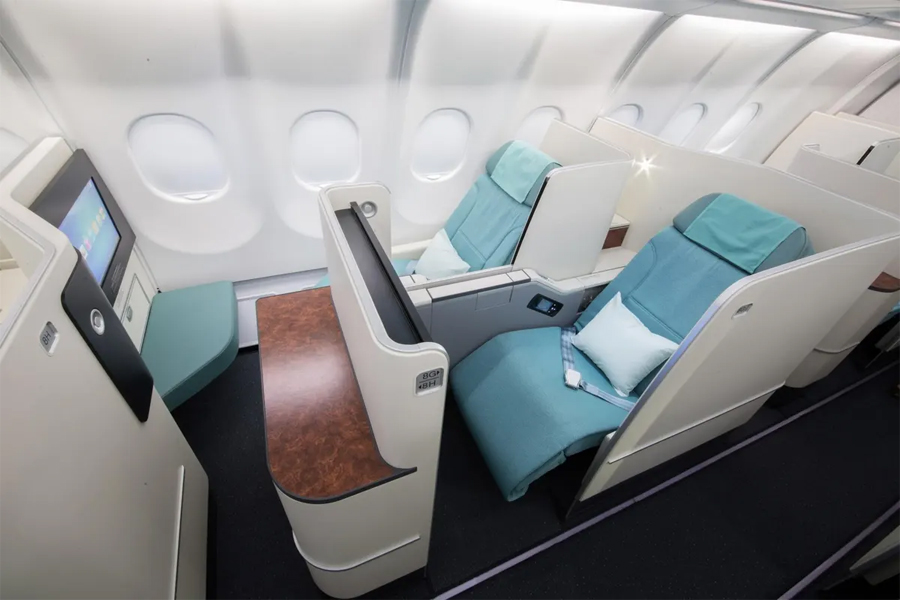 Photo source: forbes.com
Setting them apart is their culinary orchestration. While the world of aviation often raves about caviar and champagne, Korean Air elevates the experience by presenting authentic Korean royal feasts. Such offerings not only acquaint travelers with the intricate tapestry of Korea's gastronomic heritage but also underscore the wellness attributes intrinsic to Korean dishes.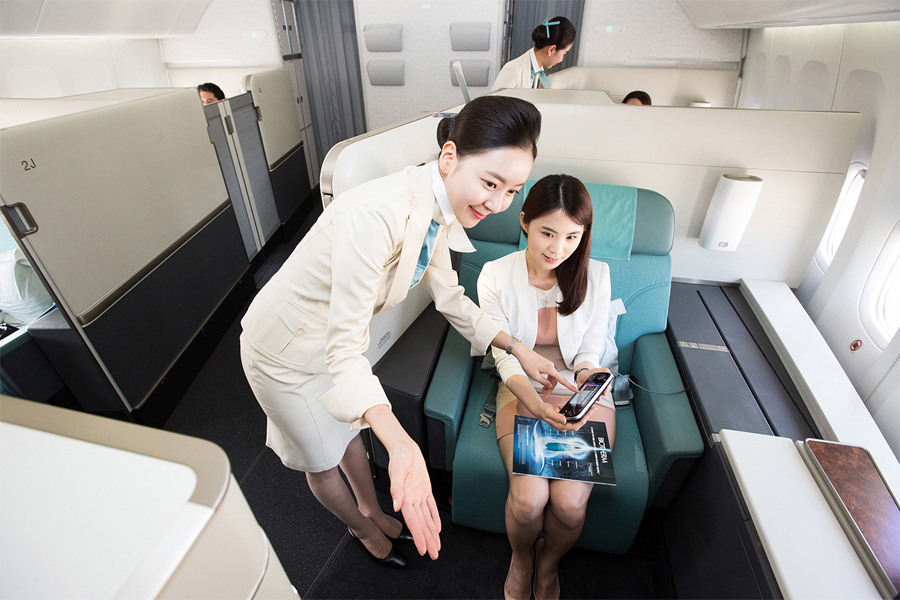 Photo source: hanjinkal.co.kr
At their terrestrial abode, particularly the lounges gracing Incheon International Airport, passengers can delve deep into the Korean ethos via traditional craft workshops, letting the cultural assimilation begin well before they ascend the skies.
Photo source: executivetraveller.com
7. British Airways
Steeped in history and British elegance, British Airways, operational since 1974, encapsulates a rich legacy of luxury. The airline takes pride in its British roots and ensures a touch of that heritage in every aspect of its service.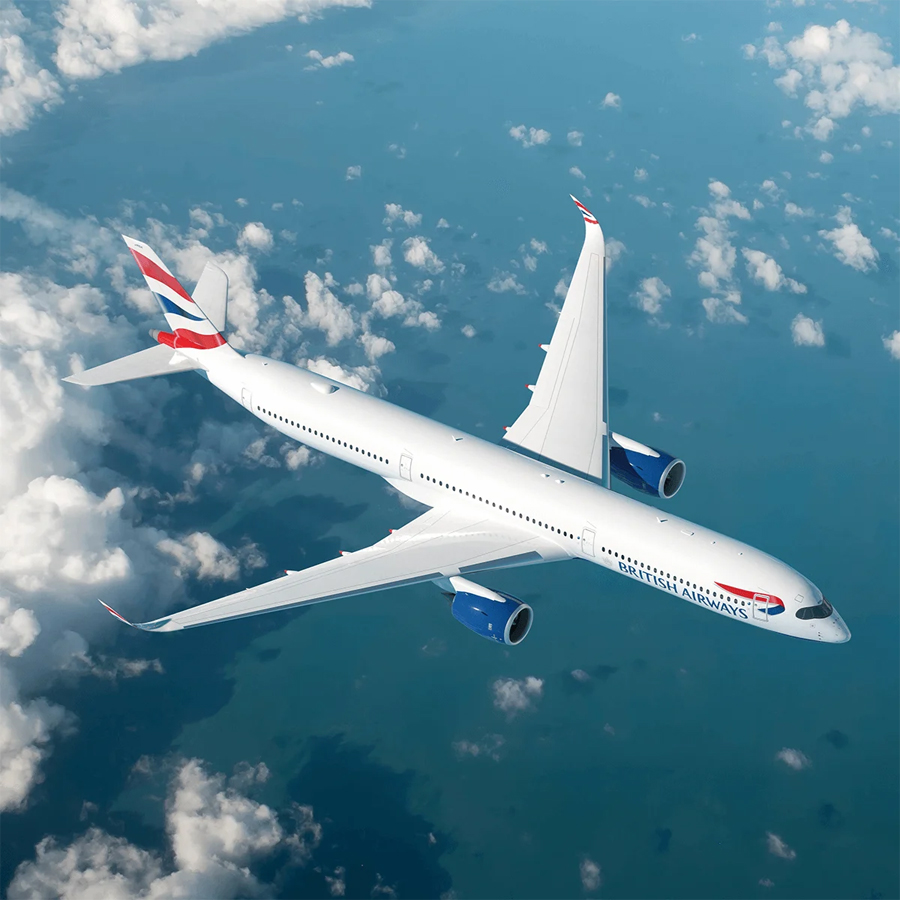 Photo source: oneworld.com
Their First Class cabins are reminiscent of classic British clubs with a modern twist. Privacy screens, personal wardrobes, and a la carte dining ensure passengers feel pampered. Adding to the allure is the Concorde Room at London Heathrow Terminal 5. Designed like a boutique hotel or private club, it provides a personal cabana with a day bed and en-suite bathroom, allowing travelers to freshen up or sleep in peace.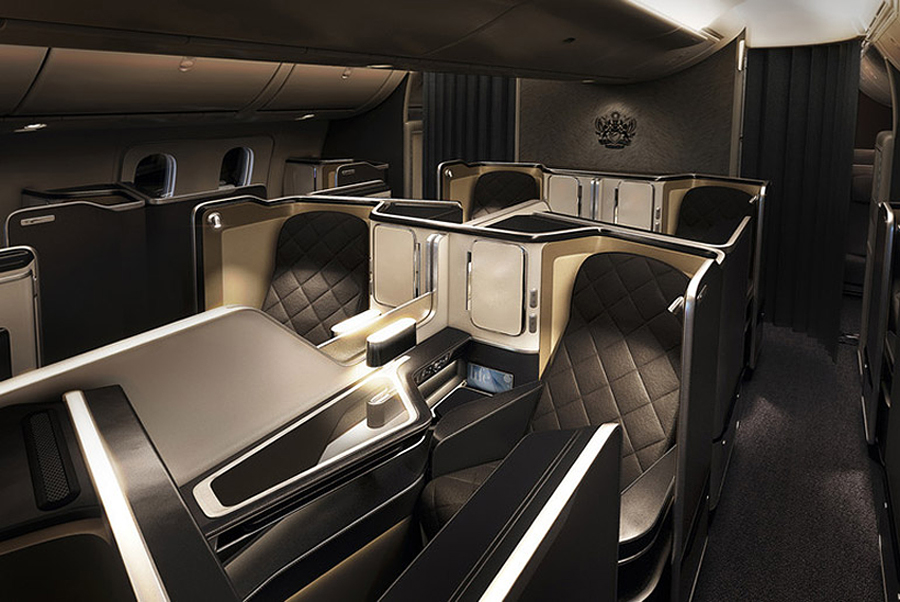 Photo source: justflybusiness.co.uk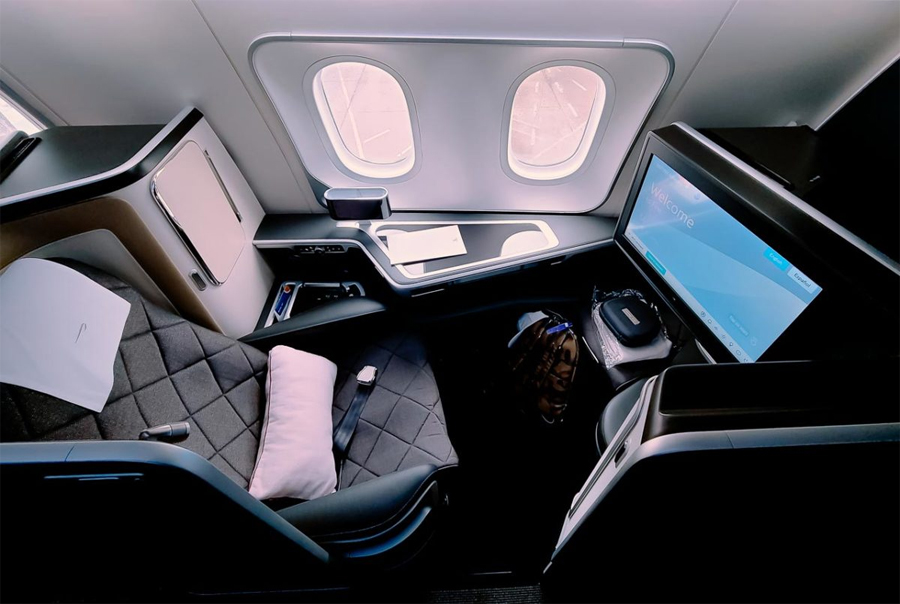 Photo source: godsavethepoints.com
British Airways also appreciates the fine art of dining. Collaborations with top British chefs and the finest wine experts ensure a dining experience that's both gourmet and authentically British.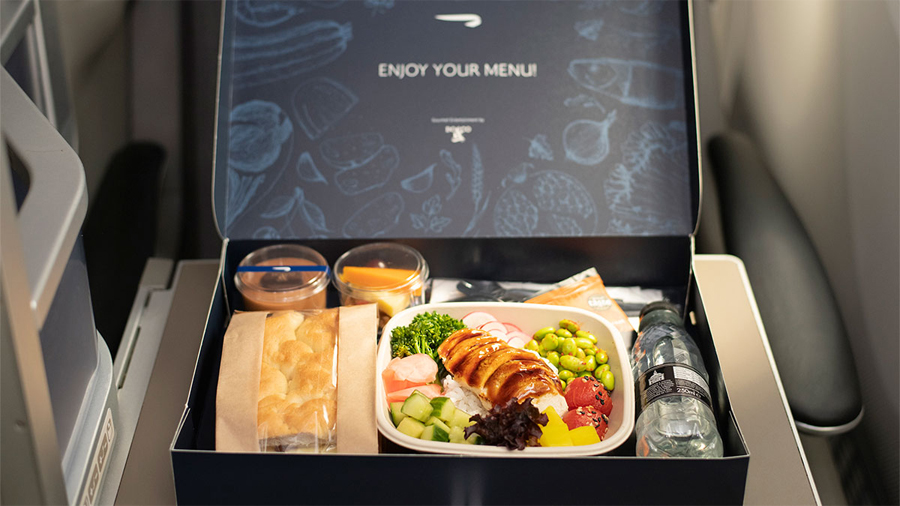 Photo source: liveandletsfly.com
6. Qatar Airways
Born amidst the golden dunes of the Arabian expanse, Qatar Airways epitomizes the confluence of Middle Eastern warmth with the epitome of contemporary opulence. Established in 1997, the airline has perennially been at the forefront, pioneering avant-garde in-flight amenities.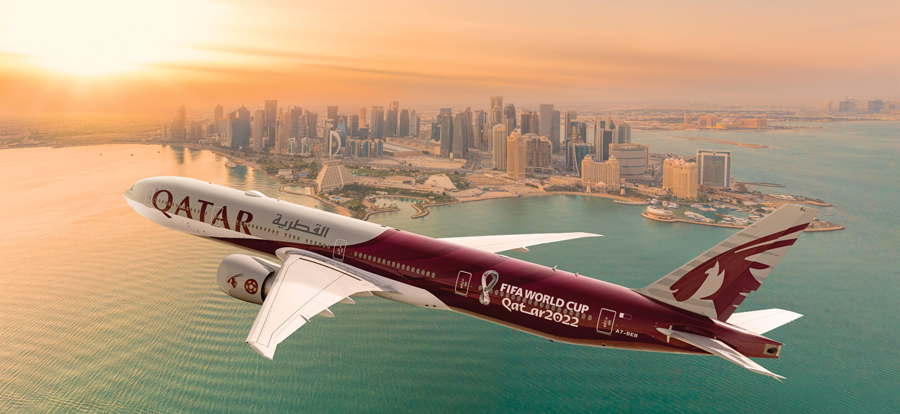 Photo source: qatarairways.com
The airline's crowning jewel, the Qsuite, has redrawn the boundaries of aerial luxury. Nestled within its confines, travelers are treated to a haven of serenity complemented by soothing ambient lighting. These suites exhibit versatility, effortlessly morphing to accommodate business discussions or familial moments, adapting seamlessly to diverse passenger requisites.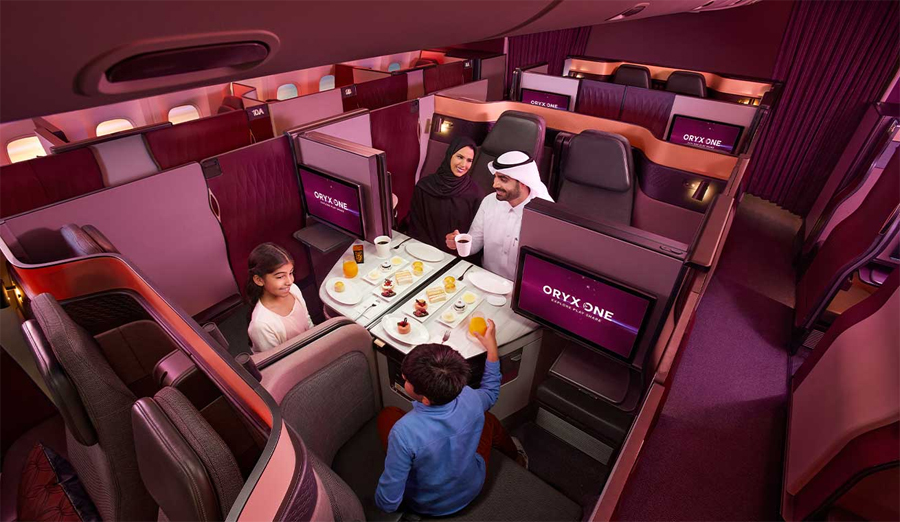 Photo source: qatarairways.com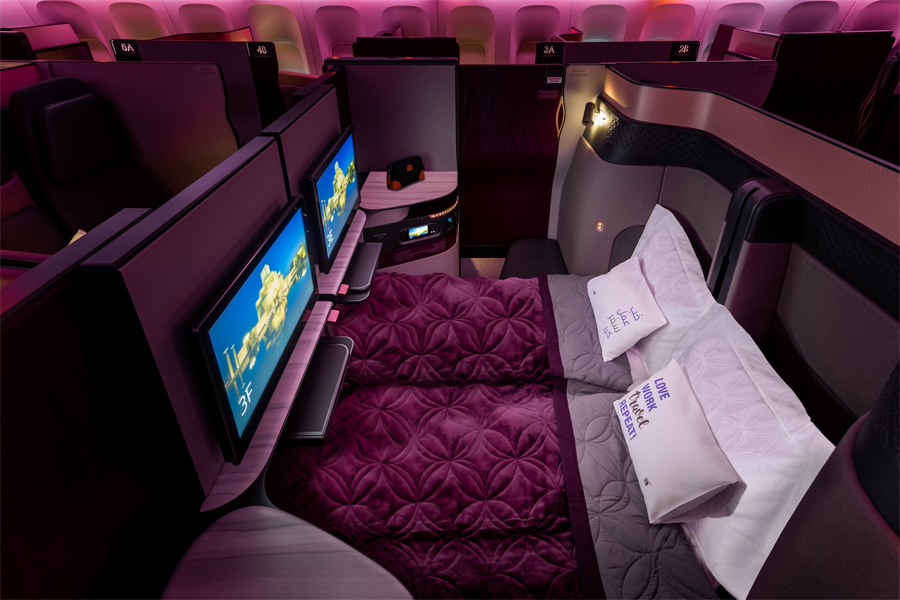 Photo source: qatarairways.com
And the journey is further augmented at ground level – the Al Mourjan Business Lounge, located at Hamad International Airport in Doha, sprawls across an impressive 10,000 square meters, presenting patrons with exquisite culinary delights and spirits (be sure to check the most expensive whiskey in the world), tranquil retreats, and even a picturesque garden oasis. Not to be overshadowed is their steadfast dedication to environmental stewardship. With an unwavering focus on maintaining a youthful fleet, the airline prioritizes fuel conservation and reduced carbon emissions, weaving together the strands of lavishness with conscientiousness, curating a travel narrative for the discerning, eco-aware passenger.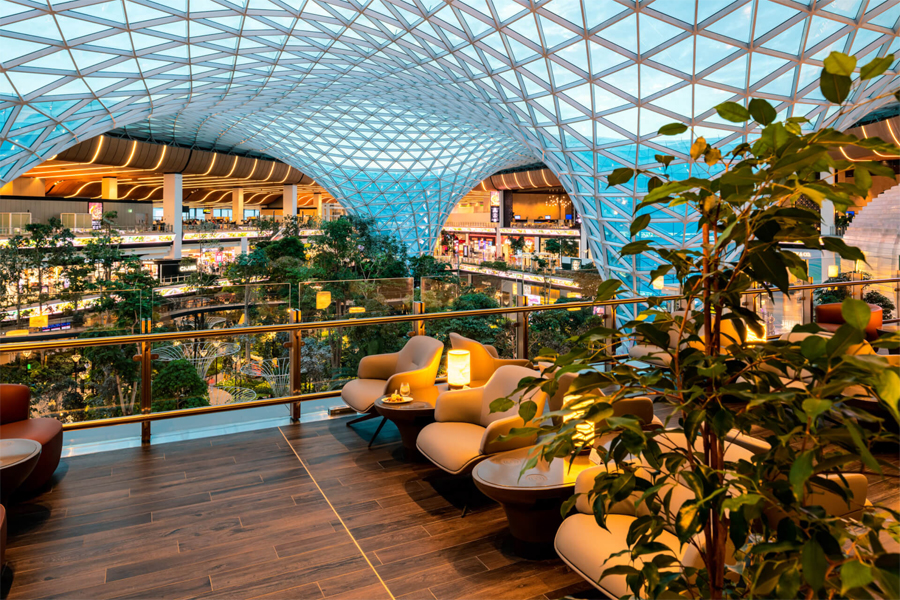 Photo source: airlinergs.com
5. Emirates Airline
From Dubai's golden sands rises Emirates Airline, an embodiment of the emirate's rapid ascent to global prominence. Founded in 1985 with just two aircraft, today it's synonymous with opulence and state-of-the-art amenities.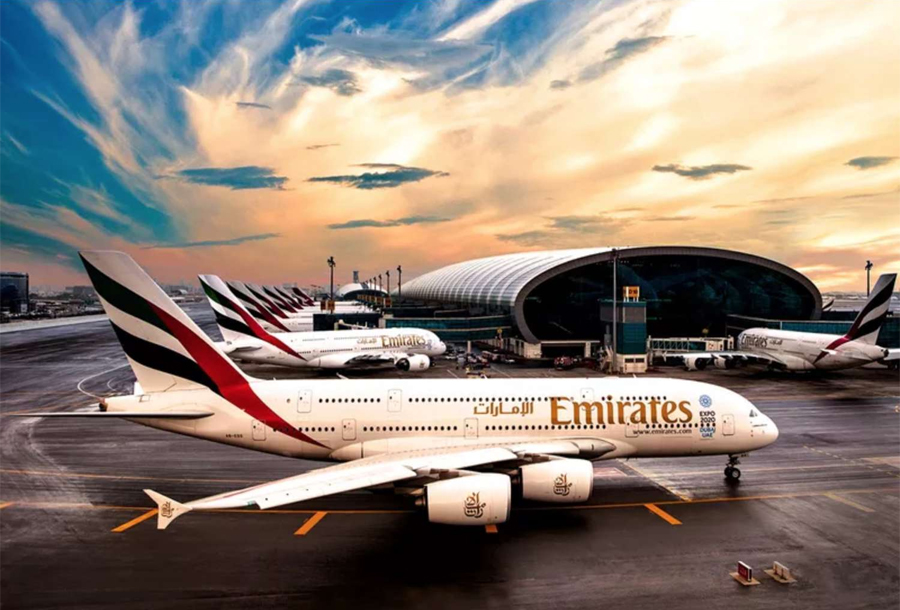 Photo source: tripsavvy.com
Perhaps most iconic is their A380 Onboard Lounge. For those flying Business or First Class, the lounge offers a venue to chat, sip on global cocktails, and even savor gourmet canapés.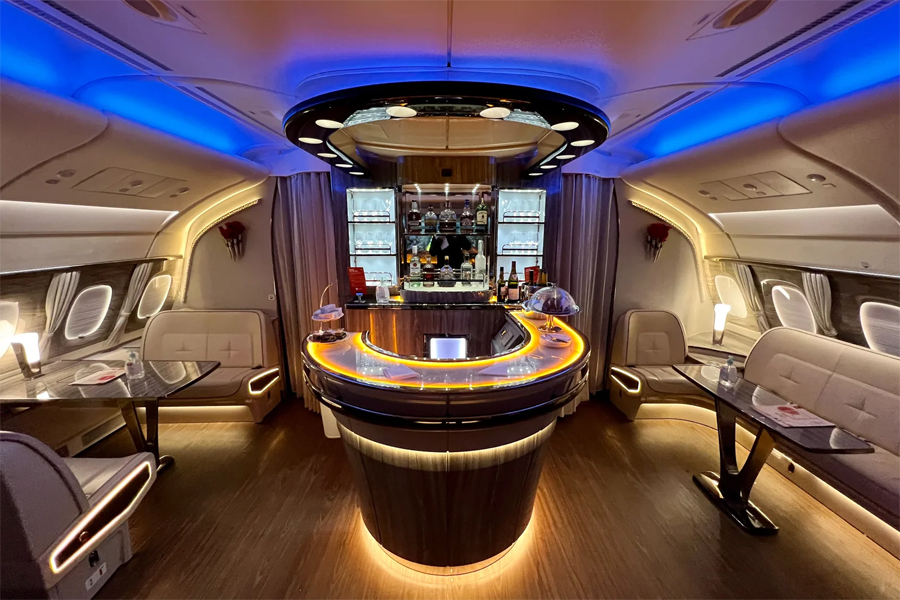 Photo source: thepointsguy.com
Their First Class also introduces the Shower Spa – a unique opportunity to rejuvenate before landing. But it's not just about the lavish facilities; it's about personalization. Emirates' in-flight dining is tailored to the route, ensuring a taste of the destination even before you arrive.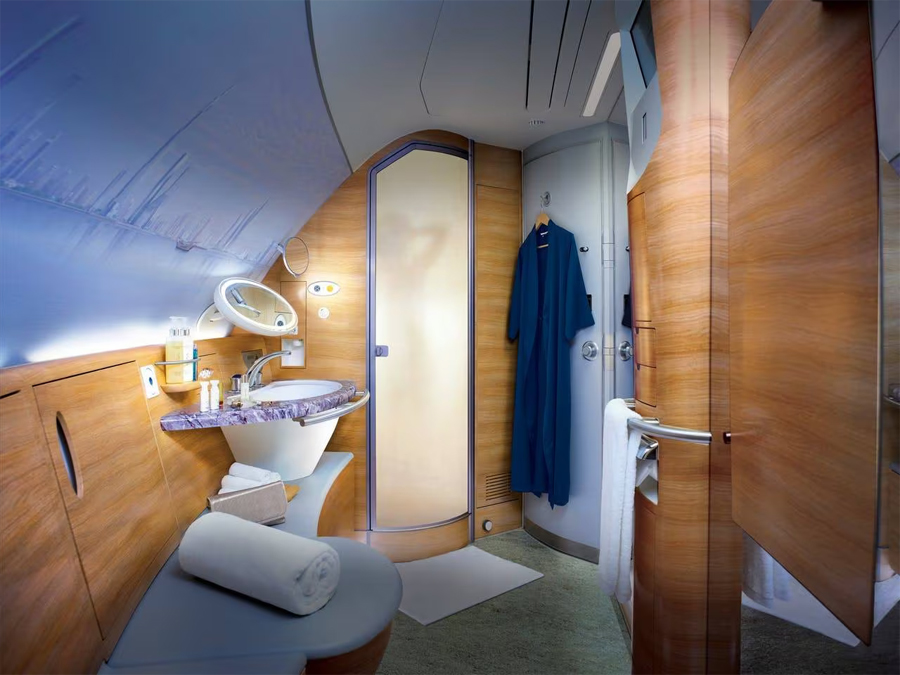 Photo source: emirates.com
What's more, Emirates has invested heavily in its in-flight entertainment system, ICE, providing over 4,500 channels of movies, TV shows, music, and even live sports. This ensures passengers, regardless of age or preference, find something to captivate them throughout their journey.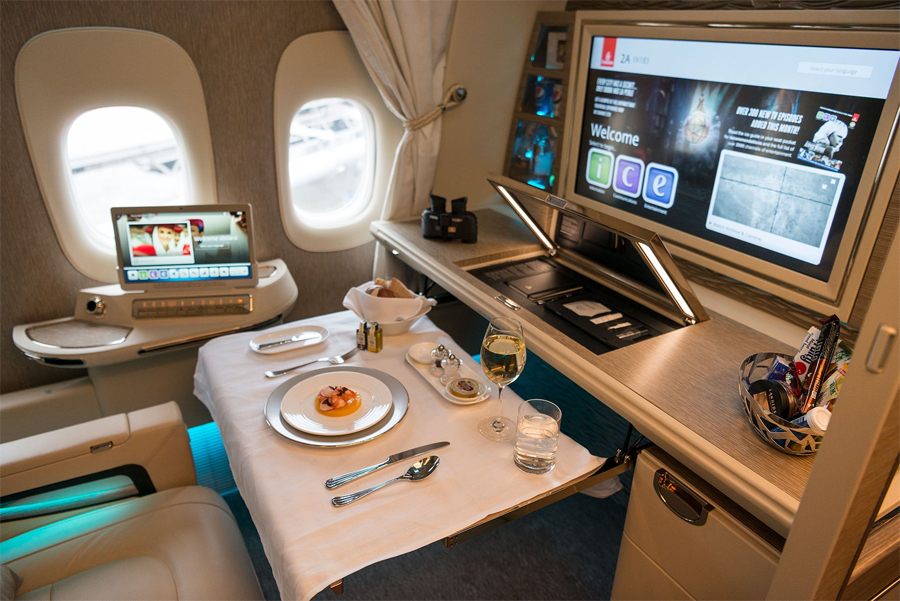 Photo source: nerdwallet.com
4. Cathay Pacific Airways
Emerging from the pulsating heart of Hong Kong, Cathay Pacific Airways stands as an emblem of elegance, fusion, and a unique amalgamation of Eastern and Western luxuries. Incepted in 1946, this aviation giant has carved a niche by seamlessly interweaving diverse cultures, thereby curating a luxury experience with its own signature touch.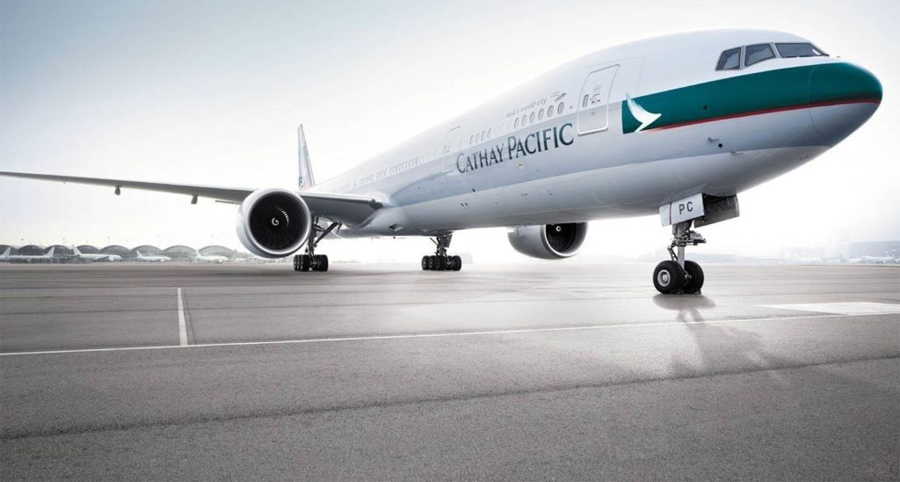 Photo source: traveldailymedia.com
The airline's First Class suite is a masterclass in nuanced luxury. Passengers are enveloped in the embrace of meticulously handcrafted leather seats that effortlessly metamorphose into flat beds. Coupled with an on-call personalized service and an entertainment system that has won accolades, the journey on board is nothing short of ethereal.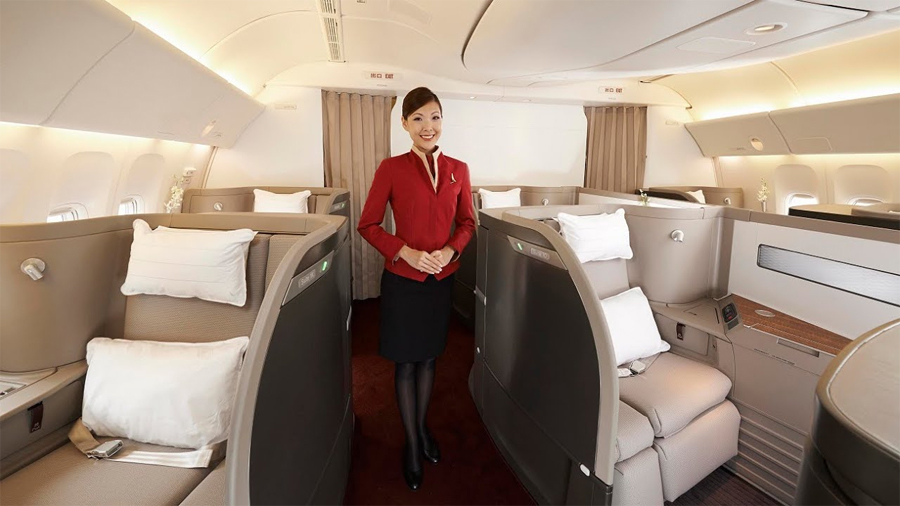 Photo source: cathaypacific.com
Yet, it is in the realm of gastronomy that Cathay Pacific truly takes flight. Their "Hong Kong Flavours" menu is a gustatory homage to their roots, enchanting palates with delicacies like succulent dim sum, delectable wonton noodles, and the cherished Hong Kong-style milk tea.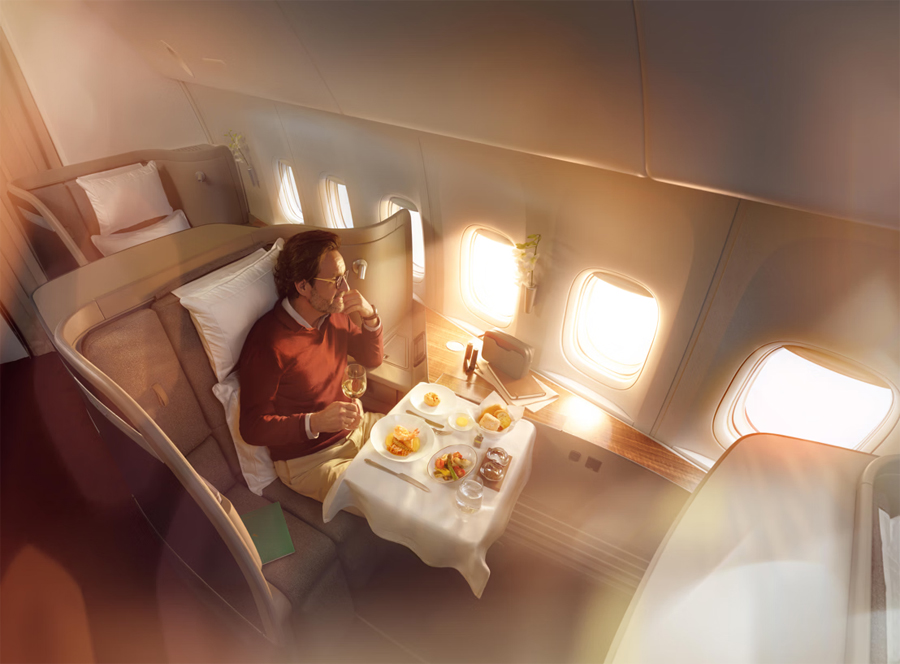 Photo source: cathaypacific.com
The journey with Cathay Pacific begins even before taking to the skies. Their acclaimed lounges, particularly "The Pier" at Hong Kong International Airport, sets the stage. Adorned with authentic teahouses, rejuvenating spa therapies, and day suites that boast breathtaking vistas, it offers an oasis of calm amidst the urban whirlwind.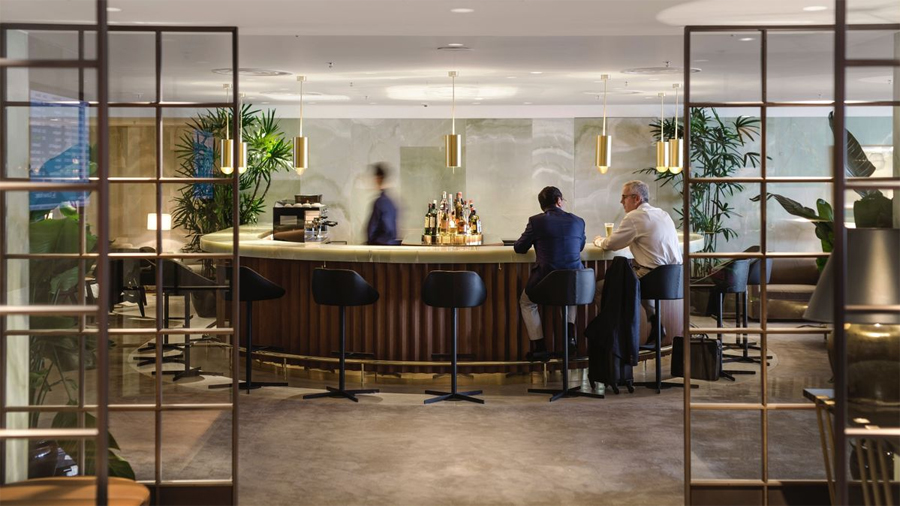 Photo source: executivetraveller.com
3. Singapore Airlines
Singapore Airlines, established in 1972, is often the yardstick against which aviation luxury is measured. While many know about the iconic Singapore Girl, clad in her sarong kebaya, representing the graciousness and quality of service, few know about the lengths the airline goes to ensure passenger comfort.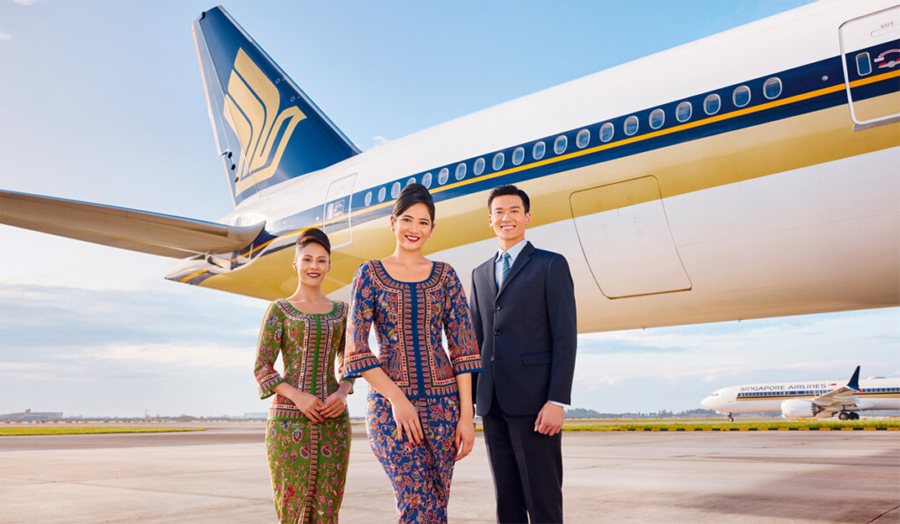 Photo source: worldairlineawards.com
Their Suites Class on the Airbus A380 stands as a testament to this commitment. Reimagined in 2017, each suite is a personal oasis with sliding doors, a standalone bed (separate from the seat), and even customizable mood lighting. It's like having one's own personal hotel room in the sky.
Photo source: worldairlineawards.com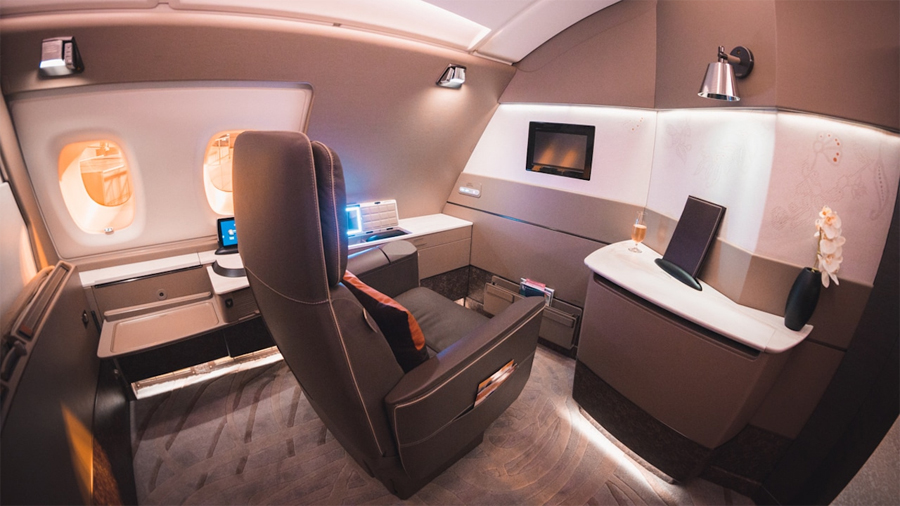 Photo source: worldairlineawards.com
The airline also collaborates with top chefs from around the world through its International Culinary Panel to curate gourmet meals. This, combined with their "Book the Cook" service, allows passengers to pre-order their meals from a comprehensive menu. Beyond the tangible luxury, what sets Singapore Airlines apart is its commitment to training. Every crew member undergoes a rigorous 15-week training program – the longest in the industry – ensuring that every passenger interaction is refined, cultured, and genuinely hospitable.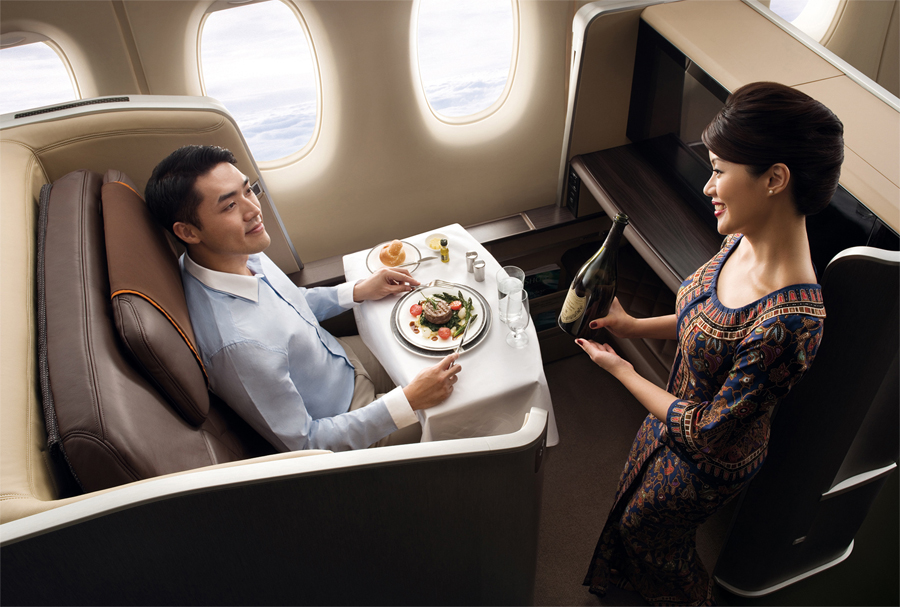 Photo source: mainlymiles.com
2. Lufthansa Airlines
Representing German precision and excellence, Lufthansa Airlines is more than just an airline; it's an experience. Having begun its operations back in 1955, this airline has steadily climbed the ranks to become a symbol of European luxury and sophistication.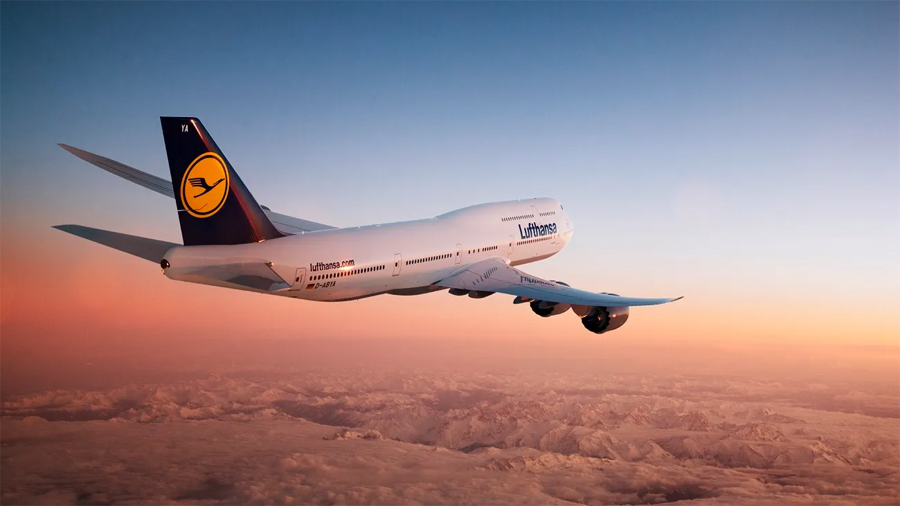 Photo source: theluxurytravelexpert.com
One unique aspect is Lufthansa's First Class Terminal at Frankfurt Airport. It's not just a lounge; it's an entire terminal dedicated to first-class passengers. From a personal assistant to guide passengers through the terminal, a gourmet restaurant, private sleeping rooms, to even a cigar lounge, this terminal ensures that the luxurious experience begins even before boarding.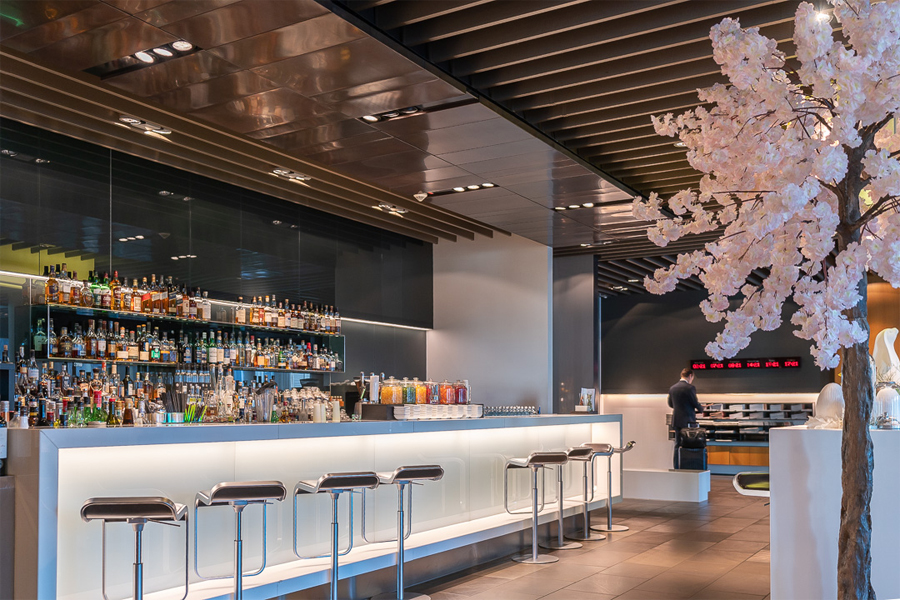 Photo source: theluxurytraveller.com
Once onboard, the opulence continues. Passengers can relish caviar courses as part of their in-flight meal, indulge in some of the world's finest wines, and even receive high-quality amenity kits featuring luxury brands.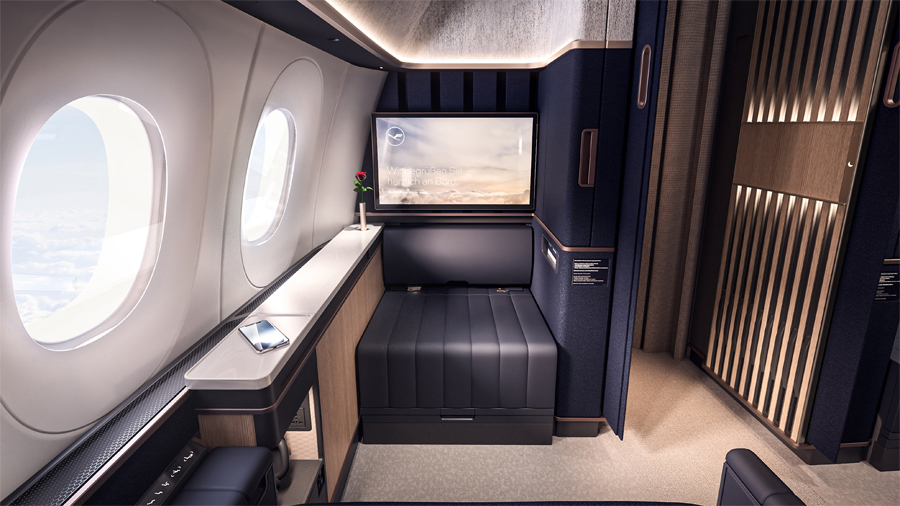 Photo source: lufthansagroup.com
Photo source: lufthansagroup.com
Moreover, Lufthansa has always been at the forefront of innovation. They were one of the first airlines to introduce in-flight internet, ensuring business travelers remain connected even tens of thousands of feet in the air.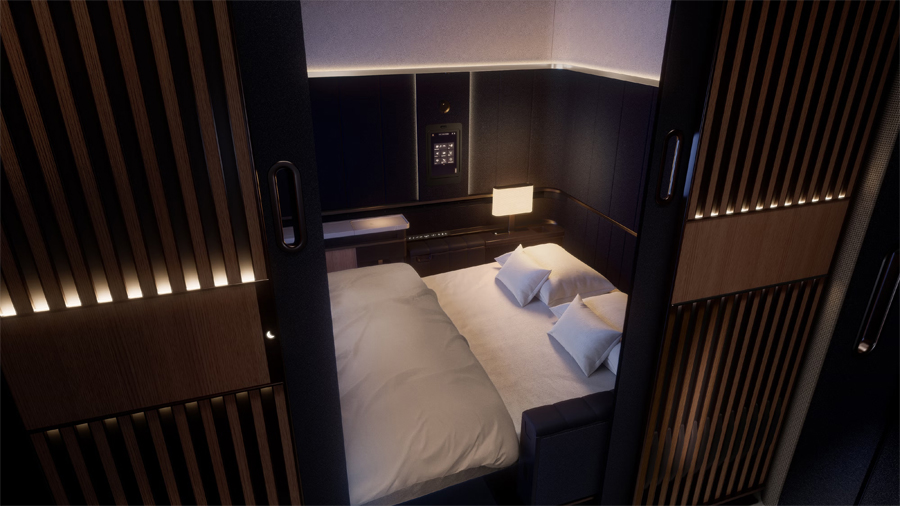 Photo source: lufthansagroup.com
1. Etihad Airways
Regarded as the crown jewel of the airline industry, Etihad Airways outdoes itself when it comes to unparalleled luxury. Founded in 2003, with its headquarters in Abu Dhabi, the national airline of the United Arab Emirates has quickly become the standard by which all other airlines measure luxury.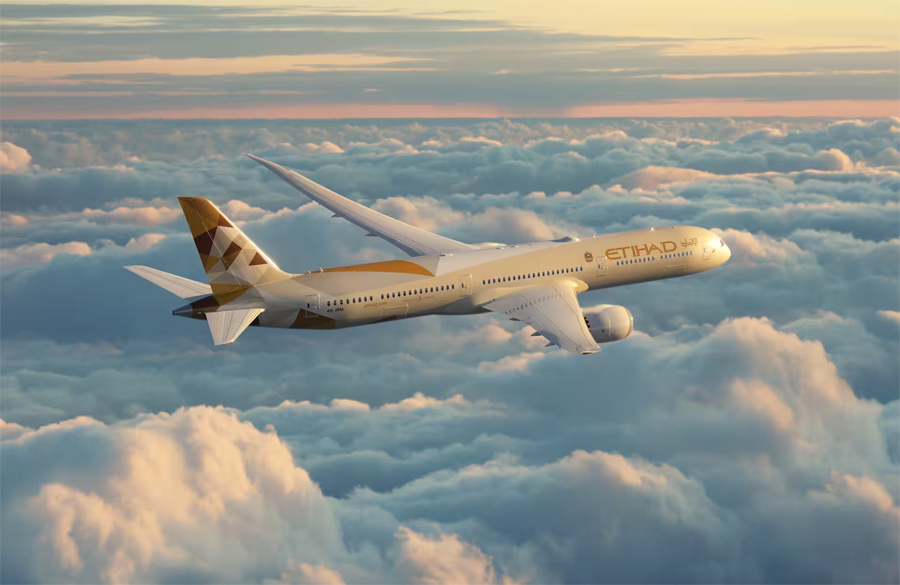 Photo source: etihad.com
"The Residence" stands out as Etihad's most extravagant offering. When one books a spot in this suite for a journey connecting major world cities, they aren't just purchasing a flight. They're securing a three-room apartment in the sky. Spread across 125 square feet, it boasts an opulent living room complete with a 32-inch LCD TV, a separate bedroom with a double bed, and even an en-suite bathroom with a full-height shower.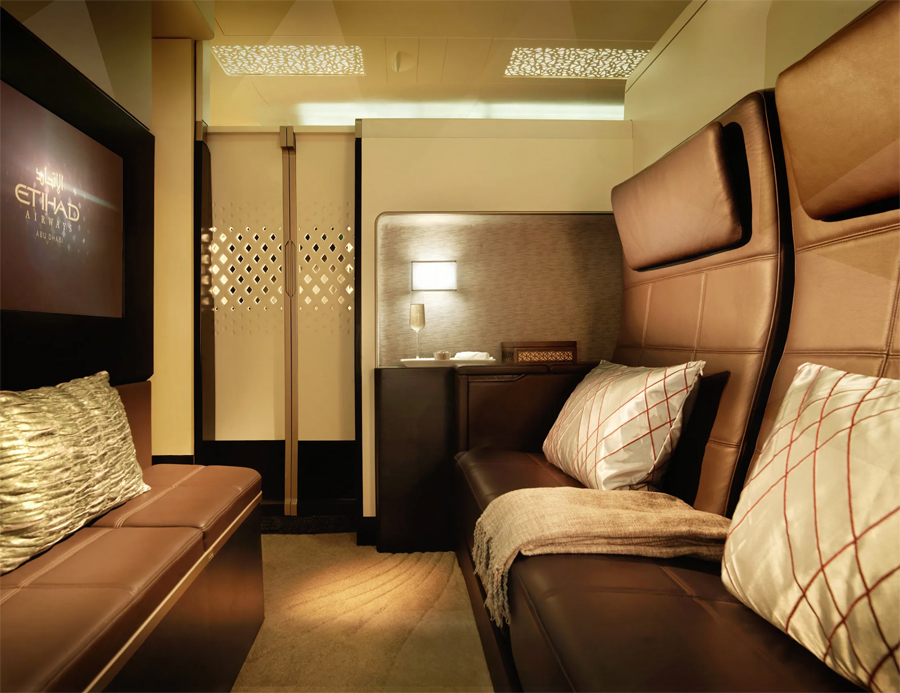 Photo source: fortune.com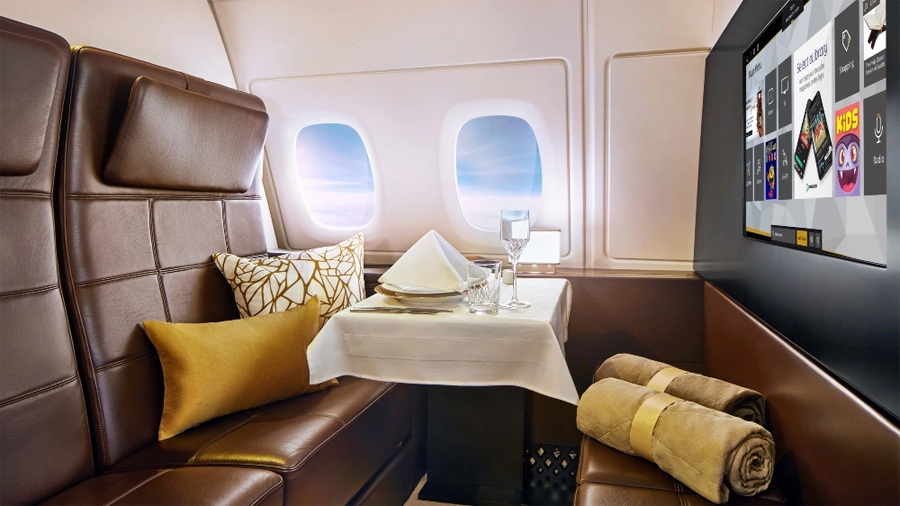 Photo source: fortune.com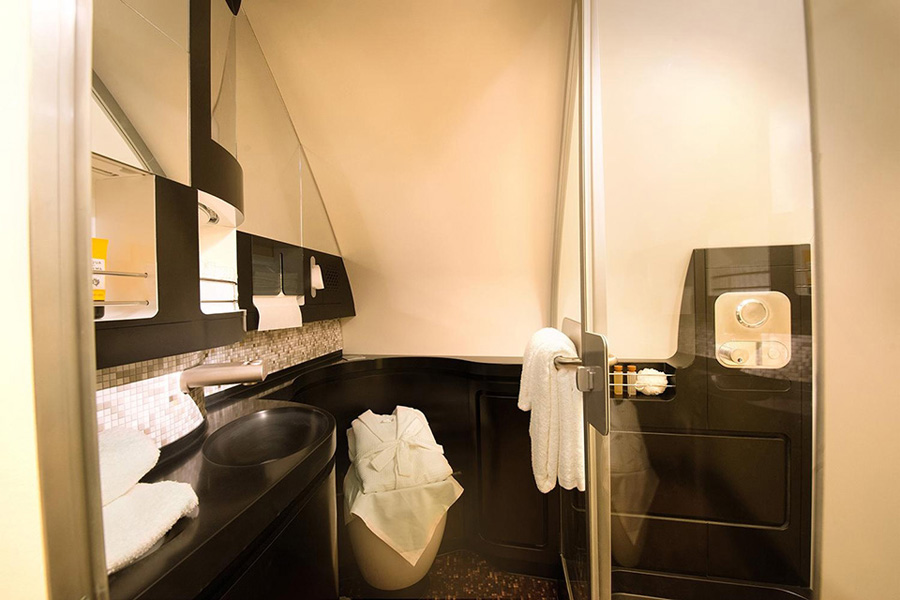 Photo source: thecoolist.com
Complementing this is the service of a dedicated Savoy-trained butler and an onboard chef. Furthermore, they introduced virtual reality technology to their onboard lounges, allowing passengers to explore destinations before they arrive.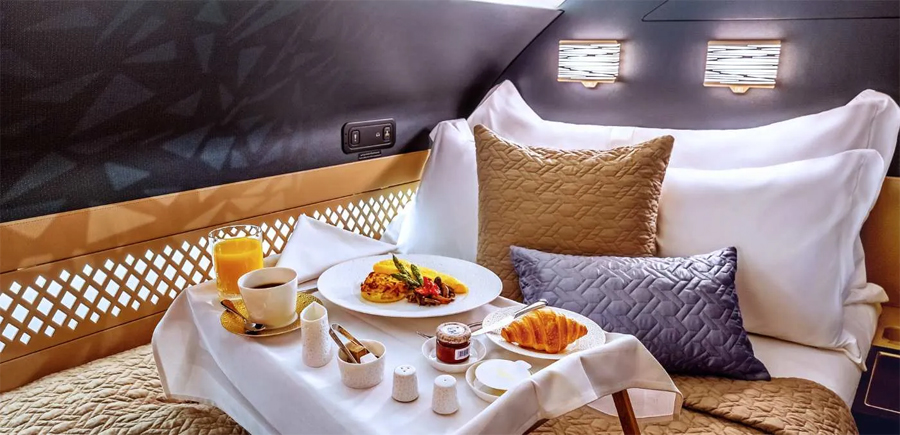 Photo source: signatureluxurytravel.com.au
But what drives up its luxury quotient (and its price) is the attention to detail. From Poltrona Frau leather seats to customizable mood lighting, and the most comprehensive in-flight entertainment system in the industry, the airline ensures that every element of the journey is tailored to the traveler's desires.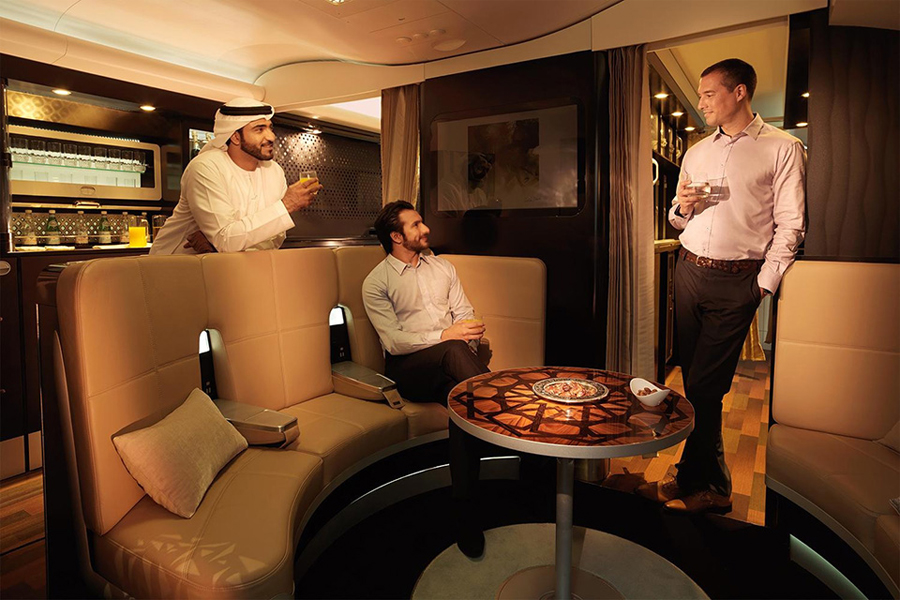 Photo source: thecoolist.com
If you're amazed with these airlines – be sure to check our list of the biggest cruise ships in the world.