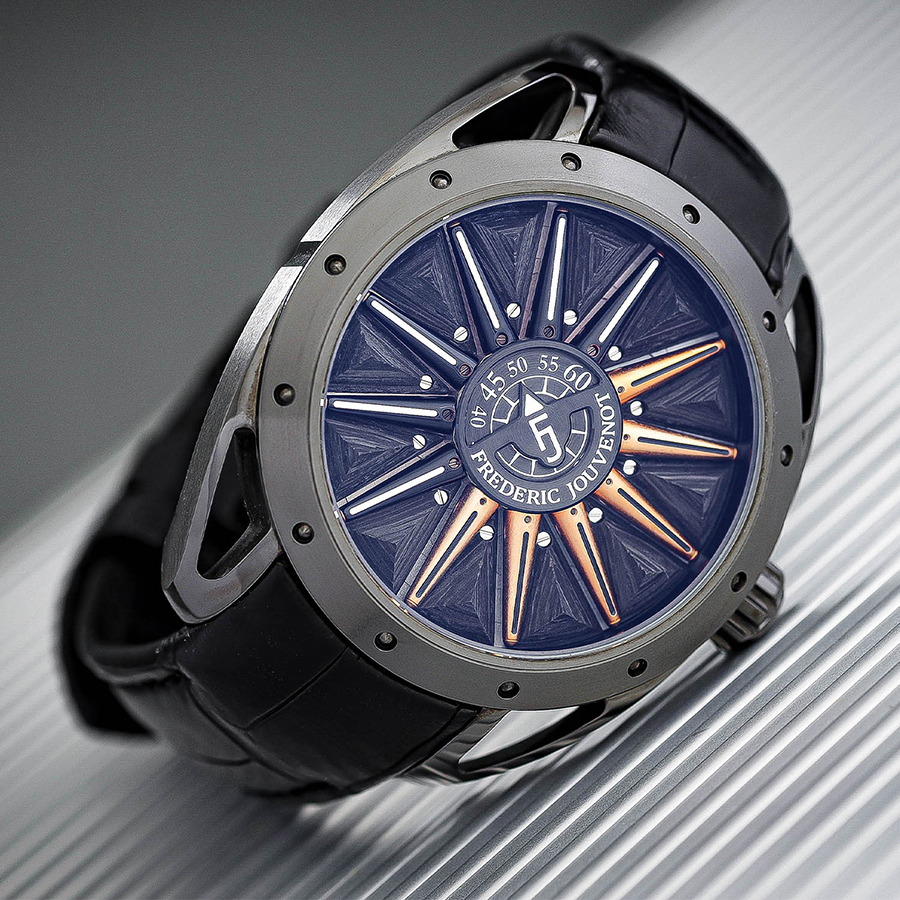 Ten years ago, Robin covered the rise of the young indie watchmaker Frédéric Jouvenot and his award-winning Helios watch with its innovative way of displaying the time. Inspired by the sundial, the oldest method of tracking time, the Helios has 12 cone-shaped markers radiating from the centre of the watch that flip over to indicate the time. The latest Helios model to join the Solar Deity collection is the Frederic Jouvenot Helios Carbon, a limited edition of 88 pieces with the watchmaker's patented jumping hours display and 12 miniature pyramids made of forged carbon separating the hour cones.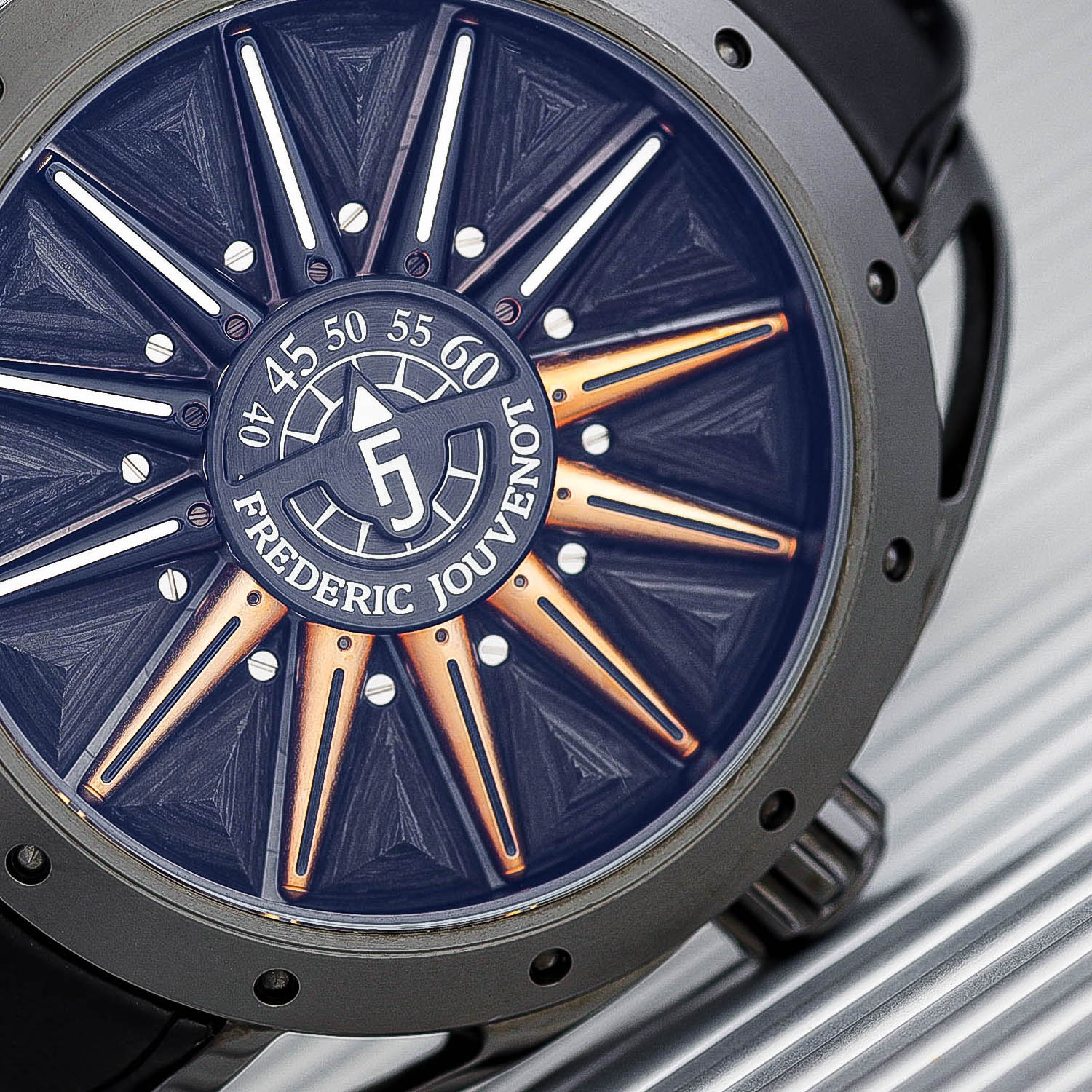 The Solar Deity collection is comprised of four models named after different Sun gods, all equipped with Jouvenot's unique 24-hour sun-shaped display. The Helios is named after the Greek god of the Sun, depicted in mythology wearing a crown of sunbeams and driving a chariot across the sky. Now with the incorporation of pyramids on the dial, Jouvenot pays homage to ancient Egyptian sundials in the form of obelisks.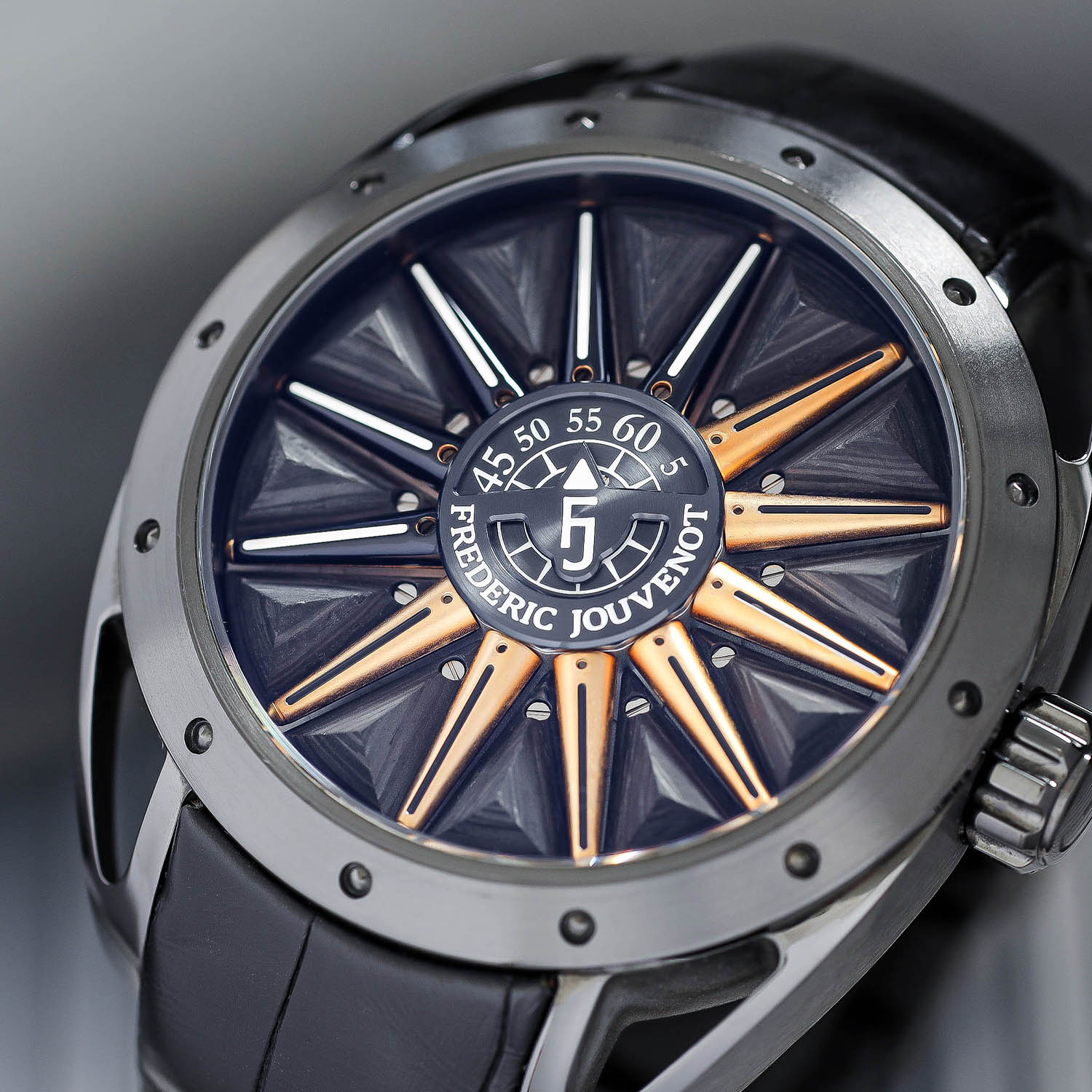 Like other men's models in the Solar Deity collection, the case of the Frederic Jouvenot Helios Carbon has a 44mm diameter and a height of 13mm. Crafted in titanium with a black DLC coating, the large case displays the signature openworked lugs and 12 recessed circles on the bezel with miniature rounded pyramids in their interior. Brushed surfaces on the bezel and casebands contrast with the surface polish of the lugs. The dial and caseback are protected by a sapphire crystal with anti-reflective treatment.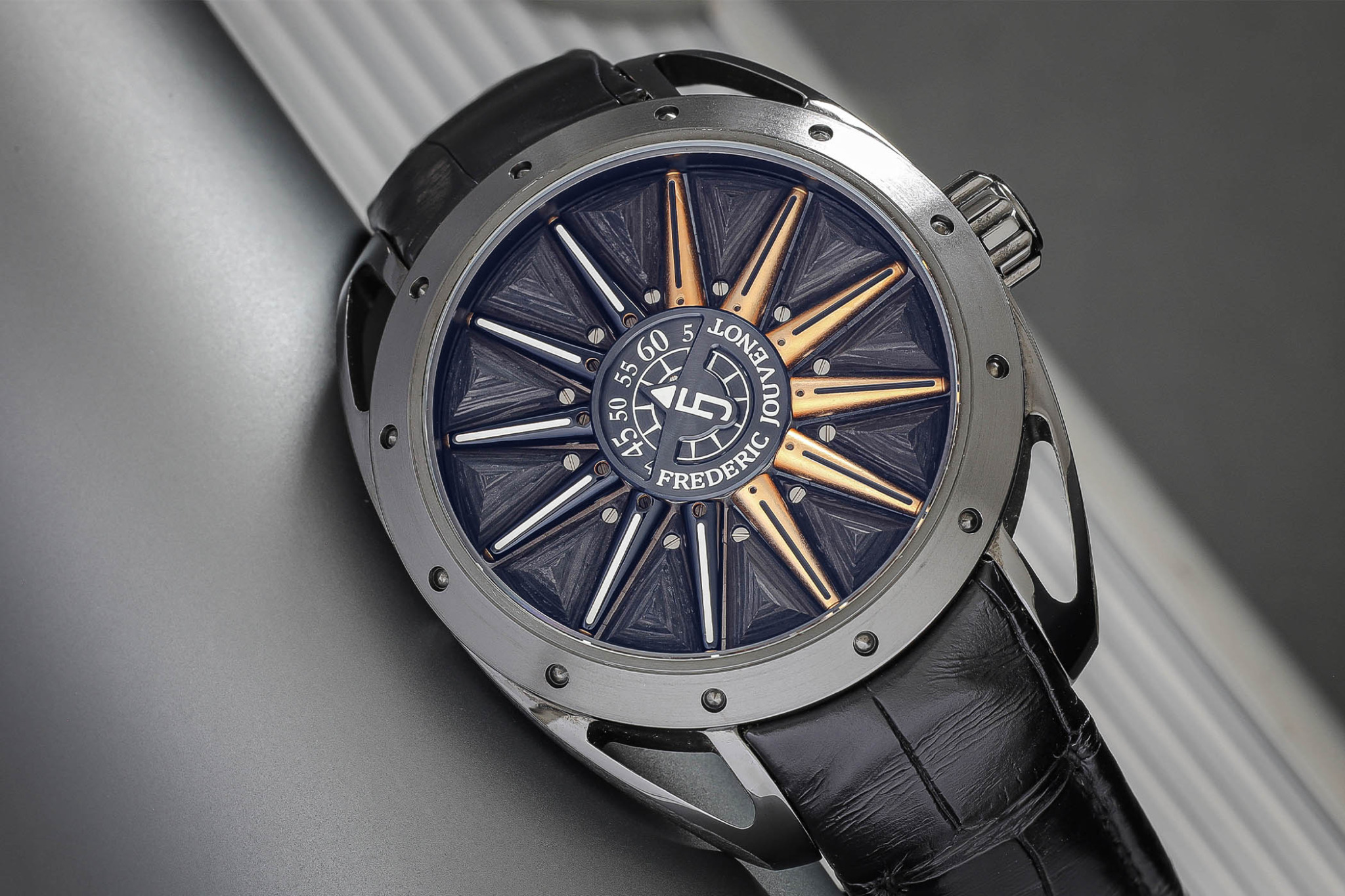 The originality of this watch is Jouvenot's display of the hours represented by 12 rotating sunbeams. Daytime hours are represented by golden beams, while the night hours are dark with a strip of luminous material. Reading the time is highly intuitive, with the minutes positioned on a grey central disc with large white numerals and indicated by a rotating white arrow. What is new about this watch is the presence of 12 dark forged carbon pyramids placed between each hour marker. A brittle material that is challenging to work with at such a miniature scale, the marbled striations of the composite material mean that no two pyramids are the same.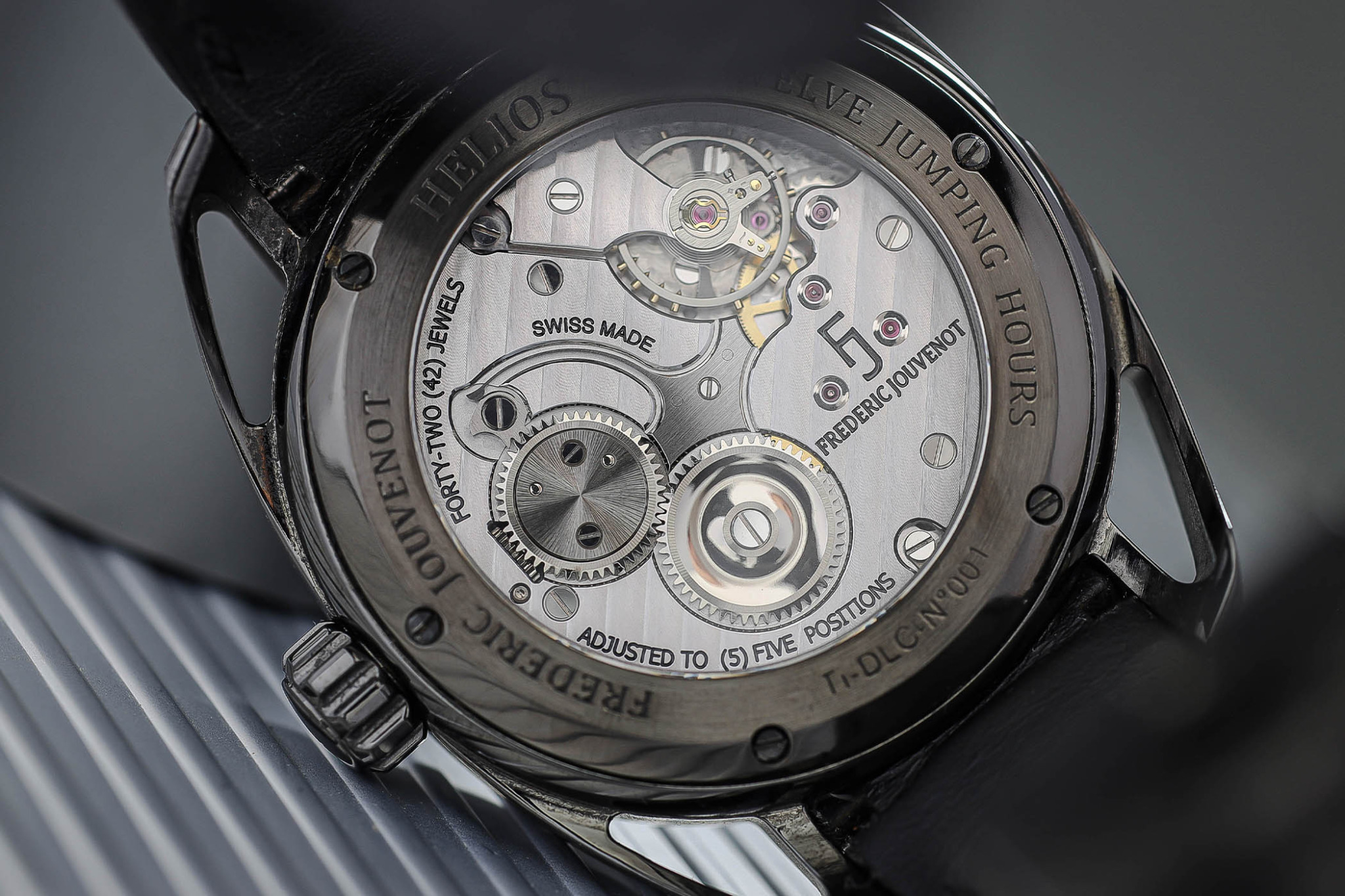 Furthermore, the pyramids underscore the three-dimensionality of the dial. What is curious is how the mini pyramids are attached to the dial with exposed screws at their tips. Larger than the screws that can be seen on the night-time face of the sunbeams, they contribute to the overall industrial feel of the watch.
The Frederic Jouvenot Helios Carbon is a limited edition of 88 pieces. It comes with a black alligator leather strap with a black DLC titanium folding clasp and is presented with a USB guarantee card and a special box. Price is available upon request. But you can always check one of the best men titanium watches.