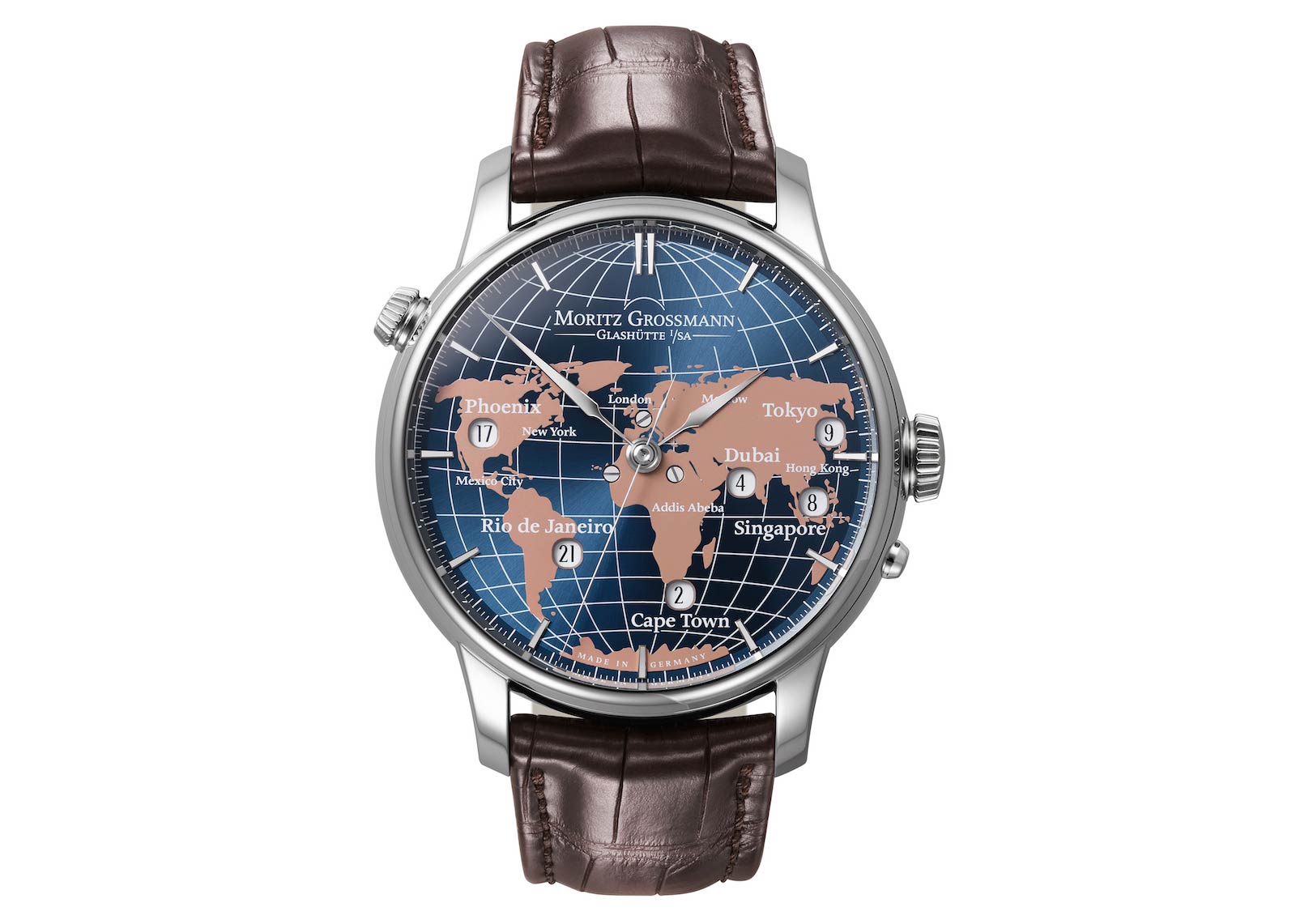 The latest creation of German watchmaker Moritz Grossmann, the Universalzeit, makes it possible to read seven time zones at a glance by intuitively displaying them on a world map. A total of six windows display the hour from 1 to 24 in each of the six cities. Thanks to the fact that daylight-saving time is not observed in the cities selected, the Universalzeit indicates the actual time all year round and no adjustment is necessary.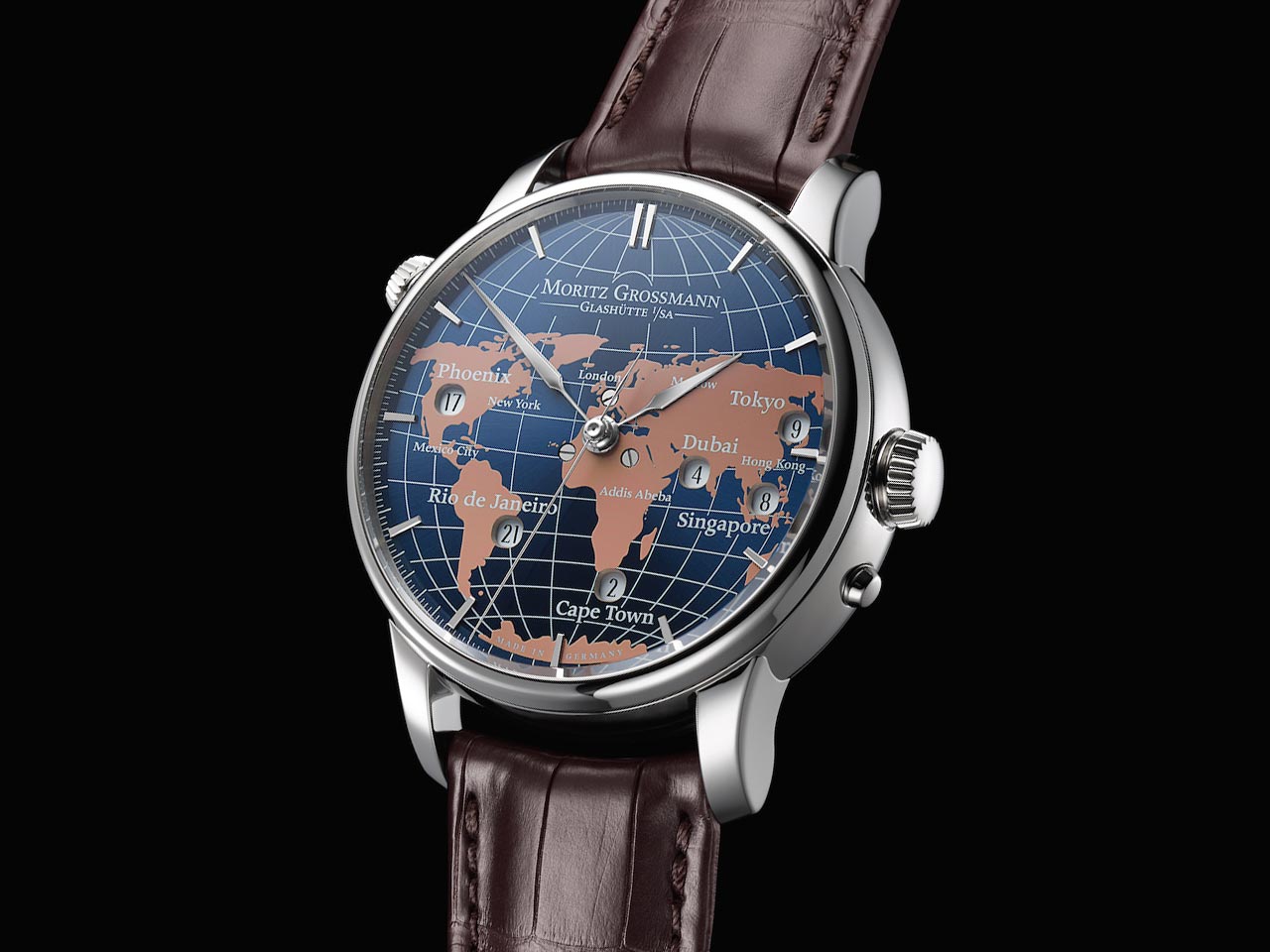 The galvanised base of the dial is finished with a sunray finish that lends the dial a luminous blue tone used to represent the oceans. The continents stand out for their salmon colour while the filigree network of longitude and latitude encircles the globe in a pale shade of white.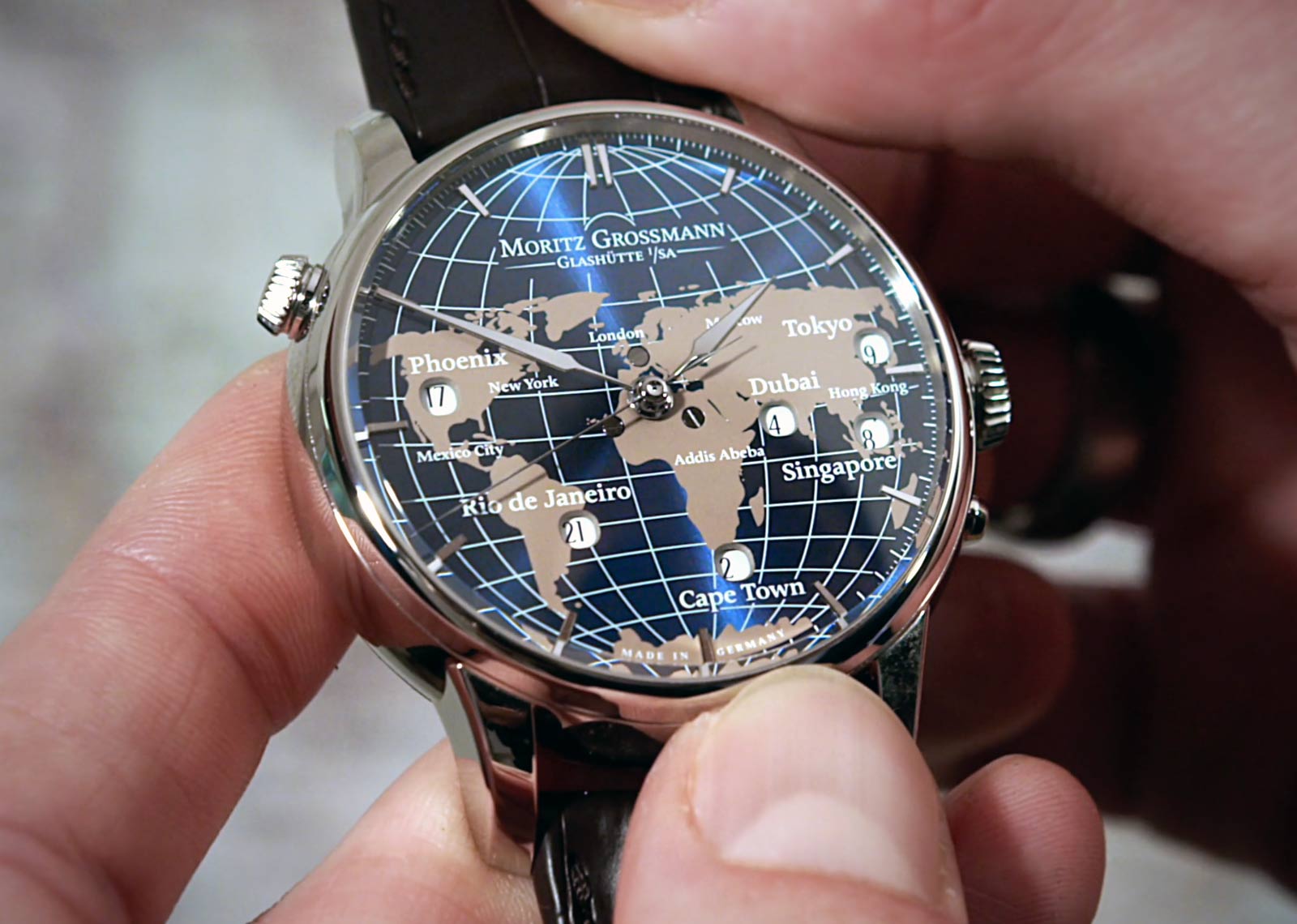 The numerals of the time-zones windows are black on a white lacquered background to ensure optimal legibility. Flat polished, the lance-shaped hour and minute hands and steel hour indices are manually crafted in the manufactory.
Crafted from stainless steel, the 44.5 mm x 13.78 mm case houses the new calibre 100.7, specially developed by Grossmann's designers in the manufactory.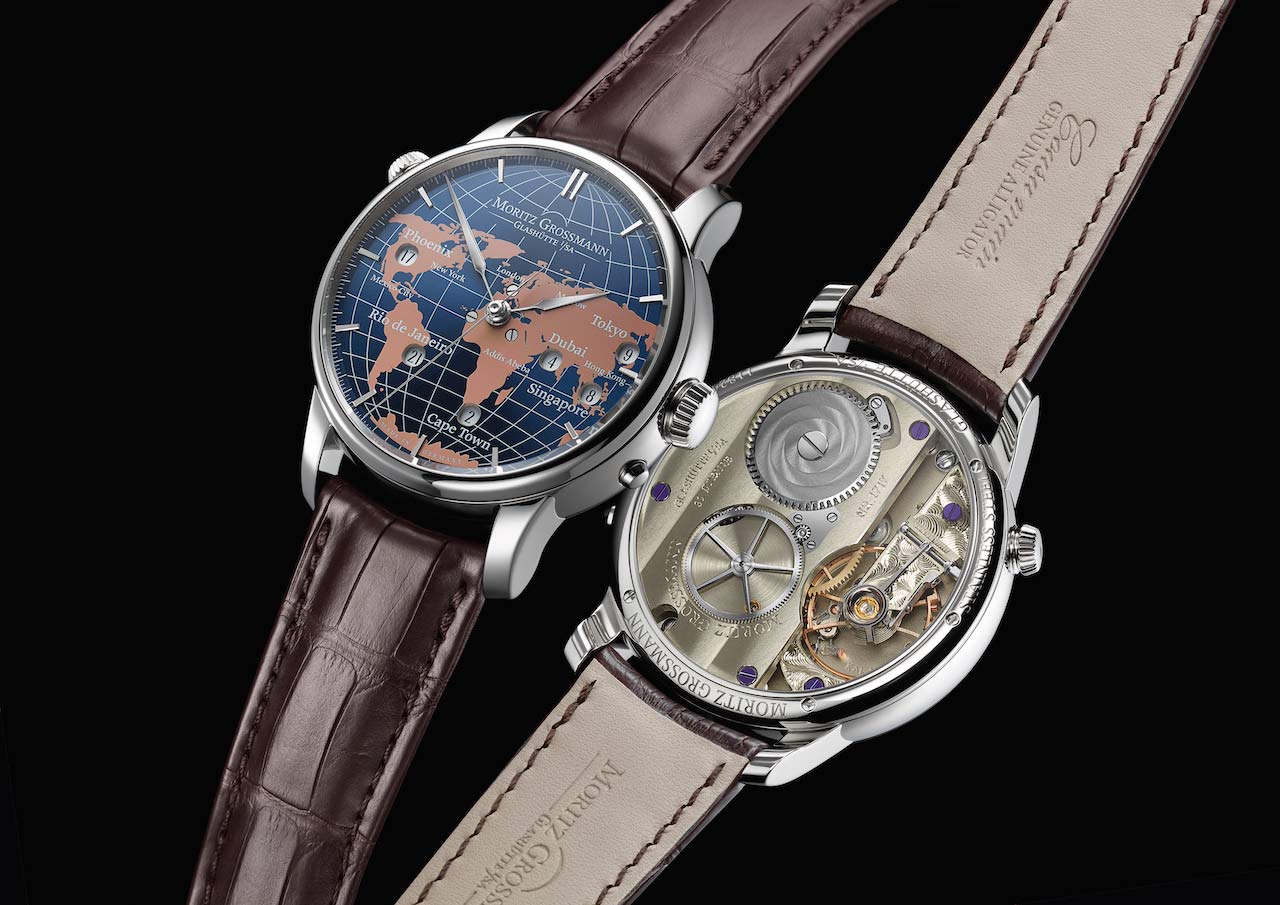 The hours in the time windows and the main time are set via the crown at 3 o'clock. When the minute hand passes 12, the time in the time windows jumps forward by one hour. A disc connected to a 24-tooth ratchet wheel moves beneath the dial. This is printed with a multitude of numerals from 1 to 24, each arranged at an angle of 15 degrees across a total of six rings.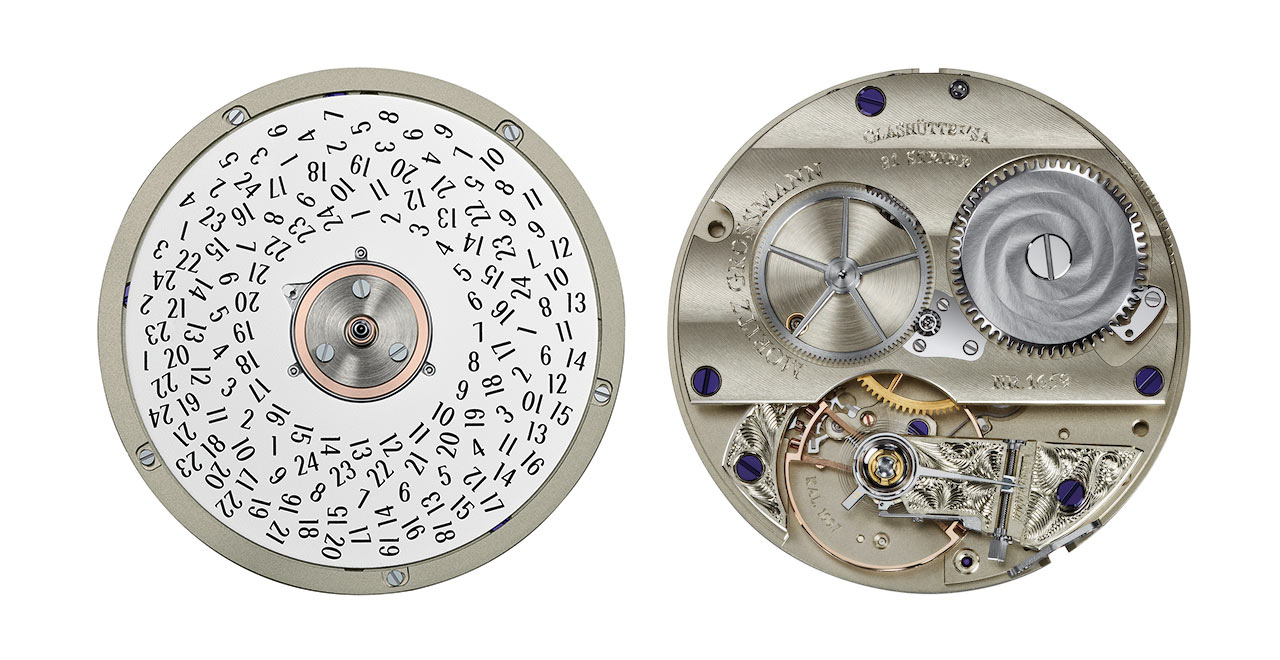 When setting the watch, the time in the six windows must be adjusted in advance. Knowing the current time zone for one location is sufficient as the time in the other windows is automatically synchronised.
The main time hour hand is then corrected via the pusher mechanism at 10 o'clock. The hour hand of the main time can be moved backwards and forwards separately in hourly increments using the quick adjustment mechanism. This does not change the time display in the windows.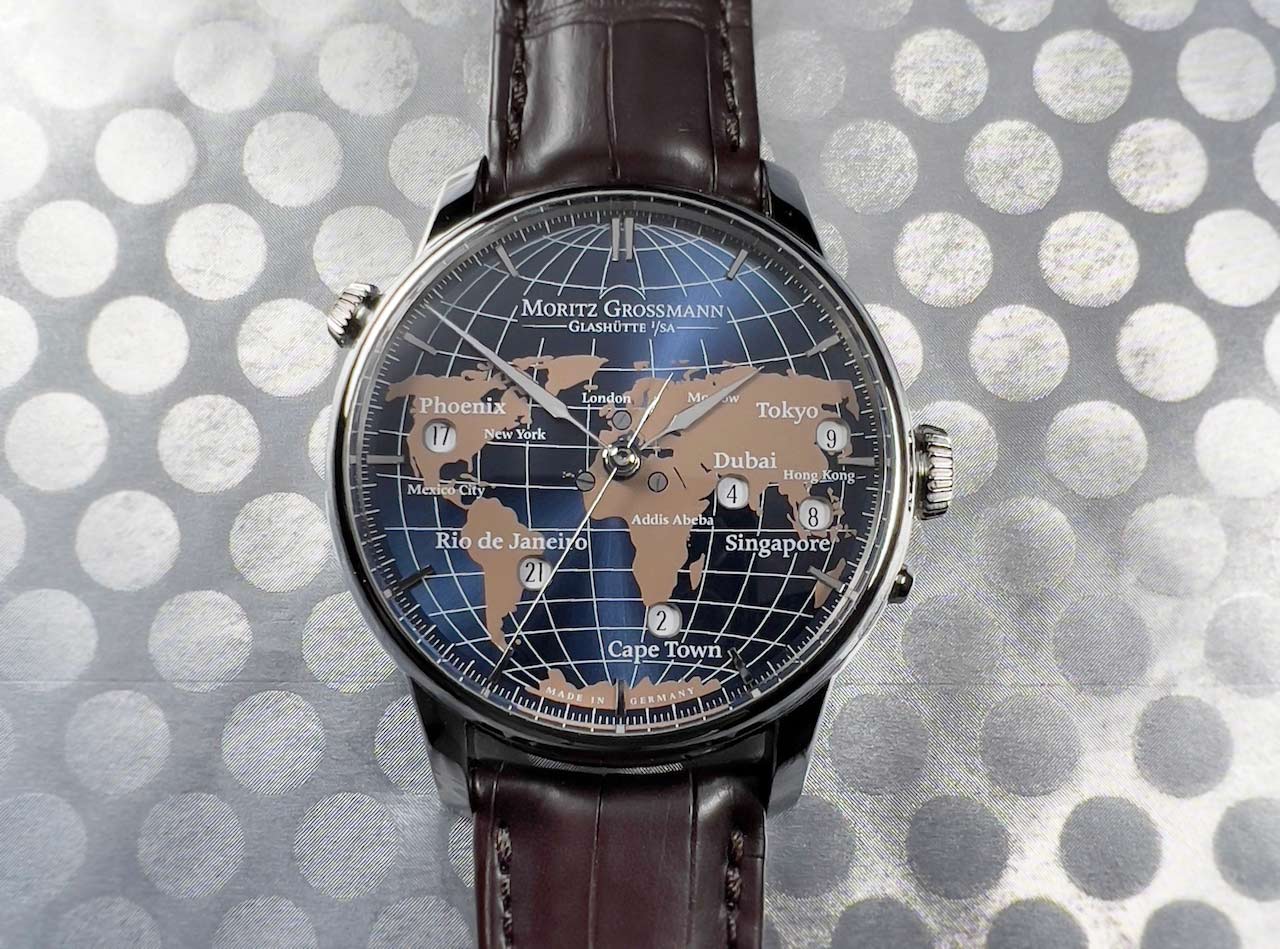 The mechanism allows the operator to engage the crown in two positions at 10 o'clock and then use a pusher function to correct the hour hand independently of the disc. In the middle position, a stop prevents the pusher from being operated accidentally.
Beating at 18,000 vibrations per hour, this beautifully finished hand-wound movement guarantees 42 hours of power reserve when fully wound.
Matched to an alligator leather strap secured to the wrist by a steel pin buckle, the Moritz Grossmann Universalzeit ref. MG-003072 has a price of Euro 51,300.