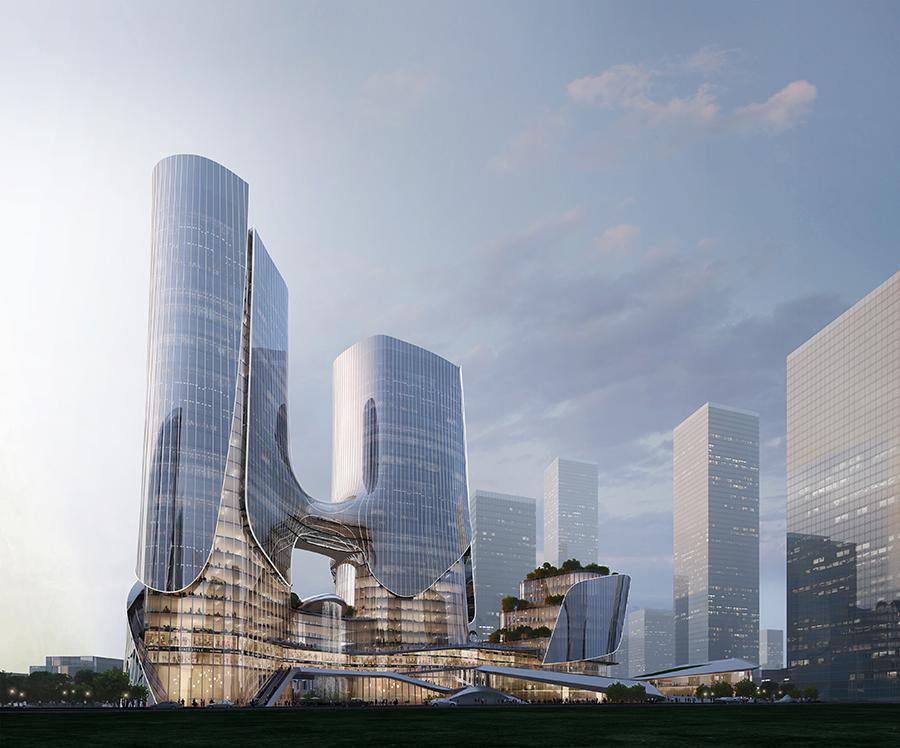 In September 2021, QUAD studio and Dalu Architecture won one of the most prestigious architectural competitions in Chengdu, China. The mix-use development proposal – Chengdu NBD Center – stands 120 meters high and features twin office towers and retail and cultural facilities clustered around a multi-leveled public realm. Located within the Jiaozi Park business district, the proposal is envisioned as an urban fulcrum and destination to enjoy a sizeable green respite in the congested city. Like in many other Chinese regions, Chengdu suffers from heavy vehicular traffic – and the architects viewed the project location as an opportunity to respond to that congestion.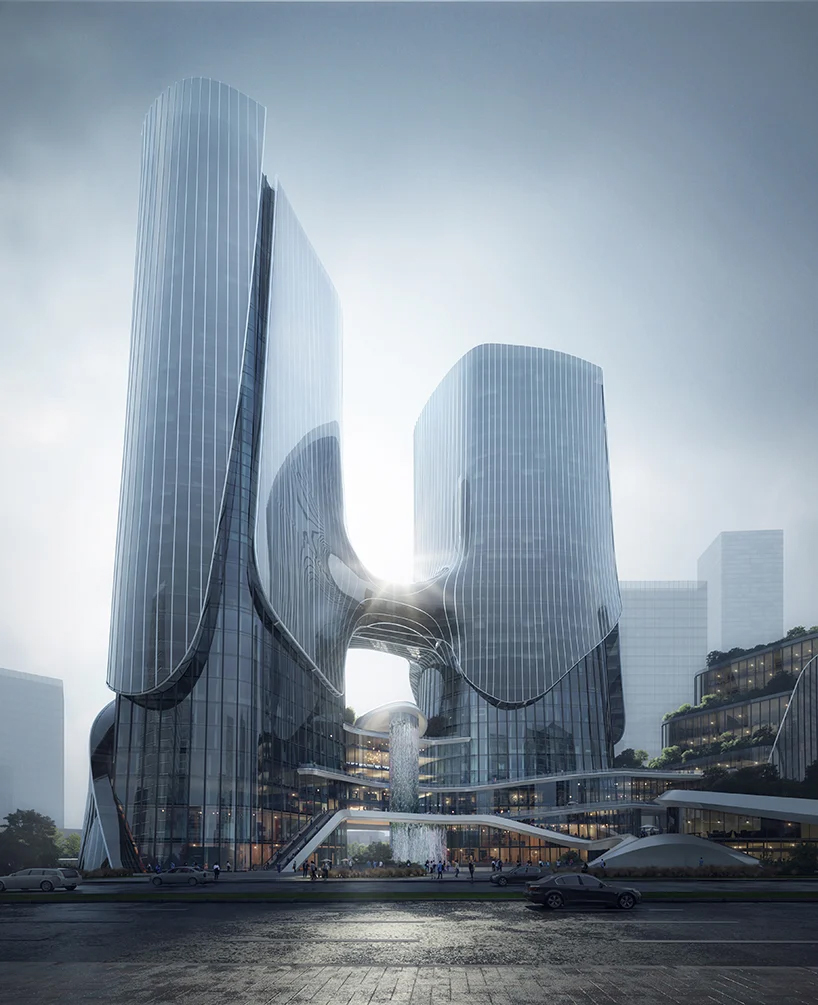 During the proposal's inception, the site was still an empty land with two metro lines under the planning stage. Therefore, the team thought it imperative to connect those lines to adjacent stations, resulting in a fully integrated transport orientated development (TOD). "Uunderground linkages including underground road networks and connection to public transportations is an attempt to reduce above ground traffic and allows opportunities to free up the ground plane for pedestrian use," explain QUAD studio and Dalu Architecture.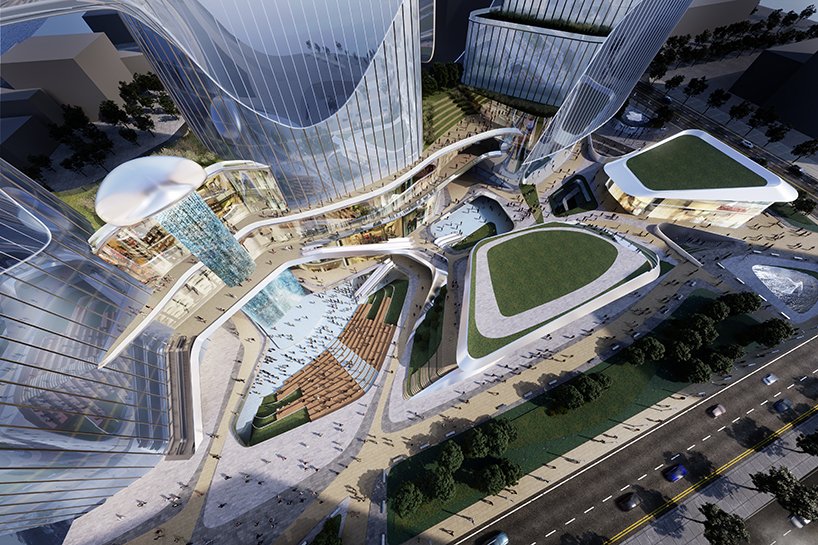 The resulting design is a mega-monolith with curvatures inspired by the mountainous terrain of Sichuan. Coupled with a man-made contoured landscape at pedestrian level, this artistic interpretation becomes a perfect backdrop of Jiaozi Park. Together with world-class environmental consultant Atelier Ten, the team also devised a breathing façade to maximize natural ventilation with greywater collection and a multi-leveled green roof system for most of the year. Additionally, apart from being fully breathable, the building surfaces integrate LED media to generate impressive nighttime visuals.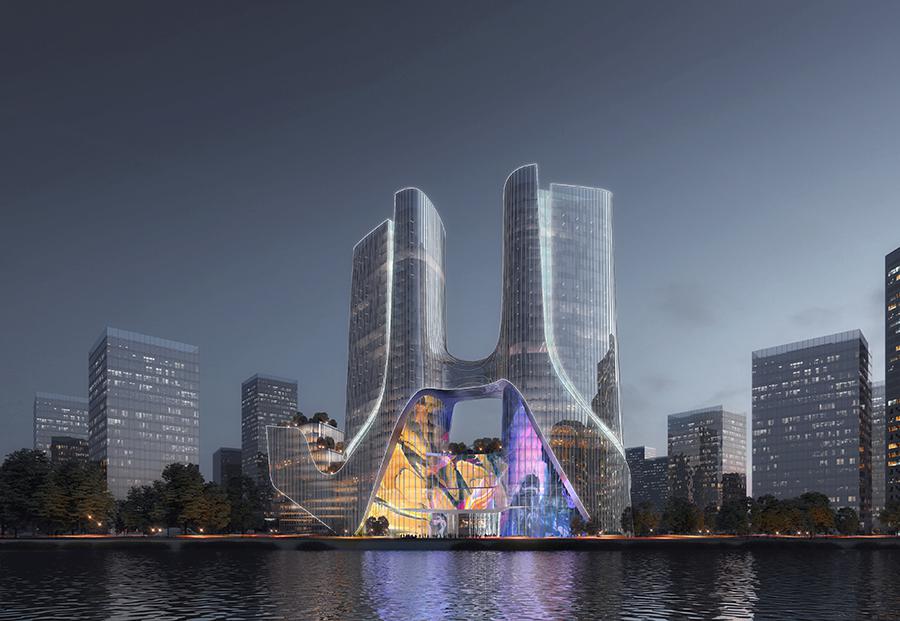 Spatially, the Chengdu NBD Center is divided into three distinct sections: underground retail, podium, and main towers. All three are connected by pockets of public space. The underground retail links the underground metro lines to the buildings. Meanwhile, a large and Sunken civic plaza draws visitors to the ground level, where multi-leveled linkages lead visitors to retail and cultural facilities within the podium area. The main towers, finally, host various offices, a digital art gallery, and exhibition hubs. Also we recommend you to check 15 Most Beautiful Towers in the World and 20 Tallest Buildings in the World.