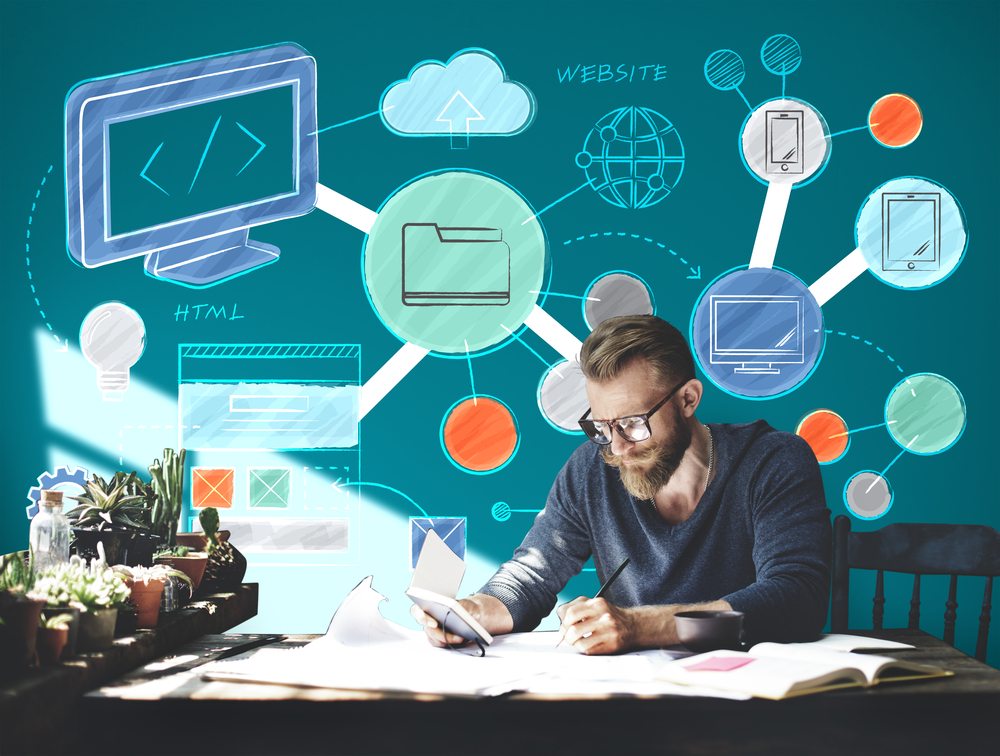 Till a few years back, dull, monotonous websites that more or less had the same type of design dominated the web. But look at the web now and you would find remarkable diversity in style with retro typography, hover state, lazy loading, image blur, and whatnot.
The widespread use of effects such as parallax scroll animations, and asymmetric design, has made browsing an exciting visual experience.
As a web designer and developer, how do you keep up with the latest trend? Don't worry, since there are quite a few superb website design blogs that keep you up to date.
10 Must-Read Web Design a nd Development Blogs
Smashing Magazine has been around since 2006. With a million followers on Twitter and 300,000 on Facebook, it is one of the most popular blog sites intended for web developers and designers. Not only will an avid reader find plenty of information about the UX and UI developments, but also scope to attend numerous workshops on coding and design. The member zone presents scope for networking with fellow developers.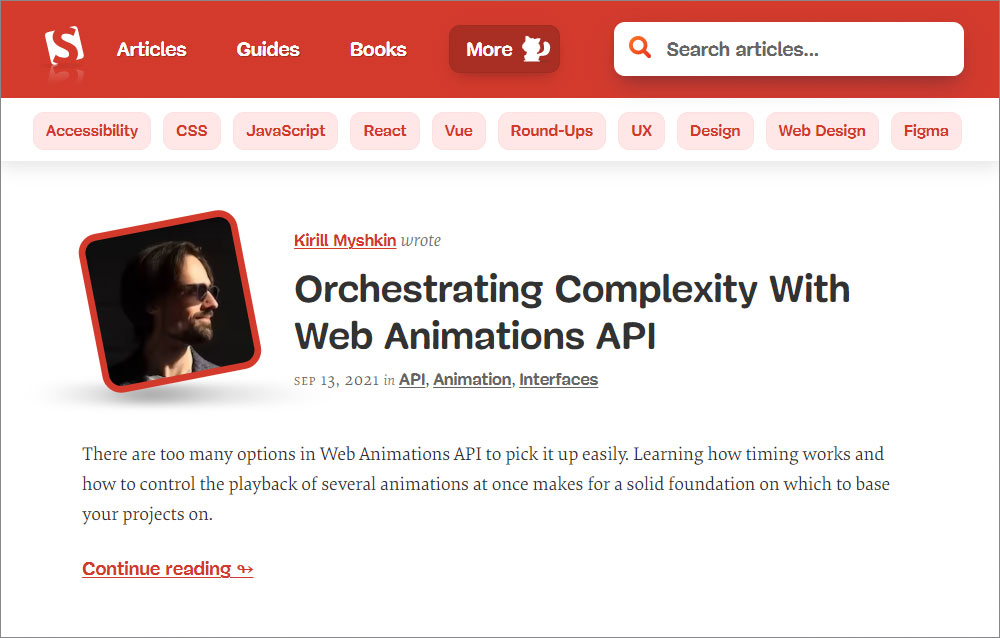 Regular online seminars provide opportunities for learning advanced concepts, e.g. designing perfect landing pages for online shopping or creating a custom HTML email application. Besides excellent articles, there are a plethora of guides, tutorials, e-books, and a job board on this outstanding web development blog.
If you want to learn all about website building through tutorials, Envato Tuts is the perfect place for you. They have over 30,000 tutorials that teach unique coding skills which would take years to complete.
The blog section shares design ideas and tips and tricks from the best developers. The website is mind-boggling in its span and contains tons of resources for the reader to further their career. The best part of Envato Tuts is that it focuses on the backend languages such as PHP and Python. Besides, there are courses, both free and paid, about Photoshop, Laravel, WordPress, and Swift among thers to equip you with the latest technological developments.
One of the oldest resources on the web about site development, SitePoint, began its journey back in 1999. It features an online blog, an official Discord channel, a library, and a forum where you get to exchange ideas with fellow developers from around the world.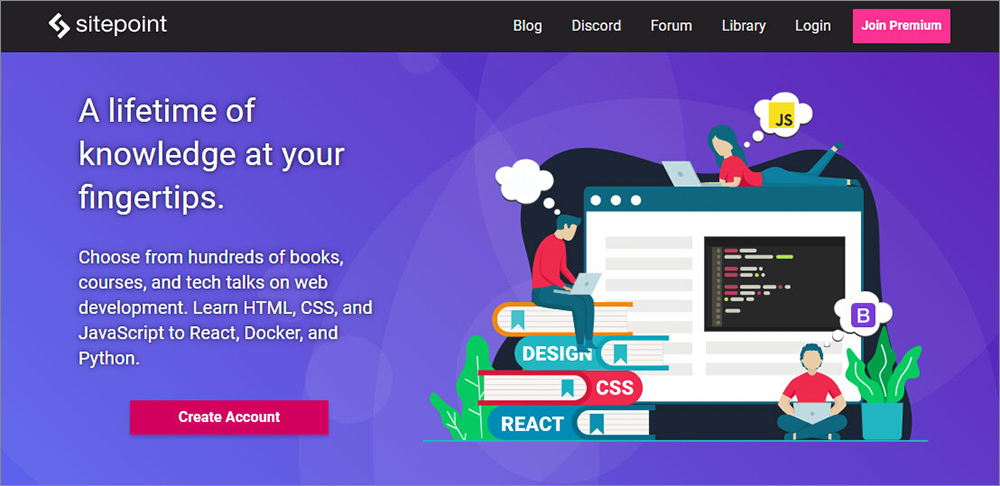 As a paid member you receive access to hour-long tech talks from experienced web developers and industry doyens. The content is well-edited and contains valuable information that would cut your learning curve to a fraction. The UI of the site is clean and provides easy access to relevant material through a capable search bar.
Do you know how to create a pure CSS Accordion for show/hide function? What about Gaussian blur? CSS is a design language and unless you master it, modern web design is next to impossible. The problem is that there are so many ways in which CSS can be used to create visual elements that it is impossible to learn them all. Enter CSS-Tricks, the one-stop resource for everything CSS.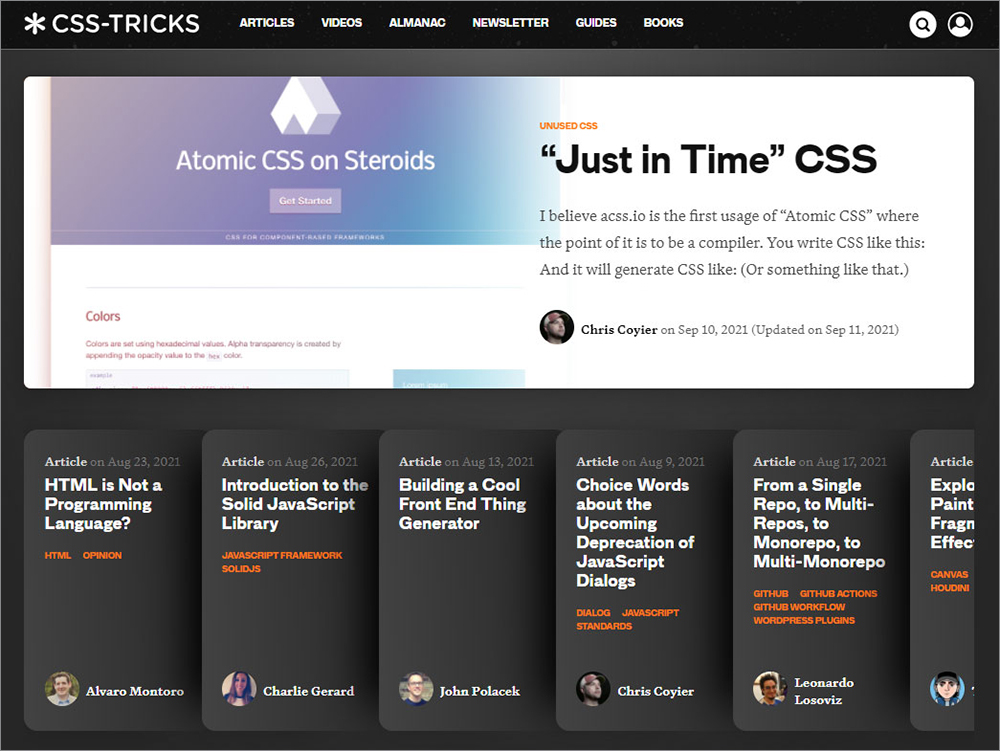 It makes sense of the inundation of (mis)information about CSS and collates all the knowledge neatly in one place. The best part is an "Almanac", a blog page, where you can search hundreds of code snippets (arranged alphabetically) to adjust how your site looks and behaves. If you are facing an issue with the aesthetics of a site, there is a very high probability that you are going to find the answer on CSS-Tricks.
Hongkiat has been a reputed go-to site for all things tech since 2007. HKDC, as the blog website is popularly known, not only has numerous articles on web design, development, apps, UI/UX, and coding but also a section for web hosting, mobile OS, and a few eclectic topics such as digital photography.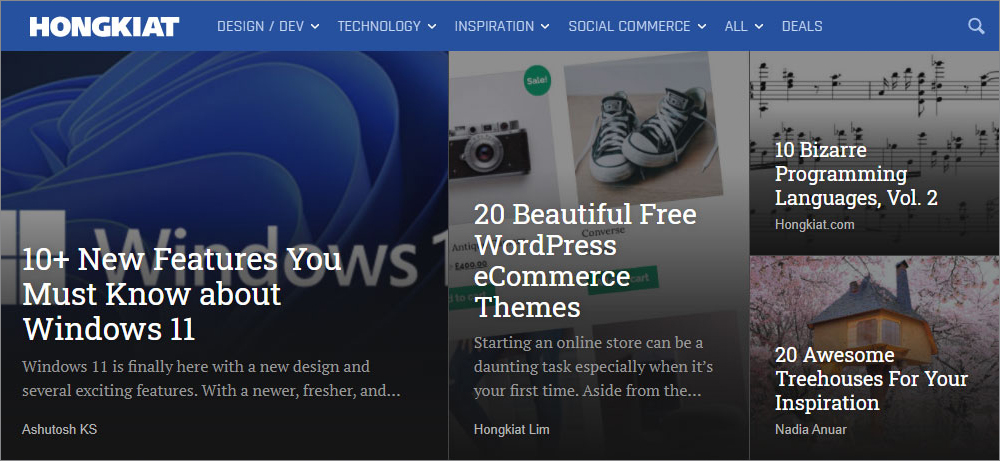 Web design is not only about coding alone but also creative inspiration. You can hardly learn about WordPress themes in isolation and create a beautiful site. Hongkiat brings you a holistic update about the world of tech, especially web design, through no less than four hundred posts every year.
Whether you are putting together a portfolio for a wedding photographer or a website for a fashionable salon, you need exposure to a lot of ideas. Web Design Ledger is a well-written yet concise blog that uncovers the newest elements in the world of site design.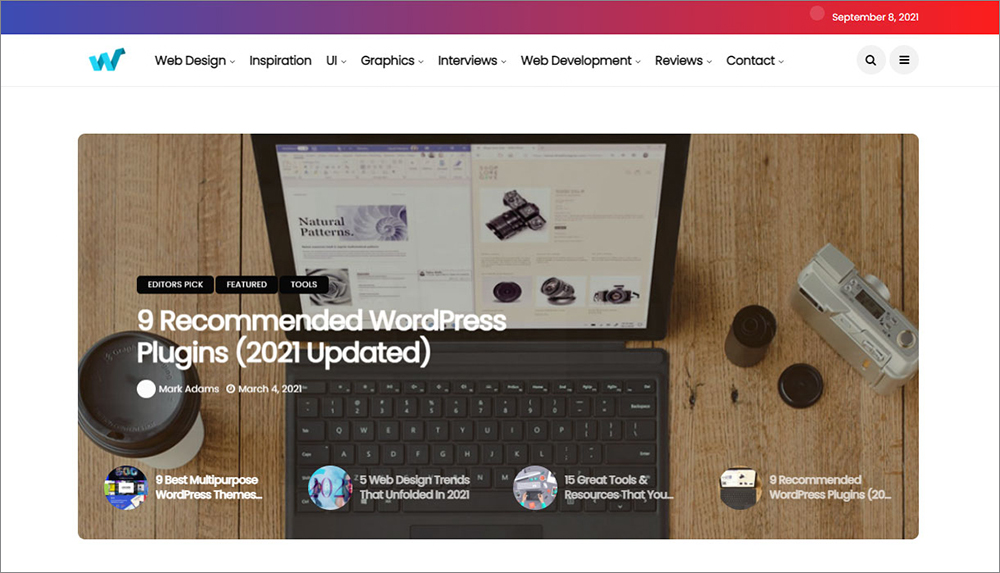 Do you want to know about Adobe's latest Edge Fonts or are you searching for a lightweight open-source code editor? Be assured that Web Design Ledger has an article that covers all aspects of building a site. It is especially suitable for those who cannot keep up with the hundreds of blog posts on larger sites such as Smashing Magazine.
A blog that is almost as old as the internet. Nah, that would be a bit of a stretch but it dates back to the era when everyone used AOL search. A List Apart began as a mailing list and was so impactful that within a month, 16,000 developers joined in.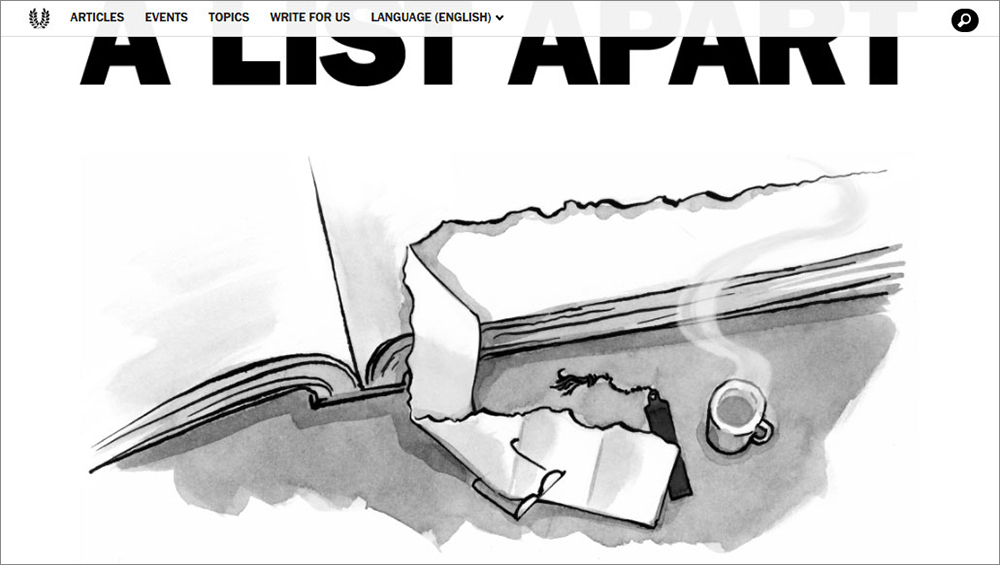 It has evolved to become the best web design and development blog that covers all things internet and focuses on evolving best practices. Unlike other disciplines, web design has no overarching body that sets standards. The field remains a loose confederation of design firms and freelancers. Lack of best practices makes it difficult for newbies to understand what is good enough to pass muster. A List Apart brings some semblance of structure through its strictly formatted articles and guidelines.
Simple Programmer is the brainchild of John Sonmez. In 2009, he started the blog to help other developers become better informed.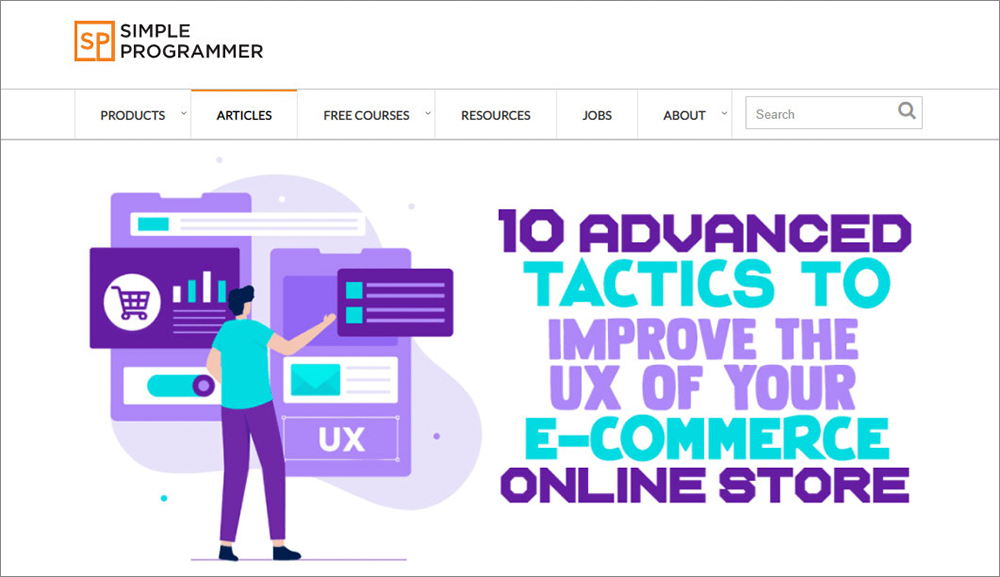 Its scope is magnificent, and the site has quite intriguing articles. For example, how much does it cost to build a site like Netflix, how can newly minted developers avoid data security problems, and how to provide elementary SEO support to the site owner. This approach is laudable because there is far more to web development than HTML scripts and developer IDEs. There is also a job board and free courses.
Designmodo is a web design company that also publishes a blog with useful information. As a website designer, you need regular updates about the changing technology landscape. Designmodo brings you fantastic articles and tutorials that keep your skills up to date.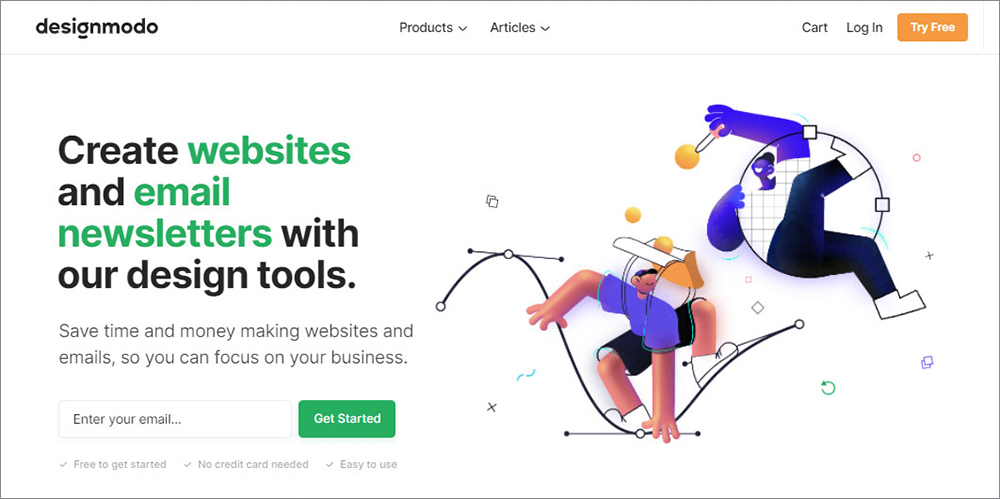 The blog is quite well organized and regularly features thought-provoking articles exploring web design. They not only intended the site for designers and developers but also entrepreneurs in the e-commerce space who want to understand more about the web in simple and lucid language.
Codrops is a web design blog that hosts articles about trends and technologies that every aspiring coder should learn about. If you want to know more about evolving techniques in web development, the tutorial section offers two free tutorials every month.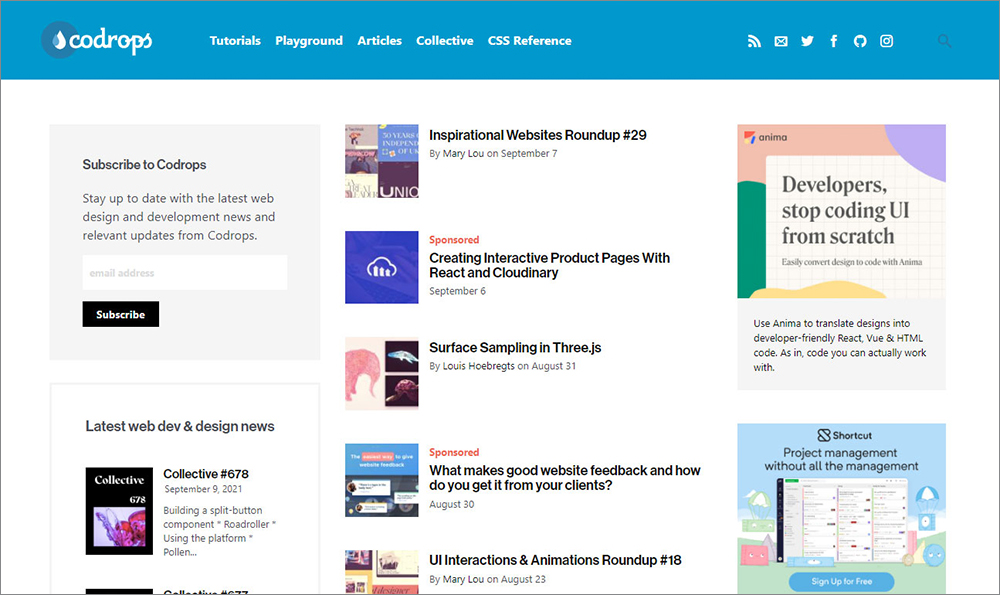 Besides, the blog section regularly offers articles that point out the best websites and demystify the procedure of building one that is similar. Their newsletter is highly informative and the "Deals" section offers discounts on tools that assist you in your work.
ALT Agency blog is your pitstop for information, advice, guidance, or even ideas to help kickstart your foray into the digital domain. ALT Agency blog's content library is based on the principles of simplicity and precision.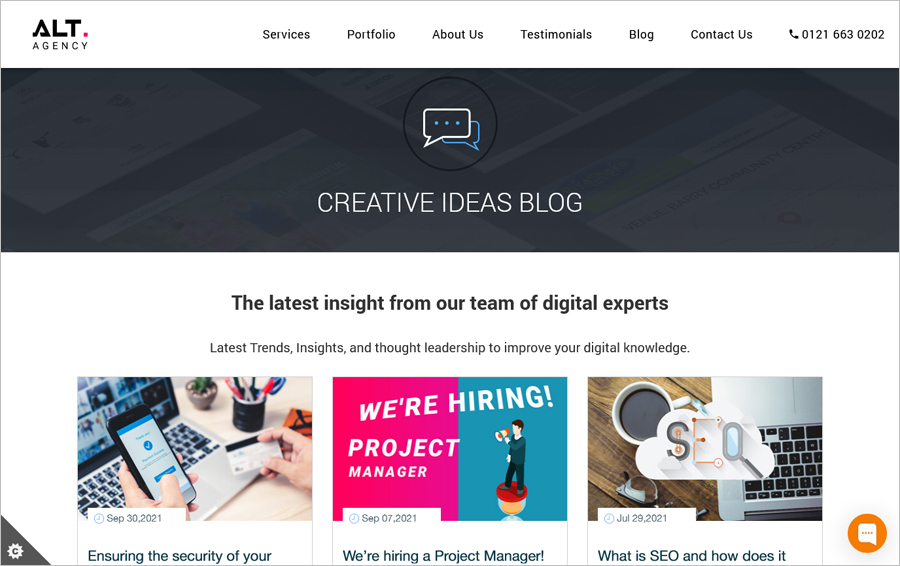 Read any introductory guide, and by the time you scroll down to the end, you already have more information than most other people. You'll also benefit from their thought leadership articles written by experts with deep domain experience. Plus, there's engaging content on market trends and insights too. ALT Agency blog is where design, tech, and marketing enthusiasts find carefully researched, expert-provided, and lucidly written information at their fingertips. Join them.
WP Newsify, a blog present on the web since 2016, is dedicated to sharing valuable content about WordPress, SaaS, marketing, SEO, and much more.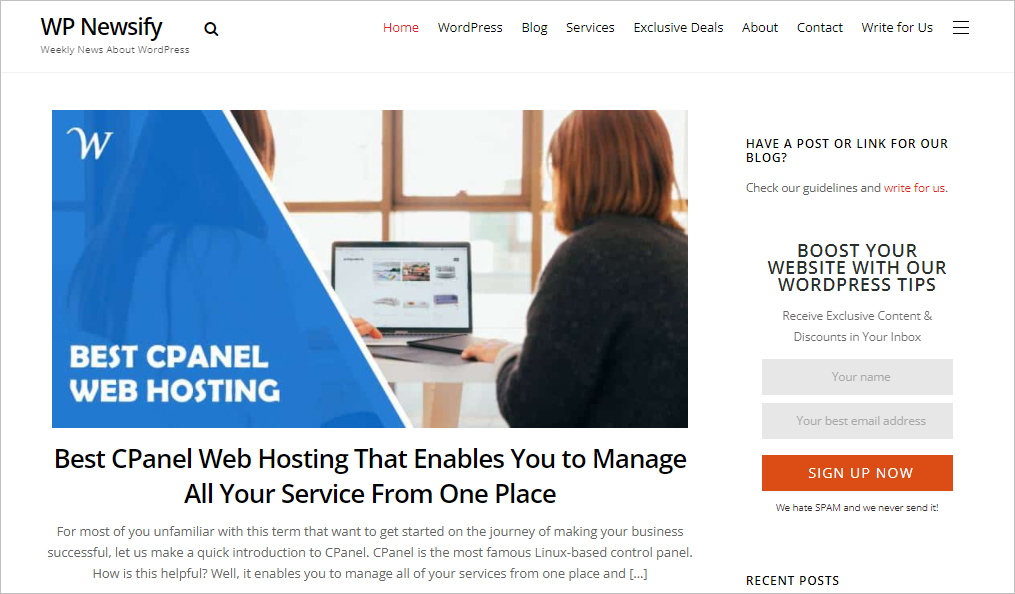 The content comes in many forms, such as articles, tutorials, roundups, guides, and news. Founded by Peter Nilsson and now operated by WebFactory Ltd, this blog truly represents an ever-growing information and knowledge resource. What's more, the blog is open to accepting guest posts, so your content could possibly find its spot on this esteemed website.
Graphic designers, web designers, illustrators, and many others in the design field often find themselves suffering from a creative block. Inspiration eludes you. Nothing seems to be eye-catching enough. If any of this rings a familiar bell in your mind, head over to Designer Daily. It is an inspiring, engaging, and resourceful blog run by Swiss graphic and web design, Mirko Humbert. Mirko has been in the design field for over 4 years now. And he shares ideas, thoughts, tips, and resources with others in the design community through Designer Daily.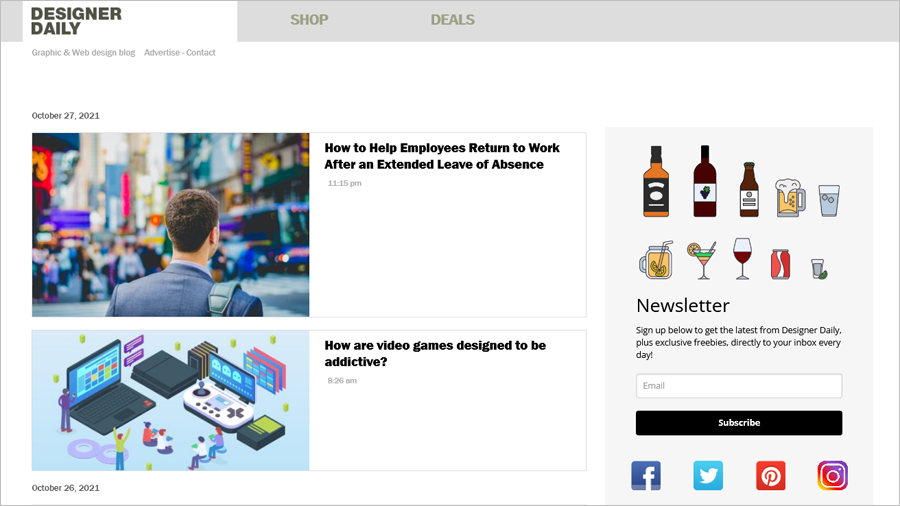 It won't be an overstatement to call Designer Daily a digital mecca for designers. Ideas for your next ground-breaking design, resources to help you deliver projects on time and within budget, and tips and tricks to help boost productivity – no matter what you seek, you'll find it here. And all of it is presented to you in detail through crisply written and easy-to-grasp blogs. Even if you are not a professional designer, feel free to explore the beautiful ideas and graphics available on the site. A visual treat awaits you.
Also, by signing up for their newsletter, you get access to plenty of Designer Daily freebies. Plus, daily design updates are delivered straight to your inbox. A deal definitely not worth passing.
NavThemes is a gold mine of WordPress-related information. Although its name would suggest that it focuses mostly on WordPress themes, here, you can read about anything that has to do with WordPress, business, marketing, SEO, design, etc. The content comes in the form of reviews, tips, lists, deep-dives, and so on.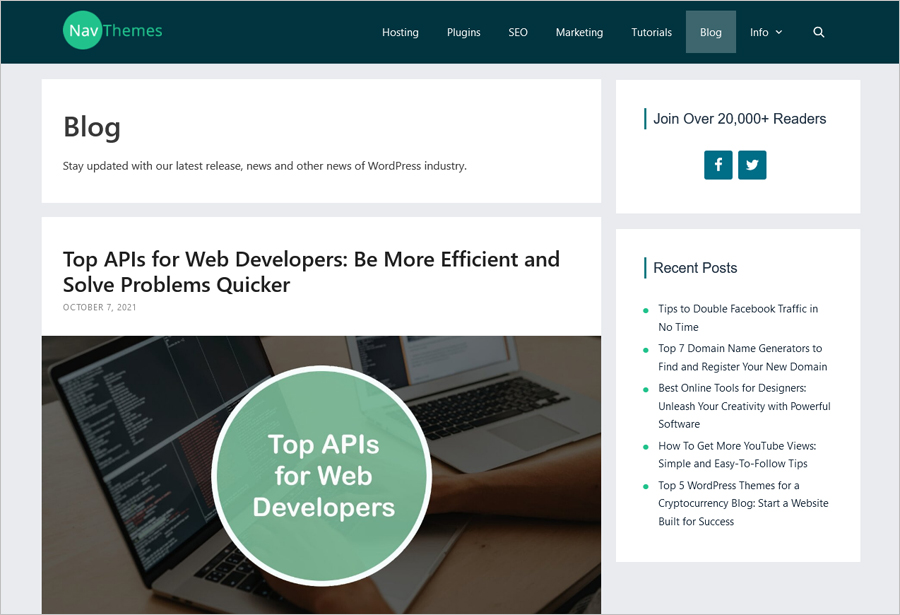 The information that you would gain by joining the 20,000+ readers can help you improve your site(s) and run projects more successfully. The best words to describe this information are "relevant", "actionable", and "insightful".
All in all, NavThemes is the go-to place for your WordPress needs and definitely worth being bookmarked in your browser.
Love WordPress and blogging? If yes, then ThemeCircle is the blog for you. Its name is a bit deceiving, leading you to believe it's only about themes. But, on this blog, you can find plenty of useful information on plugins, business, e-commerce, basically, everything we techies love to read about.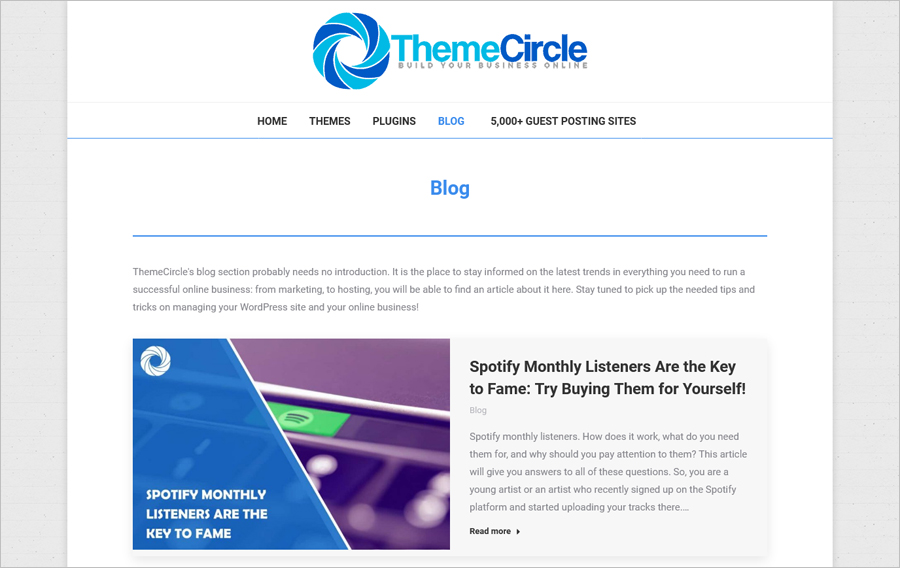 Utilizing the information offered on ThemeCircle in the right way will allow you to run as well as customize a successful personal business or eCommerce website. Basically, you can think of it as your personal guide for achieving business success online.
Lastly, the blog offers a list of over 5000 quality sites where you can guest post and improve your reach.
The Black Door Creative blog is your one-stop destination to stay up-to-date with the latest trends, tips, and tricks about web design and digital marketing. What sets the Black Door Creative blog apart from competitors is its freshness. The Rhode Island-based team behind the blog definitely knows how to offer the information that actually matters.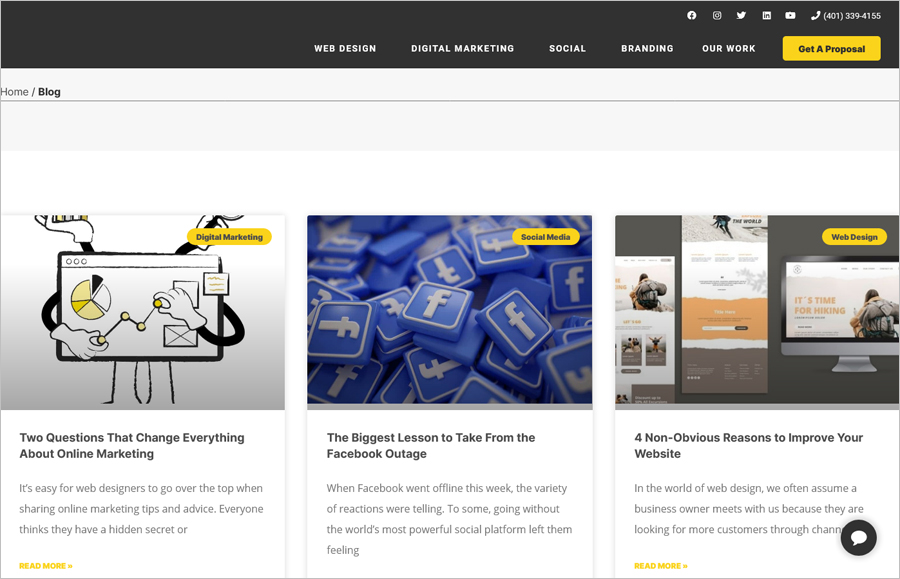 The content is written in an easy-to-digest and aesthetically pleasing format. Their beautifully designed and fully optimized website and blog also present testimony of their web design and digital marketing skills, which they use in extending ace services to customers.
For those looking for a place to find logical, engaging, fresh, and entertaining content, Black Door Creative offers just the right place.
Development and business are hot topics that cross our minds frequently. Thankfully, blogs such as the one on UnderConstuctionPage publish this content on a regular basis. On this blog, you can find valuable and fresh content written by in-house experts as well as guest authors who have vast knowledge and experience in areas like WordPress, design, SEO, SaaS, and business.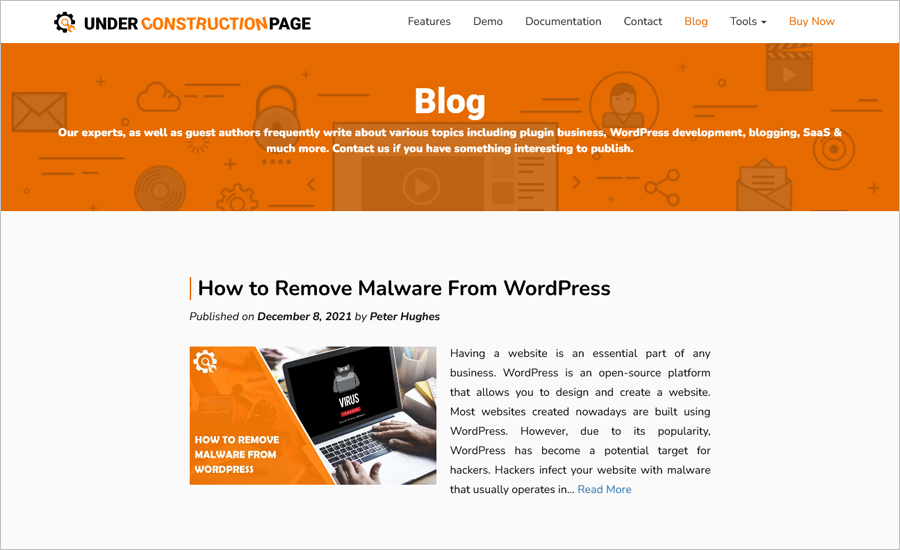 Although the website itself is dedicated to a famous page builder (don't forget to check our list of free website builders), hence the name, its blog gets tons of traffic. So, if you are someone who enjoys reading or wants to publish content about plugins, development, WordPress, and similar, this is the right spot for you!
WebFactory, a fast-growing company that is making a huge impact in the WordPress community, besides great software, also provides us with great content on its blog. The blog, which is mostly dedicated to business, SaaS, and WordPress, boasts a great collection of content written by guest authors, experts, and the WebFactory team themselves.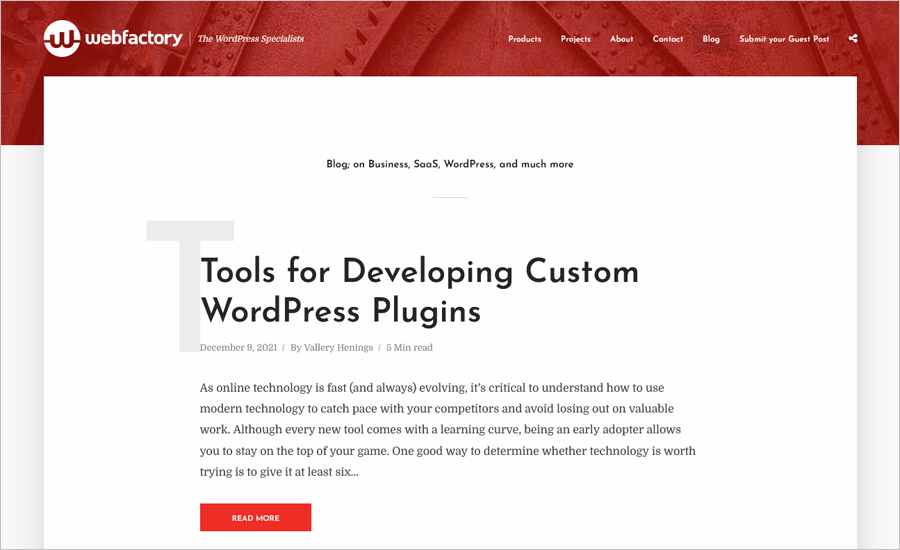 Each piece published on this blog provides great insight into topics many of us wonder or maybe even struggle with on a daily basis. Of course, along with this, you can find articles that will introduce you to the latest trends, hot new products, marketing techniques, and much more related to the tech world.
WordPress, design, and graphics are the most popular fields today and take the attention of many. 85ideas blog dedicates its blogs right to these topics. Therefore, it is considered an excellent source of information. There are many quality blog posts whose role is to answer questions, concerns, and problems faced by people whose interests fall within these popular fields.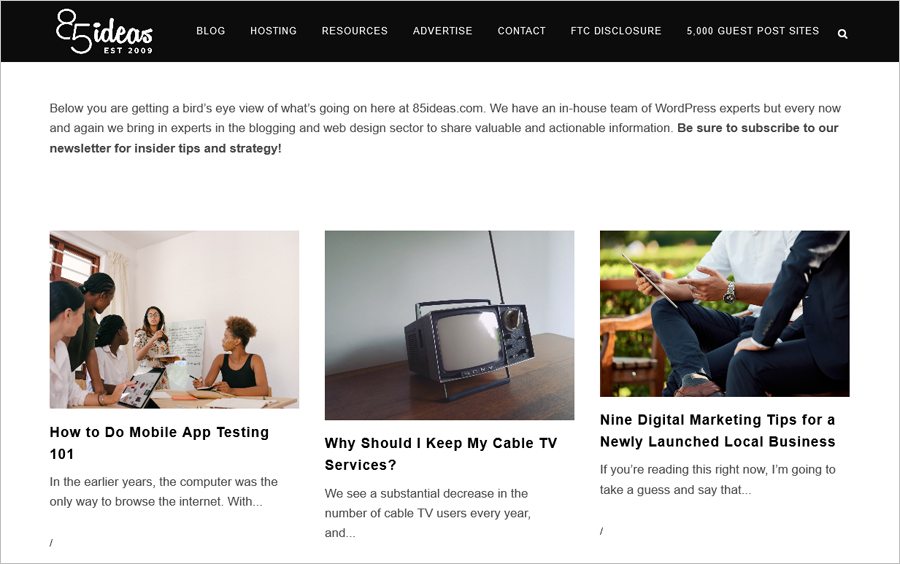 Dedicated people and experts in these fields create the articles for this site. Their goal is not just to publish text and display some information, but primarily to research, understand the subject, write it in a quality way, educate and provide accurate and specific information. Are you interested in WordPress, design, and graphics? The 85ideas blog is the right place to search for information in these areas.
Many things about digital presence today are covered on PythonBlogs. Whether it is WordPress, marketing, design, or anything related to the IT world, this blog will serve you as a good source of information. Following popular topics and writing articles about them with the help of quality writers makes this blog great.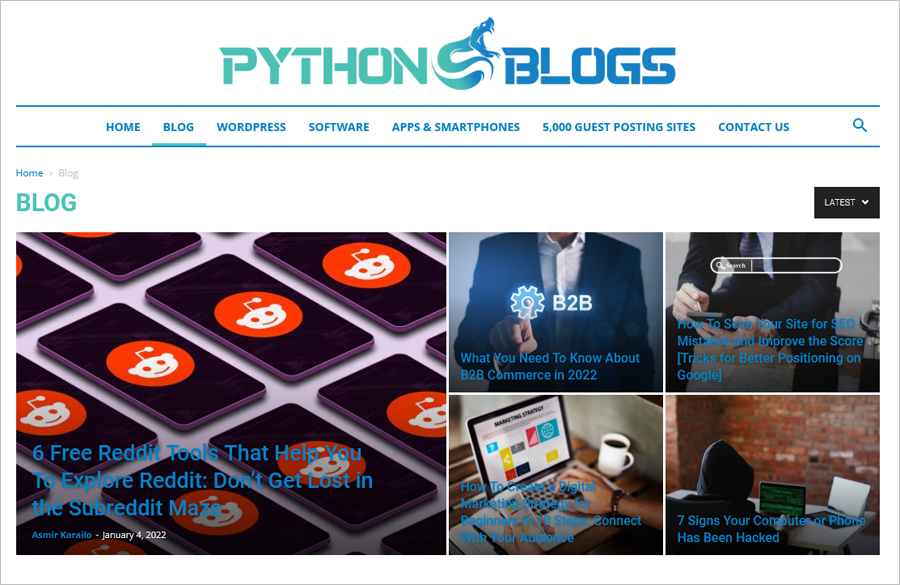 Blogs are trendy today, and it seems that they will stay that way forever. PythonBlogs allows readers to find education and non-formal information since it covers valuable and relevant topics. It is a blog that is sure to hold your attention.
ThemesMiles is a team of WordPress developers. On the website, you can find a library of downloadable free and premium SEO-friendly WordPress themes. ThemesMiles Blog is the perfect knowledge library for ThemesMiles' customers and WordPress enthusiasts alike. On the blog, you'll find rich, meticulously edited, and updated content on topics such as WordPress themes, WordPress plugins, tutorials, and advice for agencies and freelancers.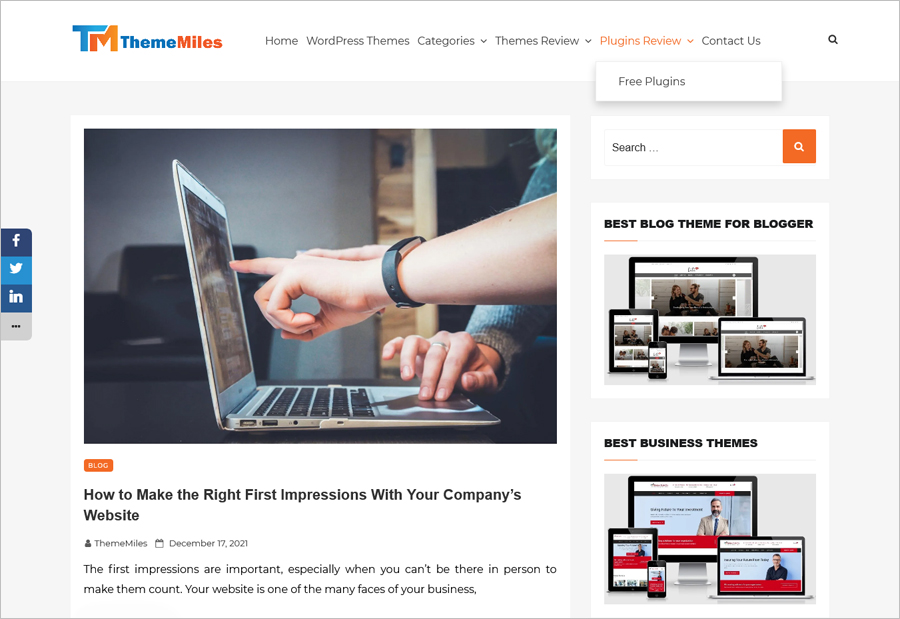 Since the blog started (May 16th, 2019), more than 100 blogs have been published. Readers can expect to find one new blog per week. Over time, the blog has also branched into content categories such as conversion optimization, listicles, and content marketing. Readers can subscribe to the newsletter for frequent updates. Whether you download/buy a theme from ThemeMiles, or only bookmark the blog, you'll benefit from the well-researched, relevant, and updated content on ThemeFils blog.
The JEM Products blog is a fantastic blog about WooCommerce and e-commerce in general. In addition, professional authors of this blog, and other contributors, through their high-quality articles, based on previously in-depth research, write about WordPress, SEO, web design and development, and digital marketing. Simply said, here you can find the tips and information about everything that makes an online presence complete and that might interest you.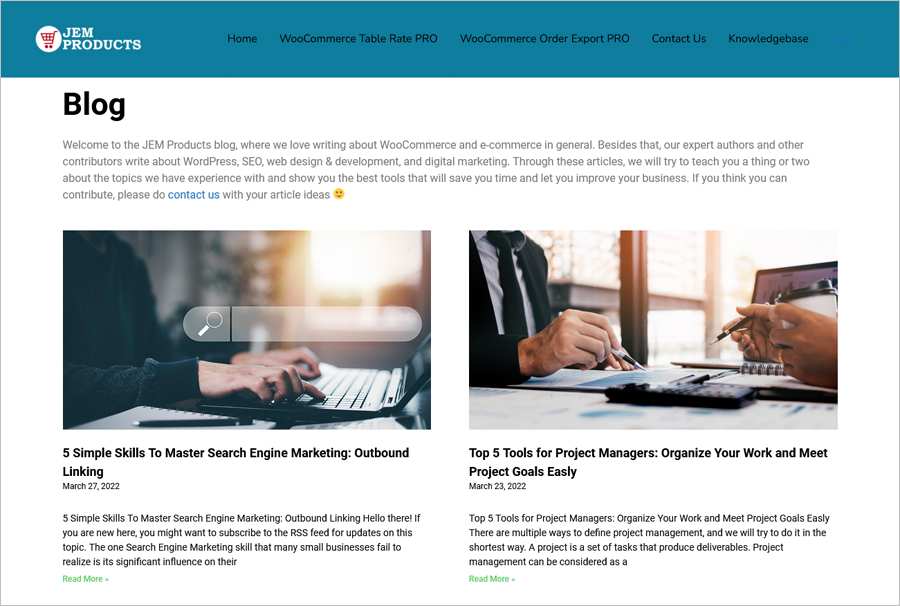 Through the articles on this blog, you can learn a lot. You can find the best tools, instructions for using them, and guidelines for improving your business and online presence while saving valuable time.
This amazing blog has the primary goal of educating and helping with everything related to WordPress. These include WordPress, plugins, themes, WordPress monetization, and the like. Of course, the authors of this blog aim to provide readers with a complete experience.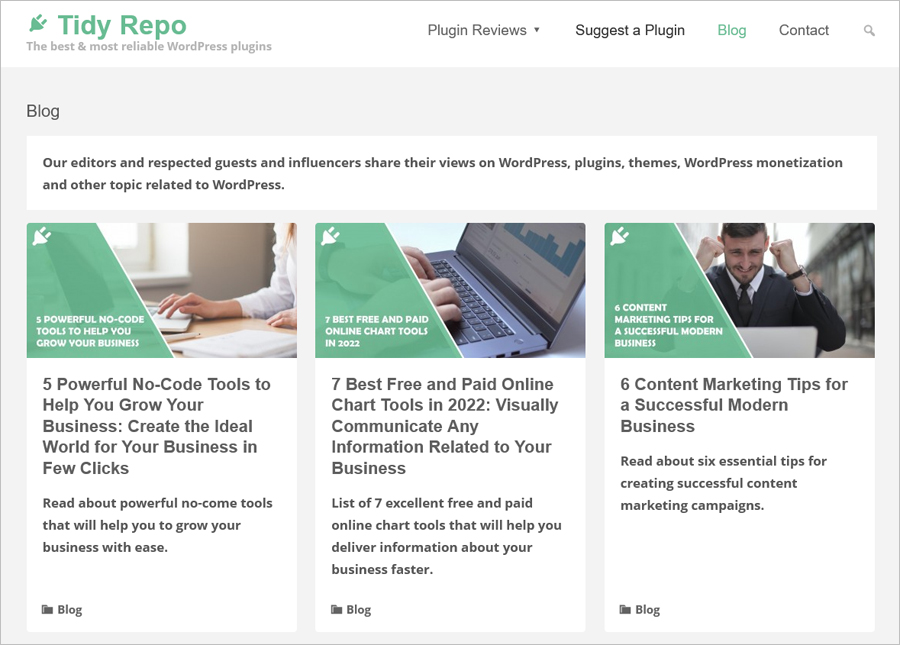 So, in addition to general WordPress topics, you can also find information and recommendations on everything that will improve your online presence, including SEO, web design and development, digital marketing, social media, and the like. This blog will surely inform and educate you about everything you need for a successful online presence and business. Stay tuned and read this blog!
In addition to writing about WP 301 Redirect plugin and explaining the benefits and reasons for using it on websites, as well as all the details about it, this blog is a blog where you will find various current topics related to WordPress, blogging, SEO, web development & design, and digital marketing in general.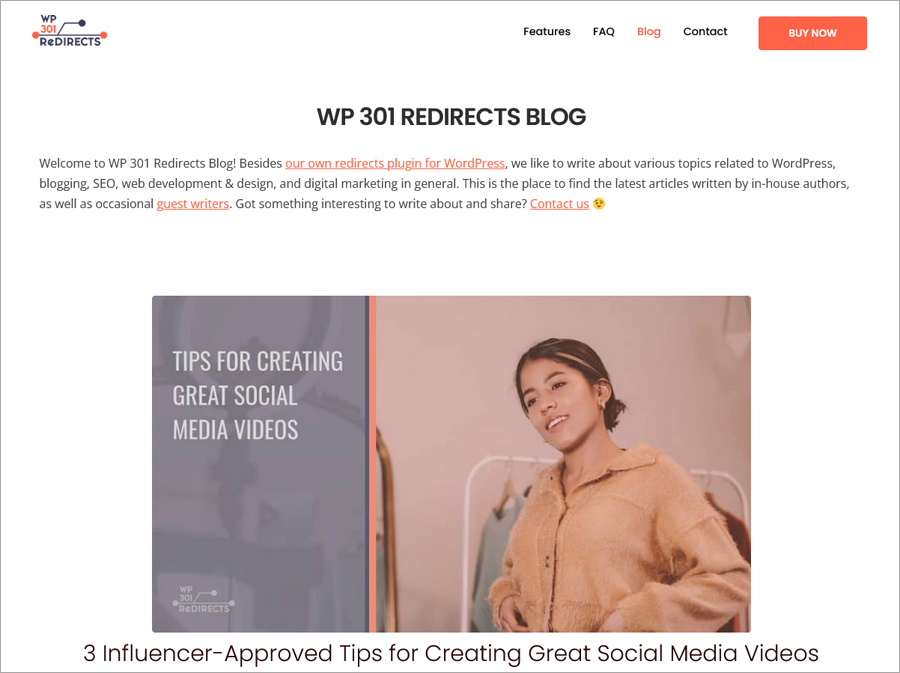 All these articles are the result of research and dedication of professional in-house authors and occasional guest writers who aim to help and educate readers and provide the best suggestions and solutions to everything related to the above topics.
WordPress, blogging, SEO, web development & design, and digital marketing are the main topics you can find on this blog but not the only ones. Namely, this blog offers articles on everything current today that could be useful to readers.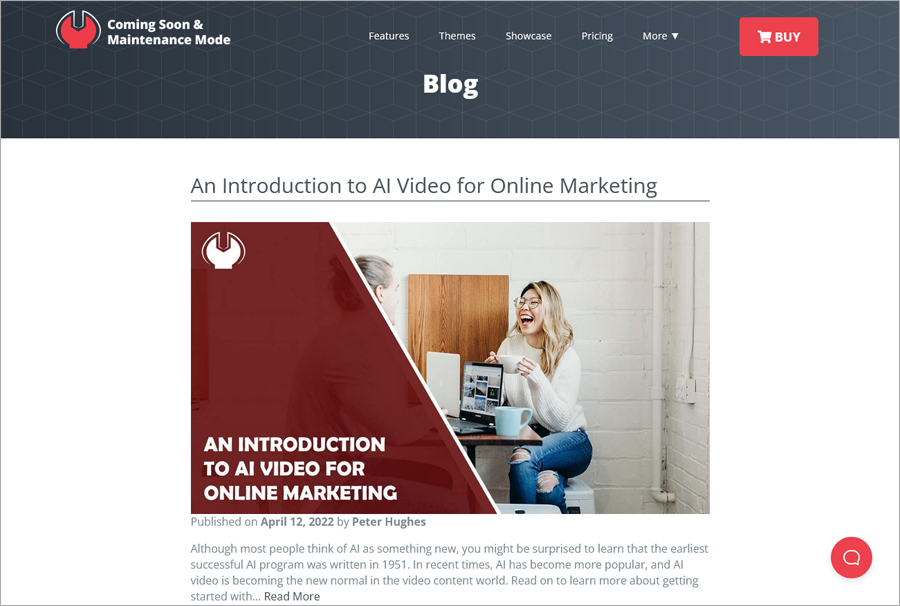 In addition to the educational aspect of writing articles, some facts may be interesting to readers, so this blog can be said to have something for everyone. Dedicated authors who strive to make the article as good and clear as possible for readers are one more reason to follow this blog, stay up to date, and find answers to your questions and concerns.
Grace Themes Blog is a web design blog for WordPress developers and webmasters. Since Grace Themes specializes in the development of WordPress themes, the blog is dedicated to WordPress trends, plugins and recommendations for developing WordPress websites.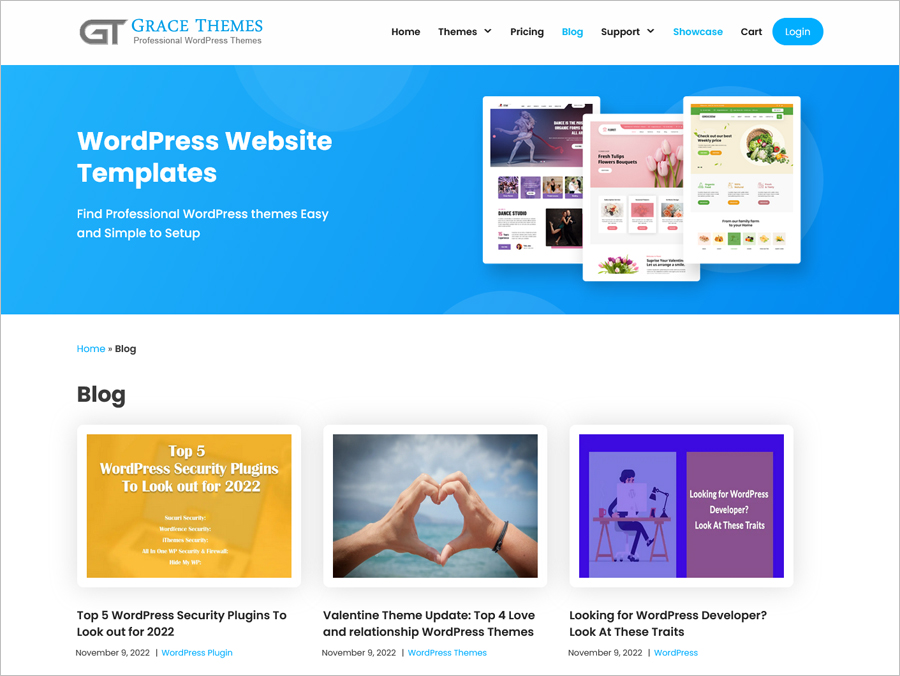 It's noteworthy that the Grace Themes Blog contains not only the usual WordPress collections of the best themes, plugins, etc., but also has useful "How To" articles about solving various issues that arise when working with WordPress. For example: How to Fix "Are You Sure You Want to Do This" Error in WordPress. Thanks to such materials, this blog will be a good helper for both professional WordPress developers and beginner WordPress users.
The ruttl blog is a valuable resource for design and development professionals seeking insights on a range of topics. From industry updates and productivity tips to the step-by-step guides, the blog covers it all! One particularly noteworthy feature of the blog is its "Knowledge Box" section, the jackpot of bite-sized posts. Whether you're looking to level up your design skills or implement new development techniques, these posts are easy to read, understand, and implement.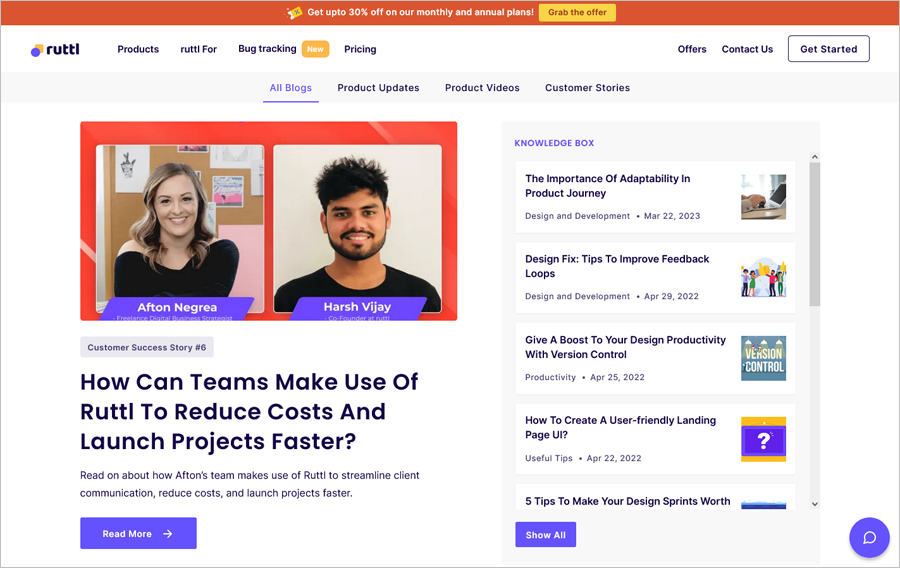 The team at ruttl also emphasizes the importance of using visual feedback tools to collaborate effectively and create great web designs quickly. By implementing these tools, design agencies and teams can work together seamlessly and achieve success. Ultimately, the ruttl blog is dedicated to helping designers and developers succeed. So, if you're seeking a mix of professional advice and fun, engaging content, it's definitely worth checking out!
In Closing
We have been able to accommodate only ten on our list. There are many more blogs out there that are quite exceptional in their own way.
No matter what type of web development you are part of – full-stack JavaScript developer, CSS/HTML developer, UX/UI – you would find that your skills get a real boost when you peruse at least a few of the articles published in these wonderful blogs every month.