Securing your WordPress website can seem like a daunting task. Thanks to the best WordPress security plugins, you can be sure that your website won't be hacked. Just install one of these plugins and sleep well.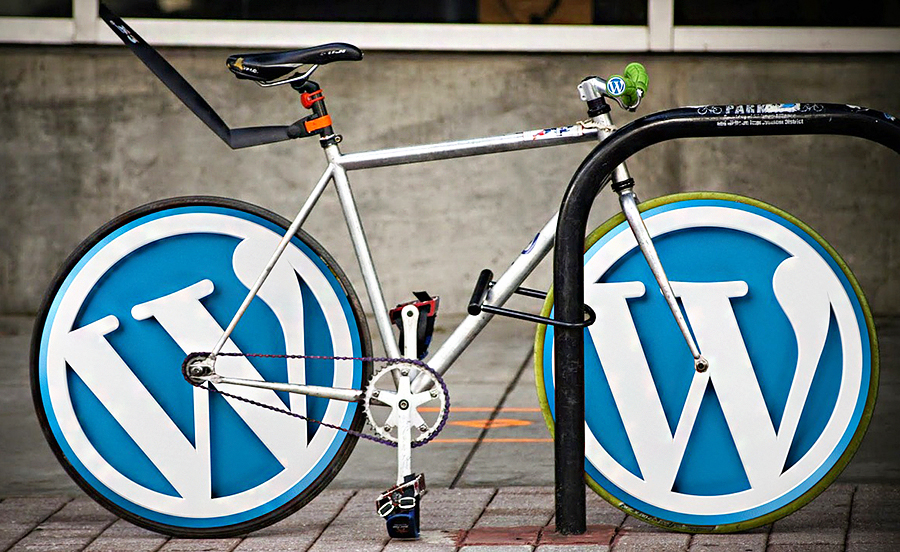 If you're wondering about the best WordPress security plugin to protect your site from malicious activities, you've come to the right place. With a new cyberattack happening every 39 seconds, adding another layer of security is the best practice you can do for your website.
However, with so many WordPress SEO plugins and security plugins available, choosing the right one to properly secure your site can be a daunting task. This article has compiled the five best security plugins based on ratings and download numbers from the WordPress plugin directory to narrow down your search. We'll discuss their features and pricing to discover the most suitable option for you.
Let's start.
TOP 5 WordPress Security Plugins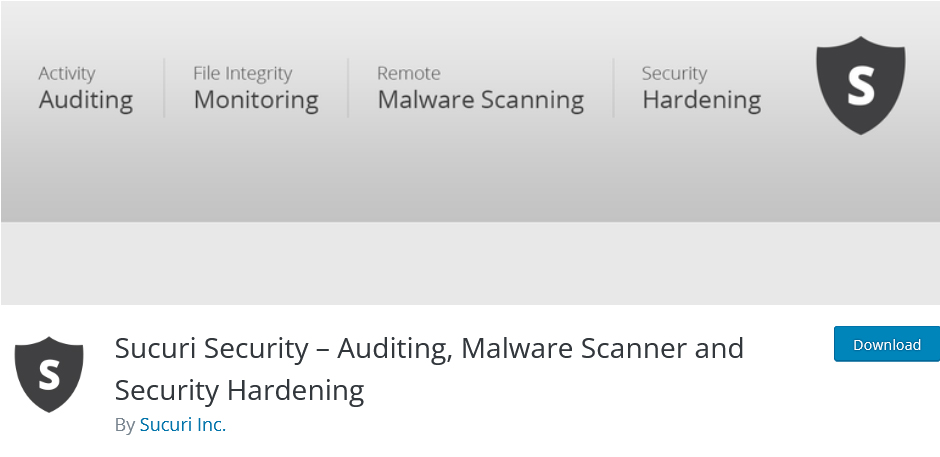 Sucuri Stats:
Downloads: 800,000+
Rating: 4.3/5
Price: freemium
Sucuri offers a complete security suite for WordPress sites. It has detection and protection features to monitor and prevent cyber attacks.
The scanning tool can search for malware, hacks, and blocklist status to gain visibility into your site security. It also scans files on the server to find backdoors, phishing pages, and spam.
Additionally, Sucuri offers continuous website monitoring with alerts and daily updates to help you stay on top of potential threats.
Users can also monitor their website's uptime to ensure it's available at all times. This is critical because website downtime can negatively impact business.
A common cause for downtime is Distributed Denial of Service ( DDoS) attacks. As such, this security plugin comes with DDoS attack mitigation that blocks several layers of the attack.
Other notable preventive features include Web Application Firewall (WAF) and Intrusion Prevention System (IPS) to protect your site against threats, hacks, and attacks. That way, you can preserve site traffic and rankings while maintaining website performance.
It's also possible to stop password cracking using brute force attacks protection. Sucuri has the option to enable CAPTCHA and 2FA via Google Authenticator.
Here are other mention-worthy features from this WordPress security plugin:
Geo-blocking. Block visitors from the top three countries the attacks usually come from, or your chosen countries.
Bad-bot blocking. Detected bots and hacker tools will automatically be blocked to protect the site from exploitation attempts.
IP Allowlisting. Restrict the admin panels so only team members can access website administrative areas.
Reports. Set up notifications via emails, SMS, Slack, or custom-post options.
Virtual patching. Sucuri constantly updates patches and server rules to stay on top of new vulnerabilities.
All these tools are available in the free version, which is sufficient for a small business.
On the other hand, the paid version is best for larger establishments. The plans come with advanced features to solve SSL connection issues, cleanup hacks, and remove malware. The price starts at $199.99/year/site.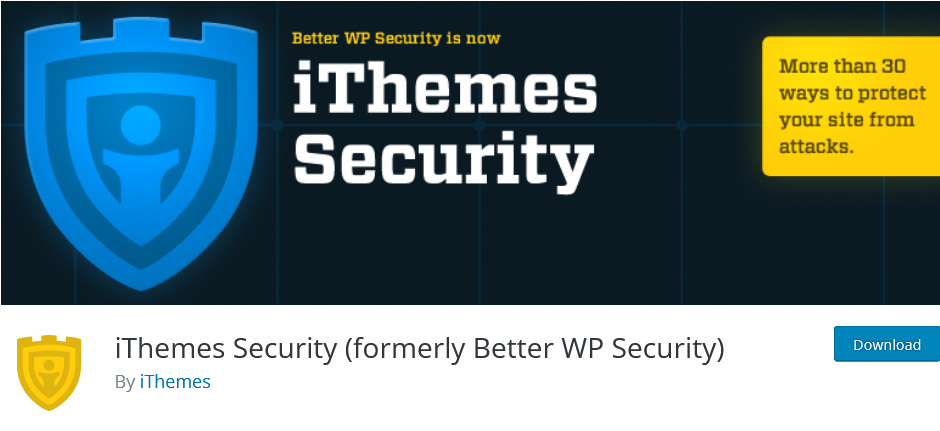 iThemes Security Stats:
Downloads: 1,000,000+
Rating: 4.6/5
Price: freemium
iThemes Security is a flexible plugin. It serves a wide variety of websites, from eCommerce to blogs, thanks to its Security Site Templates – a feature to quickly and easily apply the appropriate security settings for each website type.
Users can enhance login security by using 2FA with several authentication methods, including email, backup codes, and mobile apps like Authy and Google Authenticator.
Each type of user-level requires different security measures. During the plugin's setup process, you can assign a unique level of security for each user. For example, if you have an eCommerce site, you can protect customer accounts with a password policy.
Additionally, iThemes Security can ban users by permanently blocking repeat offenders from accessing your site. It uses local brute force protection to automatically identify and stop attacks on your WordPress site.
It's also possible to monitor your site's security health using file change detection. It logs changes made to your site to scan for malicious activities.
Another standout feature is the enforce SSL, which forces all connections to the website to be made over a secure environment. In addition, this plugin also creates backups of your WordPress database to restore data in case an attack happens.
The plugin is free to download from the WordPress plugin directory. Alternatively, consider purchasing the plugin's Pro version for more advanced features such as:
Real-time monitoring. Monitor website's security activity stats from a single dashboard, including active lockouts, site scan results, brute force attacks, and banned users.
Advanced login security . This includes reCAPTCHA, passwordless logins, and administrator privileges from identified devices.
Site scanner. Regular checkups for vulnerabilities and automated patches.
Email alerts. Get an email for discovered vulnerabilities during scheduled site scans.
Automatic patching. Automatic updates of themes, plugins, and WordPress core if the version you're running has a known vulnerability.
There are three plans to choose from – Blogger, Small Business, and Gold. The price ranges between $80 and $199 per year, depending on the number of websites you want to use the plugin on.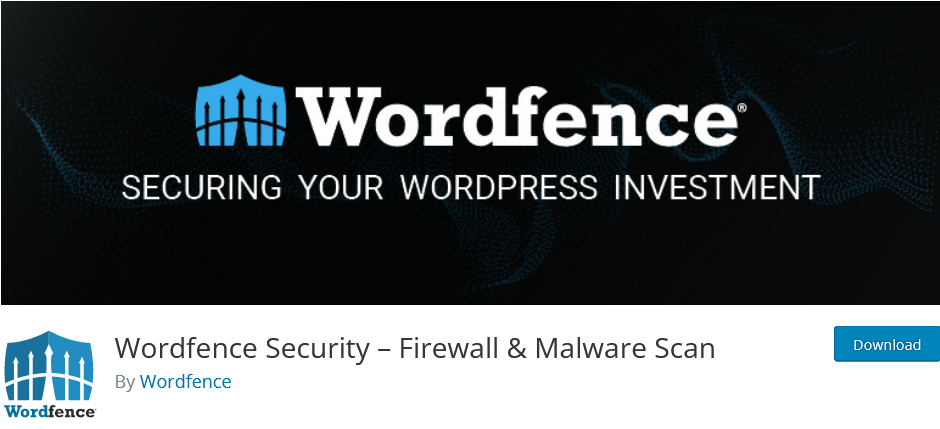 Wordfence Security Stats:
Downloads: 4,000,000+
Rating: 4.7/5
Price: freemium
This security plugin protects sites from threats using a malware scanner and endpoint firewall. They identify and block suspicious traffic as well as requests, including malicious code or content.
Meanwhile the scanner checks bad URLs, SEO spam, and malware in core files, plugins, and themes. That way, site owners can prevent attacks before they cause harm to the site.
The scanner will compare the user's core files, themes, and plugins with items in the WordPress repository to ensure integrity. If changes are found, the scanner will send a report. You can then replace changed files with the original versions to avoid vulnerabilities.
If a plugin has been closed or abandoned, Wordfence security will alert you for a potential security issue.
On top of the firewall and scanner, the plugin also offers login security using 2FA and CAPTCHA to stop bots and brute force attacks.
Another notable security tool includes Live Traffic. It helps to record hack attempts in real-time, including the origin, IP address, time spent on your site and time of visit. From there, you can block suspicious traffic using their IPs.
Additionally, it comes with Threat Defense Feed to stay updated with the newest firewall rules and malware signatures.
Other features of the Wordfence Security plugin include:
Wordfence Central. Manage the security of multiple sites in one place using a single view.
Templates. Helps configure Wordfence security settings faster and easier.
Configurable alerts. Choose to receive alerts via email, SMS, or Slack.
Security-event tracking. Track events such as administrator logins, breached passwords, and attack activity.
Attackers blocking. Choose to block by IP or build rules based on IP range and hostname.
Those interested in this plugin can download it for free from the WordPress directory. Alternatively, consider purchasing a paid license if you want more security features, such as reputation checks that let you see whether your site or IP has been blacklisted for spam.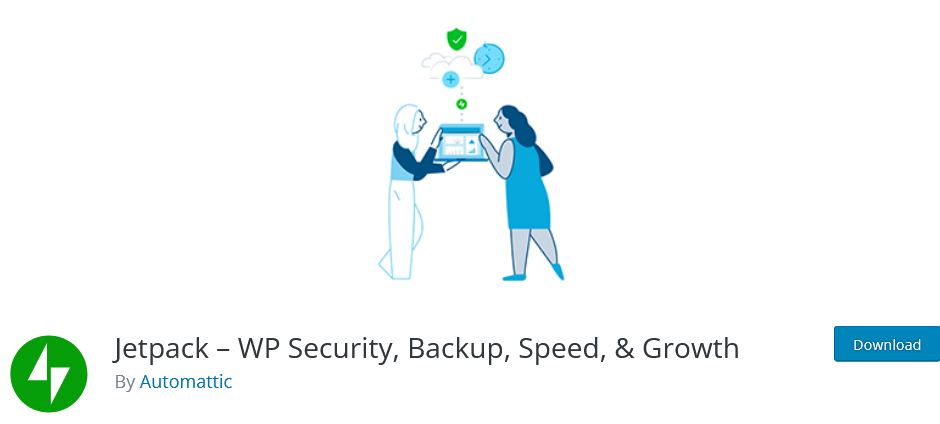 Jetpack Security Stats:
Downloads: 5,000,000+
Rating: 3.9/5
Price: freemium
Jetpack is an all-in-one WordPress plugin for security, performance, and site growth. Its security tools are easy to use with great features such as secure authentication, brute force attack protection, and plugin auto-updates.
Users can monitor site uptime and downtime and receive instant alerts of any changes by email when there's a spike in traffic, a problem with your hosting provider, or unauthorized site access by a hacker. Once your site is back online, Jetpack will report the total downtime.
The plugin also offers auto-updates for plugins, so your site remains safe from vulnerabilities. This automation also helps with site maintenance and management so users can focus on growing their businesses.
Login security is also available with 2FA. This authentication method safeguards WordPress sites from malicious disclosure or admin passwords leaks, accidental sharing of user account credentials, and the use of weak passwords.
Jetpack security also blocks unwanted login attempts from botnets and attacks. It automatically blocks malicious IPs before reaching your site. That said, users can turn this feature off with a single click from the dashboard.
It's also possible to monitor changes and see who made them with the activity log. This feature is excellent for coordination, debugging, maintenance, and troubleshooting.
These core features are accessible in the free version. However, you can invest in more robust features for site growth and performance tools by upgrading to a paid plan, which comes with additional:
Activity log. Can archive up to one year of activity logs.
Priority support. Users can ask questions and report problems through Jetpack's contact support.
Site accelerator. Load pages faster by optimizing images from Jetpack's global network of servers.
Payment blocks. Add a payment button to any post or page.
Anti-spam. This plugin is powered by Akismet, an anti-spam plugin to block spam comments and form responses.
The price ranges between $3.89 up to $39.98 per year. The higher-end plans offer bundled products for security, performance, growth, and design. All plans include mobile apps for Android and iOS.
All In One WP Security & Firewall [ check plugin ]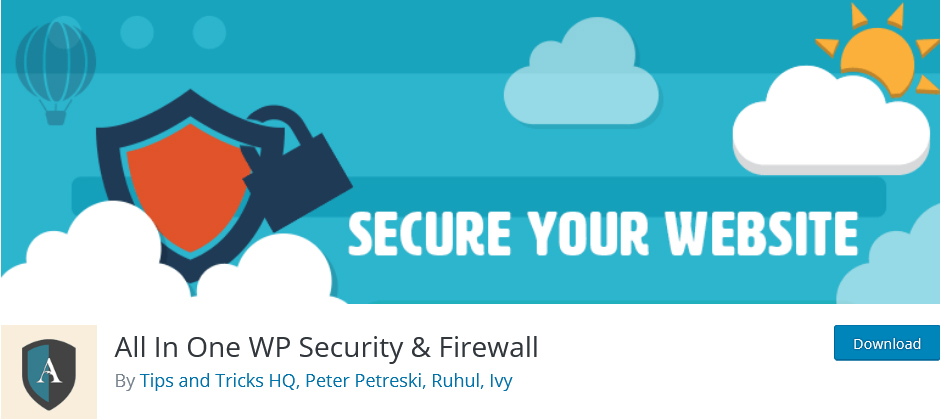 All In One WP Security & Firewall Stats:
Downloads: 900,000+
Rating: 4.8/5
Price: freemium
This plugin adds another layer of security to WordPress sites using firewalls and security point systems to measure how well your site is protected based on the activated security features.
There are three feature categorizations – basic, intermediate, and advanced. Users are free to enable the most suitable group of security features for their website without affecting the site performance.
Firewall protections in this plugin will stop malicious scripts before they can reach your WordPress site. It blocks access to debug log files, fake Googlebot from crawling your site, and prevents image hotlinking from compromising your site.
Additionally, the firewall can also log all 404 events on your site. Users can choose to automatically block IP addresses that are hitting too many 404s.
Furthermore, the plugin has blacklist functionality to band users by specifying IP addresses or user agents.
Other notable features include user accounts, login, and registration security. It can detect identical login and user account display names, which is bad practice since it increases the chance of brute force attacks.
The plugin also features a password strength tool to encourage users to create stronger passwords.
It's also possible to stop user enumeration to disable bots and suspicious users to discover useful information via author permalink.
Other than those mentioned above, here are some other standout features from the plugin:
Automatic database backup. Schedule automatic backups with a single click and receive email notifications.
User login security. Has features such as Google reCaptcha, force log out, and monitoring of account activity.
File system security. Can protect PHP codes and monitor host system logs.
Security scanner. Receive alerts for file changes in your WordPress system.
Comment spam security. Detect active IP addresses which produce the most spam comments, and block them with a single click.
Let's make a conclusion
Installing security plugins is one of the most important practices to protect your WordPress site from attacks. They come with detection and protection features to monitor and prevent potential threats.
Here's a quick recap of the five best security plugins discussed in this article:
Sucuri. Offers features such as malware scanning, DDoS attack mitigation, and login protection.
iThemes Security. Comes with Security Site Templates to quickly apply the appropriate security settings for various website types such as eCommerce and blogs.
Wordfence Security. Lets users configure notification alerts and manage security for multiple sites from a single view.
Jetpack Security. Offers downtime monitoring, plugin auto-updates, and IP blocking.
All In One WP Security & Firewall. Uses firewall protections to stop malicious scripts and blocks access to debug files.
Take these plugin options to further protect your site and focus on growing your business. Good luck.