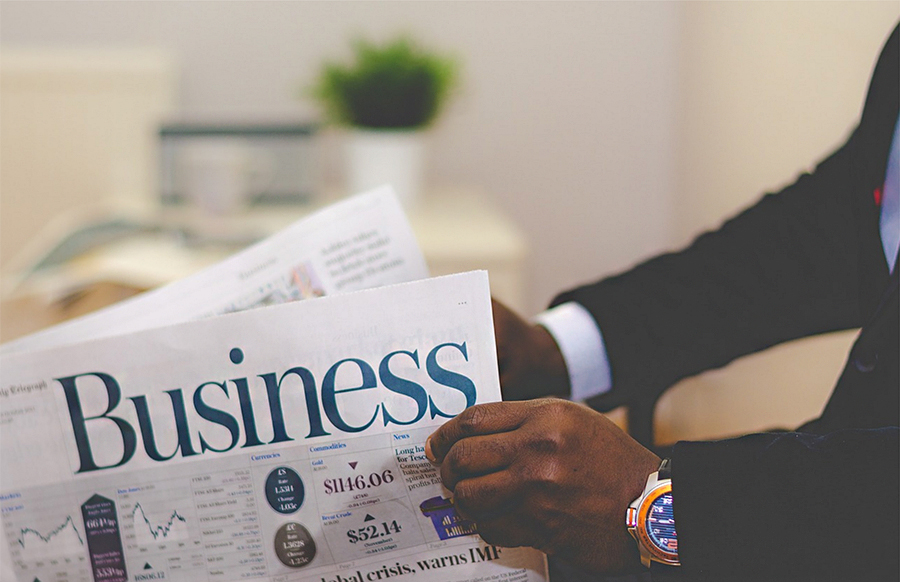 A business owner must upskill or perish. They need to know the latest methods and trends to stay relevant in the market. And while there is a tool, app, or other resource for just about any situation, the sheer number of resources can be a little intimidating to say the least. 
A simple Google search will reveal everything from employee resources (ex. withholding calculator, salary estimator, etc.), to in-depth entrepreneurial tools for task management, social media marketing, and so much more. Rather than overwhelming yourself by trying to learn everything as fast as possible, consider mimicking what the titans of business do.
With that being said, one of the best ways to copy success is by reading the top business blogs and websites.
However, as per Huffington Post, you have over 600 million blogs to choose from. Imagine trying to read from all of them. This article will solve your issue. In the next five minutes, learn all about 10 best business blogs and websites to follow for 2023.
Popular Websites About Business and Investments
Business Insider – an American business and financial website – is one of the best small business blogs . The website was founded by Kevin P. Ryan, Henry Blodget, and Dwight Merriman. The website offers news and insight on areas such as technology, personal finance, investing, entertainment, among others.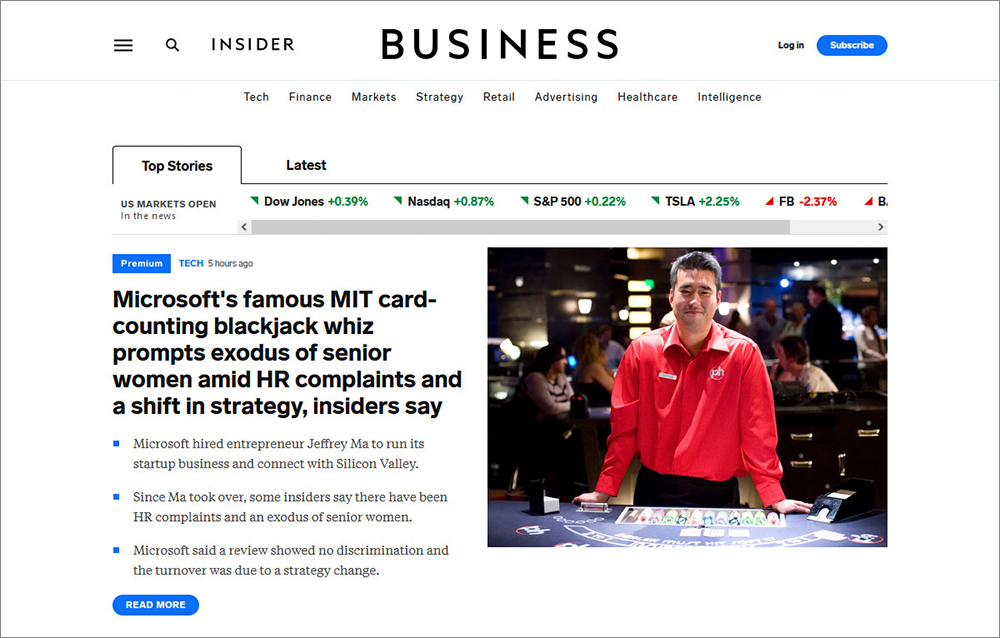 The website features both original reporting and content aggregated from other outlets.
Why follow?
The contributors include entrepreneurs, professors, venture capitalists, authors, and consultants, among others. Thus, what you read is written by experts, not by a person who has just read five blogs on the subject.
The website is famous for factual reporting, thanks to proper sources and a fact-check record. Thus, you won't read a piece of false information.
The mobile-friendly content makes sure you can learn on the go.
Over 25 million monthly reader-base speaks volumes about the site's authenticity.
Business Insider accepts guest posts. Submit expert advice, opinion, inside scoops, or analysis on the topic. Furthermore, you need to submit articles between 500 to 800 words.
A leading source for reliable business news and financial information. That is how Forbes describes itself. The Forbes Entrepreneurs section focuses on offering business news and financial information relevant to small business owners and entrepreneurs.
The company has been around for over 100 years. Furthermore, the company boasts of a reach of over 140 million people across the website and print media. The sheer numbers make Forbes Entrepreneurs perfect for business owners.
Why follow?
Latest news and trends, listicles, mindsets — the website features articles on everything an entrepreneur needs to know.
Forbes won the 2020 Webby People's Voice Award for Business Blog/Website. The award itself speaks a lot about the quality information the site offers.
Forbes Entrepreneurs accept contributor submissions. However, you must be an expert in the subject you are talking about. A sizable following never hurts. Furthermore, your articles must have been published in other high authority publications as well. If you tick the boxes, send your pitch to the editor of the section you are applying for.
Entrepreneur targets business owners who are starting or growing their businesses. The site offers insider news, tips, and tools to solve challenges entrepreneurs face.

Jason Feifer is the current Editor-in-Chief of Entrepreneur.
Why follow?
The website features content in the form of articles, videos, and podcasts. Learn in any method you like.
You can buy books on entrepreneurship to learn from the experts.
The website offers free webinars on how to start a business.
Looking for franchises up for purchase? Entrepreneur.com has you covered.
The Ask an Expert feature allows you to book sessions with an industry expert and solve your doubts.
AI Writing tools, training video courses, Blockchain Developer bundle, Amazon Dropshipping Masterclass bundle — the Entrepreneur store offers it all. Choose and buy what you need.
The website offers Entrepreneur Leadership Network program. Selected individuals can write for the website, promote their personal brand, and get access to a personal editor. You can apply directly on the website under the 'Contribution' option.
Searching for a site that offers up-to-the-minute news on financial markets, company earnings, technologies, and more? Bloomberg is the perfect option for you.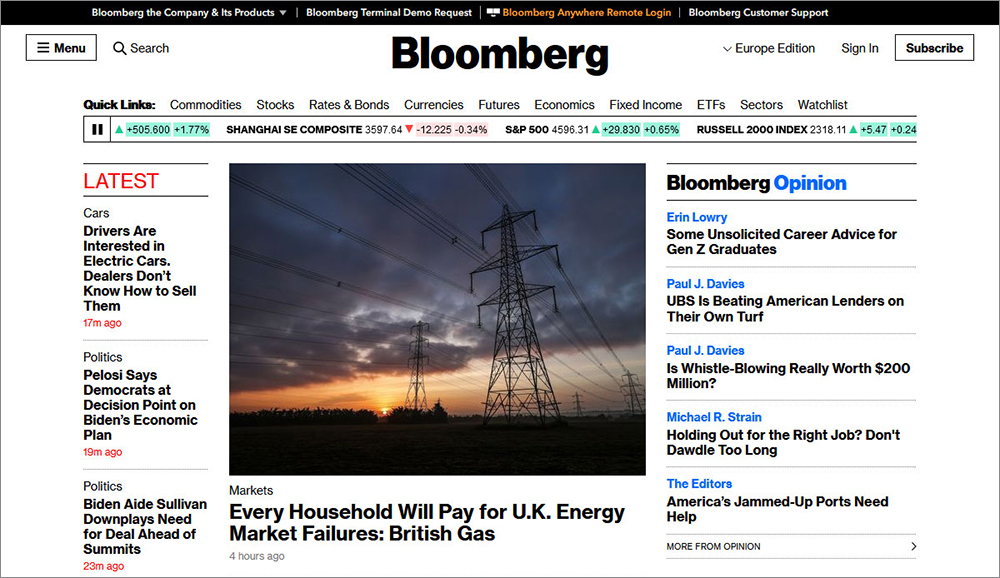 The website features articles and videos from both Businessweek and Bloomberg News.
Why follow?
The website offers 24-hour news and information on finance, technology, and company earnings. The information includes trading news, analyst coverage, and historic and real-time price data. Thus, you will never be uninformed with Bloomberg.
Bloomberg Terminal is an integrated terminal that streams news, trading data, and price data to over 300,000 customers around the world. However, expect to pay over $20,000 a year for the service.
Subscribe to the website to receive unlimited access to expert analysis and global insights from over 2,700 journalists across over 120 countries. Furthermore, you can live stream the news and analysis and even join exclusive live events in person.
Fast Company offers case studies on technology, business, and design. The articles and case studies help you learn about technology trends, entrepreneurship, and design, among other topics.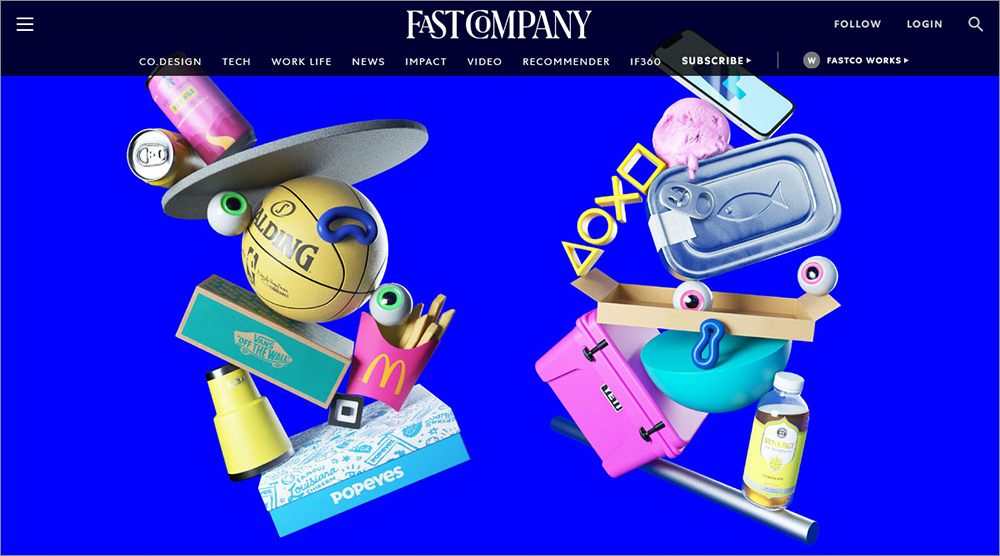 Furthermore, you can subscribe to the company newsletter for free to stay updated on the latest trends.
Why follow?
Read articles, watch videos, and listen to podcasts to learn all about entrepreneurship, design, and technology.
The Recommender section recommends everything including eco-friendly runner shoes, home gym equipment, kitchen products, and denim brands.
The Work Life section offers tips on how to maintain a healthy work-life balance.
Fast Company features articles on climate change, its challenges, and solutions in the section Impact.
You can submit guest posts of 1,000 of fewer words. If they do not get back to you within a week, consider the post rejected.
A combination of well-thought opinion pieces, breaking news, internet humor, and memes. That is Mashable for you. The website is one of the popular business websites .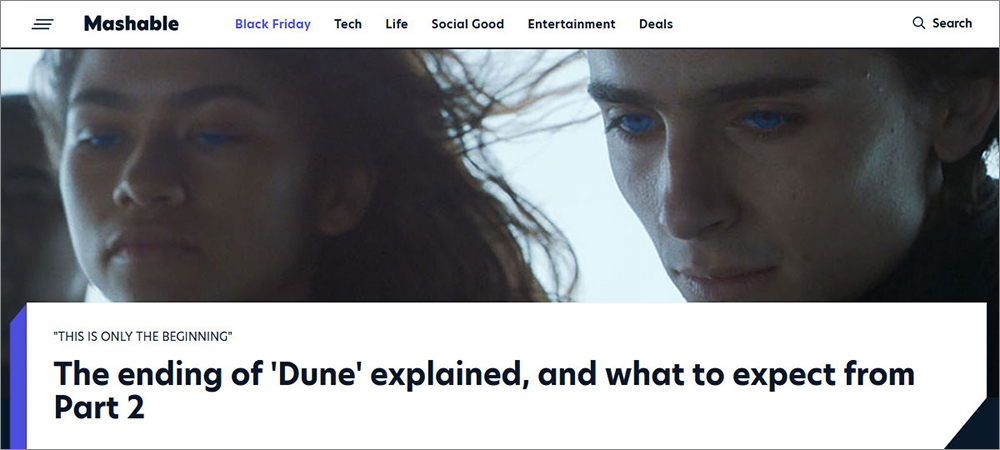 Pete Cashmore founded the company in 2005. Ziff Davis bought the company for $50 million in December 2017.
Why follow?
You can learn about the latest product launches and technology trends on the website each day.
Apart from technology, the website covers topics including politics, science, entertainment, and business, among others.
The Social Good section features articles addressing social issues such as the refugee crisis, mental health, and the situation of women in workplaces.
Prefer to consume content via podcasts? Mashable features a podcast section in the website.
Score is the nonprofit resource partner of the U.S. Small Business Administration (SBA). The company has over 10,000 volunteers. Furthermore, the company receives government funding as well.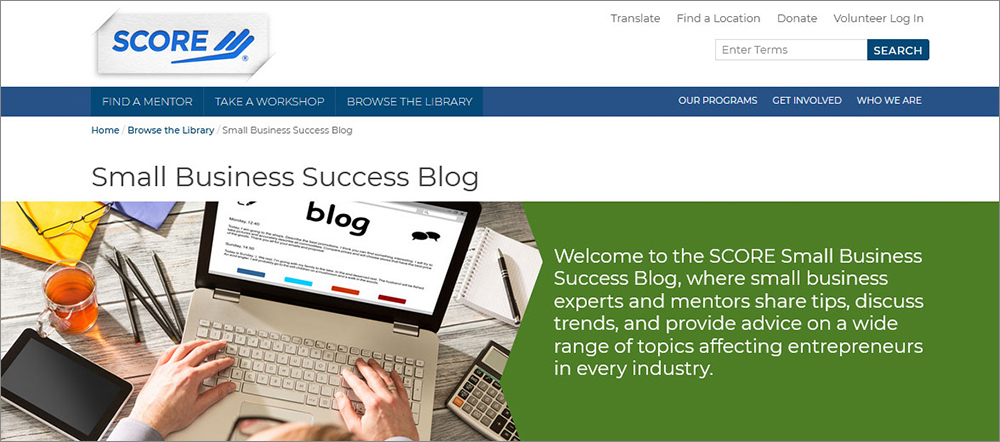 The website is perfect for anyone who wants to start or has just started their business.
Why follow?
Score offers a large network of business mentors for free. Receive practical advice, proven business tools, and get help optimizing your business plans.
Watch the free virtual summit that offers 22 educational sessions anytime you want.
The Resilience Hub offers remote mentoring, training, and resources for small business owners.
Score has tied up with Google for the Google Digital Readiness Series. Learn to launch and grow your business on a digital platform.
Wondering how to start a successful business ? Small Business Administration is a U.S. government agency that offers support to small business owners and entrepreneurs.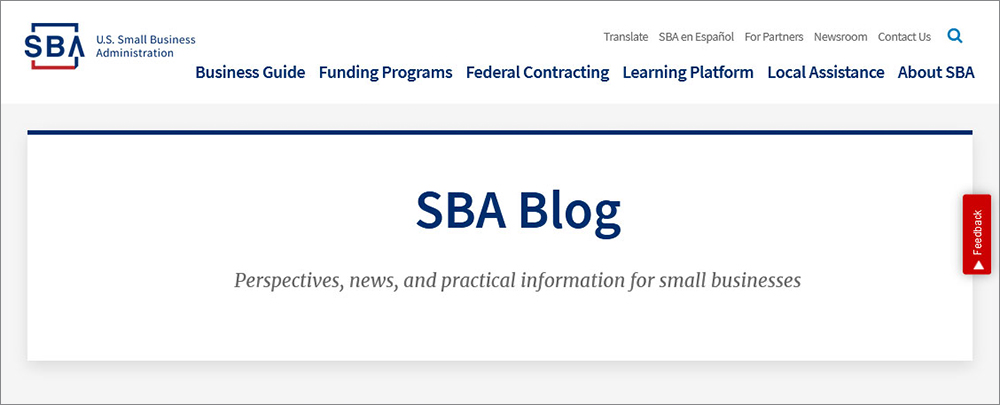 The website features articles on how to launch and grow your business, free business counselling, and business loans, among others.
Why follow?
The website offers dedicated articles on planning, launching, managing, and growing your business.
You can get free business counseling from partner organizations and experts.
The website has a dedicated section that helps you to find an SBA lender for getting business loans.
A subsidiary of Harvard University, Harvard Business Review covers topics such as leadership, strategy, organizational change, work-life balance, and finance, among others. The website is one of the best business news websites.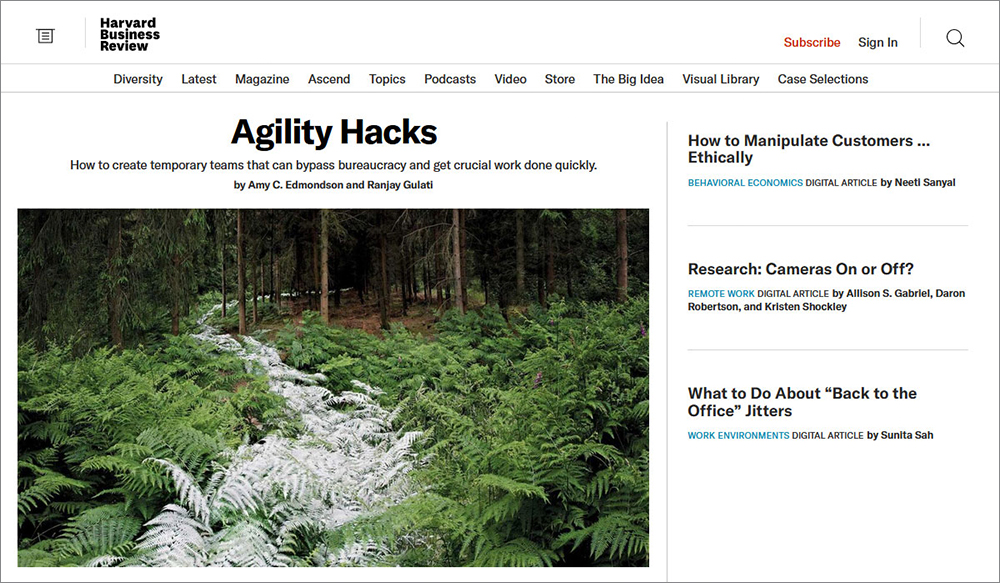 The website publishes articles written by experts in the field. Thus, you can be sure of the authenticity of the information.
Why follow?
Harvard Business Review prefers original and disruptive content. Thus, even if the topic is well-worn, expect a unique angle or insight you never read before.
Each idea and argument is backed up by relevant data, examples, or supporting research. Thus, you won't read false information.
If you do not prefer reading articles, you can check out the video and podcast section.
The Big Idea section features the most pressing issues in business in the present time.
Searching for a business investing blog to learn about the economy and investments? Investopedia is the perfect option for you.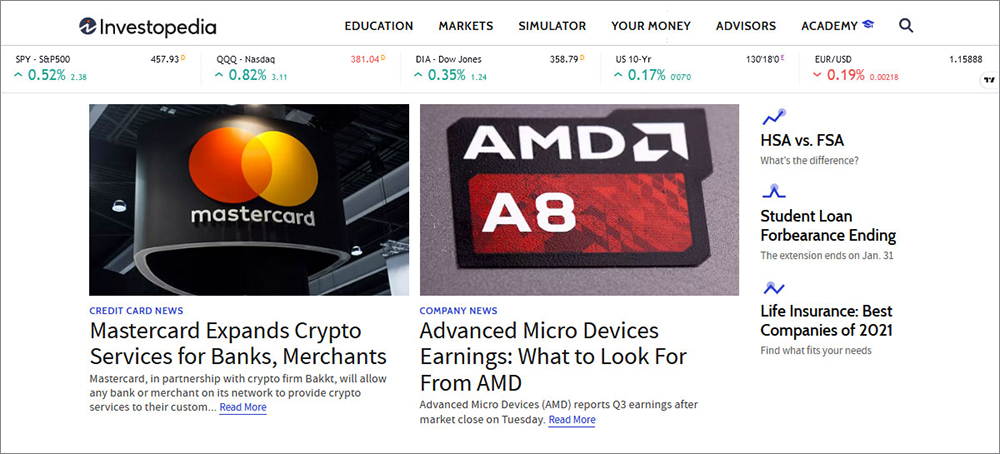 The website offers financial advice, investment dictionaries, and reviews. Furthermore, you can read comparisons of financial products as well.
Why follow?
The Education section offers articles on stocks, mutual funds, and corporate finance, among others. The website features a blog about business and investments as well.
Want to practice stock trading? Investopedia offers you a free opportunity with the Stock Market Simulator.
The Your Money section offers articles on aspects of personal finance such as wealth management, budgeting or saving, taxes, retirement planning, among others.
Wouldn't it be great if you could get helpful advice for your small business, startup, or solopreneur business for free? The Small Biz Tipster blog is the solution you seek.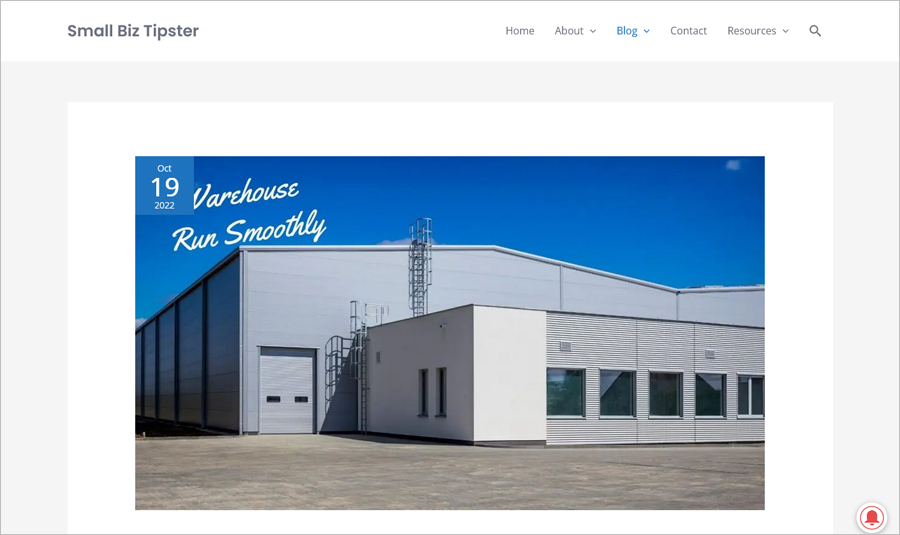 The blog is home to simple, genuine, and hard-hitting advice that comes to you in an easily readable format.
Why follow?
The advice detailed in the blogs comes from experts and those who have hands-on experience. So there's no fluff content. And absolutely nothing that you will find 'so-called' experts selling elsewhere on the Internet.
The language is simple and understandable. No lingos and jargon.
The blogs also feature pleasant imagery that helps break the flow of the text.
There's a clickable content table right at the beginning that lets you skip to the sections that you find the most relevant to your queries.
Close to 5000 visitors trust the blog by visiting it every month.
Megaventory's Blog has been around for more than a decade and offers specialized content about everything revolving around the supply chain. Here you'll find valuable information about managing your inventory in the cloud, accelerating your eCommerce business, and much more.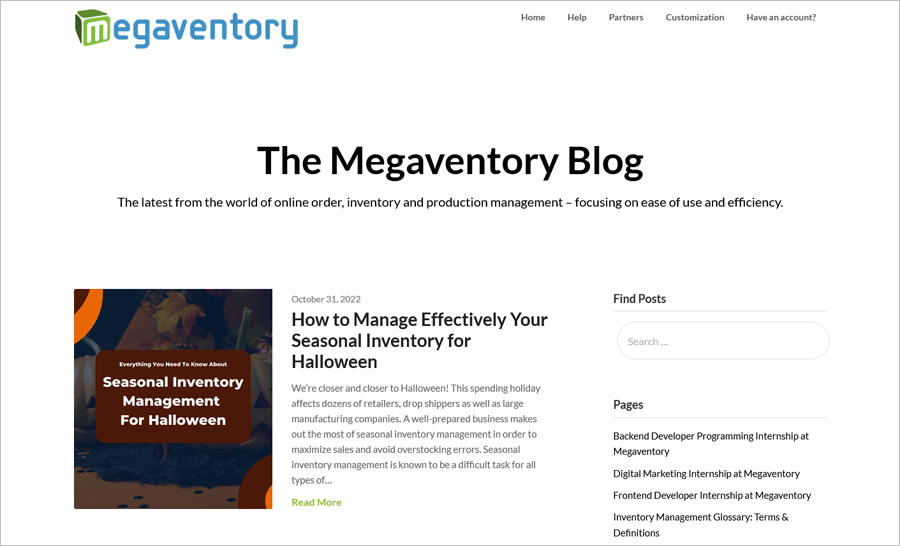 The content is written by their in-house experts and selected guest authors in an easy-to-digest format, even when it's about complex topics.
Why follow?
The blog offers value to supply chain professionals, and especially for business owners that operate an eCommerce store and need tutorials for integrations or consider the benefits of different software.
They offer an inventory management glossary where the most important terms in the industry are explained for easy understanding.
Megaventory accepts guest posts. Experts have the chance to be featured with relevant content about anything along the supply chain as well as technology. You can find their requirements on their blog.
You can sign up for a monthly newsletter where you get an industry round-up, the newest blog posts and offers right in your inbox.
Inspire To Thrive Blog is primarily dedicated to small business topics. Publications cover how to build a small business, develop, attract attention to a product or service, conduct marketing campaigns, and manage employees.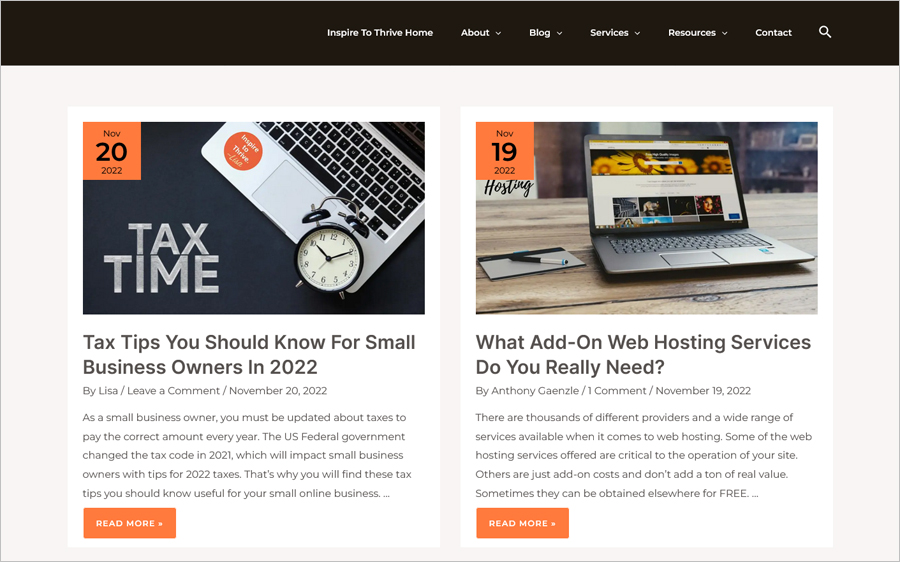 This business blog has both news articles and "How To" articles to help with business questions.
Why follow?
Get useful tips and practical step-by-step advice for starting and growing a small business.
A lot of materials on digital marketing – business promotion in social networks, SEO, and advice on choosing marketing strategies.
Reviews of new products aimed at the development of online business and sales.
For Small Business owners, entrepreneurs, and managers, CompanionLink offers a great resource covering mobile technology, business SEO and branding, security, investing and remote workplace topics.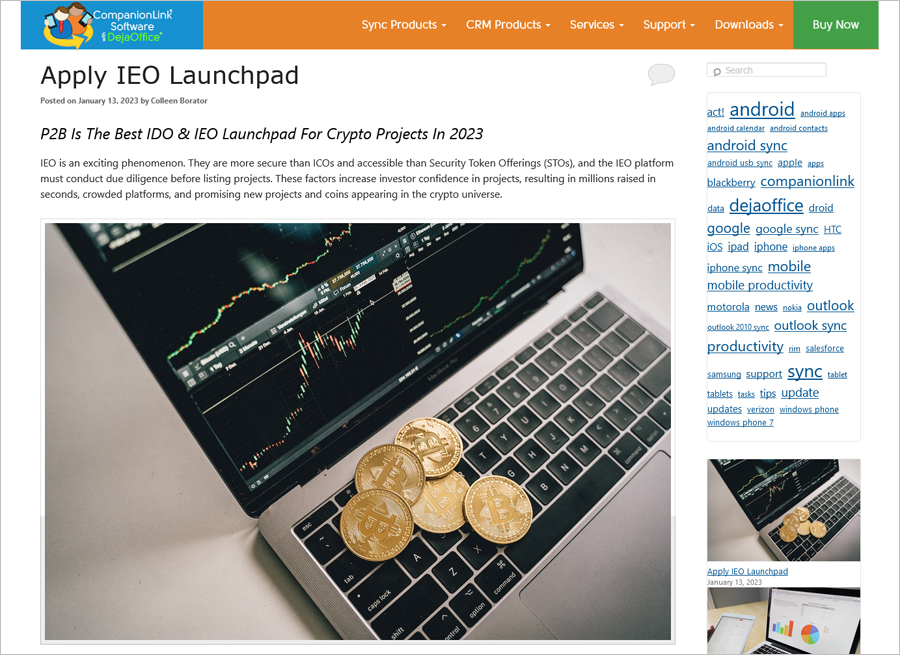 Often delving into Complex topics like comparing PC based vs Cloud based productivity tools, how to handle Gen-Z remote workers, and security issues for small business, this blog keeps you up to date with informative content.
Why follow?
Well-written articles are interesting and teach new aspects of problems you face daily.
Clean and easy to read – without any disruptive advertising.
Professional pictures and a consistent style keep you engaged.
A constant range of topics all relating to your small business and professional life.
Upskilling keeps you ahead of the competition
Following these websites will help you stay updated with the latest trends and practices in the business world. The business that learns faster, stays ahead of the competition. Also don't forget to check our previous list of the best web design and wevelopment blogs