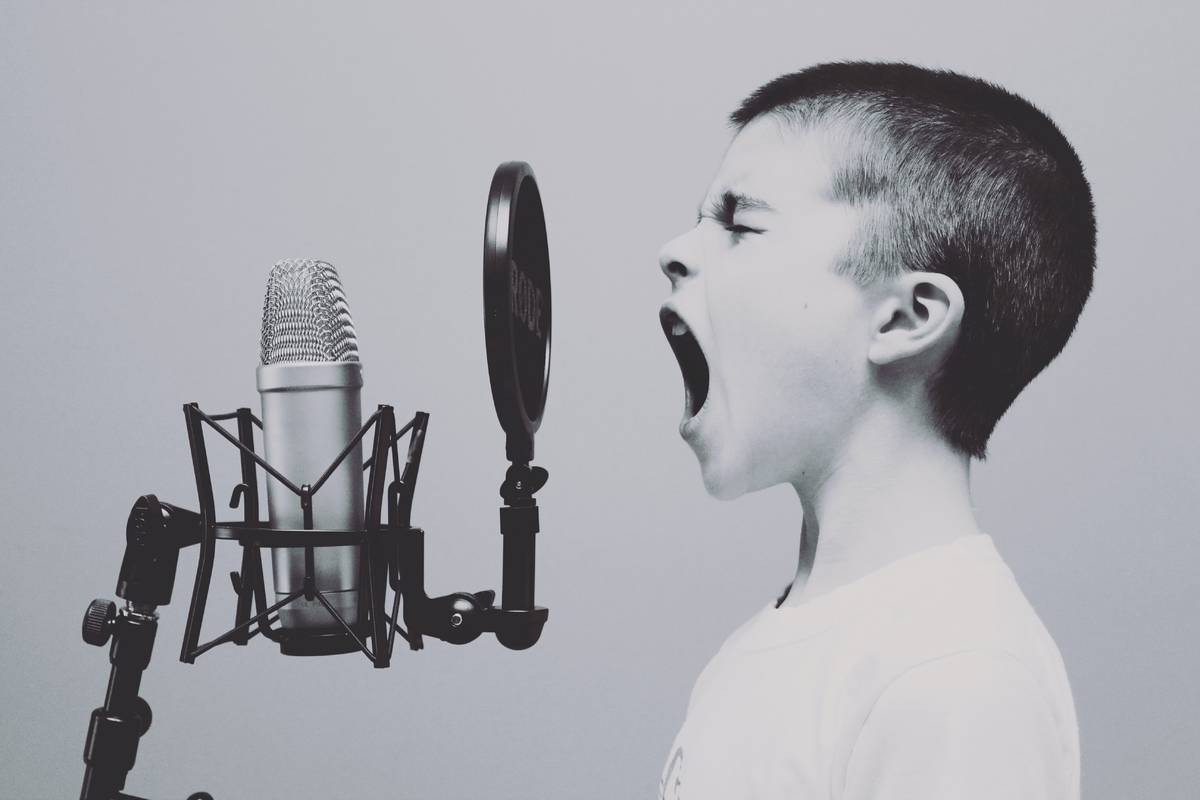 We continue our trend to introduce you to the best blogs on the internet ( you can check out the best business blogs and the best design blogs ) and today we will show you the best marketing blogs and websites. If you're reading this article proves you want to find the best source of the latest marketing trends and best practices. However, with the thousands of marketing websites and blogs swarming the internet, it can be overwhelming to find the best one. This article will help you with the same. In the next five minutes, the article will discuss the 10 best marketing blogs and websites you must follow in 2023 and why you should follow these blogs.
10 best marketing blogs and websites to follow
One of the most popular marketing blogs, Moz publishes content on SEO advice, email marketing, competitive research, branding techniques and digital marketing. Rand Fishkin and Gillian Muessig founded the content marketing blog in 2004. If you're someone who wants to learn SEO from scratch, MOZ is the perfect place for you.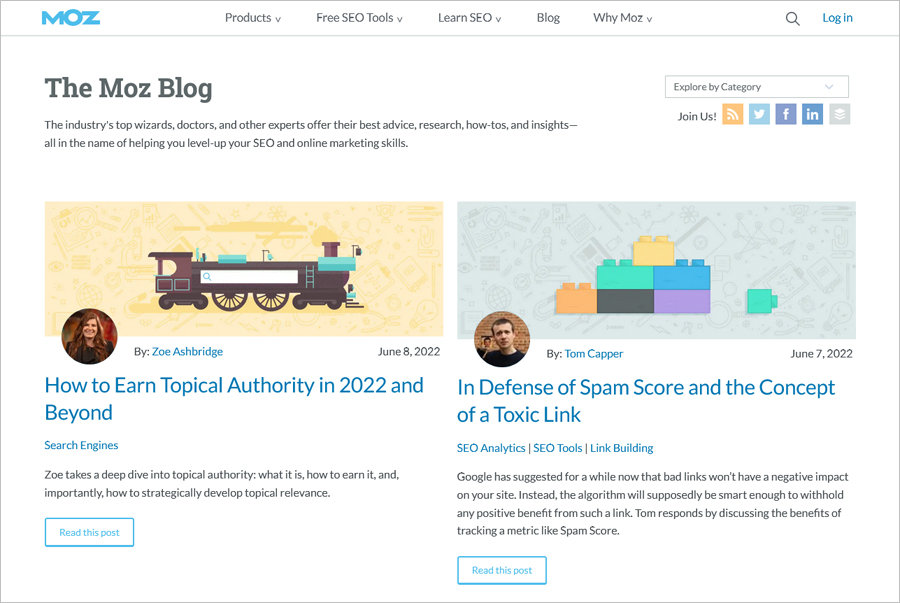 Why follow?
Moz features a free SEO Learning Center for beginners.
The blog section offers data-driven content, SEO research material, and extensive analytical data.
2.3 million users visit the SEO blog each month. The number alone should tell you a lot about Moz's authenticity.
Copyblogger is one of the most popular blogs for copywriting. Brian Clark founded the good marketing blog in 2006. The blog offers the latest and well-researched information topics including copywriting, video marketing, content strategy development, and social media marketing. Copyblogger has a domain rating of 86.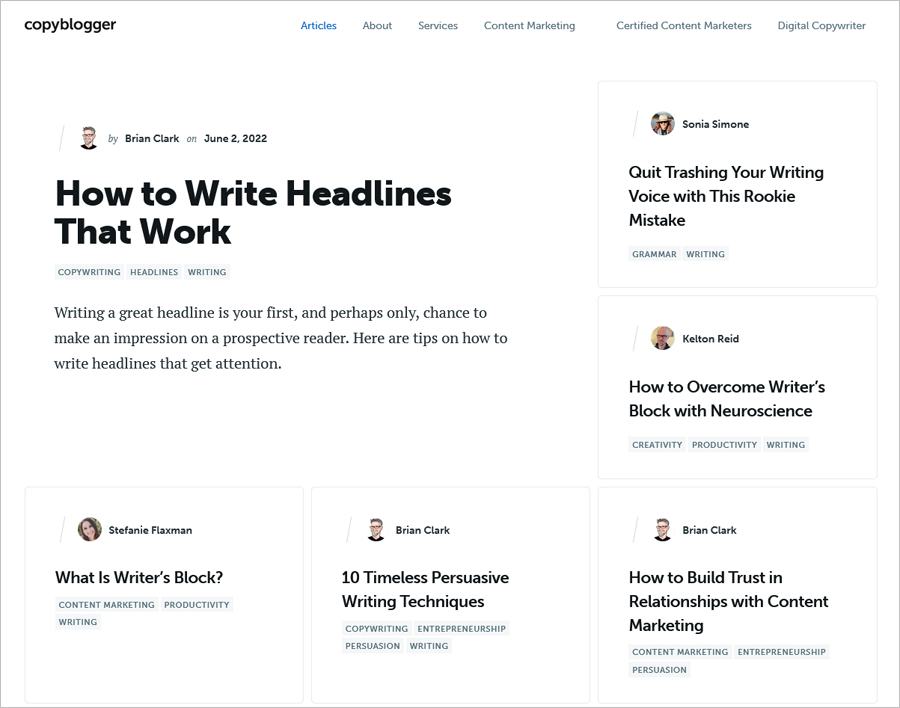 Why follow?
The in-house team consists of experienced copywriters and marketers. Thus, everything you read has already been tried first-hand by an expert, it's not regurgitated information from a beginner who has read 5 blogs on the subject.
Copyblogger features a free email list offering regular updates on the latest and trending developments in content marketing and digital marketing news.
The blog offers a section dedicated to new businesses getting started with SEO and internet marketing.
The monthly search traffic of 92K confirms the blog's authenticity.
If you want to have in-depth knowledge of online marketing, Neil Patel is one of the best (if not the best) marketing blogs for you. Most of his articles are over 5,000 words but you can be sure not a word is wasted. Thus, you receive a deep understanding of the topic he talks about. The website has a domain rating of 91.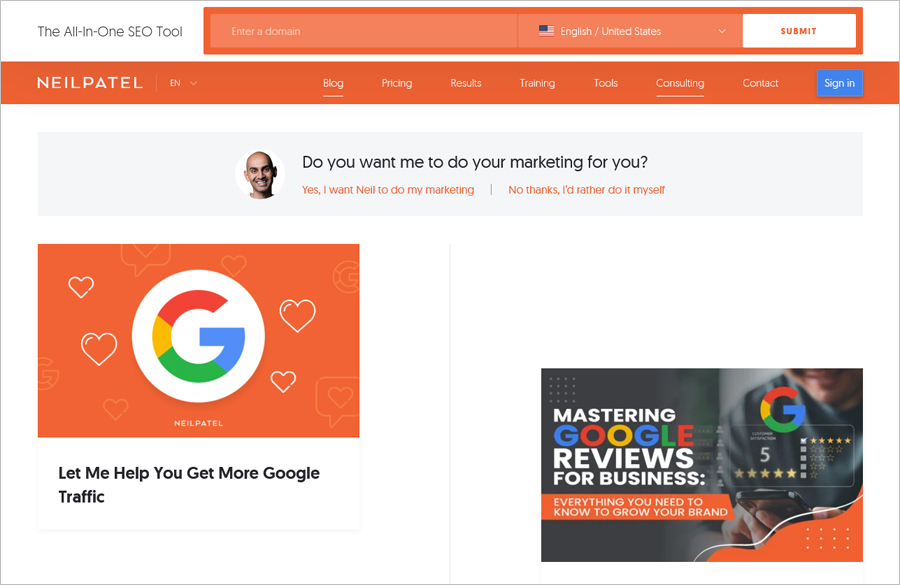 Why follow?
Neil Patel is a New York Times Bestselling author, founder and owner of Crazy Egg, and declared one of the top 10 marketers by Forbes. Thus, when he writes, you know it's going to be valuable.
Landing page hacks, the transformative power of color, marketing organization structures to fuel growth — you name the topic and Neil has written an article on it.
Neil writes in a simple and straightforward language. Thus, you won't have a hard time grasping the information even if you're a beginner.
2.3 million visitors read his blog each month. The number alone makes the blog one of the best digital marketing blogs.
Founded by Joel Gascoigne, Buffer is one of the best social media marketing blogs out there. The website offers articles on topics such as content creation, video marketing, and even tips on working from home.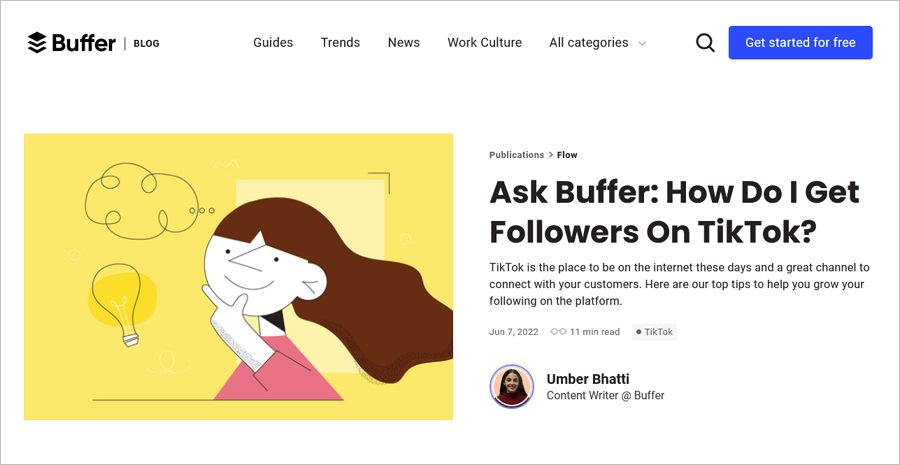 Why follow?
The digital marketing blogs section offers information on how businesses and brands can grow their reach and viewer base on social media sites including Instagram, YouTube, and Facebook.
Buffer offers a comprehensive small business digital marketing and social media toolkit.
The website receives search traffic of 1.1 million each month; thereby confirming its authenticity.
Ahrefs is one of the best marketing blogs which publishes content on topics such as how to get started with SEO and how to create a landing page. 270,000 users visit the website each month.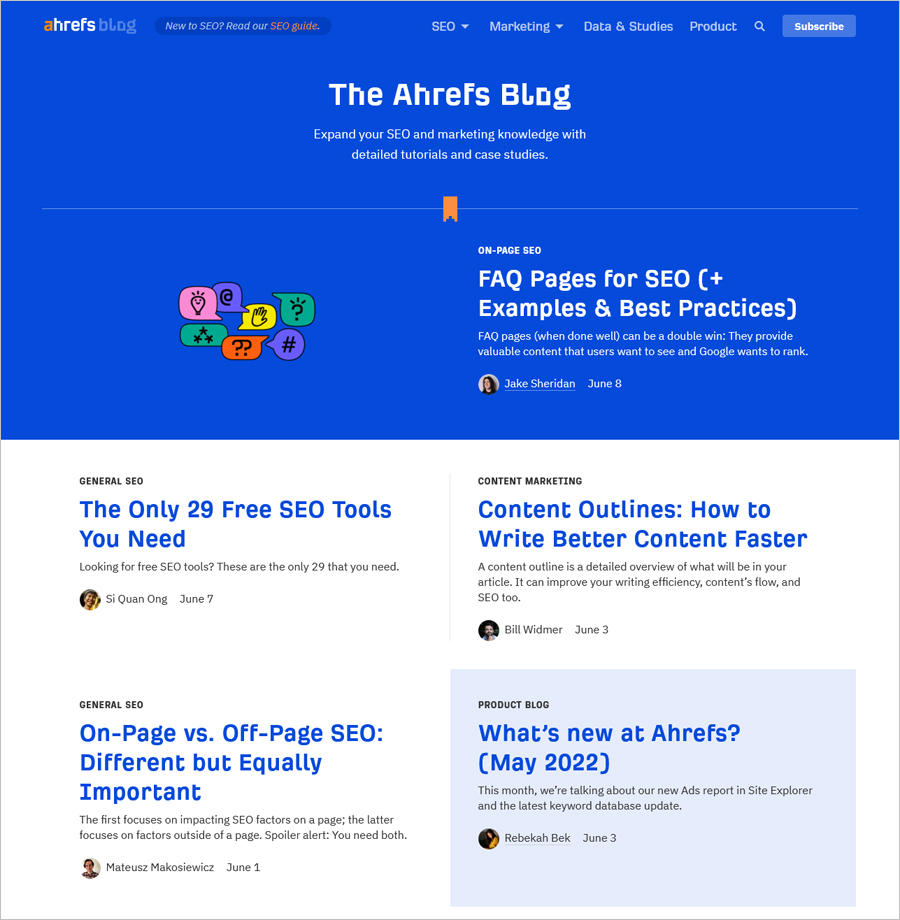 Why follow?
The blog section covers a wide array of topics including digital marketing tactics, SEO optimization and traffic analysis, e-commerce marketing strategies, and interactive guides for online selling.
Ahrefs offers tools to scale your business including keyword development tools and site audit tools.
You can read the blog in multiple languages including Spanish, Italian, Russian, and German.
HubSpot blog offers articles on topics such as growth marketing and working with analytics. Dharmesh Shah founded HubSpot in 2005 which turned into one of the most popular content marketing blogs. 10.3 million users visit the website each month.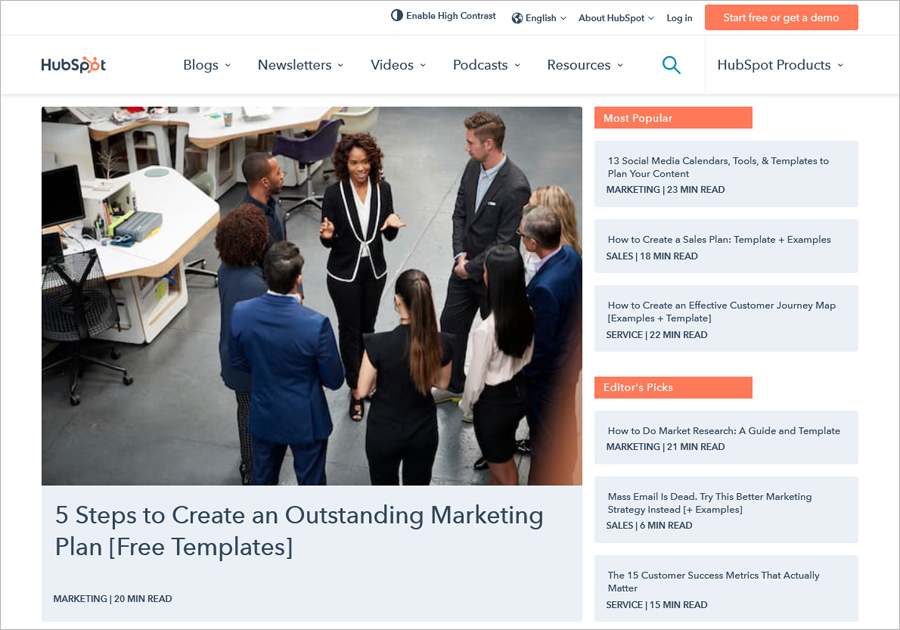 Why follow?
Offers dedicated segments for specific business needs including operations and marketing.
Offers a free inbound marketing course on digital marketing concepts.
Niche advice, free templates, case studies — HubSpot offers it all.
If you're searching for a blog on conversion and landing page advice, Unbounce is the answer for you. The website is a one-stop solution for content development and management that's easy to navigate.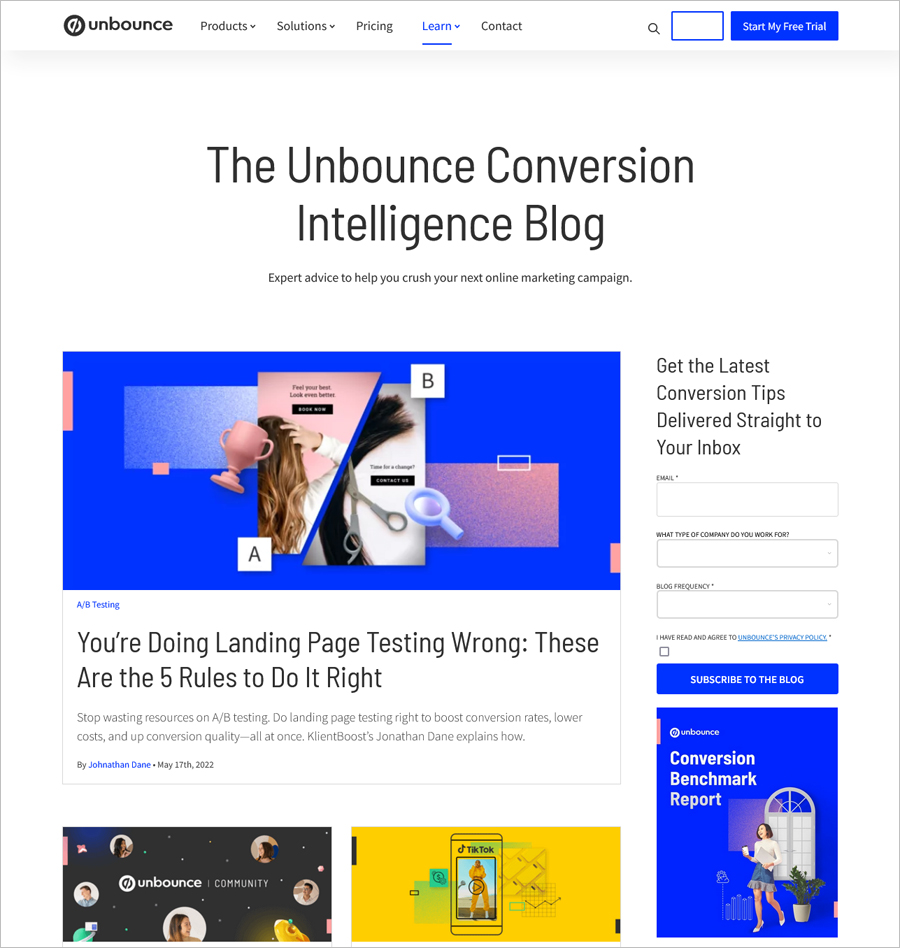 Why follow?
Offers articles on landing pages, mobile optimization, pay-per-click, and online marketing.
The Smart Copy feature helps to create new content resonating with the brand style and tone.
Offers AI-powered A/B testing for landing page ads.
The Content Marketing Institute (CMI) offers advanced content marketing strategies through its blog and digital and in-person events. The website receives 221,000 visitors each month. If you're a B2B marketer, you must follow the website.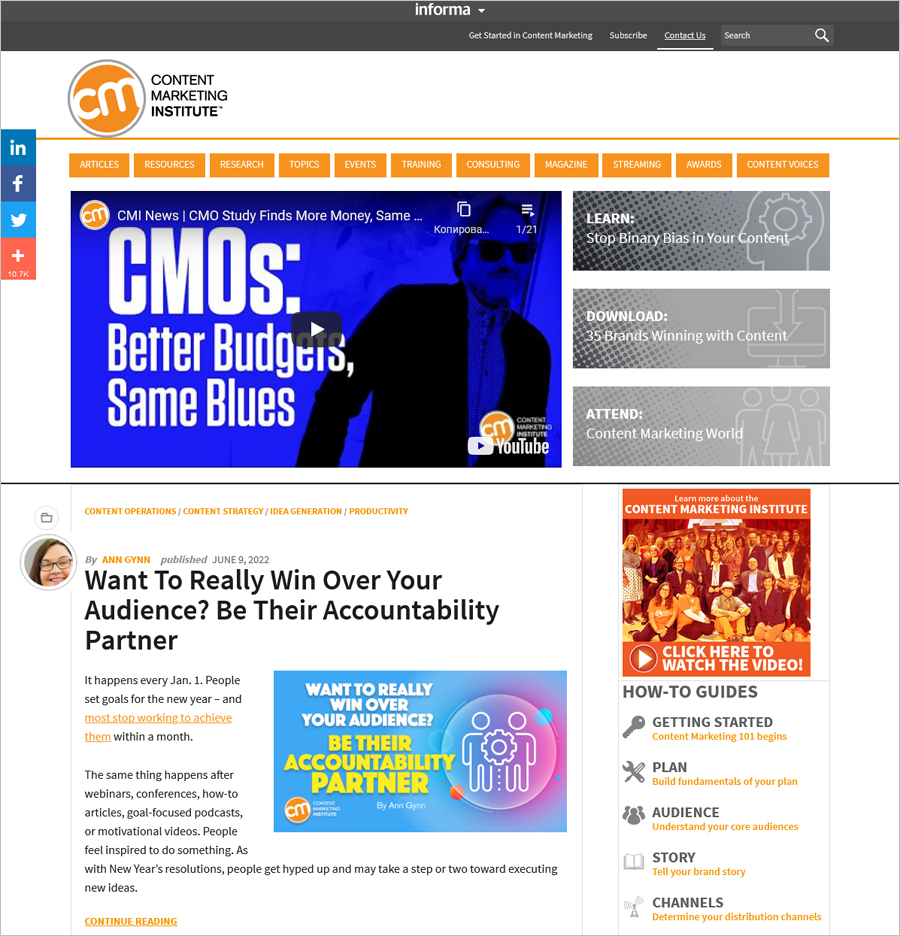 Why follow?
The contributors of the blog are thought-leaders in the field. Thus, you learn from the best.
Articles, ebooks, white papers — you name it, CMI has it in store.
Offers storytelling practices and best practices on blogging.
Intercom offers a combination of regular blogs and podcasts. Thus, if you're on a time crunch and can't read the blogs, you can opt for the podcast. The website was founded in 2011.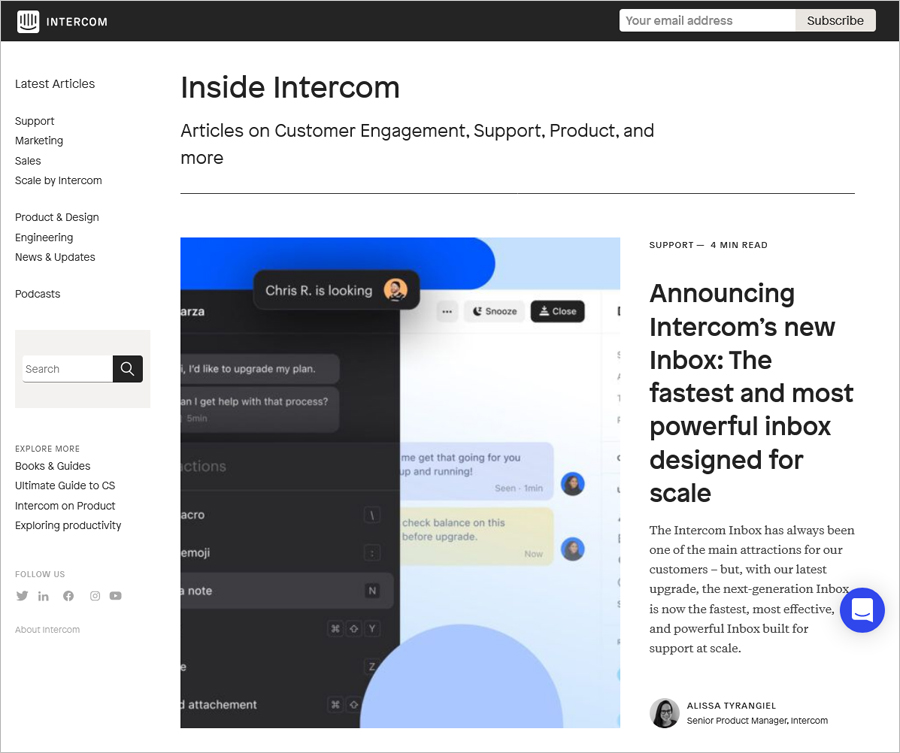 Why follow?
Offers detailed articles on each aspect of product marketing.
Offers books on building each segment of a business including marketing, sales, and customer support.
Offers an academy with courses on sales and support.
Knowing the latest marketing trends and best practices is essential to boosting the sales and revenue of your business. After all, the business that learns faster, grows faster, right?
Linkody is a unique blog that covers various topics in the SEO and Marketing niches, but predominantly focuses on link building and Off-Page SEO. This blog offers comprehensive information categorized in about a dozen sections, including SEO, Technical SEO, Marketing, Copywriting, Digital Agency, and Link Building among others. Linkody blog also accepts guest posts, provided the writers follow specific and search engine optimized guidelines to promote both the guest poster's content and the blog itself.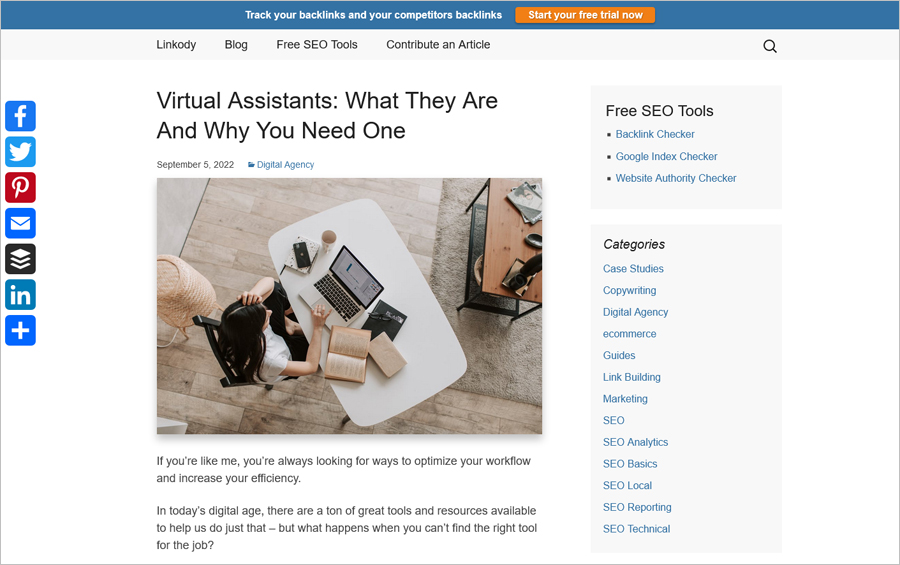 Why Follow
Their outreach personnel responds to each query promptly and is there every step of the way, especially for guest posting.
The blog caters to users first, with thoroughly researched and finely written content that's managed by an experienced SEO content manager.
You can find lots of useful info, case studies, and tools to help you better your SEO and link building game.
These 10 best marketing blogs and websites will help you learn all the marketing tricks to stay ahead of your competition. We hope the information shared in the article was helpful.
Started by Joydeep Bhattacharya in May 2012 SEO Sandwitch is a must-read blog. Among India's top SEO blogs, it is great whether you wish to start a stellar career in digital marketing or want to go DIY for your business website. The ultimate guide garage, the blog has a domain rating of 62.
Why Follow
You get access to 1000+ free tutorials which can quickly help you go from a newbie to an expert.
Special category of eCommerce blog posts. These can help Internet marketers get tips to boost their eStore sales.
SEO Tools Archive, which helps digital markers find and compare the best tools. These tools can boost productivity, ease operations, and drive better results.
Easy to read, understand, and follow blogs.
Over 187,000 people visit the blog every month.
Namaste UI is a digital marketing blog existing since 2015. Namaste UI publishes educational articles, reviews of products and services on SEO, marketing and web development. It also regularly publishes materials for webmasters and web developers, but it is the digital marketing section that has a deeper coverage.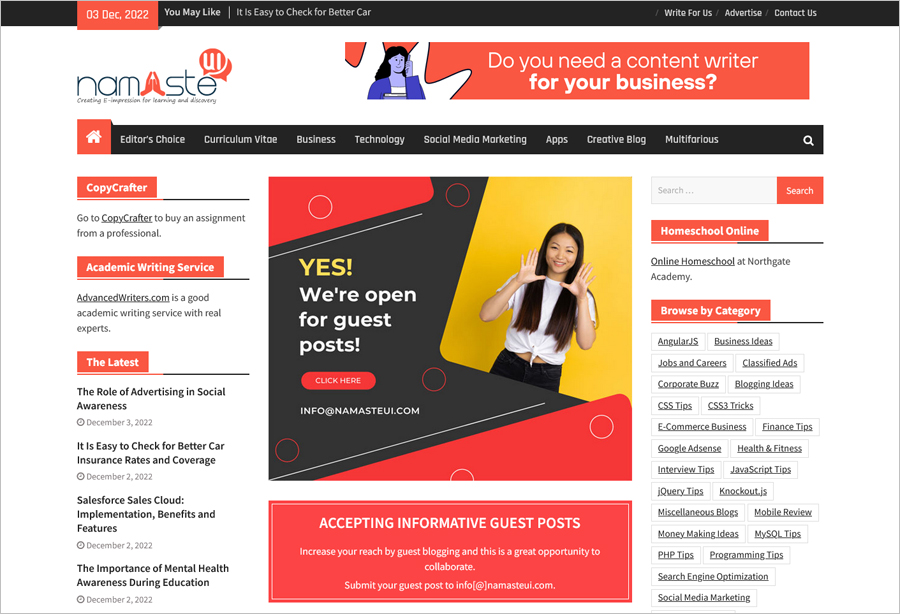 Why Follow
Regularly publish useful articles for beginners, written in simple accessible language.
Has many interviews with leading marketers and founders of marketing blogs and services.
They are not limited to digital marketing alone, but publish materials on related topics: web development, tech, small business, blogging.
The Local SEO Guide Blog was founded by Andrew Shotland in 2006 and has covered SEO and digital marketing regularly ever since. The Local SEO Guide blog publishes both short "How to" articles and detailed SEO guides that will be of interest to more experienced SEOs. The value of a blog is that it is run by practicing SEO specialists, which guarantees the relevance of the content.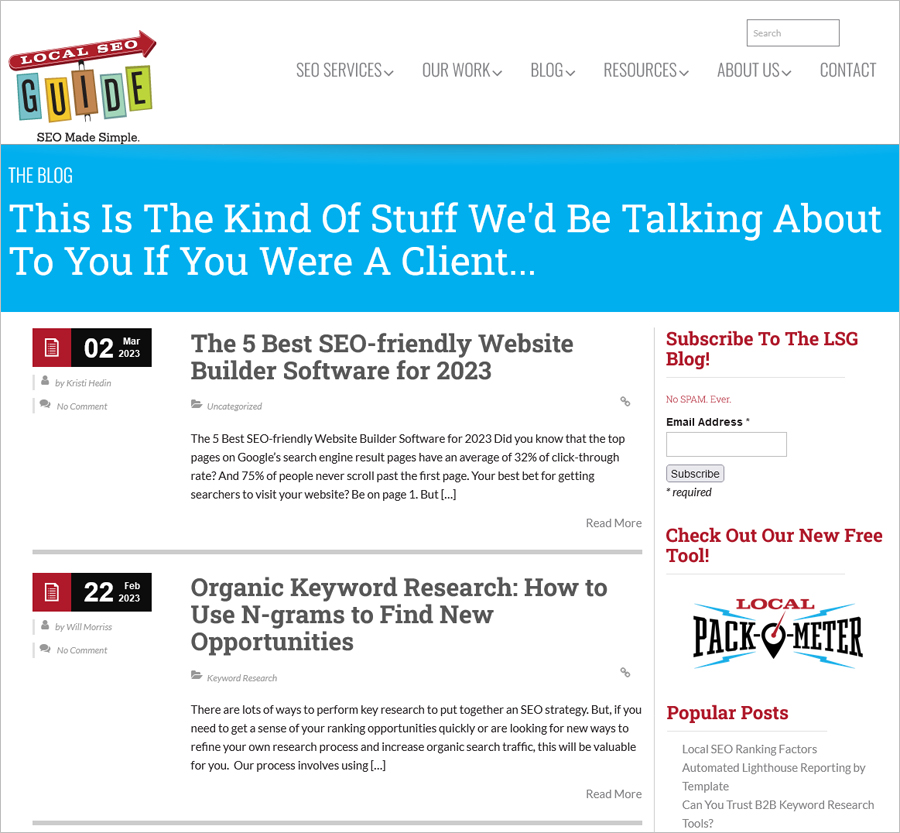 Why Follow
SEO blog regularly publishes relevant articles and guides on SEO.
A lot of attention is given to SEO trends and innovations.
Materials are devoted not only to search promotion in Google but also in other search engines – Bing, Yandex, Yahoo.
If you are a digital marketing agency and need expert advice on marketing, client retention, scaling, and other insights, head over to the DashClicks blog. The blog features engaging pieces detailing the latest trends and tips for SEO, marketing, agency management, lead generation, scaling, and much more.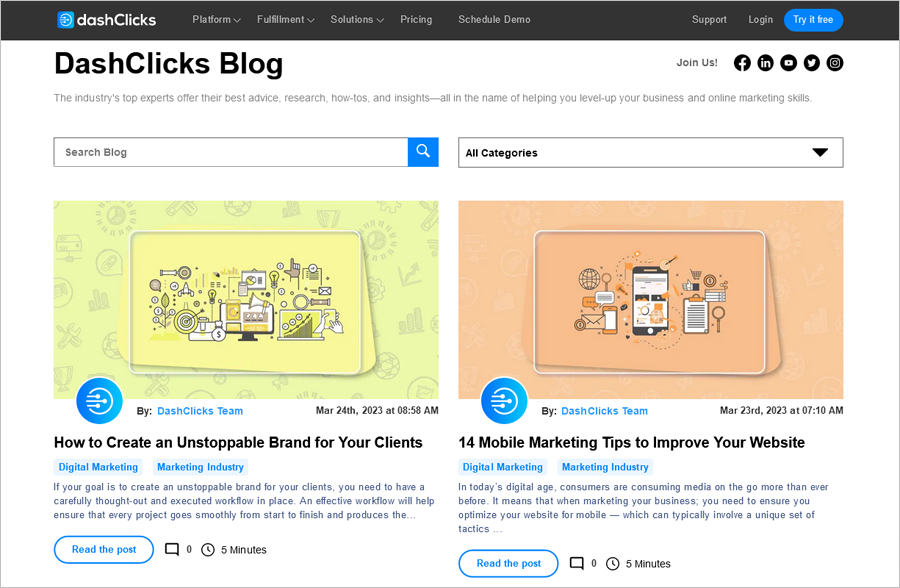 Why Follow
DashClicks Blog offers data-driven content, with relevant graphics and videos, covering a wide variety of topics that are useful for beginners, small businesses, and digital marketing agencies.
It covers topics that can help agencies understand DashClicks' software better and use it to manage their agency efficiently.
Covers webinars by Chad Kodary, CEO, DashClicks, to help visitors understand the software and other solutions in-depth and get the most out of them.
SEO Trench is a digital marketing agency that has been enlightening readers with its expert knowledge in search engine optimization since 2012. If you're interested in making money on the Internet, managing a small business, or ranking on the first page of Google, the SEO Trench blog can assist you with that.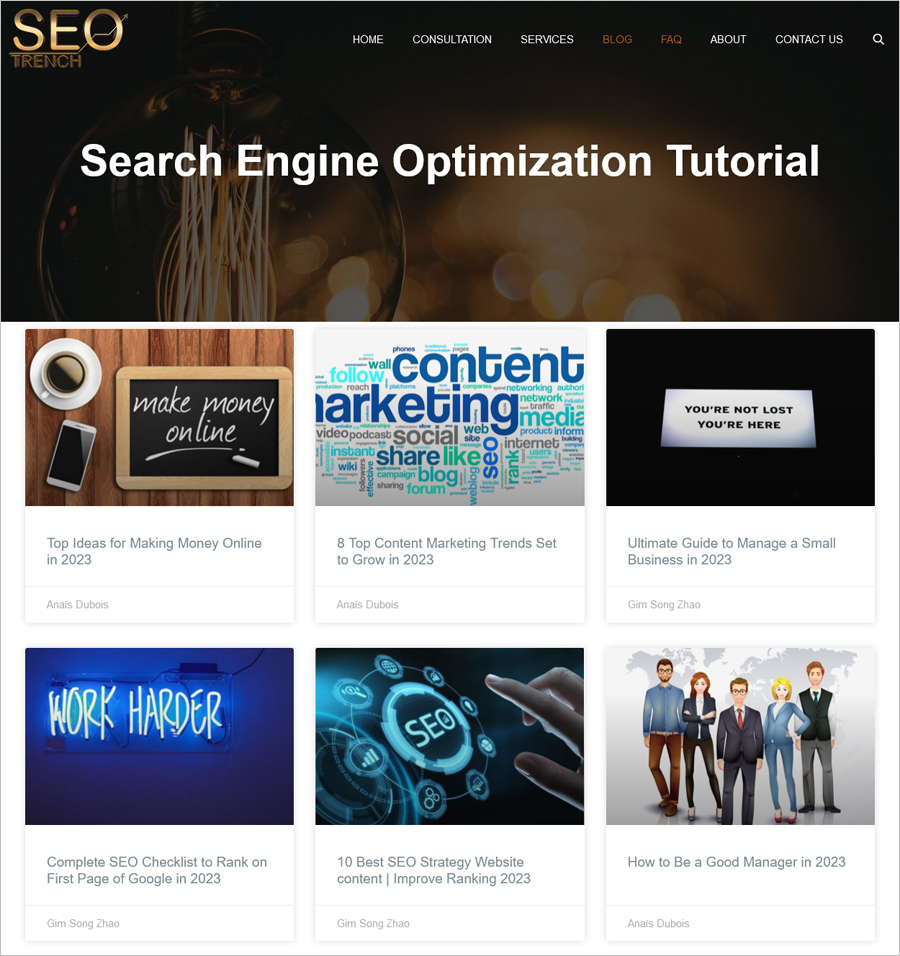 Why Follow
The SEO Trench blog publishes various materials – from the importance of backlinks to the latest SEO trends.
There are detailed SEO guides, tips, and recommendations to enhance your online presence.
A significant plus of the blogs – the content is presented in an easily digestible form.