How to choose a free online video maker? Which of the free can be called the best? And this free video editor has to be with music and effects. Check out our review of Top Free Online Video Makers where you will find out that the choice is not limited to just Adobe Spark, but there are other worthy free counterparts.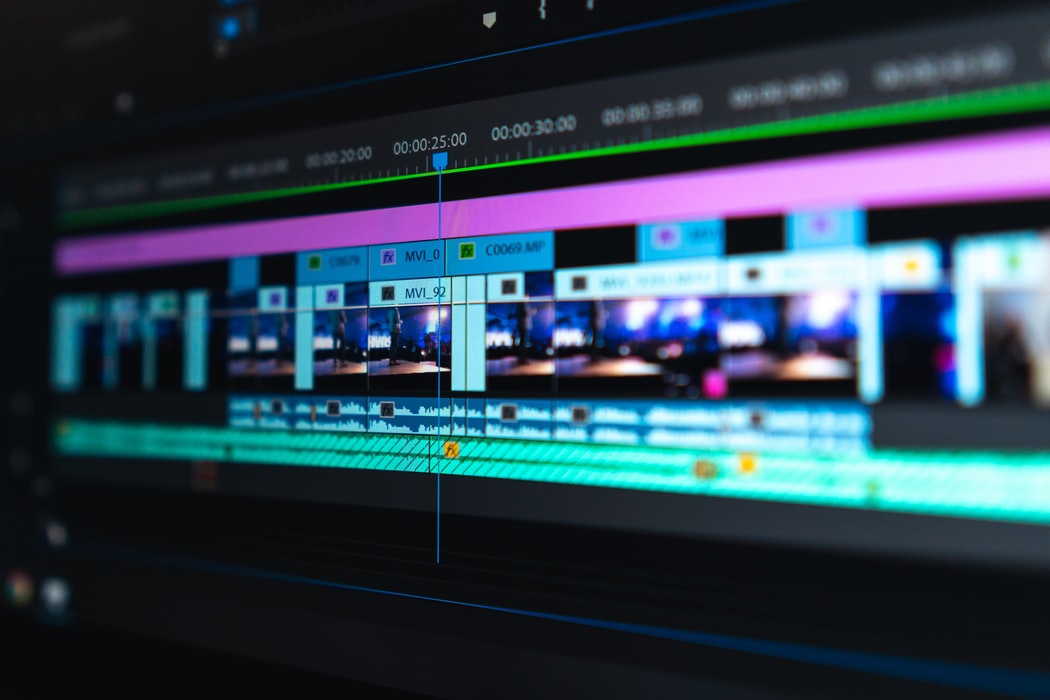 Did you know that the first video editing machine, the "Moviola" was invented in 1924? In these hundred years, stupendous improvements have taken place in video makers. The world of digital revolution in video editing began in the year 1991 when Adobe released its video editing software – Premiere. The year 1999 saw the launch of Apple's Avid Final Cut Pro. And the rest, as they say, is history!
The Evolution of Video Makers
Gone are the days when Free online video maker software was used by only filmmakers. As well as website builders – we've talked about this in our post What Are The Best Free Website Builders. What was initially used to edit Hollywood movies has now become an integral part of both our personal as well as business lives.
The fundamental use of video makers since their invention has been editing. Today's video makers feature tools like:
Basic editing tools – Crop video, rotate video, split video, and edit audio
Advanced editing tools – Play reverse stabilize video, Pan and zoom, adding mosaics, color tuning, and mixing audio, changing the background
Combining video, GIFs, and images to create video
Text tools – adding subtitles, managing the text speed, adding titles
Special Features – AI (Artificial Intelligence) editing scope, creating time-lapse sequences, adjusting light and exposure levels, creating slow-motion effects.
Top 5 Free Online Video Makers for 2020
Confused about what is the best free online video maker that suits your needs? Looking for a free video editing software ?
Read on for our expert recommendations of the best and easiest free online video maker software of 2020: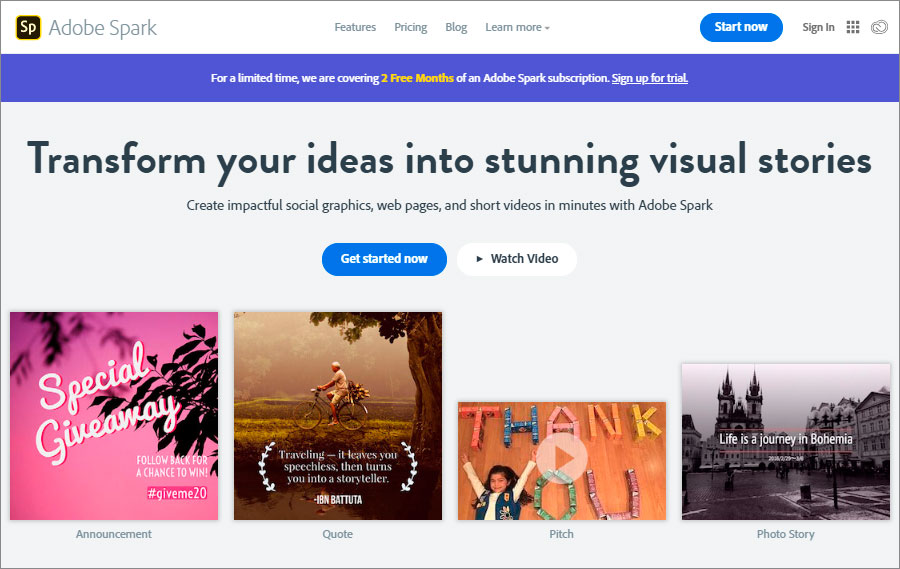 Adobe Spark is a one-stop-solution for all your media related requirements. Have an idea for a visual story? All you need is Adobe Spark to see your ideas become videos, webpages, or social media posts. Whether you are looking for "Beginner Level" tools or "Professional Level" quality, Adobe Spark is the free editing software that is perfect for you.
Features
Comprehensive solution for animated videos, graphics, and websites – Spark Video, Spark Page, and Spark Post.
Suitable for all levels of users – beginners to professionals
Creativity unlimited – access to Adobe's personal collection of images including Adobe Creative Cloud, Google Photos, Dropbox, or Lightroom CC.
Designer Themes with fantastic layouts, smart color themes, and engaging font designs
Pros of Adobe Spark
Free beginner plans to get you started
User-friendly interface
Works both on desktop as well as mobile
Easy to share content on social media and websites
Cons of Adobe Spark
Free designs contain a watermark, need to upgrade to premium plans for removing the watermark
Limited video formatting
Website is limited to a single page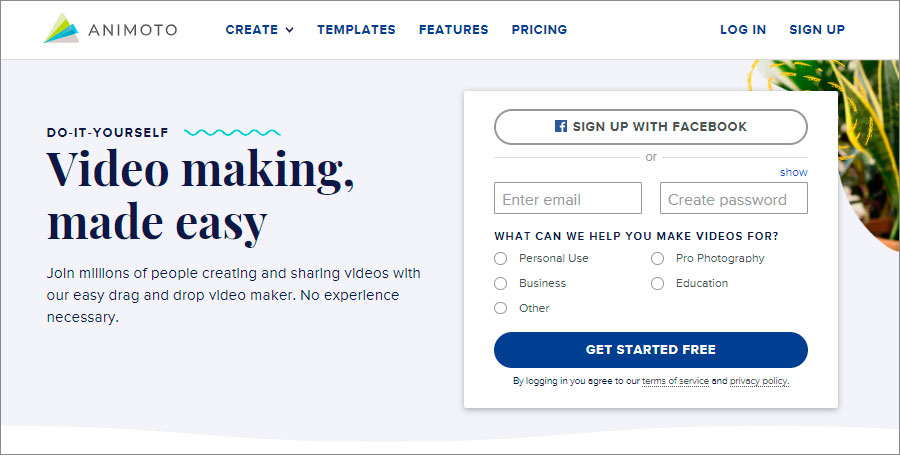 If you are a professional photographer, school or educator, business, real estate company, or a social media influencer, Animoto is the ideal free online video maker with music and pictures that will help you create not just videos but also helps you with creating virtual tours, slide show videos, and marketing material.
Features
Variety of professional templates to suit different users
Access to 350+ musical tracks
Easy to use Drag-And-Drop interface
Free video maker with music – More than 1 million stock image library
Wide spectrum of custom colors.
Pros of Animoto
Very easy to use – no need for prior knowledge of editing
Easy to share on social media platforms
High-quality videos suitable for professional usage
High safety – website based program secured with HTTPS protocols
Cons of Animoto
Subscription pricing model may be expensive if you opt for monthly plans
Limited access to free resources like templates and music library with the free plan
Free version contains a watermark.
Flyr is a free online video creator that provides cool template ideas, social media integrations, engaging storytelling, and interactive features powered by cloud sharing platforms, artificial intelligence, and an outstanding intuitive user interface.
Features
Customization for optimum creativity – convert online articles to video stories, edit videos from YouTube in real-time,
Loaded with promotional features
Facility to easily add hyperlinks to any media
Pros of Flyr
Very easy to use
Easy to export with the option of choosing ratios of video formats
Artificial Intelligence features for smarter output.
Cons of Flyr
No customization of Flyr pricing plans
Limited video formats – available only in Portrait mode, Landscape mode, and Square mode.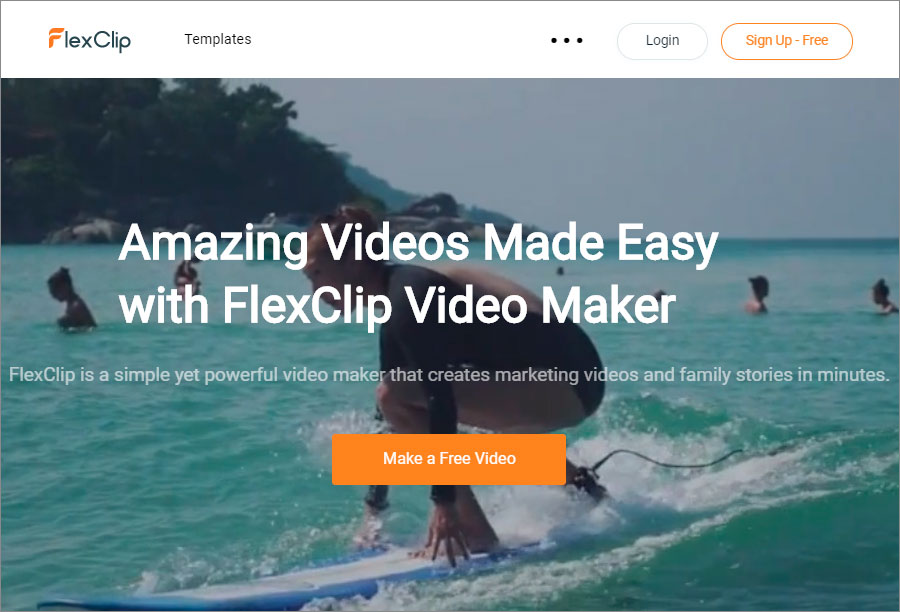 FlexClip is a free online movie maker which is great for family videos as well as professional video bloggers. With its wide variety of templates, creating videos is as easy as A-B-C.
Features
Full HD video export
Timeline feature—helps to add photos and videos one after the other
Different aspect ratios – 1:1, 9:16, and 16:9
Pros of Flexclip
Free online website based software—no need for downloading it
Quality loss doesn't take place during the editing process
Easy to use interface—suitable for beginners as well as experts
Less time for uploads
Support for all different types of video formats – MP4, AVI, MPEG4, and WMV
Completely free to use
Facilitates live preview function
Cons of Flexclip
Limited support of cloud storage and cloud computing
Export videos only in mp4 format
No option to add multiple texts to videos and photos.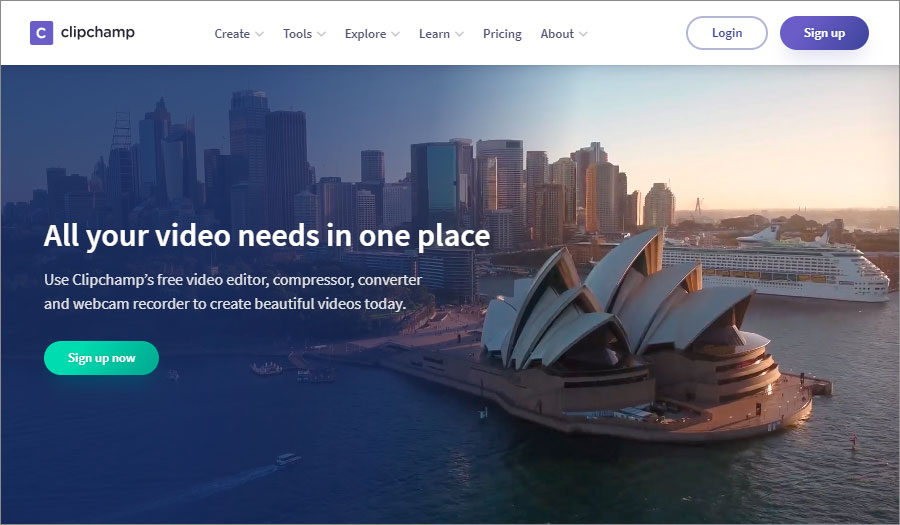 ClipChamp is a free video editing software that offers the benefit of editing the video in the browser itself without the need for inconvenient uploads.
Features
Offers multiple output formats—FLV, GIF, WMV, MP4, and WebM
No need for downloads – only online registration needed
High-quality output even in the free version
Intuitive interface for faster performance
Pros of ClipChamp
No watermarks
Very easy to use
Affordable pricing plans
Works in-browser
No need for installing software
Cons of ClipChamp
Doesn't provide professional-level quality
Lacks complex editing functions
Limited exporting features
Limited access to the stock asset library
Works best only on Google Chrome.
Which One Should I Choose?
By far, Adobe Spark is the video maker you can rely on for all your editing, with the ease of use that makes the tool accessible for even newbies. Also, check out Animoto because it has pretty much everything that you get with Adobe Spark, at a slightly lower price point should you choose to upgrade from the free plan in the future.