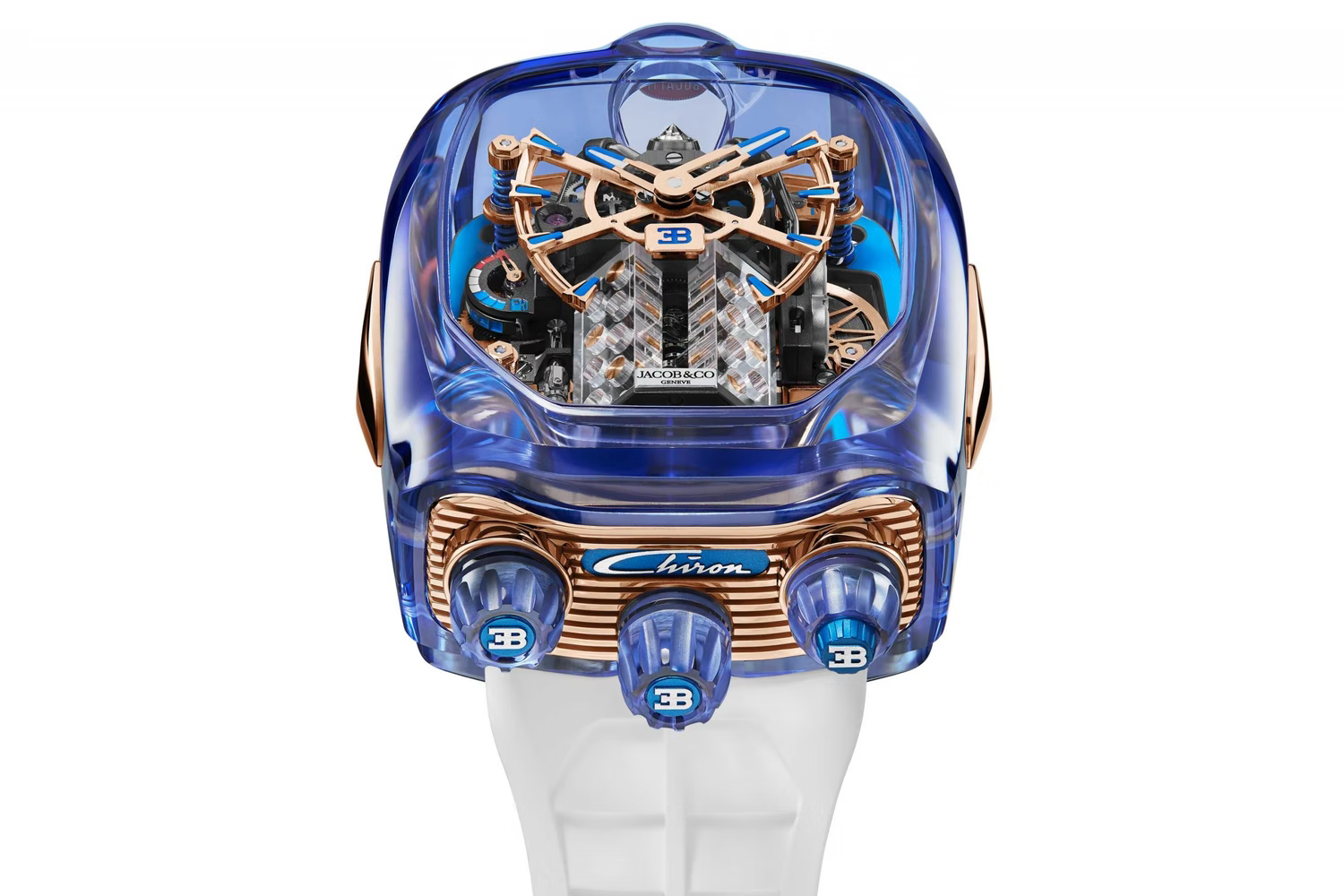 Jacob & Co. together with Bugatti spent almost a year developing this unique timepiece that reproduces the thrilling sensation of the iconic Bugatti 16-cylinder engine. When the automation is activated by the push start crown, the "engine" springs into life with its 16 pistons pumping and two turbochargers spinning. Indeed, there isn't a spare millimetre of this watch which hasn't been pushed to the max in terms of quality, concept, creativity, performance and craftsmanship.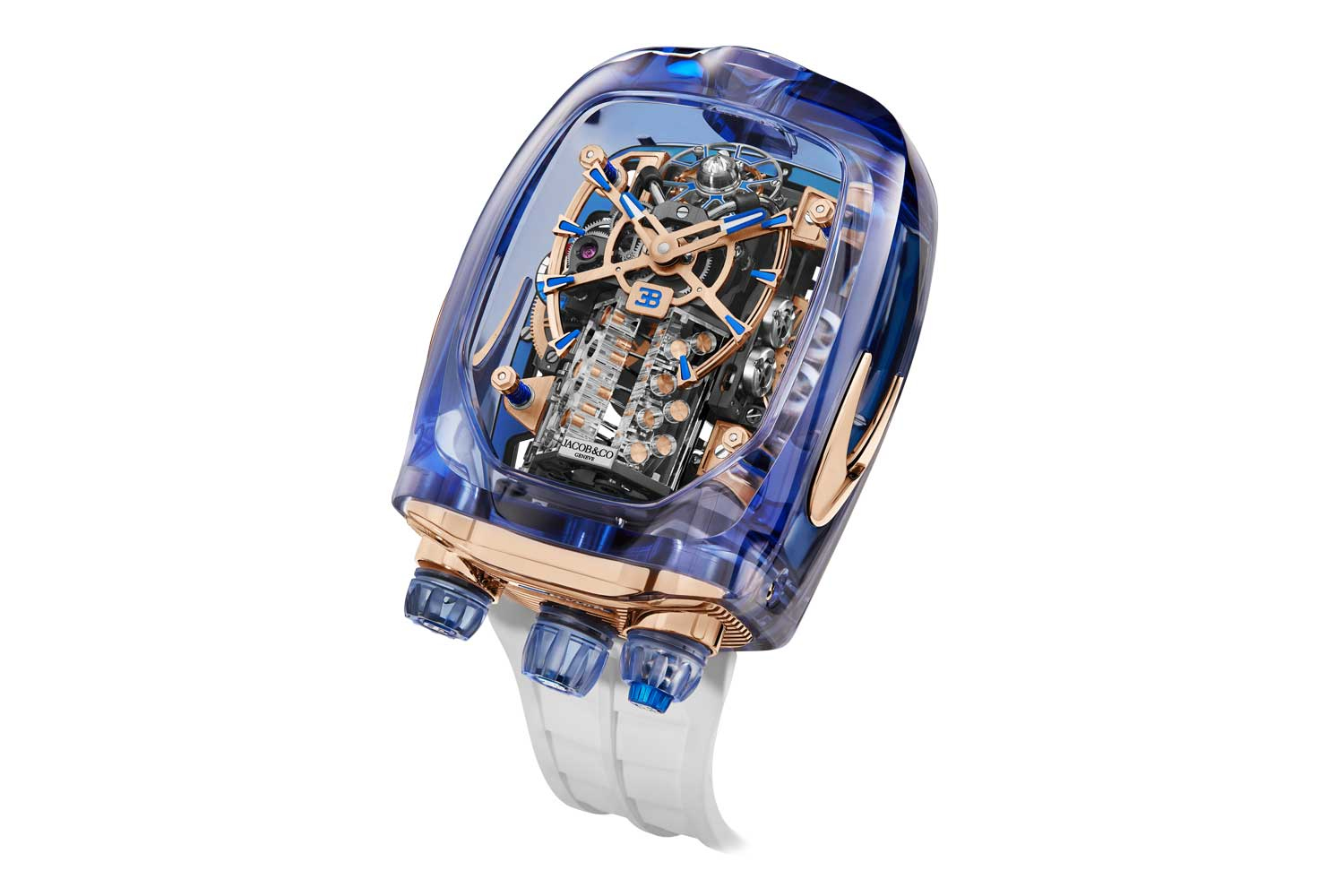 First of all, there's the mightily impressive blue sapphire crystal case. Speak to anyone involved in producing sapphire crystal and you will be told frequently, 'it's complicated'. It begins as a powder to which no less than a set of 17 difficult to mine metallic elements are mixed and added to achieve the perfect blue tint.
Next to diamonds, it's the hardest substance to cut and polish. The only thing that can cut and shape it is diamonds, only the right kind of diamonds for each part of the exacting process, which can easily result in a broken case. Adding color to the sapphire crystal complicates the process of creating the Bugatti Chiron case further.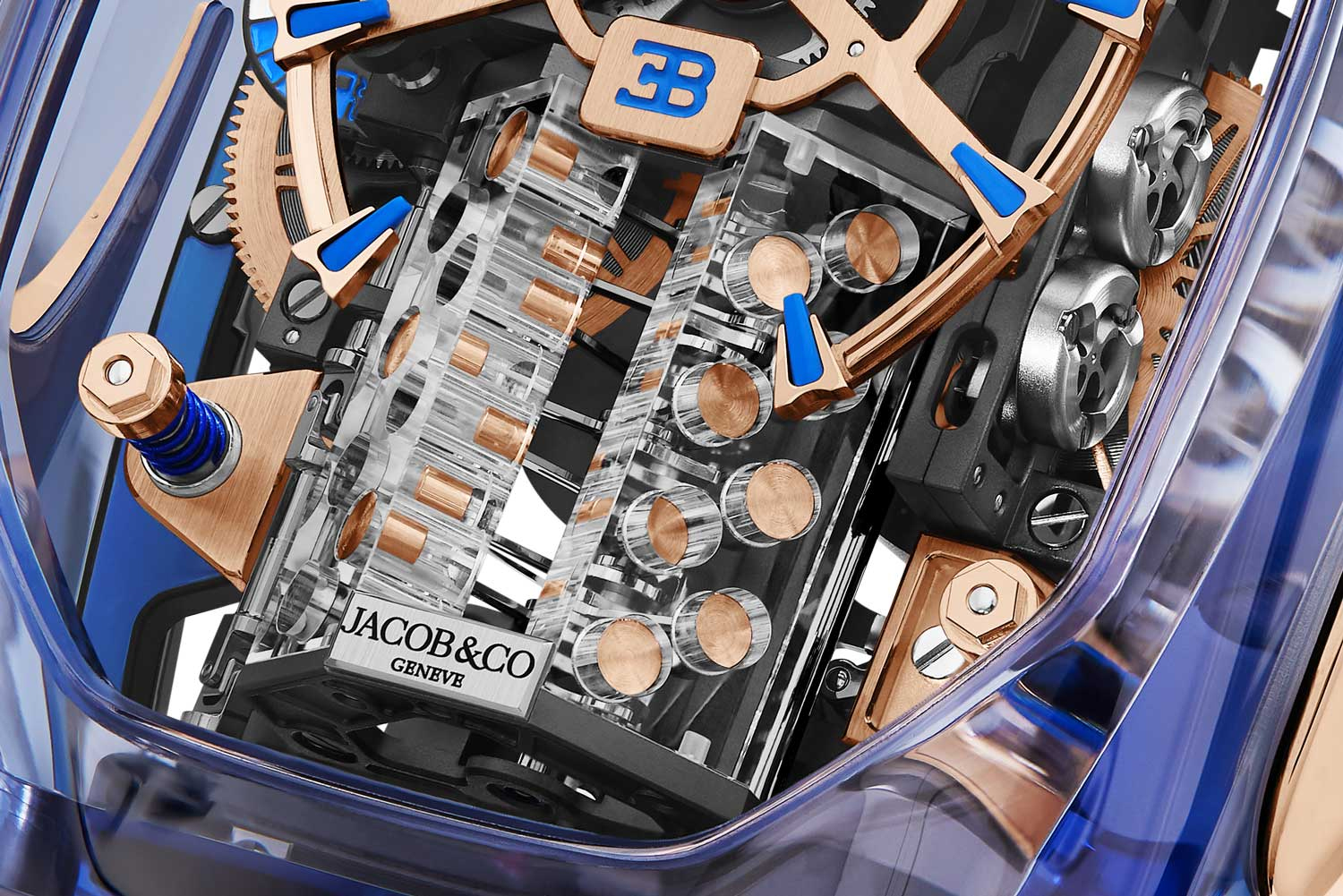 The process perfected for the Jacob & Co Chiron sapphire crystal casing has taken years to perfect, but to this day, the final part of the polishing process still has to be undertaken by humans.
Underneath this sleek tonneau shaped sapphire crystal hood, every aspect of the watch is inspired by the Bugatti Chiron. Thanks to full transparency, every part of the 578 hand-decorated and hand-assembled components of the JCAM37 manual wound caliber is on view. The movement is completely suspended in four places, with look alike automobile shocks from the Chiron. The movement is, in fact, floating inside the case.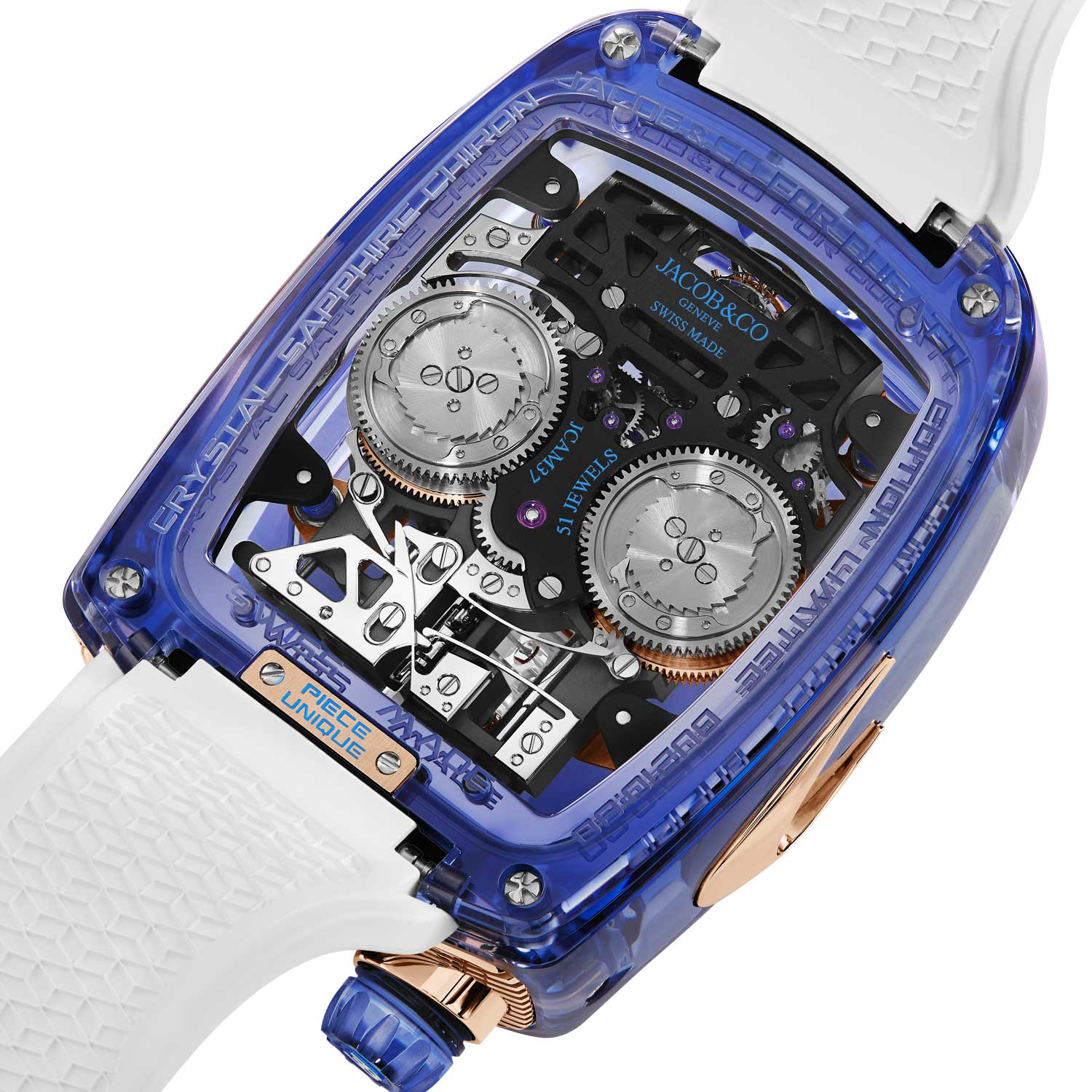 The Bugatti Chiron Blue Sapphire Crystal also features an inclined tourbillon, the first time Jacob & Co has ever used one. The 30º inclination makes it easier to admire through the replica of the Bugatti horseshoe-shaped grille.
In another clever Bugatti Chiron twist, the 60-hour power reserve indication for timekeeping even has the universal gas pump symbol on the side of the gauge at nine o'clock.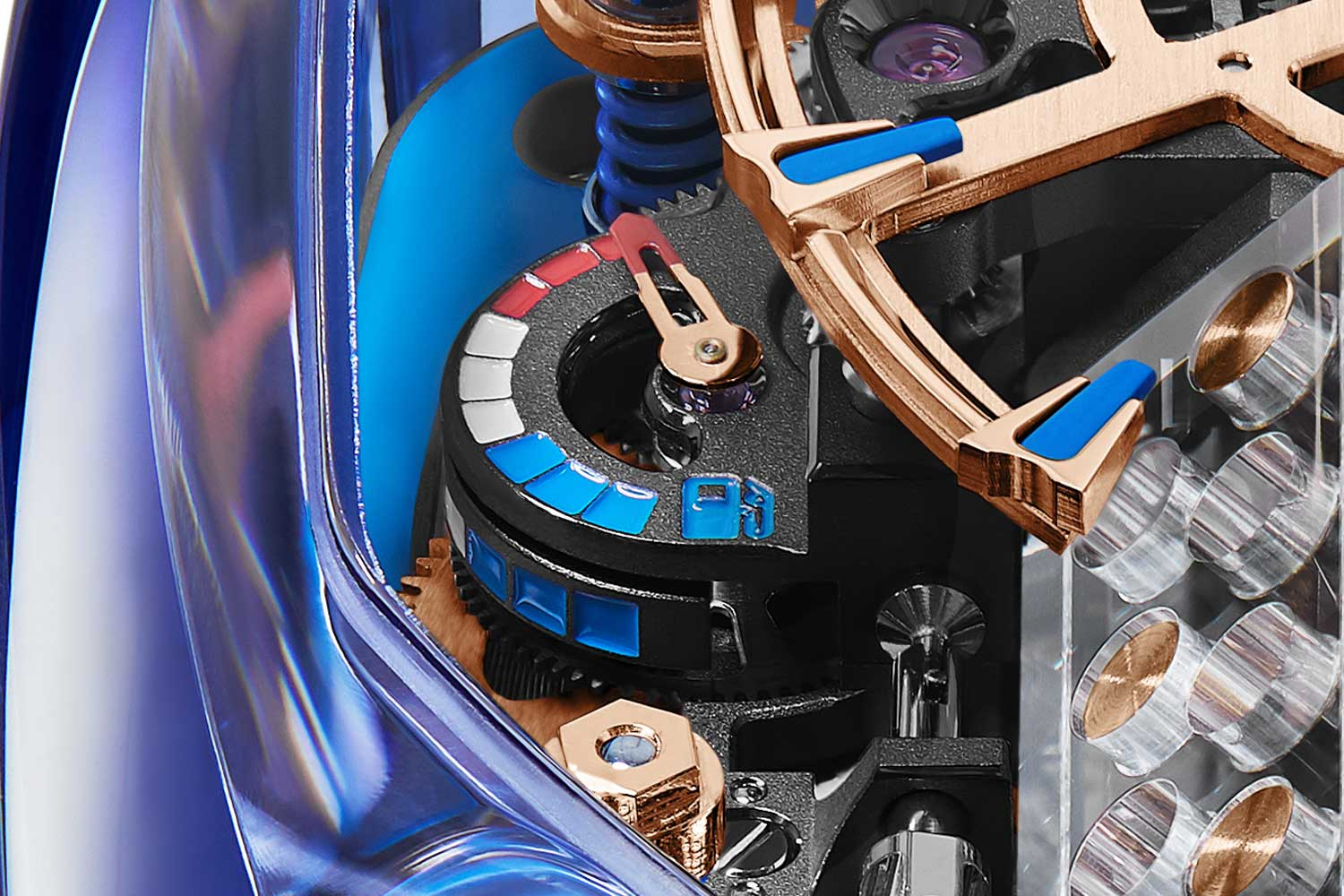 The watch features not one but three crowns located at the bottom of the case. The left crown sets the time, the middle crown winds both the movement and the animation, and a push of the right-hand crown starts the animation.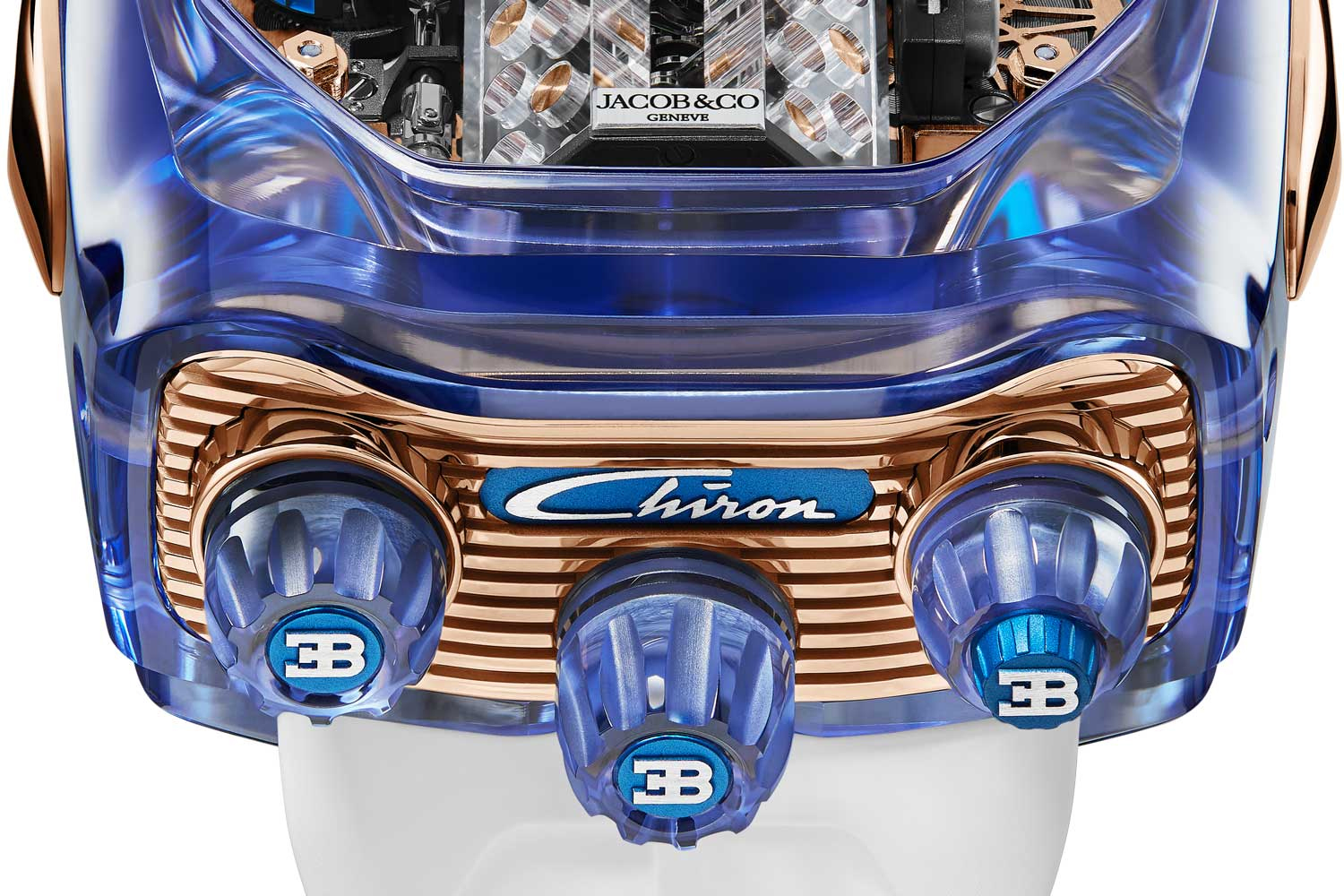 The choice of strap is comfortable and supple white rubber with a titanium deployment buckle. The one-of-a-kind watch has 578 hand-assembled parts, and cost $1.5 million, roughly half the price of the ultra-luxe supercar. So, it could become one of the most expensive watches in the world.