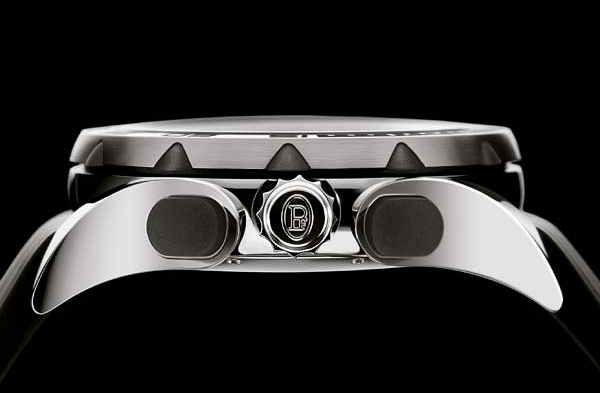 Luxury watches is an unchanging attribute of luxury lifestyle along with exclusive jewelry and unique cars. It's noteworthy that the cost of some luxury watches exceeds cost of unique cars. And it's not surprising – these watches are truly a masterpiece, museum exhibits of extraordinary beauty. There are many companies and small workshops around the world that are producing luxury watches. Some luxury watches are unique – they exist only in single copies or issued strictly in limited editions. That's why they are so attractive for watch investors. Unique luxury watches can be designed for specific individuals by order or devoted to some significant event, for example – anniversary of a watch company. We've gathered a small collection of the most beautiful and spectacular luxury watches in the world. Price of featured watches is from $5,000 to $1,5 million. If you're interested in luxury watches you can check our post Top 25 Luxury Watch Brands for Men or TOP 10 Most Expensive Wrist Watches in the World.
Double Tourbillon 30° Vision
Elegant luxury watch from Greubel Forsey – Double Tourbillon 30 ° Vision. Designed in 2006, this rare chronograph in white gold with a double tourbillon is estimated at $200,000 – 300,000.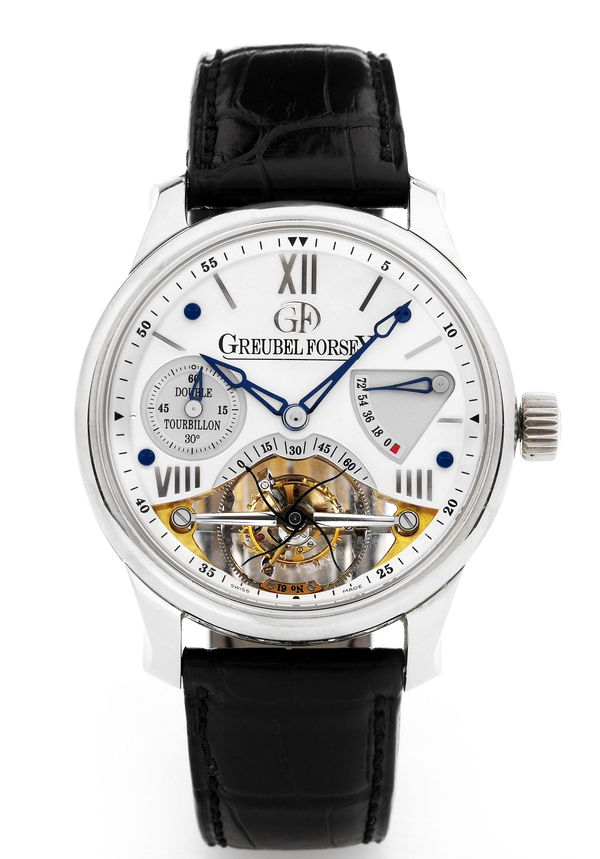 Arena Metasonic Luxury Watch
Brand Gerlad Genta is famous by their collections of super-stylish watches. New Arena Metasonic is an ultra complex watch that continues the brand's obsession of watches with a musical twist. Its officially debut in 1994 and has been continuously improved ever since. This luxury timepieces starts with a 46mm wide case made of titanium and other special metal alloys designed to enhance the sound coming from within. Limited to only 10 units, the Gerald Genta Arena Metasonic just might be one of the most expensive watches ever made, at $900,000.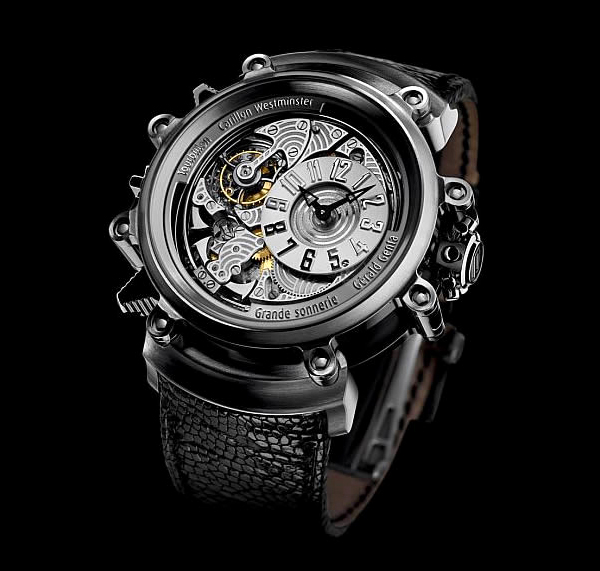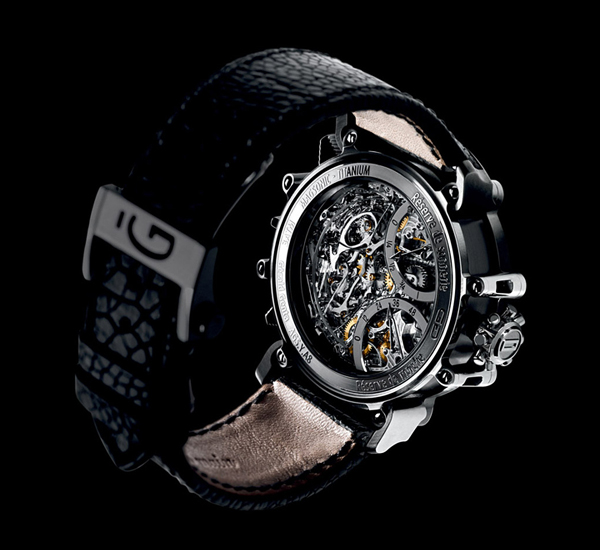 Bvlgari Serpenti Luxury Watch
The company Bvlgari began producing expensive watches and luxury jewelry in the late 19-th century. Model of luxury watches Bvlgari Serpenti Watch became a continuation of collection devoted to 125 anniversary of the company. A distinctive feature of the collection Serpenti is twisted bracelet Tubogas in the form of a serpent, created by the masters of Bvlgari in the middle of last century. The total length of the "flakes" of the bracelet made of pink gold is 5 meters. Cast and polished watch case is covered with a layer of 18 carat gold and adorned with 38 diamonds totaling 0.29 carats. The watch is equipped with gold-finished indicators and Roman numerals.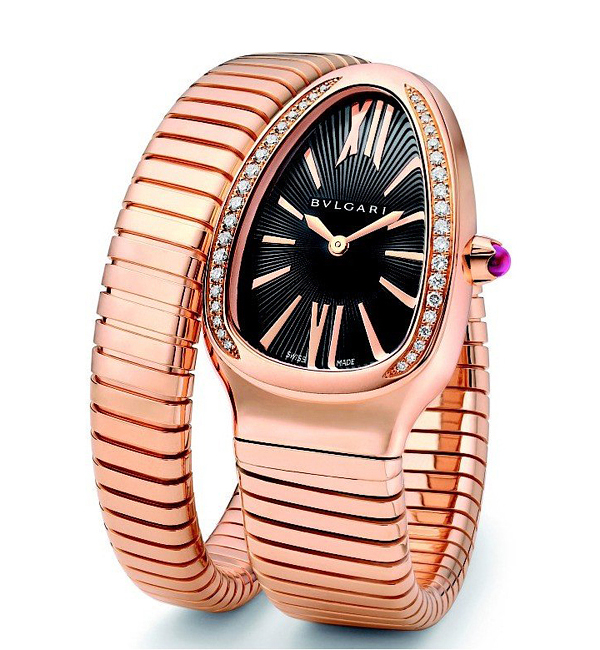 Parmigiani Fleurier Bugatti 370
Inspired by Bugatti Veyron new luxury watch Bugatti Type 370 Centenaire from Parmigiani Fleurier tempts by its unusual design. The cylindrical design of this unusual watches allows drivers to view the time without the need to take their hand off the steering wheel. There 2 models available – from 18K gold and platinum 950. Master engraver Philip Bodenmannu had to spend about 300 hours on the final work with these models. Strap watch is made of calfskin from Hermès. Only 150 of these luxury watches are made each year.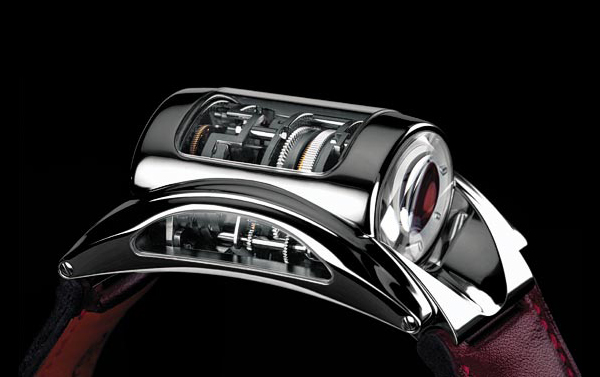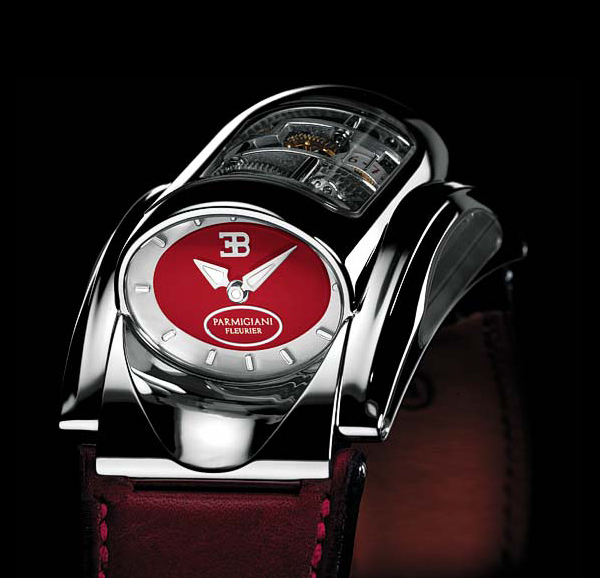 Rolex Oyster Perpetual Date Just Lady
This beautiful collection from Rolex called "Oyster Perpetual Date Just Lady" was presented in BaselWorld 2010. Framing a dials of different colors from gray to chocolate is fluted or domed bezel encrusted with 24 or 46 scintillating brilliants. At 6 o'clock is the gem-set Roman numeral hour marker. Fresh, refined and extremely elegant, these new Rolex ladies' luxury models eloquently demonstrate the gracefully feminine style pursued by all ladies' timepieces.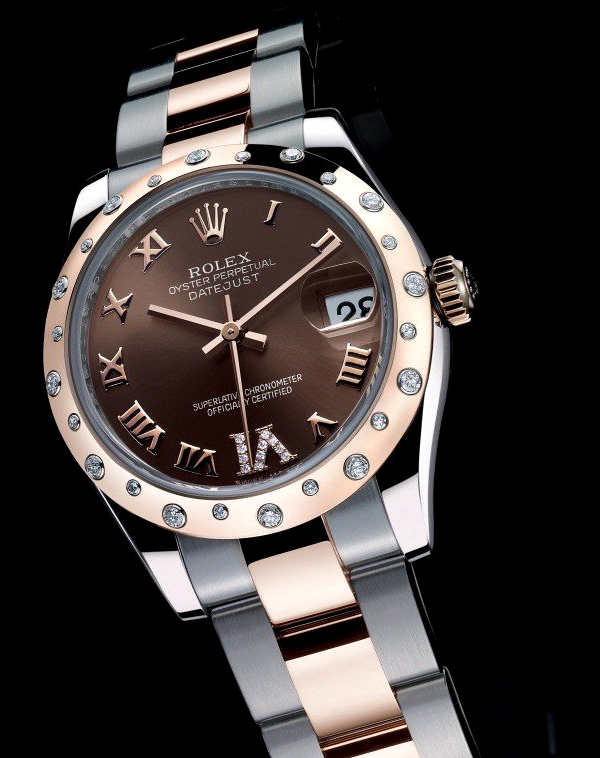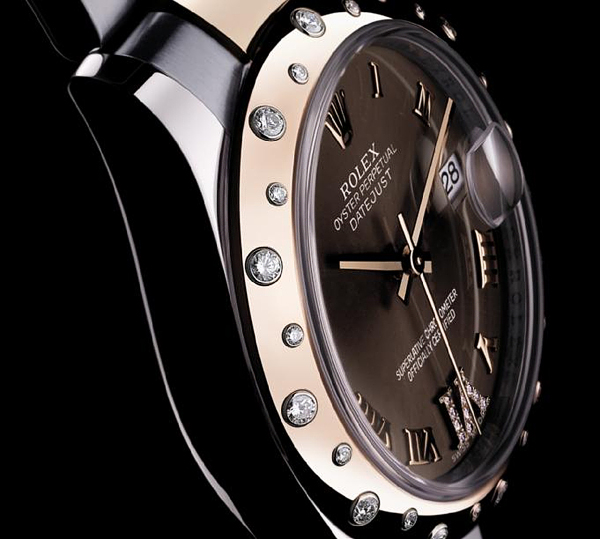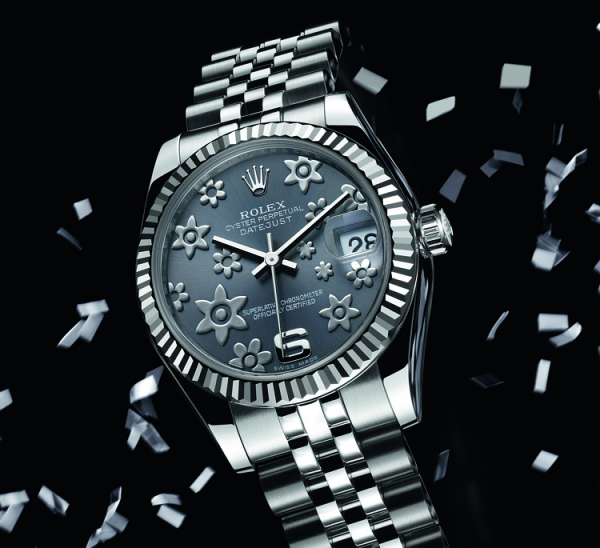 New Artisan Timepiece Collection
Swiss luxury watch maker Angular Momentum has released its new Artisan Timepiece Collection with "Verre Èglomisé" miniature paintings on the reverse of glass dials, called Allegory & Mythology. Miniatures painted after the works of the Dutch Baroque painters. These luxury watches have glass dial stainless steel case with mirror polished rounded bezel, and polished "boulle" corns at 12 and 6 o'clock, mechanical self-winding movements, plume hands. All timepieces are unique luxury pieces.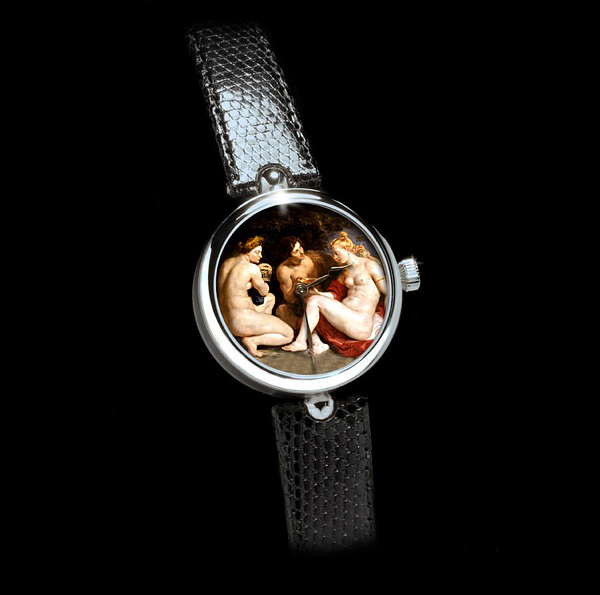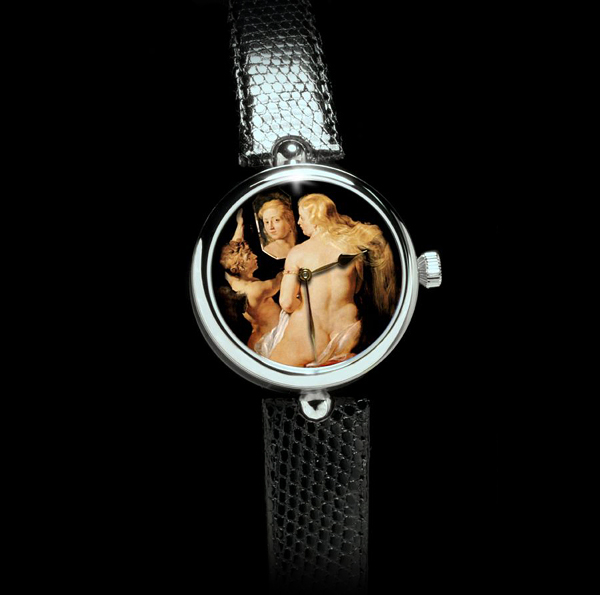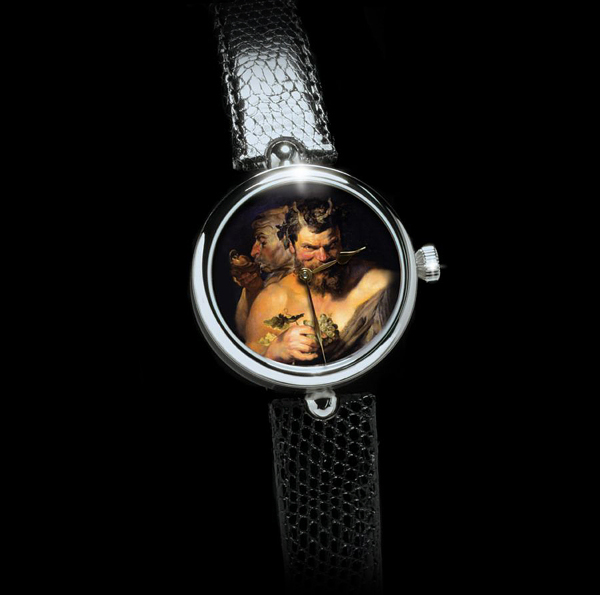 Chanel J12 Marine Diver
Fashion house Chanel have presented at Baselworld 2010 a new luxury timepiece – the Chanel J12 Marine Diver. It is made from a high-tech ceramic and the crystal is an AR-coated sapphire and is specially created for a professional divers with the water resistance up to 300 meters. The watch movement is using a Swiss automatic caliber and its bracelet also using a high-tech ceramic and it has an extra caoutchouc rubber strap. There are two color variants available for selection: black and white. This luxury watches will probably be available for an approximate price tag around $5,000.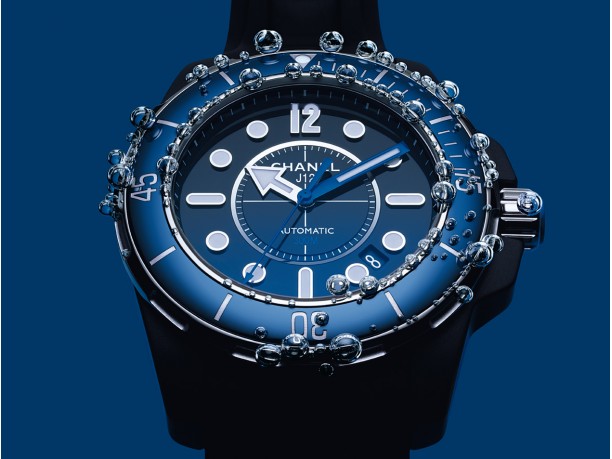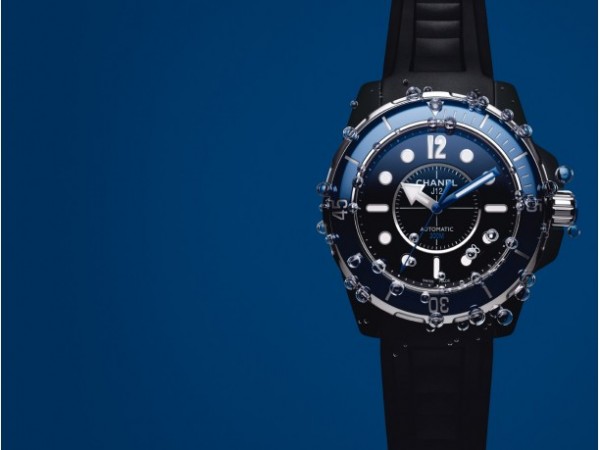 Cartier Santos Triple 100
New from Cartier – men's jewelers watches Cartier Santos Triple 100 – the most serious statement in the class of jewelry watches. The case crafted in 18K white gold is entirely set with precious stones. Total number of diamonds is 861, and their weight – 7,6 carats. However, the main feature of the Cartier Santos Triple 100 is a movable dial, designed on the principle of blinds: turn winding crown driving a triangular segments. As a result, same watches have three different dial faces: the first face is covered with diamonds and black sapphires, the second face engraved with a tiger's head, and the third is a classic face completed with 12 Roman numerals. These luxury watches will be available in limited edition of only 20 copies. The price is around $340,000.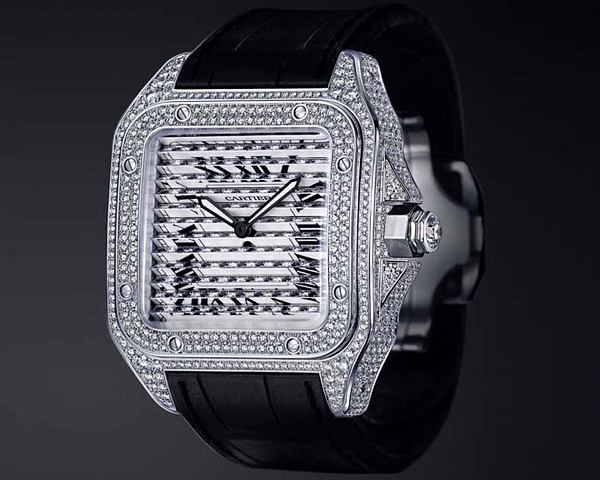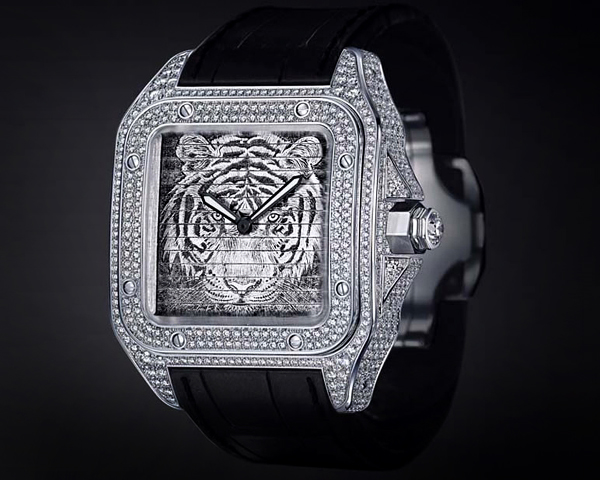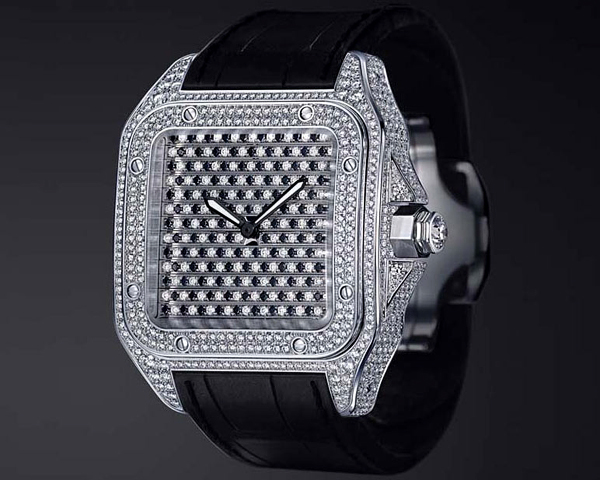 Harry Winston Opus X Luxury Watch
In honor of 10th anniversary of Opus model watch brand Harry Winston introduced new commemorative version of Opus X. Inspired by the idea of planetary movements and space-time continuum, Opus X fixes the time by a synchronous rotation of round indicators, placed in a rotating "frame". In turn, indicators and "frame" rotate in different directions, creating a stunning effect of continuous rotation. Thus, the principle of indication of the time in the new model resembles the solar system, where the indicators of minutes, hours and seconds are orbiting around the central disk. Each "circle" is located at an angle so will not obstruct the movement of the rest.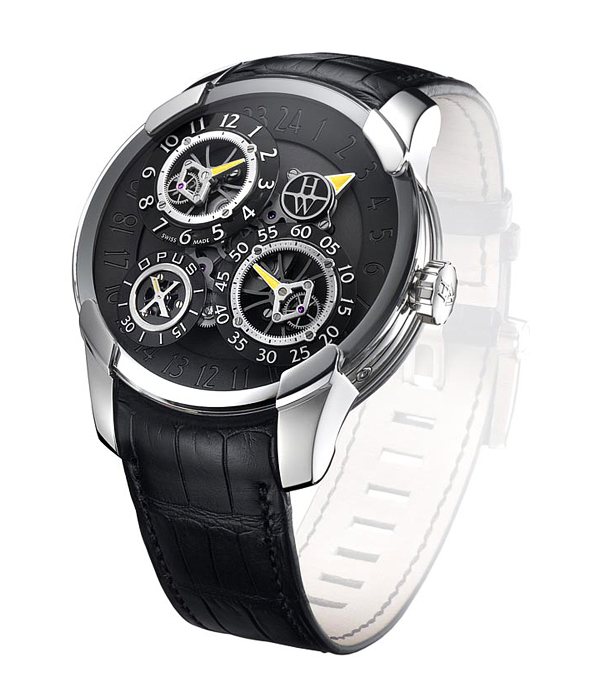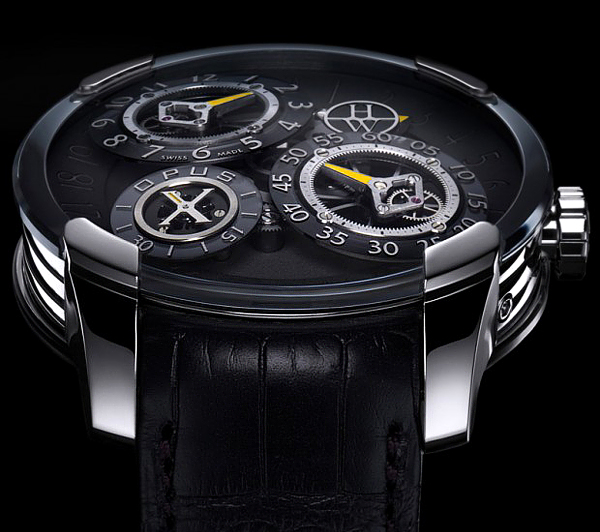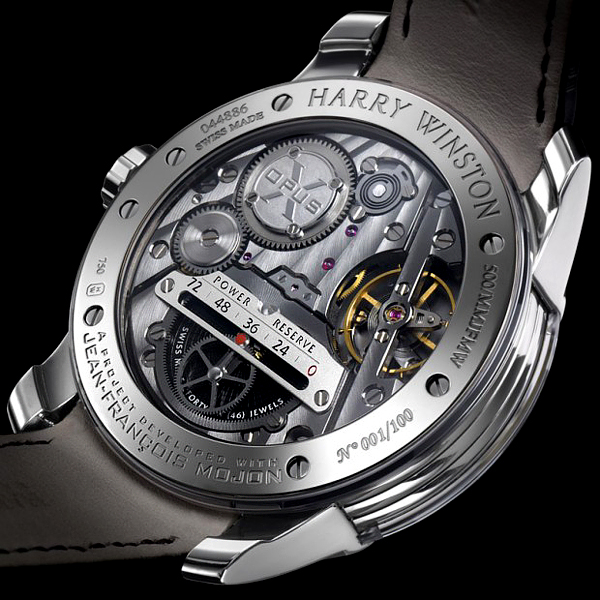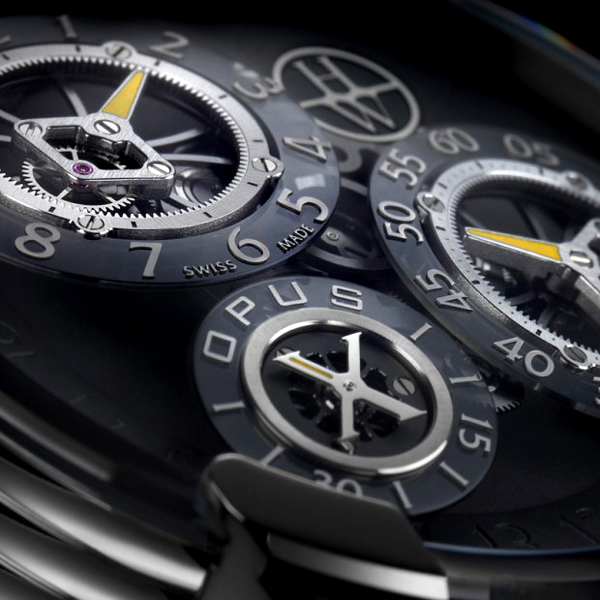 RSW Wonderland Ladies Watch
Swiss watch company RSW has represented unique luxury watch for women – Ladies Wonderland Watch. RSW has created an organic pattern over the dial and pushed the watch face it self in the corner. The case is in steel and can be decorated with diamonds (9 on the case, and 104 on the bezel). Also there are availiable different dial colors including gray, black or white mother-of-pearl.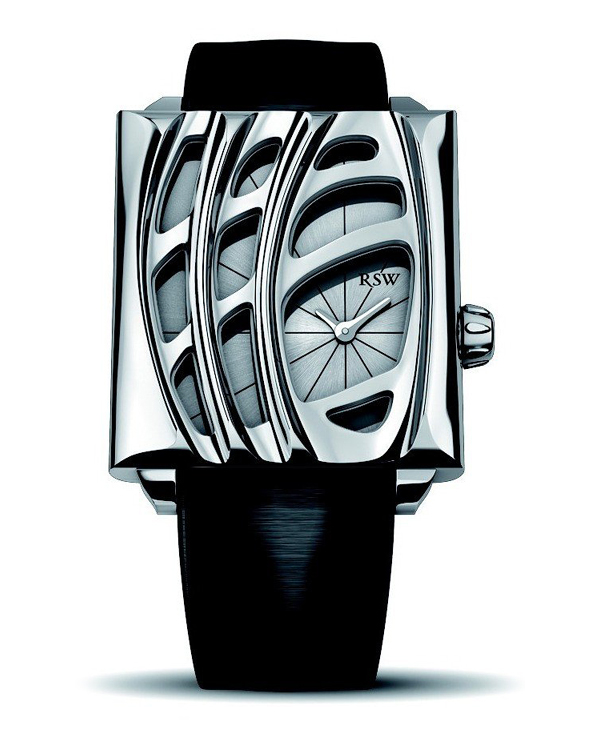 Quadruple Tourbillon
Quadruple Tourbillon by Greubel Forsey lays between art and technological innovation. The four tourbillons of this stunning composition contribute independently to its exceptional time-keeping performance. Case is from 18K red gold with asymmetrical convex sapphire crystal.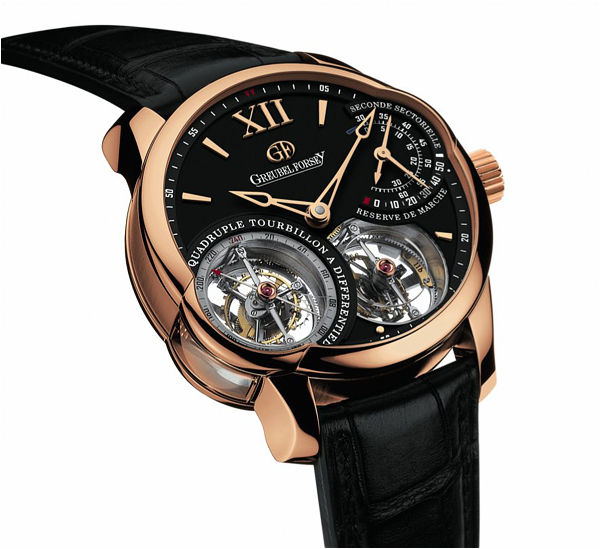 Millenary Tradition of Excellence Cabinet No.5
The collection of Tradition of Excellence Cabinet, which the company Audemars Piguet launched in 2000 in honor of the third millennium, each watch can be attributed to the masterpieces of the watchmaking art. But the fifth model is a real sensation, even against the background of their flawless predecessors. A masterpiece on the basis of caliber 2899 with hand-wound in an oval Millenary case is a perpetual calendar with tourbillon, power reserve indicator (7 days) and "dead-beat" seconds. The transparent caseback made from sapphire. Masterpiece № 5 is proposed on a blue strap hand-dressing and sewing of the crocodile with a platinum clasp. Gift boxes, which must be stored this luxury timepieces are aslo made from platinum. Audemars Piguet only produced 20 pieces of this extraordinary Millenary watch.ca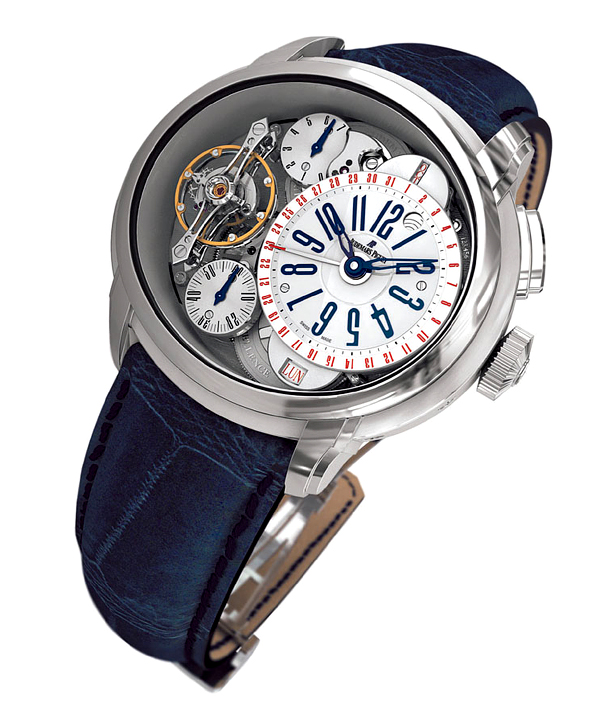 Vacheron Constantin Tour de I'lle
One of the most prestigious and oldest Swiss brand Vacheron Constantin introduced on the occasion of its 250th anniversary the most complex wristwatches Tour de L'lLe. The watch is a totally original combination of horological complications and astronomical indications composing a list of sixteen different points including a minute repeater, sunset time, perpetual calendar, second time zone, a tourbillon device, the equation of time and the representation of the night sky . A total of 834 parts inside this luxury watch required 10,000 hours of research and development by the designers, engineers and watchmakers of Vacheron Constantin to come up with the final version. Limited edition of seven timepieces with price of $ 1.5 million per each piece.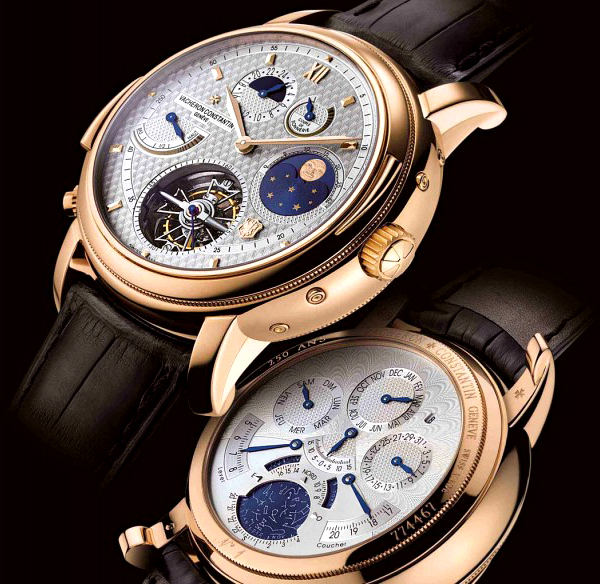 Classique Grande Complication Tourbillon Messidor
This luxury watch from Breguet called Classique Grande Complication Tourbillon Messidor is designed with 18 carat gold lid covered with 706 diamonds. This precious lid also has a hole on it to view the time. Dial with Roman numeral hour numbers is made of black rhodium embedded on the 18 carat rose gold. This luxury watch is also paired with a brown alligator leather strap. The price is $233,000.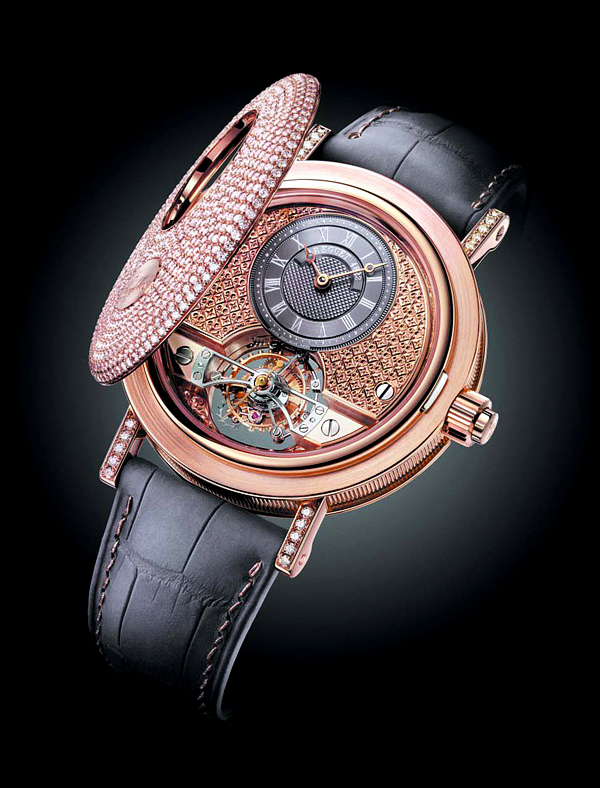 Parmigiani Luxury Watch for Pershing
Parmigiani Fleurier in collaboration with one of today's biggest boatbuilders Pershing have created luxury watch collection. The first line of the collection, created in honor of the new cooperation, was annonced under the title "one-one-five". This is a limited edition dedicated to the most famous boat Pershing, which is 115 feet in length. This line includes two series: the first from 18-carat gold and palladium 950 with gold or silver dial and automatic-winding Calibre PF 190. The second series is represented by watches Pershing chronographs. Watches have 4 types of dials – the colors of amaranth, graphite, silver or blue metal. The watch is made of steel and definitely reminiscent of yachts Pershing with thier silver design that became the hallmark of Italian company.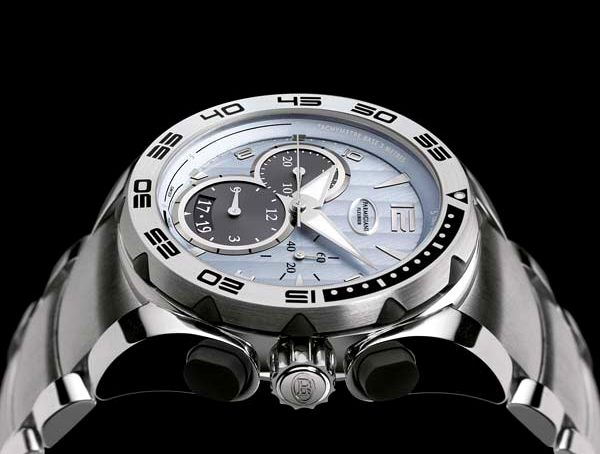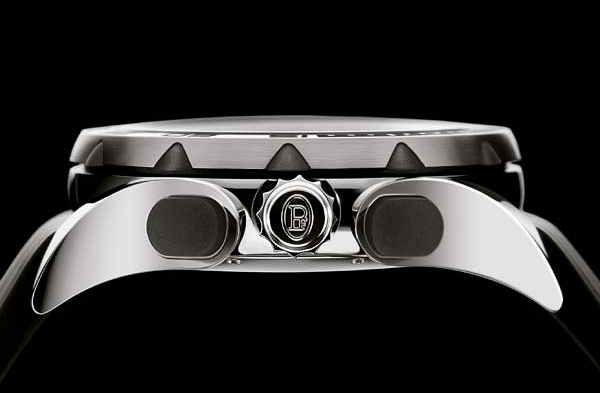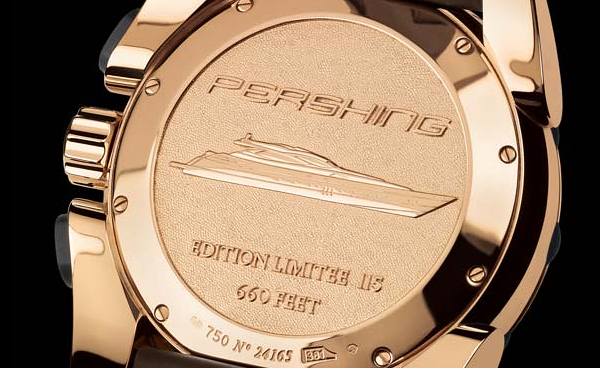 Maîtres du Temps Chapter One
The world famous master watchmaker Peter Speake-Marin in collaboration with Christophe Clarethave developed the Chapter One collection by Maîtres du Temps. The main feature of this unique watches is in the fact that they have two rotating drum: the drum at 6 hours displays the day of the week, at 12 hours – the phase of the moon. Case consist of 96 parts and made of 18-carat red gold.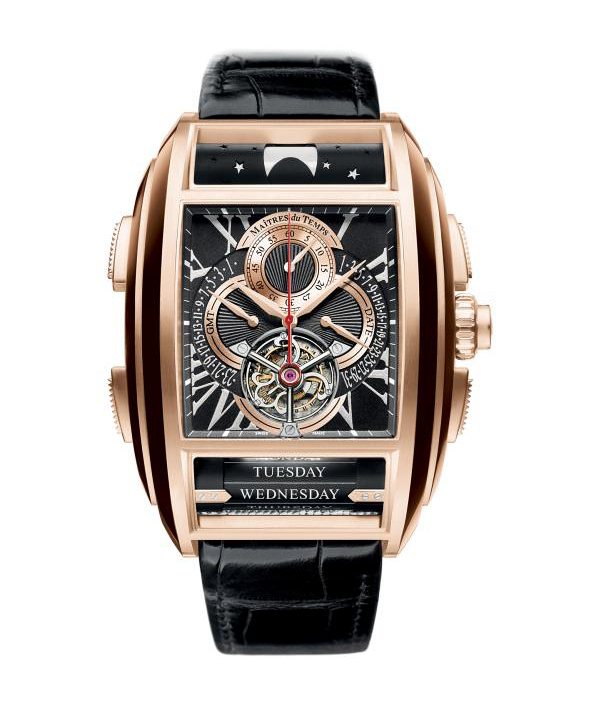 Le Clef du Temps Tourbillon
Interesting watches were created by Swiss watchmaker Confrerie Horlogere – La Clef du Temps Tourbillon. The main feature of this watch is in the fact that using the crown you can actually adjust the speed of time (to slow or to speed up it). The founder of Confrerie Horlogere, Mathias Buttet, wanted to give people the luxury of speeding up the dull moments in life while slowing down good times. Made from titanium it costs $285,000.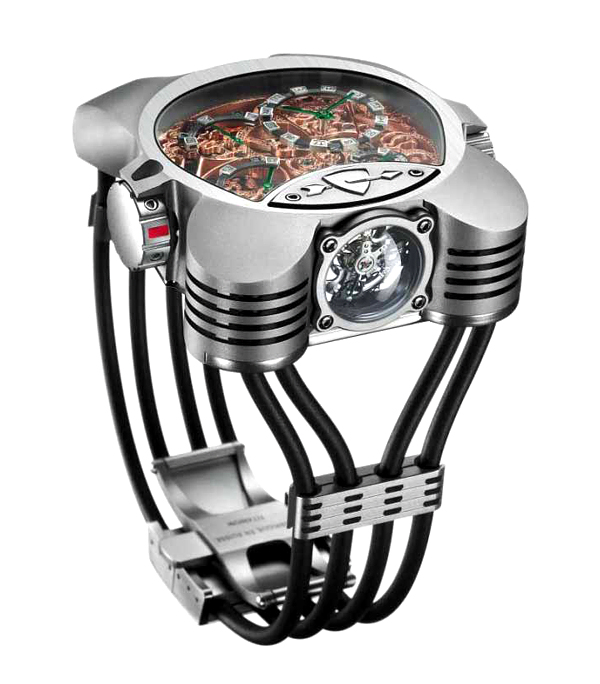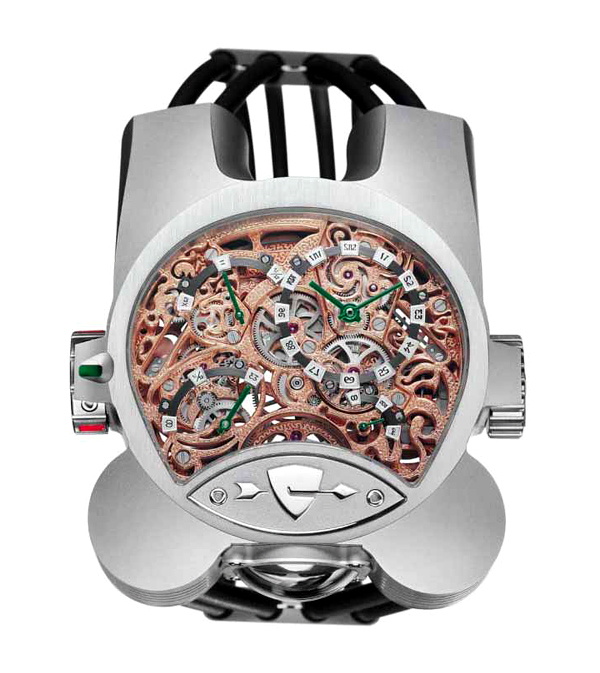 Minute Repeater Tourbillon 45
In honor of the 50-year anniversary of Admiral's Cup collection brand Corum has released a new model of luxury watches – Minute Repeater Tourbillon 45. Functions: hours, minutes, minute repeater. Watches supplemented alligator strap with a clasp of 18K Gold with a red logo Corum. Limited edition of 10 copies.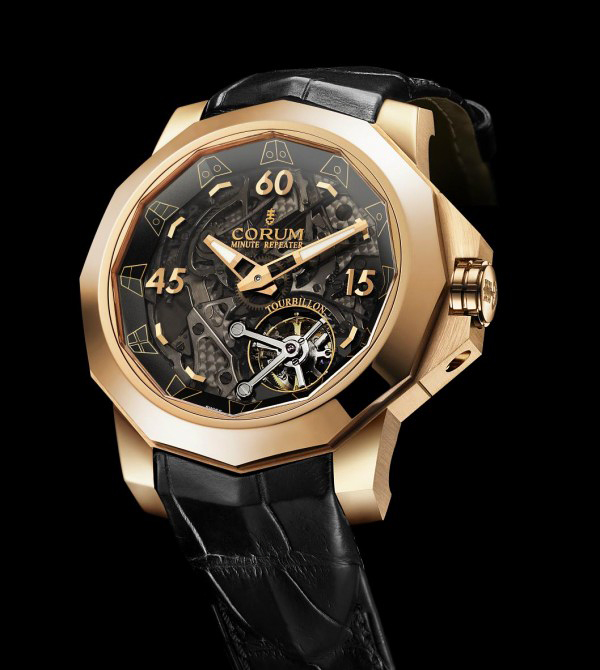 Parmigiani Fleurier's Bugatti Tourbillon Watch
Another great luxury watch from Parmigiani Fleurier – Parmigiani Fleurier's Bugatti Tourbillon Watch. The watch was inspired by the first generation of true grand tour motoring vehicles in the 1920s and 30s. The case of this watch is made of 18K gold and its concept allows to be installed into the Bugatti car's control panel. With the price of $200,000.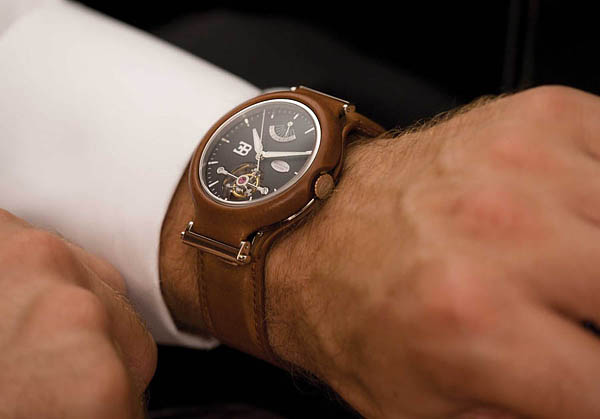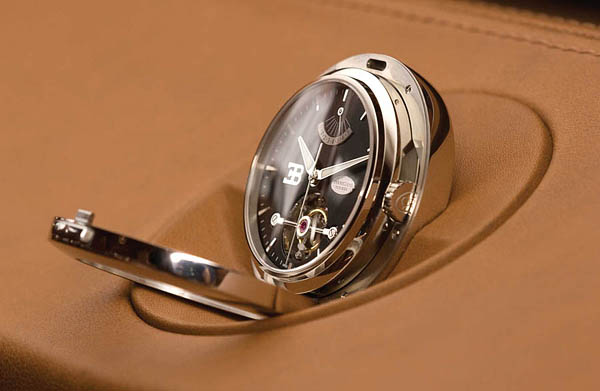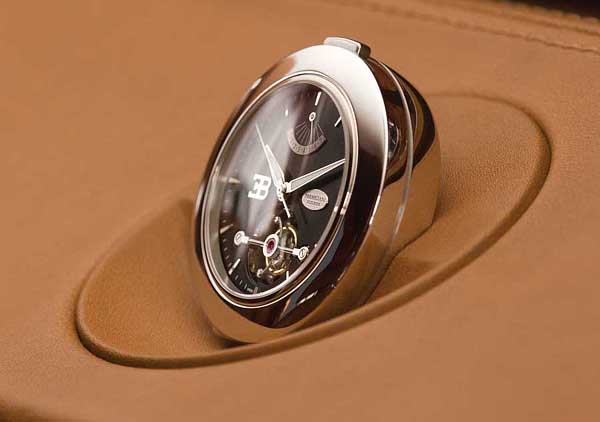 Mysticum Luxury Watch
German watch manufacturer KUDOKE has represented new luxury watches – The KUDOKE Mysticum. The case is made from stainless steel, yellow or white gold. The hours on dial are indicated by a triangle under the handskeletonized and engraved dial, the minutes by a wavelike hand sawed, filed and blued by hand. The price of this luxury watch is up to $6,500.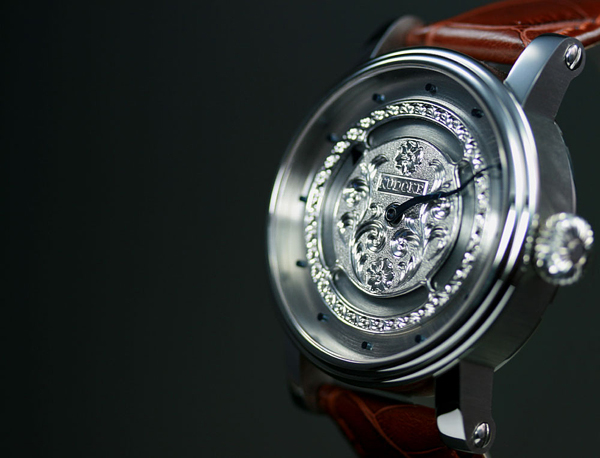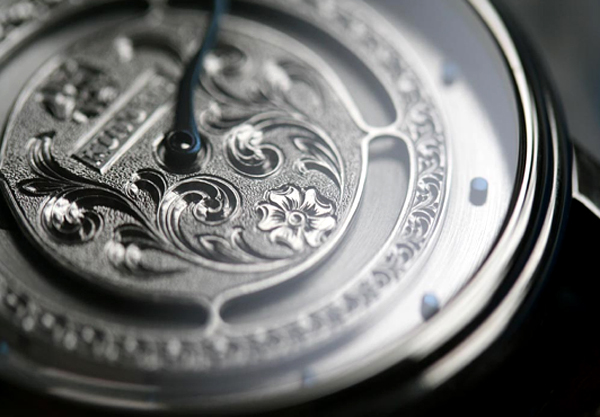 Also you might be interested in our newest post – 35 Best Watch Winders for Automatic Watches.