Do you need a free website for a dance studio or academy? Check out these perfect free website templates and WordPress themes for dance studio, dance academy, dance school. These are the best free dance related website templates you can find on the web – and we've brought them all together in one place. Enjoy!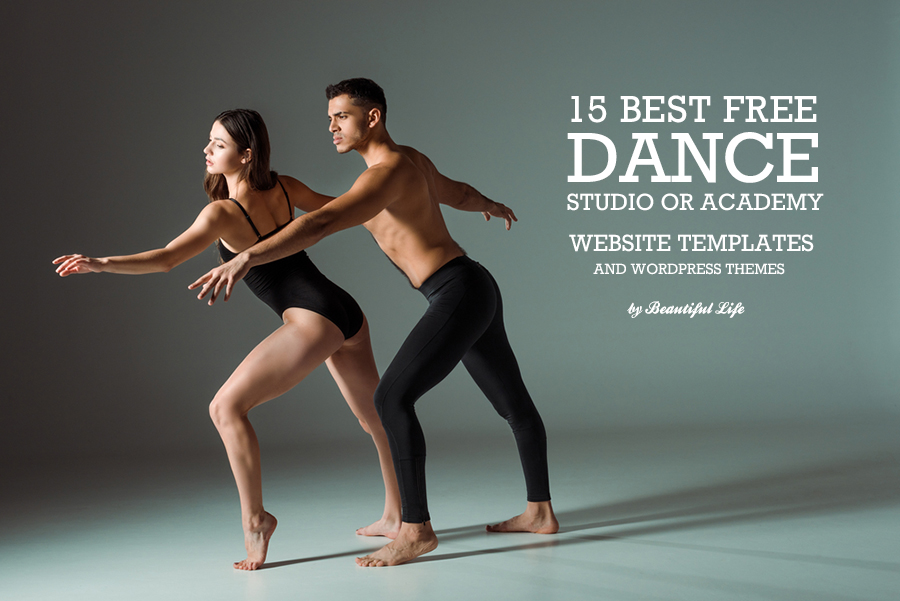 When you are looking for a building for your dance studio, you'd be happy to find a place that already has mirrored walls, right? But the location and cost would precede the mirrored walls when you have to make the final call, isn't it? It is the same with your dance studio website also.
Essential Elements of a Dance Studio Websites Templates
Before you can start building your WordPress website on a template that just looks beautiful or use any of the best free website builder for this purpose, stop. There are some elements that you need to consider:
Navigation
You move across the dance floor in one fluid motion, and that's the beauty of your dance. The visitors on your website should also be able to glide across your website. But hey, don't make the floor too wet or else they'll just keep slipping here and there. We mean to say that the navigation of your website should be smooth and not too complex.
About Us
Okay, so let us talk about what you have and what not. You do have a dance studio/school, but you do not have any products, right? You just have your membership to sell and your studio to promote. This means your visitors would want to know about you. Only after knowing you would they take that membership. Or visit your studio. Or even enroll in one of your classes. Unlike product sellers, you cannot let your product sell itself. No matter how great you are at your art, you need to tell that to your customers through your About Us section. Your website should have an impressive about us page so that you can make sure your audience trusts you.
Pictures/Videos
Just like we previously discussed, you don't have a product to sell. But you have your talent to showcase. And your website should do that in the best possible way. Aesthetically pleasing images, small videos, and even clips should take up most of the space on most of the pages on your website. Let your art do the talking and keep words minimum to where they are absolutely necessary.
SEO and analytics
Okay, this one is important irrespective of whether you have a dance studio or you sell dynamites (We really don't recommend doing that, though). The mirror on your front wall helps you see yourself perform. Analytics is like that mirror when it comes to your website performance. You need analytics to see how your website is doing. To create good website for dance studio, you need an SEO-friendly theme. And your templates should be optimized for search engine ranking. And then you need to analyze what works for you and what not. Also, make sure your website template has modification and customization options. This way you can learn from your experiences and improve throughout your journey.
How are Dance Studio Website Templates Arranged?
You will find several free dance studio website templates for WordPress. And all of them would look great at first glance. But it is only after a thorough look that you realize the real flaws. And just like you perfect every move of your dance routine, you need to perfect every aspect of your website arrangement before you can set the stage on fire. Some of the elements that need to be effectively arranged and aligned with each other for a great dance studio website are:
HTML Templates
You'll find many options for dance academy templates, but it's crucial to choose wisely. While many are free, don't let the 'free' label compromise your decision-making process. HTML WordPress templates are highly customizable and give you the most freedom to make the site uniquely yours. Several platforms offer free website templates and themes that include HTML WordPress templates, making it easier to find the perfect fit for your dance studio. The key is to know exactly what you're looking for. Customizing an HTML template to your liking will ensure that your dance studio's website stands out from the crowd.
Dance website specific pages
Okay, this is a no-brainer. But, when you are building your website, you need to have pages that your audience would find useful. You can skip the pages that don't matter and instead build those that actually matter. You can have pages explicitly dedicated to videos and clips of your performances. This would mean you'd want to pick a light-weight template. If a template is already bulky and slower load times, adding multimedia would make it a snail. You don't want that happening. You can also have a gallery page. A blog page would also be great if you want to spread information about your art form while promoting your commercial venture. An authentic, informative, and regularly updated blog section can go a long way in helping build trust with your audience.
Class Schedule and Rates
Also, pages like dance class schedules or studio timings should be included. You can add downloadable timetables and an updated rate list so that your audience knows what they actually want to know about.
What factors should be considered when choosing free website templates for a dance studio?
There are certain factors that you need to consider, no matter what niche you are in. But, when you are building a website for dance school or your studio, you need to very careful about the following factors:
Header design
Think of your header as if it is your expression when you first see a student walk into your studio. Your expression and your website header should be warm, welcoming, well-written, and visually appealing. Your website theme should have header options that can create an engaging first impression. With templates that allow adding video clips and a cool call-to-action button, you can make your first impression worth it.
Menu options
Menus are like maps. If your menu is neat, you can easily make sure your visitor goes straight to where they want to be. If people can find what they need with just a few clicks, you can significantly lower down bounce rates. Even if you have too much information to share and have a heavy-duty website with too many pages, keep the menu simple. Adding a sitemap is also a great option to help your viewers navigate across pages. Always choose a website template that has simple menu options.
Mobile responsiveness
You cannot expect people to look for a dance class through their laptops or desktops. Your audience is much more likely to be using their Smartphones and tablets for the task. And mobile responsiveness helps you reach your audience across devices. The template you choose should be mobile responsive, which means they should load appropriately on any device.
What to do after I have the right template?
Just start building your website. Whether you have a classical dance studio or a modern dance academy, you should start building your WordPress website at the earliest when you have the right template. Of course, you can look for website developers that can help you in coding, customization, and upkeep of the website. Also, it is wise to look for a hosting service provider to power your website. Just finalize a budget first. Then write down the goals that you want to achieve with your website. Pick an apt theme. Finalize the most-suitable, scalable, and affordable template, and get going.
Free Dance Mob Website Template [ download ]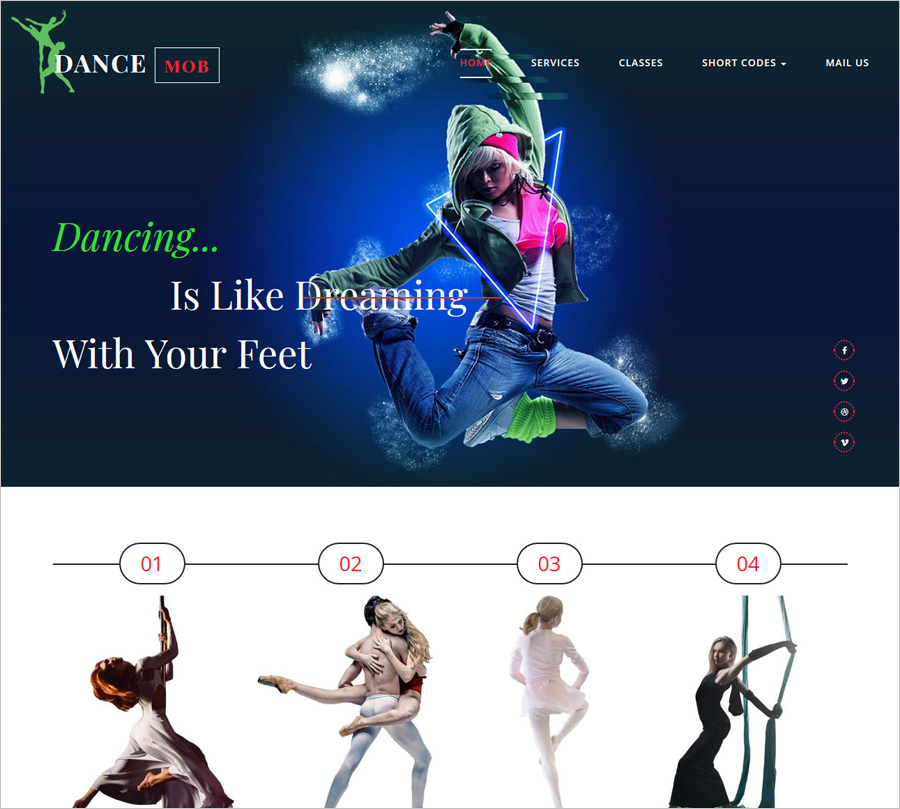 Free Modern Dance Studio Website Template [ download ]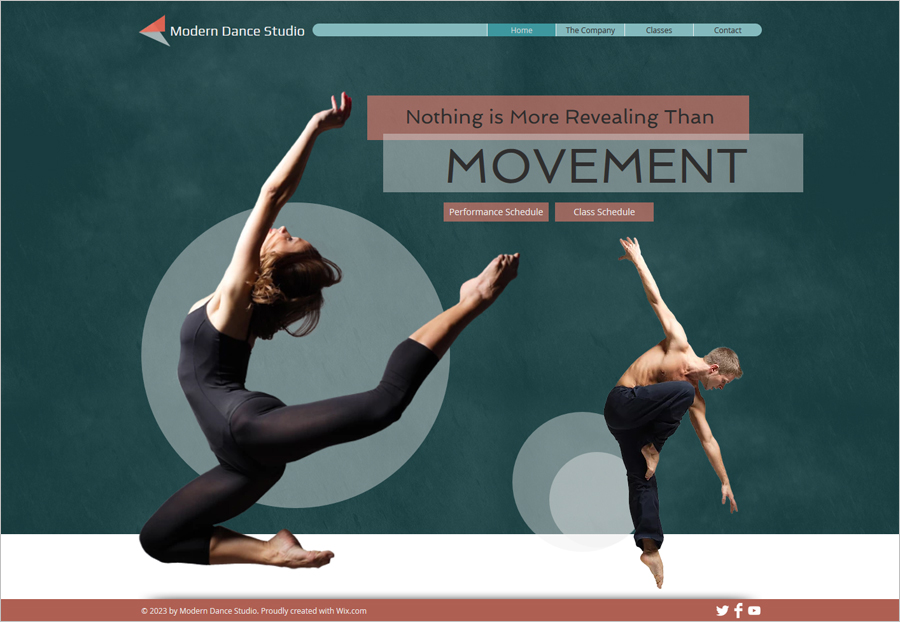 Free Ballet School Website Template [ download ]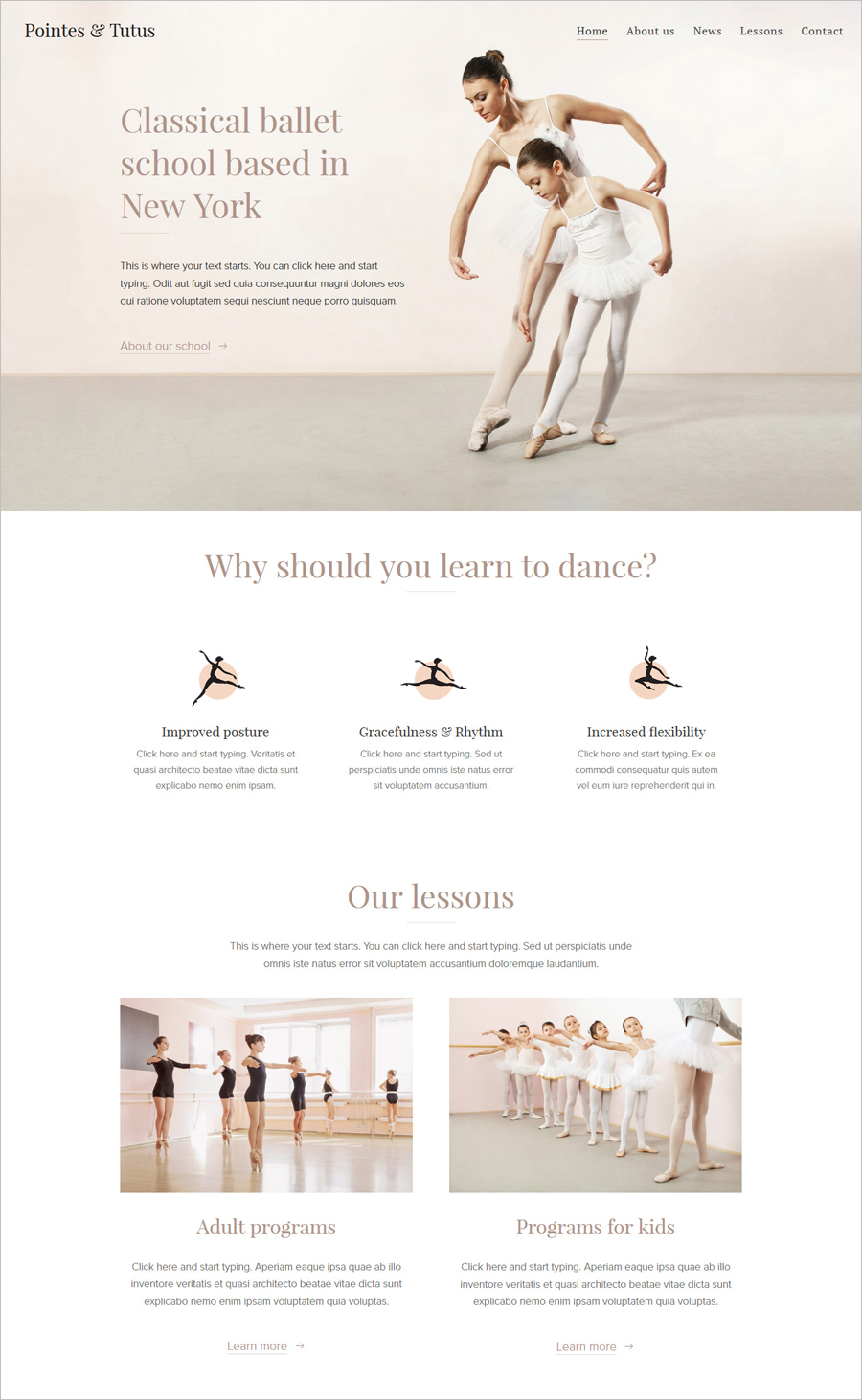 Free Dance Studio HTML5/CSS3 Template [ download ]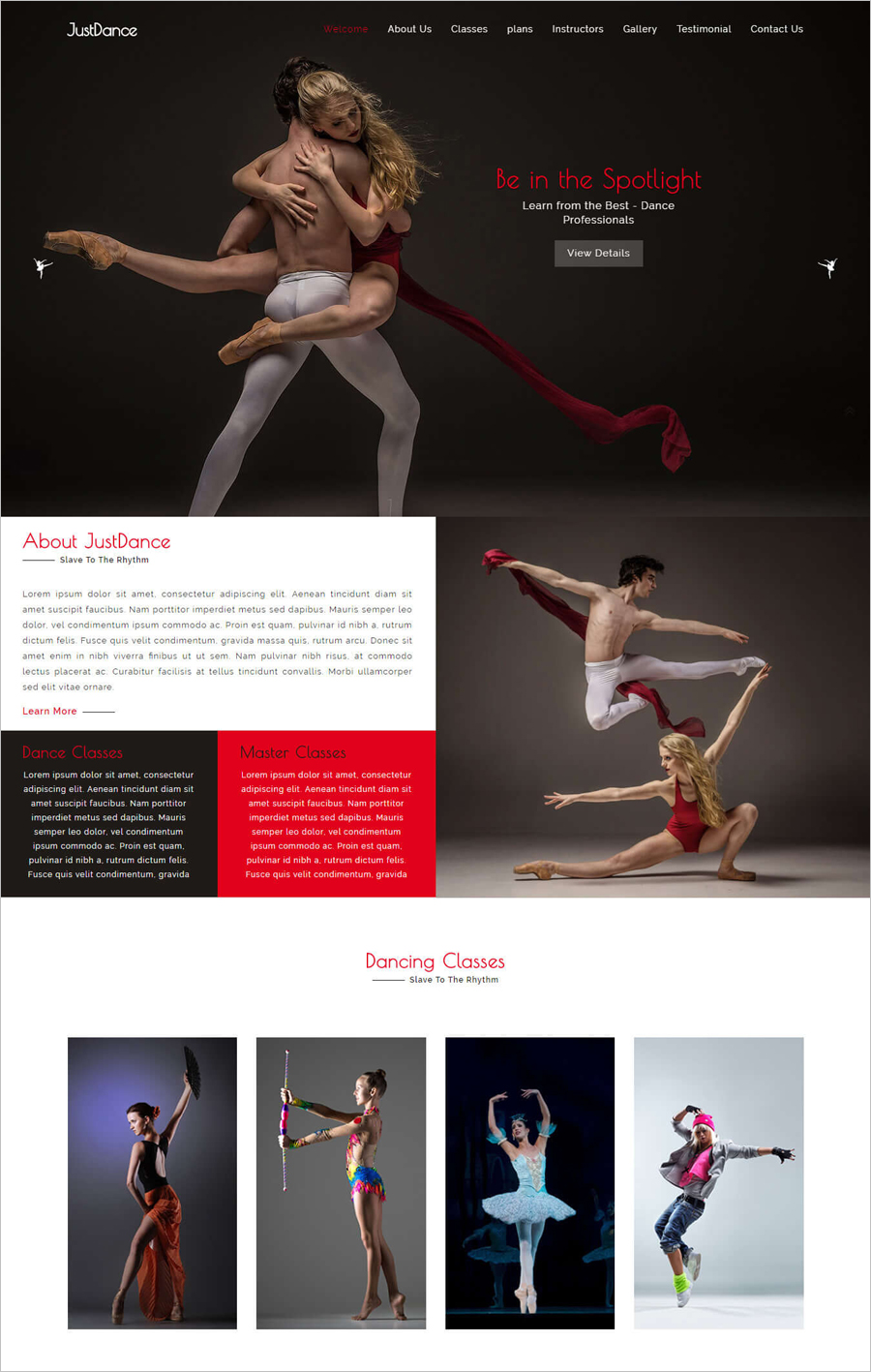 Free Dance Instructor Website Template [ download ]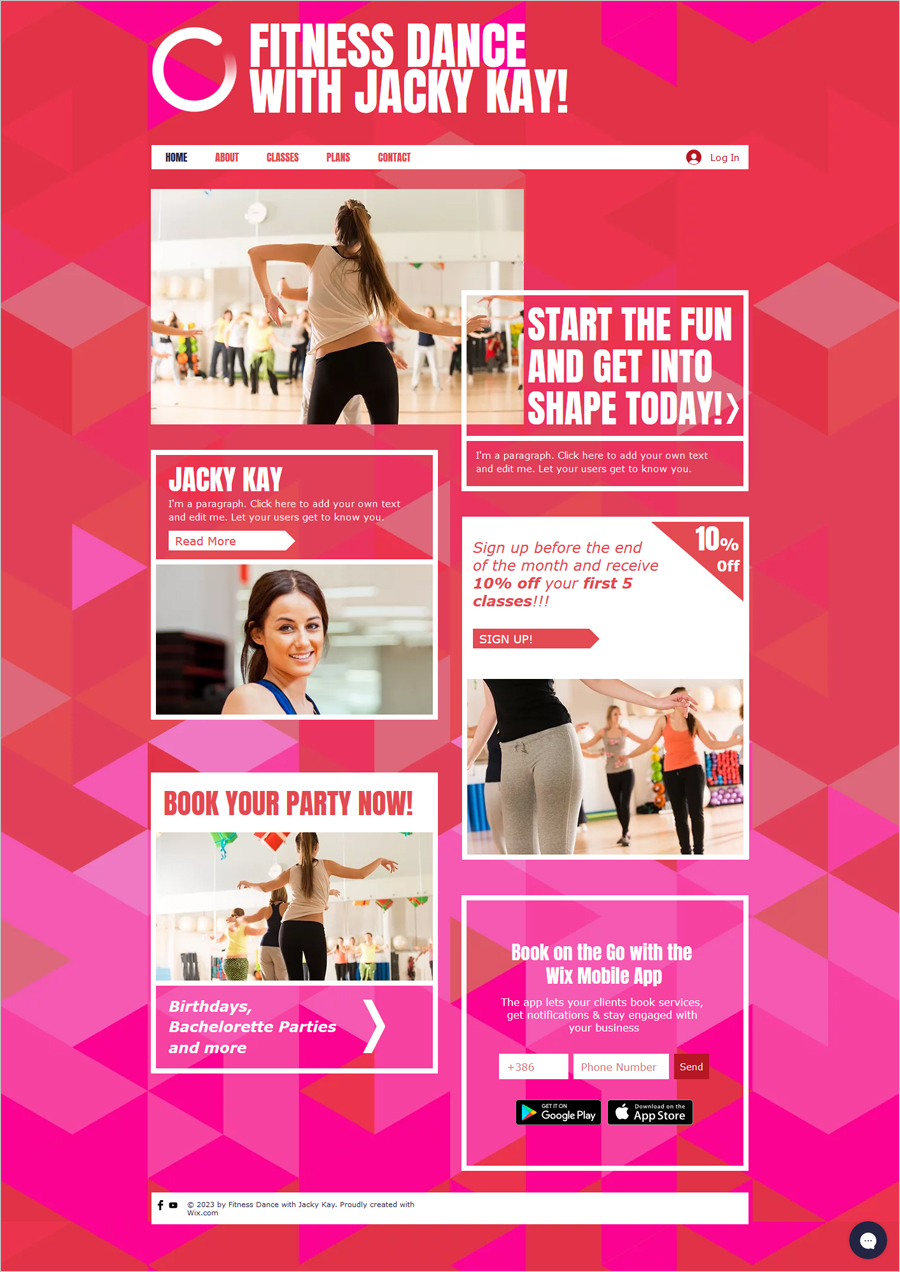 Free Dance Whirl Website Template [ download ]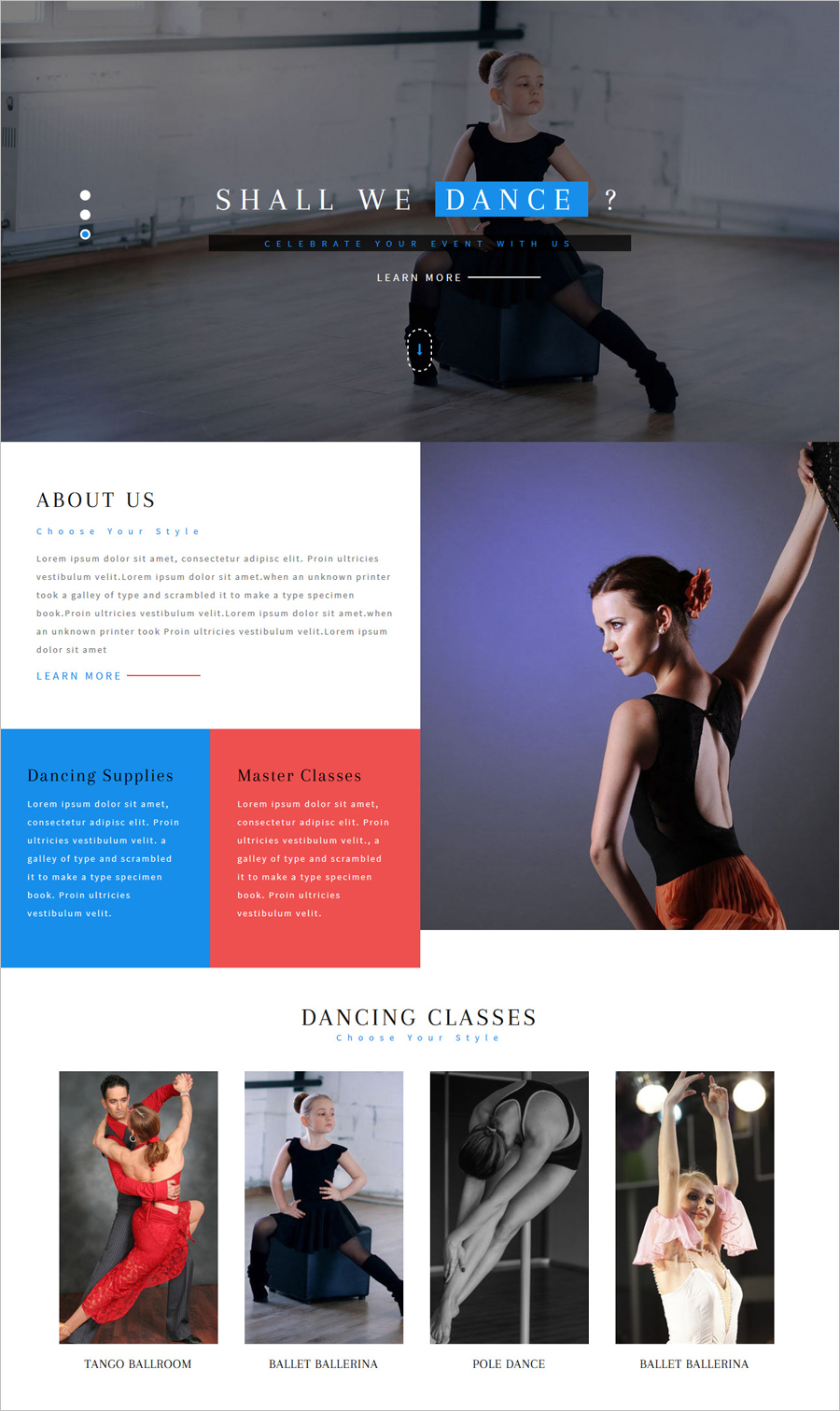 Free City Dance Academy Website Templates [ download ]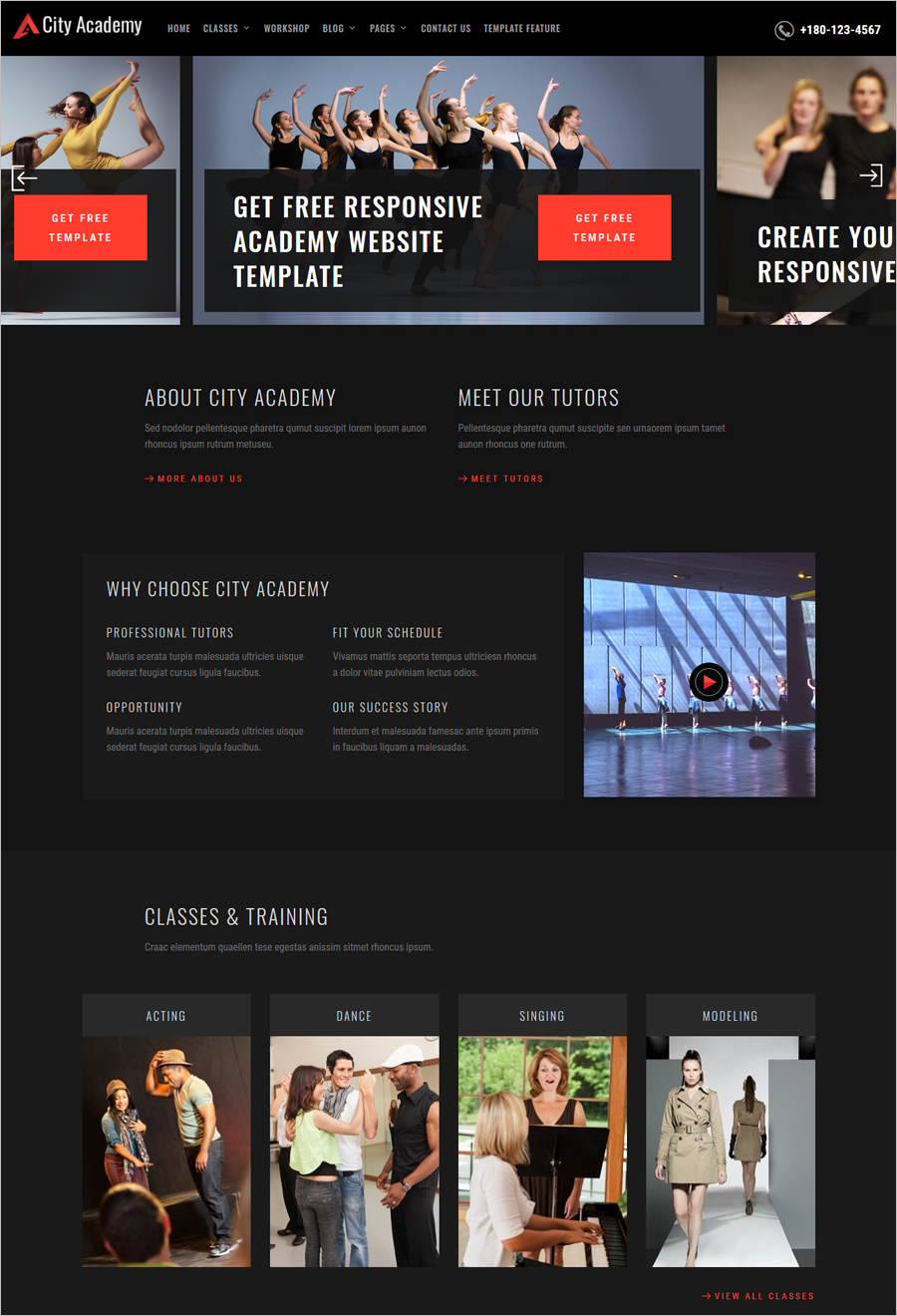 Free Ballet Academy Website Template [ download ]
Free Dance Classes HTML Template [ download ]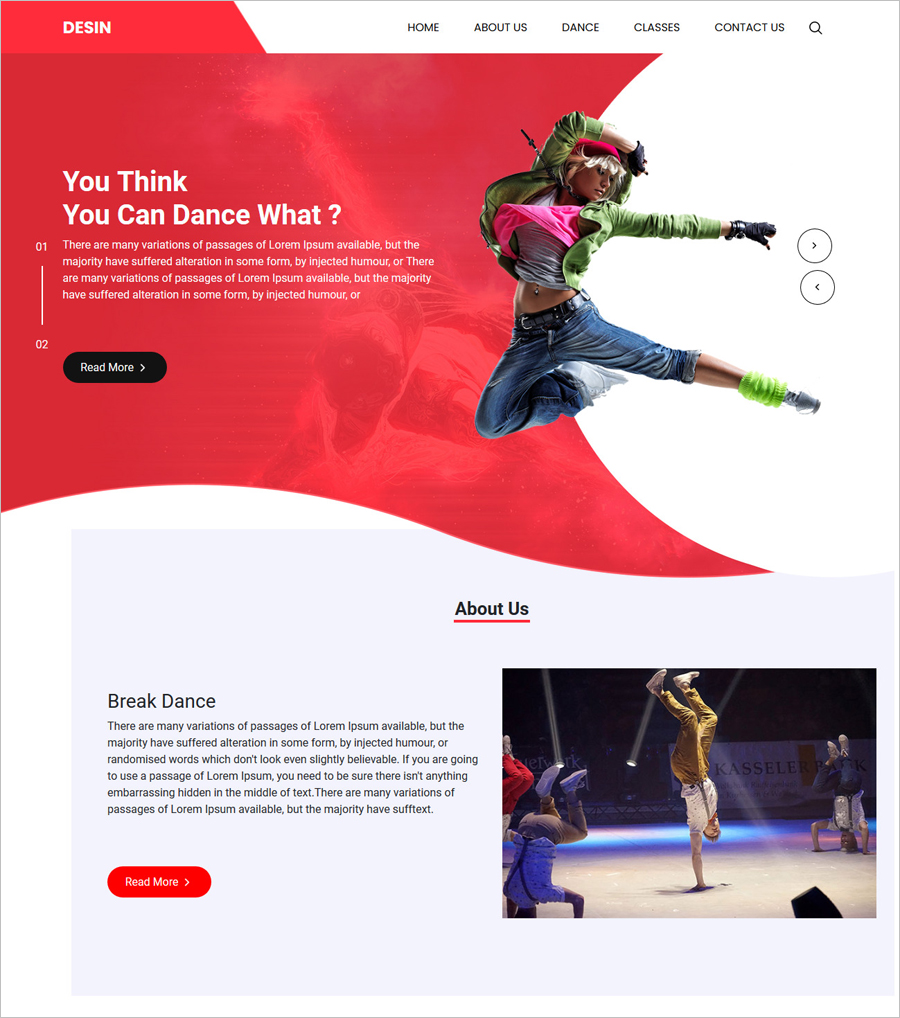 Free Latin Dance Studio Template [ download ]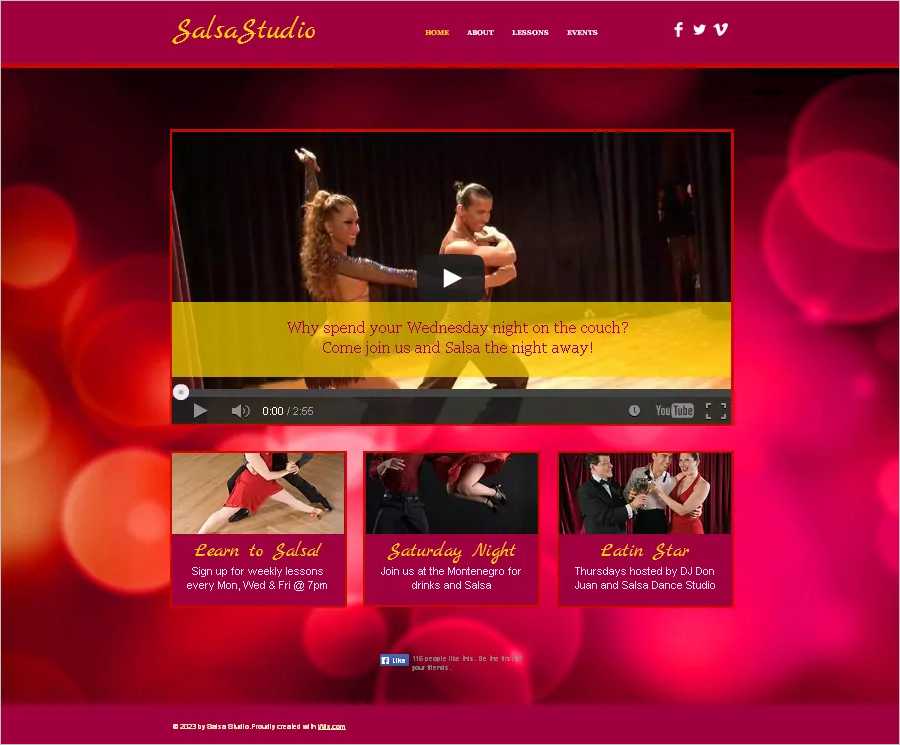 Free Dance School Responsive Template [ download ]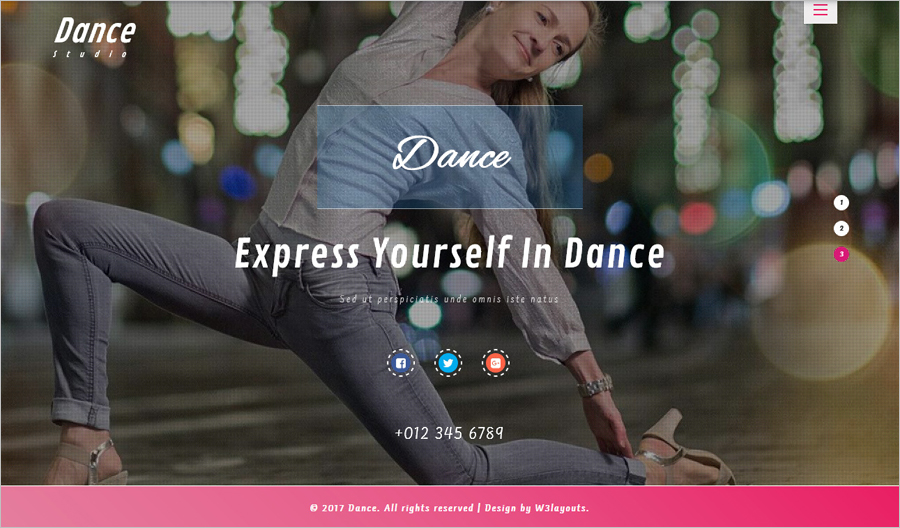 Free Dance Studio WordPress Theme [ download ]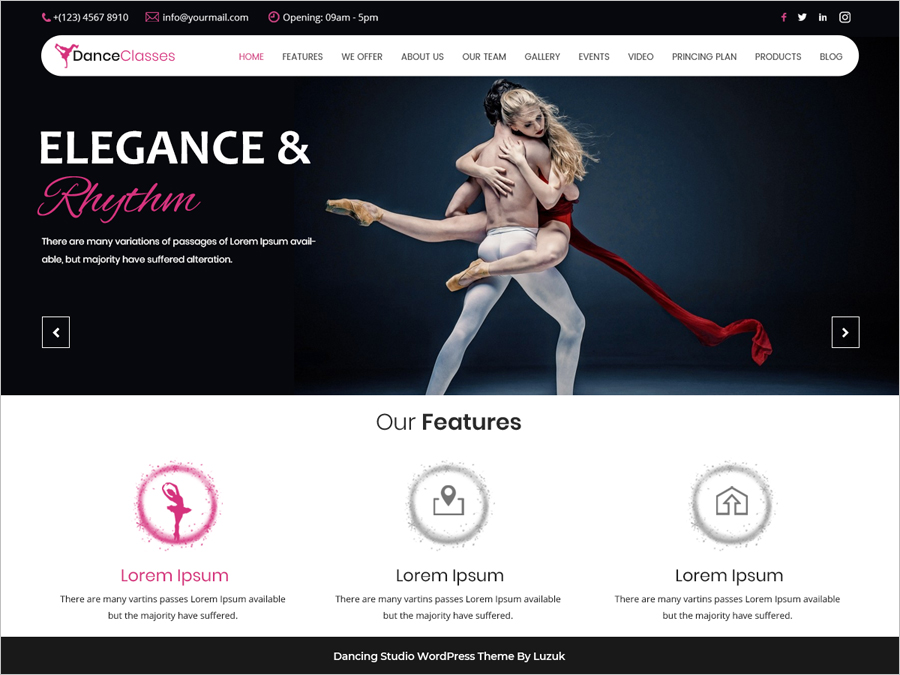 Free Dance Studio Bootstrap Template [ download ]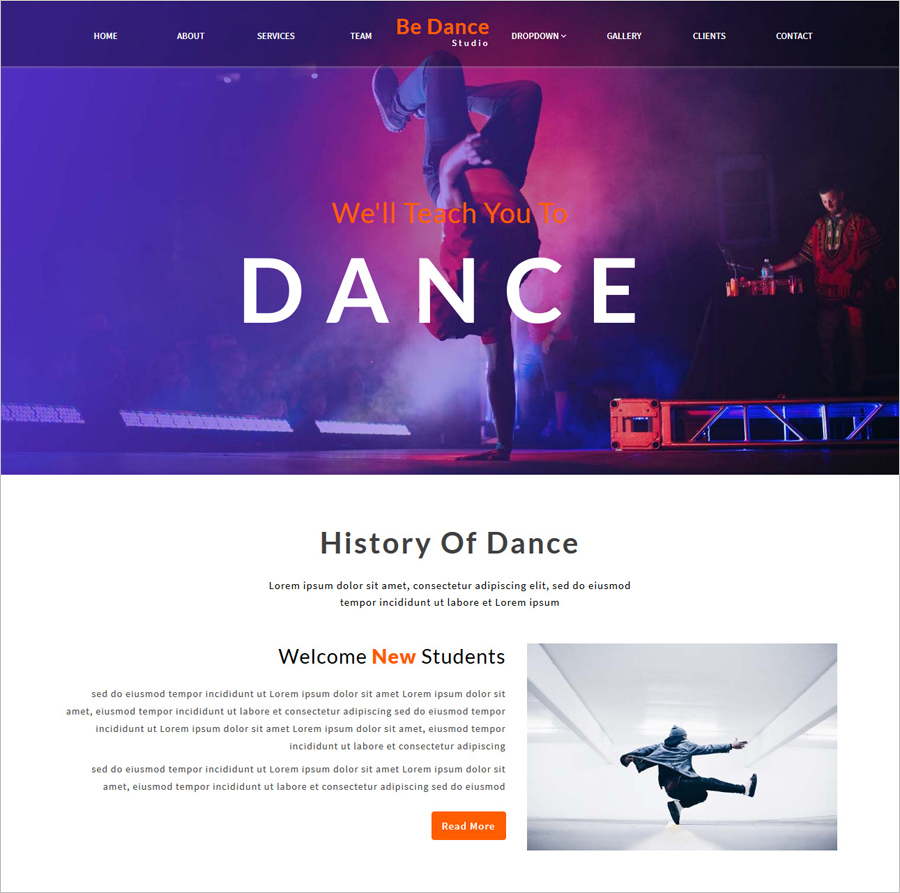 Free Dance School Website Concept Template [ download ]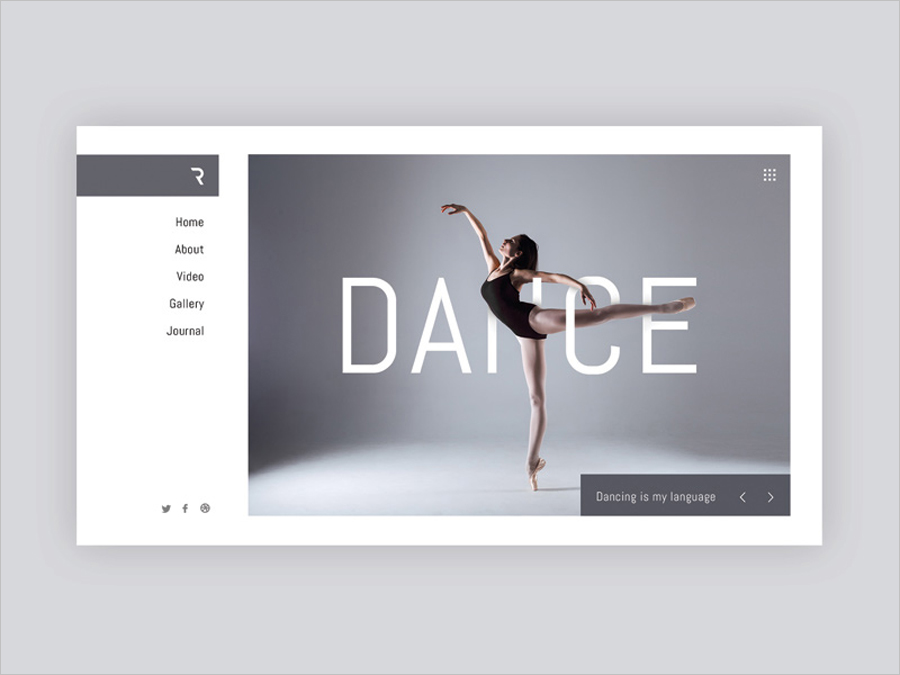 Free Ballet Dancing School Web Template [ download ]