It's a common practice amongst designers in the face of coming year to look back and remember the most creative and interesting design concepts of expiring year. As 2012 comes to the logical end we decided to showcase 10 of our most popular stories from January to December. The goal of this showcase is to show you something interesting that you might missed or remind you about interesting stuff of expiring year. And the last but not the least this list will help us to understand your interests and during next year feature designs that will be interesting to you. Hope this trip will be interesting for you! Good luck!
10. Fashion Photos by Nikola Borissov [ check it here]
Our list starts from elegant and stylish fashion photos of Bulgarian photographer Nikola Borissov. Without having a fixed base city, in his personal work he keeps alive his initial passion for reportage and street photography. Below you can see great examples of fashion and advertising photography.
9. Beautiful "Flower Love" Photos by Oer-Wout [ check it here]
The next position and again beautiful photos. Photographer from Netherlands aka Oer-Wout and her amazingly beautiful photo series called "Flower Love" with the focus to tulips and it's so obvious for inhabitant of Netherlands.
8. Fairy Tale Fantasies Calendar 2012 [ check it here]
On 8 position you will find sexy calendar created by famous American comic book artist Jeffrey Scott Campbell. This calendar features fairy tale princess, provocative, challenging and sexy girls from Disney's fairy tales. Perhaps many of our readers decided to buy this calendar and this explains its popularity.
7. Mysterious Italy by Giuseppe Desideri
Beautiful landscapes of Giuseppe Desideri have pleased our readers. Teacher from Treviso shows his native land by a very unusual angle.
6. Concrete Watches by Dzmitry Samal [ check it here]
The first design concept in our list is a series of watches with frames made of concrete. The author of this limited edition collection is Paris based designer Dzmitry Samal. The watches are partly made of concrete using a patented technology and are "Megapolis inspired".
5. Amazing Pumpkin Carvings by Ray Villafane [ check it here]
Stunning pumpkin carvings published a few days before Halloween were very interesting to our readers and hope caused right mood for the holiday. And considering its popularity we're glad you like them. Don't hesitate to check them once more even if you've already seen them. They're are simply stunning!
4. Limited Edition Jaguar C-X75 [ check it here]
This gorgeous limited edition Jaguar C-X75 is worth to be in this list. There will only be 250 limited edition vehicles produced and it will be highly personalized, meaning that customers will have the possibility to choose any color and interior finish.
3. Aspid GT-21 Invictus [ check it here]
Another great concept car got lots of your attention this year. Aspid GT-21 Invictus is a really stunning concept car released by Aspid Cars. Check it if you haven't seen it before.
2. Mobile Home "De Markies" [ check it here]
Creative mobile home "De Markies" (The Awning) fairly got second place.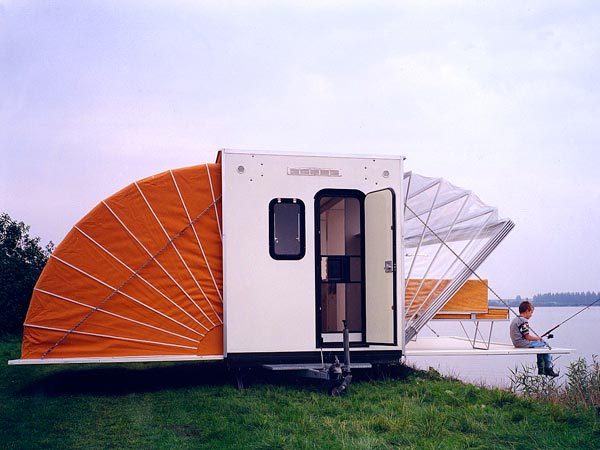 1. Comfort Trailer Home "ProtoHaus" [ check it here]
Considering second and first places of our TOP 10 list you really like interesting and creative solutions for living. Comfort Trailer Home "ProtoHaus"is a timber frame or "stick built" house with accent on sustainability, functionality, and aesthetics.