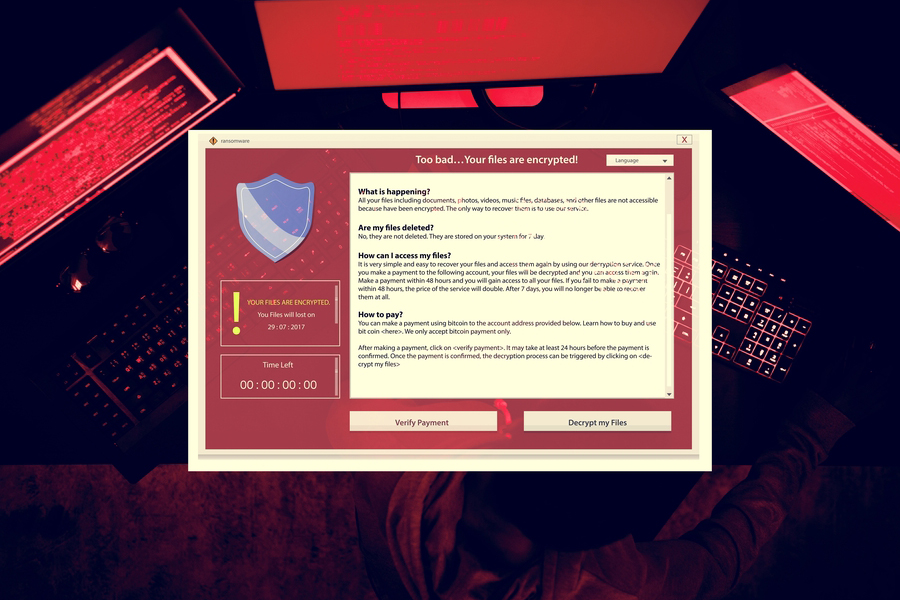 Running on 35.7 percent of all personal computers, Windows 10 is one of the most popular Operating Systems in the world. This makes it a lucrative target for hackers and other malicious digital entities. Thankfully, Microsoft has ramped up the security features dramatically since the early days of Windows XP. The OS no longer hassles users to install antivirus software like its predecessor, Windows 7. Starting with Windows 8, Microsoft made the wise decision to add a built-in free antivirus, the Windows Defender. The question is, does it guarantee complete PC protection against mounting threats in 2021?
The short answer – no. Given the sheer number of users, Windows 10 is still under threat as the bad guys constantly seek out new ways to hijack your system and access your private data. From blended malware and fileless attacks to ransomware, new threats are emerging regularly and no matter how much caution you exercise online, your software is still in grave danger. Sure, Windows Defender – which is enabled in Windows 10 by default – receives frequent updates and is quite capable in its own right, but it's still a good idea to have a regularly updated antivirus package for advanced protection against security threats.
The Combination Approach
Windows Defender may be used for traditional antivirus, while third-party antivirus software works well against anti-exploit and anti-malware hazards. The Windows Defender application is fully integrated into the Windows 10 OS, extremely fast, and un-intrusive, making it the perfect defense against old-school viruses. But the truth is, the days when criminals would launch regular viruses are long gone; now it's all about zero-day attacks, ransomware, and other nightmarish malware that traditional antiviruses are incapable of handling. You need a sophisticated program that prevents malware from exploiting zero-day flaws in your browser and installing ransomware to overtake your computer. It should not slow down your PC and come with minimal bloatware.
Now, you might be wondering how much you'll have to pay for these services. After all, protection does not come cheap. But you'd be surprised at how efficient some of these free antiviruses are. Of course, several features are limited to the paid versions, but the free apps are no slouches either. In fact, the combination of a free, third-party antivirus and the built-in Windows Defender is just what the doctor ordered to shield your system against digital attacks.
Together, these two antiviruses protect Windows 10 users against the Internet's biggest threats in 2021 – spyware, viruses, ransomware, potentially unwanted programs (PUPs), and so on. Here is a comparison of 10 best antiviruses that will serve you well in 2021:
Free Antiviruses Compare
AVG Free Antivirus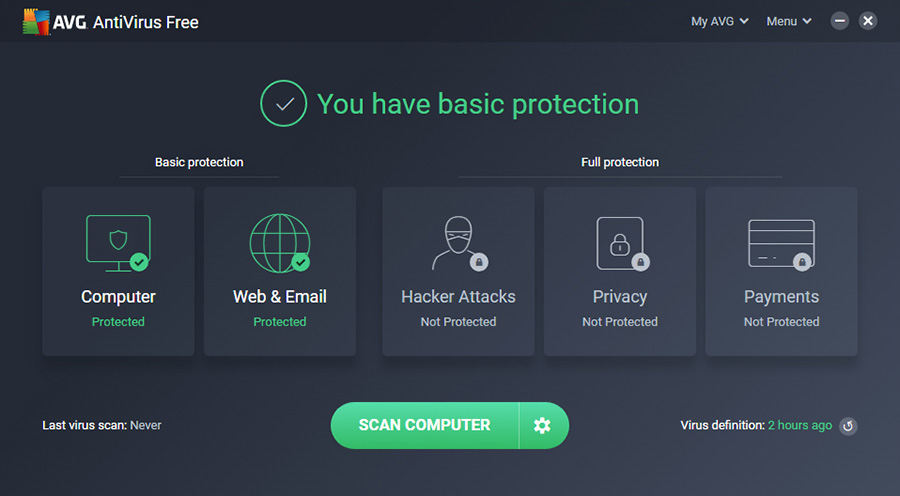 AVG is the perfect choice for Windows 10 users interested in subtle and silent antivirus protection. The free program runs transparently in the background without slowing down your computer and interfering with system performance during virus scans. It is easy to configure and use with helpful system optimization tools and web link security. The email attachment scanner is also great for people who are required to open different email attachments at work.
The anti-malware performance is commendable, but the program suffers due to zero extension support. Password manager and personal firewall are missing as well. Phishing protection is average and the program takes a lot of time to scan your system. However, strong ransomware protection prevents malware from infecting your device through harmful websites, email, file sharing, and mobile transfers. But get ready to deal with constant advertisements from AVG antivirus free about the paid version.

Avast Free Antivirus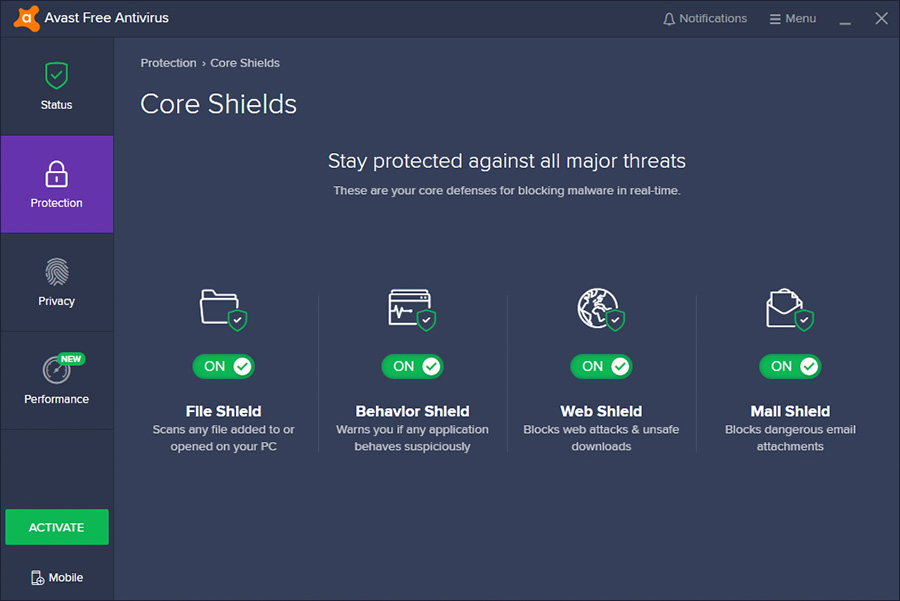 Avast ranks among the best antiviruses in the industry thanks to its comprehensive virus protection and anti-malware capabilities. There are a ton of features on offer in the free version of this software. It's one of the very few to provide solid Windows 10 defense against zero-day attacks, or malware and viruses created to exploit weaknesses in your security. Users benefit from the inclusion of an anti-malware network scanner, a gaming mode that stops notifications and minimizes system load while playing, and a password manager. The interface is easy to use and runs without slowing down your machine.
The constant pop-up notifications often get on your nerves, but it's a decent trade-off considering the features you're getting at zero cost. The launch times of other software are slowed down when Avast free antivirus is running in the background, and the absence of strong privacy settings might be a concern.
You should get the paid version if you're interested in spam filters, a permanent file shredder, automated software updates, and browser extension to prevent phishing attacks. Avast is a great choice for gamers who are constantly downloading games and run the risk of Trojan attacks. The dedicated gaming mode is a huge plus. Even non-gaming users will find plenty to appreciate in this free antivirus program.

Bitdefender Antivirus Free Edition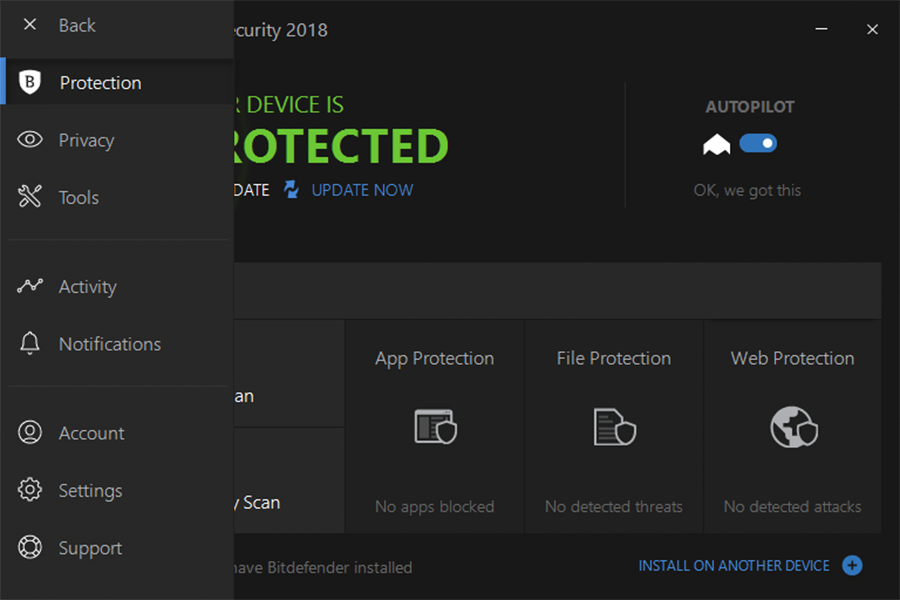 Bitdefender's free antivirus software is a no-brainer if you want on-access protection that's light on the system. Although the free version lacks many of the fancy bells and whistles in the paid edition, it is easy to use and does not need any attention past the initial setup. The antivirus runs on autopilot most of the time and requires minimal user intervention. Some of the highlights of the free software include behavior-based malware detection and phishing protection. The scanning process is fast and extremely accurate when it comes to detecting viruses. Bitdefender Free lets you access extra security tools not found in other free antivirus software, including a personal firewall and a VPN. The system vulnerability scan inspects your system for weak spots, like outdated programs.
However, what keeps this program from being an uncontested winner is the inability to schedule scans and sub-par zero-day attack protection. Free users also miss out on round-the-clock technical support, password manager, online banking protection, and parental controls. Users who upgrade to Plus benefit from added protective measures like USB Immunizer, Bitdefender Photon, and Gamer Mode.

Avira Free Antivirus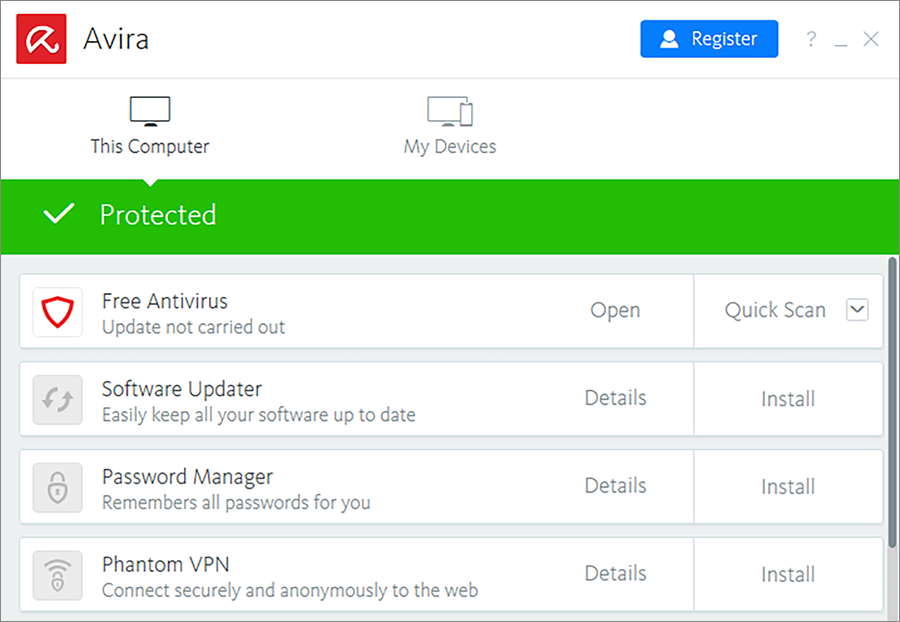 Avira was a decent antivirus when it first launched, but the 2018 redesign made it one of the best software for protecting your system against digital attacks. The impact on your Windows 10 system has been considerably reduced and it boasts a cleaner, more user-friendly UI. The antivirus is quite versatile with several features that appeal to different categories of users. From phishing protection to ransomware detection to a password manager, Avira has it all – and that's just the free version.
Upgrading to the paid version gives you access to mobile app support, built-in VPN, system optimization, and an automated software updater. But the free version stands on its own thanks to different customization options. Avira free antivirus is excellent at detecting viruses with a few false positives. If you don't mind regular pop-up notifications and advertisements on other products from Avira, then this is an antivirus well worth considering. The software works perfectly as an all-in-one solution and users will hardly notice the paywall.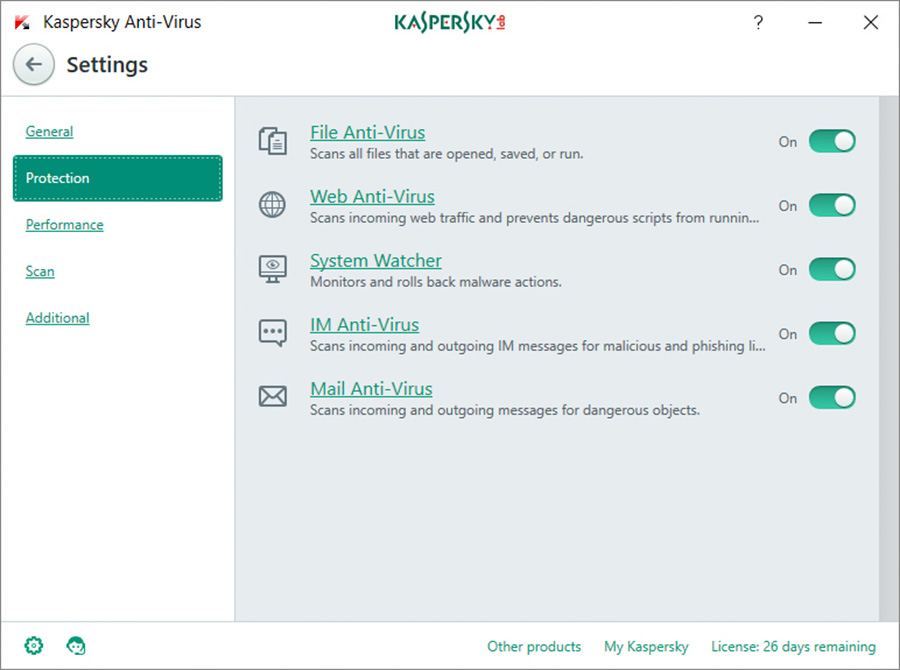 The developers of Kaspersky have left no stone unturned to make their free software a standout in a crowded industry. The program handles like a dream and is one of the most precise anti-Trojan, anti-ransomware, anti-malware, and anti-spyware apps out there. You enjoy real-time scanning, email scanning, and a mostly ad-free user experience. The virus detection methods are quite efficient and result in a minimal number of false positives.
What sets the free version apart from the paid Kaspersky antivirus suite is the limited technical support and the inclusion of only basic features in the former. Upgrading allows you to protect up to three systems with single software, parental controls, a built-in VPN, privacy protection, and safe payment protection. Kaspersky is reliable and accurate and does not pester you about unrelated features. The program automatically updates its database signatures in the background.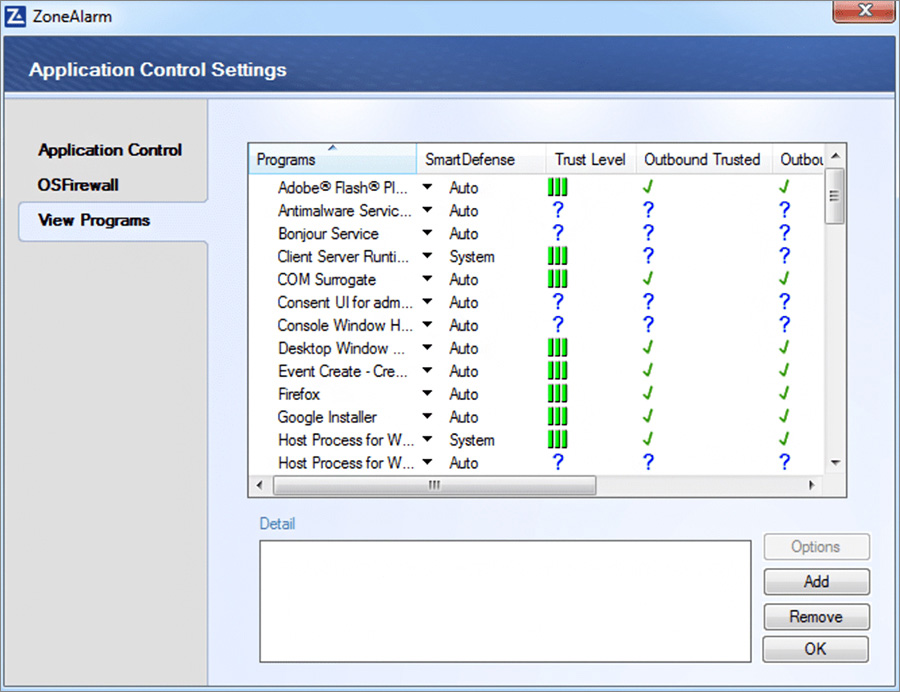 Best known for their free firewall program, ZoneAlarm also offers a surprisingly decent antivirus product. This free security suite for non-commercial Windows 10 users provides a decent firewall module to protect your system on public networks along with a strong antivirus engine. While the program lacks any visual statistics and logs for beginners, the interface is simple and easy to use.
The only drawbacks worth mentioning are the absence of a web shield to prevent harmful sites from loading and the slow installation speed. Also, the program might attempt to download some Yahoo bloatware, which you can remove. But they are offset by the thoughtful inclusion of online file backup capabilities and identity protection. You might have to upgrade to the paid edition if you want additional web browsing and email protection. If you browse the Internet for hours on end and are concerned about the safety of your Windows 10 device, then give the free edition of ZoneAlarm a try.

Panda Free Antivirus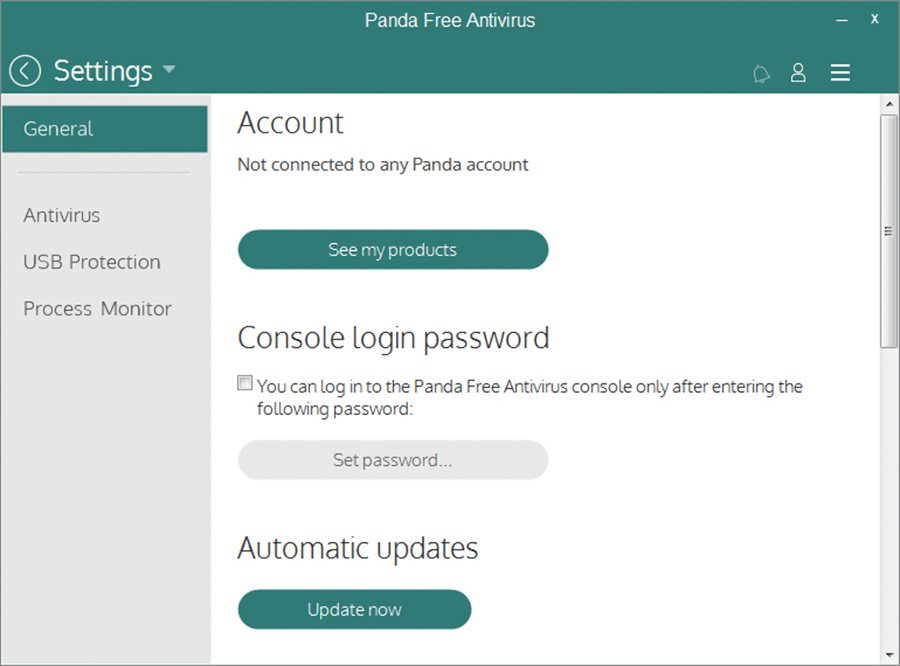 A lightweight substitute for Windows 10 Defender, Panda free antivirus offers superb malware detection and a compact set of features. The interface might feel a little unintuitive at times, but this is one of the simplest antivirus tools right now. You get a browser extension, basic file scanning, and a USB vaccination utility to safeguard your flash drives from dangerous attacks.
Secondary tools include a Process Monitor that lists the ongoing PC programs and a Rescue Kit that allows you to create a bootable USB flash drive. The portable Cloud Cleaner is good for terminating rogue processes and unlocking unscannable files. But keep in mind that Panda weighs a lot more heavily on your system than other free antiviruses for PC on this list.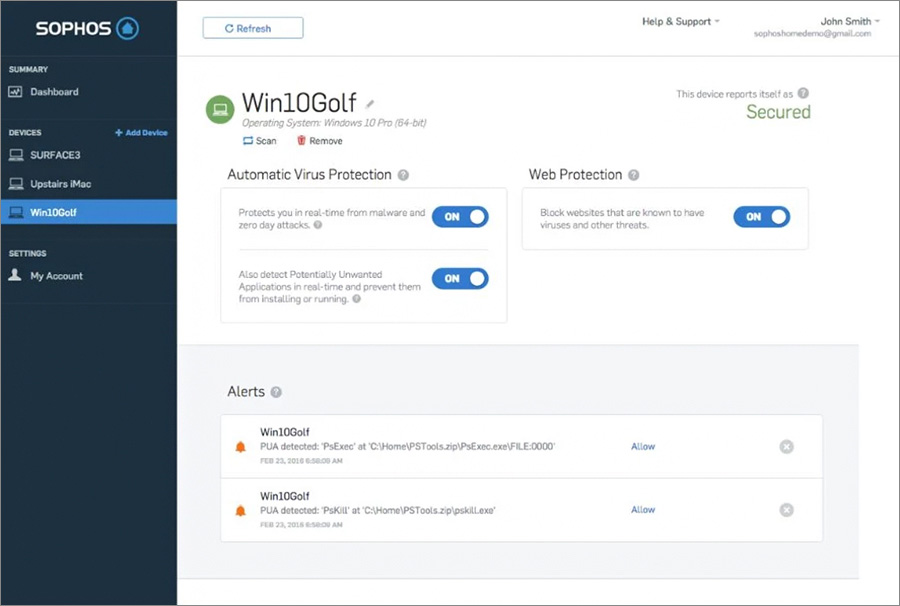 This unique antivirus can be optimized to run on multiple systems and uses cloud-based protection to minimize system impact. The free software is suited to Windows 10 family users as it lets you protect up to 10 computers. Parental controls are present along with phishing protection. Sophos also made the product quite simple and easy to use. Many users are hesitant to download free antivirus due to the continuous pop-ups and notifications; thankfully, that's not an issue with the free edition of Sophos. Also, the program rarely affects the performance of your system.
Advanced users might find Sophos a bit on the lighter side, especially due to its inability to schedule system scans. You might consider getting the upgraded version if you want email and web filtering, along with complete PC protection for over 10 devices. Sophos works best as a family antivirus in homes with multiple Windows 10 computers and lots of children. Multi-PC protection and parental controls help it stay ahead of the competition.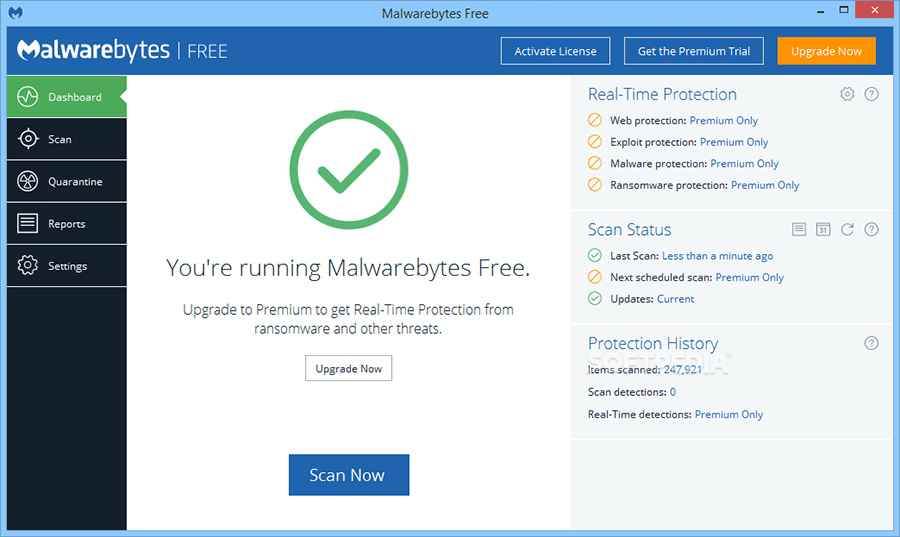 Installing the free edition of Malwarebytes provides access to a 14-day trial of the Premium features, which is a great way to get Windows 10 users hooked onto this antivirus. And there are a lot of great features to talk about, beginning with the anti-malware scanning capabilities of this tool. As the name implies, this software exceeds expectations when it comes to malware protection and is one of the most prominent anti-malware solutions in the market. The reason why it is listed as an antivirus has to do with the fact that it does not prevent infection; rather, it cleans out any malware existing in your system. The program can smoothly run alongside another antivirus on your computer without any interference.
Paying for the full version might be something to consider if you want real-time web and browser defense and scheduled scanning. As long as you have a backup antivirus running, Malwarebytes anti-malware is a great way to boost your system security for free.

Comodo Antivirus 10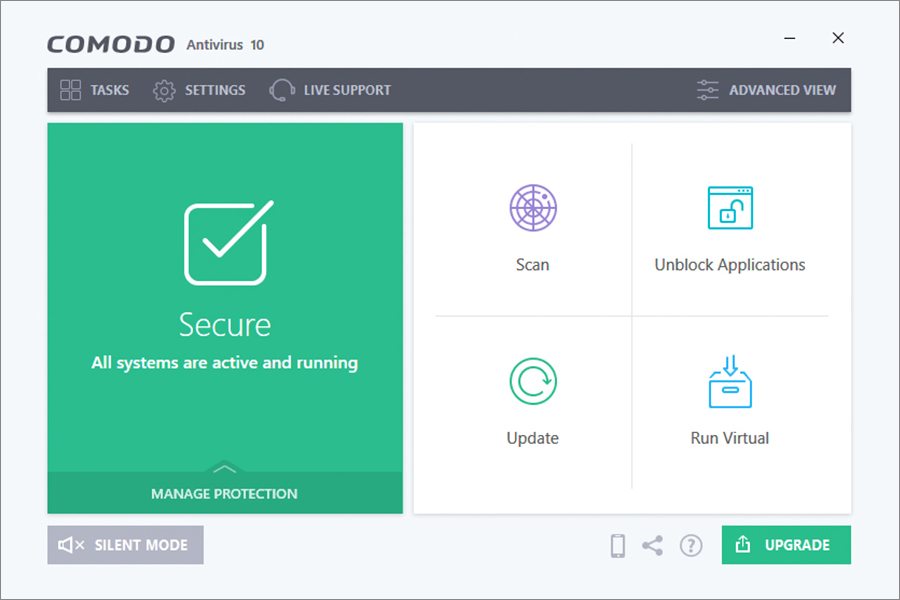 On the surface, the Comodo 10 resembles a humble program. But dig a little deeper and you will uncover a very powerful antivirus that is a cut above the rest. Compatible with different platforms, including Windows 10, the software offers automated, real-time protection, safe Internet browsing, and scanning of downloaded attachments and files. The program is great at detecting new threats and facilitates safe monetary transactions by offering a protected sandbox for applications. You can customize the scanning schedule as per your discretion and avoid untrusted applications.
The free version might feel overwhelming at times thanks to its feature-rich set, but once you get used to it, the free version works fine on its own. Upgrading to the 'Complete' and 'Pro' versions gives you access to helpful features like online backup, storage, live virus removal, Wi-Fi security, and unlimited support. Also, the free version lags behind when it comes to catching malware in your system.

So, now that you've learned more about the best antivirus options available to users, it's time to dive a little deeper and find out how these programs can boost your security.
Why Windows Defender is Not Enough for Reliable Protection of Windows 10?
We've covered this question earlier in brief, but let's explore this topic in more detail. Windows Defender was launched in 2012, an upgrade of the previous Microsoft Security Essentials suite. Microsoft wanted to include a security feature in its OS that could identify and remove spyware, viruses, and other harmful components from the system. And all this would have been enough had not the cybersecurity threats evolved to become more advanced and dangerous.
Integrated into the Windows 10 software, the Defender tool runs quietly in the background, notifying users only when a threat is located. However, this basic level of protection is also its greatest weakness. The software was never meant to be a comprehensive suite security, as is evident from the fact that Windows Defender automatically disables itself when a third-party security app is installed by the user.
Windows Defender scores poorly when it comes to detecting malware, and although Microsoft is working hard to improve the program, it'll be awhile before it can act as a standalone security solution. Third-party paid solutions, and even some free ones, outperform Windows Defender. The one area where Windows Defender shines is its easy scheduling option. But overall, you need more premium protection if you wish to keep those nasty hackers and other digital threats at bay.
What Factors are Important When Choosing a Free Antivirus Software?
Many good free antivirus for Windows 10 systems exist, but you must know which factors to look for to make an informed decision. As a general rule, you should opt for well-known antivirus products from reputed brands. This way you know for sure that the software has undergone several tests by independent parties that vouch for its performance and usability. Obscure and unpopular programs actually inflict more harm on your systems.
Make sure the download process is smooth and easy. The program must come with minimal bloatware and provide solid protection without slowing down your computer or disrupting your operations. The free antivirus must also be compatible with Windows 10, otherwise many of the features will be unusable. The tool must also receive regular updates to protect you against the newest threats.
Free Antivirus vs. Paid Antivirus – What are the Differences?
Downloading free antivirus protection does not mean that your system is entirely susceptible to virus attacks. In fact, most of the programs mentioned in the list above offer great virus protection and identification for Windows 10 users. However, you will have to find the perfect combination of anti-spyware, antivirus, and firewall to overcome all the vulnerabilities in your PC. Purchasing a paid program provides all those elements in one convenient package. Paid antivirus offers a lot more than its free counterparts, the most significant one being full-scale tech support. The moment you need help rooting out a specific piece of malware out of your Windows 10 PC, you will appreciate the extra support capabilities.
What's the Best Free Antivirus?
The title of the best free antivirus software is reserved for the free edition of Kaspersky. Funnily enough, Kaspersky Labs does not advertise the product, nor is it easily found in the Downloads section. That's too bad because this is hands-down one of the finest antiviruses you can get for free, when a non-cluttered, comprehensible interface, no performance impact, and strong malware protection. The lack of extra security features stings a bit, but its capabilities leave Windows 10 users extremely happy.